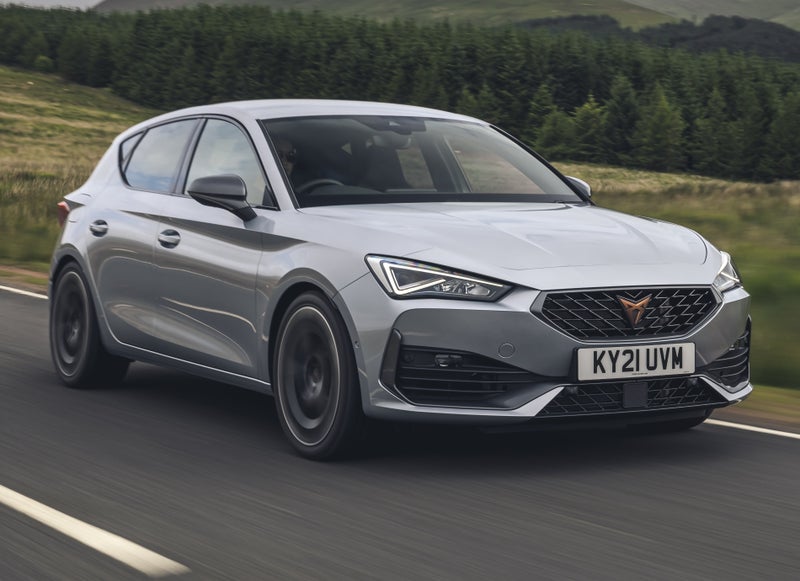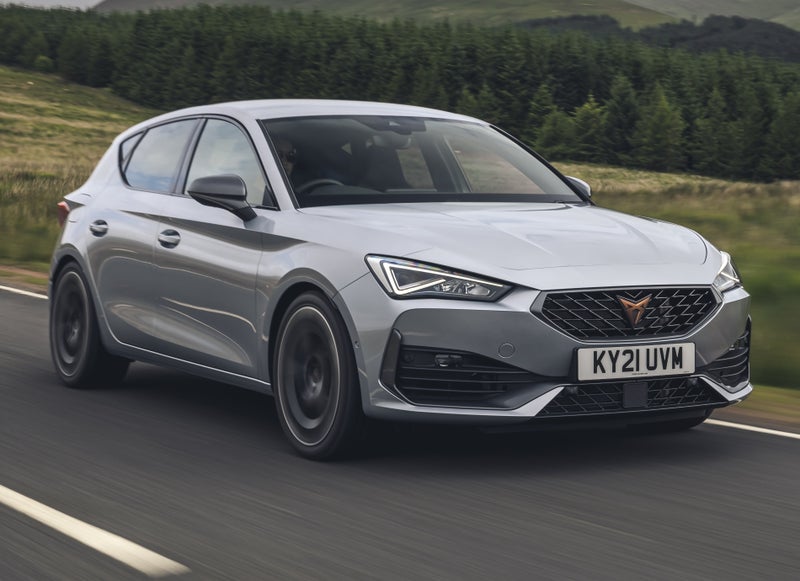 1/10
heycar rating
"Sensible hatch also pleasingly rapid"
Launched: 2021

Family hatch

Petrol, PHEV
Quick overview
Pros
Mature styling
Extremely quick, but approachable
No trouble handling the everyday grind
Cons
A little bit of rawness wouldn't go a miss
Infotainment's more fiddly than a symphony orchestra
Cupra? What's that then
Overall verdict
On the inside
Driving
Cost to run
Prices and Specs
Common questions
Overall verdict on the Cupra Leon
"The Cupra Leon is the Dexter Morgan of the hot hatch world. Like the lead character of TV show Dexter – a meek, unassuming crime-scene analyst who does an exceptional job of hiding the fact that he's actually a deranged serial killer – the Cupra is adept at disguising its penchant for dispatching twisting country roads."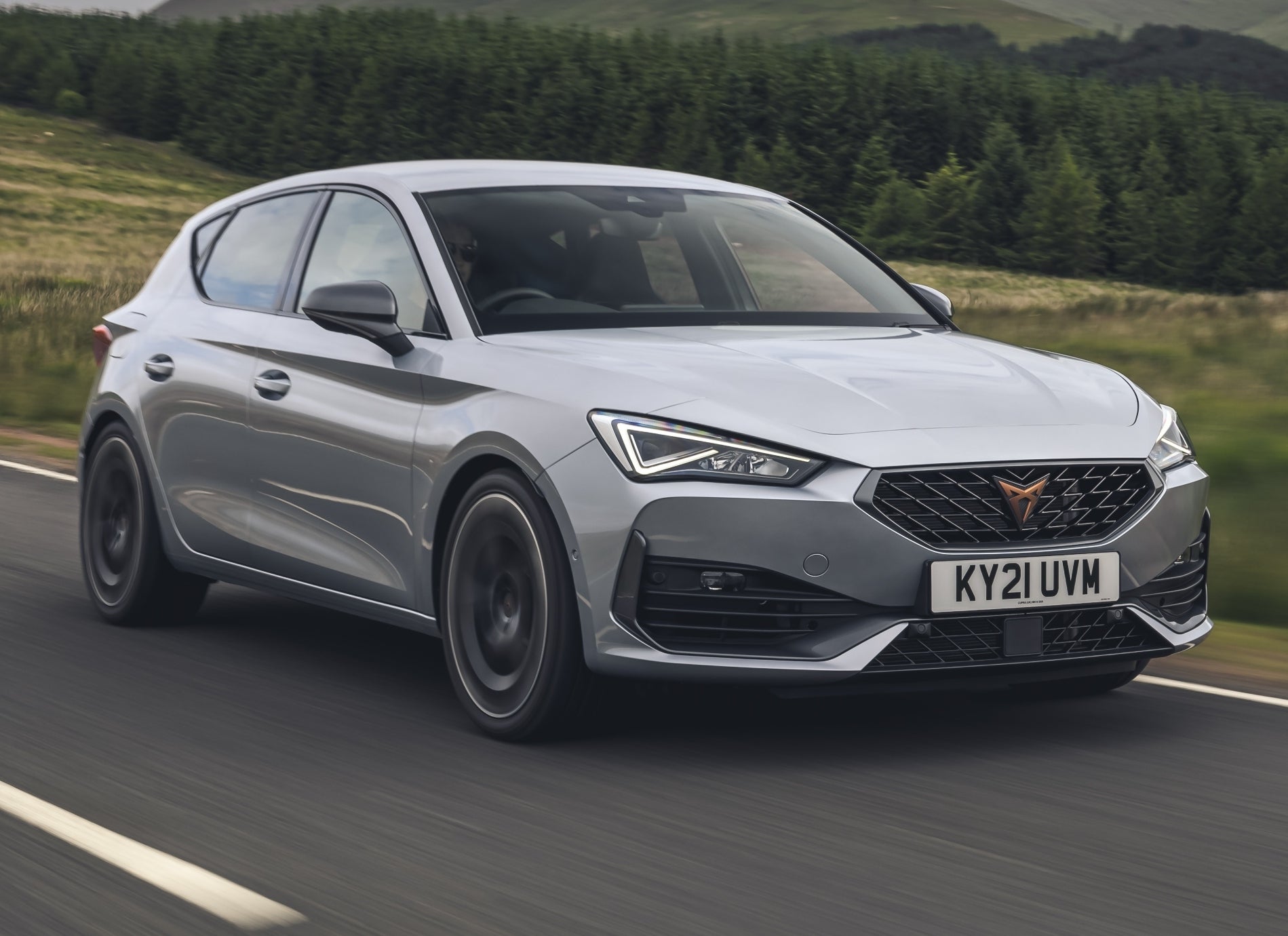 Once you've taken in the quad exhausts and big wheels, not much about the Cupra Leon screams (very) hot hatch. Even the name is a relative unknown. Cupra, previously the badge given to sporty SEATs, is now ploughing its own furrow in the shape of this Leon, Leon ST estate and Formentor SUV.
That's not to say Cupra has taken everything it's learnt from the VW Group and chucked it in the bin. This is immediately evident not just from the sombre styling (well, it's not done the Golf GTI any harm), but also from the interior, where the Cupra favours decent quality over go faster chintz.
Unfortunately, you also get the same infotainment screen found in a Golf GTI Clubsport, so it is colourful, sharp and (mostly) responsive, but also a massive pain the neck to use thanks to its bewildering number of menus and sub menus.
Points are won back by the packaging of the cabin. It isn't the biggest car in its class – a Honda Civic Type R has more rear legroom and a larger boot – but it does well with the space it does have. Four tall adults fit inside just fine, there's lots of space for smaller oddments and the boot is a practical, square shape.
This everyday usability is also ingrained into the way the Cupra Leon drives. It's easy to get yourself sat comfortably behind the wheel, the pedals are well spaced and the controls well weighted. It's a simple car to drive about town and quiet on the motorway, it avoids the rock-hard ride that some hot hatches suffer from.
It's enough to make you think the Leon could be little bit toothless, but nothing could be further from the truth. The 300PS model – there's another 2.0-litre petrol and a 1.4-litre PHEV, both with 245PS – lunges forwards with infectious energy, but it's its linearity that's key, giving the Leon strong performance from the get-go. Others, like the Honda Civic Type R, are quicker outright, but need to be kept on the boil.
The Leon's seven-speed DSG gearbox is a perfect match for the engine. It shifts through the gears quickly and smoothly, with minimum fuss and only a little barp from the exhaust when you change gear at the red line.
It's the Leon's handling that is most notable. Its steering is sharp and backed up by loads of front end grip, both heading in and powering out of corners. The rear end, meanwhile, is mobile yet controllable in a way that makes this quick car feel very approachable. These mild manners do mean the Cupra does without some of the character you'll find elsewhere.
Like Dexter, however, it's the Leon Cupra's ability to be an outstanding member of society (read easy-to-live-with hot hatch), before transforming into a bit of a loony that makes it such an intriguing character. Underestimate it at your peril.
Is the Cupra Leon right for you?
If you're after a hot hatch that looks reasonably sensible but is extremely quick and has an approachable fun side that's only too happy be unlocked, the Cupra Leon is the car for you. It combines this with an interior that's reasonably spacious and well designed, even if it lacks the go-faster goodies you get in some rivals.
What's the best Lean Cupra model/engine to choose?
Our money goes on the 300PS Cupra Leon in VZ2 trim. If you're going to buy a hot hatch, you may as well do it properly and the range-topper is definitely 'proper'. Plus, your high initial outlay is likely to be rewarded with better values come trade in time. VZ2 trim, meanwhile, gets you handy extras like the adjustable dampers and active cruise control.
What other cars are similar to the Cupra Leon?
Let's just say you have plenty of options. Even before we look out-with the VW Group stable, there's the slower-but-more-practical Skoda Octavia vRS, near-identical-but-posher Volkswagen Golf GTI Clubsport and even-posher-still Audi S3. Stray further afield and you'll find cars like the crazed banshee that is the Honda Civic Type R and flawed but likeable machine that is the Renault Megane R.S. 300. Ford's Focus ST is another great everyday hot hatch, while you can also pick from posh German metal like the front-wheel drive BMW 128ti and four-wheel drive Mercedes-AMG A35.
Comfort and design: Cupra Leon interior
"Ever peered down the business end of a black hole as it sucks neighbouring galaxies into the abyss? Nope, us neither. If we had however, we suspect it would look something like the view you get when sitting in the driver's seat of a Cupra Leon."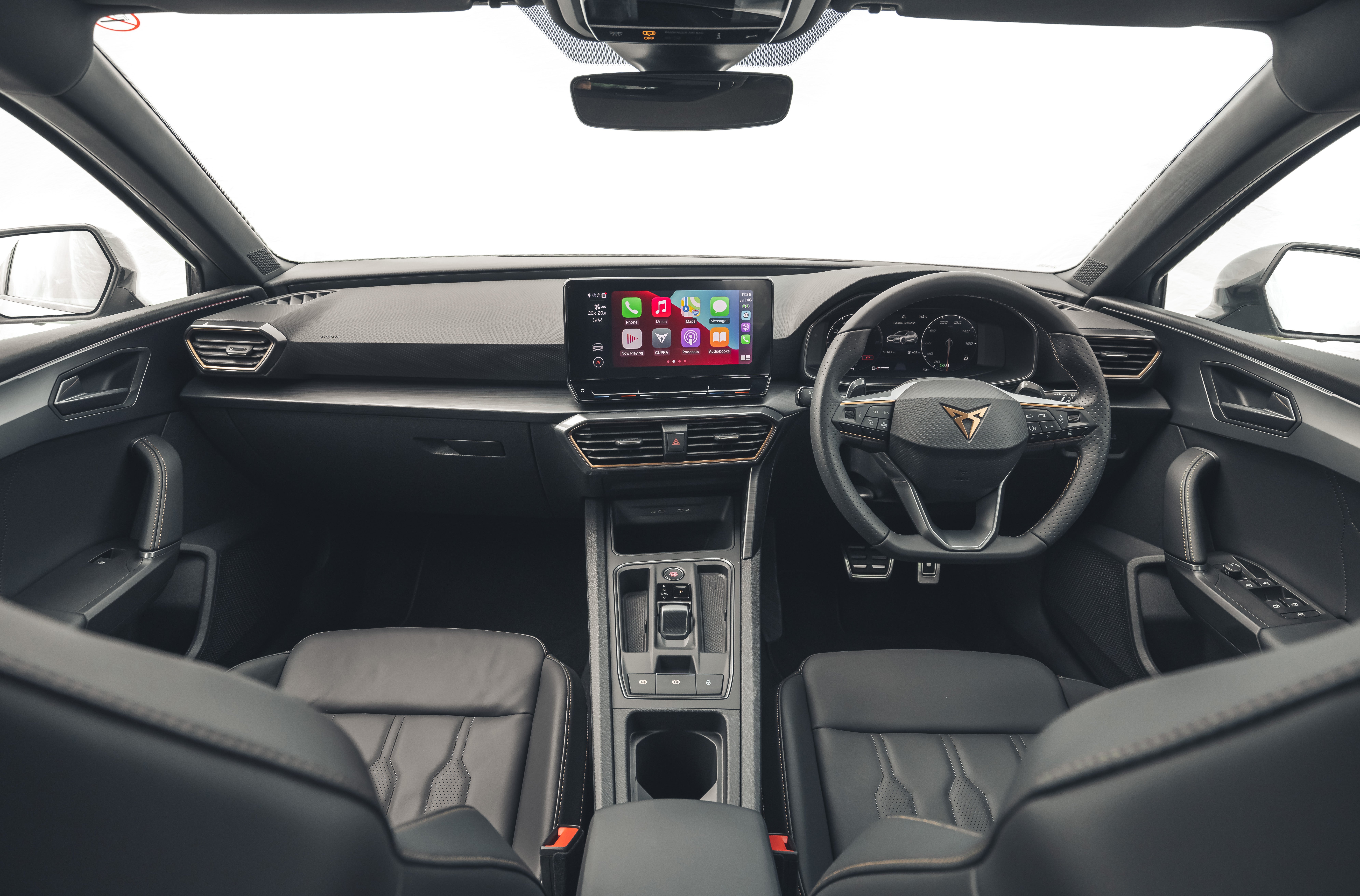 Yes readers, there's quite a lot of black plastic in there and while Cupra has sprinkled some bronze trims about the place, it's not enough to raise the ambience above sombre.
At the other end of the spectrum, a Honda Civic Type has more red sprayed about the place than a poultry slaughterhouse in the run up to Christmas, a pair of seats that look like they've been nicked from a touring car and a lovely metal gear shift knob. It's the definition of sporting intent.
Meanwhile, the aluminium paddles you get in the Megane R.S. 300 make the plastic ears behind the Leon's steering wheel feel cheap and nasty.
Quality and finish
Interior quality on many new cars seems to have taken a jab in the ribs as manufacturing spend is channelled towards ever bigger infotainment screens and it's a phenomenon the Leon is not immune to – as the chocolate-tray plastic used for the centre console so ably demonstrates.
Everywhere else, though, it's pretty decent with soft, squidgy plastics for the places your fingers are most likely to stray, including the tops of the front door cards and the dashboard. It's got both the Honda Civic Type R and the Renault Megane R.S.300 convincingly beaten in this department.
Infotainment: Touchscreen, USB, nav and stereo in the Cupra Leon
Cupra hasn't just unscrewed the infotainment screen from a SEAT Leon and stuck it in their... Oh, actually, that's exactly what it's done. Ah well, in fairness it's updated the graphics to show a Cupra Leon when you fiddle with the many setup options.
There's not much original to say from there. As has been noted more than once, the screen is colourful and responsive, but also distractingly fiddly when you're trying to use it on the move. Thankfully, it comes fitted with Apple CarPlay and Android Auto and we'd revert to using these smartphone-screen-mirroring apps wherever possible.
That said, sat-nav with a 10-year subscription comes as standard so it can route around congestion and be reached using an app on your phone to check things like remaining fuel. One of the bonuses of using SEAT's sat-nav is that you can punch up its maps on the standard digital instrument binnacle behind the steering wheel.
Space and practicality: Cupra Leon boot space
The Cupra Leon is a Volkswagen Golf at heart, which means it is very practical for its size.
There's more than enough room for tall adults in the front and if you scan around the cabin you'll find there's a specific storage space for almost everything – be it your smartphone, wallet, bottle of water or sunglasses, the Leon can store it. Even in the back seats, there's enough storage to keep a football team hydrated and you get your own air vent and temperature control.
Passenger space is decent even for tall adults sitting behind someone else who is tall and the middle seat is more accommodating than most. You also get three Isofix points, one on the front passenger seat and two in the back.
While the Cupra is based on a Volkswagen Golf – but like-for-like is cheaper – sometimes it's easy to see where the money has been saved and one of those places is in the boot. Sure, it's a nice square shape and a decent size (at 380 litres) but it misses out on the handy feature's you get in a VW. If the idea of an adjustable boot floor and shopping hooks gets you reaching for a car brochure, you'd best make sure it is for a Golf GTI Clubsport.
Handling and ride quality: What is the Cupra Leon like to drive?
"The Leon Cupra does an excellent job of pretending to be a conservative, everyday, boring hot hatch but peal away the veneer and you'll find it's a serious piece of kit."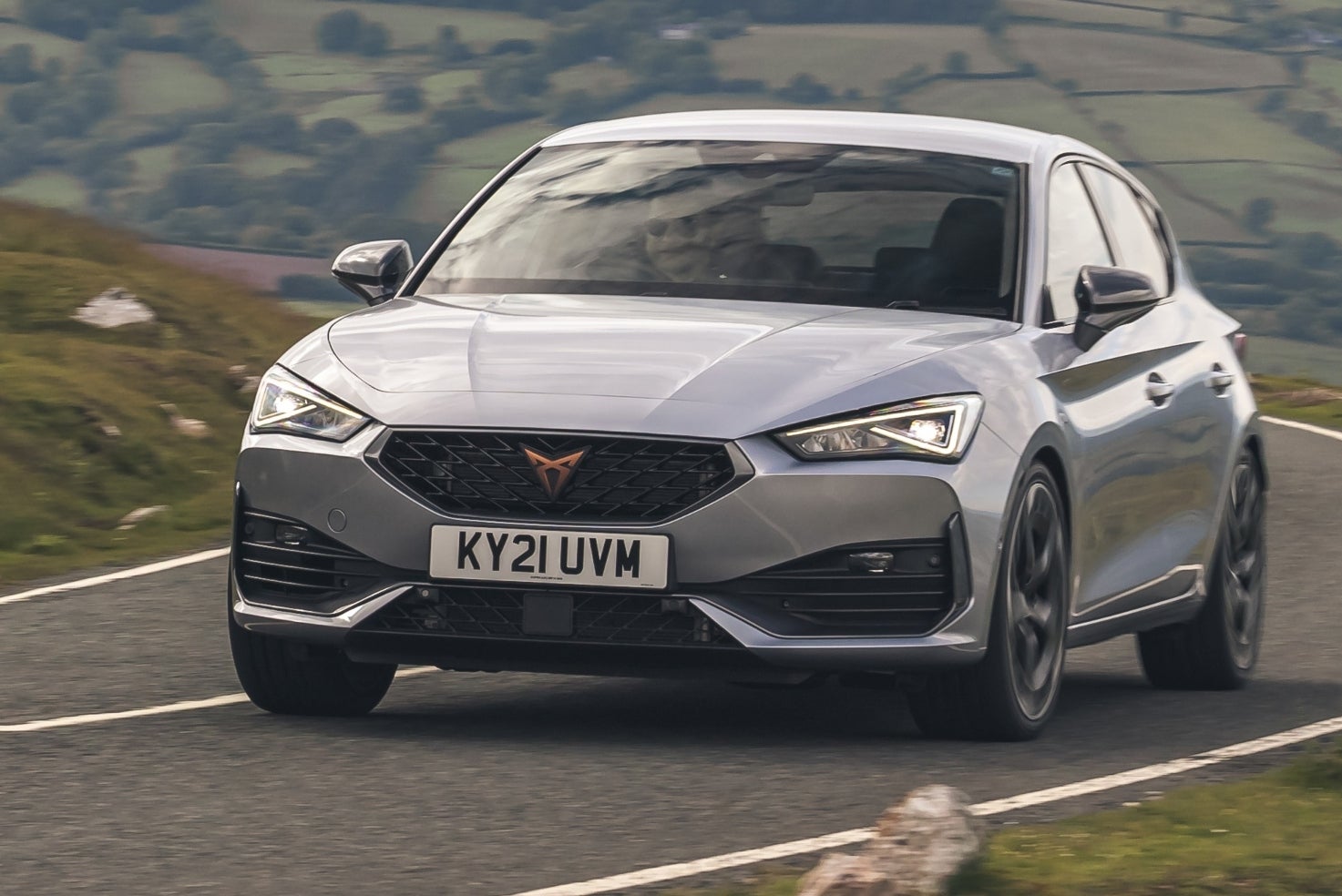 Bar the fiddly infotainment screen, there's very little about the Cupra Leon that will get your back up. We've only driven cars fitted with the Dynamic Chassis Control (DCC) which offers a wide range of damper settings between Comfort and Sport and in the loosest of those settings the Cupra rides better than most family hatchbacks.
It's comfortable in town and – with front and rear parking sensors plus a reversing camera coming as standard – it's easy to park, too. The PHEV is the model to choose if you'll do lots of driving in town because its EV mode is so quiet and relaxing and its regenerative brakes mean you barely have to press the middle pedal. Across the range, the DSG gearbox has also been improved, it now crawls forwards and backwards solving the jerkiness that used to be an issue when manoeuvring at low speeds.
At higher speeds the news is also positive. On DCC at least, the Cupra rides very comfortably and the cabin is quiet. If you spend lots of time the motorway then you're as well going for VZ2 trim or above which adds active cruise control and a blind-spot warning system.
If motorway driving's all you'll do though, you'll be as well choosing a diesel SEAT Leon, its on the twist and turns of your favourite country road where the Cupra Leon comes alive. The 300PS model is the car we spent the most time in and its steering to be quick and accurate and while it doesn't have the superhero feel of the Honda Civic Type R's steering, it gets close.
It pulls back some ground on the Honda when it comes to agility. Considering how sensible it feels at normal speed, the Cupra Leon is only to happy to adjust its heading mid-corner with a lift of the throttle (and the resulting twitch of its back end couldn't be easier to control). Compare that to the Megane R.S. 300 which demands serious concentration.
The Leon is also more resilient on corner exit than the Megane, thanks to its grip-finding limited-slip differential, (LSD) with no LSD the Renault tends to send you down the road pin ball hunting out cambers.
You might find that unruly behaviour exciting or you may have pangs for the way the Civic Type R ruthlessly dissects a road at devastating speed. But if you want a car that's quicker than the Renault and more playful than the Honda, the Cupra Leon could be the hot hatch for you.
What engines and gearboxes are available in the Cupra Leon?
The Leon Cupra is available with a choice of three engines – a 245PS 1.4-litre four-cylinder plug-in hybrid, or two 2.0-litre four-cylinders with 245 or 300PS.
Let's get the boring bit out the way first. The hybrid's ability to travel for up to 34 miles on battery power means it could save you a fortune if you have a short commute and somewhere to charge it and it's much more usable than PHEVs of old, happily accelerating up to motorway speeds without sipping an ounce of petrol.
But it's not a true hot hatch. Its delayed response when you demand instant acceleration is a clear sign there's still work to be done making the petrol engine and electric motor work in harmony. The encouraging figures – 0-62mph in 6.7 seconds and a top speed of 140mph – are a contrast to how it actually feels on the road.
The 245PS petrol serves up noticeable gains. It posts 0-62mph in 6.4 seconds and hits 155mph flat out, but expect the gulf in performance between it and the hybrid to feel bigger.
Nevertheless, we'd seek out the 300PS model which has enough power on tap to get this hot hatch really motoring. What's most impressive is how well behaved the Leon is at laying down its speed, all its 400Nm of torque is available from just 2000rpm and you can ride that wave almost to the rev limiter.
It helps that power is sent to the front wheels by one of the best twin-clutch gearboxes available in the VW Group. Its changes are smooth, slick and quick, although it would be nice if it held onto gears in manual mode rather than kicking down when it thinks you want maximum acceleration. How quick? It'll do 0-62mph in 5.7 seconds and tops out at 155mph, however its mid-range is explosive, allowing the Cupra to make short work of A and B road overtakes.
Bad stuff? Well, we could play devil's advocate and say the Leon's powertrain is too good. It's linear power lacks the thumping punch you get from a Civic Type R, you don't get the same guttural coughs and splutters as in the Megane R.S. 300 and the Cupra doesn't it bang through its gears with quite the same venom.
Refinement and noise levels
The Cupra Leon is one of the most comfortable hot hatches on sale. It doesn't produce the tyre noise you get in rivals like the Honda Civic Type R and Renault Megane R.S. 300, there's little wind noise to speak of and the exhaust is relatively muted.
Safety equipment: How safe is the Cupra Leon?
The Cupra Leon was awarded five stars for safety when it was crash tested by Euro NCAP in 2020. All models come with automatic emergency brakes that detect pedestrians, cyclists and other vehicles, as well as lane assist which keeps the car arrow straight in its lane. VZ2 to models and above have a full suite of autonomous driving aids.
MPG and fuel costs: What does a Cupra Leon cost to run?
"The Cupra Leon follows hot hatch tradition to the letter by offering you epic performance combined with running costs that won't send your bank balance into meltdown."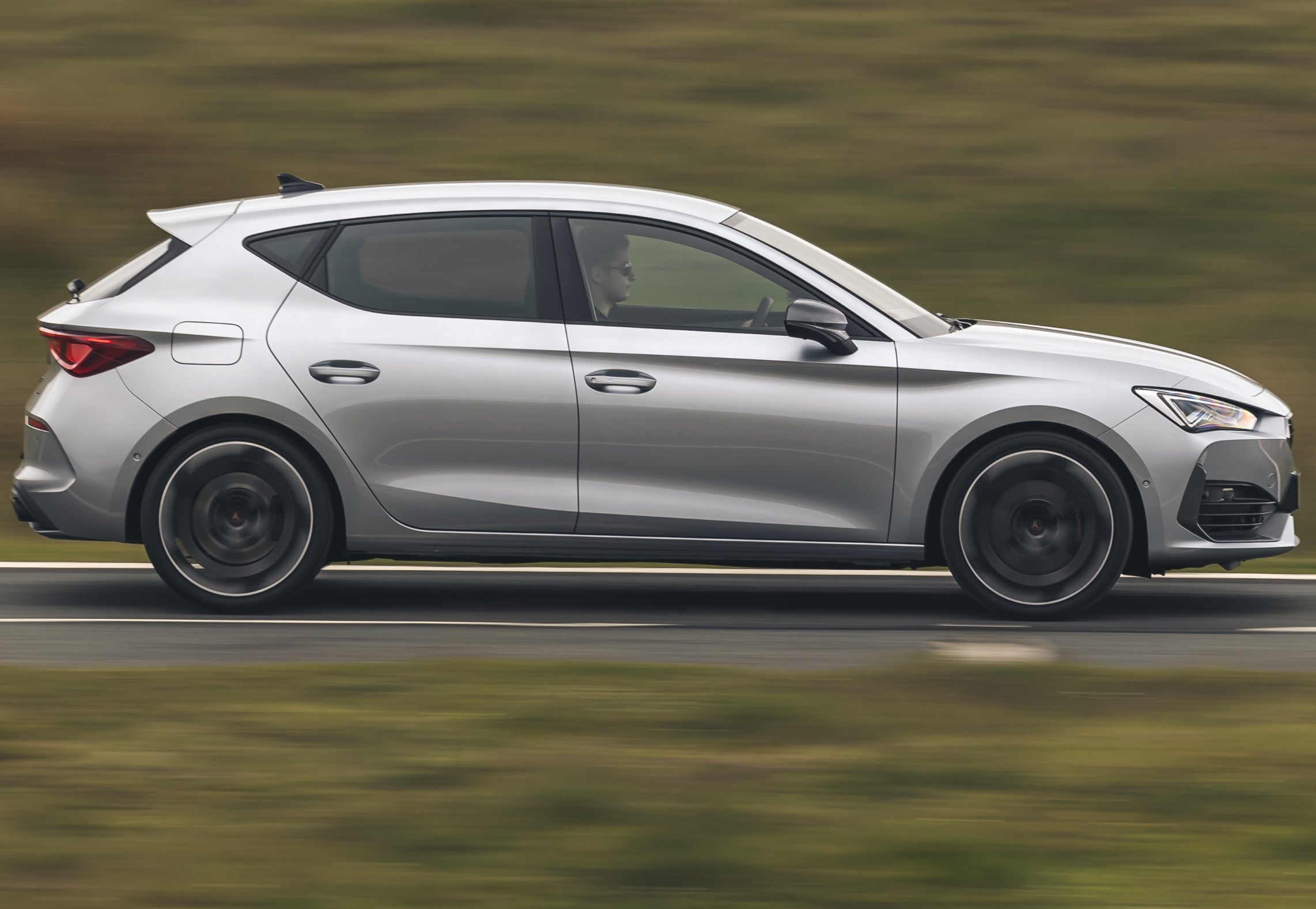 That couldn't be more true of the 245PS 1.4-litre plug-in hybrid model which posts a fuel economy figure of up to 217.3mpg. Sounds ridiculous, but only use it for short drives, charge it regularly and you'll not burn any fuel at all. On longer drives, though, when the battery hasn't been charged before your trip, expect fuel economy to be more inline with a conventional petrol like the 245 2.0-litre model which gets up to 39.2mpg.
Do the Cupra Leon experience properly, by going for the full-bore 300PS 2.0-litre (because why wouldn't you?) and your righteousness is rewarded with fuel economy just slightly off the lower powered car, 37.2mpg seeming like a fair trade for an extra 55PS. Mind you, that can easily plunge to the low 20s if you're enjoying the performance a little too much.
Insurance groups and costs
Cupra Leon insurance starts at group 28 for the PHEV model and steadily rises to group 34 for the 300PS version. As a result, insurance premiums will be high for new drivers but should be fairly affordable if you passed your test years ago and have a healthy no-claims bonus.
VED car tax: What is the annual road tax on a Cupra Leon?
Year one, road tax for the Cupra Leon ranges from being entirely free (for the plug-in hybrid model) to costing £895 for the 300PS petrol. After the first year, hybrid models pay £145 per annum to the petrol models' £155.
How much should you be paying for a used Cupra Leon?
"The Cupra Leon has only been on sale for a few months but there are already savings to be made on heycar".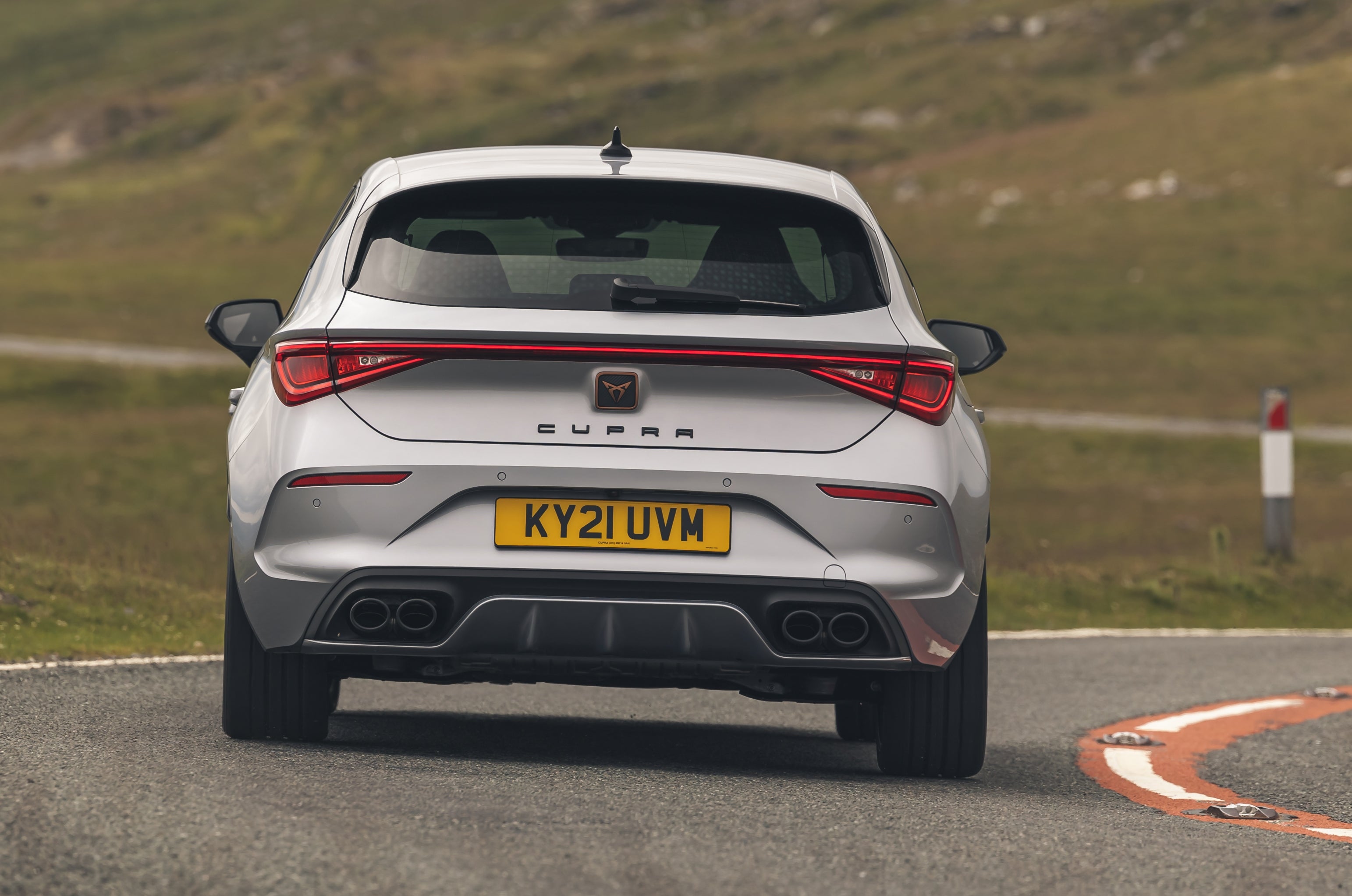 Spend £29,500 and you can have a 2021 PHEV model with 5000 miles on the clock in mid-range VZ2 trim. It would be an ideal choice if you do a weekly short commute and longer drives at the weekend.
For the full hot hatch experience, however, you'd be well advised to go for one of the petrol models, which are a lot more responsive. Spend £29,995 and you can have a brand new 245PS model, in entry-level VZ1 specification.
Prices for the top-of-the-range 300PS model – predictably, the one you want – are massively skewed by the current microchip shortage, we saw a new car in stock advertised for just under £40,000 – nearly £3000 more than its list price.
Trim levels and standard equipment
The Cupra Leon is available in three trim levels – VZ1, VZ2 and VZ3. Whichever model you choose, you'll not get a hot hatch that's dripping with sporting intent – subtle styling is the order of the day.
VZ1 models get 18-inch wheels, black callipers, LED exterior lights with dynamic indicators and a slightly more aggressive body kit than a regular SEAT Leon. Kit includes a 10-inch centre infotainment screen and digital dashboard, ambient lighting, sports seats, front and rear parking sensors, sports steering wheel, metal pedals and a reversing camera.
Larger 19-inch wheels are the extent of VZ2 models' exterior upgrades, while mechanical changes include adjustable dampers that let you stiffen the car up via its infotainment screen and speed sensitive power steering that gets quicker the faster you go. You also get autonomous driving features – that mean the car can brake, accelerate and steer itself in normal driving and emergencies – and auto-dipping headlights.
VZ3 models also have 19-inch alloy wheels but with serrated plastic trims that, we're ashamed to say, we quite like. Inside, you get leather seats that are electrically adjustable and wireless phone charging.
Ask the heycar experts:
common questions
Is SEAT now Cupra?
No, not exactly. Cupra is the name given to sporty SEATs that would previously have been called SEAT Cupra. For example, the SEAT Leon Cupra is now called the Cupra Leon.

Is the Cupra Leon four-wheel drive?
The Cupra Leon isn't four-wheel drive. For that, you'll need to go for the big-booted Cupra Leon ST estate, which also gets more power than the hatchback – up from 300 to 310PS. It's ideal if you want to carry lots of stuff very quickly indeed.

Who makes the Cupra Leon?
Cupra is owned by the Volkswagen Group and is a subsidiary of SEAT having previously been known as SEAT Sport. Cupra stands for Cup Racing, a nod to the company's heritage which saw it initially formed in the 1970s to compete in rallies. Incidentally, Cupra was also a fertility goddess of the pre-Roman period...

Cupra Leon cars for sale on heycar
181
Number of cars available
£36K - £40K
Price bracket of these cars
Colours available on heycar
Keep me updated by email with the latest advice, news and offers from heycar
By submitting, you agree to our
privacy policy
.