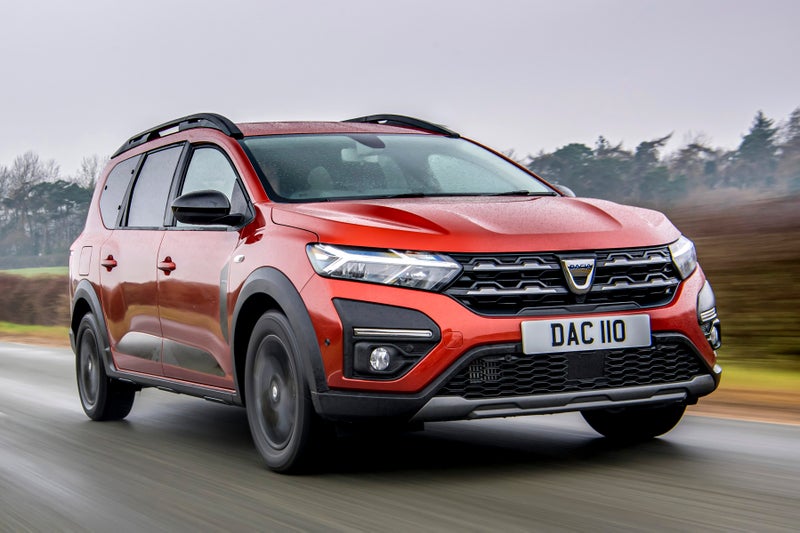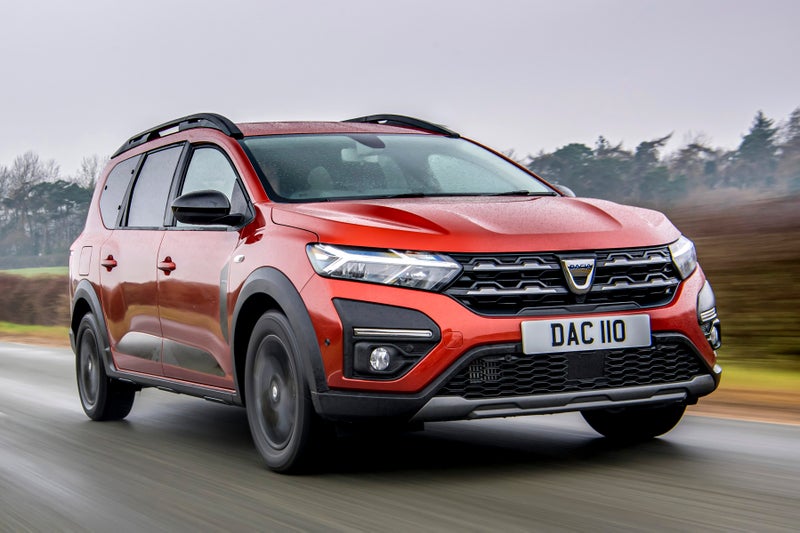 1/10
heycar rating
"Cheap and cheerful family car"
Launched: 2022

Estate car

Petrol
Quick overview
Pros
A rare new car bargain
Sprightly 1.0-litre petrol engine with a hybrid on its way
Removable third row of seats
Cons
It's clear where costs have been cut in terms of refinement
Third row of seats only really for occasional use
Questionable safety record
Overall verdict
On the inside
Driving
Cost to run
Prices and Specs
Common questions
Overall verdict on the Dacia Jogger
"The Dacia Jogger is an antidote to the increasingly expensive world we live in. While your energy bills may be rocketing, fuel prices increasing and the weekly food shop now costing well into three figures, the Dacia Jogger is a brand new seven-seater you can buy for just £14,999."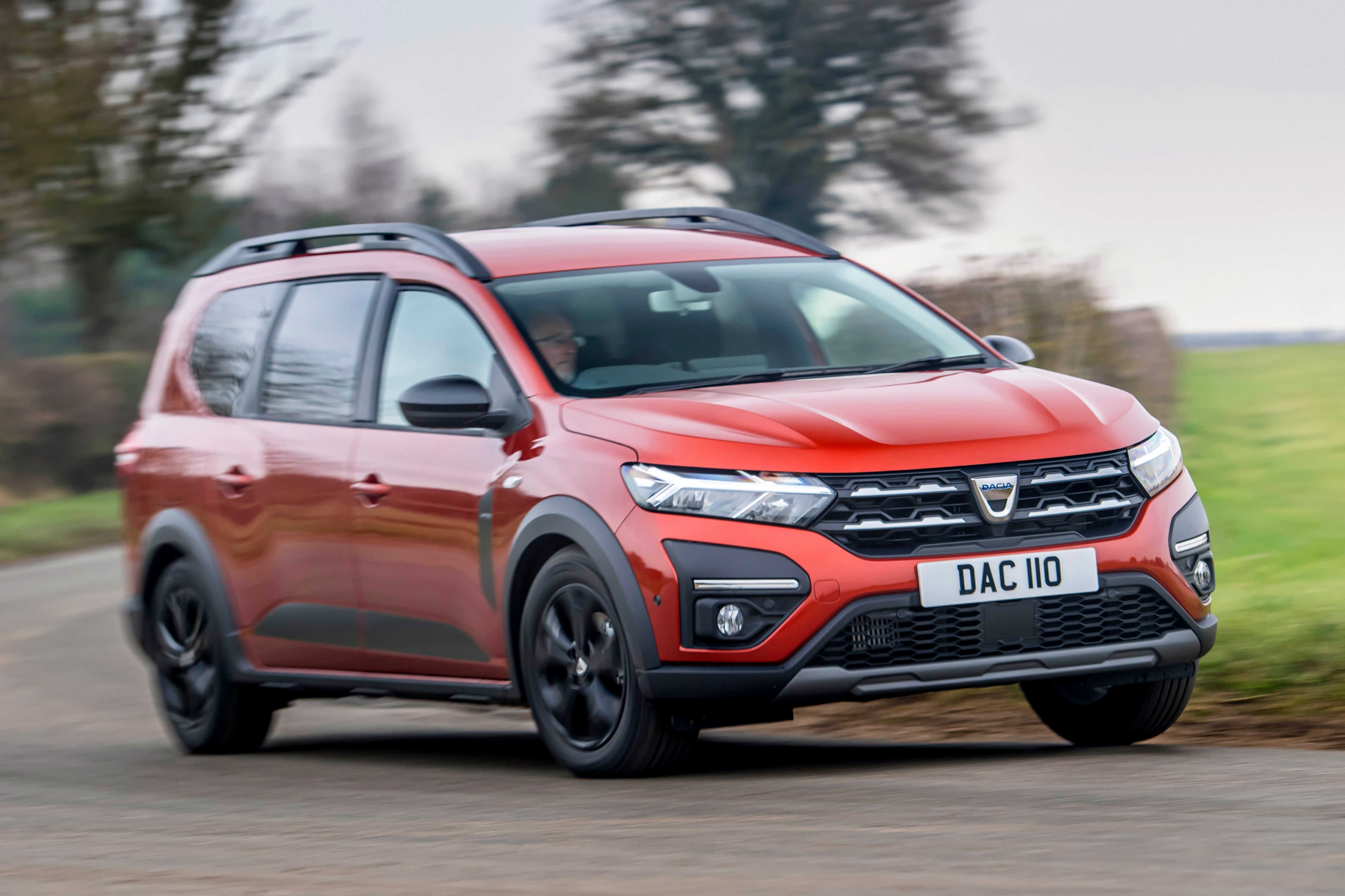 So what is the Dacia Jogger? It's basically an estate version of the Dacia Sandero, with an extended platform providing space (just about) for seven seats. Chuck in a slightly raised ride height and a stepped roofline, and it's also borderline family SUV territory.
There's nothing else quite like it on the market, but you could well be looking at it alongside conventional estate cars like the Skoda Octavia Estate or maybe the electric MG 5 EV. With its sub-£15,000 starting price, though, you're perhaps more likely to be considering this an alternative to a four-year-old Citroen Grand C4 SpaceTourer or Vauxhall Zafira.
The Dacia Jogger line-up is refreshingly simple. You get the choice of just three trim levels: Essential, Comfort and Extreme SE. There's one engine, for now – a peppy little 1.0-litre that's paired exclusively with a six-speed manual gearbox. Dacia's also expected to launch its first hybrid model in the Jogger, but that won't happen for a year or two yet.
The majority of buyers will go for the mid-level Dacia Jogger Comfort, which comes with 16-inch Flex wheels (they look like alloys but aren't), clever modular roof bars, climate control and an eight-inch media system with Apple CarPlay and Android Auto.
It certainly feels like a budget option inside, where you'll find tough plastics, old-fashioned rotary knobs for the climate control (not necessarily a bad thing...) and – on Comfort and Extreme SE models – the aforementioned eight-inch infotainment system tacked onto the dash like an afterthought.
It's spacious, though, with room for adults in the second row of seats and enthusiastic children in the third row. You don't get a lot of boot space with all seven seats in use but, fortunately, the two seats in the boot are extremely lightweight and can be removed entirely without much hassle. We'd suggest doing this on a semi-permanent basis – if you need a true seven-seater, look elsewhere.
With a kerb weight of just over 1200kg, the Dacia Jogger's little 1.0-litre engine moves it along quite happily (or it does when the car's not bursting with passengers, anyway). It's quite noisy and unrefined compared to something like a Volkswagen Golf Estate, but there have to be compromises somewhere.
That light weight means it feels agile enough on the open roads, although the steering's light and it does crash a little over broken road surfaces. We suspect it might settle down a bit when fully loaded, but it certainly doesn't sway around in the corners as much as you might expect a car like this to.
We like the Dacia Jogger. It's a refreshingly affordable new car that goes against the fad for premium-badged SUVs. It's impossible to overemphasise how remarkably good value it is – it's a seven-seat estate car for the price of a pretty basic Ford Fiesta. But it has other talents, too, including impressive versatility and an eager 1.0-litre petrol engine. Sure, there are a few hard plastics in the cabin and a bit more soundproofing wouldn't have gone amiss, but the Jogger's a genuine new car bargain.
Is the Dacia Jogger right for you?
If you're looking for an unpretentious family car that you won't feel bad about loading with children or chucking a muddy mountain bike into the back of, the Dacia Jogger could be the ideal choice. If you really need a seven-seater, you might need to look at bigger (pricier) alternatives, but the affordable Dacia is surprisingly practical.
What's the best Dacia Jogger model/engine to choose?
This is pretty easy. There's only one engine for now – a 1.0-litre petrol paired with a six-speed manual gearbox. There's probably not much reason to wait for the hybrid engine (unless, perhaps, you want an automatic gearbox) – its higher list price will wipe out any potential fuel cost savings.
In terms of trim level, the majority of buyers are expected to go for the Dacia Jogger Comfort or Extreme SE. We wouldn't bother with the entry-level Duster Essential unless you're really counting the pennies - the difference in monthly payments between this and the higher-spec models is minimal and brings nice-to-have features like a reversing camera and an in-built infotainment system.
What other cars are similar to the Dacia Jogger?
The Dacia Jogger doesn't really have many direct rivals. If you're after a budget estate car, it'd be worth looking at the electric-only MG 5, but that probably won't appeal if you regularly cover long journeys. It's not a seven-seater, either. Otherwise, the Dacia Jogger is probably up against conventional estates like the Ford Focus Estate and Skoda Octavia Estate, both of which are considerably more expensive – as are family SUVs like the Nissan Qashqai and Kia Sportage. If you're seeking practicality on a budget, it's worth looking at used van-based people carriers like the Peugeot Rifter and Citroen Berlingo.
Comfort and design: Dacia Jogger interior
"While the Dacia Jogger is quite innovative in many ways, it's actually quite ordinary inside. It looks and feels just like a Dacia Sandero, which means it's a functional rather than fancy affair."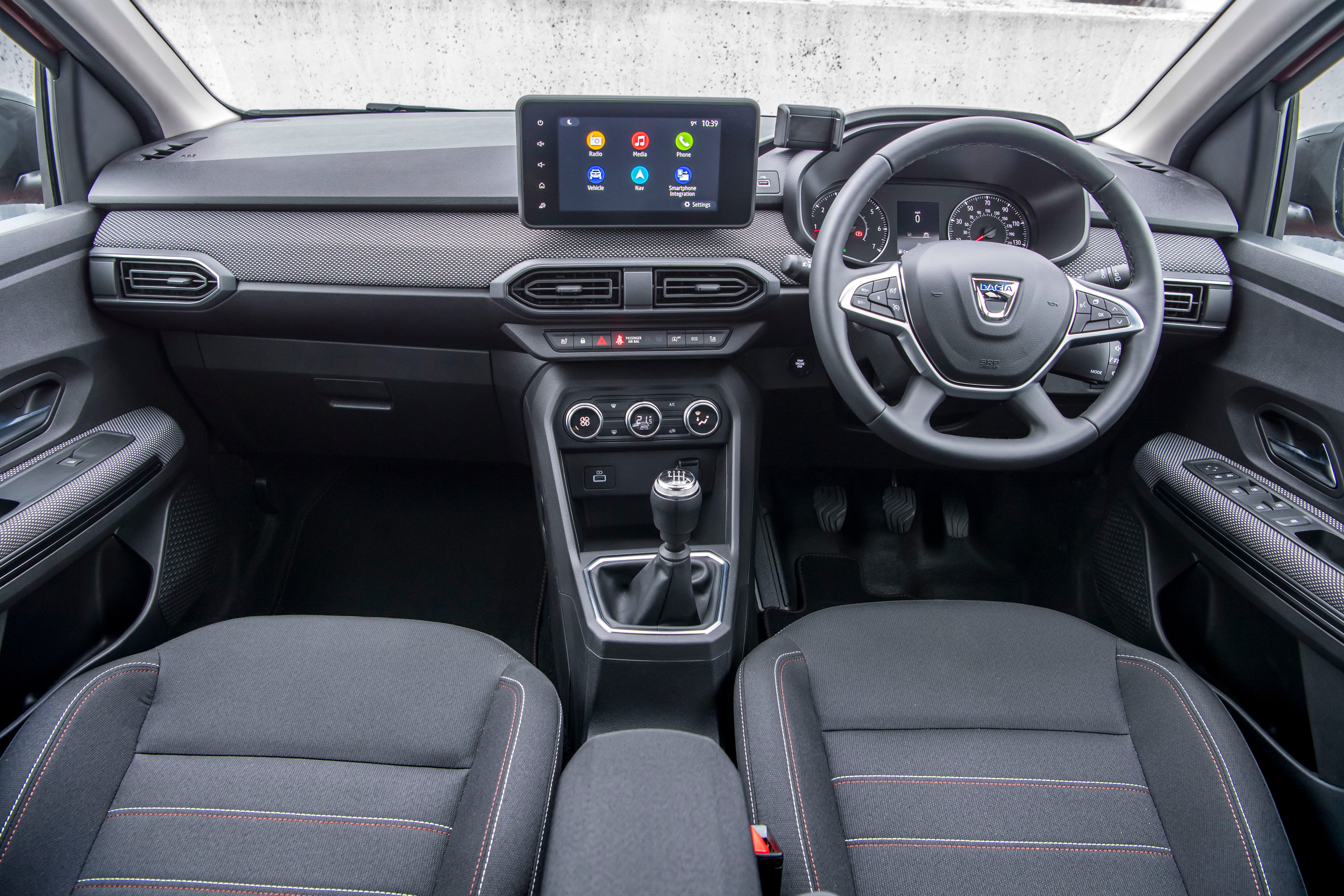 Still, the Dacia Jogger will appeal to buyers who don't want all the latest technology and fancy (read: irritating) touch-sensitive climate control buttons. The most basic Dacia Jogger Essential doesn't even come with an infotainment screen – it's got a phone holder instead.
It's just a very easy cabin to get used to. The seats are supportive, although don't expect things like electric adjustment or lumbar support. You do sit higher than in a regular hatchback, although you're not going to be towering over other motorists.
There are a few highlights which mean the Jogger's cabin isn't too drab an affair. We like the fabric running along the width of the dash, for example, and the angular air vents are a neat touch.
Quality and finish
There's certainly little in the way of plushness in the Dacia Jogger, but it's unashamedly a budget car. There are quite a few hard plastics around the cabin, particularly on the door cards and around the centre console. It feels like it'll take whatever family life throws at it, though, and at least there's a strip of fabric running across the dash so it's not just a slab of hard plastic.
Infotainment: Touchscreen, USB, nav and stereo in the Dacia Jogger
Each of the Dacia Jogger's three trim levels comes with a slightly different infotainment offering.
The Dacia Jogger Essential comes with a Media Control System, which is essentially just a phone holder attached to the dashboard. You can download Dacia's Media Control app and pair your phone to the car's in-built media system via Bluetooth. This allows you to play music and navigation instructions through the car's speakers, while your phone acts as the display for your own nav system (Google Maps, for example).
The Media Display system is standard on the Dacia Jogger Comfort and adds an eight-inch touchscreen display mounted high on the dashboard and angled towards the driver. You still get the in-built phone holder but it isn't strictly necessary as Android Auto and Apple CarPlay are also standard. It's an easy system to use, although its slightly tardy responses and 'tacked onto the dashboard' positioning means it does have a cheap Android tablet feel about it.
Top-spec Dacia Jogger Extreme SE models use the same eight-inch display with added wireless connectivity for Android Auto and Apple CarPlay as well as an upgraded six-speaker audio system and in-built navigation.
Space and practicality: Dacia Jogger boot space
Measuring 4547mm long and 2007mm wide (including door mirrors), the Dacia Jogger's external dimensions are similar to a Volkswagen Golf Estate.
It's quite cleverly packaged, though, so it feels surprisingly spacious for its relatively compact footprint. You get a lengthy wheelbase, which means the wheels are pushed out to each corner so that they don't intrude on interior space. You also get a stepped roof which means there's loads of headroom inside.
Certainly, space in the front is more than adequate. You don't get a high seating position (like in an SUV alternative like the Skoda Karoq), but there's enough room for a pair of adults without any awkward elbow bashing. Large wide windows and that stepped roof means it doesn't feel claustrophobic in the second row of seats, either, although adults will find their knees brushing the front seats.
The third row of seats are only really for occasional use. With them, there's just 212 litres of boot space. Simply getting into them requires a fair amount of agility - kids will embrace the challenge, no doubt, but adults will struggle.
Fortunately, the rear-most seats are surprisingly lightweight and easily lifted out. You can't buy a five-seat Dacia Jogger in the UK, but we suspect many buyers will store the back seats away in the garage most of the time. With them removed, there's 699 litres of boot space available, which is even more than a Skoda Octavia Estate. Access is easy, too, thanks to a low loading lip and a wide boot opening.
One feature of note is the clever modular roof rails which, with the help of an Allen key can be turned into a full roof rack capable of carrying up to 80kg (ideal for fixing a roof box when the car's full up with passengers). These are standard on Dacia Jogger Comfort and Extreme SE models.
Handling and ride quality: What is the Dacia Jogger like to drive?
"The Dacia Jogger rides pretty well thanks to its standard-fit 16-inch wheels and supple suspension. Sure, it's not got the most sophisticated ride, but it's certainly no less comfortable than van-based people carrier alternatives."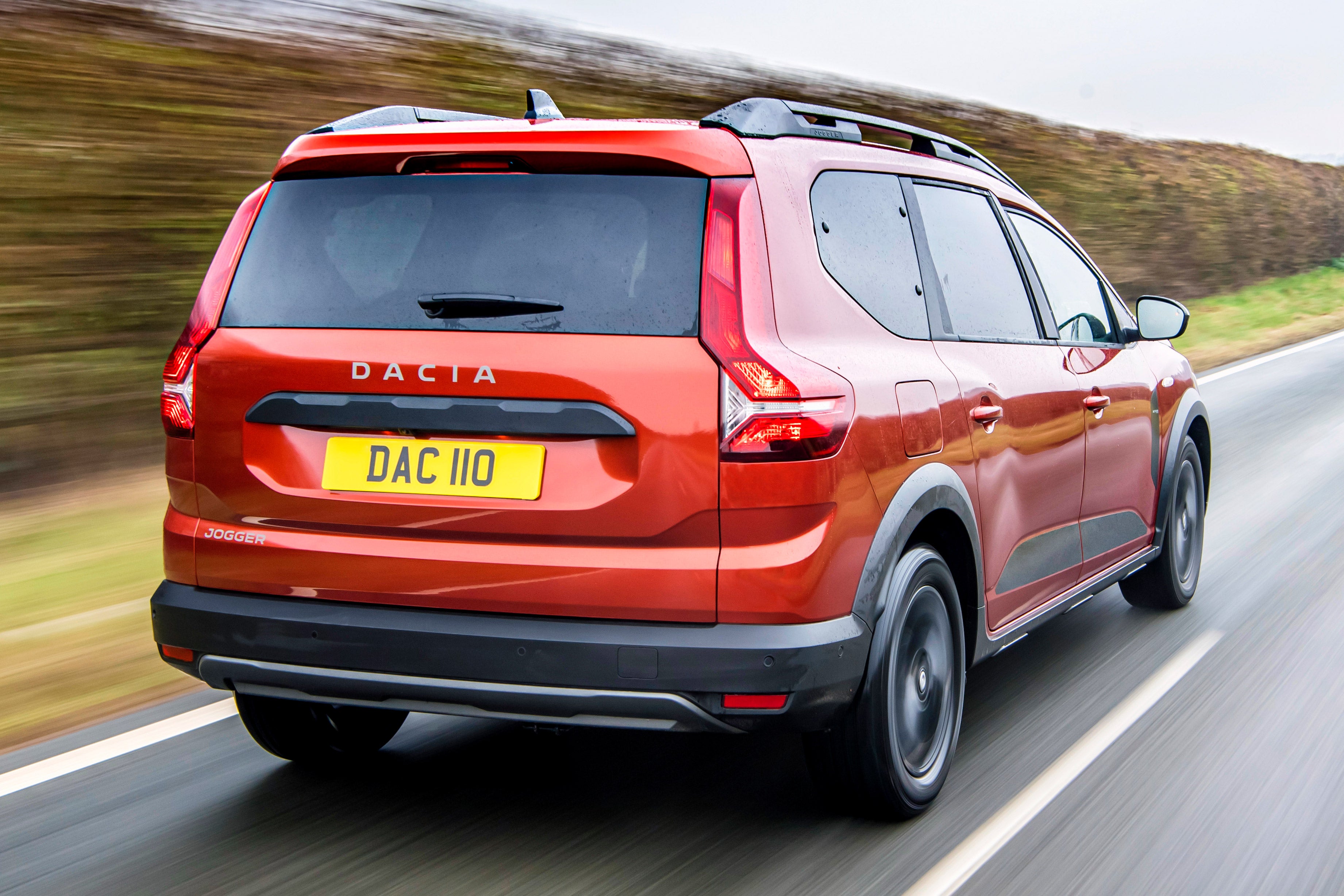 The Dacia Jogger is so versatile that it's easy to forget that it's actually got a smaller footprint than a Ford Focus Estate, which helps when you need to tackle a narrow lane or congested car park. Rear parking sensors are standard across the range, while Comfort and Extreme SE models also come with them at the front as well as a reversing camera. If you've got a tight driveway, the Dacia Jogger is a much better option than a traditional people carrier like the Volkswagen Touran.
A light clutch pedal and light steering also help around town, while the manual gearbox is easy enough to use. Out of town, the Dacia Jogger isn't exactly a sharp handler, but there's plenty of grip available and it doesn't feel like a boat in the corners. It's a shame that Dacia doesn't offer the Jogger with four-wheel drive, although that would be extra expense and complexity that few buyers would really want.
What engines and gearboxes are available in the Dacia Jogger?
For now, the Dacia Jogger is available with just one engine: a 1.0-litre turbocharged three-cylinder petrol engine badged the TCe 110. With 110PS and 200Nm of torque, you might think this'd be a little lacking in a car the size of the Jogger, but it isn't. Not really.
The Dacia Jogger weighs just 1205kg, which is barely any more than the latest Mazda MX-5. That helps with progress, although we can't vouch how sprightly the Jogger will seem when fully loaded with passengers.
All Dacia Joggers come with a six-speed manual gearbox. This is precise enough to use, while a light clutch pedal helps. If you want an automatic, you'll have to wait for the upcoming Dacia Jogger Hybrid.
Refinement and noise levels
If there's one area in which you can really tell the Dacia Jogger is a budget car, it's here. Like most little three-cylinder engines, the TCe 110 is quite a grumbly little unit. There's not as much sound insulation as you'd get in more expensive alternatives so things get pretty noisy when you build the revs. It's quite characterful in some ways, but it soon gets boring.
There's quite a considerable amount of wind and road noise at speed, too. It's not the kind of car that'll isolate you from your surroundings after a long day at work.
Safety equipment: How safe is the Dacia Jogger?
All Dacia Jogger models feature six airbags as well as a range of advanced driver assistance systems (ADAS). These include an automatic emergency braking system that uses front-mounted radar to detect an impending collision with the vehicle ahead and can alert the driver or apply the brakes to prevent a potential collision.
There's also a blind spot warning system in the form of a light within the door mirror to notify you of cars in your blind spot, while all models come with rear parking sensors to help prevent a collision when parking. The Dacia Jogger Comfort and Extreme SE also come with front parking sensors and a rear-view camera.
The Dacia Jogger was awarded a pretty dismal one star when it was crash-tested by Euro NCAP. Don't dismiss it for this reason straight away – it performed relatively well for its protection of both adult and child occupants. Most of NCAP's criticism was aimed at the Jogger's poor pedestrian protection and its lack of autonomous safety systems (things like lane-keeping assist – the kind of thing many of us turn off, anyway).
MPG and fuel costs: What does a Dacia Jogger cost to run?
"According to WLTP tests, the new Dacia Jogger returns up to 49.6mpg with the 1.0-litre petrol engine. Like most small-capacity turbocharged engines, its real-world economy will take a hit if you try to extract the most performance out of it, but it should be fairly efficient under day-to-day bimbling about. With a 50-litre fuel tank, expect to fill the Jogger up every 400 miles or so."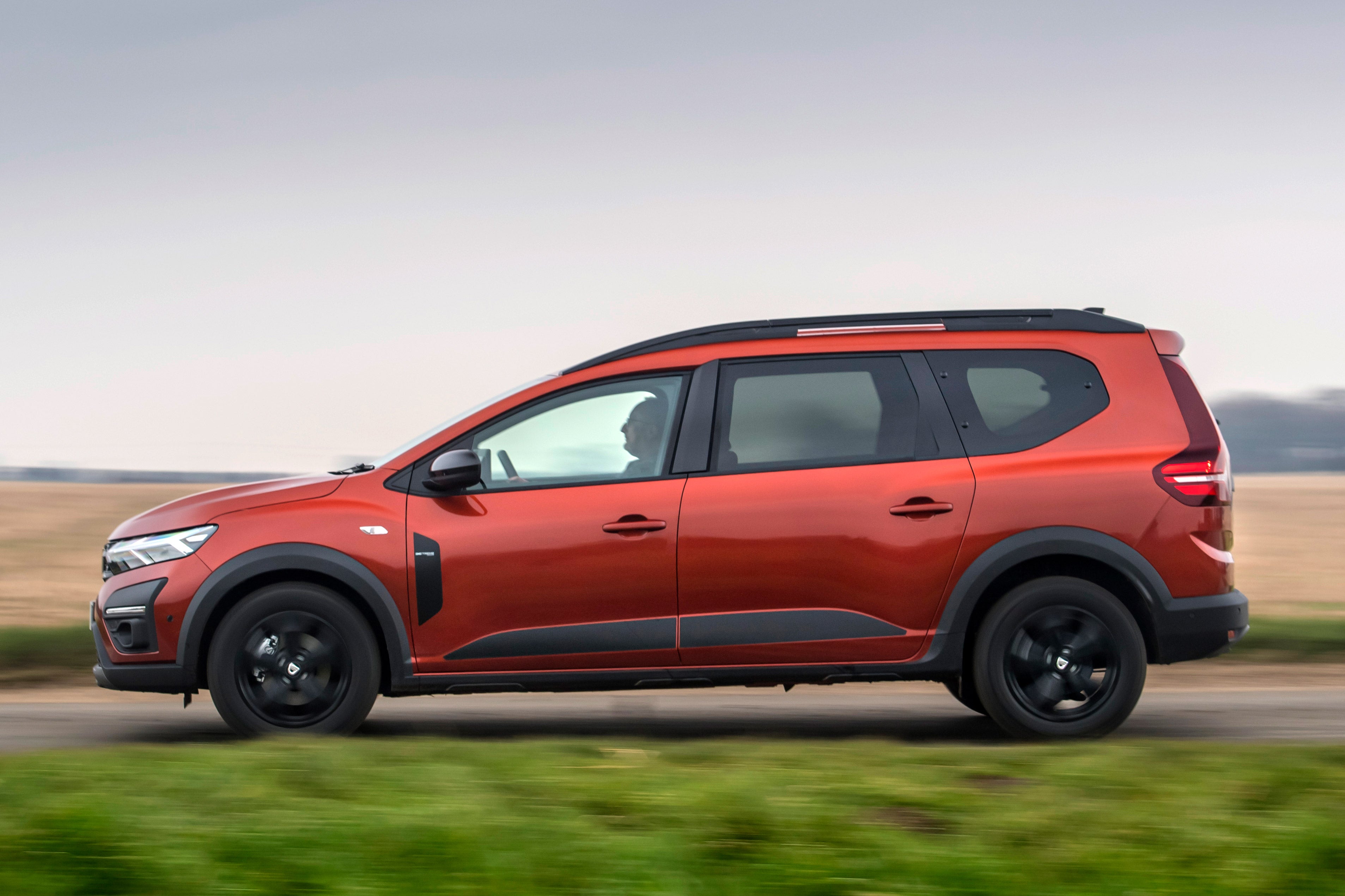 While Dacia has no plans to introduce a diesel Jogger (such is the modern world), a hybrid model will cater for those seeking greater efficiency. We'll find out more about that, including fuel economy figures, closer to its 2023 launch date.
How reliable is the Dacia Jogger?
Dacia might be a budget car brand but that doesn't mean it's going to leave you stranded on the side of the road. The manufacturer actually came top in the latest HonestJohn.co.uk Satisfaction Index, with owners happier with their cars than any other carmaker.
Insurance groups and costs
Dacia Jogger Essential and Comfort models have been provisionally placed into insurance group 13, while the Dacia Jogger Extreme SE is in insurance group 14. That means it'll cost roughly the same as a base-spec Ford Focus Estate to insure.
VED car tax: What is the annual road tax on a Dacia Jogger?
The standard petrol Dacia Jogger will cost a flat rate of £155/year to tax, which is the same as all non-hybrid or electric alternatives. If you wait for the Dacia Jogger Hybrid, you'll save £10 a year on your road tax bill.
How much should you be paying for a used Dacia Jogger?
"The Dacia Jogger is still very new so is yet to hit the used market in significant numbers. A brand new one isn't particularly expensive, though – you'll pay £14,999 for an entry-level Dacia Jogger Essential, while the Dacia Jogger Comfort is priced from £16,595. The most you'll spend on a new Dacia Jogger (until the hybrid model arrives in 2023) is £17,395 on the Extreme SE special edition."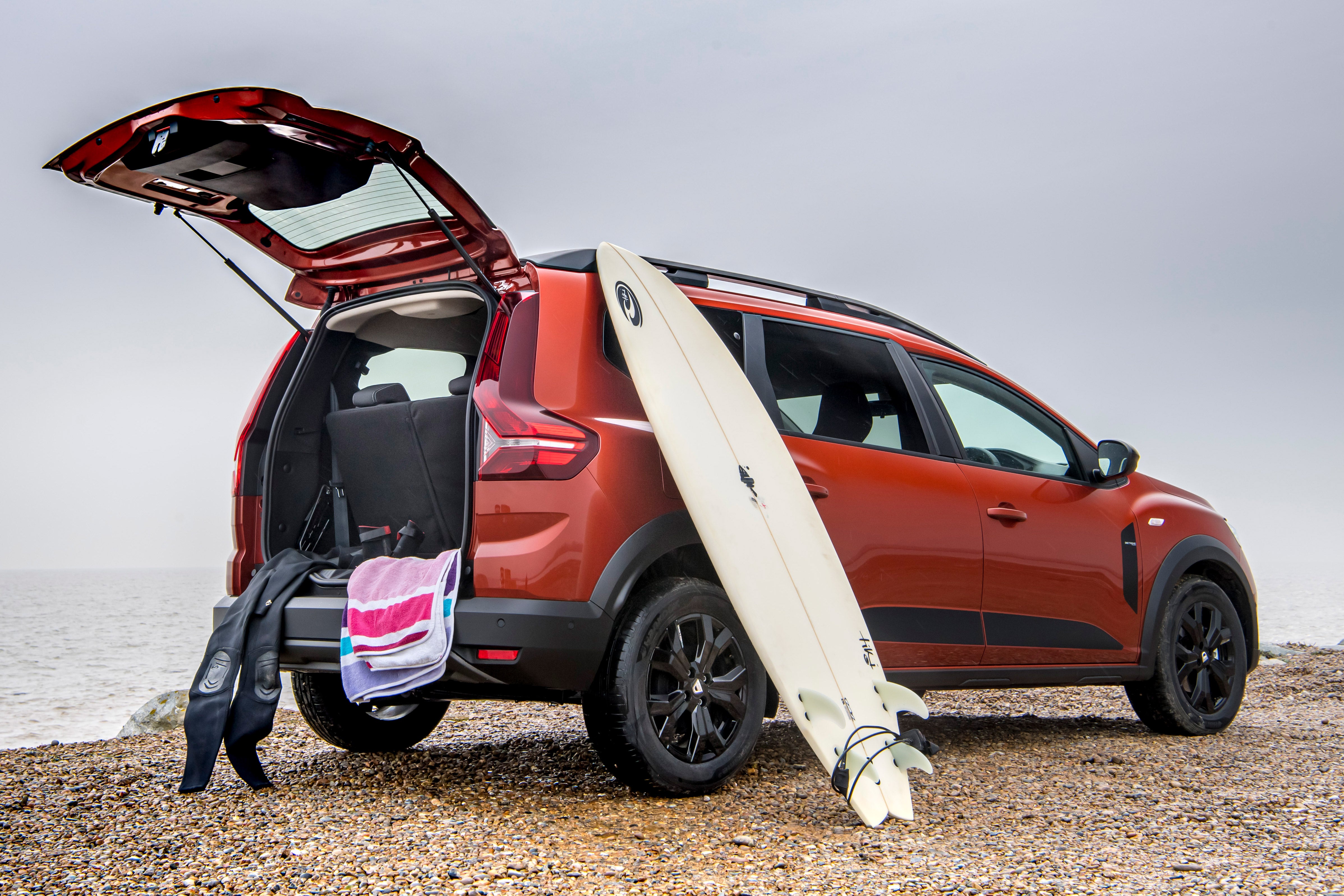 The only options are metallic paint (£595) and a spare wheel.
Dacia tells us it looked at the price of three-year-old people carriers when it set the prices, and it's by far the most affordable seven-seater you can buy today. It even undercuts a conventional estate car like the Ford Focus Estate by around £9000 – quite a significant saving.
Trim levels and standard equipment
As its name suggests, the Dacia Jogger Essential covers the basics. Standard equipment includes manual air conditioning, rear parking sensors, cruise control and automatic headlights. You get a steering wheel that adjusts for height and reach, electric front windows, an automatic emergency braking system and Dacia's Media Control system in place of a modern infotainment display.
The Dacia Jogger Comfort adds modular roof rails, body-coloured door handles, front and rear parking sensors with a reversing camera, 16-inch 'Flex' steel wheels which look a bit like alloys and electrically adjustable and heated door mirrors. Inside, the JoggerComfort comes with a soft-feel steering wheel, chrome and copper orange interior highlights, a central armrest, electric rear windows, an electronic parking brake, keyless entry, automatic air conditioning, line spot warning and Dacia's eight-inch infotainment system with Apple CarPlay/Android Auto.
The special edition Dacia Jogger Extreme SE tops the range with 16-inch black alloy wheels along with matching black roof bars and door mirrors. Inside, the Jogger Extreme SE comes with heated front seats, special floor and cargo mats and a built-in navigation system.
Ask the heycar experts:
common questions
Is the Dacia Jogger coming to the UK?
Yes, the Dacia Jogger is now on sale in the UK with prices starting from £14,995.

Where is the Dacia Jogger made?
The new Dacia Jogger is built at the company's Mioveni plant in Romania. The plant, covering an area of 288 hectares and employing more than 10,000 people, has been operating since 1968, coming under Renault Group ownership in 1999. The plant exports 86% of its production to countries around the world.

How much is the Dacia Jogger?
Prices start from £14,995 for a new Dacia Jogger Essential TCe 100. The mid-range Dacia Jogger Comfort is £16,595 while the top-spec Dacia Jogger Extreme SE is £17,395.

Dacia Jogger cars for sale on heycar
1,831
Number of cars available
£15K - £21K
Price bracket of these cars
Colours available on heycar
Keep me updated by email with the latest advice, news and offers from heycar
By submitting, you agree to our
privacy policy
.