Dacia Sandero Review 2022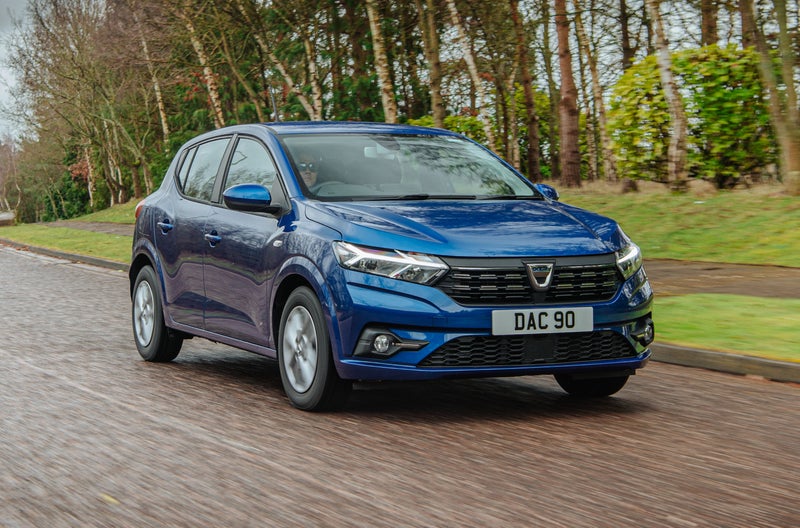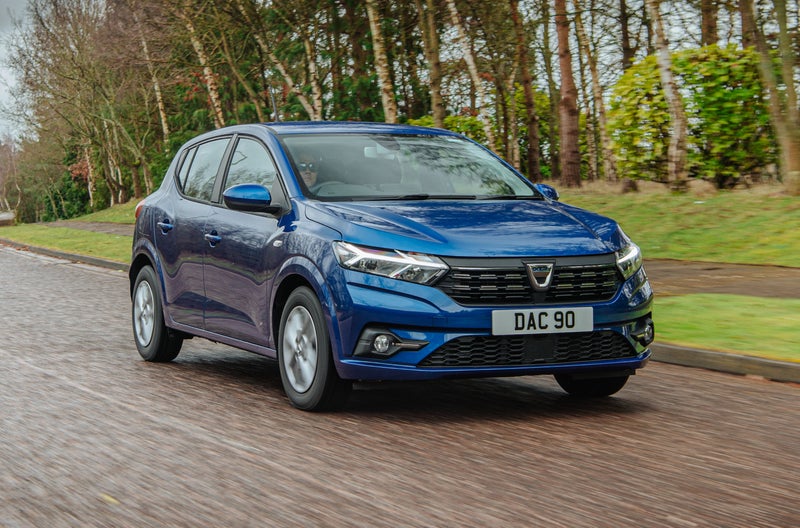 1/10
heycar rating
"New Sandero represents incredible value"
Launched: 2021

Small hatch

Petrol
Quick overview
Pros
Astonishingly cheap
Impressively spacious
Comfortable and easy to drive
Cons
You can tell why it's so cheap
The 65 model is too slow
Equipment's bare on entry models
Overall verdict
On the inside
Driving
Cost to run
Prices and Specs
Common questions
Overall verdict on the Dacia Sandero
"Much like supermarket corn flakes, the Dacia Sandero gives you more car for less money than its big name rivals making it easy to forget that it doesn't taste quite so good as the better-known brands."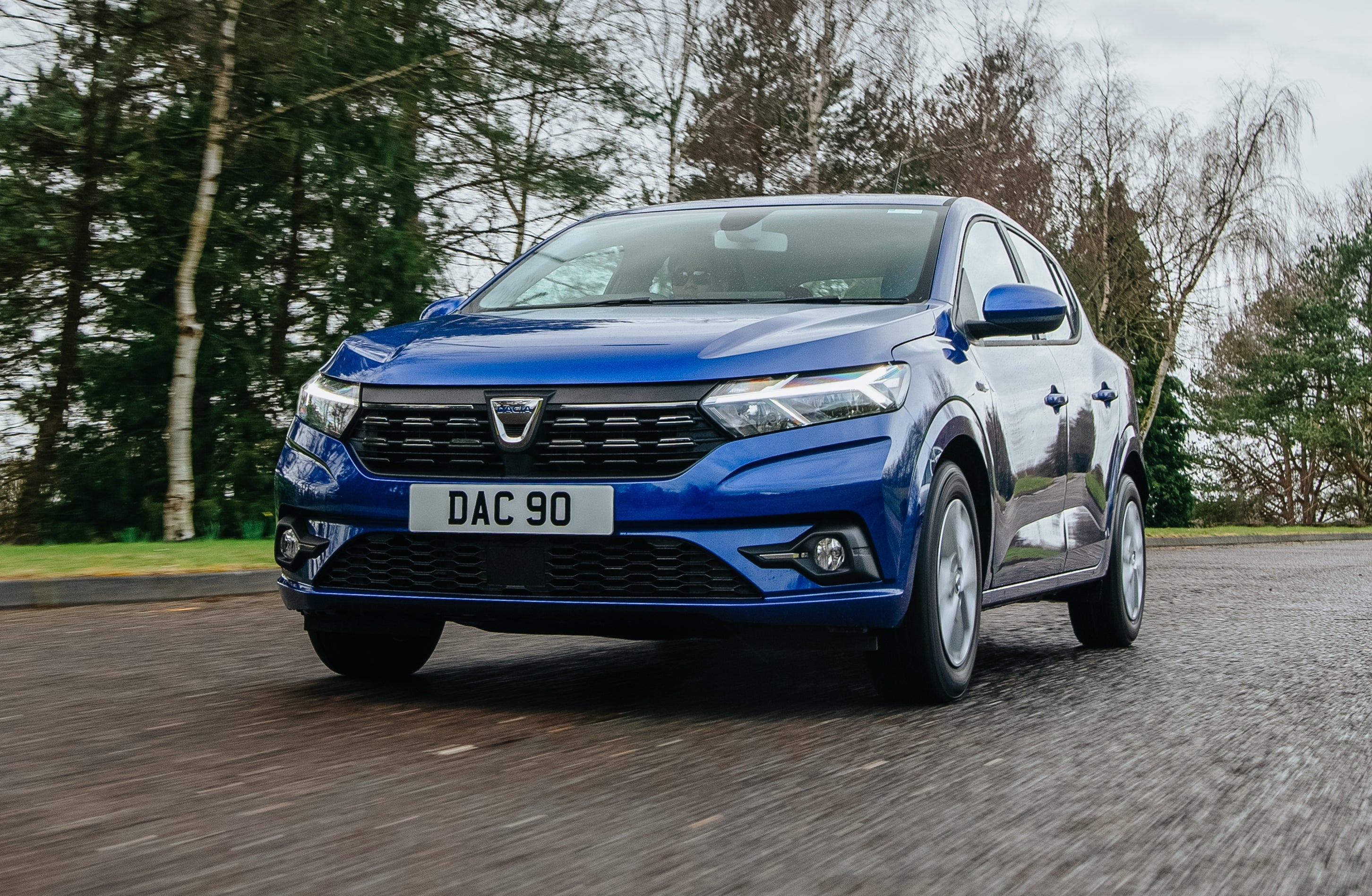 That's right, with a starting price of £7995, you can have a brand new Dacia Sandero – with the peace of mind and warranty that entails – for the same price as a used car like the Ford Fiesta that's out of warranty and has loads of miles on the clock. It's perhaps from this angle that the Dacia is best judged. Read our 2022 Dacia Sandero review to find out more.
That's not to say the Dacia Sandero should be chosen purely on price. In terms of practicality, it beats cars like the Ford Fiesta hands down and is miles ahead of new rivals that are close on price like the Volkswagen Up, Skoda Citigo and Hyundai i10. The Dacia Sandero has enough room for tall adults in the front and the back, and its boot is roomy.
Unfortunately, the interior does reinforce the Dacia's budget brand price point. You'll find the reinforced concrete walls in a maximum security prison cell are made of softer materials than the Dacia Sandero's dashboard plastics and, in terms of equipment, it's actually more spartan – prisoners get radios, the Dacia Sandero Access does not.
You're much better to get a Dacia Sandero Essential which comes with, well, essentials like a radio and air-conditioning, cruise control, central locking and electric windows.
And while you're in a frivolous mood, you'd be well advised to skip the 65PS petrol engine and spend another £1000 to get the 90PS model. Its extra power means the Sandero doesn't feel overawed on the motorway or hills and it returns identical fuel economy to the basic engine. It seems like a no-brainer.
The 90PS engine turns the Sandero into an excellent all-rounder, but one that focuses on comfort rather than the playful handling you get from, say, a secondhand Fiesta. The Dacia is softly sprung soaking up bumps well and keeping road noise to a minimum, but its slow steering doesn't encourage you to drive quickly and it soon runs out of grip if you do throw caution to the wind.
Light controls and perfect visibility mean the Dacia Sandero is an easy car to drive in town but it feels less at home if you crank it up to motorway speeds. Refinement isn't great thanks to the car's minimal sound deadening and the 65PS model's five-speed gearbox means its engine has to work hard. Unsurprisingly for this price point, autonomous driving aids aren't available but it does have safety features like air bags.
In short, the Dacia Sandero is relatively basic motoring that doesn't deliver the fulsome flavour of a same-size rival that can easily cost twice as much. Ignore the competition, buy the Dacia Sandero, and much like supermarket corn flakes you'll have no idea what you're missing out on and be perfectly happy with your purchase.
If you're looking for the older version, you need our used Dacia Sandero (2013 - 2021) review.
Is the 2022 Dacia Sandero right for you?
If you want a brand new car for the lowest price possible, the Dacia Sandero is the stand out option. It starts from less than £8,000 meaning it's £4,000 cheaper than a Volkswagen Up, despite it competing with the larger Polo in terms of size. Admittedly, the Dacia Sandero is basic in its cheapest form, but it's easy to drive and costs buttons to run, plus you get the reassurance of buying a brand new car with a warranty.
What's the best Dacia Sandero model/engine to choose?
We would recommend a Dacia Sandero 90TCe in Essential trim. The 90PS engine is much quicker than the basic model but no worse on fuel while Essential trim comes with useful kit like air-conditioning, remote central locking and cruise control.
What other cars are similar to the Dacia Sandero?
No other cars offer the same value as the Dacia Sandero. City cars like the Volkswagen Up are a lot more expensive and quite a bit smaller, so you're more likely to compare the Sandero to a secondhand Ford Fiesta, which is a better car in most measurable ways, but won't have the showroom-fresh feel and warranty that the Sandero gets you.
Comfort and design: Dacia Sandero interior
"The Dacia Sandero won't blow you away with its striking design and robust build quality, it's got very little of either, but everything has to be taken in the context of its extremely low price – bare that in mind and you'll find very little to fault."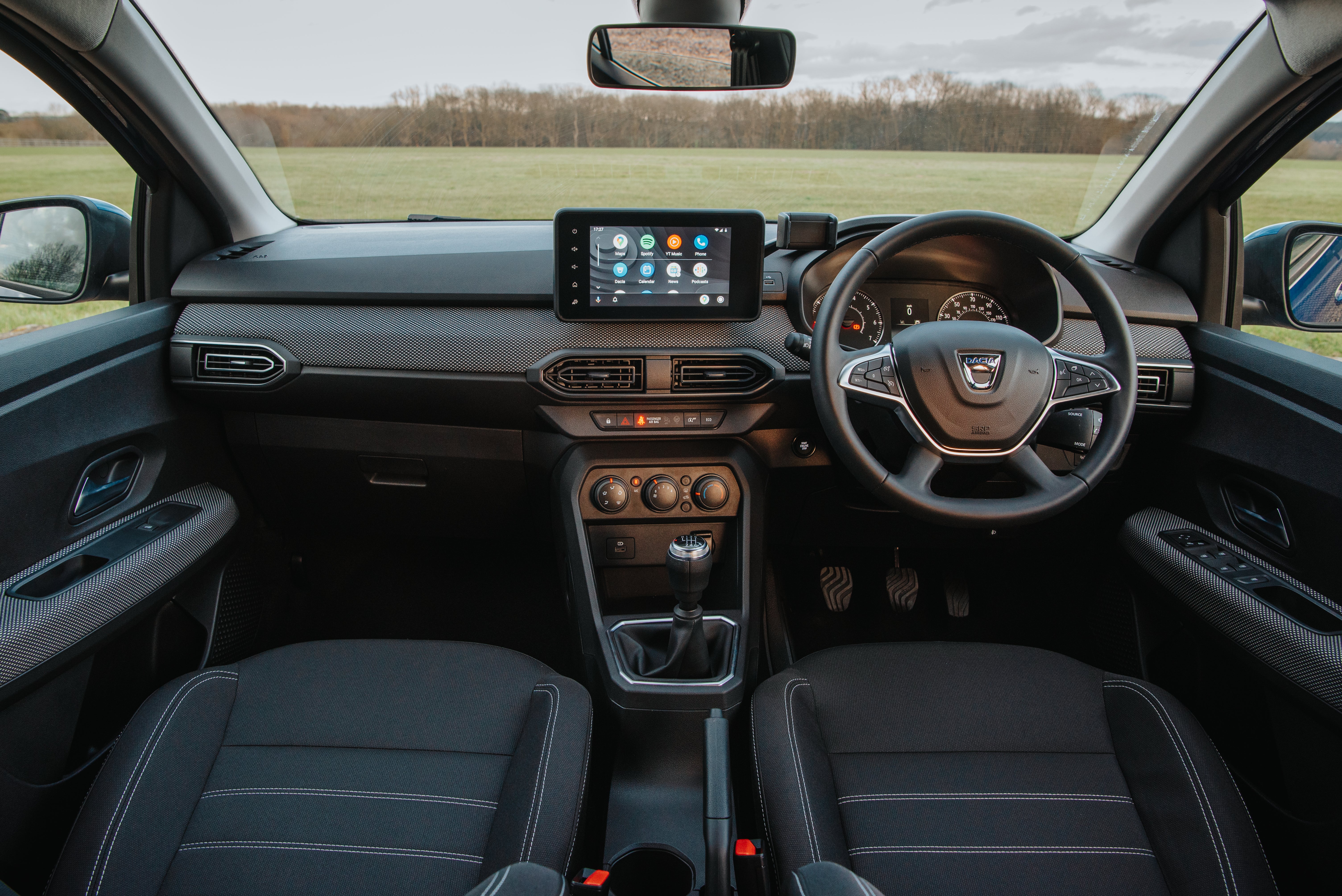 Remember, a brand new Dacia Sandero will cost you the same as well run-in second hand car. Its interior is fresh, the plastics are in pristine condition and the seats aren't worn. It's also a smart, modern design with a clear instrument cluster and an infotainment screen that sits proud of the dashboard at a comfortable height for glancing.
The Dacia Sandero is far from an ergonomic masterclass, mind. The steering wheel moves for height and reach as one, pulling forward at an angle that makes it hard to fine-tune it perfectly to your body shape.
The driver's seat also adjusts for height and furiously pumping the (none-too-robust-feeling) lever gives you something resembling a crossover's raised driving position, although you'll be much better served by the taller Stepway model if a high-up view is what you want. The backrest also moves with a lever which means it's quick and easy to get into position, but a knob would make incremental adjustments easier.
The Sandero chucks a couple of other ergonomic curveballs in the form of a headlight height adjustment wheel that is located next to your shins in the footwell – so you can adjust their shine, but career off the road doing it. Meanwhile, the closest stereo controls are located behind the wheel on a stalk-like control that we pretty sure we last saw on a Renault Megane. From the '90s.
Quality and finish
While the Sandero's dashboard looks perfectly acceptable from a distance, closer examination does not play to the Dacia's favour.
All the plastics feel cheap and hard on the Dacia Sandero, and a cursory knuckle rap reveals that they sound unreassuringly hollow, too. It's hard to imagine how some parts could be any cheaper – the blank stretch of plastic that constitutes the central console looks terrible, the glovebox lid falls unceremoniously out of the dashboard on a bungee cord, and the hollow clang when you close the doors only reinforces the idea that money has been saved. Everywhere.
Don't throw the Dacia Sandero brochure out the window just yet though, because there are some saving graces to be found. Top-of-the-range Dacia Sandero Comfort models get a soft-touch steering wheel that is nice to hold and fabric trim pieces that are a modern touch.
Comfort and Essential models also get coloured air-vent trims (Satin in the Essential, Copper Orange in Comfort) and posher upholstery than the basic Dacia Sandero Access.
Infotainment: Touchscreen, USB, nav and stereo in the Dacia Sandero
The Dacia Sandero Comfort is the only model in the range to get an infotainment system – the Sandero Access gets no stereo, while the Sandero Essential gets a basic two-speaker system.
The Sandero Comfort comes with an eight-inch screen that is big enough to be very usable and while its graphics aren't crisp, they are colourful. All the main functions are accessed via clear icons on the main menu although the screen doesn't recognise smartphone gesture controls like pinch and swipe. This uprated system also adds a couple tweeters to the standard stereo's two-speaker setup, but the sound is tinny and there are no speakers in the back.
The best thing about the upgraded stereo is that it features smartphone mirroring so you can use the apps on your phone – like Spotify and Google Maps – on the car's big screen. It's done via an app on your smartphone and you get a dash-mounted holder that gives you somewhere to put it along with its own dedicated USB-C plug on the top of the dashboard.
Space and practicality: Dacia Sandero boot space
If you're looking for as much interior space as you can get for your money then the Dacia Sandero is the undisputed king – it costs less than the Volkswagen Up city car, but competes with a Volkswagen Polo small car in terms of space. That's because it's physically quite a big car, measuring 2007mm wide, 1499mm high and 4088mm long.
The Dacia Sandero's front doors open wide and once you get sat behind the wheel you'll find no shortage of head and legroom. Subjectively, it feels bright and spacious inside and you won't find yourself awkwardly elbowing your front-seat passenger like you will in more expensive city cars like the Toyota Aygo.
Open the back doors – they open nearly as wide and are almost as big as the fronts – and the room you'll find in the rear seat is exceptional for the price. A tall adult can sit behind you in comfort even if you're tall and they'll have no issues sliding their size 11s under your seat.
There's no back seat centre armrest, but this does mean the middle seat is one of the most comfortable we have encountered. Its flat cushion doesn't hold you in place like the shaped outer seats, but neither does it make you feel like you're sitting on a ridge like in most other cars. Loaded up with three adults in the back, you'll most likely hear complaints about shoulder and elbow room, but it's certainly possible.
There's more good news when you examine the boot. Like everything in the Dacia Sandero, there's plenty of money-saving on show in the form of exposed metalwork and the thin boot floor but true to form, it's impressively spacious.
The Dacia Sandero's 328 litre boot capacity is more than you'll find in the old Ford Focus – the type of second-hand alternative that'll likely be vying for your affections – and it has handy features like four shopping hooks and a couple of crevices on either side that you could charitably term 'additional storage'. A spare wheel is an option on all models except for those with LPG, where you get a gas tank with the wheel would go.
The Sandero's boot space is not the best designed. There's a load lip when you open the boot and when you fold the back seats down the floor isn't completely flat. That said, total capacity sits at 1,108 litres – officially that's about 150 litres more than a VW Up can offer, although to us it looks much bigger.
Dacia has also cracked the smaller storage areas. You get bins big enough for a bottle of water on all four doors and the tray in the centre console swallows a large smartphone – it's amazing how many don't – and has a USB-C plug to charge it. While unpleasing to use, the glovebox is plenty big as is the deep cubby under the centre armrest which is on-brand with penny-pinching exposed hinges.
Handling and ride quality: What is the Dacia Sandero like to drive?
"If you're expecting the Dacia Sandero to drive like a budget machine then you'll be in for a nice surprise, on a variety of roads it never feels out of its depth, although you can still tell the areas where money has been saved".
Comfort is somewhere the Sandero scores well, although not in terms of noise as we'll come to in a minute. Whether it's an accidental side effect of the car's Romanian-road friendly raised suspension and thickly side-walled tyres – or indeed a product of design – the Sandero is surprisingly good at rolling over the road chatter you'll find on most British roads. It is comparable to the cosseting nature of family cars of yesteryear.
What this isn't so great for is handling. Truth is, if you're that bothered about driving, your money is better spent on a secondhand Ford Fiesta than a Sandero, but it's our duty to note that the Dacia Sandero's steering is slow, light and inaccurate and the front wheels will plough predictably through corners before you expect grip to run out. It's around this point that you'll be thankful for the reassuringly firm brake pedal.
On the motorway, the slow steering that makes the Dacia Sandero feel inert on country roads means it isn't edgy at higher speeds and mid-range models and above have cruise control that'll give your right foot a rest from constantly pressing on the accelerator pedal. Unsurprisingly, this is as close as the Sandero gets to offering an 'autonomous' driving feature.
You can also forget about self-park or any of that malarkey, although top-of-the-range Comfort models do come with rear parking sensors and a camera. Even without them, you'll not find many cars that are easier to park than the Sandero. It offers decent visibility out of all four corners and controlling the car at slower speeds is easy once you get used to the springy clutch pedal.
What engines and gearboxes are available in the Dacia Sandero?
The Dacia Sandero is available with a trio of 1.0-litre three-cylinder engines the SCe 65, TCe 90 and TCe 100 Bi-Fuel – the numbers equating to the PS each produces.
The 65PS version is the cheapest to insure and the cheapest to buy – saving you £1000 next to a same-spec 90 model, but that's where the good points end. Performance is lethargic – 0-62mph takes 16.7 seconds and it's out of puff at 98mph. It strains to get up to motorway speeds, struggles on hills and – as it has a five-speed gearbox – is noisy at a cruise. Worse still, it is no more economical on fuel than the more powerful model.
The 90PS version is a much better everyday proposition. As well as being more powerful than the 65, it also has close to double the torque – 95Nm plays 160 – so it's significantly more flexible and its sixth gear means it is a more relaxed cruiser. It gets from 0-62mph in 11.7 seconds and its top speed of 111mph makes it less frantic at 70mph.
The 90 is available is available with a CVT gearbox but it's worth avoiding because it makes the powertrain feel slack. Torque has to be reduced to 142Nm and 0-62mph is noticeably slower at 14.2 seconds.
The 100 is something of a rarity because it's dual fuel, allowing you to switch between petrol and LPG by pressing a button below the steering wheel. At roughly 60p per litre, LPG can save you a fortune (petrol costs double), but for it to make sense you'll need a local garage that sells LPG and to cover enough miles to recoup the £400 additional outlay over the 90 model, which performs almost identically.
Refinement and noise levels
The Dacia Sandero feels like an older car when it comes to refinement. With small tyres and soft suspension, very little road noise is produced by the tyres and transmitted through the car's chassis so in that respect, it's quiet. However, you soon realise why the doors close with a hollow clang – because they are hollow. Even parked up, the noise created by traffic is noticeably louder than it is in the Dacia's costlier competition and they don't do much when it comes to suppressing wind noise at a cruise either.
Safety equipment: How safe is the Dacia Sandero?
The Dacia Sandero has yet to be tested for safety by Euro NCAP, however as the mechanically identical Stepway model scored a disappointing two stars – we'd expect the standard Sandero to do the same.
All models come with basic safety features such as airbags, ISOFIX points for the safe mounting of child seats and seatbelt pre-tensioners. The Sandero can also call the emergency services in the event of a collision telling them how severe the accident was and where you are located.
What you don't get however are the autonomous driving aids available with more complex family cars.
MPG and fuel costs: What does a Dacia Sandero cost to run?
"The Dacia Sandero isn't just cheap to buy it should also be cheap to run, although its relatively basic design means more modern hatchbacks will sip fuel at an even slower rate."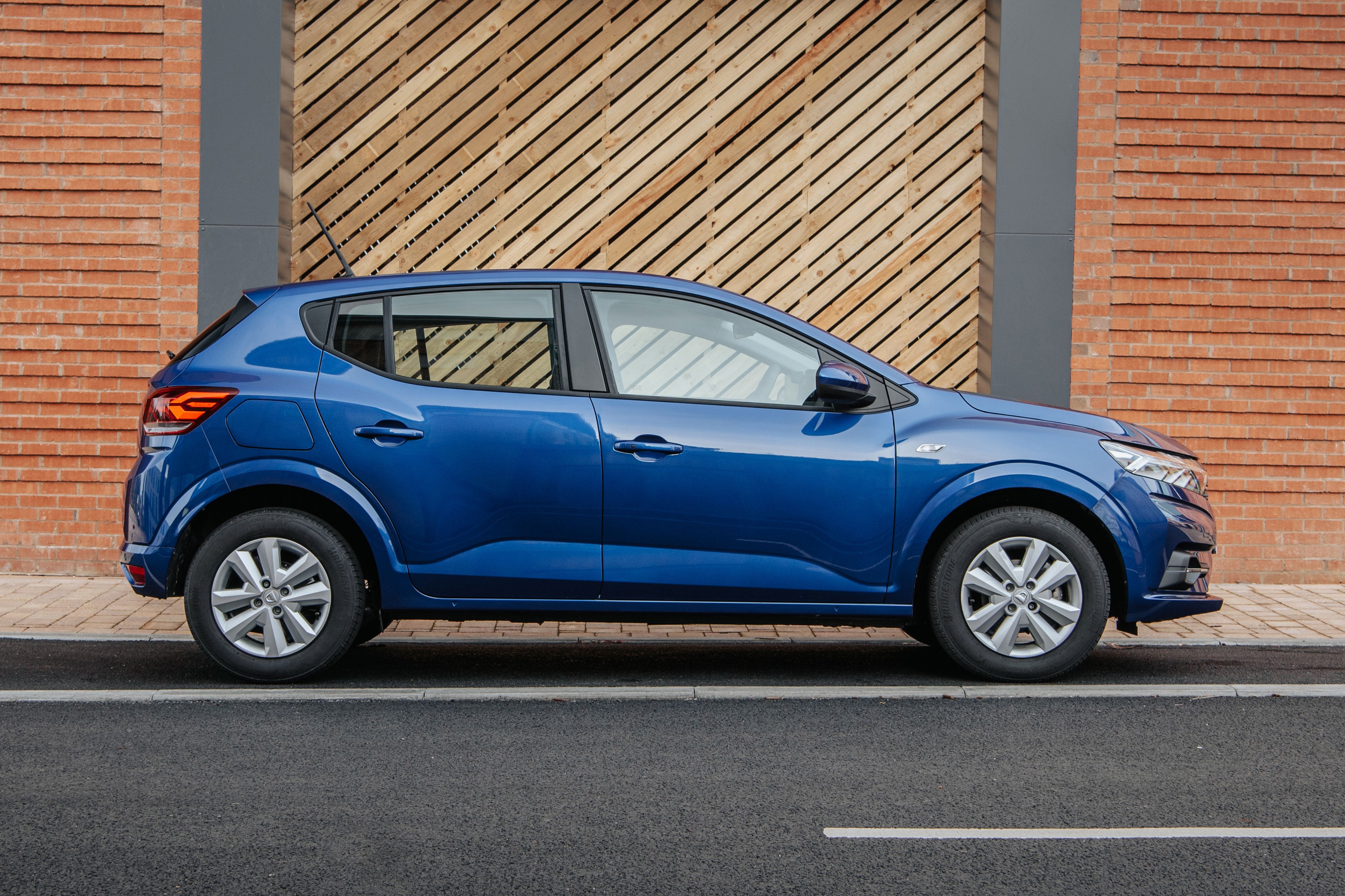 We would avoid the Dacia Sandero SCe 65 model unless you want to keep the purchase price as low as possible. Its 0.9-litre engine lacks a turbo so it's not got much punch. The Dacia Sandero TCe 90 model does have a turbo so it doesn't feel laboriously slow and, when you factor in its six-speed gearbox, its 53.3mpg is identical to the fuel economy you can expect from the basic car.
How reliable is a Dacia Sandero?
You might think that a budget model like the Dacia Sandero will represent compromises in terms of build quality and reliability, but actually it seems better put together than a Ford Fiesta or Volkswagen Polo.
As a brand, Dacia ranked fourth in a list of the most reliable car manufacturers according to the 2020 HonestJohn.co.uk Satisfaction Index. Owners seem to love their Dacias – and there aren't any common issues that we're aware of with the Sandero.
Insurance groups and costs
The Dacia Sandero's insurance groups range from 8E (for the basic SCe 65PS model) to 15E for the TCe 100 Bi-Fuel version and even it shouldn't cost more than a few hundred pounds to insure for an experienced driver with a clean licence.
VED car tax: What is the annual road tax on a Dacia Sandero?
The Dacia Sandero produces CO2 emissions ranging from 120g/km to 140g/km. Both the SCe 65PS and TCe 90PS model produce 120g/km of CO2 meaning that you'll pay VED road tax of £180 for the first 12 months of ownership. The TCe 100 Bi-Fuel model – which can switch between petrol and LPG – produces petrol emissions of 123g/km for road tax of £180 in year one.
How much should you be paying for a Dacia Sandero?
The Dacia Sandero is famously the cheapest new car on sale in the UK with a starting price of £7995. For this reason, it makes lots of sense as a new car – with the reliability and warranty that status entails – because you can have for the same price as a second-hand car from another manufacturer.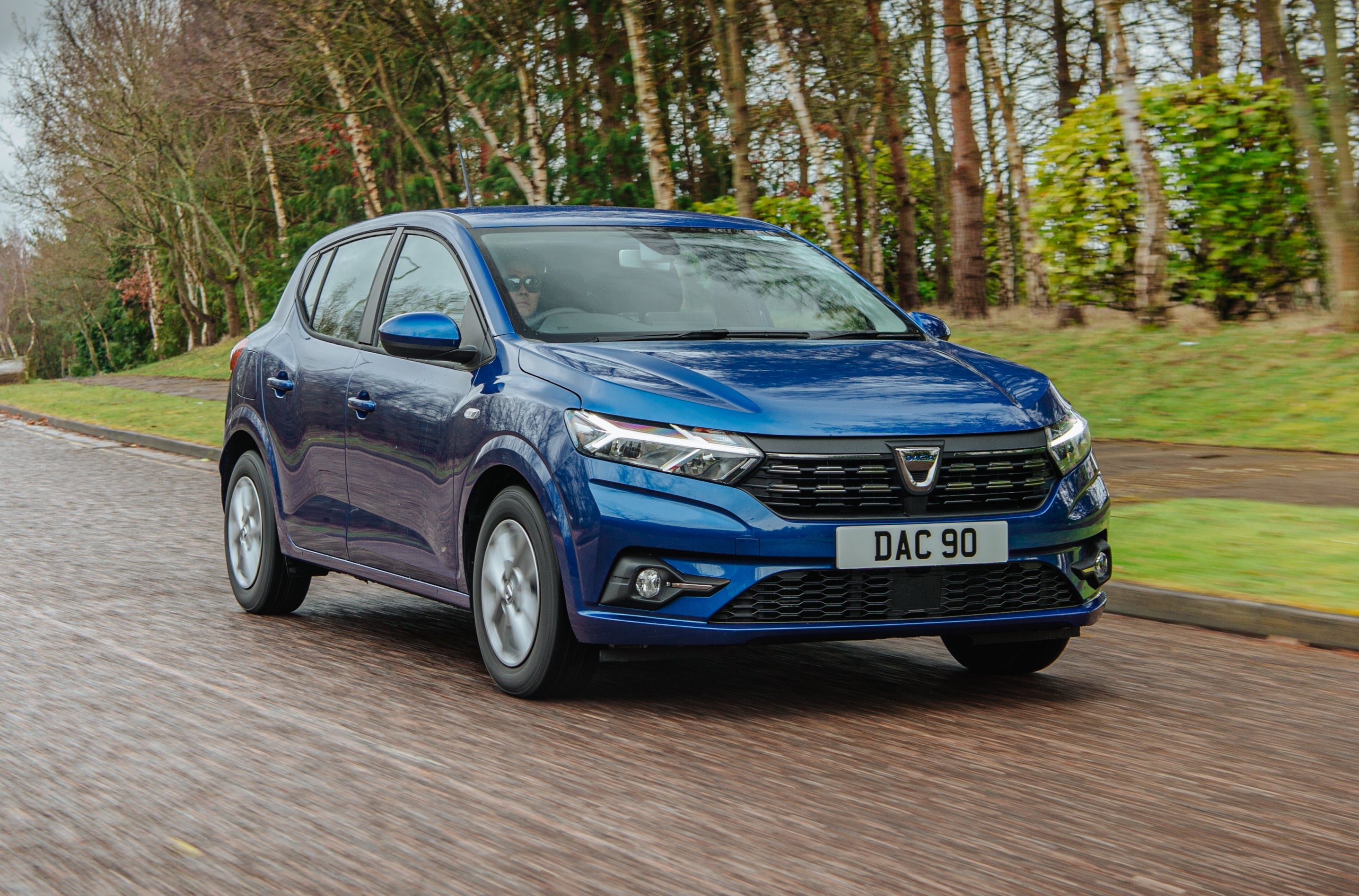 That said, a nearly new Sandero, one that is, say, six months old and has less than 10,000 miles on the clock, will set you back less than £7,000. Meanwhile, a top-of-the-range Dacia Sandero Comfort with the desirable 90PS TCe turbocharged petrol engine will likely cost you around £10,000 after a year's worth of depreciation has taken its toll.
Trim levels and standard equipment
This may be a new Dacia Sandero but the same rules that applied to the old model apply here – if you want decent spec then avoid entry level models like they're suffering from a loss of taste and a high temperature.
And that's not even being dramatic. The Dacia Sandero Access comes with 1980s steel wheels and black bumpers on the outside. Inside, you'll have to do without a stereo, but you do at least get electric windows, power steering and a USB plug.
The Dacia Sandero Essential brightens up the exterior just a smudge by adding body-coloured bumpers, while inside they get welcome additions like cruise control, air conditioning and a stereo (although it does only have two speakers).
Dacia Sandero Comfort border on flash by comparison. They get plastic wheel trims that make their steel wheels look like alloys, while the interior looks and feels posher thanks to a soft-touch steering wheel and chrome trim pieces. You get keyless entry, parking sensors all around and a reversing camera. The most notable addition is sat-nav with an eight-inch display and smartphone mirroring.
Ask the heycar experts:
common questions
Why is the Dacia Sandero so cheap?
The Dacia Sandero has a basic specification and uses old Renault parts to help keep its costs low and the price rock bottom. There's no denying the Sandero is relatively basic – especially the entry-level model – but it's an ideal choice if you want a new or nearly new car for the price of a well used old one.

Are Dacia Sandero cars any good?
The Dacia Sandero certainly isn't the last word in sophisticated motoring, but neither is it the terrible car you might expect given how cheap it is. It handles neatly, has a reasonably turn of speed and is surprisingly spacious. Avoid entry level models and you get all the equipment you really need.

Answered by
Georgia Petrie
Who makes the Dacia Sandero?
The Dacia Sandero is made by the Romanian car company – Dacia. Dacia was formed in 1966 and bought by French car-building giant, Renault, in 1999. For this reason, Dacias share many of their parts with Renault's current and older models, including their engines.

Dacia Sandero cars for sale on heycar
1,847
Number of cars available
£5.5K - £16K
Price bracket of these cars
Colours available on heycar
Keep me updated by email with the latest advice, news and offers from heycar
By submitting, you agree to our
privacy policy
.