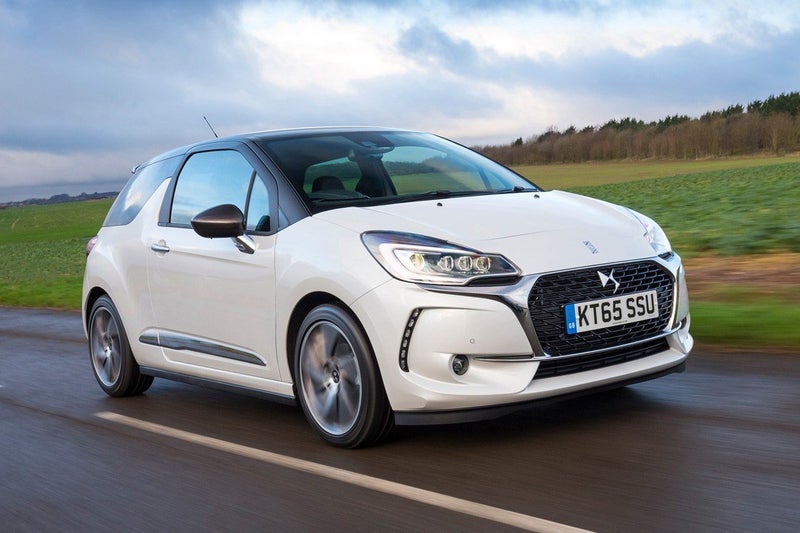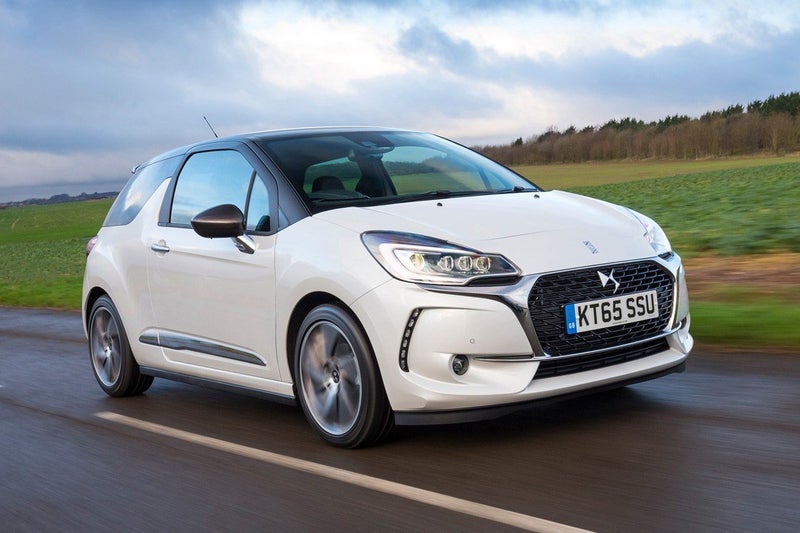 1/10
heycar rating
"Pretty and fun to drive"
Launched: 2010

Small hatch

Petrol, Diesel
Quick overview
Pros
Good looking from all angles with the option of a convertible roof
Low running costs from the smaller petrol engines
Comfortable ride and roomy cabin
Cons
Cabrio's small boot opening compromises practicality
Diesel engines are gruff
Infotainment feels dated
Overall verdict
On the inside
Driving
Cost to run
Prices and Specs
Common questions
Overall verdict
"Few cars can claim to have kickstarted an entire brand, but that's exactly what the DS 3 did. It began life as the Citroen DS 3, but then badge-shifted to become the standalone DS company as the Citroen logo was replaced in 2015."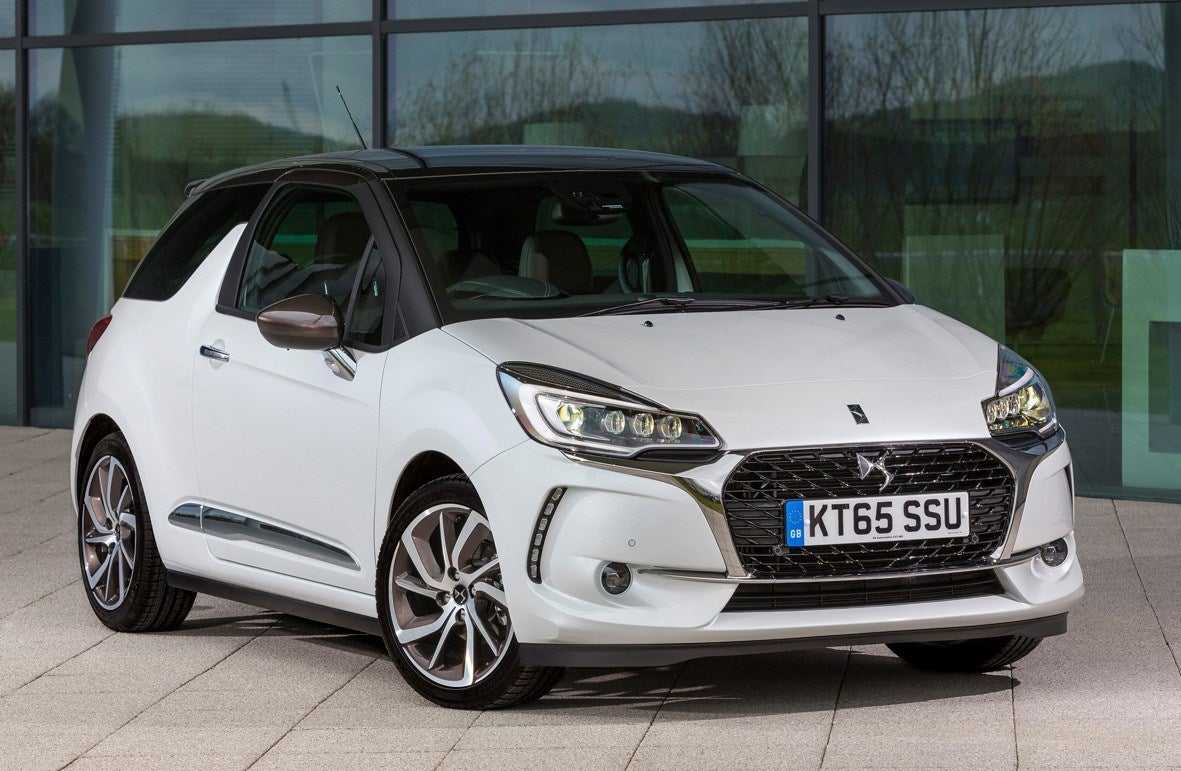 Regardless of which badge is on the bonnet, the DS 3 was a hit from the moment it was launched and carried on in the same vein throughout its production life. It helped the MINI, Fiat 500 and other funky small cars which had paved the way for buyers to expect a mass of personalisation options, which is where the DS 3 really caught buyers' imaginations.
There was an almost bewildering array of ways in which you could make a DS 3 your own and distinct from any other on the road. Some of this led to a few garish examples, but the majority followed a similar route to the MINI with bright colours, contrasting roof paint and cabins with more luxurious appointments that you'd find in mainstream superminis.
All of this put the DS 3 firmly towards the premium end of the supermini scale and parent firm Citroen backed it up with build quality that was a step up from the C3 it was based on. There was also a range of engines that offered everything from frugal to feistily fast.
Three petrol engines were available from the launch in 2010, comprising an entry-point 95PS 1.4-litre, a 1.6 VTi with 120PS and a turbocharged 1.6 with 156PS. This latter motor was shared with the contemporary MINI Cooper, which tells you everything you need to know about where the DS 3 was positioned.
Two turbodiesels were also an option from the start. They came in 90- or 110PS 1.6-litre forms and were great if you needed something very easy on fuel, though the petrols were more in keeping with the DS 3's focus on driving fun.
It delivered on enjoyment from behind the wheel in a way other DS models have missed. As well as the perky engines, the handling was nimble without inducing a ride that was too firm. Throw in steering with sporty feel and manual gearboxes that were light to use and the DS 3's appeal was broad.
The engine line-up evolved with the arrival of the Racing's 204PS turbo petrol 1.6-litre, though this was a limited edition version. An update of the range in 2014 saw the introduction of 82-, 110- and 130PS 1.2-litre Puretech petrol engines, while hot hatch fans were catered for with the 210PS Performance model. The 1.6-litre BlueHDi turbodiesels with 100- and 120PS complied with Euro 6 emissions standards.
DS introduced the Cabrio in 2013 and claimed it was the only five-seat convertible on the UK market. This was a bold statement as the roof was more of a full-length folding canvas top than a proper cabriolet. Still, it retained the decent rear seat space and practicality of the DS 3, though it did nothing to help the small boot that already limited the hatch.
None of this seems to bother DS 3 owners who rate the car for its looks, driving ability and cabin comforts.
Is the DS 3 right for you?
Pitching any supermini against the might of the MINI brand is a brave move, but the DS 3 pulled it off. It has managed this with looks that are distinctive yet not retro and an interior with more space than most of its premium rivals, though there has never been a five-door DS 3 of this generation.
Inside and out, there was vast scope for new owners to personalise their DS 3 with a wide range of paint options and contrasting roof colours, including some with textured effects. The cabin could be kitted out to a very high standard, making it feel rather luxurious, and the DS 3 Cabrio added a bit of open-air je ne sais quoi.
There is also an engine option to suit almost everyone, from frugal to downright rapid with the petrols and some fuel-sipping turbodiesels. Most will come with the easy-going manual gearbox, while DS also offered EAT6 automated manual that behaved like a sluggish auto 'box.
What's the best DS 3 model/engine to choose?
There's a DS 3 out there to suit almost every budget. However, we recommend seeking out one of the later models with the 130PS 1.2-Puretech petrol engine. It's a great balance between offering enough get up and go to show off the sporty side of the DS without ravaging your bank balance when it comes to filling up with fuel and other running costs.
While DS offered this engine with its EAT6 automated manual gearbox, we'd stick with the standard six-speed manual that has a light, accurate shift and avoids the clunky action of the EAT 'box.
With these later DS 3's, there were revised trim levels and our pick is the mid-level Elegance. It has 16-inch alloy wheels finished in black, LED rear lights, air conditioning, cruise control and a DAB radio with Bluetooth connection. It also comes with a 7-inch touchscreen, USB port and cloth upholstery.
What other cars are similar to the DS 3?
The prime rival to the DS 3 is the MINI, which offers many of the same qualities of deft handling, plenty of engine options and even a cabriolet version. MINI offered an even more bewildering array of personalisation options, though the hatch and drop-top are not as spacious in the back seats as the DS 3. Also in the premium sector is the Audi A1 and Alfa Romeo MiTo.
Others to consider are the Ford Fiesta that delivers big on driving pleasure, especially in ST form, while the Volkswagen Polo is classy and very capable. The SEAT Ibiza is another very competent supermini alongside the Renault Clio and Peugeot 208, which shares engines with the DS.
Comfort and design
"It pays to sit in the DS 3 for a while before deciding if it's right for you as some find its comfort super, while others start to fidget. This is partly to do with the steering wheel only adjusting for angle, so it can force some taller drivers to adopt a knees bent position to reach the wheel and pedals easily at the same time."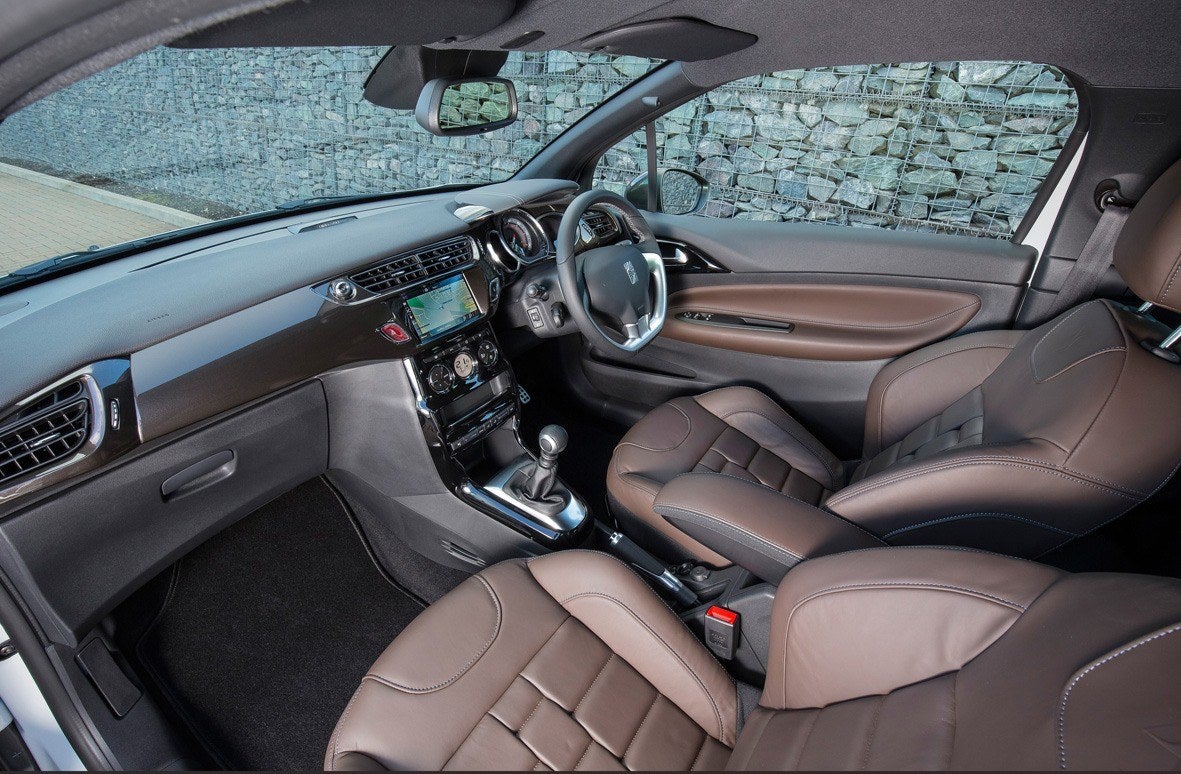 As for the seat itself, it offers lots of height adjustment and other movements to tailor its position. The cushions are quite firm but the shape of the seat delivers good support, so you won't find aches developing on longer trips.
However, the main instruments can be tricky to ready for some drivers and earlier DS 3 had a lot of buttons on the centre console for the stereo and ventilation. This was solved with the 2015 facelift and introduction of the 7-inch touchscreen that did away with no less than 20 buttons. It works well enough, but can be a fraction too slow to respond to inputs on the screen. Thankfully, most functions can be worked through the steering wheel buttons. More of an issue is the screen's appearance being obstructed by finger marks that show up more than in many rivals with such displays.
Both driver and passenger have plenty of space around them, so you don't feel hemmed in even in a DS 3 with a more sombre black finish to the upholstery. Our only gripe here is a lack of cupholders or somewhere handy to stash your smartphone.
Quality and finish
Citroen and then the DS brand worked very hard to push up the quality of the DS 3 compared the more humble C3 this supermini is based on. This is very apparent in the cabin where much of the design is very stylish and appealing, backed up by materials that feel good to the touch and are easy on the eye.
Dig a little deeper and some cost-saving is apparent in the rough edges of some of the plastics. You'll also notice some surfaces, such as the door panels, are finished in a hard plastic with cheap grain finish where rivals like the MINI have a more thorough approach.
Even so, the DS 3 is well put together and time has shown it to be resistant to the creaks and rattles in the cabin that have haunted so many French cars over the past few decades. In the Cabrio, the roof works briskly at the touch of a button to impart a classy sense of fit and finish.
Infotainment
Earlier DS 3 models made do with a red-numbered digital display in the centre of the dash for the stereo and other onboard information. Simple and effective, it was beginning to look dated by the time the facelifted DS 3 arrived in 2015 with a 7-inch touchscreen in its place.
The new display uses DS's Mirror Screen system to link up with your smartphone to access apps for music and navigation. As a result, it works with Carplay and Apple Android to suit most phones, but this was a £100 option with the 3 when it was new so be sure any used car you look at has this fitted.
The infotainment screen itself is just about big enough by modern standards and can be worked from steering wheel buttons for the important functions when driving. Using the touchscreen facility, it can be half a beat behind when responding to inputs, but the icons on the display are easy to read.
One complaint with the infotainment screen itself rather than the info or its tech is fingerprints seems to show up more on this device than others we've used in rivals. It becomes obvious in bright sunlight, so you need to wipe it clean regularly to avoid this distraction.
Space and practicality
As a three-door only car, the DS 3 will always be at a disadvantage to five-door rivals such as the MINI and Audi A1 Sportback. However, it's not as big a drawback as you might expect when comparing the DS to its three-door competitors.
The front seats tilt and slide forward to give decent access to the rear of the cabin, so adults can slither into the space. Once installed, there's enough room for two adults to sit in reasonable comfort so long as those in the front don't push their chairs all the way back. Even in the Cabrio, it's not too cramped, but you wouldn't want to travel the length of the country in here.
For kids, there's ample space and a third seat belt means it's more practical than many three-door superminis, such as the Audi A1 that only comes with two rear belts. A brace of ISOFIX child seat mounts adds to the practical side of the DS 3, though fitting or removing a kiddy seat can be back-breaking work through the gap between the door pillar and front seat.
Younger children may find the rear quarters of the DS 3 a bit gloomy as their outlook is restricted by the thick central door pillar. Also, the upsweep of the window line further hampers vision out, though the rear seat based is raised compared to the front pair so back seat occupants can at least see forward reasonably well.
Move round to the back of the DS 3 and the hatch version's boot is middling for capacity at 285-litres, though the access through the tailgate is good. Flip the 60/40 split and tumble rear seat forward and you can free up to 980-litres of cargo volume. Again, decent but not great by the class standards. Choose the Cabrio and the boot space is hindered by the much smaller access forced on it by the soft-top roof design.
Handling and ride quality
"If you're looking for a bit of fun to brighten your daily driving routine, the DS 3 is a car you need to consider. While it may not have the ultimate talents of a MINI or Ford Fiesta when it comes to that Nth degree of feel and grip in corners, the DS 3 is more than sporting enough to entertain and leaves wide margins for safety thanks to plenty of grip and standard ESP stability and traction control."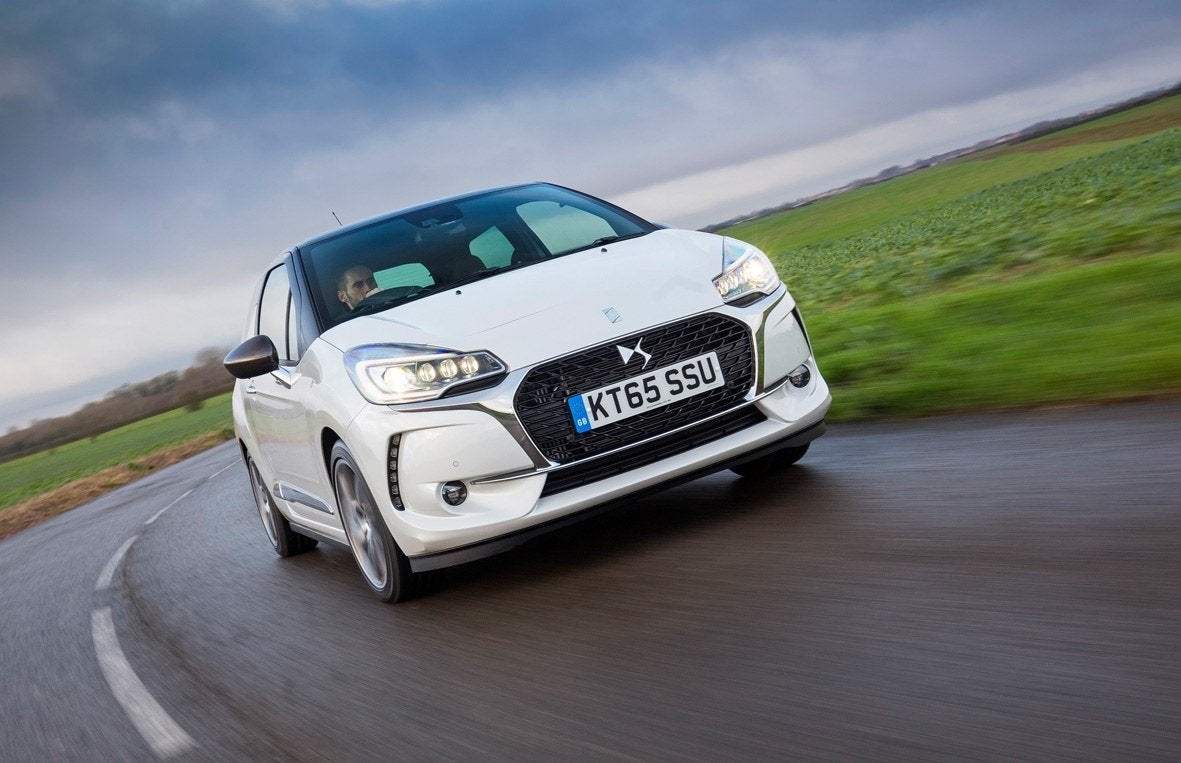 Some keener drivers might find the steering and gearshift actions too light, but we reckon they are spot on for the DS 3's intended audience. This means you can have bags of fun without needing forearms like a superhero's as you thread your way along a back road or when backing into a parking spot.
The lightness of the DS 3's steering is a positive boon in town, making it feel agile as it happily flicks round junctions. Our only complaint here is the thick centre pillars that are so much a part of the DS 3's design can mean pulling out of side streets requires the driver to crane his or her neck for sufficient vision. This is a problem exacerbated in the Cabrio.
Whether in town or on the motorway, the DS 3 is blessed with a good balance between comfort and control over bumps and around the bends. Just firm enough to impart that sporting sensation, it still soaks up the blows to leave you to get on with thinking about what's ahead. Only the rare Racing and hot hatch Performance versions have a ride that errs into harsher territory, but then they are overtly sport models and no worse than any of their key rivals.
For our tastes, we reckon the DS 3 models that ride on the smaller 16- and 17-inch wheel sizes offer the best comfort while still giving a good account of themselves in the handling and style stakes.
Engines and gearboxes
The DS 3 was launched in 2010 with three petrol engines, made up of a 95 PS 1.4-litre and two 1.6s with 120- and 156PS. The 156PS unit was the same turbocharged engine found in the MINI Cooper and made the DS 3 a very acceptable warm hatch.
A pair of turbodiesels were also part of the mix from the start. Great on fuel economy, they are less impressive when it comes to refinement and performance, so only consider the 90- or 110PS diesels if cost-saving is your prime concern when choosing a DS 3.
In 2011, Citroen rustled up the DS 3 Racing with a 204PS version of the 1.6-litre turbo petrol engine. It made for a rapid compact hot hatch, but it remained a rarity even though it could crack 0-62mph in 6.5 seconds.
A major revamp of the engine line-up came in mid-2014 with the arrival of the 1.2-litre Puretech petrol engines and new diesels that met Euro 6 emission regulations. The three-cylinder Puretech range started with an 82PS version that is sluggish beyond urban conditions. The 110PS version is a better bet, but our pick is the 130PS Puretech that is perky and fun to use. The 130PS version also comes with the slicker six-speed manual rather than the notchy five-speeder. It's best to avoid the automated manual EAT6 transmission in the 110PS model.
The 1.6 BlueHDi turbodiesels come in 100- and 120PS power outputs. Both are easy on fuel, but we'd guide you towards the 120 model as it feels much stronger and makes a far better job of driving in town or on the motorway without much noise.
A 165PS 1.6-litre turbo petrol pitched up shortly after these other engines and was offered in higher trim levels. It also spawned the DS 3 Performance with its 208PS version of this motor that turned DS into a very rapid alternative to a Ford Fiesta ST.
Refinement and noise levels
If you value your hearing, it's best to avoid the earlier 90- and 110PS turbodiesel engines in the DS 3. Neither is very refined and the less powerful version needs to be worked hard on the motor without much reward for your efforts.
Far better to pick either of the 1.6-litre petrol motors that come in 120 and 156PS forms, with the latter the best of the pair. Choose the 1.4-litre petrol and you'll find it soon becomes rowdy when worked hard on out of town roads.
As for the later petrols and diesels, they are all much quieter and the three-cylinder 1.2-litre Puretech engines come with a thrummy, pleasing engine note.
The firm suspension in all DS 3 models means a lot of road noise is transmitted into the cabin and coarser surfaces can set up an unpleasant drumming inside the DS. Thankfully, the wind noise isn't an issue in the hatch, but you will notice it in the Cabrio.
Safety equipment
When the DS 3 was launched in 2010, it performed well in Euro NCAP safety tests, scoring well thanks to twin front and side airbags. A further pair of side airbags could be added as an option, while two Isofix child seat mounts were standard on the two outer rear seats.
Every DS 3 comes with ESP stability and traction control, while from the late 2014-on facelift some DS 3 models gained autonomous emergency braking to bring the car to a stop if the driver failed to notice a hazard. At this point, six airbags were also now included with all DS 3s, though the car was beginning to show its age as its Euro NCAP crash test rating slipped from five to three stars as the bar was raised higher for these benchmark tests.
The higher trim levels of DS 3 have rear parking sensors, which we'd recommend looking for in any version you consider. It takes the guess work out of reversing in a car with quite high rear window lines and they are especially helpful in the Cabrio models.
No DS 3 is fitted with a spare wheel, though it was offered as an option to replace the tyre sealant kit that was supplied as standard to get you to safety in the event of a puncture.
MPG and fuel costs
"For the ultimate in fuel efficiency in the DS 3, the 1.6 e-HDi engine is the one to pick. It can offer real-world consumption of 68.1mpg against a claimed 78.5mpg, so it achieves 87% of its claimed figure."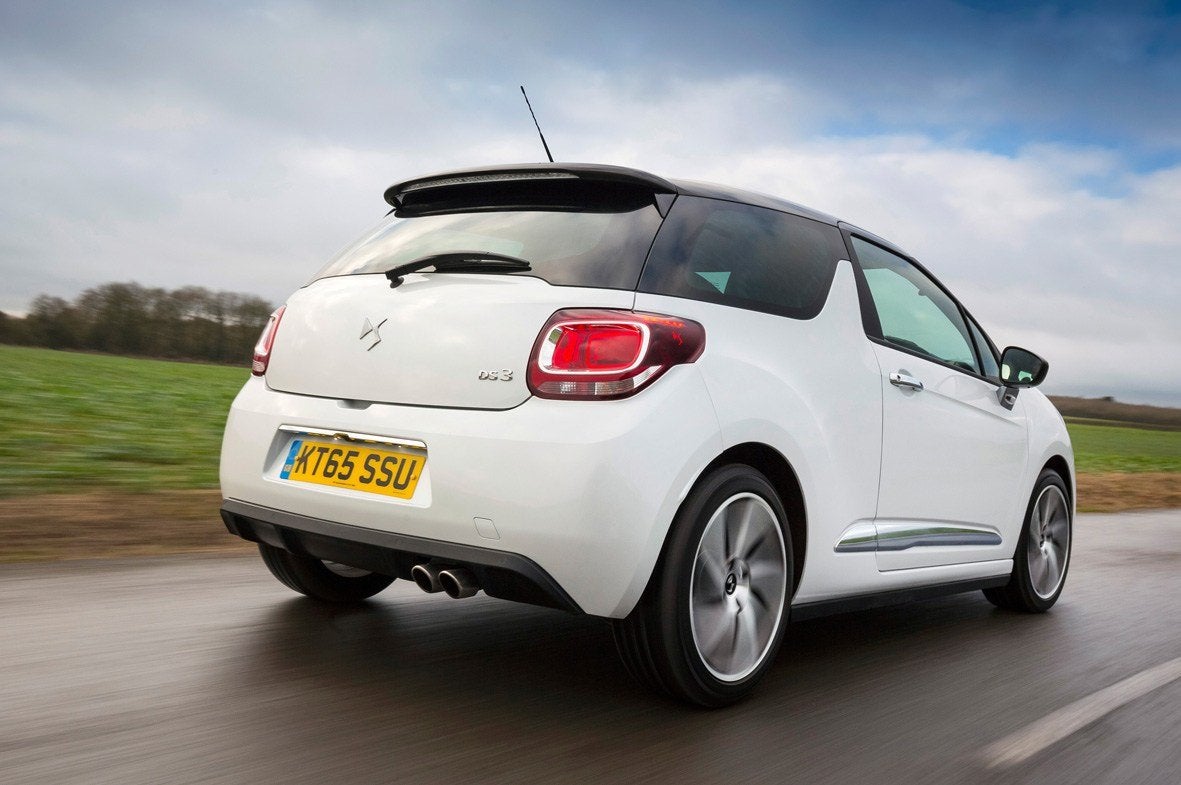 That's impressive and will appeal to the parsimonious driver. However, diesel engines in superminis are not always suited to short-hop city driving where a petrol makes more sense. For this, we'd recommend the 1.2-litre Puretech three-cylinder engine. In 110PS guise, it manages to strike within 81% of its official fuel figure, delivering 48.4mpg against the book number of 60.1mpg.
Insurance groups and costs
The style and looks of the DS 3 need not be out of the reach of younger drivers thanks to insurance that starts in group 10. This is for the DS 3 with the 1.2-litre Puretech petrol engine and in the lesser trim level, though it will still be well equipped.
At the other end of the scale are the Racing and Performance models in group 36, while our favourite 1.2 Puretech 130 Elegance resides in group 21. That makes it easily affordable for most drivers with a few years on their licence.
VED car tax
Now that all DS 3 models are on the used market, vehicle excise duty will come in at the flat rate of £150 per year for those registered after 31 March 2017. This applies to versions that emit less than 99g/km as well as those with emissions above this mark.
Earlier models can enjoy free road tax if their emissions fall below 100g/km, though most DS 3s will attract an annual fee of £20 or £30 depending on the model. Pick the Performance version and the price for road tax rises to £125.
How much should you be paying for a used DS 3?
"Look for a late model DS 3 and there are some still fetching up to £17,000 at franchised dealers with delivery mileage only. These are very well equipped versions such as the Prestige and Performance models."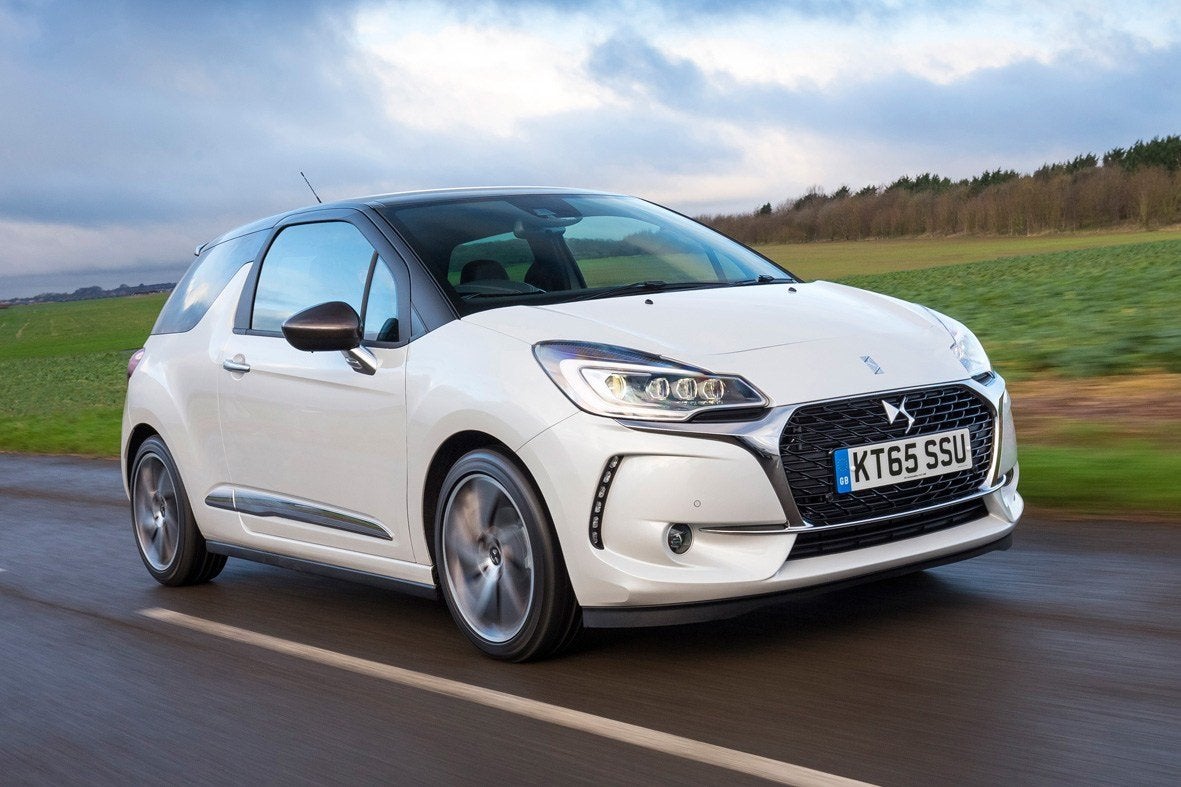 A 1.2 Puretech 130 Elegance at three years old and with 30,000 miles will cost you around £9000 and you can expect to find plenty of choice.
Go back to earlier Citroen-badged models and the DS 3 is available from £2500 in good condition and with around 80,000 and full service history. At this price point, you have a selection of petrol and diesel models.
Trim levels and standard equipment
The DS 3 started off originally in DSign trim with electric windows and door mirrors, plus cruise control, while the DStyle added air conditioning, rear privacy glass and alloy wheels. The DSport gained Bluetooth connectivity and bigger alloy wheels. All models have the trademark DS 3 'floating roof' available in a contrasting colour to the main body.
The Racing was a standalone limited edition hot hatch model with 204PS 1.6-litre turbo petrol engine. Other special versions included the Pink in 2014 and Black Lézard in 2018.
In early 2016, the DS 3 range was updated with Chic as the entry model. It has 16-inch alloy wheels, air conditioning, cruise control, DAB radio with Bluetooth, USB port and 7-inch touchscreen. The Elegance upgrades with rear privacy glass, LED front foglights, rear parking sensors, premium cloth upholstery, gloss black trim and the DS Connect Box that contacts the emergency services in the event of a collision.
Prestige models have 17-inch alloys, two-tone roof colour, heated door mirrors, front parking sensors, automatic wipers and lights, and half-leather upholstery. This version also gains active city brake for added safety. The Ultra Prestige adds a reversing camera, leather seats and a DS monogram roof finish.
The Performance has 18-inch alloy wheels, sports suspension, uprated brakes and a limited slip differential to cope with its extra power. There are also Black and BRM Chronographes editions of this model.
Ask the heycar experts:
common questions
Does Citroën still make the DS 3?
Technically, the DS 3 stopped being a Citroën in 2015, but now both brands have ceased production. Despite selling in big numbers, the DS 3 has been replaced, this time as an SUV.

What are the different versions of the DS 3?
Apart from the standard hatch, buyers could also pick up the expensive limited edition DS 3 Racing, with brisk performance and bespoke suspension and styling, and the Convertible.

Answered by
heycar editorial team
What insurance group is the DS 3?
Despite often having less power than the equivalent MINI, the Citroën actually sits in higher insurance groups across the range, with most sitting between groups 19-24. Entry-level cars drop down as low as Group 10, the fastest Performance version falls into Group 37.

Is the DS 3 a Citroën?
Imaginative styling, cool design touches and a sporty character make the DS 3 a fine Gallic alternative to the retro-inspired MINI, but a firm ride and cramped rear seats count against it.

DS 3 cars for sale on heycar
237
Number of cars available
£6.3K - £33K
Price bracket of these cars
Colours available on heycar
Keep me updated by email with the latest advice, news and offers from heycar
By submitting, you agree to our
privacy policy
.