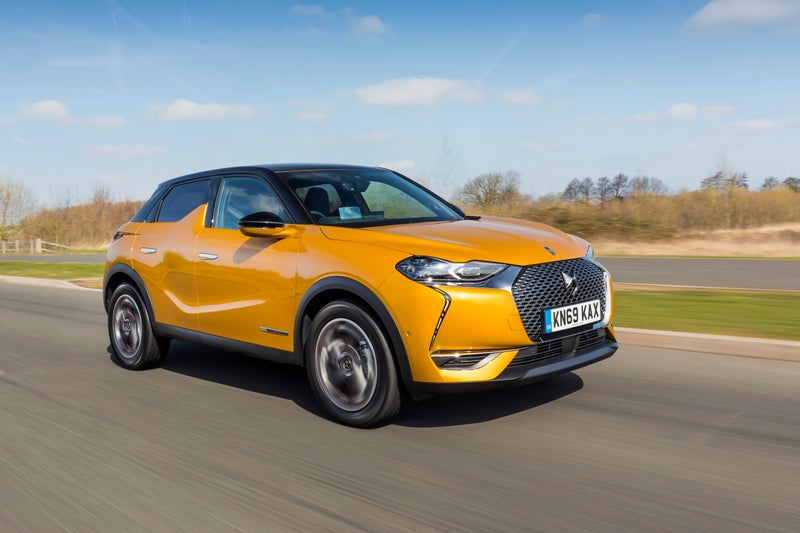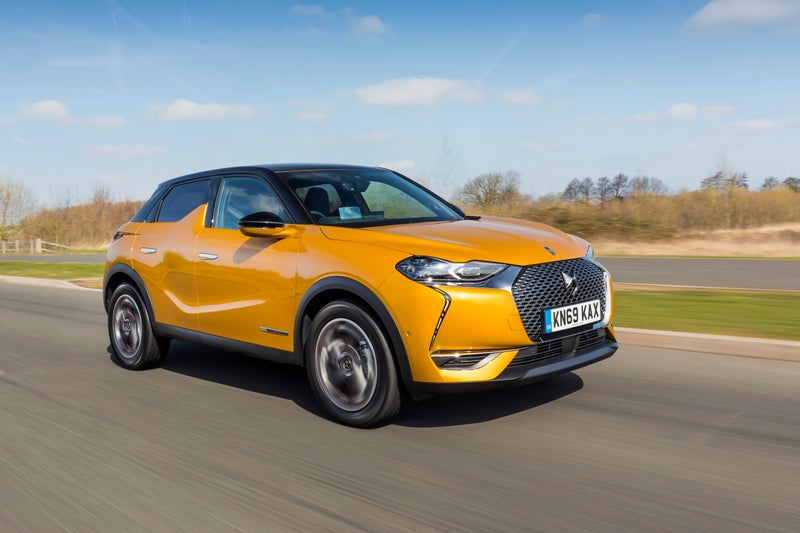 1/10
heycar rating
"Flawed but funky premium crossover"
Launched: 2018

Crossover

Petrol, Diesel
Quick overview
Pros
It'll turn more heads than a MINI Countryman or Volkswagen T-Roc
Surprisingly fun to drive with eager petrol engines
Interior is… different
Cons
Pricier than rivals even on the used market
It feels cramped inside (especially for rear passengers)
It's a Citroen in fancy dress
Overall verdict
On the inside
Driving
Cost to run
Prices and Specs
Overall verdict
"We can see the appeal of the DS 3 Crossback. It's unusual, has a classy cabin and is fun to drive. But the longer you spend with it, the more you'll realise that more conventional rivals do the whole crossover thing better. Practicality is a weakness, it has a very harsh ride and lacks refinement compared to more grown-up alternatives."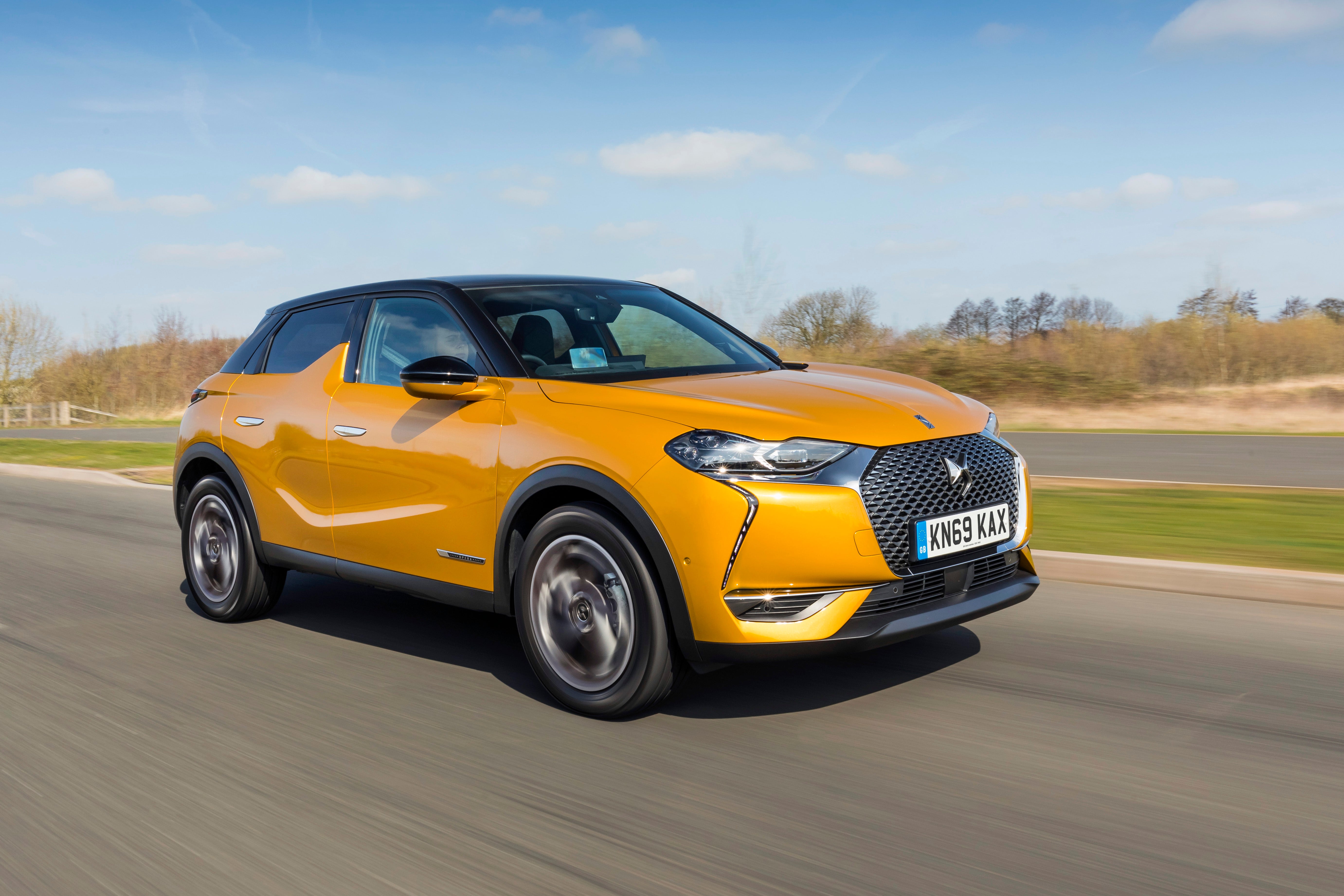 Remember the Citroen DS 3? It was a stylish little hatchback that competed against the MINI Hatch and sold like the proverbial hotcakes. It was also expensive, for a Citroen, but that didn't seem to matter. It struck the perfect balance of fashionable design, low running costs (ideal for young drivers) and a sense of style that was missing from more conventional hatchbacks like the Ford Fiesta.
Such was the DS 3's success, that Citroen's owners, Groupe PSA, decided to launch DS as its own brand: DS Automobiles. It would offer Parisian chic - a French alternative to the premium German brands. And its first model was a DS 3, albeit without the Citroen badge.
And that brings us to 2018, when the DS 3 was replaced by this: the DS 3 Crossback. It made perfect sense. Everyone wants a fashionable little crossover SUV, so the Crossback combined that desirable raised ride height with stylish looks and a fashionable interior. No longer is the DS 3 a rival to the MINI Hatch, it's now an alternative to the MINI Countryman - and other classy crossovers like the Audi Q2 and Volkswagen T-Roc.
It doesn't sell in the same numbers as the original DS 3, but that gives it an appeal of its own. It's an exclusive model that's sure to turn heads, provided you're happy to pay the price. It's quite expensive, and its rarity means even used examples fetch rather strong money.
Equipment levels are pretty generous, though. We're hesitant to describe the most affordable Elegance model as 'entry-level' when standard equipment includes a seven-inch touchscreen media system, digital instrument cluster, 17-inch alloy wheels, rear parking sensors and a safety pack (bringing with it a long list of active safety systems).
The engine line-up is pretty good, although it's let down slightly by the lack of four-cylinder petrol engines. Most DS 3 Crossback models are powered by the turbocharged 1.2-litre three-cylinder petrol engine. This is an eager little engine (provided you avoid the 100PS version), but also quite vocal and not as refined as you might expect from a car that aspires to a premium crossover.
Still, the DS 3 Crossback is fun to drive, if not quite as agile as a Ford Puma or SEAT Arona. The suspension is horribly thumpy, especially on 18-inch wheels, while the steering is a little vague. Visibility is pretty poor, too, so threading the Crossback through town isn't as easy as you might expect.
Our biggest gripe is the DS 3 Crossback's practicality. It feels cramped, especially for rear-seat passengers. There's a lack of storage in the front too, while the boot isn't as big as alternatives.
Is the DS 3 Crossback right for you?
If you want a stylish car that's going to turn heads, the DS 3 Crossback isn't a bad choice. It's expensive for what it is and the cramped cabin is one of a number of features that let it down compared to rivals. If you rarely carry more than one passenger and don't need a big boot, it could work for you, however.
The DS brand doesn't have the same image as more established rivals - but some buyers would see that as a good thing. You'll have to get used to explaining what it is, and be prepared for the awkward silence when people realise you've spent top money on a posh Citroen.
What's the best DS 3 Crossback model/engine to choose
We'd recommend the Puretech 130 petrol engine. It comes with the superb eight-speed automatic gearbox and combines low running costs with punchy performance. On the downside, it's a little noisy, but so are three-cylinder units in rival cars.
All DS 3 Crossback models are well-equipped, so we'd save money by looking at the lower end of the range. There are lots of Performance Line models on the market and these look the business, with black exterior highlights and part-Alcantara interior. The Performance Line also comes with 17-inch wheels rather than the bigger 18-inch rims. That's a good thing as the ride quality needs all the help it can get.
What other cars are similar to the DS 3 Crossback?
There's no shortage of very good small crossovers on the market. If you're considering a DS 3 Crossback, you should also look at other fashionable choices like the MINI Countryman, Volkswagen T-Roc and Audi Q2. All of these lack the rarity factor of the DS 3 Crossback but they're better overall packages. Which is a nice way of saying you should probably buy one of them instead.
There's also the excellent new Ford Puma, versatile Skoda Kamiq and stylish Peugeot 2008. They might lack premium badges, but they're all much better ways of spending your money than on a DS 3 Crossback.
Comfort and design
"If you think the DS 3 Crossback's exterior has the wow factor, wait until you see inside. The dashboard is awash with diamond-shaped features, from the air vents to the controls for things like the climate control and media system."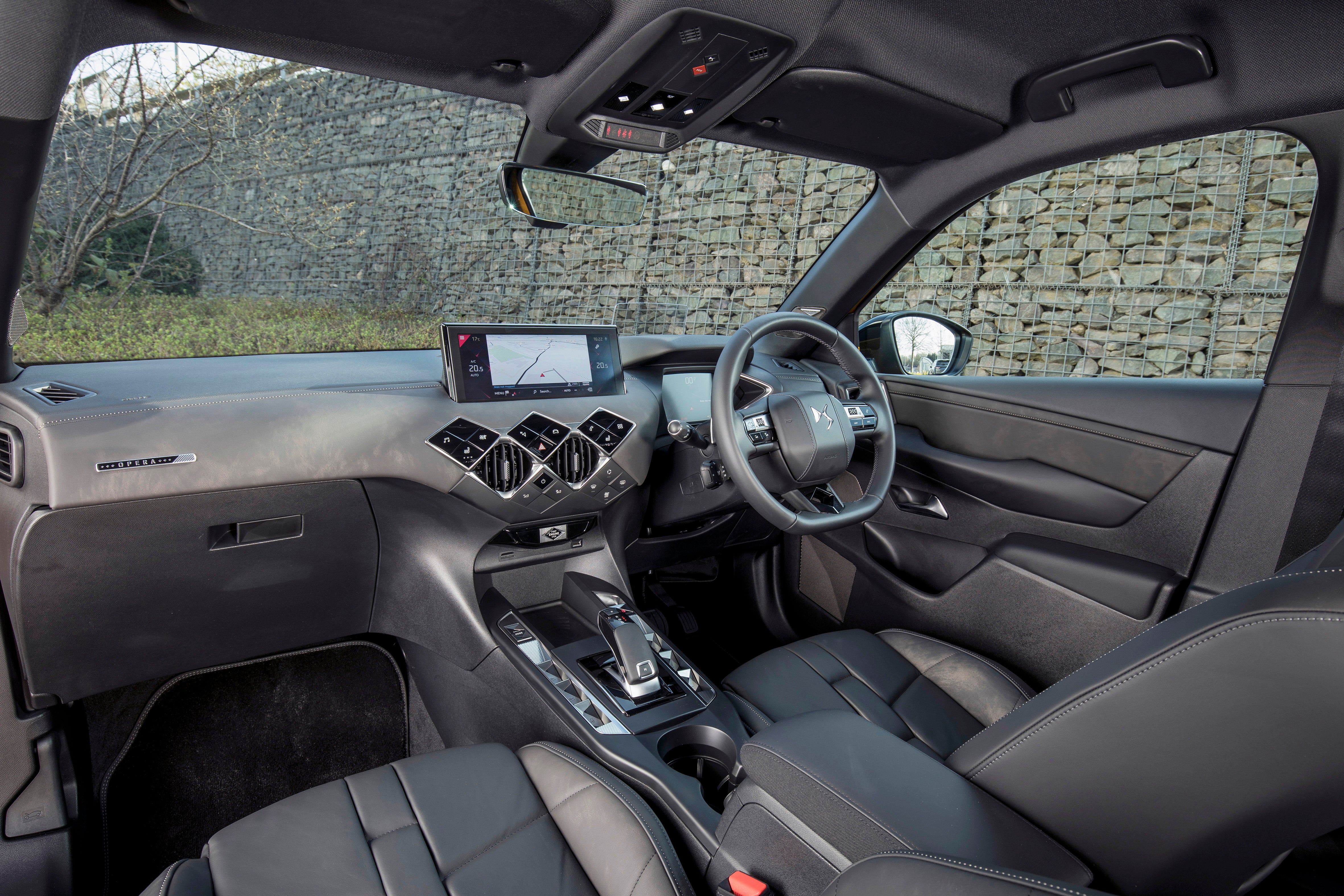 It might look cool, but it soon starts to get irritating to use. The touch-sensitive switches are difficult to operate on the move and, in a true victory for style over substance, none of the buttons are really where you'd like them to be.
The centre console is a little more pleasing. It somehow looks quite futuristic; similar to the bigger DS 7 Crossback with toggle switches for things like the electric windows. Automatic models (that's most of them) get the same classy gear selector as other Peugeot-Citroen vehicles, while those with manual transmission have a nasty-looking bulbous gear knob that would have been suited to a Citroen C3 from 2005.
If you've driven other Peugeot or Citroen models (as well as some of the latest Vauxhalls), you'll notice the DS 3 Crossback shares quite a few interior features with them. That's not a real issue, though, as designers have managed to successfully make the Crossback feel sufficiently different (and therefore special) inside.
The front seats are height-adjustable across the range, while plenty of adjustment in the driving seats and steering wheel means it's easy to find a comfortable driving position. The seats are supportive enough and, for the ultimate luxury, look for an Ultra Prestige model with the optional massage seats.
Quality and finish
None of the trim levels feel basic inside but they are noticeably different. The Performance Line, for example, has a rather sporty cabin thanks to suede-like Alcantara on the dashboard and seat bolsters, as well as aluminium pedals. Ultra Prestige models come with watchstrap leather seats (optional on the Prestige) which we really like - they'd look just at home in a much more expensive car. Or even your house.
Unfortunately, when you scratch below the surface, you'll start to find some of the cheaper materials that we're used to seeing in more affordable Citroen models. Drivers with long legs will hit the centre console with their knee sooner or later, and they'll realise that it's actually finished in quite hard plastic rather than the soft-touch materials that cover the dashboard.
While we applaud the effort that DS has put into making the Crossback feel different, it just doesn't feel as solid and as well put together as something like the Audi Q2 or MINI Countryman. Start rummaging around and it soon starts to feel like a Citroen C3 Aircross in a posh frock.
And, while the DS 3 Crossback is still too new to really be able to tell how it'll wear over time, we'd be interested to see how those fancy interior fabrics and shiny buttons look after a few years of use...
Infotainment
The media system is one of those features that's been lifted from other models in the Peugeot-Citroen range. And that's a shame because, even in a car that's half the price of the DS 3 Crossback, we don't think it's quite good enough.
The graphics aren't as clear as you'd expect, while it responds slowly and, in our test car, even froze a few times while we were using it. It's not a clear system to operate with complicated menus, and even adjusting the temperature requires bringing up a dedicated screen on the display. That's particularly frustrating if your passenger decides they're cold as you're relying on the navigation at a tricky intersection.
The good news is that Apple CarPlay and Android Auto are standard across the range, meaning you can plug your phone in and use third-party apps like Google Maps or Waze to bypass the car's slightly rubbish navigation system.
Further good news is that Prestige and Ultra Prestige models get a 10-inch display (compared to the standard car's seven-inch system). That's huge - considerably bigger than found in rival cars.
There's also a seven-inch digital instrument cluster across the range, which replaces conventional dials with a whizzy, digital display. Similar setups in rivals (like Audi's Virtual Cockpit) are usually slicker, but rarely fitted as standard.
Space and practicality
Despite feeling a little claustrophobic thanks to the shallow windscreen and thick pillars, there's a reasonable amount of space in the front of the DS 3 Crossback. Height-adjustable front seats mean you can prioritise headroom or a high seating position, giving you a better view of the road ahead than a conventional hatchback.
The cup holders are big enough for your grande double macchiato, but you'll struggle to fit a bottle of water in the door pockets. The glove box is feeble and the cubby under the central armrest is next to useless.
Passengers in the rear will feel like second-class citizens. They're fine for occasional use but, if you regularly carry people in the back, you'd be much better with a Ford Puma or Volkswagen T-Roc. Legroom is poor and the design of the rear windows means it feels even more claustrophobic in the back than the front. Headroom is adequate at best too.
The 350-litre boot is mediocre - barely bigger than a Citroen C3 or Ford Fiesta and smaller than crossover alternatives. Access is tricky thanks to the huge lip (again, form over function), and you won't find any trick sliding rear seats here. The rear seats do drop to provide up to 1050 litres of space, but they don't fall entirely flat.
The good news is that most models come with a space-saver spare wheel under the boot floor, so you won't be stranded if you get a puncture. Models with the optional Premium Technology Pack replace the spare wheel with a fancy sound system, so you'll have to make do with a puncture repair kit. At least your Spotify playlist will sound good while you wait for the AA man.
Handling and ride quality
"Citroen has a reputation for soft-riding cars and SUVs that handle bumpy roads well. Unfortunately, with the DS range, it appears that a strategic decision has been made to firm the ride up and make them sportier."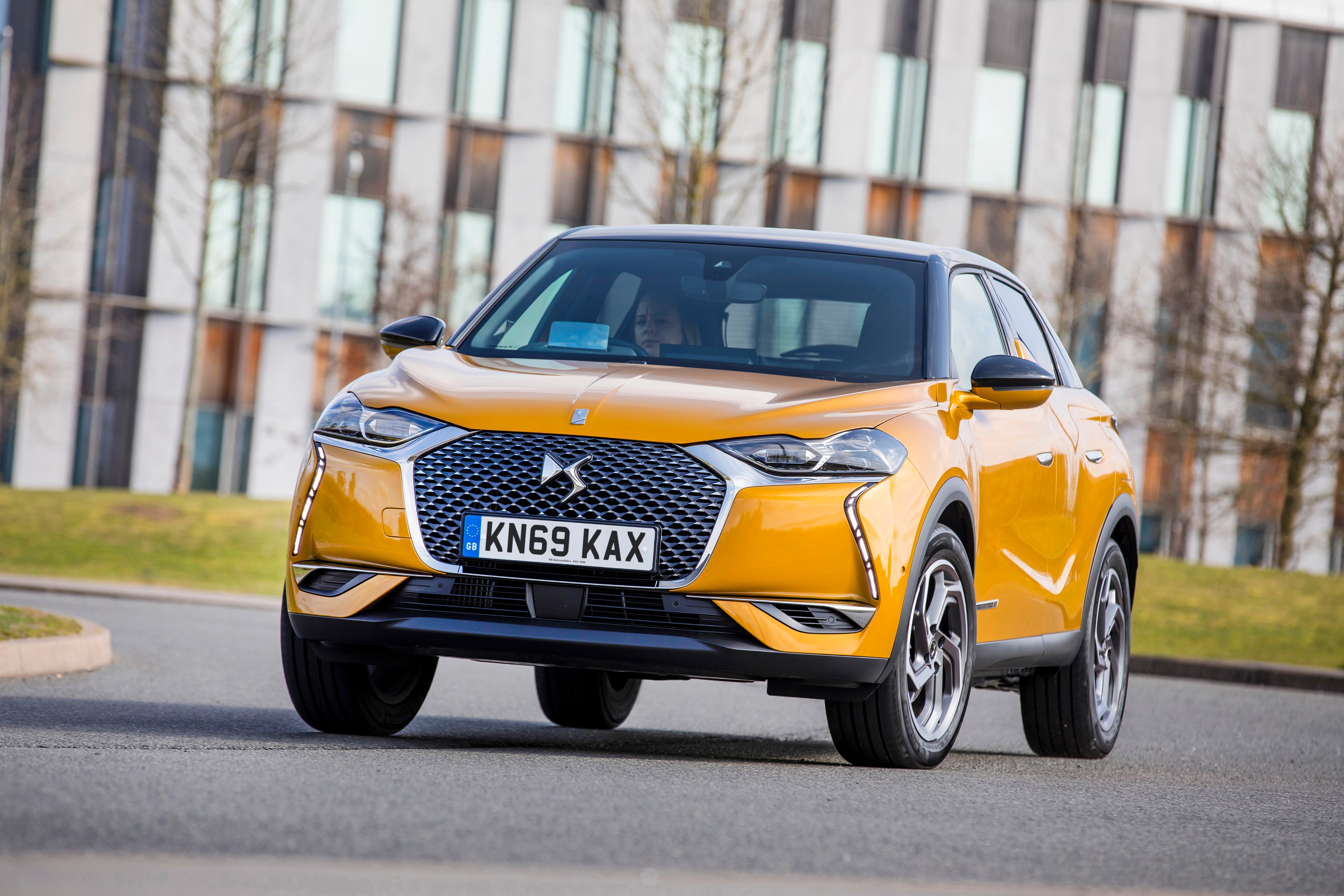 It's not really worked and the DS 3 Crossback is uncomfortably firm, even on the smallest 17-inch alloy wheels. It's acceptable on the motorway but is less impressive around town, where the ride never really settles over potholes and speed bumps. Buy one of the more premium models with 18-inch wheels and you'll have to be prepared for some uncomfortableness.
On the plus side, the DS 3 Crossback is fun to drive, darting from corner to corner with an eager front and lively (if rather light) steering. That said, it's not as agile as the SEAT Arona, and there's quite a noticeable amount of lean during cornering.
Despite the high seating position, visibility is pretty terrible. A shallow front windscreen and thick pillars mean you feel cocooned - a bit like a MINI - and it's borderline claustrophobic.
Things are even worse when you need to reverse into a tight parking space. Rear visibility is woeful and you'll find yourself relying on the rear parking sensors which are, thankfully, standard across the range. Look for one with the optional rear-view camera (standard on the Ultra Prestige) if you, er, plan to do a lot of reversing.
Engines and gearboxes
While the little 100PS 1.2-litre petrol engine is fine in small cars like the Peugeot 208, it really does feel out of its element in the lumbering DS 3 Crossback. It's the only petrol engine available with a manual gearbox, but we still find it difficult to recommend. If you can't afford a more powerful engine or don't want an auto, look elsewhere at mainstream alternatives like the Skoda Kamiq.
The same engine is also available with 130 or 155PS, each with an eight-speed automatic gearbox. The Puretech 130 is the engine of choice, combining peppy performance with reasonable fuel economy. It's a little vocal, being a three-cylinder unit, but you could put that down to character. The 155 model offers impressive performance but it's a bit excessive in a car like this.
The auto transmission is really good - the same gearbox that's used in a lot of Peugeot-Citroen models, with fast responses and a reputation for reliability (more so than dual-clutch transmissions used in competitors).
The only diesel offering is 1.5-litre BlueHDi with 102PS. This isn't particularly powerful but, in true diesel style, feels quicker than the figures suggest thanks to an abundance of low-down torque. It's quite noisy and doesn't suit the DS 3 Crossback as well as the Puretech engines, but its impressive fuel economy figure might make it worth compromising for if you cover high miles.
Refinement and noise levels
If you're looking for a premium car that's relaxing to drive, you'd be better considering an Audi Q2 or BMW X2. With its three-cylinder petrol engines and thumpy ride quality, the DS 3 Crossback feels more like a tarted-up small hatch than a classy crossover.
It just doesn't live up to the expectations set by the DS premium brand image. We'd like to see four-cylinder petrol engines rather than the buzzy three-cylinder units, and the diesel engine is particularly grumbly.
Not only do the engines sound coarse, but there are also unacceptable levels of vibration through the pedals. We could live with this if it was Ford Fiesta money, but even a used DS 3 Crossback could cost you more than £30,000.
It's not all bad. The cabin is well insulated against wind and road noise, even with the harsh suspension and big alloy wheels.
Safety equipment
The Safety Pack is standard across the range on all DS Crossback models sold in the UK, meaning it has all of the active safety features designed to prevent you from being involved in a crash (or reduce the impact).
If you stray from your lane the lane-keeping assist will nudge the steering, while the emergency braking system will apply the brakes if it detects an impending collision. You'll even get an alert if you exceed the speed limit.
The advanced safety pack is standard on top-spec Ultra Prestige models and is offered as an option on lesser trim levels. Look out for this if you'd like the useful blind spot detection tool (which alerts you with a light if there's a car in your blind spot on the motorway), as well as extended versions of the lane-keeping assist and emergency braking systems.
With the standard safety pack, the DS 3 Crossback scored an impressive five out of five when crash-tested by Euro NCAP in 2019. It ranked particularly highly for adult occupants, with a near-perfect 96 per cent score. It achieved an 86 per cent rating for child occupants, thanks to good overall protection of all critical body parts and the ability to disable the front passenger airbag. ISOFIX points are fitted as standard to the front passenger seat and outer rear seat, putting your mind at rest when fitting child seats.
Scores for vulnerable road users and the DS 3 Crossback's safety assist features were 64 and 76 per cent respectively.
MPG and fuel costs
"As you'd expect for a modern crossover, the DS 3 Crossback is rather light on fuel. Officially, the PureTech 155 automatic is the thirstiest, returning between 41.7 and 46.6mpg in WLTP fuel economy tests. The mid-range Puretech 130 is only marginally more frugal, returning 42.2 to 47.1mpg, while the entry-level Puretech 100 returns between 46.0 and 52.0mpg."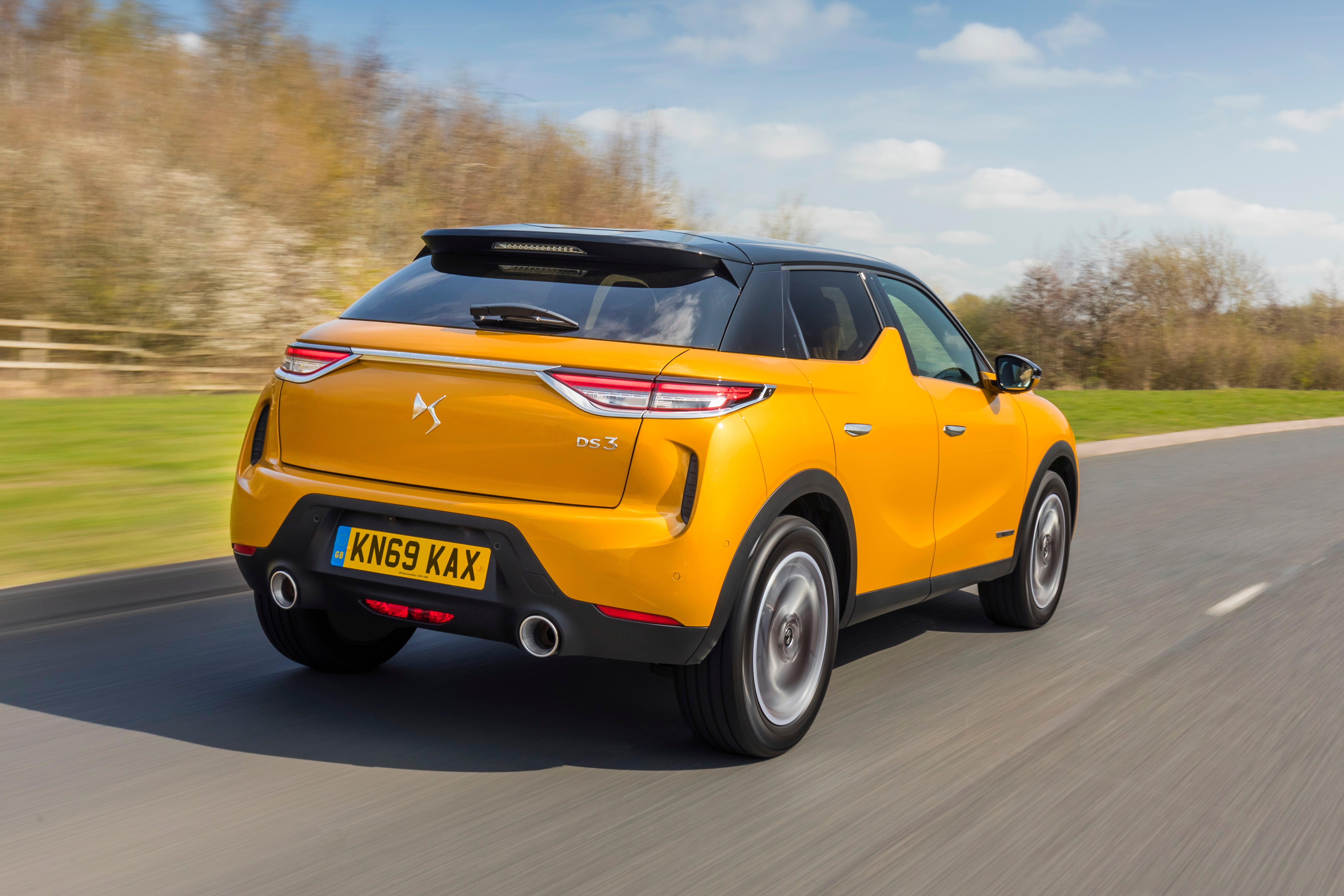 Despite the different names (and outputs), all the petrol DS 3 Crossback models are powered by the same three-cylinder turbocharged 1.2-litre engine. Small, turbo'd engines often aren't as frugal as their official figures suggest, with drivers reporting real-world figures as much as 25 per cent below the official claims.
If economy is important, you could opt for one with the 1.5-litre diesel engine. This'll officially return 54.4 - 62.7mpg. There's also the electric model, the E-Tense, which is ideal if most of your miles are around town.
Insurance groups and costs
DS 3 Crossback insurance groups range from 14 to 24, with the cheapest models to insure being powered by the Puretech 100 petrol engine. Naturally, the Puretech 155 is the most expensive to insure due to the extra power. This is broadly similar to other premium crossovers like the Audi Q2, although you'll probably pay more to insure a DS 3 Crossback compared to a mainstream competitor like a Volkswagen T-Roc or Mazda CX-30.
VED car tax
All DS 3 Crossback models will be subject to the latest VED bands, meaning you'll pay a flat rate of £150 a year after first registration. You won't have to pay the premium car tax as, even going wild with the options lists, it's impossible to spend close to £40,000 on a petrol or diesel DS 3 Crossback.
How much should you be paying for a used DS 3 Crossback?
"The DS 3 Crossback hasn't been around for long and it doesn't sell in huge numbers so second-hand values are pretty strong, but there are still some good deals available on the used market."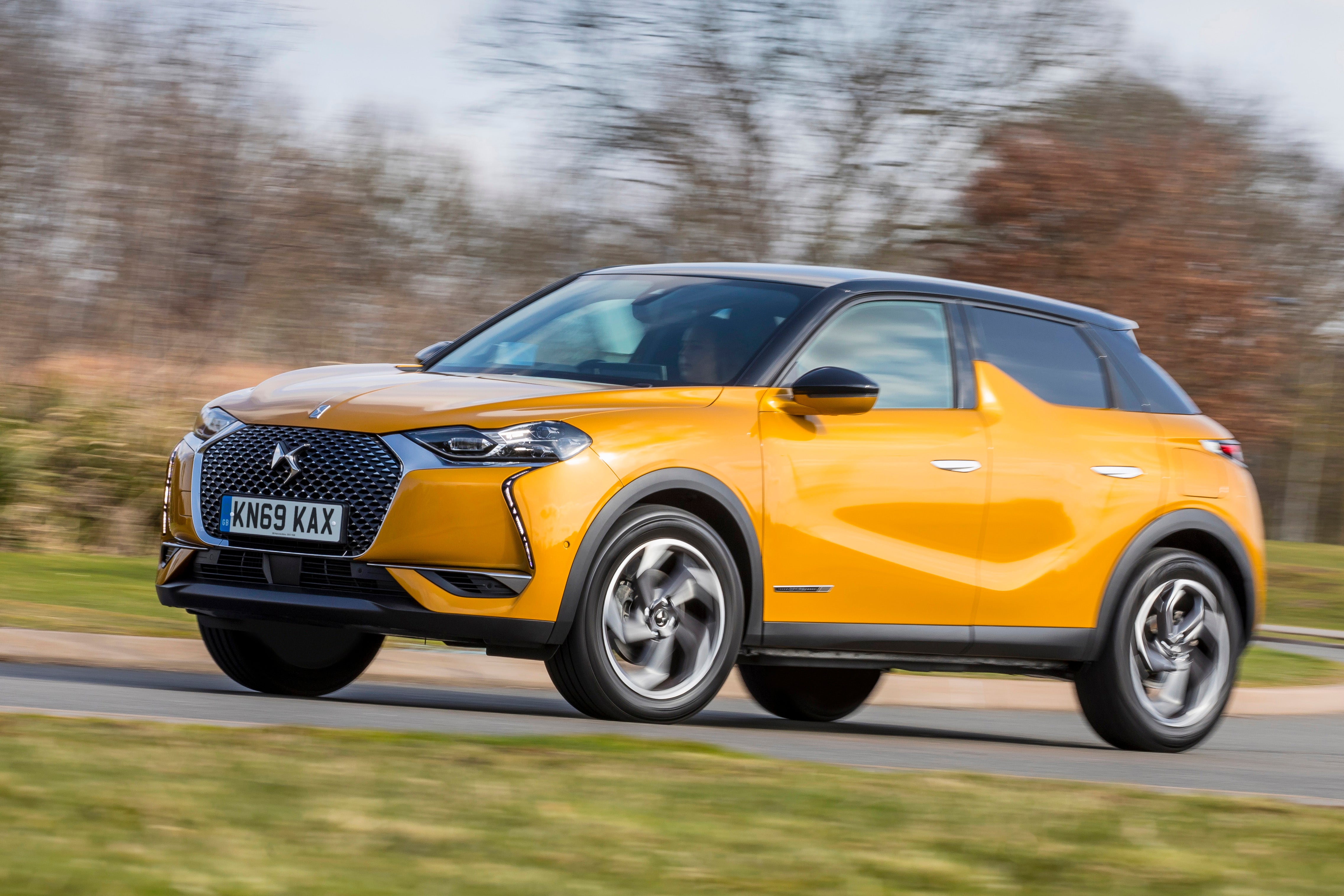 We found year-old examples with the Puretech 100 petrol engine in Performance Line trim for around £20,000, representing a saving of around £4000 compared to new.
A high-spec Ultra Prestige model of the same age with the more powerful Puretech 130 petrol will set you back around £23,000, saving a whopping £9000 compared to list (although you'd be foolish to pay more than £30,000 for a DS 3 Crossback).
If you want an as-new model, look for dealers selling pre-registered examples with delivery miles on the clock. These are cars that have been registered to meet targets but haven't been used by a private customer, so they're in as-new condition. They can be a great purchase if you want to jump the waiting list, save money, and aren't too bothered about choosing optional extras.
Around £20,000 will buy a pre-registered DS 3 Crossback in Performance Line trim with the Puretech 100 petrol engine. Prestige models with the BlueHDi 100 1.5 diesel engine are available for £21,500 - a hefty discount compared to the near-£28,000 retail price.
Trim levels and standard equipment
There's an extensive line-up of DS 3 Crossback models available. All are well-equipped as standard, with some focused on luxury while others offer a more sporting bent.
DS describes the entry-level Elegance model as the 'chic adventurer' with the Montmartre interior trim (consisting of Bronze Meteorite cloth seats, black cloth decor, a black interior roof and a black leather steering wheel). It also features a seven-inch touchscreen media system, digital instrument cluster, keyless start, 17-inch Ankara alloy wheels, rear parking sensors and the safety pack (with emergency braking system, lane-keeping assist, lane departure warning, speed limit recognition and intelligent speed adaptation).
As its name suggests, the Performance Line is a sportier offering. The interior is noticeably sportier, with Black Basalt Woven cloth seats with Alcantara, additional Alcantara decor, a black perforated leather steering wheel with contrast stitching and aluminium sport pedals. The exterior gets heated, electrically-folding door mirrors with LED spotlights. There's dark tinted rear windows, while the Performance Line models ride on 17-inch Dubai alloy wheels as standard.
The more upmarket Prestige model adds Black Basalt grained leather seats with bronze decor and a light grey interior roof. There's the bigger 10-inch touchscreen display with 3D navigation. It also comes with automatic air conditioning as well as front parking sensors and 17-inch Madrid alloy wheels. It also features 3D LED rear lights.
Topping the range is the Ultra Prestige trim level which features Black Basalt Nappa leather seats with the fancy watchstrap design along with black decor with pearl stitching and a black premium leather steering wheel (posher than the standard leather steering wheel, apparently). It also comes with a head-up display, reversing camera and keyless entry/start. Back-breaking 18-inch Shanghai alloy wheels are standard, as are the fancy DS Matrix LED Vision headlights and an advanced safety pack (like the standard safety pack but with added extended emergency braking, extended lane keep assist and blind spot detection).
DS DS 3 cars for sale on heycar
228
Number of cars available
£6K - £32K
Price bracket of these cars
Colours available on heycar
Keep me updated by email with the latest advice, news and offers from heycar
By submitting, you agree to our
privacy policy
.