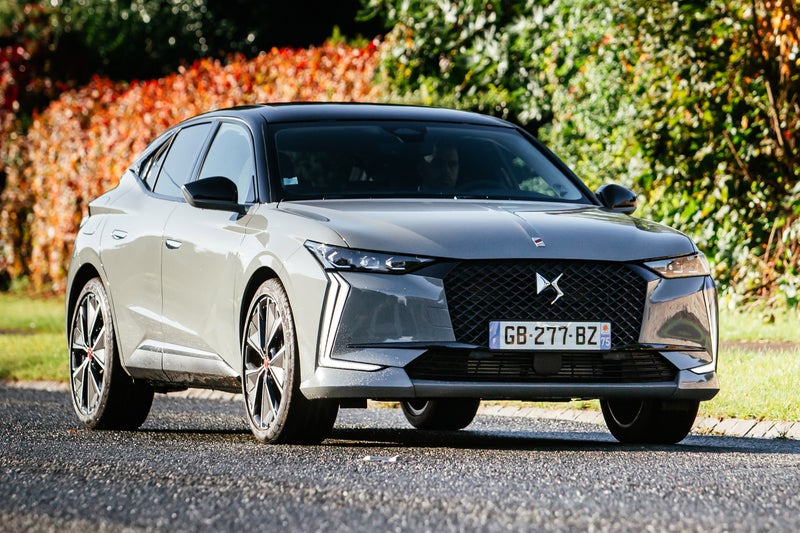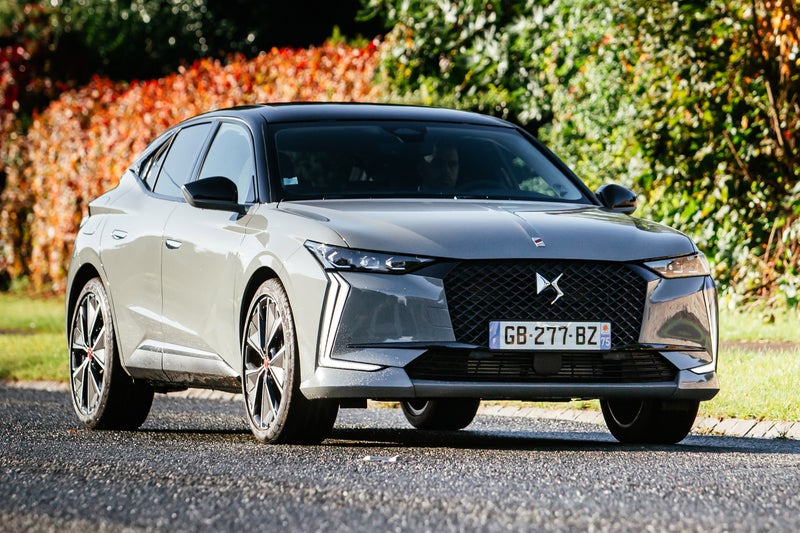 1/10
Launched: 2021

Family hatch

Petrol, Diesel, PHEV
Quick overview
Pros
Left-field alternative to a Volkswagen Golf
Interior is remarkably well-finished
Available with petrol, diesel or plug-in hybrid power
Cons
It's still quite a bold choice
Ride quality could be softer (especially with big alloy wheels)
Model line-up is a little confusing
Overall verdict
On the inside
Driving
Cost to run
Prices and Specs
Common questions
Overall verdict on the DS 4
"With the DS 4, Citroen's posh spin-off brand might finally be finding its groove. It's a genuinely premium family hatchback with SUV levels of practicality and a simply scrumptious interior. There's a DS 4 to suit every car buyer, too – including petrol, diesel and plug-in hybrid power, as well as a choice of sporty or posh trim levels."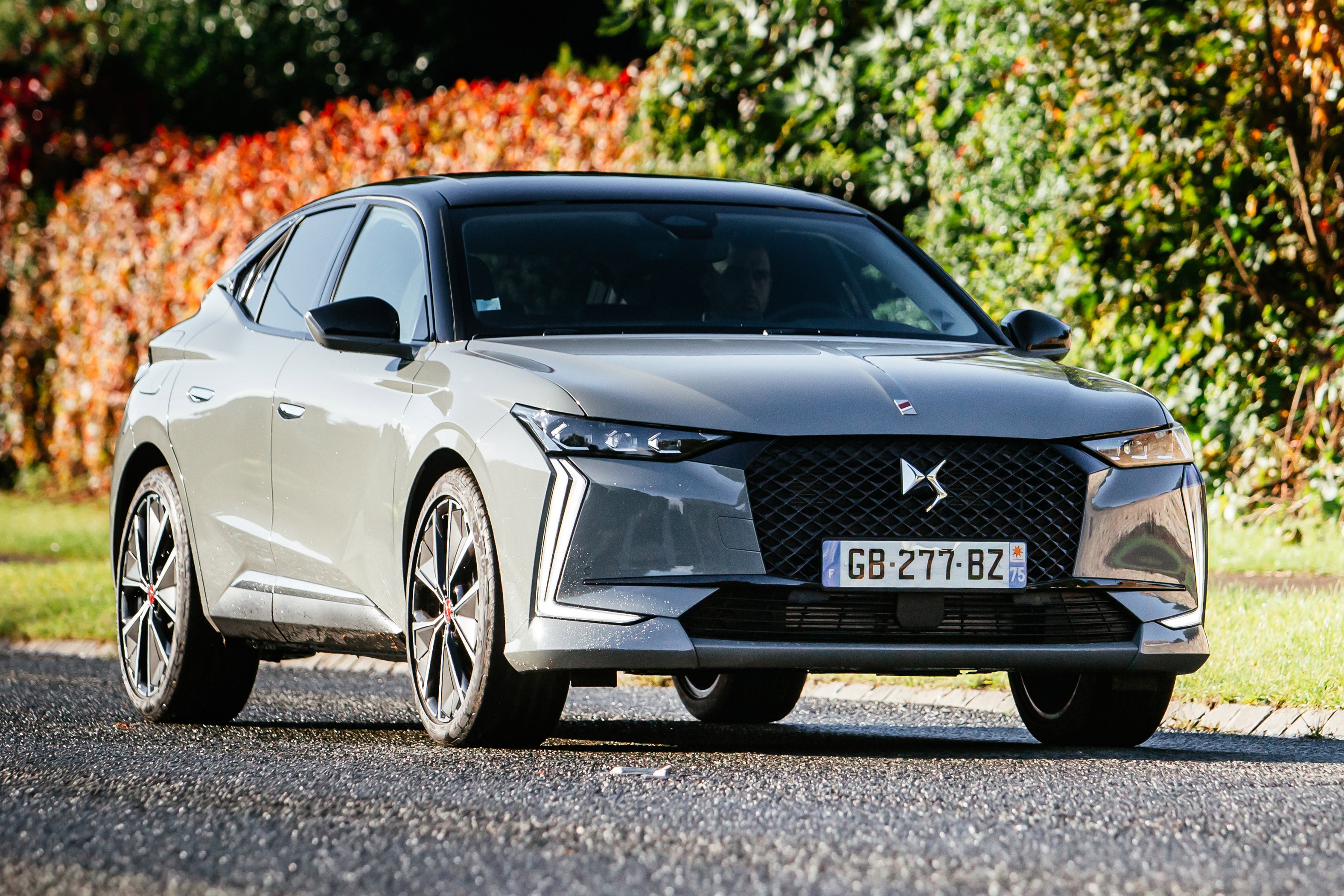 The premium hatch market comprises some very good cars that, through sheer popularity, are no longer the status symbol they once were. Sure, you're not going to dismiss an Audi A3, BMW 1 Series or Mercedes-Benz A-Class from your company car list, but none of them will be a talking point when you turn up to a client meeting in one. As you'll read in our full DS 4 review, we reckon this stylish French underdog is actually a surprisingly desirable choice.
DS Automobiles split from parent brand Citroen a few years ago. It's still new enough that you're not going to see DS-badged cars clogging up every motorway but, with every model it launches, DS starts to look more and more like a credible threat in the premium car sector.
The DS 4 is the latest. It's a premium competitor to the cars mentioned above, as well as more mainstream models like the Volkswagen Golf and (in-house rival) Peugeot 308. It's also a bit SUV-like in its appearance, which means you might also be considering it alongside a Mercedes GLA or BMW X2.
The DS 4 line-up might appear a bit confusing but, spend some time with the virtual brochure, and you'll soon get your head around it. The entry-level model is the DS 4 Bastille+, but even this is well equipped with standard equipment including 17-inch alloy wheels, a slick 10-inch media system and LED headlights.
If a sporty DS 4 appeals, there are Performance Line and Performance Line+ derivatives, while the DS 4 Cross Trocadero and Cross Rivoli look a bit more rugged (with things like black roof bars, skid plates and door sill protectors). While the DS 4 Cross models are clearly going for the off-roader look, they don't actually get an increase in ride height (or any off-road ability).
We expect we'll see a lot of DS 4 models sold with the peppy 1.2- and 1.6-litre Puretech petrol engines, while there's even a diesel model badged the BlueHDi 130. A plug-in hybrid (the DS 4 E-Tense) is the most impressive DS 4 on offer, combining a 1.6-litre engine with a chunky battery pack, providing a range of up to 38 miles. A pure-electric model is set to follow in 2024.
Disappointingly, the DS 4 isn't anything special to drive. It's comfortable enough, though, while a clever suspension system (on certain models) can use a forward-facing camera to spot potholes on the road ahead and iron out any bumps. In theory.
The DS 4 is at its best when you just want to relax. Its cabin really is superb, swathed in premium materials and stress-busting technology. All DS 4 models use an automatic gearbox, which frees up space on the centre console, where you'll find a small digital touchscreen display. This is easy to reach and can be used to operate the main 10-inch infotainment screen. It's a bit of a gimmicky setup but it works well.
In terms of space on offer, the DS 4's relatively large exterior dimensions mean it feels less cramped inside than something like a BMW 1 Series. There's a decent-sized boot, while even the plug-in hybrid E-Tense (with its sizeable battery pack) doesn't compromise too much on practicality.
Prices start from around £25,000 – which is less than you'll pay for a similarly-specced Volkswagen Golf. Higher-end models undercut competitors, too, although private buyers might find the plug-in hybrid DS 4 E-Tense's £36,600 price tag difficult to justify. The highest-spec models edge over £40,000 – a lot of money in itself, and you'll be stung on premium car tax for five years.
Generally, though, we reckon the DS 4 offers impressive value for money. It does things very differently to competitors, and it certainly doesn't feel just like a poshed-up version of related hatchbacks like the Peugeot 308 and Vauxhall Astra.
If you're looking for the older version, you'll need our DS 4 (2011) review.
Is the DS 4 right for you?
If you're looking for something a little different, the DS 4 certainly ticks that box. It's less of a compromise than other DS models, though, while its interior really is one of the best in its class. Impressive practicality mean you can use it as your main family car, while a strong engine line-up means it won't cost a fortune to run.
What's the best DS 4 model/engine to choose?
It's not a cheap choice, but we rate the plug-in hybrid DS 4 E-Tense. It's got a very useable electric range of 38 miles, while the refinement on offer from electric motoring really suits the DS 4's relaxed vibe. Which trim level you choose comes down to personal preference, but a nice Troacadero or Rivoli model would tick a lot of boxes for us.
What other cars are similar to the DS 4?
Comfort and design: DS 4 interior
"Take a seat in the DS 4 and it's unlikely you'll want to buy anything else. Its interior is a classy affair, designed to offer something very different to competitors like the Volkswagen Golf. If your friends and family think you've lost the plot for buying such a niche model, they'll understand when you show them the cabin."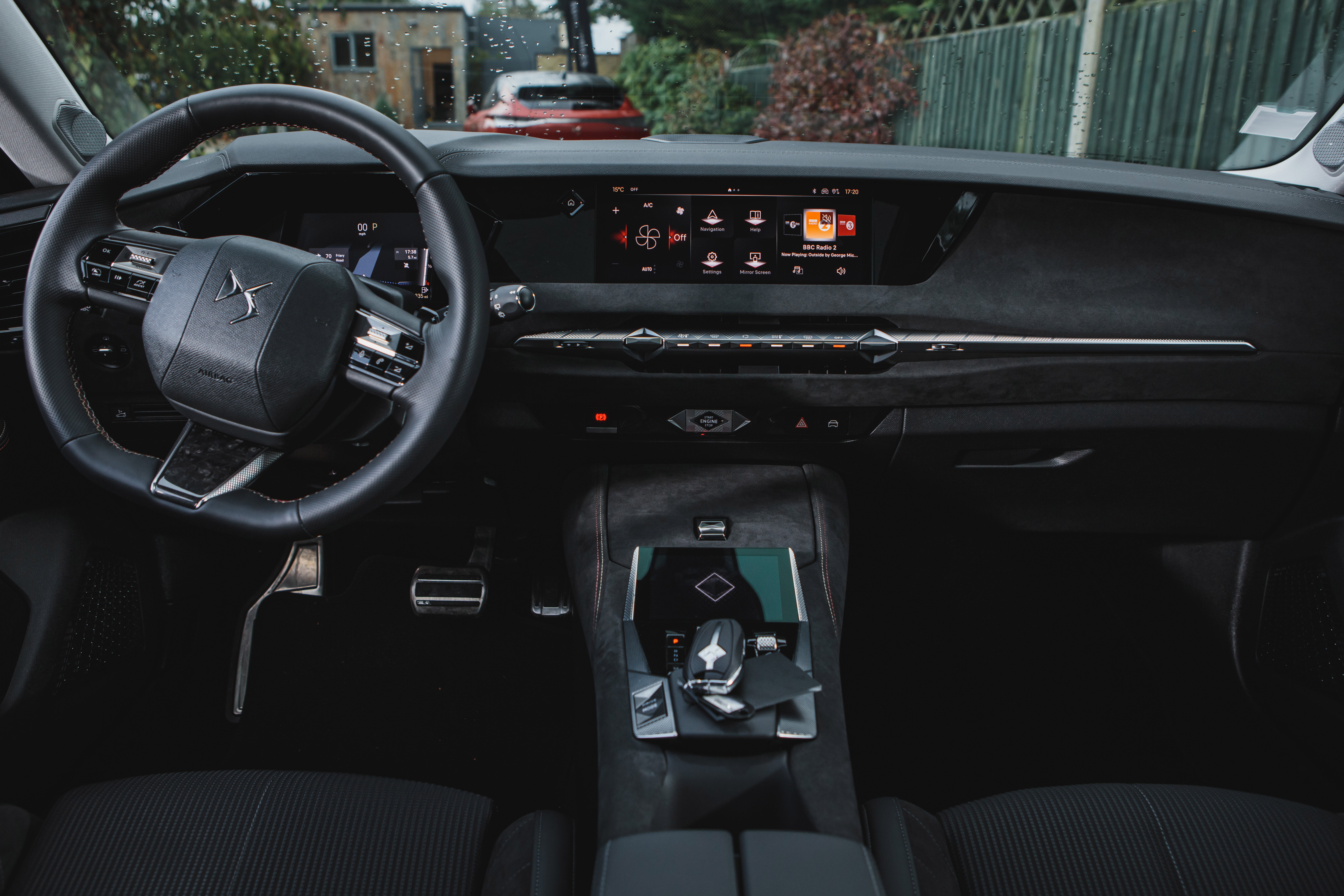 Getting comfortable is easy, with supportive seats providing plenty of adjustment. You don't sit particularly high up (look for an SUV alternative if that's what you're after), but you still get a decent enough view of the road ahead.
One neat feature is the LED ambient interior lighting, which is standard on all DS 4 models apart from the entry-level Bastille+. This is customisable, adding to the sense of calm in the DS 4's cabin (says the brand... we reckon it just looks pretty cool).
There's also an air purification system available to protect you and your family from whatever pollution might be in the air outside, while acoustic side glass is offered on select models to reduce the amount of external noise interrupting your zen state.
Quality and finish
The DS 4's interior really is exquisite. From the hand-stitched leather steering wheel to the plush dashboard, it feels every bit as upmarket as premium competitors like the Mercedes A-Class.
We're particularly keen on the brown watchstrap leather available on DS 4 Rivoli and Cross Rivoli models but, at £2450, it's probably not an option box many buyers will be ticking. Most models get cloth seats as standard, while the Performance Line models come with seats trimmed in Alcantara. Black leather seats are standard on the Rivoli and Cross Rivoli.
Infotainment: Touchscreen, USB, nav and stereo in the DS 4
An impressive 10-inch media system is standard across the DS 4 range. It's actually much easier to operate than a lot of rival infotainment displays (have you tried a Volkswagen Group system lately..?), with sharp responses and customisable menu layouts (a bit like a smartphone).
While touchscreen displays can be distracting to use on the move, the DS 4 has a trick up its sleeve. There's a second smaller touchscreen positioned low down on the centre console. This is easier to reach and can be used for operating the main navigation system. It's not quite as easy as a rotary controller (or, heaven forbid, actual buttons) – but it certainly feels a safer process than some we've tried.
Apple CarPlay and Android Auto are standard across the range, while wireless phone charging is available as an option. All DS 4 models come with two USB-C ports in the front, while most (all but the DS 4 Bastille+) come with two in the back.
Space and practicality: DS 4 boot space
The DS 4 is almost an SUV in terms of exterior dimensions (it measures 4400mm long, 1830mm wide and 1470mm high). Obviously, that's pretty good news when it comes to interior space.
The boot can accommodate up to 430 litres of luggage, which is more than you'd get in a BMW 1 Series, Mercedes A-Class or Audi A3. This drops to 390 litres in the DS 4 E-Tense (those hybrid batteries have to go somewhere), but it's still a pretty sizeable load bay.
If you're planning to use the DS 4 as your main family car, teenagers in the back will have little reason to complain (unless you try to squeeze one in the middle seat – it's best saved for occasional use). There's a decent amount of headroom and legroom, while there are Isofix points on the outer rear seats (and on the front passenger seat) to help out when fitting child seats.
There's loads of room in the front of the DS 4, with plenty of adjustment in the seats and an impressive amount of headroom even for the tallest of adults. You'll find numerous neat storage spaces, too – including a pair of cupholders and a deep cubby within the armrest.
Handling and ride quality: What is the DS 4 like to drive?
"Buy a DS 4 with the clever Active Scan system and it has a camera on the windscreen to monitor the road ahead for imperfections. If it thinks you're going to hit a pothole, it braces the adaptive suspension, reducing the jolt in the cabin. That's the kinda tech that's only available on super expensive models like the Mercedes S-Class."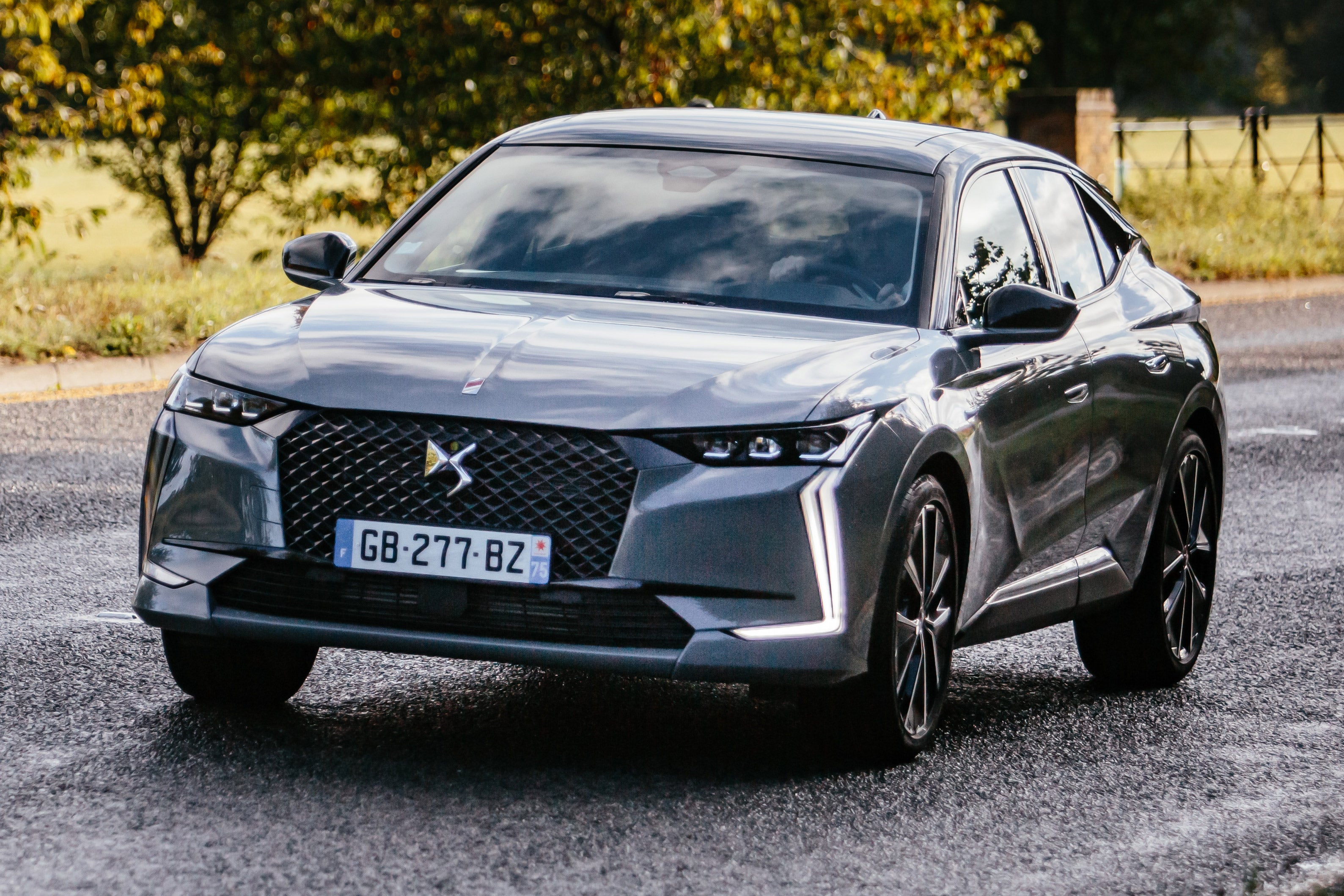 Whether you buy the DS 4 with or without the optional adaptive suspension, you might find it a bit firmer than you'd expect for a posh French car. Why can't DS make its cars all springy soft like its mainstream sibling Citroen? The answer's obvious – it's going for German competitors, all of which prioritise sportiness over comfort. Big alloy wheels don't help (we've sampled the DS 4 on huge 20-inchers), and neither do the extra weight of the hybrid batteries on DS 4 E-Tense models.
Don't expect the DS 4 to feel as nimble as a BMW 1 Series or X2, either. Its steering is too light to encourage you to press on, while there's just as much lean in the corners as a slightly wobbly Mercedes GLA.
You can't buy a four-wheel-drive DS 4 (even rugged Cross models and the DS 4 E-Tense plug-in hybrid send power exclusively to the front wheels), but that's no biggy. It feels safe and reassuring to drive, while there's plenty of tech on hand to keep you safe (we'll cover that in the safety section below). It's easy enough to guide through city streets, too – this isn't a particularly big car, although you don't get the high driving position you might expect from its almost SUV appearance.
What engines and gearboxes are available in the DS 4?
The DS 4 range kicks off with a small 1.2-litre petrol engine badged the Puretech 130. As its name suggests, this produces 130PS, which isn't a huge amount of power for a car of this size but should be enough for keeping up with traffic. We're yet to test a DS 4 with this engine, while 0-62mph acceleration figures for the entry-level motor are yet to be confirmed.
If you're looking for a punchier petrol motor, there's also a 1.6-litre engine available with 180PS or 225PS. The former will take the DS 4 to 62mph in 8.0 seconds flat, while the latter takes a not-as-quick-as-you-may-expect 7.9 seconds. All of the petrol engines offered in the DS 4 are paired with an eight-speed automatic gearbox.
There's also a diesel unit, also paired with an eight-speed auto gearbox and badged the BlueHDi 130. This takes a leisurely 10.9 seconds to cover the 0-62mph sprint, but 300Nm of torque means building speed should feel fairly effortless.
Our favourite model is the plug-in hybrid DS 4 E-Tense. This combines a 1.6-litre petrol engine with a 12.4kWh lithium-ion battery and an electric motor, allowing it to switch seamlessly between petrol and electric power. With 225PS on hand, this is also the quickest, accelerating to 62mph in 7.7 seconds.
Refinement and noise levels
Until an electric DS 4 goes on sale, the most refined model you can buy is the E-Tense plug-in hybrid. When it's fully charged, it can mimic a pure-electric vehicle, darting about quite happily without the petrol engine kicking in. When the combustion engine is required, it'll start up without as much as a grumble.
We're yet to sample the DS 4 with diesel power, but expect this to be a little more vocal than the petrol and diesel models. That's the price you pay for economy, though.
Engines aside, the DS 4 is just as refined as you'd expect for an upmarket hatch. Wind noise is minimal, although there is a fair bit of road noise – particularly if you spec the 20-inch alloy wheels.
Safety equipment: How safe is the DS 4?
The brand boasts of 'semi-autonomous driving' features on the DS 4. These are packaged together as DS Drive Assist, which features adaptive cruise (with the ability to stop and start entirely in heavy traffic) as well as a lane positioning function. It won't exactly drive itself but it should certainly take the strain out of longer journeys. Note that the DS Drive Assist is only fitted as standard on DS 4 Rivoli and Cross Rivoli trim levels, as well as the La Premiere introductory model.
There is a whole heap of other driver-assistance tech fitted as standard across the range. This includes a driver attention system (which alerts you if you're not paying enough attention to the road), an emergency braking system (which can apply the brakes if it detects a potential collision) and speed limit recognition. All models come with a reversing camera, while the DS 4 La Premiere features a 360-degree camera system.
There's the usual mix of airbags, while Isofix child seat mounting points are fitted to the front passenger seat and outer rear seats. The DS 4 was awarded four stars when it was crash-tested by Euro NCAP in 2022, or five stars when fitted with the optional Safety Pack
MPG and fuel costs: What does a DS 4 cost to run?
"As with all plug-in hybrids, you should take the DS 4 E-Tense's 232.3mpg fuel economy figure with a big pinch of salt. More significant is its 38-mile electric range, which means you might be able to cover the commute or school run with the petrol engine barely needing to kick in."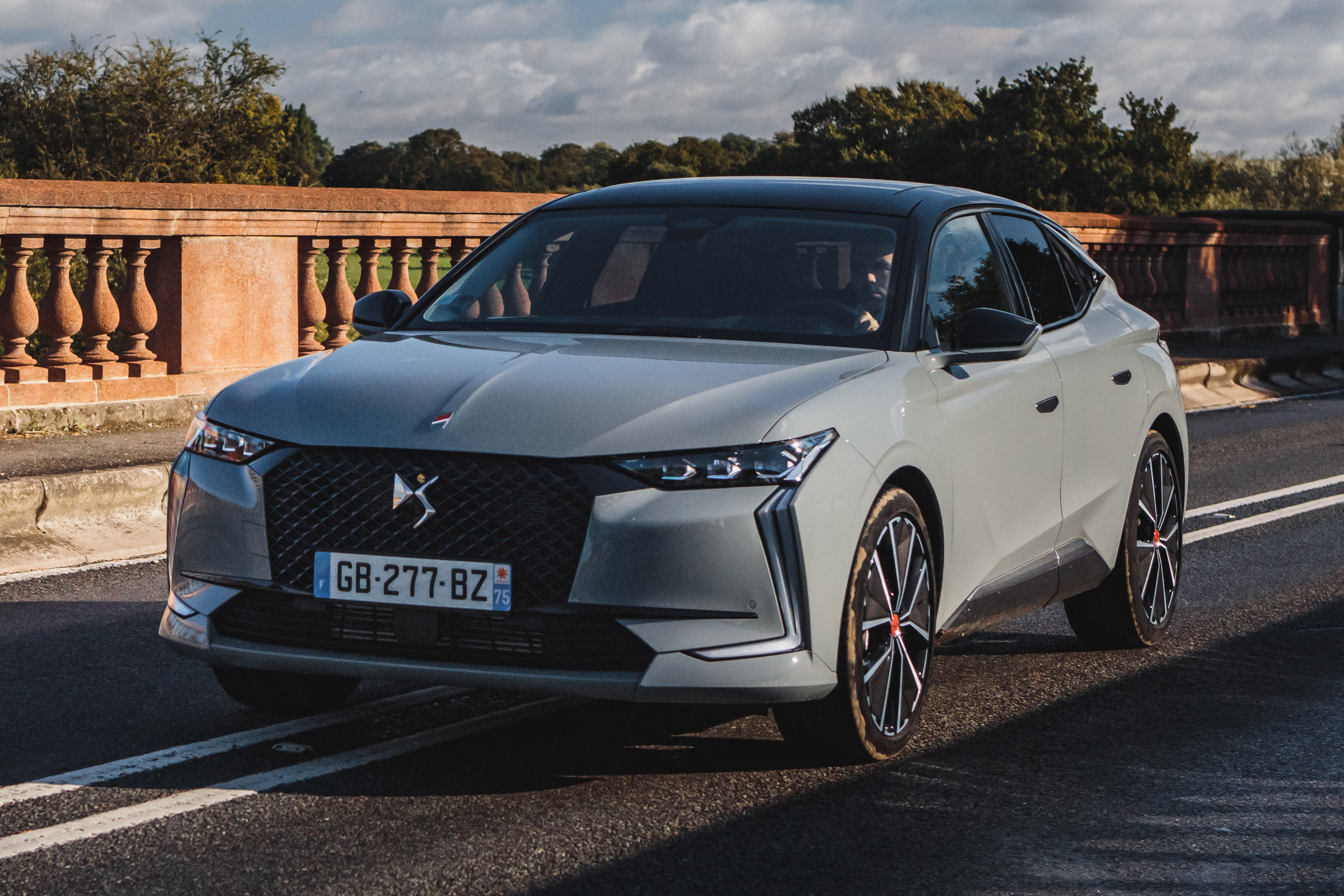 If you cover a lot of short journeys and have the ability to charge a car at home, then the plug-in hybrid DS 4 E-Tense could be a very efficient choice. If you can't charge a car (or just don't want to), we'd recommend one of the more conventional petrol alternatives.
The Puretech 130 officially returns up to 48.6mpg in WLTP fuel economy tests, while the Puretech 180 manages 43.9mpg. Surprisingly, given the power on offer, the 1.6-litre Puretech 225 returns up to 43.7mpg – a small sacrifice over the Puretech 180.
Although diesel power is very much out of fashion, the DS 4 BlueHDi should still be the pick of high-mileage motorway drivers. This officially returns up to 61.2mpg.
How reliable is the DS 4?
It's too new to tell for sure how reliable the DS 4 will be, but it shares mechanicals with a wide range of Stellantis models. That should be good news for reliability, while there's nothing about the DS 4 that should be particularly expensive or difficult to fix.
Insurance groups and costs
If you're looking for cheap insurance, we'd recommend a DS 4 with the Puretech 130 petrol engine. Depending on trim level, this falls into insurance groups 19E or 20E. The punchier DS 4 Puretech 180 is a group 29E, while the DS 4 BlueHDi diesel has been placed into insurance group 21E. Insurance groups for the DS 4 E-Tense plug-in hybrid are yet to be announced.
In reality, we'd expect the DS 4 to cost similar to a Volkswagen Golf to insure. We'd recommend shopping around for insurance quotes, though.
VED car tax: What is the annual road tax on a DS 4?
The first year's VED (car tax) on a DS 4 ranges from £0 to £220 depending on which engine you choose. This is lumped into the on-the-road price, though, so shouldn't influence your choice – particularly if you're buying a nearly-new or second-hand DS 4.
After that, you'll pay a flat rate of £155 a year for petrol or diesel DS 4 models. This drops to £145/year for the plug-in hybrid DS 4 E-Tense. If you buy a DS 4 with a list price of more than £40,000, you'll be stung for an extra £335 a year in premium car tax for five years. This is worth bearing in mind if you're looking at high-spec models of the DS 4 E-Tense – even if you're not paying anywhere near £40,000 on the used market.
How much should you be paying for a used DS 4?
"The plug-in hybrid DS 4 E-Tense is perhaps the most desirable model, but it's also the most expensive. You'll pay upwards of £36,000 for one of these, with high-spec trim levels exceeding £40,000. Ouch."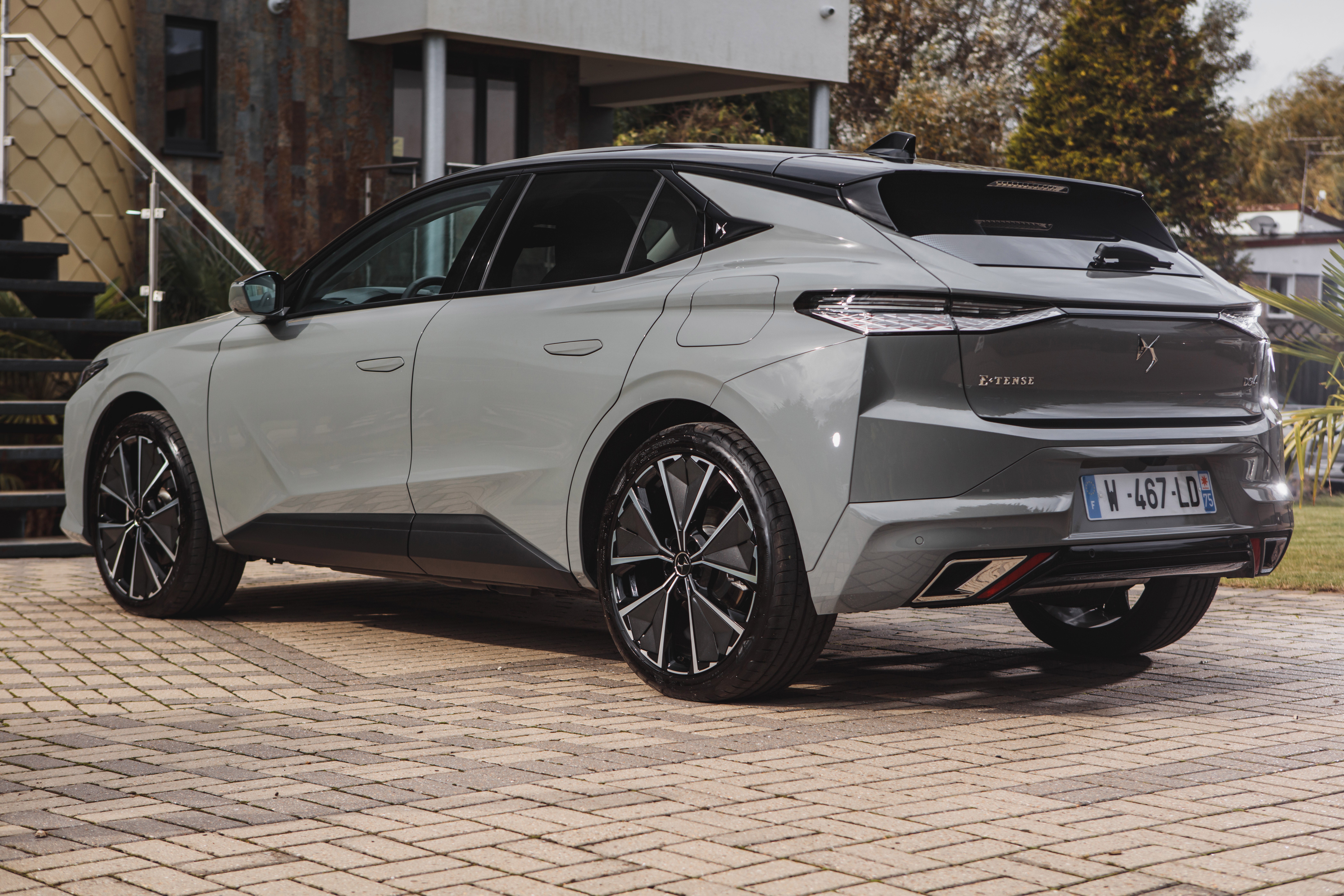 The most affordable way into DS 4 ownership is the DS 4 Bastille+ with the Puretech 130 petrol engine. This starts from a little over £25,000. The Puretech 225, meanwhile, starts from around £35,000 in Performance Line+ guise.
If you're looking to save money (and skip the waiting list), look for a pre-registered or nearly-new DS 4 on heycar. We're yet to see many examples of the new DS 4 filtering down onto the used market, but it won't be long before ex-demonstrator models start to appear.
Trim levels and standard equipment
The DS 4's trim line-up can seem a little confusing at first, but bear with us and we'll talk you through it. There are basically three core models: the standard DS 4, the slightly sporty DS 4 Performance Line, and the more SUV-esque DS 4 Cross. Each of these are available in a number of different variants.
The entry-level DS 4 is badged the Bastille+. Standard equipment includes 17-inch alloy wheels, LED headlights and a black front grille. Inside, there's a front central armrest, leather steering wheel and cloth seats. Infotainment is provided in the form of a 10-inch touchscreen system (with Apple CarPlay and Android Auto) as well as a seven-inch digital instrument cluster.
Moving up a level, the DS 4 Trocadero adds 19-inch alloy wheels and a chrome front grille. Inside, you'll find embossed cloth seats, the DS Iris system (3D connected navigation with voice recognition) and a head-up display. Further tech highlights include keyless entry and start, front parking sensors, DS Connect Box (emergency and assistance system) and a reversing camera.
The DS 4 Rivoli tops the standard range, with black leather seats, Matrix LED headlights, scrolling rear indicators and DS Drive Assist (with adaptive cruise control and lane positioning assist). Dark tinted rear windows are also standard, as well as laminated acoustic insulated glazing.
The DS 4 Performance Line takes the DS 4 Bastille+ as its base and adds black 19-inch alloy wheels and gloss black exterior highlights (including the grille, DS wings and window surrounds). The inside is finished in black Alcantara, while tech highlights include front parking sensors and a rear-view camera.
The DS4 Performance Line+ adds the DS Iris navigation system, extended head-up display and the DS Connect Box. Those in the back get a rear armrest as well as tinted rear windows. Adaptive cruise control is standard as well as an advanced emergency braking system.
For a more rugged look, the DS 4 Cross Trocadero features Cross exterior highlights (including black roof bars, black door sill protectors, front and rear skid plates, black front and rear bumpers) and 19-inch alloy wheels. The seats are finished in Tungsten Diamond Cloth, while tech highlgihts include the DS Iris navigation system, front parking sensors and a reversing camera.
The DS 4 Cross Rivoli which adds black leather seats, DS Matrix headlights, scrolling rear indicators and DS Drive Assist semi-autonomous driving package. A rear cross traffic alert system is also standard, as well as dark tinted rear windows.
Ask the heycar experts:
common questions
Is the DS 4 an SUV?
While the DS 4 has grown in size and has SUV-like styling, it's not really an SUV. It's more of a hatchback to rival cars like the Volkswagen Golf, BMW 1 Series and Mercedes A-Class. That said, there is a rugged version badged the DS 4 Cross – but even this doesn't gain an increased ride height over the standard model.

Is the DS 4 a Citroen?
DS Automobiles is Citroen's upmarket brand. While the original DS 4 was sold for a few years with a Citroen badge, the new DS 4 will be sold exclusively as a DS model. It does, however, share a platform with a wide range of Stellantis models including the Citroen C5 Aircross, Vauxhall Astra and Peugeot 308.

Is the DS 4 electric?
The DS 4 will initially be sold with diesel, petrol or plug-in hybrid power. A pure electric version is on its way, but won't be offered in the UK market until 2024.

DS DS 4 cars for sale on heycar
228
Number of cars available
£6K - £32K
Price bracket of these cars
Colours available on heycar
Keep me updated by email with the latest advice, news and offers from heycar
By submitting, you agree to our
privacy policy
.