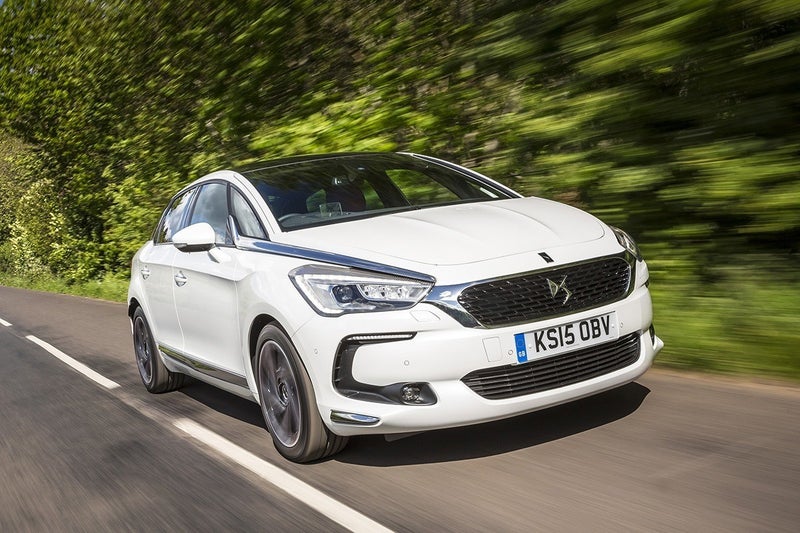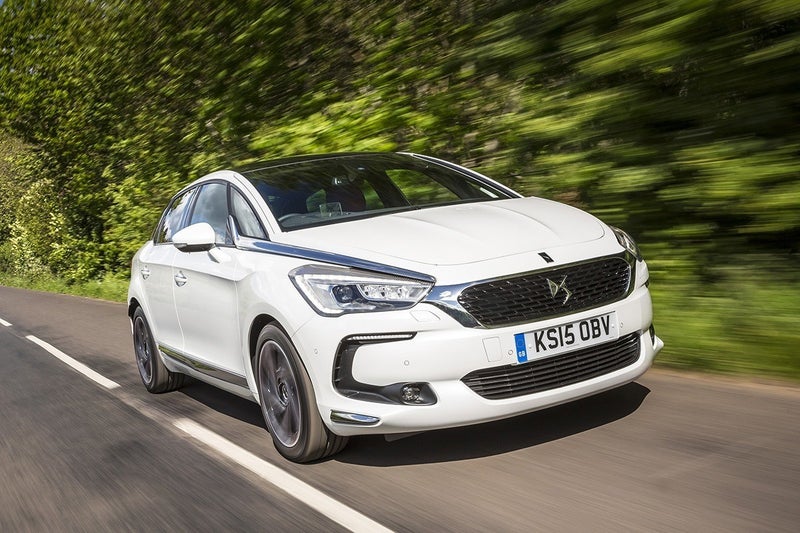 1/10
heycar rating
"Unique looks, average everything else"
Launched: 2015

Large family car

Petrol, Diesel, Hybrid
Quick overview
Pros
It's different
Optional 'watch strap' leather interior is very cool
Decent standard kit levels
Cons
Conventional alternatives are much better
Suspension is firm to the point of discomfort
6EAT automatic transmission is slow and jerky
Overall verdict
On the inside
Driving
Cost to run
Prices and Specs
Common questions
Overall verdict on the DS 5
"It's tricky not to see the DS 5 as a significant miss from DS. It's neither as stylish and sophisticated as the original DS models that it aimed to replicate or as genuinely posh, comfortable and nice to drive as the German saloons it wanted to steal sales from. Perhaps this confused personality is the biggest sign that it was never a bespoke DS model to begin with."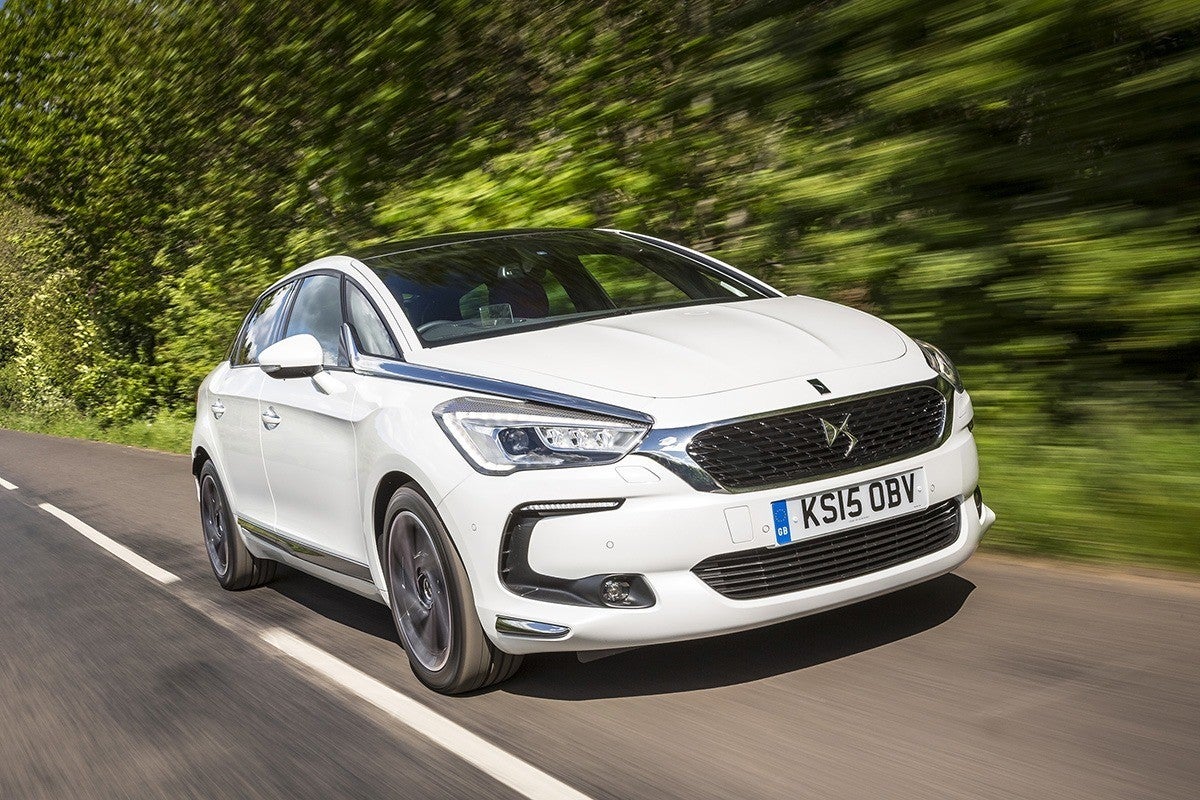 The DS 5 (previously the Citroen DS 5) was Citroen's push to plush, pitching the large, bold hatchback at big-selling premium saloons like the BMW 3 Series, Audi A4 and Mercedes-Benz C-Class.
The DS badge was meant to evoke memories of the old Citroen DS, a Gallic executive car that created its own unique style when it was launched in the 50s and remains something of a cultish icon to this day. It was a French luxury saloon good enough to take on the best from Germany and, sadly, hasn't been replicated since.
It's a situation the DS 5 doesn't rectify. Okay, so its ballooned hatchback looks and lashings of chrome gave it its own 'unique' appearance, but attractive? Not so much. It's certainly nowhere near as striking as its classic namesake.
While the looks weren't revolutionary some of the DS 5's technology was genuinely impressive when it went on sale. Top-of-the-range Hybrid4 versions combined a 2.0-litre diesel engine that turned the front wheels with an electric motor that spun up the rears. That gave you four-wheel drive, but also a short electric-only range that helped the DS 5 return decent fuel economy. The range also included conventional petrol and diesels.
Conventional is a good way to describe how the DS 5 drives. It's neither as comfortable as a Mercedes nor as fun to drive as a BMW – in fact, it's some way off matching either. Its ride is firm and flustered over bumps, yet this doesn't translate into responsive handling and – to cap it all off – the stodgy steering doesn't inspire much confidence.
At least the interior gets close to matching the premium feel of rivals in period. The vast windscreen is supposed to replicate an aircraft's cockpit – an analogy that's reinforced by the roof-mounted controls – and it lets plenty of light wash into the cabin, especially in combination with the optional panoramic glass roof.
Material quality is also reasonable and you get neat touches like the shark tooth buttons on the centre console, leather "watch strap" upholstery and an analogue clock.
Sadly, DS hasn't managed to combine these quirky details with impressive interior practicality. Tall adults will be fine in the front, but the sweeping roofline does rear-seat headroom no favours even if legroom is fine. Oddoment space is okay but not helped by the tiny glovebox.
You do get a reasonably large boot if you go for one of the conventional models, but that can't be said of the hybrid car. Packaging problems caused by its electric motor and battery mean its boot is actually significantly smaller than in a Volkswagen Golf – a car that sits a size below the DS – hard to forgive in a car aimed at families.
For this reason and more, it's tricky not to see the DS 5 as a significant miss from DS. It's neither as stylish and sophisticated as the original DS models that it aimed to replicate or as genuinely posh, comfortable and nice to drive as the German saloons it wanted to steal sales from. Perhaps this confused personality is the biggest sign that it was never a bespoke DS model to begin with.
Is the DS 5 right for you?
For a kick off, you'll have to be happy to buy a car that's at least two years old because the DS 5 went off sale in 2018. That said, the DS 5 makes a bit more sense now depreciation has done its magic. You might fancy driving something different – Saabs , or some long-gone French executives like Citroen's C6, Renault's Vel Satis or Avantime. The DS 5 isn't likely to have BMW 3 Series or Audi A4 buyers considering it, then, but it'll appeal if you're someone who likes to break free of the flock.
What's the best DS 5 model/engine to choose?
The DS 5 has a decent choice of engines, but it's difficult to ignore the 2.0-litre turbodiesel, which is punchy and relatively cheap to run, although we'd avoid the automatic which is dim-witted and jerky. Prestige models come fully-loaded with kit as standard making them the obvious trim level to go for.
What other cars are similar to the DS 5?
Similar? Not many, at least not directly, and that's rather the point. The DS 5 is meant to appeal to those bored by convention, people wanting something different from the premium norm. Whether that's you or not only you will know, but if you're looking at a DS 5 then you're likely to consider left-field choices like the VW Passat CC or Alfa Romeo 159.
Comfort and design: DS 5 interior
"Design is an area where the DS 5 aimed to be different and that's apparent the second you climb inside."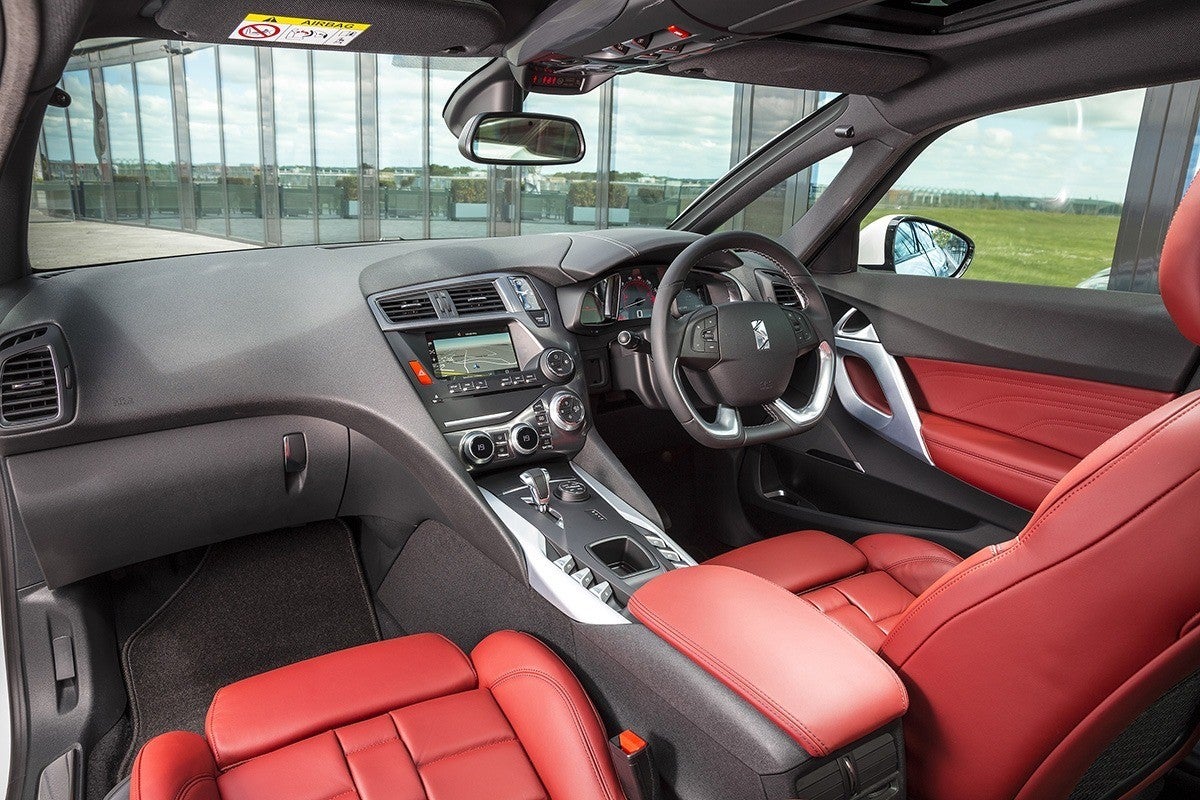 It's boldly styled in the cabin, not to the point of brashness, instead the DS 5's interior daring to be a little bit different and feeling all the better for it.
There are cool switches around the gear lever, and while roof-mounted controls are not that unusual for things like sunroof blinds, the ability to move the head-up display position with them is DS citing a plane's cockpit for inspiration.
That aviation effect is heightened by the two glass panels above the driver and passenger's head, as well as a further one for the rear seating area, adding some light into the interior. The front seats have decent support and adjustment, which is manual on the Elegance model and the driver's seat getting electric adjustment from Performance Line upwards.
If optioned with the Electric Comfort Pack (£500 at the time), the DS 5 gained seat heating, driver's electric lumbar adjustment, massage and memory settings and electric adjustment for the passenger. All came with keyless entry and start, dual-zone air conditioning as standard, too.
Quality and finish
Visually, the DS 5's interior is a treat, and the materials, too, are a sizeable step up from what you'd expect in something that, initially at least, wears a Citroen badge. Leather covers the gearknob in all, as well as the steering wheel, while Performance Line and Prestige also gain leather on the instrument binnacle.
Titanium 'effect' trim, chrome and decent, if not class-leading plastics all mix in the nicely finished interior, it not quite up to the lofty interior quality and material tactility standards set by posh Audis, but at least up to the standards of feel, fit and finish of its upper mainstream contemporaries like VW and Volvo.
The optional watch strap leather – costing as much as £2,400 on the Elegance and £1,000 less in the flagship Prestige – is well worth having, it looks fantastic, and lifts the interior from pleasantly different to bordering on special.
Infotainment: touchscreen, USB, nav and stereo in the DS 5
Over its six years, full shift from the Citroen brand to be badged solely as a DS, inevitably there were changes to the infotainment.
Pre-2015 DS models came with a basic system that was swapped for a touchscreen, removing 12 buttons from the dashboard. This seven-inch touchscreen features DS Connect Nav, a DAB tuner with six speakers, aux-in, USB and Bluetooth connectivity as well as Apple CarPlay.
It's easy to operate, with many of the controls duplicated by the steering wheel-mounted buttons. A head-up display was offered optionally for just £300 on the Performance Line and Prestige models, so seek out those used DS 5s where this option has been specified.
Space and practicality: DS 5 boot space
Given the near monobox, MPV/SUV shape the space inside isn't quite as generous as you might imagine. There's plenty of room up front for the driver and passenger, but the rear seat passengers aren't quite so well accommodated.
The tapering roofline, which gives the DS 5 its distinctive shape does restrict headroom in the rear and that's compounded by limited legroom, too, so there's not much room to stretch out. Fine for children, but adults will find the rear seats a bit claustrophobic.
Cubby storage is okay, rather than exceptional. The glove box is small, likewise the door bins, but you do get a deep, lidded cubby between the front seats. Map pockets on the back of the front seats help and you also get a pair of sunglasses holders in the roof.
There's a pair of ISOFIX child seat mounts in the back, and the seats fold in a 60/40 split, with a ski hatch through the rear seats, which doubles as an armrest.
Maximum boot capacity is 465 litres with the rear seats in place and 1,288 litres with the rear seats folded. The former figure drops by 143 litres with the hybrid model, which loses space to the battery and motor powering the rear wheels.
Handling and ride quality: What is the DS 5 like to drive?
"Given French car firms have long been associated with suspension that focuses on soft, cosseting ride comfort, the DS 5's appalling ride catches you off balance."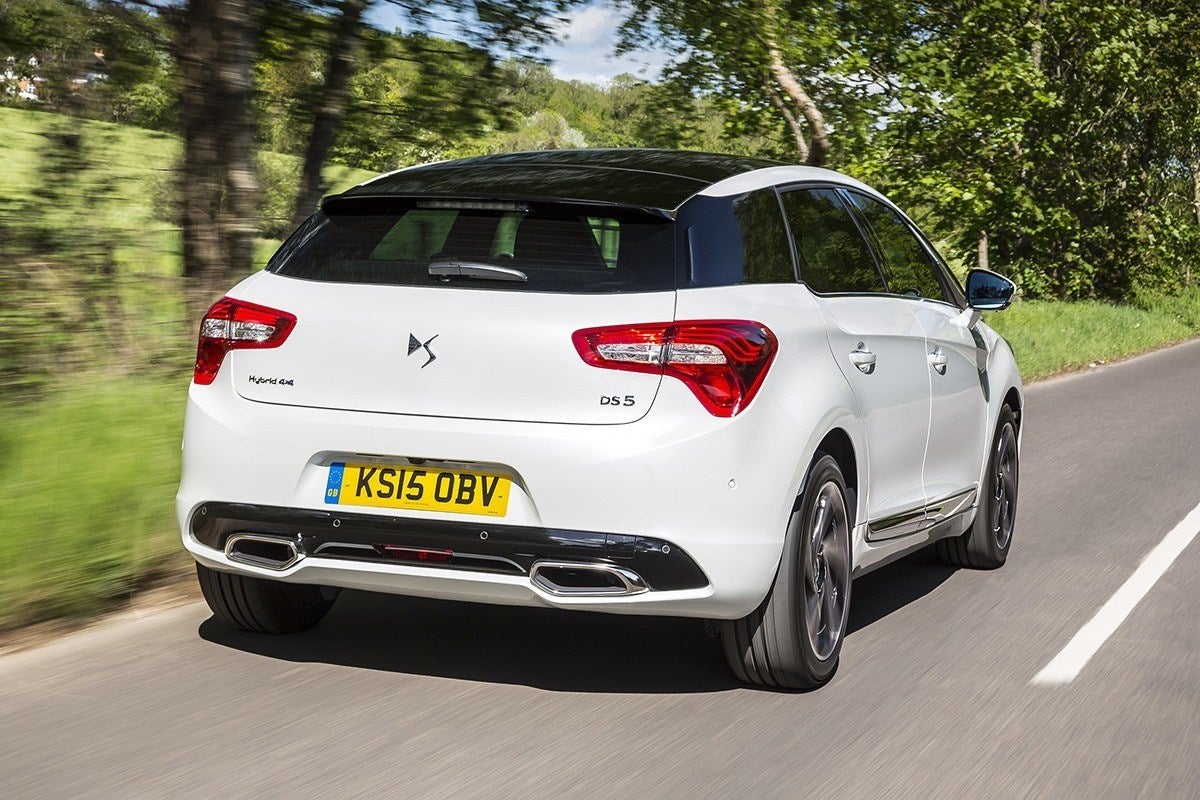 On anything but glass-smooth roads its ride is incredibly busy and, on the worst road surfaces, it's downright uncomfortable.
Unfortunately, these compromises don't come with a side order of sporting prowess or engagement, either, so if you're expecting BMW 3 Series like involvement, forget it.
The suspension's tuning was revised shortly after the car's launch to try to improve this, but it wasn't until the mid-life revisions that DS took the onboard criticism, adding PLV (Pre-loaded Linear Valve, in case you wondered) shock absorbers, increasing the DS 5's ride height and comfort. It rides best on the 17-inch alloy wheels of the Elegance model, with the comfort diminishing as you climb through Prestige (18-inch wheels) and Performance Line (19-inch) models.
What engines and gearboxes are available in the DS 5?
Over the course of its production the DS 5 was offered, broadly, with the same engine line-up.
Diesels make up the bulk of the sales in the UK, with the 1.6-litre diesel offering between 112-120PS depending on the year it was offered, later cars having a little bit more power. It's a smooth unit, but it's a bit overwhelmed by the DS 5's size
Because of this, the 2.0-litre HDI turbodiesel is the better choice, its power spanning 163-180PS over the car's life. It offers the best balance of performance and economy, though, we'd suggest it's mated to the manual transmission rather than the automatic (a robotised manual) which is head-noddingly slow to shift.
Heading the powertrains was Hybrid4. It had a 2.0-litre turbo diesel aided by electric motors driving the rear wheels to produce 200PS in total. Making it quick and relatively cheap to run.
It's not the quickest model, though. That honour goes to the 200PS 1.6-litre petrol which gets the DS 5 from 0-62mph in 8.3 seconds and tops out at 146mph. It's a smooth and tractable engine, but also quite thirsty in a car the size of the DS 5.
Refinement and noise levels
With its premium aspirations DS worked hard on refinement, wind and road noise was decently suppressed, though the ride on those earlier cars does somewhat upset the ambience inside.
The engines are hushed enough in ordinary use, though ask a bit more from them and they can get a boomy. The diesels hide their characteristic clatter well, with very few vibrations apparent inside.
The worst element in the DS 5's drivetrain is the automatic transmission. Pick it and the pauses between the shifts are yawningly long, resulting in a stop-start feel to the drive, that's not particularly comfortable.
The hybrid – with the ability to run on silent electricity alone for brief stints – improves the automatic's shifts by feeding in power with its rear electric motor.
Safety equipment: How safe is the DS 5?
Tested to the old standards by EuroNCAP back in 2011 the DS 5 did achieve a full five-star safety so it is very safe for its era, though it misses out on the autonomous driving aids that are commonplace nowadays.
Standard kit includes a full complement of air bags, a system that can call the emergency services if you have an accident and tell them where the car is, as well as stability control which should help keep you on the road in the first place.
Options included Blind Spot Monitoring (standard on range-topping Prestige models), a lane departure warning system and auto-dipping headlights, which came as part of the Safe Drive Signature pack.
Maximum EV range in the DS 5
The Hybrid model can run on electricity alone, but only for around two miles at the absolute max, it's more of an assist than a pure propulsion technology.
MPG and fuel costs: What does a DS 5 cost to run?
"Fuel consumption was measured to the old (and famously inaccurate) NEDC standards, so the quoted figures are miles off what you'll experience in reality."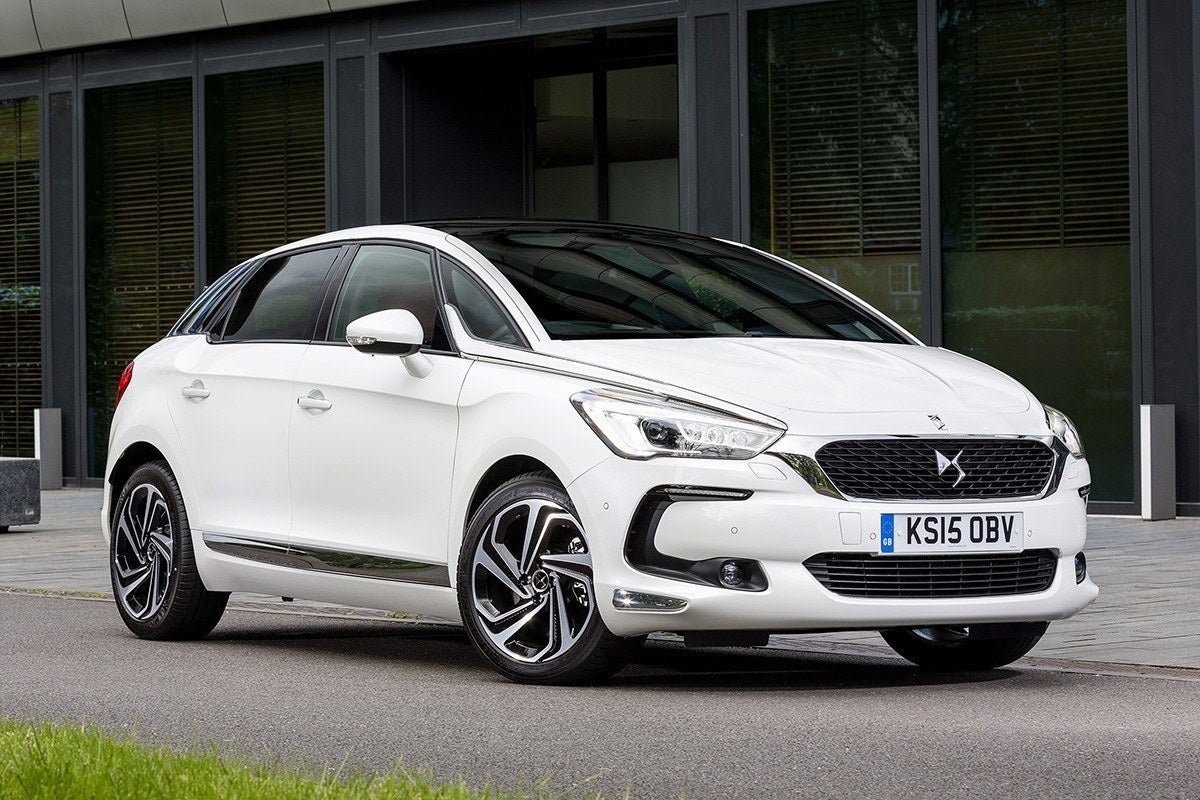 The diesel line-up is quoted between 62-70mpg, though expect economy of around 40-45mpg in the real world. The petrol will be in the region of 30mpg, despite a quoted near 48mpg.
That Hybrid4 quoted in the 80mpg sphere but, again, expect 45-50mpg in daily driving.
Insurance groups and costs
Insurance groups for the DS 5 range from 25 for the lowest power diesel and petrol engines in Elegance trim, rising to 29 with the 150PS diesel.
Performance Line models span Group 27-34 and the Prestige Group 30-33, with the hybrid being a bit higher again.
VED car tax: What is the annual road tax on a DS 5?
The DS 5 produces emissions ranging from 103g/km for the diesel-electric Hybrid4 model to 155g/km for the 200THP petrol. That means you'll pay tax of between £20 and £205 a year.
How much should you be paying for a used DS 5?
"The older 'Citroen' badged models are cheaper, with the highest mileage examples available from around £4000 and topping out at about £12,000."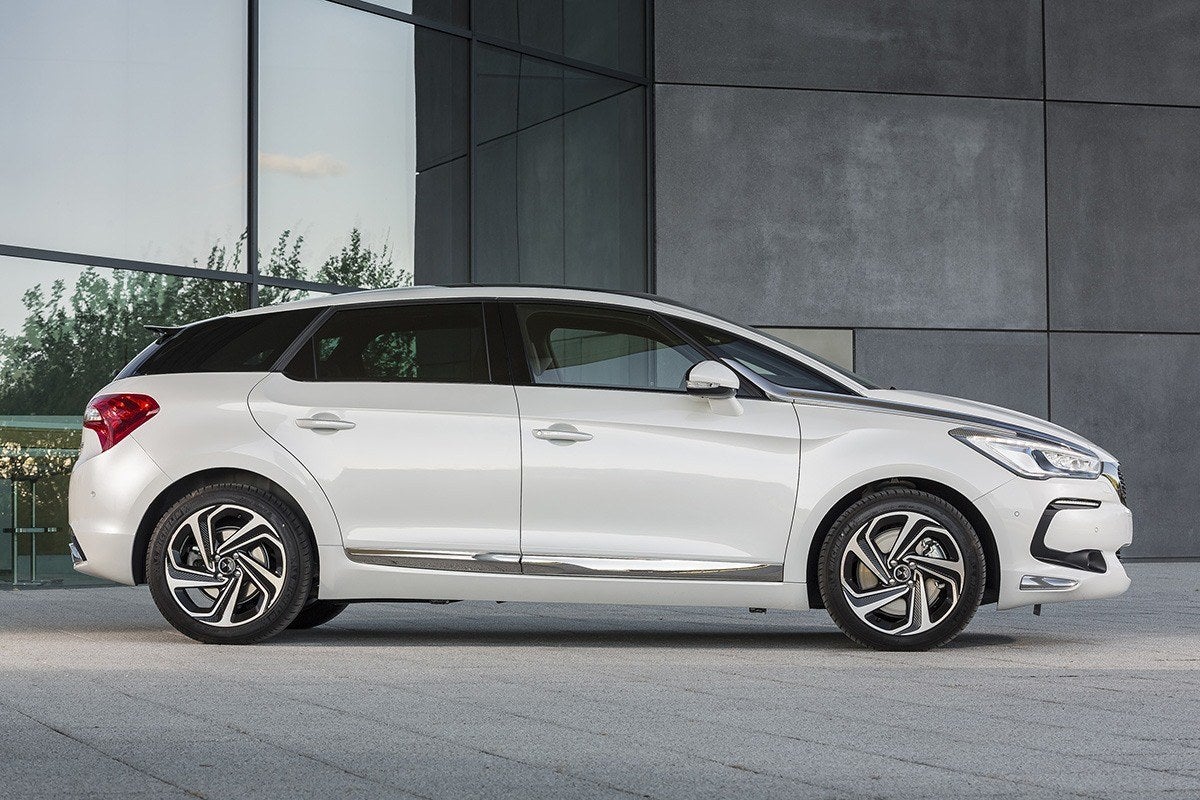 Trim choices on earlier cars were DStyle, Airdream and DSport, so be sure to check what you're getting. DS exclusive models went on sale in 2015 and start from about £7000 rising to around £16,000 for a top-of-the-range car sold in 2018.
Trim levels and standard equipment
Latterly, the DS 5 was sold in three forms.
Elegance was the most basic, but still looks reasonable thanks to its LED daytime running lights and 17-inch wheels. Interior kit includes dual-zone air conditioning, keyless entry and start, cockpit-style toggle roof switches, a leather-trimmed gear knob and steering wheel, plus cruise control with a speed limiter. Infotainment came in the form of a seven-inch touchscreen with DAB, sat-nav, a USB plug, Bluetooth and Apple CarPlay,
Performance Line models look overtly sporty thanks to their huge 19-inch wheels and intricately designed directional Xenon headlights. Inside, they get a leather-trimmed instrument binnacle, front parking sensors and an electrically adjustable driver's seat.
Prestige cars are the poshest of the lot, so they get smaller 18-inch wheels but add a leather interior and mood lighting. They also get handy extra kit including a reversing camera and a blind-spot-monitoring system.
Ask the heycar experts:
common questions
What is the DS 5?
The DS 5 is an oddball family car with a striking exterior and a quasi luxurious interior. It was supposed to be France's answer to posh saloons such as the Mercedes C-Class and BMW 3 Series but wasn't as good as either and its relatively low sales figures reflected this.

What cars are DS?
DS – or DS Automobiles to give it its full title – is a standalone brand launched by Citroen to capitalise on the heritage legendary Citroen DS saloon that was launched in the 50s and genuinely competed with the like of Mercedes.

What car brands does the PSA Group own?
The PSA Group is famous for owning Peugeot and Citroen, however posh brand DS Automobiles also sits under its umbrella as does Vauxhall-Opel – the only brand of the four that isn't originally French.

Is the DS 5 a good car?
The DS 5 is a good car if you need a practical vehicle that will stand out from the crowd. Objectively speaking though, the posh DS can't match rivals from the likes of Audi, BMW and Mercedes.

DS DS 5 cars for sale on heycar
240
Number of cars available
£6.4K - £33K
Price bracket of these cars
Colours available on heycar
Keep me updated by email with the latest advice, news and offers from heycar
By submitting, you agree to our
privacy policy
.