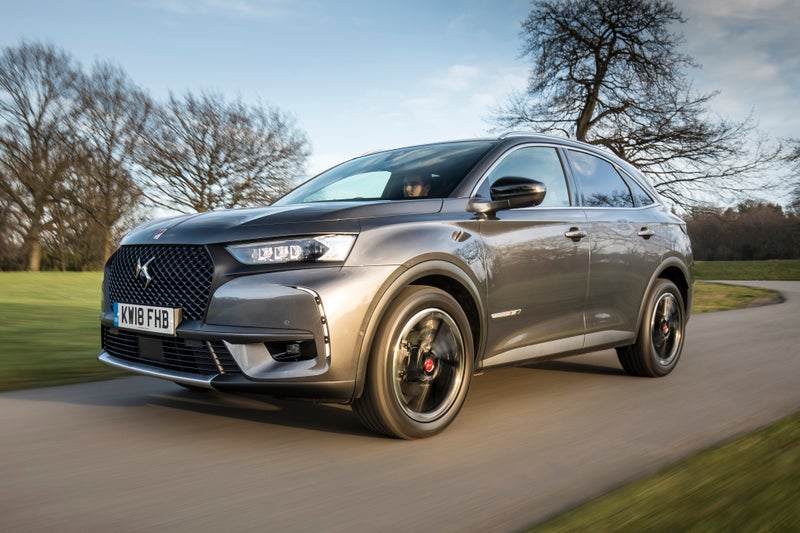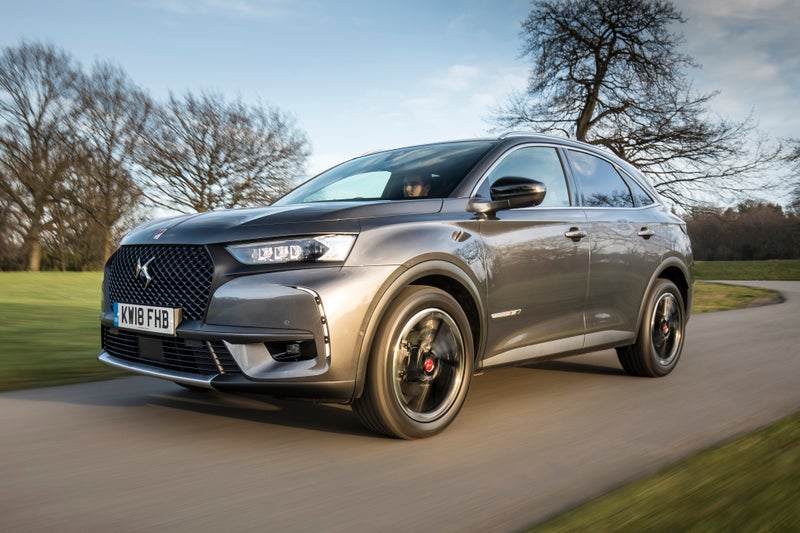 1/10
heycar rating
"Stylish prestige SUV from France"
Launched: 2017

Crossover

Petrol, Diesel, PHEV
Quick overview
Pros
Looks cool inside and out
Cabin is roomy and practical
Lots of standard equipment provided
Cons
Not as good to drive as many rivals
Behind the best for interior quality, too
Won't save you cash compared with established prestige brands
Overall verdict
On the inside
Driving
Cost to run
Prices and Specs
Overall verdict
"If you like the idea of a prestige SUV, but you're one of those people who wants to plough your own furrow in life, what do you do? Well, DS Automobiles might have the answer with the DS 7 Crossback."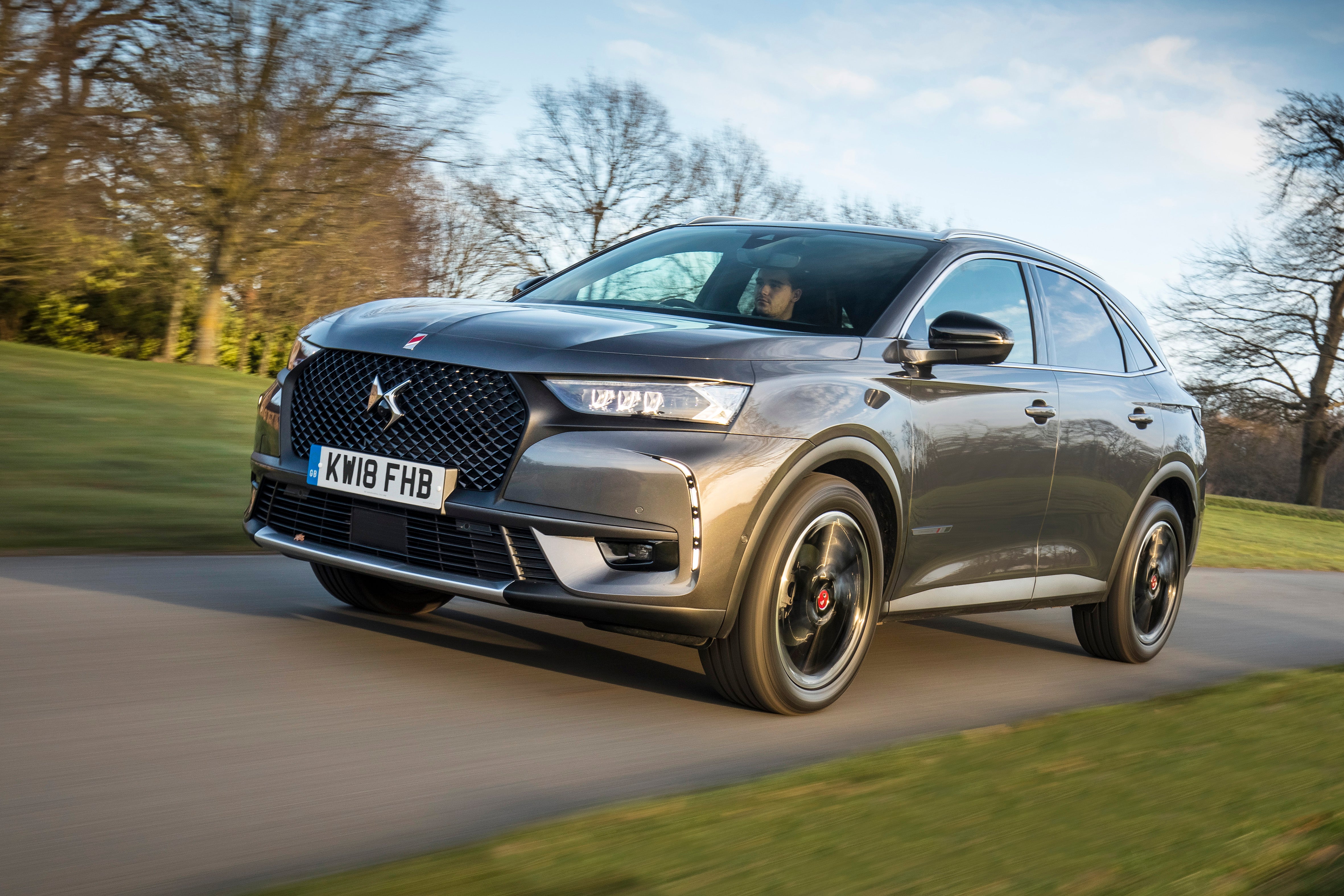 DS Automobiles? Who? If you're not familiar with the name, DS Automobiles is owned by the same French company that runs Peugeot, Citroen, and now Vauxhall. DS is slightly different to its sister brands, though, in that it's the luxurious, prestige wing of the operation.
As a result, the DS 7 Crossback, a mid-size five-seat prestige SUV, is the company's answer to popular cars like the Audi Q5, BMW X3 and Mercedes GLC. Not that this is where the competition begins and ends, you understand. There are literally dozens of cars that could be considered rivals: the Volvo XC60, Jaguar F-Pace, Alfa Romeo Stelvio, Volkswagen Tiguan, the list goes on and on.
Yet, even in such a crowded marketplace, the DS 7 stands out a mile. From the outside, the car's styling is like nothing else in the class, and when you climb inside, it feels even more individual, with shapes and flourishes you won't see anywhere else.
That said, it still does all the stuff that a family SUV needs to. The cabin is roomy and there's a big boot, so it's practical enough to suit the needs of most families, and the generous level of standard equipment means there are enough creature comforts on board to keep everyone happy.
On the road, it's reasonably comfortable and tidy enough in corners, although it's not as good on either score as the best cars in the class, regardless of which of the two available suspension setups you have. There's a wide range of petrol and diesel engines on offer, all of which provide a decent balance of performance and economy, but it's the E-Tense plug-in hybrid version that does best on both fronts, with 300PS and an official fuel economy figure of up to 235mpg.
However, while the DS 7 does a decent job in most areas, it competes in a class where the best cars do an exceptional job in every area, and it simply can't match them on all-round ability. The DS costs the same amount, too, so it's not like daring to be different will save you any money. Then again, if you like the way the DS 7 looks, and you like the idea of a leftfield choice, then there's no reason why you shouldn't.
Is the DS 7 Crossback right for you?
Are you a fan of prestige SUVs like the Audi Q5, BMW X3 and Mercedes GLC, but not so much of a fan of the fact that everyone and their mum seems to have one? Are you also a little bit bored of the conservative, same-again styling that's rife in cars of this type, and do you yearn for something a little bit, well, out-there? If so, the DS 7 Crossback could be just the car you're looking for.
On both the outside and the inside, the DS 7 has unique art-deco styling that's like nothing else in the class, giving a genuinely refreshing sense of individuality. It's also a spacious and practical family car - crucial in any SUV - and it comes stuffed with luxury kit to help justify the fact that it doesn't cost any less than the more established competition.
What's the best DS 7 Crossback model/engine to choose?
Of the wide range of engines available, we'd probably point most buyers towards the 180PS 2.0-litre diesel. It makes life easier and more relaxed than the 130PS entry-level car, and it copes better with motorway speeds and heavy loads. There isn't that much of a penalty to pay in purchase price or fuel economy, either. That said, if you're a company car driver, you'll want to consider the E-Tense plug-in hybrid version. Its super-low official figures for CO2 emissions make it by far the cheapest version on Benefit-in-kind tax.
Trim-wise, we'd probably push you towards Prestige models. Entry-level Performance Line trim doesn't want for much, but you'll like a few luxuries in a car like the DS7, and with heated leather seats that massage you, plus wireless charging for your phone, Prestige delivers them.
What other cars are similar to the DS 7 Crossback?
The 7 is DS's assault on the super-popular premium mid-size SUV market, so there are three cars in its sights above all others: the Audi Q5, BMW X3 and Mercedes GLC. Well, if you're going to pick a fight, it might as well be with the best in the business.
That's by no means it, though. Other posh SUV rivals of this size include the Volvo XC60, Jaguar F-Pace, Honda CR-V and Volkswagen Tiguan, while the Mazda CX-5, Ford Kuga, Kia Sportage and Peugeot 3008 will also be competing for your cash. Let's put it this way: there's no shortage of contenders.
Comfort and design
"The first thing that strikes you when you climb into the DS 7 is the interior design. It's genuinely quirky and unconventional, with lots of interesting shapes and various funky-looking switches that successfully deliver an art-deco feel. Compared with the conservative cookie-cutter designs found in rivals, it's refreshingly different."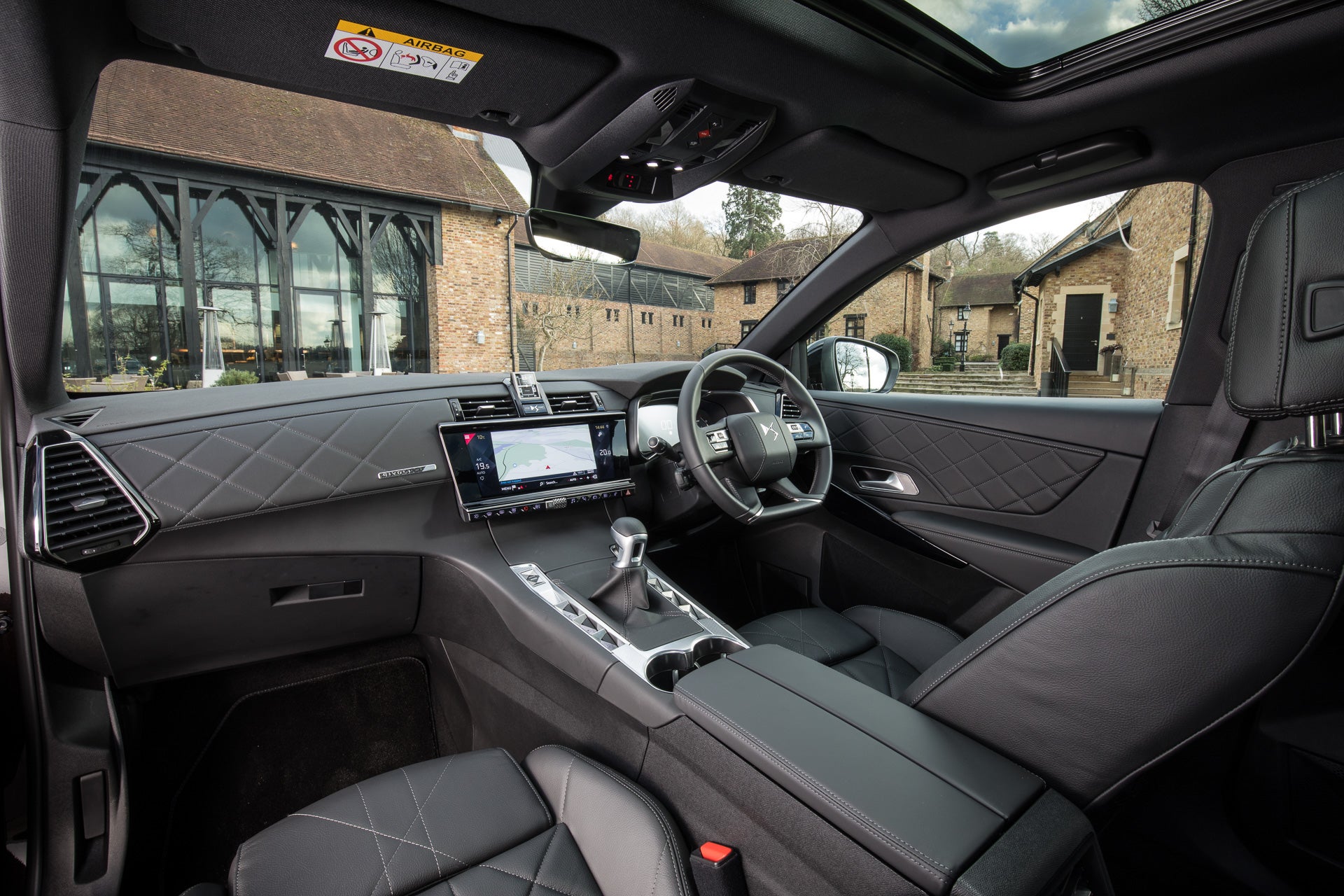 The switches we mentioned control basic functions like the electric windows, door locking mechanisms and drive modes, and they're pretty easy to use, but pretty much everything else is operated through the touchscreen system, which we'll talk about in a minute.
All versions get lots of adjustment for both the seat and steering wheel, allowing drivers of all shapes and sizes to find a comfortable position, and if you go for Prestige or Ultra Prestige trims, the seats also move electrically, making things even easier. The seats are pretty supportive, too, and you get a clear view out of the car in all directions. However, nervous parkers will be comforted to know that all versions have rear parking sensors, while the top two trims get a camera as well.
Quality and finish
The design of the DS 7's interior definitely gives the cabin plenty of wow-factor, but the quality of the materials on show doesn't quite match up. It all feels very flash at first, with leather or alcantara wrapping on parts of the dashboard, intercut with plenty of glossy-looking panels and metallic trims.
Look closer, though, and you'll find that most of the metallic trims are nothing more than metal-coloured plastic, while the plastics tucked away in the lower reaches of the cabin have a hard, scratchy finish. It still feels fine in isolation, but when DS is pitting the 7 against the likes of Audi, BMW and Mercedes, all of whom finish their cars with immaculate attention-to-detail, the gulf in quality does stand out.
Each version comes with its own 'DS Inspiration', which to the rest of us, means the combination of interior colours and trim finishes. The upholstery you get changes from version to version, too, and this has a fairly profound effect on how posh your car feels. The Performance Line comes with alcantara and leather-effect seats, while Prestige cars get genuine grained leather and Ultra Prestige has softer quilted leather with a cool 'watch strap' design.
Infotainment
The capability of your infotainment system will vary according to which of the three trim levels you choose.
Even Performance Line trim gets plenty. Your 12.0-inch touchscreen system supports sat-nav, Bluetooth, DAB radio, voice control, Apple Carplay/Android Auto and various connected services. You also have a 12.3-inch digital instrument display to replace traditional dials, along with USB charging ports front and rear.
The Prestige car, meanwhile, adds a wireless charging plate up front and a reversing camera at the back of the car, and Ultra Prestige trim gives you an upgraded Focal sound system.
Like with many such systems these days, you operate the vast majority of the car's functions - even the climate control system, in this case - through the touchscreen, and it's more distracting than using physical buttons. There are shortcut controls running along the bottom of the screen that make swapping between the various menus easier, but even these aren't perfect. They're small and difficult to hit at a glance, and because they're touch-sensitive panels rather than physical buttons, it's not always clear if you've been successful in hitting the one you wanted. The menus themselves can be rather convoluted in places, too, and the graphics and screen transitions are often slow and jerky.
The digital instruments are much more successful, though. They're clear and easy to read, and you can configure them easily to prioritise the information that matters to you most.
Space and practicality
The DS 7 is a big car compared with many five-seat SUVs (there's no option of seven, by the way), and that results in generous interior space. There's bags of the stuff up front - as you'd expect - and plenty in the rear to allow tall passengers to get comfy
A couple of caveats here: cars with the panoramic sunroof do lose out on a little bit of headroom, and while some rivals give you sliding rear seats that allow you to alter the bias between rear legroom and boot space, the DS 7's rear chairs are fixed. That said, the flat rear floor does make life more comfortable for a central passenger when carrying three across the rear bench.
The boot is big, though, big enough to compete with those of the best rivals, and you get a moveable floor that lets you either maximise space, or level out both the load lip and the step to the rear backrests when the seats are folded down. They do so in a 60-40 split (not as versatile as the 40/20/40 arrangement in a BMW X3) and although they don't lie quite flat, there's only a slight slope that you'll have to contend with.
The other good news is that the PHEV version doesn't lose any boot space compared with the rest of the range, not something that all hybrids - especially plug-in ones - can claim.
Handling and ride quality
"Depending on which version of the DS 7 you pick, there are two different types of suspension you might end up with. Most versions get a conventional setup that's pretty comfortable."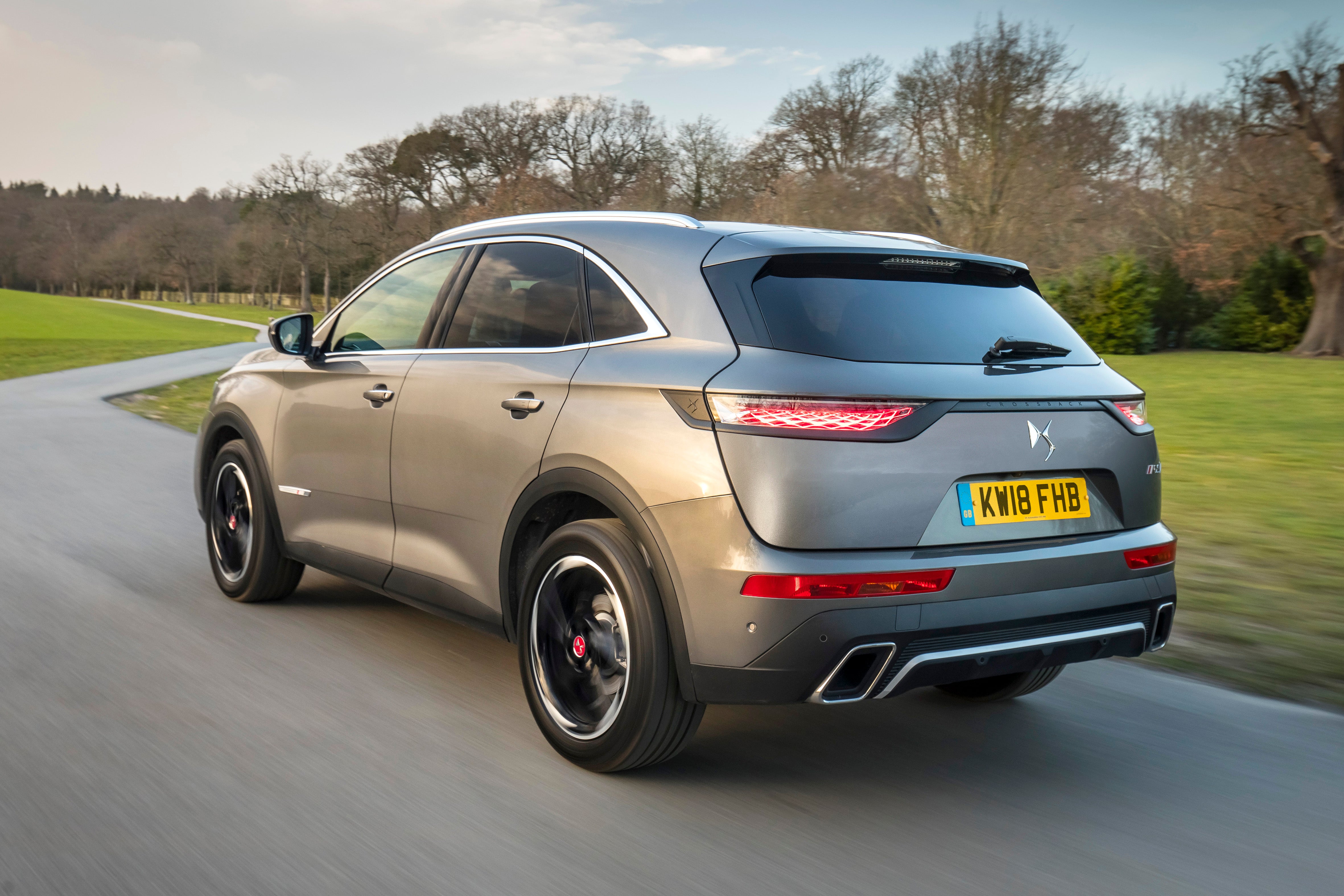 It absorbs most bumps and cracks well, and only the worst potholes will cause it any problems. It's worth noting, though, that the ride is markedly better if you stick with the smaller wheels on offer. Go for the bigger ones, and comfort levels deteriorate.
The handling is capable, too. Granted, you feel the body lean over a bit as you turn into bends, but once that initial slop is over and done with, the body settles pretty well and there's bags of grip for a very stable feel. Even the steering gives you an adequate amount of feedback. Sure, it's not as fun or as agile as the best cars in the class, and neither is it as comfortable, but you won't feel short-changed by the DS 7's dynamic ability.
Meanwhile, versions with the more powerful engines and highest trim levels come with something called Active Scan Suspension. Like many adaptive suspension systems, things can be made firmer or softer according to which of the driving modes (Sport, Normal or Comfort, in this case) you select. What sets this system apart, though, is that when you select Comfort, a front-mounted camera 'reads' the road surface ahead, and adjusts the suspension automatically to deal more effectively with any bumps or potholes it finds.
Clever stuff, but does it work? Well, to an extent. It's a bit better at taking the sting out of the sharp-edged potholes that might cause the regular version issues, but you won't detect much difference in town, while on the motorway, it can actually feel annoyingly floaty.
Selecting Sport mode does improve the car's body control in corners, but the improvements are pretty marginal. Again, the standard of ride and handling you get with Active Scan is fine, but it's still not up to the standards of the class best, and it's not worth upgrading your choice of model for this system alone.
Engines and gearboxes
You get lots of choice here, so listen closely. Three turbocharged petrol options (badged PureTech) are offered, a 1.2 with 130PS, and 1.6s with either 180PS or 225PS. Diesel choices (badged BlueHDi) include a 1.5 with 130PS or a 2.0-litre with 180PS.
The E-Tense plug-in hybrid version, meanwhile, teams a 200PS version of the 1.6 petrol engine with a pair of electric motors to give 300PS. All of them are offered with an eight-speed automatic transmission, but the weakest petrol and diesel are also offered with a six-speed manual.
So far, we've only had the opportunity to try the diesels and the PHEV. The entry-level diesel will be adequate for most buyers most of the time: it's perky enough in town, allowing you to trundle around at low speeds without too much fuss, but it takes a little more time to pick up the pace.
For that reason, you'll probably be better off with the bigger diesel if you spend a lot of time on motorways or regularly carry lots of passengers. It's a useful amount quicker, but the bigger difference is that the performance just comes so much easier to the bigger engine, keeping things more relaxed.
The manual gearbox is fine: it's not the smoothest or most satisfying shift you'll ever encounter, but it's easy enough and the clutch pedal is pleasantly light. The automatic, meanwhile, is an absolute cracker. It slushes between gears smoothly and promptly, it's very good at giving you the right gear for your needs at the first time of asking, and it responds quickly when you shift manually with the paddles on the back of the steering wheel.
The gearbox isn't quite so impressive in the PHEV, though, because there's an irritating pause between you putting your foot down and anything happening. That said, when the hybrid drivetrain does figure things out and gets into its stride, the acceleration it provides is very impressive indeed. Drive more sedately at lower urban speeds, meanwhile, and the electric motors will give you all the momentum you need to get around easily.
Refinement and noise levels
The two diesel engines have a similar level of refinement overall, but for slightly different reasons. The bigger engine transmits a few vibrations through to the cabin when it's ticking over, but doesn't have to be worked as hard for much of the time, where the smaller engine is smoother under most circumstances, but gets a bit rattly when you wring it out. Both are fine, but neither is as smooth as the equivalent units in the Audi Q5.
The E-Tense, meanwhile, has something of a schizophrenic nature. Under all-electric propulsion, everything is impressively calm and subdued, but when the petrol engine chimes in, it has a distinctly coarse edge and sends too many vibrations through the controls.
Wind- and road noise are pretty well contained, so if you keep your engine revs as low as you can, the DS 7 makes a fairly relaxed motorway cruiser. You'll find the brakes annoying on all versions, though, because they have an all-or-nothing action that makes them difficult to modulate. You press the pedal down a long way before anything really happens, and then it all happens at once, and that can make driving smoothly way more difficult than it should be.
Safety equipment
All DS 7s come with plenty of safety kit as standard, but the precise level of equipment you get depends on the trim level. All versions get active LED headlights with high-beam assistance, six airbags, tyre pressure monitoring, a space-saver spare wheel (on all but the PHEV), speed limit recognition, lane-departure warning and automatic emergency braking.
Prestige cars add blind spot monitoring, while Ultra Prestige adds adaptive cruise control with steering assistance and stop-go functionality, meaning the car can effectively drive itself in certain situations. All that has helped the DS7 achieve the full five-star rating in Euro NCAP crash tests.
Maximum EV range
According to the official WLTP figures, the E-Tense version should be able to cover a maximum of between 34 and 40 miles on electric-only power (depending on trim level and options fitted), given a full charge.
That charge takes 1 hour and 45 minutes from a 7kW wallbox home charger, which most drivers will have fitted. In the real world, a figure of up to 30 miles is more realistic in optimum conditions, and that will drop significantly if it's cold or there's a lot of stop-start traffic in your way. That said, being a PHEV, electric range is less of an issue because there's a petrol engine on hand to help out if necessary.
MPG and fuel costs
"Look at the maximum combined WLTP figures for each engine, and they look pretty competitive with those of rivals. The best figures for the various petrol engines range between 40mpg and 46mpg, while the best figure for the smaller diesel stands at 55mpg (slightly less for the manual than the automatic) and the brawnier diesel gets around 48mpg."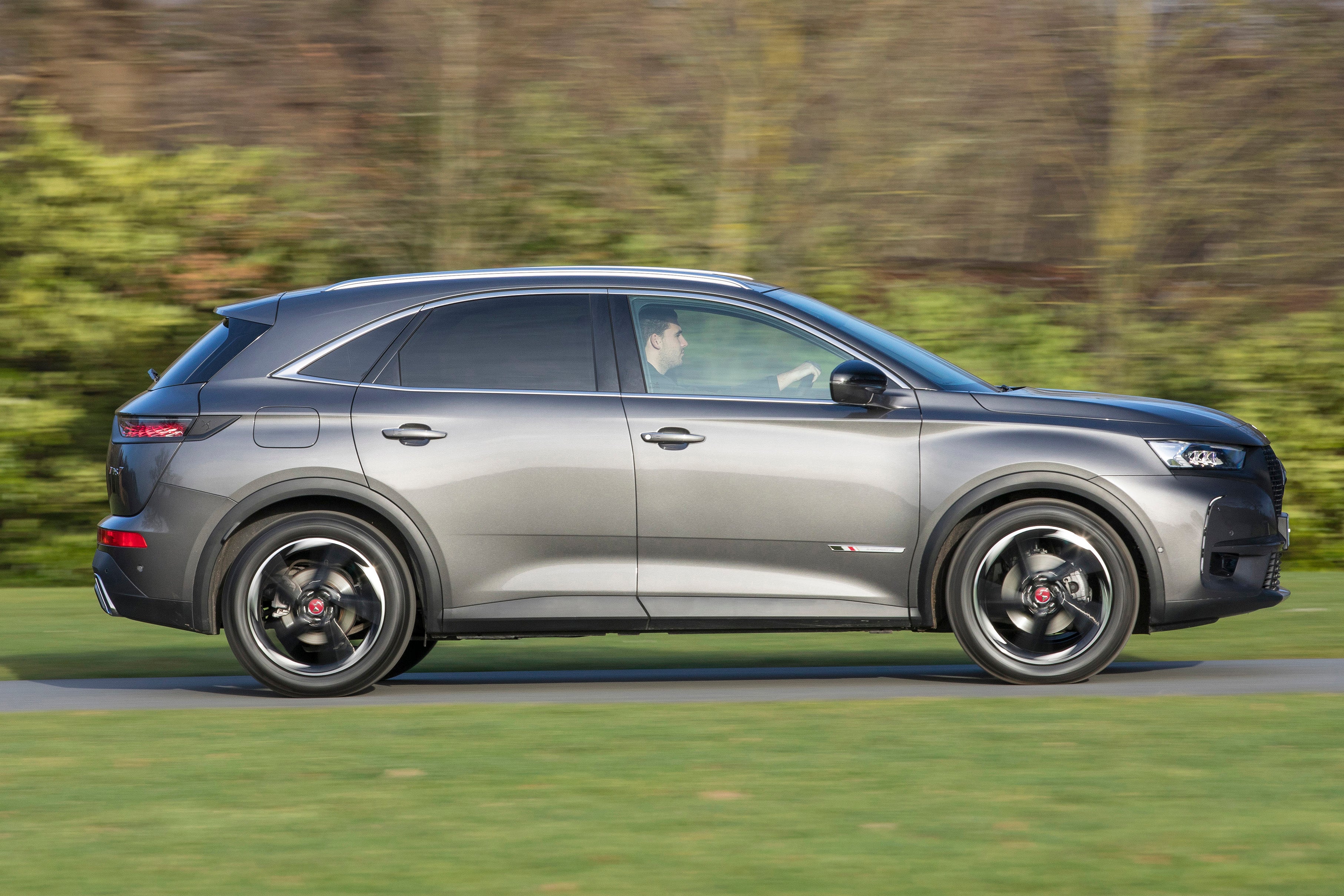 Even these figures look pitiful compared with those of the PHEV version, which depending on the spec of your car, will deliver maximums of between 166mpg and 235mpg, according to the laboratory figures. Good luck matching that in the real world, though, because it will be pretty much impossible. You'll maximise your return by spending as much time as you can on electric-only power, but as soon as your petrol engine kicks in, your average figure will plummet.
Insurance groups and costs
There's huge variation in insurance groupings between versions of the DS 7. The vast majority sit between groups 20 and 30 (out of 50), depending on their power output and price, making them fairly middle-of-the-road in terms of the insurance premiums they command. However, the hybrids, what with their prodigious power, sit in groups 37 to 39, making them noticeably pricier to insure.
VED car tax
Because the DS 7 was released in 2018, all versions are subject to the latest regulations on VED tax that imposed a flat rate for petrol and diesel cars, a reduced rate on alternative fuel cars, and a £325 surcharge for cars costing more than £40,000 when new. Most petrol and diesel versions cost less than the threshold without options, so provided the car you've found isn't laden with enough extras to take it over the edge, you'll pay an annual VED of £150.
If it is, or if it's one of the higher spec versions that cost more than £40k, you'll pay £475 up until year six of the car's life, and then £150 thereafter. All hybrid versions qualify for a reduced basic rate of a tenner (whoop-de-doo), but because all of them cost more than £40k when new, annual tax bills on those will be £465 between years two and six, and then £140 thereafter.
How much should you be paying for a used DS 7 Crossback?
"At the time of writing, prices for brand new DS 7s started at around £32,000 for the conventionally powered versions, topping out at around £47,000, while PHEV versions started at around £48,000 and rose to £56,000."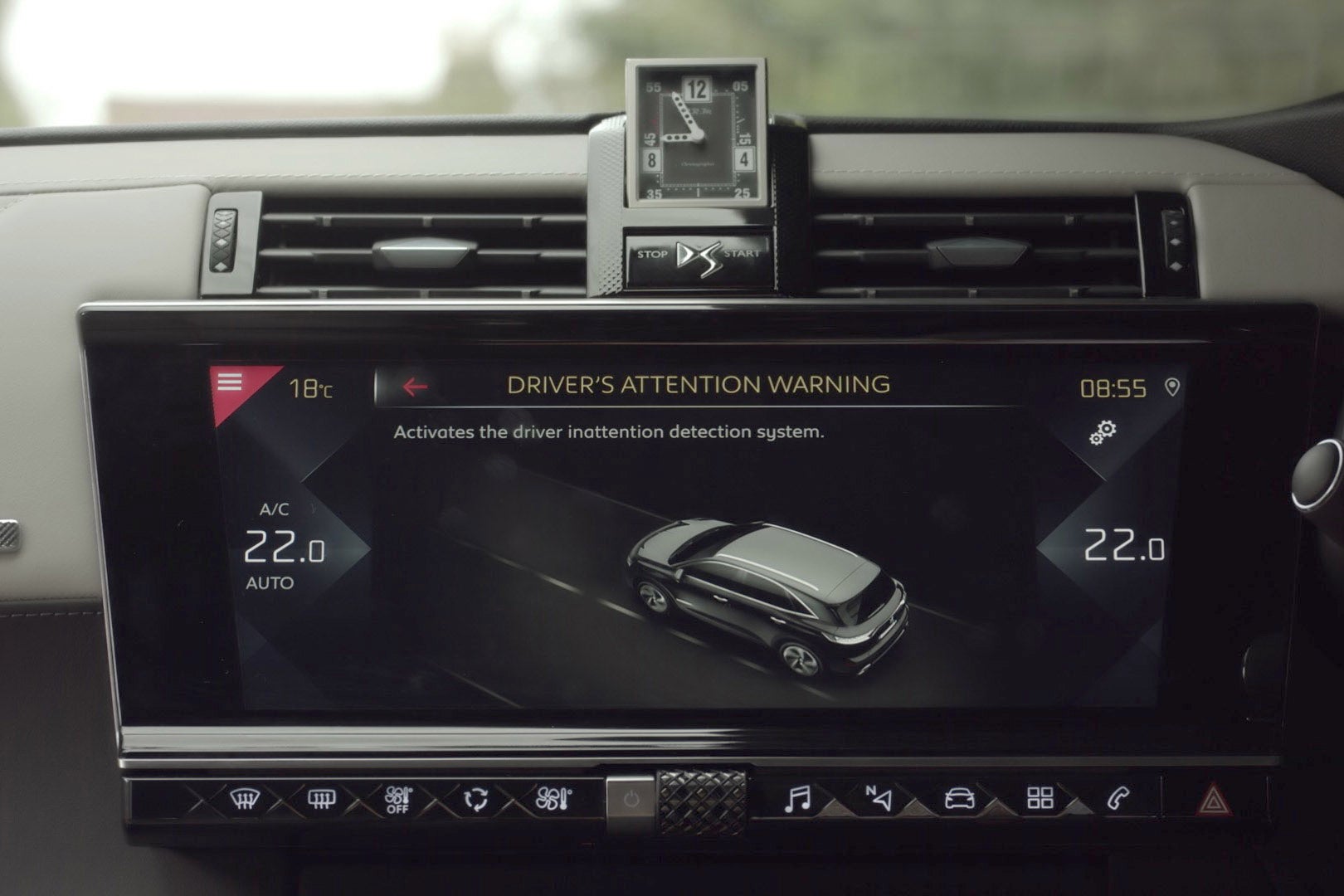 Compare prices with those of premium rivals such as the Audi Q5, BMW X3 or Mercedes GLC, and there's virtually nothing in it. Used prices are also very similar, because the DS depreciates at a similar rate to its German rivals, despite being from a less known and reputable brand. So, if you're expecting your choice to buy a DS 7 – rather than one of the others – to save you vast amounts of cash, you'll be disappointed. However, check heycar's listings, and you'll find a wide range of early examples for around the £22,000 mark.
Trim levels and standard equipment
If DS is going to dust it with Audi and BMW in the desirability stakes, it can't afford to scrimp on the luxury kit, and indeed it doesn't.
Even the entry-level Performance Line trim is well stocked, with two-zone climate control, keyless entry, cruise control, rear parking sensors and automatic lights and wipers, plus all the infotainment and safety kit mentioned earlier.
That said, we reckon most drivers will want to upgrade to Prestige trim for its grained leather upholstery, heated front seats that'll give you a massage, rear seats that recline electrically, plus front parking sensors, a reversing camera and wireless phone charging. Ultra Prestige trim brings the lot, including quilted leather, an electrically opening panoramic roof, an upgraded Focal sound system and adaptive cruise control.
Various other editions came and went periodically over time, with fabulously fancy names such as Elegance, La Premiere, Be Chic, So Chic and Grand Chic. Ooh-lah-lah.
DS DS 7 Crossback cars for sale on heycar
237
Number of cars available
£6.3K - £33K
Price bracket of these cars
Colours available on heycar
Keep me updated by email with the latest advice, news and offers from heycar
By submitting, you agree to our
privacy policy
.