Fiat 500 Electric Review 2022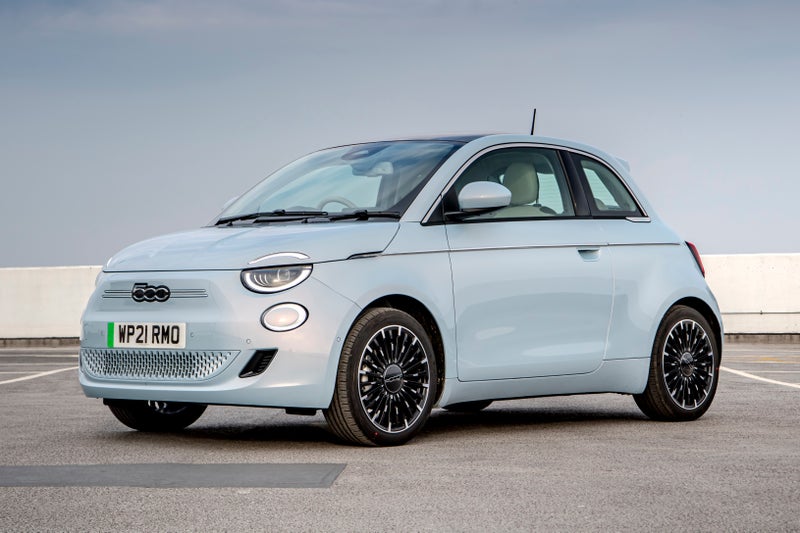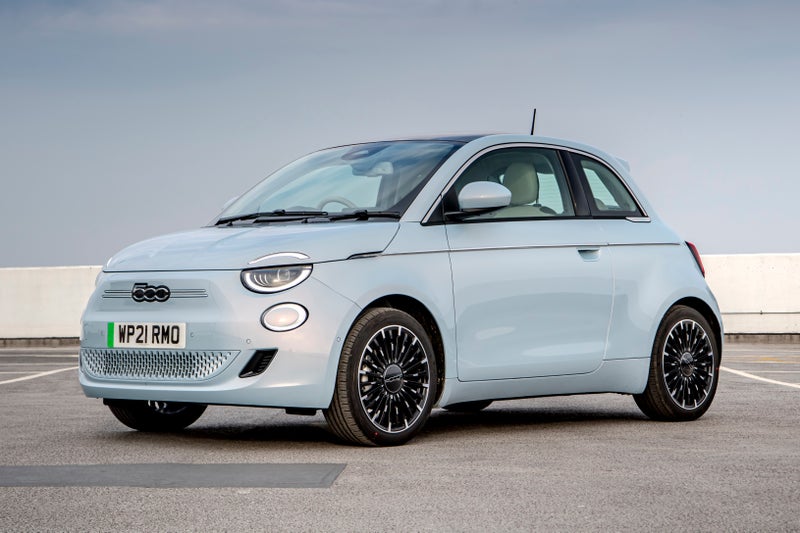 1/10

heycar rating
"Retro Fiat 500 goes electric"
Quick overview
Pros
Stylish electric city car rivals the Honda e and MINI Electric
Capable of up to 199 miles on a charge
Easy to drive around town
Cons
Most desirable models are expensive
Entry-level models only cover 118 miles between charges
Noisy at higher speeds
Overall verdict
On the inside
Driving
Cost to run
Prices and Specs
Common questions
Overall verdict on the Fiat 500 Electric
"The Fiat 500 Electric is a modern urban electric car with a retro twist. It combines quirky looks with a fashionable interior but crucially it's cheaper than the competition."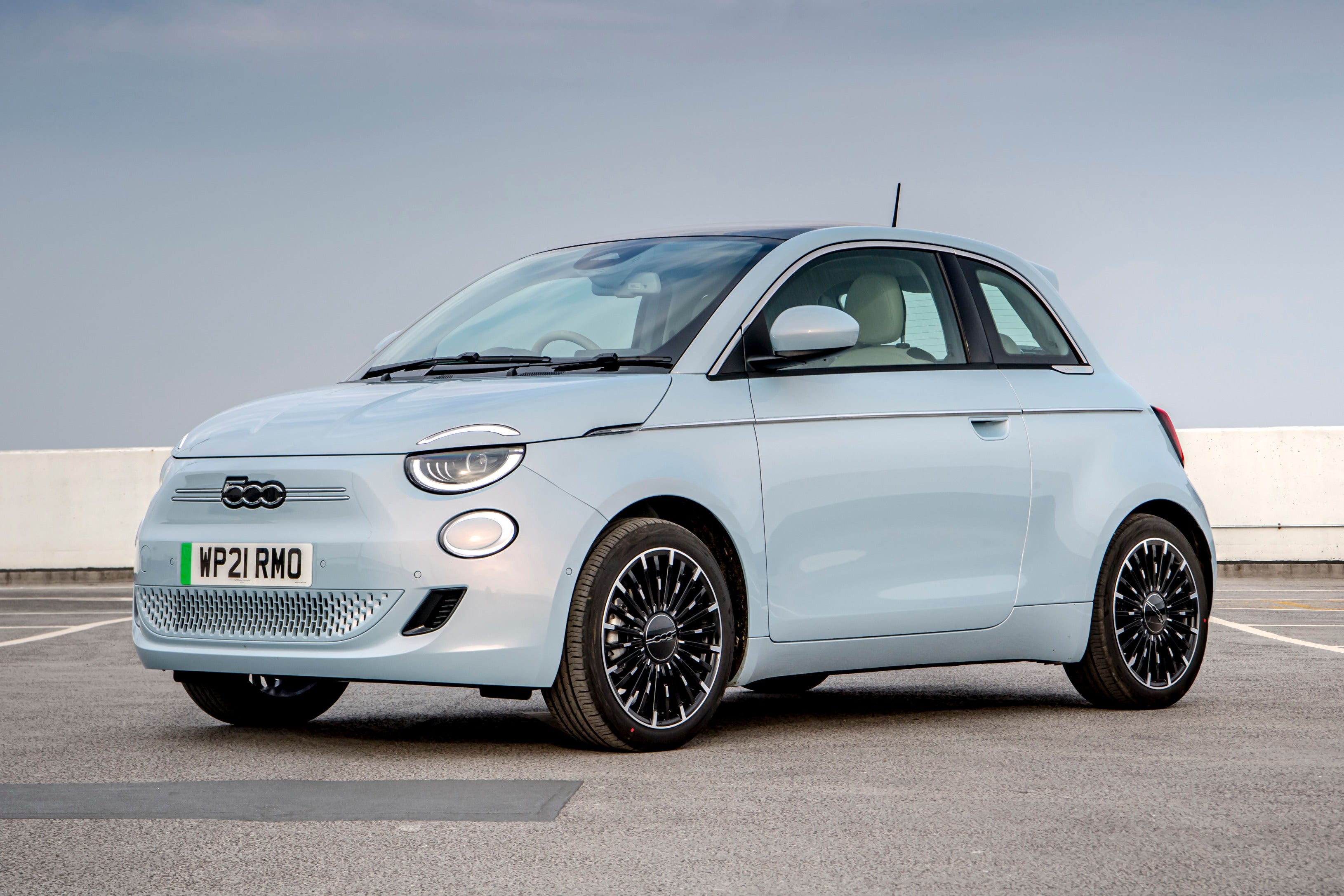 This is the new Fiat 500 and the big news is that it's gone electric only. Fiat has taken the bold decision to bin off combustion engines for the new 500, although you can still get the older Fiat 500 with petrol power. For now at least. So does the Fiat 500 Electric make sparks fly? Read our 2022 Fiat 500 Electric review to find out.
Of course, the move to electric power makes perfect sense for a car like the Fiat 500 that's designed for city and town driving. It's available in two battery versions, the cheaper of which has a range of 118 miles while the bigger battery gives an official 199-mile range.
That may not sound much compared to a Tesla for instance, but given that the average commute in the UK is roughly a 25-mile round trip, the Fiat 500 is perfect for everyday use if you can charge it overnight or even better - at your work.
And the Fiat 500 Electric is ideal for around town, with the electric power making it effortlessly quick away from a standstill and ideal for nipping through traffic. It's simplicity itself to drive and thanks to the 'one-pedal-drive' function, where the Fiat will brake and recoup power when you come off the throttle, you can also maximise the battery range.
It's not so good out of town and above 50mph it's pretty noisy. The light and artificial steering means the Fiat 500 Electric isn't much fun to drive either. The ride is firm too, to compensate for the weight of the batteries.
On the plus side, the Fiat 500 Electric is bigger than the old Fiat 500 and noticeably better for space inside. The rear seats are still cramped and the boot is tiny, but the quality inside has improved no end.
What the change to electric only power does mean is a big hike in price of course. Where the petrol Fiat 500 (now a mild hybrid) starts at under £14,000, the cheapest Fiat 500 Electric will set you back £21,000 - and that's with the £2500 plug-in grant taken off. That's for the Action model which does get air con but lacks alloy wheels and a touchscreen.
Put into context though, the Fiat 500 Electric looks competitive. Its main rival - the Volkswagen e-Up - costs around the same while the likes of the Honda e, MINI Electric and even the ageing Renault Zoe are all more expensive to buy new.
With its trademark retro looks and a far better interior, the Fiat 500 Electric has lots of appeal if you want a stylish small electric car. It certainly has the edge over the Volkswagen e-Up in the style stakes. Indeed, we think it's a fitting successor to the hugely popular Fiat 500.
If you're looking for the older version, you need our Fiat 500 review.
Is the 2022 Fiat 500 Electric right for you?
If you do lots of short journeys mainly around town and can charge a car at home, then the Fiat 500 Electric is an ideal choice. It will suit retirees and makes an ideal second car too, something for the school run (if the kids can fit) and nipping to the shops.
Similarly if you have a regular commute and can charge your car at work, then the Fiat 500 with its range of 118 miles or 199 miles, will make for a cheap to run choice. It's cheaper to buy new than a Renault Zoe, Honda e and MINI Electric too.
What's the best Fiat 500 Electric model to choose?
If you want an affordable electric car, then the basic Fiat 500 Electric Action will appeal. True it only has a range of 118 miles (according to the official WLTP test) but as a second car for nipping to the shops and the garden centre of an afternoon, it's ideal.
Yes, at £23,500 (before the £2500 plug in car grant), it's still expensive compared to the petrol Fiat 500, but it's considerably cheaper than the popular Renault Zoe. And much more stylish. You get plenty of equipment with the Action too including keyless go, air con and rear parking sensors although you do only get steel wheels with covers.
After a bit more style? Go for the Fiat 500 Electric Red which costs an extra £2000 but gets alloy wheels (hurrah) and a bigger touchscreen with nav plus Apple CarPlay and Android Auto. And while the Fiat 500 Electric La Prima looks great, it's hard to justify the price tag of more than £30,000.
What other cars are similar to the Fiat 500 Electric?
Comfort and design: Fiat 500 Electric interior
"The electric Fiat 500 feels more spacious than the standard Fiat 500. That's because the space between the front and rear wheels has been extended, while the positioning of the battery under the floor means a higher seating position."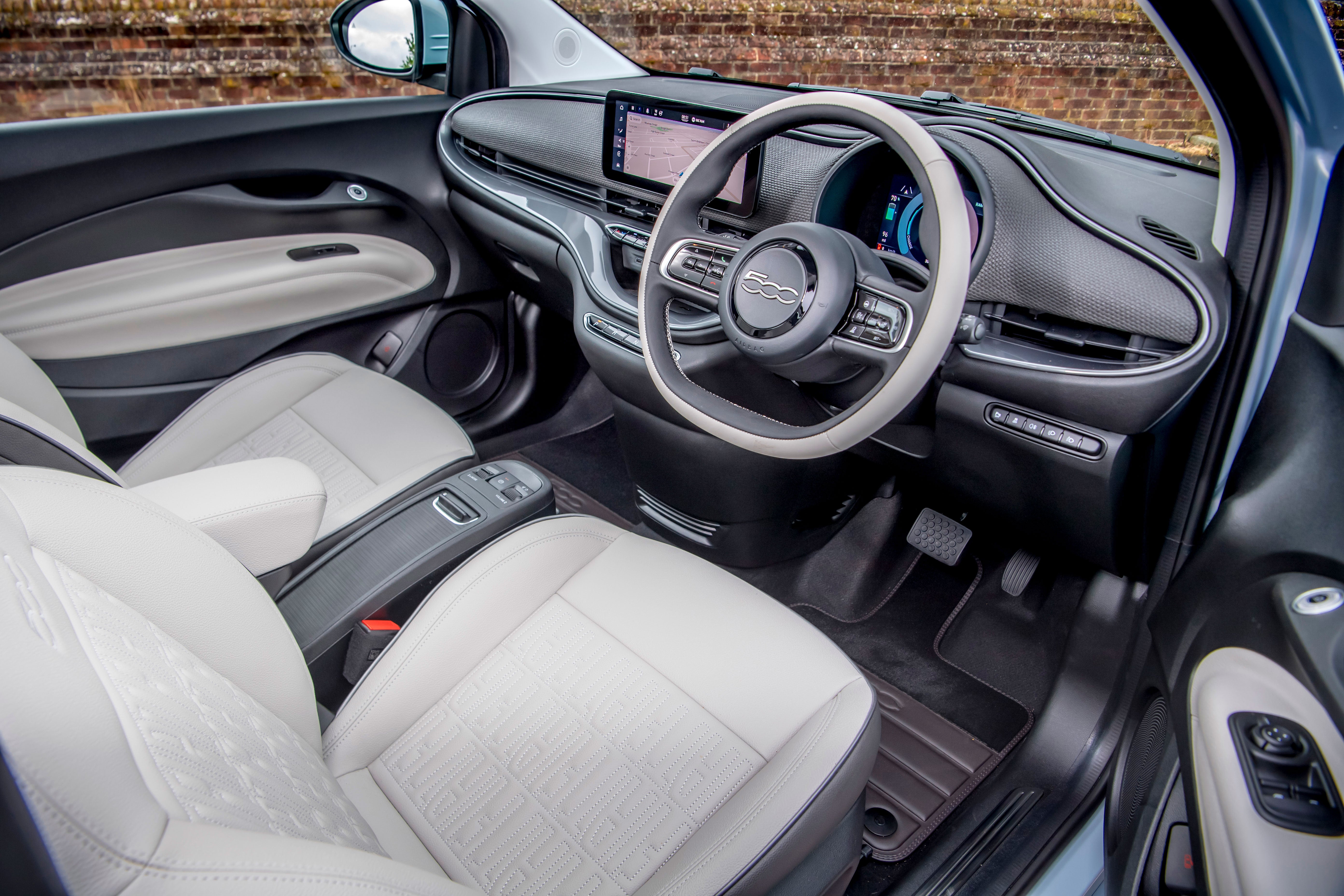 We say spacious, but do remember this is still a Fiat 500. You aren't going to be getting your new 50-inch widescreen TV home in this. But it certainly feels less cramped up front than the petrol powered Fiat 500.
That elevated seating position gives you a good view out but does take some getting used to - those of a taller disposition will find themselves regularly checking to see if the seat will go a bit lower. As a result it feels like you sit 'on' the seats rather than in them.
On the plus side, the steering column adjusts for height and reach, so you can at least find a comfortable - if not particularly low slung - driving position. One oddity is that there's no room for your left foot next to the brake pedal, which soon becomes annoying especially on longer drives.
The back is as tight as you'd expect although it's not impossible to get younger children back there but longer limbed teens won't enjoy it and like most small three door cars, getting in and out the back seats is pretty ungainly. They're best used for bags, coats or anyone you don't really like that much...
The interior design of the Fiat 500 Electric has a more grown up and modern feel than the standard Fiat 500. Although given that the Fiat 500 has been around since 2008, that's really not that hard. It's perhaps not as fun in appearance, but does look very slick with fewer buttons, a better digital instrument dash and a much improved touchscreen on the dash top.
Quality and finish
Overall, the quality of the interior is a big improvement over the standard Fiat 500. Yes you will still find hard plastics on the doors while the buttons between the seats (for the volume and drive mode) look and feel like they're off a 15 year old Fiat Panda, but the piano black finish and metal trim elsewhere really help lift the cabin.
The lack of a conventional gear lever means there's more space - instead you just have a row of buttons on the dash which adds to the modern feel.
The finish is impressive too with a solid feel to all the controls while there are some neat features like a button to open the doors electrically rather than a door handle. Of course, door handles rarely go wrong...
Infotainment: Touchscreen, USB, nav and stereo in the Fiat 500 Electric
The entry-level Fiat 500 Electric Action does without a touchscreen, instead there's a radio and a phone cradle on the dash. It does the job but it's hardly cutting edge. If you want a touchscreen you need pay extra for the Radio Pack at £850 which adds a 7.0-inch screen on the dash.
In reality, you're better off going for the Fiat 500 Electric Red model which gets a 10.25-inch touchscreen with navigation as standard along with Apple CarPlay and Android Auto. It looks the part with a high resolution screen and a simple layout which makes it easy to use.
Space and practicality: Fiat 500 Electric boot space
Given its diminutive size, it's not a shock to discover that the Fiat 500 Electric isn't exactly practical. The Fiat 500 Electric boot is tiny with just 185 litres of carrying space, that's less than a MINI Electric although somehow the Honda e manages to have an even smaller boot.
It's enough for a few shopping bags and you can squeeze in a couple of carry on size suitcases. However, if you go for the Fiat 500 Electric Convertible you get a saloon style boot that limits what you can get in. But at least all models - apart from the Fiat 500 Electric Action - get 50/50 folding rear seats as standard.
It may be a small car but there's decent storage for odds and ends. Below the touchscreen is a useful tray for your phone - which is where the wireless charging pad lives (if fitted) and there's a good-sized storage box between the front seats. The door pockets are pretty useless though with the second thinner one only really good for collecting dust.
The Fiat 500 Electric's dimensions are 3632mm in length with a height of 1527mm while it is 1900mm wide (including mirrors).
Handling and ride quality: What is the Fiat 500 Electric like to drive?
"The Fiat 500 Electric is at its best in the city. The more powerful model will nip to 31mph from a standstill in 3.1 seconds, but power soon starts to tail off at higher speeds."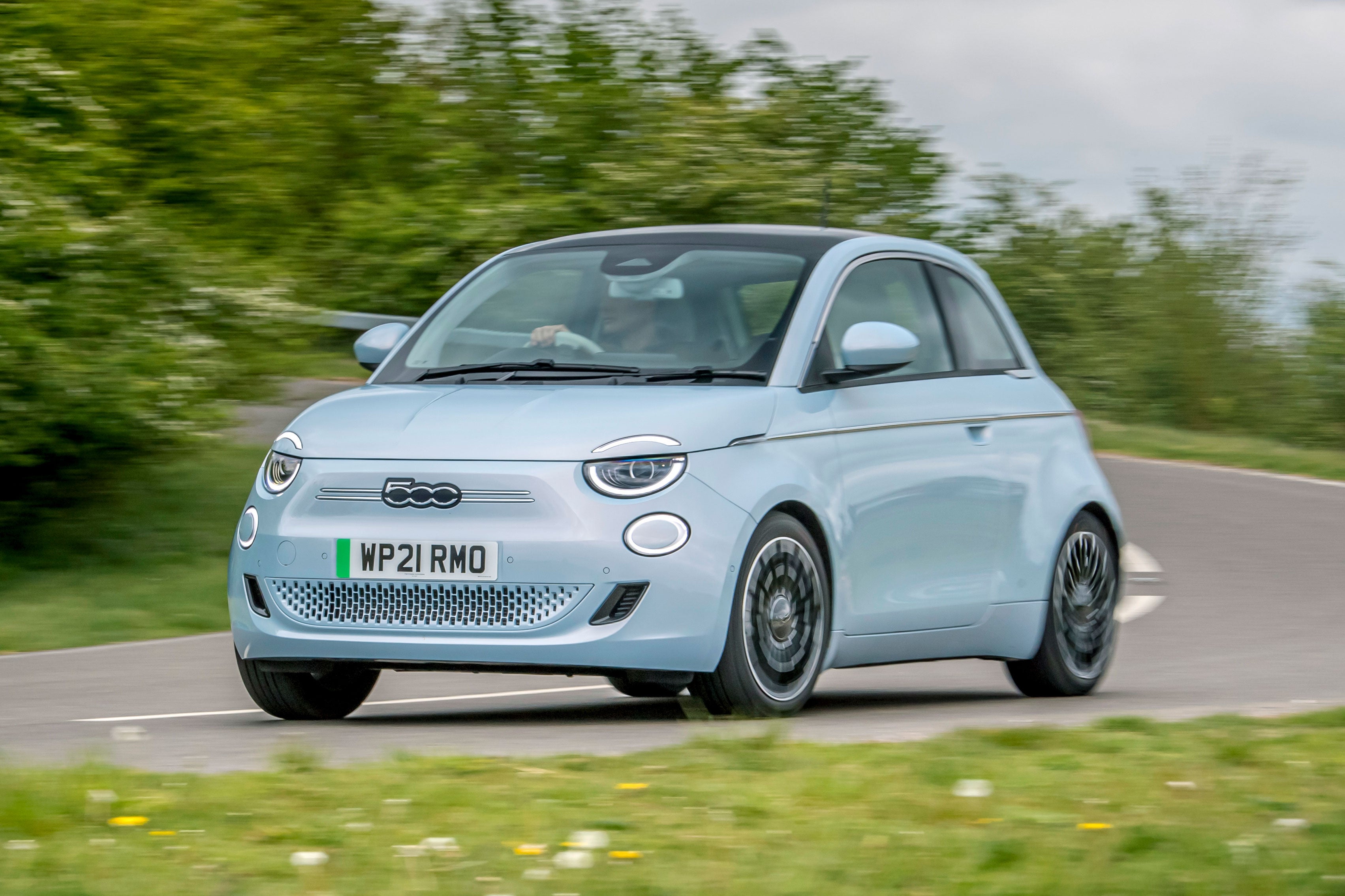 That's not really an issue of course, the Fiat 500 Electric is designed for city and town driving rather than motorways. Its light steering makes it a doddle to park in tight spots while the the small dimensions and tiny overhangs make it easy to judge the extremities. Even then, parking sensors are standard fit to help you out.
While the Fiat 500 Electric is fun around town, it's less so on bigger roads. The electric motor emits a high pitched whirring sound above 50mph and there is also a lot of noise as outside air flows over the body of the car.
The light steering which is good in town is also lifeless and artificial, so it's difficult to make any meaningful connection with the handling. As a result it's not an enjoyable or engaging car to drive and feels short on thrills compared to its rivals from Honda and MINI.
There are different driving modes which can help up your range. There's Normal, Range and Sherpa, the last of which is the one you want in order to maximise how far you can do. According to Fiat, it 'optimises the available resources to reduce fuel consumption to a minimum' by limiting the maximum speed to 50mph, turning off the climate control and slowing the accelerator response. In other words, even if you plant your right foot, you won't be going anywhere quickly.
Range and Sherpa also activate the 'one-pedal-drive' function, which means that when you come off the accelerator, the car will quickly slow down as if the brakes were being applied. This recuperates energy for the battery and while at first it's a little disconcerting, with a bit of practice and forward planning in your driving, you can basically drive just using the accelerator pedal.
Maximum electric range in the Fiat 500 Electric
According to the official WLTP figures, the Fiat 500 Electric 24kWh can cover 118 miles on a charge while the 42kWh model will do 199 miles. Of course, these are only test figures and range is dependent on many factors. Stick the air con and heated seats on while planting your right foot as often as you can and this will soon drop...
What motors and batteries are available in the Fiat 500 Electric?
There are two versions of the Fiat 500 Electric - the lower powered 24kWh has 93PS while the 42kWh model has 118PS. That's not the kind of power to rock your world but the Fiat 500 Electric feels very nippy around town.
Both model will accelerate from 0-62mph in 9.0 seconds but it's the low down effortless acceleration which makes the Fiat 500 Electric ideal for around town. The more powerful model will dart to 31mph from a standstill in just 3.1 seconds.
The launch edition of the Fiat 500 Electric comes with an easyWallbox, a home charging system that can be connected to a normal home outlet. It can be controlled via Bluetooth and is able to stabilise energy load by charging the Fiat 500 Electric at home with up to 3kW of charging power, without the need for professional installation.
Refinement and noise levels
It's no surprise that given its electric power, the Fiat 500 Electric is extremely good for low noise levels. The hatch is quieter than the fabric topped Convertible version, but even that does a good job of keeping out sounds. There's not much in the way of road or tyre noise around town, although it gets noisy at above 50mph and especially so at motorway speeds - but that's hardly its natural environment.
The firm ride doesn't do much for comfort but the 500 Electric manages to feel reasonably refined for a small car and far more so than the conventional Fiat 500. Vibrations from the road are well insulated against and we didn't find any squeaks or rattles, even on poor roads.
Safety equipment: How safe is the Fiat 500 Electric?
The Fiat 500 Electric hasn't been crash tested by the people at Euro NCAP yet but Fiat will be hoping to improve on the below par three out of five star rating of the standard Fiat 500.
All models come with driver's, front side and window airbags along with Lane Keep Assist, TPMS tyre pressure monitoring and Traffic Sign Recognition. Surprisingly though, only Fiat 500 Electric Icon models and above get electronic stability control.
The top Fiat 500 Electric La Prima model gets level 2 autonomous driving including intelligent adaptive cruise control that brakes or accelerates in response to cars, cyclists and pedestrians. It also has lane centering which keeps the vehicle in the centre of the lane when the markings are correctly identified along with 360 degree parking sensors.
Charging times: How much does it cost to charge the Fiat 500 Electric?
"The 2021 Fiat 500 Electric gets a choice of two models - the lower powered 24kWh and the longer range 42kWh."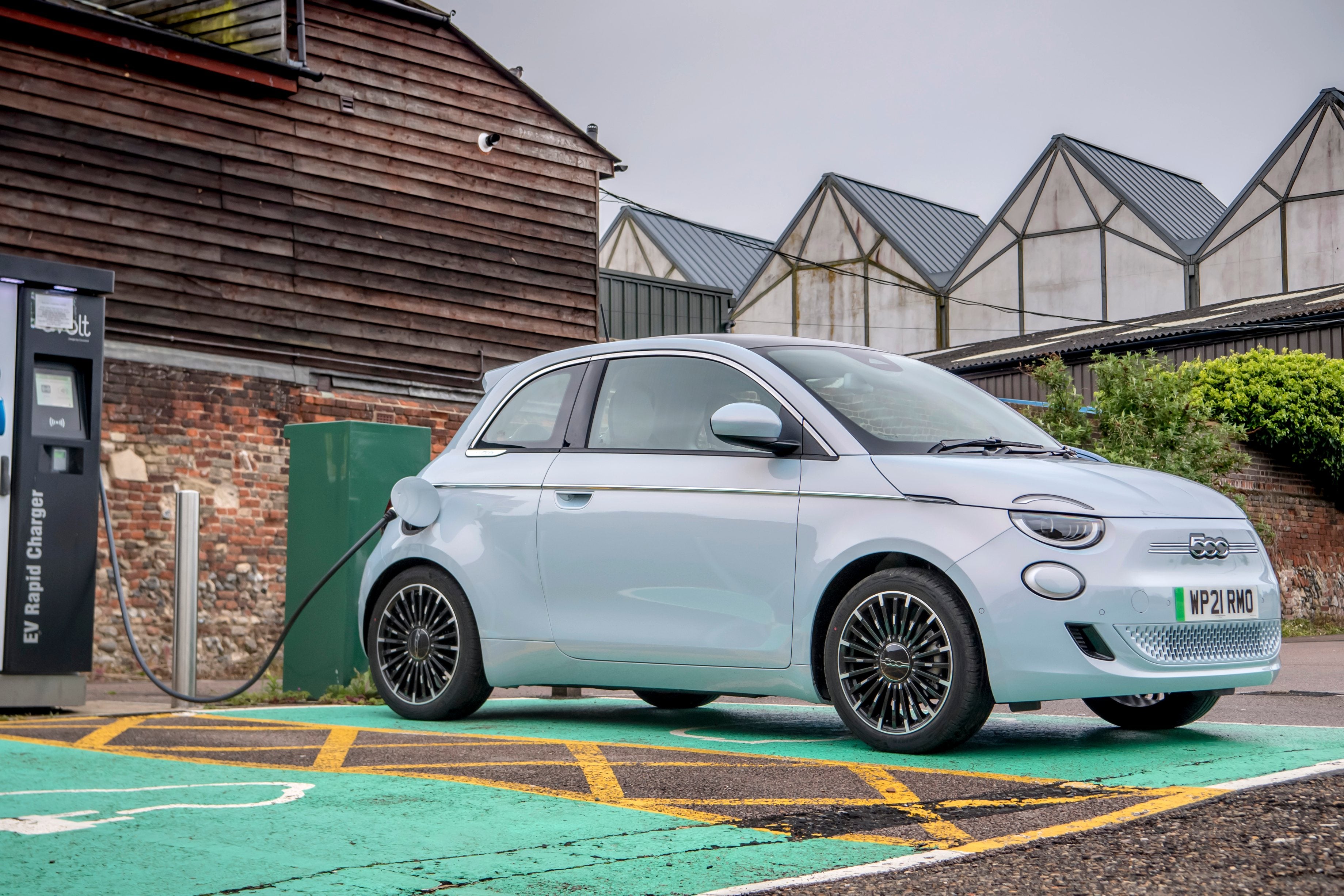 The 42kWh version comes equipped with an 85kW fast-charge system that can add 30 miles from just five minutes charge. Fiat also says you can fast charge the battery to 80% in just 30 minutes.
Charging will cost you around £7 (from empty to fully charged) for the higher powered version and approximately £4 for the 24kWh model. That's at the average UK electricity tariff of 17.2p/kWh.
Using a fast charger can also power the battery to 80% in just 35 minutes. The Combo 2 socket, located on the rear right side panel of the car, has the ability to accept both AC and DC charging.
How reliable is a Fiat 500 Electric?
It's fair to say Fiat doesn't have a glowing report card when it comes to reliability. And while it has certainly improved over the years, the brand still struggles in reliability surveys. Indeed, in the 2020 HonestJohn.co.uk Satisfaction Index, Fiat finished 32nd out of 34 brands - ahead of only Vauxhall and Jeep.
The petrol powered Fiat has not been without its reliability issues, but it's too soon to say how the Fiat 500 Electric will perform in the long term. With less moving parts, electric cars should in theory be more reliable than combustion engined models, but there's also more tech to go wrong...
Insurance groups and costs
While the Fiat 500 Electric may be more expensive to insure than its petrol counterpart, premiums will hardly break the bank. Fiat 500 Electric Action models are Group 14 while the Fiat 500 Electric Icon is Group 16 and this shoots up to Group 20 if you choose the Convertible version.
True, this is higher than the mild-hybrid Fiat 500 model which sits between Group 8 and 10 but compared to the Honda e, which sits in insurance group 25, the Fiat 500 Electric will be cost you considerably less to cover.
VED car tax: What is the annual road tax on a Fiat 500 Electric?
The good news here is that you won't have to pay any VED on the Fiat 500 Electric - from the first year and onwards. So not only will you be able to sit there in emissions free smugness, but you'll also have the satisfaction of not having to pay any car tax.
How much should you be paying for a used Fiat 500 Electric?
"Prices for a new Fiat 500 Electric start from £23,495 before the UK plug-in car grant (which is £2500 as of 2021). Demand is high which means that used prices for nearly new models are very high. You won't find any savings here."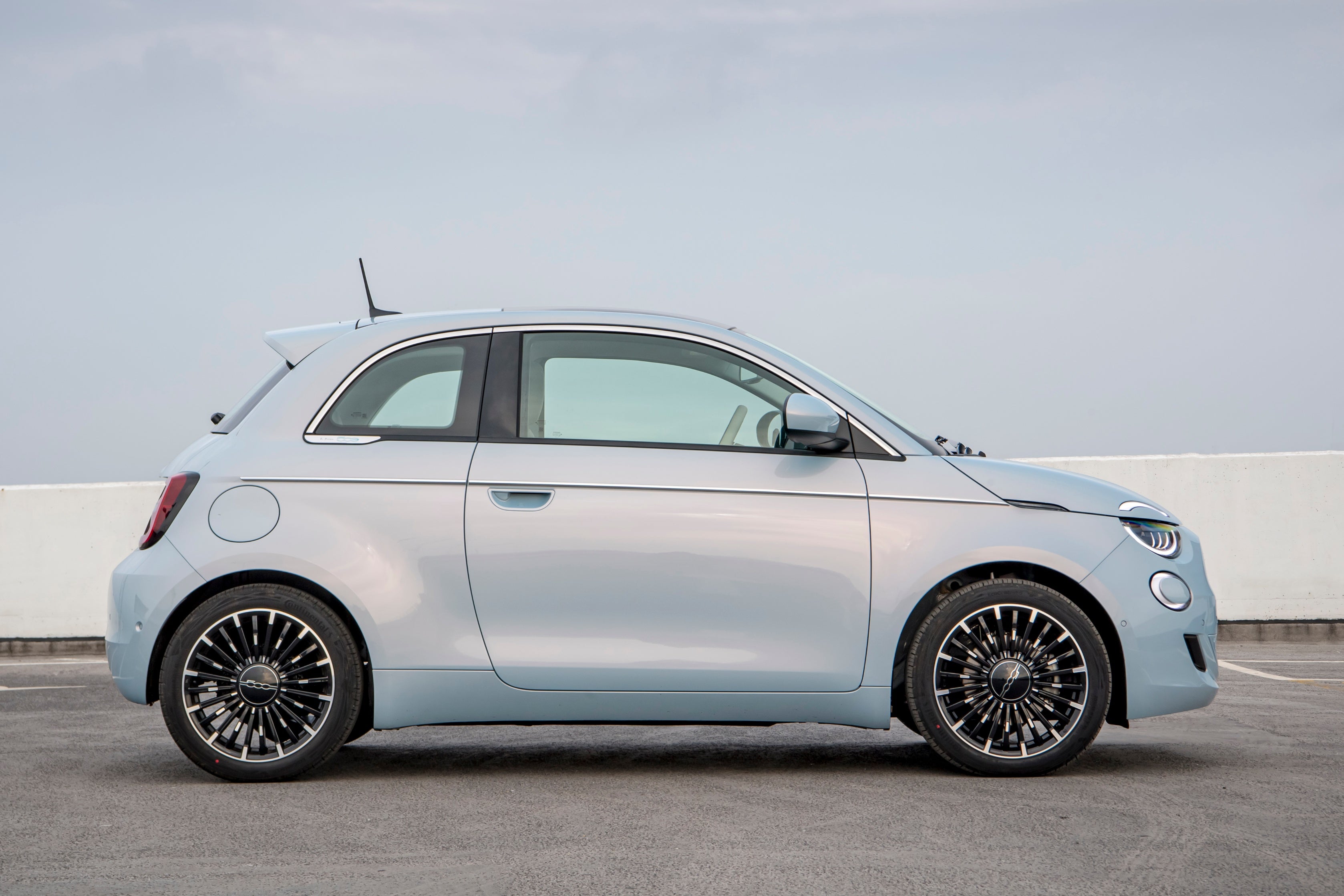 The Fiat 500 Electric Action is the cheapest model and comes with the less powerful motor with the shorter range. The more desirable 87kW model starts from £28,495 but, again, high demand means you won't save a great deal on the used market.
If you want a Fiat 500 Electric Convertible, be aware that it's not cheap. Prices start at more than £31,000 with no entry-level model in the line-up.
Trim levels and standard equipment
The Fiat 500 Electric was initially available in three trim levels - Fiat 500 Electric Action, Fiat 500 Electric Passion and the Fiat 500 Electric Icon. Top-spec models get a fancy 10-inch touchscreen navigation system and a button-free 'pebble' keyfob that automatically unlocks the doors you are close to the car, locking them again when you tap the door handle. The seats are also made from recycled materials.
Fiat also offers the 500 in a limited edition Fiat 500 Electric La Prima trim - which translates to 'The First'. This has every conceivable luxury you can think of, with electric leather seats, panoramic sunroof roof, wireless mobile charge pad, LED headlights, 17-inch alloy wheels and a comprehensive array of useful tech, which includes adaptive cruise control, blind-spot warning and a rear parking camera with a 360-degree view. Prices for the 500 La Prima start at a bank account draining £27,495.
In 2021 Fiat added the Fiat 500 Electric (Red) model which replaced the Fiat 500 Electric Passion. No, we don't understand why there are brackets there either. As you'd guess, this has red accents and trims throughout and comes with a red driver's seat although you can choose to have all four black. As well as red exterior paint it also comes in Mineral Grey, Ice White and Onyx Black.
Ask the heycar experts:
common questions
How much is the Fiat 500 Electric?
Prices for the Fiat 500 Electric start at £23,495 for 24kWh Action version and £28,495 for the 42kWh version in Red trim. These prices are before you've taken off the Plug-in Car Grant deduction of £2500.

How many miles does the Fiat 500 Electric get on a full charge?
The Fiat 500 Electric can cover up to 199 miles when fitted with the 42kWh battery. The most affordable versions of the Fiat 500 Electric fitted with the 24kWh battery will cover up to 118 miles.

How long does the Fiat 500 Electric battery last?
The battery in the Fiat 500 Electric is under warranty for eight years or 62,000 miles (whichever comes first).

Answered by
Russell Campbell
Keep me updated by email with the latest advice, news and offers from heycar
By submitting, you agree to our
privacy policy
.