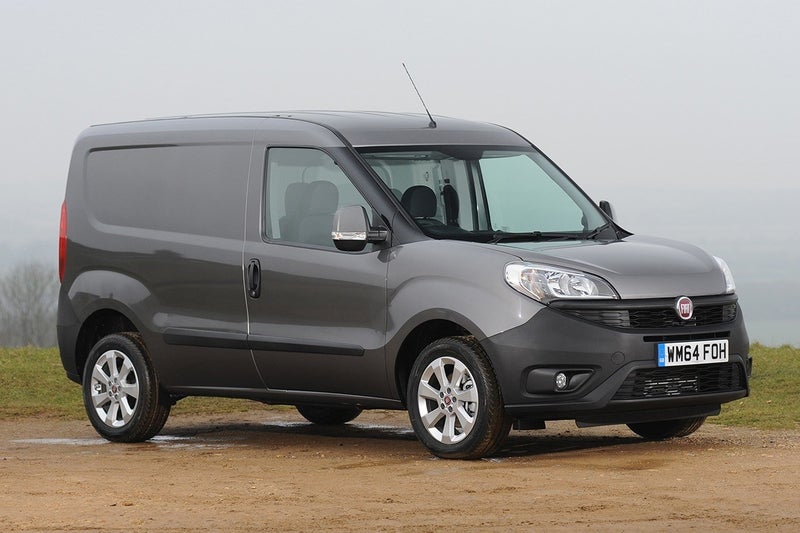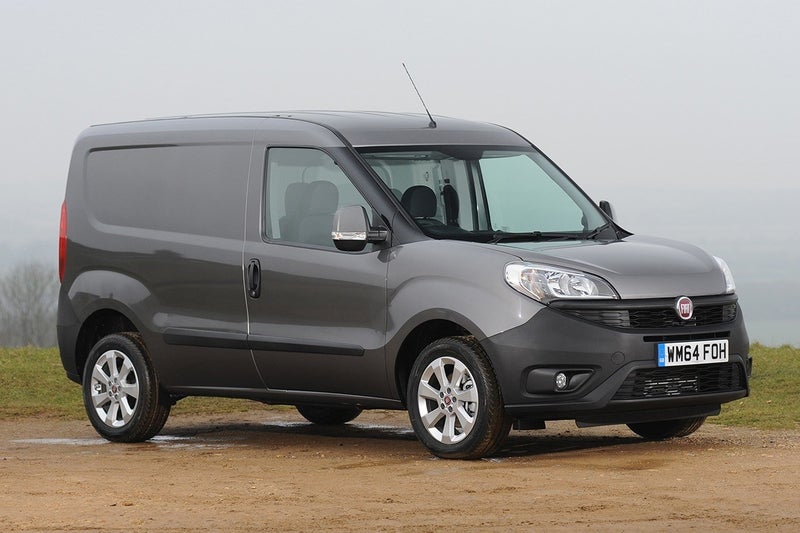 1/6
heycar rating
"Great value all-round van"
Launched: 2010

Van

Diesel, Petrol
Quick overview
Pros
Good value
Comfortable on the move
Impressive diesel engines
Cons
Refinement on the motorway is poor in pre-2015 models
1.4-litre petrol lacks oomph out of town
Design is now getting old
Overall verdict
On the inside
Driving
Cost to run
Prices and Specs
Overall verdict
"Fiat has a reputation for building vans that are compact on the outside and huge inside. The Doblo Cargo is just such an example and it offers more load space than a Citroen Berlingo or the original Ford Transit Connect yet is the same size as these rivals when it comes to fitting in to small parking spaces."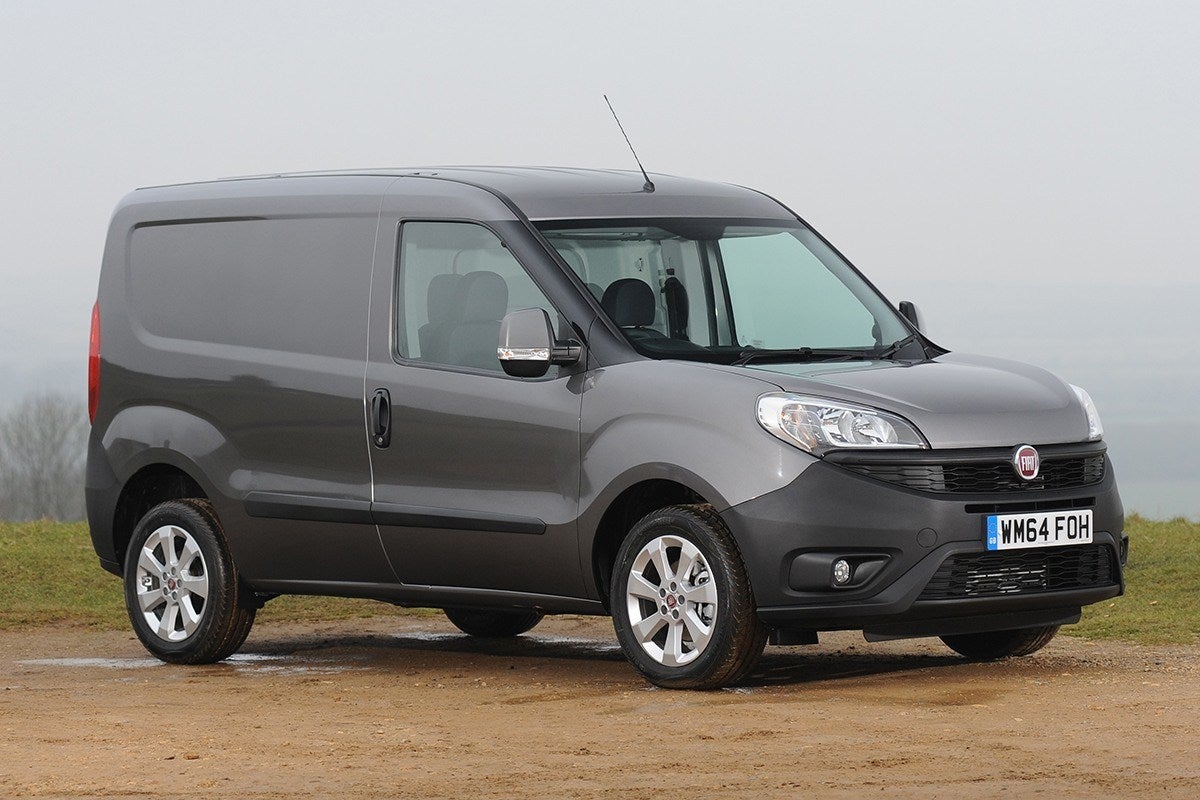 Fiat adds to the Doblo's excellent credentials with a range of fine MultiJet turbodiesel engines. They offer strong performance and excellent economy and emissions, making them good to drive and cheap to run. The diesel engines fitted to the 2015 model benefit from EcoJet technology to improve economy further, with the most frugal examples managing an official 68.9mpg.
The fit and finish of the Doblo is another appealing factor. It borrows heavily from Fiat's passenger cars for its cab's switches and layout, helping to make it comfortable for all-day, everyday use. Improvements from 2015 onwards address issues with cabin noise, making the Doblo Cargo impressively refined on the move.
The final accolade for the Doblo is its versatility when it comes to ordering different shapes and sizes. It can be had in standard and long wheelbase Maxi Van versions, a combi, high roof and the WorkUp pick-up model. There is also a chassis cab option that works as a base for conversions and a passenger version.
From early 2015 the Doblo gets a stylish new front end design with sleek headlights and a redesigned grillle. Aside from the new look, revised models get better soundproofing in the cabin, improving refinement considerably - plus there are optional EcoJet packs for the 1.3-litre and 1.6-litre diesel engines to lower emissions and improve fuel economy.
Similar vans to consider include the popular Ford Transit Connect, the Peugeot Partner and the Citroen Berlingo.
Comfort and design
"It will be no surprise to learn the Doblo's cab shares much of its componentry with Fiat's passenger cars and most of the buttons and switches are lifted from the Punto. This is a good thing as it lends the Doblo an air of sophistication not many of its rivals can match. It also means the Doblo's dash is clearly laid out and easy to navigate, as well as being solidly constructed."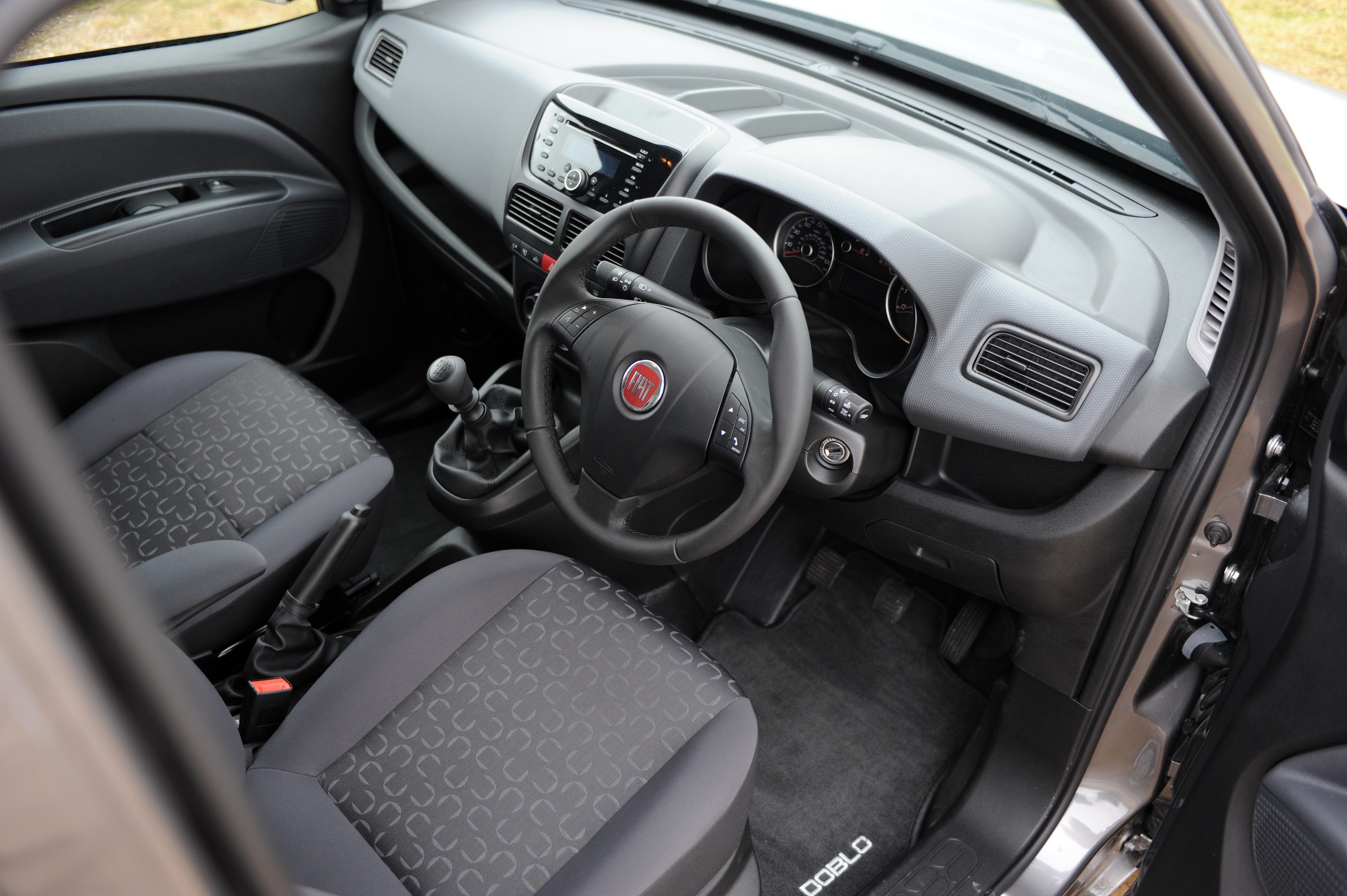 The driver enjoys a raised seating position that affords excellent forwards and side vision, and the driving position is easy to adjust to suit different drivers. As for the seat itself, there is sufficient padding and support for it to be comfortable in all day use. It's the same story with the passenger seat and there is good space for the driver and passenger's elbows and shoulders.

An overhead cubby provides a usefully large amount of storage and keeps things from from cluttering up the passenger seat or other storage areas. However, access to this cubby is not as easy as it might be, so it's best not used when driving.

Large door pockets provide additional storage space and Fiat also supplies a lockable glovebox and slide-out tray beneath the passenger seat for further secure storage away from peeping eyes. As well as this, there is a compartment under the passenger seat base that is accessed by flipping up the seat cushion and this comes on SX models as standard.

Standard equipment for all Doblo models includes a CD stereo and electric windows. However, air conditioning, central locking and Bluetooth phone connection are all optional extras. Anti-lock brakes are standard but ESP is also something you'll need to pay more for.

Moving to the load compartment, Fiat does provide four luggage hooks in the floor and the load bay can take 3.4 cubic metres in the standard model, rising to 5.0 cubic metres in the high roof model. Maximum payload varies between 750kg and 1000kg depending on which Doblo version you choose, but all are very competitive in their respective sectors of the market.

Two asymmetric side-hinged rear doors open to 180 degrees, so there are no problems fitting large items into the Doblo's cargo area. Single or twin sliding side doors can be ordered for the Doblo and all models have a low load sill to make it easy to lift heavier items in and out.

Fiat has purpose-designed the rear suspension of the Doblo to minimise its impact and intrusion to the rear load area. This is clever thinking from Fiat, rather than trying to fit loads around the suspension they have fitted the suspension around the van's main purpose - carrying goods. It's an approach that really works for practicality, but it also works when it comes to driving the Doblo.

The lightweight, compact independent rear suspension design endows the Doblo with a superb ride quality, which is ideal for keeping cargo from getting bashed about. It's also useful for keeping the van's occupants from being battered by the usual state of British roads.

There is also a significant gain in the handling stakes with this suspension set-up. While it may be one of the larger vans in its class and able to carry plenty of weight, it still gets round corners with surprising verve and competence. There's a small amount of body lean when the Doblo is fully laden, but otherwise it remains stable and taut no matter what the road throws at it.

We're also fans of the way the Doblo steers. The wheel gives the driver just the right amount of information to keep the van accurately on course, yet it's also light when parking and delivers a small turning circle to make accessing those more tucked away parking spaces not only possible but easy too. Rear parking sensors can be ordered to make it even simpler to slot the Doblo into a bay without worrying about crunching the bodywork.
Engines, gearboxes and handling
"Powering all of this is a range of engines that starts with a 95PS 1.4-litre petrol motor that offers a claimed 40.4mpg average economy and 163g/km CO2 emissions. As with all of the diesel engines, this motor meets Euro5 emissions regulations, or Euro6 from 2015. It comes with stop-start technology, but it's not the engine to have in the Doblo as it feels gutless."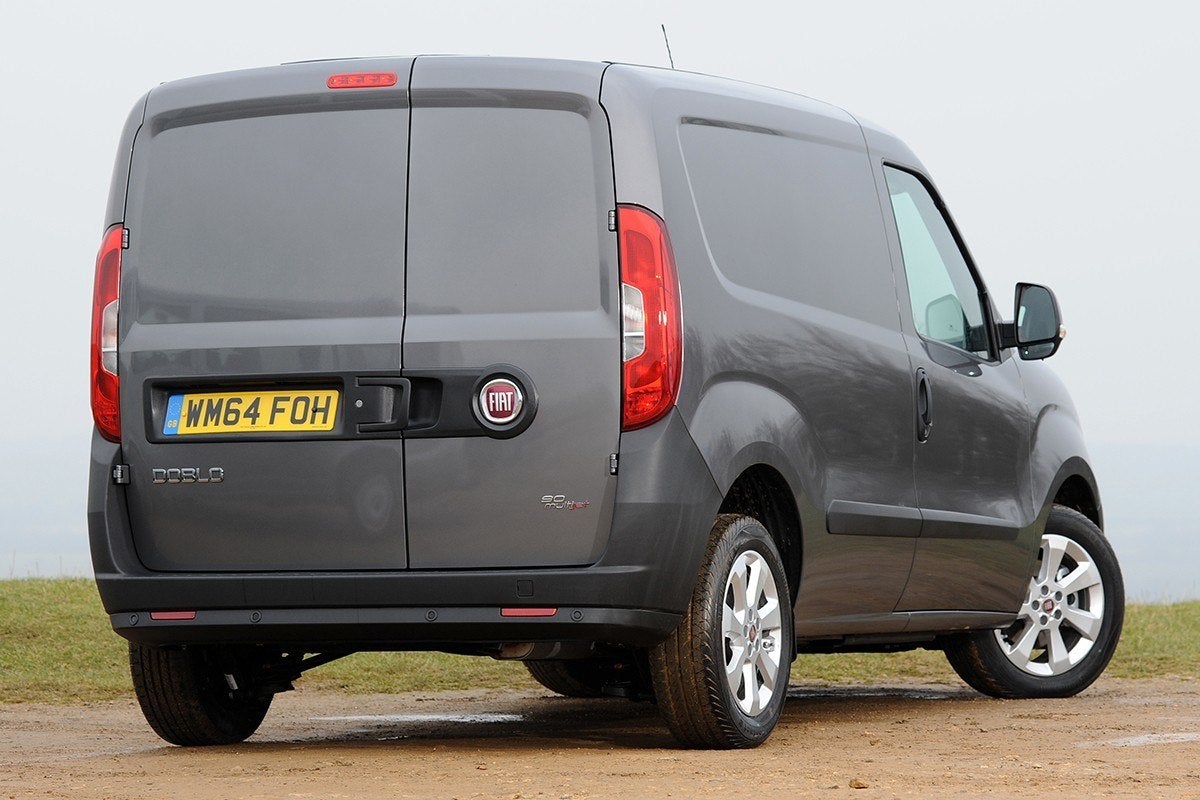 Much better are the range of turbodiesel engines that kicks off with the 90PS 1.3-litre unit. It works well in town and delivers an official 58.9mpg and 126g/km emissions. It has a five-speed manual gearbox that is light and easy to use. On the motorway, this engine is a little short on puff, so it's only best chosen by those limiting their use to the urban cityscape.

The 1.6 turbodiesel can be had in 90PS and 105PS forms, with the less powerful version using Fiat's five-speed Comfort-Matic robotised manual gearbox. This is a manual gearbox that does away with the clutch pedal and offers an automatic mode as well as sequential manual shifts. For some, this will be a boon for town driving, but we find the gear shifts too sluggish and would prefer to shift gears ourselves, so we'd stick with the standard manual.

Sticking with the six-speed manual gearbox also brings a boost in power with the 1.6-litre to 105PS, though you do sacrifice some economy and emissions for the added oomph. Even so, this is a cracking engine that works well in all conditions. It's punchy around town, powerful on the motorway and smooth and quiet at all times. The 1.6 is also offered with 120PS.

From 2015 Fiat offered EcoJet versions of both the 1.3-litre and 1.6-litre diesel engines. Specifying the EcoJet package adds low rolling resistance tyres, start-stop, revised engine parts and different engine oil to improve economy. The 1.3-litre diesel with EcoJet package manages an official 64.2mpg and emits 115g/km, while the 1.6 produces 124g/km and manages 60.1mpg. In 2019 the 1.3 EcoJet was updated, with outputs revised to 80PS and 95PS.

Another improvement to more recent vans is the addition of Traction+. Designed for tricky road surfaces, this isn't a four-wheel drive system but it is the next best thing. The onboard electronics can detect when one of the front wheels is slipping and divert power to the opposite side - meaning traction is only sent to the wheel with the most grip.
MPG and fuel costs
"If you spend most of your driving life on the motorway or towing, the 135PS 2.0-litre turbodiesel will serve you well."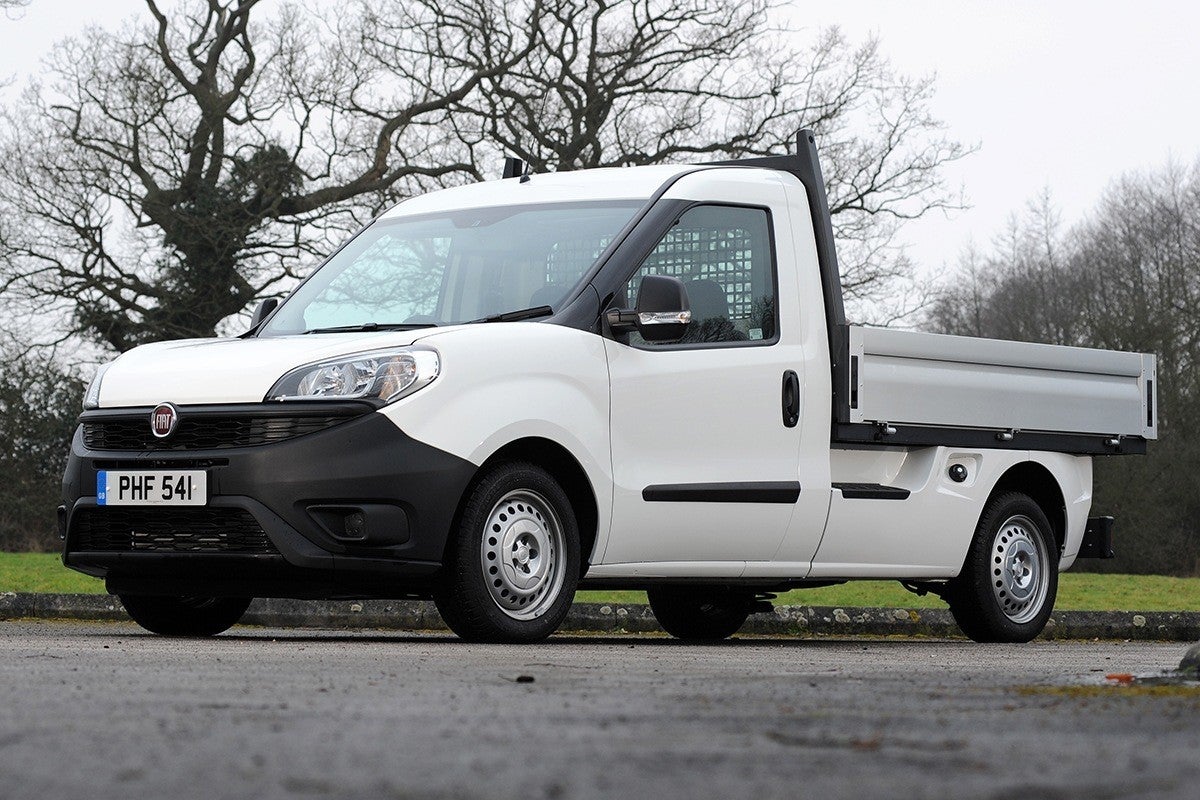 Its claimed 50.4mpg and 148g/km emissions are pretty good for an engine of this capacity in a van of the Doblo's ability. Again, it's smooth, refined and full of get-up-and-go, plus it comes with a six-speed manual gearbox to make the Doblo an even more relaxed choice for sustained high speed deliveries.
What equipment do you get with a Fiat Doblo Cargo?
"The Doblo Cargo is available with a surprisingly wide specification line up for a small van."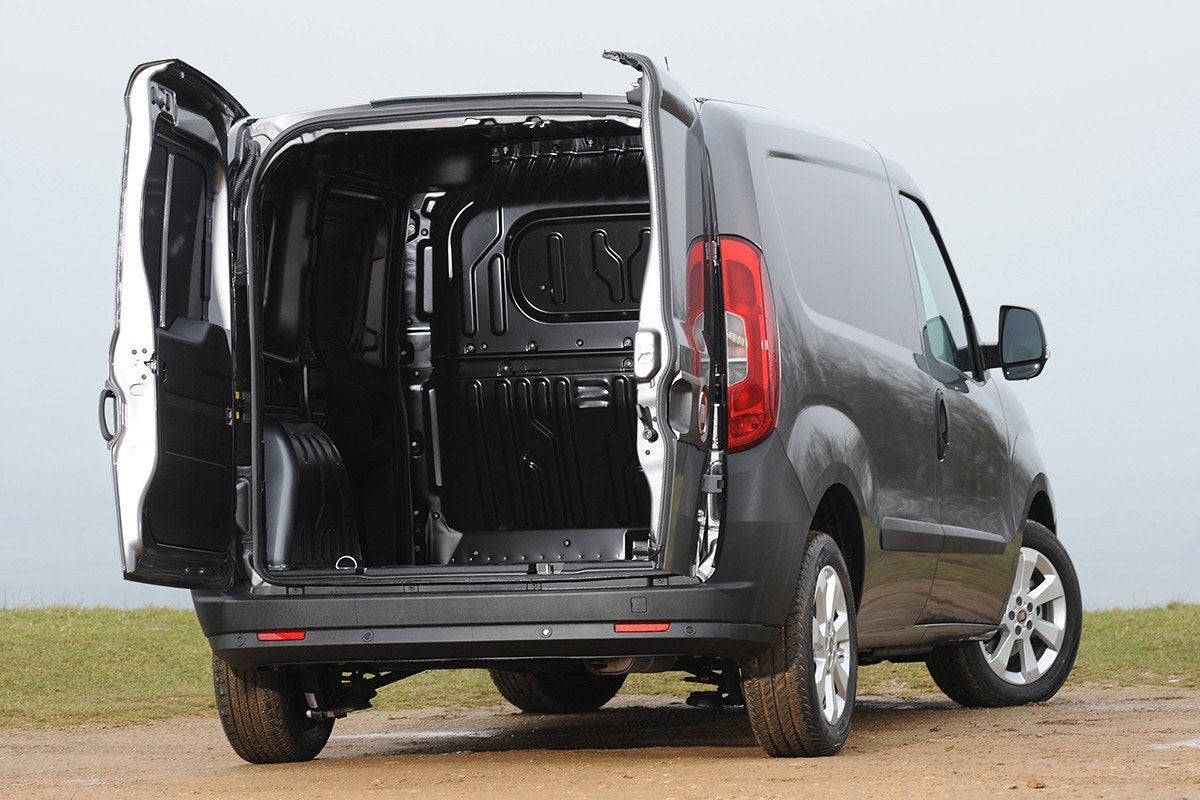 From 2019, there are four trim levels available for the Doblo: Standard, SX, Tecnico and Sportivo. The Standard specification offers a selection of safety and comfort features, as well as the new Eco pack which adds engine start/stop, a smart alternator and an electronically-controlled fuel pump to save energy and ensure higher combustion efficiency.
The SX trim builds on this adding a near-side sliding door, driver height-adjustable seat and body coloured door mirrors, the Tecnico trim adds air conditioning, reversing sensors, navigation and cruise control, while the Sportivo tops the range and is available exclusively in black metallic with 16-inch alloy wheels and folding electric heated door mirrors.
Fiat Doblo cars for sale on heycar
1,002
Number of cars available
£6.5K - £15K
Price bracket of these cars
Colours available on heycar
Keep me updated by email with the latest advice, news and offers from heycar
By submitting, you agree to our
privacy policy
.
Popular models
Similar models