Written by
heycar editorial team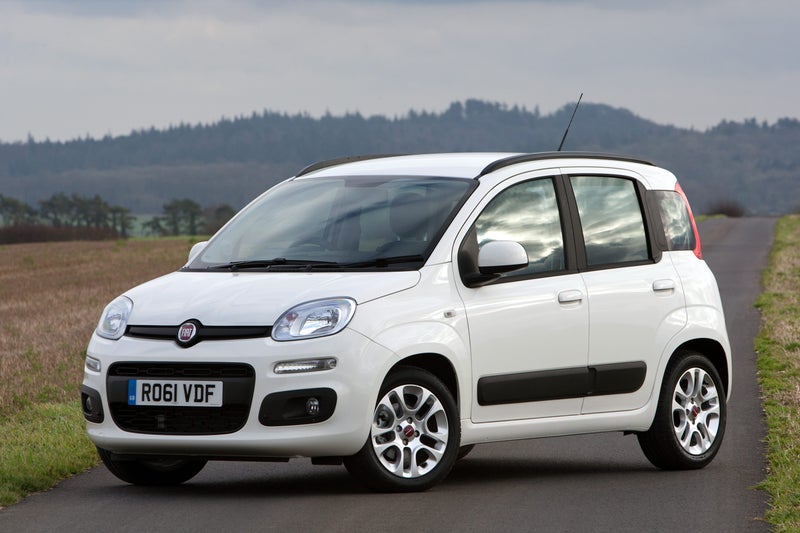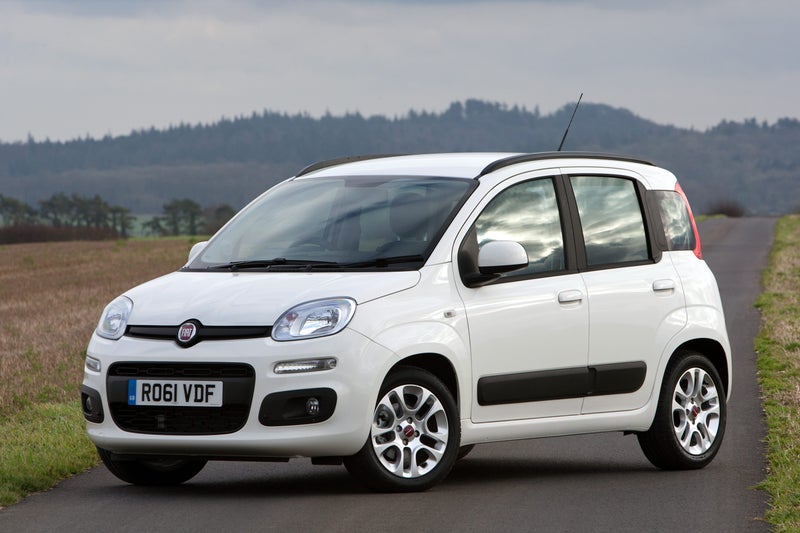 1/10
heycar rating
"Spacious but ageing basic runabout"
Launched: 2012

City car

Petrol, Diesel
Quick overview
Pros
Loveable design
Decent practicality
Comfortable ride
Cons
Not as refined as the best city cars
Poor crash safety rating
Standard car only has one engine
Overall verdict
On the inside
Driving
Cost to run
Prices and Specs
Common questions
Overall verdict on the Fiat Panda
"Fiat knows a thing or two about building city cars. Between them, the 500 and Panda models have been winning metropolitan fans across Europe for decades; one the chic style icon, the other a loveable utility car."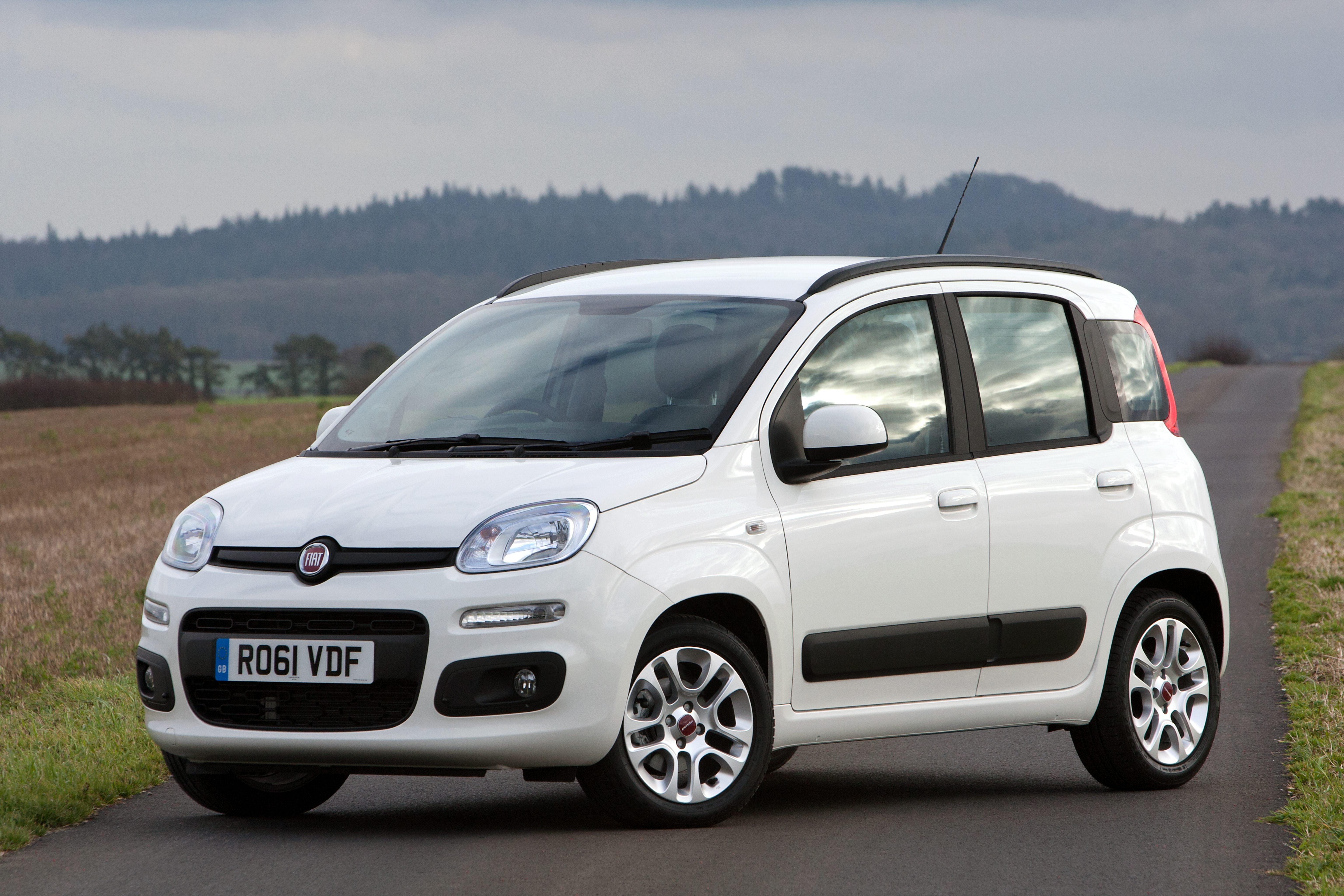 The current Fiat Panda we're reviewing here is only the third generation to appear in the past 40 years, so obviously it's almost as shy about reproducing as its black and white namesake. It's been on sale since 2012, in which time the city car class has undergone a seismic change. Buyers on a tight budget are spoilt for choice, and will no longer accept paper-thin build quality, poor dynamics or a dodgy safety performance for the sake of good value.
Not that the Fiat Panda has too many of those undesirable qualities. It's a much better car than its predecessor, with a charismatically simple interior, fun-yet-comfortable driving dynamics, plus a good dollop of practicality. It was also one of the original mini-SUVs in the shape of the rough-and-tumble Panda 4x4. Rivals for the 2022 Fiat Panda include the Volkswagen Up, Hyundai i10, Kia Picanto and Toyota Aygo.
Part of the Fiat Panda's appeal is its unusual size. Small and easy to manoeuvre like a runabout should be, but with a tall roofline and blocky profile that makes it feel relatively spacious inside, even with adults sat in the back. Boot space is merely average though, with a smaller capacity and less flexibility than the best cars in this class.
The trouble is, the Fiat Panda is a very old design now, having first gone on sale over a decade ago. Where once its poor equipment levels and basic interior were countered by its keen pricing, it no longer looks a smart buy compared with newer, better-appointed rivals. Entry-level 'Pop' trim is inexcusably sparse, and we'd recommend the Lounge trim to the majority of buyers.
Fitting a child seat is possible, but a rear-facing infant seat or larger toddler seat will make it impossible for an adult to sit in front of them - there just isn't enough space - and the ISOFIX anchors are well hidden. The load bay is quite deep but also fairly short too, so you'll struggle to fit a baby stroller in the boot while the rear seats are up.
On a positive note, the Fiat Panda is perfectly suited to driving in congested urban streets. It has superb visibility thank to its high-set driving position and boxy shape, softly sprung suspension that soaks up the worst road surfaces, and light controls. As with other city cars of this vintage, it soon feels a bit out of its depth on the motorway, becoming slow and unrefined. It gets buffeted about easily, and wind and road noise make their presence known at a steady 70mph cruise.
A mild-hybrid model was added to the range in 2020 to improve its CO2 emissions, but it's only available on the Panda Cross. The standard car uses a basic 1.2-litre engine with 69PS that's smooth but feels very slow. Overtaking is not advisable, and the lack of a punchier turbocharged unit in the range limits buyer's choices.
This engine is relatively cheap to run, with low insurance, and average fuel economy (Fiat claims an official 44.1mpg) but again, it's showing its age, since plenty of newer rivals are even more affordable to own.
There is no doubting the Fiat Panda's personality, and it's a charmingly honest city car that sticks to its brief. Still, times have changed, and it's fallen behind in so many key areas that today it's a difficult car to recommend. Its 4x4 cousin, however, is still competitive, given rival off-roaders include the rather compromised Suzuki Jimny.
Is the 2022 Fiat Panda right for you?
If you want a small car for a small price, the Fiat Panda fits the bill, but it comes with a number of compromises compared with more modern alternatives. A nicely designed interior doesn't disguise the cheap materials on board, and it's woefully equipped in entry-level Pop trim.
On the plus side, it's perfectly adapted to life in the city. The tall shape and big windows make it feel light and spacious, giving you a great view out. A soft ride and finger-tip light controls make it easy to drive and park. There's even a likeable off-road version - the Fiat Panda 4x4.
However, standard equipment is really stingy (even on higher-spec cars) and it has a dreadful crash safety rating from Euro NCAP - a major concern for family car buyers, or parents looking to get a first car for a teenager. The fact that when Euro NCAP first tested it it received a good score shows how quickly the car market has moved on.
What's the best Fiat Panda model/engine to choose from?
While its low entry price might make it look attractive, the Fiat Panda's Pop trim makes it of the most basic new cars it's still possible to buy, and will be too compromised for the vast majority of buyers - file under 'something to avoid'.
Unless your monthly budget is very tight, it's worth upgrading to at least the Easy model to get air-con and rear headrests. The Lounge spec is the only regular Fiat Panda to get a leather steering wheel, Bluetooth, Aux input and alloy wheels, so if you want a few creature comforts in your life, that's definitely the one to go for.
They all share the same engine and five-speed manual gearbox, and while the 1.2-litre is reasonably refined, it's also very slow, making hard work of keeping up with traffic on faster roads. It's not especially frugal either.
If you're buying a used Fiat Panda then we'd seek out the 0.9-litre TwinAir petrol. Its unusual two-cylinder layout makes it sound a bit gruff around town, but a turbocharger means it's usefully quicker than the 1.2 on country roads.
What other cars are similar to the Fiat Panda?
In its cheapest forms, the Fiat Panda is no-nonsense basic transport, giving its buyers a bit more space and useable practicality than compact city cars such as the Kia Picanto, Citroen C1, Toyota Aygo and Volkswagen Up.
The Volkswagen is the best to drive, with fun handling and hushed cruising refinement that makes it perfect for those who need a town car that can still pass muster on longer trips - it's an excellent all-rounder. Newer rivals like the latest Hyundai i10 make better use of their interior space. It also has a five-year warranty, and in SE Connect trim it gets the kind of on-board technology the Panda can only dream about.
For a bit more space the Dacia Sandero is also a keenly priced, no-frills option, with a 'Stepway' version that has the same mini-SUV styling cues as the Panda City Cross, raised suspension and a wider engine range.
If you're willing to spend a bit more money to cut your fuel costs, then a lot of brands now offer this type of car with battery electric power, including the Skoda Citigo e iV, Smart EQ Forfour and (much pricier) Honda e.
Comfort and design: Fiat Panda interior
"Thanks to that tall body and large side windows, the Panda feels very light and airy inside. It has loads of headroom too, which means it seems roomier than most cars at this price point."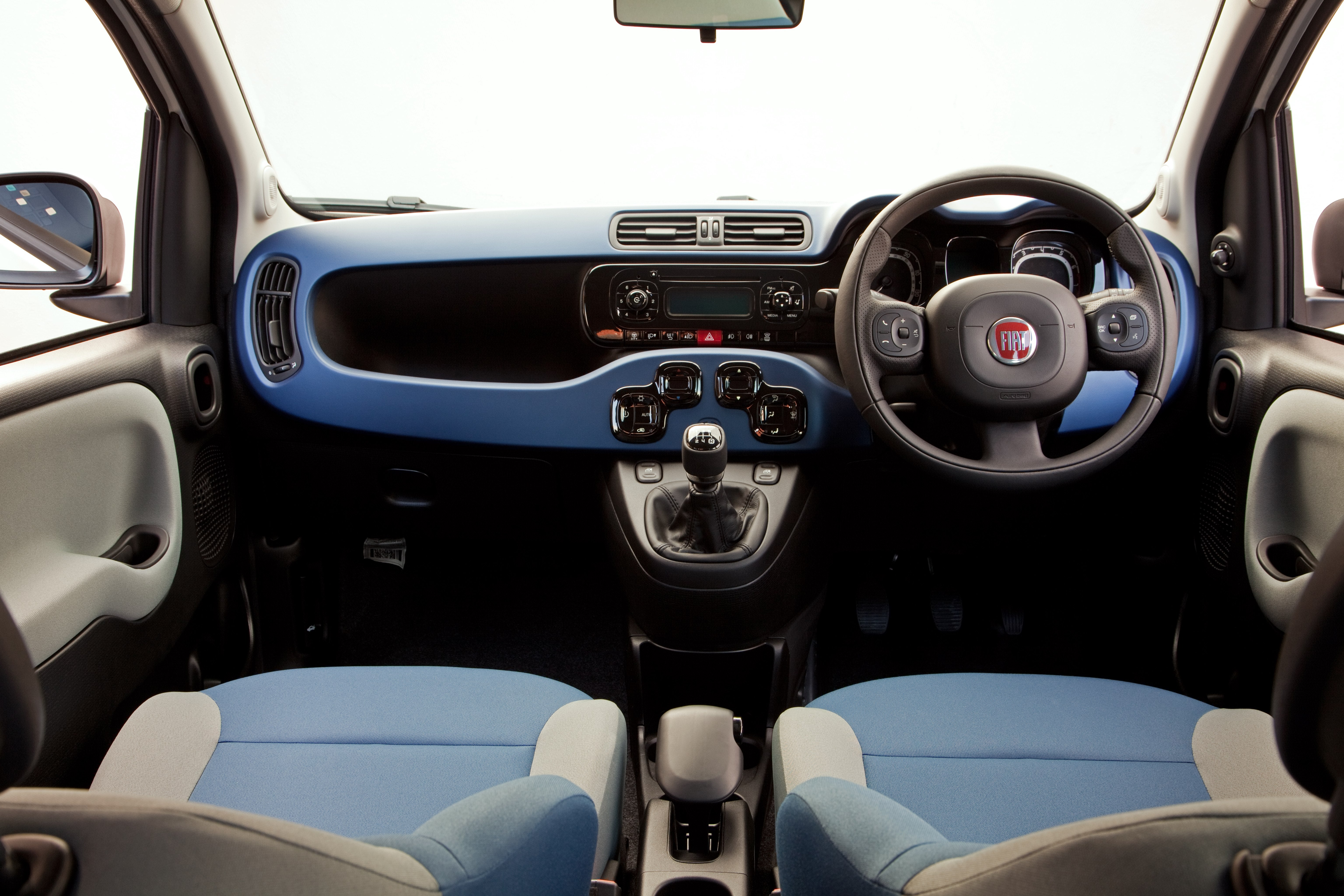 Sit in the front of the Fiat Panda and you'll have plenty of space, but shorter drivers might not find it easy to get comfortable behind the wheel, since it only adjusts up and down (not in and out), and in Pop trim the seat is a fixed height too.
You are perched quite high in the car, giving a good view out, and the gear stick is also mounted higher than usual, putting it within easy reach of the driver. The front electric window switches are either side of the shifter - not in the doors as they are on most city cars - something that takes a bit of getting used to at first.
The seats are fairly flat and not that supportive, but soft enough to keep you comfortable on short trips. The headrests are pretty shabby though. They're made of a plasticky material that looks robust enough to survive ten years being used as the seat of a scientific stool, but we'd much prefer better-padded cloth items instead.
The dash design features a lot of rounded square shapes (Fiat calls them 'squircles), which you'll find in everything from the dials, to the heater controls and door handles. It looks nice, adding a fun layer of charm to the Fiat Panda that makes you want to excuse its rather cheap-feeling materials and slightly awkward driving position. More on that below.
Quality and design
The Fiat Panda is a cheap car and the interior makes no secret of that fact. The materials are uniformly hard, but at least the dash feels robust. Cute touches like the 'Panda' text printed into door cards, and softly rounded square shapes used for the controls give it a sense of personality, and avoid this cabin feeling too dreary.
Push the small buttons around the radio and you'll be able to hear the dash creak, and many of the switches are on the flimsy side. Any of the city cars based on the Volkswagen Up (Skoda Citigo, SEAT Mii) feel sturdier inside, as do the Panda's Korean rivals from Hyundai and Kia.
The Pop and Easy models have a plastic steering wheel, and the doors - especially the tailgate - shut with an insubstantial twang. Fiat Pandas are also known to have thin paint, so check used ones for any stone chips.
Hard-wearing seat fabrics and blocky plastics are livened up on some models with nice patterns and colours that brighten up your surroundings. This is welcome since the standard dustbin black trim looks sombre - but the most interesting colour combinations are reserved for the semi off-road versions like the 4x4 and Cross.
Infotainment: Touchscreen, USB, nav and stereo in the Fiat Panda
We're not sure if 'infotainment' is the best word to describe the Fiat Panda's sorely limited range of media output. An AM/FM radio, with a dated dot-matrix screen, CD and MP3 player is all you get with Pop and Easy trims.
If you want Bluetooth, another set of speakers for rear passengers, and the ability to play audio via an AUX cable, you can either pay £250 to add this system to the Easy, or upgrade to the Lounge, where it's standard.
This radio has a smartphone cradle that slots into the top of the dash. While this approach does cut out the middleman when using your phone on the move, it's like buying a £2.50 screen mount from a petrol station.
You'll still have to pay extra if you want digital DAB radio, but the top spec version does get audio controls on the steering wheel, meaning you can skip tracks and answer calls without pressing the creaky dash buttons.
With many city cars now offering bright, colourful touchscreens, proper phone mirroring software such as Apple Carplay and Android Auto, wireless charging, or the option to upgrade to a decent sound system, the Fiat Panda feels like a retro 90s throwback.
Space and practicality: Fiat Panda boot space
In terms of exterior size and dimensions, the Fiat Panda is 3,653mm long, 1,643mm wide and 1,605mm tall. That makes it a decent chunk longer than the Volkswagen Up and its Seat/Skoda stablemates, and on a par with the latest Hyundai i10.
The upright body and high roof mean it feels spacious despite its compact footprint, giving lots of headroom to those on-board. The big rear windows let in a lot of light, stopping anyone sat there feeling too hemmed in.
Legroom is tighter, however, so taller people will find their knees pressing into the front seatbacks, but the Panda can carry four grown-ups reasonably well. You better be well acquainted with your fellow travellers if you want to squeeze three people across the rear bench, though, and the latest crop of city cars are roomier.
The rear doors open nice and wide, and the slim front seats making climbing in no chore. Fitting a child seat is a challenge though, since the ISOFIX anchors are hidden between the seat back and base. A toddler or an infant rear-facing seat will also render the front passenger seat virtually useable for anyone with kneecaps.
There are a decent number of places in the cabin for everyday bits and bobs, with a deep open tray in the dash that's really useful for stashing loose items. The door pockets and cupholders are quite shallow though.
The boot isn't all that impressive, either. The official capacity is 225 litres (about 25 down on the Up and i10) but you can slide the seats forward to expand that into a more useable 260-litre area at the expense of any rear legroom. There is no adjustable boot floor, so although the opening is nice and wide, there's a sizeable loading lip.
Flip the rear bench down, and you'll leave a big step in the floor where the boot joins the seatbacks, and Fiat charges extra for a 60:40 split, so on the standard models, you can carry luggage or people, but not together.
Handling and ride quality: What is the Fiat Panda like to drive?
"The Fiat Panda drives pretty much as you'd expect it to. It's nippy, comfortable and fun, but there are definitely sharper and more composed alternatives in the city car market these days."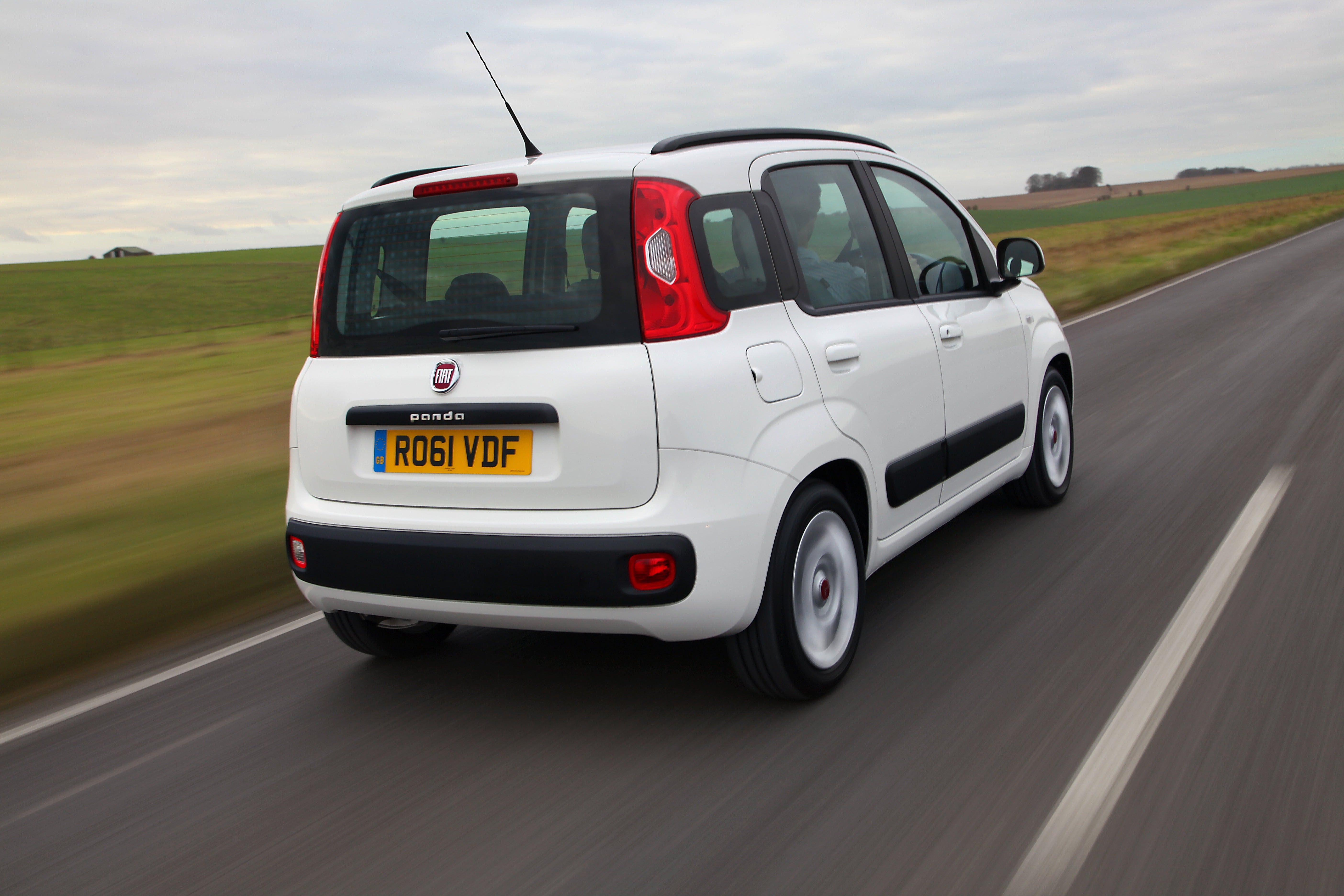 This Fiat Panda is of the soft and cuddly variety - at least when it comes to how it drives. Around town, it has enough suspension travel and ground clearance to shrug off potholes and speed bumps, absorbing low-speed impacts without unduly disturbing its occupants. It avoids feeling too bouncy, which is a major plus.
Those pillowy springs mean that it does lean over as you turn into corners, but does so gradually, not in an alarming way. If you're smooth with the steering then it's easy enough to keep the Panda upright and stable.
That steering is light, which is great for parking or three-point turns, especially when you push the 'City' button on the dash - effectively removing any resistance so you can squeeze into very tight parallel spaces. This lightness can also make the Panda feel a bit vague, and it's hard to know what the front tyres are up to.
Escape the city and on faster roads, this spongy setup does have its drawbacks. The Panda is fun to hustle along, but if you hit a sudden crest then the suspension reacts several seconds later, spoiling its composure. It doesn't feel as secure and connected to the road as a Volkswagen Up, or as comfortable as a Hyundai i10.
Entry-level models feature small 14-inch steel wheels and narrower tyres than the pricier Lounge model, and the skinny rubber soon loses grip if you turn too sharply into a tight corner, pushing the nose of the car wide.
For that reason (and its weedy engine) it's best to let the Panda do what it does well and drive it steadily. We wouldn't trade any of the little Fiat's plush town ride for the sake of sportiness, but some rivals can do both.
What engines and gearboxes are available in the Fiat Panda?
In a bid to improve its fleet CO2 emissions, Fiat introduced a 1.0-litre mild-hybrid version of the Panda in 2020. This car uses new three-cylinder petrol paired with a big battery to boost performance and improve fuel economy, but currently it's only available in the off-road styled versions: The City Cross, and Cross 4x4.
Previously, the Fiat Panda was offered with a choice of two petrol engines; A 1.2-litre with 69PS, and an unusual 0.9-litre two-cylinder with a turbocharger - called the TwinAir - with 85PS and a bit more mid-range punch. A 1.3-litre diesel version was discontinued in 2016, but was probably the best Panda for doing motorway miles.
For now, we're focusing on the 1.2-litre four-cylinder that now appears in all regular Pandas. This engine is very much of the 'slow and steady' type, but it's not much wheezier than the entry-level versions of most other city cars.
It drives the front wheels through a five-speed manual gearbox, and although pretty sedate, it's quite smooth. It's fine for nipping around town in, but really struggles to keep up with the ebb and flow of traffic once you're on the motorway. Overtaking manoeuvres need careful planning, and we'd avoid the fast lane on the uphills.
The gearbox has a light, easy action and - just like the rest of the controls - make the Panda simple to drive. Fiat used to offer an automatic gearbox paired to with the 0.9-litre TwinAir, but we would avoid seeking it out. Combined with the odd power delivery of this engine (gutless at very low revs, breathless at higher ones) this hesitant and jerky transmission was more hindrance than a help, lurching its way through stop-start traffic.
Refinement and noise levels
The Fiat Panda has average refinement for a city car. It's certainly no skateboard, but also won't isolate you from wind, road and tyre noise like the best models in this class can; especially the Volkswagen Up and new Hyundai i10.
The 1.2-litre petrol engine is not a paragon of refinement, but it's the quietest of the three previously offered. Around town, its four-cylinder layout means that it's smoother and less buzzy than many three-cylinder rivals.
It stays hushed at lower speeds, and spins up freely when you do need to work it a bit harder. By contrast, the old 0.9-litre TwinAir engine could be lumpy and gruff at lower revs, and vibrated manically when pushed.
Life is less peaceful if you find yourself on the motorway or a dual carriageway. There is a lot of whipping wind noise around the door mirrors, and the high-sided Panda can get blown about by sudden crosswinds.
Take the humble 1.2-litre engine up to a 70mph cruise and when you (eventually) get there it will be spinning at around 4500rpm in fifth gear, and making a fair old racket. The old 1.3-litre diesel is a more muted cruiser.
Safety equipment: How safe is the Fiat Panda?
The Fiat Panda's shocking safety record is a bold testament to how rigorous crash tests have become, and how much the market has moved on. It was tested by Euro NCAP in 2012 and given a very respectable four-star rating, but during a retest in 2018 it got given zero stars.
That's the lowest possible rating a car can receive, and to make matters worse, it also got the lowest ever score for child occupant protection: just 16%. Grim reading for Fiat, and anyone who currently owns one.
It's not necessarily as dramatic as it sounds, but it clearly demonstrates how much safer newer rivals have become, and most city cars like the Toyota Aygo - even very basic ones - get between three and five stars.
Passive safety equipment is average, but you get four airbags, electronic stability control, and tyre-pressure monitors. You can add side airbags for £200, and a handy space-saver spare wheel for £60 if you so wish.
Fiat also offers a safety pack kit bundle, with rear parking sensors, and City Brake Control, which is an active safety feature that works at low speed auto-emergency braking if it senses you might be about to crash. It's this kind of technology that is now standard on most new cars, and for £450, we'd encourage you to go for it.
MPG and fuel costs: What does a Fiat Panda cost to run?
"While it might be cheap to insure and tax, the Fiat Panda's fuel economy leaves a lot to be desired compared with the newer, cleaner engines in the latest crop of city cars."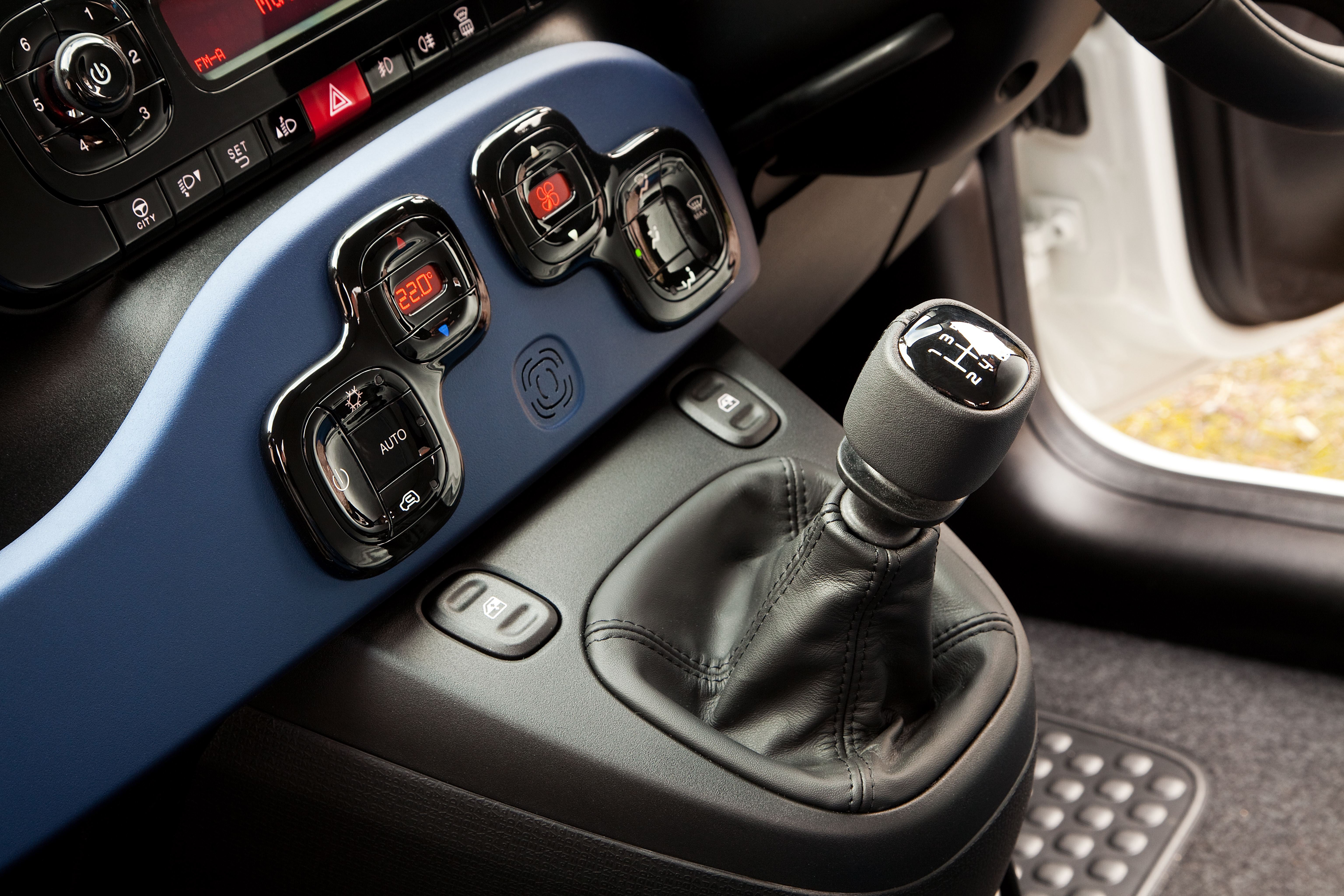 For a small, light city car the Fiat Panda certainly doesn't sip fuel as you might expect. Its tall boxy shape gives it more wind resistance than more compact rivals, but a WLTP economy figure of 44.1mpg is a pretty poor show.
The 1.2-litre engine feels underpowered and needs revs to get it up to speed too, so in the real world your figures could be even lower than that. From the previous engine range, the two-cylinder TwinAir turbo was infamous for returning less than half of its official NEDC claimed 67.3mpg average; 35mpg is a lot closer to reality.
The Panda Cross is available with a new 1.0-litre engine with a mild-hybrid system that can shut the motor off at low speed to save fuel, but even this more advanced powertrain is only capable of just over 50mpg.
How reliable is the Fiat Panda?
Things get off to a pretty poor start for the Fiat Panda when it comes to reliability, because the brand finished stone dead last in the latest HonestJohn.co.uk Satisfaction Index. It seems the old adage that Fiat stands for 'Fix It Again Tomorrow' is still alive and well.
However, there is some good news when it comes to the Panda itself. As Fiat's smallest and most basic model, it has the least amount of gadgetry and complex electronics to go wrong. Having said that, Twinair models are known to be hard on their clutches if not driven sympathetically, while some niggly faults do still arise.
Insurance groups and costs
The Fiat Panda is a budget car and in its most basic form, it should be incredibly cheap to insure. The Pop trim is in insurance Group 3U - only one group higher than the equivalent Volkswagen Up (2E) and old Hyundai i10 (2D).
Still, for a teenage driver, the jump from Group 1 to 3 could have a big impact on their annual premiums, and might be a reason to pick an even more cost effective model instead. The Easy trim with the 1.2 petrol is Group 4, but if you're buying used then the 0.9-litre TwinAir and diesels both sit several groups higher still.
VED car tax: What is the annual road tax on a Fiat Panda?
Fiat Pandas registered before the April 2017 tax changes are charged vehicle excise duty (VED) based on their CO2 emissions. Since every version of the regular Panda emitted less than 120g/km according to the old NEDC testing standard, they'll all cost you less than £30 per year, while the 99g/km 0.9 TwinAir is tax free.
Pandas registered after that date will pay a first-year rate included in the on the road price of £215, then a flat £150 tax rate for every following year of ownership, so buying used can be a smart way to keep costs down.
If you're looking at the Fiat Panda as a company vehicle, the current 1.2-litre models have a 29% BIK rate. Once again, the older two-cylinder TwinAir will be more affordable, with a company rate of just 24%.
How much should you be paying for a used Fiat Panda?
"The Fiat Panda range starts from just over £10,000 for the most basic 'Pop' but since it's been on sale since 2012, there really is a huge pool of used examples to choose from if you want to save a bit of money."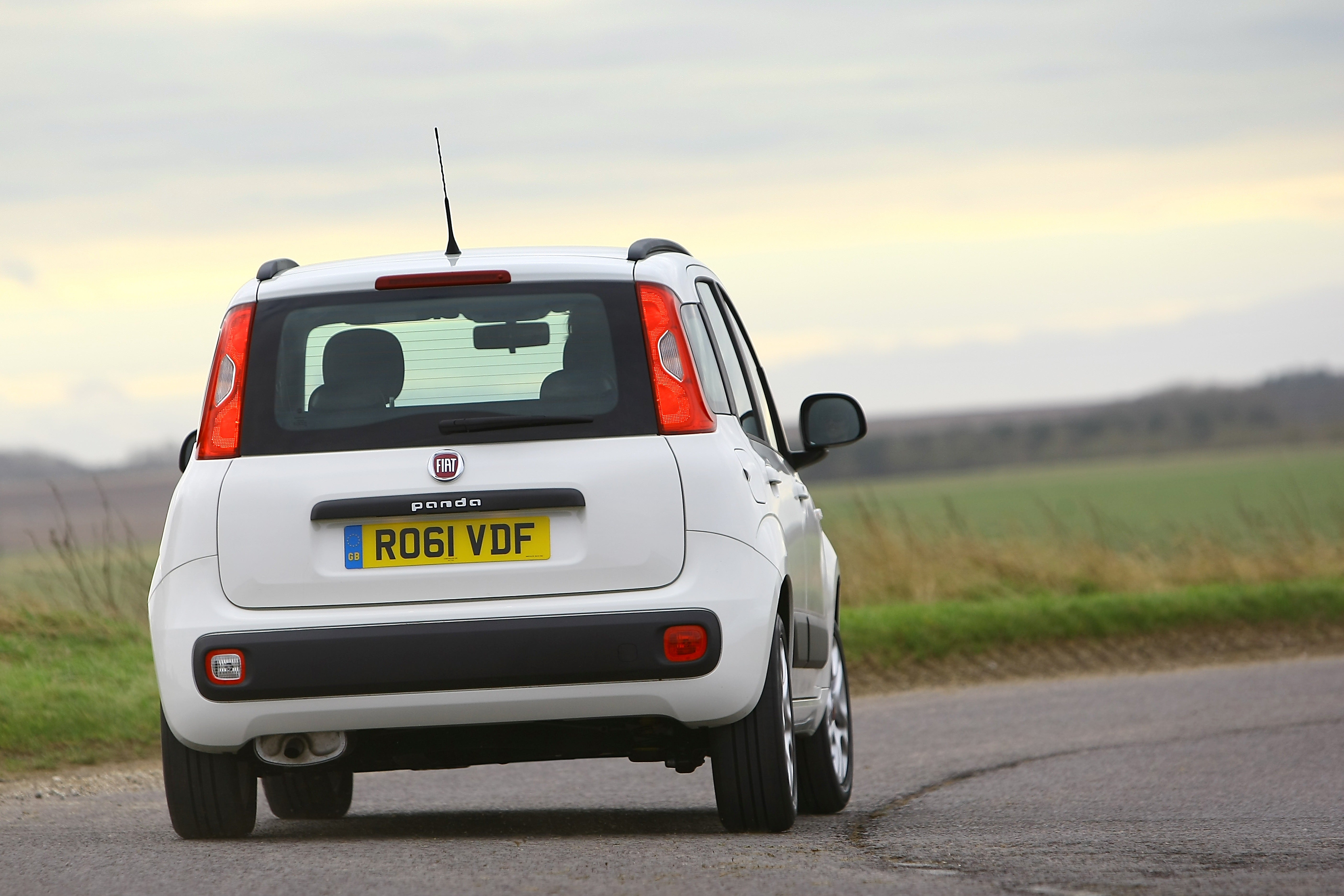 The relative age of the Fiat Panda means that, in reality, it's probably better to buy a used one than stump up for a new one. If you're going to do the latter, it's difficult to recommend over most city cars offered today.
The vast majority of used models are fitted with the 1.2-litre petrol engine, in Easy or Lounge trim, so expect to spend a while searching if you want a diesel or TwinAir (and a lot of the cars with these engines are 4x4s).
Panda's are a cheap used city car and you can pick the standard car up for as little as £2500. For that price expect to get a 2012 model with above average miles and partial service history. Still, we think it's worth paying the £1000 or so extra to get a later car with less than 60,000 miles on the clock and that's only had one or two owners from when it was new.
Up the budget to around £5,000 for a well cared for 1.3-litre diesel, while spending £6000 or more will net you a very tidy 2016 1.2-litre with less than 20,000 miles and a full franchised dealer service history.
Trim levels and standard equipment
The regular Fiat Panda is available in three different trim levels: Pop, Easy, and Lounge. Meanwhile the 4x4, Cross, and City Cross models get their own separate specifications to reflect their higher asking prices.
The entry-level Pop is as bare inside as supermarket shelves during a health crisis. It has an AM/FM radio, front electric windows, and heated rear screen, but nothing else. There are no rear headrests, it comes with four seats as standard (you have to pay an extra £50 for five seats, and another £100 for the third seatbelt).
If you have no interest in owning a car that feels like it's been dumped at a dusty airport rental counter, then at least the Easy trim has a few crumbs of comfort. It gets bare essentials like a height-adjustable driver's seat, manual air-conditioning, remote central locking, and roof rails, but it's still pretty spartan looking inside.
Top-spec Lounge models aren't exactly luxurious, but upgrading does bring you leather upholstery for the multi-function steering wheel and gear knob, 15-inch alloy wheels, body-coloured mirrors, and front fogs.
The top trim has just enough kit to compete with the most basic versions of newer city cars, but you're still forced to pay extra to the dealer for equipment that should absolutely come fitted as standard to a new car.
Necessities like DAB radio are optional across the range (£100), so are parking sensors (£250), and climate control (£300). As stated if you want five seats with a folding back row it's £100, while a split/fold rear bench is £150. Option packs like the Winter Pack (£280) for heated seats and windscreen, are a bit better value.
The 4x4, City Cross and Cross versions do feel nicer, and come more generously appointed, but they also cost a lot more to begin with. We're not sure there is any excuse for giving price-sensitive customers so little.
Ask the heycar experts:
common questions
What is the Fiat Panda and is it any good?
Fiat's most iconic city car is the 500. The Panda was supposed to be a more utilitarian, no-frills small car that was basic, but also tough and dependable. It's still all those things, 40 years and three generations after it was first introduced, and hugely popular too.

Answered by
heycar editorial team
Can you buy a Fiat Panda in the US?
No. In fact, US customs went as far as putting a 25-year exemption on the second generation (2003 - 2012) Panda to restrict any imports, even though the Fiat 500 was briefly sold there.

Is the Fiat Panda 4x4?
The Panda is available with four-wheel drive, but only on the 4x4 and Cross models. Both the Trekking and standard car are front-drive only, although the Trekking can still go off road.

How much boot space does the Panda offer?
In standard guise, the Panda has a decent 225-litre capacity, but it also has a few tricks if you need to carry more. The seats slide forward to increase that to 260 litres, and fold down too.

Fiat Panda cars for sale on heycar
867
Number of cars available
£5.5K - £18K
Price bracket of these cars
Colours available on heycar
Keep me updated by email with the latest advice, news and offers from heycar
By submitting, you agree to our
privacy policy
.