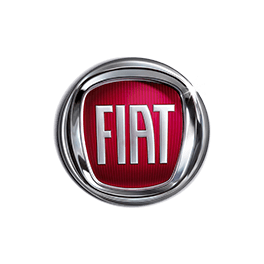 Fiat Panda 4x4 Review

Written by
heycar editorial team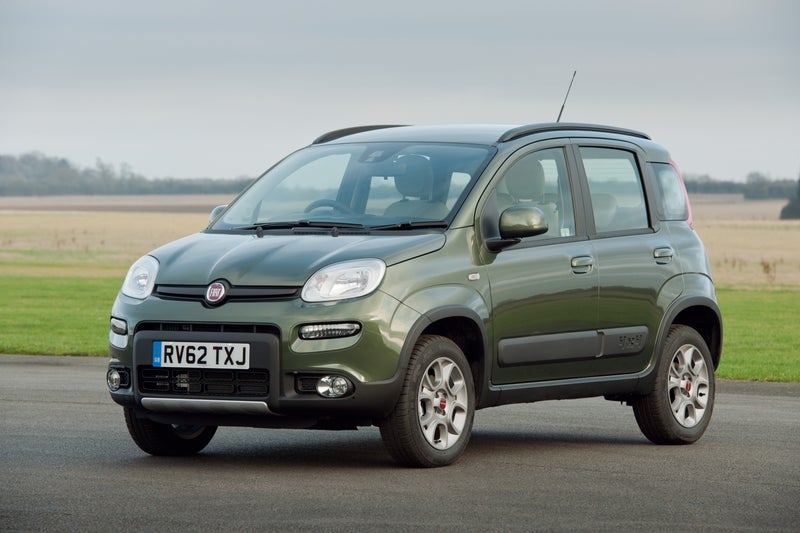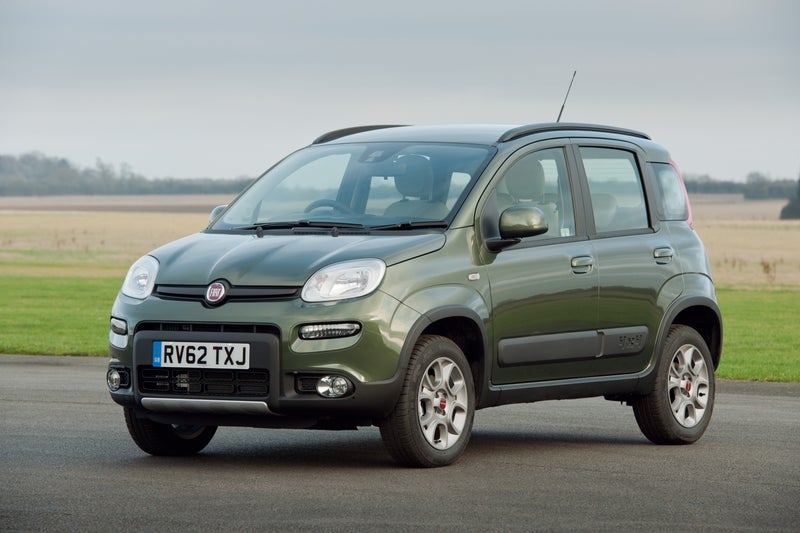 1/10

heycar rating
"Amazingly able, fun small 4x4 "
Launched: 2012

City car

Petrol, Diesel
Quick overview
Pros
Goes much further off-road than you'll ever imagine
TwinAir engine is strong and adds an element of fun
Nifty in the city thanks to compact size
Cons
Diesel model is tectonically slow
Hefty list prices
Disappointing economy from petrol engine
Read by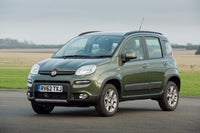 Overall verdict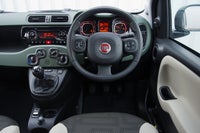 On the inside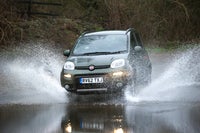 Driving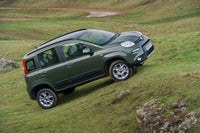 Cost to run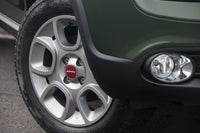 Prices and Specs
Common questions
Overall verdict
"Fiat knows when it's on to a good thing and the Panda 4x4 is just that. It may not be a huge seller, but it's a crucial part of the Panda line-up and has a history going back four decades. This makes it a key pillar of the Panda range and one that many of its owners couldn't contemplate being without."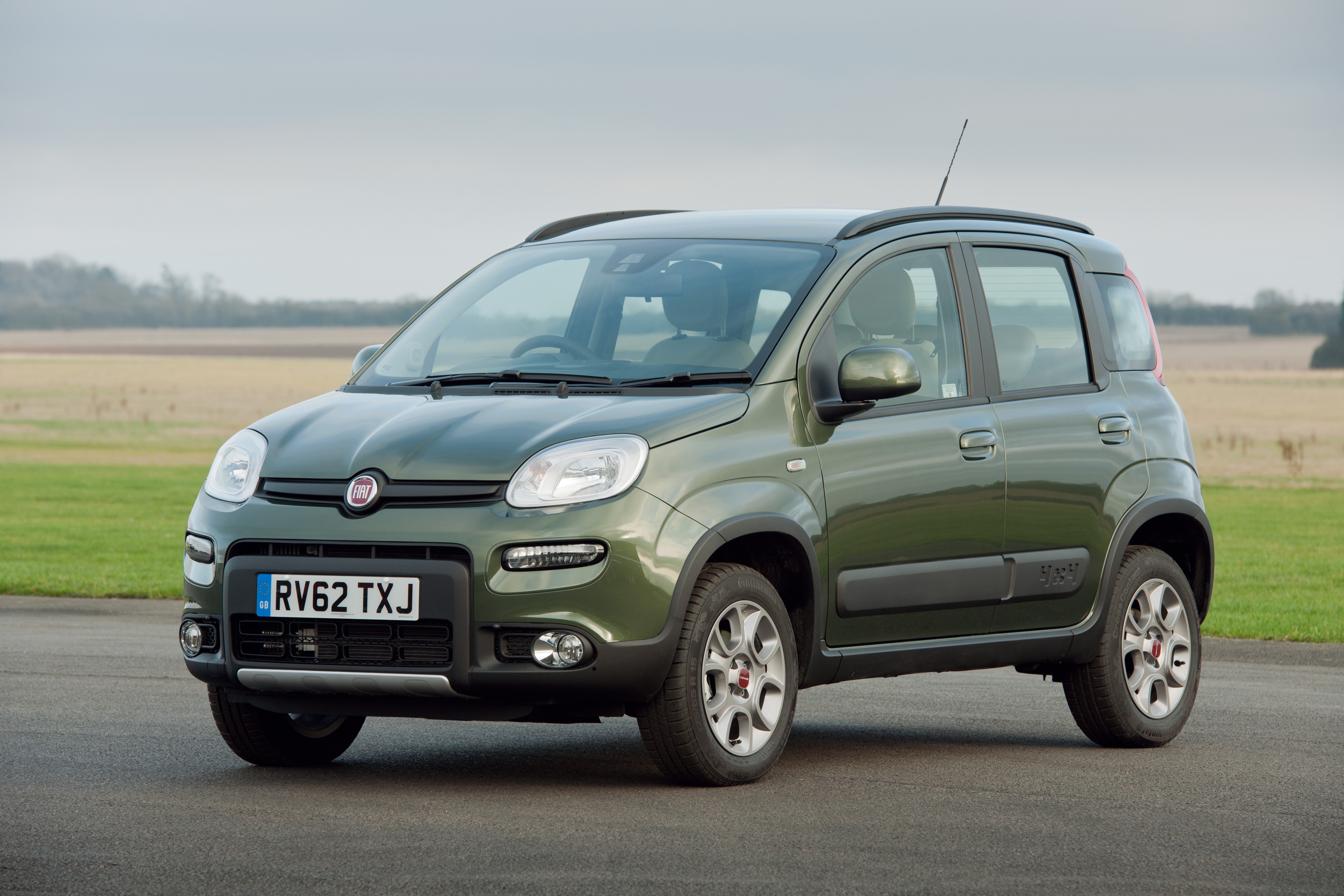 How does a tiny 4x4 based on a model that straddles the city car and supermini classes endear itself to so many? Part of it is down the looks, which are more 'aah' than a video of puppies on social media, and a certain lingering attraction from models gone by. The majority of its lure, though, lies in the downright brilliant ability of the Panda 4x4 to cope with terrain that would leave most SUVs and larger 4x4s wondering which way the Fiat had disappeared to. It's one of the best 4x4s going.
Small is always handy for off-road work as it means the Panda 4x4 can snaffle through gaps others cannot. It also ensures the Panda is relatively light, so it doesn't need the massive tyres or engines of many 4x4s to scamper across rough ground. Instead, it treads gently and makes good progress in an unfazed manner like a Sherpa ascending Everest.
When the current Panda 4x4 was launched in 2012 as a companion to the third generation of the model, it arrived just as the world was embracing crossovers and SUVs with glee. The timing was ideal and the 4x4 has never looked back. Instead, it has gone on to add the Cross version, which isn't a model that's a little bit angry but has more dirt-busting kit to make it an even more capable off-roader.
The 4x4 comes in a single, high spec trim level to cement its position as the range-topper in the Panda range. Opt for the Cross and you get the same levels of kit but with an extra low first gear to help when tricking over rough terrain. It also has Terrain Control to give three settings for rough road driving that includes Descent Control to keep things in check when heading down slippery slopes.
The Cross is also easily identified by its even chunkier body styling that brings a front skid plate that actually works rather than being for show. There are also scratch-resistant plastic panels on the outer bodywork, different headlights and even permanently attached tow hooks to show this is a proper mud basher.
Whichever Panda 4x4 you prefer, there's a choice of 0.9-litre TwinAir petrol engine or the 1.3-litre Multijet turbodiesel. The two-cylinder TwinAir motor is packed with character thanks to its strong low-down power delivery and offbeat engine note. However, it rarely gets close to its claimed fuel economy figures, so the 1.3 turbodiesel is the better bet for those wanting to extend mileage between fuel stops. However, the diesel is no longer available new so you will be looking at a used model for this motor.
Neither engine is especially quick in performance terms and the Panda 4x4 can feel a little high-sided when driving on normal roads. Yet it's still good to use and its superb off-road ability counters its on-road foibles in a way only the old Land Rover Defender could ever match.
If you're looking for the standard Panda, you need our Fiat Panda (2012-) review.
Comfort and design
"One thing the Fiat Panda driver will find in abundance inside the car is headroom. The tall-sided styling of the car means you will always enjoy some clear air above your dome no matter how tall you are."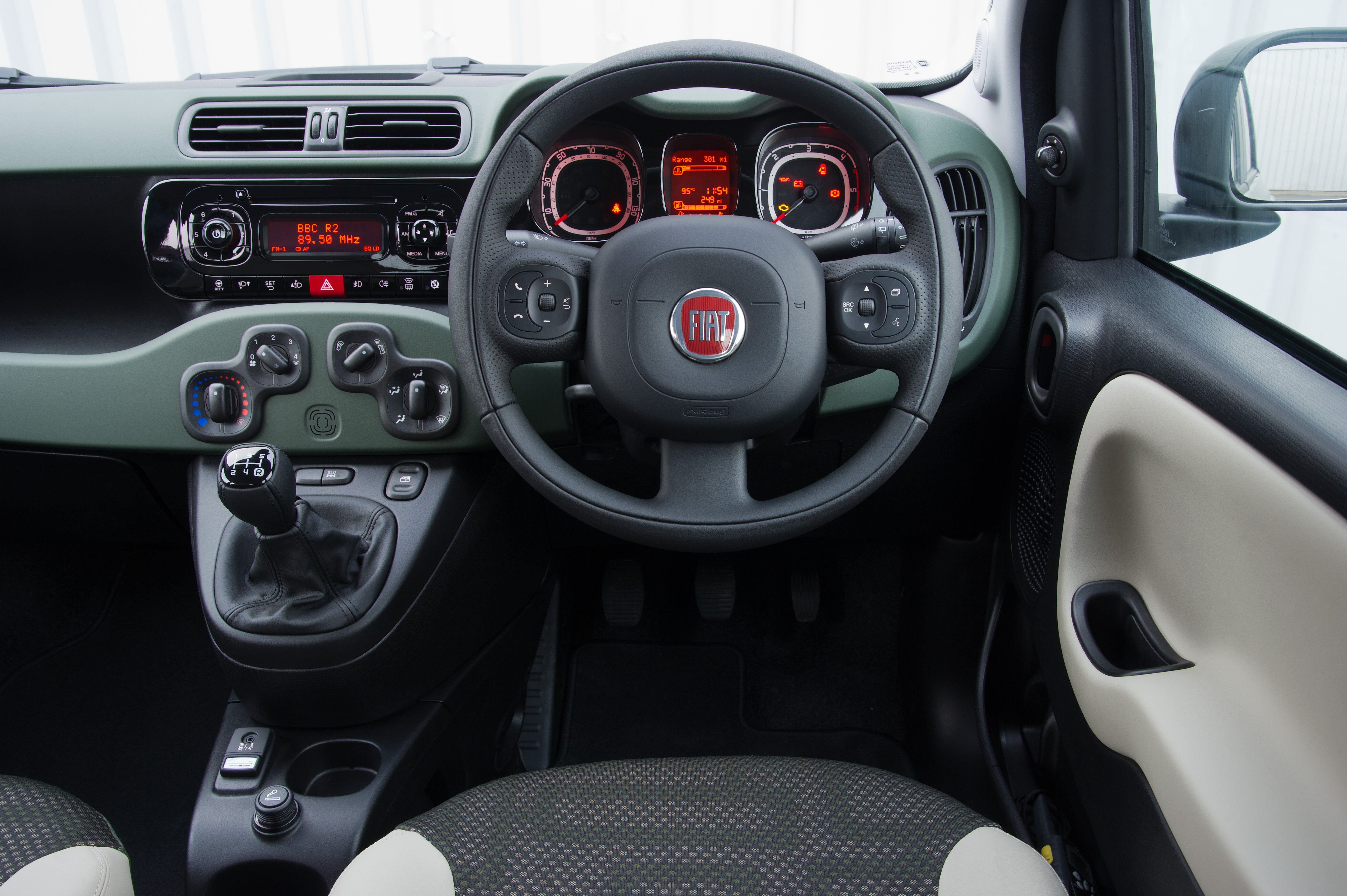 It's not quite such good news when it comes to the amount of room for elbows and knees for anyone six feet tall and above. These drivers will find the joints of their limbs coming into contact with some hard surfaces now and again, which is more of a general criticism of the Panda range than the 4x4 model in particular.
This is not to say the Panda's driving position is poor – it's not. Most will find it comfortable and with enough adjustment for the seat and steering wheel to tailor it to suit. We also like the support offered by the front seats that provides just enough cushioning under your thighs for longer stints behind the wheel.
Vision from the driver's seat is better than in most rivals to the Panda, again thanks to its tall-sided styling and the small windows in the rear pillars that let in a bit more light and view of what's behind. It makes it easier to change lane with a glance over your shoulder or parallel park into a bay.
There's some storage dotted around the front cabin, though not as much as we'd like, and the oddly shaped handbrake lever makes it harder to use than it should be. In a utilitarian car, why not a simple lever?
Handling and ride quality
"The Fiat Panda 4x4 has two very distinct sides to its driving character, and both are happily very pleasant. On the road, the suspension is supple and makes easy work of dealing with cracked and gnarly road surfaces. It makes the Fiat a more comfortable small car to drive than many in this sector".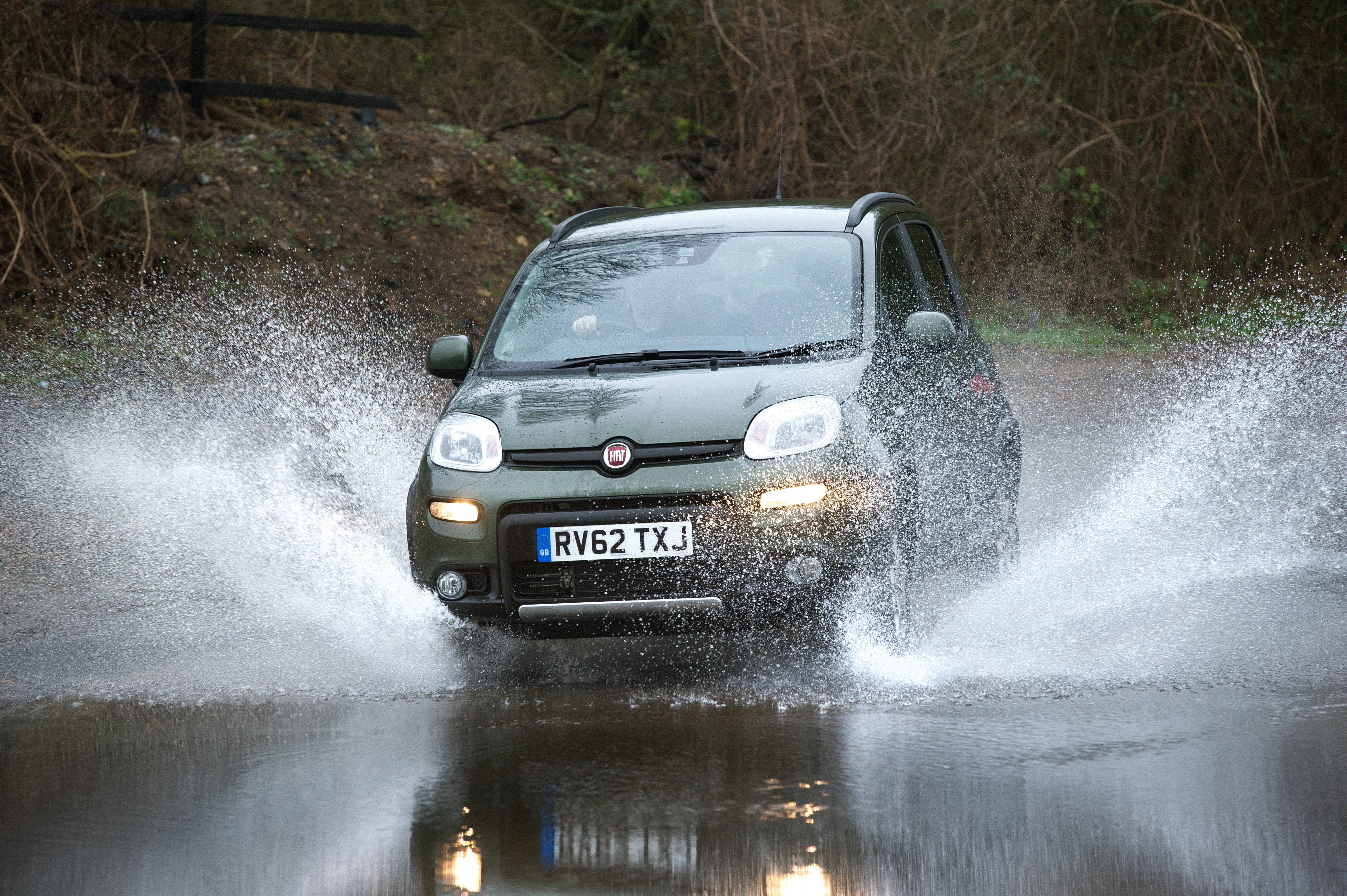 No such worries with the Panda 4x4 thanks to its off-road slant in design and execution. The downside is there's more body lean in corners even at moderate speeds, but it's not as if the car is lolling around like a dinghy in a Force 10 gale. Driven with a modicum of understanding of its raised ground clearance compared to a standard Panda and the 4x4 can be hustled along just fine, even on motorways.
Around town, the 4x4 is an ideal urban terrier and you get the same City button as in other Panda models to lighten the steering for rapid parking moves. Vision for the driver is good, so swapping lanes is simple and the brakes respond quickly to any press on the pedal.
Head into the wilds, where the 4x4 finds it natural habitat, and the other clearly delineated side of this Panda's brief becomes obvious. It will tackle lanes and tracks with ease that you would think twice about in most more obvious SUVs. The compact dimensions of the Panda mean it can wriggle through spaces others will need to circumnavigate and even going up or down steep slopes hold no fear for the Panda 4x4 driver.
If you want to delve deeper into the countryside, the Panda Cross will carry you even further thanks to its Terrain Control system to fine-tune the 4x4 system. It also has extra underbody protection to keep it safe from rocks and tree roots.
MPG and fuel costs
"The TwinAir turbo petrol is the only engine offered in the Fiat Panda 4x4 new. In the standard model, it has a claimed official fuel economy of 37.7mpg using the latest WLTP figures and 129g/km carbon dioxide emissions. Surprisingly, the more off-road biased Cross claims 38.7mpg, but 163g/km emissions."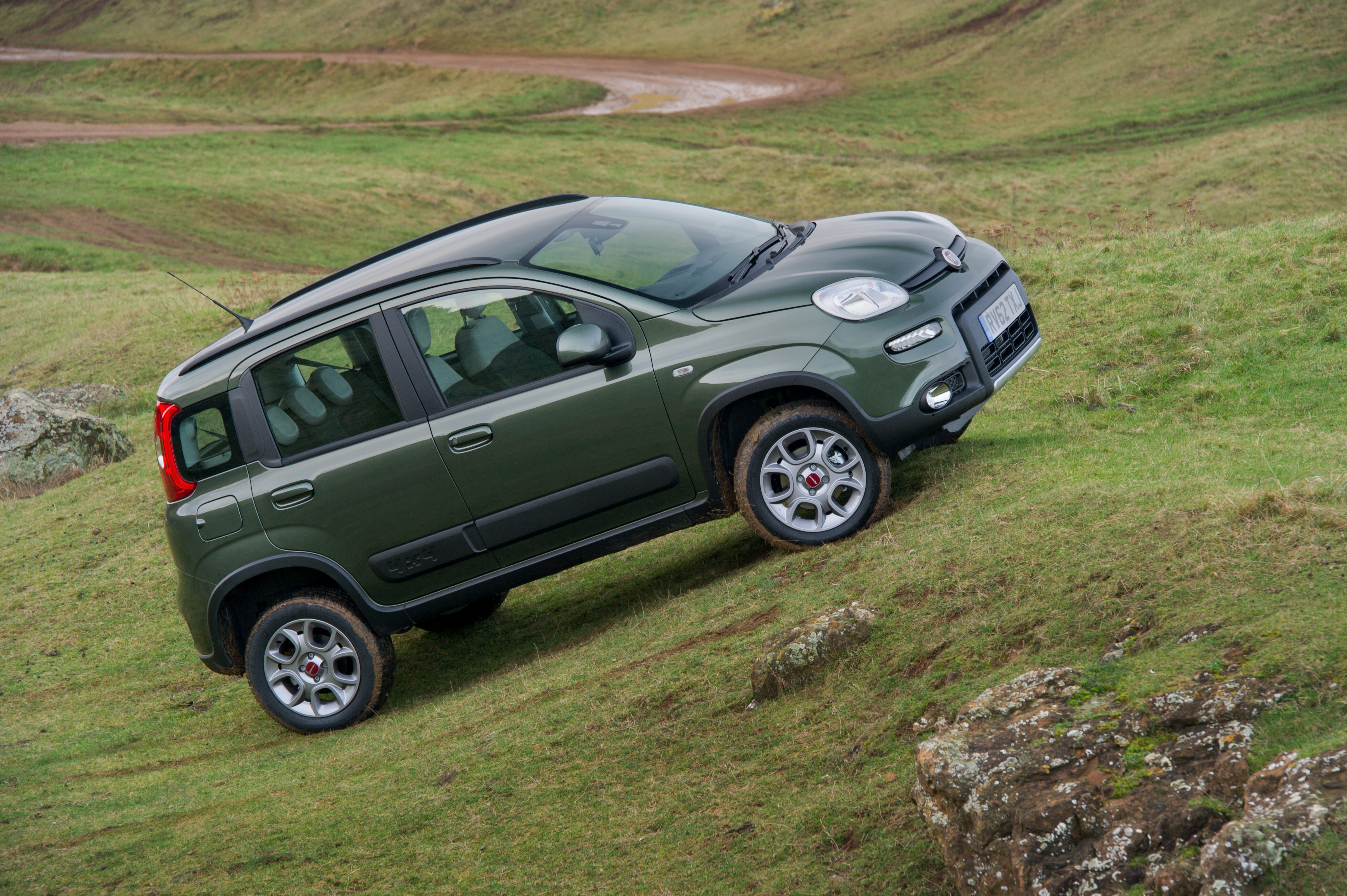 Real MPG figures show the TwinAir is likely to return 41.3mpg in the 4x4, which was 74% of its previous claimed official combined economy. For the Cross, the figure is 39.2 for Real MPG and for this and with the 4x4 you can look forward to bettering its revised official figure.
For the diesel, the 1.3 Multijet claimed 60.1mpg but Real MPG showed this was 52.7mpg, or 88% of the claimed figure.
How much should you be paying for a used Fiat Panda 4x4?
"Shop around and you can save up to £1500 on a brand new Fiat Panda 4x4 or Cross, while pre-registered examples, with delivery mileage only, can be found from dealers for £2500 below list price."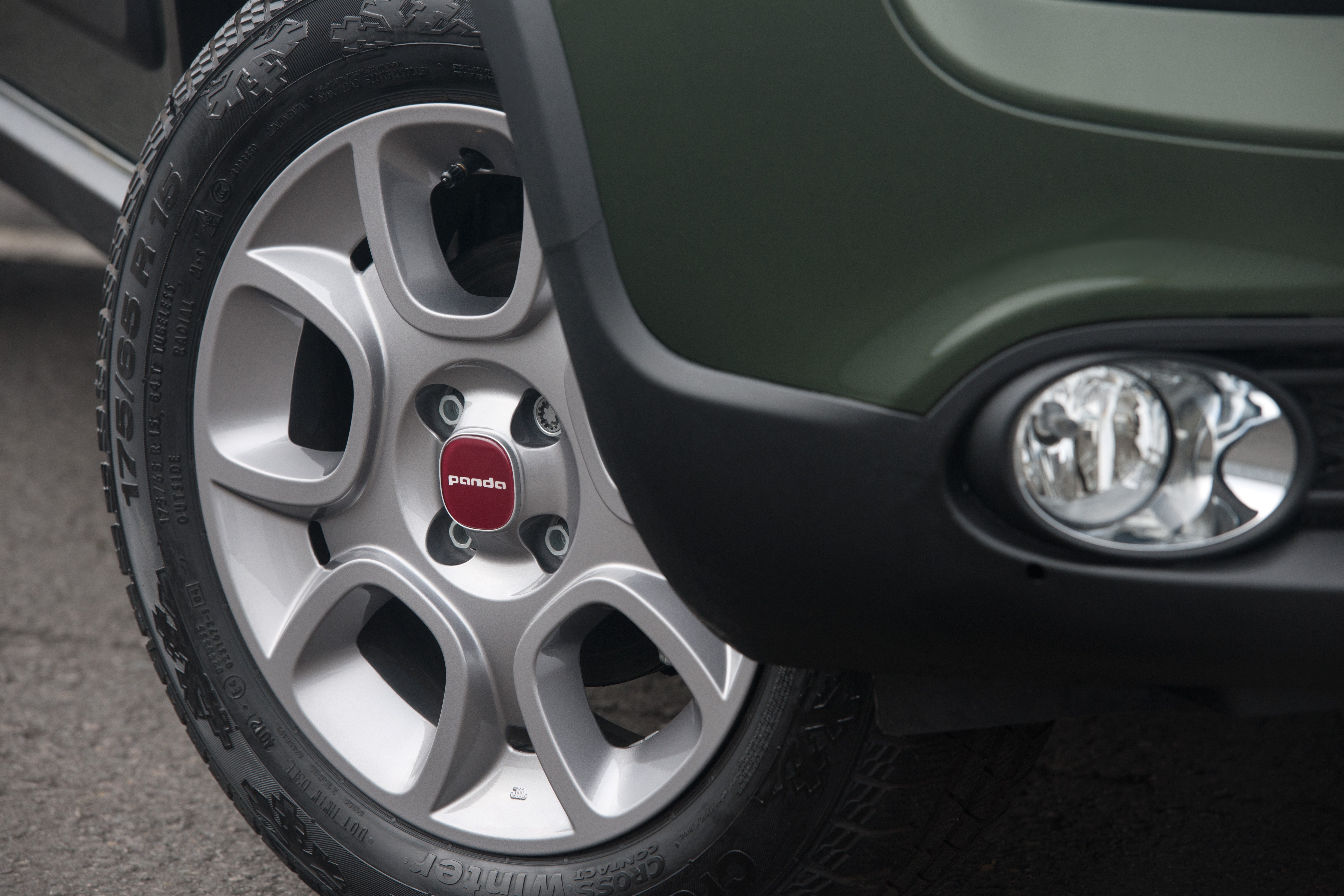 Move to a one-year old example with 10,000 miles on the clock and you can expect to pay around £11,500 for either a petrol, or one of the last of the diesel examples. Move the goalposts to three-years old and prices dip to £8500.
Go for an early version of this third generation Panda 4x4 and you can choose from plenty at £3500 with 80,000 miles.
Is the Panda 4x4 right for you?
Live in the sticks or need to tackle poor roads on a routine basis? Then the Fiat Panda 4x4 could well be the answer you're looking for. Many drivers don't want a cumbersome large 4x4, especially on narrow rural lanes or in town, so the compact Fiat is the perfect solution as its small footprint makes it easy to park and pilot along back roads.
That compact size also makes it very nifty off-road where it pads along mucky tracks where most other 4x4s are battering the countryside into submission. The 1.3-litre Multijet turbodiesel engine is easy on fuel, while the 0.9-litre TwinAir two-cylinder petrol bristles with attitude and good low-down lugging power.
It's not the roomiest car inside, but the Panda 4x4 is the perfect second car for a household, for taking the dogs and kids out, t or getting to the station in the depths of winter. A surprisingly luxurious level of equipment also appeals and you can also opt for the Cross model if you want the head even further into the wilds.
What's the best Fiat Panda 4x4 model/engine to choose?
On paper, the Fiat Panda 4x4 with the petrol TwinAir engine is the clear choice for its mix of fuel economy and better performance than the 1.3-litre Multijet turbodiesel. On the road, the reality is more complex as the petrol engine rarely gets close to its claimed official consumption, partly as the engine is at its best when revved.
For those looking to keep their ownership costs as low as possible, then, the diesel wins out even if it's only available as a used car now. However, this is another area where the equation is complex as the diesel is lethargically slow in town or on the motorway. The TwinAir is much zippier and more fun to use, so it gets our vote as the best all-round option.
We also prefer the six-speed manual gearbox that comes with the petrol engine to the more slow-witted feel of the five-speeder used in the diesel. If you need a serious off-roader, take the Cross, but for everyone else the standard 4x4 is fine.
What other cars are similar to the Fiat Panda 4x4?
There is very little that comes close to the Fiat Panda 4x4, either as an off-roader or for downright appeal. The only serious threat comes from the Suzuki Jimny that is even more capable off-road but less refined when driving on normal roads, and the Suzuki is also more expensive to run. Similarly there's the bigger and more expensive Jeep Renegade.
Dacia's Duster is bigger and equally sure-footed off-road, but it feels less sophisticated than the Fiat and the cabin doesn't have the same air of quality. As for wannabe SUVs like the Ford Fiesta Active and Audi A1 Citycarver, they drive well in the city and on faster roads but cannot hold a candle to the Panda when the going gets rough.
Quality and finish
Fiat has pulled off a masterful job of making the Panda 4x4's cabin very appealing thanks to the mix of material finished and colours. There's also the Panda-wide use of 'squircles' – rounded-off squares – for much of the details such as the heating controls.
Given the relatively high list prices of the Panda 4x4 and Cross, this show of design and thought helps to soften the blow. However, it doesn't take long to discover a lot of this is easy on the eye but less so to the touch.
Where many of the plastics meet, you'll find rough edges or uneven gaps, which betrays the Panda's origins as a cost-effective small car rather than a glamorous SUV. Even so, the quality of construction is on a par with most rivals and the Panda 4x4 is known to last well even when hard used.
Infotainment
The Fiat Panda 4x4 does not come with the touchscreen technology of many rivals that have been launched since the Panda's arrival in 2012. What you get instead is Fiat's Uconnect system that encompasses the radio, DAB and Bluetooth connection. It also has audio streaming, voice recognition and both USB and aux-in ports.
All of this is run using your smartphone and there's a mounting point in the middle of the dash-top. You slot your phone into this and it becomes the infotainment display for navigation and other apps. It can recharge your phone while it's in this cradle and the Uconnect system is standard with both the 4x4 and Cross models.
Where the Uconnect falls short of more modern integrated infotainment system is it positions the screen further away from the driver and most smartphone screens are smaller than built-in displays. It makes switching between apps trickier on the move and can also mean the sat-nav screen is too compressed to read easily at a glance. However, it's still a step up from the older Blue&Me system used in older Panda 4x4s.
 Space and practicality
Fiat has worked hard to maximise practicality inside the Panda 4x4. So, you'll find the front passenger seat's back can be folded down flat to create a table or, more usefully, allow longer loads to pass easily through from the back on those trips home from the DIY store.
Move into the back seats and there are two seats as standard. There's the option for three passengers with a trio of three-point belts and headrests. This might be just about possible with young children, but forget it with older children or adults. With these age groups, the rear bench is limited to two people because the width of the car limits how many people can sit here comfortably. It's also not great for room for taller occupants' knees, but headroom is generous to a fault.
The rear bench seat can slid forward to increase boot capacity from the normal 225-litres, which is reasonable for a city car, to a more accommodating 260-litres. For bigger loads, the rear bench can be divided and folded forward to free up as much as 870-litres. This is not going to fit all the kit and caboodle that a much larger SUV can, but the Panda 4x4 will still easily haul logs or carry the dogs.
Access to the boot is among the best in this class for the Fiat thanks to the square-rigged shape of the car. This means the boot opening is unhindered by lights or the body shape curling into the aperture, so it's simple to fit in bigger boxes than you might first think would stow into the Panda's boot. The only problem here is, with the rear seats folded forwards, there is a large step from the boot floor up to the base created by the seat backs and they don't stow completely flat.
As for other storage areas in the Panda cabin, it has door pockets in the front that easily hold a bottle of water and a large open tray in front of the passenger. Underneath this lies a small glovebox.
Engines and gearboxes
Fiat kept it simple for Panda 4x4 buyers with a straight choice between one petrol engine and single turbodiesel until recently when it dropped the diesel and only offers a petrol motor.
Still, starting with the diesel for those going down the used car route, it's a 1.3-litre Multijet motor that comes with a five-speed manual gearbox as it's only transmission choice.
The diesel is easy on fuel, but it's also equally relaxed when it comes to acceleration and takes a very leisurely 14.5 seconds to meander from rest to 62mph. While the Panda 4x4 is never intended to be a performance car, it would still be handy to keep up with the flow of traffic rather than feel the nostrils of trucks breathing down upon you as the car strains to build pace.
As a result, our preferred under-bonnet occupant is the 0.9-litre TwinAir turbo petrol engine. Despite its diminutive capacity, the TwinAir offers up plenty of low- and middle rev urge, all accompanied by its trademark and appealing growl. Whether you're heading up the Eiger or the Edgware Road, this engine pulls well and is also happy to cruise on the motorway.
The TwinAir engine comes with a six-speed manual gearbox only, but the Cross model has its own version with an extra-low first gear. This helps it to trickle over rough ground and maintain control when going down slithery slopes. The Cross also has Terrain Control to further help off-road with Auto, Hill Descent and Off-Road modes that varies the division of power between the front and rear wheels and also has an Electronic Locking Differential to further enhance traction on low-grip surfaces.
Refinement and noise levels
It may be a small 4x4 riding on chunkier tyres than other Fiat Panda models, but the 4x4 and Cross versions are both very good at keeping noise out of their cabins. There isn't a lot of tyre rumble, even at highway speeds, so you will be able to carry on a conversation without resorting to shouting and hand gestures.
Other sources of noise intrusion are also well suppressed, so you'll discover wind noise is on a par with the better cars in the small car sector. Granted, it's not quite as good as a Volkswagen Up, but the Panda is still good enough to make longer trips nothing to fear.
As for the engines, both the petrol and diesel mind their own business when cruising or pottering around town. The TwinAir petrol makes itself more known when revved hard, but it comes with a satisfying growl that makes you want to use its rev-happy nature more. When idling in traffic, the TwinAir does let a few vibrations resonate through the car, but in most cases the stop-start system will cancel this out when used to save fuel and emissions.
Safety equipment
Aside from coming with all-wheel drive as standard, the Panda 4x4 has twin front and side airbags. You also benefit from ESP and a tyre pressure monitoring system, as well as ABS anti-lock brakes.
The Panda Cross gains the Terrain Control system with its three modes for Auto, Hill Descent and Off-road use. This varies the power between the front and rear wheels and also has an Electronic Locking Differential to aid grip on slippery tracks.
All of this was enough to earn the Panda a four-star rating from Euro NCAP in 2011, but things have moved on since then. To improve the Panda 4x4's safety performance now, you have to pay an extra £450 for the optional Safety Pack that comes with electrically adjusted and heated door mirrors, rear parking sensors and City Brake Control. This last feature applies the brakes for an emergency stop if it senses the driver has not reacted to a hazard in the road ahead. It works up to 19mph to avoid a collision altogether, while at higher speeds it helps to mitigate the consequences of a potential crash due to the driver being distracted from the road ahead.
Insurance groups and costs
While some 4x4 owners will be presented with hefty annual bills for their insurance premium, this is unlikely to be a concern for Fiat Panda 4x4 owners. The standard 4x4 model falls into a lowly group 7 band, while the Cross edges up into group 10.
Both of those bandings mean any driver with a few years of no claims history behind them will find getting cover for either the 4x4 or Cross models very affordable.
VED car tax
A Fiat Panda 4x4 with the 0.9-litre TwinAir petrol engine will land you a first-year road tax bill of £175 and then £150 for each after that.
4x4s registered before 31 March 2017 with these emissions will pay £125 each year, while the Cross will come in at a pricier £205.
For the diesel 1.3-litre MultiJet, its 117g/km CO2 output attract road tax at just £30 for cars registered prior to 31 March 2017, while newer versions will be taxed at £150 per annum.
Trim levels and standard equipment
As the top line model in the Fiat Panda range, the 4x4 comes with plenty of kit, including 15-inch alloy wheels, roof rails, chunky bumpers and plastic extensions around the wheelarches and sills. The 4x4 has seats trimmed in half cloth and eco leather, electric door mirrors and front windows, and a height adjustable driver's seat. You also get air conditioning, Uconnect infotainment. However, you have to pay £100 for a DAB radio, and you may well want to add the £280 Winter Pack for heated front seats and windscreen, as well as the £450 Safety Pack that brings City Brake Control and rear parking sensors. A space saver spare wheel is a further £60.
For the Cross, additional standard equipment includes its own unique front bumper and headlights, front tow hooks painted red, and Terrain Control.
Learn more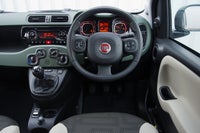 On the inside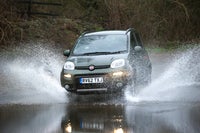 Driving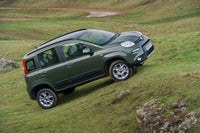 Cost to run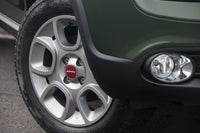 Prices and Specs
Common questions
Keep me updated by email with the latest advice, news and offers from heycar
By submitting, you agree to our
privacy policy
.
Popular models
Similar models