Tipo Station Wagon Review
Fiat Tipo Station Wagon Review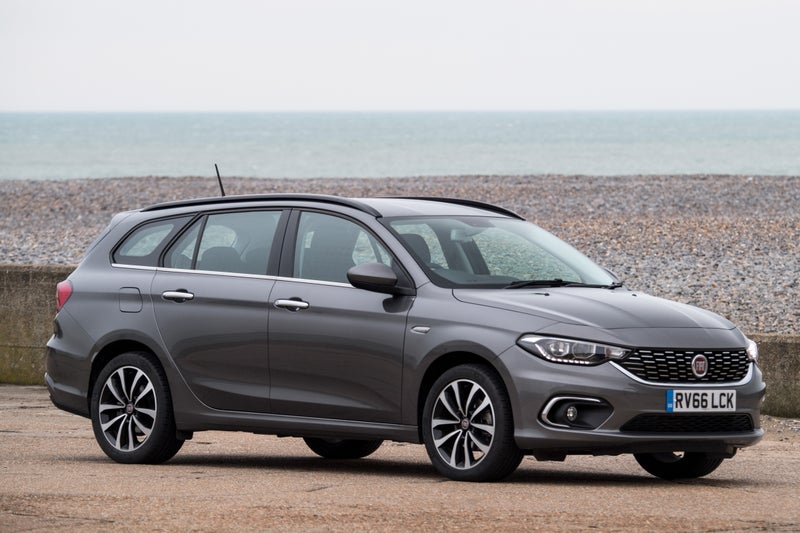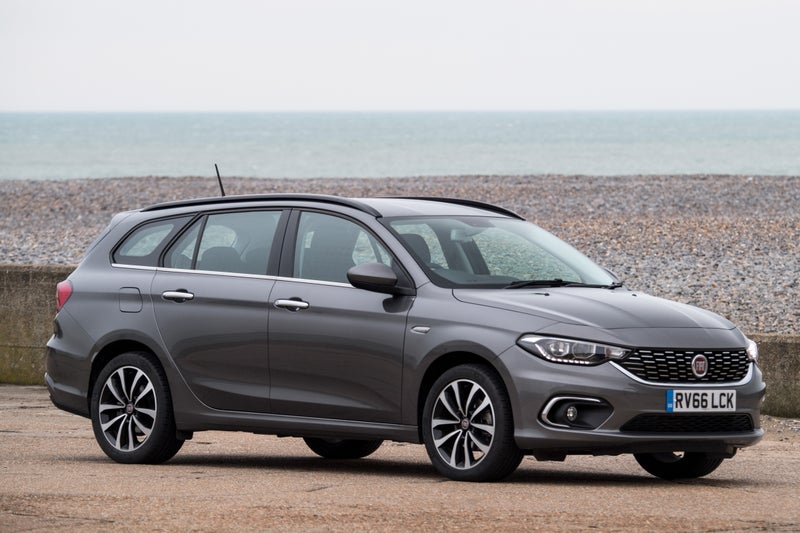 1/10
heycar rating
"Good on value, little else..."
Launched: 2016

Estate

Petrol, Diesel
Quick overview
Pros
Generous cabin and boot space
High standard specification
Competitive pricing
Cons
Adequate driving experience
Cheap-feeling cabin
Generally poor noise levels
Overall verdict
On the inside
Driving
Cost to run
Prices and Specs
Overall verdict
"There are several things that the Tipo Station Wagon has going for it, namely its ability to  carry passengers and luggage with relative ease, the good specification levels and the competitive pricing. It also should be relatively cheap to run too, but it is not great to drive, particularly comfortable or of high quality."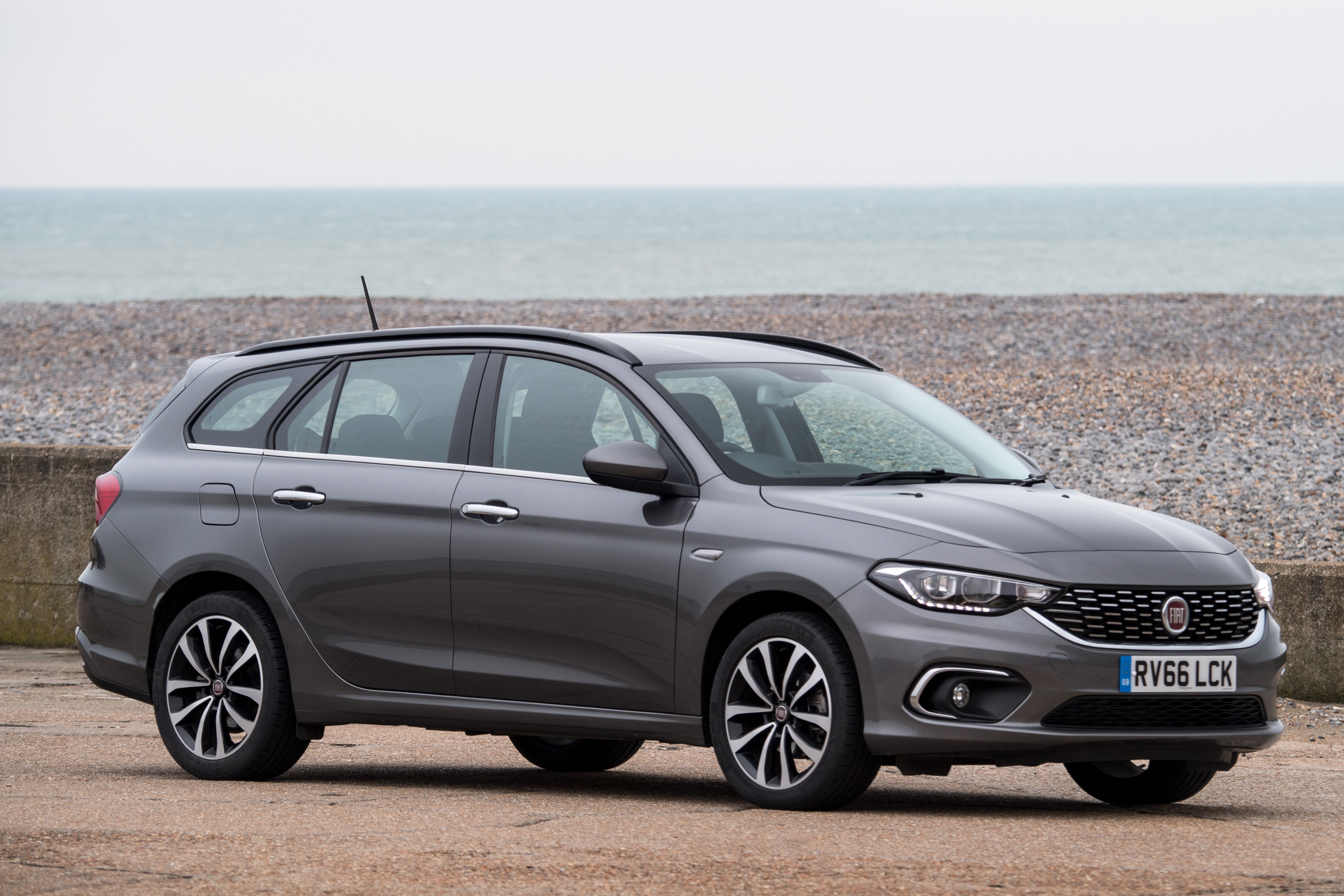 First impressions of the Tipo Station Wagon are somewhat low-key. Where the Fiat 500 is instantly recognisable and has remained visually almost unchanged in more than a decade, the Tipo Station Wagon is quite conservative in its appearance. If it didn't have a Fiat badge on the nose you'd be hard-pressed to put a name to it. Buyers of bigger cars are perhaps less interested in making a style statement, but the Tipo plays it ultra-safe.
There's better news once you step inside. For starters, the cabin of the Tipo Station Wagon is impressively spacious. You can fit taller adults in the front and in the back with relative ease - even at the same time - and in particular headroom is good across both rows of seats. The boot space is also impressive, and is ahead of some of the key players in the class, so on a pure cash-for-space reckoning the Tipo performs well. It can't quite match the room you get from the Skoda Octavia, but then no rival really can.
Other aspects of the cabin are a little less impressive however. The Tipo Station Wagon can't compete with the big players in the class in terms of quality like the Volkswagen Golf, but it even lags behind the more modestly-plush competition such as the Renault Megane and Vauxhall Astra. It feels like a somewhat cheap affair, and while this is fine if you're paying as little as possible the argument falls down on the higher specifications that are no better.
The Tipo Station Wagon has a small engine range in comparison with many of its rivals, with a choice of two petrol and two diesel engines. None of the options are particularly powerful, so it makes sense to choose the turbocharged 1.4-litre petrol and the 1.6-litre diesel in order to ensure adequate performance. The diesel offers the better compromise of performance and economy but is less refined than the petrol, so it is a toss-up between the two depending on your needs and wants.
In summary, the Tipo Station Wagon is spacious, well-equipped and good value, so on paper it makes a good case for itself. Unfortunately it is less compelling once you're behind the wheel, and although you can tell yourself you've got a bargain there are rivals offering just as much value but with a better driving experience and more welcoming cabin.
If you don't need the estate, try our Fiat Tipo (2016-) review.
Is the Tipo Station Wagon right for you?
There are plenty of people who need a compact estate in their life, whether it's for family use, load-lugging across the country or just having the flexibility of the space, and for all of them having a big load area and space for passengers is generally paramount. In this respect the Tipo Station Wagon is a worthy candidate, and the fact that it is good value for its space and is well specified is a further bonus.
However, other aspects of the Tipo's abilities let it down somewhat. The interior is of middling quality, the engine range is adequate and the driving experience is rather lacklustre too, with neither good handling or a comfortable ride. On pure financial aspects the Tipo is competitive, but move beyond the numbers and it is behind its competitors in several key areas, making it difficult to recommend ahead of those rivals.
What's the best Tipo engine/model to choose?
If you want the quietest Tipo model and are less concerned about fuel consumption, then the 1.4-litre turbocharged engine is the one to go for. It offers reasonable performance and is not excessively thirsty either, and is the most refined on the move. With more torque from lower engine speeds the 1.6-litre diesel feels better to drive, but the downside is increased noise and vibration. However it is the most economical offering, so if you have to carry heavy loads and plan on doing big miles, it is the best engine to go for.
The standard specification of the Tipo Station Wagon is actually pretty generous, so for once there's no shame in going for the basic version. You get things like air con, DAB and Bluetooth on the basic Easy trim, but it's just a small step up to Easy Plus which adds welcome extras like a touchscreen, leather on the steering wheel, rear electric windows and cruise control, which makes it the most sensible choice.
What other cars are similar to the Fiat Tipo Station Wagon?
Before signing up for a Tipo you may wish to consider the multitude of alternatives that make up the compact estate segment. Ford's Focus Estate is a better drive, Volkswagen's Golf Estate is more expensive but is nicer inside as well as more comfortable, and the Skoda Octavia Estate is even bigger inside than the Tipo but is also more refined and close on price too.
If value is the big factor behind your decision making you could even consider the Dacia Logan MCV or Stepway, which strip out all the key essentials including a decent driving experience, but also manage to chop thousands from the list price.
Comfort and design
"Climb into the Tipo Station Wagon and you should find it quite easy to find a suitable driving position. Happily, both seat height adjustment for the driver and a rake and reach adjustment for the steering wheel are standard, and there's enough range of movement to ensure that a broad demographic will get the position they need."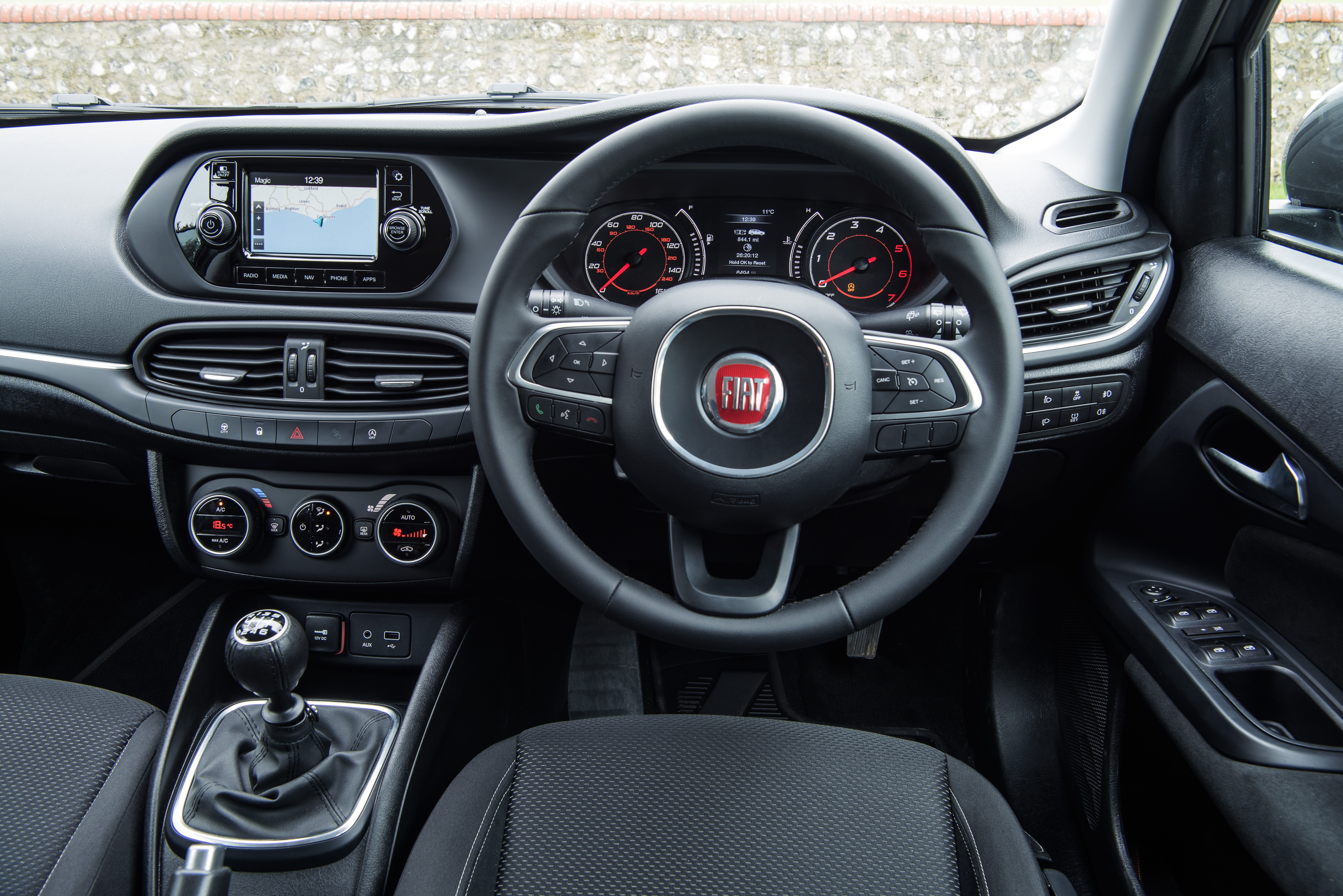 The layout of the Tipo's cabin is relatively simple, but there are a few quirks to get used to. On models with a touchscreen system, the display is sensibly placed high up on the dashboard but the size of the unit itself is smaller than average, which means it's much easier to use the click and turn wheel to make selections whenever possible.
The ventilation controls are also set well down on the dashboard which is not necessarily a bad thing, but that puts them quite close to the gearlever so that it can be a little awkward to reach if the car is in certain gears at the time. The rest of the controls are quite clearly labelled, although they feel somewhat flimsy to a prodding finger.
A further demerit is that the Tipo Station Wagon does not offer particularly good visibility, thanks to quite a narrow rear window even for an estate car. It is better than the hatchback in this respect however, and parking sensors go some way to mitigating the problem.
Quality and finish
At first glance the interior of the Tipo Station Wagon appears to be of a decent quality, with the odd flash of chrome detailing mixed with some piano black areas to give a little bit of interest.
Get a little bit closer however and the illusion is punctured, as for the most part the interior is made up of cheap-feeling hard plastic. Although part of the dashboard has a soft-touch finish it is only a relatively small area and one which is hardly likely to see regular contact from passengers, whereas the lower sections housing the controls are less pleasant to touch. Leather on the steering wheel, gearlever and handbrake are a help, but in general the material quality is quite disappointing.
It's a similar story in the way that the interior controls feel when being operated by the driver or passengers too. All the buttons and switches work well enough, but they feel a little flimsy when doing so, and considering the level of quality on offer from rivals in the segment it's hard not to feel a little short-changed by what is on offer.
Infotainment
The Tipo Station Wagon is available with two infotainment systems depending on the trim level. The basic Easy model comes with a DAB radio with Bluetooth and USB input for audio streaming and telephone operation, while the Easy Plus models and above add a 7-inch touchscreen. The mid-spec Lounge and top-spec S-Design model includes live data services and navigation too.
The basic system in the Easy model is perfectly adequate, and given that it is the entry-level model the inclusion of DAB and Bluetooth is welcome. If you're on the tightest budget you won't feel left out in terms of audio entertainment. On the higher grades the 7-inch touchscreen sounds good on paper but can actually be quite fiddly to use, particularly on the move. Many of the icons and buttons are quite small on the screen, making it difficult to tap on the desired area.
The most recent Tipo models have added a new design of touchscreen with a simplified button arrangement, and also incorporating Apple CarPlay and Android Auto, allowing you to use native apps and also bypass the need to go for the top spec models in order to get navigation in the car.
Space and practicality
One of the areas where the Tipo Station Wagon does particularly well is in terms of space for passengers and luggage. Front seat occupants will have little trouble in getting into a comfortable position, with excellent legroom and good headroom too. There's plenty of fore and aft adjustment in the seats, and the seating position makes it easy for the less able-bodied to climb aboard.
It's a similar story in the rear seats too, although as with most of its competitors it's not quite as generous as in the front. Two adults can get comfortable back here even if they are six foot tall.
There's fractionally less headroom in the rear but legroom remains good, so much so that one six-footer can sit behind another without too much knee in contact with the rear of the seat. Three adults across the back seats is possible, but typically the centre seat is much narrower and less comfortably-shaped than the outer two, so it is better suited to occasional use or younger children if need be.
Move to the rear and the Tipo Station Wagon really comes into its own, with a boot that is bigger than almost all of its key rivals. With the rear seats in place it offers 550 litres of space - not quite as much as the Volkswagen Golf or Skoda Octavia but more than the Vauxhall Astra and Renault Sports Tourer.
Drop the rear seats (with a 60/40 split option) and this increases to a huge 1,830 litres, more than any other car in this class - more room even than the Mercedes-Benz E-Class Estate from the class above. A little less impressive is how that space is managed, because although the space is a good shape the rear seats fold to leave a significant step rather than a flat area. The Tipo Station Wagon also does without an adjustable boot floor, something which is common across competitor cars.
There is reasonable space for oddments in the cabin too, with a good central cubby underneath the armrest and useful door bins.
Handling and ride quality
"Choosing an estate version of an existing hatchback suggests that space efficiency and carry capacity comes above less pressing concerns such as ride and handling, but the reality is that some of the cars in the sector manage to do both."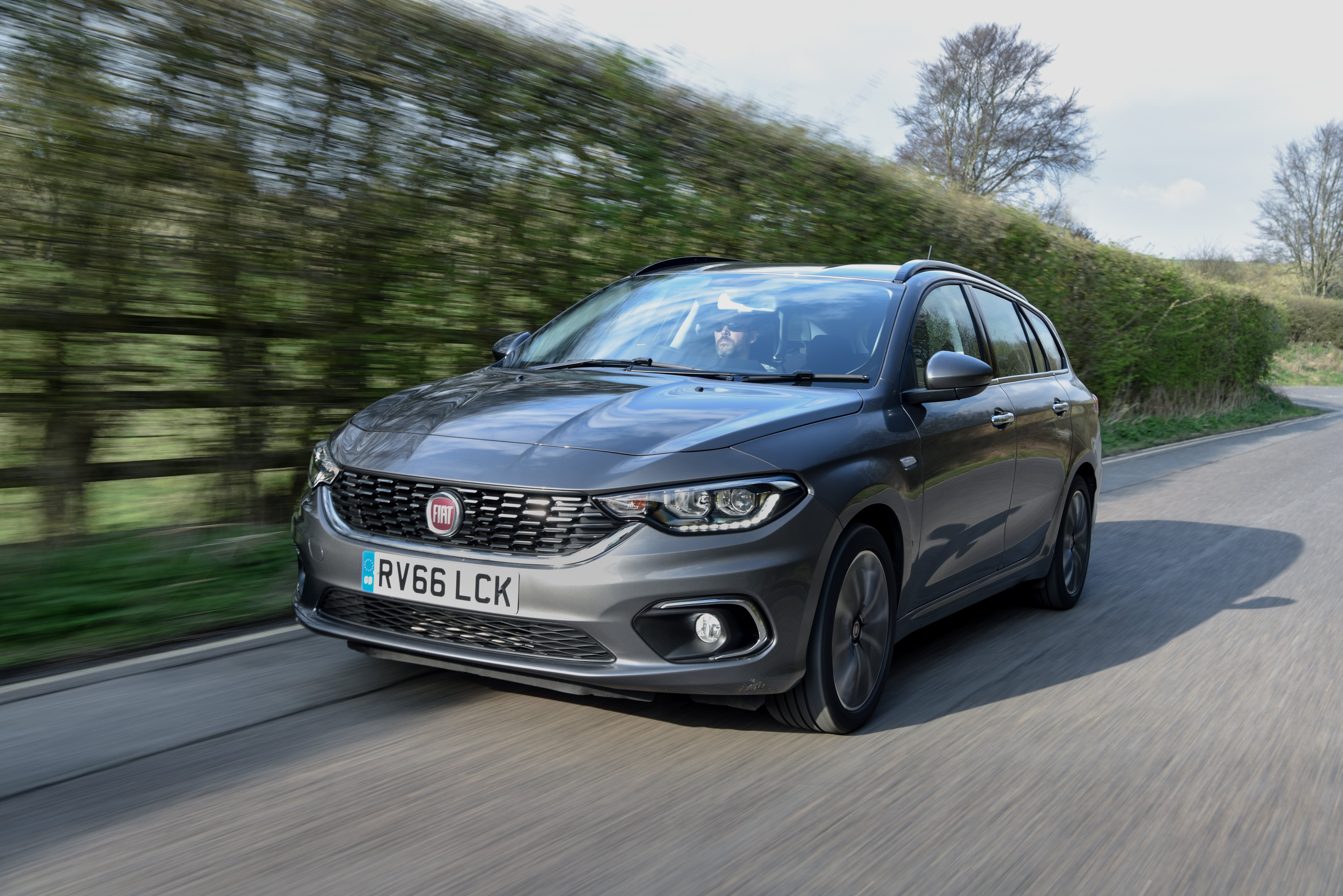 The Tipo hatchback is a competent if largely unexciting car to drive, and unfortunately the transformation into an estate has done little to change that. In normal driving, the Tipo Station Wagon isn't overly demanding of the driver, although the steering manages to be somewhat inconsistent in its weighting, seemingly lack much in the way of assistance when parking but being too light at higher speeds.
It's reasonably accurate, but there is very little feedback to the driver. All Tipos are fitted with a 'City' mode for steering which adds extra assistance and takes the sweat out of parking, but in any other driving it just makes it even more vague.
The steering doesn't aid the way the Tipo handles at higher speeds either. It feels somewhat unwilling to turn into a corner, and once you've done so there is quite a lot of body roll, making things uncomfortable for passengers and illustrating that it is not really keen to play along. There is a reasonable amount of grip on offer but less than the better cars in the class; if you want your estate car to entertain you, then the Tipo Station Wagon is not the car for you.
The slightly wobbly handling doesn't result in good ride quality either. Like any half-decent car it can cope with smooth roads and get along without too much fuss, but add bumps or undulations into the mix and the Tipo Station Wagon doesn't handle them particularly well, causing more fuss and transferring more motion into the body than is ideal.
Engines and gearboxes
There are just four engine options in the Tipo Station Wagon range, each of which bring a mix of positives and negatives. The entry-level 1.4-litre petrol that does without a turbo offers 95PS and a modest 127Nm of torque, and although it is cheap it does not offer much in the way of performance or fuel economy. It is reasonably quiet, but is arguably the least accomplished of the available options.
Far better is the turbocharged version of this engine, which instantly gets a power boost to 120PS but more importantly 215Nm of torque. It's still not a quick car, failing to reach 62mph from rest in under 10 seconds, but is better able to get up to speed in traffic and cruises more comfortably too. It's also the quietest and most refined option here, although it is still a little raucous when revved hard.
The 1.3-litre diesel engine has been dropped from the Tipo Station Wagon range for new purchases but is still available used. It's best avoided however, as it lacks sufficient grunt and is not particularly economical either. The 1.6-litre is probably the best all-round option, because while it isn't as smooth or refined as the 1.4-litre petrol it is economical and has better low-speed acceleration.
All engines are fitted with a six-speed manual as standard which is acceptably compliant, while the 1.6-litre diesel can also be specified with a six-speed dual clutch automatic. This option works quite well, but has quite a negative effect on fuel consumption and performance.
Refinement and noise levels
Anyone hoping that the Tipo Station Wagon will look after the passengers it can so easily accommodate will be disappointed, as it is lacking much in the way of refinement whichever engine you choose. The two petrol engines are the most refined, but the non-turbocharged version has to be worked harder to deliver any meaningful performance and as a result makes more noise more of the time.
Of the diesel options it is the more powerful version that is more refined; it's still noisier than the petrol alternatives but the additional torque means it does not require as many engine revs for decent acceleration.
The Tipo Station Wagon also manages to generate a little too much noise from other sources. On a decent-quality road there isn't too much in the way of tyre noise making its way into the cabin, but as soon as the road deteriorates a significant amount of rumble from the tyres is kicked up and intrudes into the cabin. It's a similar story with wind noise, which is largely absent at lower speeds but begins to pick up out of town and makes motorway journeys more tiring than is ideal.
Safety equipment
Euro NCAP tested the Fiat Tipo in 2016, and awarded it two separate scores; three stars overall for the standard version and four stars overall for the version with the safety pack. The scores for both versions are broadly identical. Euro NCAP awarded 82 per cent for adult occupant protection, 60 per cent for child occupant protection and 62 per cent for pedestrian mitigation. The standard model was awarded a lowly 25 per cent for safety assist, while the safety pack version had this increased to 57 per cent.
As standard, all versions of the Tipo Station Wagon are fitted with front airbags for driver and passenger, side and chest airbags for the driver and passenger and curtain airbags that cover the first and second rows of seats. There is no option of a driver's knee airbag.
Seat belt pre-tensioners are fitted in the front but not the rear, while seat belt load-limiters are fitted to both rows of seats. ISOFIX child seat mounting points are fitted in the outer rear seats, and there is an airbag cut-off switch for the front passenger seat.
ESC is fitted as standard, but there is no option for lane assist, an active bonnet or automatic emergency braking activated by a pedestrian. When Euro NCAP tested the Tipo the optional safety pack adds automatic emergency braking that is triggered by another vehicle as well as a speed limiter - now new vehicles are fitted with AEB as standard.
MPG and fuel costs
"The running costs of the Tipo Station Wagon are very much dependent on the engine choice you make, as there is quite a distance between the most and least efficient options."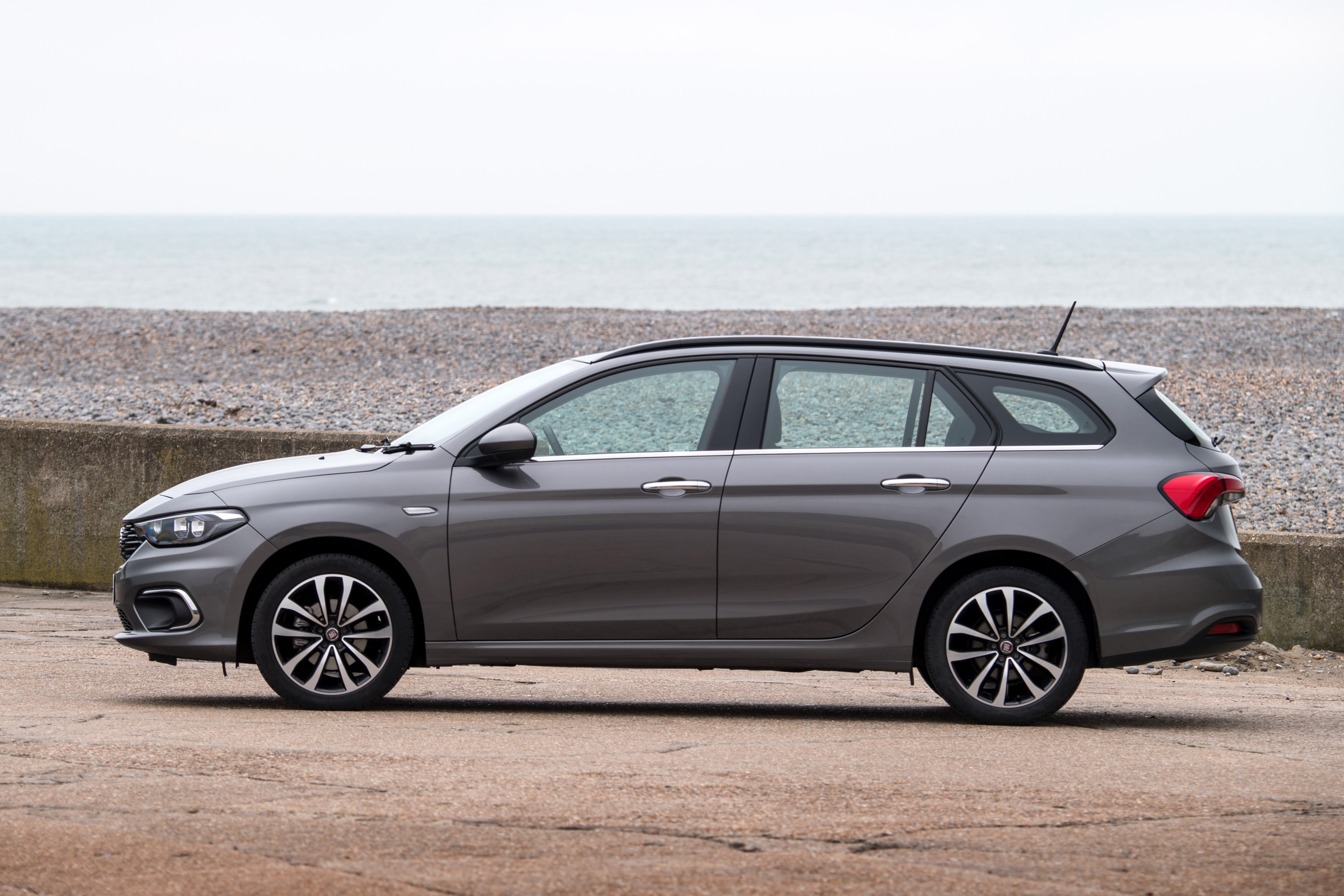 The entry-level 1.4-litre petrol is quite an old powerplant and without a turbo offers a best combined figure of 37.2mpg combined under the tougher WLTP rules, so expect mid-to-low 30's in normal driving. The turbocharged version of this engine is no better at 36.7mpg, but this is offset by significantly better performance that makes for easier driving.
The 1.6-litre diesel is the pick of the range in this respect, with a combined figure of 50.4mpg - certainly the best here but in the grand scheme of things it is not particularly competitive.
Insurance groups and costs
Because the Tipo Station Wagon range offers relatively modest performance, the result is the insurance groupings it falls into are also pleasingly low. In Easy trim with the 1.4-litre non-turbo petrol engine it falls into group 7, lower than some cars in the size class below. Easy Plus trim and above moves most engines up one insurance group, with the 1.6-litre diesel moving into group 15 and the highest of any model. If your premiums are generally low this could mean the Tipo costs peanuts to insure, and also may be a good choice if your premiums are usually on the high side.
VED car tax
Like many cars of this age the Tipo straddles the major VED changes that occurred in April 2017, so the amount of tax you pay will vary significantly based on the engine you choose but also the age of the vehicle.
Buy a new Tipo and it's very straightforward - you have to pay the most common £150 per annum VED rate. However, manual versions of the 1.6-litre diesel engine and the earlier 1.3-litre diesel registered before April 2018 qualify for the zero VED rate - the automatic version comes out at just £20 too.
How much should you be paying for a used Fiat Tipo Station Wagon?
"The Fiat Tipo has not been a huge sales success in the UK, and the Station Wagon version was less popular than the hatchback, so there is not a huge number of examples on the road."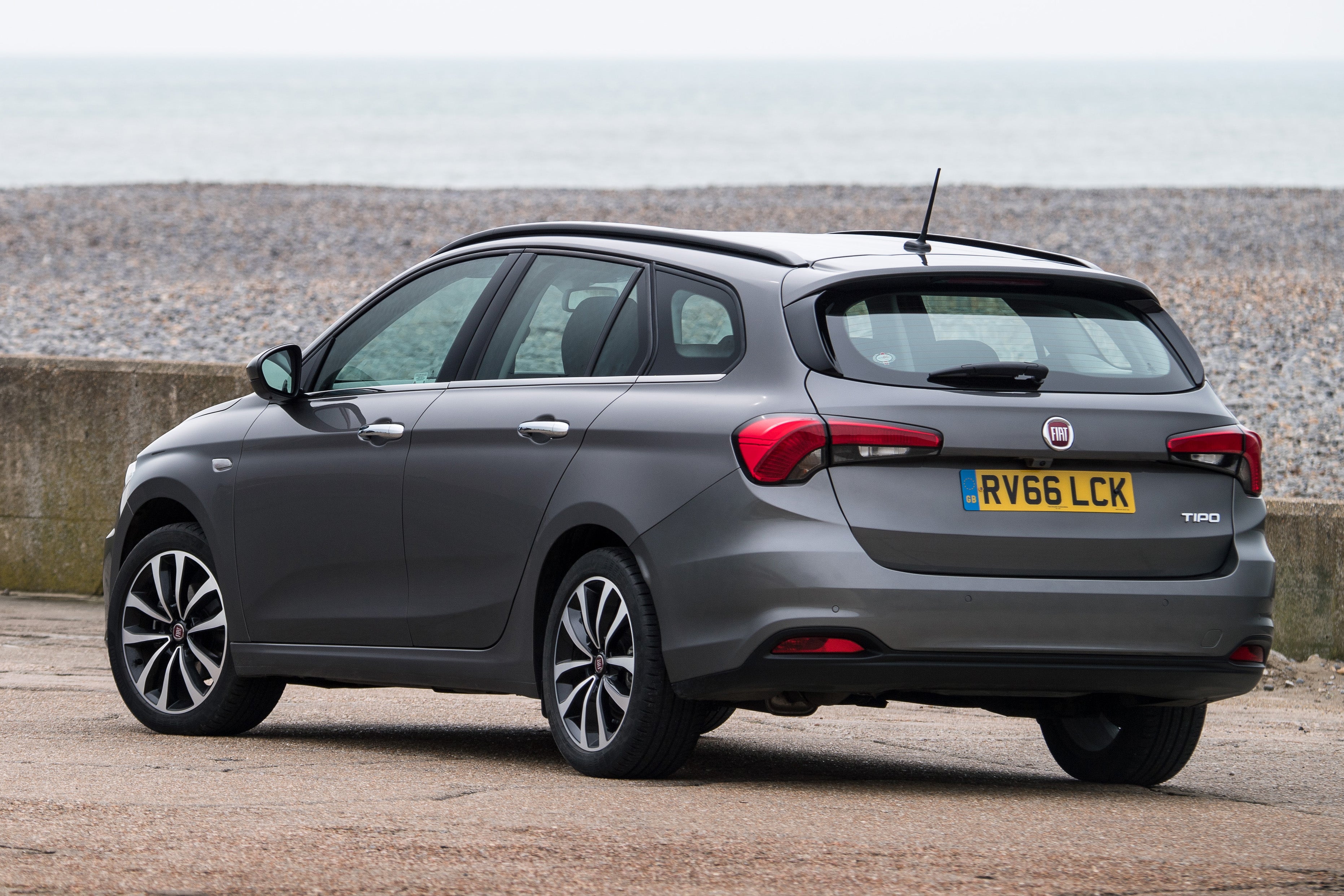 However, a quick search turned up several examples at a number of price points. A number of 2019 examples with very low mileage were available, including a 1.4 Easy model with just 120 miles on the clock for just £10,000."
At the cheaper end of the scale we found an early 2017 model with the 1.4-litre petrol engine and in Easy Plus trim and with under 30,000 miles on the clock for just £7,500.
Trim levels and standard equipment
Easy models come with steel wheels, electrically adjustable door mirrors, chrome door handles, roof rails, air con, a height adjustable drivers seat, steering wheel mounted audio controls, four electric windows, a DAB radio with Bluetooth and USB, and cruise control with a speed limiter.
Easy Plus adds a leather steering wheel and gearknob, a 7-inch touchscreen with Apple CarPlay and Android Auto, rear parking sensors and LED daytime running lights.
Lounge trim adds 17-inch alloy wheels, a chrome pack, climate control, electric driver's lumbar support, sat-nav and live services, a rear view camera and a visibility pack that includes rain and light sensors and an automatic dimming rear view mirror.
S-Design trim adds 18-inch alloy wheels, bi-xenon headlights, leather and fabric upholstery and tinted windows.
Keep me updated by email with the latest advice, news and offers from heycar
By submitting, you agree to our
privacy policy
.
Popular models
Similar models