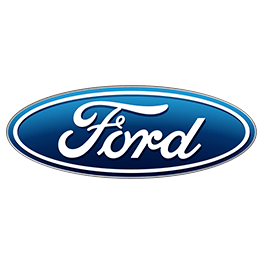 Ford B-MAX Review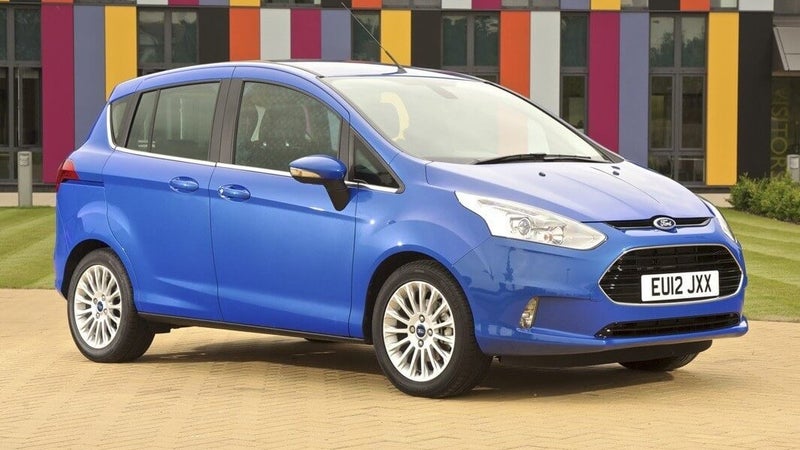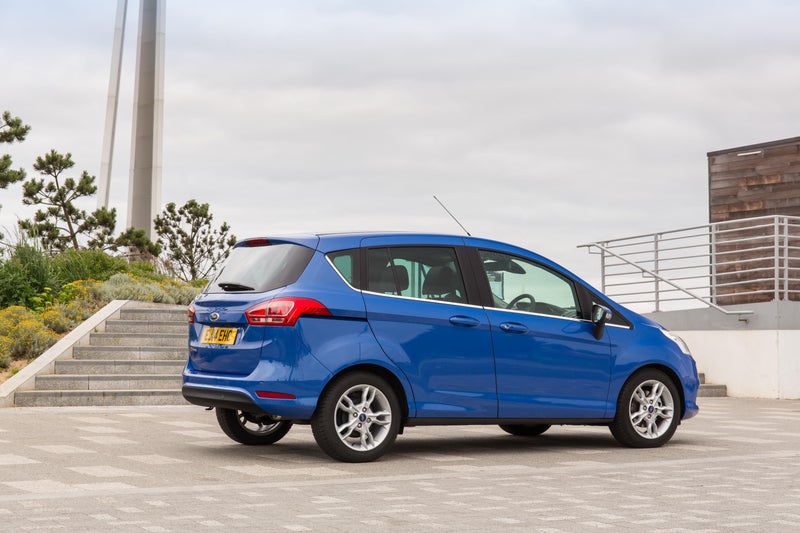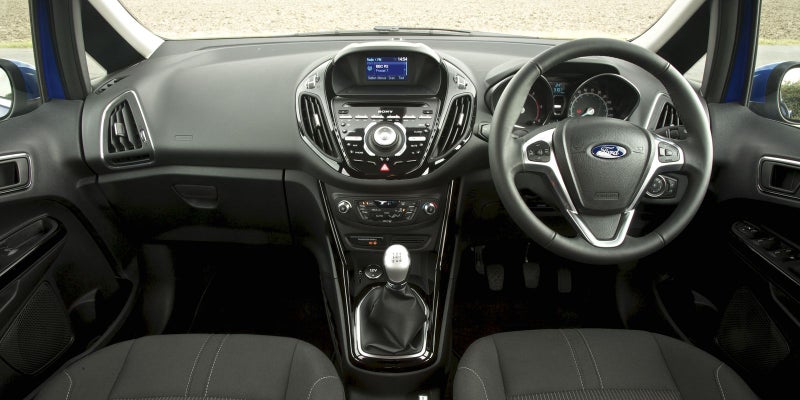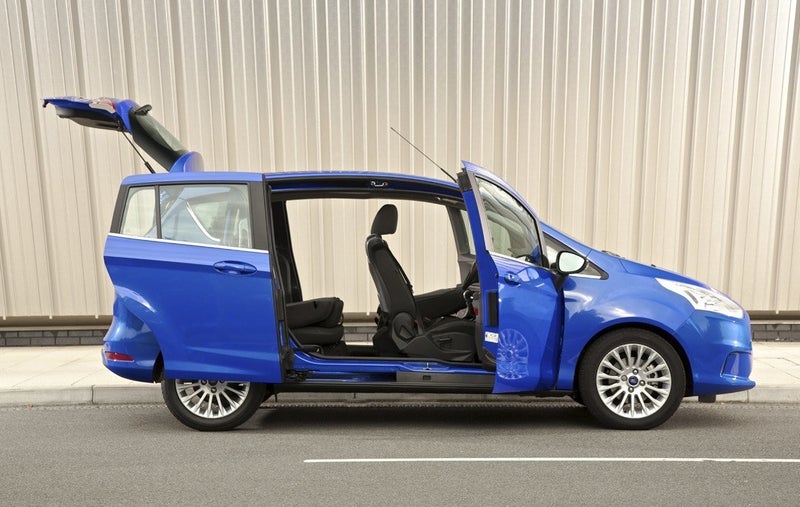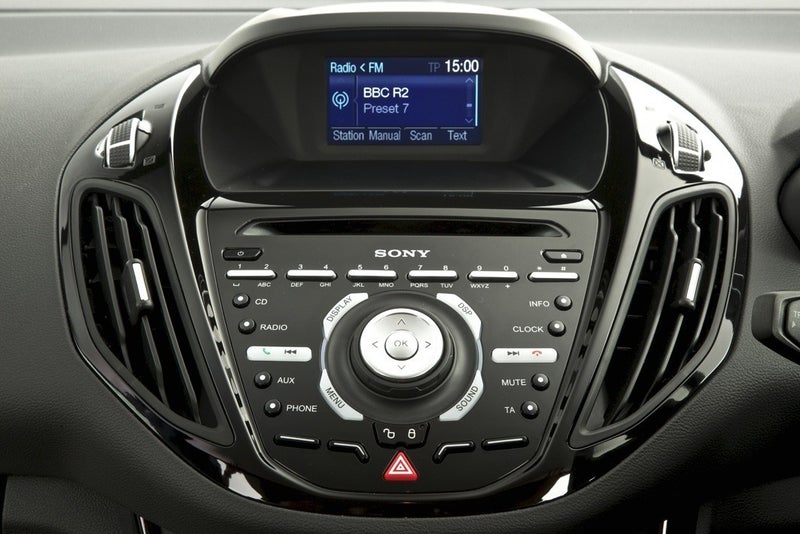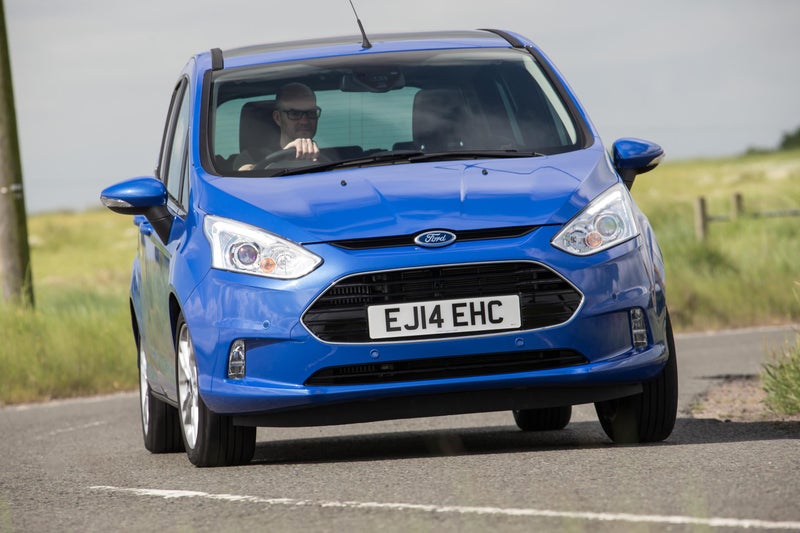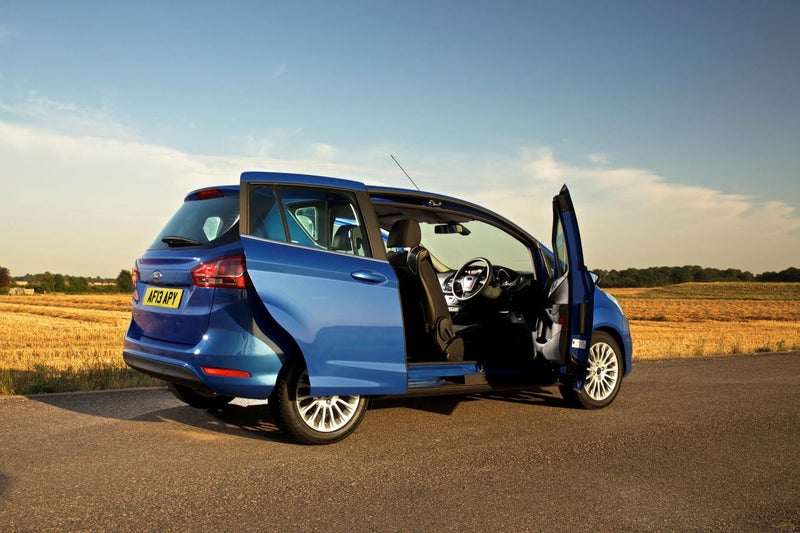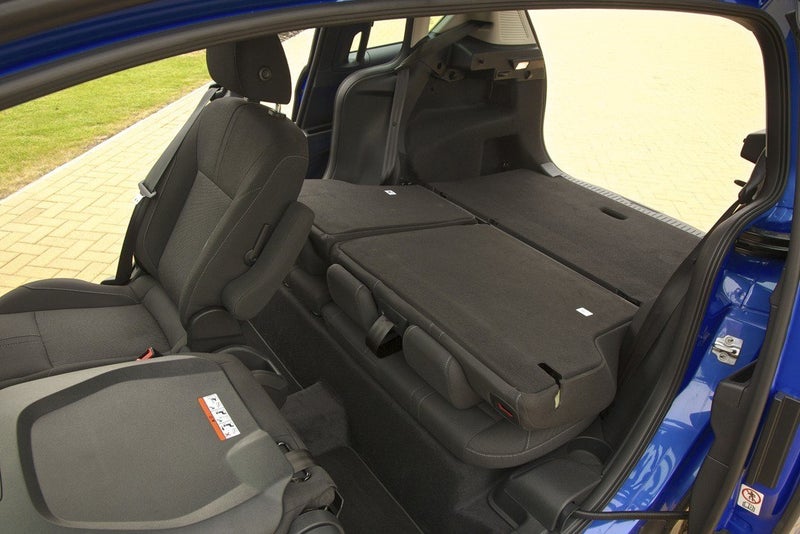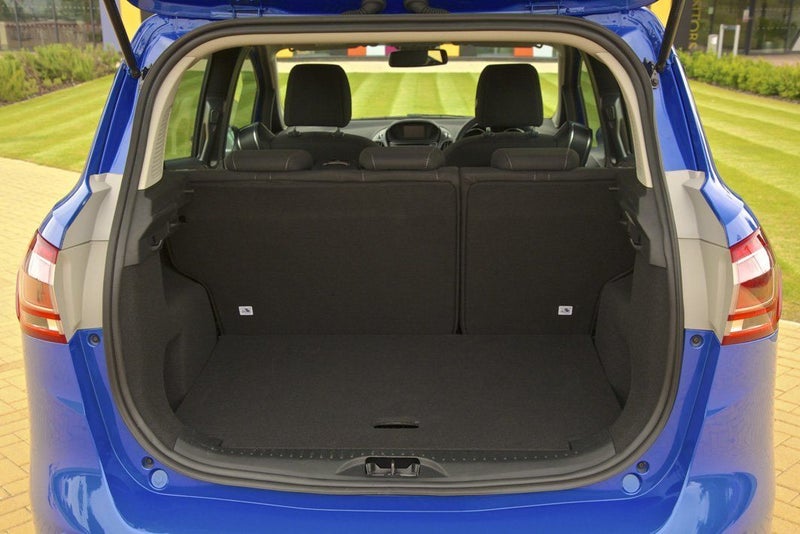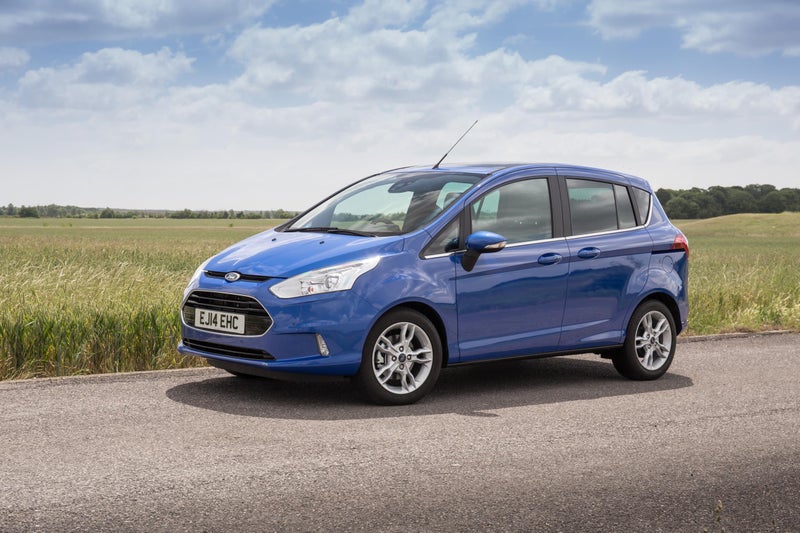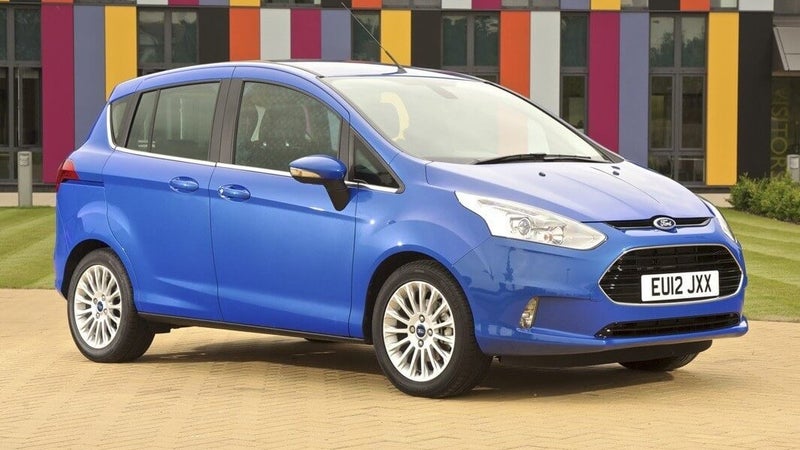 1/10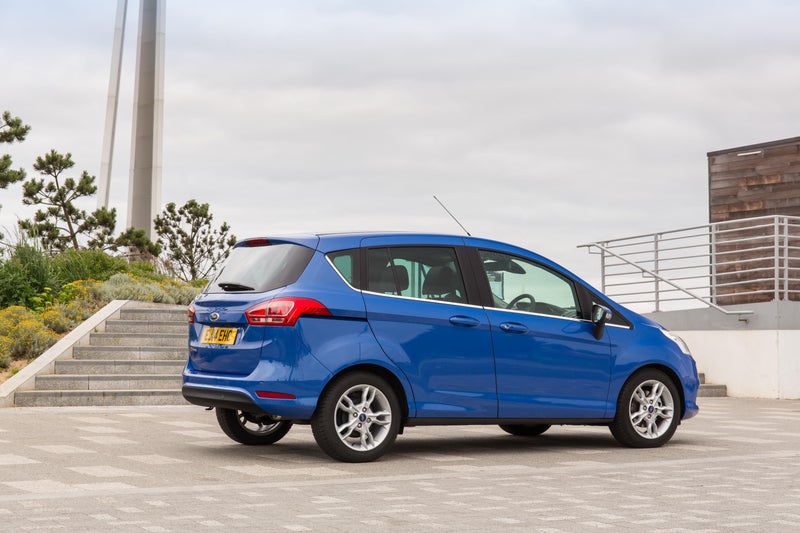 2/10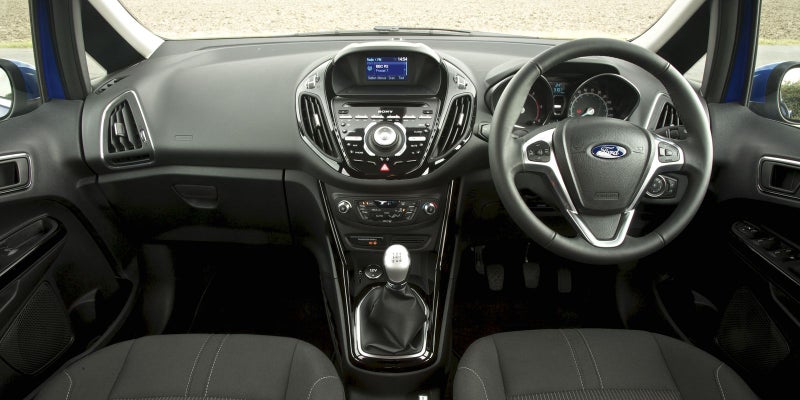 3/10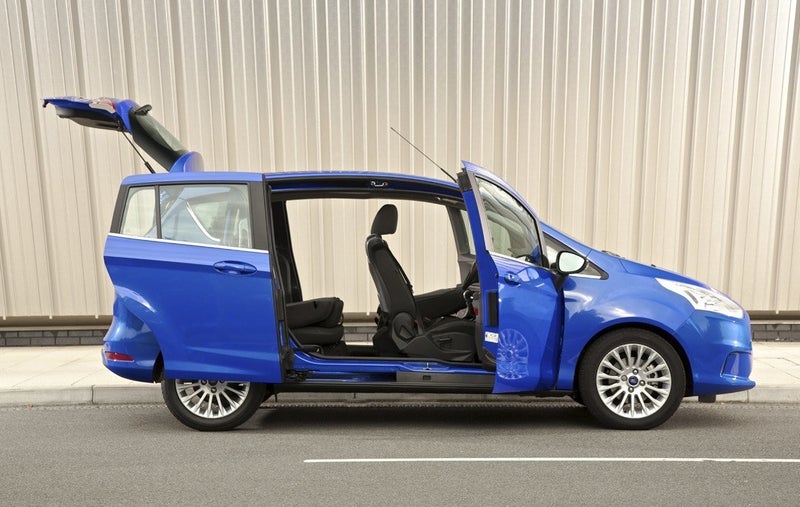 4/10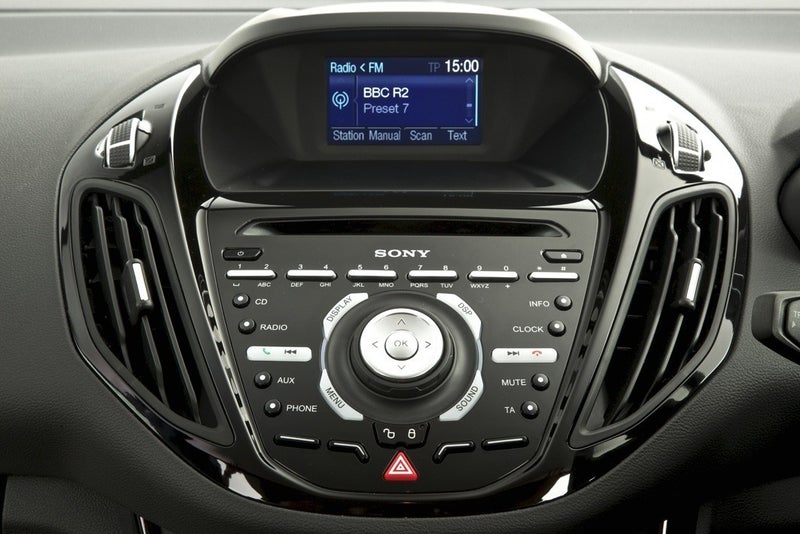 5/10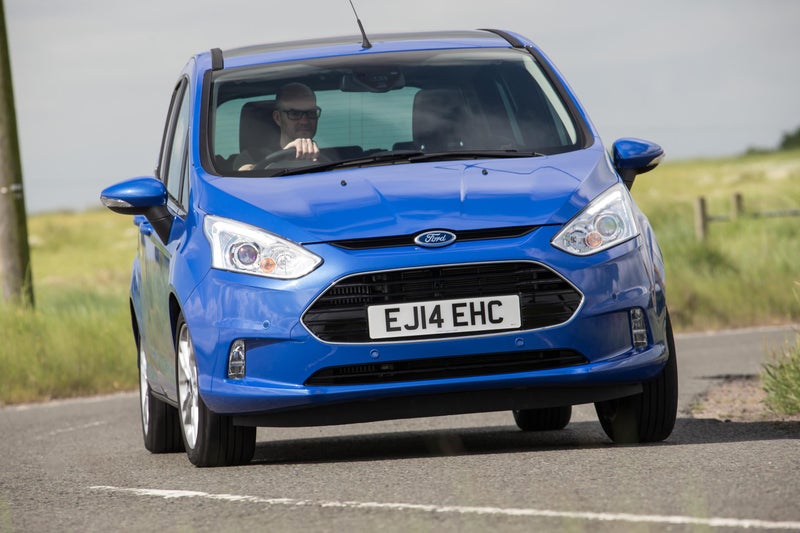 6/10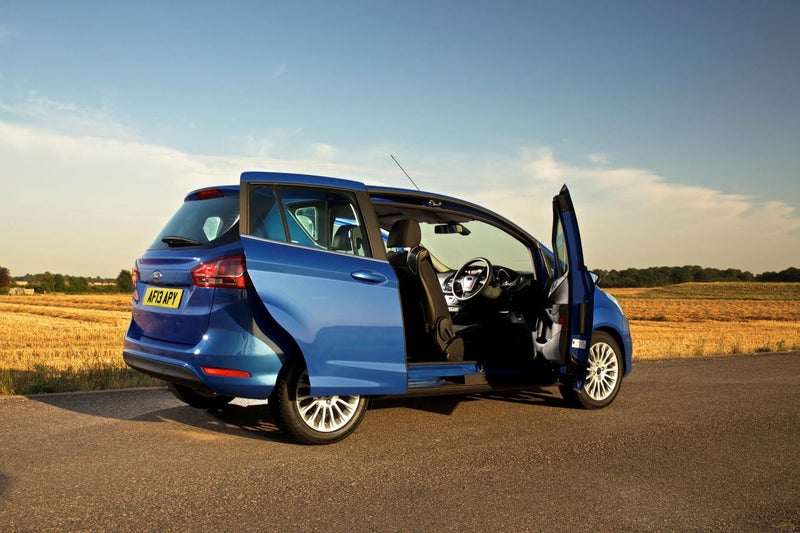 7/10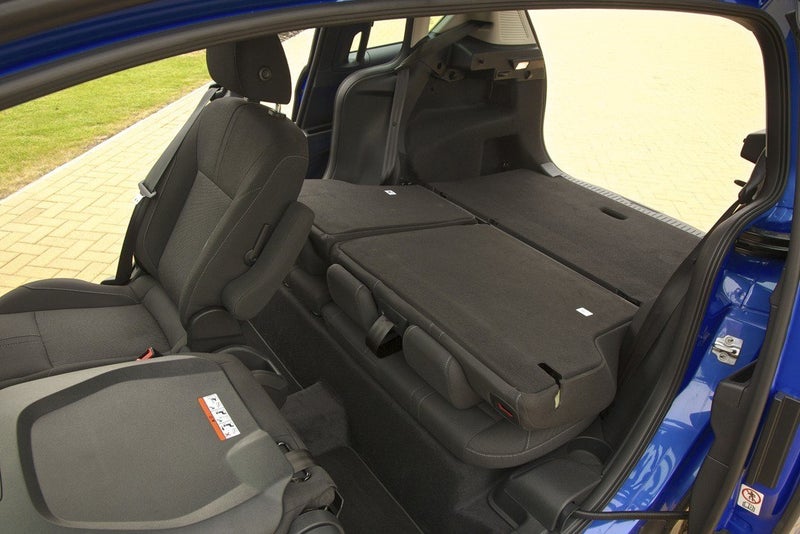 8/10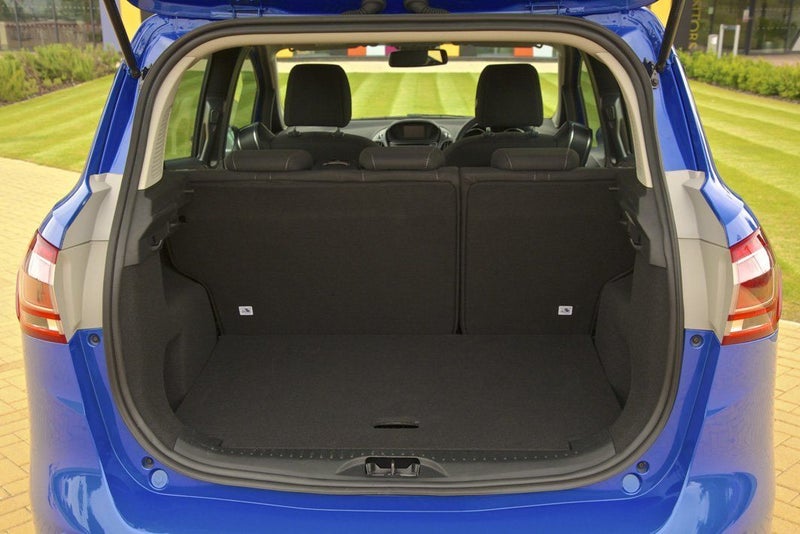 9/10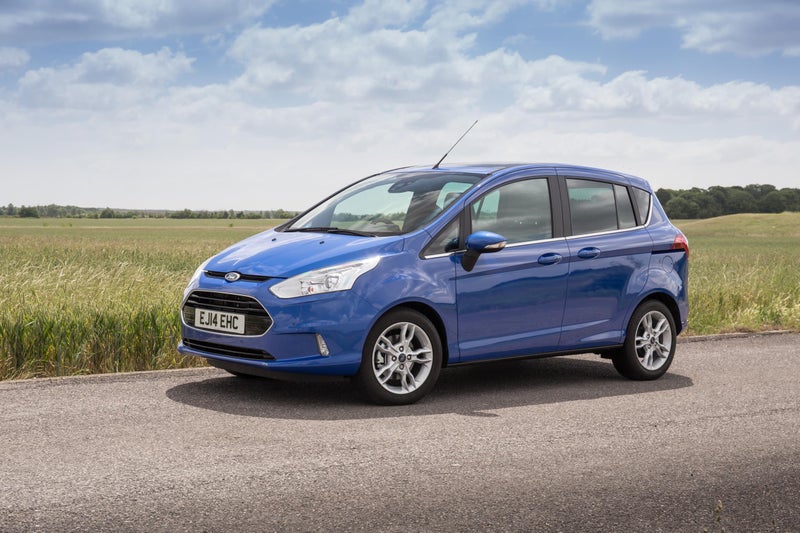 10/10
Launched in 2012

MPV

Petrol, Diesel
Launch year

2012

Body type

MPV

Fuel type

Petrol, Diesel

Written by
heycar editorial team

heycar rating
Fiesta wagon with fun spirit
Best bits
Clever doors add to big practicality
Fun to drive
Good specification and engine range
Not so great
Firm ride might not suit all
Won't win any beauty contests
Entry-level petrol engines are best avoided
Read by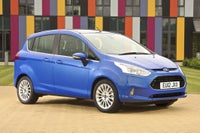 Overall verdict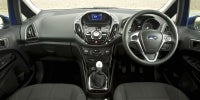 On the inside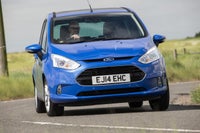 Driving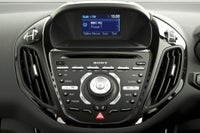 How much does it cost to run
Prices, versions and specification
Overall verdict
"Ford's MPV expertise is evident in the B-MAX, which is impressively practical for a car so small. It doesn't skimp on the driving experience either, and with a good specification and low running costs, there is a lot to like about it."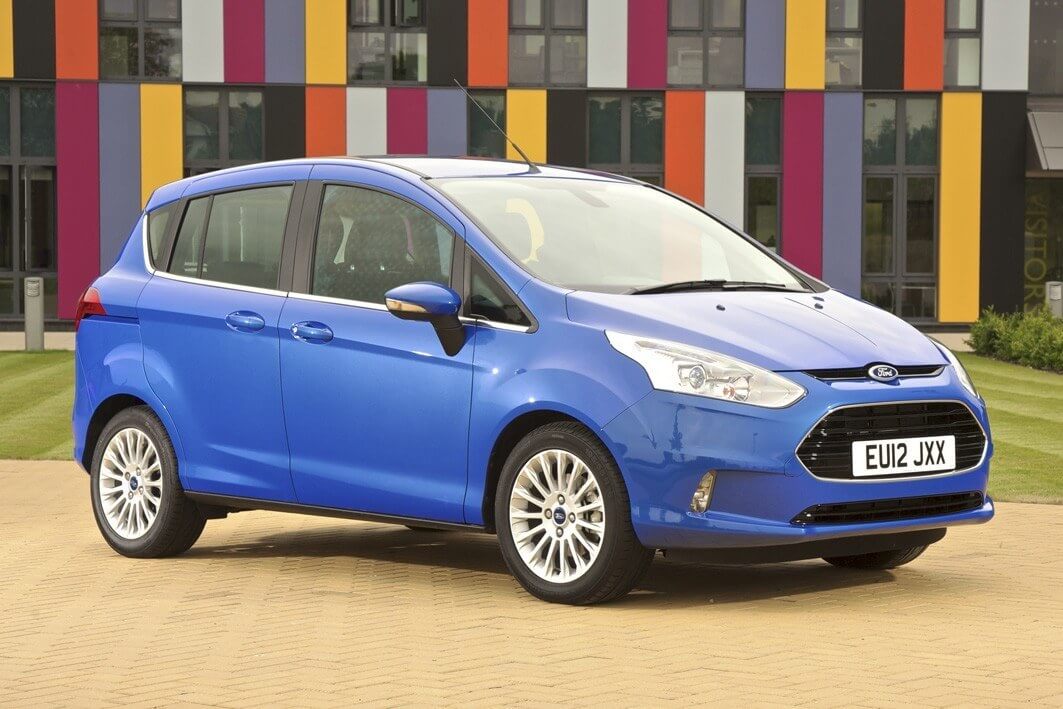 The MPV revolution seems like a lifetime ago - now most people flock towards bulky SUVs if they want something big and vaguely practical - but a decade ago people carriers of all shapes and sizes were still the favoured solution for getting your kids in the car without blowing a fuse. With successful models like the Galaxy, C-MAX and S-MAX already in the range, it made sense for Ford to downsize to the max, spinning a five-seat MPV off the bones of the Fiesta to create the B-MAX.
While it was never going to be able to carry seven people, Ford managed to boost the practicality of its small MPV by installing a pair of sliding rear doors. Better yet, it went one further and did away with the B-pillar - the vertical beam you normally get between the front and rear doors - by incorporating strengthening into the doors themselves, leaving a huge aperture that made it a breeze to get into the rear seats.
There are further upsides to the B-MAX being based on the Fiesta too. The engine range is wider than you get with most cars, with a choice of four petrols and two diesel versions depending on the model year, with a Powershift automatic gearbox available too. Pick of the bunch are the two tiny 1.0-litre EcoBoost petrols - they may only have three cylinders but they punch well above their weight, and help to make the B-MAX more fun to drive than you might expect - and are frugal with it.
The rest of the driving experience is similarly impressive. Ford has been imbuing all its cars with the fundamentals of a good driving experience for decades, and the B-MAX is no different. Just like its Fiesta sibling, it has sharp and reactive steering and well-sorted suspension that keeps it composed, helping the driver stay in touch with the road. You might not be intending to hurl your B-MAX down a country road on the way home from school, but a car that steers and rides with confidence is always preferable to one that doesn't.
Inside there's more carryover from the Fiesta, which is somewhat less of a positive. Much of the dashboard, controls and instruments are ported straight across, and while familiarity is usually a good thing, it's not perfect. Some of the materials feel a little on the cheap side - if likely to be hard-wearing - and if you go for a higher spec model the sheer number of buttons in front of you can be a little confusing. Practicality is strong though, helped by those smart rear doors, and it makes the most of its footprint with plenty of storage and sensible features.
The B-MAX also represents good value. Production ended in 2017 but there are plenty of examples out on the road, with the cheapest nearing the £3,000 mark. In particular, the Zetec models make the most sense, giving you the widest choice of engines and a good specification. It was also the most popular trim, so you should find lots to choose from.
Comfort and design
"All shapes and sizes should be able to get comfortable in the driving seat of the B-MAX. The steering wheel has a large range of adjustment and the same goes for the seats, so it's easy to find a comfortable driving position. It presents you with a good view out too - the side windows slope downwards towards the front of the car and the windscreen is big too, all of which helps the feeling of comfort and being in command of the car."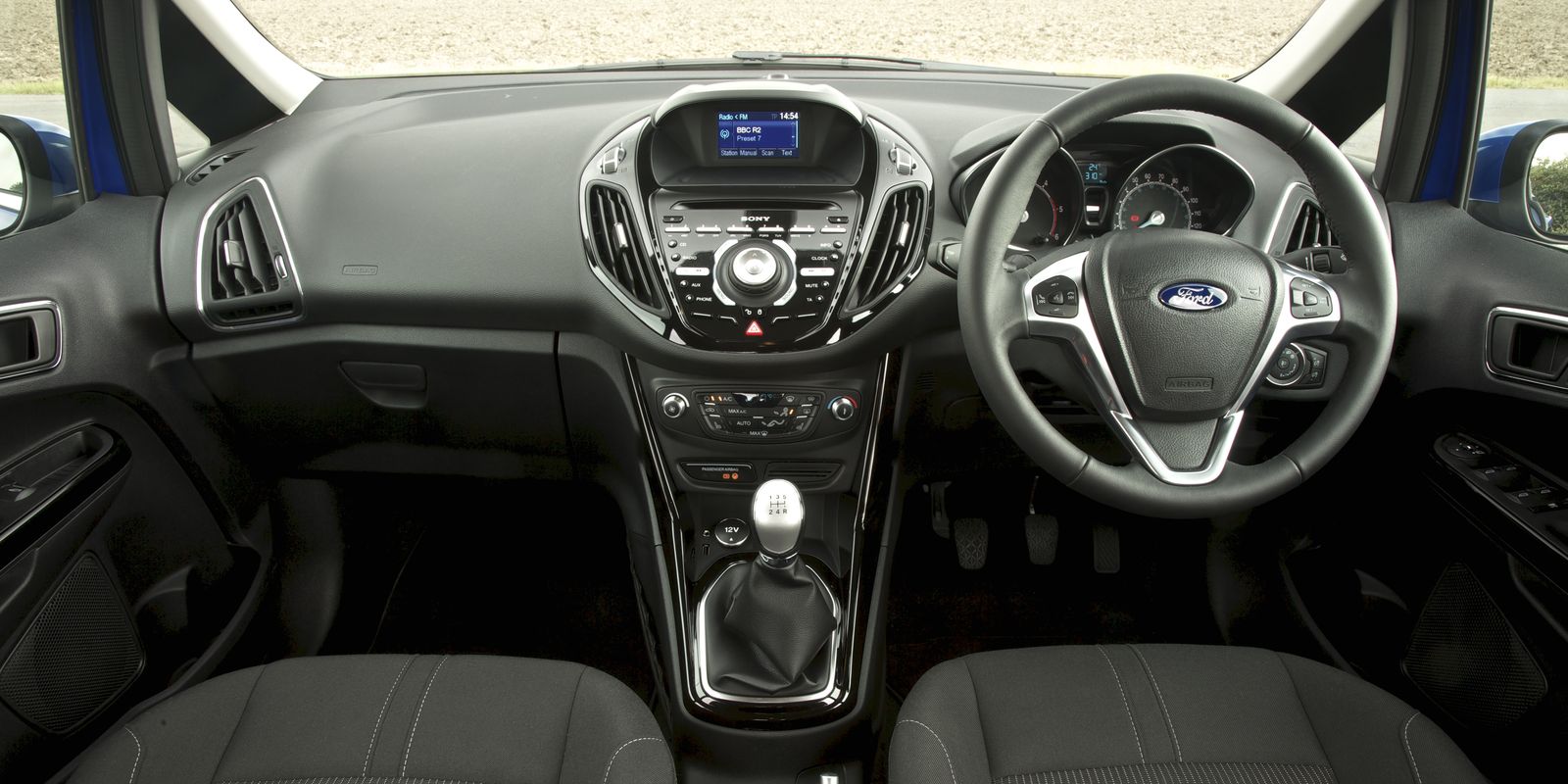 The seats themselves offer good support for the vast majority of drivers. It's worth noting that because there's no B-pillar, the seat belts in the front are mounted on the outside of the seat themselves, which actually brings them a little bit closer to the occupant. There are also three seat belts across the rear, although the centre seat is slightly slimmer than the two outside seats.
The layout of the cabin owes a great deal to the Fiesta on which the B-MAX is based, which is both a good and bad thing. It's good because you've probably ridden in a Fiesta before so it's familiar, and the relatively high-set dashboard means everything is close to the driver. The downside is that the layout of the buttons and controls can seem a little scattergun.
Whichever level of infotainment system you get, there are many small buttons to fathom. It works well enough, but until you're familiar with the layout you don't want to be trying to find a button in a hurry.
Handling and ride quality
"Since the late 1990s, Ford stuck down a marker and committed to making all of its cars good to drive, even if the owners weren't necessarily interested in shaving tenths of a second off their commute. It might be small and it might be an MPV, but the B-MAX follows this creed to the letter."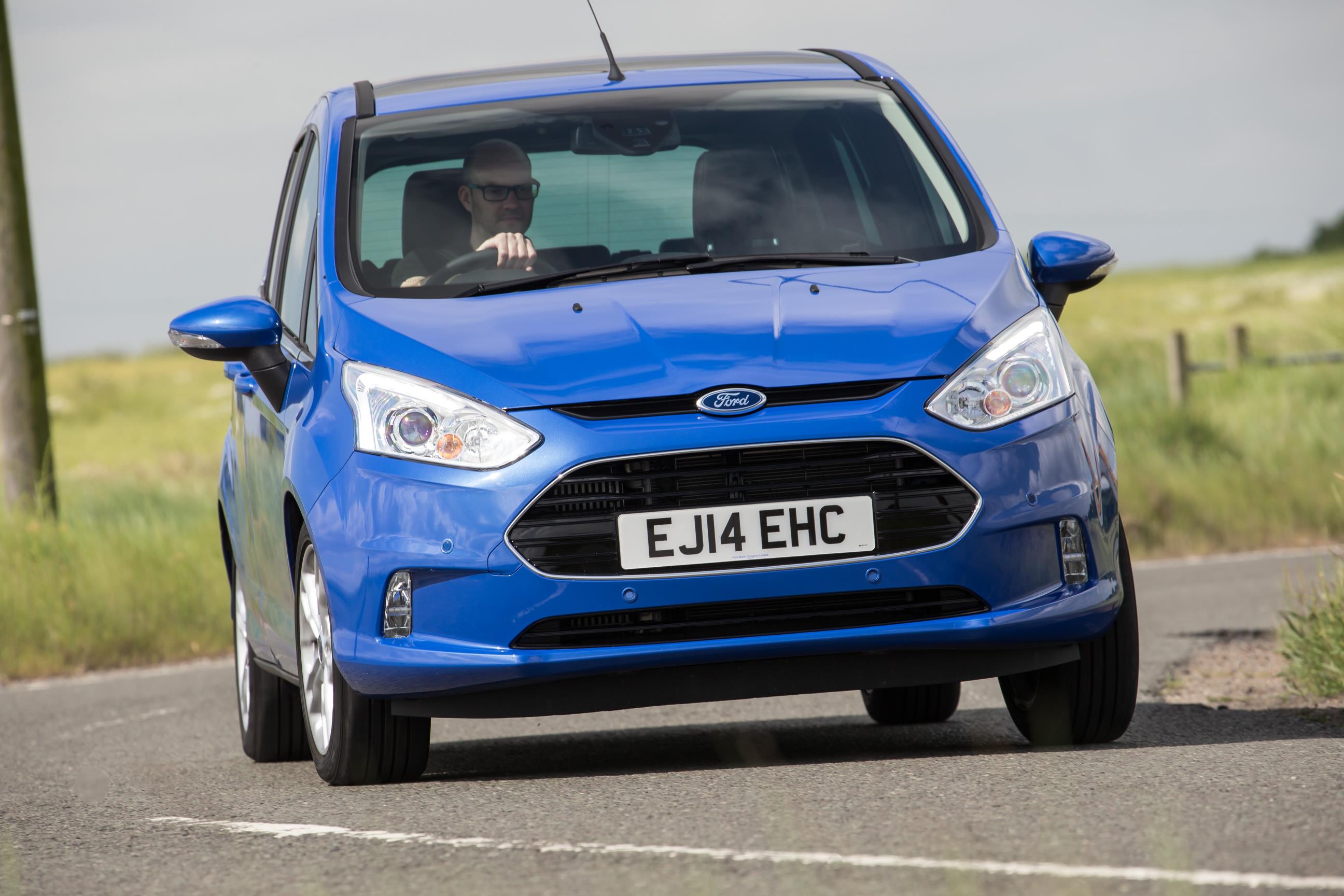 Sharing its suspension with the Fiesta is no bad thing - it's been the best-handling small car for what seems like an eternity - and despite being taller and a bit heavier than that car, you can feel the same kind of verve running right through it.
The steering plays a big part in this. The B-MAX is fitted with electric power steering rather than the older hydraulic type, and while the former is better for fuel efficiency it can make the steering feel a little lifeless in your hands. Not so with the B-MAX - you can feel the direct mechanical link to the wheels through the palm of your hands, and whether you're fully aware of it or not, that makes it a nicer car to drive even if you're just shunting through a traffic jam. Should you fancy the idea of taking the long way home on occasion, the B-MAX is really the only car in the class that will make it worth your while.
It's the same story when it comes to ride quality. There's nothing sophisticated about the B-MAX's suspension, it's just been very well-tuned to suit a variety of conditions. It can soak up imperfections pretty well - although it does ride a little more firmly than some key competitors - whilst resisting body roll well, something that is more common in taller cars like this.
MPG and fuel costs
"That the worst-performing B-MAX in terms of fuel consumption is the 1.6-litre automatic at 44.1mpg combined (NEDC) is a good sign - this is a practical car that can still be cheap to run. The diesel options are the most economical by some margin, both offering an official combined figure in excess of 70mpg (NEDC) which should comfortably translate into 50mpg and beyond in real-world driving."
The two EcoBoost petrol options are also frugal - 55.4mpg and 57.6mpg combined for the 100PS and 125PS versions - but only if you resist the temptation to be carried away by their enthusiasm. Thrash them and the fuel consumption will plummet...
How much should you be paying for a used Ford B-MAX?
"The B-MAX has been out of production too long to be found in pre-registered form, but you can still find late models with next to no mileage."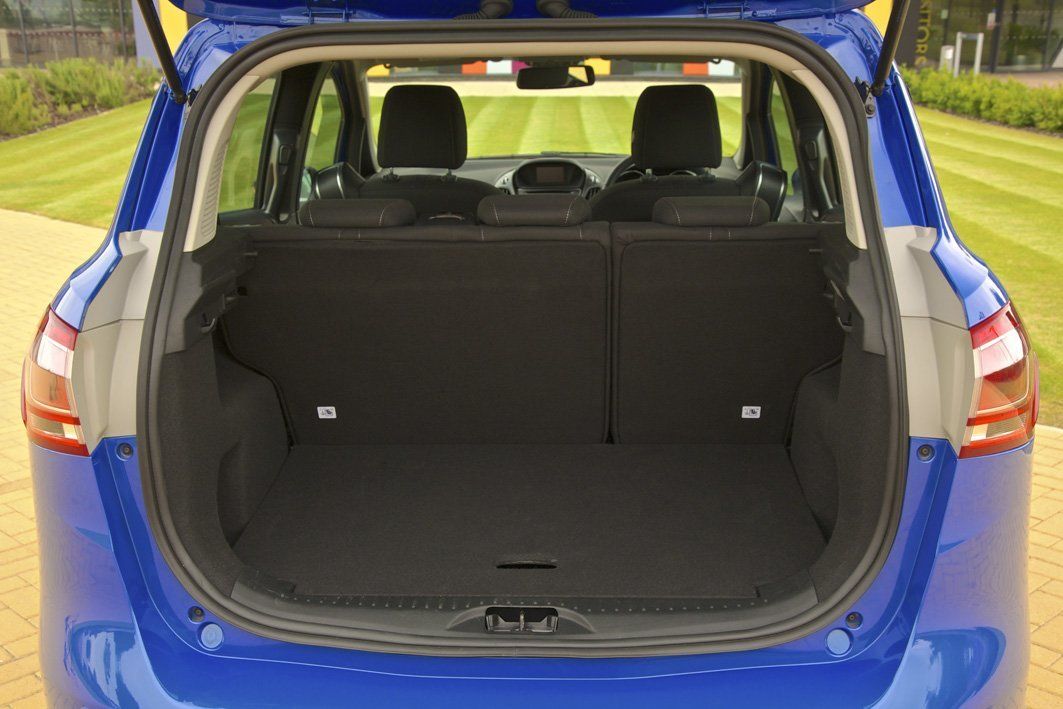 A quick search turned up several 2018-registered versions with less than 10,000 miles on - one with under 5000 miles - with a range of engine options and all for around £10,000. That represents excellent value for a car that might well still have some manufacturer warranty and is barely run in.
At the other end of the scale, we found 2013 versions for under £5000, and even those had covered relatively low mileages. Bargain-basement examples with higher mileages will be approaching the £3000 mark.
Ready to get your top quality Ford B Max?
All cars come with a warranty
Selected dealers only
All quality checked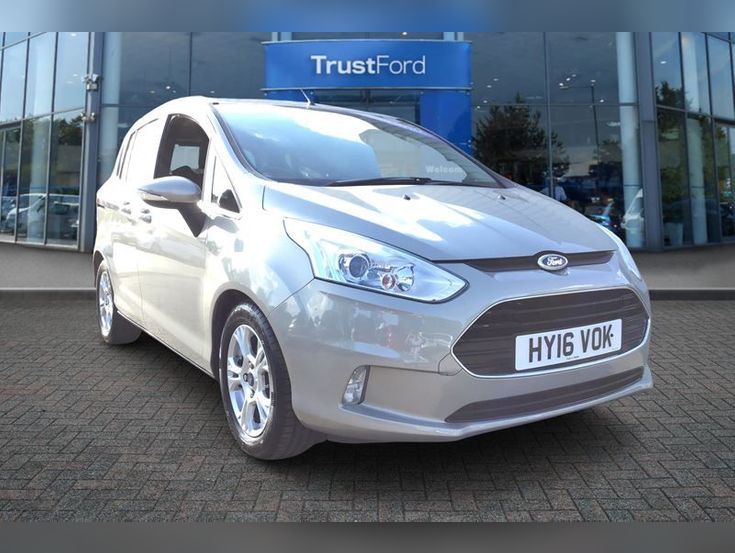 Ford B Max
1.6 Zetec 5dr Powershift
TrustFord Cobham

Surrey, KT111JJ
HP: £240.65/mo
Representative example: Contract Length: 36 months, 36 Monthly Payments: £240.65, Customer Deposit: £1,275.00, Total Deposit: £1,275.00, Total Charge For Credit: £1,438.40, Total Amount Payable: £9,938.40, Representative APR: 12.9%, Interest Rate (Fixed): 12.1%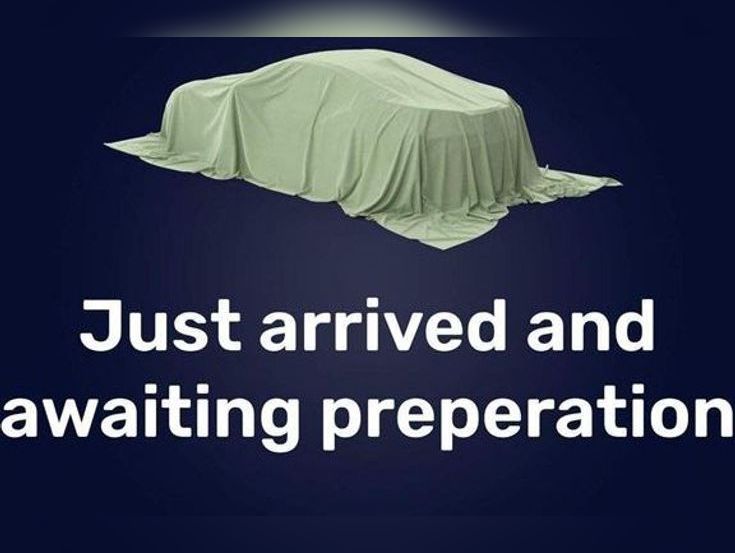 Ford B Max
1.6 Zetec 5dr Powershift
Caffyns Ashford

Kent, TN240HB
HP: £198.59/mo
Representative example: Contract Length: 36 months, 36 Monthly Payments: £198.59, Customer Deposit: £1,109.00, Total Deposit: £1,109.25, Total Charge For Credit: £863.49, Total Amount Payable: £8,258.49, Representative APR: 8.9%, Interest Rate (Fixed): 4.58%
Is the Ford B-MAX right for you?
If you want or need to carry a lot of stuff and/or people on a regular basis but want to do so in a small car, your choices are relatively limited. The B-MAX makes an excellent case for itself though. It is a practical car even before you take into consideration the sliding rear doors, and if you regularly have people getting in and out of the back seats - or even use the space as a makeshift van - you'll wonder how you lived without it.
It also drives well enough that it won't feel like a compromise, although if you can live with a conventional Fiesta you'll save yourself some money and have a car that is easier to sell on afterwards.
What's the best B-MAX model/engine to choose?
As far as your model choices go, the basic Studio is enough to get by but lacks some of the more appealing extras, which no doubt contributed to it being ditched from the range later in the car's life. Better to plump for the Zetec model as the pick of the range - plenty to choose from, an increased range of engines plus some of the more important extras like the Quickclear heated windscreen, air conditioning and the better SYNC infotainment system.
From the engine range, the 1.5-litre diesel is frugal sufficiently brisk, but either of the 1.0-litre EcoBoost petrols makes the smartest choice. We'd go for the more powerful 125PS version as it also gets stop/start as standard.
What other cars are similar to the Ford B-MAX?
Just like the old days, the main rival to Ford comes from Vauxhall, in the shape of the Meriva. The most recent version arrived a couple of years before the B-MAX in 2010, and had its own take on better access to the rear seats with a pair of 'suicide' doors - hinged from the rear rather than the front.
Pigeonholed as a small hatchback rather than an MPV, Honda's Jazz is almost somewhere between the two. It has a small footprint but a tall body and impressive space efficiency and is a sensible compromise if you don't want the full MPV experience. If you want something more utilitarian, look at Ford's own Tourneo Connect.
Quality and finish
Broadly speaking, the cabin of the B-MAX is built to last rather than to wow. Again, much of the fitments are carried over from the Fiesta, which isn't necessarily a bad thing, but is a reminder that this MPV is a grown-up small car rather than anything fancier.
Opt for the basic Studio trim level and you get plastic and cloth finishes, which are hard-wearing if not necessarily appealing to the eye, but on Zetec and Titanium you get part fake-leather on the seats and real leather on the steering wheel and gear lever, which at least means your main contact points are pleasing to the touch. Titanium X turns the fake leather into the real thing but it's still only a part finish.
Infotainment
The basic infotainment on the entry-level Studio isn't as bad as you might expect. You get a radio/CD including DAB and USB input, so you can at least listen to your choice of music. What is less impressive is the physical layout of the system, which dates back to the early days of the 2008 Fiesta. Designed to resemble mobile phones of the period, it packs dozens of buttons into a relatively small space, while the screen itself is a relatively small five inches.
Zetec models have the same basic layout but with the addition of Ford SYNC, which means a Bluetooth hook-up for streaming music and making phone calls, with the option to use voice control or the steering wheel controls. Titanium and Titanium X models offer a further upgrade with a Sony audio system bringing better sound quality and an extra pair of speakers (eight in total), although even this setup suffers from having too many small buttons.
Later B-MAX models came in Navigation-spec, available in Zetec, Titanium and Titanium X trim, which as the name suggests, added sat-nav as standard. With the B-MAX being too early for screen mirroring, it's this system or relying entirely on your mobile phone if you want navigation.
Space and practicality
Choosing the B-MAX means space efficiency and practicality are a priority, and the little Ford delivers all you could reasonably expect from a car this size. Front seat occupants will have little to grumble about, with lots of headroom and plenty of fore and aft adjustment of the seat for good legroom. it's much the same story in the rear too, with comfortable room for two adults, three if they don't mind being friendly - the middle seat is thinner than the other two.
The sliding doors are the big plus here, whether you have kids or adults climbing into the back regularly or getting cargo in and out. It's worth mentioning that they are relatively heavy though, which may be an issue for some.
The rear seats split 60/40 so you can still carry passengers with longer loads, although the rear bench doesn't slide to adjust the split between the boot and passenger area. Folding the seats is easy, with the mechanism designed so you can do it single-handed, while the front passenger seat backrest can also fold forward, allowing you to fit a load up to 2.35 metres long. Zetec models and above also come with an adjustable boot floor, allowing you to raise or lower the height and divide the space. There's no automatic operation for the boot but the tailgate itself is light enough that it is unlikely to trouble most people.
Storage space in the rest of the cabin is impressive too, with a big central storage cubby, well-sized door bins and four cup holders, plus a handy sunglasses holder mounted into the roof. Ford's experience with MPVs shows here - Zetec models and above get a small rear-observation mirror mounted near the rear-view mirror so you can keep an eye on the kids (or adults) in the back without having to turn around. and there are 12v sockets in the front and back to keep everyone charged up.
All B-MAX models come with a tyre repair kit as standard, although you could switch to a full-size spare for £95 when new. If you don't like the idea of relying on a can of foam, it would be easy to find a used wheel and fit a new tyre for less than the cost of a new one from a dealer.
Engines and gearboxes
The B-MAX has gone through a number of engine options in its lifetime, with the range slimming-down as it moved towards the end of production. The basic offering is the 1.4-litre 90PS petrol, available in Studio and Zetec trims, which moves the B-MAX along reasonably well but isn't especially quick or particularly frugal either. The bigger 1.6-litre petrol has 105PS but comes with the Powershift automatic gearbox only - it works well enough but saps power a little.
Two diesel engines are offered - a 1.5-litre in 75PS and 95PS forms. The 75PS is best avoided. It may have a useful 190Nm of torque but it is comfortably the slowest B-MAX you can buy, whereas the 95PS version offers identical fuel consumption but is usefully quicker. Neither version is particularly refined, but if you must have a diesel then the 95PS is the one to have.
We'd recommend one of the two EcoBoost petrols however. Even though the design is getting on a little now, the basic brilliance hasn't been diminished. The 100PS version is as quick as the higher-power diesel, and although it can't match that car's economy it still performs well - with 55.4mpg combined (NEDC) and 109g.km of CO2. Better still, the 125PS version adds the stop-start system as standard, is the quickest B-MAX you can buy and offers better fuel consumption than the 100PS version too.
A five-speed manual gearbox is standard on all engines (bar the 1.6-litre petrol) and offers a slick, effortless gear change. It's good enough that you won't think twice about changing gear, which is exactly as it should be.
Refinement and noise levels
If you plan to make full use of the B-MAX's ability to carry people then refinement will be an important consideration, and the compact Ford does a good job - although this is influenced by which engine you choose.
Whether you're sat up front or in the back, refinement is good for a car of this size and cost. Wind noise is kept well in check, and there is a low level of road noise filtering through to the cabin, but nothing out of the ordinary for a car like this.
The diesel engine options inevitably come with more noise and vibration than the petrol offerings, although this is more likely to bother front seat passengers than those in the rear. The four-cylinder 1.4-litre and 1.6-litre petrols are a little quieter than the three-cylinder 1.0-litre EcoBoost offerings, but the noise that the EcoBoost makes is more engaging, and the performance sacrifice isn't worth it, especially as you have to work the bigger engines more of the time to make any progress.
Safety equipment
The B-MAX was tested by EuroNCAP when it was first launched back in 2012 and achieve an impressive set of results, particularly in light of the fact that the rear door design meant it had to do away with a conventional B-pillar, a big contributor to a car's crash performance.
Euro NCAP gave it a full five-star overall rating, with a very high 92% rating for adult protection and 84% for child protection. Pedestrian mitigation was given a score of 67%, while it scored another strong result in the safety assist category with 71%.
As standard, all B-MAX versions are fitted with a comprehensive suite of safety equipment, including ESP and traction control, front, side and curtain airbags as well as a knee airbag for the driver and a tyre pressure monitoring system. Hill Start Assist is included on all models bar 1.4-litre petrols, and Active City Stop is a cost option, again not available on the 1.4-litre petrol. Isofix mounting points are fitted as standard to all models.
Safety is a consideration for everyone, but it is worth noting that the 1.4-litre models do without some useful features, which strengthens the case for choosing from higher up the range
Insurance groups and costs
Insurance for the B-MAX should be impressively low and stands comparison with much cheaper and smaller cars. the 1.4-litre petrol and low-power diesel versions drop into group 8E, while the top-spec Titanium Navigator models with the 125PS EcoBoost engine are the highest rated at group 12E.
While the B-MAX is unlikely to be on the shopping list of anyone seeking a first car, the insurance group should make it possible, while those with decades of driving experience and years of no-claims bonus to back it up should find their insurance premiums are impressively small.
VED
Thanks to the ever-moving goalposts that are the VED rules in the UK, the level of road tax you pay for a B-MAX depends not only on which engine you choose but more crucially when it was registered. For example, the 1.5-litre diesel can qualify for zero VED if it was registered on or before March 31st 2017 - buy the same car registered a day later and your VED bill suddenly becomes £150 a year.
The same goes for the EcoBoost petrols, which can cost £30 or £150 a year depending on when it was registered. Regardless, lower-emission models will generally pay less as a rule of thumb.
Trim levels and standard equipment
Kicking off the range is the Studio model, which isn't blessed with tons of equipment but does come with some key essentials - in particular, the audio system including DAB and Bluetooth. Moving up to the Zetec model as a bare minimum makes a lot of sense however - as well as opening up the engine choices to include the diesels, the EcoBoost petrols and the automatic, it adds some desirable extras like air conditioning, the SYNC system and the heated windscreen, which is a real boon in winter.
The Titanium and Titanium X models do ramp up the equipment levels still further - climate control and part-leather seat trim for example - but there's little here to really justify the extra money. Also later models were available with Navigator specification, which adds sat-nav to Zetec, Titanium and Titanium X models.
Learn more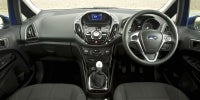 On the inside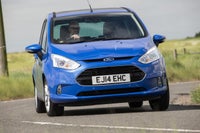 Driving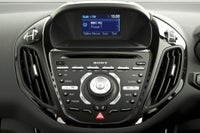 How much does it cost to run
Prices, versions and specification
Reviews of similar cars
Quality checked, all cars less than 8 years old and warranty included
Looking for other Ford cars?
Quality checked, all cars less than 8 years old and warranty included
Keep me updated by email with the latest advice, news and offers from heycar
By submitting, you agree to our
privacy policy
.