Ford EcoSport Review 2022

Written by
heycar editorial team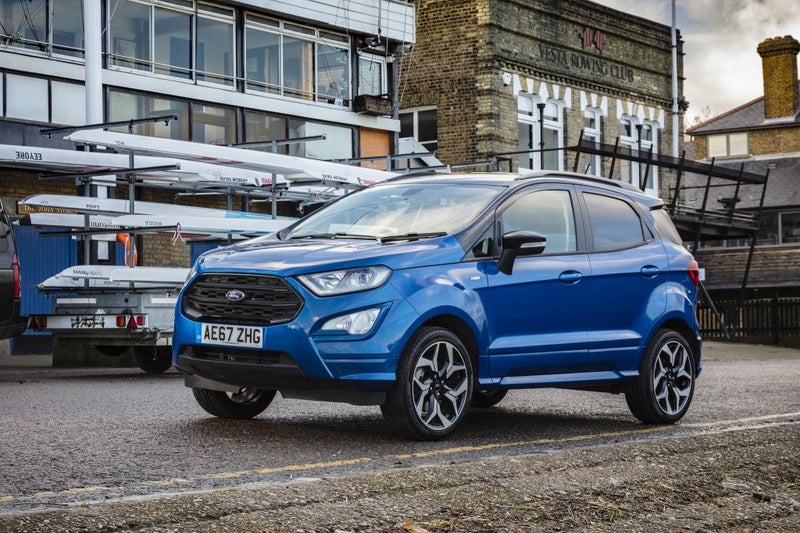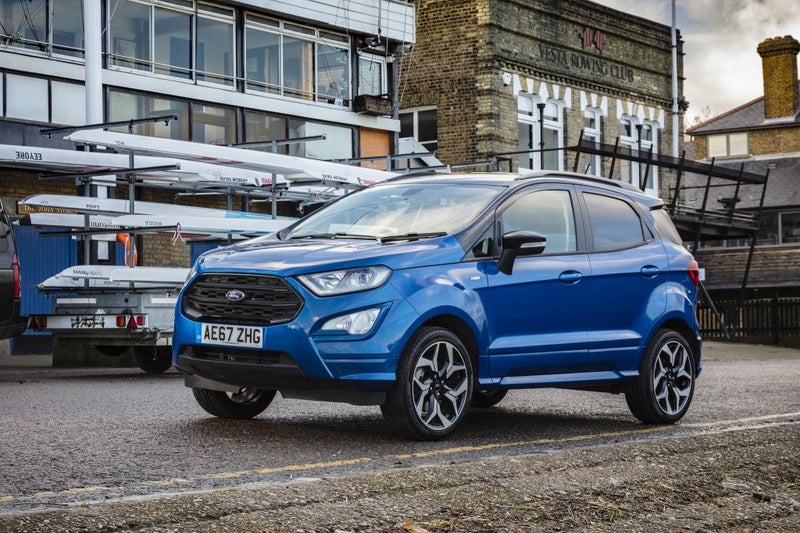 1/10
heycar rating
"Mini SUV with major flaws"
Launched: 2014

Small SUV

Petrol, Diesel
Quick overview
Pros
Perky 1.0-litre petrol engine
Chunky SUV styling
Nicely equipped as standard
Cons
Bumpy low speed ride
Not as practical as its rivals
Hesitant automatic gearbox
Overall verdict
On the inside
Driving
Cost to run
Prices and Specs
Common questions
Overall verdict on the Ford EcoSport
"How quickly things change. Where once every family in the UK had space on the drive for a Ford Fiesta, Nissan Micra, Vauxhall Corsa or Renault Clio, these cars are now being replaced by their SUV offspring."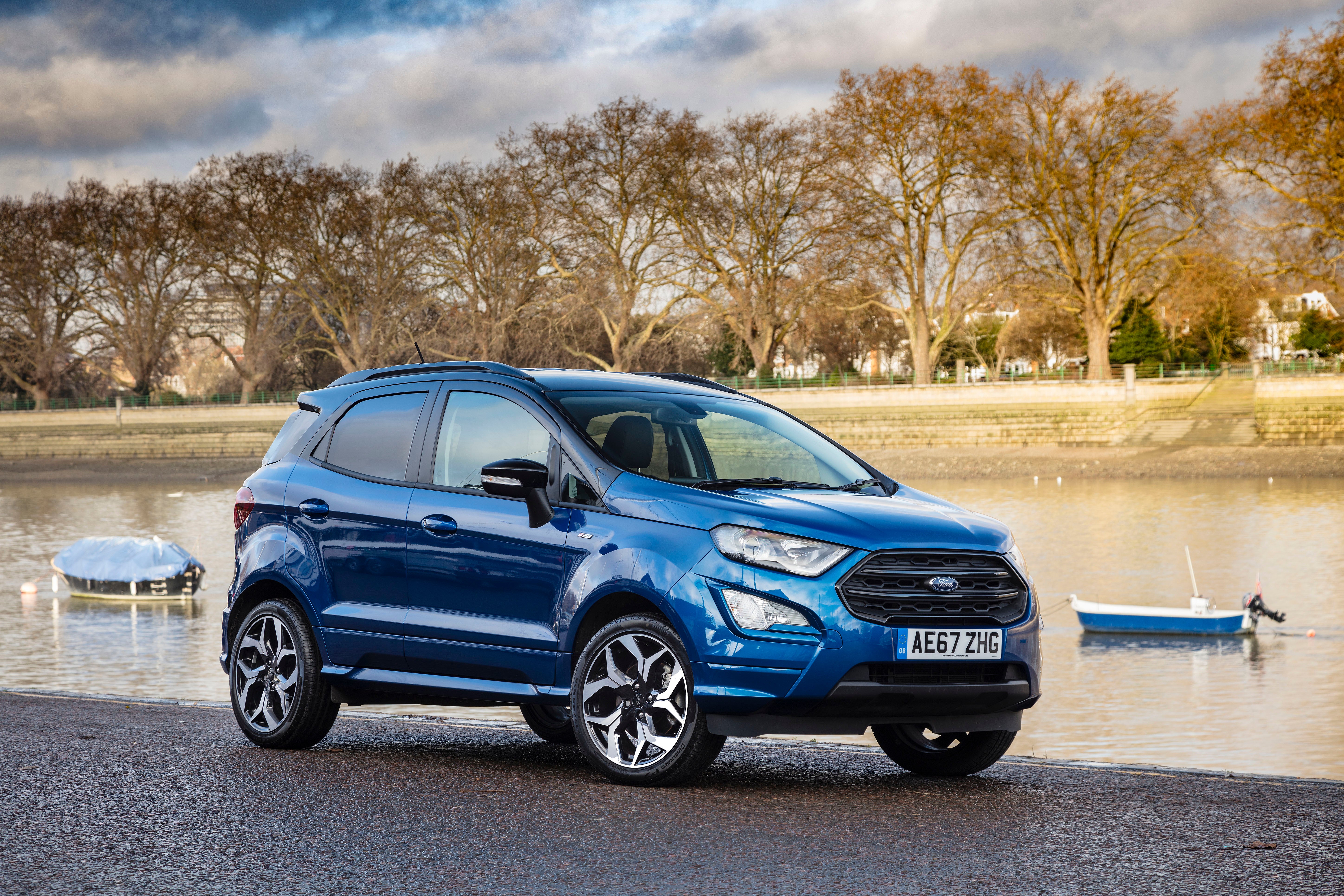 Names like Mokka, Captur, and Juke have shot up the best-seller lists in recent years, and the EcoSport is Ford's attempt to join them in this rapidly growing niche. A compact five-door SUV based on the previous Ford Fiesta, this car is designed to marry the keen affordability of a supermini with the looks and versatility of a bigger car. We'll explain all in our Ford EcoSport review.
When it was introduced in 2014, the Ford EcoSport was built in Brazil and India and felt out of its depth in a European setting. Wheezy, inefficient engines, a low-rent cabin, impractical rear door and poor road manners helping consign it to the bottom of the small SUV heap. A major overhaul in 2018 righted some of the wrongs, with fresh styling borrowed from Ford's larger SUVs the Ford Kuga and Ford Edge, a vastly improved interior, and better quality control.
The cabin of the current Ford EcoSport feels relatively upmarket, with pleasant materials backed up by excellent levels of standard kit; including Ford's intuitive SYNC infotainment system pinched from the Fiesta. Even the base Zetec versions have received a gradual equipment boost, with important safety and comfort features added.
There were new engines too, with the breathless 1.5-litre petrol replaced by a 1.0-litre turbo available with either 100, 125 or 140PS depending on the trim level you choose. On the diesel side, the old and incredibly slow 90PS 1.5-litre engine was swapped out for a new 'EcoBlue' unit of the same size with 100PS or 125PS.
The former is the most efficient version of the Ford EcoSport, but not especially refined compared to its rivals, and still too weedy to shift this car's bulk with conviction. Most people will prefer the 125PS 1.0-litre petrol but this engine also requires coaxing by the driver - and its economy suffers as a result - expect to get about 35mpg.
The top-spec diesel is expensive, but briefly enjoyed the title of being the only model with four-wheel drive. Now every EcoSport is front-wheel drive, so if you want to head off-road, get a Dacia Duster or Suzuki Jimny.
Unfortunately, many of the early Ford EcoSport's weaknesses remain intact. Out on the road, its lack of refinement, very poor ride - which somehow manages to be too stiff but also wallowy - make the Ford EcoSport wearing to drive long distance.
You might be forgiven for thinking that its enhanced practicality would be worth the comprise in comfort, a bit like a tiny Land Rover Defender. Sadly, that's simply not the case. The awkward rear door makes accessing the Ford EcoSport's boot a challenge in tight parking spaces, and once you are inside it has less luggage space than its rivals.
Where once there was a place for the EcoSport in the Ford range as a stop-gap to snap up buyers hungry for anything with a raised driving position, the presence of the vastly superior Puma now renders it obsolete.
Yes, this car is marginally cheaper, but the chasm between their dynamic ability, refinement and on-board technology make it worth your while to find the extra cash to bridge the gap to the Puma. We promise you won't regret it.
Is the 2022 Ford EcoSport right for you?
The EcoSport is Ford's smallest SUV. It's pitched at buyers who would otherwise be looking at a supermini such as the Fiesta, but want the chunky looks, high driving position and (theoretical) practicality of a 4x4.
This is no mud-plugging off-roader though. While it used to be offered with four-wheel drive (but only on the most expensive diesel) and an automatic gearbox, every current EcoSport is a two-wheel drive manual car.
That means if you don't want to change gears by yourself (and plenty of urban drivers don't) or live far out in the countryside and need genuine utility during the winter, there are better alternatives at this size and price.
Speaking of price, in the lower trims the Ford EcoSport is very affordable. It'll suit people who don't want to fork out too much on a family car. Once again though, if running costs are a factor, then rival SUVs are cheaper.
What's the best Ford EcoSport model/engine to choose?
Ford restricts the available engines in the EcoSport by trim level. That means picking the right version for you is very important since the entry-level petrol and diesel engines are both really sluggish and underpowered.
That effectively rules out the affordable Ford EcoSport Zetec, leaving you with the choice of an EcoSport Titanium or ST-Line. The former is the where we'd put out money. It's available with the 125PS version of the 1.0-litre petrol, so has just enough get-up-and-go to keep up with bigger traffic; it's also smoother and more refined than the diesel.
The Ford EcoSport Titanium has all the equipment you could want. Sat-nav, full smartphone compatibility for Apple and Android phones, parking sensors, reversing camera, auto lights and wipers and keyless start, to name a few.
The EcoSport ST-Line has some nice interior upgrades and comes with the punchier 140PS engine, however it's simply too expensive to recommend. Its sports suspension setup also makes the EcoSport's poor ride worse.
What other cars are similar to the Ford EcoSport?
The incredible popularity of small SUVs like the EcoSport means that if you're looking for this type of car you'll be spoilt for choice. Almost every brand produces its own version of a chunky, tall-bodied, urban SUV.
Buyers looking for a budget SUV with the option of four-wheel drive will be better off with the cheap and cheerful Dacia Duster. It's more practical than the Ford (and a little more basic inside) but far better value.
For a comparable price, you could get a SEAT Arona, Peugeot 2008 or Renault Captur. The French duo is stylish, and feel really plush on the inside too, while the Peugeot is also available with pure electric power.
If comfort and practicality are of paramount importance (If you're a family buyer - why wouldn't they be?) the Citroen C3 Aircross has a much bigger boot than the Ford, and soft, supple suspension that's great in town.
Finally - if it simply has to be a Ford - then the newer Ford Puma is a more accomplished SUV in every respect.
Comfort and design: Ford EcoSport interior
"At just over four metres long, the EcoSport is one of the most compact SUVs on the market. Luckily, it doesn't feel at all cramped in the front seats, with enough head and legroom to accommodate taller drivers."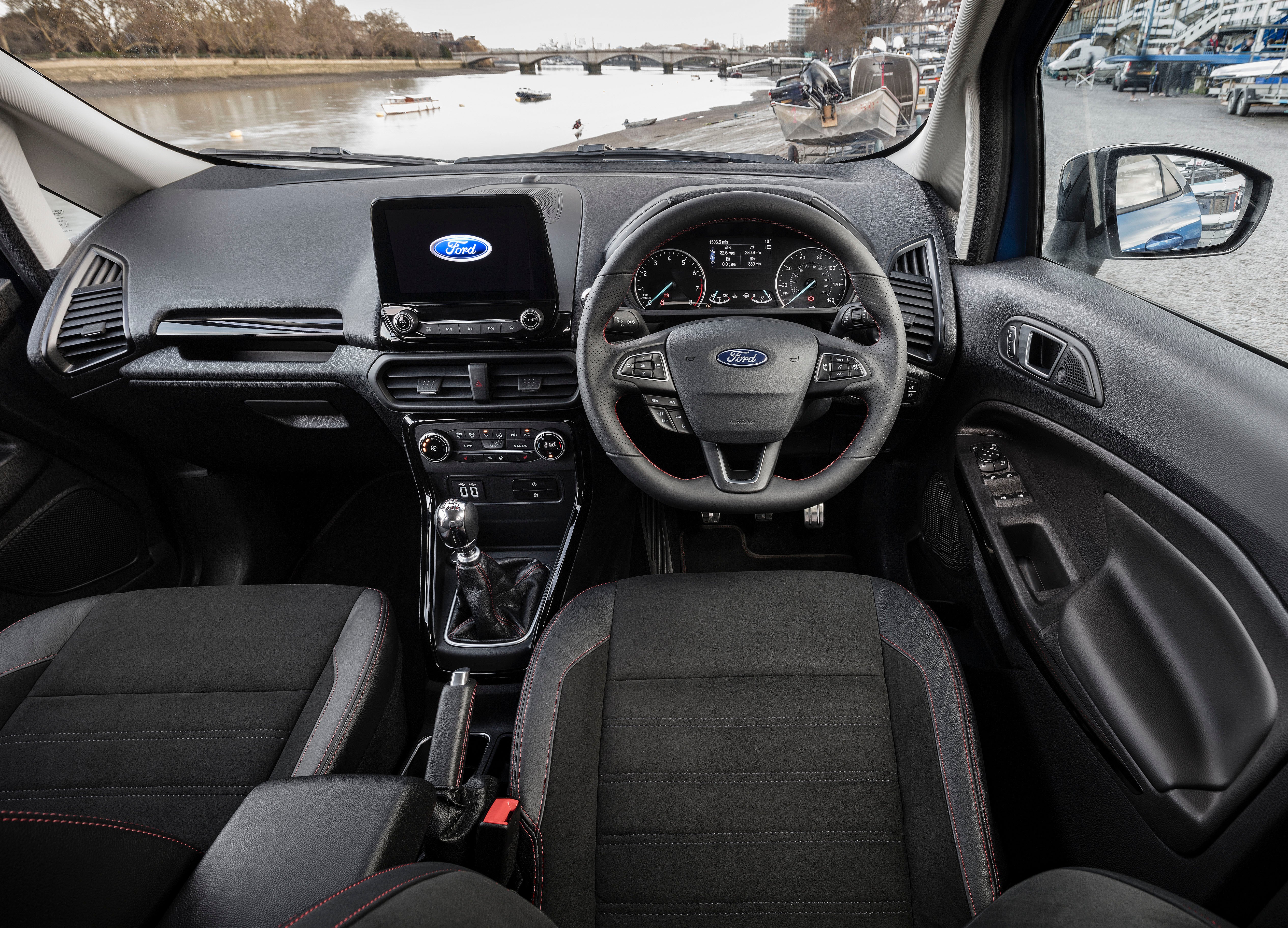 The high-set driving position of the Ford EcoSport lifts your view above traffic, but the range of seat adjustment is limited. Some buyers will prefer this lofty sensation, but it can feel as if you're perched on top of the car, and not inside it. A narrow body means you'll be brushing elbows with your front passenger, and the seats are slender as well.
Manually adjustable lumbar support is standard across the range (but only for the driver) so you might hear a few complaints from your sore passengers on longer journeys, and heated seats are optional on every trim.
Older EcoSports had a steering wheel that would only adjust for height, this made it harder for shorter drivers who need to sit closer to the pedals to find a good driving position. That's been recently remedied, and every model now allows you to alter the reach too - bringing with it a welcome improvement to interior comfort.
The dashboard layout is virtually identical to the Fiesta. That means you get a large 8.0-inch screen set high on the centre console, a multifunction steering wheel, and separate air-con controls behind the gear stick. It won't take long to work out where everything is, but doesn't have any of the design flair of its French rivals.
Quality and finish
Interior quality was one of the Ford EcoSport's weakest areas prior to its mid-life refresh. Bone hard plastics, flimsy feeling buttons and switches, and a generally poor level of finish all marked it out as a budget option.
Ford has worked hard to turn things around, and the current model feels like a massive step forward. Softer dash materials, a less cluttered centre console, and nicer steering wheel are major plusses. It now feels plusher inside than a SEAT Arona for example, but lacks the premium polish of rivals like the Peugeot 2008.
Small details like having clearer text on the analogue dials, soft pads in the front door armrests, and better seat fabrics add up to make a huge difference to perceived quality, and you'll appreciate the improvement.
Investigate lower down though, and there are still some harder, scratchier plastics to be found on the Ford EcoSport. Large panel gaps and creaky trim pieces also don't make it feel nearly as robust or durable as the best cars in this class.
Zetec versions of the Ford EcoSport have cloth seats and gloss grey plastics around the central stack, gearstick and on the grab handle above the glovebox. In Titanium cars you get partial leather seats, and a handy central armrest with extra storage that covers up the base car's cheap-looking cupholders. ST-Line spec livens things up with a lot of red stitching on the leather seat panels and steering wheel, metal pedals, and glossy black cabin trim.
Infotainment: Touchscreen, USB, nav and stereo in the Ford EcoSport
Every version of the Ford EcoSport now has the same impressive 8.0-inch touchscreen display as part of Ford's SYNC infotainment system. The only difference between the more affordable models and higher trims is that the entry-level car comes without navigation - all the other features are identical, and it's an impressive list.
Six speakers, DAB digital radio, Bluetooth, Android Auto and Apple CarPlay connectivity and two USB ports mean you can keep your phones charged, and use your favourite navigation and music apps on the move.
The screen does look plonked on top of the dash instead of neatly integrated with the rest of the cabin, but this 'floating' design has its advantages; mostly that it's easy to read and press the large on-screen icons. There's also a row of shortcut buttons underneath, making it easier to skip tracks or turn up the volume.
True, the graphics and touchscreen response is not quite as snappy as in some rivals, but the menus are intuitive, and you can pinch and zoom into maps, or use two fingers to swipe across, just like an iPhone 6.
It even has voice control, and 'Ford Connect' (an integrated sim-card that gives you access to online services via the 4G network) that can also turn the car into a Wi-Fi hotspot if you need to use this as a mobile office.
Upgrade to the Titanium model and the system has sat-nav and a reversing camera, but since you can just use your smartphone to guide you to your destination, it's not worth paying £300 to add it to the Zetec trim.
Space and practicality: Ford EcoSport boot space
Aside from the higher ride height, the Ford EcoSport's dimensions are broadly similar to a Fiesta. It's 4096mm long (that's without a spare wheel on the back) and 2057mm wide (including the door mirrors). The overall height – including roof rails – is 1713mm.
A raised driving position is the key feature all SUV buyers want and, with 190mm of ground clearance, the EcoSport gives you a better view out than a supermini would. The taller body and roof line also mean headroom is better for adults sat in the back. Yet in other areas, it falls well short of offering the kind of versatility these kind of cars are meant to provide.
For one, the Ford is quite narrow, so shoulder-room is tight in the back, and sitting behind a taller driver effectively removes the decent knee-room on offer. You can't slide the rear seats to increase boot volume like you can in some smalls SUVs, any anyone sat in the middle will feel pretty squashed after 20 minutes there.
The back doors don't open very wide - limiting access when fitting a child seat or get a toddler belted in - and are obstructed by the rear wheel arch. It seems like a minor detail, but one that can also cause daily frustration.
However, these minor niggles pale in comparison to the EcoSport's biggest issue: its side-hinged boot door. It opens outward and means you need to leave a metre of clearance to be able to get inside the loading bay. It's a nightmare for parking in tightly-packed multi-storey car parks, on a busy road, or even the garage at home.
That shouldn't necessarily put you off buying the car completely, but it's worth bearing in mind since it's a disadvantage around town that other small SUVs owners simply won't have to deal with on a daily basis.
The boot itself is below average for the class. It features a moveable floor, and a 354-litre capacity once set in its lowest position. Set it higher (to create two separate compartments) and you'll have 334 litres worth. With the seats dropped, the Ford EcoSport can accommodate up to 1238 litres of luggage.
That's enough to swallow a stroller and a few shopping bags, but not much else. A SEAT Arona has room for 400 litres of family gubbins and the Citroen C3 Aircross 410 litres - and both offer a wider, squarer shape as well.
Fold the rear bench down and this expands further, giving you enough room but the seats don't lie totally flat, leaving a hump in the floor that makes it harder to slide heavy stuff like suitcases or book boxes into the car.
Handling and ride quality: What is the Ford EcoSport like to drive?
"The Ford badge is normally a byword for handling excellence. Mainstays like the Fiesta, Focus and Mondeo all steer, ride and corner with a greater verve then they have any right to possess. Not so with the EcoSport."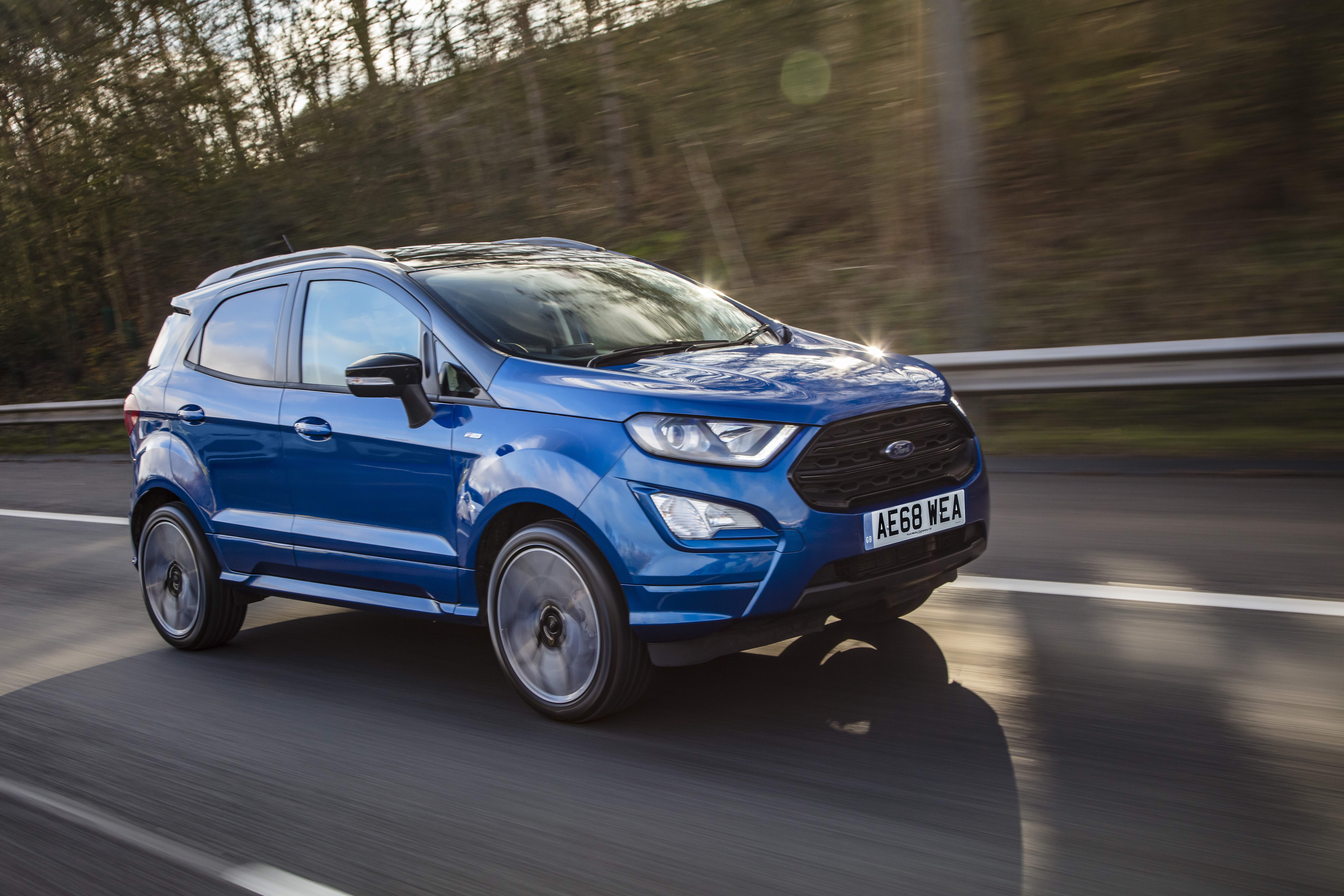 If you were hoping for a car that felt like an overgrown Fiesta to drive, you'll be left bitterly disappointed. The main offender is the choppy and unsettled ride. It feels like the car is trying to be sporty and fun while also maintaining a modicum of passenger comfort, but ends up falling between two stools and doing neither.
It crashes and thumps over imperfections in the road, jostling its passengers instead of absorbing the impact. We're not just talking about deep ruts and potholes either - even small bumps and crests will set it fidgeting. That's at low speeds. Drive it a little faster and the body loses composure, wallowing and swaying in turns.
Poor stability is a problem whether you choose the standard models or the ST-Line with its 17-inch alloys and stiffer sport suspension setup. They all feel too firm to be comfortable, but the latter is the least forgiving.
Buyers in this segment were willing to accept some of the inevitable compromises in handling that come with a taller body and raised suspension, but the SEAT Arona and Ford's own Puma prove that you don't have to. Both of these cars feel more tied down and stable on a country road, and the C3 Aircross rides far smoother.
It's not a total disaster. The steering has a nice weight to it, helping you place the car confidently on the road, and the front tyres grip reasonably well in corners. Still, it's not nearly fun enough to justify the lacklustre ride. Any number of small SUVs will be easier to live with as an urban runabout, and we'd urge you to go try them.
What engines and gearboxes are available in the Ford EcoSport?
Although some previous versions of the EcoSport were available with four-wheel drive and an automatic transmission, the current model range only offers front-wheel drive and a six-speed manual gearbox.
Since most mini-SUV drivers are likely to spend a lot of their time doing short trips in town (nipping to the shops, doing the school run or driving to the station) the 1.0-litre EcoBoost petrol will be the best choice.
It has a turbocharger to help make up for its small capacity, and comes in three states of tune, depending on the trim you go choose: 100PS, 125PS and 140PS. It's eager to rev and reasonably flexible, but it doesn't pull with the same urgency as this motor does in the Fiesta - so the lower-powered versions feel pretty weedy.
Not as slow as the 1.5-litre EcoBlue diesel though. Plainly speaking, it's a gutless engine that really struggles to build any forward momentum, especially in its lowest 100PS guise. You'll find yourself needing to go down a gear or two to keep up with traffic on the motorway, and takes what feels like an eternity to reach 60mph. A Citroen C3 Aircross or any Volkswagen Group SUV fitted with a 1.6-litre TDI will be quieter and feel quicker.
Naturally, the diesels have lower running costs, but they're also coarse and vocal around town, making them less enjoyable to drive in stop-start traffic. Only consider one if you'll regularly be driving long distances.
The six-speed manual has a reasonably positive shift, so it's undemanding to use. This is good news since you'll be making constant changes to get it moving, no matter which engine you pick. Mind you, some drivers will find the heavy clutch tiresome. As for the (discontinued) automatic available with the petrol, it's not a bad alternative to the manual, but fairly dim-witted and hesitant compared to its modern twin-clutch counterparts.
Refinement and noise levels
The EcoSport is not a very relaxing car to spend time in. Every engine is quite vocal - especially the coarse and rattly 100PS 1.5-litre diesel - but even the smaller petrol unit rarely fades away into the background.
Worse still, it's not just noise that makes an unwelcome intrusion into the cabin. You'll feel a lot of vibrations from the motor coming through the seat, pedals and gearstick; a clear sign of the EcoSport's budget roots. This was less of an issue when none of Ford's rivals were significantly quieter - that's no longer the case.
The quicker 'EcoBlue' diesel has the strongest mid-range performance. As a result, you aren't forced to work it quite as hard as the others to get it up to speed, but it's also the most expensive version of the EcoSport.
Its lack of refinement is especially noticeable as you try and get up to (and then maintain) a higher speed on the motorway. The harder you work the asthmatic engines, the more they'll loudly protest, and once you're at a fixed cruise above 60mph there's also considerable wind and road noise adding to the general cacophony.
Safety equipment: How safe is the Ford EcoSport?
Family buyers expect all modern cars to receive a five-star crash safety rating from safety body Euro NCAP. So it may come as a surprise to learn that the pre-facelift EcoSport only managed a four-star score in 2013. It still did well for adult and child protection though, with much higher marks than the three-star Dacia Duster.
That missing star was mainly due to the absence of a speed limiter on the cruise control, and no seatbelt monitors for the back seats. Some of that equipment has been added to the latest model, with more airbags than before, and new active assistance systems on the options list as part of the Driver Assistance Pack.
For a fairly reasonable £600 this bundle gets you blind-spot monitors, front parking sensors, automatic high-beam assist to stop you dazzling oncoming cars, and cross-traffic alert to help when reversing out of the driveway.
The only downside is you can't fit it to entry-level cars, yet another reason to choose the Titanium instead.
At least the Zetec models get one very important modern safety feature: autonomous emergency braking. The car uses a camera to scan the road and will brake for you if it senses you're about to crash. It's great that this is standard (it wasn't until 2019), as are tyre pressure monitors and a repair kit if you get a puncture.
MPG and fuel costs: What does a Ford EcoSport cost to run?
"Even when tested by the more stringent WLTP rules, the EcoSport seems fairly efficient on paper, with a combined economy figure of 47.1mpg for both the 125PS and 140PS versions of the 1.0-litre petrol car."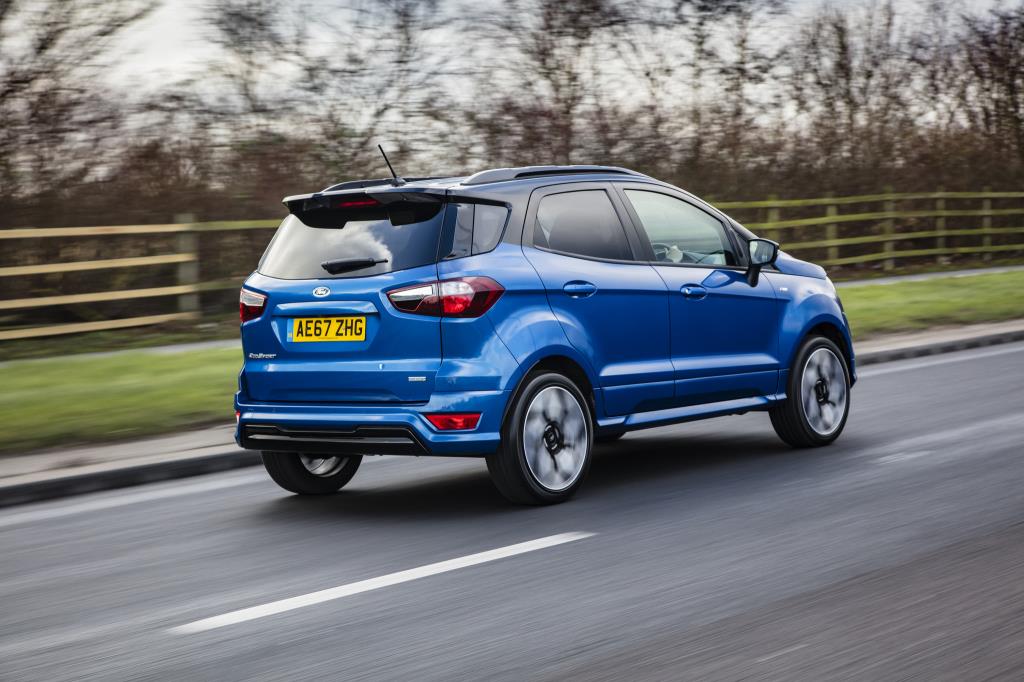 The trouble is you have to drive it very conservatively to get anything close to that figure, and because this car weighs more than a Fiesta it's difficult to avoid working it harder. Do so, and your real-world economy will drop down to around 35mpg - pretty poor figures for what is, after all, a fairly compact, front-wheel drive car.
Choose the diesel and you'll get closer to the official figures, but a distinct lack of grunt in the low-powered version means the 125PS is the one to go for if you regularly want to achieve 50mpg or higher. This model has a cruising range of around 570 miles from its 52-litre fuel tank, versus 400 miles or so in the petrol car.
How reliable is the Ford EcoSport?
Despite its flaws, the Ford EcoSport appears to be quite a dependable small SUV. It scored an impressive 9.6 out of 10 for reliability in the latest HonestJohn.co.uk Satisfaction index.
The main issues with the EcoSport seem to centre around the PowerShift automatic transmission. These are well known to be problematic, but look for a post-2018 model and it'll come with a reliable torque-converter automatic gearbox instead.
Insurance groups and costs
The good news is that despite its stretched proportions the EcoSport should cost you about the same to cover as the smaller Fiesta on which it's based. If you're a newer driver without any no-claims bonus then the best option from the current range is the 100PS 1.0-litre Zetec model, it's rated as a Group 10 (out of 50).
Rivals like the SEAT Arona and Renault Captur will be even cheaper in an equivalent entry-level spec since they are both in Group 8. If you want our favourite 123PS version of the EcoBoost in Titanium trim, it won't cost too much more; that car is in Group 12. Five groups lower than a Peugeot 2008 or Citroen C3 Aircross.
VED car tax: What is the annual road tax on a Ford EcoSport?
Cars registered before the VED changes that came into effect in April 2017 will be relatively cheap to tax. The diesel models, in particular, will be kind on the wallet and should set you back no more than £20 a year.
For newer models, the majority of the range emits between 130-140g/km of CO2 and will cost £150 a year. It's also liable for a first-year rate of £215, but this charge is normally included in the on-the-road pricing.
Company car buyers are actually better off with the 1.0-litre 100PS Zetec petrol than the diesel since it sits in the 29% Benefit-in-Kind tax bracket, and the diesel attracts a surcharge; a lot more than an EV would be.
How much should you be paying for a used Ford Ecosport?
"Buying a used EcoSport is certainly a very cheap way to gain entry to the world of SUVs. You'll need to part with just over £6000 to get hold of an early 2015 model with around 50,000 miles, and the old 1.5-litre petrol."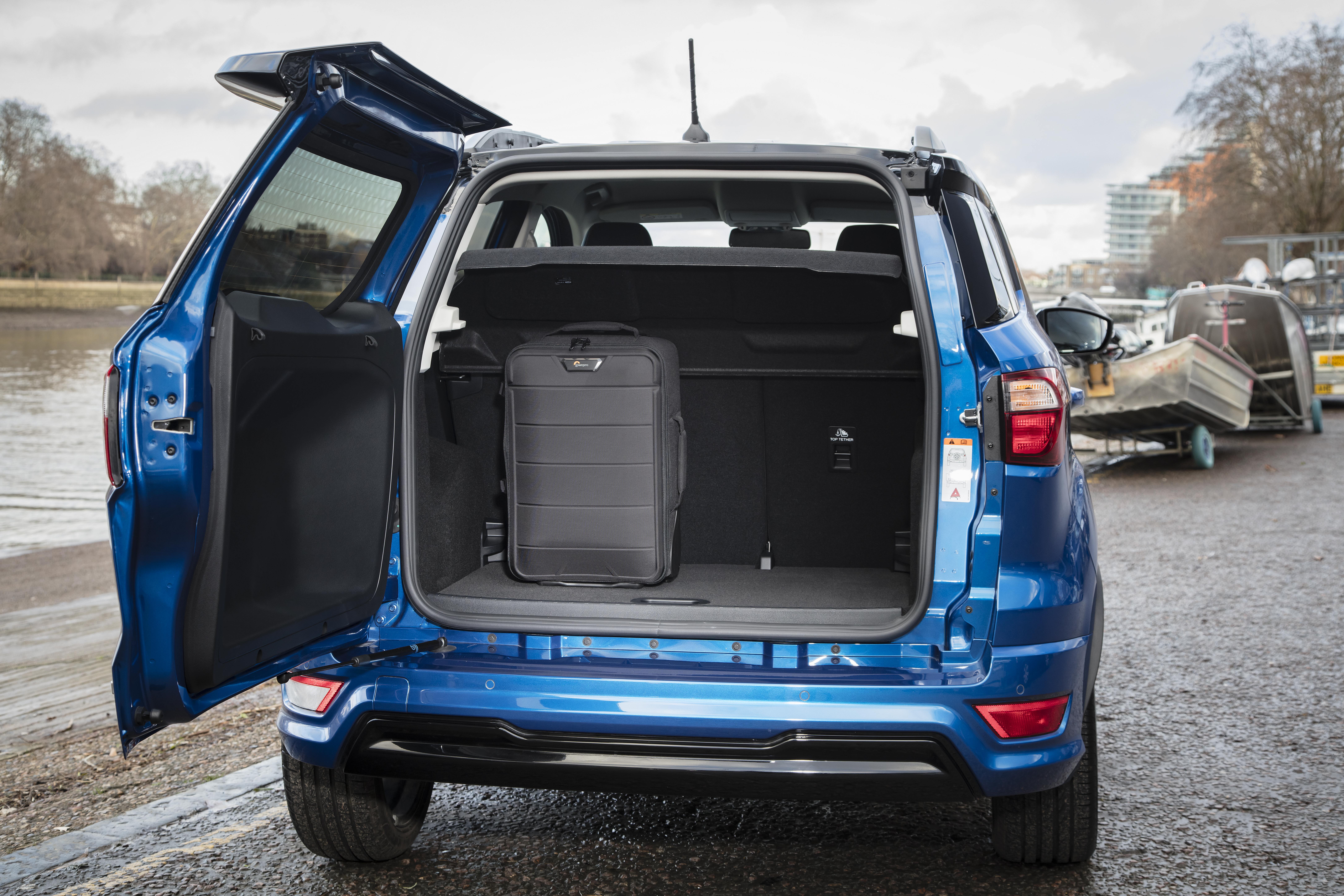 It's a nasty engine though, thrashy and less flexible than the turbocharged 1.0-litre EcoBoost. To find yourself an example the newer motor, average mileage, and a full Ford service history, look to spend around £7000.
That might sound appealing, but the awful cabin quality of these pre-facelift models means that if you can find the extra three grand you'll need to secure yourself a 2018 version then we promise it'll be money well spent.
There's no real difference between prices for petrol and diesel, so choose the fuel type that suits the type of driving you do the best. Again, the earlier 90PS 1.5-litre diesel is horribly slow, so is best avoided if possible.
The automatic gearbox isn't very good either, but if you don't want to shift yourself, then prices for the new shape automatic with the nippy 1.0-litre petrol start from about £2000 more than cars with the manual 'box.
Trim levels and standard equipment
Usually with small cars, manufacturers offer a no-frills budget version that feels like wearing a hair shirt. So it's nice that Ford's small SUV bucks this trend - even the entry-level EcoSport Zetec is packed with equipment. It comes with the same 8.0-inch touchscreen as the pricier trims (earlier cars have a 6.5-inch display) with Android Auto and Apple CarPlay, DAB radio, USB connectivity, air-con, cruise control and electric windows.
None of your neighbours will know it's the most affordable version either, with 16-inch alloy wheels, fog lights, LED daytime running lights, body-coloured door mirrors, a chrome-effect grill giving it that tough SUV stance.
Stepping up to the Ford EcoSport Titanium adds goodies that wouldn't seem out of place on a premium SUV. A reversing camera, parking sensors, climate control all feature. It also has partial leather seats, a useful central armrest, automatic lights and wipers, keyless start, and powered folding door mirrors with integrated puddle lights.
The sportier Ford EcoSport ST-Line's upgrades are mostly cosmetic, with a lowered sports suspension, 17-inch wheels, two-tone paint, a rear spoiler and different grille. It feels like a junior hot hatch inside too, thanks to metal pedals, lots of red stitching, a chunkier steering wheel, and a mixture of faux-suede and leather seat upholstery.
There are a few options worth considering too. The Comfort Pack could also be dubbed the winter pack since it includes a heated steering and front seats that will be a lifesaver on frosty mornings - it's £300.
The pricier X-Pack is more of a hi-fi upgrade than anything else, replacing the six-speaker standard setup with a 10-speaker, 675-watt output sure to get the windows rattling, whether you're in to Radio 2 or dubstep.
Ask the heycar experts:
common questions
Is the Ford EcoSport a 4x4?
Only the most powerful diesel version comes fitted with four-wheel drive, and this engine is also only offered in either Titanium or ST-Line trim, paired with a six-speed manual gearbox.

Will the Ford EcoSport be good in the snow?
Unless you buy the four-wheel drive model, the EcoSport will be just as capable (or not) as any other car, since it's ground clearance and ride height don't help with slippery conditions. Rivals like the Fiat Panda 4x4 have mud and snow tyres as standard, but the Ford doesn't.

Can I buy the Ford EcoSport with an automatic gearbox?
A six-speed automatic version is available on the Ford EcoSport, but it's an option limited to the top two trims, and just a single engine choice: The 1.0-litre EcoBoost petrol with 123bhp and front-wheel drive.

Answered by
heycar editorial team
How big is the boot in the Ford EcoSport?
Luggage space in the Ford EcoSport isn't great, with 335 litres of storage with the rear seats in place. The biggest issue however is accessing that space, since the door is hinged on the side (making it hard to open in tight parking spaces) and you can't open the rear window.

Ford Ecosport cars for sale on heycar
10,981
Number of cars available
£8.3K - £27K
Price bracket of these cars
Colours available on heycar
Keep me updated by email with the latest advice, news and offers from heycar
By submitting, you agree to our
privacy policy
.