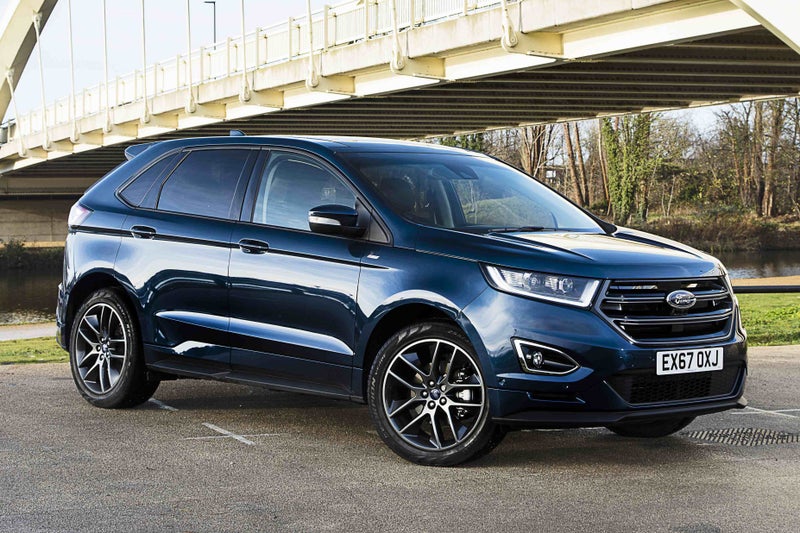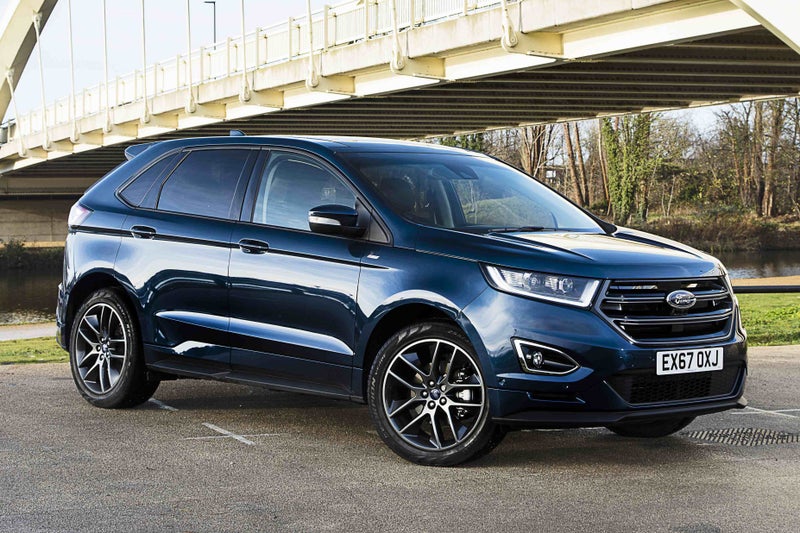 1/10
heycar rating
"Large, spacious five-seat SUV"
Quick overview
Pros
Enormous boot
Great motorway cruiser
Loaded with equipment
Cons
Premium pricing
Limited engine range
No seven-seat option
Overall verdict
On the inside
Driving
Cost to run
Prices and Specs
Common questions
Overall verdict
"As an American import, the Edge brings a refreshingly brash exterior, all-inclusive approach to standard kit and cavernous interior to the large SUV party. It's a decent cruiser, but comes at a high price, and lacks the cabin quality and smooth ride of its posher rivals, while cheaper alternatives offer seven-seat practicality."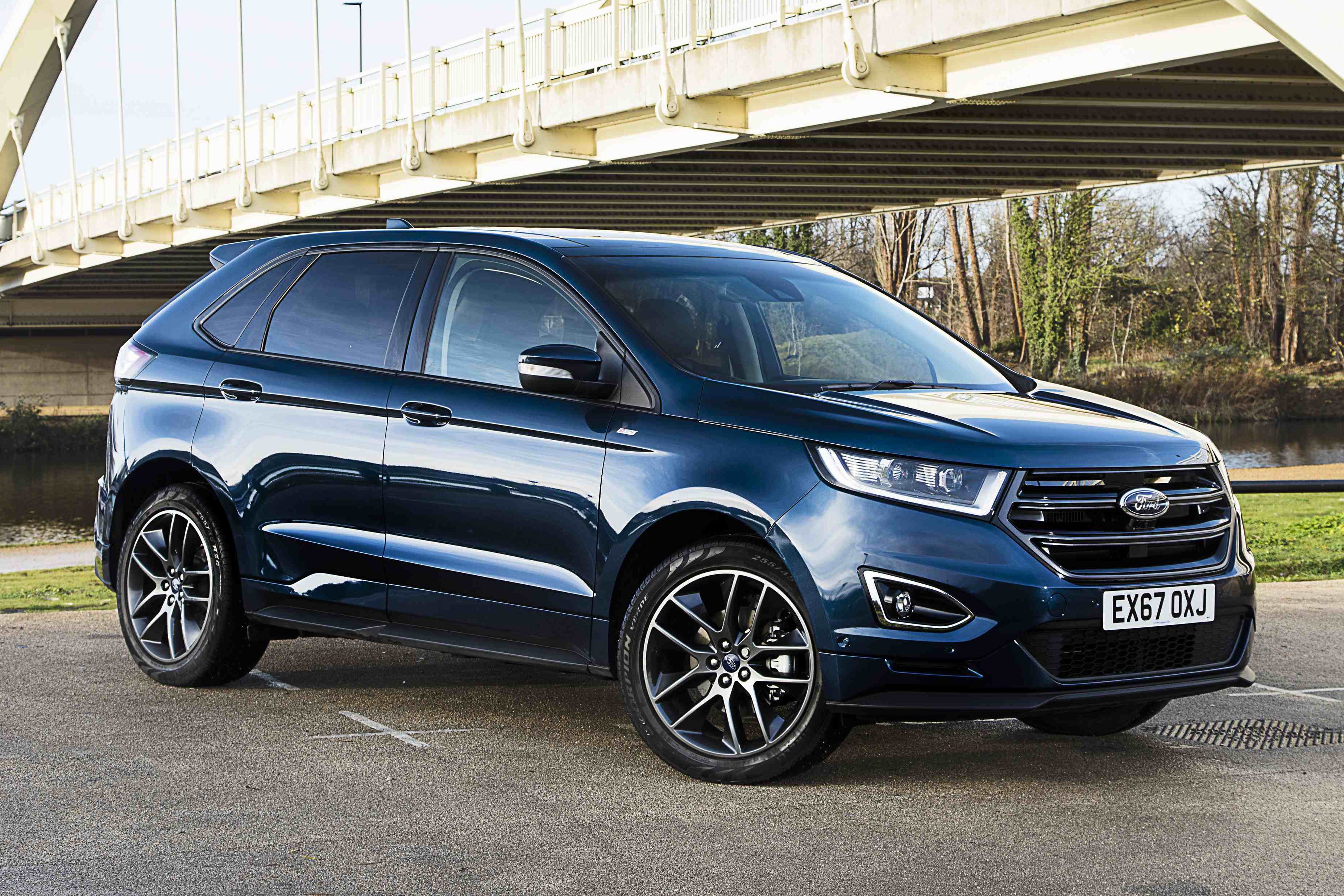 The Ford Edge is a North American SUV that has been refined to European tastes; think of it as a gastropub cheeseburger, gussied up with a brioche bun and aioli dressing, but still an indulgent, fatty and simple meal.
When it first reached the UK in 2016, Ford was faced with the dilemma of where to slot it, in a market that already had lots of options for buyers looking for a big, five-seat family car with a raised up driving position.
Bravely, they decided to stuff the Edge with standard equipment, and price it just under premium rivals such as the Audi Q5, BMW X3, and Mercedes GLC, offering more toys than those cars, and a spacious interior.
Unfortunately, in reaching for the stars this car makes itself much harder to justify than other SUVs. It looks expensive alongside cars like the Skoda Kodiaq and Mazda CX-5 - yet can't match them for cabin quality.
The posher Vignale versions compete with cars that feel a lot nicer to drive, and will keep their value better.
Originally it came with four-wheel drive only, and either 180PS and a six-speed manual gearbox, or 210PS and an automatic transmission from a 2.0-litre diesel. The line-up was changed in 2018, and a new engine was introduced that was more economical, coming with 150PS and front-wheel drive, or 238PS as a 4x4.
Both of the newer versions got a relaxed eight-speed automatic gearbox, and the engine was refined, with plenty of low-down pulling power, but leisurely performance due to the Edge's size and two-tonne weight.
It feels slower than most premium SUVs, and despite only using diesel power, it's not very economical either.
The rest of the driving experience is similarly disappointing. As you'd expect of a car designed to work in vast flat states like Iowa and Minnesota, it's a hushed, steady cruiser with slack controls and soft suspension. Yet the ride is also too firm, pattering across broken surfaces at low speed, and thumping stiffly over potholes.
It also pays a big penalty for its size. You'll have trouble squeezing into parking spots designed with Fiestas in mind, and will be holding your breath to avoid scraping the bumpers on width restrictors and car park barriers.
While this exterior bulk does give the Edge plenty of road presence, and makes it very comfortable inside for five adults, many rivals offer seven-seats, giving them the flexibility of an MPV. These cars can also swallow more luggage than the Ford, without giving you the same feeling of driving a tank through small village lanes.
In too many areas, the Edge is merely average, while in others its too compromised to recommend in favour of a wide array of talented alternatives. Excellent standard equipment and safety features do not make up for its low-rent interior and so-so driving dynamics, and its premium aspirations don't stack up for UK buyers.
Is the Ford Edge right for you?
If you need a large SUV but only five seats, and want to stand out from the crowd, the Edge aims to give you the premium features of pricier rivals from Audi, Mercedes, Jaguar, and Volvo at a (slightly) lower price point.
The four-wheel drive version has healthy outputs of 238PS and 500Nm. Combine that with its porky kerb weight and the Ford makes an excellent tow-car, but it's not as fast or sporty as those figures might suggest.
This is a comfortable, spacious cruiser, with decent refinement that will take long journeys in its stride, and its interior - while lacking the wow factor of premium competition - it has every possible gadget you might want.
It also scores highly for its impressive rear passenger space and enormous boot. Still, most SUVs in this price range (and plenty below) also offer the option of seven seats, giving family buyers greater flexibility.
Many of its rivals are also available with petrol-electric hybrid powertrains to help save fuel and cut their CO2 emissions, but the Edge makes do with diesel power alone, something that's likely to put some buyers off.
What's the best Ford Edge model/engine to choose?
Ford limits the engine you can have based on the trim level, which is frustrating for buyers who don't want to spend extra, but need to for four-wheel drive, for example. The Titanium trim comes with the 150PS 2.0-litre diesel and front-wheel drive, while the ST-Line and Vignale feature the 238PS engine and four-wheel drive.
There is a fairly sizeable gap in performance, and some buyers will prefer the all-weather security of having four-wheel drive, but we still think the slower Titanium is the best choice. It comes with the same eight-speed automatic gearbox as the more powerful car, has all the kit you need, and helps keep a lid on running costs.
It also has a softer suspension setup and smaller wheels than the stiffened ST-Line trim, giving the Edge a better motorway ride. The less stressed engine is also noticeably more refined in this lower state of tune.
What other cars are similar to the Edge?
The Ford Edge faces tough competition from every corner of the SUV market. If you have a little more to spend the excellent Audi Q5 and BMW X3 feel much nicer inside, and have refined road manners to match.
If you want the versatility of seven seats, the Land Rover Discovery Sport is priced close to the Titanium trim, competes well in the spec count, and has a more upmarket image - plus an even bigger boot capacity.
Seven-seat buyers with less to spend are well served by the Peugeot 5008 or Skoda Kodiaq, which both come with a wider variety of engines, and will cost less to run and insure than the bigger, heavier Ford.
Company car buyers who want a reliable, efficient five-seat SUV with a long warranty and low CO2 output should go for the Toyota RAV4 Hybrid. It's quieter around town, and emits 129g/km, but can't tow as much.
Comfort and design
"We have only good things to say about the Edge's driving position. The standard seats are wide, comfortable and very supportive, with 10-way electric adjustment making it a doddle to situate yourself behind the pedals."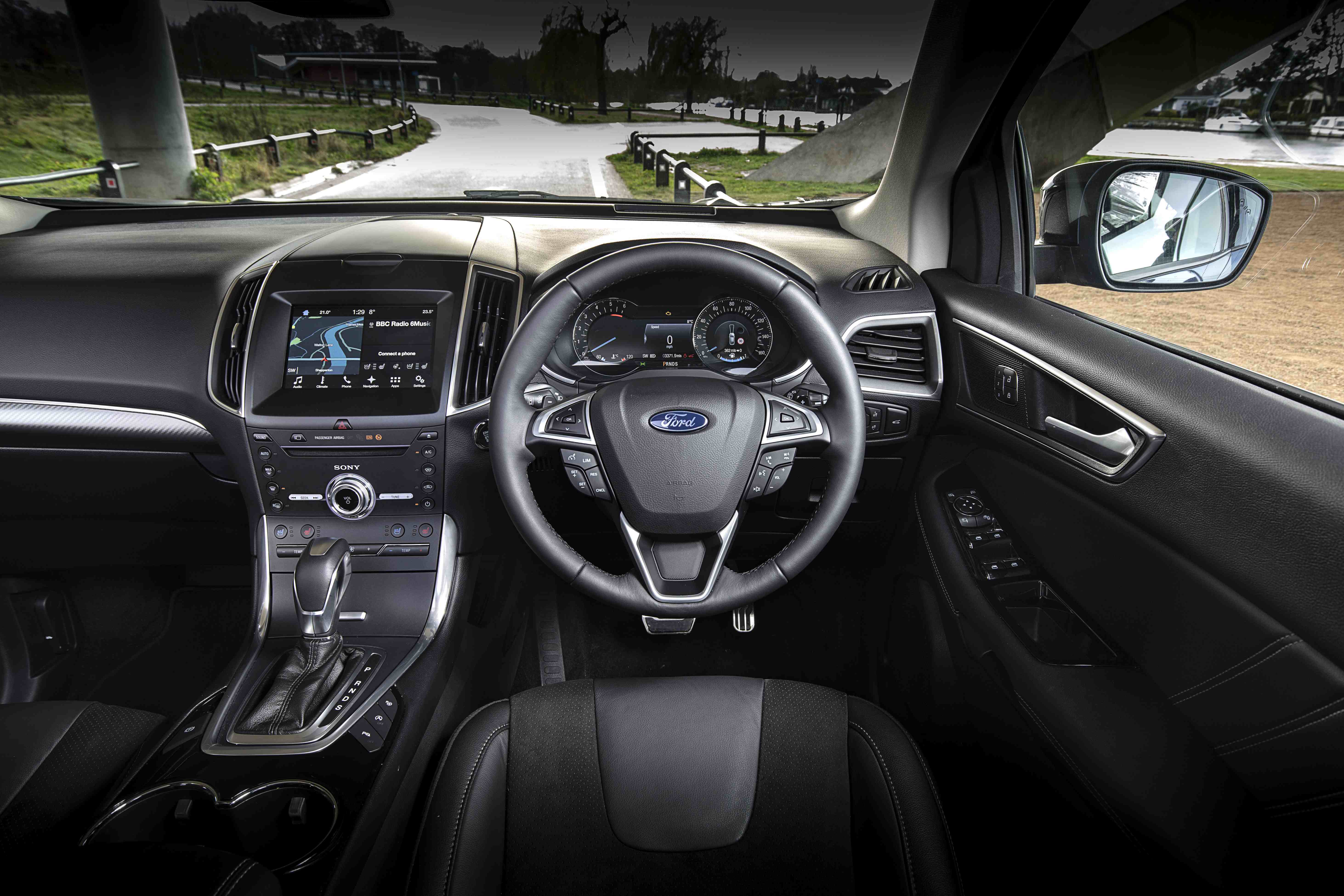 The steering wheel offers plenty of scope to meet taller or shorter drivers at the perfect arm-length, and both front seats have four-way lumbar support. You could spend hours driving this car without a hint of backache.
On cold winter mornings everyone in the car can have a toasty bum; front and rear seat heating is standard even on the Titanium trim. It also - unusually - has ventilated front seats. They're common in the US but rare over here, and come in handy in sweltering temperatures, keeping you feeling fresh behind the wheel.
You sit high enough to have a good view out over other traffic, although a Land Rover Discovery Sport gives you an even more commanding stance. Visibility isn't great though with large blind spots from the thick pillars forcing you to crane your neck at tight junctions - it's also tricky to judge where that bluff bonnet ends as well.
The centre console is placed within easy reach, but the small buttons are hard to read, making it a challenge to hit them first time when you're on the move. The design is drab, but after its facelift Ford did introduce a rotary gear selector to declutter the cabin, in turn making accessing the climate controls less of a challenge.
Quality and finish
For a model that is meant to be taking on cars with some seriously prestigious badges the Edge feels dated.
There is stitched leather in the door panels and covering the dash, but the design is workmanlike. There's a lot of hard plastic in the centre console, cheap looking silver trim inserts, and small easy-to-miss buttons.
Things you'll touch often like the steering wheel and gear selector feel ok (without being the special items you might want at this price) but flimsy air vents and heat controls are an instant reminder you're in a Ford.
It has the lavish equipment of its upmarket competitors, but just can't compete on interior style or execution.
That might sound harsh, but when cheaper rivals like the Mazda CX-5 and Peugeot 5008 look smarter and manage to feel more special - let alone the premium competition - we think it's only right to demand better.
Flagship Vignale versions give a superficial nod in the direction of luxury, with softer leather trim, quilted seats with extra padding, and illuminated door sills, plus more cow hide around the instrument binnacle. It's not enough to disguise the cheaper materials lower down in the cabin though, and we wouldn't bother with it.
Infotainment
Every Ford Edge comes with an 8.0-inch colour touchscreen in the centre of the dash. Pre-facelift models get the 'SYNC 2' version of Ford's infotainment software, but later cars have the significantly livelier SYNC 3.
That's backed up by a 12.3-inch set of digital instruments, controlled using the numerous identical-looking steering wheel buttons. It has too many menus though, and is not as easy to read as Audi's Virtual Cockpit.
It's hard to fault the number of features, with Apple CarPlay and Android Auto smartphone mirroring, sat-nav, DAB radio, Bluetooth, voice control, and a reversing camera all standard, but it's not as advanced as rivals.
The main issue is the touchscreen itself. You can pinch and zoom, but the response to your attempts to prod the small on-screen icons is hit-and-miss. Sometimes it works first time, others you'll need three or four goes.
In fact, since the layout is clunky and the sat-nav confusing, we'd ditch the Ford system altogether and just use your phone for navigation, calls and media playback. The interface is more intuitive and instantly familiar.
ST-Line and Vignale versions feature a premium B&O stereo with punchy sound from its 12-speaker setup, but the touchscreen interface is the same, and is just not as modern or slick as Audi's MMI or BMW's iDrive.
Space and practicality
The Edge is almost as big as a Range Rover, and its hulking dimensions translate to a lot of interior space. It only has five-seats, but the decision not to squeeze in a third row means it's absolutely palatial in the back.
It's so wide that you can fit three abreast without anyone feeling uncomfortable - something that's rare even for an SUV - because the seats are really wide, and there is only a small hump in the footwell to negotiate.
The rear seats recline to help increase passenger comfort on longer trips, and you can fit two child seats in the outer spots and shave room for an adult in the middle - a godsend if you have a fussy toddler on board.
One word of warning though. Some models have inflatable rear seat belts to better protect kids in the event of a crash by spreading the impact load over a larger area. Unfortunately, these belts don't reel like a normal seatbelt, and aren't compatible with some child seats, so be sure to test them carefully before you buy one.
The boot - like most other things about the Edge - is huge, and it has some clever functionality built-in. It opens up electrically, either with a press on the key fob or by waving your foot under a sensor in the bumper.
Inside, the 602-litre loading bay is wide and square, there's virtually no load lip, and useful lashing points to stop awkward items rolling about. Under the floor there are two extra hidden storage boxes, and switches for dropping the rear seat backs (handy when you're carrying something heavy) to open up a 1,788-litre space.
That sounds impressive, and in practice it's more than enough for most family clobber, but it's worth pointing out that seven-seat rivals the Skoda Kodiaq, Discovery Sport or Peugeot 5008 can all carry a fair bit more.
They also give you the flexibility of being able to carry more passengers and not just luggage in a pinch. The third row is usually pretty cramped, but it's nice to have the option; especially if you have a larger family.
Handling and ride quality
"This car would be considered small by American standards, but driving it on country lanes in the UK you'll be the one who feels like a fish out of water. Including the mirrors, it's over two metres wide, which forces you to regularly mount the verge on narrow country lanes to let others pass, and hold your breath in multi-storeys."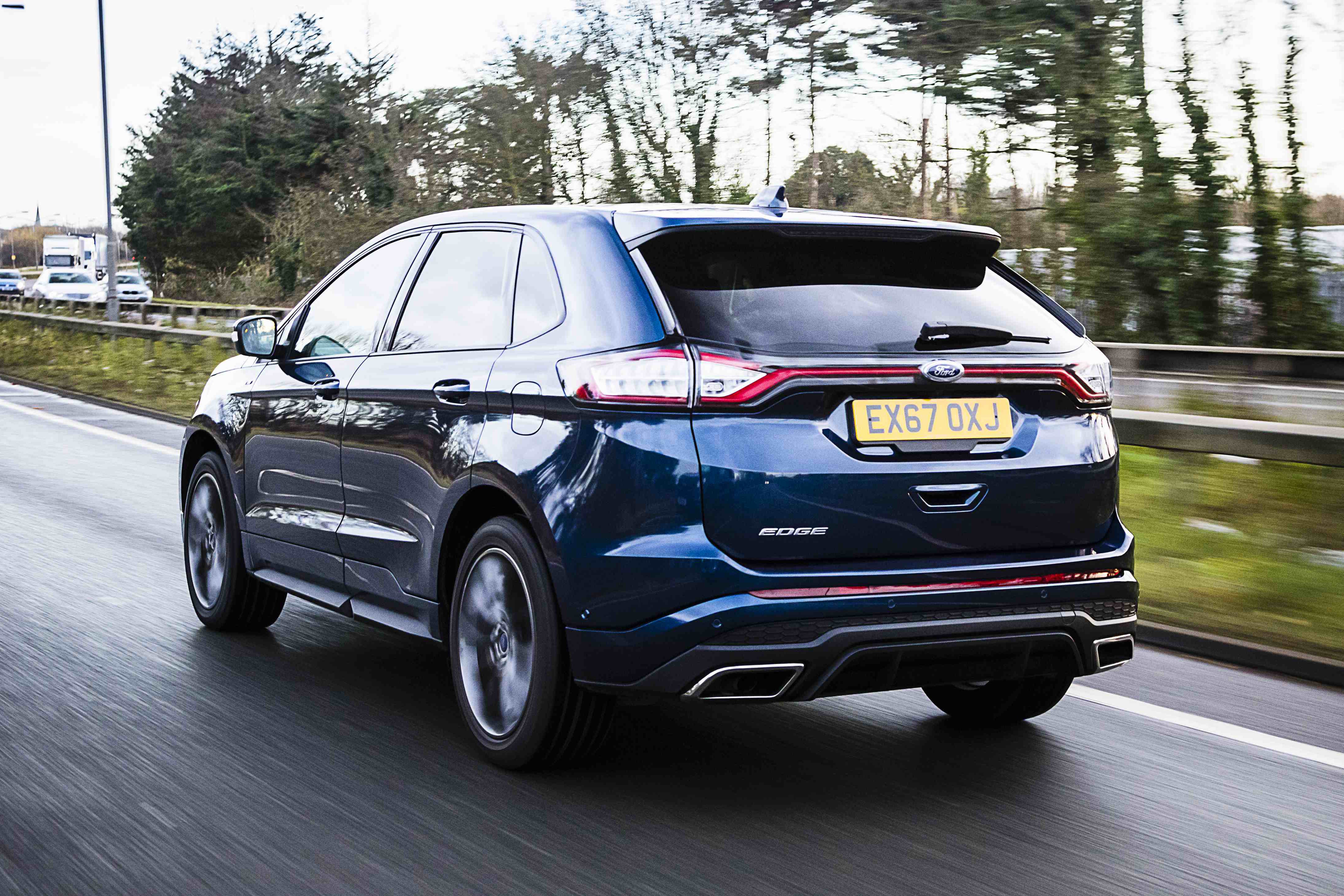 It feels big and cumbersome, a sensation that's enhanced by the vague steering, which lacks the accuracy you need to place the car with any confidence. The huge body leans over in corners too, lacking composure.
We could forgive the Edge these sins if was a paragon of comfort, but the ride is actually rather firm. Spec the ST-Line model (with its optional sports suspension) and it becomes uncomfortably so, especially in town.
It thumps and crashes over the worst imperfections, and will even send a shimmy through the whole car on really rough surfaces, while its larger wheels make the ride borderline uncomfortable at most speeds. The entry-level Titanium is plusher, but still makes you fully aware of lumps and bumps as you pass over them.
The Edge hangs on gamely enough, the tyres gripping effectively even in the front-wheel drive model, but the slow steering and ponderous way it changes direction will soon put you off any ideas of driving fast.
The dull controls mean it's well suited to long, dead-straight roads, but outside the motorway it struggles.
Now, there are plenty of SUVs that feel similarly compromised, but most feel more planted and stable when it counts, and also provide a more comfortable low-speed ride, and won't feel as unwieldy on British roads.
Engines and gearboxes
One thing Ford doesn't provide much of with the Edge is choice. Most rival SUVS offer at least one petrol alternative, and in many cases greener alternatives like hybrid, mild-hybrid or plug-in hybrid tech to save fuel.
In this car, you effectively get the same 2.0-litre diesel from the Mondeo and that's it. It comes in two different outputs- front- or four-wheel drive, but both feature a conventional eight-speed automatic 'box.
It's a good fit with the more powerful 238PS engine, and far superior to the six-speed auto in the pre-facelift car, but not the sharpest transmission. There's a delay of several seconds between you pushing the throttle and the car reacting, so you need to learn to anticipate its dim-witted reactions when pulling out of junctions.
It has a decent low-down grunt - great for towing - and it's pretty quiet and smooth, but despite a high output the performance is best described as leisurely. Most of its premium rivals feel a lot quicker with similar power.
The lesser 150PS engine feels even more sluggish; it simply can't counteract the car's sizeable bulk. Still, if you don't mind getting up to speed in a more leisurely fashion, it cruises with the same easy-going nature. It will also save you a little in daily running costs, but don't expect it to deliver significantly better fuel economy.
In either spec, this is simply not a car for buyers looking for a high-riding SUV with a sporting bent. Driving it harder in the search for excitement will reap no reward, and spoils refinement, so it's better to meet the Edge on its own terms, sit back and relax. Of course, better alternatives such as the Jaguar F-Pace can do both.
Refinement and noise levels
The Edge is first and foremost a big, comfortable motorway cruiser and its hushed cabin plays into those strengths. It has a secret weapon to isolate its passengers from the outside world too: Active Noise Control.
This works the same way posh noice-cancelling headphones do, using microphones to listen out for unwanted disturbances, and playing white noise to counteract them through the in-built speakers. It seems to work - engine clatter and road noise are both dulled to just a faint rumble.
Ford's 2.0-litre diesel is not as smooth as the Audi Q5's four-cylinder - few engines are - but it's quiet enough to never feel intrusive or stressed, especially when you're just ticking along the motorway at a steady speed.
Despite its fancy noise cancelling tech, if you push the engine harder you'll feel vibration through the pedals.
The new eight-speed automatic transmission fitted to every version is not particularly responsive, but it does keep the car ticking along at very low revs, eager to change up through the ratios as quickly as possible.
There are some important spec differences though. The ST-Line version on its 20-inch wheels and sportier tyres generates more tyre road than the Titanium or Vignale. This car also creates a fair amount of wind rustle between the mirrors and A-pillars, and it gets more noticeable if you opt for the panoramic glass roof.
Safety equipment
Large SUVs give their drivers a feeling of security that's hard to match in a smaller vehicle, but the current crop back up that stereotype, with nearly every car in this class enjoying a five star Euro NCAP crash rating.
The Edge is no exception, but look past the headline star rating and into the category scores and it actually did slightly worse for adult, child and pedestrian protection than cars like the Volvo XC60 and Mazda CX-5.
Still, its equipment list is pretty comprehensive. On top of standard fare like a full complement of airbags that includes curtain and driver's knee protection, electronic stability control, and ABS, all models come with auto-emergency braking to prevent shunts in stop-start traffic, a lane keep assistant, and traffic sign recognition.
Add to impressive tally all-round parking sensors, a rear view camera, and adaptive cruise control, and you have to say the Edge is better kitted out with gadgets to help you avoid bumps and scrapes than most cars.
The ST-Line and Vignale models come with the option to upgrade the Edge with a Drivers Assistance Pack. This includes blind-spot monitors, updated cruise control that can come to a complete stop and set off again, and a parking assistant that can take over the steering, whether you're backing into a bay or parallel space.
Unlike so many rivals eager to shed every single gram of weight, a space saver spare wheel is standard too.
MPG and fuel costs
"The Edge is a heavy car - even by SUV standards - with a conventional eight-speed automatic gearbox that's not as slick as the transmissions you'll get in its premium rivals. Unlike those cars there is no petrol- electric hybrid or plug-in hybrid aimed at company car buyers, so it's daily running costs are on the high side."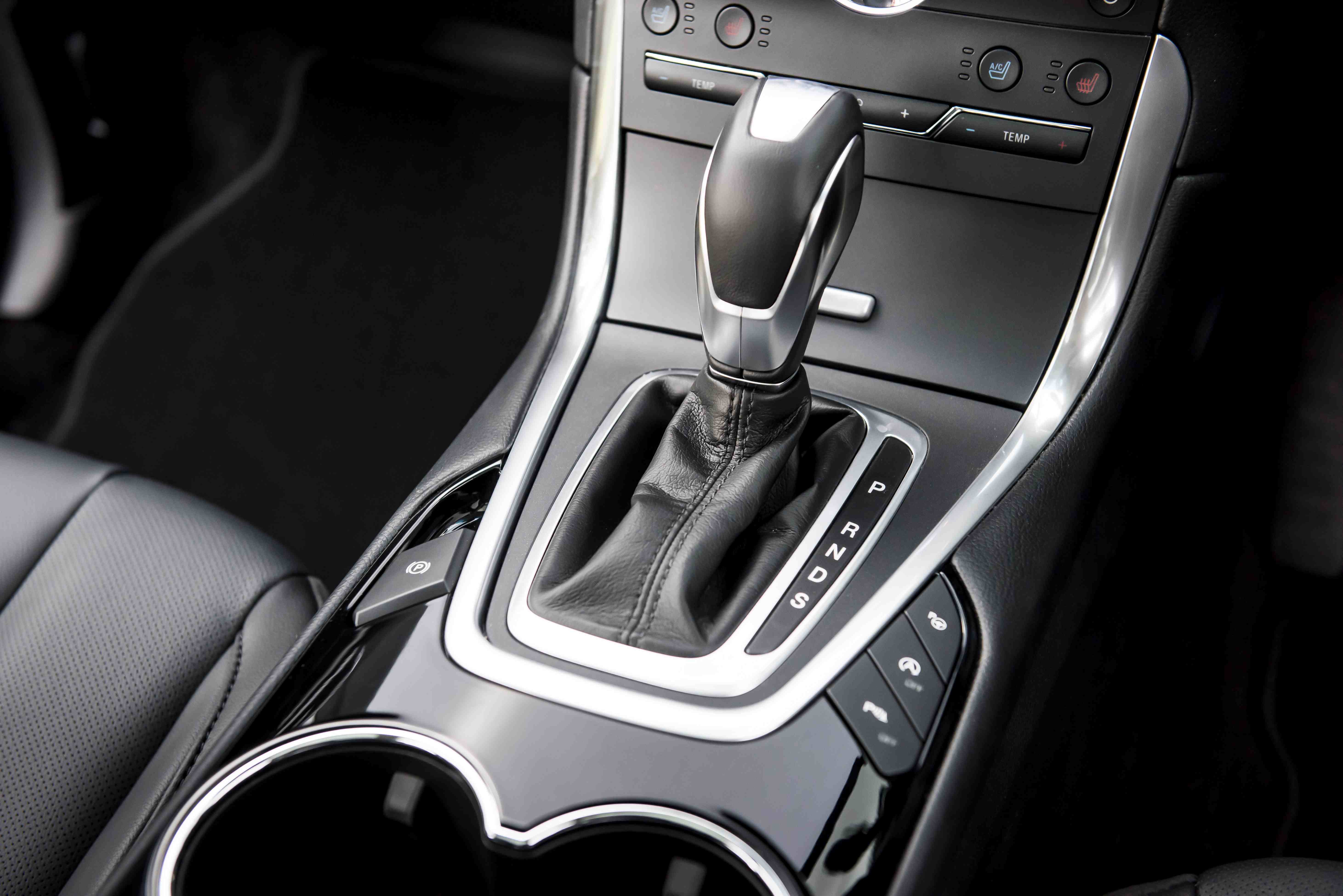 Even the front-drive model is only capable of an official 42.4mpg riding on its standard 19-inch alloy wheels. Our Real MPG testers never got close to that figure in the real word; in fact their average was only 31.1mpg.
The 238PS four-wheel drive car only fared slightly worse at 30.3mpg according to owners, so at least there is no penalty for buying the quicker one. Still, some mainstream rivals can get nearly 50mpg, and the Toyota RAV4 hybrid has much lower CO2 emissions, despite having less power and more straight-line performance.
Despite not being the most efficient large SUV the Edge does come with a massive US-style fuel tank. It's 66-litre capacity means you should get a cruising range of over 500 miles, even if you only return 35mpg.
Insurance groups and costs
How reasonable you think the big Ford's insurance costs are will largely depend on the other SUVs on your shopping list. The 238PS four-wheel drive ST-Line sits in Group 35E. It's a few groups below where you'll find a similarly powerful Mercedes GLC or Audi Q5 3.0 TDI, but two higher than a Jaguar F-Pace R-Sport.
Unfortunately, it's also six groups higher than a Skoda Kodiaq vRS, which matches the output of the Ford but has better performance. It's worse if you go for the front-wheel drive 150PS Titanium, which is in Group 28.
Mainstream rivals like the Mazda CX-5, Kia Sorento, and Peugeot 5008 will all cost hundreds of pounds less.
In fact, the cheapest Edge to get covered is actually the pre-facelift Zetec with 180PS; that sit in Group 25.
VED car tax
Road tax on Edges registered prior to April 2017 are reasonable considering this car's size. You'll pay £165 per year for the 180PS diesel and £205 annually for the 210PS version, based on their relatively high CO2.
The changes that were brought in after that date should save you money, since all combustion engine cars now pay a flat rate of £150 per year. Be warned though, that more expensive trim levels that cost more than £40,000 when they were new will have to pay the higher rate of £475 in the first five years of ownership.
How much should you be paying for a used Ford Edge?
"Weak residual values make the Edge an excellent second hand buy. You can pick up the current shape car in Titanium spec for around £25,000, with less than 10,000 miles on the clock, a huge saving on its list price."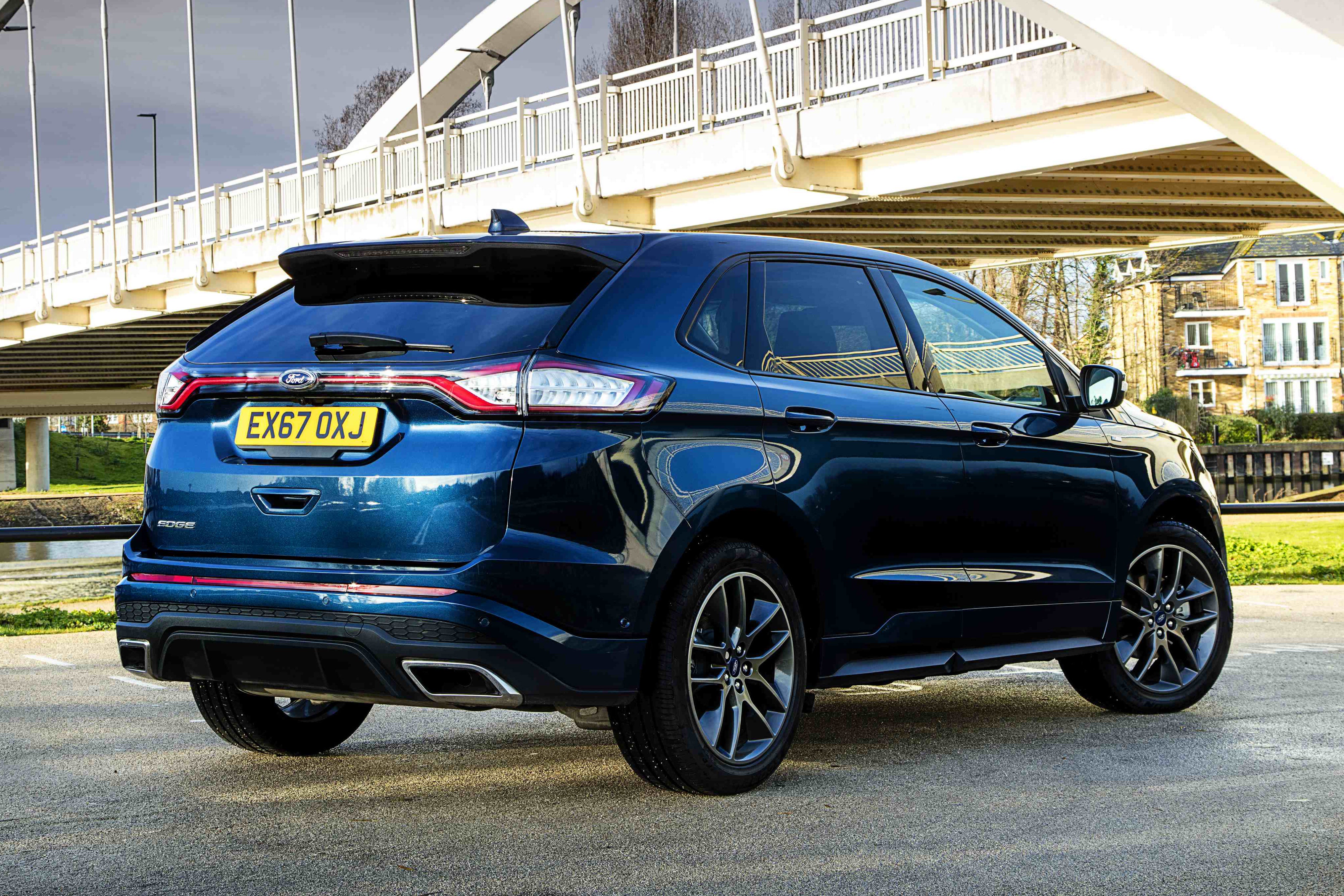 If you want the more popular 238PS model in ST-Line trim then expect to part with around £30,000 for a nearly new one, while the most you'll pay is £35,000 for the luxurious Vignale fitted with the same engine.
Things get even more affordable if you're willing to look at the pre-facelift version. You'll find a good mix of manual and automatic models to pick. Between £15-16k gets you a 180PS Zetec or Titanium manual, with average mileage; part with £20,000 and you'll secure yourself a 210PS model from 2017 with nice options.
Trim levels and standard equipment
This is the perfect car for those who don't want to spend hours picking fancy option packs or ticking boxes.
There is no 'base' model as such, but before its 2018 facelift the entry point to the range was a Zetec trim that skimped on a few toys to make it more affordable, but still felt generously equipped. In the new-shape Edge there are three main specifications: Titanium, ST-Line and the poshest Vignale. All of them have a specification list that would turn Audi, Mercedes and BMW buyers green with envy - it's that comprehensive.
Titanium cars have LED headlights, 19-inch alloys, power folding door mirrors, chrome detailing and dark privacy glass on the outside. Inside, it's a total gadget-fest, with electric leather front seats that can be heated or cooled, a nine-speaker stereo, sat-nav, climate control, digital instruments and radar-guided cruise.
Sporty ST-Line models get larger wheels and lowered sports suspension, and cosmetic exterior and interior upgrades to make it look even beefier. The only meaningful extras over and above the Titanium trim are the heated steering wheel, a booming 1,000 Watt premium sound system from Bang & Olufsen, and in-car WiFi.
Flagship Vignale models are supposed to feel opulent and luxurious, with posh badges on the exterior, extra leather covering on some of the dash surfaces and fancier seats with more padding, but aren't good value at all.
This overabundance means the options list is short and sweet. The only two items worth mentioning are the glass sun roof (which we'd avoid since it eats into rear head room) and a Driver Assistance Pack that can be added to the ST-Line and Vignale to make the Edge's exhaustive suite of active safety systems complete.
Ask the heycar experts:
common questions
Which is bigger a Ford Edge or the Escape?
While both the Edge and Escape are popular SUVs in North America, only the larger Edge is sold here. In fact, it's over 250mm longer than the Escape, which is closer in size to a Kuga.

Does the Ford Edge come with the option of seven seats?
Unfortunately not. Despite its imposing dimensions, and prices that put it in line with several rivals that offer seven seats as standard (or as an option) the Edge is only a five-seater.

Is the Ford Edge a good used car?
Ford hasn't sold a lot of Edges here in the UK, which means there are fewer second hand examples around than you might expect. They do represent good value, offering a roomy interior, but several competitors provide higher quality cabins and greater seating flexibility.

Will Ford stop making the Edge?
Ford might not stop building the Edge anytime soon, but it has already stopped selling it in the UK. It was nowhere near as popular as the smaller Kuga, and poor sales sealed its fate.

Answered by
heycar editorial team
Can I buy a hybrid Edge?
The new Ford Kuga will be available as both a plug-in hybrid and with mild-hybrid fuel saving technology, but the Edge was only ever sold with diesel engines. So if your preference is to avoid diesel power (or be an early adopter of hybrid) then this isn't the right SUV for you.

Ford Edge cars for sale on heycar
10,221
Number of cars available
£15K - £33K
Price bracket of these cars
Colours available on heycar
Keep me updated by email with the latest advice, news and offers from heycar
By submitting, you agree to our
privacy policy
.