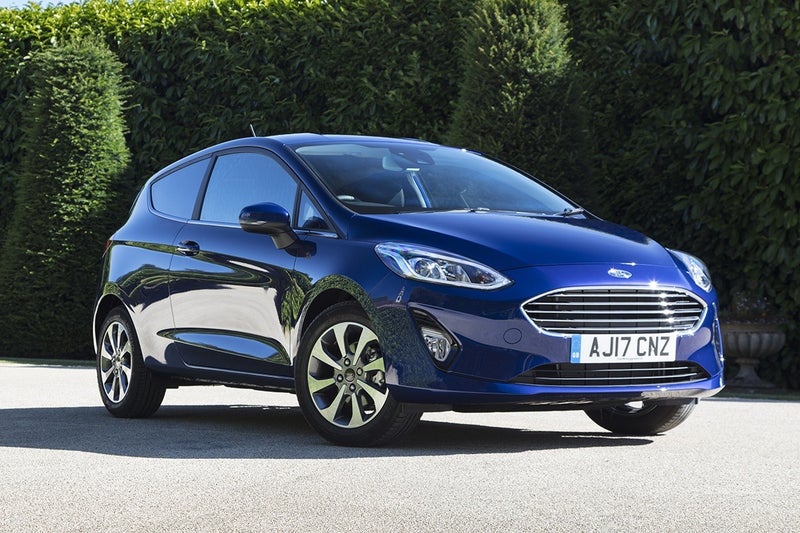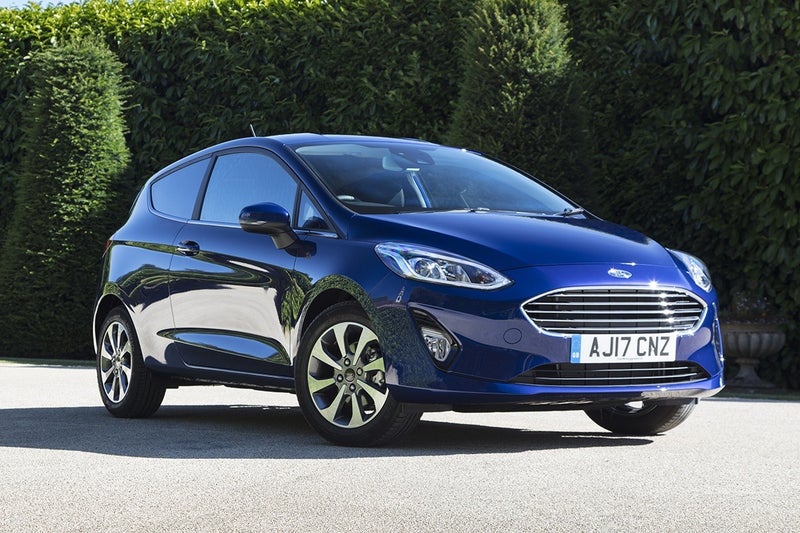 1/7
heycar rating
"Arguably the best small hatchback"
Launched: 2017

Small hatch

Petrol, Diesel
Quick overview
Pros
Comfortable, well made and roomy cabin
Impressive levels of refinement coupled to great driving fun
Wide range of engines and trims to pick from
Cons
Some models are expensive
Handling doesn't feel as sharp as the old car's in some versions
1.1-litre petrol engine now feeling outdated
Overall verdict
On the inside
Driving
Cost to run
Prices and Specs
Common questions
Overall verdict on the Ford Fiesta
"Many cars get larger as they are replaced with a new generation, but Ford has resisted this with its current eighth incarnation of the Fiesta."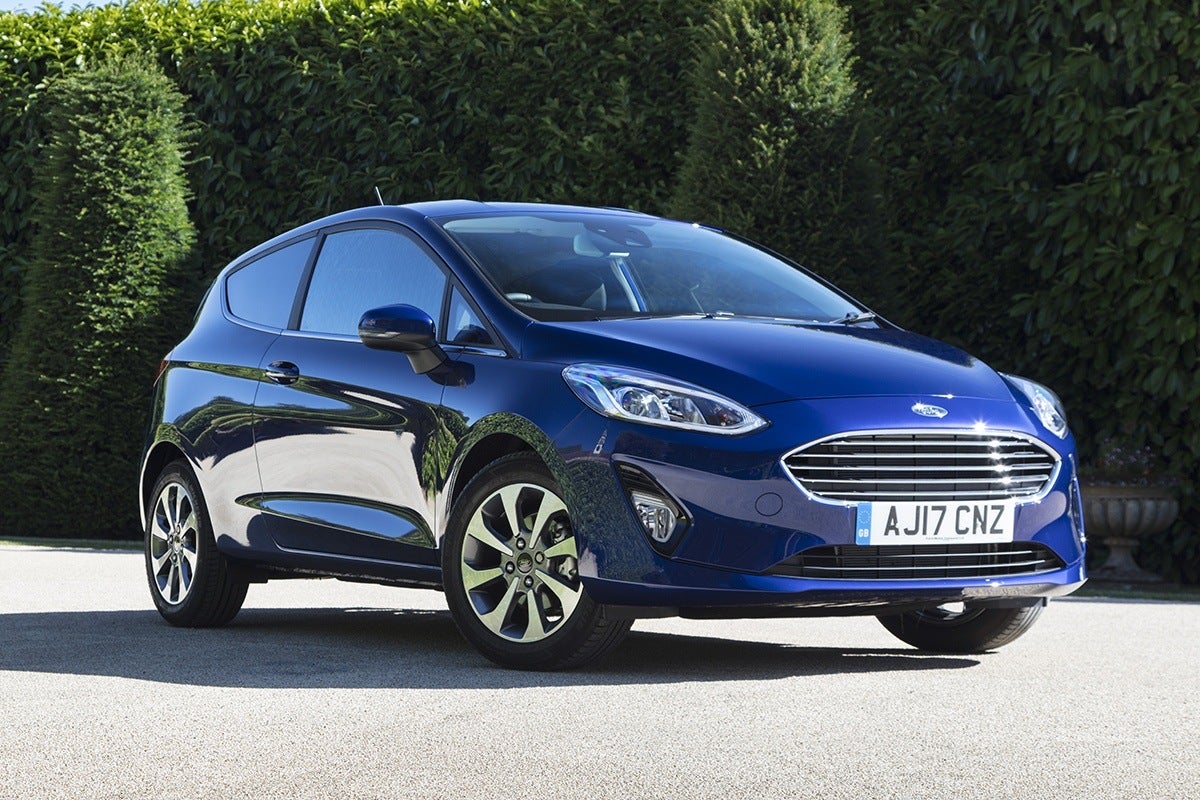 Instead, the present Ford Fiesta manages to feel more grown up and provide more interior space all while occupying much the same space on the road as the old car it replaced in 2017. One of the best small cars you can buy, we'll explain why our Ford Fiesta review.
What's great about this Ford Fiesta is that it works on so many levels. Great as a first car, it's luxurious enough that it works equally as well as a replacement for a more expensive, larger car. As with every Ford Fiesta that has gone before, this one comes in a giddying array of trims, engines and specs to let buyers hone the car to their preferences. There are the hot hatch Ford Fiesta ST and off-roady Ford Fiesta Active versions for even more variation on the theme.
Sticking to the main Fiesta range, it comes in three- and five-door hatchback forms to lock horns with the Vauxhall Corsa and Volkswagen Polo, as well as the Hyundai i20, Renault Clio, SEAT Ibiza, Skoda Fabia and Toyota Yaris. That strength and depth of competition means the Fiesta can only ever be on top form if it wants to stay as one of the best-selling cars in its class.
To achieve that aim, the Ford Fiesta offers a more refined drive than its predecessor to tackle the Polo head-on for comfort. It also serves up more grip and cornering prowess to keep the Renault Clio at bay, while more luxurious versions even have the ability to give the MINI and Audi A1 a run for their considerable money.
Doing all of this requires the Ford Fiesta to be offered in a broad range of trims. You can choose from the entry-point Trend, which replaced the Zetec in mid-2019, Titanium, Titanium X, ST-Line and Vignale. With the ST-Line, you get a firmer suspension arrangement that shows just how brilliant the Fiesta can be when allowed to shine on a twisting country road.
The other models in the line-up have a softer set-up that confers greater comfort on the Ford small hatch, though you certainly wouldn't complain about their nimble handling or steering with bags of feel. More importantly for the majority of customers for these cars is they are quieter at all speeds and come packed with plenty of kit, including the 'floating' infotainment screen and lane departure warning as standard.
As well as the spread of trims to choose from, you have three 1.0-litre Ecoboost turbo petrol engines to select from with 100-, 125- and 140PS, plus a 1.1-litre with 85PS as the lowest rung on the ladder. For diesel fans, Ford offers two 1.5-litre Duratorq motors in 85- and 120PS outputs. All of these engines come with six-speed manual gearboxes, except the 1.1 that uses a five-speeder. If you want an auto, the 100PS 1.0 is the only Fiesta for you. Such a wide offering is typical of the Ford Fiesta and why it remains the small hatch for just about everyone.
If you're looking for the previous version, you need our Ford Fiesta (2013-2017) review.
Is the Ford Fiesta right for you?
If you cannot find a Ford Fiesta body, engine and trim combo to suit your needs, you're either very fussy or just not in the market for a small hatch. While it's by no means the only fruit in the hatchback orchard, the Ford Fiesta is justifiably so successful by providing buyers with a massive suite of models, engines and options.
With this eighth generation of Fiesta, Ford has brought more comfort into the equation, so the car massages its way over bumpy roads more smoothly. Yet, it still has the same verve when it comes to corners, you just have to look a little more to find it.
Whether it's as a first car fresh from ripping up the L-plates, dependable sole vehicle or the back-up car in the family, the Ford Fiesta does it all and does it very well. Little wonder it's routinely at the top of the sales chart.
What's the best Ford Fiesta model/engine to choose?
While the 1.5-litre TDCi turbodiesel engines are perfect for those who rack up large mileages in their Ford Fiesta, our pick is one of the 1.0-litre Ecoboost petrols. These turbocharged three-cylinder motors are among the best of the glut of engines of the same cylinder count and capacity used in many small hatchbacks now.
You can have a six-speed automatic coupled to the 100PS 1.0-litre engine, but we'd rather have the smooth-shifting six-speed manual. We'd also avoid the 1.1-litre petrol with its five-speed gearbox that now feels quite dated next to its sibling engines.
The three-door Ford Fiesta perhaps looks a little sportier, but we'd choose the five-door for its greater practicality. As for trim, the Trend is perhaps a little too basic, so better to look at the well equipped Titanium and Titanium X versions or the ST-Line if you want something a racier slant. For outright luxury, the Vignale does the trick but comes with a premium price to match.
What other cars are similar to the Ford Fiesta?
The Ford Fiesta is up against the small hatch big hitters in the shapes of the Vauxhall Corsa and Volkswagen Polo. Both are very accomplished cars with similar levels of comfort, agility, tech, space and safety to the Ford. For some, the Volkswagen has an added veneer of quality, while others will prefer the looks of the Corsa.
Elsewhere, you'll find the SEAT Ibiza, one of our favourites, as well as the trusty Skoda Fabia and the excellent Toyota Yaris. There's also the latest Peugeot 208 and Renault Clio - both impressive small hatchbacks. We'd also suggest looking at the Hyundai i20, which is surprisingly good.
The Mazda 2 is hard to ignore for its quality, while the MINI and Audi A1 are also within the Fiesta's sights at the more premium end of the market.
Comfort and design: Ford Fiesta interior
"The most obvious sign that you are sitting in the latest generation of Ford Fiesta is the 8-inch touchscreen positioned in the upper centre of the dash."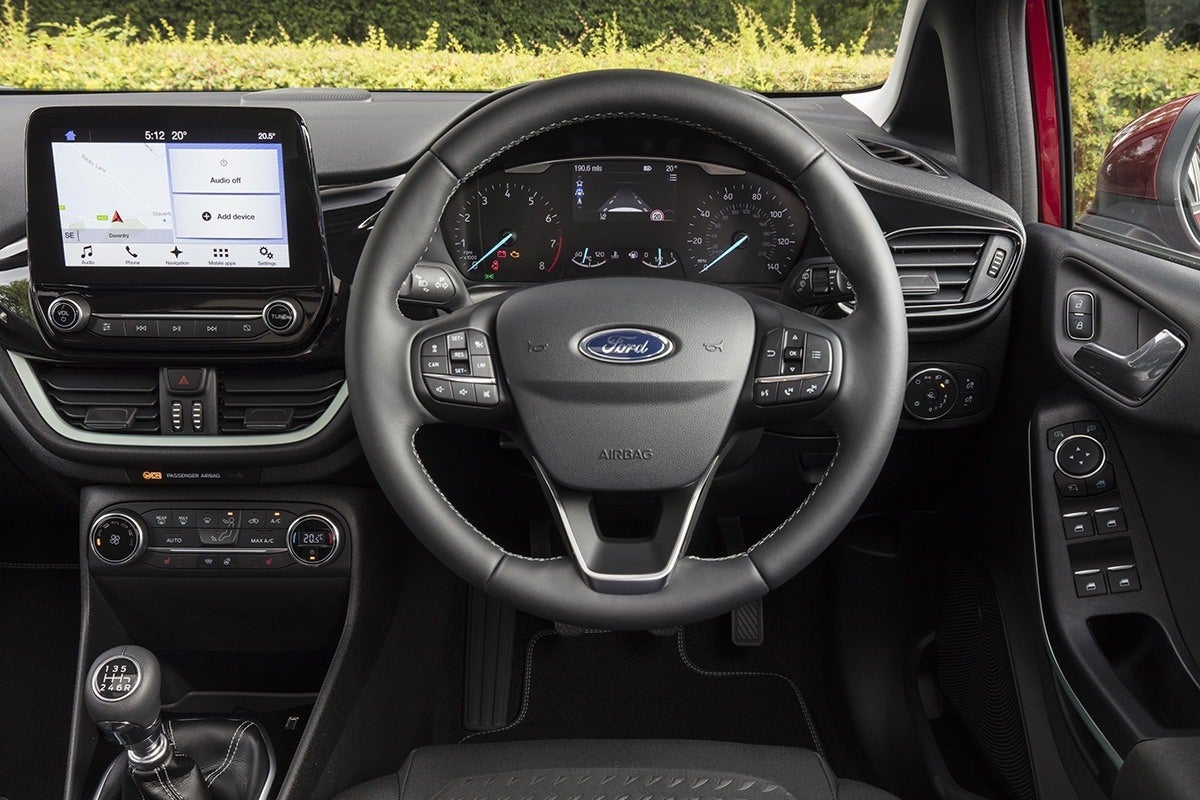 This 'floating' display is common to all new Ford Fiesta trim levels, though the better equipped models gain the SYNC 3 version with navigation, voice control and the Ford Pass Connect wifi connection.
Importantly, this screen is easy to use and to scroll through the various functions for the driver. It's big enough to read with a quick scan while keeping your attention on the road, too. Another advantage is the touchscreen does away with many of the small buttons for various functions found in the last Fiesta. Even so, the ventilation controls still have too many buttons for our liking – why have two buttons for fan speed when a simple, single rotary dial would work better?
The main dials are easy to see and distinguish on the move and the steering wheel can be altered for angle and depth. Mix this with a comfortable driver's seat that has height adjustment and you can quickly find the ideal seating position. All is not quite perfect here, though, as the controls for moving the seat are tightly packed between seat base and door, so it's best to adjust them chair before closing the door.
On the upside, the foot pedals are perfectly placed for comfort and easy use, which is something you only really notice when you step into another car and realise how well Ford has managed this.
Quality and finish
This is an area where Ford has worked hard to shed the previous Fiesta's somewhat utilitarian approach to fabrics and materials. It's a partial success as the upper section of the dash softly padded plastic looks and feels good, while the main sweep of the dash and centre console are just as pleasing. All of the controls work with a pleasingly positive action, particularly the column stalks.
Glance further down and deeper into the cabin of the Ford Fiesta and you begin to notice far more basic looking finished and textures. They are hard-wearing and robust, and Ford puts the Fiesta together as well as any of its rivals, but it just misses that last degree of wow factor you get in a MINI or Volkswagen Polo.
This is addressed to some degree in the Vignale model with its upscale trim and appearance. However, there are still some standard Fiesta parts on show in this car that make you consider the cost of this model over its siblings and rivals. Despite this, the Vignale does impart the feel of a luxury car that has been distilled into a smaller package.
Infotainment: Touchscreen, USB, nav and stereo in the Ford Fiesta
Every Ford Fiesta now comes with an 8-inch infotainment screen as Ford has binned off the basic Style and Zetec models. With the Trend and ST-Line models, you get the SYNC system that comes with a touchscreen and steering wheel buttons. It is easily hooked up to Apple CarPlay or Android Auto for music and apps.
It's as well you can access apps so readily as the SYNC system is rather basic otherwise, even if it's much easier to navigate your way through now than Ford's older versions. The screen is big, bright and has easily prodded icons.
Move into most other Ford Fiesta trims and you get an upgrade to the SYNC 3 infotainment system that includes navigation, voice control and FordPass Connect internet access. Again, this still requires your smartphone to work at its best, but it's still simple to work.
Both SYNC systems come with Emergency Assistance and DAB radio. Alternatively, you could have the Titanium X or Vignale models with a Bang and Olufsen Premium set-up that has 10 speakers for greater sound quality. This is an option for other trim levels except the base Trend.
Space and practicality: Ford Fiesta boot space
The Ford Fiesta is 4040mm long and 1735mm wide, while both the three- and five-door Ford Fiesta models offer exactly the same amount of cabin space. However, the five-door has a clear advantage when it comes to accessing the back seats, which will be a prime consideration for anyone with children. Letting them into the back with the three-door model is simple enough as the front seats tip and slide forwards, but it's just more of faff than simply opening a rear door.
Once in the back of the Ford Fiesta, there's a trio of three-point belts and the two outer chairs have ISOFIX kiddy seat mounts. The window line is quite high in the rear of the Fiesta, so younger children may find themselves feeling a bit hemmed in, especially with the standard dark cloth upholstery of most trims.
There's reasonable space for kids in the back of the Fiesta and it can, at a pinch, take three abreast. For adults, it's strictly for two and they will find head and leg space at a premium if they are of average or above height.
Turning our attention to load carrying, the Ford Fiesta's boot has up to 311-litres of space in normal use, which puts in the middle ground of this class. It's deep and uninterrupted by intrusions from the wheel arches, but there is a high load sill to drag heavier bags over.
Extending the load space is simple as the 60/40 split rear seat tips forward when the release leavers are pulled. This frees up as much as 1093-litres of space, but it comes with the caveat that its load floor is not flat and has a marked step where the back seat base meets the floor. Nor does the rear bench fold completely horizontal, which hampers its ability to carry bigger boxes home from the DIY shop or cart rubbish to the dump.
Step round to the front cabin of the Ford Fiesta and the driver is well catered for thanks to big door pockets and a centre tray in front of the gear lever. There's also a lidded cubby between the front seats and a glovebox with enough space to stash a phone charger.
Handling and ride quality: What is the Ford Fiesta like to drive?
"This is an area where the Ford Fiesta has dominated its rivals with panache. While some, like the SEAT Ibiza and Renault Clio have closed the gap, the Ford remains the class standard for how a small hatch should cover ground and cope with tattered surfaces."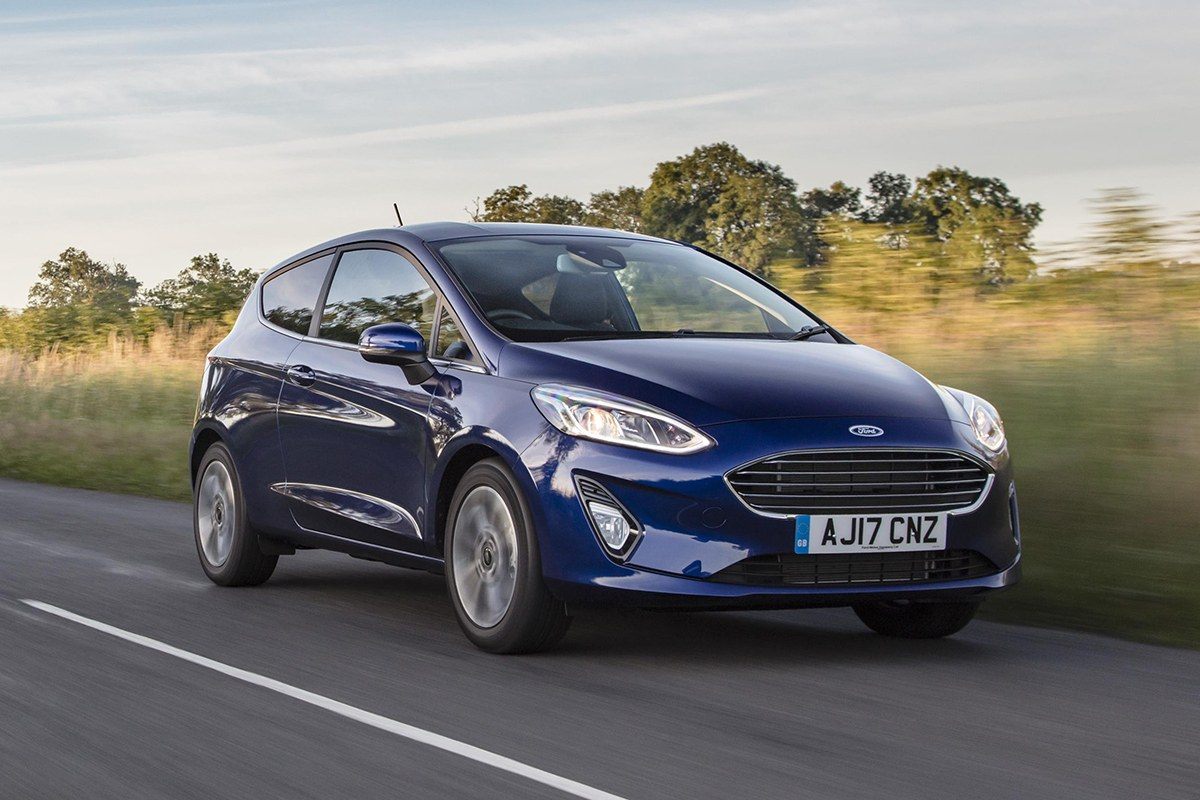 On any type of road, whether in town or motorway, country lane or faster routes, the Ford Fiesta has a knack of flowing along. It does this without any apparent effort, whereas much of the competition will be bouncing around and leaving their occupants feeling less than keen to continue.
As well as its finely controlled suspension, the Fiesta comes with controls for the pedals, gear change and steering that are that little bit better judged for weight and reaction than its rivals. They all combine to give the driver a greater sense of involvement and overall say in how the car behaves that makes it fun, agile and cosseting. It's also easy to park in packed city streets with a tight turning circle and light power-assisted steering.
Most versions of the Ford Fiesta have the standard suspension set-up. This is ideal for the majority of drivers and situations, but keener drivers might find the ST-Line with its firmer settings is the one to have. It does nothing to undermine the Fiesta's impressive comfort but curbs body lean and movement along undulating roads to have a sportier edge that many will associate with Ford's small hatch.
With any Fiesta, motorway driving holds no concerns as the car is stable at high speeds and unfazed by side winds or the blast as you pass lorries. It makes the Ford a great all-round choice in this class and capable of working as your only car as well as a superb second car in a household.
What engines and gearboxes are available in the Ford Fiesta?
There isn't a bad choice of engine or gearbox in the Ford Fiesta range. The entry-point 1.1-litre Ti-VCT petrol engine with five-speed manual transmission is restricted to Trend trim only. It gives a good account of itself and its 85PS power output makes it good around town but a little slow on motorways.
Far and away the best choice of engine in the Fiesta is the three-cylinder 1.0-litre Ecoboost turbo petrol unit. It comes in 100-, 125- and 140PS outputs and we'd plump for the middle one for its blend of punch, economy, refinement and running costs. All three deliver plenty of low-down pep and are happy to rev hard when required, though you are unlikely to need this as they pull strongly through the standard six-speed manual gearbox. If you want an automatic transmission, this is offered with six gears attached to the 100PS Ecoboost motor. It can be slow to swap gears and is not noted for the smoothness of its shifts.
For those covering bigger distances, Ford has a pair of 1.5-litre turbodiesel engines available in the Fiesta. They are three-cylinder units and can be ordered with 85- or 120PS. It's a shame there isn't an option that sits in the middle as the 85PS motor can feel a bit underwhelming at higher speeds while the 120PS unit can feel like overkill. Still, we like the pace of the 120PS turbodiesel and its ability to cruise all day long on the motorway.
Refinement and noise levels
Whichever engine you choose for the Ford Fiesta, and regardless of whether it's fuelled by petrol or diesel, they are all admirably hushed in town and on the motorway. Even when accelerating hard to join fast moving traffic, the engines have a whizzy, eager feel that makes the driver happy to work them hard.
Road noise is also kept well in the background in every version of the Fiesta even when it's riding on larger wheels in some of the upscale trims. Although not a criticism as such, we have found the Vignale model to be no quieter than the rest of the range, though this is because of the model's luxury aspirations rather than any shortfall in its abilities.
Where every Fiesta does pull up short of our expectations is the amount of wind noise that can be heard when driving at higher speeds. It comes from around the windscreen and door mirrors, making a continuous rustle of sound. While not immediately tiring or excessively loud, it does wear after a longer journey and it something the Volkswagen Polo makes a much better job of filtering out.
Safety equipment: how safe is the Ford Fiesta?
The entire Ford Fiesta range comes with six airbags as standard in every model, as well as Ford's Intelligent Protection System. This is Ford-speak for how the ESP traction control, ABS anti-lock brakes and electronic brake force distribution work together in the event of the car sensing it's out of shape.
The Fiesta also comes with Hill Start Assist to guard against rolling backwards when pulling away on inclines, while Trailer Sway Control prevents snaking if you're towing. ISOFIX child seat mounts in the rear seats and a tyre pressure monitoring system complete the standard offering.
Ford offers a number of optional safety packs, including the NCAP Technology Pack that comes with Lane-Keeping Alert and assistance, speed limiter, automatic headlights, and a headrest for the rear middle passenger. Another pack called the Driver Assistance Features brings rain-sensing wipers, Traffic Sign Recognition and Driver Alert with a 4.2-inch colour display in the main instrument pod.
You can order rear parking sensors separately or as part of the City Pack that also has electrically folding door mirrors with integrated puddle lights. A reversing camera is another option, along with parking assistance and a Blind Spot Information System to warn of cars you might not see in the mirrors.
Ford also offers its MyKey that lets different sets of keys to the car be programmed with individual settings. For instance, a younger driver's key might not let them play the stereo too loudly in case it distracts their attention.
MPG and fuel costs: What does a Ford Fiesta cost to run?
"Best of the bunch for fuel economy in the Ford Fiesta range is the 1.5-litre turbodiesel with 85PS. It offers an official consumption of 55.4mpg based on WLTP testing. The Real MPG figures for this model show it can achieve 63.2mpg in mixed driving."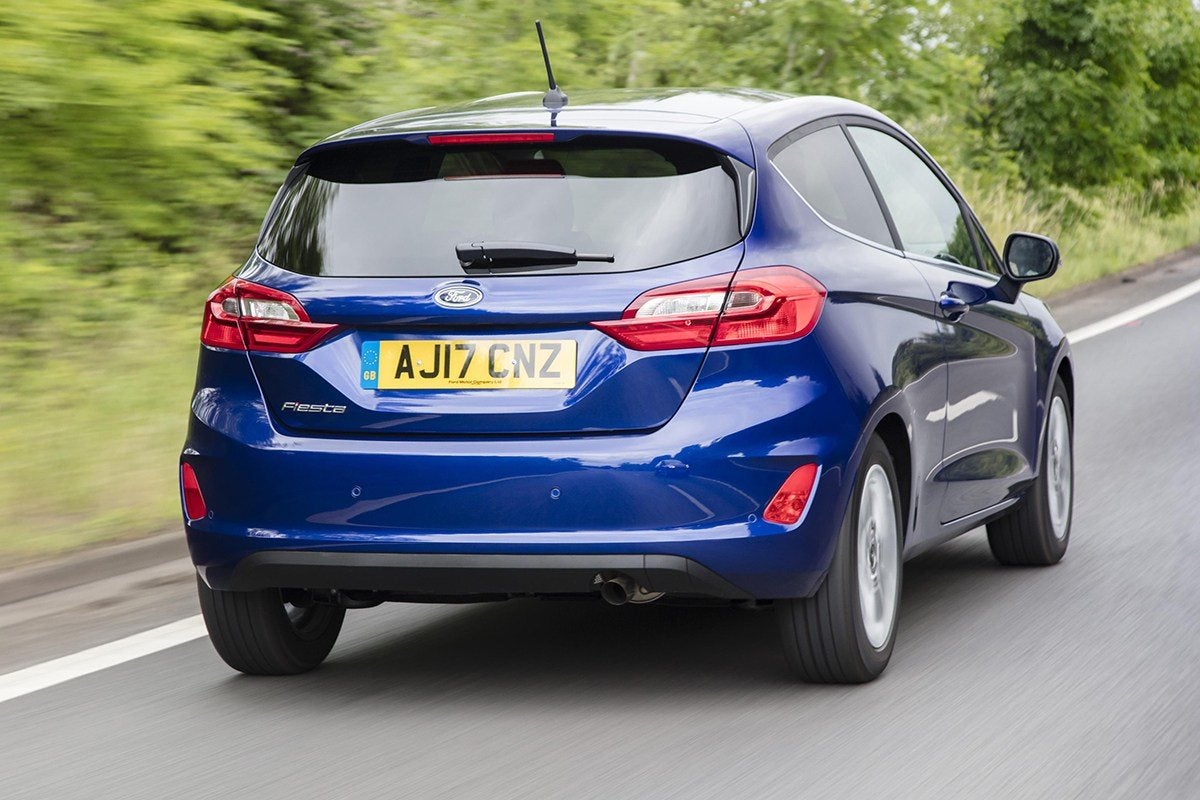 Most Fiesta drivers will opt for the 1.0-litre Ecoboost engine and the best choice here is the 100PS version with the six-speed manual gearbox. It has an official figure of 46.3mpg that compares to a Real MPG one of 44.0mpg, so the two are very close, which bodes well for anyone choosing this model.
How reliable is the Ford Fiesta?
The Ford Fiesta has been round now for a couple of years and long term reliability appears to be pretty good, though there have been some issues with Ford's EcoBoost engines and older PowerShift gearboxes, which is something to bear in mind.
Ford meanwhile came in 25th our of 34 manufacturers in the recent HonestJohn.co.uk Satisfaction Index, coming in behind the likes of MG and Suzuki.
Insurance groups and costs
Ford Fiesta insurance gets off to a very affordable start with the 1.1-litre Ti-VCT model that sits in group 5. It's only available in the lowest Trend specification, but it's ideal for those just passed their test or parents looking for a second car to share with new drivers.
Our favourite 1.0 Ecoboost turbo petrol-powered models sit in group 10 if you choose the 100PS version of this engine. Move up to the 125PS motor and that hikes up to group 12, or group 13 for the Titanium X and Vignale trims. The 140PS Ecoboost resides in groups 14 or 15 depending on spec, making this Fiesta better suited to those with several years of no claims bonus to their credit. Check out our guide to the cheapest Ford cars to insure for more info.
VED car tax: What is the annual road tax on a Ford Fiesta?
Choose the lower power 85PS 1.5-litre turbodiesel in your new Fiesta and it attracts road tax at £135 for the first year and £150 in subsequent years. You will pay an extra £20 for the first year's tax with the Ecoboost petrol engines with manual gearbox, or £175 if you opt for the automatic transmission.
The 1.1-litre Ti-VCT's 114g/km carbon dioxide emissions push it into the same £175 per year bracket. This makes it a little pricier to run than the Ecoboost models.
How much should you be paying for a used Ford Fiesta?
"Shop around and you should have no trouble find Ford dealers happy to discount a pre-registered Fiesta by £1100 with no haggling. A big of negotiating should see that figure increase to £1500 or even more."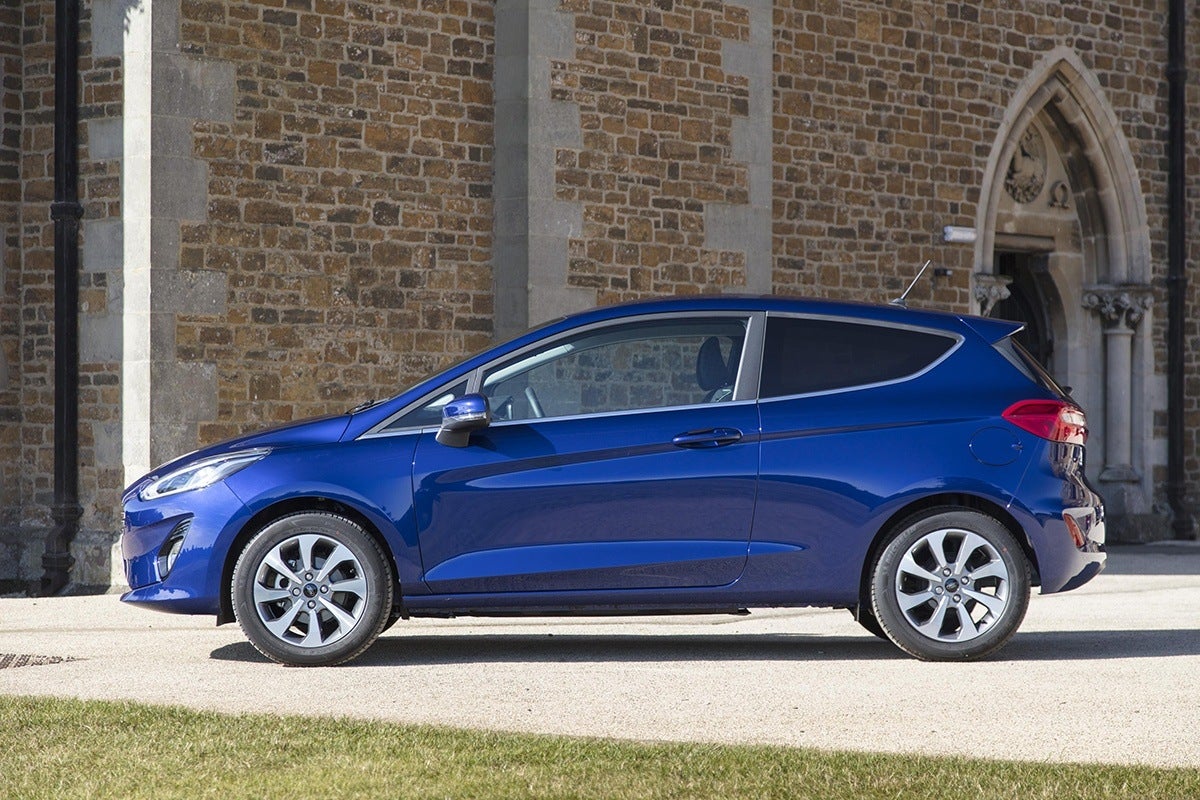 There are some great deals on nearly new Ford Fiestas, too. Expect to pay £11,000 for a six-month old Fiesta Trend with the 1.1-litre petrol motor, while a 1.0 EcoBoost in Titanium spec of the same age will be £15,000.
Early versions of this eighth generation of Fiesta can be had from £7500, though they will have higher than average mileages.
Trim levels and standard equipment
Ford has dropped the Fiesta Style and Zetec trims, replacing them with the Trend that kicks off the line. It comes with 16-inch alloy wheels, rear privacy glass, front foglamps with cornering light, and Ford's Quickclear heated windscreen. Inside, you enjoy air conditioning, electric windows all round, and the SYNC infotainment system with 8-inch screen. Also included is a Lane-keeping System.
The Fiesta Titanium ups the ante with electrically folding door mirrors and automatic lights and wipers. It comes with keyless start, too, as well as cruise control, Traffic Sign Recognition and the Ford SYNC 3 infotainment with navigation. Go for the Titanium X and you gain keyless entry, half-leather upholstery and a Bang and Olufsen Premium stereo with 10 speakers.
For greater luxury, the Fiesta Vignale has 17-inch alloys, unique grille, bumpers and chrome. On the inside, you have full leather seats, which are heated alongside the steering wheel, rear parking camera, and an opening panoramic sunroof.
For a different take, the Fiesta ST-Line has sports-tuned suspension, more side-hugging seats, and flat-bottomed steering wheel. To this, the ST-Line X adds LED rear lights, automatic lights, wipers and high beam assist, cruise control, half-leather seats, and the SYNC 3 infotainment.
Ask the heycar experts:
common questions
Is the Ford Fiesta a good car?
The Ford Fiesta is one of the best small hatchbacks you can buy today. It's comfortable, well made, drives great, and there's a wide range of engines and trims to pick from.

What's wrong with the Ford Fiesta?
Some models are expensive and the 1.1-litre petrol feels very outdated compared to rivals.

Why is Ford discontinuing the Fiesta?
The Ford Fiesta is Britain's best selling small car - but Ford has recently announced some production changes. Demand for new cars fell dramatically during the pandemic, so fewer examples were produced. Ford has also confirmed it won't be selling the Fiesta with a diesel engine.

Ford Fiesta cars for sale on heycar
10,370
Number of cars available
£6.5K - £30K
Price bracket of these cars
Colours available on heycar
Keep me updated by email with the latest advice, news and offers from heycar
By submitting, you agree to our
privacy policy
.