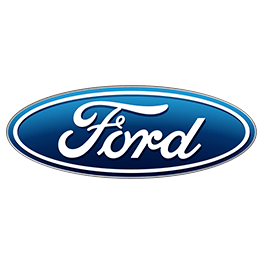 Ford Fiesta (2013-2017) Review

Written by
heycar editorial team

heycar rating
You really can't go wrong
Best bits
Superb to drive
1.0-litre Ecoboost engine is a gem
Affordable to buy and run
Not so great
Ecoboost can be thirsty when driven hard
Woeful infotainment
1.25-litre versions feel underpowered
Read by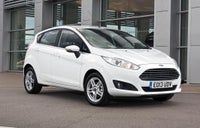 Overall verdict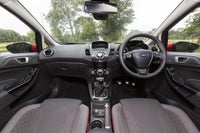 On the inside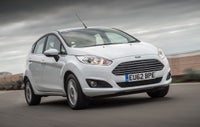 Driving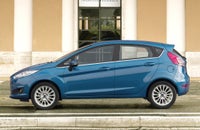 How much does it cost to run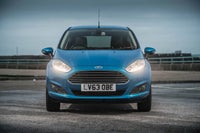 Prices, versions and specification
Overall verdict
"You can't go wrong with a Ford Fiesta. It has common-sense appeal by the bucketload, with few weaknesses and plenty of strengths. It's superb fun to drive, looks good and has most of the features you'd expect as standard, provided you pick the right spec. It's easy to see why it's so popular."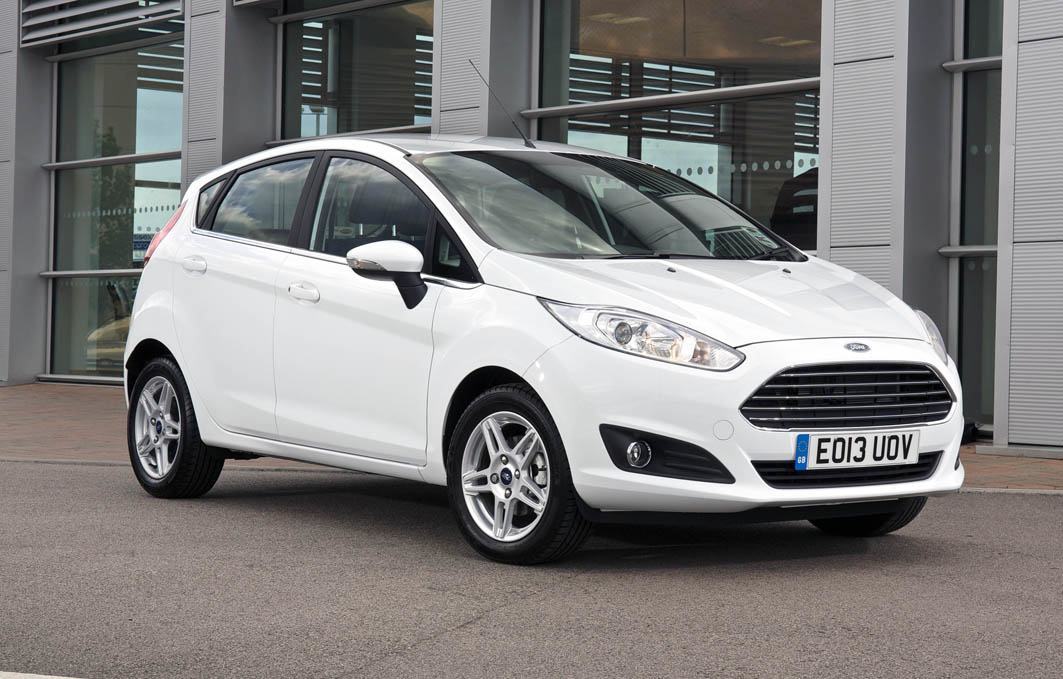 The Ford Fiesta has been Britain's best-selling car for years. It is a national treasure, one that is fortunately as good to drive and live with as its popularity suggests. The Fiesta is just right in so many ways, from affordability, to economy, to reliability. It's right up there at the top of the small hatch class.
This 2013 model was a heavily face-lifted version of the Fiesta launched in 2008. Five years later, that car was still so good, Ford didn't need to reinvent the wheel. It simply updated the parts that weren't so class-leading and added a bit of polish to the rest.
Externally, the big visual difference was the car's distinctive grille, which many say mimics the famous shape used by Aston Martin. The lights were also a bit sharper, but otherwise it was largely the same. Not much changed inside either, apart from some new upholsteries and trim designs.
The biggest news was under the bonnet. The older 1.25-litre and 1.4 petrol engines had always been the Fiesta's weakest aspect. They didn't have enough pulling power and could thrash a bit when worked hard. Ford's solution? Its brilliant new 1.0-litre Ecoboost turbo. With a diminutive capacity and just three cylinders, it sounded like a step backwards, but the reality was very different. This award-winning engine helped make the Fiesta complete.
The Ecoboost is uncannily smooth and much punchier than the older, non-turbo motors. Later versions offered up to 140PS, which is remarkable. When driven in the right way, it's an engine also capable of some extraordinary fuel economy figures. However, when driven enthusiastically, it's also capable of surprising thirst. You have been warned!
Ride and handling is another Fiesta strong-suit. It's a beautiful car to drive, with a nimble, cheerful attitude. The ride is a touch firmer than something like a Volkswagen Polo, but even this isn't much of an issue. The more poised setup is fully in keeping with the Fiesta's agile nature.
Inside, the dashboard is well built and the design is distinctive, with cowled dials and a bold centre console. Where it lets itself down is the over-complicated, button-packed stereo and information system, which Ford modelled on smartphones – but old-fashioned smartphones packed with buttons, rather than newer touchscreen designs. The central display screen looks awful and it's really dated by today's standards.
Practicality is better. The Fiesta is one of the more compact hatchbacks on the outside, but space and comfort for front-seat passengers is decent. Those in the rear don't quite have the room of some rivals, but it's not bad, and the boot is a class-competitive size and useful shape.
Because the Ford Fiesta sold so well when new, there's no end of choice on the second-hand market. You really can take your pick of body style (three-door or five-door), engine, trim and colour. With good-value pricing, low running costs, sound reliability and the sheer ease of use you get from running such a popular car, the Fiesta is almost guaranteed to give headache-free motoring. Read on to see how to get the best one for you.
If you're looking for the newer version, you need our Ford Fiesta (2017-) review.
Comfort and design
"The Ford Fiesta has a smart interior with extremely well-placed controls. Its driving position is excellent and the seats are supportive and well-padded. We particularly like the more bolstered chairs you get in ST-Line versions, although even the standard seats are good – despite rather austere-looking upholstery in base Studio versions."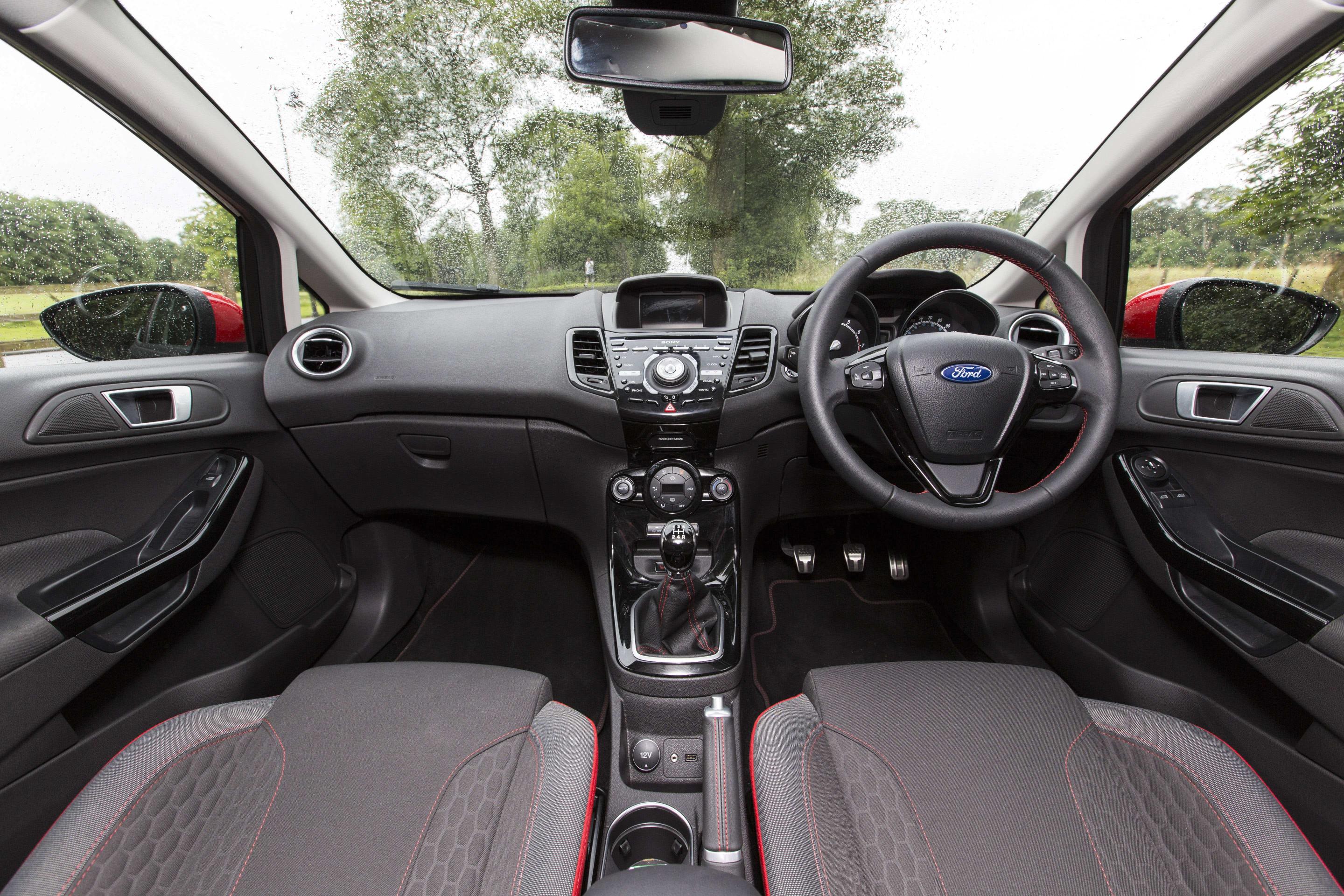 The design still looks fresh, with the main instruments set within two cowls ahead of the driver, lit up at night in blue and white. The column stalks are easy to use, although the same can't be said for the buttons on the steering wheel – their design isn't clear and neither is the operating logic.
Buttons for the radio are mounted up high, so they're easy to locate. It's a pity the design of the standard system is so dated, with a button-packed layout that's from another era. Look out for the more upmarket Sony-branded audio system, which has a cleaner and easier to understand design (and better sound quality).
Below the sound system lie the heater controls, which are also chunky and straightforward. Ford positions the gear lever nice and high, giving a sporty feel behind the wheel, and minor details such as well-shaped armrests and easy-adjust head restraints further boost comfort.
Upper-grade versions have piano black dashboard panels, while some even have red ambient lighting, which provides an upmarket and soothing look at night.
Handling and ride quality
"The Ford Fiesta is a gem to drive. Handling is exceptional, even in standard models with weedy-looking wheels. The Fiesta is light on its feet, extremely nimble and responsive to the steering – and the feel through the wheel is brilliant. Even those who have no particular interest in driving will find the Fiesta is enjoyable and cheerful."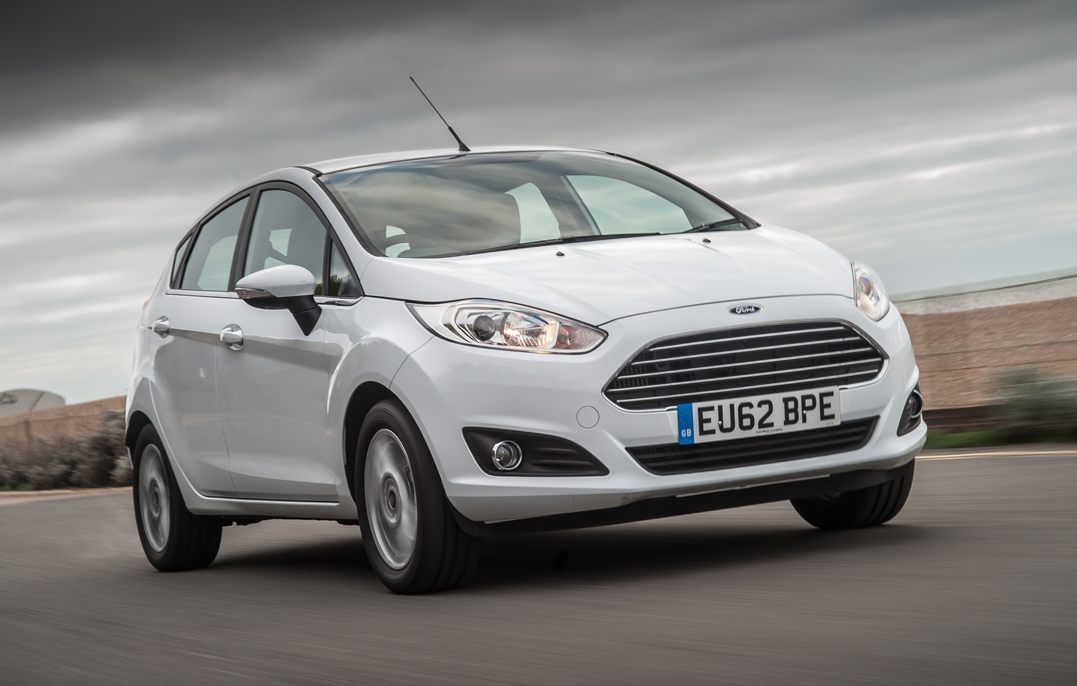 Upping the pace shows how deep its abilities stretch. On a twisting road, it's positively grin-inducing, with the limits of the chassis very well telegraphed, so you never feel lacking in confidence. Things only get more engaging as you move up the range and sample models with bigger wheels and sportier suspension. Brakes are excellent on all versions, with superb feel through the pedal. The Fiesta is perfect for winding British roads and makes almost every rival seem soggy and slightly dull to drive.
The Fiesta has a taut set-up, which means ride quality feels a bit firmer than something like a Volkswagen Polo or Skoda Fabia. But it is still comfortable, with good absorption of bumps – particularly regular models without the larger alloy wheels of upper-spec versions.
This almost uncanny blend of attributes really sets the Fiesta apart. It is a great all-rounder and it is the little Ford's remarkable blend of ride and handling that draws so many people to it. Once they take a test-drive, they're hooked.
The Fiesta is also stable at motorway speeds, with a robust and confident feel displaying none of the sogginess you get from some small cars. It is assured and well tied down, so owners should never feel hesitant in joining the overtaking lane alongside bigger cars and SUVs.
MPG and fuel costs
"Ford really upped economy with this generation of Fiesta, helping cut fuel costs significantly – at least on paper. Regular diesels could manage at least 76mpg, for example, and cars with stop-start boosted this to over 88mpg – quite exceptional figures, even if the vagaries of the old NEDC fuel economy test mean few matched such figures in real life."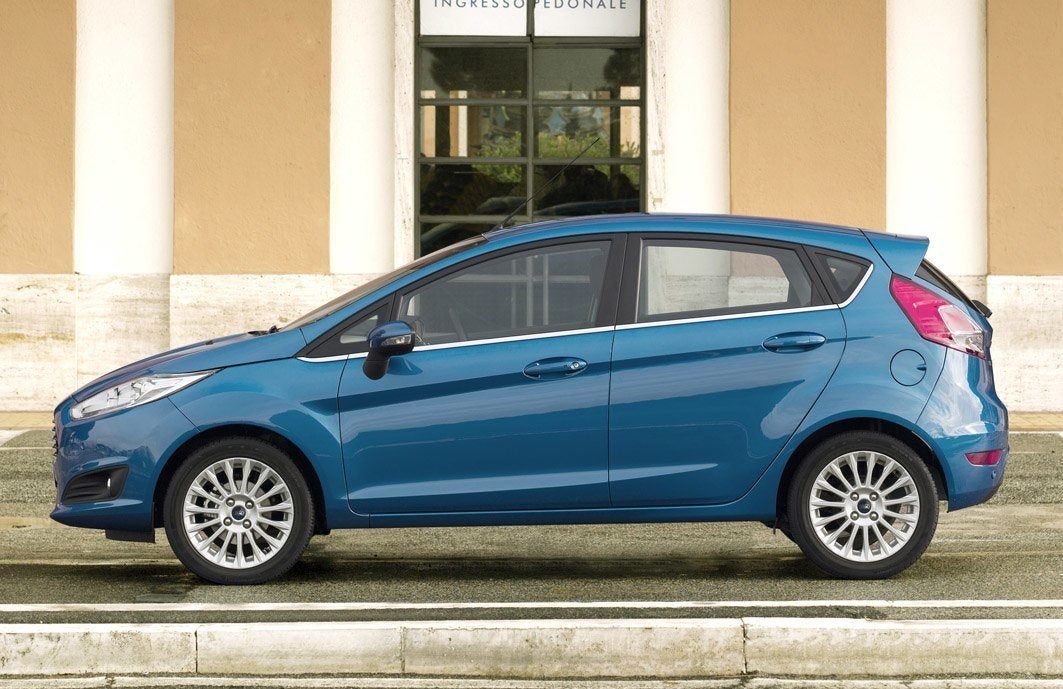 The 1.25-litre engines all did over 54mpg, while the Ecoboosts were well into the 60s, aided by standard stop-start. The 100PS is rated at 65.7mpg, matched exactly by the 125PS version, and even the 140PS motor could almost top 63mpg. These figures make the 47.9mpg of the old 1.6-litre Powershift auto seem pretty woeful. The Ecoboost Powershift auto instantly added 10mpg to this (although it's still 10mpg less efficient than the manual alternative).
How much should you be paying for a used Ford Fiesta?
"Just over £5000 is the current starting point for a 2013 or 2014 Ford Fiesta, in either Style or - preferable and more widely represented - Zetec trim."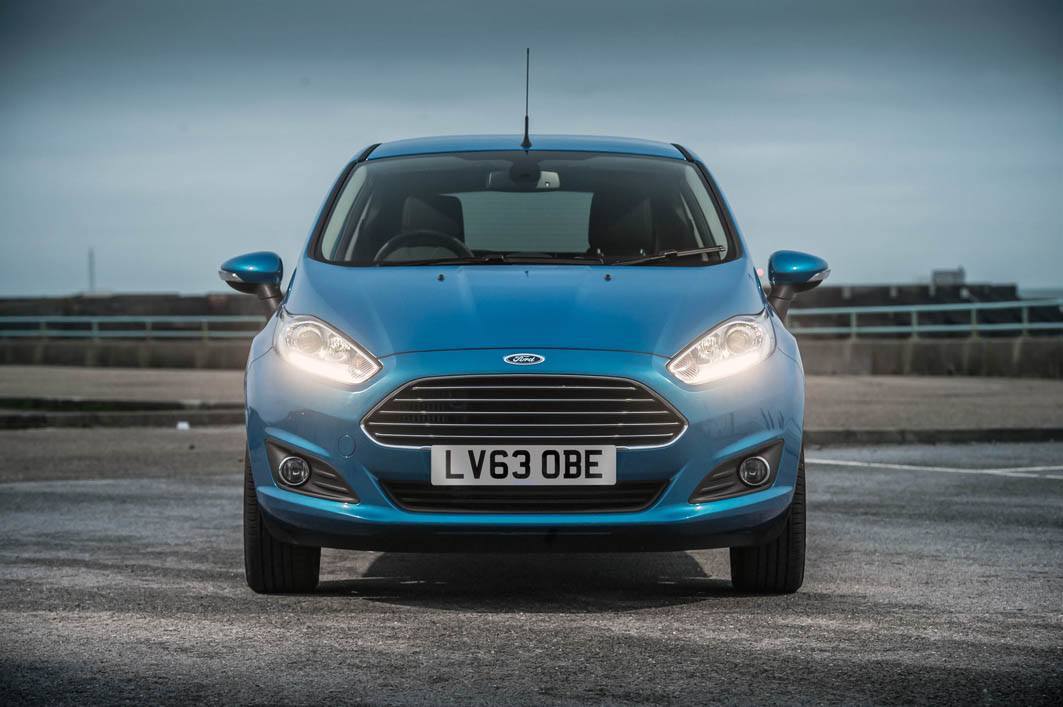 The most common engine is the 1.25-litre 82PS motor - Ecoboost versions generally start from around £6000, where you can expect around 50,000 miles on the clock. You might come across the odd 1.5-litre TDCi as well, but these have generally covered higher mileages.
If you have around £7500, you'll easily be able to find a good selection of 1.0-litre Ecoboost five-doors on a 2016 or 2017 plate – and not just Zetecs either, because Titanium-grade Fiestas are also commonplace at this level. There's a great choice of colours and mileages will generally be no higher than 40,000.
Is the Ford Fiesta right for you?
Hundreds of thousands of people every year can't be wrong. For many, the Ford Fiesta is the perfect second or even first car. It is a model with very few weaknesses and a broad array of strengths across the board.
It might be a small car, but the Fiesta offers big-car comfort and (if you pick the right engine) performance. It punches well above its weight on the road, and will eat up motorway journeys just as well as it copes in town.
If you need to often carry taller people in the rear, you perhaps ought to look at a larger option such as the Skoda Fabia or Honda Jazz. But the Fiesta can still cope, just, and it's so good in most other ways, many seem prepared to make the compromise.
What's the best Ford Fiesta model/engine to choose?
Style or Zetec trim is a good starting point, as Studio is just a bit too basic. Even better, choose a Titanium version, which has a better standard spec. Ford pushed things further upmarket during the Fiesta's life with the indulgent Titanium X. We also like the later ST-Line variant, which has the look of a high-performance Fiesta ST without the overt sportiness of the hot hatch version.
As for engines, you can still buy a 1.25-litre Fiesta, with either 60PS or 82PS, but you're much better off picking the 1.0-litre Ecoboost engine. It's offered in 100PS, 125PS and 140PS guises. We reckon the 125PS version is a great all-rounder.
Ford sells Fiestas in both three-door and five-door formats. Our preference is for the more practical five-door, and these are represented in greater numbers on the second-hand market as well.
What other cars are similar to the Ford Fiesta?
The UK small hatchback market is vast, with entrants from almost every major brand. Big challengers to the Ford Fiesta are the Vauxhall Corsa and Volkswagen Polo, plus the Polo's closely-related siblings, the Skoda Fabia and SEAT Ibiza.
From France, there are the Citroen C3, Peugeot 208 and Renault Clio, while South Korea offers the Kia Rio and Hyundai i20. Japanese reliability comes in the shape of the Honda Jazz, Toyota Yaris and Mazda2, along with the more disappointing Nissan Micra.
The Fiesta handles so well, there's many a MINI Hatch buyer who'd be perfectly happy to drive one. And it's a fair bit more dependable than Alfa Romeo's semi-premium offering, the Mito. We'd rather have an Audi A1 if we were forking out extra for a posh hatchback.
Quality and finish
Basic quality is very good. Ford builds solid, robust cars, and this is evident throughout the Fiesta. Everything seems tough and good enough to withstand years of heavy-duty use. Ford knows it wouldn't be the nation's favourite if the initial showroom appeal wore off quickly, so you can be confident the Fiesta is a sturdy machine.
The quality of materials isn't bad for a mainstream car, either. There's a nice soft-touch upper half to the dashboard, and other plastics don't seem too cheap. They become harder as you move down the dashboard, but there's little sense that they're particularly brittle or downmarket.
Posher Fiestas have some lovely design details, such as the aforementioned piano black trim. The Sony stereo has a premium look, too. It's just a shame cheaper models have seat upholstery that looks like deckchairs – you need to move up through the range for better quality materials.
Infotainment
Infotainment is a big let-down for the Ford Fiesta. That's despite this version being available with the Ford Sync system, which is meant to allow easier pairing with mobile phones and, as an option, include a rudimentary form of sat-nav.
The main problem is the lack of touchscreen functionality, and the small and dated display screen. It feels a bit like using an old Nokia mobile phone, and is in stark contrast to the brilliant touchscreen set-up in the latest Fiesta.
Even using basic functionality is tortuous, because the array of buttons is so confusing. There's a bit more logic to the Sony system, but it's still far from straightforward. You'd think voice control would make things easier, but this functionality is also limited in scope.
It all feels very old-fashioned and is probably the Fiesta's weakest area – particularly as the design of the dash makes it so hard to upgrade with a modern aftermarket system. At least Bluetooth and USB connectivity are built into most models (apart from base Studio), so you can control as much as possible via your smartphone instead.
Space and practicality
The Fiesta is one of the more compact small hatches, measuring less than four metres long. Despite this, it's still accommodating for those in the front. Taller drivers will find they have to slide the seat almost fully backwards, but it's still comfortable in there, with ample headroom and plenty of adjustment from the steering wheel. The seats are located in a natural-feeling position and the pedals are not cramped or offset. It won't necessarily feel like you're driving a small car.
It's tighter in the rear, particularly if those in the front are tall. It's not painfully cramped – far from it – but the room there is more obviously small hatchback-standard, rather than the Tardis-like feel you get in something like a Honda Jazz or Toyota Yaris.
Rear-seat access is a bit impractical in three-door models, which is why we prefer the five-door. The door openings are just about large enough and they help rear-seat passengers feel less hemmed in and claustrophobic. They're also much easier if you have children: the Fiesta has dual Isofix mounts on the outer rear seats.
Cabin stowage space isn't bad. The door bins will take one-litre bottles, and there are cupholders in the centre console. Upper-grade versions feature a convenient central armrest that opens up to reveal a deep cubby.
The Fiesta has a decent-sized boot, measuring 290 litres. That's class-competitive, and it extends to 974 litres with the seats folded. Some rivals manage to get beyond the 1,000-litre barrier – special mention once again to the Honda Jazz – but the Fiesta isn't bad.
Do note, however, that in cars fitted with the optional space-saver spare wheel (rather than the standard tyre repair kit), load capacity drops to 276 litres. There are no fancy underfloor stowage options like those you find in more modern cars either, and the boot's load lip is a bit too high for comfort. Width isn't as broad as it could be, although the boot will prove deep enough for most. It will pose no problems for the weekly shop, for example.
Engines and gearboxes
The carry-over 1.25-litre engine is a bit too underpowered to make the most of the Fiesta's talents. It's OK if you really only cover short distances in town, but even here, drivers will find its lack of low-rev response a bit frustrating. And when you rev it to tap into the power, it becomes rather raucous.
The 1.0-lite Ecoboost engine is far superior. The core version is a 100PS motor, but we prefer the 125PS version, which is appreciably faster against the clock. Neither is slow, though, with strong turbocharged torque giving a reassuring response to the accelerator pedal.
The Ecoboost engine is also staggeringly smooth and refined in everyday driving, while emitting a sporty growl when worked harder. It's a wonderful engine, and became even more hot-hatch-like in a later 140PS setup. All Ecoboosts have engine stop-start to save fuel in town.
Be careful not to get your 1.0-litre engines mixed up, though. Ford later replaced the 1.25-litre engine with a non-turbo 1.0, which produced 80PS. It's still smooth-running, but doesn't have the welcome pulling power and acceleration of the Ecoboost-branded turbo versions. A yawning 0-62mph time of nearly 15 seconds is proof of this: the Ecoboost 100 slashes it to 11.2 seconds (and the Ecoboost 125PS needs just 9.4 seconds).
As for diesels, the 1.5-litre TDCi is offered in 75PS and 95PS guises. It's a decent engine, but still obviously a diesel, and pales in appeal alongside the Ecoboost. Ford also offered a 1.6-litre petrol with an automatic called Powershift, which is very disappointing. Unless you really must have an auto, stick with manual, as the gearbox is exceptionally smooth and slick-shifting. Powershift was later offered on the 1.0 Ecoboost 100, and it's a far superior drive.
Refinement and noise levels
Good refinement is another Ford Fiesta strength. Road noise is well isolated, meaning it's only a bit of bump-thump noise over road scars that is transmitted through to the cabin. And on the motorway, a relative lack of wind noise means it's a peaceful machine for a small hatch. It hums along quietly and comfortably.
The Ecoboost engine helps here. With pulling power in reserve, it's easy to make good progress without revving it hard, which makes the Fiesta feel like a very grown-up machine. The 1.5-litre diesel has a similarly powerful and easygoing feel, but diesel engines are naturally noisier than petrols, and Ford was less successful in isolating the four-cylinder motor's clatter.
It's the non-turbo petrol engines that will be most raucous, simply because you have to rev them hard if you're not to be bogged down. When you do so, they make a fair bit of howl and whine, betraying the Ford's small car status. Refinement is another good reason to go for the 1.0-litre Ecoboost if you can.
Safety equipment
The Ford Fiesta scored well in Euro NCAP crash safety tests in 2012. Adult occupant protection was a very impressive 91 percent, with child occupant protection not far behind on 86 percent. Safety assist features were rated at 71 percent, with pedestrian protection a bit further behind on 65 percent.
All Fiestas feature front, side and curtain airbags, and the driver also benefits from a knee airbag. There are Isofix mounts for the two outer rear seats, although it's only the front seats that benefit from a seatbelt reminder. Stability control is standard on all Fiestas, but a speed assistance device was not available.
There were some safety standouts on the Fiesta. The Ford Sync system offered automatic emergency assistance calling in the event of an accident, and automatic emergency braking was also optionally available. This promises to stop collisions completely at speeds below 10mph, and mitigate them at speeds of 19mph and under. The Fiesta was also fitted with a device to stop it rolling back during hill starts.
Then there's the ingenious Ford MyKey. This allows people to programme one of the car keys with certain parameters – such as a restricted top speed, or a maximum volume for the in-car audio. It's great for parents who want to let their youngsters drive on their own, but don't want them to get carried away.
Insurance groups and costs
A low-powered and basic 1.25 60PS Studio comes in at group five insurance, which is as low as you can go with a Fiesta. The 1.0 80PS Zetec is also pretty low, in group six, while Ecoboost engines do push up into double figures: a 100PS Zetec is group 11.
Diesel models start from group nine, while moving up from Zetec to Titanium generally adds a group onto the insurance rating. More generally, the sheer popularity of the Fiesta, plus Ford's focus on low repair costs and vehicle security, should keep insurance costs in check. The Fiesta is likely to prove cheaper to insure than many of its direct rivals, even in Ecoboost guise.
VED car tax
High MPG means bargain VED (road tax). Most engines emit less than 100g/km of CO2, which equals zero tax, and you can't ask for better than that. Surprisingly, 1.25-litre versions also dipped into the free VED car tax bracket, albeit only when fitted with engine stop-start.
Even the 140PS Ecoboost version isn't bad, costing £20 a year. Given its warm hatch performance, there are few cheaper ways to enjoy driving, particularly when backed up by great fuel economy.
Just be aware of the 1.6 Powershift. VED is another reason to dislike it: owners will be paying £150 a year.
Trim levels and standard equipment
Basic Ford Fiesta Studio models lack the distinctive LED running lights of other models, and also don't have key features such as air-con, DAB and Bluetooth. These came to the Style, along with remote central locking, making this the absolute basic Fiesta we think you should consider.
Better still is Zetec, which features 15-inch alloy wheels, front fog lights, body-coloured door mirrors and door handles, plus extra chrome trim on the outside. Inside, Zetec models get a useful heated windscreen, leather steering wheel and a trip computer. Titanium is even better equipped, with Titanium X proving positively lavish.
A firm-favourite Fiesta trim is the later ST-Line, which combines the looks of the range-topping Ford Fiesta ST with cheaper and more economical engines. It has a full bodykit, including side skirts and beefy tailgate spoiler, 17-inch alloys finished in gunmetal grey, lower and stiffer suspension, a great pair of sports seats and a chunky three-spoke steering wheel.
Learn more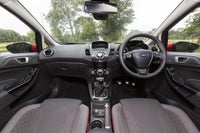 On the inside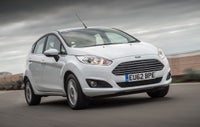 Driving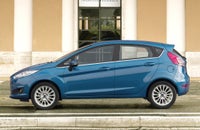 How much does it cost to run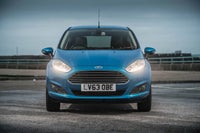 Prices, versions and specification
Reviews of similar cars
Quality checked, all cars less than 8 years old and warranty included
Looking for other Ford cars?
Quality checked, all cars less than 8 years old and warranty included