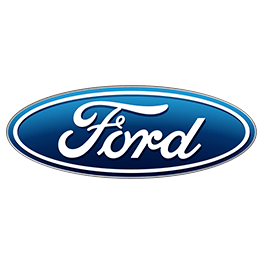 Ford Fiesta ST Review 2021

Written by
heycar editorial team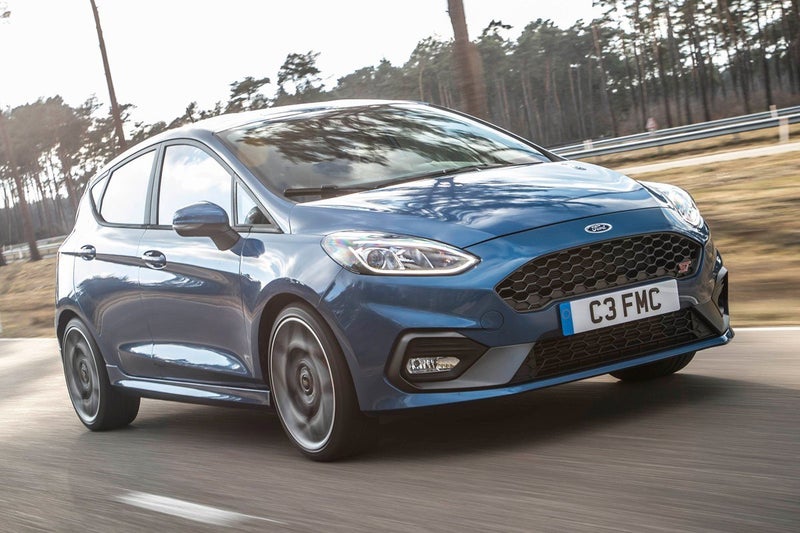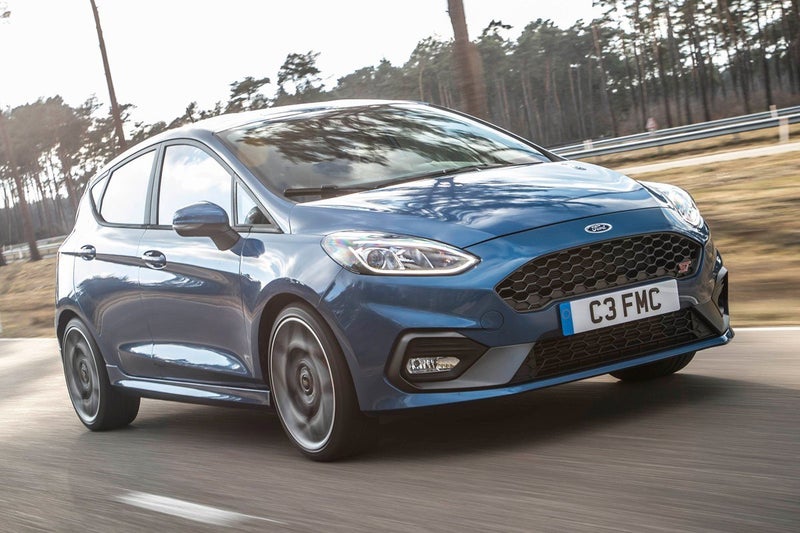 1/6

heycar rating
"A simply cracking hot hatch"
Launched: 2018

Hot hatch

Petrol
Quick overview
Pros
Sublime handling
Gutsy engine
Affordable running costs
Cons
Occasional bouncy ride
Bland cabin design
Narrow door pockets
Overall verdict
On the inside
Driving
Cost to run
Prices and Specs
Common questions
Overall verdict on the Ford Fiesta ST
"The Ford Fiesta ST has had the attainable hot hatch market sewn up in recent years. The previous generation model is sure to go down in history as one of the best fast Fords ever, putting a huge amount of pressure on the firm not to wrong step with its successor."
There was an era when the hot hatch was a rite of passage for young drivers. Affordable, fun and disposable when done with, they were a stepping stone to bigger, faster cars or a phase before moving to more sensible choices. Our Ford Fiesta ST review will uncover if this is still the case.
When we think of hot hatches today, cars like the Honda Civic Type R and Ford Focus RS, they are much more rounded machines. They are also now extremely powerful, with more than 300PS routinely on offer. They're also expensive to buy, insure and fuel.
This is where the Ford Fiesta ST comes into its own. It's compact, powerful and surprisingly affordable. It uses a turbocharged three-cylinder 1.5-litre petrol engine that produces 200PS and returns up to 40.4mpg. That means you can have all of the high octane thrills, without those sky high bills.
The Ford Fiesta ST is a hoot to drive, too. Lift off the accelerator in sport mode of its selectable drive modes, which are available on this model for the first time, and the exhaust pops on overrun. At times it's like running your very own Group B rally car, as the Fiesta ST snaps, crackles and pops its way along the road.
It feels quick on the road as well as against the stopwatch. That 200PS in a car this size is enough to reach 62mph in 6.5 seconds, while the handling is nothing short of superb. The steering, which errs marginally on the side of skittish, is quick to wind from lock to lock, and provides bundles of feedback in the process. Limited ST edition models – only 300 were sold in the UK and we have reviewed the car separately – get adjustable suspension that makes them handle like their on rails, but even the standard ST is huge bundles of fun.
The driving position from the standard Recaro seats is good and thankfully not as high up as the previous model's, fortunately, which encourages you to use the car's full array of talents.
Those selectable drive modes mean the Ford Fiesta ST will happily sit on the motorway or crackle around town should you wish. It's a versatile car, one that can comfortably be driven every day without costing the earth yet also punch well above its weight in terms of driving pleasure when the mood takes you.
Although the new model isn't visually that different from its predecessor, the interior is a huge step up. It stops short of being as premium as a MINI, but it's easy to get comfortable and the 8-inch infotainment screen is easy to use.
Ford could so have so easily misjudged the Fiesta ST but, fortunately, it hasn't. It's taken the already brilliant Fiesta hatchback and given it all you could ask for in a used hot hatch costing less than £20,000. It's an absolute joy to drive, but it isn't a compromise in other areas. The interior's pretty good, and the running costs won't ruin you.
Is the Ford Fiesta ST right for you?
Small, affordable hot hatches were becoming a rarity not so long ago as the breed headed upmarket and had to compete with an ever wider array of rival machinery. Then along came the Ford Fiesta ST to put the pep back into the class and it's never looked back since.
As a result, the Ford Fiesta ST has been the class leader since the previous generation model arrived and this latest version carries on the good work. The only major difference is you can now have your ST thrills in three- and five-door forms, whereas it used to be only offered as a three-door.
While the gusty 1.5-litre turbo petrol engine is key to the Ford Fiesta ST's appeal, the star of the show is its handling, as it should be with a hot hatch at this price. It means you can use all of the car's pace on real roads without risking your licence and it also means there's a generous margin of grip if you need to avoid a sudden obstacle, making the Ford Fiesta ST a very safe car too.
For anyone who wants sporting fun but needs more seats than a Mazda MX-5, the Ford Fiesta ST is pound for pound as good as it gets.
What's the best Ford Fiesta ST model/engine to choose?
All of the Ford Fiesta ST range use the same 200PS 1.5-litre turbocharged petrol engine. It's a three-cylinder unit, so comes with a distinctive engine sound that suits the car and, as usual with this motor layout, delivers plenty of low-down power while also being happy to rev hard and high.
The six-speed manual gearbox is another delight of the Ford Fiesta ST thanks to its quick, short shifts that let you extract the best from the engine or let it meander along quietly when cruising on the motorway.
The Ford Fiesta ST-3 model has larger wheels, leather upholstery, keyless entry and ignition, fancier dash and stereo, and a limited front differential to help put the power down more effectively than in the Ford Fiesta ST-2 model. For that, reason, it gets the nod as our preferred choice, though some might like to go up to the Ford Fiesta ST Performance Edition with its lowered suspension and unique Deep Orange paint. However, the near £2000 price premium for this model makes it hard to warrant it over the ST-3 in our book.
What other cars are similar to the Ford Fiesta ST?
The Ford Fiesta ST's biggest rival is the MINI Cooper S that has very similar power and performance. The MINI also has the handling to keep up with the ST and is similarly priced. Some might find the MINI a little raw to use day in, day out and you also have to add more from the options list to bring the spec up to snuff when buying new.
Volkswagen's Polo GTI is a more sensible car all-round than the Ford Fiesta ST or MINI, which makes it a bit dull in this company and it shows in the way it drives. You could also look at the smaller Abarth 595.
Comfort and design: Ford Fiesta ST interior
"Ford interiors have fallen short of rivals in recent years, but this Fiesta ST marks a significant improvement for a brand previously associated with drab materials, tiny multimedia displays and too many buttons."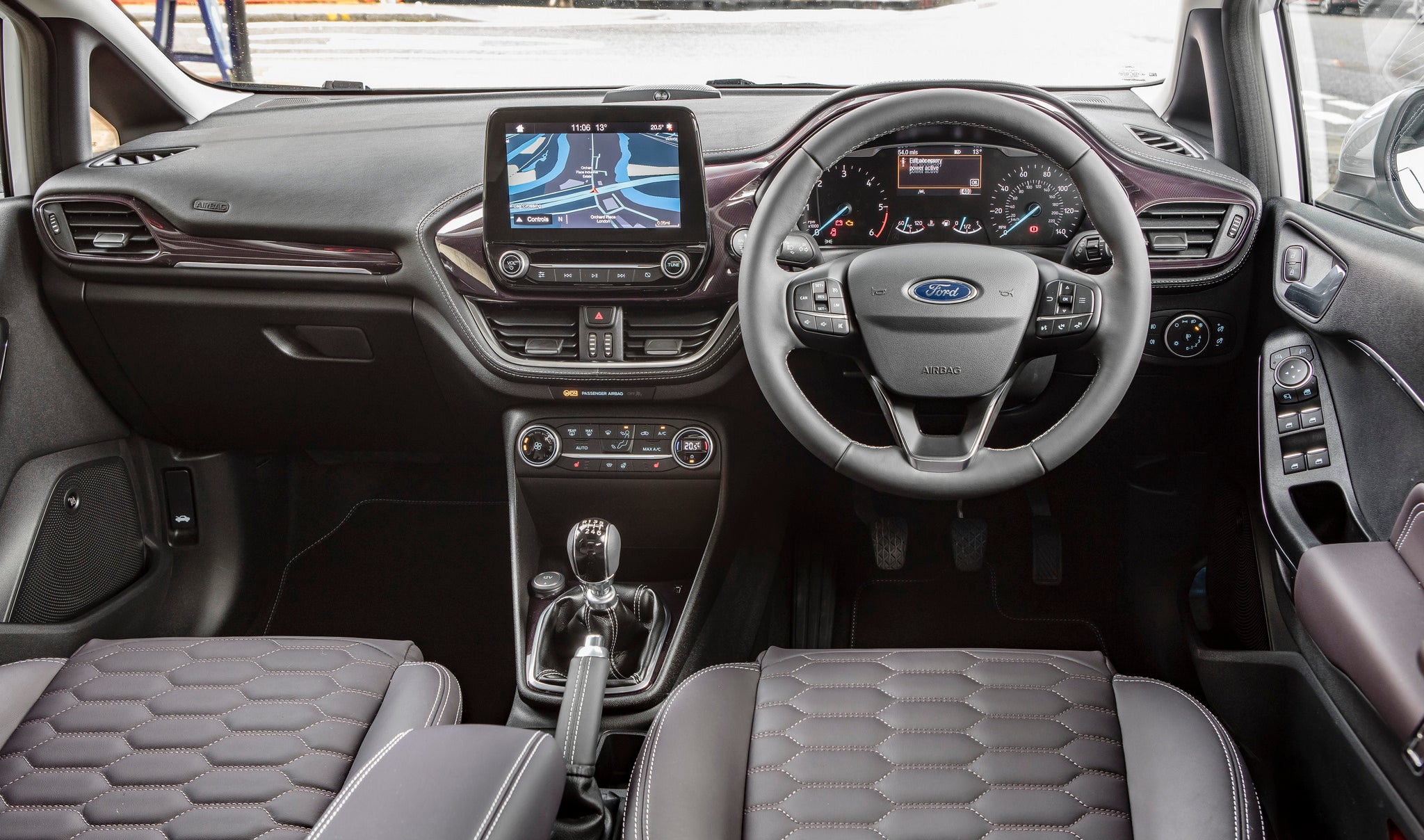 That improvement extends to the Recaro bucket seats that are standard on all Ford Fiesta ST models. They look the part and will hold you in place during the most aggressive driving, while also proving surprisingly comfortable on longer journeys. You even sit relatively low, so gone is the 'sitting on top of the car' issue that's plagued Ford hot hatches for the last 20 years or so.
With the seat now fitted where it should be, Ford Fiesta ST also offers the driver sufficient movement in its placement to attain a great driving position no matter what size you are. The steering wheel moves for height and reach as well, and the pedals are ideally lined up with the seat and wheel to complete the effect. Our only gripe is the seat adjusters are placed quite low down and can be awkward to reach without opening the door, so make sure you have your seat set up before heading off on a journey.
The dash is clear and simple, and the Ford infotainment system in this generation of Fiesta ST is a big and welcome step on from the previous versions of Ford's SYNC design. You also get good all-round vision for passing slower cars and parking, so the only other small blight for the Fiesta is the narrow door pockets that struggle to cope with a normal water bottle.
Quality and finish
Ford made some major strides in this department with the latest Fiesta generation. Where the previous model could feel, well, a little flimsy, this one is much more substantial and solid and enjoys the same sort of classy appeal as the larger Focus.
This counts for a lot when the Ford Fiesta ST costs more than £20,000 on list price and has to compete with rivals from MINI and Audi and Volkswagen. In that company, there's no room for error or weakness and the Ford Fiesta ST gives none. Some of the materials in the Fiesta ST are not quite as pleasing to the touch as those in its competitors, but there's no doubt they are durable and well screwed together.
The same is true of the way the controls work as everything from the indicator stalk to the clutch pedal all have just the right amount of weight and give when operated. It makes the Ford Fiesta ST feel very all of a piece rather than a supermini that's had a more powerful engine stuck in it and pushed onto the forecourt.
Infotainment: Touchscreen, USB, nav and stereo in the Ford Fiesta ST
Slap, bang in the upper centre of the dash of the Ford Fiesta ST is an 8-inch infotainment display that's hard to miss. That makes it easy to read when driving and, even better, it uses Ford's latest SYNC 3 system with navigation and FordPass Connect internet access included as standard on all models.
The Ford Fiesta ST-3 and Performance Edition upgrade with a Bang and Olufsen stereo system complete with eight speakers and surround sound. For those less concerned with audio quality, these two upper level models also have a 4.2-inch TFT display in the main instrument binnacle that works with the standard traffic recognition software in these models.
Whichever ST model suits you, the 8-inch infotainment touchscreen is so much easier and quicker to use than Ford's older systems. The onscreen icons are bigger and simpler to find with your finger and, rather than waiting an age for them to respond as they used to, the screen promptly switches to your desired selection. It can also be hooked up to your smartphone with Apple CarPlay or Android Auto, while rotary dials make it easy to adjust the volume or radio station on the move.
Space and practicality: Ford Fiesta ST boot space
Buyers get a choice of three- or five-door body styles with this Ford Fiesta ST. Clearly, the five-door is the more practical for anyone who needs to carry more than one passenger on a regular basis. As a car that many will have as their sole transport or the second car in a household that may well be used for the school run, that's a big plus for the ST now. The five-door Ford Fiesta ST measures 4068mm long and 1735mm wide, while the three-door Ford Fiesta ST is a little shorter at 4040mm.
There's a reasonable amount of space in the back of the Ford Fiesta ST, although it would be a struggle fitting four tall adults in the Fiesta in comfort. Even so, it's better than the Audi A1 or MINI and almost on a par with the Volkswagen Polo.
Should you choose the three-door Ford Fiesta ST, rear seat space is no different to the five-door, the only thing is access to the back seats. Luckily, the front chairs tilt and slide forwards easily and leave just enough of a gap for adults to get into the rear without needing a certificate from their yoga teacher. Kids will have no such issues and there are ISOFIX mounts on the two outer chairs.
There are also three-point belts for all rear seat occupants in the Ford Fiesta ST, though whoever draws the short straw and ends up in the middle will find themselves on a narrow cushion. Their legroom is also hampered by the central cubby between the front seats. However, headroom for everyone in the back is good by class standards.
The Ford Fiesta ST's boot space is fine too, although access is slightly restricted by the high load lip. The boot of the Fiesta ST offers 292-litres of capacity for the three- and five-door models. Dropping the rear seats creates more space, freeing up to a maximum of 1093-litres, but the back seats don't fold entirely flat so trying to slide in longer, heavier items is more of a chore than it feels it should be. There is also a pronounced step form the rear load floor to the seat backs when they folded.
Handling and ride quality: What is the Ford Fiesta ST like to drive?
"Feedback through the meaty steering wheel is plentiful, while the handling is wonderfully direct. It will build your confidence no end. In truth, there's probably no front-wheel-drive car better suited to British B-roads."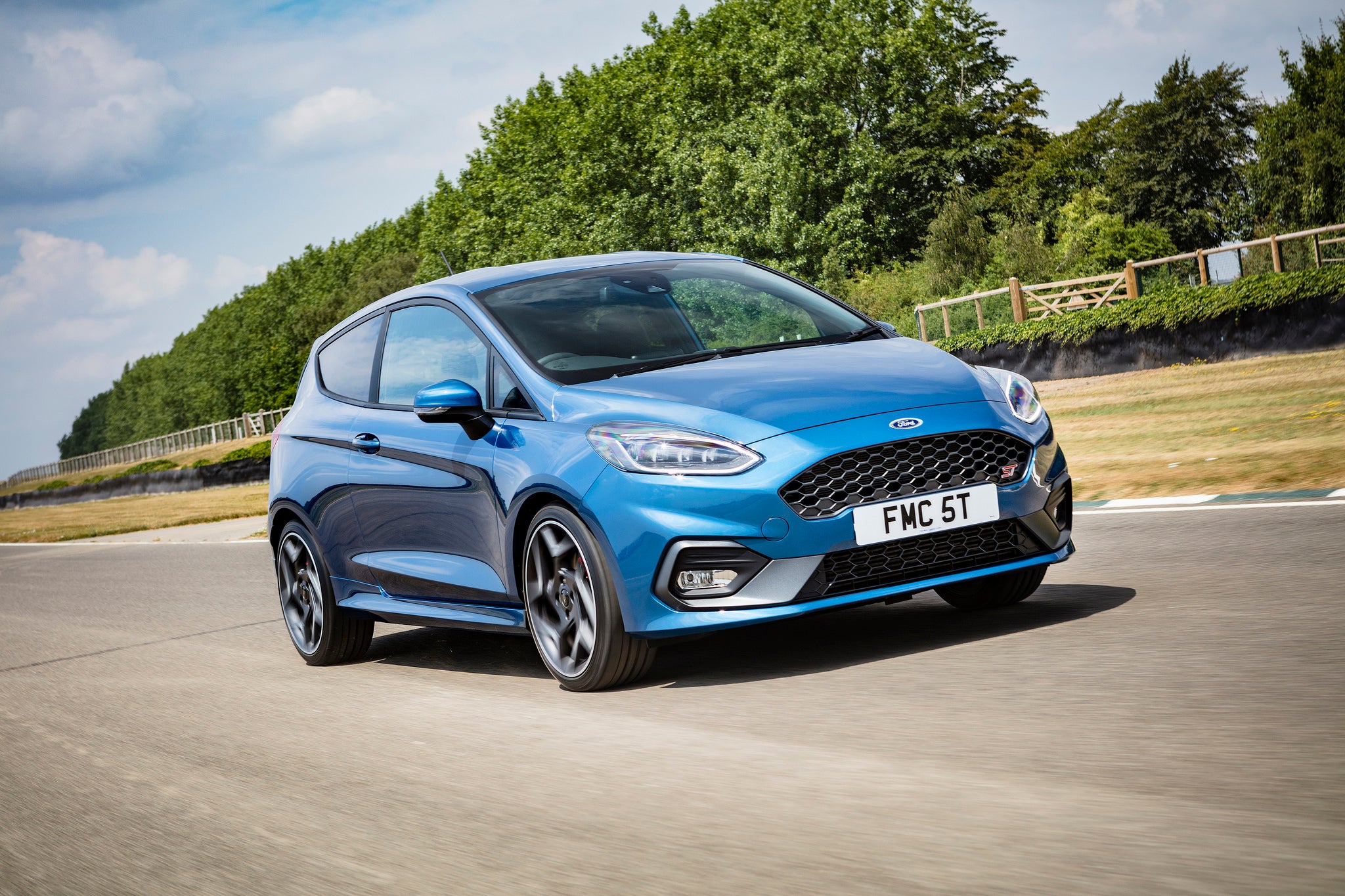 A power output of 200PS seems just right with the Ford Fiesta ST, with no signs of the front wheels struggling for grip as you will away quickly or press on out of a corner. Incidentally, if that's your thing, there's a launch control system available as part of the £950 performance pack for the ST-2 that also includes a limited slip differential. Both the ST-3 and Performance Edition versions come with these features as standard.
When you're not hustling down a B-road, the Ford Fiesta ST is just as good as the regular model at going about daily life. The Fiesta ST's trick suspension isn't as jarring as the old model's, although there's no denying it's on the firm side of comfortable, even in Normal mode. Take the Performance Edition model, though, and its suspension is lowered by 15mm at the front and 10mm at the back. Great for the looks of the car, not so good when tackling those speed bumps on the way to work.
However, nobody ever bought a hot hatch that was worried about that sort of daily drudgery in mind. The same is true of the Ford Fiesta ST and it really is one of the greats when it comes to handling. More than anything, this is what marks out the ST as the very best in its sector and also means it can make a case for itself against far more expensive hot hatches and performance cars. Performance Edition and ST Edition models' stiffer suspension makes them feel even more precise in the bends than the standard version.
If you want a car to plaster a smile on your chops with every drive, the Ford Fiesta ST is the one to do it.
What engines and gearboxes are available with the Ford Fiesta ST?
Even the surliest of drivers will struggle not to crack a smile when behind the wheel of the Ford Fiesta ST. In Sport mode, it pops and crackles like your morning cereal, encouraging you to string out all the revs the little 1.5-litre three-cylinder turbo engine has to offer. It's all a bit childish, but you don't buy a Fiesta ST to tell the world you're embracing adulthood.
It's surprising how keen the turbocharged petrol engine is to rev and the Ford Fiesta ST feels genuinely quick. There are no caveats here, it's an honest to goodness fast little hot hatch. Acceleration from 0-62mph in 6.5 seconds means overtaking is a breeze and, should you feel the need to drop a gear, the six-speed manual gearbox is precise and satisfying to use. There's no twin-clutch or automated options here, only the manual and that suits us just fine as it works in perfect harmony with the Fiesta ST's engine and chassis.
While the Fiesta ST has lost a cylinder compared to the old model, this three-cylinder unit goes a step further as it can cut fuel to one of the cylinders during coasting. You won't be able to tell, but it contributes towards the ST's decent 40.4mpg fuel economy figure. Thrashing it will clearly have an impact on that, but the Ford Fiesta ST should prove to be relatively cheap to run day-to-day.
Refinement and noise levels
Stick to the normal mode for the car's set-up and the Ford Fiesta ST is an easy car to live with on a daily basis. There is a little more road noise detectable as the wider tyres make their way over coarser grains of road surface, but it's not as rowdy as a MINI Cooper S.
The same applies to the engine, which in the default normal settings gives a little bass note under acceleration but only really makes itself heard if you work it very hard towards the upper sector of the rev counter. Around town and on the motorway, it's very civilised.
Of course, switch into the Sport mode and the three-cylinder engine adopts a very different tone, with a sharper edge to the exhaust. It also makes some very entertaining pops and burbles as you change gear or come off the throttle, adding some sporting spice to the recipe that is well judged for a hot hatch.
At higher speeds, the Ford Fiesta ST is not plagued by wind noise, which is another reason the ST makes a fine everyday car capable of being your only transport.
Safety equipment: How safe is the Ford Fiesta ST?
The latest generation of Ford Fiesta of which the ST is a member has scored a very impressive full five-star rating in Euro NCAP tests. It notched up 87 per cent for adult occupant safety and 84 per cent for child passenger safety.
Every Ford Fiesta ST model comes with a full set of three-point seat belts for all five occupants, as well as ISOFIX mounting points on the two outer rear chairs. In the front, the passenger side front airbags can be deactivated to accommodate a rear-facing baby seat.
There are twin front, side and curtain airbags, along with ESP traction and stability control, and a lane keeping assistance system. However, if you want autonomous emergency braking in the ST, you need to spend £550 on the High Series Driver Assistance Pack that includes this safety tech plus rear-view camera and rear parking sensors, and blind spot warning.
In all but the ST-2 models, you get automatic high beam assist to ward off dazzling oncoming drivers. With the two more expensive Ford Fiesta ST versions, you also get traffic sign recognition and driver alert to tell you if it's time to take a break to avoid possible fatigue.
MPG and fuel costs: What does a Ford Fiesta ST cost to run?
"Whether you choose the Ford Fiesta ST in three- or five- door form, it comes with an official combined fuel economy of 40.4mpg."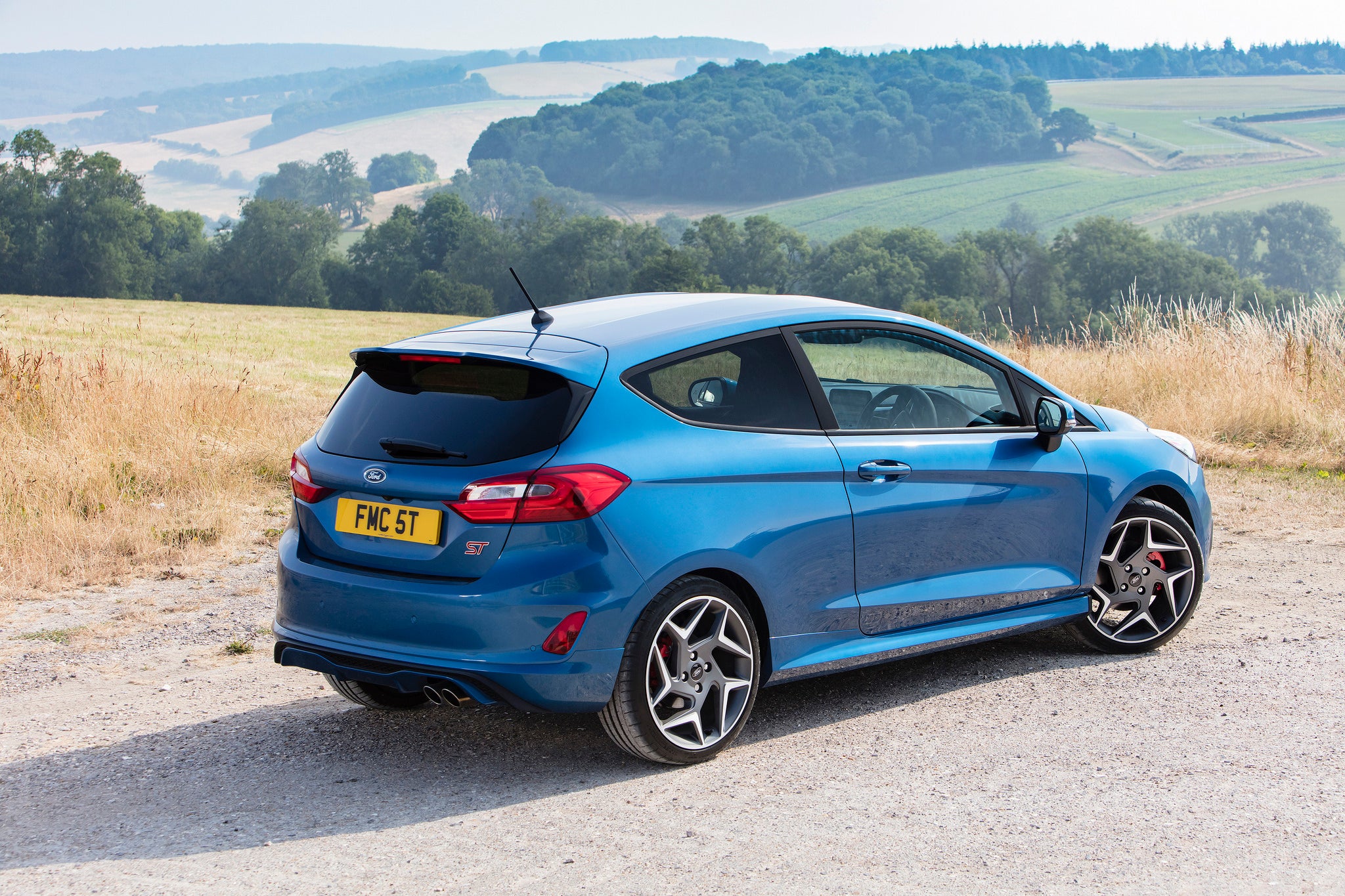 That's comparable to the Ford Fiesta ST's rivals, but Real MPG figures show you are more likely to see 37.8mpg in a mix of normal driving duties. Make the most of the ST's performance and that will drop further. With that sort of economy, you can reasonably reckon on getting more than 300 miles per full tank of fuel without the risk of running dry.
How reliable is the Ford Fiesta ST?
So far at least the Ford Fiesta ST has proved to be very reliable, with no major issues reported. Ford though finished 25th out 34 manufacturers in the HonestJohn.co.uk Satisfaction Index, which is a little disappointing to see, scoring 84.5 per cent, the same as Alfa Romeo.
Insurance groups and costs
It doesn't matter whether you choose the Ford Fiesta hot hatch in ST-2 or ST-3 trims, it sits in the same group 28 when it comes to insurance. That puts the Fiesta in one of the lower brackets for cars of this pace and price, keeping running costs affordable.
If you opt for the Performance Edition model, it creeps up into group 30, so you will pay a slightly higher premium for this more focused model.
VED car tax: What is the annual road tax on the Ford Fiesta ST?
It may be a small hot hatch, but the Ford Fiesta comes with a fairly big first-year Vehicle Excise Duty bill of £540. This is due to the 158g/km carbon dioxide emissions every version puts out.
There is some compensation in the second and following years for road tax as the Fiesta ST will then pay at the standard £150 rate per annum.
How much should you be paying for a used Ford Fiesta ST?
"A two-year old Ford Fiesta ST-2 with around 15,000 miles under its wheels will cost you from about £15,000 for a three- or five-door model. Upgrade that to the ST-3 and you will need another £1000 in the kitty to drive away in the higher specification model."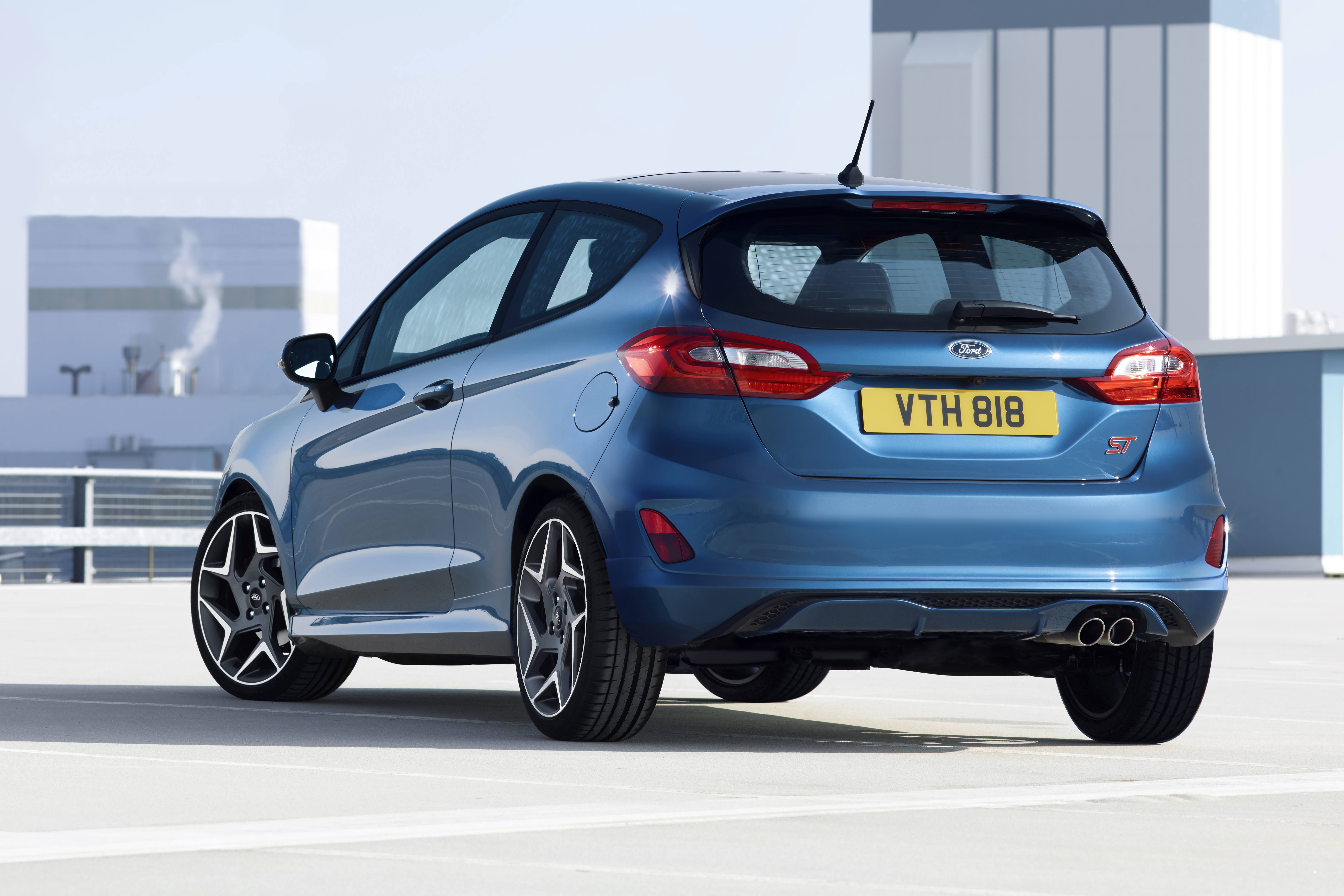 If it's the Performance Edition that you want to park on your driveway, you will need a budget of £22,000 for a one-year old example of this orange delight.
For those seeking a nearly new or pre-registered version of the Ford Fiesta ST, you can save around £1200 on the list price by going down this route if you don't mind not being the very first name in the logbook.
Trim levels and standard equipment
The gateway to the Ford Fiesta hot hatch line-up is the ST-2 model - the isn't an ST-1 model anymore. The Ford Fiesta ST-2 comes with 17-inch alloy wheels, LED headlights and twin exhaust pipes with a chrome finish. Inside, you have Recaro sports front seats covered in fabric with blue stitching, air conditioning, flat-bottomed steering wheel, and the SYNC 3 infotainment system with 8-inch colour touchscreen. The ST-2 also has the selectable drive modes offering a choice of Normal, Sport and Track settings.
The Ford Fiesta ST-3 model gains 18-inch alloy wheels, red-painted brake calipers, a Quaife limited slip differential, launch control and Performance Shift indicators to tell you when to change up a gear. There's also leather upholstery, climate control, a 4.2-inch screen in the main instrument display, and keyless entry and ignition. You also enjoy wireless phone charging, a Bang and Olufsen stereo with surround sound, rear-view camera with parking sensors at the back, and heated front seats and steering wheel.
For those choosing the Performance Edition model, you get unique Deep Orange paint and 18-inch alloys, and lowered suspension in a three-door only body. There are electric folding door mirrors with in-built puddle lights, rain-sensing wipers, rear privacy glass, and part-leather sports front seats with grey and silver detailing.
In the same way, Ford Fiesta ST Edition models are models are more eye-catching thanks to their flow-formed 18-inch black alloy wheels and Azure Blue paint. Their fancy suspension also makes the car sit lower to the ground. Inside, you get blue stitching on the seats and a drive select button on the steering wheel.
It adds trick manually adjustable suspension with 12 bump and 16 rebound settings, along with light-weight flow-formed alloy wheels bolted to the hubs. Factor in the exterior's unique and contrast high-gloss black highlights used for the spoiler, wheels, lower rear bumper and boot badge,
Ask the heycar experts:
common questions
Is the Ford Fiesta ST fast?
While it's not going to trouble the likes of the Honda Civic Type R or Volkswagen Golf R, the Ford Fiesta ST is quick. It has a top speed of 144mph and will go from 0-60mph in a pretty rapid 6.5 seconds.

Is the Ford Fiesta ST a good car?
The Ford Fiesta ST is a great car and has to be one of the most fun drivers cars you can buy. Not only that, but it's great value and has a decent amount of space in the back and boot, making it pretty practical as well.

How practical is the Ford Fiesta ST?
If you're looking for something that's more fun to drive than a typical small hatchback but is just as practical, then you're not going to go wrong with the Ford Fiesta ST. Based on the standard Ford Fiesta, it shares the same boot capacity (292-litres) and space in the back to two child seats (including ISOFIX mounting points).

Keep me updated by email with the latest advice, news and offers from heycar
By submitting, you agree to our
privacy policy
.