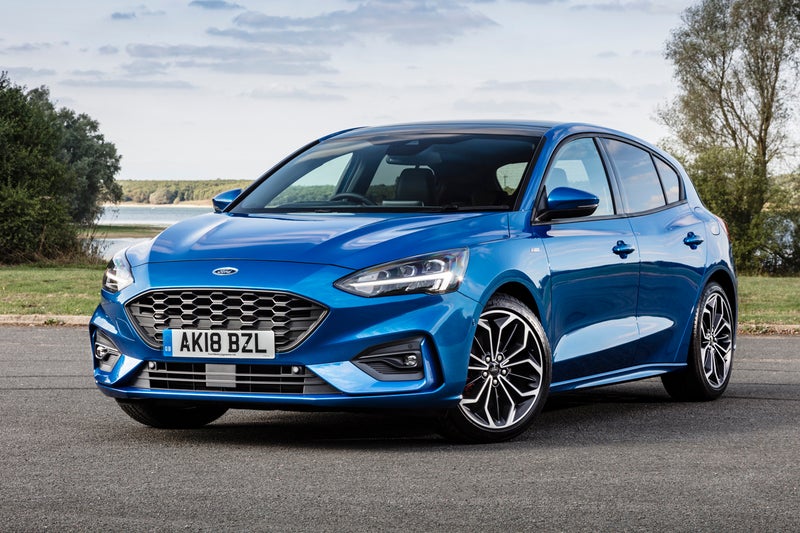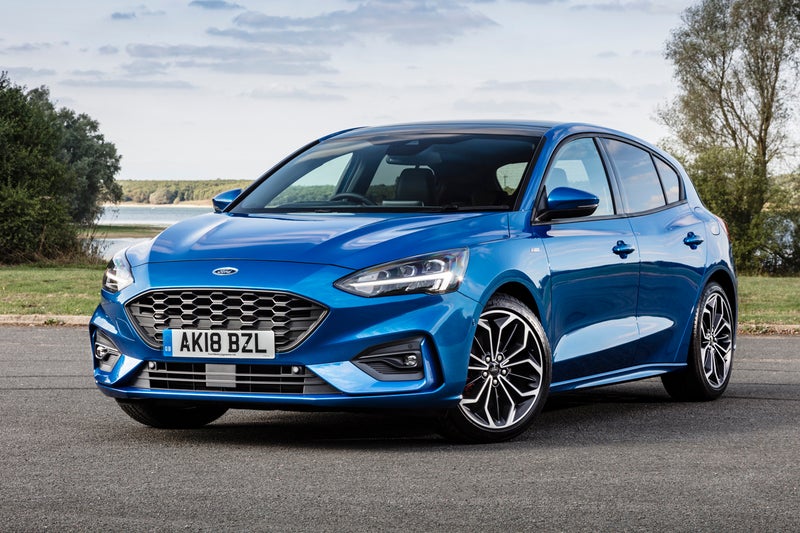 1/10
heycar rating
"The yardstick of family hatchbacks"
Launched: 2018

Family hatch

Petrol, Diesel
Quick overview
Pros
Wide range of impressive engines
Really comfortable and enjoyable to drive
Roomy in the back
Cons
Gloomy cabin isn't as nice as some rivals'
Boot could be bigger
Many rivals are better equipped
Overall verdict
On the inside
Driving
Cost to run
Prices and Specs
Common questions
Overall verdict on the Ford Focus
"Occasionally, Fords get accused of being boring. Ordinary. Common. Humdrum, even. Perhaps familiarity breeds contempt. But the reason Fords such as the Focus are such a common sight on our roads is mainly because they're really good."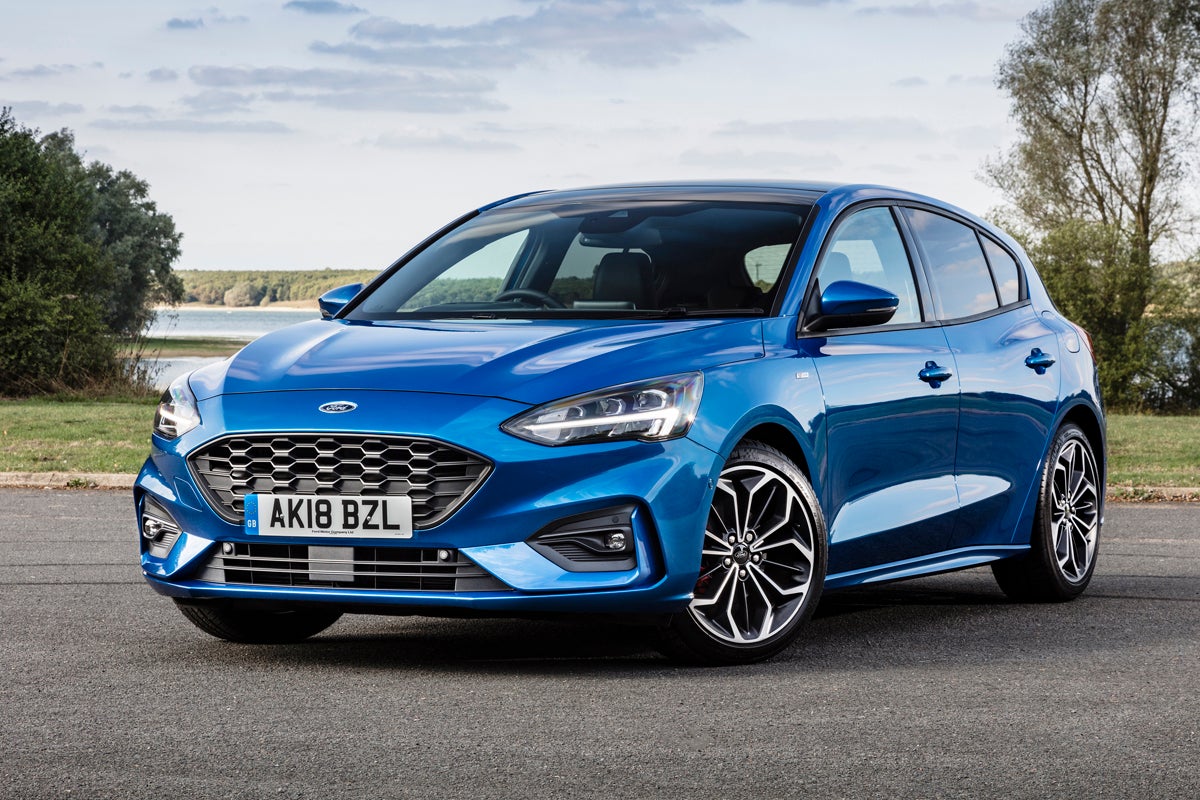 The Ford Focus is one of the UK's best-selling cars each and every year, and its popularity has been pretty consistent since the first generation car launched in 1998. Is it the most glamorous choice? Nope. Is it the most interesting? Probably not. But is it a good choice? You bet, as this review will show.
Let's start with the area in which the Ford Focus excels the most, and that's in the way it drives. This is a car with a level of dynamic polish that many more expensive cars could only dream of, and certainly exceeds its main hatchback rivals, which include the Vauxhall Astra, Seat Leon and Toyota Corolla.
It changes direction with incredible poise thanks to strong grip, quick steering and tight body control, and the controls - the steering especially - give you lots of information about what's going on, making you feel part of the action every step of the way.
And no, it's not all about the Ford Focus's boy-racer handling. It's just as much about the feeling of safety and stability the car gives you. Ask any little old lady who owns a Focus, and she'll tell you that she loves driving it, but she doesn't really know why. Well, that's why.
Even more impressively, the Ford Focus manages to combine this handling prowess with a level of ride comfort that's a match for just about anything else in the class, and that's not an easy thing to achieve. Meanwhile, you have a wide range of petrol (named EcoBoost, in Ford speak) and diesel (called EcoBlue. Remember these tags, they'll be handy later) engines that give a good mix of power, refinement and economy.
The Ford Focus does a very solid job in other areas, too. The latest version is roomier than ever thanks to increased space in the back, and it's now among the class leaders on that score. The boot is also fairly competitive on size, and the cabin comes stocked with a decent amount of standard equipment. Most of the latest infotainment gadgetry is present and correct, along with all the important safety gear.
Granted, there is one area in which it struggles relative to many rivals, and that's on interior quality and design. Some of the plastics on show inside the cabin just don't have the lustre that they do in competitors. Judged in isolation, however, it stops short of feeling cheap overall, and there's no reason to suspect it won't be durable.
The Ford Focus isn't the cheapest car of its type, either, but it is very competitive on that score, so it does stack up financially. All in all, we can see why the Focus has proved so popular over the years, and that's because it's a sound, sensible - not to mention really enjoyable - choice.
If you're looking for the previous version, you need our Ford Focus (2014-2018) review.
Is the 2022 Ford Focus right for you?
Well, the Ford Focus is right for thousands and thousands of other people in the country, so why wouldn't it be right for you? It's been one of the UK's best-selling cars for many years, and popularity like that doesn't happen by accident.
The Focus delivers just the right blend of family-friendly comfort, young-at-heart handling, jack-of-all-trades practicality and penny-pinching affordability, and that's why it's found so many homes right across Britain. Yes, there are family hatchbacks that are cheaper, roomier, more versatile and better on quality. However, no rival is better to drive than the Focus, and the Ford does well enough on all these other points to ensure its popularity. It may be one of the obvious choices in the class, but that's because it's one of the best.
What's the best Ford Focus model/engine to choose?
This is rather tricky, because there are so many good engine options in the Ford Focus. We love the 1.5 EcoBlue diesel engine in 120PS form, because it's powerful, has decent refinement and gives fabulous economy. If you're a high-mileage driver (which many Focus drivers are), then this is definitely the one to have.
However, you'll need to really munch the miles to offset the extra it costs over the 125PS 1.0 EcoBoost petrol engine, so if your regular distances are more modest, that's the one you'll want. Its three-cylinder engine might not be as smooth as four-cylinder alternatives, but it certainly punches above it weight, with peppy performance and decent economy - the latter in particular if you opt for the mild-hybrid version.
Other engine options include a more powerful 150PS 2.0-litre diesel engine, which is swift and still pretty economical, and 1.5-litre four-cylinder EcoBoost petrol engines. They're smoother and punchier than the 1.0-litre units, making for effortless progress. But the additional price they command probably isn't worth it for most people.
Again with trim levels, it's a little bit difficult. The entry-level trim on early cars - the Style - was rather spartan, while the Vignale models are too expensive to recommend, so those two are out for starters. Otherwise, though there are no bad choices. Zetec trim isn't missing much, but we wouldn't blame you for upgrading to one of the ST-Line or Titanium cars for a bit of extra sportiness or luxury. With our heads on the block, we'd say 1.5 EcoBlue diesel manual in Titanium trim, but it's your choice.
What other cars are similar to the Ford Focus?
There can't be many cars out there with more direct rivals than the Ford Focus. As one of the nation's best-sellers, this is one of those cars that every carmaker wants to compete with in order to carve off a slice of its success, and as such, competition is fierce.
In no particular order, other than that in which they spring to mind, you have the Volkswagen Golf, Vauxhall Astra, Honda Civic, Skoda Octavia, SEAT Leon, Peugeot 308, Renault Megane, Hyundai i30, Kia Ceed, Toyota Corolla, Mazda 3 and Fiat Tipo.
Then you also have more premium offerings like the Audi A3, BMW 1 Series and Mercedes A-Class, not to mention all the small SUVs that are proving so popular with families these days. In fact, Ford's own Kuga was originally a Focus-based model, but with more space and a higher driving position. It's worth a look if you're constantly lugging around a family and their detritus.
Comfort and design: Ford Focus interior
"The interior of the Ford Focus is pretty roomy, while standard kit is excellent. The driving position is good too, while the infotainment works well. We just wish it wasn't so dark and bland in terms of appearance."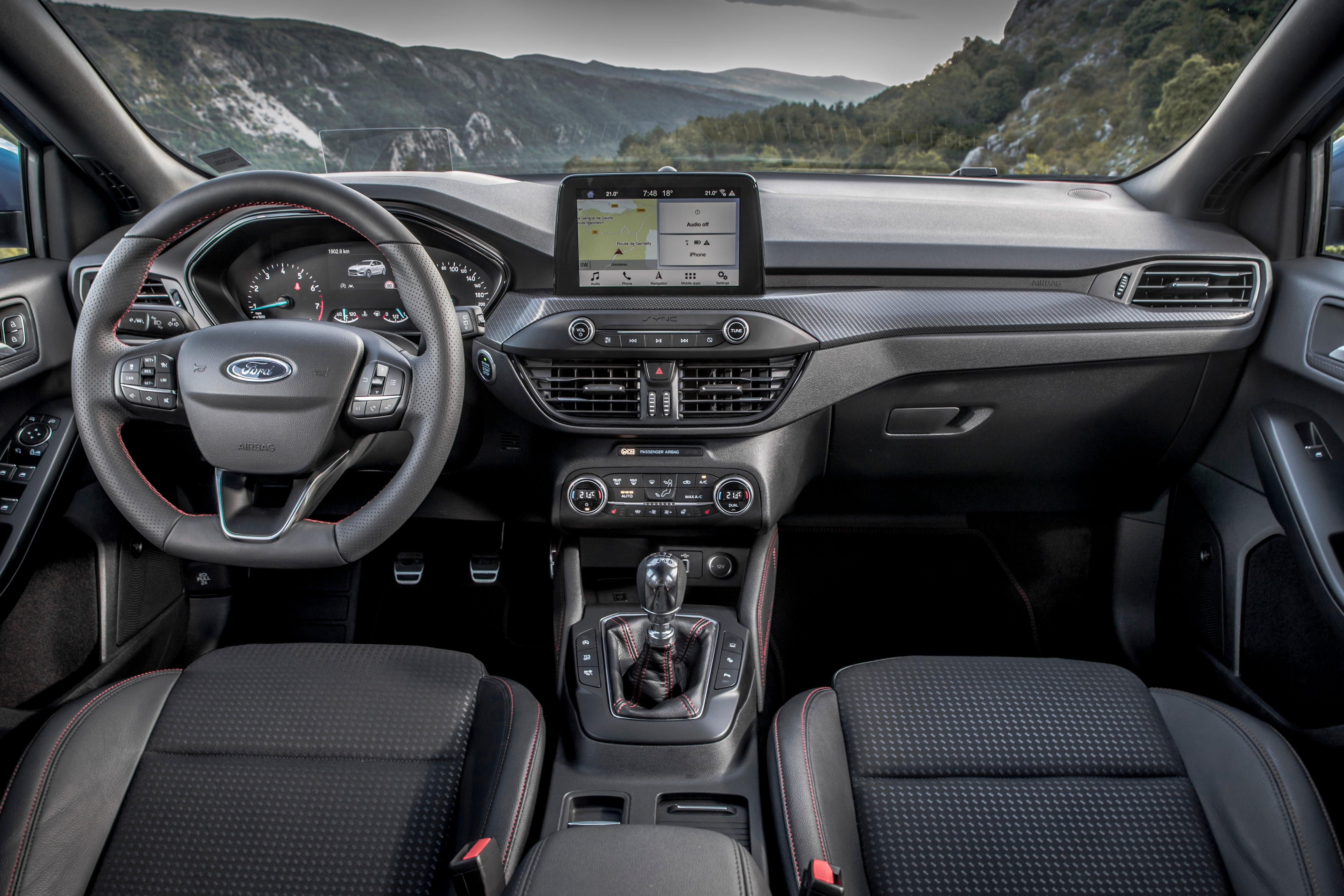 The interior of the Ford Focus gets the fundamentals right, being reasonably well made, laid out with thought and comfortable for driver and passengers alike. However, it's just a bit dark and dull in there.
Taken in isolation (and particularly when compared to some older family hatchbacks) it's fine, with enough soft-touch plastics and curved surfaces to avoid being completely drab. But when compared with some new rivals - in particular the lovely interior of the Mazda 3 - the dark plastics and absence of colour make it feel gloomy.
By modern car standards, there are also rather a lot of buttons and switches to control various functions, but not too many that you feel overwhelmed by them, and the markings make it clear what everything does.
The seats are very supportive, and there's loads of movement in the seat and steering wheel to help you find a comfortable position. Go for ST-Line X, Titanium X or Vignale trims, and the seat moves electrically. Your view of the road ahead is pretty clear, and while your rear view is hampered slightly by a small rear window, it's a similar story in many of the Focus' rivals. However, you won't get parking sensors (front and rear) if you select Zetec or ST-Line trims. Vignale, meanwhile, also throws in a reversing camera.
The cabin is relatively button heavy and a little cluttered for our liking. But the physical buttons are big and easy to find by feel following a quick glance, not something you'd be able to do if the corresponding function was operated through the touchscreen. The steering wheel is the exception to the Focus' ergonomic excellence, though, because it's covered with small, fiddly buttons that are tricky to hit at a glance. At least they're not touch sensitive, though, like the latest VW Golf.
Quality and finish
The Ford Focus is a mixed bag here. In all the places where your eyes or hands fall most often, there are pleasing soft-touch surfaces and textured finishes, and these bits feel pretty good.
Unless you find yourself an early Style car, you'll also get nice leather wrappings for the steering wheel and gear shifter. Elsewhere on the dash, however, are plastics that are harder, scratchier and of a considerably lower perceived quality, and many of these are in plain view the whole time.
One or two of the panels don't line up with quite the precision that they do in rivals, either. This doesn't give the cabin a low-rent feel overall, but these inconsistencies means that the Ford Focus feels some way behind not only the Volkswagens and Hondas of the world for poshness, but also the very latest Kias and Hyundais.
Each version gets a slightly different ambience, with the odd bit of (fake) chrome, (fake) wood or (very fake) carbon fibre splashed about to tart things up. The Vignale even gets a dashboard wrapped in leather, to match its full leather seats. Despite that, though, the cheap-looking stuff is still very evident, so there's still a rather flimsy feel in places.
Infotainment: Touchscreen, USB, nav and stereo in the Ford Focus
If you find an early Style-trimmed Ford Focus, you'll only get a very basic stereo system. It still has DAB and Bluetooth, but it has a tiny 4.2-inch screen that looks a bit cheap these days.
Zetec and ST-Line cars get a larger 8.0-inch screen, which is the same size as the one you get in all versions. You also get Apple Carplay and Android Auto connectivity. However, while the screen size stays the same, the upgrade to ST-Line X, Titanium or Titanium X trims gets you a more sophisticated system that also includes built-in sat-nav and voice control. Upgrade even further to Vignale trim, and your system is enhanced even further by a reversing camera and an upgraded surround sound system with 10 speakers and an output of 675 watts.
The various touchscreen systems use the same user interface, and while it's pretty good overall, it's not the best on the market. The graphics look a bit dated, and the software is a little slow. Some of the on-screen icons are small and fiddly, too, and because it's a touchscreen, you have to concentrate rather hard on hitting exactly the right bit of the screen, which is distracting.
Space and practicality: Ford Focus boot space
This was always a slight weakness for the previous Ford Focus because rear space was always on the tight side compared with rivals. That's no longer the case, though.
Rear legroom is now among the best in the class, and headroom is very good, too, and this allows tall passengers plenty of room to stretch out, even behind a comparatively lofty driver. Bear in mind that cars with a panoramic roof are appreciably shorter on rear headroom, but still, your passengers would need to be pretty gangly to feel short-changed.
Sitting three in the back is comfier than it is in most rivals, too, because the cabin and the middle seat are wide, while the central tunnel running down the middle of the floor is low and flat, so it's comfy enough to sit with your feet on top of it if you wind up in the middle.
A pair of bulky child seats will also fit in without a worry. What's more, space in the front is as generous as you expect, and there are lots of storage spaces dotted around, even if the door pockets aren't particularly large.
The boot is satisfactory rather than class-leading. At 375 litres, its size is similar to that of its main rivals and a good chunk bigger than the old Focus, but down on the biggest cars such as the Honda Civic. There's a lip that you'll need to heave heavy items over, too, but it's only small. The rear seats drop to boost your cargo bay, and they lie almost flat, with no awkward steps in the floor.
In terms of exterior dimensions, the Ford Focus is 4378mm long, 1825mm wide and 1471mm tall. That makes it longer and wider than a Volkswagen Golf, but not quite as tall. It's roughly in the middle of the family hatchback field in terms of size.
Handling and ride quality: What is the Ford Focus like to drive?
"Driver engagement has always been a Ford Focus trademark, and the latest version carries on that tradition in fine style."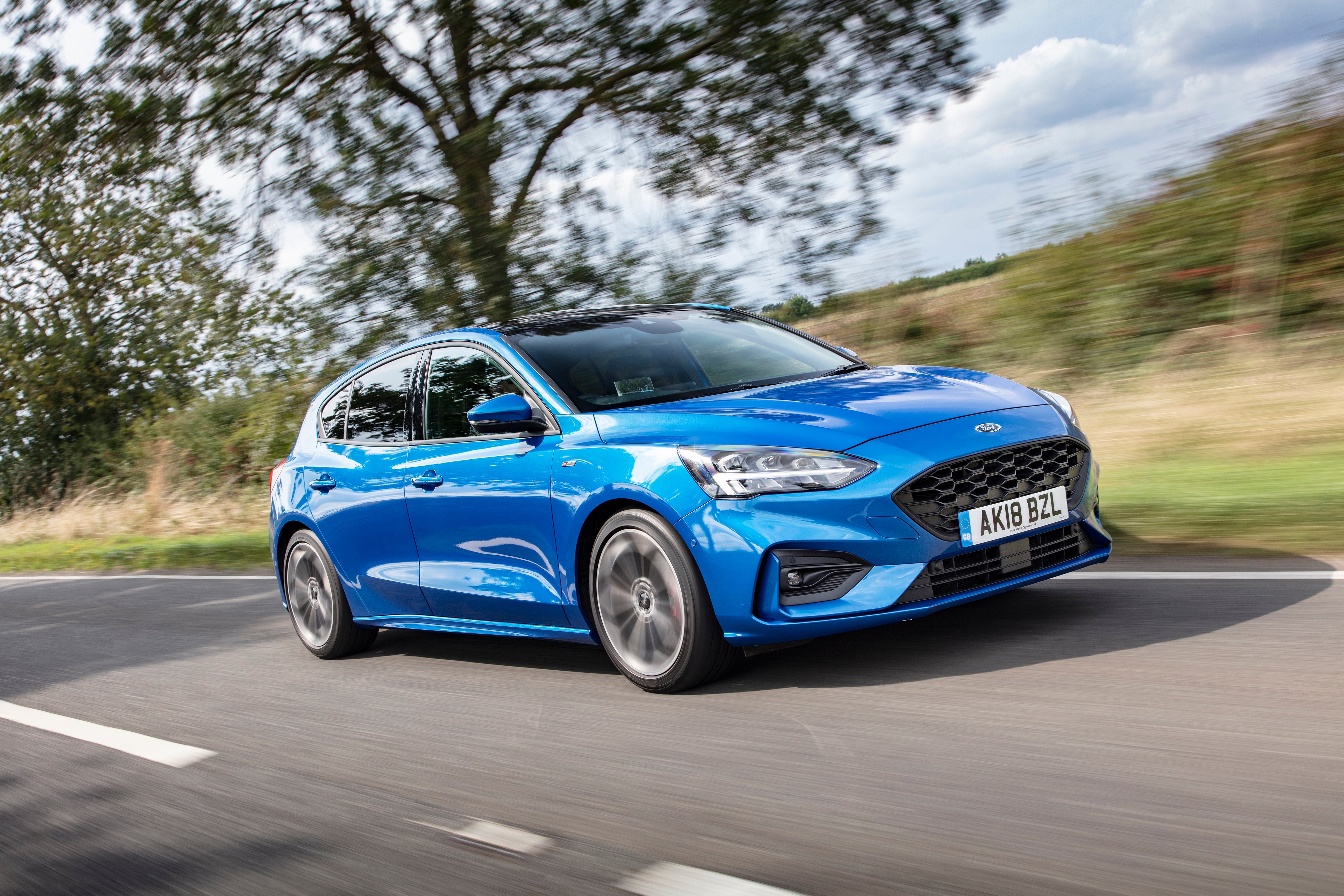 Key rivals may be closer than ever to the Ford Focus in terms of its ride and handling, but they're still not able to beat it.
The suspension gives really impressive control over unwanted body movements, while there's also oodles of grip and steering that's quick, responsive and packed full of feel. This makes the car feel assured and agile as it changes direction, allowing you to scurry along your favourite backroad with a smile on your face, and with a satisfying feeling of stability.
If you're worried that such nimble handling will result in a car that's uncomfortable over bumps, you needn't. The suspension is supple enough to absorb most of what a ragged road surface can throw at it, and the ride is also superbly controlled at all speeds, so your life is comfortable and civilised at all times. Sure, a VW Golf is slightly better at isolating you from big potholes, but it isn't as fun to drive.
ST-Line models sit 10mm lower, which makes them marginally more agile, but happily, that doesn't put a big dent in your comfort levels. An adaptive suspension was also available through the options list, which varies its behaviour according to which driving mode you select.
All Focuses have a range of driving modes, which make minor changes to things like steering weight and throttle response. You can feel the subtle differences, they don't really change the character of the car in any way.
What engines and gearboxes are available in the Ford Focus?
The petrol Ford Focus range kicks off with turbocharged 1.0 EcoBoost three-cylinder engines with either 85, 100 or 125PS, and there are also 1.5 EcoBoost units with either 150 or 182PS.
The 1.0 EcoBoost in one of its more powerful two trims will be fine for most buyers. It's not fast by any stretch of the imagination, but it's flexible enough to pull you around pretty easily in most driving situations. Like most of the engines on offer, it's available with either a six-speed manual gearbox or an eight-speed automatic. We've tried it with the former, and it feels a tiny bit notchy as you switch gears, but strangely, manual changes are much cleaner with all the other engines we've tried.
Upgrade to one of the 1.5s and the performance you get is a good bit fizzier, with more low-down pull, more willingness to rev and more outright pace. You won't actually detect much of a difference between the two, though, so we probably wouldn't bother paying to upgrade to the 182PS, sticking with the 150PS instead.
However, we wouldn't team this engine with the automatic gearbox, because the two have something of a rocky relationship. The engine is very eager while the gearbox is very slow-witted, and this results in a car that wants to run away with you when you just want to pootle along, but also reacts frustratingly slowly when you want to get a move on.
The auto' with the 120PS EcoBlue diesel engine is much better. It swaps gears smoothly and reasonably briskly, and usually selects the right one at the first time of asking. The engine's great, too, with enough low-down punch for any situation and a very decent turn of pace. This diesel engine is also available with an output of 95PS, and there's also a 150PS 2.0 EcoBlue.
Refinement and noise levels
The 1.0 EcoBoost engine is nice and quiet in the Ford Focus, but it does transmit a bit of vibration through the steering wheel and pedals, especially with a few revs on. The power delivery also has a slightly stuttery, staccato quality that also makes things feel a shade less smooth. It's noticeable, but it's not something that'll annoy you.
You'll have no complaints over the 1.5 EcoBoost, though: they're very smooth and quiet when you want them to be, and emit a pleasant rasp when you work them harder. Special mention, though, should go to the 1.5 EcoBlue, which stays amazingly smooth and quiet at all times. Many executive saloons don't have diesel engines this cultured.
Other sources of noise are very effectively isolated, too. Wind- and road noise are both audible, but both are kept to very low levels, and you'll hardly ever hear a peep out of the suspension. It all makes the Focus a very civilised, sophisticated, grown-up way of getting around.
Safety equipment: How safe is the Ford Focus?
Importantly, automatic emergency braking is standard across the entire Ford Focus range, along with lane-keeping assistance, electronic stability control, hill start assist and brakes that lock themselves on after an accident to help prevent any further impacts.
The standard roster also includes MyKey, a programmable fob you can give to your kids when they drive the car, which allows you to pre-set maximum thresholds for things like speed and stereo volume. Clever stuff. Meanwhile, Vignale models add brighter LED lights and a head-up display that beams key driving information onto the windscreen so you don't have to look away from the road as often.
Optional extras for buyers of new Focuses included blind spot monitoring and a Driver Assistance Pack, which includes traffic sign recognition and adaptive cruise control with lane centring.
The Focus was crash-tested by Euro NCAP in 2018, and scored the full five-star rating. Bizarrely, it was then tested again in 2019 and, predictably, the result was very similar.
MPG and fuel costs: What does a Ford Focus cost to run?
"As usual, it's the diesel Ford Focus models that'll give you the best fuel returns according to the official WLTP figures. Both versions of the 1.5 EcoBlue deliver a maximum average just shy of 63mpg, while the figure for the 2.0 EcoBlue stands at 60mpg."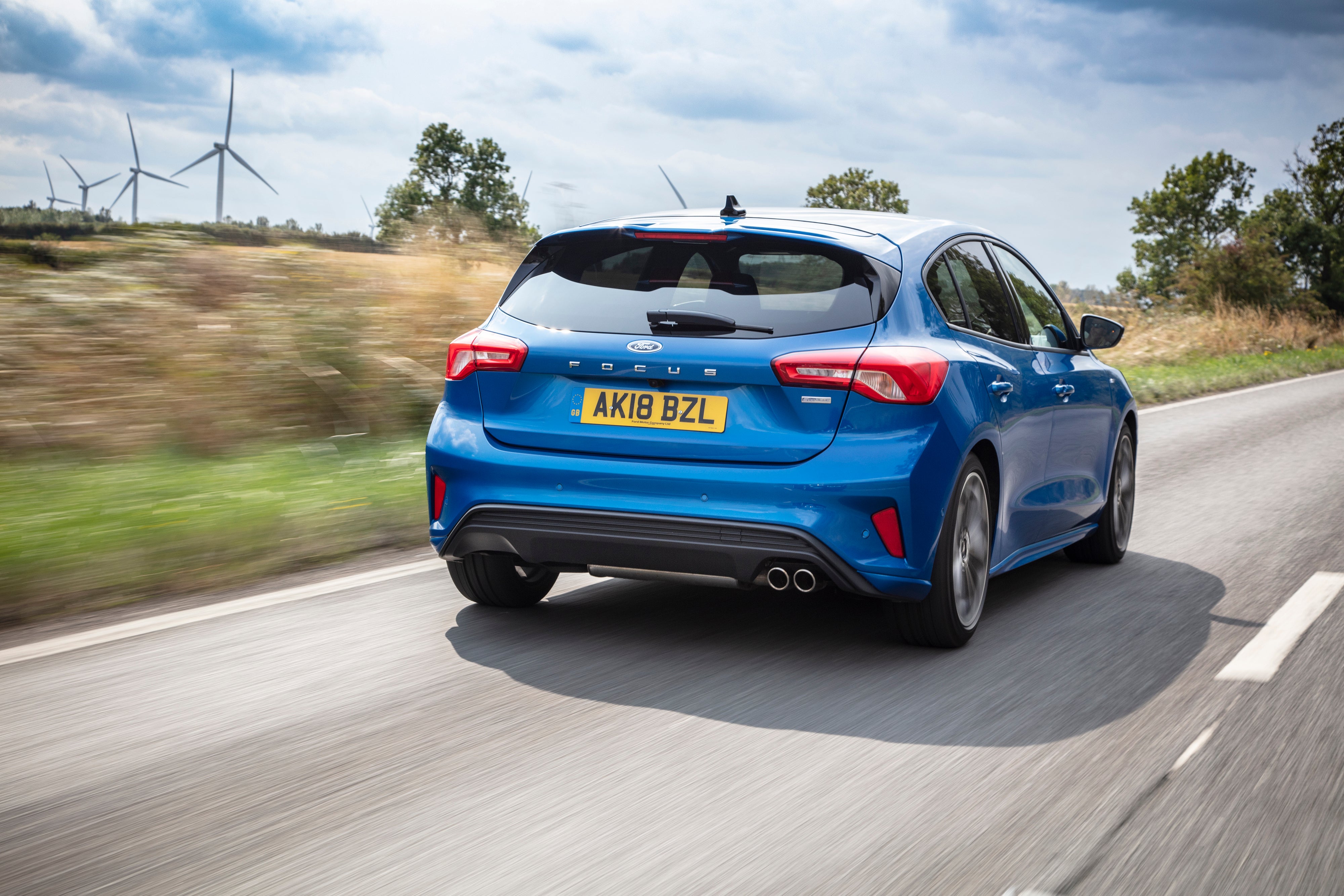 With the petrol , the 1.0 EcoBoost will deliver between 51mpg and 53mpg depending on which power output you go for, while the 1.5s will deliver between 48mpg and 47mpg.
Bear in mind, too, that if you add an automatic gearbox to any of the petrol or diesel engines, you'll sacrifice another two or three miles per gallon.
Although the WLTP testing regime is meant to produce more realistic results than the old system, the laboratory figures will still prove tricky to match in real-world mixed driving. They'll get close at a motorway cruise, but really the figures best used for comparisons with other cars.
How reliable is the Ford Focus?
Ford executives will be disappointed to see that it is in the bottom five car brands in the latest HonestJohn.co.uk Satisfaction Index. However, modern cars are generally pretty reliable, and the fact that Ford sells so many cars means it's more likely that problems are reported.
Having said that, we've seen an unusually high number of reports of electrical or electronic issues with the Ford Focus. Whether they were just early teething problems on a new car remains to be seen, but if you're looking to buy one make sure everything works and take advantage of heycar's 30 day warranty on every car.
Insurance groups and costs
If you ignore the hot ST model, then insurance groupings for the Ford Focus lie between groups 8 to 21. That's pretty much par for the course for this type of car, although some are pricier.
Between these extremes, though, look at the versions that will appeal to most buyers, and they all sit in the mid-teens. This should mean affordable premiums, especially for those with a decent no-claims bonus, and importantly, the Focus compares well with rivals on this score.
VED car tax: What is the annual road tax on a Ford Focus?
This generation of Ford Focus was released in 2018, after the Government introduced a flat rate of £150 per year for petrol and diesel cars. And, because no version cost more than £40,000 when new, they all escape the £325 surcharge between years two and six of the car's life.
When considering the car's original price, you do have to factor in the price of optional extras. However, even if you specify the priciest version and go on a spending spree with the options list, it's not possible to get the price up to £40,000. We've tried. So, on all versions of the Focus, the £150 flat rate is what you pay. Click here to check out the latest tax rules and how much your car will cost to tax.
How much should you be paying for used Ford Focus?
"The popularity of the Ford Focus means that there's plenty of supply of used examples, keeping prices competitive."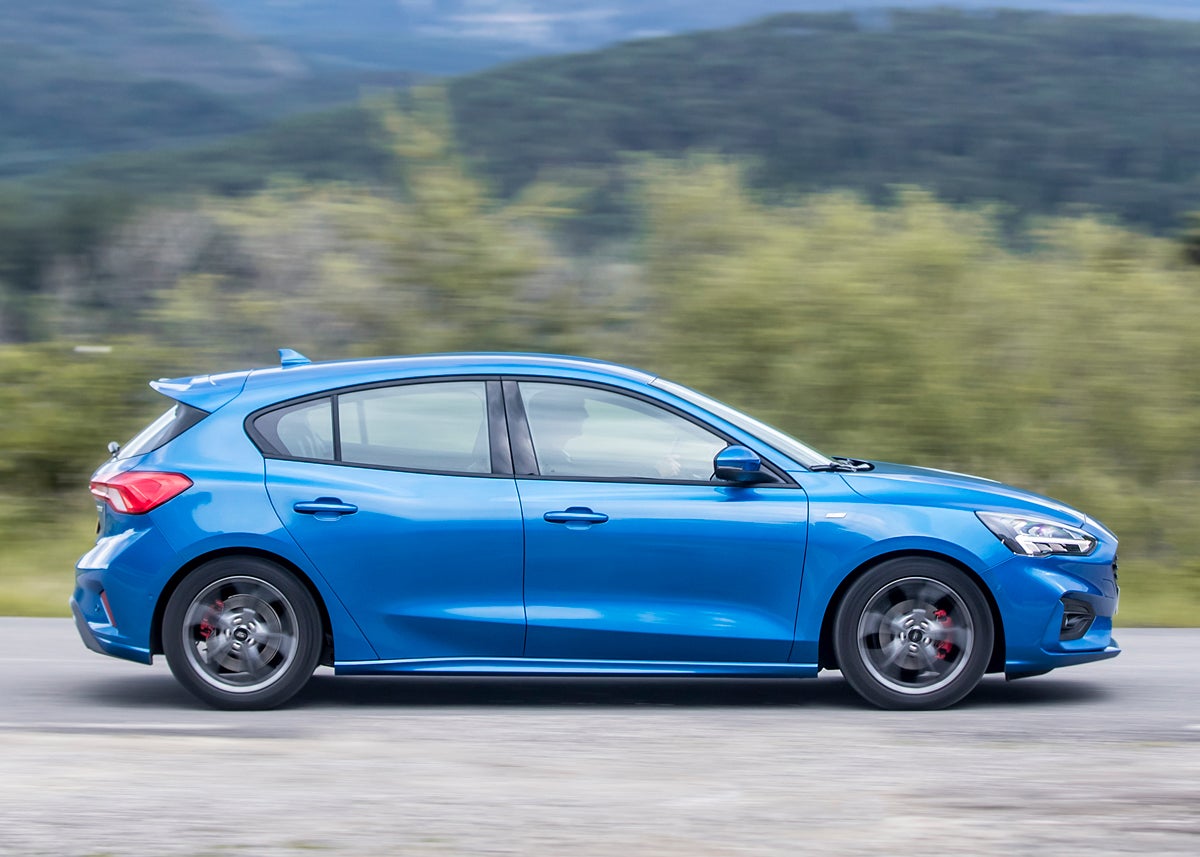 When new, prices for the Ford Focus range from between around £20,000 for a base trim 1.0-litre Ecoboost hatchback, right up to over £30,000 for a range-topping automatic diesel estate.
The cheapest examples of the latest Ford Focus start at around £13,000. That's for a 2019 Zetec 1.0 EcoBoost with around 60,000 miles on the clock. An EcoBlue diesel version starts at around £1,000 more than that. 2021 mid to high-spec examples with less than 5,000 miles on the clock are commanding around £21,000.
Those prices are roughly in line with the Ford Focus's closest rivals in terms of used prices, although a VW Golf tends to be appreciably more expensive spec-for-spec.
Trim levels and standard equipment
The Ford Focus has a slightly unconventional trim structure, so you might have to bear with us on this one. The original entry-level version, called Style, came with a decent amount of standard equipment, including manual air-conditioning, four powered windows, automatic lights, remote locking, a space-saver spare wheel, DAB radio and Bluetooth.
However, most buyers upgraded to Zetec trim at the very least, as it provided cruise control, cornering fog lights, leather wrappings for the steering wheel and gearknob, a heated windscreen and a touch-screen infotainment system. That's why Style trim was eventually dropped, making Zetec trim the entry point. From that point on, you make the decision to choose either the sporty path up the trim structure, or the more luxurious one.
Those who go sporty will come across ST-Line trim next, which gets you a host of sporty styling touches inside and out, plus keyless entry and a sports suspension. Then there's ST-Line X, which adds more luxury items such as part-leather upholstery, heated front seats, a powered driver's seat, automatic wipers, rear privacy glass, front and rear parking sensors and two-zone climate-control.
Those who go down the luxury route will get most of that on the Titanium trim, but if you want the privacy glass, part-leather upholstery and powered driver's seat, you'll need to upgrade to Titanium X. At the top of the tree sits the Vignale, which adds full leather, a heated steering wheel and active parking assistance, on top of its own unique styling touches.
Ask the heycar experts:
common questions
Is the Ford Focus a good car?
For most of its two and a bit decades on sale, the Focus has been the best family car in its class. Rivals are better than ever, but it's still an excellent choice.

Answered by
Georgia Petrie
Is the Ford Focus being discontinued?
Since its launch in 1998, the Focus has been a strong seller for Ford and there's no sign of it bowing out just yet - in the UK and Europe at least.

Answered by
heycar editorial team
Which Ford Focus model is the best?
There's a Focus to suit all drivers - whether you're after something sporty, sedate, economical or load-lugging.

What type of car is a Ford Focus?
The Ford Focus is a C-segment family car, which means it goes up against models such as the Vauxhall Astra and Volkswagen Golf.

Ford Focus cars for sale on heycar
10,418
Number of cars available
£6.7K - £42K
Price bracket of these cars
Colours available on heycar
Keep me updated by email with the latest advice, news and offers from heycar
By submitting, you agree to our
privacy policy
.