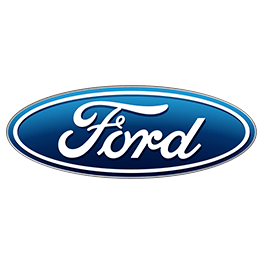 Ford Focus (2014-2018) Review

Written by
heycar editorial team

heycar rating
Hatch with focus for families
Best bits
All-round improvements
Simpler, cleaner dashboard layout
Still one of the best family hatchbacks to drive
Not so great
Boot space not as big as rivals
1.0 Ecoboost not as economical as you'd hope
Firm ride from models with larger wheels
Read by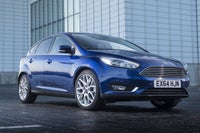 Overall verdict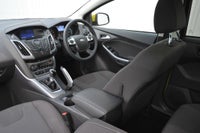 On the inside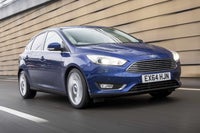 Driving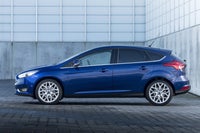 How much does it cost to run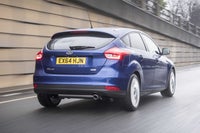 Prices, versions and specification
Overall verdict
"The Ford Focus is not perfect, and you need to pick your spec carefully to get the best one, but this 2014 model is, overall, an excellent family hatchback for the money. With increasingly tempting prices and some very well-equipped and stylish versions out there, you can't go far wrong with a Focus."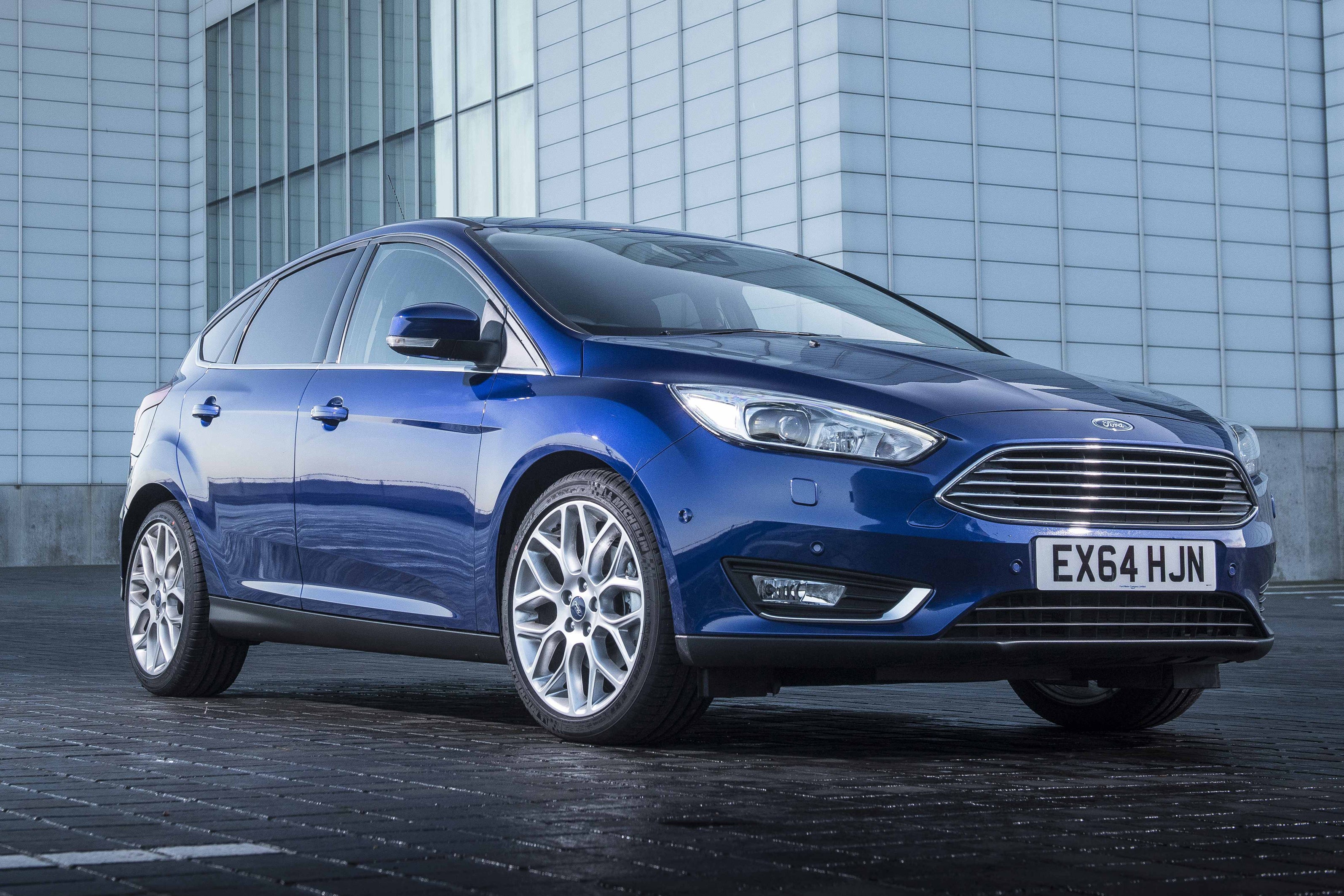 The 2014 Ford Focus wasn't an all-new car, but it was a facelift so extensive and far-reaching, we think it should be treated as one. This was far more than the Blue Oval simply adding an 'Aston Martin' front grille to the 2011 Focus. It went through the entire vehicle with a fine tooth comb to help it take on the considerable challenge of talented rivals – including that perennial competitor, the Volkswagen Golf.
All the changes were based on customer feedback, something Ford researches tirelessly. Owners told the firm about the aspects they didn't like and, rather than waiting for an all-new model to fix the flaws, Ford deemed it important enough to rush through this ground-up facelift just four years after launch, to get the Focus back to its best.
There's no denying it looks better, with slimmer headlights and more contoured lights at the rear. That bold grille stood out when new, but now looks almost elegant, and makes the pre-facelift car appear dumpy.
Perhaps the biggest change came inside. The original model had a dreadful centre console layout, with a mass of buttons and a tiny infotainment screen. It was much-criticised (and rightly so) for being complicated to use and ugly to look at. Ford belatedly responded on this 2014 car by introducing a brand-new touchscreen incorporating its latest Sync infotainment system. It was a huge step forward.
Engines were improved, too. The range was concentrated on two popular versions: the 1.0-litre Ecoboost petrol and new 1.5-litre TDCi diesel. The weaker choices from before were phased out, and new options introduced for those able to spend more, such as an excellent 1.5-litre Ecoboost turbo petrol. There was even an all-electric version.
The Focus has long been famed for being brilliant to drive. Even here, the original 2011 car was somewhat off the pace, proving less of an all-rounder than a Golf or Vauxhall Astra. Again, it was back to the drawing board for the Ford engineers, who sharpened it all up and finally gave buyers a car they could fully enjoy driving. Crucially, the ride quality was improved as well.
Factor in better build quality thanks to improved interior trims and materials, more high-tech active safety features and the added bonus of improved economy, and the scale of Ford's engineering work in creating the updated 2014 Focus is clear. It's a facelift so extensive, we think it worthy of its own review. Read on to discover why the Focus with the Aston Martin grille is the one you really want.
If you're looking for the newer version, you need our Ford Focus (2018-) review.
Comfort and design
"The previous Focus had so many buttons on its centre console, it was almost intimidating to look at. Ford's attempt to make them look stylish by building contours into the layout only made things worse. It was an ergonomic disaster and customers soon fed this back to Ford."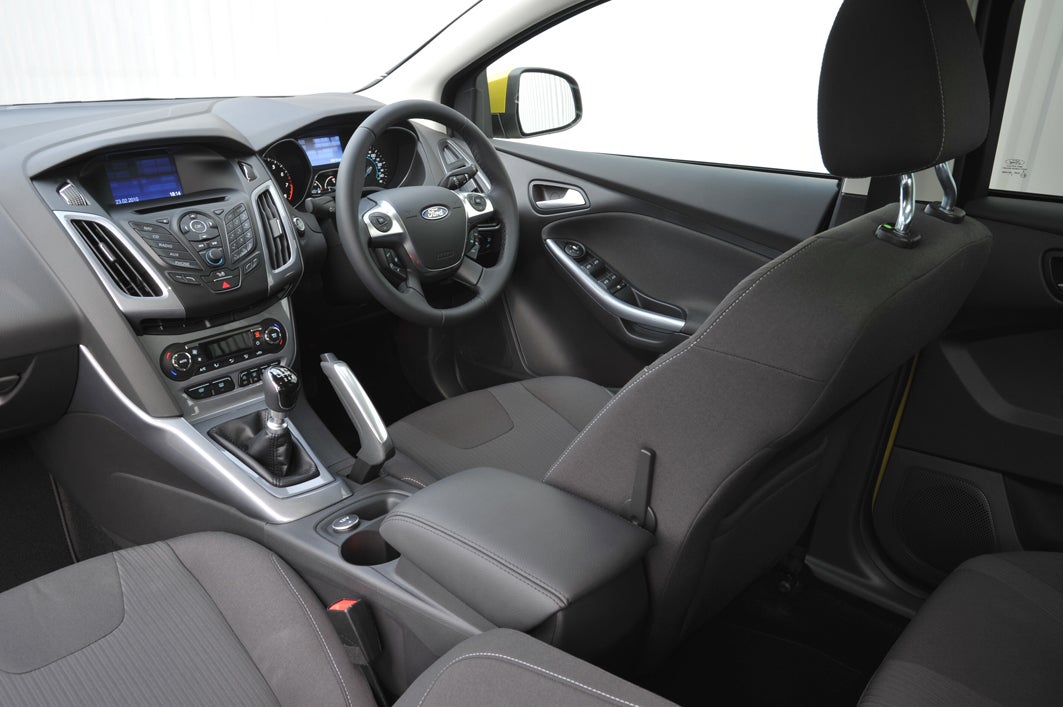 Relief came with this 2014 refresh, which has a much simpler centre console with far fewer buttons and a bright, crisp central screen instead. The design is less cluttered and it's possible to work out how to use the system at a glance.
Further down sit the ventilation controls: models fitted with climate control air-con have a similarly straightforward layout, although the dated blue glow of the temperature LEDs does look a bit '1980s'. No changes were needed for the clear instruments, which sit within deep cowls, and we also like the neat colour screen in the centre of the binnacle. This displays trip information and other data.
What Ford couldn't do with the facelift was reduce the visual mass of the interior. It's a tall dashboard, with lots of plastic facing the driver and, in particular, the passenger. It feels strangely claustrophobic, particularly as most cars came with such dark black interior colour schemes.
There are some design quirks, too. It's easy to whack your knee on the side air vent when getting in and out, and you'll frequently knock the climate control panel and alter the settings when changing gear until you get used to it.
Even Focus veterans sometimes struggle to work out the logic of the buttons on the steering wheel. It seems to run counter to other brands' more straightforward setups, and we note the subsequent Focus improved upon this.
You can usually rely on Ford to fit fine front seats, and the Focus delivers here. They're firm, supportive and sporty-feeling, without cutting off circulation to your legs on long journeys. The chairs in sportier ST-Line versions are particularly nice to sit in.
Handling and ride quality
"Ride and handling have been a Focus USP since it was launched in the late 1990s. It was therefore a bit disappointing to discover the 2011 car didn't quite hit the highs of previous generations, mainly due to a relative lack of comfort compared to the ever-impressive Golf. This 2014 facelift gave Ford the opportunity to rectify that, and it grabbed it with both hands."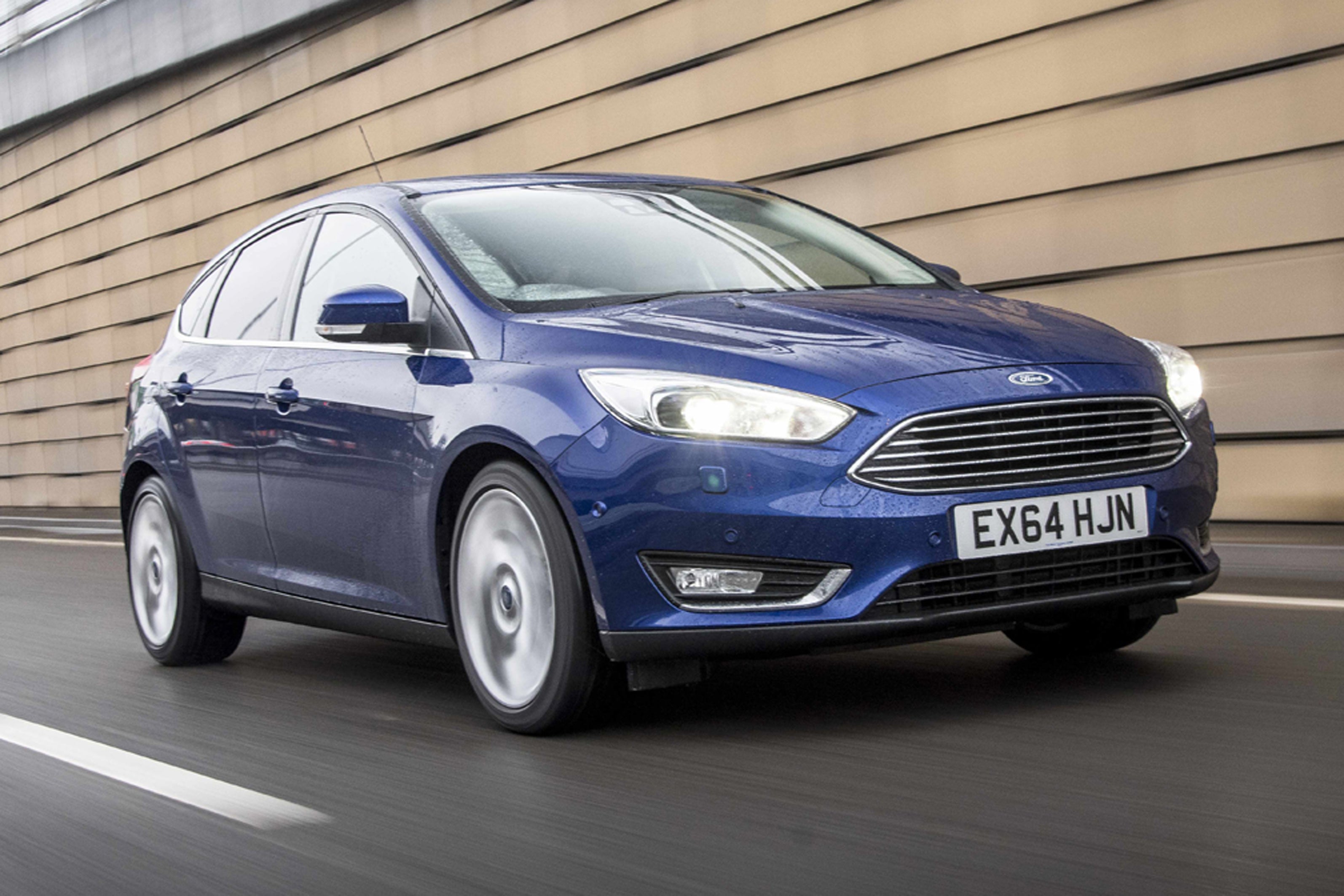 The suspension was optimised to place greater emphasis on comfort and refinement. The Focus now handled bumps with less crash and bang, and was less irritable when driving across scarred city roads. Its wheels felt better controlled and overall it seemed less energetic and frenetic.
Ford lightened up the steering, as some found the previous system a bit too hefty, but also improved straight-ahead precision so it was more accurate when turning off-centre. The engineers also took out some of the friction in the suspension, making the car feel more precise in everyday driving – and further enhancing the excellence of the Control Blade rear suspension. Arguably, it wasn't as 'raw' as the original, and enthusiasts may have preferred the old one, but for most, the drive of this new Focus was much-improved.
On the motorway, it felt more stable and connected than before. Again, less effort was required, making it more relaxing to cover higher mileages in. The steering tracks arrow-straight and the Focus is an easygoing companion for laid-back motoring – yet still one that involves you more than the family hatch norm.
MPG and fuel costs
"The Ford Focus 1.0 Ecoboost has outstanding claimed fuel economy figures. Indeed, its MPG seems almost too good to be true."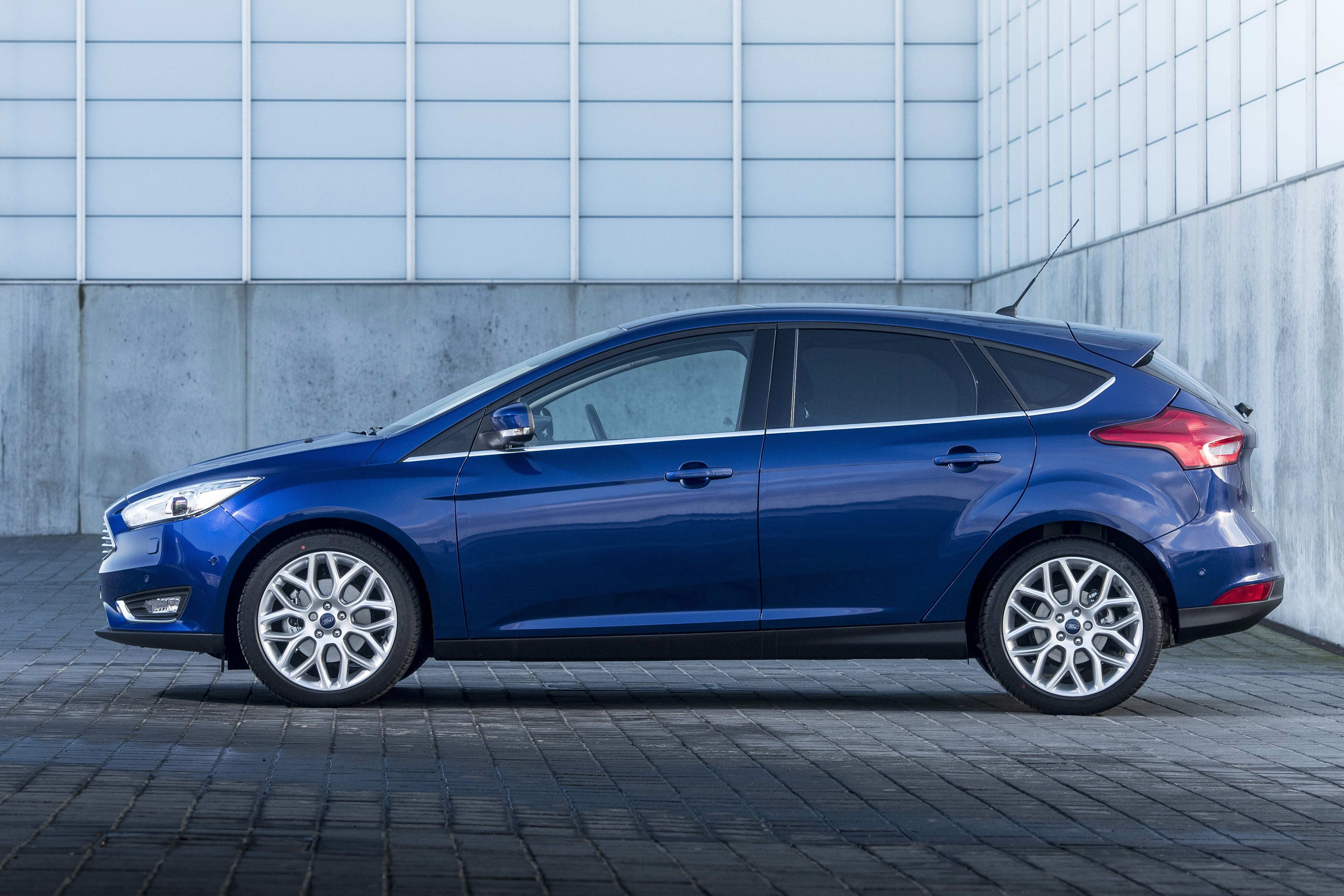 In practice, it often is, particularly versions that don't have six-speed gearboxes and thus have to buzz at higher revs on the motorway. Saying that, even if you're unlikely to regularly see the claimed (and diesel-like) 60mpg in daily use, you should still see well over 40mpg. Given the punch and easygoing nature of the engine, that isn't bad.
Diesel engines are startlingly economical on paper as well. Again, they're not as good in practice – you won't get 74mpg from the 1.5 TDCi, for example, but they're still good. The 2.0 TDCi is very strong for long-distance use, while the smaller engine is good for mixed-road use.
Be careful with automatics. They are considerably less fuel-efficient than the manual cars, and will prove pricier to tax.
How much should you be paying for a used Ford Focus?
"Temptingly, around £6000 can get you into the facelifted 2014 Ford Focus, with both TDCi diesels and 1.0-litre Ecoboost petrols represented here. They'll have slightly above-average mileage and be in Zetec trim rather than anything better-stocked, but that's still a lot of car for the money – and one that still looks fresh and modern."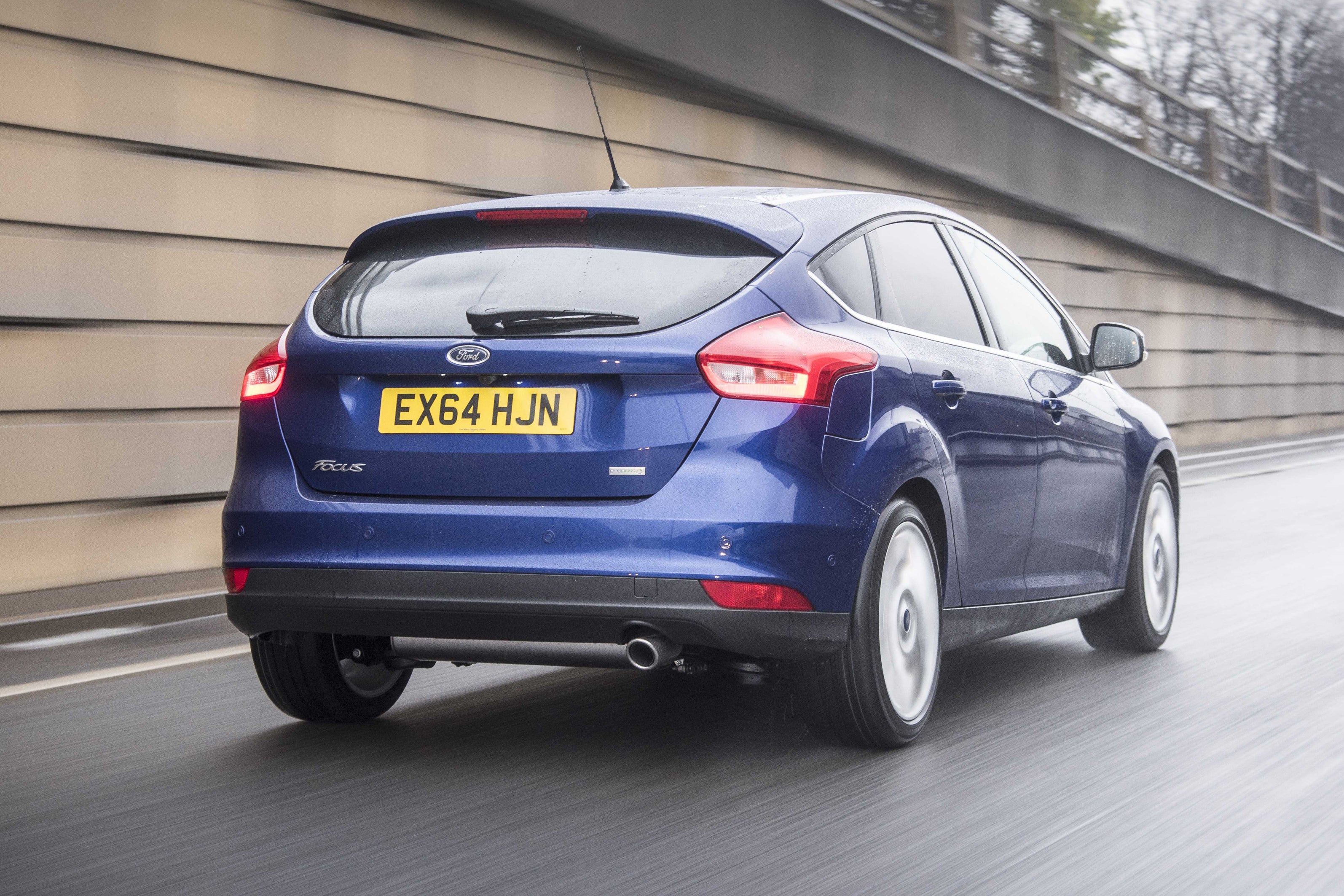 Because the Focus is such a popular car, there's plenty of choice even at this level. As you up your budget, models with more modest mileages start to appear.
Our tip is to find around £8000 for the pick of 2015 and 2016 1.0-litre Ecoboost models in all specs, colours and power outputs. Budget from around £10,000 for a 2017 (or even 2018) car with sensible mileage and plenty of life left.
Is the Ford Focus right for you?
Some things never change with the Focus. Ford didn't mess up the core engineering and layout with this vehicle, so it still delivered a decent amount of interior space, plus a practical boot. It's broadly as family-friendly as its direct rivals and won't cause any particular headaches in daily use.
The reason keen drivers pick a Focus over an Astra or Golf was restored here: pin-sharp handling and more confidence behind the wheel. The Ford handles eagerly, steers beautifully and even the ride is more poised than before (although it did firm up noticeably on models with the largest alloy wheels). Enhanced engines were also an improvement, both in terms of reliability and drivability.
Factor in a better standard equipment, plus the colourful appeal of Ford's Sync infotainment system, and it's safe to say the Focus is well worth considering for family hatchback buyers after a bargain.
What's the best Ford Focus model/engine to choose?
When new, the company fleet car focus of the, um, Focus meant that plenty of 1.5-litre TDCi diesels were sold. This improved engine replaced the earlier 1.6-litre TDCi and is still worth a look today, as it meets the most stringent emissions standards and won't be excluded from any low emissions zone restrictions.
The ever-surprising 1.0-litre Ecoboost petrol is perennially popular, too. This is a big car for a small engine, but it works, with strong pulling power and a refined, smooth nature. The one disappointment might be fuel economy, particularly if you drive it with the enthusiasm it encourages. In this regard, the 1.5-litre turbo might actually prove a more efficient option.
Ford sold a basic Studio trim level, but this isn't very appealing. Zetec should be your starting point, with the Titanium coming with an improved Sync 2 touchscreen. We especially like sporty-looking ST-Line models, introduced from 2016.
What other cars are similar to the Ford Focus?
We've already mentioned them, because they've been rivals for the Focus since it was introduced way back in 1998: the Volkswagen Golf and Vauxhall Astra. It's easy to see why these three cars regularly appear in the UK's top 10 best-sellers chart.
However, there are plenty of other cars similar to the Ford Focus out there: the Renault Megane, Peugeot 308, Honda Civic, Toyota Auris, Kia Ceed and Hyundai i30, for example. If you like a sportier take, try the SEAT Leon, while those who prefer practicality should check out the Skoda Octavia. Even Nissan got in on the act with the Nissan Pulsar, although it was arguably the success of class-leaders such as the Ford Focus that led to the Nissan being phased out a few years later.
Quality and finish
The Focus is a robust and solidly-built car, but it doesn't demonstrate the same quality and finish you get in something like a Volkswagen Golf (although few family cars do). The plastics are spongier and, lower down the dashboard, harder and scratchier. The knobs and dials have a lightweight feel and the electric windows click a bit too cheaply. At least having the touchscreen means there are fewer of them to press…
The seat upholstery also seems a bit more heavy-duty than in more premium alternatives. It's hardy and wipe-clean, yes, but the seats are so nice to sit in, it would be good if the fabric was a bit plusher.
This Focus did look better than its predecessor on the outside, though. The cleaner front end and tidied-up rear means there are fewer lines, joins and panel gaps, giving a more Germanic appearance. This helped better show off the high-quality paint finish the Focus has long enjoyed.
Infotainment
The centre stack is the biggest usability update found in the 2014 Focus. Base Studio models didn't have any infotainment screen (another reason to avoid them), but all other cars came with, at least, a 5.0-inch display. The best cars are those fitted with the 8.0-inch Sync 2 touchscreen, though. As a rule of thumb, that's everything from Titanium upwards.
It's a really straightforward and logical system to use, with everything displayed in clear quadrants on screen. You can usually hit the function you seek easily, even on bumpy roads, and the at-a-glance usability is impressive. Less user-friendly is the voice control option: if you don't say what you want precisely and clearly, the system won't understand you.
All models above the basic Studio get DAB radio, along with aux and USB sockets. Apple CarPlay and Android Auto weren't available, though. This era of Focus was a bit too early for that.
Space and practicality
The Ford Focus has ample space behind the wheel for drivers of most shapes and sizes. Curiously, though, it doesn't feel like that the first time you get in. Everything feels a bit close, from the oddly-angled doorhandles to the base of the dashboard itself. It is, largely, an illusion, and once you've positioned the seat, the Focus starts to feel more accommodating.
Having such a large degree of steering wheel adjustment helps. It means you can get the wheel nice and close while compensating for pedals that are positioned just a touch too high. You might also find the manual handbrake lever positioned a bit too close, but the Focus gives a good view forwards thanks to its deep, steeply raked windscreen and slightly raised seating position.
Rear space is OK. It's by no means class-leading, but there shouldn't be too much cause for complaint back there. The rear seats are comfortable and there's some nice attention to detail, such as cut-out seat backs to make extra space for knees. There are (small) bins in the doors and cupholders in the central armrest (where fitted). Ford also improved stowage space up front, with extra smartphone-sized cubbies.
The hatchback boot is well-shaped, with that customary Ford attention to detail in terms of maximising practicality, but actual space isn't as good as rivals. A total of 316 litres of space pales next to the 380 litres you get in a Golf. This is, however, when fitted with a space-saver spare wheel. If you choose a tyre repair kit, it goes up to 363 litres. Prefer a full-size spare, though, and it plunges back down to 277 litres. Seats down, there's 1101 litres of space with a space-saver, or 1148 litres with the repair kit.
Isofix mounts for child car seats are standard on the two outer rear seats, and the fairly tall door openings mean it's not too awkward to get children in and out. Some cars are fitted with clever plastic door edge protectors, which pop out when the door is open to save damage to both your car and the one next to you. Perfect for tight parking spaces, they slide back in automatically when the door is closed.
Engines and gearboxes
Broad revisions across the range saw some aged old motors ditched and the range concentrated on the 1.0-litre three-cylinder Ecoboost petrol units, which regularly accounted for around half of all Focus sales. This tiny little engine is incredibly flexible, and the 125PS version serves up decent muscle (the 100PS engine is best kept to city-centre use). It revs smoothly and feels perfectly matched to the Focus.
The larger 1.5-litre four-cylinder Ecoboost comes in 150PS or 182PS outputs. It's an appreciably faster engine, so is a better choice for sporty drivers, although it seems a bit lacking lower down the rev range when compared to the 1.0-litre.
Ford also replaced the old 1.6-litre TDCi diesel with a smaller, more efficient 1.5-litre TDCi, offered in 95PS and 120PS outputs. It's a good engine that doesn't rattle or clatter too much, and is suited to fuss-free long-distance motoring.
Automatic gearboxes are available, but they're not great. Unless you have to go auto, we'd stick with the brilliant manuals, which are light, slick and a pleasure to use. Even the clutch pedal isn't too heavy and the whole drivetrain seems very fluid and natural.
Refinement and noise levels
Ford put a lot of attention into making the 2014 Focus quieter. Compared with the earlier model, there's a lot more sound insulation, particularly around the windows and wheelarches. Improved door seals helped cut wind noise at speed.
Ford's figures suggested the Focus had become one of the quietest cars in the family hatch class, and we don't dispute them. The smallest 1.0-litre Ecoboost is particularly impressive here, simply because the engine itself is so refined, and incredibly smooth running. You'll barely feel it and when you come to a halt, you'll swear it has stalled - it's that quiet.
Only a bit of wind whistle from around the door mirrors can spoil things at speed on blustery days. Otherwise, the Focus is an impressively refined machine with admirably low noise levels.
Safety equipment
More active safety gadgetry is a feature of the 2014-era Focus. The active city stop function, which automatically applies the brakes when it detects a likely collision, works at speeds of up to 30mph instead of the slower 20mph cap used before. The automatic car parking also works in bays, as well as for parallel parking.
Lane-departure warning was available – easily activated via a button on the indicator stalk – and a new type of traction control actually preempts front-wheel slip and skidding, rather than waiting for it and then reacting to correct it.
All Focus models came with the Ford MyKey feature. This allowed parents to program specific settings into the spare key – so, for example, their children couldn't exceed a certain speed, or turn the stereo up above a set volume. We should also add the in-use safety improvement from clearing up that clutter of buttons on the centre console is considerable, particularly for cars fitted with Sync 2.
As this was a facelift, Ford didn't bother retesting the Focus for Euro NCAP, so the 2012 crash-safety score carried over. It earned five stars there, with 92% for adult occupant protection and 82% for child protection.
Insurance groups and costs
Ford Focus insurance ratings start from a low group 10, and a perfectly fine all-rounder, the 1.0-litre Ecoboost 100 Zetec, is a competitive proposition indeed at group 11. If you want a bit more pulling power and faster acceleration, though, moving up to the 125PS version takes the insurance group to 14.
The 1.5-litre Ecoboost is decent, with a 150PS Titanium at group 16. The much sportier-looking ST-Line with the same power output did, however, take it up to group 19. Diesel models start from group 12 and rise to group 19 for the 2.0-litre TDCi ST-Line.
VED car tax
Very low CO2 emissions mean free VED (road tax) for the 1.5-litre TDCi, and there's even a version of the 1.0-litre Ecoboost petrol that comes in at less than 100g/km – making it the first non-hybrid petrol-engined Ford to dip below this benchmark figure.
The 1.5-litre Ecoboost is pretty decent, though, with even the 182PS version's sub-130g/km CO2 emissions giving it an annual VED car tax bill of £125 a year. Some of the older carry-over non-turbo engines – and the automatics, were appreciably less competitive.
Trim levels and standard equipment
Ford always likes to offer a simple price-leader version. For this era of Focus, it's called Studio. It has the basics, but no more: 16-inch alloys, manual air-con, remote locking, CD player and a USB socket. Buyers could only choose it with an aged, unappealing 1.6-litre 85PS petrol engine.
Style trim is a bit more like it. These cars feature a pretty 16-inch alloy wheel, DAB radio, silver roof rails and the clean-look 4.2-inch display (that made it look less like they'd forgotten to fit something at the factory). More engines were available, too.
Our tip is to start with Zetec trim, however. These have nicer sports-style front seats, front foglights, a central armrest, leather steering wheel and heated door mirrors. A heated windscreen is also standard. Zetec S sees the wheels grow to 17-inches and a sportier bodykit is added, along with sports suspension, LED running lights and keyless go.
Titanium is a posher version of Zetec, with (yet another) type of 16-inch alloy, the Sync 2 8.0-inch touchscreen, active city stop, climate control, cruise control and keyless go. It also gets a sparkly chrome grille surround. Titanium X is yet more lavish, with 17-inch alloys, rear-view camera, xenon headlights, part-leather interior, power driver's seat and ambient interior lighting.
In 2016 came the Focus ST-Line, an ST-look variant with deep side skirts, black exterior detailing, Rock Metallic Grey 17-inch alloys, sports seats and red contrast stitching throughout. The roof line was dark (like a Golf GTI) and ST decals featured outside and in. It's the most visually appealing 2014-era Focus of all.
Learn more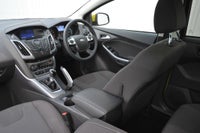 On the inside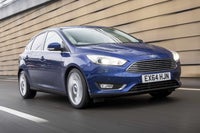 Driving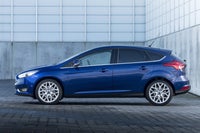 How much does it cost to run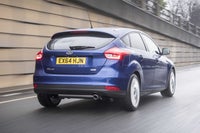 Prices, versions and specification
Reviews of similar cars
Quality checked, all cars less than 8 years old and warranty included
Looking for other Ford cars?
Quality checked, all cars less than 8 years old and warranty included