Written by
heycar editorial team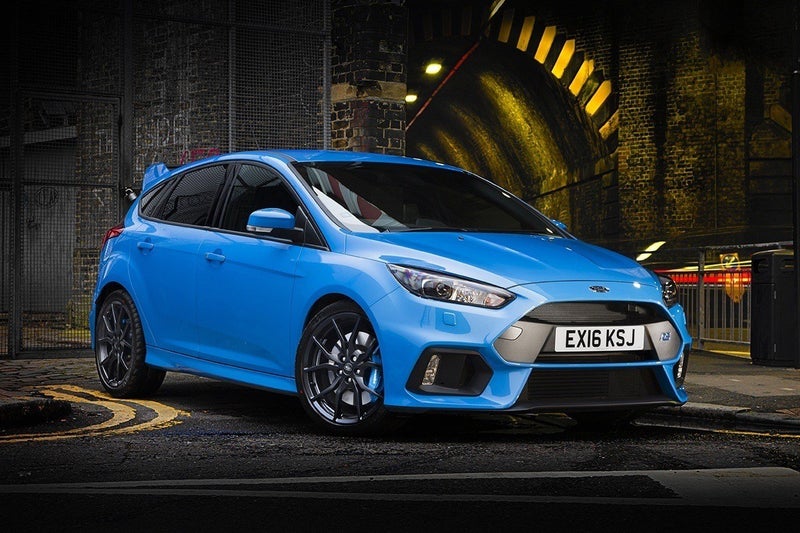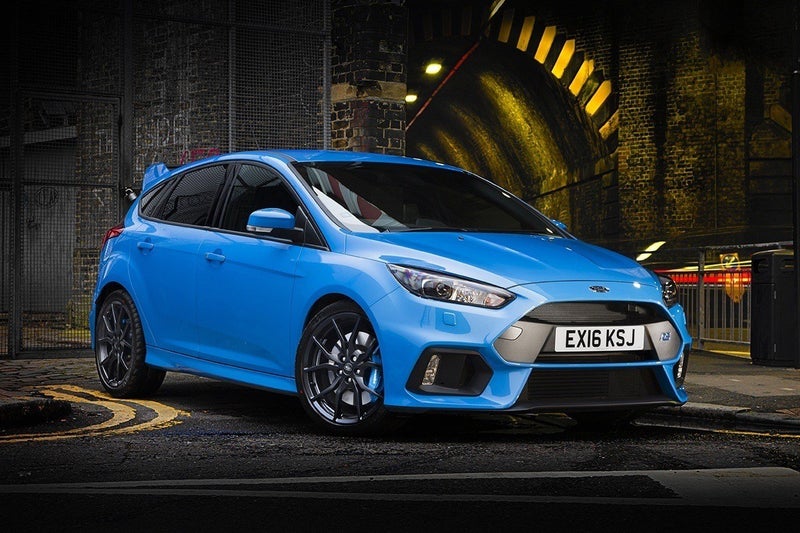 1/7
heycar rating
"Supercar pace in iconic RS"
Launched: 2016

Hot hatch

Petrol
Quick overview
Pros
Superb driving abilities
Potent engine
Still very practical
Cons
Fuel economy
Some engine problems noted
Low-speed ride
Overall verdict
On the inside
Driving
Cost to run
Prices and Specs
Overall verdict
"The Ford Focus RS wasn't just a triumph of a hot hatch in comparison to its rivals, it's also likely to go down in history as an all-time great. Like the Escort Mexico and Sierra Cosworth, it's that good and important for its given period in time. It's fantastic fun, offers serious performance and yet it's affordable next to competitors. The only thing that lets it down a little is the fairly conservative interior."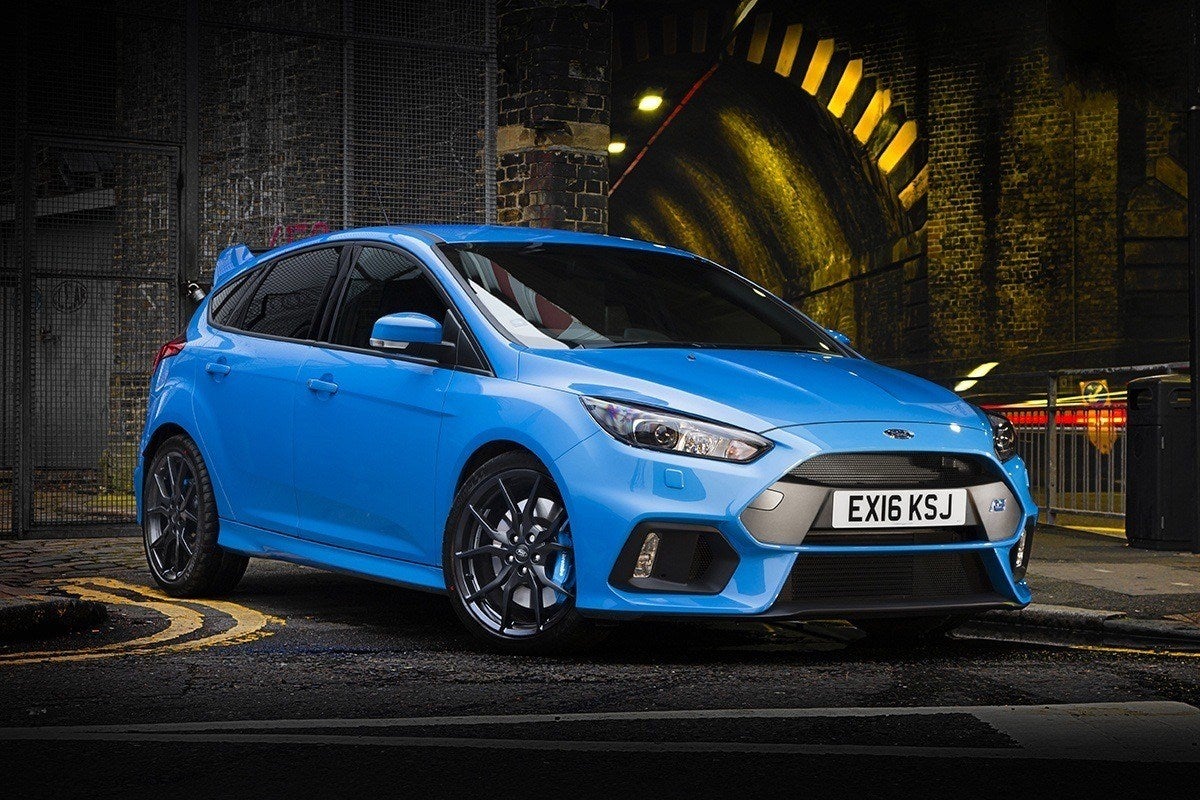 There's nothing restrained about the RS's power, however. All 350PS of it comes from a 2.3-litre four-cylinder EcoBoost turbo petrol engine with peak torque of 440Nm. This is over-boosted to 470Nm for up to 20 seconds, with a very short cooldown period, so in reality the higher figure is what you'll typically get under full throttle. Acceleration is accompanied by a great, characterful exhaust note, particularly in the selectable Sport mode.
Unlike previous front-wheel drive incarnations of the Focus RS, the latest model has no trouble transferring all of its power to the road because it has all-wheel drive. Ford, though, cleverly calibrated the onboard computer and mechanicals to prioritise pure fun over supremely fast lap times, unlike Audi with the RS3 or Mercedes-Benz with the A45 AMG.
The result is a car with huge, confidence-inspiring levels of traction, helped by a very well-judged suspension set up that keeps body roll at bay without being too harsh on uneven British roads. Adaptive dampers are fitted as standard, but they only firm up in Track mode which, along with Drift mode, is genuinely meant for racetrack driving only.
A six-speed manual transmission is fitted as standard, instead of the paddle-shift automatics common on other all-wheel drive super hatches. The brakes are hugely powerful Brembo units that can shave off speed as alarmingly quickly as the engine can build it up. It's a real, bona fide performance car, yet it's easy to drive in town and it's reasonably practical.
Inside, the Focus RS feels a little subdued in comparison to the likes of the vibrantly upholstered Civic Type R of the same period. The Ford has supportive buckets seats and a pod of extra gauges, but is otherwise as staid and reserved as a normal Focus. That's partly down to the cost-saving production process as the RS was produced on the same line as other Focus variants. That production stint lasted two years, which means the RS is already considered a car worthy of collecting and hanging on to, which is good for used values.
When new, the Ford was significantly cheaper than rivals from Audi and Mercedes-Benz. In fact, the Focus RS cost about the same as the less-powerful, front-wheel drive Civic Type R, which was also hugely impressive in its own way. But really, the Focus RS was and is the more capable, well-rounded car. It remains one of the very best hot hatches you can buy bar none.
Is the Ford Focus RS right for you?
If you're looking for a stealthy way to slink down back roads and make swift progress, the Ford Focus RS is not the car for you. This 30th model from Ford's RS engineering brains was also its most outrageous, and not just for the jutting front splitter and prominent rear spoiler. At the back are two large bore exhausts that are there for good reason rather than show.
As well as being needed to deal with the engine's power, the exhausts also make themselves known with the noise that emanates. Growls, barks and pops are all part of the RS repartee, which some will love and make others cringe. Us? We love it because this car is all about purpose and that means incredible straight-line performance.
The RS isn't some straight-line missile that comes unstuck at the first corner, either. It's at its very best in the bends where all-wheel drive, huge traction and nigh-on perfect poise make it sensationally quick and entertaining. Ah, and it will also trundle through town and commute to work with ease, though you will need to brace for some hefty fuel bills.
What's the best Ford Focus RS model/engine to choose?
The Ford Focus RS comes with just one engine and transmission option, which is a turbocharged 2.3-litre four-cylinder petrol motor. It produces 350PS maximum power and a nominal 440Nm peak of mid-rev shove. However, Ford gave the Focus RS an added slug off punch to help with overtaking that boost the maximum torque figure to 470Nm for 20 seconds under full throttle. As you're unlikely to ever use the accelerator for more than that, it's effectively the real top figure.
The six-speed manual gearbox was the only transmission option and it's a slick shifter. It's coupled to a four-wheel drive system as standard that uses a clever rear differential to deliver superb driving thrills.
Although the RS came in a single specification, it was also available with a Luxury Pack that added parking sensors, cruise control, keyless ignition, and folding door mirrors. You could also add optional Recaro front seats and 19-inch forged alloy wheels, both of which were popular and desirable additions when new and as a used buy.
What other cars are similar to the Ford Focus RS?
Sitting at the top of the hot hatch hierarchy, the Ford Focus RS has very few real rivals. Those that do give it a close run are the Audi RS3 and Mercedes A45 AMG. The Audi uses a five-cylinder engine and all-wheel drive, but is not as full of feel or fun as the Ford.
Mercedes-Benz's A45 is massively quick in a straight line, but it's not as good in the corners as the Focus RS. Another option is the Volkswagen Golf R, which is not as powerful as the Ford but has the same supreme cross-country handling and composure. Or, for outright in-your-face looks, the Honda Civic Type R does the trick but is not as swift or sure-footed as the Focus RS.
Comfort and design
"The Fords Focus RS is as almost as practical as any other Focus, with five doors and plenty of useful standard equipment. Aside from that the cabin is so similar to more mundane Focus models, it's actually a little disappointing as there isn't as much drama as you get in the cabin of the Honda Civic Type R."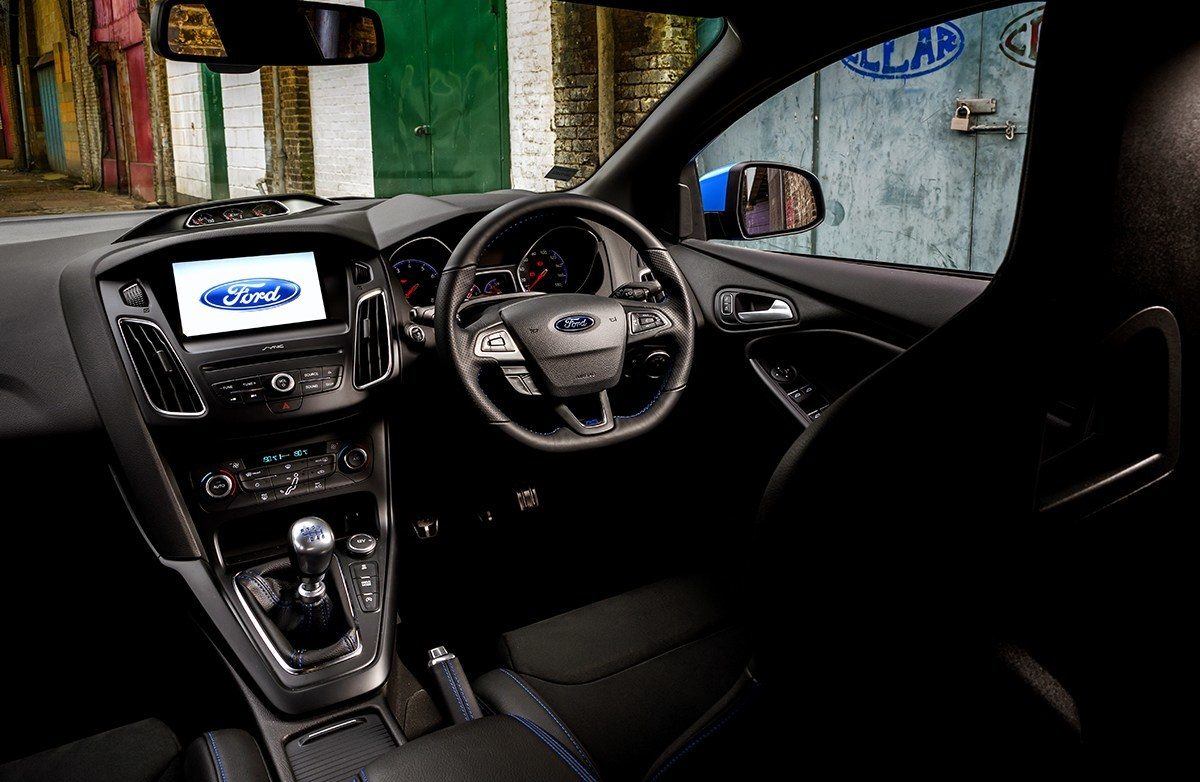 There are differences between lesser Focus models and the RS, though. The most notable change is the addition of bucket front seats, which offer loads of support in high-speed corners but are quite uncomfortable to get in and out of. There is also blue upholstery stitching, provided the car has blue exterior paint, and a pod of extra gauges at the top of the centre stack.
The optional Recaro front sports seats were a popular upgrade and worth looking out for, though they don't address the feeling of the driver being sat on, rather than in, the Focus RS due to the lofty driving position. An upside to this is it gives the driver excellent all-round vision. There's also plenty of room for the front occupants' head, shoulders and legs, so the RS is not a performance car that you have to contort yourself to sit in.
The seat slides back and forth manually and there's height and depth adjustment for the steering column. Otherwise, that's your lot when it comes to fine tuning the driving position in the Focus RS.
Quality and finish
Ford made all of its rivals look very expensive when it launched the Focus RS. To do this, however, has involved sticking with most of the same materials found in a standard Focus, which don't stack up quite as favourably when compared to the likes of the Audi RS3 and Mercedes-Benz A45 AMG with their very solid construction values.
Some of this dowdy feel to the Focus is down to the dash being all but identical to the standard Focus item other than the small bank of extra dials on the dash top. You'll find some soft-touch padding to the dash and door panels, but the rest is the usual mix of Ford plastics.
Even so, the thick-rimmed leather-bound steering wheel and hide-covered seats add a welcome touch of upper class appeal. Find a car with the optional Recaro seats and their part-leather, part-Alcantara trim is even more pleasing.
Overall, the Focus RS is well put together and free from creaks. It's just a shame the materials chosen are not as easy on the eye or dashing as a Honda Civic Type R's.
Infotainment
The Ford Focus RS came with the company's SYNC 2 infotainment system with 8-inch colour touchscreen positioned high in the centre console. It comes with navigation, DAB audio, Bluetooth, voice controls and smartphone integration. As a result, it has all of the functions and features you'd expect of a modern family hatch.
This is not to say the system is perfect as the screen can be very sluggish to respond to the touch of your finger. Plugging in a destination to the navigation takes longer than in many other rival set-ups and, on the move, there is nowhere to rest your hand so it can be a jiggly hit-and-miss affair to get the right menu spelling.
However, there are separate controls for the audio and remote buttons on the steering wheel to operate the radio and hands-free calls to make life easier. The screen also enjoys good resolution and clear graphics for most options, though the sat-nav map now looks quite fussy and overly detailed next to Ford's latest infotainment systems.
Space and practicality
By making the Focus RS all-wheel drive, Ford had to reduce boot space from more than 300-litres in the standard hatch to a more modest-sized 260-litres, though thankfully the load deck is flat. There's enough space for a couple of cases or for a shopping trip, plus the 60-40 split and tumble rear seats can be folded to free up more than 1000-litres of load space to the roofline.
This makes the Focus RS a more versatile and usable super hot hatch than some of its rivals, though it's unlikely to be your first choice for DIY store trips. Even so, there's only a small drop from boot sill to load floor and the tailgate swings up to leave the same large aperture as in any other Focus of this generation.
Coming round to the rear doors, they also offer an identical amount of space as other Focus models for passengers to step into the car. This means getting in and out of the hind quarters of the Focus RS is easy, even with the sporty front seats that do not take up vital room for feet. They do pinch a little knee room, but not enough for it to be an issue unless you have a particularly tall rear passenger say behind a leggy driver.
Ford has made an effort to give the rear seats the same sporty look and feel as those in the front. As a result, you hide covering the bench and some bolsters to give greater support to the two outer occupants. Should you find yourself sat in the middle pew, it's narrow and has a heavily padded seat back that means it's neither comfortable nor generous with headroom. You will also find leg room at a premium due to the transmission tunnel that's needed to take drive to the rear wheels. For the other two rear occupants, head and shoulder room is good and the side windows offer a decent view out as the belt line of the car is not as upswept as in some rivals.
Handling and ride quality
"The Ford Focus RS can suffer from a jiggly, brittle ride in town. It's not any worse than its key rivals, but it certainly lets you know you are in a serious performance machine."
The suspension is on the firm side, but it still does a great job of balancing acceptable comfort with good body control as speed builds away from the urban sprawl. Furthermore, the responsive, torquey engine makes threading together a series of corners a great experience, not least because the all-wheel drive system provides extra reassurance when using the throttle to its full.
The computers and systems are exceptionally quick to react to changes in road surface, steering and throttle inputs, making the car feel balanced and poised, but with a huge level of traction to keep the car pointing where the driver wants it to go. You don't have to work too hard to enjoy the Focus RS and yet it's still exciting and involving when you do put in the extra effort
This is especially true in Sport mode, which sharpens up throttle response and adds some extra drama to the exhaust note, opening a flap to increase volume and wasting a few extra drops of fuel for the sake of some fun pops and crackles on the overrun. This Ford also has two other driving modes in Track and Drift settings, but they aren't suited to road use.
However, the fact the engineers and marketing people at Ford elected to include it at all says a lot about the Focus RS. It's a car that was designed with fun and enjoyment as top priority and it really shows. Ford's rivals might be swifter around a circuit, but the RS will put a bigger smile on its drivers' face.
Engines and gearboxes
The Ford Focus RS uses the same 2.3-litre turbocharged engine fitted to the Mustang, but it's been very heavily revised to offer more power. Peak grunt is 350PS and maximum torque is, officially, 440Nm. However, the RS has an over-boost function that increases torque to 470Nm for up to 20 seconds. Lifting off the throttle for a split second resets the over-boost, so in reality, most of the time peak torque is 470Nm. It's like having a helping hand to catapult you past slower traffic when overtaking, making it quicker and safer as you are past and back on the correct side of the road in less time than would otherwise be the case.
What's more, it's available from 2000rpm right up to 4500rpm. That means the engine is responsive almost regardless of which gear is selected, not that working the six-speed manual gearbox is an unpleasant experience. The gear change is snappy and accurate, although the clutch is a little sudden until you get used to it. Together, they work very well and serve to make the Focus RS feel much more of a performance car than a 'mere' hot hatch.
From rest to 62mph takes just 4.7 seconds in the RS and top speed is 165mph, so the Focus RS has serious pace and is quicker than its German rivals with top speeds electronically pegged to 155mph. The downside is, of course, fairly poor fuel economy. Officially the Focus RS is capable of 36.7mpg, but in reality it's likely to be closer to 30mpg – or even worse when driven hard or in urban traffic.
Refinement and noise levels
If there is a price to pay for the Ford Focus RS's amazing levels of power, pace and traction, it's refinement. Of course, a hot hatch is always going to make more engine noise than a standard model as this is part of the allure and sporting feel of the car. In the RS, you are always aware of the engine, especially in Sport mode where the exhaust pops and crackles on the overrun. It's all good fun and can be turned off whenever you want.
What cannot be turned off is the amount of rumble stirred up by those broad tyres. This constant drawl is transmitted into the cabin through the firm suspension settings and can make longer drives in the Focus RS quite a draining experience when combined with the firm ride.
However, wind noise is not an issue as the Focus RS has the same slippery shape as any other Focus model from this generation. We also like the weight of the major controls, such as pedals, gear shift and steering, and how they balance with each other to make the RS feel every inch the sporting car it genuinely is.
Safety equipment
The Focus RS enjoys the same five-star crash test rating as other Ford Focus models from this generation. It scored very well for adult and child occupant safety, though it could have performed better overall if Ford had included autonomous emergency braking as standard on this pricey model rather than leaving it languishing on the options list like others in the range.
However, you do get twin front, side and curtain airbags as standard, along with ESP traction control. There is also a hill hold function to stop the car from rolling backwards as you pull away on an incline. Ford also fitted a tyre pressure monitoring system as standard.

The Focus RS was also supplied with Ford's MyKey, which lets you programme up to four keys with individual settings for the car. For example, different keys can be set with limited top speeds and even restrict the maximum volume of the stereo to make sure the driver's attention is kept on the job in hand.
MPG and fuel costs
"Ford claimed an official combined fuel consumption of 36.7mpg for the Focus RS."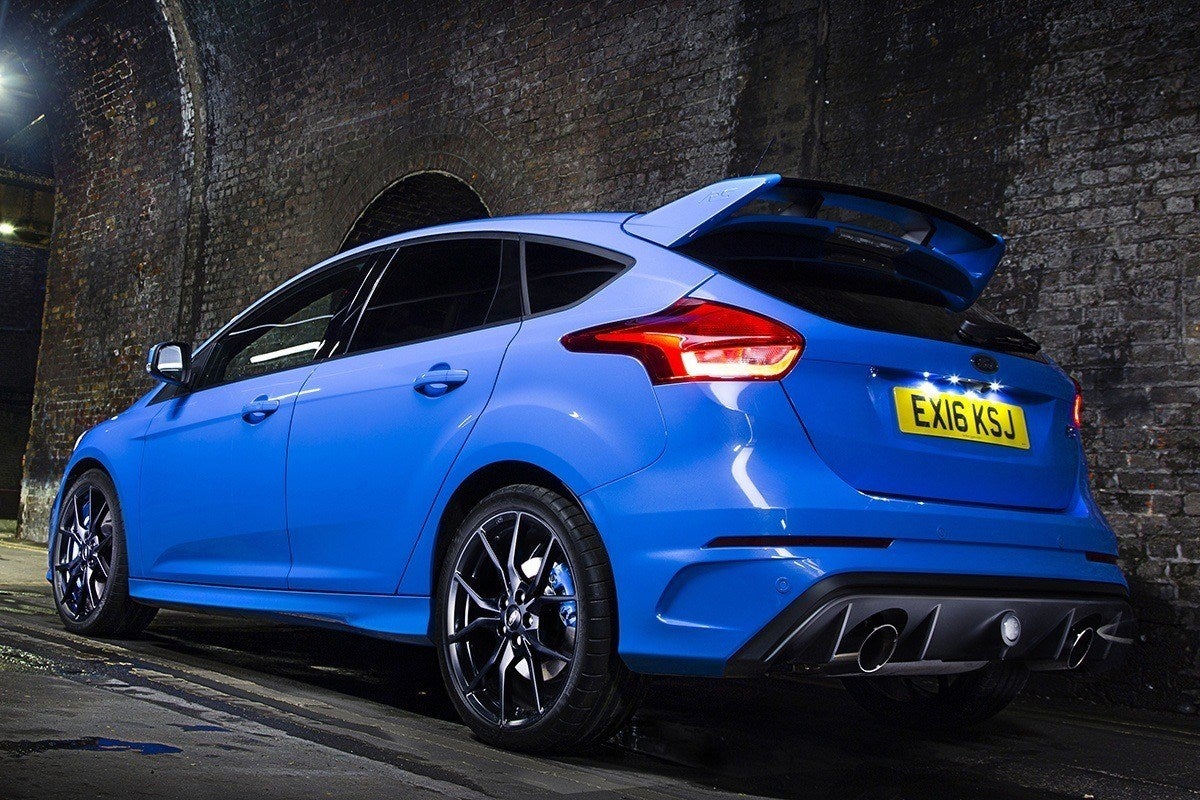 That seemed fairly reasonable in comparison to the other models in the Focus range of the time. However, the reality is few RS drivers were going to use the car gently and even when you only access the full power of the car only occasionally it will eat up fuel.
As a result, Real MPG figures show a Focus RS owner is more likely to experience average economy of 25.3mpg. That means a range of about 300 miles from full to empty.
Insurance groups and costs
When it comes to getting the Ford Focus RS insured, it's not going to be cheap as it sits in group 40. However, that's the same as for an Audi RS3 and four groups lower than a Mercedes A45 AMG, so it's at the lower end of this ball park of super hot hatches. Only the Volkswagen Golf R is notably lower down the insurance rankings as it sits in group 34.
VED car tax
With CO2 emissions of 175g/km, a Ford Focus RS registered up to 31 March 2017 will attract an annual Vehicle Excise Duty tariff of £240 per year.
As the Focus RS production lifespan straddled that date, later cars registered from 1 April 2017 will pay road tax at the reduced rate of £150 per year.
How much should you be paying for a used Ford Focus RS?
"The iconic appeal of the RS badge among Ford fans means the Focus RS holds its value very well. As a result, a car that originally cost £28,940 new will still need £22,000 to buy a four-year old example with 40,000 miles on the clock and in well cared for condition."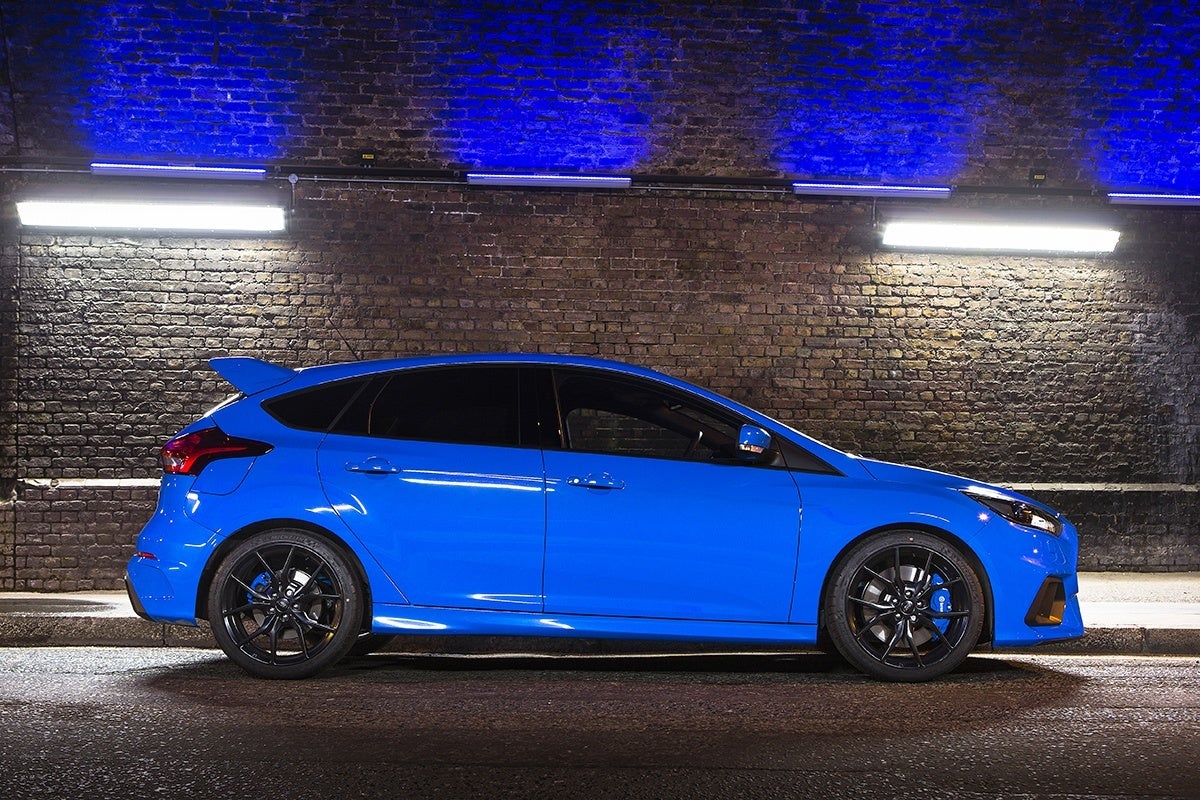 A two-year old Focus RS with half that mileage will need you to spend pretty much exactly what it cost when new, so reckon on a £28,000 asking price. The good news here is that values are unlikely to drop as the Focus RS becomes a car sought out by collectors.
The last of the line Heritage editions are finished in a unique Tief Orange colour and have power boosted to 375PS. Only 300 were made and they cost a hefty £39,895, but you'll pay that to own one now due to their rarity and desirability.
Trim levels and standard equipment
All Ford Focus RS models have 19-inch multispoke alloy wheels as standard, 350mm ventilated front disc brakes with lightweight Brembo calipers, RS performance rear spoiler, xenon HID headlamps with adaptive lighting, and automatic headlights. There are also heated washer jets, rain sensing wipers, and heated door mirrors with integrated turn indicators.
Inside, there are RS branded Recaro front seats with leather side bolsters, dual-zone climate control, SYNC 2 infotainment with 8-inch touchscreen, DAB audio system, and Quick clear heated windscreen. You also get four pre-set drive modes, comprising Normal, Sport, Track or Drift, as well as Launch Control, and dual mode damper settings. In the boot is a tyre repair kit.
Options for the Focus RS included the Luxury Pack that added parking sensors, cruise control, keyless ignition, and folding door mirrors. You could also add optional Recaro front shell seats and 19-inch forged alloy wheels, both of which were popular and desirable additions when new and as a used buy.
Ford Focus RS cars for sale on heycar
11,177
Number of cars available
£27K - £49K
Price bracket of these cars
Colours available on heycar
Keep me updated by email with the latest advice, news and offers from heycar
By submitting, you agree to our
privacy policy
.