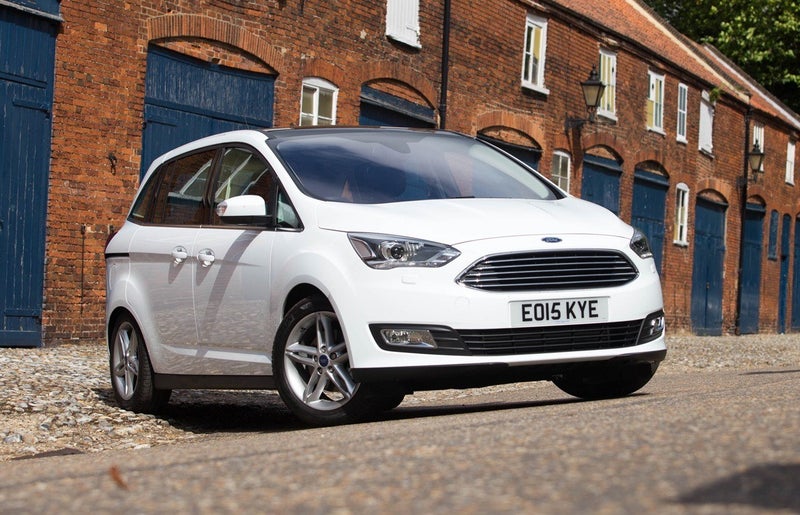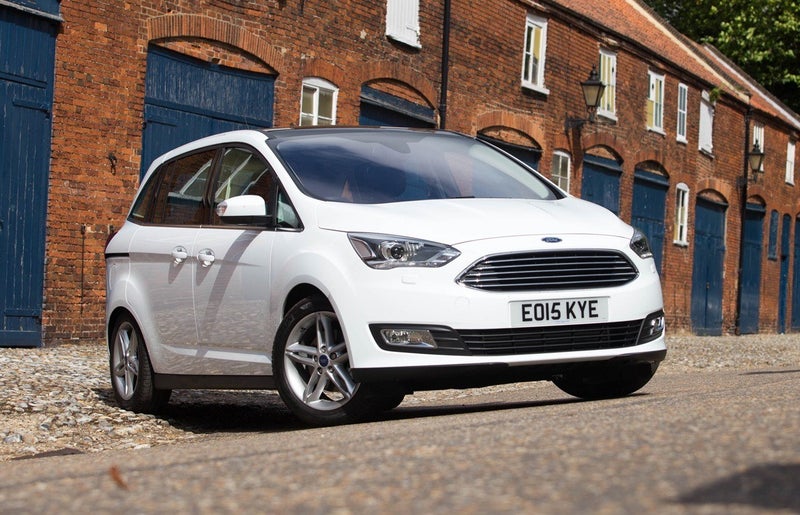 1/9
heycar rating
"Compact and comfortable seven-seater"
Launched: 2011

MPV

Petrol, Diesel
Quick overview
Pros
Great to drive for an MPV
Well priced as a used buy
Useful sliding rear doors make it family friendly
Cons
Pretty cramped in the third row
Fiddly folding seats can be frustrating
Underpowered petrol engines are best avoided
Overall verdict
On the inside
Driving
Cost to run
Prices and Specs
Overall verdict
"The Grand C-MAX is one of the smallest seven-seaters you can buy. It packs a lot of practicality into a car that's smaller and more nimble to drive than almost any of its rivals. As a diesel it's economical and has just enough pulling power, but despite some clever solutions, it's simply not as spacious as the best MPVs."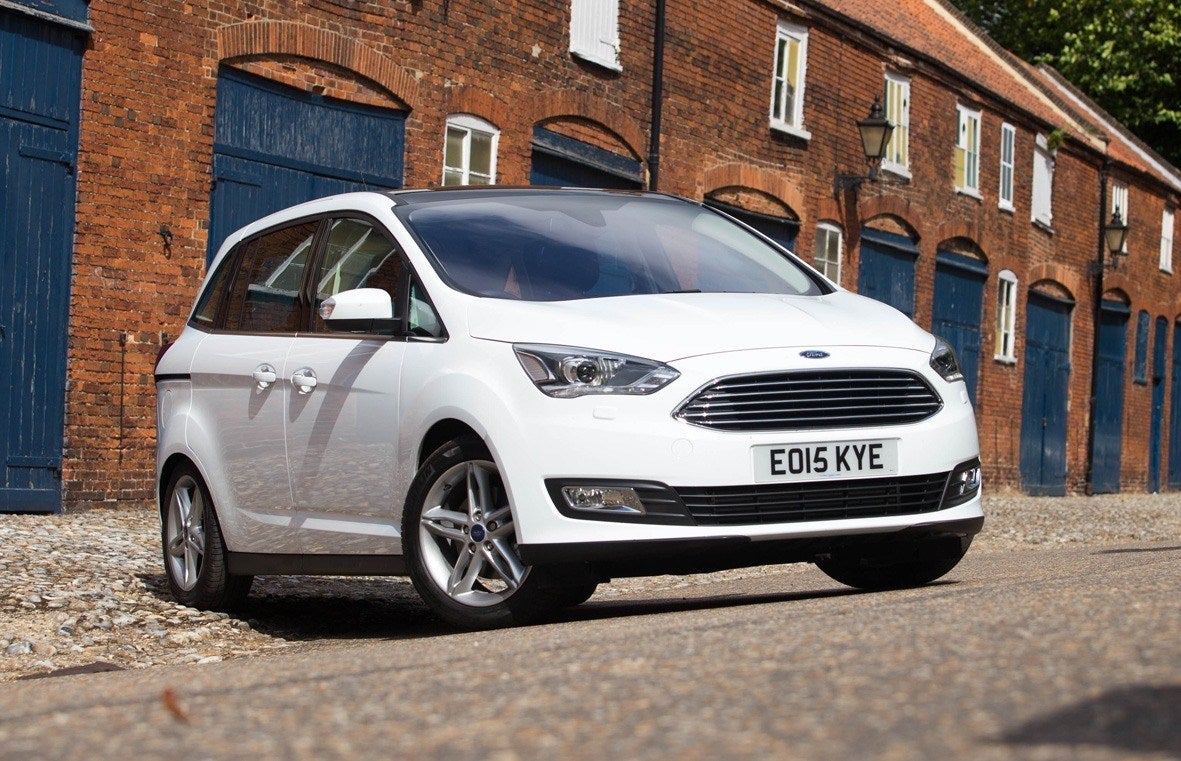 Just how useful is a pair of extra seats? That's the question posed by the Ford Grand C-MAX. It costs more than its five-seat sibling, but that money gets you sliding rear doors and a third row of small seats in the boot.
These occasional chairs will be a godsend for parents picking up their kids from birthday parties, or dropping off at weekend sports activities. You just pull them up from the boot floor and have room for seven on-board.
The trouble is that buyers looking for a car with seven seats also need a lot of space. The Grand C-MAX lets you carry lots of people or a load of luggage - just not at the same time - with all the seats up the boot is tiny. It's also not as roomy in the middle row as rivals such as the Citroen Grand C4 SpaceTourer or Kia Carens.
Its boot is a useable shape, but falls short of the class leaders for carrying capacity. You'll have room for a buggy and several big bags, with no loading lip to negotiate, and you can either fold the rear seats away, or remove them entirely turning the car into a minivan, but this is a fiddly operation and they're really heavy.
What the Ford lacks in overall space though, it makes up for by being one of the best seven-seat family cars to drive, bar none. It's compact, has beautifully weighted controls, feeling nimble and composed on the road.
Every version has a brilliant ride, firm enough to control any body movements but supple enough to smooth out even the worst roads. It's equally comfortable on windy country lanes as it is cruising the motorway. The precise steering gives you real confidence behind the wheel. This is a car that feels like it's on your side.
Of the three engines offered, the 1.5-litre TDCi diesel is the best fit. It's pretty economical, quiet and smooth once you get it up to speed plus comes with the option of a six-speed manual or six-speed automatic gearbox. With 120PS it's slower than some MPVs, but has enough grunt to make fully-loaded family travel relaxing.
The 1.0-litre 125PS turbo petrol is a characterful engine that can work if you don't often travel with five in the car, but it needs to be pushed to extract its performance, hurting both refinement and its fuel economy.
Entry-level Zetec models are a bit basic, but Titanium trim offers almost everything you'll need, including rear parking sensors, an 8.0-inch infotainment screen and full smartphone compatibility with Android and Apple. It's a shame that the cabin's chaotic layout and so-so build quality is so far behind rivals from BMW and Volkswagen.
It's average crash safety performance (despite a good amount of standard protective kit) will also be a turn off for some buyers. It's great value - especially used - but a car that only suits those who rarely seat seven.
Is the Ford Grand C-MAX right for you?
Where the normal C-MAX hovers somewhere between the practicality of a normal family hatch back and an estate car, it's bigger brother feels like a genuinely purpose-built family vehicle.
The sliding rear doors, ability to rearrange the seating layout to suit your needs, and capacity to carry seven at once all make it great for buyers with two or three kids, who will sometimes need space for even more.
That said, families with older children or teenagers are likely to need more space, as balancing the legroom between the second and third rows can be a real challenge if you start trying to carry growing young adults.
Some buyers will love the Ford's relatively compact dimensions and the fact that it drives like a 'normal' car, where others are likely to become frustrated by its corresponding lack of boot space versus its MPV rivals. It's a car for people who want something that's not only practical and comfortable, but enjoyable to drive too.
What's the best Grand C-MAX model/engine to choose?
The Grand C-MAX is bigger and heavier than its five-seat sibling, which makes the petrol models harder to recommend. Buyers keen to make the most of its decent load-carrying capacity or who will carry six often should go for the 1.5 TDCi diesel in Titanium trim. You get low(ish) running costs, plenty of kit, and it's good value.
The older 2.0-litre diesels were even punchier, but not as refined, and will be pricier to insure. If you can stomach the higher running costs though, then the extra pulling power does make it more effortless to drive.
We'd also advise going for the post-2015 facelift model if your budget allows. It's not only prettier to look at, but the interior is much better finished and laid out, which will make a big difference to everyday usability.
If you don't plan on many long haul trips then the 125 PS 1.0-litre petrol is a characterful nippy engine, but don't expect it to be hugely economical. You need a heavy right foot to get it going, and this hurts efficiency.
What other cars are similar to the Ford Grand C-MAX?
For buyers who only need the versatility of seven seats on rare occasions - high days and holidays - then a Volkswagen Sharan, Vauxhall Zafira Tourer or Citroen Grand C4 Picasso match up very well to the Ford.
The Volkswagen has a wider engine range and more equipment as standard, while the Vauxhall and Citroen are both roomier where it counts. Still, only the Volkswagen has nifty sliding rear doors like the Grand C-MAX does.
If you want a premium MPV with a sporty driving experience, powerful engine range (and the option of four-wheel drive) then only the BMW 2 Series Gran Tourer will suffice - if you can get past its challenging looks.
Keen to avoid diesel? The Toyota Prius+ is the only hybrid seven-seater than doesn't cost over £50,000. It's a mini-cab favourite but the 1.8-litre petrol engine and CVT gearbox get flustered when you're fully loaded. Finally, if you need seven seats for full-sized passengers, a Ford S-MAX or Galaxy will be best.
Comfort and design
"Fords usually provide a bang-on driving position, and the Grand C-MAX is no exception. There's a decent range of adjustment to the seat height and reach to the pedals, while lumbar support comes as standard."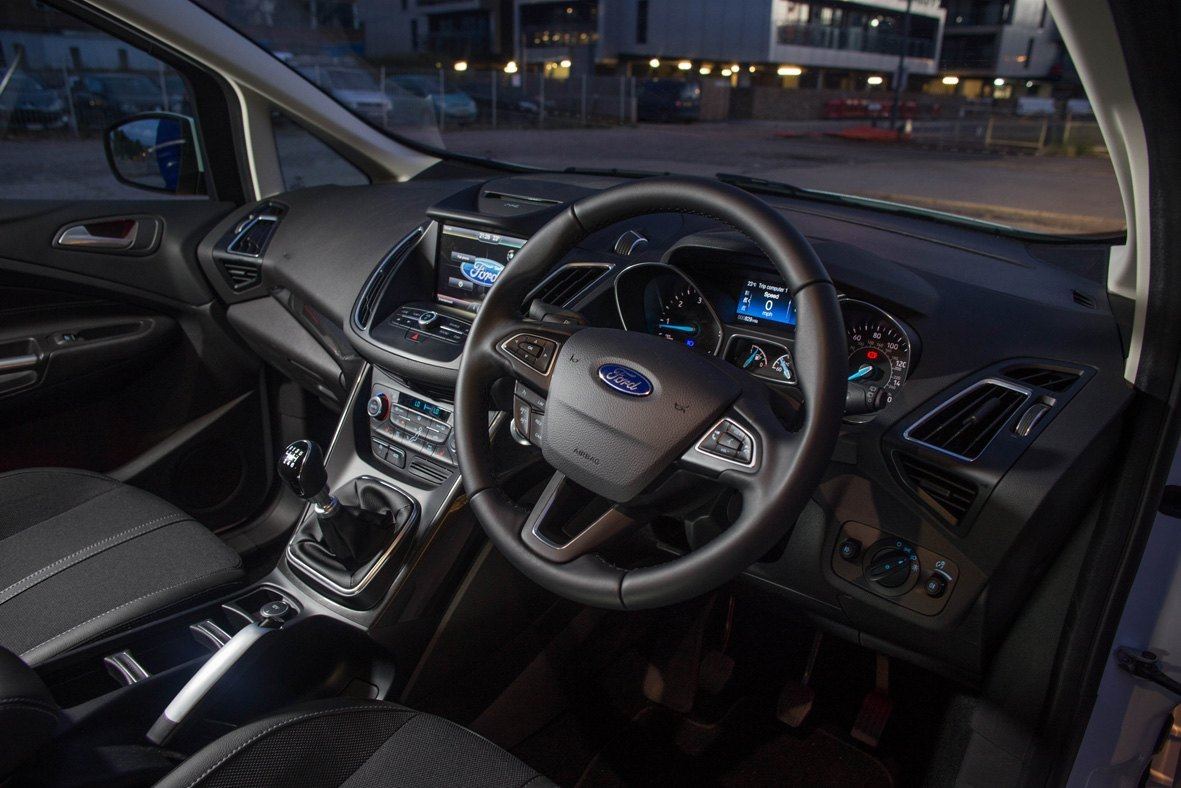 The front seats are firm but nicely supportive, with thick enough bolsters to hold you in place, but if you want electric adjustment for fine-tuning your driving position, it's only available on the priciest Titanium X version.
You sit up high enough to give a better view down the bonnet than you'd find in an estate, however glimpse over your left shoulder and your line of sight is badly blocked by the thick rear pillars around the rear glass. It's a good thing Ford decided to fit rear parking sensors as standard to all trims - you're going to need them.
After its mid-life refresh the centre console was simplified, with fewer buttons and a more intuitive layout. It still has its foibles though, and most rivals - especially from German marques - do a better job ergonomically.
For instance, the gear selector is mounted higher than normal so it's within easy reach of the steering wheel, but it also obstructs the multitude of small heater controls that are directly in front of it. There other quirks too, like the CD slot above the main touchscreen, and air-vent controls mounted needlessly high up in the dash.
These issues aside, it's a sensible (but conservative) design with none of the funky styling of the Citroen Grand C4 Picasso (later called SpaceTourer) or the sportier aesthetic of the BMW 2 Series Gran Tourer.
Quality and finish
We feel sorry for Ford. The old shape Grand C-MAX did not look or feel especially upmarket inside, but it came on leaps and bounds after its 2015 facelift. Yet somehow, despite feeling nicely put together, it doesn't have any of that wow-factor you associate with a premium car. It's quietly adequate rather than exceptional.
There are highlights, such as the sculpted leather steering wheel, solid gearstick and dash plastics that in some parts feel soft and dense when prodded, but other areas spoil the overall impression of quality. The trim lower down, indicator stalks and lighting controls all look and feel cheaper than the rest of the switches.
Everything feels robust, and we have little doubt the interior will be hard wearing, but it falls some way short of the upmarket and cohesive layout you'll find in the (admittedly pricier) BMW 2 Series Gran Tourer.
Visually though, it's a real mess. Odd angles and shapes, mismatching drab colours and textures, old looking fonts on the dials and switches - this was a difficult phases in Ford's design - and after a while in the C-MAX we're crying out for the simpler and more cohesive interiors of cars such as the Zafira Tourer and Volkswagen Touran.
Even so, the newest shape car is a major improvement over the first Grand C-MAX in terms of its quality and design. It's worth paying the extra for a cabin that feels only slightly worse off than its rivals, not miles behind.
Infotainment
The Grand C-MAX doesn't provide the most cutting-edge entertainment hardware. Zetec trim comes with a 4.2-inch screen that looks lost at sea in the vast dash. It's no bigger than the screen between the two dials, so you're better off using that instead, with blocky pixellated graphics that make it hard to read on the move.
Feature wise it's better, with DAB radio, Bluetooth, six speakers and a single USB port outlet as standard. It goes without saying that it feels basic and more challenging to interact with then a big, colourful touchscreen.
That's exactly what you get in the Titanium models, with an 8.0-inch display set into the dash and a row of physical shortcut buttons for tweaking the volume or skipping tracks underneath. That sounds good, but the way its mounted makes parts of the screen tricky to reach, because it's not flush with the rest of the dash.
On early cars, the menus and icons were poorly laid out, and the touch response was agonisingly slow and inconsistent, sometimes taking two or three attempts to register a button press, which is really frustrating.
Ford updated the C-MAX to its 'SYNC 3' software later in the car's life and the difference is night and day. The old layout was scrapped in favour of big, square on-screen icons that were easier to read and hit. It also includes Apple CarPlay and Android Auto compatibility, giving you access to phone apps like Waze and Spotify.
Space and practicality
Is the Grand C-MAX a proper seven-seater? Not exactly. Ford calls it a '5+2' for good reason, because you can only fit small kids in the third row, and unlike the Kia Carens and Grand C4 SpaceTourer, the middle seat in the second row is narrower and harder than the outer ones, making it a bit of a squeeze to fit three adults.
Boot space with the seats up is laughable too - you won't get a carry on suitcase in there - let alone luggage for the whole family. Of course, that's true with most seven-seaters, but if space is a real priority then Ford's larger MPVs the Galaxy and S-MAX might be more suitable, since they have the room for people and cargo.
Fold that occasional third row away and you'll free up a useful (but not class-leading) 448-litre space. The load deck is nice and flat, with no awkward lip to negotiate, and if you drop the middle row as well then the Grand C-MAX has a reasonable 1715 litre carrying capacity. That's still 145 litres shy of a Zafira Tourer, and a whopping 466 less than you get in the Citroen Grand C4 SpaceTourer when setup in two-seater van mode.
The Ford claws back some brownie points with its sliding rear doors. They're super handy for in tight parking spaces, and despite being a bit heavier to open then normal items, give much better access to the third row. Fitting three child seats across the middle row is possible, but extremely fiddly, and rivals are better for this.
Speaking of which, you can also fold the hard middle seat in the second row away so your passengers aren't forced to bend double to move around the cabin. It's a great feature and how we'd setup our Grand C-MAX.
We're also big fans of the thoughtful storage options in the cabin. The glovebox is absolutely massive for starters, the door bins deep and wide enough for large bottles. The top two trim levels get a big storage bin under the central armrest, and a small overhead locker for sunglasses, with an integrated cabbie's mirror.
It's worth finding a car with the optional Family Pack fitted too, which adds integrated sun blinds (no more stick on Disney ones), flip-up picnic tables and a 13 amp three-pin socket for keeping iPads charged up.
Handling and ride quality
"The Grand C-MAX excels in this department. It's simply excellent to drive, no matter what the road or speed you're doing, with precise, consistent steering and finely-judged suspension that's supple yet still composed."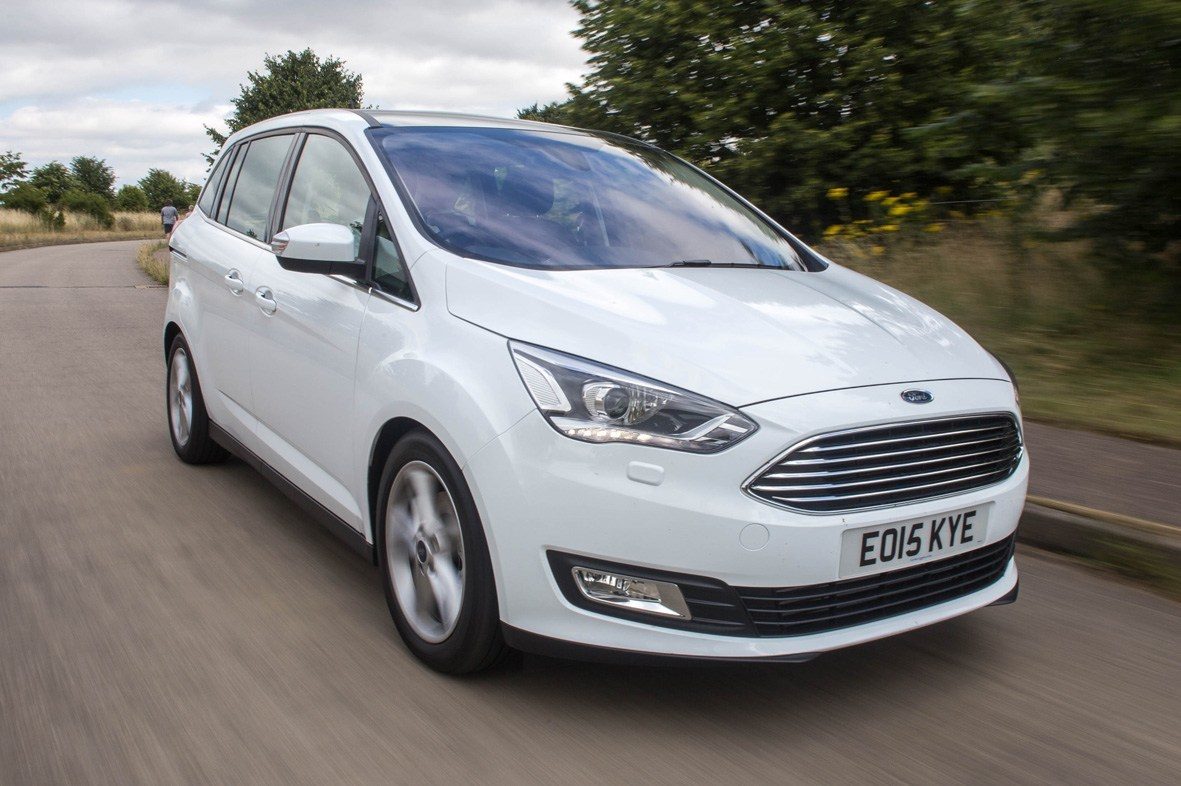 As long as you avoid the optional 18-inch alloys, ride comfort is superb. It glides over poorly surfaced roads, smoothing out imperfections, staying nicely controlled in corners, not pitching or wallowing like some MPVs.
Every model has the same suspension setup, and Ford made the seven-seater C-MAX deliberately softer than its five-seat sibling, helping improve the comfort of passengers in the second and third rows of seats.
Unlike on some rivals there are no optional adaptive dampers or various driving modes to fiddle with, and it goes to show how confident Ford were in this brilliant chassis that they aren't even offered as an option. At low speed it deals with potholes and ruts without disturbing anyone inside, the wheels never crash or thud.
The body still leans over in corners, but the perfectly weighted steering and strong grip from the front tyres give you the overall impression of driving an agile family hatchback, and not a lumbering family bus. It will keep all your passengers comfortable on the school run, and put on smile on your face on the drive back.
Very few MPVs manage to trade off agility and comfort so well, and although it won't be important to some buyers, we think its sparkling dynamic abilities are reason alone to consider the Ford over its competitors. A lot of seven-seaters are comfy on the motorway (just like the Grand C-MAX) very few are so much fun off it.
Our only gripe? The quick steering that makes it a great handling car also means the turning circle is huge. At full lock you'll need a lot of room to change direction - leading to a lot of wheel twirling and three-pointers.
Engines and gearboxes
Unlike the vast majority of seven-seat MPVs the Grand C-MAX is no longer available with a 2.0-litre diesel. It was the only model in the old range that still felt punchy (and smooth) if you had six passengers on board.
That's a shame, but the next best option is the 120PS 1.5-litre TDCi. It's got decent mid-range performance, the six-speed manual is pleasingly precise to use, and you can have a Powershift automatic if you prefer. But beware that this has had issues.
It's also the most economical choice, especially as a manual, but has rather sedate performance when compared with the larger diesels available in the majority of this car's rivals. Getting from 0-62mph takes over 12 seconds.
The 150PS EcoBoost petrol is quicker off the mark, but only available with an automatic transmission and the fuel economy is pretty shocking - expect less than 30mpg. The 1.0-litre has a three-cylinder layout that makes it less refined than the diesel and the 100PS version is simply too slow for a car this large.
Unless you want to be thrashing it to the rev limiter and constantly shifting up and down the manual gearbox, we'd avoid it, ditto the earlier 1.6-litre non-turbo petrol and diesel models, they're slow and not that smooth.
If you don't regularly make long haul trips then the smallest engine starts to make more sense in its 125PS guise, but we're just not sure why you would need a practical seven-seat for nipping to the local shops.
Refinement and noise levels
Early versions of the Grand C-MAX were not as relaxing as you might a hope for a family car. Its tall roof and more upright windscreen create a fair amount of wind noise and you could hear the tyres road at 70mph too.
That's a trait it shares with most of its peers, but engine refinement wasn't great either. The 1.0-litre petrol is a three-cylinder, so it sounds raspy when you rev it hard and it sends a buzz through the pedals and wheel. The older 2.0-litre diesel also clatters away loudly on start-up, but settles down nicely once it has warmed up.
The same size diesel in the BMW 2 Series Gran Tourer is also gruff and coarse at low speeds, and doesn't settle like the Ford once you're on the motorway. The 150PS unit in the Touran is a tad smoother than either.
Ford made a series of improvements in 2015, fitting a thicker windscreen, extra sound deadening material in the engine bay, even tweaking the engine mounts themselves to reduces the vibrations from the controls.
These updates definitely helped improve things, but the 1.5-litre diesel remains the best choice if you want a calm motorway cruiser. It's tractable, and fairly smooth, whether paired with the manual or automatic 'box. A Vauxhall Zafira Tourer or Citroen Grand C4 Picasso fitted with a 1.6-litre diesel will be even quieter though.
Safety equipment
The Grand C-MAX is well equipped to protect your loved ones if the worst happens. All trims come with six airbags, traction and stability control, tyre pressure monitors (even a space saver wheel in case you have a blow-out) and automatic emergency braking - Ford calls this Active City Stop - to prevent low-speed shunts.
Most rivals offer the latter (a vital bit of kit) standard on all models. There are exceptions, including the Grand C4 SpaceTourer and Vauxhall Zafira Tourer, where it's a pricey option, or not even offered in base trim levels.
It has been crash tested by Euro NCAP twice. The first time - in 2010 - it got a maximum five-star rating, but the newer model got a distinctly less impressive three-star score when it was retested in 2017. That doesn't mean it's less safe, but shows how strict the new test is. Its five-star competitors were all tested before 2015.
There are a range of active systems available from the options list, but only on the Titanium and Titanium X. The Driver Assistance Pack adds lane and blind spot assistance, speed sign recognition, and headlight that will dip the main beam to avoid dazzling oncoming drivers. Adaptive cruise control is also a separate option.
Since this quite a large car it's great that rear parking sensors are fitted to every version, but you can only add a reversing camera and front sensors to the pricier models - this kit is standard on many competitors.
MPG and fuel costs
"It's an older model now, so the Ford is not offered with cutting-edge plug-in hybrid or as an EV. In fairness, the only seven-seat rival to offer this - outside the world of mega bucks luxury SUVs - is the Toyota Prius+."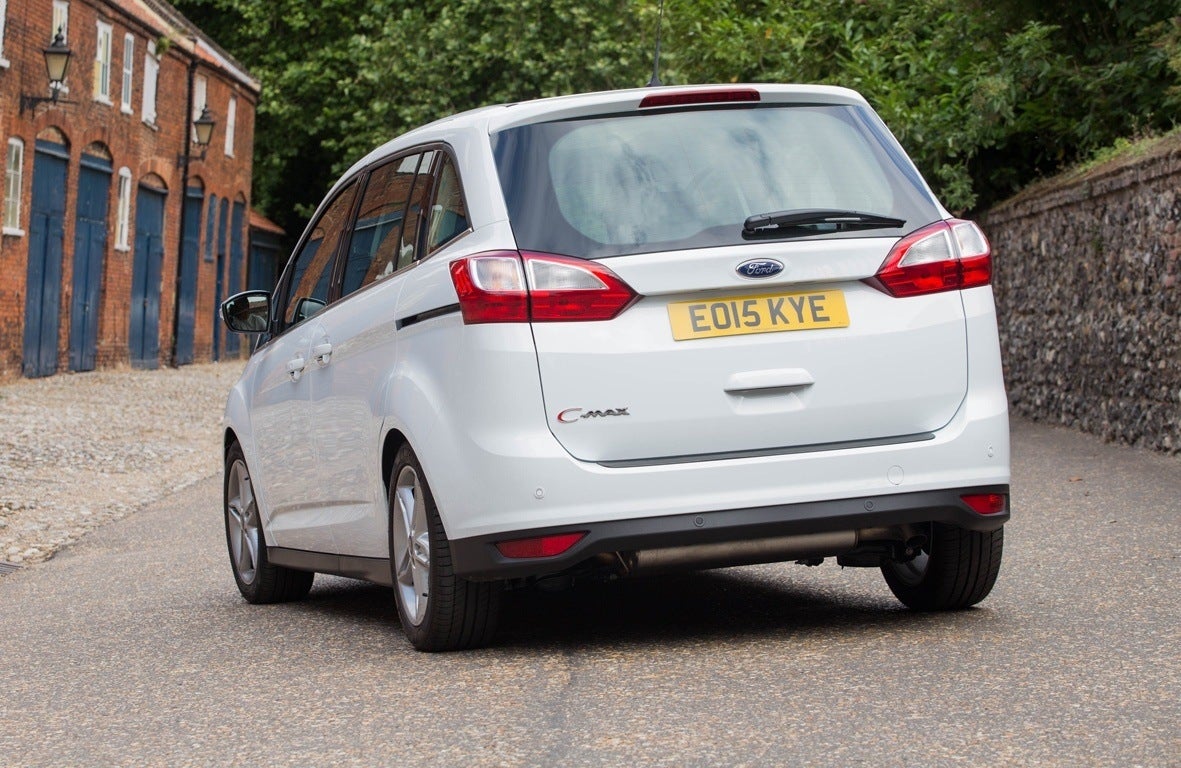 The cleanest version of the Grand C-MAX averages an official WLTP economy figure of 45.6mpg, so it falls a little short of the 48.7mpg mark made by the Prius. That's for the 1.5-litre diesel with a manual gearbox fitted. That's also less than the 50mpg+ that the BMW 2 Series Gran Tourer and Grand C4 SpaceTourer can return.
You'll need to knock a even more mpg from that total if you opt for the automatic or bigger wheels. The EcoBoost turbo petrols are quite thirsty, with the 1.0-litre getting less than 40mpg, even if driven gently.
In the real world you'll see even less - around 35mpg - no better than the figures for the ancient 1.6-litre petrol. It has a larger fuel tank than the five-seat car, for a 580-mile range in the most efficient spec.
Insurance groups and costs
Insuring the Grand C-MAX won't break the bank, with the most affordable model in group 10. That's very low for this size of car, but it's the pre-facelift 1.0-litre petrol model with just 100PS - hardly the pick of the range.
Put the same engine in the newer version and that rises to group 13, or group 16 if you want the punchier 125PS version (and you definitely do). That's the same as the Volkswagen Touran with a three-cylinder petrol unit.
The Volkswagen is cheaper if you want to cover a diesel though. The 1.5-litre Ford is five insurance groups higher than the 1.6-litre Touran, and if you pick the 2.0-litre 150PS automatic that gap widens even further.
VED car tax
For such a practical car the Grand C-MAX is very affordable to tax - especially if registered before April 2017. None of the range (at the time) emitted over 130g/km of CO2, and most will be less than £30 a year in VED.
There are exceptions though. The older 2.0-litre diesels (especially paired with an automatic gearbox) will set you back £205 a year, while the 1.6-litre Duratorq petrol is close behind, emitting 149g/km and costing £165. All models registered after that date will pay a fixed tax rate of £150 a year regardless of their fuel efficiency.
How much should you be paying for a used Ford Grand C-MAX?
"The Grand C-MAX has been on sale for long enough that there are a wide number to choose from. Prices start around £4000 for a good 2011 example with average miles for the year and a full dealer service history."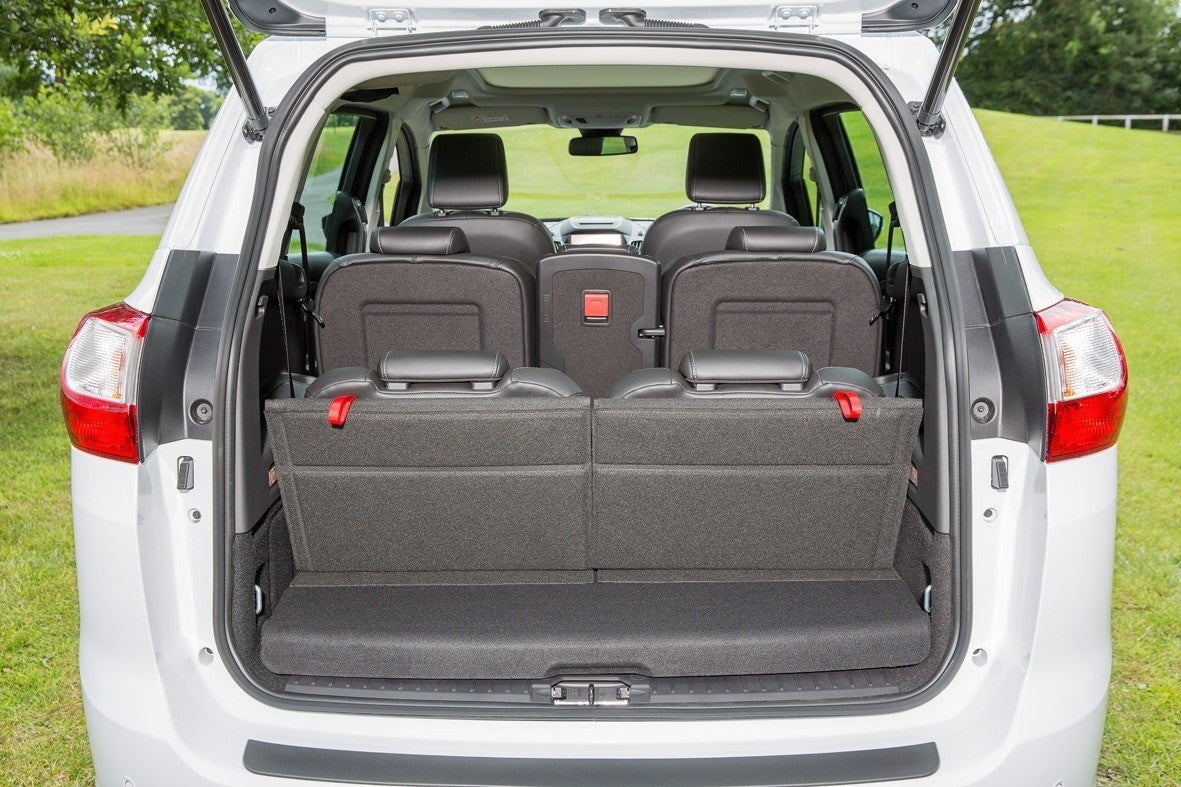 Most of the cars in that price range will be the entry-level Zetec trim, with a 1.6-litre petrol or diesel engine. If you spend between £6000 - £8000 then you'll be getting a lower mileage, newer car in Titanium trim, with some cars powered by the punchy 2.0-litre TDCi diesel with an automatic gearbox - a great towing option.
You can even find a few of the newest shape at the top end of that range, from 2015 with the newer 1.5-litre diesel and around 50,000 miles on the clock. In fact, petrol examples are quite rare, outnumbered by 5-to-1.
The Grand C-MAX - even nearly new ones - are great value, with 2019 examples changing hands for under £15,000. Rivals like the Vauxhall Zafira Tourer and Citroen Grand C4 SpaceTourer are even cheaper though.
Trim levels and standard equipment
The Grand C-MAX costs a little more than its five-seat sibling, but comes with a few extra standard features. Entry-level Zetec trims features 16-inch alloys, cruise control with a speed limiter, a heated windscreen that's a lifesaver on frosty mornings, air-con, DAB radio with Bluetooth, rear parking sensors and electric windows. We'd say it has everything you'll really need - if it wasn't for the hilariously small 4.2-inch infotainment screen.
Ford does give you the option to upgrade to the 8.0-inch touchscreen from the higher spec models for £650. If you do then you also get navigation (a £300 option on the higher trims) but we'd look at a Titanium instead.
Do so, and you'll get climate control, automatic lights and wipers, keyless entry and start and a fancy chrome grille, plus 17-inch alloys, and more storage in the cabin, both in the armrest and an overhead locker as well.
Titanium X cars have part-leather front seats, brighter Xenon headlights and a huge glass roof. It's not really worth the jump up in price though, and you'll still have to pay extra for sat-nav, even on this top-spec version.
Overall, it's not as generously equipped as the Citroen Grand C4 SpaceTourer or Volkswagen Touran, which have large touchscreens, adaptive cruise control and reversing cameras, even on their entry-level models.
Ford C Max cars for sale on heycar
10,370
Number of cars available
£7.5K - £19K
Price bracket of these cars
Colours available on heycar
Keep me updated by email with the latest advice, news and offers from heycar
By submitting, you agree to our
privacy policy
.