Ford Ka (2008-2016) Review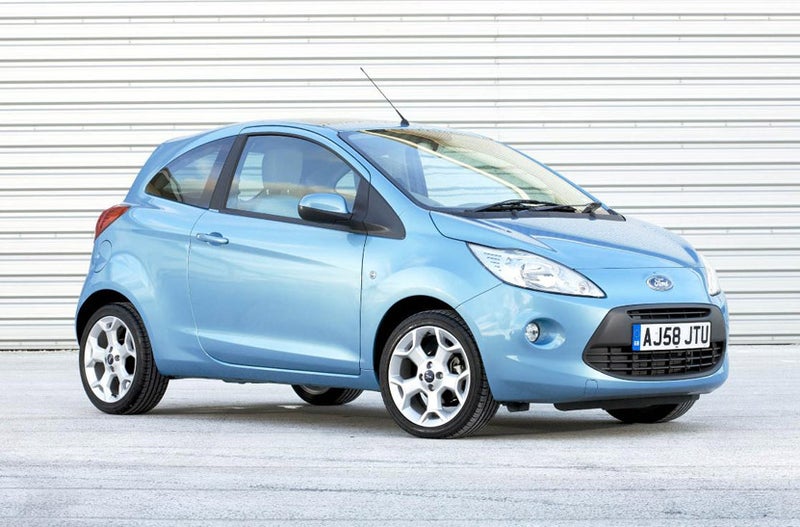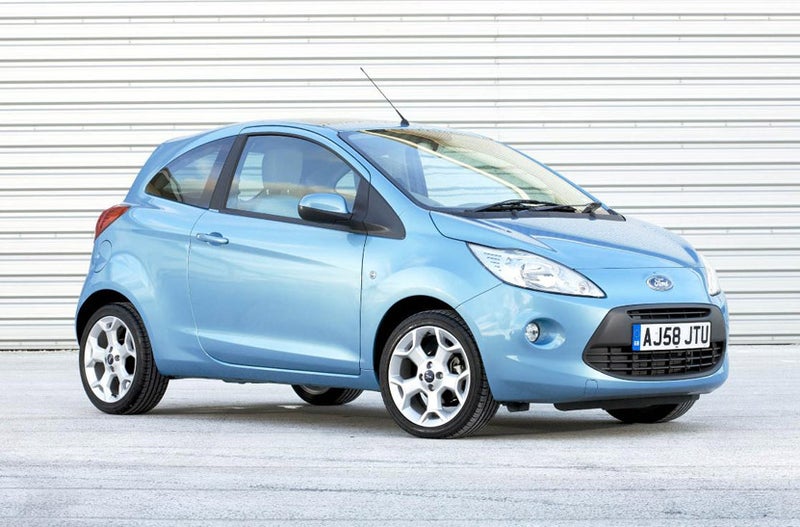 1/10
heycar rating
"Tiny, tinny, cheap city runabout "
Launched: 2008

City car

Petrol, Diesel
Quick overview
Pros
Very compact and easy to park
Decent to drive on faster roads
Cheap running costs
Cons
Low-rent interior plastics
Tinny cabin is poorly isolated
Cramped rear seats and small boot
Overall verdict
On the inside
Driving
Cost to run
Prices and Specs
Common questions
Overall verdict
"The Ford Ka is a three-door city car that is based on the popular Fiat 500. It doesn't have the chic styling or wide range of personalisation options of its Italian sibling but is nicer to drive, and a lot cheaper to buy used."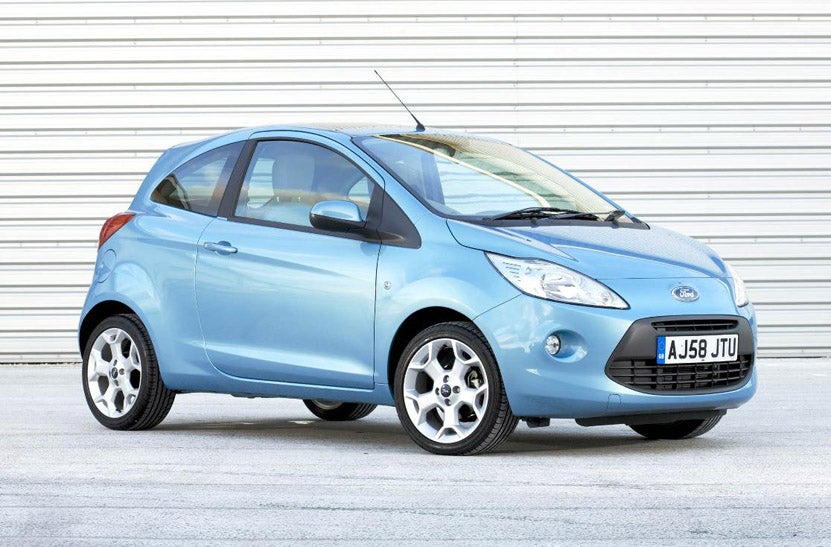 It was never as popular (or recognisable) as the cutesy original Ka, but it also had a lot of talented rivals to compete with, especially grown-up city cars like the Volkswagen Up, and roomier rivals from both Hyundai and Kia.
It was made for younger drivers, so it was very affordable (even when new) but the most basic specifications came quite poorly equipped as a result. In fact, they're so meagrely specced we'd avoid them altogether. Yet even higher grades miss out on infotainment essentials like Bluetooth and USB connectivity, showing its age.
Limited by its three-door design, the cabin feels quite cramped. The tall roofline means headroom is ok, but a distinct lack of legroom and narrow body mean it's pretty poor for carrying adults in the back on a longer trip. The boot is average for this type of car at 224 litres, but again plenty of rivals can squeeze in more luggage.
It came with a choice of two engines. There's a 1.2-litre petrol with 69PS, and or a rarer 1.3-litre diesel with 75bhp that was more economical but no quicker. Neither engine is particularly quick or modern in design, and both struggle to cope on faster, more flowing roads or the motorway, becoming strained and boomy at high speed.
The 1.2-litre is our pick. It may not be very fast, but pulls eagerly throughout the rev range, and send less buzz and vibration into the driver's seat and pedals at idle than some thrummy three-cylinder alternatives. It claims to return over 50mpg, but mid-forties is more realistic, quite poor for such a light and compact vehicle.
A five-speed manual gearbox is standard, with a nice positive shift, and the gear lever mounted close to the steering wheel. The Ka was never available with an automatic; even as an option, unusually for a small car. If you want to avoid changing gear yourself (both engines require fairly constant shifting) it won't be for you.
On the road, the Ka is good fun. The steering has decent feel, the body doesn't lean too much, and there is just enough grip from the skinny front tyres to make it engaging to find out where its limits lie. A tight turning circle and light controls keep things breezy when you're just pootling from A-to-B, but it can be quite jiggly.
Apart from its low price, there are not many reasons to pick a Ford Ka over any number of five-door city cars with a better safety record, plusher ride or increased practicality. Its flimsy interior trim and totally outmoded infotainment system will be major turn offs for some buyers, and there are plenty of rivals that are just as fun.
If you're looking for the newer version, you need our Ford Ka+ (2016-) review.
Is the Ford Ka right for you?
The Ka is a super-compact three-door city car in the classic mould. So it's designed to transport two people and not much luggage over short distances in suburban settings, and it does that particular job pretty well.
Try and exceed those set parameters and you'll quickly expose its limitations. Motorway journeys are noisy affairs, the engines are short on puff, and the rear seats and boot are cramped and uncomfortable for adults.
As long as you don't mind having a runabout that works in town but gets out of its depth on quicker roads, it'll suit you fine. Buyers who also need some occasional practicality, or the added assurance of proper safety kit would do well to look elsewhere though, and while it's affordable to buy it also feels pretty cheap to sit inside.
It'll be a good car for first-time drivers who need to find their feet on the road in something easy to drive. The low running and maintenance costs, and decent fuel economy should help with this, but the lack of modern connectivity may be a deal-breaker for anyone who doesn't want to unplug when they step behind the wheel.
What's the best Ford Ka model/engine to choose?
We would recommend you follow the herd and stick with the 1.2-litre petrol. This engine is certainly no firecracker, but provides adequate performance around town, and can return more than 50mpg in mixed driving.
Yes, the diesel is more frugal, returning close to 70mpg, but used examples can have issues with their Diesel Particulate Filter (DPF), which is quite expensive to fix, so are best avoided on the used market.
Likewise, unless you're a real masochist, we can't see a reason to subject yourself to the discomfort of the stripped out Studio models. In fact, we'd skip straight to a Zetec, which at least has most essentials. You'll still need to closely check the spec list to see if the model you're looking at comes with Bluetooth or ESP.
The special edition Grand Prix and Metal trims are very highly equipped and look appealing inside and out, but their larger wheels do not do the jiggly low-speed ride many favours, and we'd avoid them as a result.
What other cars are similar to the Ford Ka?
These days the three-door city car is a dying breed. You can still get the Fiat 500, Peugeot 108 and Citroen C1 in this format though. The Fiat has more style and character than the Ford, but it's not as good to drive.
Meanwhile, the French duo have kept up with the times, with big touchscreen infotainment systems, proper smartphone connectivity, and vital safety equipment, such as electronic stability control and curtain airbags.
For a more grown-up and refined small car, we'd recommend the Volkswagen Up or Hyundai i10. These cars shine on the motorway and in town, with hushed cabins that isolate you from road and wind noise, and big boots. They're also more efficient than the Ford, and feel a bit more urgent, with a wider range of engines to pick.
If practicality is really important, we'd be tempted to look at this car's replacement the Ford Ka+, or move up a class and check out the cheaper versions of the Skoda Fabia or Hyundai i20, both have heaps of space.
Comfort and design
"The Ka does its best to appear youthful and energetic inside, with lots of colourful trim in the centre console, door handles and steering wheel spokes."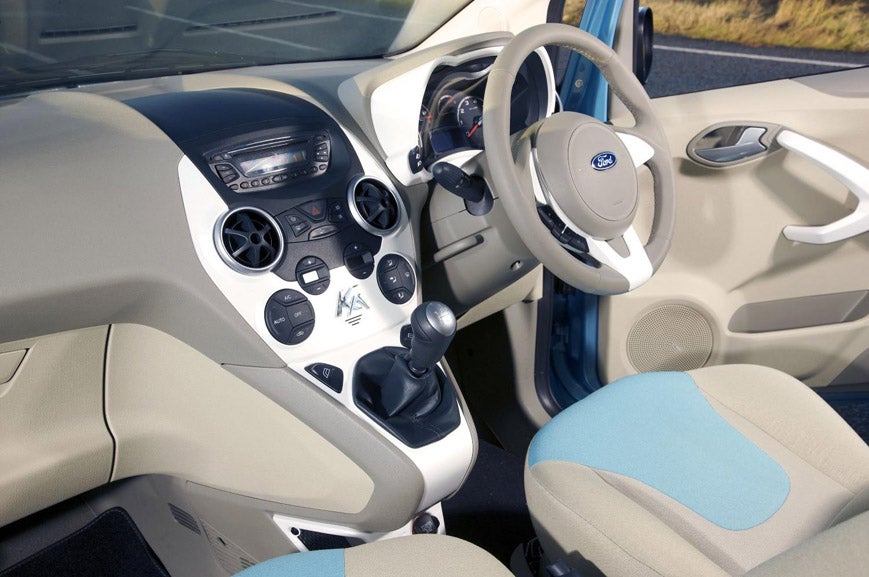 A big silver 'Ka' logo takes pride of place above the high-mounted gearstick, and there's a cartoonish font in the dials, designed to give it what marketeers like to call 'attitude'.
Visually then, it has a real sense of character, but there are problems with the basic ergonomics. The stereo buttons are so impossibly tiny that you're just as likely to eject the CD in the slot as change the radio station.
The large script numbers on the dials make them easy to read, and the air-conditioning controls are chunky and simple to operate, but the electric window switches are on the centre console instead of on the doors.
The front seats are set quite high, and while this gives a clearer view of the road ahead, some drivers may take a while to find a comfortable sitting position, since the wheel only adjusts for height and not reach. The seats themselves are also quite firm and flat, lacking in support and getting more uncomfortable over time.
The clutch pedal engages higher than in some city cars, which can grow wearisome in stop-start traffic, and is mounted right next to the bulkhead, so there's nowhere to rest your left foot on motorway journeys.
Quality and finish
A sturdy cabin was notable by its absence in the original Ka, and while this model is an improvement, with no painted metal on show (plus some brightly coloured plastics instead of unrelenting grey trim) it's still not great.
All the materials are of the hard, scratchy variety, with a mishmash of different textures, none of which is very pleasant to run your hand over. The air vents, stereo controls and window switches are especially flimsy, and unless you plump for the Zetec or above the steering wheel is also a cheap PVC instead of soft leatherette.
Ford did give buyers the option to fit leather upholstery to the top-spec Titanium, as part of a pack including heated seats and a handbrake cover, yet at the other end of the scale, the Studio didn't even get floor mats.
Some cheerful seat fabrics and colours do little to disguise the cheap construction, but it's less carefully put together and flimsier feeling than a Volkswagen Up, and without the retro charm and desirability of say, the Fiat 500.
Infotainment
The Ka comes from a time when you were more likely to be carrying an iPod Mini and a compact camera in your pockets than a smartphone, and its media system reflects the limited connectivity technology of that era. It has a dot-matrix screen that's difficult to read, and the buttons on the stereo are laughably small and fiddly.
As standard, you got a CD player radio than could read MP3 files (oh yes) and an auxiliary port for plugging in to play your personal tunes. At least it comes with four speakers (instead of two, like in the Fiat Panda) but the sound they make is like listening to your favourite bands playing a live gig where you're stuck in the toilets.
Apart from the Studio Connect trim, Bluetooth connectivity to make hands-free calls was optional, part of a pack that also included a USB port for charging and a set of remote audio controls on the steering wheel. Titanium cars get a louder stereo with six speakers and a bassy sub-woofer, but the same terrible controls.
While it's true that older city cars rarely came with touchscreens, many made provisions for holding a phone so you could use that instead (Volkswagen Up, Hyundai i10, Renault Twingo) and at least digital radio and Bluetooth.
Space and practicality
With just three doors, the Ka is never going to be as adept at carrying passengers as a five-door city car. Any mates catching a lift will need to clamber carefully through a narrow gap in the door to reach the back seats.
Once inside, while the roof is a bit taller than on the original Ka, passenger space is still at a premium. Taller teenagers will have their knees wedged into the front seatbacks, and have to crane their necks to the sides.
Whoever's in the back will also become closely acquainted with their fellow passenger as the cabin feels very narrow. Grown-ups will be clashing shoulders and elbows together as they try to buckle themselves in. It's not as claustrophobic as some three-door city cars back here, by distinctly below what we'd call average.
Unlike a Hyundai i10 you are limited to four seats only, and the lack of rear doors also means fitting a child seat securely will be a struggle. The ISOFIX points are not clearly marked and require digging out of the seat base, and getting a rear-facing iSize seat in will involve sliding the front passenger seats all the way forward.
If you regularly carry more than two adults, the Ford Ka is not ideal, but things do improve for those sat up front. Headroom and legroom here are better, and there are a few cubbies for stowing loose items, including a tray that's just about wide enough to fit a modern smartphone, a decent glovebox and a pair of slender door bins.
The boot space is just below average for this type of car with a 224-litre volume that's a bit more generous than a Citroen C1 (196 litres) but somewhat shy of the Skoda Citigo (251 litres) but has a fairly high load lip.
As with many cars of this type, the luggage area is deep but short, limiting the type of thing you can carry. It will easily cope with shopping bags or backpacks, but fitting a baby stroller or large suitcases in will be a struggle. In lower trims, you don't even get split-folding rear seats, just a single piece bench that flops over onto itself.
Higher spec models come with a light in the boot (hooray) so you can actually see what's inside at night, and a two-way folding seats that split 50:50, but even these don't lie flat, so it's harder to stack your gear inside.
Handling and ride quality
"Just like the original, the Ka is fun to drive, with nicely weighted steering, plenty of grip and a suspension setup that's just about soft enough to iron out larger bumps without leaning over too heavily in tight corners."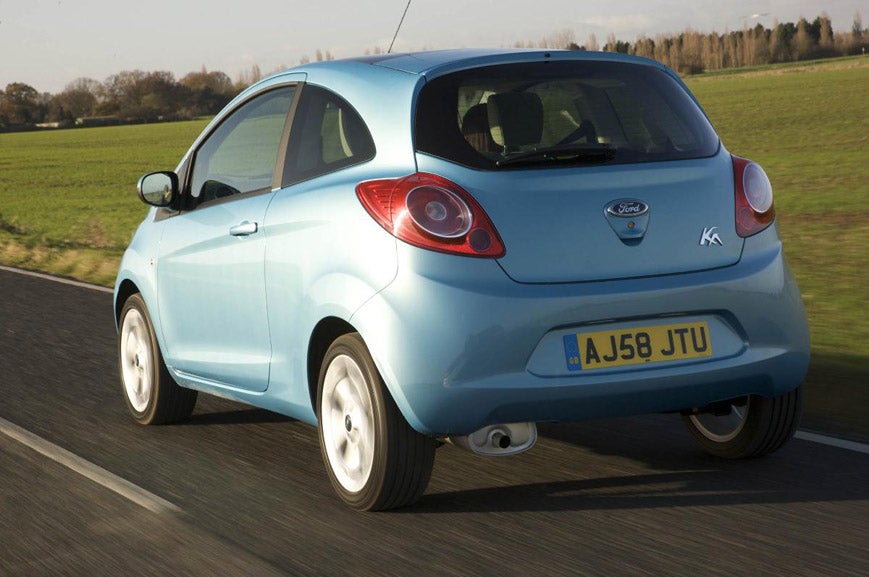 Ford made changes to the chassis platform it shared with other city cars, to give the Ka a unique personality. It retuned the dampers, steering and other mechanicals to make it feel a little more zesty and agile to drive.
The results are a mixed success. It certainly turns in nicely when you're driving on a twisty back road, with tightly controlled body movements, and better compliance than you might expect from such a compact car.
It grips surprisingly well, and the steering lets you know when you're approaching the limits of what the front tyres can take, and this Ka is far less prone to washing wide in an off-camber bend than its predecessor was.
The changes did make the Ka stiffer though, and you can feel the firmness of the setup on uneven or poorly surfaced roads (i.e. most of the ones in the UK) where it fidgets around busily. The wheels pick up sharp ruts and potholes, sending shudders through the steering wheel, or the whole car if you hit a really big one hard.
Some of this behaviour is natural in a car with the wheels pushed out to the extremities of each corner, but once again any of the cars based on the Volkswagen Up has significantly better low-speed composure, and poise.
The steering is a bit heavier than some city cars in town, but with a tight turning circle, it should still be fairly easy to manoeuvre the Ford into narrow spaces, although a Renault Twingo is even more agile around town.
Engines and gearboxes
This generation of Ford Ka shared its platform with another iconic city car - the Fiat 500. They used the same engines at launch too, but where the Italian car introduced a two-cylinder turbo to boost performance, and Ford promised to follow suit shortly afterwards, these more modern motors failed to materialise in the Ka.
So that meant Ford buyers got a choice between a 69PS 1.2-litre four-cylinder petrol that was by far the biggest seller, and an equally sedate 1.3-litre 75PS diesel from the Fiat Panda and bigger Vauxhall Corsa. Both come with a five-speed manual gearbox, but unlike many rivals, there is no automatic option at all.
Performance from either engine is leisurely at best. Both stretch the usual benchmark 0-62mph sprint time out close to 14 seconds, and neither can crack 100mph - not that either measure is important in a city car.
Despite these sluggish official figures, the 1.2-litre actually feels quite frothy around town. It's responsive in its first three gears, pulls eagerly through the rev range, and although not particularly smooth, isn't too bad.
It's adequate for nipping in and out of town traffic, dashing into gaps or making a getaway from the lights, but its spirited nature ebbs away on the motorway, where it feels strained and out of its depth, especially uphill. It can be fun to eke out the available oomph, but many contemporary rivals are quicker and more responsive.
The diesel feels a bit stronger in-gear, but is no faster on paper. It has a narrower operating window where it feels happiest too, so requires careful gear selection if you don't want it to run out of steam when overtaking.
Refinement and noise levels
While the Ka handles neatly and feels perky at lower speeds, its Achilles' heel is how noisy and boisterous it gets once you venture further afield than the usual suburban rat runs. Refinement is best described as poor.
As soon as you eventually get it up to motorway speeds, the engine, wind and road noise are all excessive, making it a tiring car to take on longer journeys. The 1.2-litre petrol feels really strained at high revs, lacking the smoothness typical of Ford's newer three-cylinder engines in the Fiesta, and makes loud, vocal protests.
The five-speed manual gearbox has a reasonably positive shift and a light clutch, which is good as you will be making constant changes to try and keep the little engine on song. You might think the diesel would be a more relaxed cruiser, but with a very narrow torque band, it also requires regularly stoking to make progress.
Perhaps it's unfair to judge it by modern standards. Newer rivals such as the Volkswagen Up redefined the class, with truly impressive motorway manners, but it's worth remembering the pair spent years on sale side-by-side. Bear that in mind, and the Ka's tinny cabin reverberating with tyre roar and engine buzz feels less excusable.
Safety equipment
It's shocking to think that until recently the cheapest cars - often driven by the youngest drivers most at risk - were also the least safe in the event of a crash, with poor provision of important and vital life-saving features.
The Ka is a case in point, and the safety of its occupants should be a serious consideration if you're weighing it up compared with a newer model that's a bit more expensive. Even in 2015, electronic stability control that can prevent a slide was not fitted to any version and - like side airbags - was relegated to the options list.
In Euro NCAP crash tests, it did worse than its sister car, the Fiat 500, due to its fewer airbags (two versus seven) and although it got a 'four-star' rating back in 2009, it would be a zero by today's tougher standards.
All models do at least get some provision to come to your aid in an emergency, with anti-lock brakes (ABS) a set of hazard lights that flash when you step really hard on the middle pedal, and all but the Studio come with ISOFIX mounting points for fitting a child seat. If you paid extra for stability control, then you got a helpful hill start assistant thrown in, to get you underway smoothly on steep gradients; we'd look for cars with this fitted.
There are no tyre pressure monitors to alert the driver to a loss in pressure, so it's worth finding a car with a mini spare wheel since a less useful foam tyre repair kit comes included as standard. Since the Ka is so small, parking should be fairly stress-free anyway, but rear acoustic sensors were optional on all trim levels.
MPG and fuel costs
"This is a small, light car with a diminutive engine under the bonnet - all the ingredients for low running costs."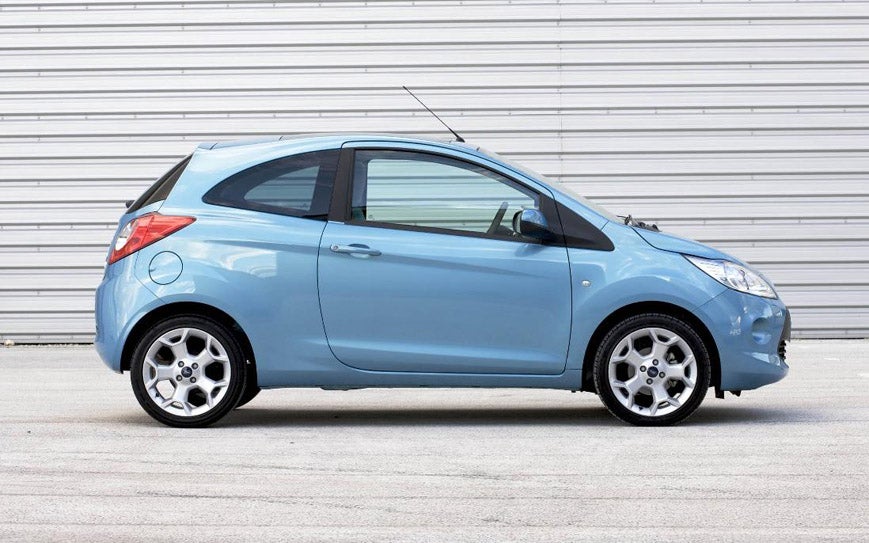 Sure, it's not going to be quite as thrifty as modern rivals fitted with start-stop and other fuel-saving gear, but Ford does claim over 50mpg for the petrol, and a really impressive 68.9mpg for the 1.3-litre TDCi diesel Ka.
Our Real MPG owners reported a more realistic 46.2mpg for the former in mixed driving conditions, and a still pretty miserly 57.2mpg for the diesel, which translates to about 80 per cent of the official claimed stats.
With a dinky 35-litre fuel tank, you won't be able to go too far between fill-ups, around 350 miles in the petrol.
Insurance groups and costs
The Ka is a cheap vehicle to insure, but not the total bargain you might have been expecting. Its ABI group rating varies between Group 3 and Group 5 depending on engine and trim, so it's not going to cost too much.
However, the punitive premiums applied to young newer drivers in the highest risk groups mean those two extra insurance bands compared to newer city cars such as Ford's own Ka+ and the Hyundai i10 will add up.
Car security experts Thatcham give the Ka a poor rating for its ability to prevent theft from the vehicle too, so it would be wise to either park it off the street where possible, or make sure the car is left empty overnight.
VED and car tax
The Ka went off sale before the changes to the road tax system in 2017. That means every model is subject to a variable rate of tax based on its CO2 emissions, but since there are just two engines, it's cheap.
Petrol buyers need to cough up just £30 per year to keep their car on the road, while the rarer diesel model will save you a tenner, but both will be significantly cheaper than a used city car registered after April 2017.
If you were to use the Ka as a company car, it would be subject to a 28% BIK rate, but since it had such a low P11D value, this tallies up to under £600 a year for a low-rate taxpayer, but a newer car would be less.
How much should you be paying for a used Ford Ka?
"Since most Ka cost less than £10,000 when new, it didn't exactly have a long way to fall, but with its cheap insurance ratings, road tax and running costs, there are still plenty around that would make an ideal first car."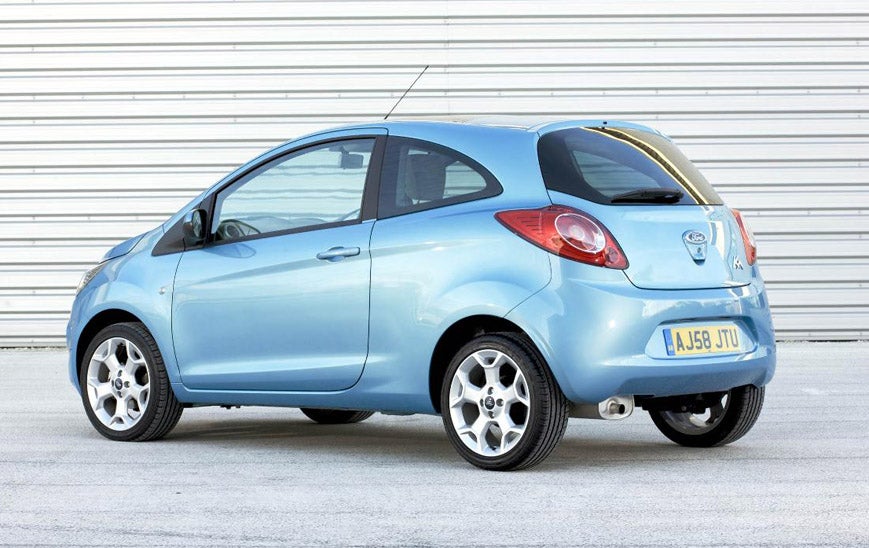 Examples that have covered six-figure mileages are available from around the £1200 mark, but will not wear those miles particularly lightly, and many cars at this price only come with a partial service history - not ideal.
We would recommend adding another thousand pounds to your budget. This will give you a choice of trims, so you can find a car with air-con and a nice colour spec, and reduce the mileage to a more sensible 60,000.
Diesels didn't sell well and are extremely rare, so it'll take longer to hunt one down, and you're likely to have to travel a long distance to collect it. You'll pay extra for the privilege too, needing £3000 or so for a 2011 car.
Considering its age, you can still find lightly used Ka with less than 20,000 miles covered. If you're worried about maintenance costs and want peace of mind, one of these should cost you between £4k and £5k.
Trim levels and standard equipment
There are four main trim levels in the Ka: Style, Studio, Zetec and Titanium, but a fifth - Edge - joined the range in 2010. As with many city cars, there were also numerous special editions too, including the Metal and Grand Prix, that appeared during its lifecycle, the latter offering a sportier hot hatch style exterior.
However, you'll want to avoid the entry-level versions, which are basic in the extreme. No electric windows, air-con, and the Studio specification even lacks remote central locking and any electronic stability controls.
When you see the manufacturer listing power steering and rear headrests as main features, you know that things are going to feel quite spartan. The Edge trim is more liveable, adding in essentials like cold air, a pair of electric windows, and height adjustment for the driver's seat, but still looks like an unloved office pool car.
We would pay a little more for the Zetec so you get a heated windscreen, leather-wrapped steering wheel, fog lights, and 15-inch alloys, plus split-folding rear seats. It's still good value but feels less like a hair shirt.
Top-spec Titanium gets climate control, 16-inch wheels and some chrome exterior trim, and the Advanced Music Pack, which amounts to six speakers, a subwoofer, amplifier, and CD/Radio stereo with MP3. If you like your tunes you could add the later to the other trims, along with options like rear parking sensors, and a Connectivity Pack with Bluetooth phone pairing, a USB port, and remote audio controls, which feels worth it.
Ask the heycar experts:
common questions
Wasn't there a Ka convertible?
Yes. The original Ka (1996-2008) was so popular that it spawned several different versions, including a convertible, but this second generation is hatchback only. That's odd considering the car it shares its mechanical underpinnings with - the Fiat 500 - is offered with a soft top.

Answered by
heycar editorial team
Is the Ford Ka a good car?
Since it has just two doors, it's not the most practical of city cars, but the Ka drives nicely, is cheap to insure and used examples are very affordable. It's not that refined, or quick though.

Can I have the Ka with an automatic gearbox?
Unfortunately not. Both engines are paired with a five-speed manual gearbox and there's no option to add a self-shifting transmission, so if that's a big priority you should look elsewhere.

What happened to the different versions of the Ka?
The first Ka spawned two niche models that were added to the range in 2003. The StreetKa was a convertible, while the SportKa was a sporty hot hatch with a 94bhp 1.6-litre engine. It's a shame that neither of these models were carried over for the next generation model.

Ford Ka cars for sale on heycar
10,370
Number of cars available
£4.8K - £9K
Price bracket of these cars
Colours available on heycar
Keep me updated by email with the latest advice, news and offers from heycar
By submitting, you agree to our
privacy policy
.