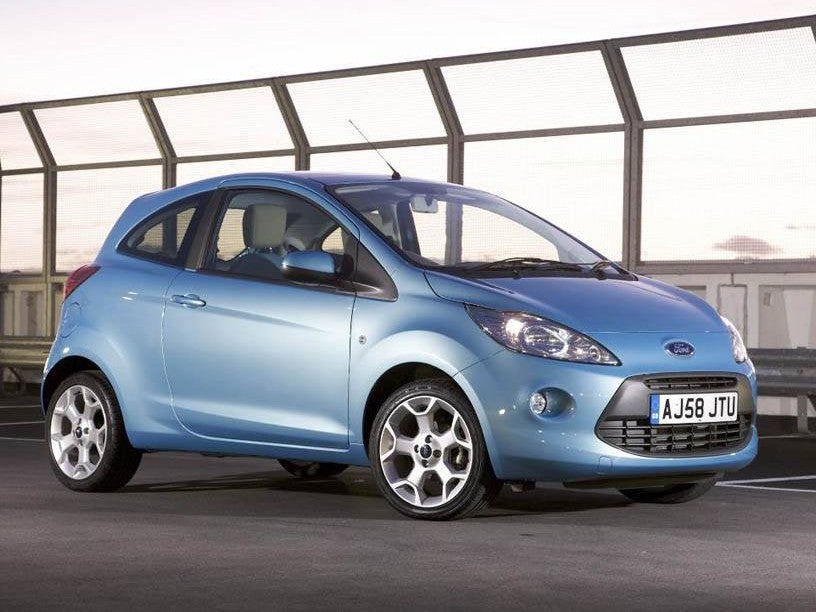 heycar review
Fun size, fun drive

Turns on a pin

Ideal for nipping about town

Comfy and convenient

Zippy
Need to know
The Ford Ka is a three-door city car that is based on the popular Fiat 500. It doesn't have the chic styling or wide range of personalisation options of its Italian sibling, but is nicer to drive. It was made for younger drivers, so it was very affordable (even when new) but the most basic specifications came quite poorly equipped as a result. There were four main trim levels: Style, Studio, Zetec and Titanium, but a fourth - Edge - joined the range in 2010, and numerous special editions, including the Metal and Grand Prix, appeared during its lifecycle. It was never as popular (or recognizable) as the cutesy original Ka, but it also had a lot of talented rivals to compete with. It came with a choice of two engines; a 1.2-litre petrol with 69bhp and no turbocharger, or a rarer 1.3-litre diesel with 75bhp that was more economical but no quicker. Neither engine is particularly quick or modern (the 0-62mph benchmark sprint takes over 13 seconds in either) and both feature a five-speed manual gearbox. The Ka was never available with an automatic transmission, even as an option, unusually for a small car.
Common questions
Wasn't there a Ka convertible?

Yes. The original Ka (1996-2008) was so popular that it spawned several different versions, including a convertible, but this second generation is hatchback only. That's odd considering the car it shares its mechanical underpinnings with - the Fiat 500 - is offered with a soft top.

Is the Ford Ka a good car?

Since it has just two doors, it's not the most practical of city cars, but the Ka drives nicely, is cheap to insure and used examples are very affordable. It's not that refined, or quick though.

Can I have the Ka with an automatic gearbox?

Unfortunately not. Both engines are paired with a five-speed manual gearbox and there's no option to add a self-shifting transmission, so if that's a big priority you should look elsewhere.

What happened to the different versions of the Ka?

The first Ka spawned two niche models that were added to the range in 2003. The StreetKa was a convertible, while the SportKa was a sporty hot hatch with a 94bhp 1.6-litre engine. It's a shame that neither of these models were carried over for the next generation model.
Exterior design
The Ka is not as memorable or distinctive as the 1996 original, but still has plenty of appeal, and it looks far more modern than the Fiat 500 on which its based. Its swept back headlights and gaping lower grille mean it appears similar to the Fiesta of the same era, but size-wise everything is on a smaller scale, with a shorter bonnet and virtually no rear overhangs. The most basic Studio models offer little to please the eye, since they come without alloy wheels, fog lights, or even electric front windows, and the wing mirror caps are bare black plastic. The popular Zetec trim looks much better, with 16-inch alloys and fog lights, but if you really want to express yourself the limited edition versions (especially the Ka Grand Prix and Digital) come with lurid two-tone colour schemes and sporty stripes and sticker decals. If you wanted to make the Ka look a little sportier, then the Metal edition came with black alloys and a roof spoiler, but unlike the original SportKa, no other changes like wider wheel arches.
Interior design
The Ka does its best to appear youthful and energetic inside, with cheerful seat fabrics, and lots of colourful plastic trim in the centre console, door handles and steering wheel spokes. A big silver 'Ka' logo takes pride of place above the high-mounted gear lever, and while it has simple controls made from cheap feeling materials, everything is easy to find and operate. However, the entry-level versions are basic in the extreme, with no electric windows, air-con, and the Studio specification even lacks remote central locking and electronic stability control.
Pay a little more for the Zetec and you get a heated windscreen, a leather wrapped steering wheel and electric windows, while the top-spec Titanium grade came with climate control and rear parking sensors as standard. The front seats are set quite high, and while this gives a clearer view of the road ahead, some drivers may take a while to find a comfortable sitting position, since the steering wheel only adjusts for height and not reach. Its taller roof means that rear seat passengers have more headroom than in the original Ka, but legroom is still very tight indeed, so taller adults won't want to spend a long journey cooped up in the back.
The boot space is 224-litres (which is about average for a city car) but it has a high load lip.
What to look out for
We would recommend the 1.2-litre petrol, which is certainly no firecracker but provides adequate performance around town, and can return over 50mpg in mixed driving. Yes, the diesel is more frugal, returning close to 70mpg, but second hand examples can have issues with their Diesel Particulate Filter (DPF), which is quite expensive to fix, so are best avoided.
Just like the original, the Ka is fun to drive, with nicely weighted steering, plenty of grip and a suspension setup that's soft enough to iron out bumps without leaning too much in corners.
Its achilles heel is refinement, because as soon as you are at motorway speeds, the engine, wind and road noise are all excessive, making it a tiring car to take on longer journeys. The Ka is a cheap car to insure, but it doesn't have as much safety equipment as more modern city cars, with fewer airbags, and a worse crash safety rating than many of its competitors.
What we think
The Ford Ka is an affordable, no-nonsense city car that has an upbeat character, is good to drive and cheap to run. The most basic versions feel spartan inside, and its three-door bodystyle means there are more practical alternatives that have even lower running costs.