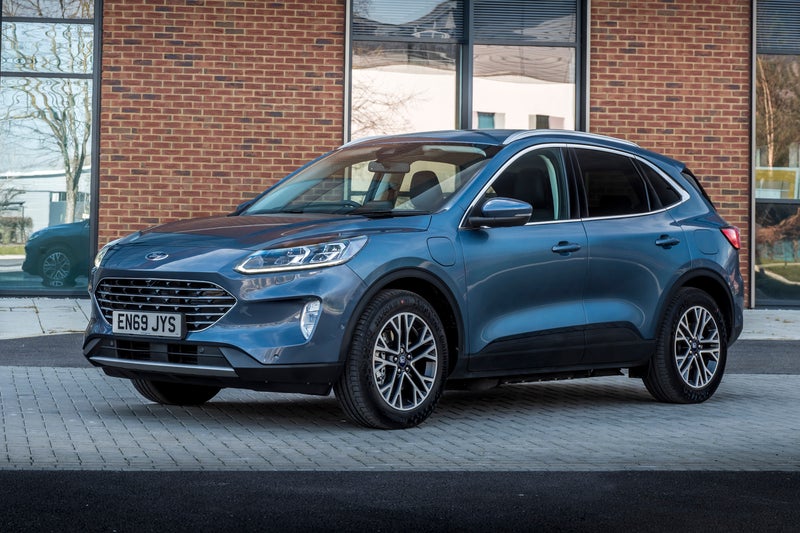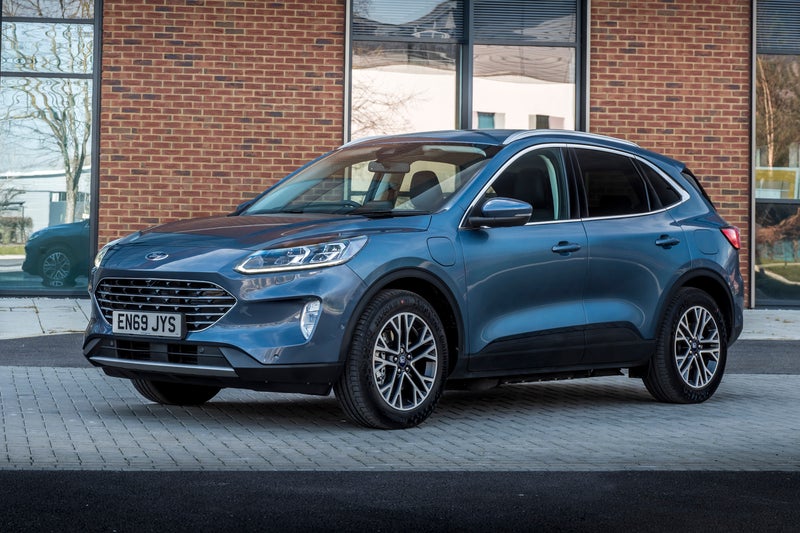 1/10
heycar rating
"Practical family SUV moves upmarket"
Launched: 2020

SUV

Petrol, Diesel, PHEV
Quick overview
Pros
Bigger and more spacious than the old Kuga
Lots of standard equipment
Choice of petrol, diesel and plug-in hybrid engines
Cons
Not available as a seven-seater
Expensive on the used market
Most affordable petrol engines are underpowered
Overall verdict
On the inside
Driving
Cost to run
Prices and Specs
Common questions
Overall verdict on the Ford Kuga
"Whichever Ford Kuga you opt for, it's a strong contender in the increasingly competitive SUV sector. It also represents decent value for money, although it'll be a while before it represents a bargain on the used car market."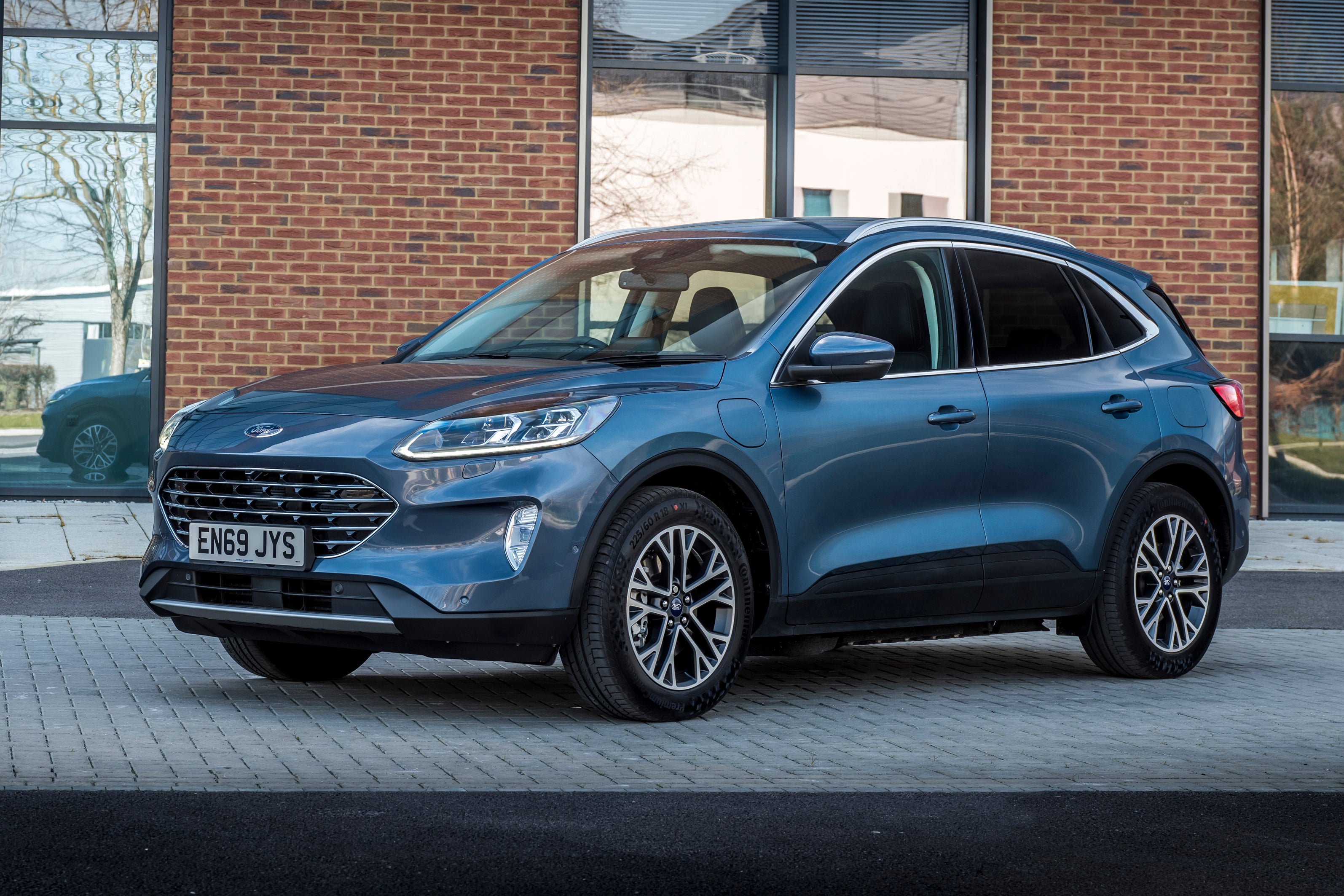 The 2022 Ford Kuga is the Blue Oval's take on a family SUV and this latest model promises to be a big step up over the car it replaces. The old model was on sale from 2013 to 2020 and - by the end of its lifespan - it really couldn't cut it against fresher rivals like the Toyota RAV4, Honda CR-V and Mazda CX-5. So, just like Ford has recently whipped the latest Focus into shape, a new Ford Kuga has arrived with a firm eye on toppling the competition. Let's take a closer look in our 2022 Ford Kuga review.
Evidence of the Ford Kuga's everyman appeal is provided by the wide range of engines on offer. There are the typical petrol and diesels engine, including mild-hybrid versions of the latter (don't expect all-electric running from these, although a slight improvement in fuel economy is a welcome advantage).
For the first time, Ford's offering a plug-in hybrid version of the Kuga, too. Aimed squarely at taking some of the Outlander PHEV's thunder, the 2021 Ford Kuga hybrid PHEV combines a 2.5-litre petrol engine with an electric motor and a heavy lump of a battery. The result is up to 35 miles of running under electric power alone, meaning it could be a very economical choice for those of us who mainly cover short journeys day-to-day. Read our expert guide to the best hybrid SUVs and best hybrid cars to find out more.
While Ford has a reputation for making cars that are great to drive, the previous Kuga was a bit sloppy. Fortunately, the latest model is back on form, with sharp handling ready to take on the Mazda CX-5. Thanks to the weight of its batteries, the PHEV model does lose some of this agility, but the Ford Kuga is an easy car to drive around town - helped by its high seating position and front and rear parking sensors which are standard across the range.
A downside of this is the firm ride quality, especially on models with bigger alloy wheels fitted or the Kuga ST-Line trim with its sports suspension. It's not uncomfortably harsh, but it's not as compliant as the soft Citroen C5 Aircross.
No matter which 2022 Ford Kuga model you buy, it will be pretty comprehensively equipped as standard. The kit list on even the most affordable Zetec trim feels far from meagre, with 17-inch alloy wheels, Ford's incredibly useful Quickclear heated windscreen and the 8-inch SYNC3 navigation system.
The Titanium adds things like bigger 18-inch wheels, full LED headlights and sport seats finished in part-leather. There's a sharp B&O sound system, too, as well as ambient interior lighting.
Further up the range, you can take the posh or sporty route. The Kuga in Vignale trim level is full Victoria Beckham spec, with lots of exterior enhancement (chrome trim) and premium leather in the interior, as well as a techy 12.3-inch digital instrument cluster.
The sporty Kuga ST-Line model comes with Mel C exterior styling (including a rear spoiler and red brake calipers…), while the inside gets a flat-bottomed steering wheel and part-leather sports seats. Upgrade to the Kuga ST-Line X for 19-inch wheels, an electric tailgate and a panoramic sunroof.
If you're looking for the previous version, you need our Ford Kuga (2013-2020) review.
Is the 2022 Ford Kuga right for you?
While it'll be a while before depreciation works its magic, the new Ford Kuga ticks a lot of boxes for a lot of people. Whether you're a high-mileage business person, a family looking to do the school run or a weekend outdoors warrior, the Kuga makes a lot of sense. Our biggest gripe is the lack of a seven-seat version.
What's the best Ford Kuga model/engine to choose
All Ford Kuga models are well-equipped so it's not really necessary to stretch your budget for one of the higher-spec trim levels. A standard Ford Kuga Zetec or Titanium will be fine for most buyers. In terms of engines, it depends what you need. The petrols are a little underpowered. Go for a diesel if you cover a lot of miles, or a Kuga plug-in hybrid is a great cheap-to-run alternative.
What other cars are similar to the Ford Kuga?
Comfort and design: Ford Kuga interior
"Ford always seems able to make its cars feel familiar, and the Kuga is no different. On the inside, it's very similar to the latest Ford Focus."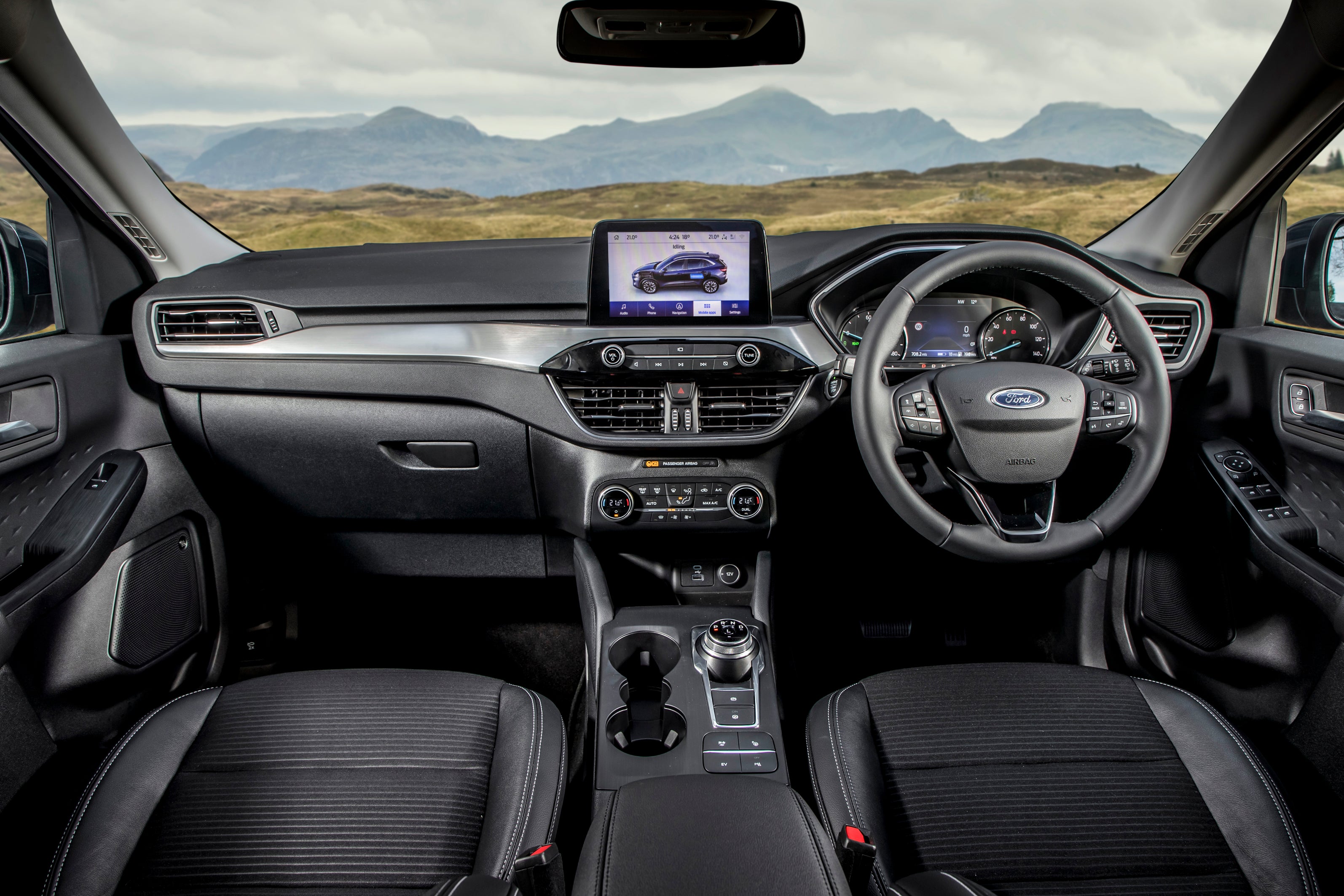 The Kuga has the same 8-inch media system as the Focus and takes pride of place on the centre console. Ford has played to its strengths and made sure the most-used functions get physical buttons. That means all the heating and cooling controls are readily available without having to dive through menus and sub-menus. And there's also a host of knobs on the steering wheel to handle the music, cruise control, and various dashboard menu options.
But while the 8-inch system is standard, driver's will have to go for the Kuga ST-Line or above models if they want the 12-inch digital dashboard (rather than old school analogue dials). The digital dash's graphics are crisp and all the important information is there, such as speed, but there's also a decent level of customisation available and the digital dash changes depending on what driving mode you've selected. Select Eco and the colour theme changes to green and displays info about brake energy regeneration, while Sport is black and red with an emphasis on revs and speed.
The Ford Kuga's seating position doesn't seem to favour taller drivers, however, and while those over six-foot will still have some headroom, they might not be able to get the seat as low as they'd like. This reduces the Kuga's 'sporty' feel but also means the sun visor cuts your view of the road ahead in half. Still, at least the seats are supportive...
That higher seating position also sets it apart from more car-like SUVs like the Nissan Qashqai and SEAT Ateca. In petrol and diesel models, there's plenty of head and legroom for rear passengers but the location of the battery pack in the Kuga hybrid version means it can feel very cramped for adults sitting in the rear - almost like you're perching on a stool.
Quality and finish
Fit and finish are okay. Ish. Again, it's a big step forward for Ford but the Kuga still lags behind some of its rivals in the sector. The material on the top of the dash isn't quite on the same plush level as say a Peugeot 3008, while you don't have to look too far to find cheaper plastics in use. Plus, there's the usual excuse for a carpet in the boot that makes it impossible to vacuum.
You could always go for the top-spec Kuga Vignale, which adds leather seats and a leather layer on the dash. Even then, we don't think premium rivals like the Volvo XC40 or Audi Q5 will be too worried.
Infotainment: touchscreen, USB, nav and stereo in the Ford Kuga
Where the 2022 Ford Kuga is really behind the times, however, is the n system. Granted, it's received an update but it still boasts graphics that belong on a Windows XP tower circa 2001. That said, it is extremely logical and will likely to be well received by drivers who prefer their old-school Nokia handset to the latest iPhone. Speaking of which, you do get Apple CarPlay and Android Auto as standard so you don't have to use the Ford system at all. Which is exactly what most drivers will do.
There's also an app. Technically, it allows you to start some models remotely (the automatic gearbox on the Kuga PHEV, for example) to warm the car before you get in. But the truth is the app is so slow that by the time you're getting in it still won't have switched the heating on for you. It's not alone, of course – so many manufacturers make terrible apps but it does beg the question: why bother?
Space and practicality: Ford Kuga boot space
The Ford Kuga measures just over 4.6m long and 1.8m wide, while all trim levels of the Ford Kuga get a sliding rear bench, which lets you put the most space where you need it - in the boot or to free up more room for your backseat passengers' knees.
But, if you regularly lug things about, you might find yourself putting boot space first. That's because it's not the biggest load space - the boot space of the Ford Kuga is just 411 litres with the rear seats back, but this grows to 526 litres with the bench forward. There's some storage under the boot floor, which is where you can put the space-saving spare or the charging cables for the Kuga PHEV. The boot is easily accessible though, but the rear seats don't fold very flat, which means there's less space for taller items.
On petrol and diesel models, there's space for three adults in the back - but the person in the middle row won't be particularly comfortable as they have to straddle the transmission tunnel. If you need to carry more than five people, you'll have to look elsewhere as Ford doesn't offer a seven-seat version of the Kuga. That seems an oversight when you can buy seven-seat Kodiaq, 5008 and Santa Fe models.
Handling and ride quality: What is the Ford Kuga like to drive?
"To some degree, the Kuga doesn't feel as sporty as say a Focus or a Fiesta because… well, because you can't defy the laws of physics. The Kuga is a big tall car so you'll enjoy plenty of lean and body roll if you decide to get a wriggle on."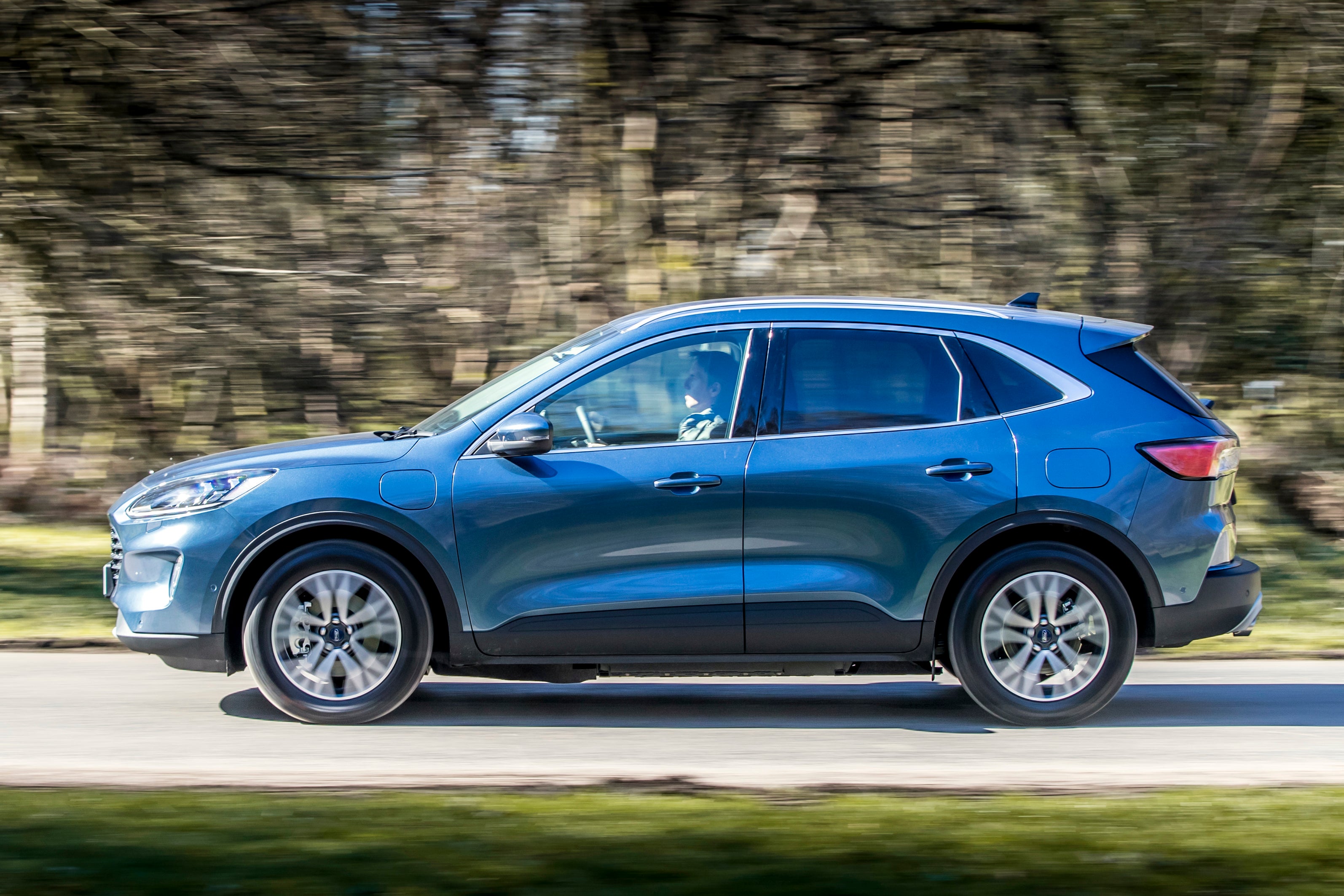 That said, the Kuga does retain that Ford handling DNA, which means it feels very responsive, fairly surefooted and mostly predictable on the limit. There are times when the self-centering steering can cause a few issues, though. But for an SUV this size, perhaps that's all you can ask for. This is a car designed to carry things - not shave seconds off your lap times. You'll need a PS5 for that.
If you enjoy driving and spending money on petrol and service station pasties, then consider an all-wheel drive version with the selectable drive modes. Normal doesn't offer much to write home about but at least putting it into Sport means you'll get the best performance from the engine.
Overall ride quality is good (after an initial adjustment phase where you get used to it). Supple around pot-hole marked ring roads and smooth on the motorway. The Kuga can get a little bouncy if you find yourself on an undulating road at speed.
The brakes on most models are smooth and progressive - but the Kuga PHEV is a struggle to drive smoothly. The regenerative braking system means the pedal feels overly heavy, making you think that you're braking harder than you are and leading to few brown trouser moments when the final phase of braking doesn't produce the stopping force you expect it to.
What engines and gearboxes are available in the Ford Kuga?
Luckily, there's a wide range of engines offered in the Kuga to drown out the noise. No prizes for guessing but this includes petrol, diesel and - drum roll - plug-in hybrid power. More on that later.
A 1.5-litre petrol EcoBoost engine is available with a six-speed manual gearbox and front-wheel drive. This is offered with 120PS in the entry-level Zetec trim but most buyers will find the 150PS version (available across the range) is a better option. There's a 1.5-litre EcoBlue diesel, too, also with 120PS and offered with a six-speed manual or eight-speed automatic gearbox. And a 2.0-litre mild-hybrid diesel, which produces 150PS and comes with a manual gearbox and front-wheel drive.
The most potent diesel is the 190PS 2.0-litre, which is sold exclusively with an eight-speed automatic gearbox and all-wheel-drive. It's the only four-wheel-drive option, in fact, meaning it's likely to be the Kuga of choice for caravanners or anyone who wishes to venture off the beaten track.
A plug-in hybrid version of the Kuga was launched in mid-2020 but was almost immediately subject to a recall after models started catching fire. The issue have now been traced to a faulty battery pack and the Kuga hybrid is now back in showrooms. Don't be down on Ford, though, BMW gets its batteries from the same supplier and suffered similar misery.
On paper, the Ford Kuga PHEV looks promising - it combines a 2.5-litre petrol engine with an electric motor to produce a combined 225PS. But with front-wheel-drive only and an unresponsive CVT automatic gearbox, it's not as much fun as it should be. Deflating is the best way of describing it. Plus any power gains are cancelled out by the unholy weight of the battery pack, which also messes up the handling.
Refinement and noise levels
Most drivers will be happy with the standard set up of the Ford Kuga, but the ST-Line models get a lower ride height and firmer springs, making them feel a touch more sporty and/or fidgety.
Bear in mind however that this will increase the amount of road noise you experience. While the poshed-up Vignale gets an active noise cancelling system (which neutralises unwanted noise using the car's speakers), most drivers will take some time to get used to the tyre roar and suspension rattle.
Safety equipment: How safe is the Ford Kuga?
EuroNCAP rated the latest Ford Kuga five stars out of five for safety.
As for the safety equipment, all Ford Kugas come with front and rear parking sensors, which is essential as visibility is limited by the small rear window and thick A-pillars. Standard safety kit also includes lane-keeping assistance and automatic emergency braking, which will stop the car if it senses a crash. But if you want things like the reversing camera and blind-spot monitoring, which are almost essential in this car, you'll have to shell out for the Driver's Assistance Pack. That will also get you adaptive cruise control and traffic-sign recognition.
Maximum PHEV range with the Ford Kuga
With a 14.4kWh battery, the 2021 Ford Kuga PHEV can 'officially' cover 35 miles when fully charged and offer nearly 200mpg… when you can charge it. For now, most drivers are stuck seeing low 40s as they enjoy the 2.5-litre petrol in all its glory. We've seen the electric range average about 25-30 real-world miles with the Kuga hybrid, which is perfect if you've got kids to ferry about or only a short work commute but still need to make long journeys at weekends. Charging is quick too, with the battery taking about four hours to brim.
MPG and fuel costs: What does a Ford Kuga cost to run?
"High-mileage drivers should look for a Kuga with one of the EcoBlue diesel engines. The 1.5-litre returns up to 55mpg in WLTP fuel economy tests."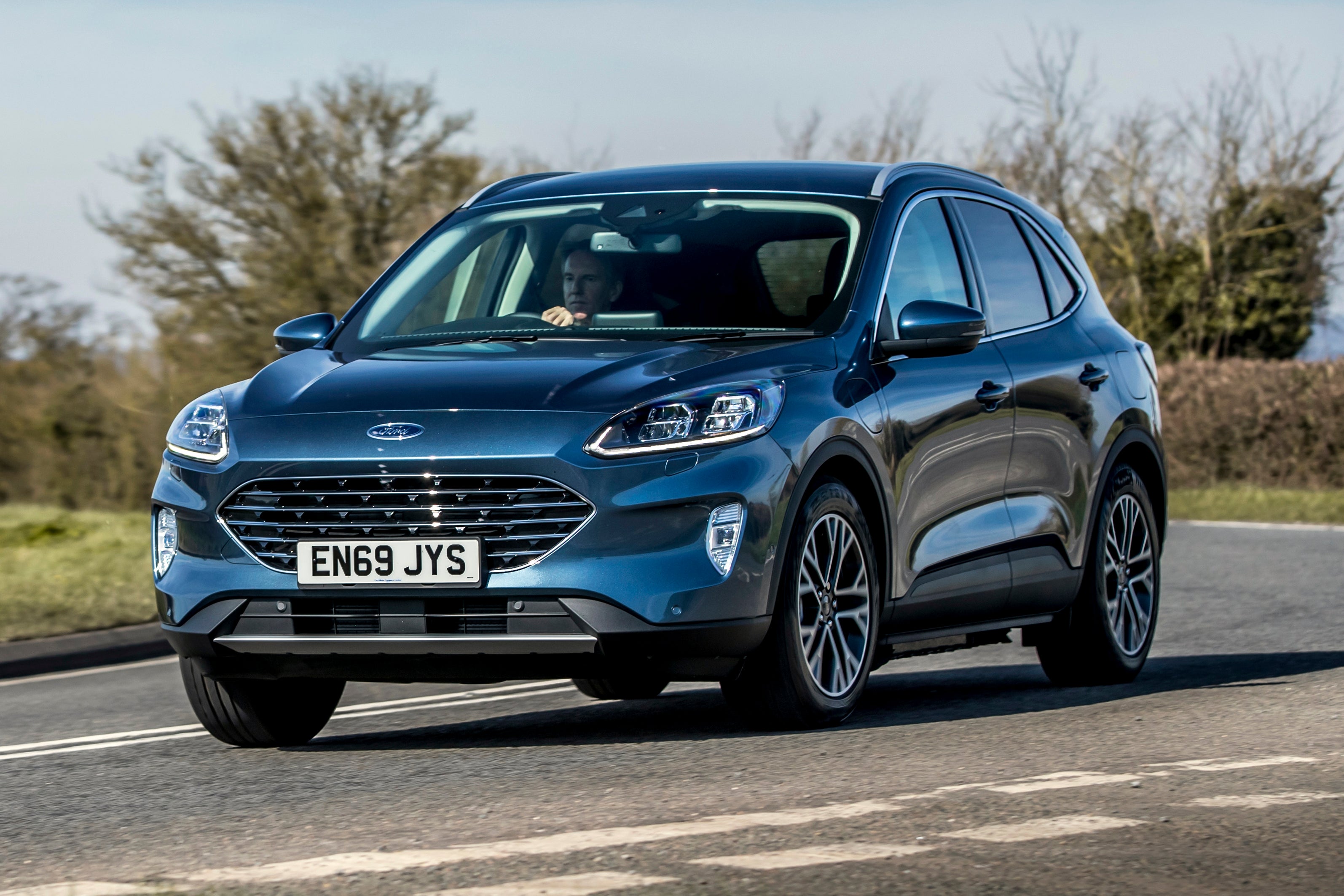 This drops marginally to 52mpg with the eight-speed automatic gearbox), while the 2.0-litre mild-hybrid diesel can see up to 56.5mpg. The more powerful, non-hybrid 2.0-litre diesel will return up to 48mpg."
If you'd prefer a petrol, the 150PS Kuga 1.5-litre EcoBoost returns up to 42.8mpg. The entry-level 120PS unit officially achieves 42.2mpg in WLTP fuel economy tests.
Then there's the plug-in hybrid Kuga PHEV. This officially returns 201.8mpg although this won't be achievable in reality unless you charge it regularly and cover most of your journeys under electric power alone.
We've found that we can get around just under 70mpg in the real world with a Ford Kuga PHEV, plugging in regularly to top up the battery. It's a great choicer if you do regular, short-range trips. It's also great on long runs, though once the battery charge has been used up, mpg can take a bit of a beating. This isn't unique to the Kuga PHEV, as all hybrids suffer this on long journeys.
How reliable is the Ford Kuga?
This generation of the Ford Kuga didn't get off to the most auspicious start when there was a large scale recall of PHEV models due to an overheating fault that could cause a fire when charging. The fix involved the replacement of the entire drive battery pack.
Ford doesn't perform especially strongly overall in reliability and owner satisfaction, coming in 26th out of 30 manufacturers in the latest HonestJohn.co.uk Satisfaction Index. That said, our sister title has also run a Kuga PHEV as a long term test car and enjoyed a fault-free experience, while the previous model proved to be generally reliable.
Insurance groups and costs
The cheapest Ford Kuga to insure will be the Zetec model with the 1.5-litre Ecoboost petrol engine. This falls into insurance group 10.
Go for a plug-in hybrid petrol-electric or an all-wheel drive diesel though and you'll see the insurance group jump up to 19 or 20. Top of the range Vignale models reach Group 21 or 22. Granted, that won't be cheap to insure but 22 is still a long way from highest Group 50.
VED car tax: What is the annual road tax on a Ford Kuga?
Most Ford Kuga models will cost a flat rate of £150 a year in tax after the first year, apart from the mild-hybrid and plug-in hybrid models. These are eligible for a yearly £10 discount.
It's worth watching out for premium tax, too. Any car with a list price of more than £40,000 costs an extra £325 a year in road tax for the first five years (after the first year). It's difficult to spend more than £40,000 on a Kuga, but it's worth keeping in mind if you're looking at a particularly high-spec example.
How much should you be paying for a used Ford Kuga?
"Even the most affordable Ford Kuga Zetec is pretty comprehensibly equipped. Exterior highlights include 17-inch alloy wheels, privacy glass and silver roof rails, as well as twin exhausts and a rear spoiler. Inside, there's a Quickclear heated windscreen, leather-trimmed steering wheel and gear knob, keyless start and manual air conditioning."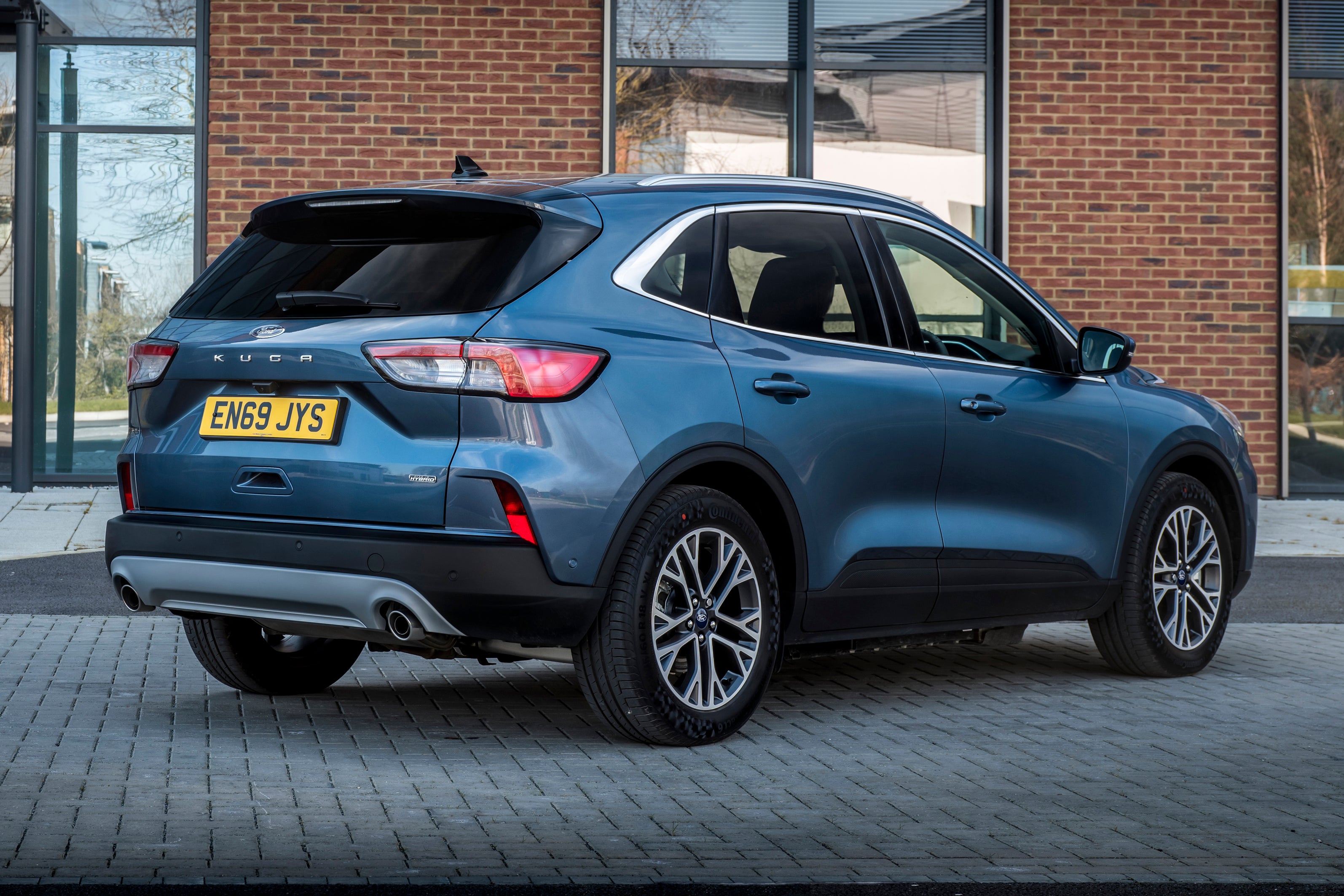 The Zetec also gets sports seats with manual adjustment (including lumbar support and height adjustment for the driver), as well as Ford's SYNC3 eight-inch navigation system (with Apple CarPlay and Android Auto). Front and rear parking sensors are also standard, as well as cruise control, lane-keeping assist and autonomous emergency braking.
Ford Kuga Titanium models build on this with 18-inch alloy wheels, full LED headlights, keyless entry, ambient lighting and automatic headlights/windscreen wipers. The sports seats are now finished with part-leather trim, while the passenger seat gets eight-way adjustment including lumbar support and height adjustment. A B&O premium sound system is standard, along with a 4.2-inch TFT instrument cluster (6.5-inches on Kuga PHEV models).
The posh Ford Kuga Vignale comes with 19-inch alloy wheels, bespoke exterior detailing and metallic paint as standard. Inside, there's full leather seat trim, 10-way electrically adjustable driver's seat and heated front seats. The steering wheel, gear knob and instrument panel are all wrapped in leather. A 12.3-inch digital instrument cluster features, as well as a head-up display and Active Park Assist.
Sporty Ford Kuga ST-Line trim builds on the Titanium with 18-inch alloy wheels, black roof rails, ST-Line exterior styling (including a rear spoiler and red brake callipers). Inside, there's partial-leather sports seats, a flat-bottomed steering wheel and a bespoke ST-Line gear knob. Like the Vignale, the ST-Line also comes with the fancy digital 12.3-inch instrument cluster. Sports suspension is standard on most ST-Line models (but not the 2.0 EcoBlue 190PS AWD version).
The Ford Kuga ST-Line X sits above the standard ST-Line, with added highlights including 19-inch alloy wheels, a panoramic sunroof and a hands-free electric tailgate. It also gets a 10-way adjustable driver's seat and heated front seats.
Ask the heycar experts:
common questions
Is the Ford Kuga a good car?
We like the Ford Kuga a lot and there's lots to be positive about. It's got bags of space, an engine for everyone and an interior that feels much classier than ever before.

Answered by
heycar editorial team
Which Ford Kuga engine is best?
We found that the petrols are a little underpowered. Go for a diesel if you cover a lot of miles, or a plug-in hybrid Kuga is a great cheap-to-run alternative.

How much does a Ford Kuga cost?
The Ford Kuga is priced from £26,795. That's the on-the-road price for a Ford Kuga Zetec with the 1.5-litre EcoBoost petrol engine. The range tops out with the Ford Kuga Vignale, which is priced from £33,230 – while a PHEV model in Vignale trim is more than £39,000.

How economical is a Ford Kuga?
If you're after economy, look for a Ford Kuga with one of the EcoBlue diesel engines. The 1.5-litre returns up to 55mpg in WLTP fuel economy tests.

Ford Kuga cars for sale on heycar
10,370
Number of cars available
£8.5K - £42K
Price bracket of these cars
Colours available on heycar
Keep me updated by email with the latest advice, news and offers from heycar
By submitting, you agree to our
privacy policy
.