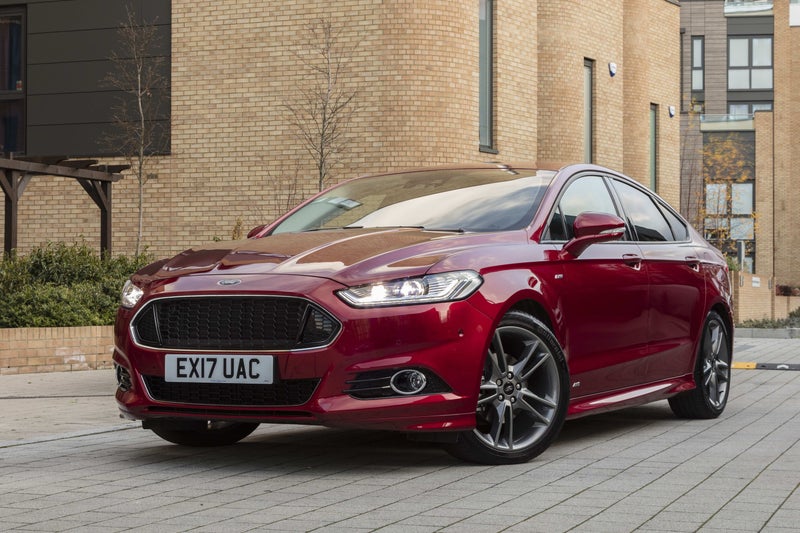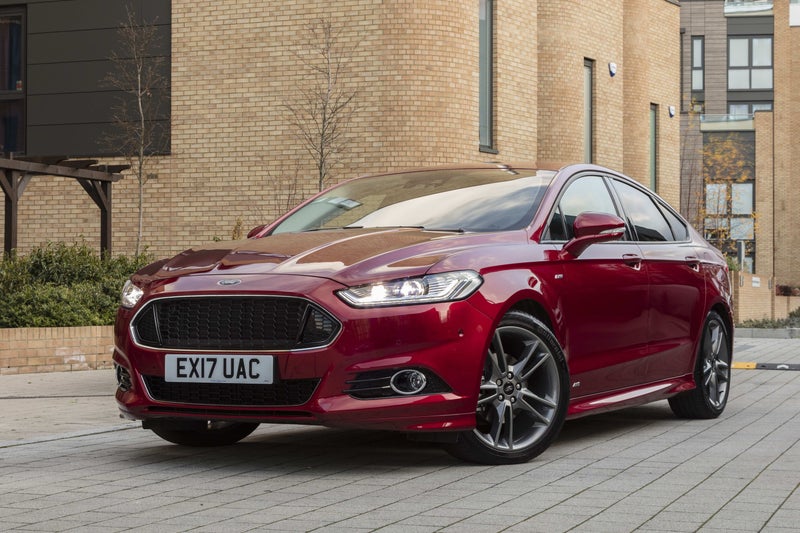 1/10
heycar rating
"Big, comfy and affordably priced"
Launched: 2014

Large family car

Diesel, Hybrid, Petrol
Quick overview
Pros
Strong cruising refinement
Roomy interior
Tidy handling
Cons
Narrow engine range
Scratchy interior plastics
Bumpy ride quality on ST-Line cars
Overall verdict
On the inside
Driving
Cost to run
Prices and Specs
Common questions
Overall verdict
"The Mondeo used to be the jewel in Ford's crown. It was a common sight on British motorways, business parks and suburban streets. However tastes change, and where once every family had a big saloon, Ford now sells far more SUVs than conventional family cars, and company car buyers all go for posh premium cars."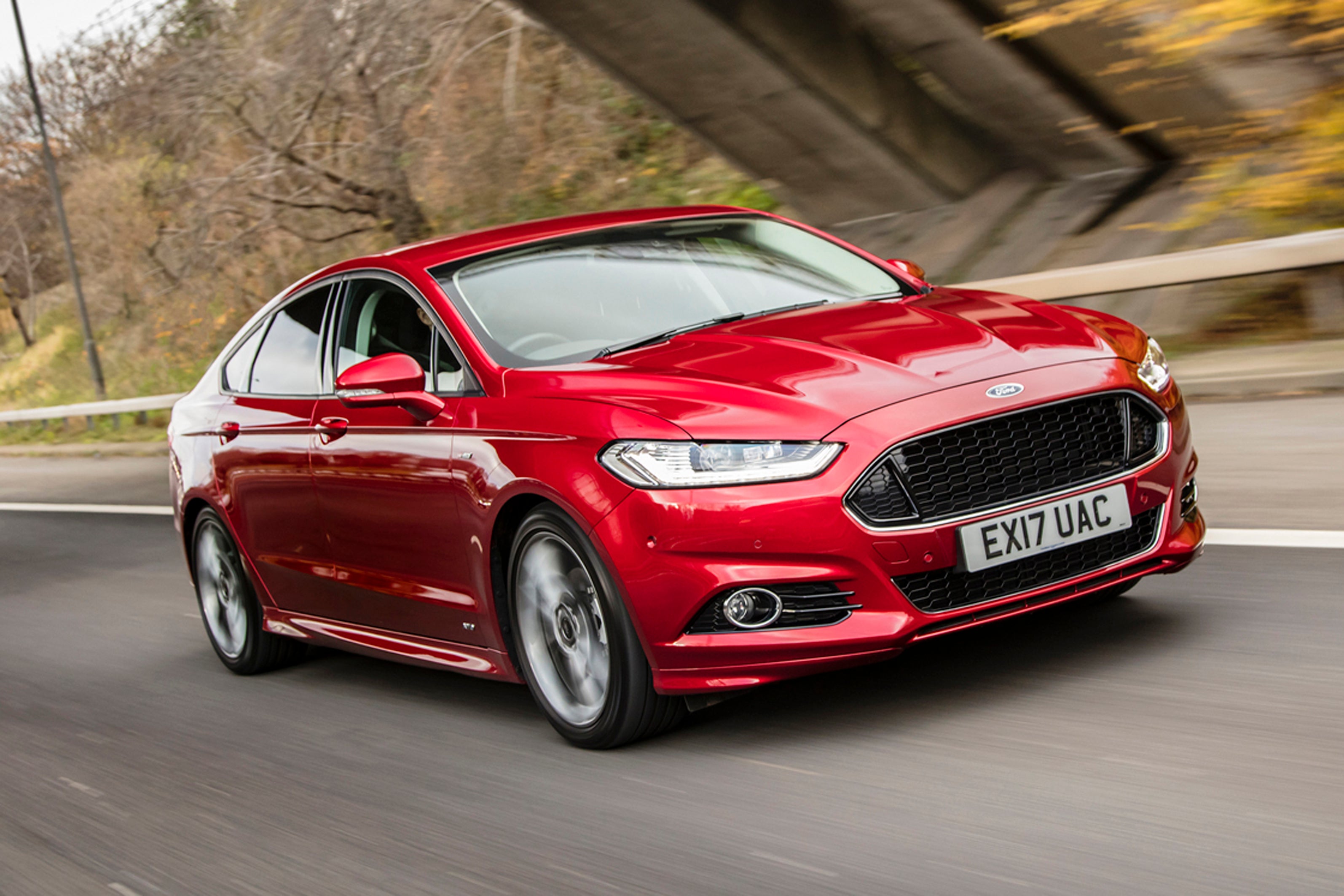 That means the current model (introduced in 2014) has seen a sharp decline, and a major overhaul in 2019 repositioned it as an affordable, well-equipped and no-nonsense alternative to the usual executive suspects.
With new prices starting under £25,000 and used models from just a fifth of that, it certainly nails the first part of its brief. The Zetec trim comes with all the kit a busy commuter would want, while mid-spec Titanium spec includes a leather interior, electrically adjustabl and heated front seats.
The Mondeo's available in three body styles, with most being sold as a five-door hatchback or roomier estate (which we've reviewed separately). A four-door saloon is also offered, featuring a petrol-electric hybrid powertrain.
Unlike the Passat GTE and Peugeot 508 plug-in hybrids, you don't need to charge the Mondeo to keep its tiny battery topped up, but its limited capacity means it's not as efficient as rivals, nor does it have a low BIK rate.
Even the five-door is seriously practical, with room for five adults, a big boot and lots of on-board storage. It's not the best load-lugger in the class (that honour goes to Skoda's Superb) but it'll cope well with family duty.
Nevertheless, its massive dimensions do make it trickier to park and manoeuvre in town than its key rivals.
It's nice to drive, especially in its natural habitat munching up motorway miles, where its refined engines and a supple-yet-controlled ride really shine through. As long as you avoid the stiffer ST-Line cars with their big wheels, you'll get a car that glides over poorer surfaces, but can still tackle corners in a neat and tidy fashion.
Previously the Mondeo was offered with a wide variety of engines, from a tiny 1.0-litre three-cylinder petrol to an 'ST' performance model with 240PS, but in 2020 Ford cut the range to a pair of diesels, and the hybrid.
On the diesel side, there's a 2.0-litre engine with either 150PS or 190PS, with the most powerful version coming with the option of four-wheel drive and a standard eight-speed automatic transmission. The lesser model has a six-speed manual, but we actually prefer its precise shifting to the rather dim-witted automatic.
For the vast majority of buyers, the low-powered diesel will be sufficient. It's smooth, punchy in gear thanks to a healthy 350Nm of torque, and has fairly low running costs. If you do want petrol, you'll be buying used.
While the engine range has been modernised, the interior feels like it was left behind. A drab layout, low-rent materials and dated infotainment system would be high on our list of reasons to pass over this car. While it's comfortable behind the wheel, visibility is not great, and despite low pricing, it feels cheaper than it really is.
There's still merit to the Mondeo, if its abilities align closely with the needs of your everyday life, but whether as a company car, a hybrid, and even just a bargain, there are many others which outshine it due to its age.
Is the Ford Mondeo right for you?
The writing is on the wall for cars like the Mondeo. Most business users would rather spend a little more a month to get into something with a premium badge, while those seeking space and usability will pick an SUV.
With such a narrow engine range, it'll really only suit buyers who do a lot of motorway miles, and can make good use of its impressive refinement, pliant suspension and reasonably parsimonious fuel economy figures.
It has a boot big enough to rival some estates, and generous standard equipment, but its iffy interior quality and dated infotainment system mean it's easier to justify as a used car bargain than a brand new purchase.
Make no mistake, this is a very pleasant car to do long journeys in, but its awkward size limits its usability in more congested settings. If you want a fuel-sipping hybrid, a wide range of plug-rivals do a far better job too.
What's the best Ford Mondeo model/engine to choose?
Let's start with which one to avoid. The Mondeo Hybrid is a lacklustre, joyless thing to drive that's heavy, less practical than the standard car (it's only available as a four-door saloon), pricier, and not very efficient either.
If you're a company car driver who just needs something efficient and refined - without feeling compromised on the road - we'd politely hand you a brochure for the Toyota Corolla saloon and let nature take its course.
With that off our chests, we think the less powerful 2.0-litre diesel with a manual gearbox is the best option. It's smooth and punchy, with relatively low running costs, and most important of all, it's great value for money.
For newer models, you can't go wrong with Zetec trim. It has the comfiest ride, all the essential equipment for the daily grind, and it's the most affordable to buy and insure. However, if you're buying used then it's worth searching out the Titanium version, since it comes with some nice creature comforts, yet is still comfortable.
What other cars are similar to the Ford Mondeo?
If all you need is efficient company car for racking up the miles, the smaller Audi A4 and BMW 3 Series both feel twice as expensive inside, can match the big Ford for refinement, and comes as efficient plug-in hybrids.
For those family buyers who need as much space as possible, Skoda's Superb is impossible to beat. It's got a gigantic boot, acres of passenger spaces, and while it's a little pricier, features a nicer cabin that's worth it.
None of those rivals can compete with the Mondeo's lengthy equipment list and keen pricing, but a Vauxhall Insignia Grand Sport certainly can. Remarkably, in most trims it's even cheaper than the Ford, with a wider engine range that still includes petrols for lower mileage drivers, and a 1.6-litre diesel with 60mpg+ potential.
Buyers looking for a little more style should consider the pricier Mazda 6 or Peugeot 508, both cut a fine shape on the driveway, and the Mazda is good fun on the right road.
Comfort and design
"The Mondeo plays things straight inside. Its cabin is so plain in fact, that it seems more like a collection of randomly assorted shapes than anything cohesive enough to be called an actual design. That simplicity makes it easy to use though, with fewer buttons on the centre console than there are on the steering wheel."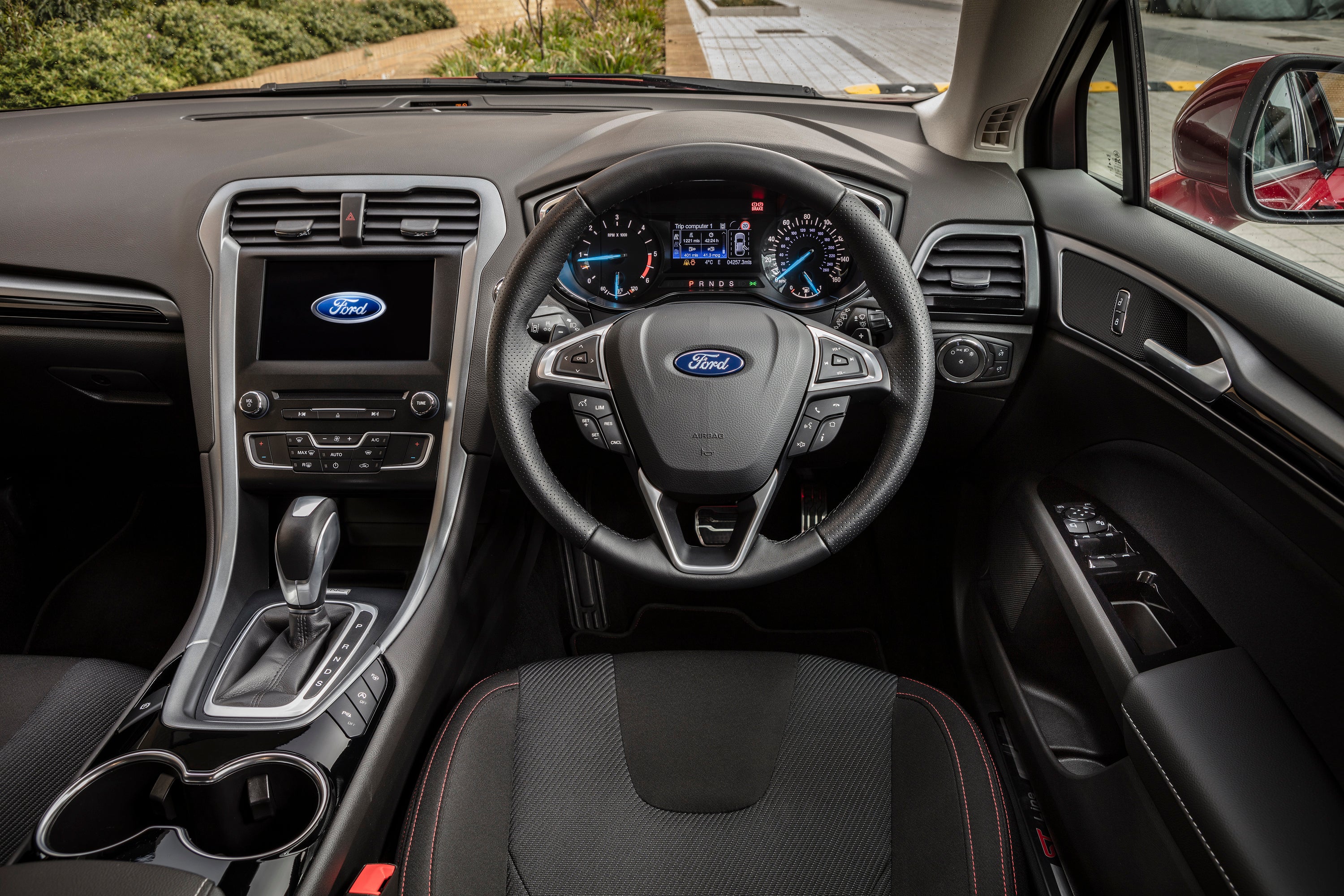 The finger dexterity they require to set the cruise while scrolling through radio stations means its simpler to use the touchscreen, but often small tasks can be taken care of without taking your hands from the wheel. Both sets of dials (digital and analogue) have a good level of clarity, and it won't take you long to get familiar.
Some premium saloons do a nice line in minimalist interiors, but in the Ford it just seems wilfully drab and austere. The driving position gives us less to complain about. The pedals line-up nicely under the wheel, the standard seats are supportive, and on all but the Zetec trim you get 10-way electric adjustment as standard.
The steering column comes out far enough to reach even very tall drivers, and the footwells are roomy, so its no hassle to prop up your left foot during motorway stints. The ST-Line's sports seats hold you in place better than the standard chairs, but the Mondeo doesn't encourage you to throw your passengers around anyway.
One fault it shares with other family cars is the poor visibility. The sloped rear screen and thick C-pillars make it hard to judge distances when reversing, and the long bonnet creates similar issues up front. The latest cars have parking sensors for tackling these issues, but we would avoid earlier models without them if you can.
Quality and finish
The seismic shift towards SUVs has meant family cars like the Mondeo have not received the investment or attention it should have over its lifespan, and the drab grey interior displays obviously signs of this neglect.
The simple layout is clear enough, but material quality is nowhere near the high standards set by cars from the likes of Skoda, Mazda and Peugeot, let alone properly premium saloons from Audi, Mercedes and BMW.
Not to beat around the bush, it looks and feels low-rent from behind the wheel. Every time your hand grazes the hard, scratchy plastics covering the dash and centre console, you're reminded of its affordable roots. The steering wheel buttons are mushy and inconsistent when pressed, and there are big panel gaps in the doors.
It's not really something buyers should have to put up with, and spending just a little more on any number of the rivals we've mentioned so far will net you a plusher, more welcoming driving environment. It all appears to be durable, but so are folding plastic picnic tables, and that doesn't mean you'd want one in your kitchen.
Things do improve as you travel up the range, with leather seats, nicer carpet mats, bright metal pedals and scuff plates, sporty red stitching, plus (on the range-topping Vignale) extra leather on the dash and doors. Yet if anything this only serves to highlight the cheapness of the rest of the cabin plastics.
Infotainment
Nothing dates a nineties TV show as quickly as the haircuts, and the media system in the Mondeo is the car equivalent of a spiky gelled quiff - something any self-respecting adult wouldn't be seen dead sporting today.
As standard, all models come with Ford's SYNC 3 package, which includes an 8.0-inch touchscreen in the centre of the dash, sat-nav, DAB radio, Bluetooth and USB connectivity, eight speakers and voice control.
We can't argue with the feature list, especially since it now includes Android Auto and Apple CarPlay phone mirroring software, meaning you can plug your phone in and get access to a selection of your favourite apps.
Still, it's pretty ponderous to use, with low-res graphics and sluggish responses. Often you'll be required to prod an on-screen icon several times for it to register, and it makes simple tasks like entering a post code far too complicated. A recent update did improve the layout of the menus, but it's still far from the most intuitive.
Zetec models get conventional dials, but from Titanium upwards they're swapped out for a 10-inch screen that can display a wider range of information. It's not as clear to read, or slickly integrated with the navigation system as the optional digital instruments you get on a Volkswagen Passat though, more 2D Futurama than futuristic.
Space and practicality
While the Mondeo's cabin might be past its best, there's no arguing with the sheer amount of space it offers.
Tall adults sitting in the front or back will have more than enough room to stretch out, and it's so broad that even fitting three across the rear bench isn't too much of a squeeze, despite its raised transmission tunnel.
Leg and shoulder room are generous, but the low profile does mean there's fractionally less headroom than in cars such as the Passat or Superb. Still, only the lankiest teenagers will feel their heads brushing the roof.
You'll find there are an assortment of useful storage cubbies dotted around the cabin. These include a split level glovebox, a deep compartment under the armrest, and even handy nooks behind the centre console. Four big cupholders are large enough for coffees or takeaway cups, and the door pockets are nice and wide.
The boot has the capacity to rival some premium estate cars, and the wide opening hatchback design means it's a lot easier to load items into the back than a conventional four-door saloon. In diesel Mondeos you can cram 541 litres of whatever you like in behind the seats, which split/fold 60:40 to open up even more room.
While the load bay is big (still behind the class-leading Superb) it's not that clever. There's no false floor, so you have to negotiate a large load lip when lugging heavier items. The wheel arches intrude in the load bay, so it doesn't have flat sides, making it harder to stack luggage when you need as much space as possible.
In the hybrid - which is saloon and estate only - the four-door layout and battery in the boot spoil practicality, and it can carry roughly a third less than the standard car, and what's worse, you can't fold down the seats.
For that reason (and a few more you'll read about shortly) we'd avoid the petrol-electric version if you can.
Handling and ride quality
"Comfort is king in this car, and it feels as if Ford's engineers did their best work to make it relaxed and soft where they know most Mondeos will spend 90 per cent of their time – on motorways up and down the country."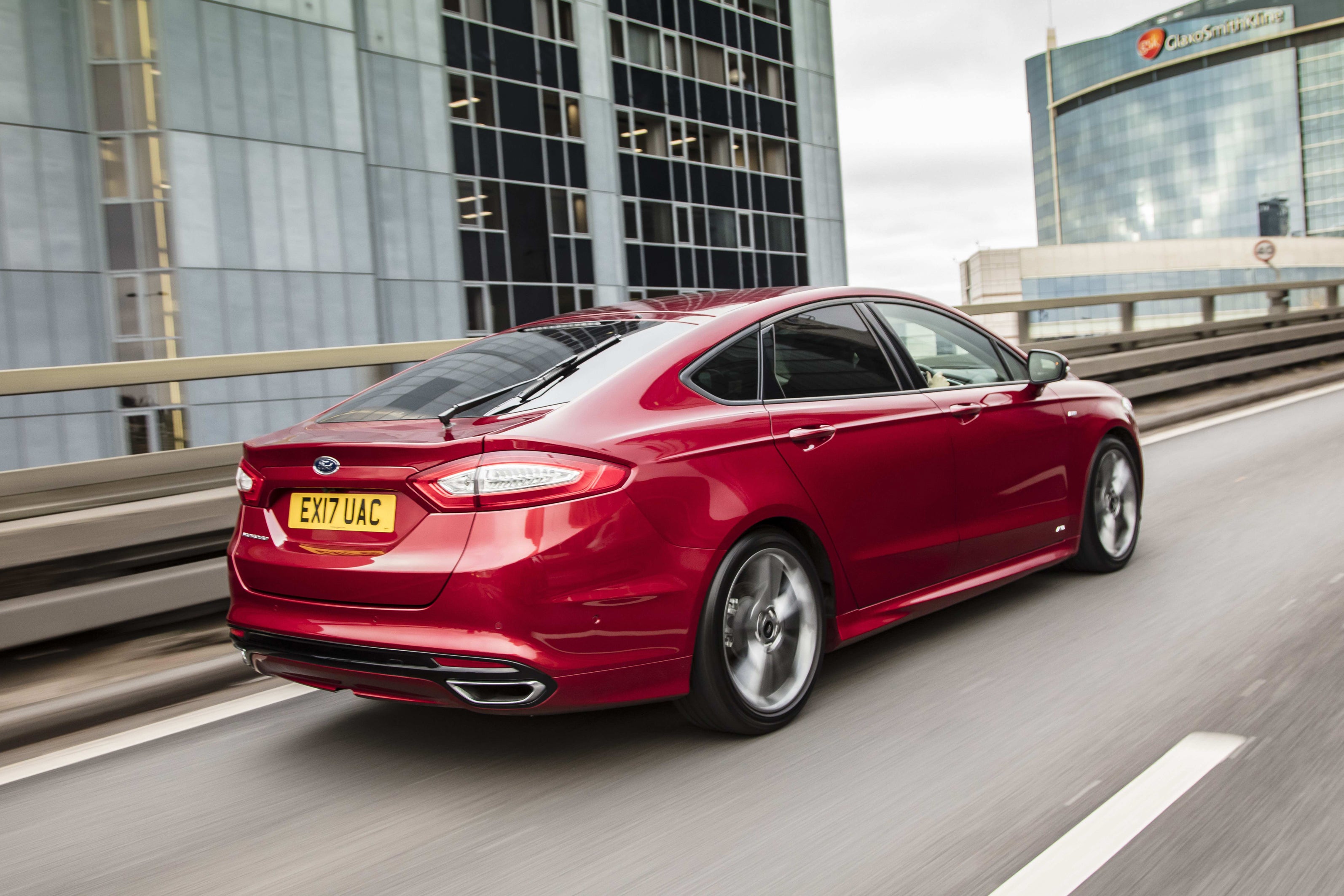 As long as you avoid the ST-Line model (with its large wheels and stiffer suspension setup) then the Mondeo does a fine job of isolating your from the road below, absorbing bumps and crests without any drama or fuss. Its supple nature doesn't come at the expense of body control either, it won't roll or float queasily in corners.
Unlike many of its rivals, there's no option to fit fancy adaptive dampers, but the conventional setup is finely judged, so you don't actually need them. It rides well even on very scruffy roads, especially on 17-inch alloys.
The Mondeo had a reputation for being fun to drive, but over the years it has lost some of its lustre. It's still a very comfortable, refined cruiser, but so are many of its rivals, and it won't make you grin quite like it used to.
That's due to the steering, which is precise, but can feel overly light, with little sense of connection to the front wheels. It handles well for a big car, changing direction neatly, and clinging faithfully to your chosen line around tight corners. It feels stable and reassuring to drive, but the sense of poise it used to have is missing.
There's also no escaping the sheer size. It's a big hunk of metal to be manoeuvring around, and does a poor job of hiding that bulk. On narrow lanes and in town, it feels big and cumbersome, and the visibility is not as good as it would be on an equivalently-sized SUV, making it much harder to judge where its extremities stop.
Engines and gearboxes
Modern car buyers have turned their backs on diesel, but tightening emissions regulations mean that Ford has slimmed the Mondeo's range to the point where a 2.0-litre diesel or petrol hybrid are your only options.
The former does at least come in different states of tune. In Zetec models it produces 150PS and comes with a six-speed manual and front-wheel drive. This is a combination that'll work well for anyone driving big miles, since it's the most efficient, but still has decent in-gear poke, and a stout 350Nm of torque for overtaking.
If your daily routine involves a lot of stop-start traffic or congested urban centres, it might be worth paying extra for the eight-speed automatic gearbox, which comes fitted to the punchier 190PS version as standard. It blunts both performance and fuel economy, so we'd recommend testing them back-to-back to be sure first.
The higher-powered model doesn't feel much quicker in everyday driving, and the only time you'll really be glad of its additional grunt is when you're fully-laden or towing, as it'll strain less under the weight.
ST-Line and Vignale models give buyers the opportunity to fit four-wheel drive to this car. We can't really see a reason to do so unless you regularly see snow, and even then winter tyres will give more grip for less cash.
We would avoid the hybrid. It feels slow, noisy and unsophisticated when compared with other petrol-electric cars at this price, and its tiny 1.4kW battery means you'll almost never be running on electric power alone.
Previously, you could get a 1.5-litre petrol that was refined but not especially economical, a very fast 240PS turbocharged version that was even thirstier, and at the other end of the scale, a tiny 1.0-litre from the Fiesta.
The latter is surprisingly good in town, but comes a bit unstuck on longer journeys with passengers on board.
Refinement and noise levels
There's an overriding sense of calm behind the wheel of the Mondeo that makes it a stress-free companion.
Its 2.0-litre diesel engine is a smooth operator, with any slight grumbling at low revs quickly subsiding into a gentle hum once you're up to speed, and it's quieter inside the cabin at motorway speeds than a Mazda 6.
You won't feel any unwelcome vibration through the steering wheel or pedals, and wind noise is remarkably muted too. In fact, the only noticeable disturbance is the rumble from the tyres, but even this is fairly muted.
Older petrol models were a bit more vocal when worked, and the CVT automatic gearbox in the hybrid is not the smoothest. It sends the revs soaring every time you try to accelerate, droning constantly as it does so. It's a shame, as Ford actually improved the way this model shuffles power between its small electric motor and the engine, so that the transfer is smoother than it was on the pre-facelift car, and it's quiet on short trips.
The six-speed manual in the 150PS diesel is precise, with a long throw but consistent weighting. It's easy to row through the gears, although its tall ratios (designed with economy in mind) mean you'll be changing a lot.
The eight-speed auto is less successful, with hesitant and often jerky changes interrupting forward progress.
Safety equipment
Changes to its equipment list made after its facelift mean the big Ford is now one of the safest family cars. Both current and older models received the maximum five-star rating from safety body Euro NCAP.
In fact, its impressively high scores for adult and child occupant protection should allay any fears you might have about getting into a shunt, with only the Peugeot 508 coming close to matching it in either category.
To help you avoid any damage in the first place, every Mondeo comes with automatic emergency braking, which uses a forward-facing camera to detect cars, cyclists and pedestrians when you're driving in town. If the car senses a possible collision, it'll flash an audio and visual warning, and slam on the brakes if needed.
On older versions, you had to step up to Titanium trim to get useful active systems such as lane departure warning and traffic sign recognition, which flashes up the current speed limit on the digital driver's display.
Both these features are now standard across the range, along with the usual mandatory kit like tyre pressure monitors, cruise control with a speed limiter, a full complement of airbags, and electronic stability control.
Parking sensors (front and rear) are also fitted to every model now, a welcome addition, since the Mondeo is a long, wide car that can feel quite cumbersome to try and parallel park or weave around a tight multi-storey.
Ford provides a comprehensive option pack for buyers who want an electronic hand on the shoulder to keep them out of trouble. The Driver Assistance Pack includes an automatic parking aid that will do all the steering for you (whether you're trying to fit into a bay or parallel space), blind spot monitors, and a rear-view camera.
MPG and fuel costs
"The Mondeo has fallen behind its key rivals when it comes to the latest advances in fuel-saving technology. Where the Skoda Superb and Volkswagen Passat use plug-in hybrid systems to emit less than 50g/km of CO2, the petrol-electric Ford is actually less efficient than its diesel counterparts, returning a WLTP official 50.4mpg."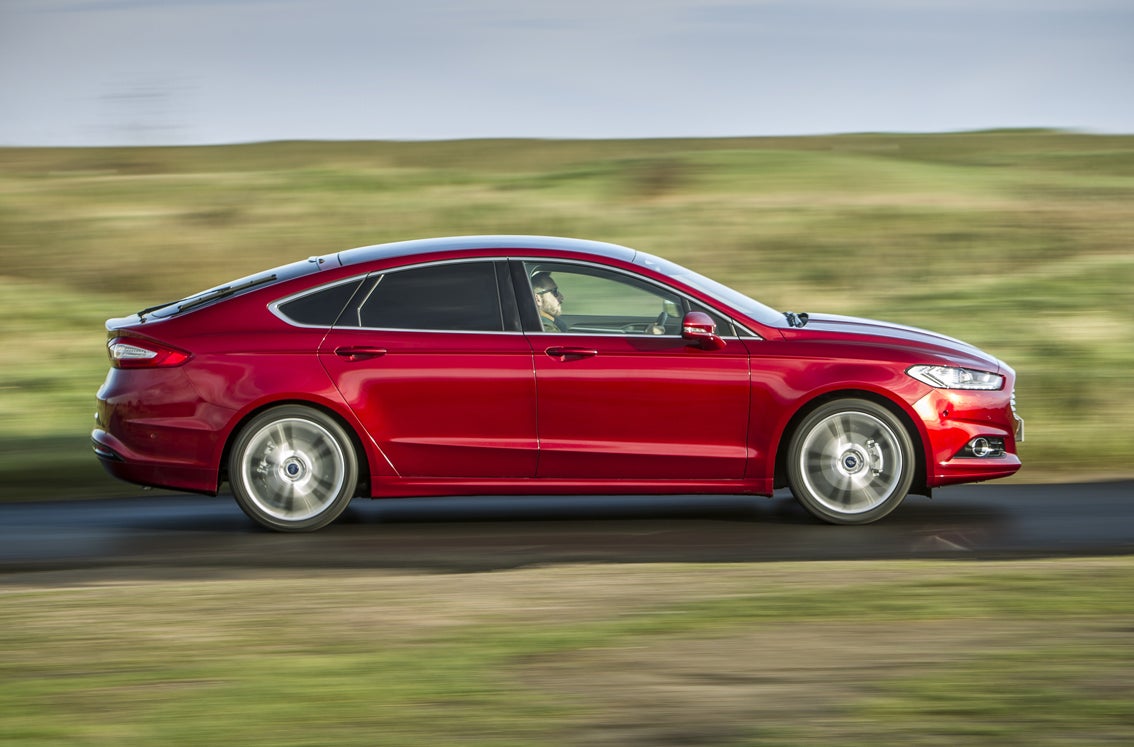 True, you won't have to stick the Mondeo into a wall socket after every journey, but the Toyota Camry uses the same conventional hybrid hardware (with a bit more power) and manages over 53mpg and just 120g/km.
As for the diesels, they'll be decent long distance tourers. Expect to achieve well over 50mpg on a cruise, with the auto gearbox and (on some 190PS models) four-wheel drive system knocking a few mpg from that total.
This means even the thirstiest versions should take you over 600 miles between fuel station stopovers.
Insurance groups and costs
Since Ford has dispensed with its less powerful petrol engines, the cheapest model to insure in the current engine line-up is actually the hybrid, although being in the Group 21 bracket is nothing to write home about.
If you've collected a few too many speeding tickets or are looking to insure a young driver on a family policy, an earlier Zetec model, with the 1.5-litre TDCi diesel or 1.0-litre petrol is your best bet. Both are in Group 15.
That's still not as affordable as mainstream rivals from Skoda and Vauxhall, but certainly is less than you'll fork out for a premium executive. Even the four-wheel drive ST-Line with 190PS is only in Group 27 overall.
VED car tax
The tax you'll pay on your Mondeo will vary depending on its age. Cars registered after 1 April 2017 will all pay the same £150 flat rate, although the hybrid model qualifies for a £10 alternative fuels discount on that.
Used models registered before that will be a lot cheaper, since their road tax (VED) is calculated from CO2 emissions based on the older NEDC testing cycle. That means cleaner models like the ECOnectic diesel are either tax free, or will cost just £30 a year, while even the most polluting 2.0-litre petrol is only around £240.
For company drivers the hybrid attracts the lowest Benefit-in-Kind (BIK) rate of 28% compared with 33% for the cleanest diesel, but neither comes even close to the 10% rate you'll pay in a plug-in hybrid Passat GTE.
How much should you be paying for a used Ford Mondeo?
"Despite a sharp decline in its popularity recently, Ford still shifts an awful lot of Mondeos every year. Delve into the used market and you'll be amazed by the cornucopia of different trims, engines and prices you'll find."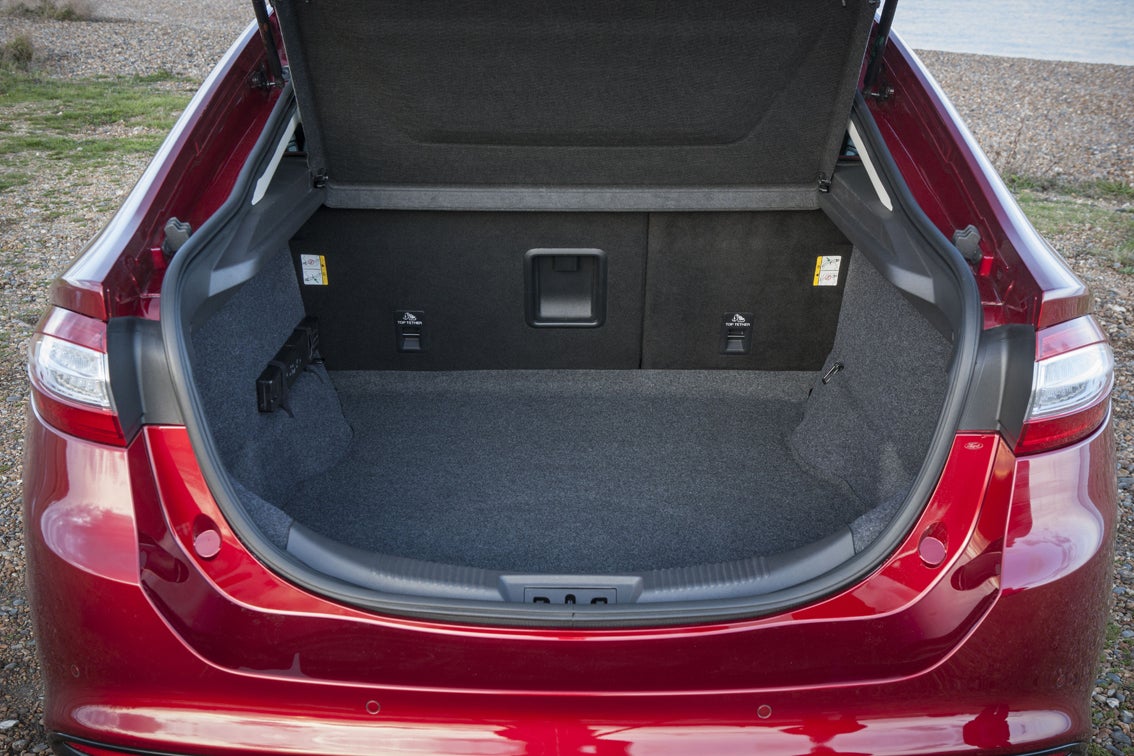 Prices kick-off from under £5,000 for 2015 cars. However these examples (mostly manual diesels) will have lived hard lives moonlighting as minicabs, and most have covered well over 120,000 miles in that short time.
You'll need to scrimp together £8,000 or so for cars having covered half that distance, with a full main dealer service history. Again, the majority will be diesel, but you'll have a choice between the efficient 1.6 ECOnetic and punchier 2.0-litre model. Save an extra £2,000 and you can secure an automatic in fancier Titanium trim.
Ford is well known for offering discounts, and it's shrewd business sense to look at ex-demonstrator cars if you are shopping for a newer model. You can pick up a virtually new ST-Line from 2019 for less than £20k.
Trim levels and standard equipment
The humble Mondeo represents a pretty good deal in a world full of premium brands that try charging you for everything from internet subscription services to sportier looking seat belts, it has loads of standard kit.
There are four trims: Zetec Edition, Titanium Edition, ST-Line Edition, and Vignale. None will leave you feeling hard done by; in fact you'd struggle to find some of this luxury equipment on offer in the class above.
All the essentials are covered in Zetec models, with climate and cruise control, all-round parking sensors, plus an 8.0-inch touchscreen infotainment system featuring sat-nav, DAB, and Bluetooth connectivity.
Taking the small step up to Titanium brings leather upholstery, 18-inch wheels, and a 10-inch digital screen within the dials, plus electrically adjustable and heated front seats, LED cabin lighting and keyless entry. We think most buyers will be perfectly satisfied with Zetec, but this upgrade does have a lot of creature comforts.
Mondeos in ST-Line spec get appropriately racy cabins, with part leather sport seats with red stitching, metal finished pedals and a dark headliner to make you feel more cocooned on the inside. On the outside they get a body kit, red painted brakes (proven to make your car feel faster) rear privacy glass and 19-inch wheels.
Ford would like you to think of the Vignale (named after an Italian car designer) as a separate model, but it's really just the normal car in a posh frock. It's the only Mondeo with bright LED headlights, and gadgets such as a rear-view parking camera, massage seats, and smart-looking quilted leather upholstery. It's too pricey to justify buying new, but sharp depreciation means if you can find a nice used example you're in for a bargain.
The options list is a short read, but we're glad Ford allows you to add the fancy kit from the pricier models to lower-spec cars. So you can add rear seat and steering wheel heating (£500), LED headlights (£1,200), or a panoramic glass roof with rear sun blinds (£650) to your Zetec if you really wanted to tart it up, which we like.
Ask the heycar experts:
common questions
Do they still make the Ford Mondeo?
Yes. The American version of the Mondeo, called the Fusion, was discontinued in 2018, but a replacement has been confirmed. It'll be a raised crossover, and is likely to arrive in 2021.

Where is the Ford Mondeo made?
The previous generation of the Mondeo was built in Genk, Belgium. The latest model is now produced in Valencia, Spain, and has been since 2014, and there is a Russian plant as well.

How efficient is the Mondeo hybrid?
The Mondeo Hybrid Electric Vehicle (HEV) is not the most modern or efficient of hybrid cars. Still, on its smallest 17-inch wheels the four-door emits 98g/km and can return over 50mpg. That CO2 figure rises as high as 113g/km on the HEV estate with larger 19-inch alloys fitted.

Answered by
heycar editorial team
How reliable is the Ford Mondeo?
Mondeos do not enjoy a lofty position at the top of reliability surveys, but are far from the worst performers. Two recalls have been issued, one for faulty headlights that can cut out suddenly, and the other for a leaky battery that can catch fire. Check that it's been fixed.

Ford Mondeo cars for sale on heycar
10,688
Number of cars available
£8.8K - £31K
Price bracket of these cars
Colours available on heycar
Keep me updated by email with the latest advice, news and offers from heycar
By submitting, you agree to our
privacy policy
.