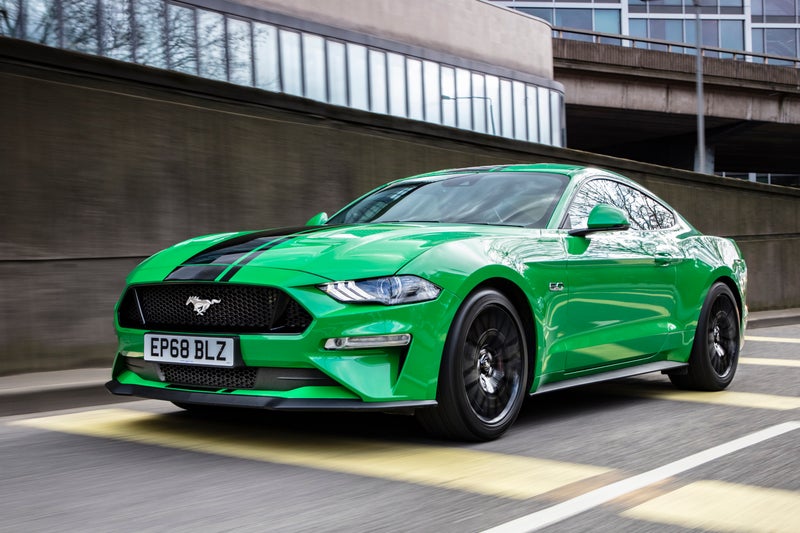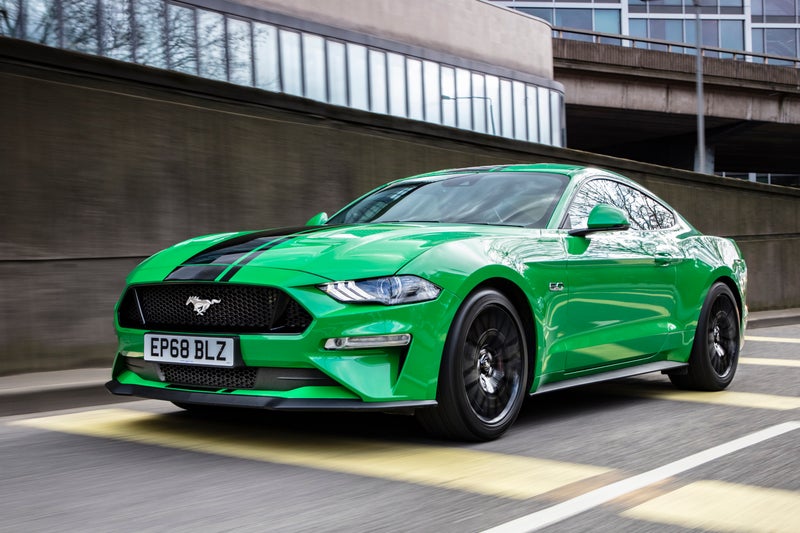 1/10
heycar rating
"Brash, loud American muscle car"
Launched: 2015

Performance

Petrol
Quick overview
Pros
Properly exciting to drive
Head-turning exterior
Muscle car speed and performance
Cons
Cramped and chintzy interior
Incredibly thirsty V8 engine
Three-star safety rating
Overall verdict
On the inside
Driving
Cost to run
Prices and Specs
Common questions
Overall verdict
"The Ford Mustang is an old-school American muscle car redesigned for the modern age. It has been around since 1964, but until 2015 it was never sold here in Europe. The current incarnation uses the same formula that's the bedrock of its U.S. sales success, with a beefy design, powerful engines and entertaining handling."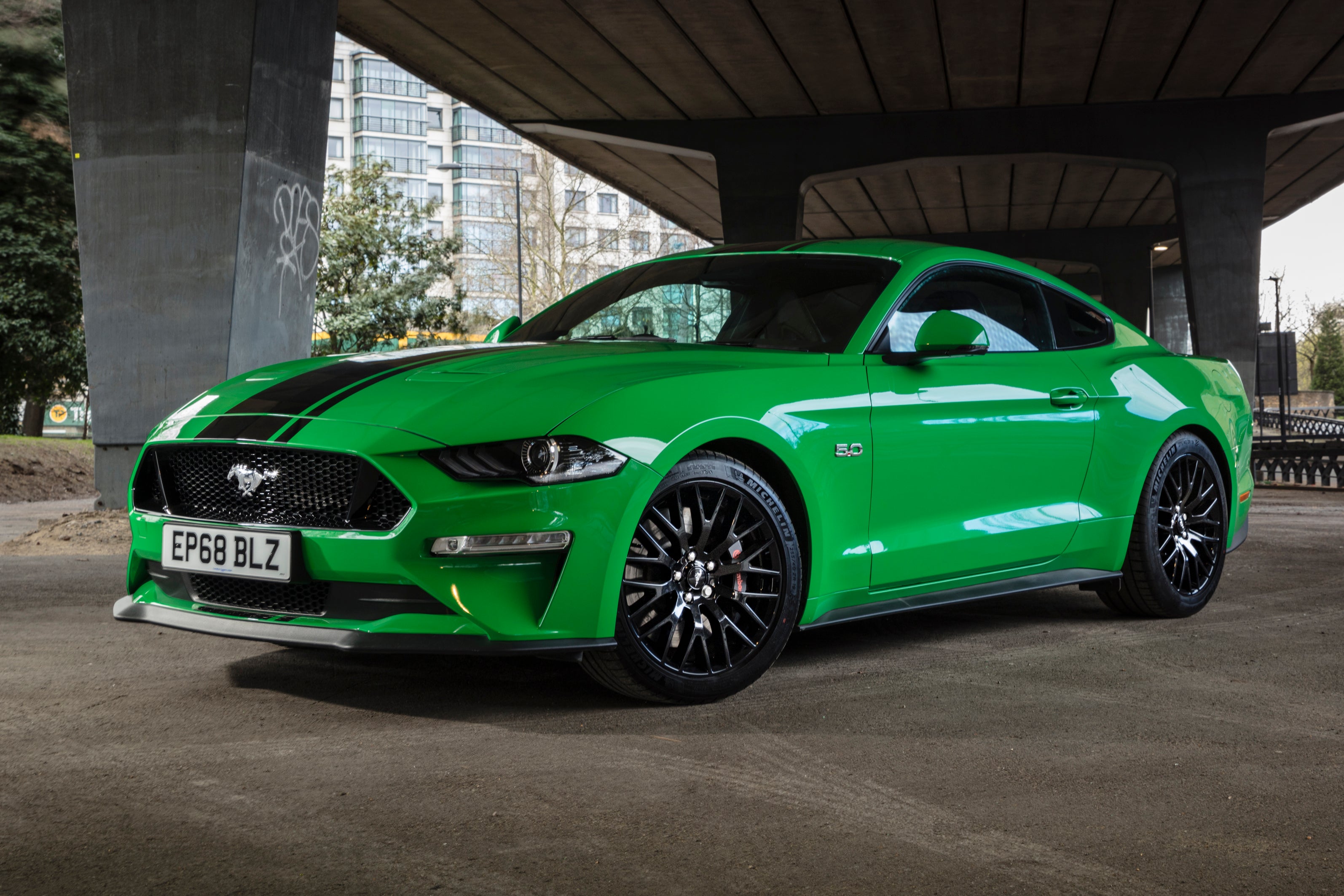 Updated in 2018 with tweaked styling, an updated interior and the option of a new 10-speed automatic gearbox, the Mustang is available in two body styles; a 'fastback' coupe or a pricier soft-top convertible. For keen drivers, the former is your best bet, the additional weight of the fabric roof does its handling no favours.
Ford offers buyers the choice of a sensible(ish) 2.3-litre four-cylinder 'EcoBoost' engine with a turbo that helps it produce 291PS, or a 5.0-litre V8 with 449PS for the proper muscle car experience. The Mustang is one of the most affordable cars to offer this level of performance, but the running costs are still considerable.
If you are picking the Mustang over more conventional coupes, we recommend the V8 version. Not only is it thousands of pounds cheaper than any rivals with similar performance, it defines this car's visceral appeal. With the exhaust full open it sounds fantastic, propelling you up the road with alarming ferocity and speed.
This is a unique sports car that will suit buyers who want an antidote to refined, dainty European coupes with small engines and low carbon emissions. It's not a car for wallflowers or those who like to keep a low profile.
Yes, the Mustang makes a bold style statement no matter which version you buy. A wide selection of vibrant paint schemes, stripes and decals is available for extrovert buyers who want to guarantee some attention.
At almost five metres long and over two wide, it feels vast on narrow UK roads, and will certainly turn heads, especially when you attempt to park it in a narrow town centre car park or village high street. Luckily, it does go round corners better than its predecessors, especially if you plump for the optional adaptive suspension.
The big alloy wheels do pick up on lumps and imperfections, sending a thud into the cabin, but it can play the comfortable long-distance cruiser, and in its sportier settings it has surprising poise and grip for its huge size. It does need to be grabbed by the scruff of the neck though, with heavy steering and a weighty clutch pedal. Some drivers will love this level of interaction, others will find it tiresome after the novelty begins to wear off.
While the cabin has some fun retro touches to remind you of the car's American heritage (including not one or two anniversary specials: the Bullitt and the 55 Edition) the quality of the material is fairly second-rate. It comes lavishly equipped, and only sat-nav is missing from the lengthy standard specification sheet. Still, all of its European and Japanese rivals look and feels more expensive inside, and are likely to be more robust.
Despite its two-door layout, the Mustang is reasonably practical. There are four seats (but the ones in the back are only suitable for small kids) and the boot is decent, but access is limited by the awkward tailgate. Good luck trying to justify it as sensible family transport though, especially with its poor crash safety rating.
The Ford is charming, bursting with character and some pretty serious performance. It's a marmite coupe, and if you're attracted by the outlandish looks and V8 engine, you'll be thoroughly satisfied with your buy. For buyers less interested in exhaust noise and cornering ability, several rivals make more financial sense.
There is nothing like the Mustang. If you are after the authentic all-American muscle car experience, then nothing else will do. The thunderous V8, loud colours and cartoonish design gives it a sense of fun its rivals lack. Still, be aware that patchy quality, limited practicality and the potential for punitive running costs await.
Is the Ford Mustang right for you?
If you grew up watching movies like Bullitt, Gone in 60 Seconds, or even the Fast & Furious Franchise and got bitten by the muscle car bug, then nothing is going to able to scratch that itch like the current Mustang.
The brash looks, huge V8 engine and tyre smoking rear-wheel drive chassis give it a unique appeal, and it's a fun coupe to drive at any speed. It'll suit drivers crying out for the mechanical involvement and character of a sports car that doesn't take itself too seriously, but mentally prepare yourself for the painful running costs.
Although this sixth-generation was the first to be offered in right-hand drive, there some US-specific quirks to contend with, like the awkward handbrake placement, iffy cabin quality and sheer size of the thing; it's vast.
Older cars were a performance bargain, but now the prices have risen, there are a number of talented two-seat coupes that will give you sharper handling, lower costs, and an easier overall ownership experience. Still, none of those cars come as well equipped as the Mustang, and fewer still have the same sense of fun.
What's the best Ford Mustang model/engine to choose?
The most affordable Mustang is the 2.3-litre EcoBoost, but having a four-cylinder engine in a muscle car is like dressing a sheep in wolf's clothing. It'll cost a bit less to run, but really, you'll be missing the whole point.
To really deliver on the muscle car dream, we'd go for the 5.0 V8 GT with a six-speed manual gearbox and the attractive Fastback coupe body style. In this spec it's brilliant fun to drive, usefully cheaper than both the Bullitt special edition and softer convertible, and relatively practical too (at least for a two-door sports car).
Choosing this trim also saves you enough money for the excellent adaptive dampers, and if you want them, a nice set of Recaro seats. We'd argue that if you're worried about its running costs, this isn't the car for you.
The Cabriolet is softer sprung and heavier, blunting the steering response and body control. This makes it a lot less engaging on a twisty road, and the same is true of the automatic gearbox, it's quicker but not as fun.
What other cars are similar to the Ford Mustang?
The Mustangs stacks up against petite European coupes like chalk and cheeseburgers. Cars like Audi's TTS and Alpine A110 have dainty bodies, automatic gearboxes, and can both achieve over 40mpg when needed.
If you want a V8-powered coupe then the Lexus RC F is a Japanese take on the muscle car, with a 5.0-litre engine and an interior that makes the Mustang look like a cheap child's toy, but it also costs £20,000 more.
For a similarly old-school driving experience, a manual gearbox and four seats, the BMW M2 Competition is sharper to drive, only a bit more expensive than the top-spec Ford, with a small footprint and posher badge.
The cabriolet competes with larger open-tops such as the Audi A5, BMW 4 Series and Mercedes C-Class. It is outclassed in most areas by those rivals, especially when it comes to cabin quality and refinement, but is aimed squarely at driving enthusiasts who aren't so fussed by its quirks, and not thrusting middle managers.
Comfort and design
"There's no shortage of visual drama inside the Mustang, and it has plenty of retro charm. The double cowled dashboard, metal toggle switches, and trio of vents above the touchscreen are inspired by the 1964 original."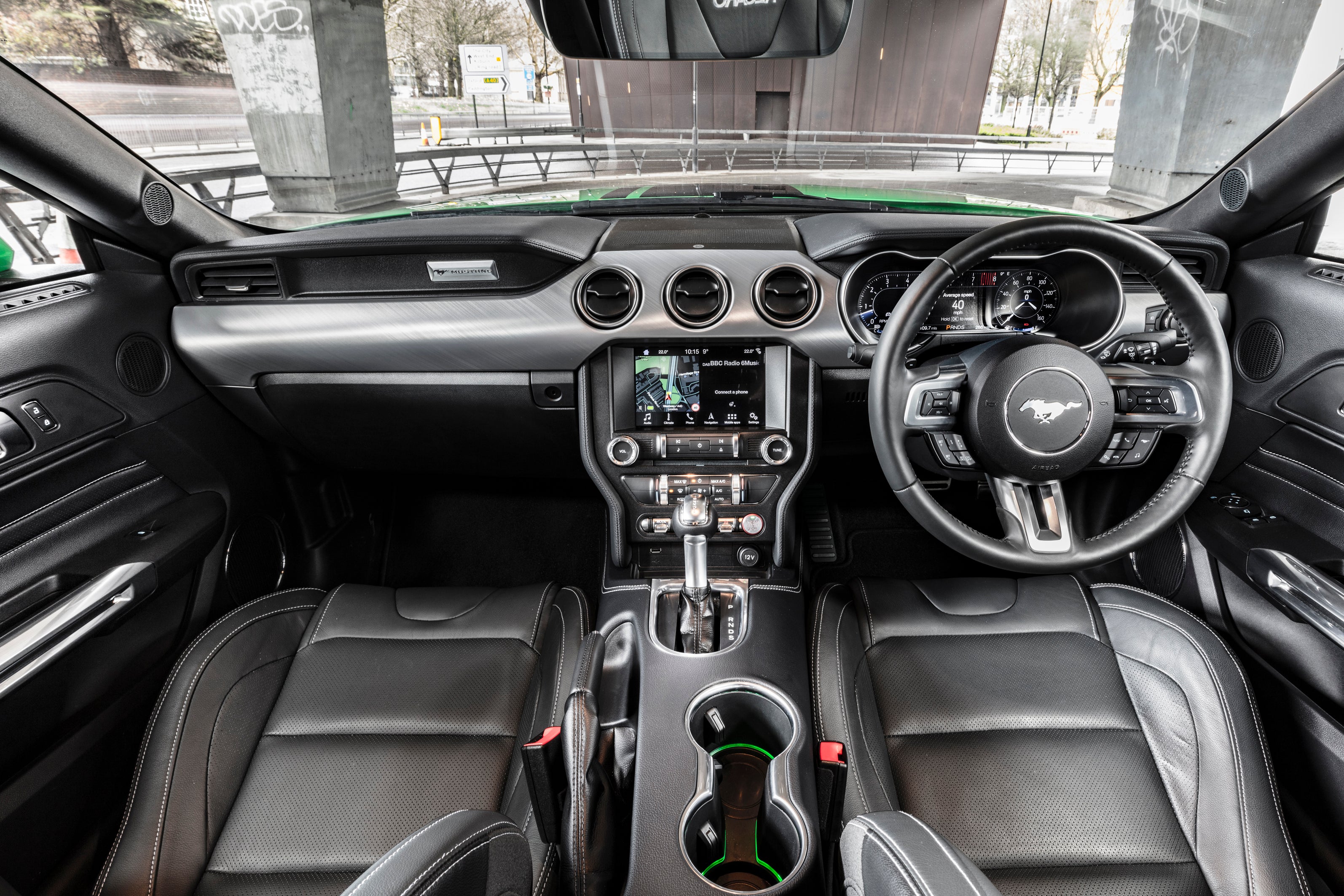 All of the controls are chunky and tactile, with the climate and media buttons are clearly marked, and simple to reach, although those cool looking toggle switches are obstructed by the gear selector and a pain to use. The 8.0-inch media display is also recessed into the centre console, so it's hard to reach the furthest corners.
Drivers will find it easy to get comfortable, with the seats providing good side support, and six-way electric adjustment with heating is standard. You can add 'climate-controlled' chairs as an option, which prevents you sticking to the leather in muggier weather, and the Bullitt has sporty Recaros, but you can't combine the two.
Outward visibility is pretty poor. You'll struggle to see down the long bonnet and judge where its shark nose stops when parking, and a big blindspot over the shoulder means being careful when pulling out of junctions. Relying on the rear sensors to guide you in is a must when reversing, and finding parallel spots will be tricky.
The Mustang has been converted to right-hand drive, but Ford hasn't bothered to rearrange the whole cabin. So the stubby handbrake is still on the wrong side, and a bit of a reach, and if you put drinks bottles into the cupholders they'll stand directly in the way of your arm whenever you try to change gear. Not exactly ideal.
Quality and finish
When it was introduced, the Mustang was so cheap compared to its rivals that you could easily excuse the cheap materials used in its cabin. Sure, everything felt flimsy, but it looked cool, and did I mention the V8?
Now that it competes between the £40,000 and £50,000 mark there are some seriously refined, expensive coupes that badly expose the Ford's cheaply constructed interior. When you've sat behind the wheel of a TT or Porsche Cayman you'll be slower to forgive the scratchy hard plastics, sticky switches and loose panels.
As long as you keep your hands on the steering wheel, gear stick and centre stack, you could trick yourself into thinking you were in a premium car. As soon as your hands stray from these areas though, you'll quickly be met with materials that would feel budget in a mainstream hatchback, let alone an expensive two-door.
It's not all bad. Those digital dials really do look great, and the metallic finish on the media and ventilation switches are textured to make them easier to grip, and the leather seats are wide, soft and supportive. Still, you'll need to overlook the inevitable shortfall between the Mustang and its German rivals if you want one.
Infotainment
The latest Mustang feels considerably more modern inside than the pre-2018 model. It features a sharp set of 12-inch digital instruments, with a customisable layout, clear graphics and intuitively laid out menus. It's not quite as impressive or well-integrated as the driver's display in the Audi TT, but there's no shame in that.
By contrast, the 8.0-inch central touchscreen looks rather dingy and dated, with a basic design. Rival coupes have cleaner looking icons and text, although the touch response and layout are far better than on earlier cars.
It comes packed with features too, with Apple CarPlay and Android Auto connectivity, meaning you can plug your phone in to use Google Maps or Waze. This makes up for the lack of a proprietary navigation system.
The standard setup has all the essentials, with DAB, Bluetooth, voice control and nine speakers that give out a punchy, bass-heavy sound. The top-spec Bullitt and 55 Edition get an upgraded system that has the same display but includes sat-nav and a 12-speaker booming B&O stereo that's just as loud as the rest of this car.
Space and practicality
You might think the Mustang's cartoonish proportions would give it a serious advantage over its teeny rivals when it comes to the mundane task of carrying passengers and their luggage, but things aren't that simple.
It comes with the same drawbacks that all two-door coupes suffer from, with very limited access to the rear seats. You have to athletically fold yourself in half and squeeze through a narrow gap behind the front seats.
The 2+2 seating layout naturally gives it greater usability than its two-seat rivals, but try and put adults in the back for any length of time and you'll be dropping them off at the chiropractor's office shortly afterwards. Kids will be fine for space, even if it's quite dark back there, but it has ISOFIX anchors for fitting most child seats.
Those mounting points are tricky to locate, as you need to reach through slits in the seat upholstery and feel for them. Leaning into the back to fit them is tolerable in the cabriolet (with the roof down) but a nightmare in the coupe, once you've wrestled them in you certainly won't want to be taking them out again anytime soon.
There's no storage of any kind in the back, but things do improve up front, where you'll find two decently wide cupholders, a deep cubby under the armrest (with a USB port) and two fairly shallow pockets in each door. If you want to park up with the roof off in the cabriolet, you can lock the glove box to stash any loose valuables.
Boot space is excellent by class standards, with 408 litres of luggage room in the coupe, which drops to 332 litres in the soft-top, although that space stays the same regardless of whether you have the roof up or down. However, while the capacity is impressive, getting access to that space is not. The boot aperture is a really awkward shape because the design of the rear lights, so you have to carefully post bigger items through it.
It can carry more than most coupes, with space for loads of shopping bags, four medium suitcases, even a baby stroller. Still, the smaller, but more useable boot in an Audi TT is - for us at least - easier to live with. You can fold the rear seats down if you need to carry even bulkier stuff, but we'll stress again that the limit of what you can carry will be more what you can fit through the tailgate than what the car can actually fit inside.
Handling and ride quality
"Muscle cars have a reputation for being great on a straight road but a wayward handful through corners. It's not a stereotype that holds true in the Mustang though, and - with the right equipment - it handles very well."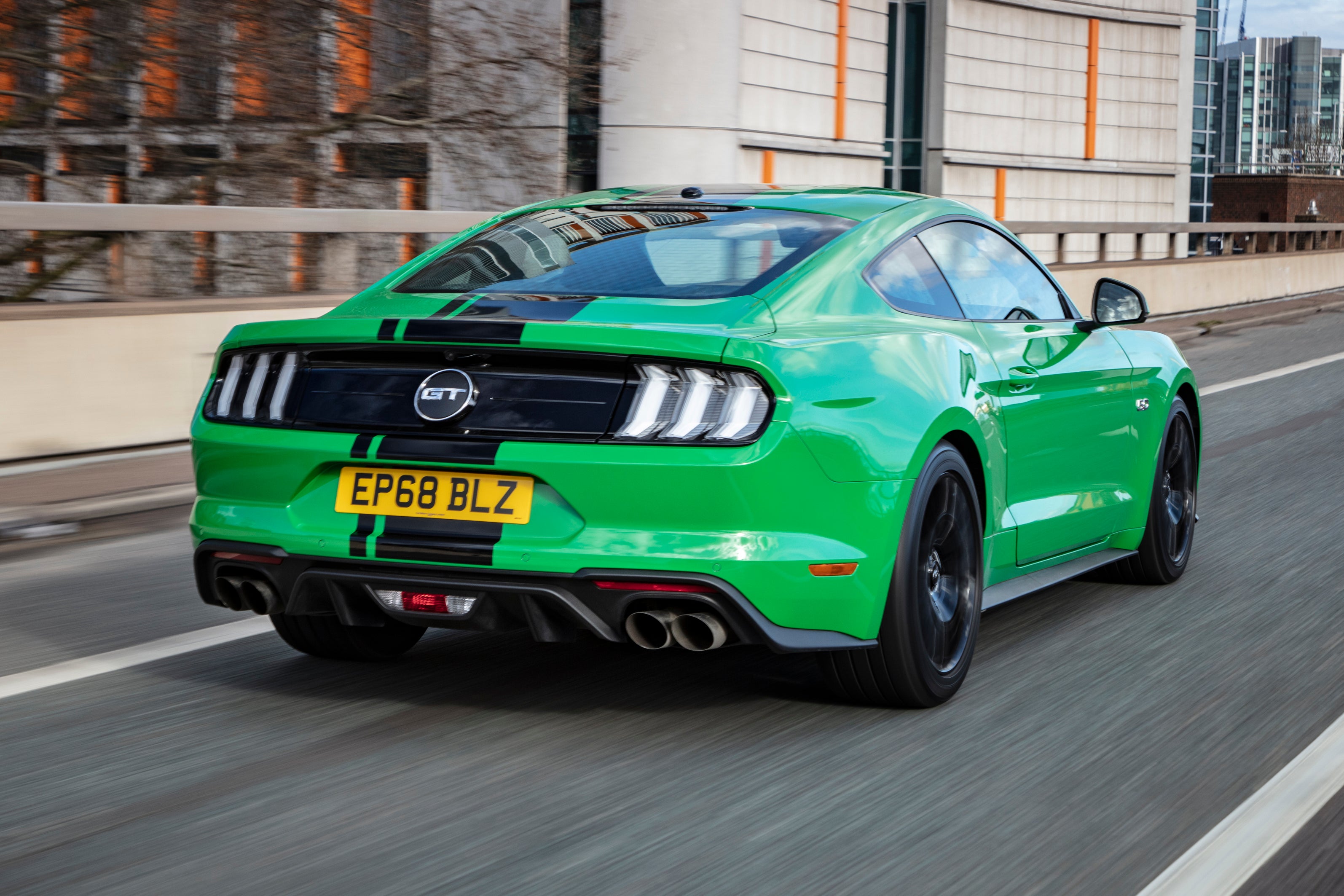 True, the size and weight mean it won't change direction with the same alertness or sense of agility you'd find in a two-seater coupe, but once you adjust to its girth and heavy steering, it feels less and less daunting.
In dry conditions, it finds plenty of grip, but the rear of the car can twitch if you're not smooth with the throttle, especially in the more powerful versions. Still, the traction control saves your blushes if you do get it wrong.
Every model has programmable driving modes: Snow/Wet, Normal, Sport+, Track and the brilliantly named Drag Strip. Each changes the steering weight, throttle sensitivity and stability systems to suit the conditions. The Mustang lets you pick individual settings too, so you can have a loud exhaust but lighter steering weight.
The EcoBoost and GT have conventional suspension that gives you less adjustability. The V8 has better dampers than the cheaper model, with less dramatic body movements on bumpy roads. It feels more planted as a result, and the Mustang coupe generally treads the fine line between ride comfort and poise very nicely.
It can get a bit unsettled when those large alloys pick up sharp-edged ruts and potholes though, and if your area is plagued by poorly surfaced roads, it might be worth paying for Ford's optional adaptive suspension.
This transforms the low-speed ride, helping smooth over patchy roads in its softest setting, but also makes it feel more tied down when you brake and accelerate, giving the Mustang a greater range of dynamic ability. It's quite a pricey option, but improves the handling and ride significantly, especially on the softer Convertible.
Engines and gearboxes
From launch the Mustang has been sold with two engines in the UK, both petrols with serious performance. The entry-level model has a 2.3-litre turbo with four-cylinders, that originally produced over 300PS, while the GT model features an enormous 5.0-litre unit, double the cylinders, and sends over 400PS to the rear tyres.
Safe to say that both deliver potent straight-line speed, but in very different ways. The four-cylinder feels flat at low revs, and then provides a massive surge of grunt in the mid-range, where the V8 is smoother. It feels lazily smooth when you're pootling around, becoming raucous and visceral as the revs start to climb higher.
No other car at this price has the same brawny character, with most rivals using much smaller turbo engines, and the Mustang pulled further ahead after its 2018 facelift, since the V8 now produces 449PS and 533Nm. Bad news for drivers picking the smaller engine, as it had its power reduced to a (still pretty healthy) 291PS.
However this is quite a heavy car, so it still performs the benchmark spring in the same time as less powerful rivals such as the BMW Z4 and Audi TTS, while Toyota's Supra is a little smoother and quicker off the mark.
As standard both engines come with a six-speed manual gearbox, but the V8 model comes with the option of a 10-speed traditional automatic. The three-pedal car is fun, but the heavy clutch and mechanical shift action won't be for everyone. The automatic is fine driven gently (and improves fuel economy) but gets flustered if you up the pace. With so many ratios, it'll sometimes jump two at a time, which can be frustrating. Of course, you can take control with the steering wheel-mounted paddles, but most drivers will prefer the meaty manual.
Refinement and noise levels
A rumbling V8 soundtrack is part-and-parcel of the muscle car experience; the Mustang delivers in spades. It growls menacingly at low speeds, turning into a full-throated roar when you start really giving it the beans.
Still, you can rein in its hooligan tendencies when required. There's a quiet mode for the exhaust, and long gearing means it'll be spinning at well below 2000rpm on the motorway, so it never feels too intrusive. As for the four-cylinder, it makes an industrial noise that's neither unpleasant or particularly tuneful, it's just a noise.
As for the Mustang's road manners, while its engines can be civilised, the car doesn't feel well insulated. It generates more tyre rumble, wind rustle and suspension noise (loud knocking over bumps) than its rivals do.
This can make it slightly wearing on longer trips covering big distances. The six-speed manual has a meaty, mechanical shift, but requires muscle and concentration to use properly, and the clutch pedal is quite heavy.
If you do a lot of driving in nose-to-tail traffic or congested urban roads, you might want to consider the auto. It's only available with the V8 engine, but the later 10-speed transmission is better than the jerkier six-speed.
Both are traditional torque converters, so don't change gear with the same speed as twin-clutch gearboxes, even when you use the steering wheel-mounted paddles, but do make the Mustang gentler to drive in town.
Safety equipment
The Mustang's crash safety tests make for grim reading. When most modern cars achieve four or five stars, a two-star score raises eyebrows (for all the wrong reasons) and will be a major turn off for several buyers.
Ford was stunned into action by the shocking rating from Euro NCAP, and added in extra safety equipment, including automatic emergency braking, pedestrian detection and lane-keeping assist, gaining an extra star.
That was for the pre-facelift model, and the current car has yet to be re-tested, but the below-average score for adult protection and worryingly low 32% rating for child protection still leave us with cause for concern. It goes without saying that its European rivals perform better; Audi's TT gets double that in the same category.
We'll have to wait and see if the newest Mustang performs any better, but the standard spec sheet gives us cautious optimism Along with the equipment we've mentioned above, all cars get a three-stage electronic stability control system, lane departure warning, reversing camera and rear parking sensors as standard.
Adaptive cruise control is also standard, another system most rivals will charge you extra for, that will follow the car in front at a set distance and your chosen speed, using radar to maintain the gap. However, there are no semi-autonomous driving aids, and no optional safety equipment, including any of the usual parking aids.
Ford's clever MyKey technology means you can give family members their own fob, which the car will then recognise and deliver tailored settings, to keep younger drivers safe. These include disabling the switchable traction control, Track Apps, limiting the top speed and radio volume. In a V8 muscle car, every little helps.
MPG and fuel costs
"Resign yourself to the fact that Mustang ownership means never straying too far from a fuel station forecourt. Even in the four-cylinder, you're going struggle to return over 30mpg, according to our Real MPG test results."
Meanwhile in the thirsty V8 GT brace yourself for 23mpg at a cruise, and mid-teens when you're giving it the full blood and thunder treatment to enjoy the raucous sound of the engine. With a 61-litre petrol, it'll go about 350 miles between fill-ups, although as we've alluded to, driving style will have a lot to say about the matter.
In newer models, the 10-speed automatic lends a hand, raising the official average to 25.2mpg and lowering the CO2 output to 'only' 256g/km. For the cabriolet, knock1-2mpg off those figures - a negligible difference.
Insurance groups and costs
The Mustang is a top ten hit. Nearly every car in the range is in the ten most expensive insurance brackets. Perhaps that's no big surprise, given its performance potential and lairy image, but add it to the list of costs.
Tweaks to the engine line-up made in the 2018 facelift (the 2.3 got a power cut, the V8 a power hike) mean it's the newer four-cylinder coupe that's the most affordable, dipping just outside the top ten; it's in Group 39.
That's a couple of insurance bands lower than an Audi TTS, but a few higher than the six-cylinder Toyota Supra or open-top BMW Z4. Get the big engine and things kick off in Group 45, rising to 47 for the cabriolet.
Naturally, that means you'll be paying quite a high premium, but it's no worse than its competition, and even a bit cheaper than posher, pricier German high-performance V8 coupes such as the Mercedes-AMG C 63 S.
VED car tax
Mustang owners will be among the handful of UK motorists that saved money after the new road tax rules were introduced in April 2017, as we switched from a system based on tailpipe emissions to a flat tax rate.
Cars with the high-polluting V8 engine registered before these rules came into force had to stump up a hefty £580 a year to keep their cars on the road; while the 2.3-litre four-cylinder was less than half that; just £265.
Newer models are required to pay a set tax - currently £150 for petrol cars - but since the Ford's price has risen steeply in the revised version, most attract the 'premium' luxury rate. It applies to all cars that cost over £40,000 (including options) when new, requiring an additional £325 over the first five years of ownership.
Still, there is a sting in the tail for new buyers, as the lack of start-stop or any fuel-saving technology means the first-year VED on the GT model is an eye-watering £2175, added to the on-the-road purchase price.
How much should you be paying for a used Ford Mustang?
"Because of its affordable price when new, used Mustangs, especially the GT models, are highly sought after. That means resale values are really strong, and you'll need at least £20,000 to get one onto your driveway."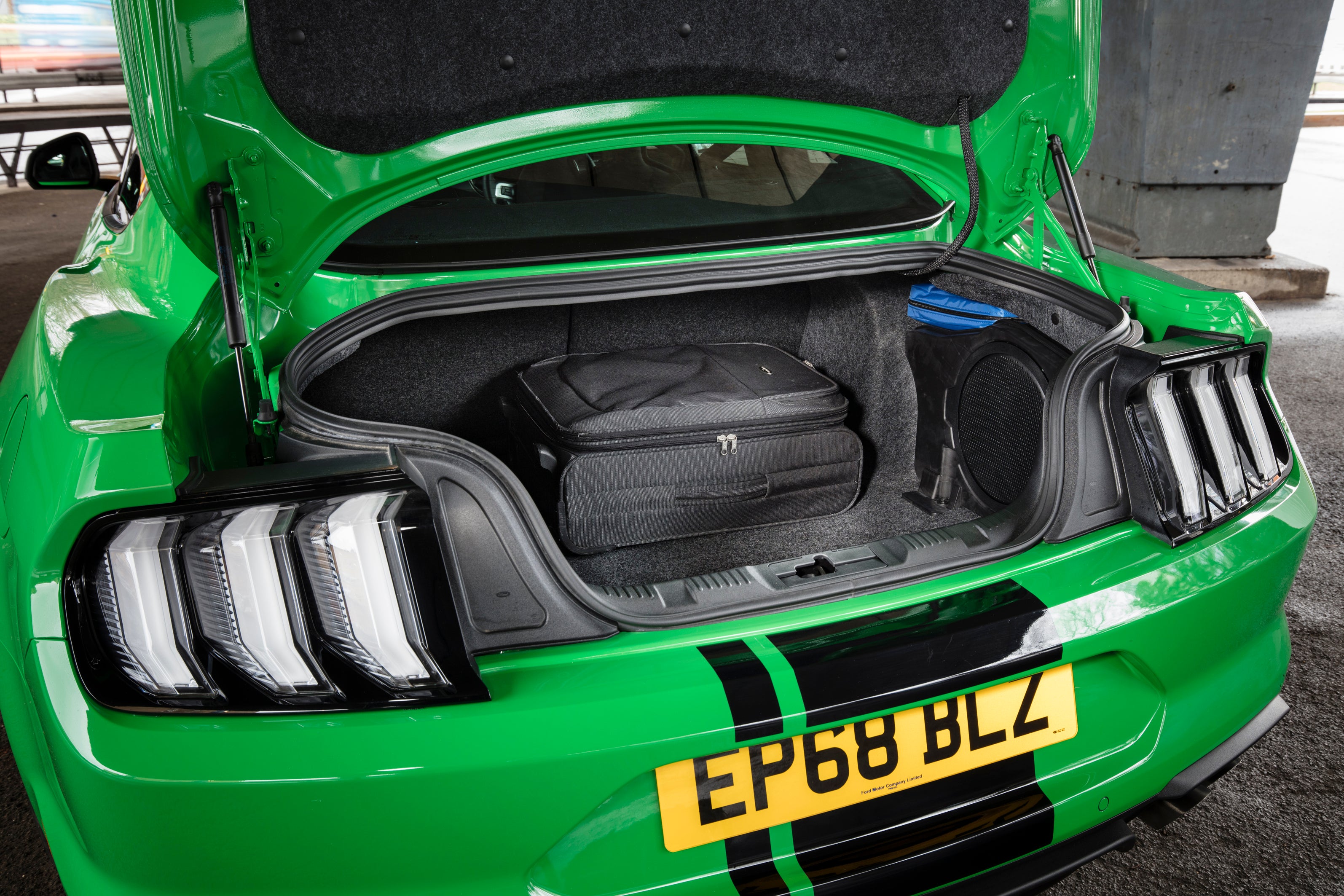 Unfortunately, for that money your search will be limited to coupes from 2015/16. Apart from a few leggy V8s with high mileages, the majority will be powered by the 2.3-litre four-cylinder engine and a manual gearbox.
Save another £4000-£5000 and you can get yourself the full-fat 5.0 V8 GT Mustang experience, along with the associated high running costs, but look closely for signs of a hard life, especially the tyre and brake wear. Convertibles are pretty rare, but command another £2,000 premium over and above the Fastback GT model.
After an auto? You'll be paying around £1500 more than you would for a manual in similar condition, but the facelifted model's 10-speed transmission is a lot smoother than the six-speed gearbox in older Mustangs.
To get into the newest shape (with either engine) you'll need to up the budget to over £32,000. You'll find a good selection of delivery miles and ex-demonstrators with plenty of optional extras all for under £36,000.
Trim levels and standard equipment
The Mustang comes highly equipped; a reversing camera, leather seats with electric adjustment, climate control and a 12-inch LCD digital instrument cluster with are all fitted as standard. Every model has Ford's SYNC infotainment system, which includes an 8.0-inch touchscreen with Apple CarPlay and Android Auto.
There are no trims as such, but the engine you choose decides some of the spec list. The 5.0 V8 looks even meaner than the standard car, with 19-inch wheels, an active exhaust, bigger brakes and launch control. Two special editions were added at the top of the range in recent years. The Mustang 55 Edition has a distinctive set of stripes on the outside, heated and cooled front seats, sat-nav and a premium B&O stereo with 1000w.
At the top of the range is the Bullitt Mustang, named after Steve McQueen's eponymous detective in the film. This model is finished in the iconic green of the 60s Mustang in the movie, with a cueball gear shifter, a boost in power, Recaro bucket seats, and a retuned chassis setup. It's the sportiest Mustang to be sold in the UK.
The Mustang doesn't come with many optional extras, but the most desirable kit can be grouped together into what Ford calls 'Custom Packs' if you want to max out the interior. You can also add stripes and decals, and in fine muscle car tradition, you can even order aftermarket performance upgrades from the dealership.
We like that you can add any of the desirable stuff from the top models to cars lower down the range, and the only key option of note is the magnetic adjustable dampers that stiffen up in the sportier driving modes.
Ask the heycar experts:
common questions
What are the different types of Mustangs?
Ford sells several extreme high-performance versions of the Mustang in the U.S., including a 750PS Shelby GT500. In the UK things are simpler, with two trim levels depending on the engine you choose. EcoBoost starts the range, V8 models are badged 'GT', and a 'Bullitt' special edition (named after the famous film starring Steve McQueen) is the most expensive.

Is the Ford Mustang a good second hand buy?
Because of its affordable price when new, used Mustangs, especially the GT models, are highly sought after on the used market. That means resale values are strong, but we would advise potential buyers to look closely for signs of a hard life, especially tyre and brake wear.

Can I buy a Mustang convertible?
Absolutely. The brand lets you freely mix-and-match the body style, engine and gearbox of your choice so you tailor the Mustang to fit your needs. As we've mentioned, it's not quite as focused as the coupé, but the soft-top Mustang is still one of the best convertible cars going.

Is the Ford Mustang a good car?
If you want an imposing muscle car then the Ford Mustang is an excellent choice. It's not the most sophisticated sports car around and there are a few question marks over the quality of the finish inside, but it's a good sports car, especially given the price tag when compared with rivals.

Ford Mustang cars for sale on heycar
10,370
Number of cars available
£28K - £66K
Price bracket of these cars
Colours available on heycar
Keep me updated by email with the latest advice, news and offers from heycar
By submitting, you agree to our
privacy policy
.