Mustang Mach-E Review 2022
Ford Mustang Mach-E Review 2022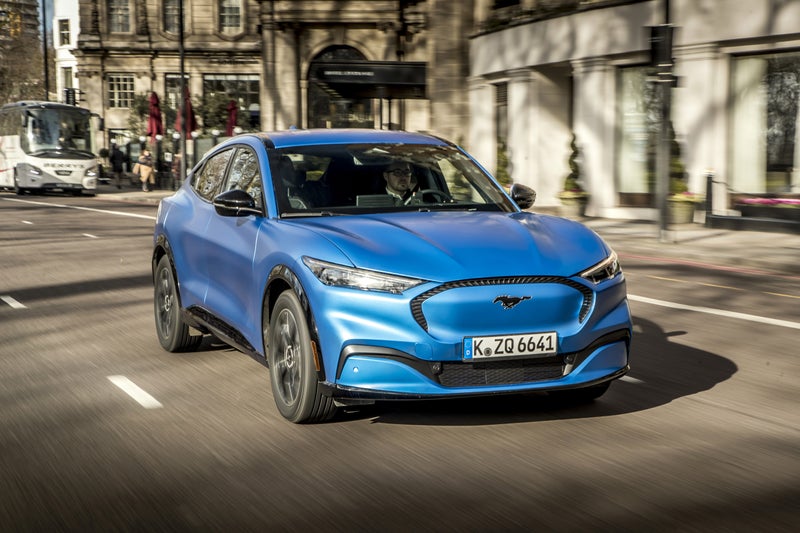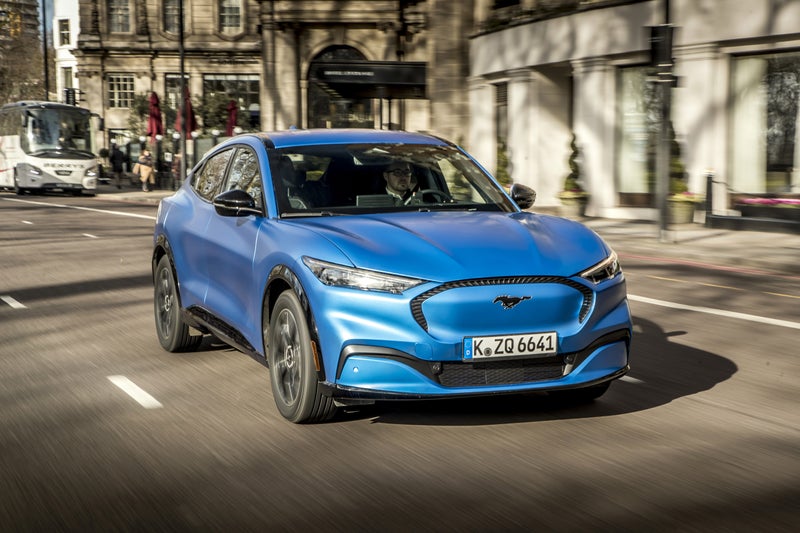 1/10
heycar rating
"Bold and brash electric SUV"
Quick overview
Pros
Long Range models can travel up to 379 miles between charges
Spacious interior with separate 'frunk' for charging cables
Looks more distinctive than bland alternatives
Cons
Slightly underwhelming to drive with harsh ride quality
Interior isn't as posh as premium alternatives
Mustang Mach-E GT is particularly expensive
Overall verdict
On the inside
Driving
Cost to run
Prices and Specs
Common questions
Overall verdict on the Ford Mustang Mach-E
"The Ford Mustang Mach-E is a sporty electric SUV with a long range and enough space for all the family. With stand-out looks and pacey performance, it offers something different in the world of electric vehicles – read our full Ford Mustang Mach-e review to find out if it's the EV for you."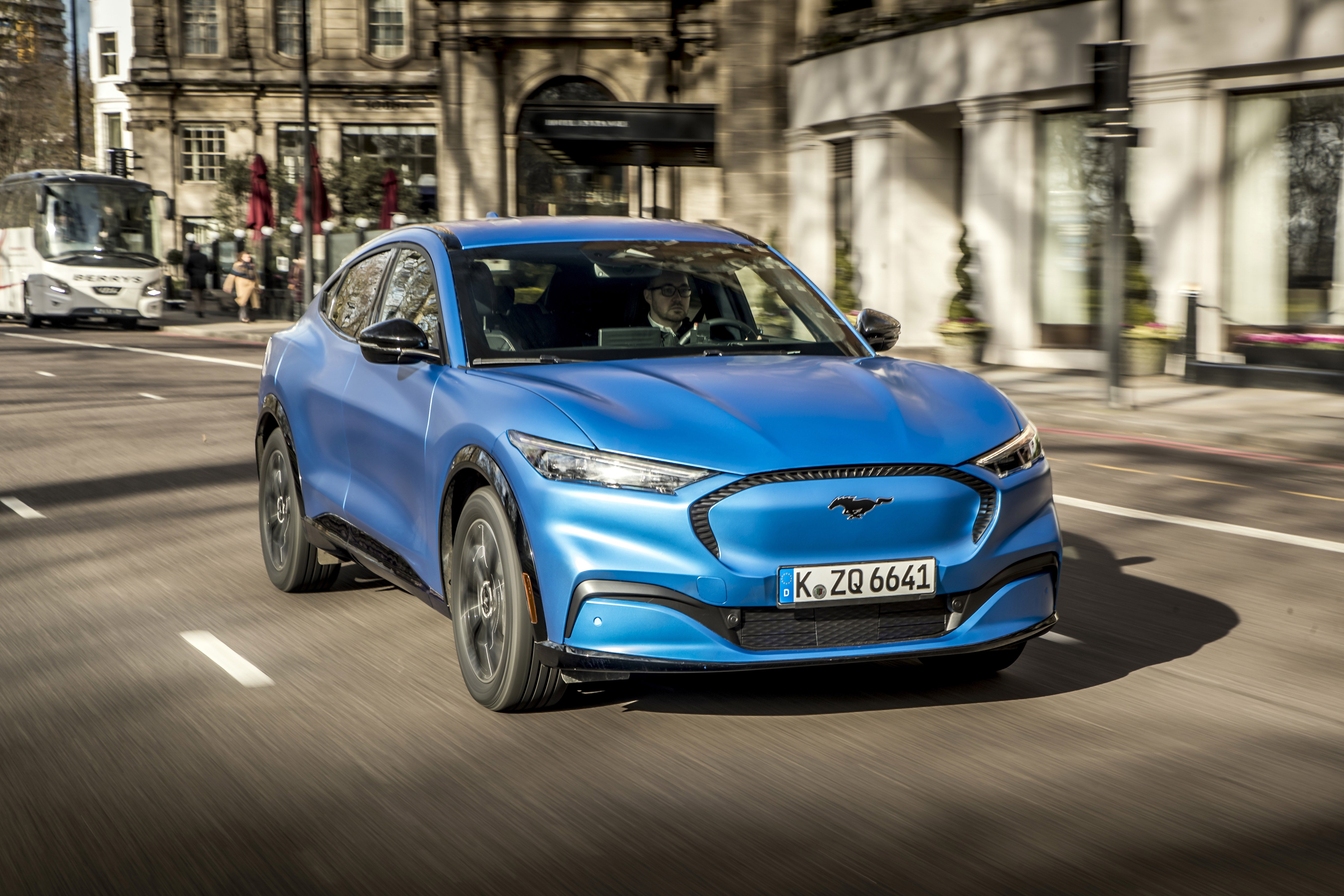 The Ford Mustang Mach-E zapped onto the scene late in 2019, sending shockwaves across the internet and not necessarily for all the right reasons. Enthusiasts were horrified... how dare Ford use the Mustang name on a high-riding electric car – the very antithesis of the original V8-powered pony car?
It was a punchy move but there's logic to it. By using the Mustang branding, the Mach-E positions itself against premium electric cars like the Tesla Model Y, Polestar 2, Audi Q4 e-tron and Jaguar I-Pace. It's not your everyman Ford – it's a desirable SUV that's going to draw buyers into showrooms. And it's got a price tag to match.
The most affordable Ford Mustang Mach-E starts from around £47,000 while the rapid range-topping Mach-E GT is nudging £70,000. There are a number of variants sitting between these two bookends – including two different battery sizes (badged Standard Range and Long Range) and a choice of two- or four-wheel-drive models.
Of course, if you're looking to buy an electric car, you're likely to be asking "how far can a Ford Mustang Mach-E travel between charges?". Even the short (sorry, 'standard') range models can muster up to 273 miles, while the most efficient rear-wheel-drive Long Range variant has an official range of up to 379 miles. That makes it one of the longest-range electric cars on sale today.
Ford has attempted to make every Mustang Mach-E feel sporty to drive. It certainly feels tighter, more hunkered-down than a Skoda Enyaq iV. That does come at the expense of comfort, though, and there's only so much engineers can do to improve the agility of an overweight electric SUV. Others have done a better job of it, in our opinion – take a Kia EV6 for a test drive and you'll see what we mean.
Only the Ford Mustang Mach-E GT really has the performance to live up to the Mustang badge, too. The others are rapid enough, especially if you haven't driven an electric car before (almost universally, they'll whizz away from the line with impressive pace). But the Mach-E GT is a fully caffeinated sprinter of a heavyweight SUV, accelerating to motorway speeds almost as quick as a Performance-badged Tesla. Almost.
Still, at least the Ford Mustang Mach-E's chunky dimensions are good news for interior space. Your family will be much happier in this than in the two-door Mustang coupe, while there are no fewer than two separate boot compartments for carrying your luggage.
Jump into the cabin of a Ford Mustang Mach-E and your eyes will be drawn to the huge 15.5-inch portrait infotainment display in the centre of the dashboard. This is all a bit Elon Musk for our liking, but at least you get a separate digital instrument cluster with important information like how fast you're currently travelling. You can have Apple CarPlay and Android Auto, too – both missing from Tesla models – while the infotainment in general is much more user-friendly than a Volkswagen ID.4 or ID.5's offering.
The interior feels a step above the Volkswagen models in terms of quality, too, although it lacks the plushness of pricier alternatives like the Volvo C40 Recharge. At least it's comfortable, though, and all Ford Mustang Mach-E models are well-equipped – you get things like heated seats, a reversing camera and a long list of driver-assist technology as standard across the range, so you don't have to tread too carefully when searching for a used Mustang Mach-E.
It's fair to say the Ford Mustang Mach-E isn't the most polished electric car on sale today. But Ford could have played it safe and produced a yawn-fest of an EV like certain German alternatives we won't mention here. It has character, at least, while also managing to be surprisingly practical. Its range of up to 379 miles is impressive, too, even if it's a little disappointing that it's not quite as good to drive as you'd expect for a Mustang.
Is the Ford Mustang Mach-E right for you?
Do you want a practical electric car that's going to stand out for years to come – even when your neighbourhood is full of practical electric cars? If so, the Ford Mustang Mach-E could be a great choice for you. It combines a long electric range with a spacious cabin and head-turning looks, even if it's not quite as good to drive as you might expect.
What's the best Ford Mustang Mach-E model/engine to choose?
In electric car terms, we often find that the cheapest is also the best. And that's true for the Ford Mustang Mach-E – the entry-level rear-wheel-drive Standard Range model will be powerful enough for most, is well-equipped and can travel further between charges than many drivers will actually need. Sure, there's an appeal to the pricier models, but they start to stray into the territory of much more desirable electric cars, making them harder to justify.
What other cars are similar to the Ford Mustang Mach-E?
Comfort and design: Ford Mustang Mach-E interior
"The Ford Mustang Mach-E's interior designers have been given pretty much free rein in the cabin. It feels very different from any other Ford, while it's hard to ignore that love-it-or-hate-it portrait infotainment screen that dominates the dash."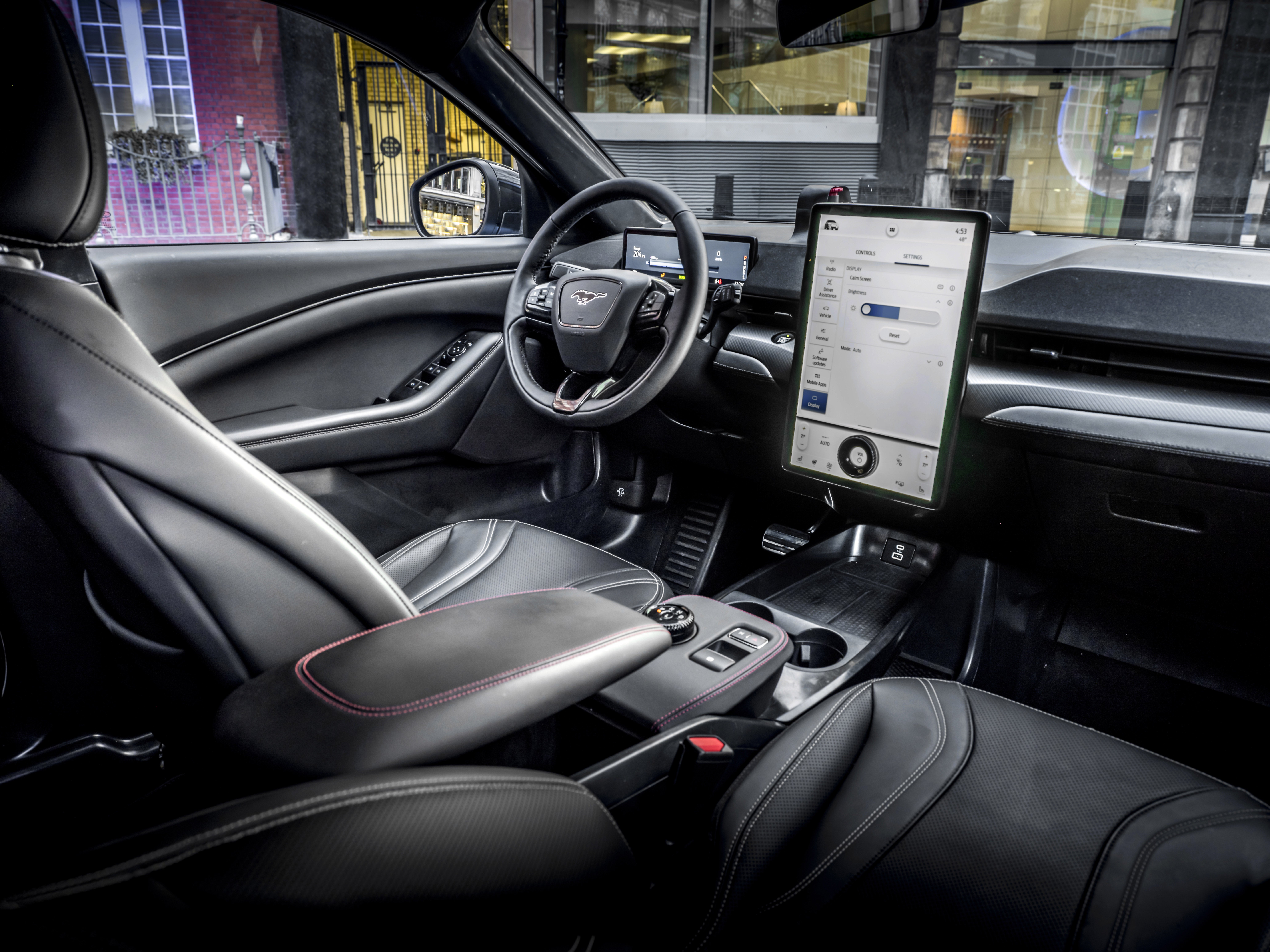 You'll struggle to find a single Ford badge inside the Mustang Mach-E, such is the brand's commitment to taking its electric SUV upmarket (and cashing in on the Mustang branding). You will find the odd part that's shared with other Ford cars, but unless you're a regular at the Hertz rent-a-car desk, you probably won't notice them. The interior stops short of being overtly posh, but you're not going to find hand-stitched leather or crystal buttons in a Volkswagen ID.4 or Tesla Model Y, either.
While Ford's gone for an unnecessarily large infotainment display, it has at least resisted the temptation to go completely minimalist throughout the cabin. You get a physical volume control and fixed touch-sensitive controls for adjusting the temperature. These are much more intuitive to use than the 'sliders' you get in the ID.4 and ID.5.
Behind the steering wheel is a slim 10.2-inch digital instrument cluster, which lacks the customisability of Audi's Virtual Cockpit but at least has clear graphics and gives you all the information you could possibly need.
There's plenty of room inside the Ford Mustang Mach-E, while the seats are both comfortable and supportive – although you don't sit as high up as you might expect in an SUV of this size. That adds to the Mach-E's sporty vibe, although you might want to look elsewhere if you want a raised driving position.
Quality and finish
The interior quality is pretty good for a Ford – but as we've struck on a few times, the brand is trying to position the Mustang Mach-E a little more upmarket than models like the Focus and Fiesta. There are a few hard finishes here and there, and the faux-leather seats aren't as classy as you'd find in, say, a BMW iX3. Generally the cabin feels hard-wearing, though, and it's not going to disappoint if you're also visiting a Volkswagen or Tesla showroom.
Infotainment: Touchscreen, USB, nav and stereo in the Ford Mustang Mach-E
All Ford Mustang Mach-E models come with the same 10.2-inch digital instrument cluster and 15.5-inch touchscreen navigation display.
Let's not beat about the bush: the 15.5-inch display is mahoosive. It's bigger than it needs to be. Arguably, a screen this size has no place in a car. Presumably, Ford's interior designers have been spending too much time in Teslas and assume that's what electric car buyers want in an infotainment screen.
On the plus side, it's pretty easy to operate. The huge screen means you can display multiple functions at once, while it's easy to navigate and fast to respond. It'd be nice if it was angled towards the driver, but perhaps letting your passenger operate it while you drive isn't a bad thing.
You get Apple CarPlay and Android Auto as standard, as well as a wireless phone charger. Look for a Mustang Mach-E with the Tech Pack for the 10-speaker B&O sound system – a very worthwhile upgrade if you like to crank up the beatz (or whatever it is the kids say these days).
Space and practicality: Ford Mustang Mach-E boot space
Electric cars that have been designed from day one as an electric car are, generally, extremely practical. That's true for the Ford Mustang Mach-E. It was never intended to have a big old engine or gearbox, while the relatively flat battery pack is housed underneath the floor. While its external dimensions are pretty big (it measures 1624mm in height, 1881mm in width and 4713mm in length), that translates to a considerable amount of interior space.
The front seats are mounted relatively low down which means that, while you don't get a commanding seating position, you do get loads of head and legroom. A wide centre console sits between the driver and front-seat passenger, while there are loads of handy storage cubbies dotted around the cabin.
As the Mustang Mach-E is quite a long car, there's loads of rear legroom. Headroom in the back is pretty good, too, although the coupe roofline does mean it doesn't feel quite as spacious as inside a Skoda Enyaq iV. The completely flat floor will be appreciated by passengers in the middle rear seat.
As for the boot, there's 402 litres of luggage space back there. That's far from the biggest in its class (the Skoda Enyaq iV manages 585 litres) but it's a useful shape and a false floor reduces the lip (and gives you somewhere to store things away out of sight). You do get an extra 81 litres of storage space under the bonnet, too – ideal for storing away your charging cables.
Handling and ride quality: What is the Ford Mustang Mach-E like to drive?
"By giving it the Mustang name, Ford has perhaps set unrealistically high expectations around the way the Mach-E drives. It's a 2.2-tonne family SUV and feels it – but there's more fun to be had here than in the numb Volkswagen ID.4 or ID.5."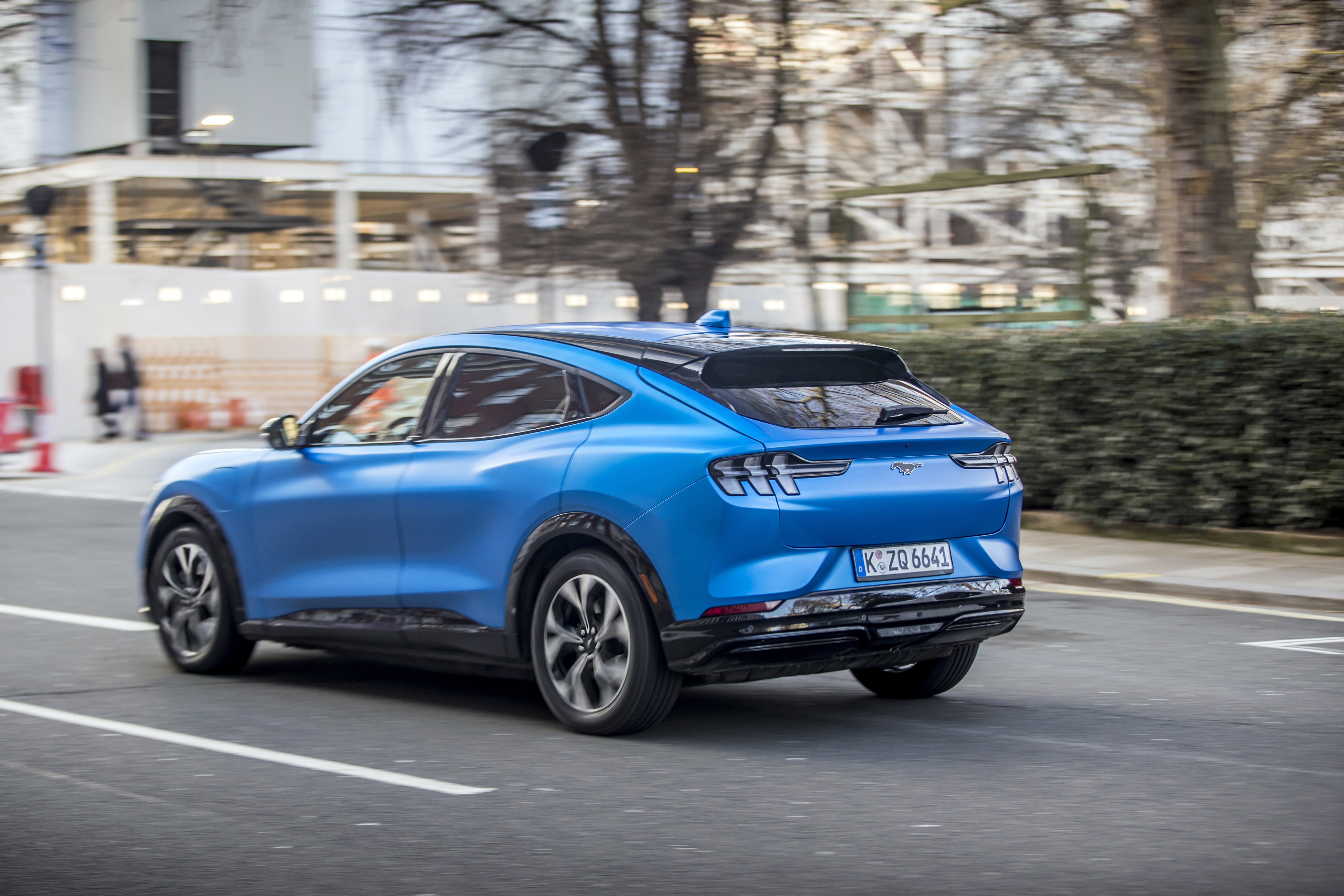 The steering is surprisingly lifeless for a Ford (even the little Ford Fiesta has satisfyingly communicative steering), but the rear-wheel-drive layout of the entry-level Mach-E means it changes direction relatively eagerly. An extra electric motor on the front axle means four-wheel-drive models are, er, four-wheel-drive – giving you a little extra reassurance if you stamp your foot on the throttle coming out of the bend in slippery conditions.
There are a variety of drive modes to select, namely 'whisper', 'active' and 'untamed'. Nonsensical names aside, these actually make a bigger difference to the way the Mustang Mach-E drives than similar drive modes in other electric cars. The whisper mode is supposed to be the most eco-conscious setting but, even with a slightly stodgy throttle response, it actually provides the most relaxing drive. Relaxing might not be a particularly desirable attribute in a Mustang, but it's a key selling point in many electric cars.
Ride quality is best described as 'pretty crashy'. Even with the 18-inch alloy wheels and squishy tyres fitted as standard to entry-level Ford Mustang Mach-E models, it'll thump over broken road surfaces and is nowhere near as compliant as the Skoda Enyaq iV. It feels pretty unsettled at higher speeds, too, while there's quite a lot of lean during cornering. A Kia EV6 is a much better all-rounder in terms of handling.
The flagship Ford Mustang Mach-E GT is actually quite different to drive compared to the rest of the range. It has a lower ride height as well as trick adaptive suspension, which means it generally feels much more planted than the regular car. No, it's still not as agile as a Jaguar I-Pace, but it feels a bit more like, well, a Mustang.
What motors and batteries are available in the Ford Mustang Mach-E?
The Ford Mustang Mach-E is available with two battery sizes: 75kWh (badged the Standard Range) or 91kWh (badged the Extended Range). Both are available in single-motor rear-wheel-drive flavour, or as a dual-motor all-wheel-drive model.
Even the standard RWD Ford Mustang Mach-E isn't exactly lacking in the pony power department. With 269PS and 430Nm of instant torque available, it'll scamper away from the line quite eagerly if you're heavy with the accelerator pedal. Officially, it'll cover the 0-62mph sprint in around 6.9 seconds, which makes it pretty sprightly by heavy SUV standards.
The Standard Range AWD model packs some extra torque (580Nm in total) while the extra traction provided by the four-wheel-drive system helps it get a speedy getaway – as such, it can cover 0-62mph in 6.3 seconds while matching the RWD's 111mph maximum speed.
While the Extended Range models are given a power boost over the standard Ford Mustang Mach-E derivatives, the extra weight of the batteries means they're not necessarily any quicker. Indeed, the Mach-E Extended Range RWD variant packs 294PS but takes 7.0 seconds flat to accelerate to 62mph – not exactly tepid, but still the slowest of the bunch.
With a very healthy 351PS on tap (and 580Nm of torque), the Mustang Mach-E Extended Range AWD can cover 0-62mph in 5.8 seconds. That's not quite as punchy as, say, a Tesla Model Y Performance – but it'll feel pretty urgent to most drivers, especially if you haven't sampled an electric car before.
If you're longing for the urgency of a V8 Mustang, the Ford Mustang Mach-E GT provides that. With 487PS and a stonking 860Nm of torque, the Mach-E GT will sprint to 62mph in 4.4 seconds and on to a top speed of 124mph. There are faster electric cars out there, but that's still pretty rapid for an SUV of this size and weight.
Maximum electric range in the Ford Mustang Mach-E
The Ford Mustang Mach-E Standard Range can officially travel up to 273 miles between charges in RWD form, while the AWD model covers up to 248 miles (according to WLTP tests). That's more than three hours of motorway driving before you'll need to stop for a break – so don't necessarily dismiss the smaller-battery model. Sure, its actual range figure will drop slightly in winter (particularly if you make the most of the Mach-E's performance), but it should still be able to travel 180 miles or so before it needs a top-up.
Regular long-distance drivers should look at the Mustang Mach-E Extended Range, though. With its 91kWh battery pack, the long-range model can travel up to 379 miles between charges in RWD form, while the AWD manages 335. That's almost competitive with a petrol or diesel SUV.
The Ford Mustang Mach-E GT, meanwhile, uses the 91kWh battery pack and can cover up to 310 miles between top-ups.
Refinement and noise levels
The Ford Mustang Mach-E might be priced in line with premium electric SUVs like the Audi Q4 e-tron, but it lacks the refinement of upmarket competitors. A lot of it comes down to the suspension, which clatters about as it tries to deal with the Mach-E's enormous kerbweight. There's quite a lot of wind noise, too, as well as a surprising amount of roar from the tyres.
Fiddle around with the Whisper, Active and Untamed drive modes and you'll find that each has quite a distinctive 'engine' note. It's at its quietest in the Whisper mode, while the Untamed mode uses an odd sci-fi-like rumble. Fortunately, you can turn it off entirely.
Safety equipment: How safe is the Ford Mustang Mach-E?
With a five-star Euro NCAP safety rating, the Ford Mustang Mach-E is one of the safest family cars you can buy. When it was tested in 2021, independent crash-testing experts Euro NCAP awarded it a score of 92% for adult occupants and 86% for children.
That impressive result is partly down to the plethora of crash-preventing tech fitted as standard across the Mach-E range. This includes Intelligent Adaptive Cruise Control with Stop & Go and Lane Centring, Pre-Collision Assist with Auto Emergency Braking, and Lane-Keeping System with Blind Spot Assist.
Charging times: How much does it cost to charge the Ford Mustang Mach-E?
"We wouldn't recommend charging your Ford Mustang Mach-E using a standard three-pin socket. While it's possible to do so, an 80% charge of the Extended Range model will take 36 hours this way."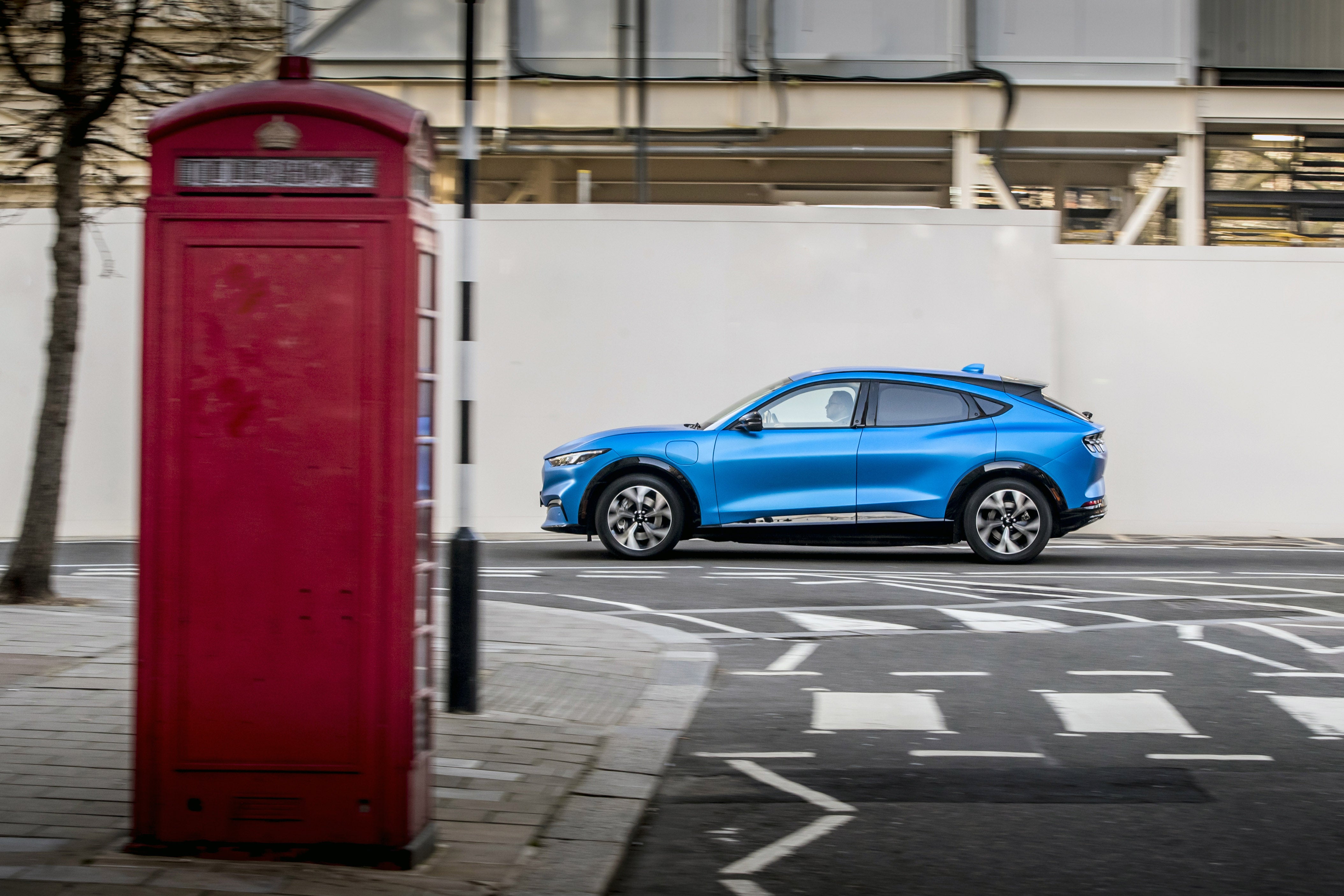 If you can, a 7kW home charging wallbox is well worth the investment. This'll charge the Ford Mustang Mach-E overnight – taking around 11 hours for a full charge of the Standard Range model and 14 hours for the Extended Range. You could save cash by setting the Mustang Mach-E to charge during off-peak hours, allowing you to save money on your electricity bill. The total cost will depend on your home electricity tariff, but you're probably looking at around £12 to fully charge the Standard Range model at home and £15 to charge the Mach-E Long Range.
When you're travelling beyond the Mustang Mach-E's electric range, you can stop at a convenient public rapid charger for an ultra-quick top-up. The Standard Range model can be charged at a rate of up to 115kW (provided you can find a quick enough charger) while the Long Range takes 150kW – that means you can add around 73 miles of range in just 10 minutes. You'll pay for the privilege, though – the average cost of rapid charging is now nearly 44.55p/kWh, meaning a 20-80% charge on a Mustang Mach-E Long Range will cost around £25.
How reliable is a Ford Mustang Mach-E?
We've heard of very few issues affecting the Ford Mustang Mach-E. Generally, electric cars are surprisingly reliable – they have very few moving parts to go wrong, after all. Ford tends to perform well in reliability surveys while the Mach-E is covered by the brand's standard three-year/60,000-mile warranty. That's not as impressive as the Kia EV6's seven-year warranty, but the battery at least is covered for at least eight years/100,000 miles.
Insurance groups and costs
With its relatively high performance and complex components, you could cause quite a lot of damage in a short amount of time in the Ford Mustang Mach-E. That means it could be fairly expensive to insure – particularly if you've only recently gained your driving licence or have a less-than-optimal driving history.
The cheapest Ford Mustang Mach-e to insure is the Standard Range RWD model which sits in insurance group 33E, while the priciest is the powerful Mustang Mach-E GT. That's in insurance group 47E – one of the highest bands.
VED car tax: What is the annual road tax on a Ford Mustang Mach-E?
As a pure electric vehicle, the Ford Mustang Mach-E is free to tax each year. That's quite a significant saving compared to similar petrol or diesel model – particularly as those with a list price of more than £40,000 are hit by an extra £355 in premium car tax for five years.
How much should you be paying for a Ford Mustang Mach-E?
"High demand on the used market means bargains are few and far between, but you can pick up a nearly-new Ford Mustang Mach-E for less than £50,000."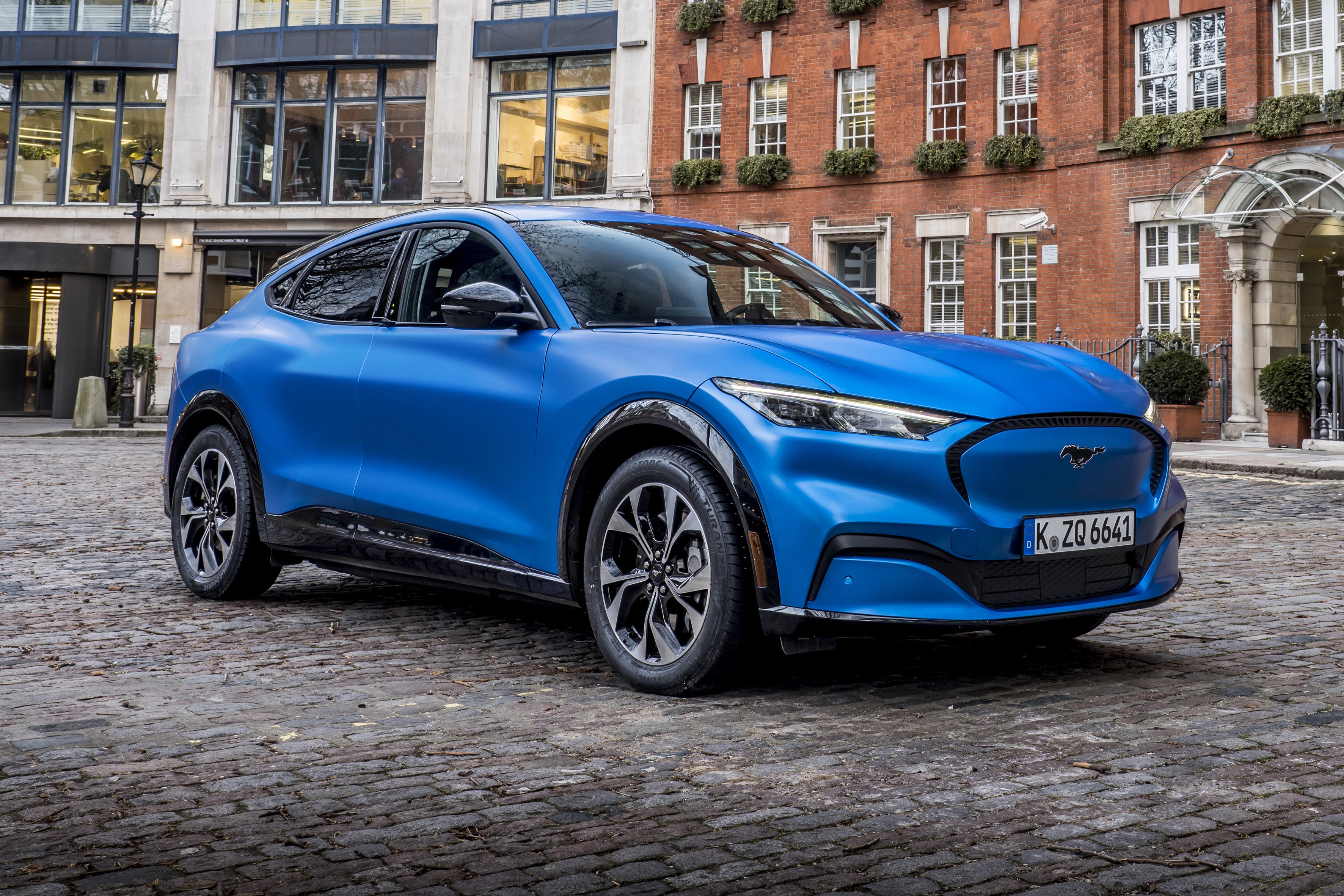 The most affordable Mustang Mach-E models are rear-wheel drive variants with the smaller Standard Range battery pack. These start from around £47,000 and you'll pay similar money for a lightly used example – doing so allows you to skip the waiting list.
A budget of £52,000 will get you a Ford Mustang Mach-E RWD Extended Range, while AWD variants start from around £54,000. The desirable Ford Mustang Mach-E AWD Extended Range is close to £61,500 while the top-of-the-range Mustang Mach-E GT is priced from £68,000.
Trim levels and standard equipment
Standard equipment on entry-level Ford Mustang Mach-E RWD Standard Range and Extended Range models include 18-inch alloy wheels, privacy glass and LED reflector headlights/taillights. Inside, the RWD Mustang Mach-E comes with black Sensico trim with grey stitching, a heated steering wheel and heated driver/passenger seats. You also get a 10.2-inch digital instrument cluster and 15.5-inch central touchscreen navigation display with Apple CarPlay/Android Auto, along with a wireless phone charger. Intelligent adaptive cruise control with stop and go/lane centering is also standard, as well as front/rear parking sensors, a rear view camera, one-pedal drive and selectable drive modes.
All-wheel-drive variants feature 19-inch alloy wheels as standard, as well as black perforated Sensico trim with red stitching. You also get a 360-degree camera, hands-free tailgate, B&O premium sound system, advanced active park assist and a full panoramic sunroof.
The range-topping Ford Mustang Mach-E GT comes with 20-inch cast aluminium wheels, unique GT bumpers and wheel lip mouldings, 19-inch Brembo brakes with red calipers, GT performance seats, GT scuff plates and MagneRide suspension.
Ask the heycar experts:
common questions
How much does a Ford Mustang Mach-E cost?
Prices start from around £47,500 for a new Ford Mustang Mach-E RWD Standard Range, while the Extended Range model starts from roughly £52,000. All-wheel-drive models start from a little over £54,000 while the Ford Mustang Mach-E GT is around £68,000.

Answered by
Lawrence Allan
Is the Ford Mustang Mach-E fast?
The fastest Ford Mustang Mach-E is the GT model. With its electric motors providing 487PS and 860Nm of torque, the Mustang Mach-E GT will accelerate from 0-62mph in 4.4 seconds and reach a top speed of 124mph.

Is the Ford Mustang Mach-e an SUV?
Controversially for a car carrying the Mustang name, the Ford Mustang Mach-E is an electric SUV that rivals the Tesla Model Y and Kia EV6. It's very different to the V8-powered Ford Mustang pony car.

Ford Mustang Mach E cars for sale on heycar
8,579
Number of cars available
£47K - £65K
Price bracket of these cars
Colours available on heycar
Keep me updated by email with the latest advice, news and offers from heycar
By submitting, you agree to our
privacy policy
.