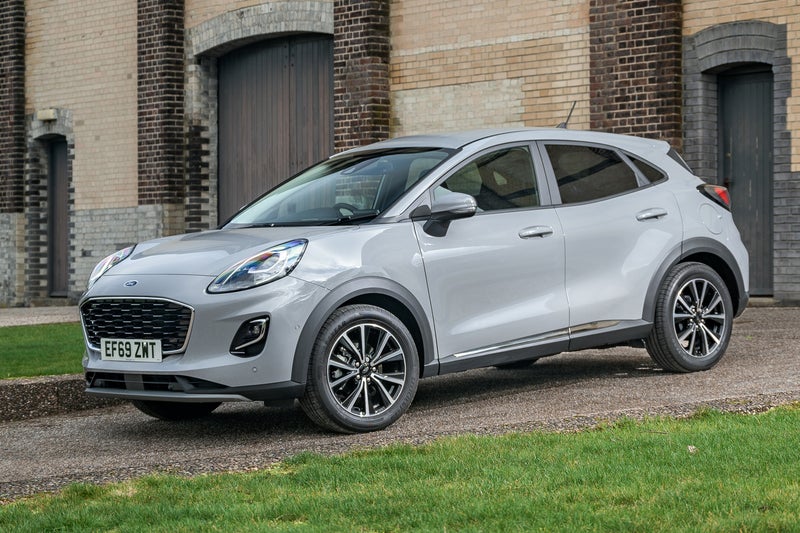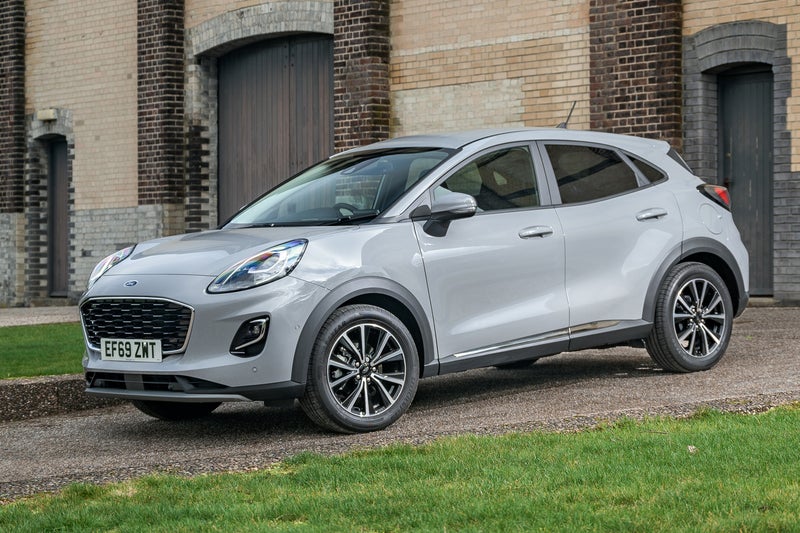 1/10
heycar rating
"Just a brilliant little SUV"
Launched: 2020

Small SUV

Petrol, Mild hybrid
Quick overview
Pros
Peppy engines and sharp handling
Practical boot with impressive 'megabox'
All models are loaded with standard equipment
Cons
Not as spacious inside as some alternatives
A Skoda Kamiq rides better
High demand keeps prices strong
Overall verdict
On the inside
Driving
Cost to run
Prices and Specs
Common questions
Overall verdict on the Ford Puma
"With frisky engines, sharp styling and impressive kit levels, the Ford Puma sits proudly at the top of the small SUV sector. You'll pay more for one compared to the budget Ford EcoSport, but there's a very good reason for that."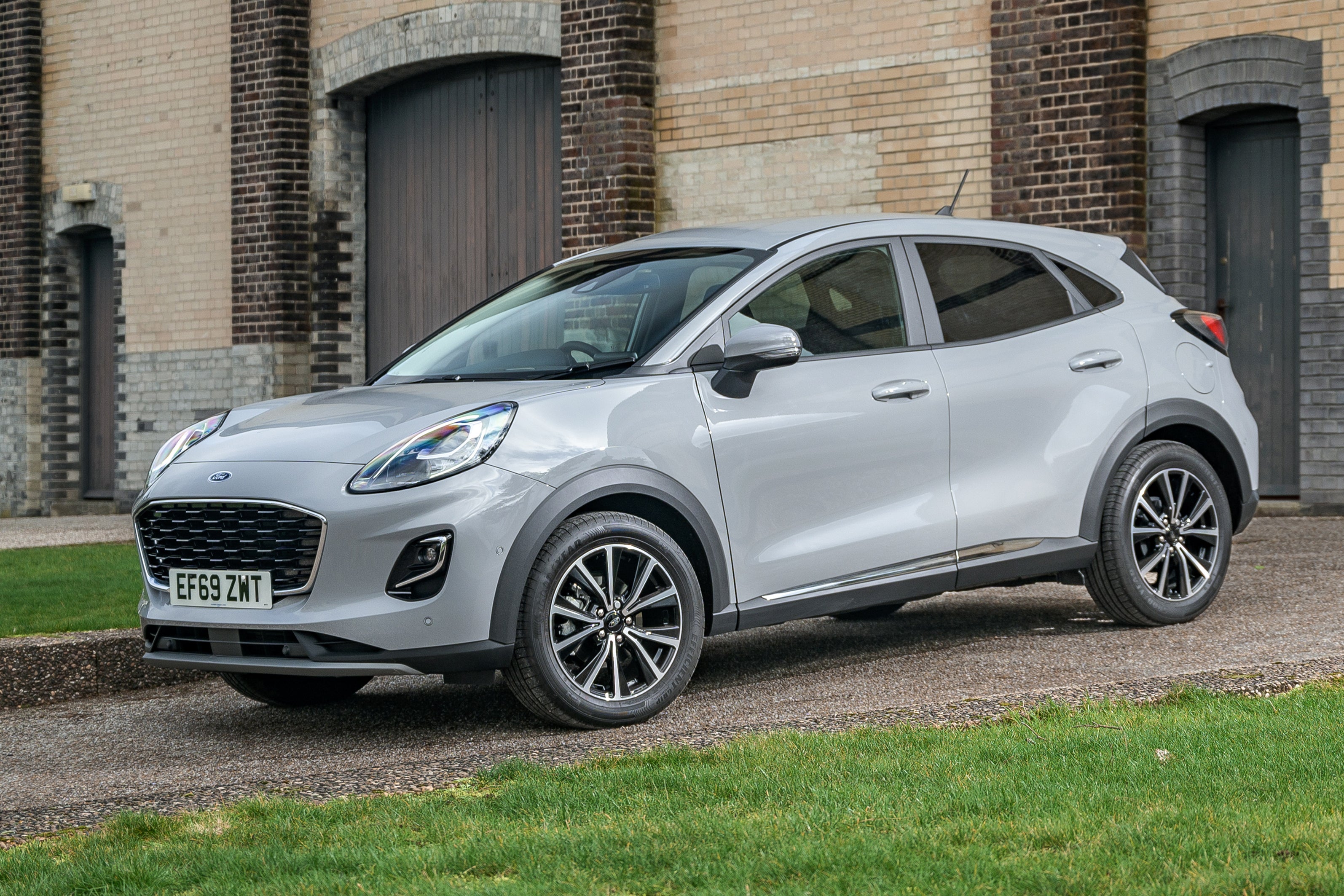 You don't need to be an expert in small SUVs to have noticed the new Ford Puma – they're simply everywhere. And for good reason. It's one of the best little cars on sale today, and it won't cost a lot to buy or run. Read our full 2022 Ford Puma review to find out why it should be high on your shortlist.
Ford first dangled its toes into the small SUV market with the disappointing EcoSport way back in 2014. To say it fell wide off the mark is an understatement – it was ugly, frustrating to drive and had a naff interior. So here's another attempt and, frankly, it's every bit as good as the EcoSport was rubbish.
Based on the popular Ford Fiesta hatchback, the Ford Puma is up there with the best of the competition. We're talking cars like the Nissan Juke, Skoda Kamiq, Volkswagen T-Roc, Renault Captur, Peugeot 2008 and Toyota Yaris Cross – you name it, the Puma's probably better than it.
Initially only sold with the 1.0-litre EcoBoost petrol engine, Puma buyers could decide how much power they wanted: 125PS or 155PS. Both were offered with mild-hybrid technology, while the lower-powered engine was also sold without.
A 1.0-litre engine might sound a little pathetic but, actually, the Ford Puma packs plenty of punch. It's a lot more fun to drive than something like a Nissan Juke or Volkswagen T-Roc, yet also ticks the refined box when you want to take it on a long journey.
And if you want proof of Ford's confidence in the Puma, they have even developed a performance version in the form of the Puma ST. Power comes from the same 1.5-litre turbocharged three-cylinder petrol engine as the Fiesta ST, producing 200PS and giving the Puma the zip to go with the looks.
The Ford Puma is a bit smaller than rivals (more 'car' than 'SUV'), and that means it's not quite as spacious as alternatives inside. Your kids would probably prefer it if you bought a Renault Captur.
It has got an ace up its sleeve, though. The Ford Puma's boot space is huge at 456-litres - partly thanks to a clever feature hidden underneath the boot floor. It's essentially a wipe-clean 80-litre storage area dubbed the 'megabox'. It might not sound that innovative, but it could be very useful for carrying things like muddy football boots.
You can't really buy a basic Ford Puma, which explains why it looks relatively expensive on the used market (especially compared to the dreadful EcoSport). The most affordable models are badged Ford Puma Titanium, meaning you get things like cruise control, an eight-inch navigation system and rear parking sensors. Massage seats, too. Yup – on the entry-level car.
Most people will be tempted by the sportier Puma ST-Line or Puma ST-Line X models, while early cars were also offered with Puma First Edition packs. Depending on trim level, these add features like extra driver assistance features or a panoramic sunroof.
As you can probably tell, we rate the Ford Puma highly. The main issue is that demand is so high that you're not going to be in with a great deal of luck if you visit your nearest Ford dealer and expect a huge saving over list price on a nearly-new or pre-reg model. If you want to skip the waiting list, though, you can do so by searching for a used Ford Puma on heycar.
Read more: Ford Puma ST First Drive
Is the 2022 Ford Puma right for you?
Do you want one of the most desirable small SUVs on sale? Silly question. The Ford Puma ticks a lot of boxes for a lot of people. As well as being great to drive, it's a comfortable choice that'll happily eat up motorway miles. It's got more personality than the Volkswagen T-Roc, and is better to drive than a Citroen C3 Aircross. Frankly, it's in a different league to the Vauxhall Mokka.
Okay, the cabin could be a little bigger, and some people will turn their noses up at the Ford badge. You'll have to wait a while before automatic gearboxes or diesel models trickle down to the used market. Other than that, there's really not an awful lot going against the Puma.
What's the best Ford Puma model/engine to choose?
There aren't many choices with the Ford Puma and, to be honest, none of them are bad. Ford Puma Titanium models will suit buyers looking for comfort - with its compliant ride and massage seats. The Puma ST-Line looks and feels a bit sportier, thanks to its body kit and sports suspension. Puma ST-Line X models are fully loaded, with part-leather seats, a premium sound system and sick 18-inch alloy wheels. Yes, we said 'sick'.
In terms of engines, the EcoBoost 125 will suit most buyers, although it's hard to ignore the temptation of the more powerful 155 version. This adds to the Puma's fun factor and won't cost a great deal more to run. If you cover a lot of miles, it might be worth waiting for a diesel. There's also a hot Puma ST model with 200PS.
What other cars are similar to the Ford Puma?
We'd suggest looking at the Volkswagen T-Roc as a rival to the Ford Puma. It's a stylish small SUV with a decent cabin (although it feels a bit cheap in some areas). The SEAT Arona is better to drive and has been around for longer - so you're more likely to find a pre-loved bargain.
We like the latest Peugeot 2008 although, like the Ford Puma, it's still relatively new so will be expensive second-hand. A Renault Captur is a more practical choice, while the Citroen C3 Aircross majors on comfort. If you're on a budget, you could also consider the Ford EcoSport. But you probably shouldn't.
Comfort and design: Ford Puma interior
"There's nothing revolutionary about the Ford Puma's interior design. It looks an awful lot like a Fiesta, particularly up front. A Peugeot 2008 is more stylish inside, while we rate the Volkswagen T-Roc's minimalist (if a little dull) approach."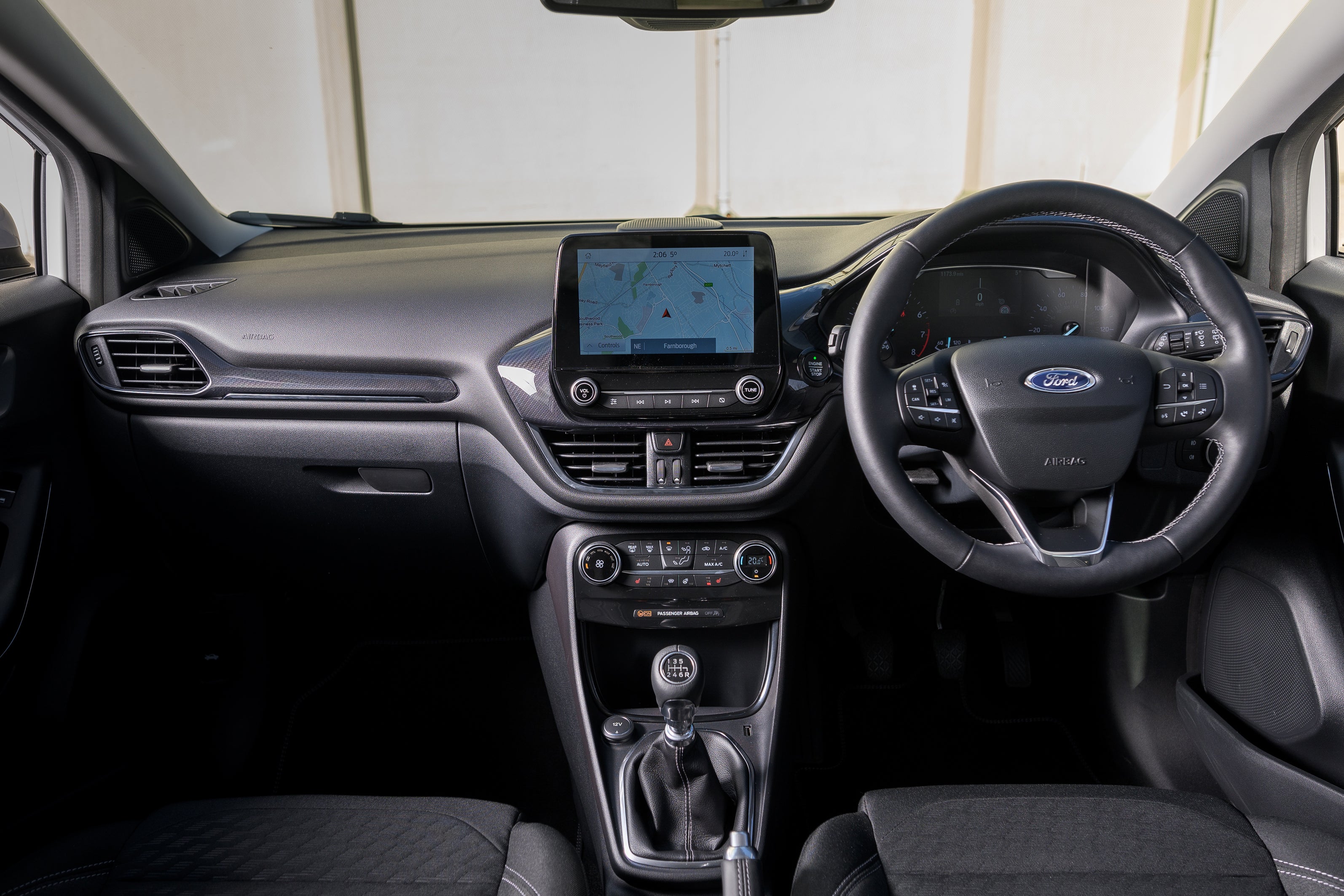 Fortunately, Ford interiors have improved dramatically in recent years - so don't dismiss the Puma on the basis that a Focus you drove a few years ago felt a little naff inside. All models get a meaty steering wheel, while there's a good amount of buttons without feeling overwhelming.
All Ford Pumas come with height-adjustable driver's seats along with adjustable lumbar support. This, combined with plenty of movement in the steering wheel, means people of all shapes and sizes should be able to get comfortable. Being slightly higher than something like a Fiesta, you'll also find access easy - you can slide onto the driver's seat rather than down into it.
In a slightly weird quirk, the most affordable Puma Titanium models come with massage seats for the driver and front passenger, but these aren't available on Puma ST-Line models. The ST-Line does get sport seats with a little more side support, while the Puma ST-Line X comes with part-leather seats.
Look for models fitted with the Comfort Pack (standard on Titanium First Edition models) for heated seats and steering wheel. The optional panoramic sunroof is another desirable option that makes the cabin feel a little brighter.
Quality and finish
Don't go expecting a premium finish from the Ford Puma - there are a few hard plastics here and there to remind you that you're driving a Ford rather than a more expensive alternative. No more than what you'd find in the Volkswagen T-Roc, though - and it's a lot better than the budget Ford EcoSport.
Puma ST-Line X models come with part-leather seats and carbon-effect trim - both of which make the cabin feel a bit more special, but it's still not the plushest small SUV on the market.
The switchgear feels robust but it's not going to make you feel as warm and fuzzy as a premium rival like the Audi Q2. Still, you don't buy a Ford Puma to get a warm and fuzzy feeling from the switches.
Infotainment: touchscreen, USB, nav and stereo in the Ford Puma
All Ford Pumas have the same eight-inch infotainment system perched on top of the dash, like a bit of an afterthought. Its positioning might look a bit awkward but it's well-placed for glancing at while driving.
This provides access to all the features you'd expect: navigation, DAB radio, Bluetooth, Apple CarPlay and Android Auto. It's a simple system to use with logical menu layouts and clear graphics. Sometimes it can feel a little laggy to respond, but it's a much better system than that found in Peugeot-Citroen models like the DS 3 Crossback and Peugeot 2008.
Want more tech? Puma ST-Line and Puma ST-Line X models have a fancy 12.3-inch digital instrument cluster. Some Titanium models will have it, too, as part of the Technology Pack. It replaces traditional dials with a TFT screen with a layout which can be modified. It's no Audi Virtual Cockpit, but it still looks pretty sharp.
Finally, there are two USB ports in the front along with a wireless charge pad. Your phone isn't going to run out of charge in a Puma.
Space and practicality: Ford Puma boot space
The Ford Puma is one of the smallest of the small SUVs measuring just under 4.2m long and a touch over 1.8m wide - yet it's also one of the most practical.
We'll start with the Puma's boot space, because that contains one of the Puma's most exciting features. That's if you're the kind of person who finds practicality exciting, anyway. We do.
As well as having a big boot with usefully square dimensions and a wide opening, the Ford Puma's hiding an extra 80 litres of luggage space under the floor take the total boot space of the Puma up to 456-litres. This is in the form of a what Ford calls a 'megabox' (told you it was exciting…). It's essentially a square underfloor load area with a heard-wearing lining and a drain plug at the bottom so you can hose it clean. Great for carrying plants home from the garden centre.
On the downside, the megabox means there's nowhere to store a spare wheel (and Ford's resisted the temptation to stick it on the back like the original EcoSport).
Unlike the Renault Captur and Volkswagen T-Cross, there's no sliding rear bench in the Puma. That's no biggy, though, and the rear bench does drop easily to provide more luggage space if required.
Space in the back feels pretty tight, especially for adults. Head and legroom is limited and the shape of the rear windows means it feels a little claustrophobic. ISOFIX points are fitted to the outer rear seats, helping to secure child seats. They're not on the front passenger seat, though.
Things are better up front, where the driver and front-seat passenger will find plenty of room. There's loads of space for all your knick-knacks, too - with decent door bins and a pretty big glovebox. The cupholders in the centre console are useful, although you'll have to be careful not to spill your coffee while circumventing the handbrake.
Finally, just a note on the panoramic sunroof (fitted to Puma ST-Line X First Edition models and available as an option across the range). While we love a panoramic roof for letting extra light into the cabin, it does eat into headroom slightly. Think twice if you're a taller person.
Handling and ride quality: What is the Ford Puma like to drive?
"You don't need to be Lewis Hamilton to appreciate how much fun the Ford Puma is to drive. Just like the Fiesta on which it's based, it'll dart around corners with great enthusiasm and little in the way of rolypolyness. Yes, that's a word."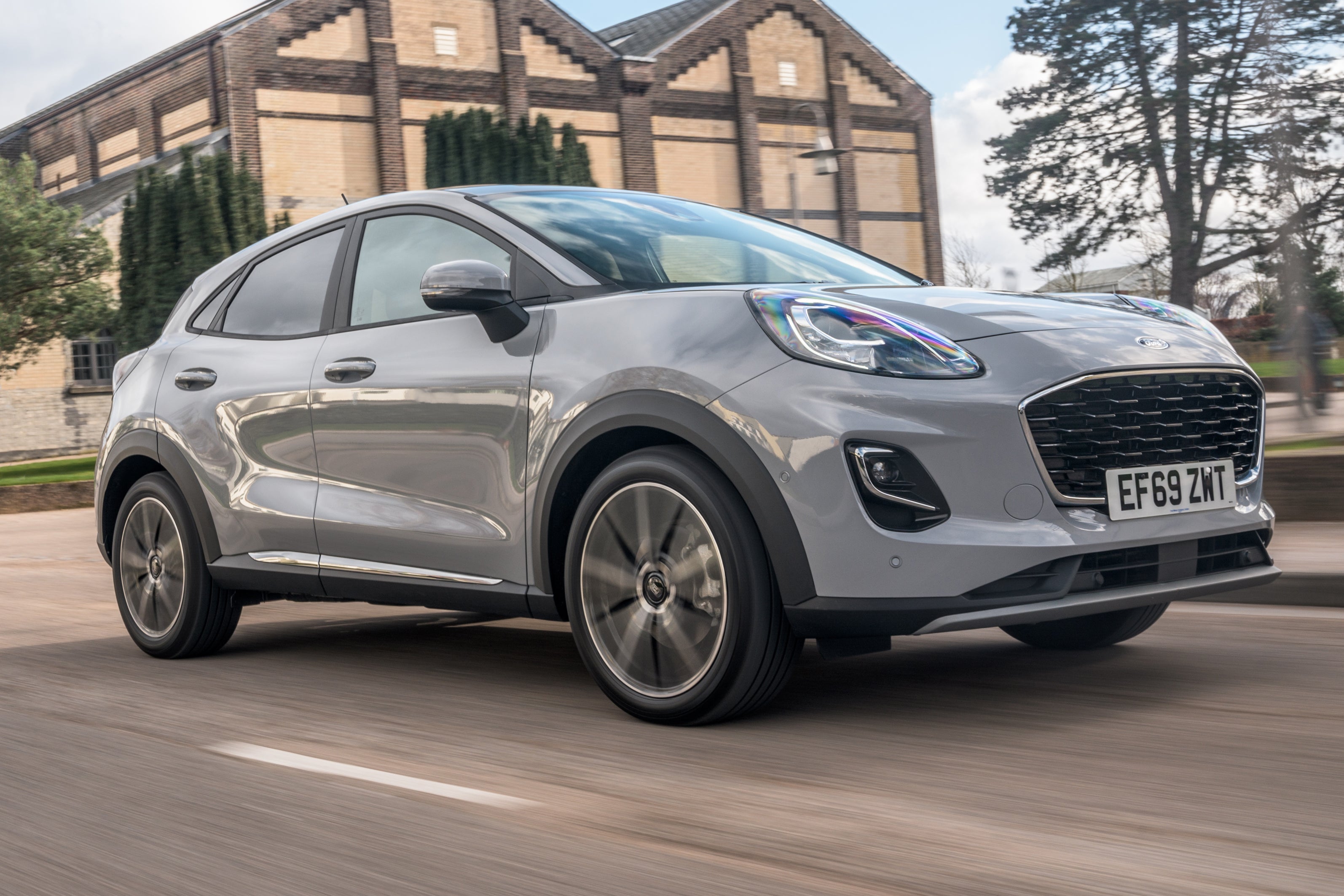 That's especially true for Puma ST-Line and ST-Line X trim levels with their sports suspension, but all Puma models are dynamically sharper than rivals like the Renault Captur and Skoda Kamiq.
What's most impressive is that Ford's combined the Puma's eager handling with suspension that copes perfectly fine with lumps and bumps in the road - even the sportier setup of the Puma ST-Line trim levels. Sure, there are softer alternatives (like the Skoda Kamiq), but the Ford Puma proves you can have a great handling car that rides well.
While the Puma's great fun on a country road, it'll also cover long motorway journeys quite comfortably - feeling like a much bigger, more grown-up car than it is. The high-up seating position (compared to a Fiesta) helps here, as well as the compliant suspension.
That also helps around town, where you get a good view over traffic ahead. The Ford Puma's nimble steering and precise manual gear change makes it a joy to bimble about in. Reversing sensors (and a rear-view camera) on high-spec models helps with parking.
All Pumas come with selectable drive modes, ranging from Eco to Sport and Slippery to Trail. While the Ford Puma isn't available with four-wheel drive, the latter modes do a great job of making up for that in snowy or slippery conditions. Combine this with winter tyres and we reckon you're onto a winner when Jack Frost hits. Sport mode, meanwhile, livens up the (already quite responsive) throttle response and adds a bit of weight to the steering.
What engines and gearboxes are available in the Ford Puma?
Is a 1.0-litre engine not a bit weedy in a car like the Ford Puma? You might be surprised. The most powerful 155PS models are particularly punchy, helped by the mild-hybrid system which is fitted as standard.
This isn't a 'proper' hybrid like a Toyota C-HR, nor do you have to plug it in like the Mitsubishi Outlander PHEV. It can't run entirely under electric power alone - rather, the small battery and electric motor will give the petrol engine a helping hand, providing a small power boost and a minor improvement in efficiency.
Our favourite thing about the Ford Puma mild-hybrid system is that you won't really notice it. The more observant driver might spot that the engine turns itself off before you roll entirely to a stop (the electric motor ensures you don't lose things like steering), but it just works seamlessly, saving you a few quid at the petrol pumps.
The lower-powered 125PS engine is available with or without the mild-hybrid system. Most used Pumas have it - but it makes such a negligible difference that it shouldn't be deal-breaker either way.
Even the Puma 125 Ecoboost is pretty nippy, accelerating to 62mph in around 10 seconds. The 155PS takes 8.9 seconds, meaning it's a better choice if you like to overtake slower traffic or frequently have to tackle short motorway slip roads.
The Ford Puma was initially only offered with a manual gearbox, so that's what currently dominates the used market. It's a slick six-speed transmission that adds to the appeal of the Puma for those of us who enjoy driving, but you may wish to look elsewhere (or hold on a bit…) if you cover a lot of stop-start driving and would prefer an auto.
If you're looking for a hot hatch with the practicality of a small SUV, you can buy a Ford Puma ST with the same 200PS turbocharged engine as the Fiesta ST. You can read our thoughts here but, spoiler alert: it's fantastic.
Refinement and noise levels
A downside of punchy little three-cylinder engines like those used in the Ford Puma is usually a lack in refinement compared to bigger engines. They can sound quite coarse, especially at high revs, and need working quite hard.
There's certainly a distinctive three-cylinder sound from the Puma as you build the revs, but it's actually quieter and more refined than we'd expect. While the Ford Puma's great fun to drive, it settles down into a surprisingly grown-up long-distance cruiser.
Having said that, you'll notice a bit of road noise, especially in cars fitted with the bigger 18- or 19-inch alloy wheels. The Puma's bulky dimensions compared to the Fiesta means there's a bit of wind noise, too - although it's not particularly intrusive.
While conventional petrol engines with stop/start create a noticeable shudder as the car comes to a halt (and when you pull away again), the Ford Puma's mild-hybrid system does this on the move so is less noticeable.
Unlike a proper hybrid, though, it can't travel under electric power alone. The Toyota C-HR is good at this, providing impressive refinement as it covers short distances around town under electric power alone.
Safety equipment: How safe is the Ford Puma?
The Ford Puma is a very safe car, with Euro NCAP (the independent body responsible for crash-testing new cars) awarding it a maximum five-star safety rating.
It scored well across the board: 94% for adult occupants, 84% for children, 77% for vulnerable road users and 74% for its safety assist systems.
Pleasingly, all Ford Puma models come with a heap of the latest safety technology systems as standard. This includes a pre-collision assist system with autonomous emergency braking which means that, if the car's cameras and sensors detect an impending collision, it can apply the brakes to prevent it (or, at least, mitigate the impact).
There's also a lane-departure warning which will alert the driver if you start straying out of your lane on the motorway, while hill-start assist will prevent the car rolling backwards during a hill-start manoeuvre.
If you are in a crash and it's heavy enough for the airbags to deploy, Ford's infotainment system will automatically use your connected phone to dial the emergency services and will pass on your GPS location.
Puma ST-Line and ST-Line X models come with rain-sensing wipers as well as automatic headlights with automatic high beam - great for night-time driving.
On the downside, the Puma's 'mega box' means there's no room for a spare wheel in the boot, so you'll have to make do with a tyre repair kit if you get a puncture.
MPG and fuel costs: What does a Ford Puma cost to run?
"If you're expecting a big saving in fuel costs for Ford Puma mild-hybrid models, you're going to be disappointed. Officially, the 125 MHEV model returns 51.4mpg, while the 155 version achieves 50.4mpg. The entry-level 125 Ecoboost engine (without mild-hybrid tech) returns 48.7mpg."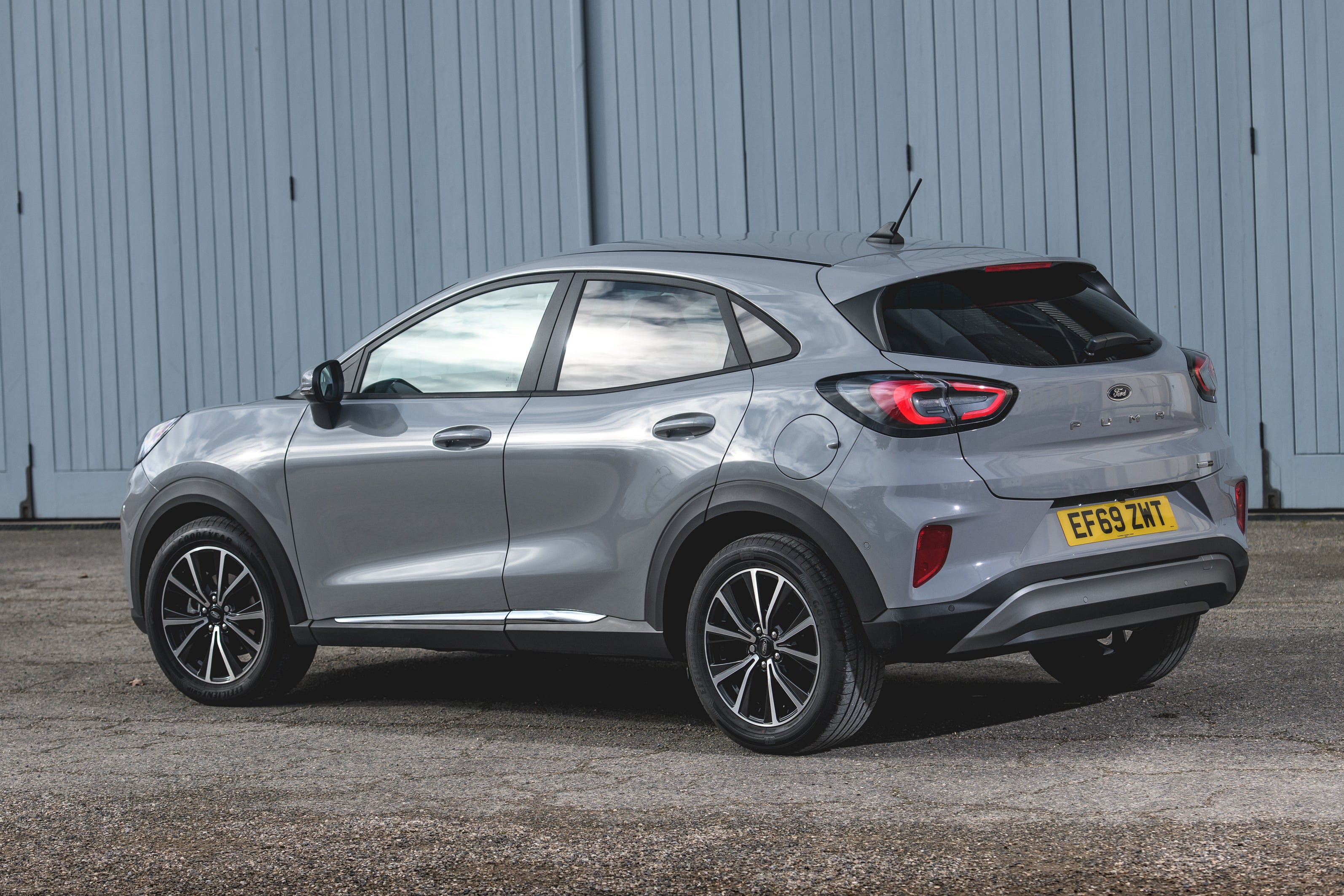 These are figures from the latest WLTP fuel economy tests, which means they ought to be fairly realistic in the real-world. Traditionally, small turbocharged engines like the Ford Ecoboost units aren't as efficient as you might expect, though.
A Ford Puma diesel model is yet to hit the market but expect it to be the most efficient option in the Puma range. Don't hold out for this unless you cover high miles, though - it'll be more expensive to buy, and diesels don't suit urban driving or lots of short journeys.
How reliable is a Ford Puma?
As the Ford Puma is relatively new, it's tricky to predict long term reliability but Ford tends to have a good record on reliability, issues with some of its EcoBoost engines and older Powershift gearboxes aside.
The larger Kuga was a big seller for Ford and proved reliable with a 9.2 rating out of 10 from owners in the 2020 HonestJohn.co.uk Satisfaction Index. We'd predict that the smaller Puma will prove just as reliable in the long term and we've not had any issues reported to us yet.
Insurance groups and costs
The standard Ford Puma Ecoboost 125 should be the cheapest to insure. Ford Puma Titanium models with this engine fall into group 11, which is comparable to like-for-like rivals (although you can get less powerful alternatives which will cost less in insurance). Sportier ST-Line models and mild-hybrids are in insurance group 12, which means they'll cost a little more to insure.
The priciest is the Puma ST-Line X First Edition (or First Edition Plus) with the 155PS engine, which falls into insurance group 16.
VED car tax: What is the annual road tax on a Ford Puma?
The latest VED rules mean most drivers will pay a flat rate of £150 a year in car tax for the Ford Puma after the initial payment (which is CO2-dependent and paid when the car's first registered). Alternatively-powered cars, including mild-hybrid versions of the Ford Puma, save £10 a year in tax - so you'll pay £140 following the first year.
How much should you be paying for a used Ford Puma?
"With a number of award wins and glowing reviews across the board, a Ford Puma is a car in demand. Dealers still have plenty in stock, though, with some good deals available for those of us looking to save money over retail price."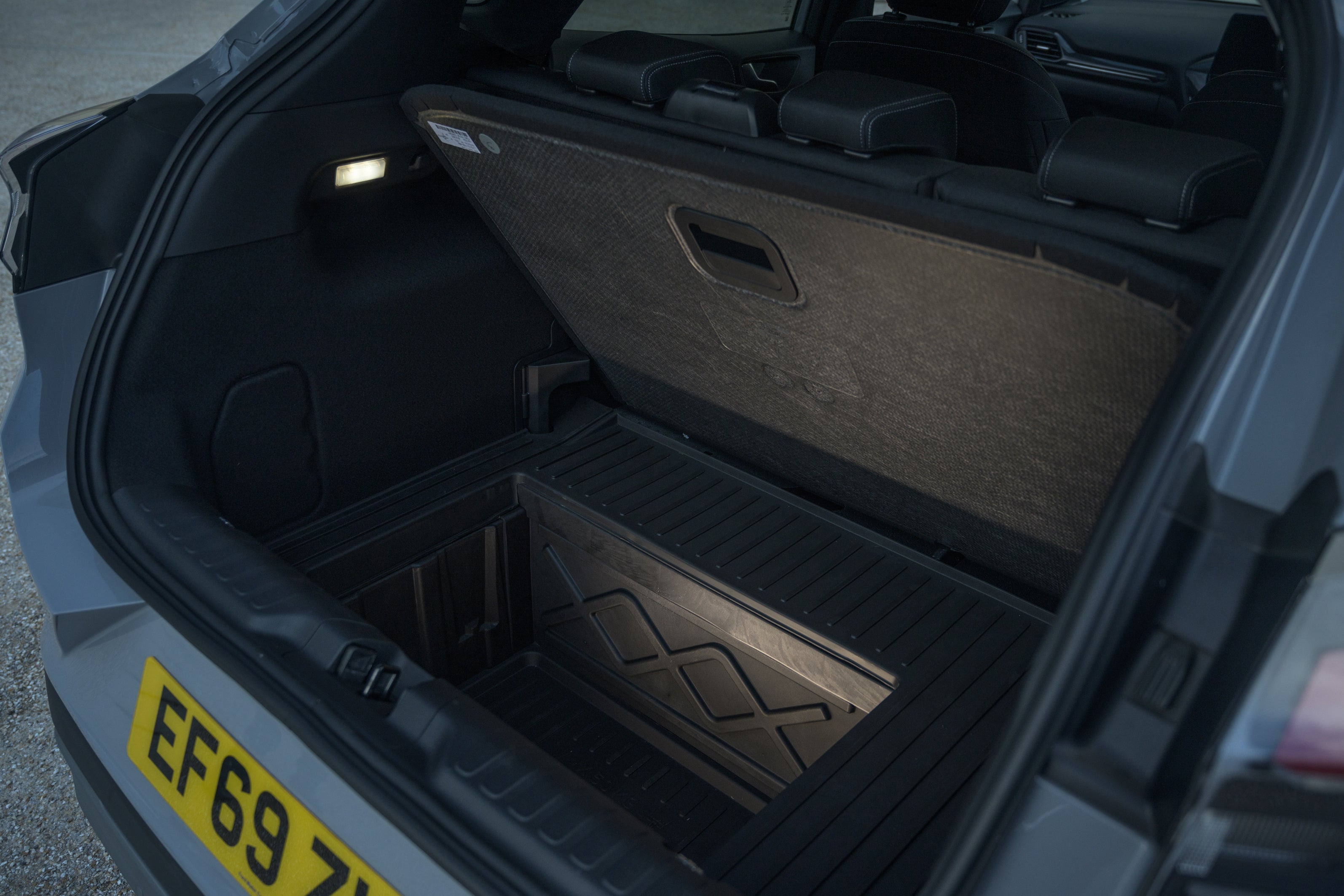 A budget of £20,000 will get you an ex-demonstrator Ford Puma with 2-3000 miles on the clock. Like buying an ex-display washing machine, these will have been poked and prodded by other customers, but they're significantly cheaper than a new model (and there won't be a waiting list). We found a Ford Puma Titanium First Edition with the 125PS 1.0-litre mild-hybrid engine advertised for £18,995 - that's a saving of around £3500.
Many dealers also sell pre-registered Ford Puma models. These are cars that have been ordered and registered in order to meet targets, but usually have even fewer miles on the clock than ex-demo cars. £23,000 will get an as-new ST-Line X First Edition Plus (that means it has everything) with the more powerful 155PS engine, compared to close to £27,500 if you ordered the same car new. That's a saving of £4500.
Trim levels and standard equipment
From launch, the Ford Puma range started with the high-spec Titanium model. This is well-equipped with highlights including 17-inch alloy wheels, Ford's SYNC3 navigation with an eight-inch touchscreen display, massage seats, rear parking sensors and cruise control.
If you're after a sporty choice, look for a Ford Puma ST-Line model with its bodykit, rear spoiler and sports suspension. Inside, there's a flat-bottomed steering wheel (like in a race car) and a 12.3-inch digital instrument cluster
For the ultimate in range-topping sportiness, the Puma ST-Line X adds 18-inch alloy wheels, partial leather trim, rear privacy glass (that's tinted windows in old money), lumbar and height adjust for the driver and front passenger seats, carbon-look interior highlights and a premium B&O sound system with 10 speakers.
These were also offered with additional First Edition packs on early Ford Puma models. Look for a Titanium First Edition for the Driver Assistance and Comfort Packs (the former with such features as a rear-view camera, front parking sensors and adaptive cruise control; the latter with a heated steering wheel and seats). This also adds rear privacy glass.
The Ford Puma ST-Line X First Edition Pack also adds the Driver Assistance Pack as well as LED headlights and an electric tailgate. The ST-Line X was also offered with the First Edition Plus Pack, which had all the highlights of the First Edition Pack in addition to an openable panoramic sunroof and 19-inch alloy wheels.
Ask the heycar experts:
common questions
Is the Ford Puma a good car?
We rate the Ford Puma highly and it's one of our best-rated cars of 2020. You'll pay strong money for one but that just reflects its desirability. More personality than the Volkswagen T-Roc, and is better to drive than a Citroen C3 Aircross. Frankly, it's in a different league to the Vauxhall Crossland X.

Is the Ford Puma 4x4?
The Puma is a small front-wheel-drive SUV and its 1.0-litre petrol engines are more at home on suburban roads than in the mud. Should you need a car with some off-road capability, we suggest looking elsewhere - Suzuki's Jimny, for example, or maybe the new Toyota Yaris Cross.

Answered by
heycar editorial team
What is the Ford Puma based on?
The Ford Puma is loosely based on the Ford Fiesta. Although it has a different look and rides much higher, underneath it shares many components and parts. That's no bad thing - we rate the Ford Fiesta highly, too.

Is the Ford Puma an SUV?
Depends who you ask. Some will call it an SUV. Others will call it a crossover. It's best to look at the company that the Ford Puma keeps. The SEAT Arona is similar - better to drive and has been around for longer - so you're more likely to find a pre-loved bargain. We like the latest Peugeot 2008 although, like the Puma, it's still relatively new so will be expensive second-hand.

Ford Puma cars for sale on heycar
10,370
Number of cars available
£14K - £30K
Price bracket of these cars
Colours available on heycar
Keep me updated by email with the latest advice, news and offers from heycar
By submitting, you agree to our
privacy policy
.