1/10
heycar rating
"A popular and durable workhorse"
Launched: 2011

Pick-up

Diesel
Quick overview
Pros
Stylish and rugged good looks
Comfortable cabin
Wide choice of models
Cons
Lacks the refinement of its rivals
Engines are noisy when pushed
2.2 TDCi feels lethargic
Overall verdict
On the inside
Driving
Cost to run
Prices and Specs
Common questions
Overall verdict on the Ford Ranger
"The Ford Ranger is a rugged and durable workhorse built in the same mould as pick-ups found in America, with muscle car styling and big load-carrying potential."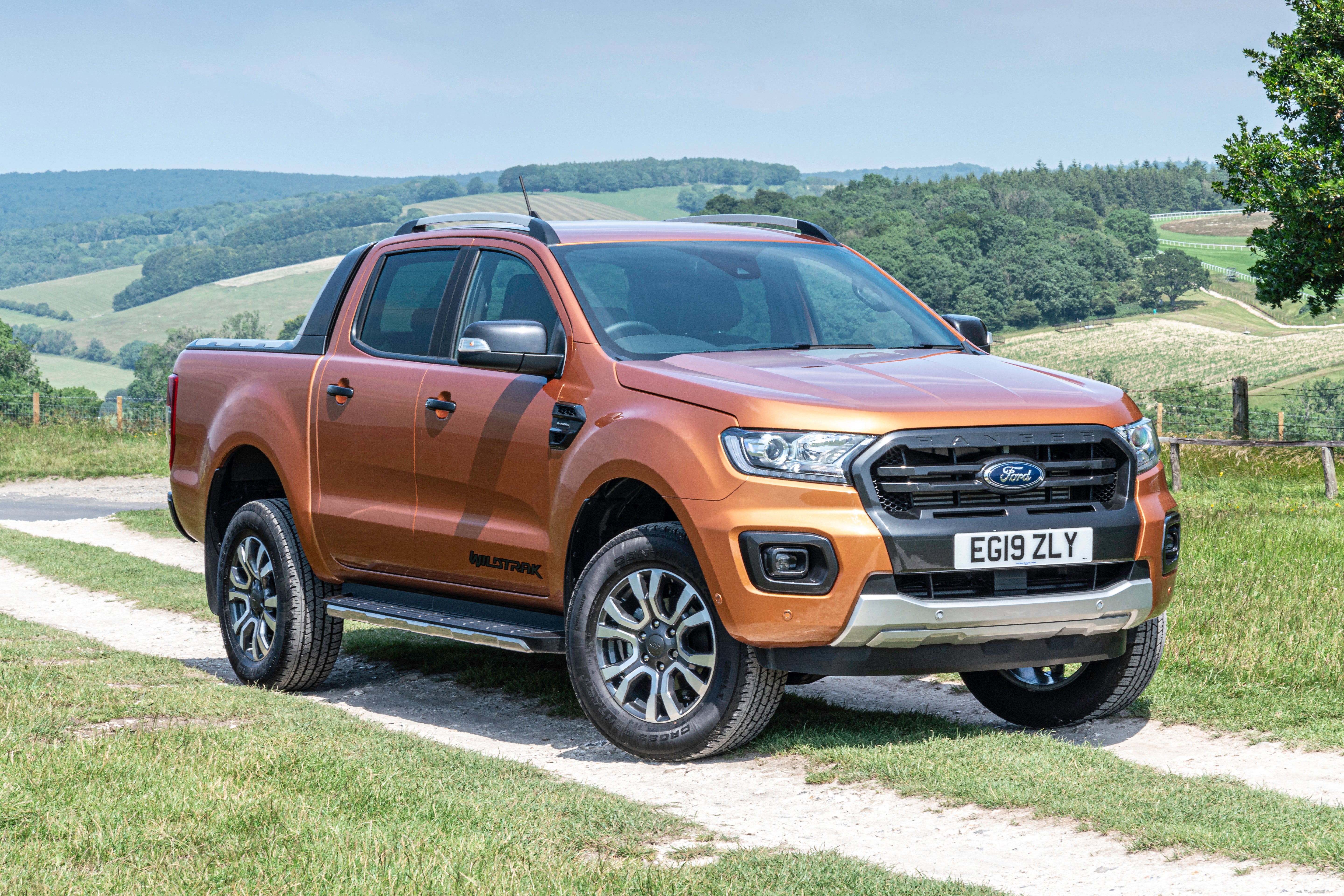 The 2022 Ford Ranger is the UK's best-selling pick-up truck. More popular than both the Toyota Hilux and the Isuzu D-Max, the Ranger combines car-like comfort with class-leading 4x4 tech. Like its stateside cousins, the Ranger is a strong working vehicle with a 3.5-tonne towing limit and one-tonne payload.
The third-generation Ranger was introduced in 2011 and initially came with a 2.2 TDCi engine - with 125PS or 150PS - alongside a more powerful 200PS 3.2-litre turbodiesel. In 2013 Ford gave the 2.2 turbodiesel a small power increase, with 130PS or 160PS. In 2019, the 2.2 diesel was replaced with the 2.0-litre EcoBlue diesel with 170PS or 213PS and the option of a 10-speed automatic gearbox.
Good to drive in all conditions, the Ranger benefits from smooth and responsive controls that make it an easy drive on busy motorways or twisty B roads, even with a fully laden trailer in tow. It is good off-road when fitted with four-wheel drive, with high and low ratio gearing that makes it easy to tackle steep ruts and inclines.
All models get a huge loadbed, with the choice of single, super or double cab bodystyles. Single cab models will carry the most - a maximum of 1252kg - while double cabs will take around 1100kg. Getting into the loadbay is easy and the wide opening makes it simple for forklift drivers to access.
Ford offers a wide range of tonneau covers, shutters and bed liners to protect your pick-up from damage and keep it secure. There is a range of factory-fit hardtop covers too, which effectively transforms the back of the Ranger into a panel van. Maximum towing capacities were upgraded from 3.3 tonnes to 3.5 tonnes as part of the 2013 facelift.
The cabin is well-made and comfortable with a spacious and durable interior that genuinely feels like it's built to cope with everyday working life. Finding a good driving position is easy and even entry-level models get comfortable and well-padded cloth seats. Double cab models will easily carry four adults and, as you'd expect, things get a bit more luxurious as you move up the trim levels and the range-topping models get leather seats, soft-touch trims and a large touchscreen infotainment system.
The Ford Ranger's credentials as a workhorse are unquestionable – especially when you factor in the 2013 updates - but it does suffer from a lack of refinement. Especially when compared to the Nissan Navara and Volkswagen Amarok. That said, if you want a heavy-duty workhorse, capable of cutting it off-road and moving big loads, few pick-ups come close to matching the Ranger.
Is the Ford Ranger right for you?
Powerful, stylish and capable of rivalling some of the best vans for load moving potential, the Ford Ranger is an accomplished commercial vehicle. What's more, with a huge choice of bodystyles and trim levels, there really is a Ranger for everyone. Little wonder, perhaps, it is the UK's favourite pick-up truck.
Most people choose the double cab Ranger, with its five seats and larger interior providing the broadest appeal. However, if you are looking for a working vehicle for the building site, the Ranger is also available as a single or super cab, with the latter getting a small rear door and two fold down rear seats for occasional use.
The Ranger is available in five trim models, but most buyers splash out on the high spec Wildtrak versions owing to their high spec that includes touchscreen navigation and leather seats. Ford has also commissioned a number of high-performance Rangers over the years, with the Stormtrak, Raptor and MS-RT models being the most desirable.
What's the best Ford Ranger model/engine to choose?
Unlike its stateside cousins, the Ford Ranger has never officially been sold with a petrol engine in the UK. And with good reason, the latest fuel prices would make a petrol pick-up extremely expensive to run. That means your options are limited to diesel.
The Ranger is available with 3.2-, 2.2- or 2.0-litre turbodiesel engines. The 2.2 engine was phased out in 2019 and is the weakest engine in the Ranger line-up, with the powerful 3.2 and punchy but efficient 2.0 'EcoBue' diesels being far superior. We rate the 170PS 2.0-litre diesel as the best all-rounder, but the 213PS version is recommended if you plan to use your Ranger for lots of towing or off-roading.
Most versions of the Ranger get a six-speed manual gearbox as standard. A six-speed automatic was added to the range in 2015 and upgraded to a much-improved 10-speed torque-converter automatic in 2019.
What other cars are similar to the Ford Ranger?
Comfort and design: Ford Ranger interior
"There's a feeling of invincibility when you're sat behind the steering wheel of the Ford Ranger."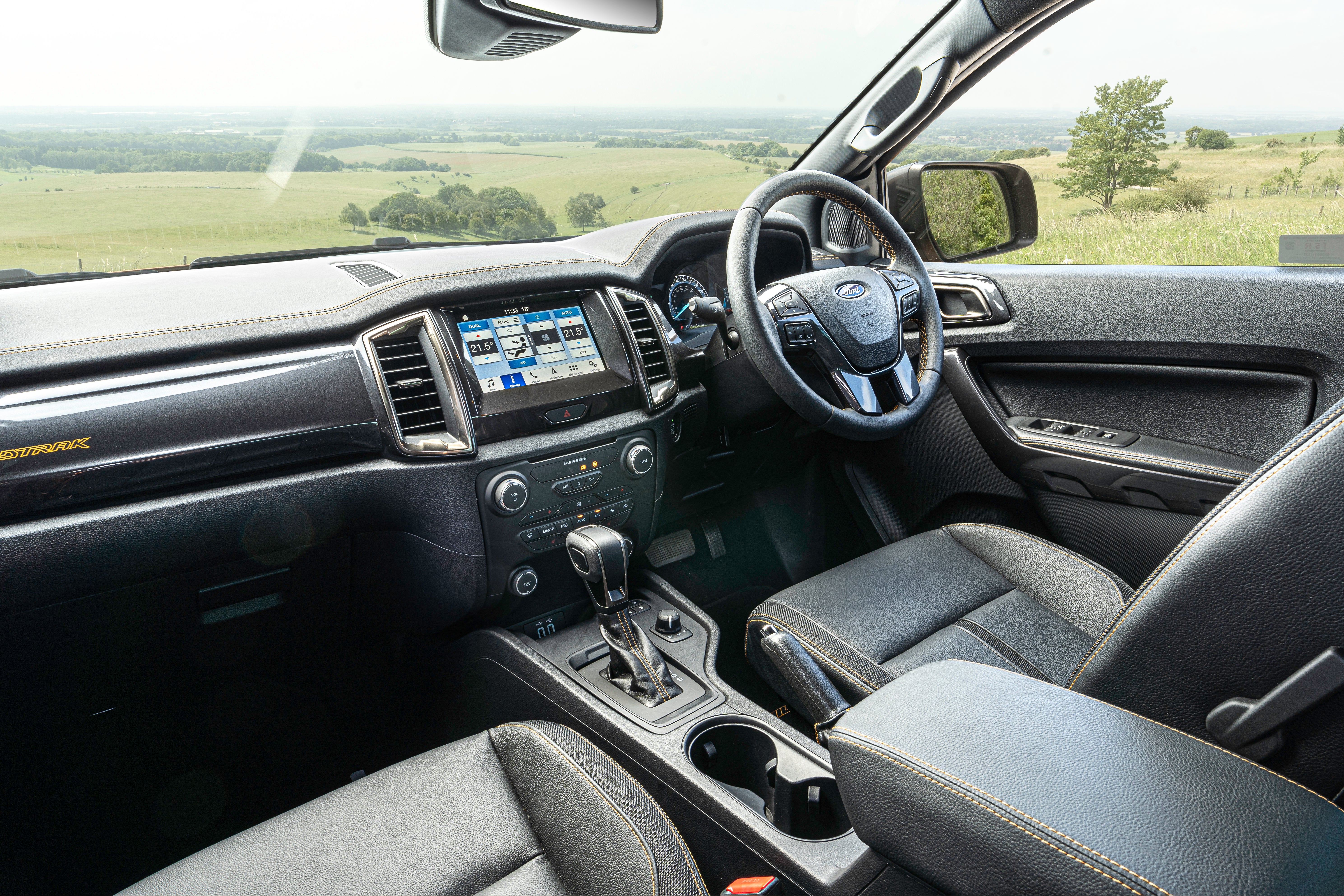 The layout of your Ford Ranger interior will very much depend on the date it was built. Early 2011 models are increasingly rare on the used market and have a basic but comfortable interior that will transport up to five adults in modest comfort.
We'd recommend finding a Ranger from 2015 or newer, with these benefitting from a comprehensive update that improves the quality of the interior materials and touchscreen tech. The Ranger was updated again in 2019 with improved refinement, soundproofing and comfort.
The Ranger has a high-set driving position that gives an excellent an all-round view of the road. Single cab models are limited to just two seats, while the 'super cab' extends the interior to include two fold-down seats in the back that are only suitable for short journeys due to their limited seat cushioning and legroom. Most people choose their Ranger in double cab form, which provides a spacious interior with room for up to five adults to travel in comfort.
The driver's seat is easily adjusted to provide ideal comfort and the steering wheel also moves for height adjustment. Some of the cabin plastics may be more utilitarian than Ford's passenger cars, but the Ranger is well made. It's not the quietest place to sit and while away a journey though, with lots of wind, road and engine noise penetrating the cabin.
As with the exterior, the dash has more than a hint of an American SUV and pick-up in its look. It's not so much glitzy as just a bit more upbeat than some of the other pick-ups in the market. We like it and the Ranger's instruments and controls are all very easy to fathom and use when driving without the need to take your eyes off the road to locate what you need. A typical Ford dash and driver environment.
The gear lever for the manual gearbox is set quite high in the centre console, which makes it easy to reach for any size of driver. Entry-level models come with hardwearing cloth seats while higher-spec models get soft leather fabrics that are aimed more at leisure than serious work use.
All models get air conditioning as standard, with the ventilation controls operated via buttons at the centre of the dashboard. Models fitted with SYNC 3 will also let you adjust the temperature and radio stations with voice controls, which is fancy.
Quality and finish
If you are looking for a tough 4x4 that will cope with the building site during the working week and family days out at the weekend then the double cab Ford Ranger will be for you. It's well made, comfortable and extremely practical.
The Ranger interior does have its fair share of hard plastics but that's to be expected in a commercial vehicle such as this. And while some of the interior quality might be a little rough 'n' ready by car standards, the Ranger's cabin is hardwearing and easy to clean. If you want something that is more luxurious you may want to consider a 4x4 SUV.
High spec versions of the Ranger in Wildtrak, Stormtrak or Raptor trim feature lots of high-quality fabrics and trims. These are the most desirable Ranger models, especially those that feature leather and heated seats.
Infotainment: Touchscreen, USB, nav and stereo in the Ford Ranger
Since 2019, XL has been the entry-level version of the Ford Ranger. It comes fitted with a DAB radio system that features a basic multifunctional display and Bluetooth connectivity for your mobile phone. You also get a pair of USB charging sockets.
XLT trim adds a CD player, 8-inch TFT touchscreen and Ford Pass Connect, which allows you to lock/unlock the vehicle with your mobile phone or locate it in a busy car park via Ford's app.
Ford added SYNC 3 infotainment to the Ranger line-up in 2019 and this features Apple CarPlay and Android Auto, but you'll need to buy the Ranger in Limited trim or better to get it as standard. Wildtrak models get touchscreen navigation as standard, along with Raptor and MS-RT versions.
Space and practicality: Ford Ranger boot/load space
Being a pick-up, the Ford Ranger doesn't get a traditional boot; instead, it features a flat load area that can be customised with lockable roller shutters, rigid tonneau covers or a hardtop with windows. Maximum payloads for most versions of the Ranger is around one-tonne, with the exception being the performance Raptor model which is limited to 620kg.
The load height ranges from 800mm - 900mm, depending on spec, and the tailgate drops down flat and flush with the load bed, making it easy to lift in heavy items. Four load hooks help keep items in place, while an optional plastic load tray will prevent the load bed from damage. All versions of the Ranger get around 1650mm load width - 1139mm between the wheel arches - while single cab models provide a load length of 2317mm and this drops to 1575mm for the double cab models.
Single cab models have a limited amount of space behind the two seats for soft bags or jackets. The super cab model has more space with the two rear seats folding away. Double cab models have the most interior space, with three rear seats.
There are good levels of leg and headroom in the back seats of the Ranger double cab, which means four or five adults can travel in comfort. You also get deep door pockets and a generous scattering of cup holders. The door pockets will also accommodate one-litre water bottles while the large storage box between the front seats is handy for hiding valuables.
Handling and ride quality: What is the Ford Ranger like to drive?
"The Ford Ranger isn't as comfortable or as refined as the Nissan Navara on the road, but it is easy to drive and extremely capable in the rough stuff."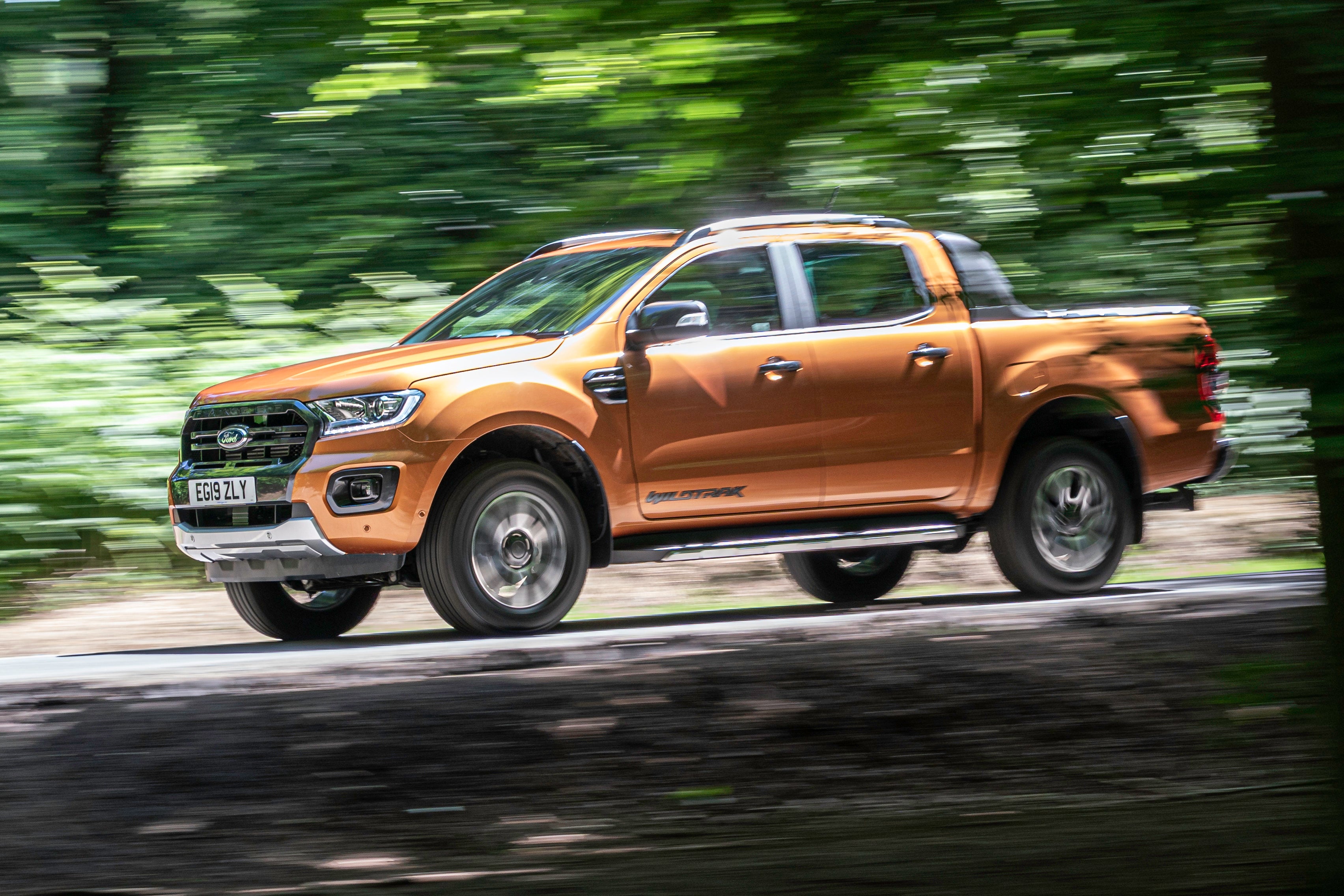 The Ford Ranger's road handling reflects its commercial vehicle origins, which means it tends to bounce along rough roads and generate a fair bit of noise under heavy acceleration. The boxy shape of the body also creates a fair amount of wind noise on the motorway.
A significant 2015 update to the Ranger went a long way in correcting these refinement issues, which means newer models are more comfortable and better equipped for long trips than those built before 2015. But both the X-Class and Navara are more comfortable on a long motorway journey.
Most versions of the Ranger get four-wheel drive as standard and this is activated via rotary dial next to the gearstick, otherwise, the Ranger will operate in its default rear-wheel drive mode to save fuel.
Off-road, the Ranger is impressive with its 232mm ground clearance (283mm on Raptor) and a wading depth of 800mm (850mm on Raptor) making it apt for a range of rugged conditions. You also get a 28-degree approach angle and the option of an electronic locking rear differential.
The Ranger's handling is easy to master on and off-road, thanks to its elevated driving position and huge windscreen that provides a commanding view of the road. The light steering is perfect for city driving but doesn't generate a great deal of feedback out on the open road - something that is true for most pick-up trucks.
If you want better driver engagement then we'd recommend the performance-focused Raptor, which uses bespoke suspension, Fox shock absorbers and position sensing damping that provides Mustang-rivalling handling on and off-road. You also get the most powerful version of Ford's 2.0-litre bi-turbo diesel engine for true muscle car performance.
What engines and gearboxes are available in the Ford Ranger
The latest versions of the Ford Ranger are powered by a Euro 6 four-cylinder 2.0-litre turbodiesel engine with 135PS, 170PS or 213PS. The 170PS version is the best in our opinion as it strikes a good balance between performance and running costs, with its 420Nm of torque producing lots of low-gear acceleration.
If you need more poke from your pick-up, the bi-turbo 213PS engine will most likely suit your needs. It produces a mountainous 500 Nm of torque but is only available on high spec versions of the ranger like Raptor and Stormtrak.
Ford offered the Ranger with a powerful five-cylinder 3.2-litre diesel engine up until 2020. The 3.2 diesel is one of our favourite diesel engines owing to its grunty 470Nm of torque, which means it is perfectly suited to off-roading in heavy mud or towing heavy loads.
A four-cylinder 2.2-litre was also offered up until 2019, when it was replaced by the latest 2.0-litre diesel. This 2.2 TDCi engine is the least powerful engine in the Ranger line-up, initially being offered with 125PS or 150PS. However, this was increased slightly in 2013 to 130PS or 160PS.
The Ranger is generally fitted with a six-speed manual gearbox as standard. A six-speed automatic was offered until 2019 when it was replaced with a 10-speed torque-converter automatic. This 10-speed auto is fitted as standard to the Ranger Raptor.
Refinement and noise levels
Refinement and noise levels are not areas where commercial vehicles tend to excel, with their focus firmly on shifting huge loads at the lowest possible fuel cost. Ford's pick-up is no exception. Certainly, compared to the best SUVs, the Ranger's diesel engines are noisy and there is lots of road and wind noise on the motorway.
The suspension in the Ranger transfers lots of vibration into the cabin on rough road surfaces. This is because Ford uses a leaf-sprung suspension system in the Ranger, which is designed to carry heavy loads. If you want a pick-up with SUV-like comfort, we'd recommend the Nissan Navara, Volkswagen Amarok or Mercedes-Benz X-Class.
That said, some versions of the Ranger perform better than others. Certainly, those built since the 2015 facelift are much improved over the older models, while further improvements to refinement and noise were applied during a model refresh in late-2019.
Safety equipment: How safe is the Ford Ranger?
The Ford Ranger is fitted with lots of safety tech as standard, with all models getting a driver and passenger front airbag, along with side and curtain airbags. There is also an inflatable knee airbag for the driver, along with low-speed crash foam bumpers that are designed to absorb small impacts.
Double cab models get two Isofix anchor points for the outer rear seats and both of the rear doors are fitted with child locks.
There is a comprehensive array of active driver safety kit, which includes a hill descent control system that will automatically control the Ranger's speed when tackling a steep off-road decline. The Ranger also gets systems that will take action if it detects a risk of the vehicle rolling over when off-road.
Cruise control, lane keep assist and an automatic emergency braking system are all fitted as standard, while the options list includes adaptive cruise control and a semi-autonomous parking system that will automatically steer the Ranger into a space.
MPG and fuel costs: What does a Ford Ranger cost to run?
"Pick-up trucks are thirsty on fuel and the Ranger is no different, with average economy peaking at 35mpg."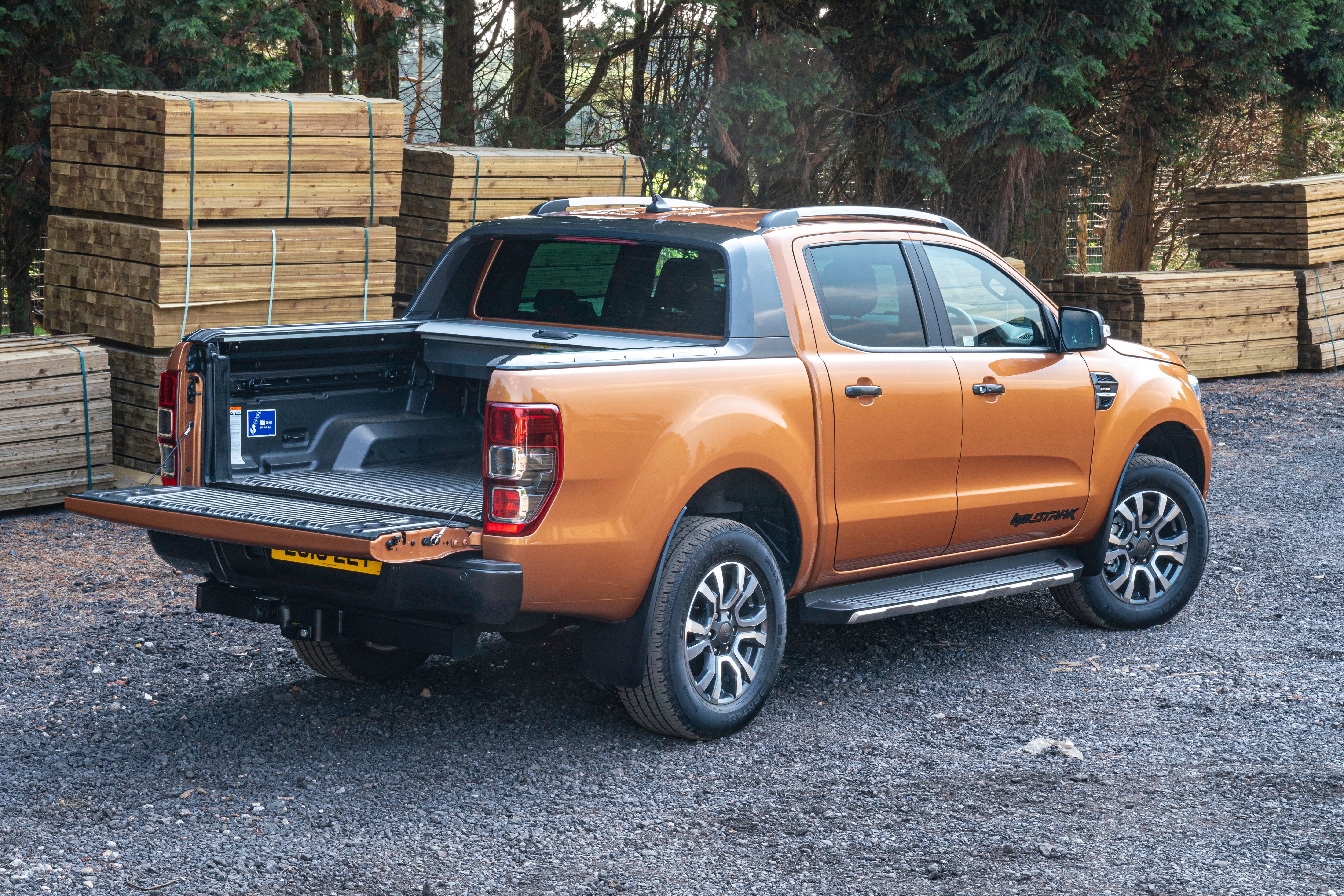 Advertised fuel economy for the latest 2.0 'EcoBlue' diesel engines range from 35mpg to 30mpg, depending on power output. The 170PS strikes a good balance between performance and economy, with advertised figures peaking at 35mpg for the double cab model.
Real MPG figures at Honest John Vans suggest that the 2.2 diesel engine will return around 30mpg while the 3.2 engine will average at 26mpg.
How reliable is the Ford Ranger?
Pick-up trucks tend to live tough lives, which means reliability is very much dependent on how much care the previous owner(s) have paid to their Ford Rangers. As a basic requirement, you should aim to buy a Ranger from a dealer with a warranty and full service history.
According to the MOT Files at HonestJohn.co.uk, the Ford Ranger has a good record with 81% of vehicles passing their first MOT test - a figure that's 22% better than other pick-ups.
Insurance groups and costs
Pick-up trucks tend to be expensive for insurance. The Ranger starts in group 30 and the high-performance models like the Raptor, Stormtrak and MS-RT are closer to group 50.
VED car tax: What is the annual road tax on a Ford Ranger?
Pick-up trucks are taxed as commercial vehicles, which means you'll pay a flat rate of £275 for 12 months VED and £143 for six months tax.
How much should you be paying for a used Ford Ranger?
"The Ford Ranger is the best selling pick-up truck in the UK, which means you can afford to be quite choosy when it comes to buying one on the used market due to the sheer volume of vehicles for sale."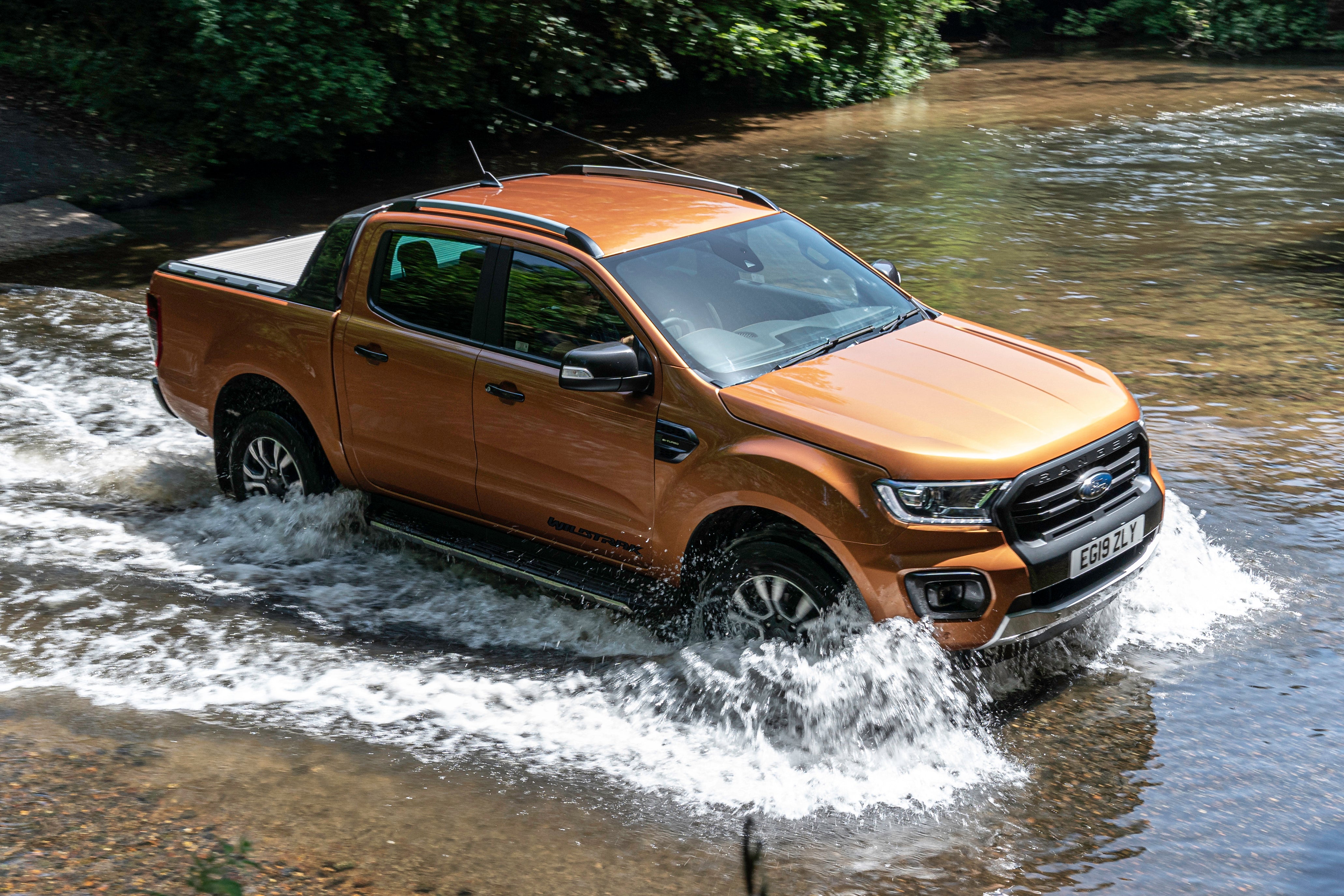 Prices for a used Ford Ranger at a dealer tend to start in the region of £17,000. This will secure a six or seven-year-old double cab example with less than 100,000 miles and a full-service history.
Nearly new examples in Wildtrak spec or higher will command over £30,000 (including VAT) while the high-performance Raptor models can command up to £45,000.
Trim levels and standard equipment
The Ranger line-up is broadly split across six trim levels, although Ford has released various special editions and limited run models over the years that include the Stormtrak and Wolftrak.
XL is the entry-level spec and features 16-inch steel wheels, body coloured bumpers, DAB audio with 3.5-inch multifunction display, Bluetooth smartphone connectivity, air conditioning, lane keep assist, cruise control and electric windows. XLT adds alloy wheels, 8-inch touchscreen infotainment, automatic windscreen wipers and front fog lights,
Limited is the mid-spec trim level and includes LED headlights, electric door mirrors, SYNC 3 infotainment with voice control, leather seat trim, keyless start, parking sensors and a rear view camera.
Wildtrak is the most popular trim level in the Ranger line-up and includes 18-inch alloy wheels, LED front fog lights, touchscreen navigation, ambient LED interior lighting. and roof rails.
Raptor is the highest spec in the Ranger line-up and includes an enlarged Ford grille, leather and suede seats, electric seat adjustment for the front seats and bespoke high-performance suspension. Ford has also commissioned a specialist MS-RT model that gets 20-inch OZ alloy wheels, carbon fibre door mirror caps and a hand-built carbon fibre-effect grille. You also get orange stitched MS-RT leather seats and an aerodynamic load bar.
Ask the heycar experts:
common questions
How much is a new Ford Ranger?
Prices for the Ford Ranger start at £30,625 (including VAT) for the single cab mode in XL trim and rise to £33,325 for the double cab model. The popular Ranger Wildtrak has a list price of £43,975 including VAT.

How much is a Ford Ranger Raptor?
The 2022 Ford Ranger Raptor starts at £45,076 before VAT and £54,025 after VAT has been added.

How much can a Ford Ranger tow?
The Ford Ranger has a maximum tow limit of 3.5 tonnes. Most models can carry one-tonne in the rear load bed, with the exception being the Ranger Raptor which is limited to 620kg.

Ford Ranger cars for sale on heycar
10,559
Number of cars available
£14K - £48K
Price bracket of these cars
Colours available on heycar
Keep me updated by email with the latest advice, news and offers from heycar
By submitting, you agree to our
privacy policy
.