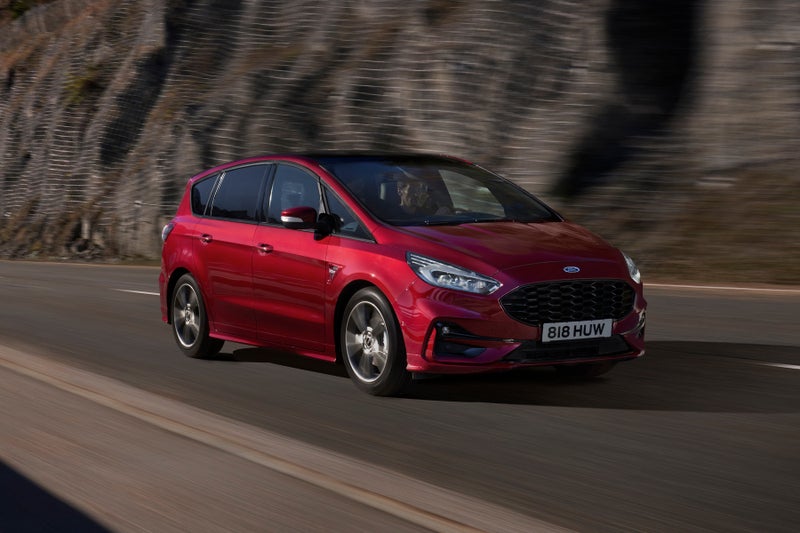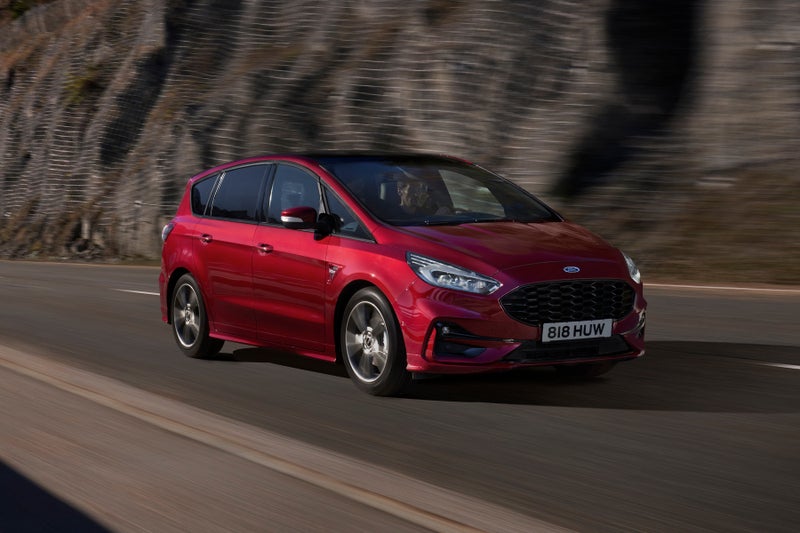 1/7
Launched: 2015

MPV

Petrol, Diesel
Quick overview
Pros
Estate car levels of driving enjoyment
Solid cabin that's well-equipped
Practical and flexible seating layout
Cons
Not as practical as the Ford Galaxy
Less affordable than it once was
You can now only buy the hybrid version new
Overall verdict
On the inside
Driving
Cost to run
Prices and Specs
Common questions
Overall verdict on the Ford S-MAX
"The Ford S-MAX is a unique proposition, offering the benefits of a seven-seat MPV in a more stylish suit, with the driving enjoyment of an estate car. If you're after maximum practicality, buy the Galaxy, but the S-MAX has broader all-round appeal.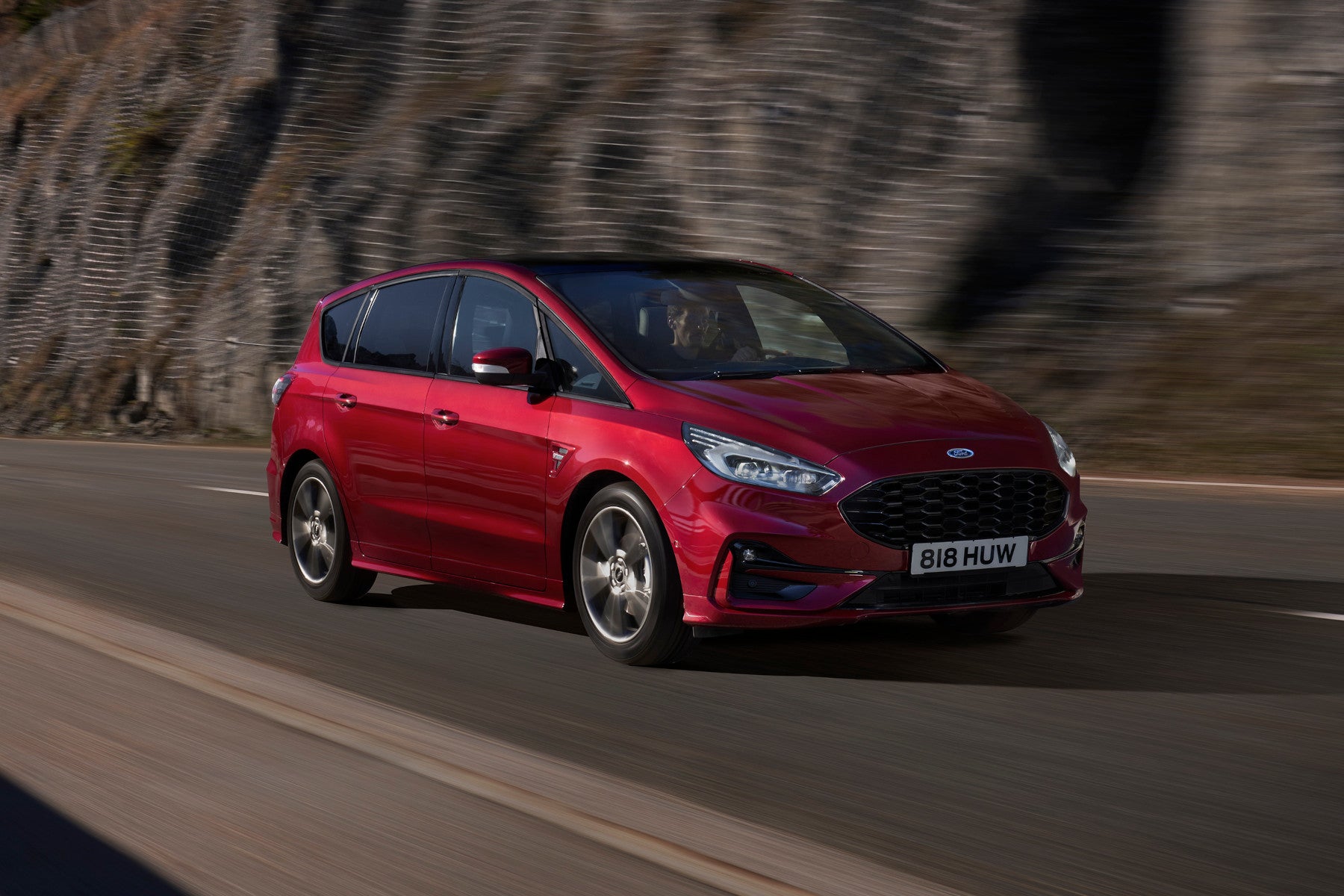 The Ford S-MAX is the seven-seat MPV you can buy with your head and your heart. Launched in 2015, the current S-MAX picked up where the old model left off, injecting some style and dynamic ability into a segment focused on space and practicality.
The S-MAX is sold alongside the seven-seat Ford Galaxy, but there are some fundamental differences between the two MPVs. While the Galaxy is a true seven-seater, the S-MAX is best described as a five-seater with two additional seats for occasional use.
Although the two cars look very similar from the front, the S-MAX boasts a rakish, almost estate car-style roofline. Both cabins are similar, but the S-MAX is a bit more driver-focused. The range-topping Vignale version edges the Ford into premium territory, albeit with a price tag to match.
Older versions of the S-MAX were available with punchy but thirsty Ecoboost petrol engine, but they were dropped in 2019, leaving the S-MAX available with a single 2.0-litre EcoBlue diesel. There are two outputs available: 150PS and 190PS. The less powerful engine is more than up to the task of moving the S-MAX, even with all seven seats occupied. It's also available with a satisfying six-speed manual gearbox, while the 190PS model comes with an excellent eight-speed automatic transmission.
However, as of late 2021 it's all change once again. The diesels have been dropped entirely, replaced with a 2.5-litre full hybrid system taken out of the Mondeo. It's the sole choice of engine you can buy new today, although diesel is still the overwhelming choice on the used market.
The S-MAX is great to drive, even if the CVT-only hybrid isn't as engaging as the old diesels. Although it lacks the precision of the original S-MAX, this latest version is more comfortable and still a cut above rivals when it comes to dynamic appeal. The low centre of gravity means there's very little body roll when cornering for such a big car, while the lowered, stiffer suspension of the ST-Line model makes the S-MAX feel like a nimble estate car.
Speaking of estate cars, the S-MAX offers a huge 2,020 litres of luggage space with the five rear seats folded down, or 965 litres in five-seat mode. This shrinks to 285 litres in seven-seat mode, which is just enough for a suitcase and a couple of washbags.
The middle seats fold and slide independently to deliver maximum flexibility. Crucially, by moving them forward you can create some extra room for the passengers in the third row. If you don't, they'll be screaming for mercy before you've left the driveway.
Ford has preloaded the S-MAX with a generous level of standard equipment, so there's no need to look beyond the entry-level Zetec trim. If you do, the Titanium adds a few nice-to-have features, the ST-Line is the sportiest member of the range, while the Vignale is the luxury wannabe. The latter is a convincing package, but lacks the badge and image required to justify its price tag.
Overall, the Ford S-MAX is a unique proposition in a dwindling market. It's as good to drive as the majority of seven-seat SUVs, nicer to live with than most MPVs, and feels more substantial than an estate car.
Is the 2022 Ford S-MAX right for you?
If you're after a practical and flexible MPV, but don't want to sacrifice driving pleasure, the Ford S-Max is the car for you. Although it can't offer the space and practicality of the larger Galaxy, the S-MAX has more car-like styling and handling. You can think of it as part-estate car and part-MPV.
It seats seven, although the third row is best reserved for children, and it comes with plenty of standard kit. Because it's based on the Ford Mondeo, it's also good to drive. Indeed, we'd say it's one of the best-driving seven-seaters around, with a better ride and handling balance than many large SUVs.
Although family car buyers are turning to fashionable SUVs in their droves, there's still a place for MPVs such as this, even if the market is dwindling. The fact that the S-MAX is hybrid-only now may narrow its appeal for some, but it'll also increase its popularity with city dwellers.
What's the best Ford S-MAX model/engine to choose?
If you're buying a Ford S-MAX from new, there is no choice to make here - you get the hybrid version and that's your lot, as the diesels have been removed from sale. However, there are still plenty of diesels on the used market, as the overwhelming majority of S-MAX models sold.
The 150PS version of the 2.0-litre EcoBlue diesel engine is our pick, offering the best blend of performance, economy and price. It's punchy enough, even with all seven seats occupied, so we don't see a need to upgrade to the more powerful (but less economical) 190PS version.
Prior to 2019 there were also some Ecoboost pure petrol options: a 165PS 1.5-litre and 240PS 2.0-litre. Neither were particularly strong sellers, and neither delivered particularly good fuel economy. The bigger model, in particular, would struggle to top 30mpg unless you were really careful.
We'd also recommend the now entry-level Titanium trim level if buying new, as Ford has loaded it with a fairly generous amount of goodies. Just go easy on the options, because the S-MAX can get quite expensive for a people carrier. Keep it simple – unless you're buying a used example, when the higher trim levels make more sense.
What other cars are similar to the Ford S-MAX?
Because the Ford S-MAX straddles the estate car and MPV markets, it goes into battle against a wide range of competitors - although on the MPV side few of those are still available to buy new. The more practical and larger Ford Galaxy is the enemy from within, but it can't rival the S-MAX in terms of style and driving enjoyment.
Direct rivals include the Citroen Grand C4 Space Tourer and Volkswagen Touran, but they are really the only car-based seven-seat MPVs on the new car market now. However, carmakers still offer plenty of van-based MPVs, including the affordable Citroen Berlingo, Vauxhall Combo Life and Volkswagen Caddy Life.
There are plenty of used MPV rivals for the Ford S-MAX, too, including the Volkswagen Sharan, SEAT Alhambra, Vauxhall Zafira Tourer and Renault Grand Scenic.
With much of the seven-seat market switching to SUVs, the S-MAX also faces a fight from the likes of the Skoda Kodiaq, Peugeot 5008 and SEAT Tarraco. In common with the S-MAX, most seven-seat SUVs are best described as five-seaters with a pair of occasional chairs at the back.
Comfort and design: Ford S-MAX interior
"You wouldn't describe the driving position as 'low-slung', but you certainly sit lower in the Ford S-MAX than many other MPVs. This helps to cement the feeling that you're inside something with a sporting flavour, but it won't suit those who prefer the commanding driving position of an SUV."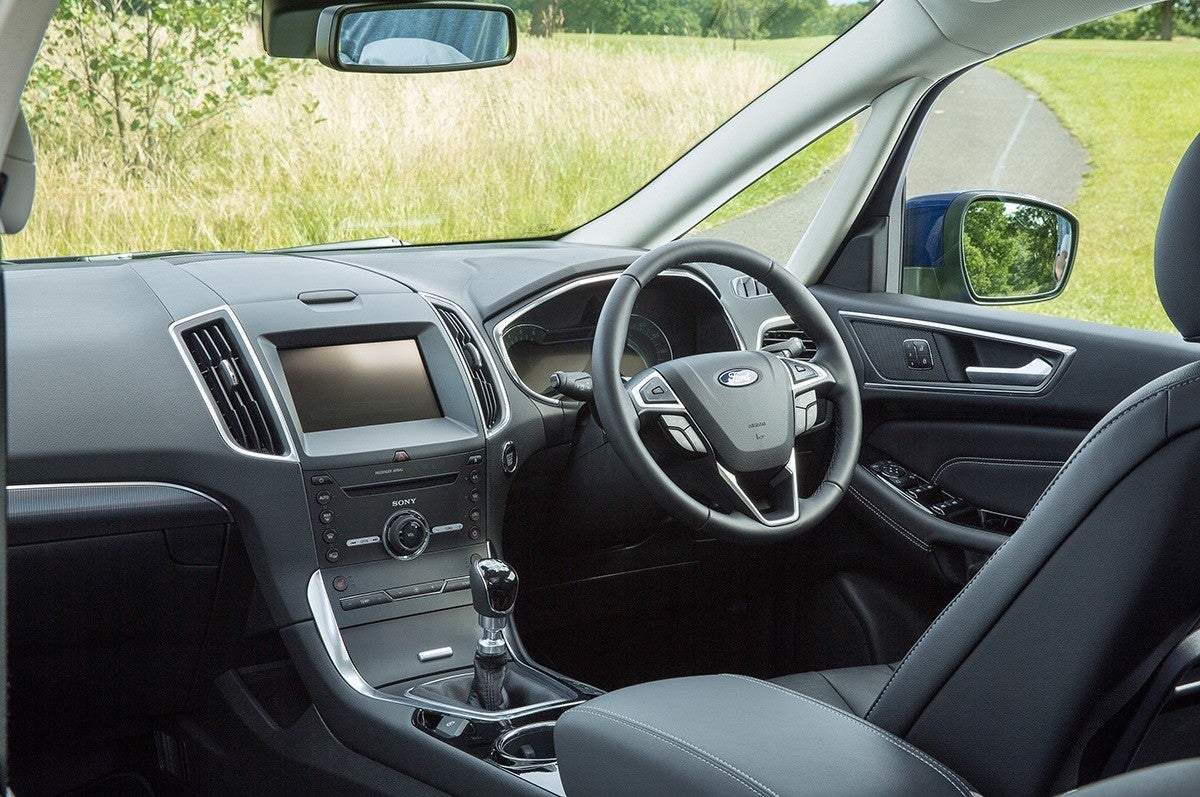 The driving position is excellent, however, with the steering wheel adjustable for height and reach. Even the driver's seat in the entry-level version offers plenty of adjustment, but higher trim levels offer up to 10-way electric adjustment with lumbar support. All models get sport seats, which are comfortable and supportive.
The excellent driving position is enhanced further by a centre console with a fixed armrest (leather on the Vignale), along with the raised gear lever, which gives the S-MAX unlikely sporting qualities. You'll never feel like you're driving a people carrier – until you turn around to see all seven seats occupied. Later automatic models received a neat dial in place of a chunky gearstick.
There's a pair of clear and concise dials in the Zetec model, but other versions get a 10.1-inch semi-digital cluster that can be configured in a number of different ways. The rest of the dashboard is fairly conventional, with a central screen flanked by a pair of air vents. The audio and heating controls are positioned in the lower half of the centre console.
The buttons are a little on the small side, but thankfully the console boasts a far simpler layout than S-MAX models of old. The flagship Vignale features plush leather, climate controlled front seats with massage function, a leather-trimmed steering wheel and enhanced ambient lighting.
Quality and finish
The Ford S-MAX has an upmarket feel, especially once you venture beyond the used entry-level trim. Not that the Zetec seems like a poor relation – the cabin is solid, while the buttons and switches feel reassuringly expensive. Sure, there are some cheap plastics in the lower reaches of the cabin, but you'll only come across these when you're vacuuming the carpets.
Upgrading to the Titanium (which is now the entry level model new) doesn't mean an upshift in quality and finish, but the ST-Line and Vignale offer a genuinely premium feel. Take the ST-Line, which features a heated and perforated leather-trimmed steering wheel with red stitching, a leather-trimmed gear lever gaiter (also with red stitching), and heated sports seats with eight-way electric adjustment.
The flagship Vignale is designed to edge the Ford S-MAX deep into premium car territory. To this end, it comes with perforated leather trim, climate-controlled front seats with 10-way electric adjustment and a massage function, a leather-trimmed instrument panel, active noise control, deep-pile carpets, Vignale tread plates and classy ambient lighting.
Unfortunately, the Vignale is too expensive when new, with a price tag that pitches it against posher rivals, including the BMW 2 Series Gran Tourer. The S-MAX can't rival the BMW in terms of quality, image or depreciation.
Infotainment: Touchscreen, USB, nav and stereo in the Ford S-MAX
Every version of Ford S-MAX comes with an eight-inch colour touchscreen infotainment system as standard. The Sync 3 unit boasts a DAB digital radio, a CD player, eight speakers, voice control, two USB ports, Apple CarPlay and Android Auto.
Sync 3 is far better than Ford infotainment systems of old, offering faster response times and a menu system that's easy to operate on the move. That said, there are still too many menus, with some options requiring two or three touches before you reach them. The display also looks a little dated, but this isn't a problem if you use Apple CarPlay or Android Auto.
Upgrading to Titanium or ST-Line adds navigation to the mix, along with a 10.1-inch semi-digital instrument cluster. Meanwhile, the Vignale trim gets a Sync 3 Sony premium audio system with 12 speakers. The Sony system is also an option on Titanium and ST-Line models.
A word on the voice control system, which is decent enough in the Ford S-MAX. You can ask it to change the temperature without fear of calling Terry on his mobile, or to set the satellite navigation for home without changing the temperature to sub-zero.
Space and practicality: Ford S-MAX boot space
All the talk of smart styling, keen dynamics and expensive kit would be needless if the Ford S-MAX failed to deliver as a seven-seater.
Thankfully, the S-MAX is an excellent MPV, albeit without the ultimate practicality of some larger MPVs. For example, while the likes of the Seat Alhambra, Volkswagen Sharan and Ford Galaxy offer seating for seven adults, the third row in the S-MAX is best reserved for children.
Meanwhile, the rear doors are the conventional type, rather than the sliding doors offered by some rivals. It sounds like a small point, but once you've lived with sliding doors, you'll wonder how you managed without them.
This is where our criticisms end, because as a '5+2' MPV, the Ford S-MAX is hard to beat. The driver and front-seat passenger will enjoy the feeling of space, while there's plenty of headroom and legroom in the middle row. There are also three Isofix points along the centre row – a boon for young families.
The seats in the middle row fold and slide individually, which is great in terms of flexibility. It also means that you can slide them forward to prove a little more space for anyone in the third row. The second- and third-row seats can be folded down via levers in the boot.
In seven-seat mode, the S-MAX offers 285 litres of luggage space, which is roughly the same as you'll find in a supermini. It's enough room for a single suitcase, but beyond that you'll need to invest in a roof box.
With the third row not in use, luggage capacity increases to a cavernous 965 litres, with up to 2,020 litres available in two-seat mode. This gives the S-MAX van-like qualities, which is excellent when you consider the car's sloping roof.
There are loads of storage spaces dotted throughout the cabin, including two cupholders in the front, a huge central storage bin and a handy area behind the centre console. The third-row seats also get a pair of cupholders and storage areas, while table trays on the back of the front seats are standard on Titanium trim and above.
In terms of exterior dimensions, the Ford S-Max is 4,796mm long, 1,916mm wide and 1,655mm tall. That's noticeably longer, wider and taller than the Grand C4 Spacetourer but smaller than the Volkswagen Sharan.
Handling and ride quality: What is the Ford S-MAX like to drive?
"We've referenced the excellent dynamics of the Ford S-MAX, but it's important that you view everything in the context of this type of car. It's still an MPV, albeit one that drives better than most."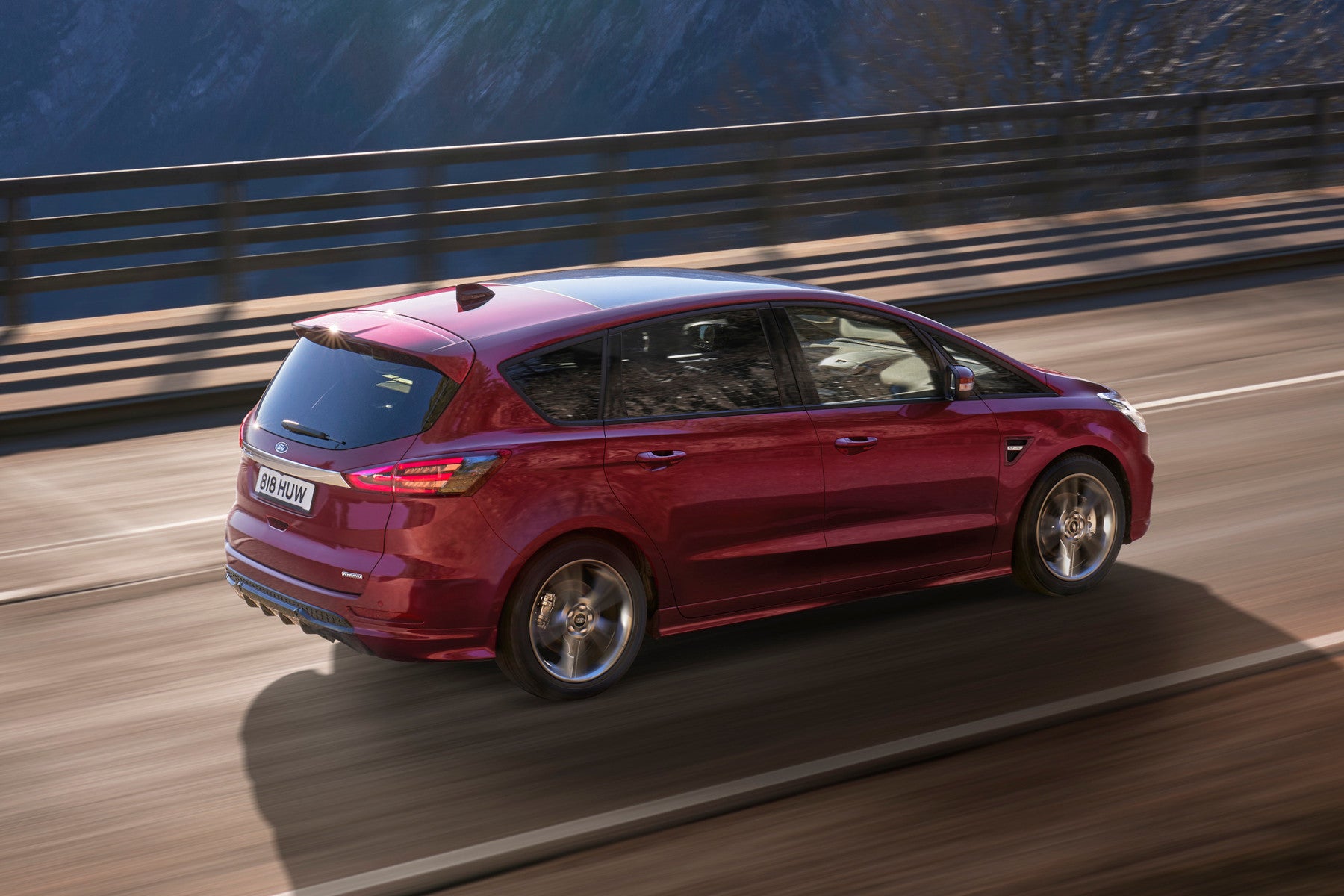 The first-generation Ford S-MAX built a reputation on showing MPVs didn't have to be dull to look at and even duller to drive, with sharp handling and some surprisingly punchy engines.
The latest S-MAX can't quite live up to the high handling standards set by its predecessor, with Ford adopting a more comfortable stance with the Mk2 S-MAX. This is a sensible move, though, because comfort is arguably more important than precision handling and sharp steering.
Maybe we're being too quick to lower your expectations. The Ford S-MAX is a thoroughly satisfying and pleasant car to drive, feeling more like the smaller C-Max than it does the larger Galaxy. The steering is sharp and accurate, and although it lacks feedback and feels a bit mushy around the straight-ahead, it's not difficult to position an S-MAX on a country road.
Thanks to the low centre of gravity, there's not much in the way of body roll when you're cornering, with plenty of grip available, regardless of the model. You'd swear blind you're driving something smaller than an S-MAX – it really is that good. 'Agile' and 'fun' aren't words we'd use to describe many seven-seaters, but they can be used in the context of the S-MAX.
It's not all good news. The ride quality suffers on larger alloy wheels, especially on the 19-inch rims worn by the Vignale model. This feels at odds with a trim level that has been designed with luxury in mind. And while the ST-Line model gets more modest wheel options, the stiffer sports suspension does make it a little more unsettled on bumpy roads than we'd like.
All-wheel-drive was available on some of the ST-Line and Vignale petrol and diesel models if you're after superior all-weather qualities. Ask yourself if you really need it, as all-wheel-drive models cost more to run and are difficult to find on the used market. As a new car, it's front-wheel drive only now.
The most remarkable thing about the Ford S-MAX is its ability to switch from school run duties to motorway cruising. It feels light and wieldy in the city, but firm and meaty on the open road.
What engines and gearboxes are available in the Ford S-MAX?
Diesels have always been the engine of choice in the S-MAX, so it was no surprise when Ford ditched petrol as part of the 2019 facelift. The 2.0-litre EcoBlue diesel is excellent, providing a terrific blend of performance and economy, regardless of the output. Unfortunately, no diesel models are available to buy new as of late 2021.
In 150PS diesel guise, the Ford S-MAX will accelerate to 62mph in 10.8 seconds, regardless of whether it features a six-speed manual gearbox or an eight-speed automatic transmission. The top speed is 123mph in the manual gearbox, or 122mph in the automatic. Really, it'll be plenty sufficient for most needs.
The manual gearbox isn't available on the 190PS version, with both the front- and all-wheel-drive cars getting the eight-speed automatic transmission. The front-wheel-drive S-MAX will sprint to 62mph in 9.5 seconds, with the all-wheel-drive version getting there a second later. It's the engine of choice if you regularly load up the car with passengers and still want effortless performance.
The S-MAX launched in 2015 with the option of a 1.5-litre EcoBoost petrol engine, a 2.0-litre EcoBoost unit, and a choice of 2.0-litre Duratorq TDCI engines. A slightly bonkers 2.0-litre EcoBoost with all-wheel-drive and a six-speed automatic transmission arrived soon after. It offered 240PS, to give the S-MAX hot hatchback qualities but also fairly startling thirst.
In 2018, Ford overhauled the engine range, with the 2.0-litre EcoBlue diesel engine replacing the old Duratorq unit. It also saw the arrival of the eight-speed automatic transmission, which is a big step up from the old six-speed auto. It's for this reason that we'd recommend a S-MAX registered after September 2018.
The automatic transmissions are good, but the six-speed manual gearbox is surprisingly satisfying. It's the one to choose if you want to get the best from the S-MAX driving experience.
Of course, all of the above is irrelevant if you are buying a new Ford S-MAX. As of late 2021 the sole engine choice in the S-MAX and Galaxy range is the 2.5-litre petrol hybrid mated to a CVT transmission.
Borrowed from the Mondeo Hybrid, but updated since it first arrived several years ago, it's better than you might expect and doesn't totally kill the S-MAX's fun-to-drive qualities. 0-60mph takes 9.7 seconds, which is perfectly acceptable performance, and the CVT transmission does an okay job of simulating stepped 'gears' if you use the paddles. It's also super smooth and efficient around town, where it seamlessly juggles petrol and electric power and keeps the engine off where it can.
Refinement and noise levels
The Ford S-MAX is a remarkably refined vehicle, with virtually no wind or road noise at motorway speeds. While the Galaxy can feel echoey and cathedral-like on the inside, the S-MAX manages to feel snug and cocooned, without feeling claustrophobic.
Predictably, the Vignale is the most upmarket of the bunch. Noise-cancelling technology and laminated side windows make the flagship model feel a notch or two more refined than the lesser versions. The premium leather seats also look and feel the part, adding an extra layer to the feeling of refinement.
The engine and transmission play a crucial part in this, with the 2.0-litre EcoBlue diesel only sounding vocal when you push it hard, although this is less of an issue in the 190PS version.
Equally, the eight-speed automatic is smooth and efficient, although it can be a little slow to react to sudden inputs. On the plus side, you'll barely notice the shifts through the gears – the transmission wouldn't feel out of place in a luxury car.
The S-MAX hybrid is really refined and smooth once you're up to speed and cruising, but the engine does get a bit vocal if you mash the throttle to the floor and keep it there.
Safety equipment: How safe is the Ford S-MAX?
The Ford S-MAX was awarded a five-star safety rating when it was crash tested by Euro NCAP in 2015. The individual ratings were 87 percent for adult occupant protection, 87 percent for child occupant protection, 79 percent for pedestrian safety, and 71 percent for safety assist systems.
It's worth noting that the test has become significantly stricter since, but the S-MAX should still score pretty well today in terms of its structural strength and crash protection.
All versions come with driver and passenger airbags; front side impact airbags; driver's knee bolster airbag; driver and passenger first, second and third row side curtain airbags; and rear side impact airbags. That's pretty much par for the course these days, though.
All models also come with Ford's Curve Control system, which controls understeer by reducing engine torque and applying the brakes. There's also active rollover protection across the range, along with three Isofix points on the second row of seats, front and rear parking sensors, pre-collision assist and cruise control.
Lane-keeping assist, traffic sign recognition and LED daytime running lights are standard on all except the Zetec model. Other assistance systems, such as active park assist, blind spot information and adaptive cruise control are available as an option pack.
Only the Vignale trim gets a rear-view camera and adaptive LED headlights as standard.
MPG and fuel costs: What does a Ford S-MAX cost to run?
"If you're buying a new Ford S-MAX, then the hybrid officially manages 44.1mpg. That figure seemed conservative to us, however, as we managed 50mpg without much effort."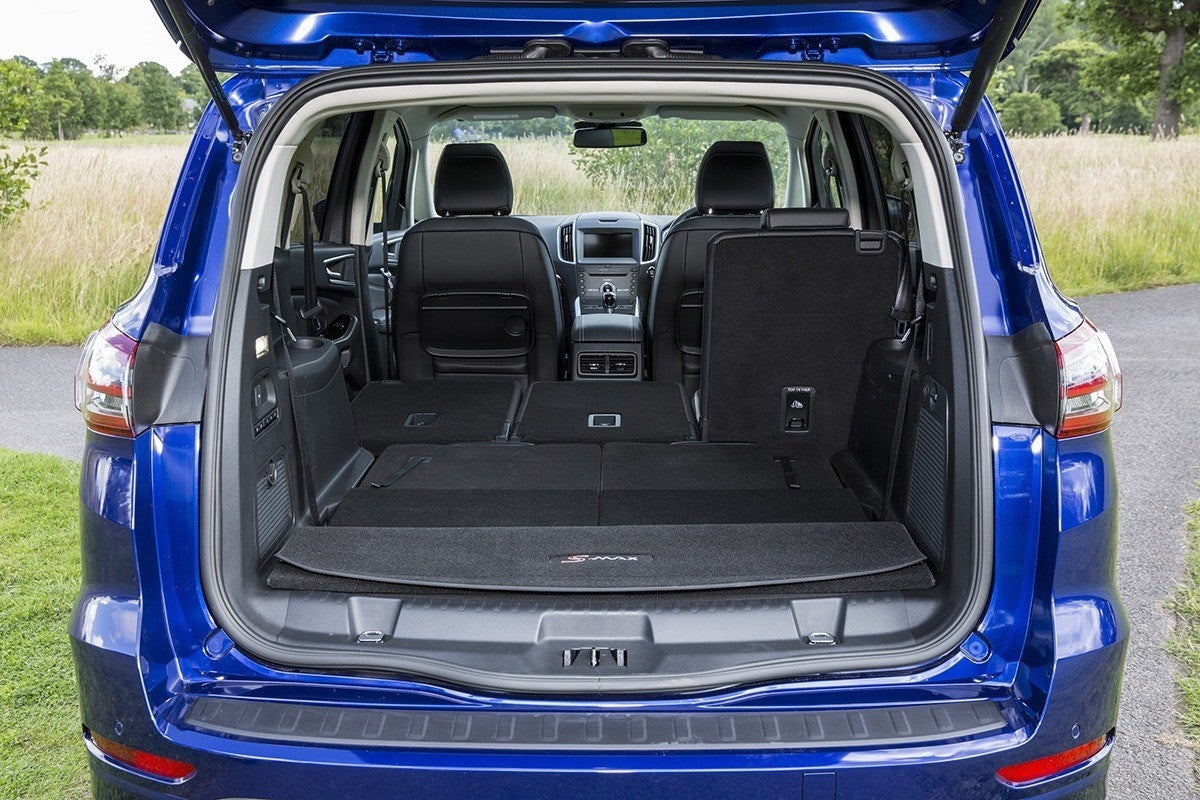 The Ford S-MAX hybrid's apparent ability to easily beat its own claimed fuel economy figure means that it should prove no more costly to run than the diesel - particularly given the price difference between petrol and diesel fuel in the UK.
If you're buying a used Ford S-MAX, the 2.0-litre EcoBlue 150PS with a manual gearbox will be the most economical to run. You can expect to see between 46.3mpg and 47.1mpg, according to the latest WLTP figures. The economy drops to 43.5mpg in front-wheel-drive versions of the S-MAX fitted with an eight-speed automatic transmission. This figure falls to 40.9mpg in an all-wheel-drive S-MAX.
The earlier petrol versions are less economical, but you'll pay less to fill your tank. Ford quotes figures of 43.5mpg for the 1.5-litre engine, and 35.8mpg for the 240PS 2.0-litre EcoBoost. These figures are based on the old NEDC testing system, which means they are less reliable than the WLTP system. Expect mid-thirties for the smaller engine, and 30mpg at best from the 2.0-litre.
Insurance groups and costs
The insurance groups for the Ford S-MAX range from 16 for a 2.0-litre TDCi Zetec, to 34 for an ST-Line (Lux Pack) 2.0-litre EcoBlue 240PS automatic and Vignale 2.0-litre EcoBlue 240PS automatic. Overall, buying an S-MAX in Zetec trim with a 2.0-litre diesel or 1.5-litre petrol engine will ensure you pay the least amount for insurance cover.
To provide some context, the insurance groups for the Ford Galaxy range from 17 to 31, so the cost of insurance should be roughly the same. The groups for the Volkswagen Sharan are 15 to 25, so the Volkswagen should be cheaper to insure.
When buying new, the cheapest S-MAX Titanium in hybrid form is insurance group 21, rising to 22 for the ST-Line and 24 for the Vignale.
How reliable is the Ford S-MAX?
Ford executives will be disappointed to see that it is in the bottom five car brands in the latest HonestJohn.co.uk Satisfaction Index. However, modern cars are generally pretty reliable, and the fact that Ford sells so many cars means it's more likely that problems are reported.
What also helps the S-MAX's case is that it's been around for several years now. This means Ford has had plenty of time to iron out the sort of niggling issues that tend to affect brand new cars. The new hybrid, meanwhile, is a type of hybrid system that has been proven to rack up hundreds of thousands of miles without issue.
VED car tax: What is the annual road tax on a Ford S-MAX?
When new, the hybrid-only Ford S-MAX costs £220 to tax for the first year, and £155 a year for each year after that.
There's one big issue with the Vignale version of the S-MAX, however: because its list price is over £40,000 it incurs a 'premium car' tax, meaning an extra £335 a year needs to be paid for five years after registation.
From year two on all used petrol and diesel models, the annual rate of VED drops to £150, regardless of the CO2 emissions. This is the same rate for all S-MAX models registered on or after 1 April 2017.
How much should you be paying for a used Ford S-MAX?
"You'll pay at least £10,000 for a 2015 Ford S-MAX. This is enough to secure an example in the entry-level Zetec trim, but you'll need to find an extra £1,000 for a Titanium model. The vast majority of cars for sale are powered by a diesel engine, with petrol versions accounting for around 10 percent of the used S-MAX market."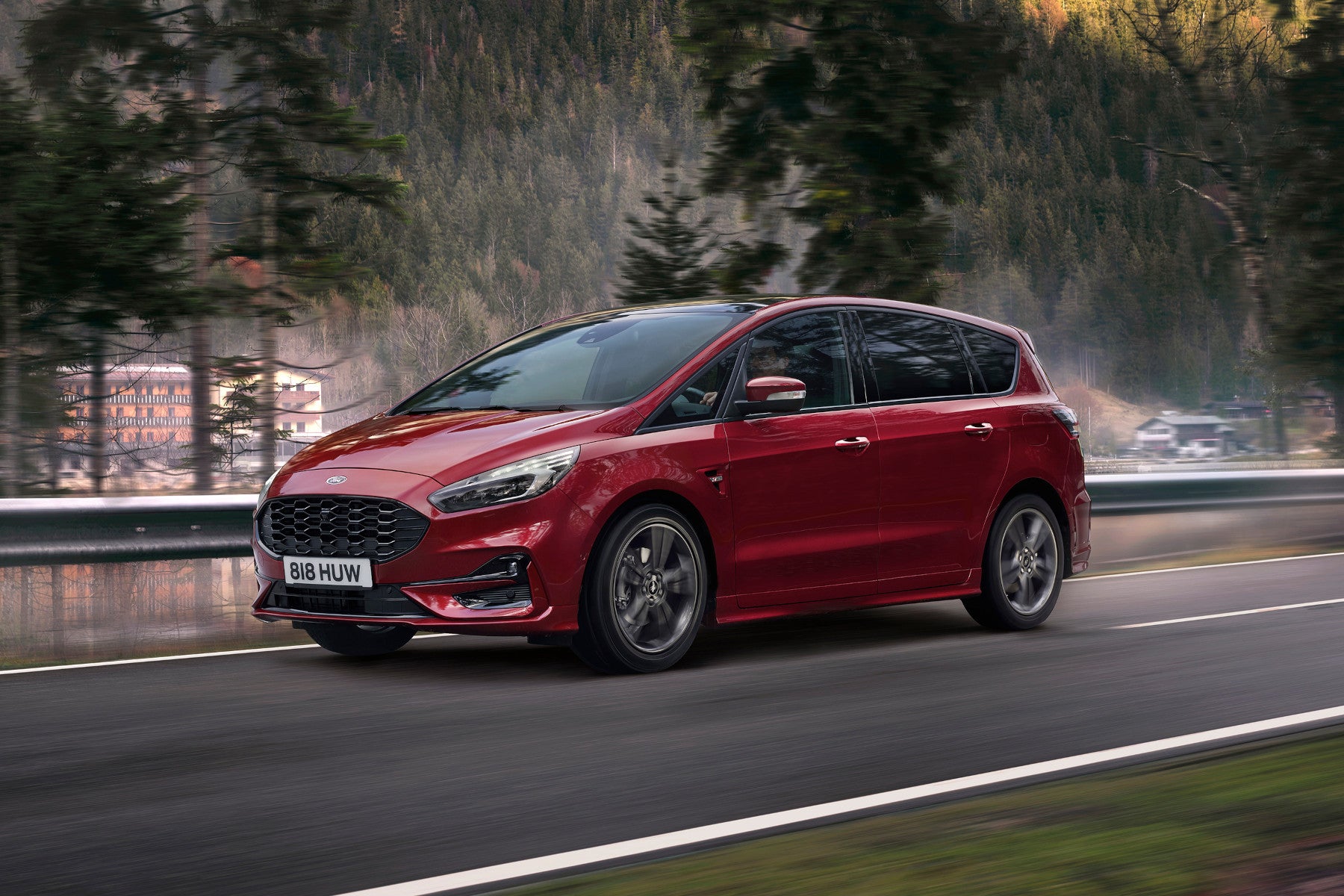 If you're after a post-2019 facelift model, a Ford S-MAX will set you back at least £20,000. Ford ditched petrol from the S-MAX range in 2019, so you're limited to the 2.0-litre EcoBlue diesel in a choice of 150PS and 190PS outputs.
Look out for some excellent deals on the flagship models, including around £5,000 off the price of a Ford S-MAX Vignale.
The hybrid S-MAX hasn't had much time to get onto the used market, and we've not seen many for sale at all yet. Certainly, there isn't enough around to give an accurate indication of used prices.
Trim levels and standard equipment
The entry-level Zetec trim (which is no longer available to order when new) is arguably the S-MAX range sweet spot. Standard equipment includes 17-inch alloy wheels, an eight-inch colour touchscreen infotainment system, front and rear parking sensors, cruise control, dual-zone climate control, automatic wipers and three Isofix points.
Upgrading to the Titanium trims adds front LED fog lights, LED daytime running lights, automatic headlights with auto high beam, rear privacy glass, silver roof rails, satellite navigation, keyless start and go, interior ambient lighting and a 10.1-inch semi-digital instrument cluster.
The ST-Line is the sportiest trim level, boasting 18-inch alloy wheels, LED rear lights, body kit, rear spoiler, red brake calipers, sports suspension, black roof rails, leather-trimmed steering wheel, heated steering wheel, electric adjustable seats and a host of ST-Line cosmetic upgrades.
Finally, the Vignale boasts 19-inch alloys, adaptive LED headlights, rear-view camera, electric tailgate, Sony audio system, premium leather trim, climate controlled front seats with massage function, active noise control, enhanced ambient lighting and a host of Vignale exterior and interior upgrades.
Ask the heycar experts:
common questions
What's bigger: the Ford S-MAX or the Galaxy?
The Ford Galaxy is bigger than the S-MAX. Its taller, for starters, meaning more headroom, and the third row of seats is suitable for adults. In the S-MAX, the sixth and seventh seats are best reserved for children.

Is the Ford S-MAX a good car?
The S-MAX is a great choice for those who need a seven-seater and don't particularly fancy an SUV. As well as being nicer to drive than most SUVs, it's more economical, while it comes well-equipped and is more desirable than van-based MPVs.

Has Ford stopped making the S-MAX?
Not yet - although as of 2022 it's seven years old, so it might not be around that much longer. The diesel engines were dropped in late 2021, meaning the only Ford S-MAX available to order is the hybrid.

Answered by
Lawrence Allan
Ford S Max cars for sale on heycar
10,224
Number of cars available
£15K - £39K
Price bracket of these cars
Colours available on heycar
Keep me updated by email with the latest advice, news and offers from heycar
By submitting, you agree to our
privacy policy
.