Ford Tourneo Custom Review

Written by
heycar editorial team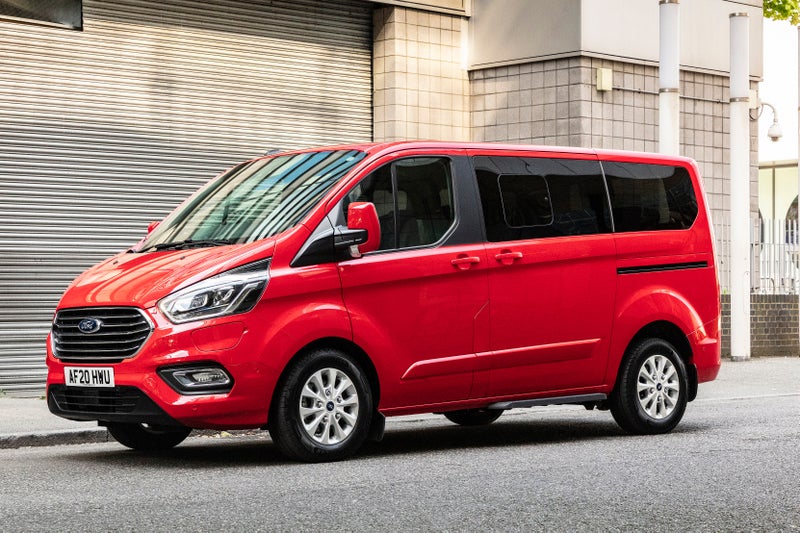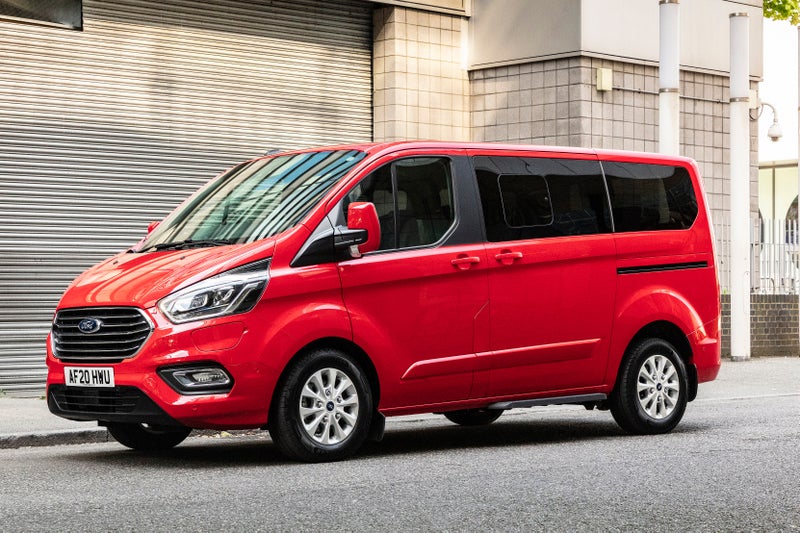 1/10
heycar rating
"Great value for larger families"
Quick overview
Pros
Nine seats as standard
Refined and quiet 2.0 TDCi engine
Rides very well, quality feel to the cabin
Cons
Folding the seats isn't the smoothest of operations
Not available with electric rear doors
Early diesels a bit gruff
Overall verdict
On the inside
Driving
Cost to run
Prices and Specs
Overall verdict
"A great MPV that will appeal to larger families."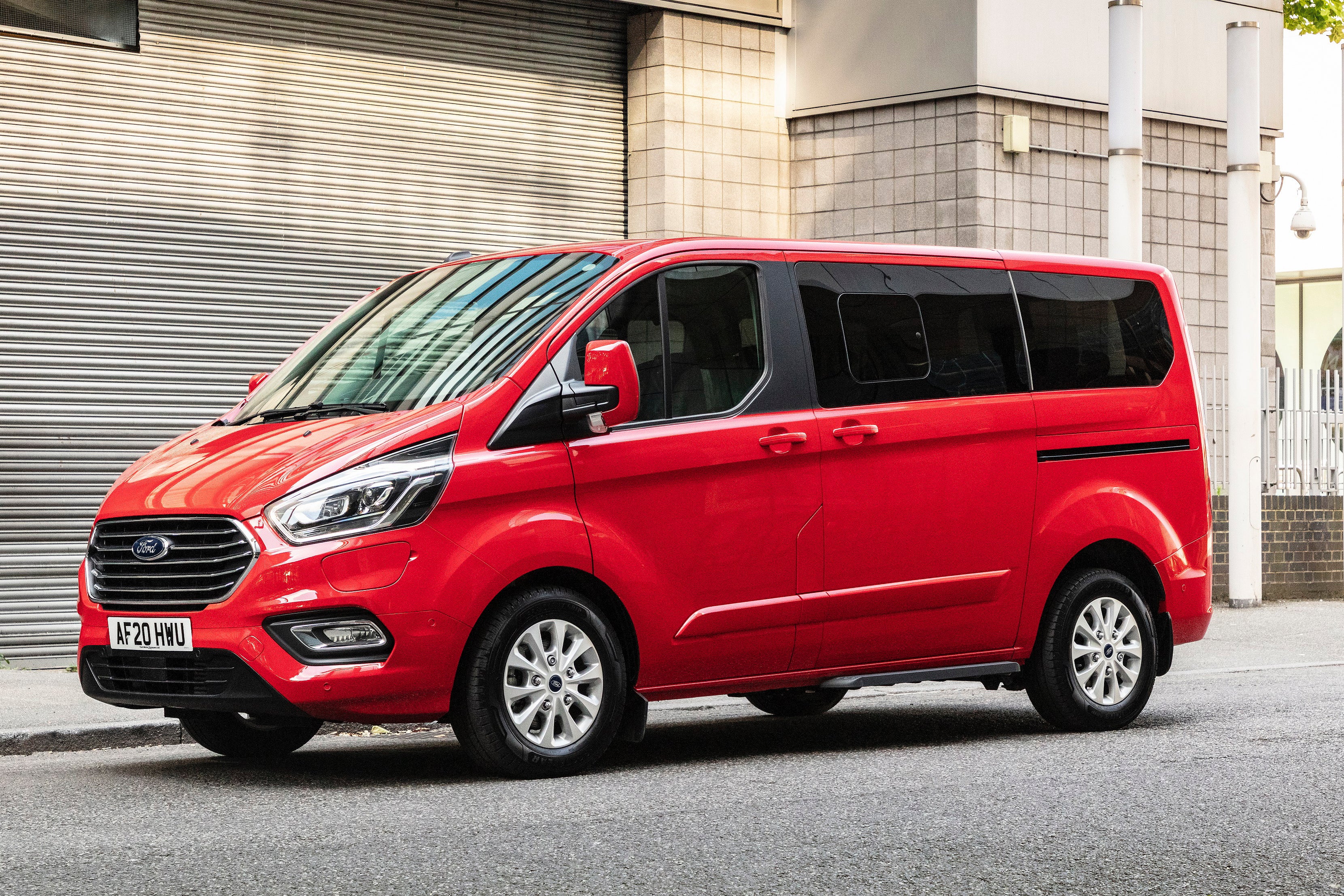 It's was all change for Ford's Tourneo Custom in 2014, with a new look, better engines and big improvements in refinement. Whereas the previous model was seen as something of a taxi workhorse, Ford planned for this latest version, with its more upmarket interior, to appeal to those considering a Volkswagen Caravelle or perhaps the Mercedes-Benz V-Class.
That's a tough ask but if any manufacturer is capable of rivalling those two, it's Ford. The new Transit Custom is the best van in its class so the Tourneo Custom has a strong foundation. A nine-seater that comes in standard or long wheelbase, the Tourneo Custom has what it takes to cut it as a private hire vehicle, but there's also appeal for family buyers with several kids who want a big and practical mover.
The Tourneo Custom is a bit more than just a Transit with seats in the back. The rear is fully trimmed like a car with carpeting throughout and high quality comfortable seats. On top models they come with leather upholstery and usefully there are three sets of Isofix mounts. There are handy extras too like integrated rear sunblinds and separate ventilation for those in the back.
There is of course plenty of headroom - this is based on a van after all - and lots of legroom in both rows. That said, getting to the third row isn't that easy as the seat folding mechanism isn't the smoothest. Boot space is plentiful as you'd expect though plus you can fold down or remove the rear seats if you need extra space.
Driving the Tourneo Custom is easy and relaxing. The 2.2 TDCi engine is quiet and refined with the top 155PS version offering strong pulling power. It's also economical with a claimed 43.5mpg for all models. Considering its considerable size and bulk, the Tourneo Custom handles impressively well with the precise steering making it keen in corners. It also rides smoothly, dealing very well with rough road surfaces.
In 2017 Ford replaced the 2.2 TDCi with the 2.0 EcoBlue diesel engine and added a six-speed automatic gearbox to the range for the first time. The four-cylinder diesel gets more power and lower emissions, while motorway refinement is also enhanced with less noise and more mid-gear acceleration.
It may not have the image of a V-Class or following of a Caravelle, but the Tourneo Custom is a strong rival for both. Helped by its classy and well finished cabin it feels a quality vehicle and is a big step up from its predecessor.
Comfort and design
"All Tourneo Custom models come with twin side sliding doors as standard, and the doors themselves have a solid feel on the runners with a nice sliding action."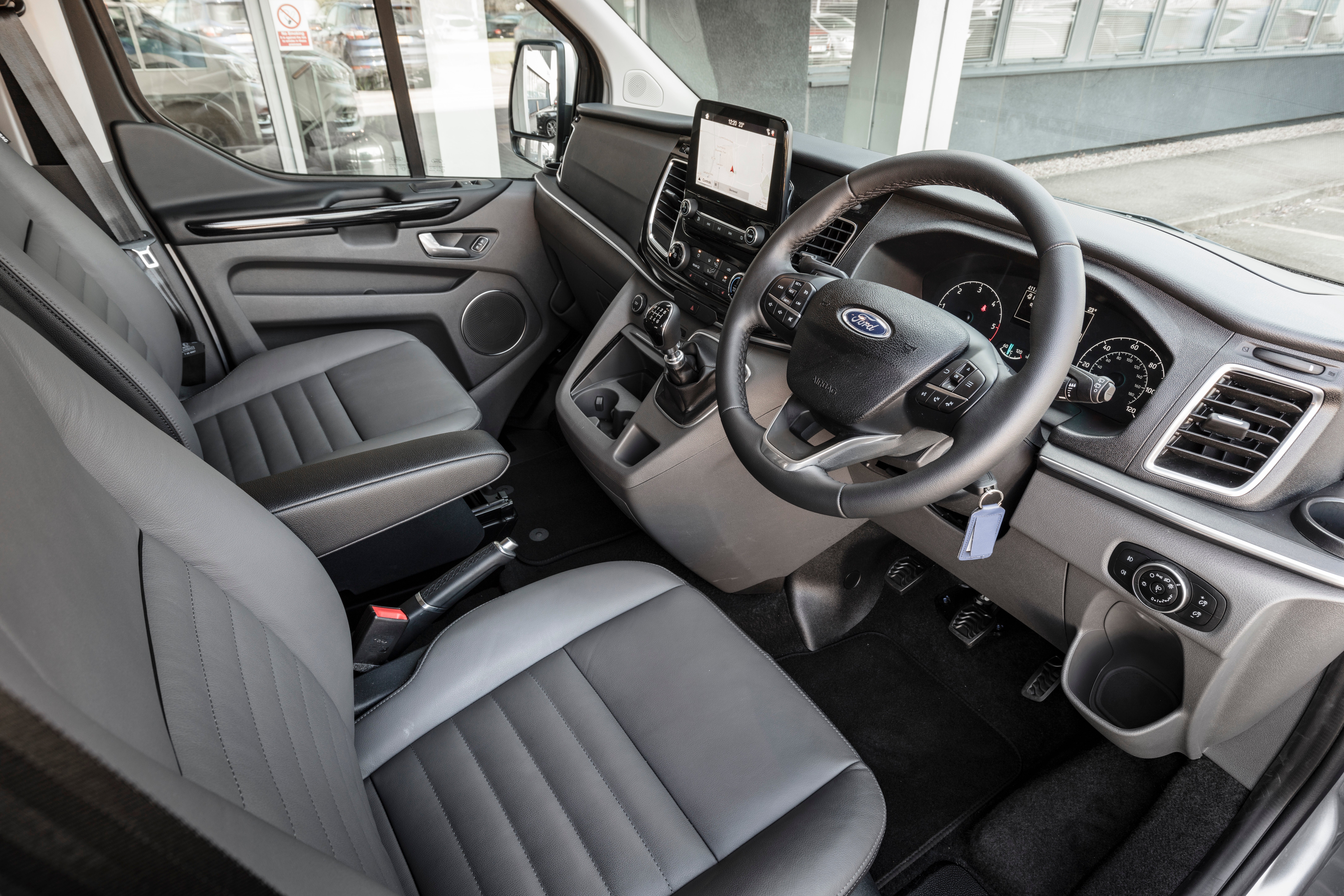 However, there's no option to have electrically opening and closing doors which might put off private hire firms. On the plus side there are running boards as standard so getting in is easier for children.
The standard wheelbase version has reasonable cargo space, although if you have a lot of bags you will find yourself having to pile them up on top of each other. The long wheelbase model has a considerable bigger load area as you'd expect so it will be the better choice for family buyers who need to carry children and all the associated gear.
All six rear seats are a completely new design and can fold into different configurations. In fact there are 30 different ways of folding and tumbling them. If need be you can remove all the seats to turn the Tourneo Custom into a Transit Custom, although they are heavy and cumbersome. It's not an easy job.
Getting to the back row involves folding down and flipping forward the seat in the middle row. It's not the slickest mechanism and can seem quite heavy, plus you can only get access from the passenger side.
The Tourneo Custom also comes with a tailgate rather than barn doors. It's quite a big door so you have to be mindful about parking close to walls or other cars if you want to access the back.
In the back, the Tourneo Custom is fully carpeted (which helps reduce road noise) and gets useful extras like integrated sunblinds as standard on the Titanium. There is also a new heating and ventilation system with a separate air conditioning unit for the rear, complete with controls and vents in the roof.
Standard equipment levels are decent with all models coming with a trip computer, a USB port compatible with iPhones, electric windows and remote central locking. However you'll need a Trend for air conditioning and a leather steering wheel.
Up front the driver gets well looked after. It feels more like a Focus than a Transit with a high quality interior that echoes Ford's hatchback in both style and feel. The steering wheel, stereo controls and even the air vents are all the same while the seats offer good support for long distance comfort.
We like the high placed gear lever too, although with three in the front it does mean the centre passenger is in danger of smacking their knee on it or getting a friendly grope from the driver. On the plus side there's lots of adjustment in the seat and the steering column adjusts for reach and height.
Engines, gearboxes and handling
"A range of powerful diesel engines."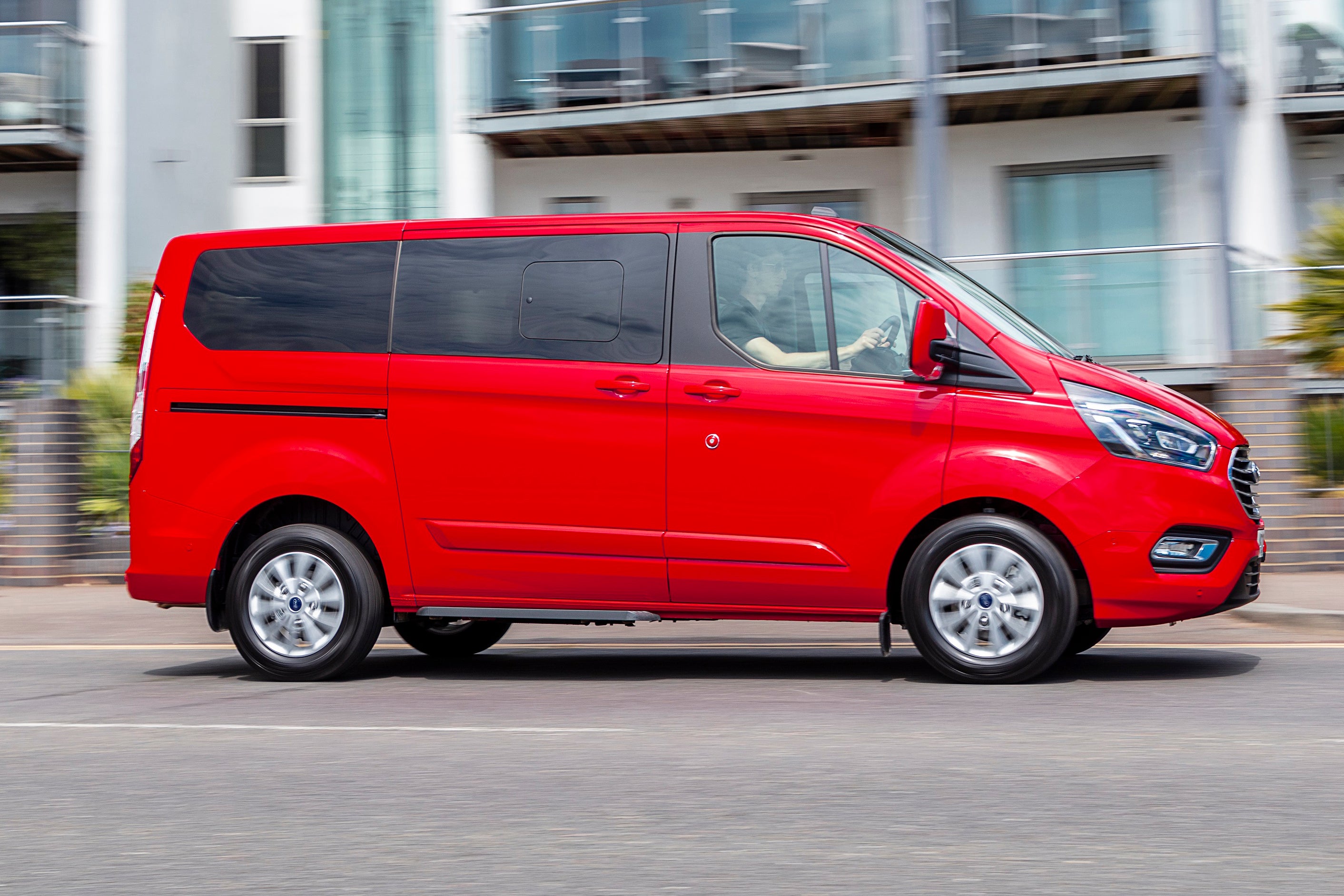 The Tourneo Custom uses the same 2.2 TDCi engine as its Transit counterpart and there are three versions available - 100PS, 125PS and the top 155PS model. Whichever output you go for, you're guaranteed a smooth, quiet and refined engine that's a huge improvement on the diesel engine in the previous Tourneo.
Despite the power and torque differences (310Nm, 350Nm and 385Nm respectively), there's actually little to choose between the three models on the road in everyday driving. The 100PS version can feel sluggish if you have a full load of passengers and luggage on board so the 125PS is a better bet and there's no difference in fuel economy with all versions averaging the same claimed 43.5mpg whether you go for the standard or long wheelbase model.
The top 155PS engine is Ford's rival to the likes of Volkswagen's 2.0 BiTDI 180PS in the Caravelle. The TDCi is certainly far quieter and much more refined than the ageing TDI unit but it doesn't feel as responsive low down. That said, the reduced noise is very welcome on the motorway where the Tourneo Custom cruises along very nicely with less vibration through the cabin than the Caravelle.
In 2017 Ford replaced the 2.2 TDCi with the 2.0-litre EcoBlue engine. While it doesn't have the urgency of the BiTDI, it's a smooth and strong engine nonetheless. Where the Tourneo shines is in corners. The chassis is 37 per cent stiffer than the old Tourneo, which is good noise for both handling and noise levels. ESP (Electronic Stability Program) is standard on all models and the Transit Custom also has Torque Vectoring Control which helps with traction in corners and consequently stability.
As a result, the Tourneo feels impressively agile through corners and handles amazingly well considering its size and weight. It's far more agile than the Caravelle and rides better too. The suspension has been perfectly set up to absorb potholes and rough roads so although it can get a little bouncy on bumpy country roads, it's very comfortable overall.
Given its size, it's no surprise that the Tourneo Custom can be tricky to park. You can get parking sensors as an option and we'd also recommend the rearview camera which is part of the navigation package. It cleverly appears in one corner of the rearview mirror.
At under two metres in height, the Tourneo Connect will fit in multi storey car parks and height restrictions. There is also a clever integrated roof rack, which can be raised or lowered when needed without needing to be removed.
MPG and fuel costs
"Later engines offer improved economy."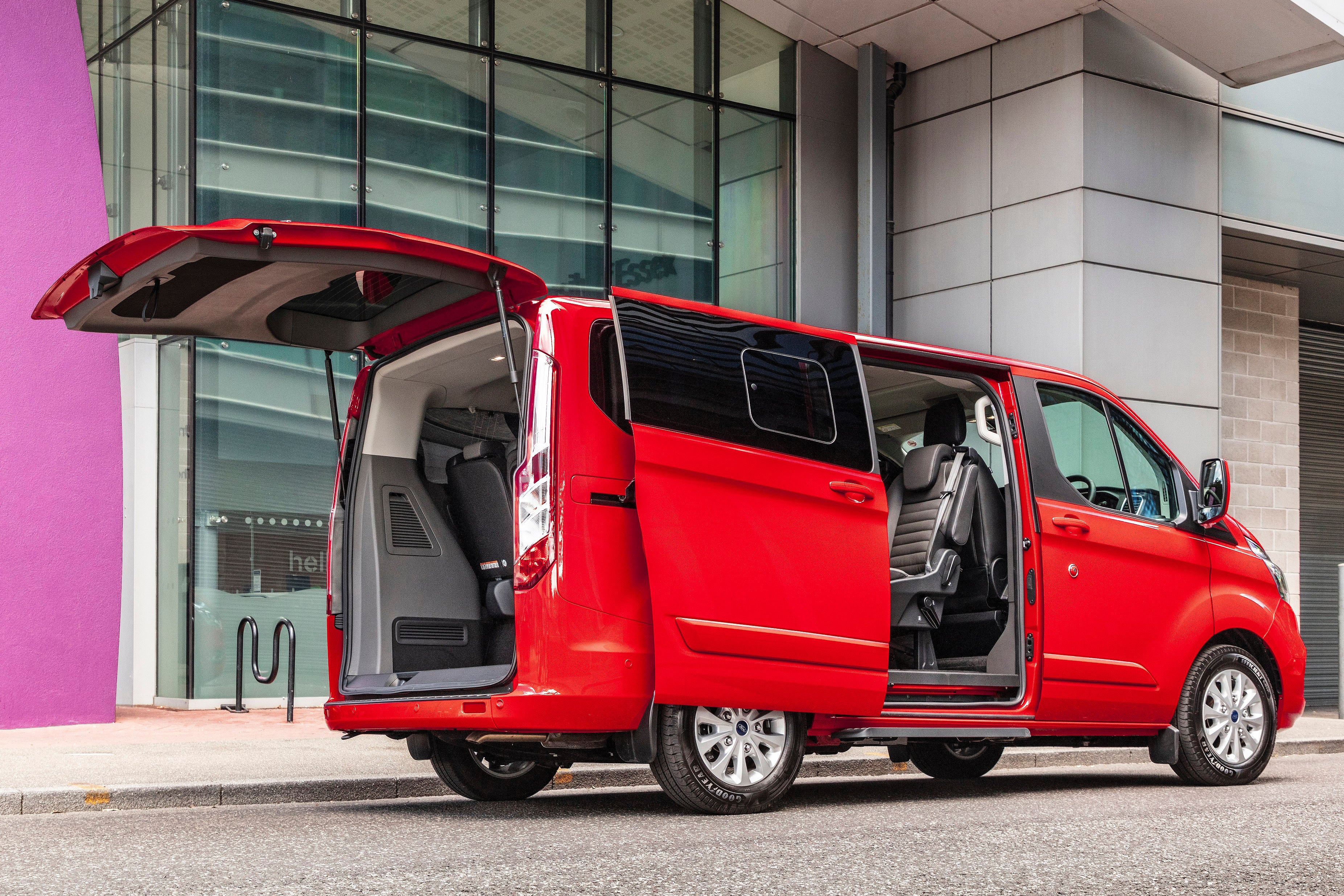 In 2017 Ford replaced the 2.2 TDCi with the 2.0-litre EcoBlue engine. The Euro6 diesel provides more performance and lower emissions, with 105PS, 130PS or 170PS power ratings. As well as lowering CO2 to 162g/km for the 105PS and 130PS models, the engine also improves headline economy to an official 44.8mpg.
What equipment does the Ford Tourneo Custom have?
"Well equipped throughout."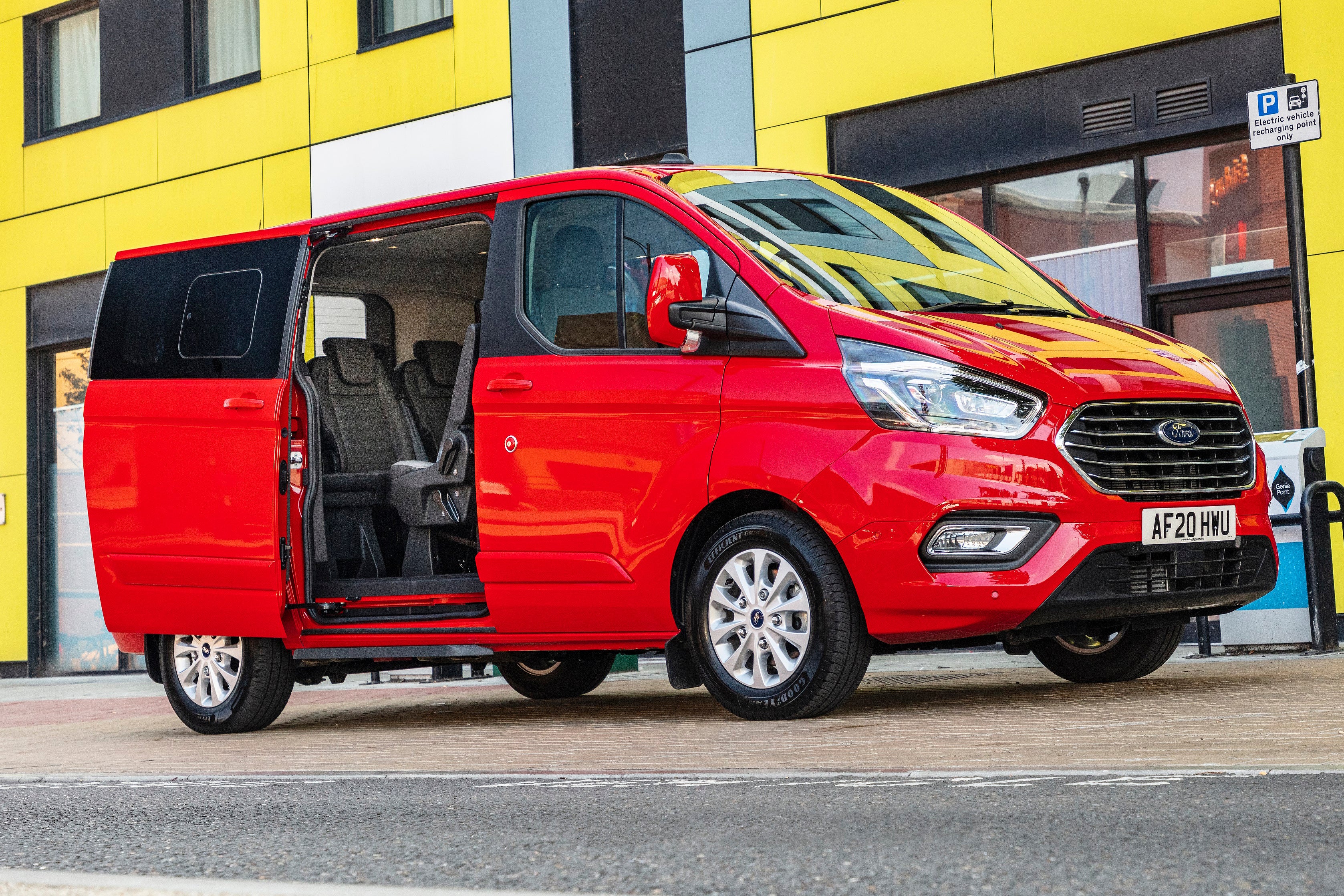 Tourneo Custom models offer twin side sliding doors as standard, with running boards below the doors for improved low level step access, as well as a strong visual differentiation. A liftgate is fitted as standard at the rear.
The seats in the two rear seating rows are a completely new design that can be easily folded into multiple configurations and removed in segments or completely – in total there are over 30 seating permutations to suit any occasion. All seating positions provide integral 3-point lap and shoulder style seat belts.
A choice of stylish, hard-wearing seat materials is available, including full leather upholstery in an attractive medium stone colour which enhances the feeling of space and light. Passenger car multi-person vehicle features including integral side window blinds are available as an option.
All new heating, ventilation and air-conditioning systems offer much improved airflow and performance, with the option of a separate air conditioning unit for the rear compartment.
Ford Tourneo Custom cars for sale on heycar
11,174
Number of cars available
£18K - £40K
Price bracket of these cars
Colours available on heycar
Keep me updated by email with the latest advice, news and offers from heycar
By submitting, you agree to our
privacy policy
.