Ford Transit Connect Review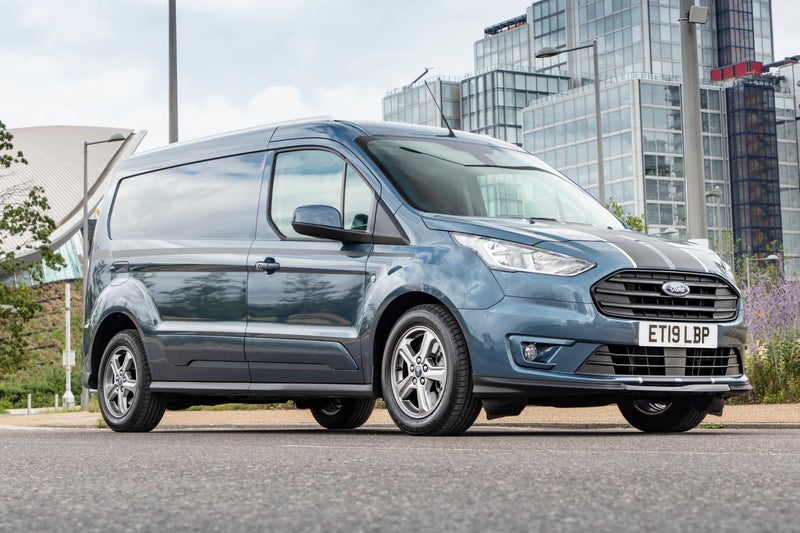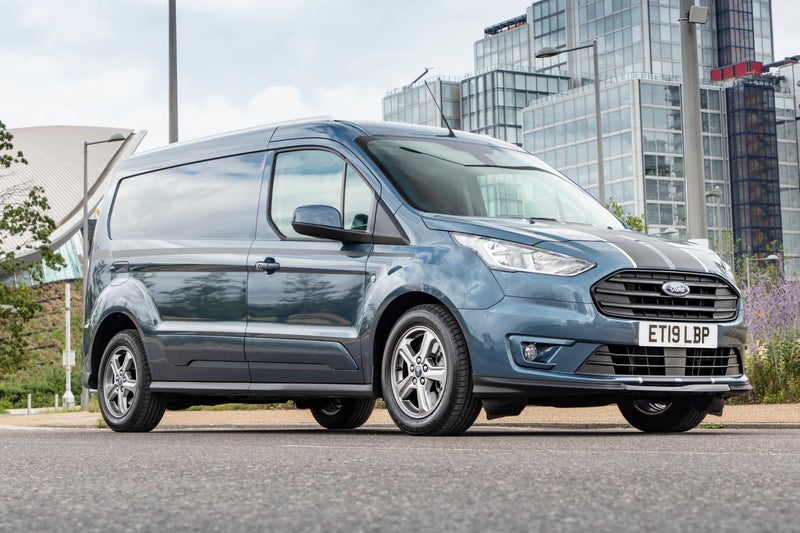 1/10
heycar rating
"Great all-round small van"
Launched: 2014

Van

Petrol, Diesel
Quick overview
Pros
Easy to get comfy
Good to drive
Stylish image
Cons
Others offer better payload
Technology is not the most modern
Only available with two seats
Overall verdict
On the inside
Driving
Cost to run
Prices and Specs
Overall verdict
"The Ford Transit Connect is the kind of van that will keep pretty much everyone happy. Bosses will like it because it can carry a decent amount of stuff, is good value to buy and run while drivers will like the way it drives and the fact that the cabin is a smart and comfy place to spend a working day."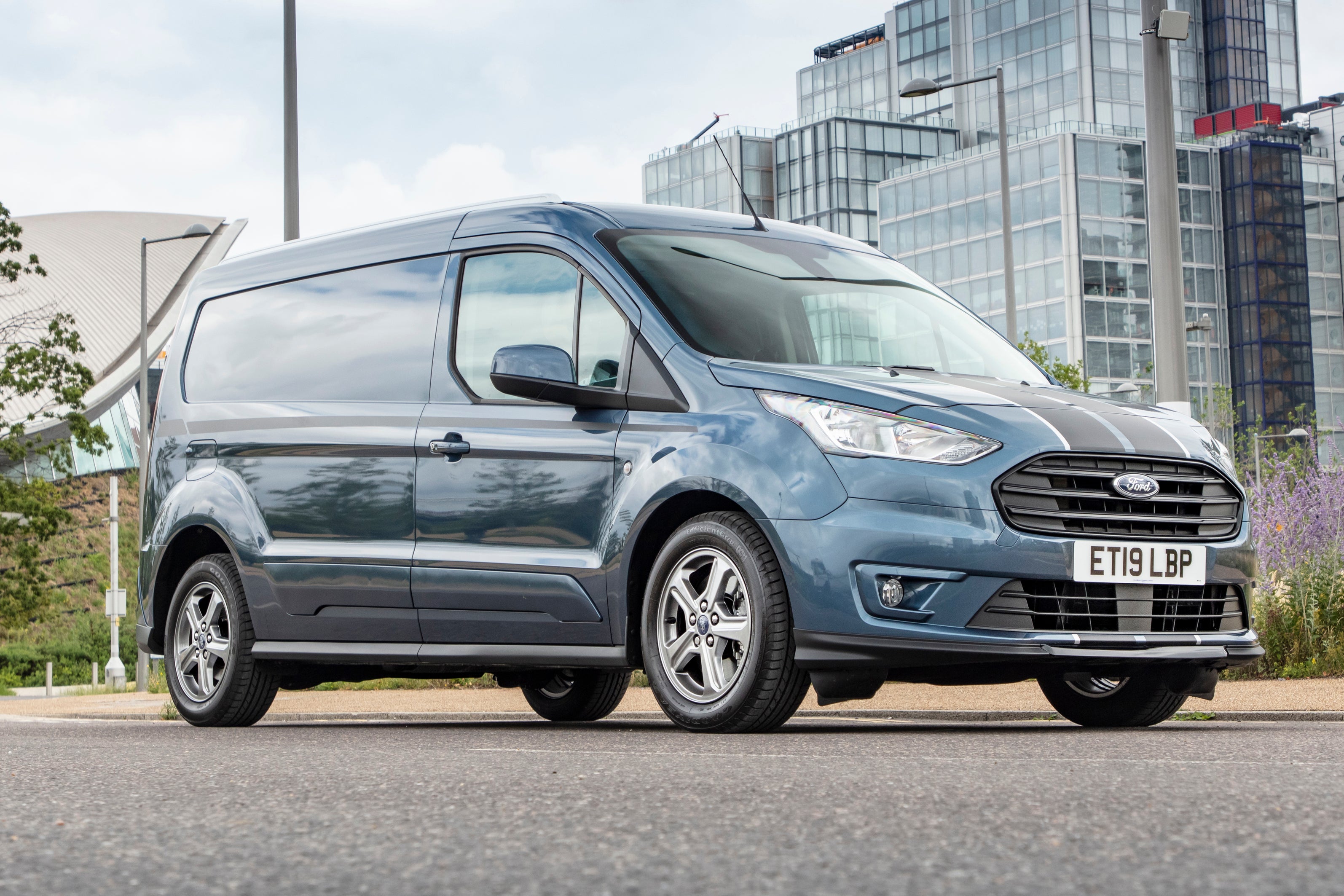 There are two lengths of Transit Connect, L1 and L2, and a choice of four engines, including something of a rarity in the van sector – a petrol. The diesels, which are the most popular options, are all 1.5-litre engines, with a choice of three power outputs, ranging from 75PS, 100PS to 120PS.
Of the three, the 100PS is the one that best suits the Transit Connect's status as an all-rounder. It's powerful enough to deal with longer motorway trips, but it is just as happy pottering around town for those last-mile drop offs. If that's all you're doing then the petrol is a good option, but don't expect it to reward you with good fuel economy if you take it on longer journeys with loads of kit in the back.
These 1.5-litre engines were introduced in late 2016 – older models come with a range of 1.6-litre diesels. They aren't vastly different to the newer engines, but some of the older engines are a bit noisier when you accelerate hard, and they mainly came with a five-speed gearbox rather than the six-speed unit in the more modern models.
You can get a standard panel van or a crew cab model that adds a second row of seats, taking the overall potential capacity to five. If you really need to carry more, then there are Kombi versions that come with either five or seven seats, making it ideal for those that want to branch out into the taxi business, or those that just have big families.
Whichever one you go for, you still won't get more than two up front though. While this might be a downside for some, it does mean there is no need for a debate about who ends up squashed into the inadequately small middle seat – small vans aren't really wide enough for three across the front generally speaking.
The cabin itself is smart and much more car-like than vans of old. The materials and design don't shout 'you're at work!' and you can get Ford's Sync3 touchscreen system with all the associated benefits should you wish.
That carlike experience isn't limited to a feeling when you're behind the wheel – the Transit Connect is easy and comfortable to drive too. It's based on the same underpinnings as the Ford C-Max, so this isn't a massive shock, but it means that it won't wear you out on a day where you need to cover serious miles.
The payloads on offer are decent compared to the majority of the Transit Connect's rivals, but there isn't a knock-out model that offers a huge carrying ability. You can't carry more than a tonne in any of them for example, which you can do on the more modern Citroen/Peugeot/Toyota/Vauxhall quartet and the Fiat Doblo.
Is the Ford Transit Connect right for you?
Plenty of people will buy a small van as their only van – they might run a business that is big enough to need more carrying space than a car, but they don't need to commit to something large enough to haul around vast amounts of kit. The Transit Connect does a brilliant job of making van life easy even if you are more used to, say, a family hatchback.
It's a great all-rounder, which makes it even more suited to being an only van. Others might be able to carry more stuff, but the car-like handling is a big bonus and that remains the case even if you've got a fully-laden load bay.
Sole traders are likely to want their van to be more than just a load-lugger, though, and the fact that the Transit Connect doesn't share its body shape with any vans from another brand means that it is more likely to stand out. Get one of the Citroen/Peugeot/Toyota/Vauxhall group and you'll be hard pushed to tell them apart at a glance, which is less likely with the Ford.
What's the best Ford Transit Connect model/engine to choose?
There's no need to go to extremes with the Transit Connect, and the middle of the range is where you will find the version that will suit most buyers. The 100PS 1.5-litre diesel gives a good blend of pulling power and economy.
The exceptions to this are if you are spending loads of time doing short trips in town – in which case the petrol model might be a better bet – or if you need to tow or regularly haul a heavy load around then the 120PS is going to be easier to live with.
The Trend trim makes the most sense on a value for money basis, so if you need the Transit Connect as a tool first and foremost then it will suffice, but it misses out on a few desirable bits that you'll wish you had. The Limited might be a bit of a step up financially, but it is the first model in the range that gets air conditioning, rear parking sensors and cruise control.
What other vehicles are similar to the Ford Transit Connect?
In one sense there are loads of other models to choose from in the small van class, but in another sense, there are very few. This is because several manufacturers essentially offer the same van but with a different badge on the front and a slightly revised interior.
The Citroen Berlingo, Peugeot Partner, Toyota Proace City and Vauxhall Combo are all much the same van with the same basic construction and largely the same range of engines. Being newer, they have the edge on the Ford in terms of tech, and they offer an improved payload, too. The Fiat Doblo is another one to look at if payload is your priority.
If you want something that is a little different then the Volkswagen Caddy is another good bet, although with a new model from 2020, then it may feel a bit outdated compared to rivals.
Comfort and design
"Whether you are popping around town on short trips or spending hours on the motorway, comfort is paramount in a van and the Transit Connect's driving position is spot on for either."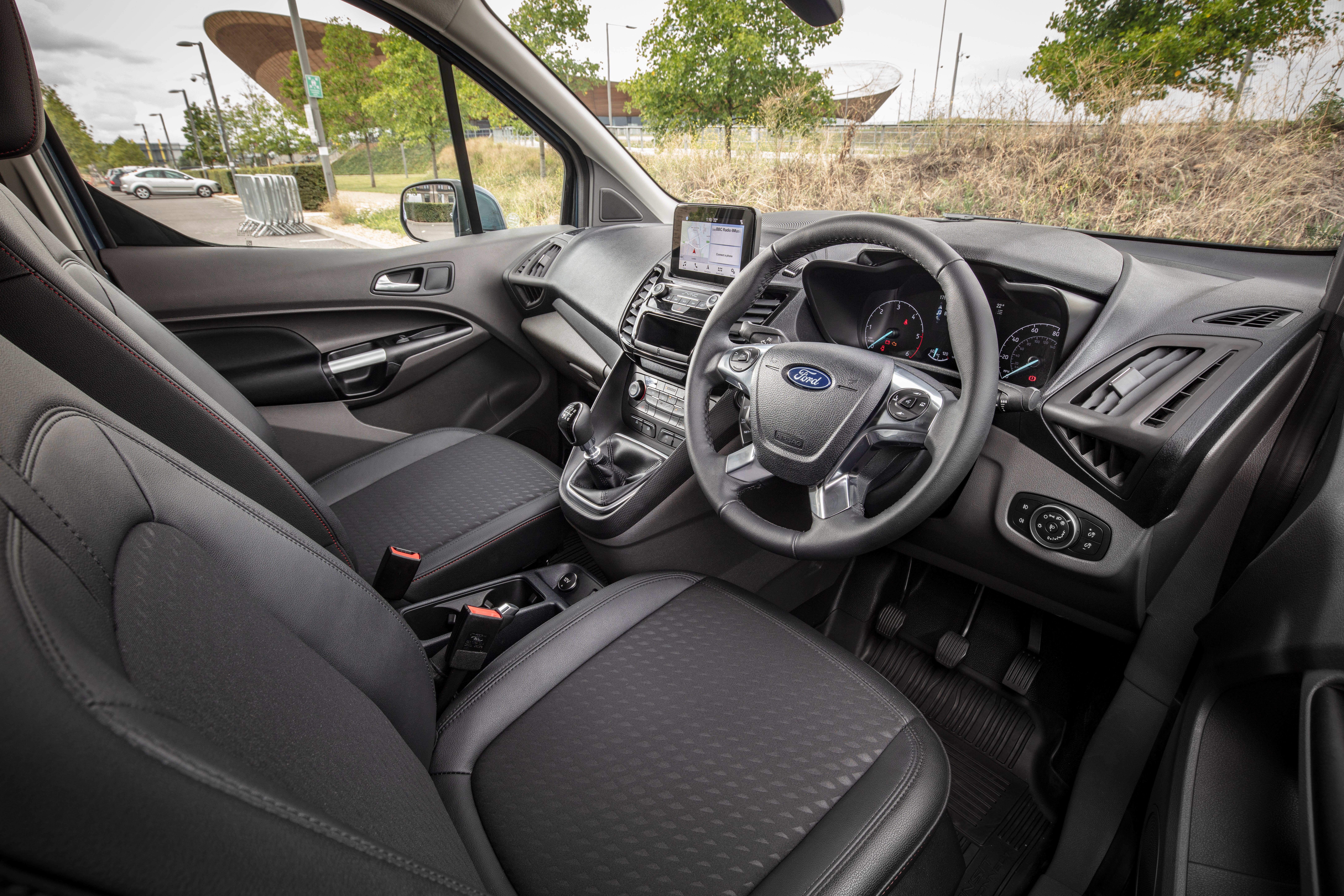 The seats are well padded and nicely wide, which means it's possible for drivers of all sizes to get settled behind the wheel. One reason that the seats can be a bit wider than those in rivals is that it is only possible to get the Transit Connect as a two-seater. While other small vans cram a third seat in the middle, the Ford gives you plenty of space for you and one business partner.
It's a shame that you can't get an arm rest on any of the versions, but the seats themselves are excellent. You get eight-way adjustment as standard on all models bar the basic one (which misses out on lumbar support), which means you can tweak away to ensure you don't get jaded after a long stint behind the wheel. The best seats come when you go slightly higher up the range as they are heated and come with a little more cushioning, but even the standard ones are good.
The cabin layout is logical, with the gear lever set relatively high up, which means there is little to no chance of bashing your hands against anything you have stored in the central console.
Storage is decent, too, with a pair of large door pockets that will easily hold a large bottle of water. The hidden compartment above the steering wheel also as a 12v charging point - useful for boosting phone power - and there's an additional socket and pair of USB connectors by the central cup holders.
Quality and finish
The material quality in the Ford Transit Connect is impressive, with a mixture of stuff that is hard wearing enough to withstand the sort of abuse that work life will throw at it and that which is plush enough to not make it feel like you are in a workshop all day long.
As is the case with almost every van, the basic model gets less in the way of frills although the majority of the main touch points like the gear lever and steering wheel are more car like.
The higher up the range you go, the more you get, both in terms of posh materials and design flourishes. The steering wheel and gear lever surround get different coloured surrounds to break up the large swathes of black, while the door handles are finished in chrome too.
From Limited, the higher of the two mid-range models, the steering wheel is finished in leather, too. Go for the top-of-the-range version and there's some leather on the seats as well. This is restricted to the edges, though – the main bulk of the seat is still cloth. Some will find the fully cloth versions in the Limited model slightly comfier, though.
Infotainment
There are two different screens available on the Ford Transit Connect, with a 4.2-inch version available as standard from the mid-range trim upwards – the base model doesn't get anything visual. That said, you do get a DAB digital radio, Bluetooth and USB connectivity and stereo controls on the steering wheel on every model.
The upgraded six-inch touchscreen is a pricey upgrade, but you get more than just the screen – the package also brings parking sensors, a rear parking camera and the latest navigation system with real-time traffic information. It also adds Apple CarPlay and Android Auto.
If the overall outlay seems like a lot then it's worth considering that the camera alone would cost more than a third of the package's cost if you were to spec it alone.
The mapping on the navigation is clear and bright and the shortcut buttons that let you locate fuel, cash machines or somewhere to get food at the end of a long working day are handy and easy to hit.
The downside is that the live traffic updates on the navigation are only free for the first two years after the van is registered and you have to pay a subscription after that. Most portable sat navs, or indeed the systems you can stream onto the screen through your phone, are free.
Space and practicality
Depending on your take on it the passenger room in the Transit Connect is either great or not good enough.
Simply, this is because the Ford is only available with two seats in the front – rivals such as the Citroen Berlingo and Peugeot Partner etc are all available with three seats across the front bench. This isn't available even as an option on the Transit Connect, so if you have three people due to head to a job then you'll have to take two vehicles.
However, if you are regularly going to carry three people then small vans are not really up to the task as they aren't big enough. Rather than cramming three in in discomfort, Ford has made sure that the two people in the Transit Connect can travel in comfort. You get more legroom than in some larger vans, like the bigger Transit Custom, and the lack of middle seat means that there is little chance of bashing into one another accidentally.
The storage around the cabin is decent, with a pair of large door pockets with capacity for a big water bottle in each, while the hidden compartment above the steering wheel also has a 12V socket. There is an additional socket and a pair of USB connectors by the central cupholders, too.
Oddly, only the entry-level Leader and the Trend models get a coat hook, but there is space to bundle kit behind the central console if you need to. Don't expect it to dry off down there, though.
There are two lengths available, with L2 models able to take two Euro pallets. The standard-fit side door is big enough that you can get one of those pallets in at the side, too.
The bulkhead is full metal as standard, although you can opt for a glazed section if you like. There is also the option of a fold-flat passenger seat and a through-load hatch, which means you can get long items such as pipes in – up to 3.0m long in the L1 and 3.4m in the L2.
Payload is ok, but has been overtaken by the best in the class now, with 876kg the most that any Transit Connect can carry. Given that several rivals are able to take over a tonne, this is decent rather than class leading these days.
Handling and ride quality
"Ford has a great reputation for building cars that handle well, and this extends to the Transit Connect, too. Given that, underneath, the Transit Connect shares lots of its platform with the C-Max MPV, this is is no major surprise."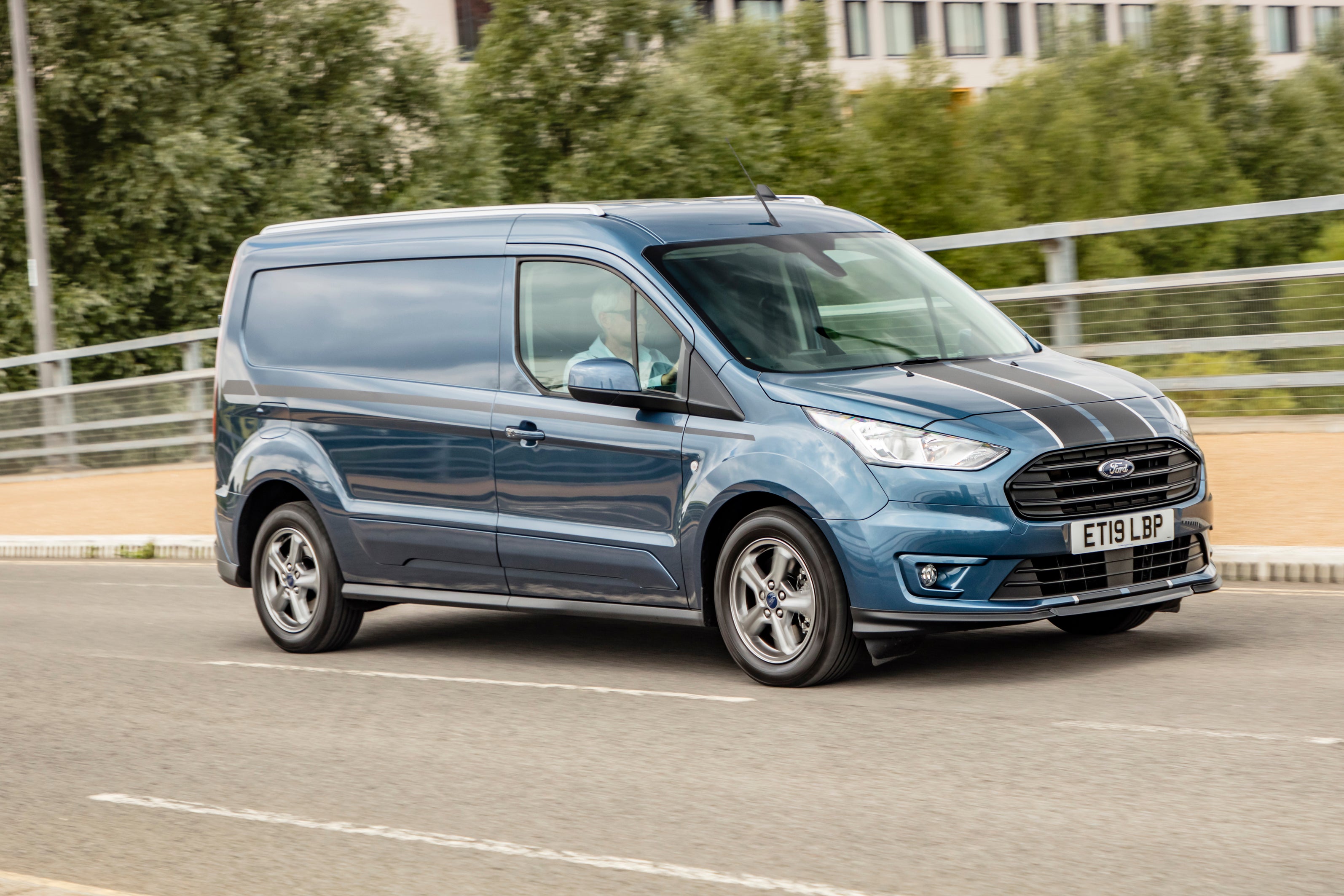 This means that the Transit Connect handles like a well-engineered family car. It has a comfortable ride that means that potholes, lumps and bumps in the road won't be the thing that send you home exhausted at the end of a long day. This is the case whether there is a load in the back or not.
The last thing you want from a van is for it to be too comfortable, though, with lots of soft wallowing through the corners – the softer the suspension, the more it rolls and the more your precious cargo flies around in the back. This isn't the case with the Transit Connect, though, and it manages to keep things in check around the corners and it offers a decent level of road holding and handling at once. It's even, dare we say it, a bit fun. Probably best to keep the enthusiastic drives for when you've finished the last drop off, though…
The steering offers a good level of resistance, which is handy for motorway trips as you won't drift out of your lane with a slight twitch of the wheel. It isn't overly heavy handed, though, so it's easy to thread it through town for those urban drop offs. The brakes have a nice progressive feel to them so it's easy to bring things to a halt without and sudden jerks that will send loads flying in the back.
Engines and gearboxes
The engine choice in the Ford Transit is relatively conventional in the main, with a choice of three diesels with 75, 100 and 120PS power output options. What is less conventional for a van is the fact that you get a petrol version as well.
Even though petrol has enjoyed a resurgence in popularity in the car world, it remains more of a niche choice in the van market, and for fairly good reason. The 1.0-litre Ecoboost engine is smooth and quiet but it is better suited to those that know they are only ever going to spend their time around town. It's only available on the lower trims, too, which will further limit its appeal.
The 75PS version is also more suited to lower mileage journeys, and to those that will be carrying lighter loads – florists rather than bricklayers for example.
If you are unsure what you are likely to be doing from day to day then the 100PS engine will perform best as a jack of all trades. It offers enough oomph for both country roads and motorways and is strong enough to pull away happily with a load on board.
It's good enough that most won't need the 120PS version, but for those that will spend more time maxing out the carrying capacity, or even want to make the most of the 1,500kg max towing potential then it offers strong amounts of pulling ability from low revs.
All come with a six-speed manual gearbox as standard, which is a particular bonus on the motorway as it means the Transit Connect doesn't sit at high revs at speed. There is an eight-speed auto as well, which makes for a more relaxing experience in stop start traffic, but it does have a bit of an impact on fuel economy.
Before the introduction of the 1.5-litre engines, the Transit Connect offered a very similar set of 1.6-litre units. They had very comparable power outputs but they only came with five-speed gearboxes.
Refinement and noise levels
If noise levels in your van are of paramount importance then the petrol engine is by far the best bet – it is really smooth and quiet on the move. It won't be quite as quiet as the same unit in a car, thanks to the lower levels of sound deadening you get in a commercial vehicle.
That's not to say that the 1.5-litre engines are noisy, though – they are far removed from the rattly old vans of the 1990s. The Transit Connect is supremely competent and keeping noise out of the cabin on the move, although this is inevitably going to be impacted by what you are carrying in the back and how much of it is in there.
Overall, though, it is surprisingly refined at motorway speeds, meaning you can pop on the cruise control (if you're in one of the higher spec models) and sit back and relax.
The older 1.6-litre engines are less refined, and are gruffer on the move, particularly under hard acceleration.
Safety equipment
Vans tend not to get tested by Euro NCAP, and comparing the Transit Connect to its passenger equivalent – the Tourneo Connect isn't to be advised. The Tourneo gets a load of safety kit that doesn't appear on the commercial vehicle version.
The Transit Connect only gets a driver's airbag for example, with passenger, side and curtain airbags all optional.
Emergency Brake Assist is standard, though, which is a welcome bonus but it is a shame that side wind stability is only an option.
You get a steel spare wheel as standard, unless you go for the Double-Cab-In-Van version or the Sport model. In both those cases you get a tyre inflation kit as standard, although you can choose to get the full-size spare should you want it, but as a cost option.
To deal with the inevitable blind spots that you get on a van, the Ford can be had with a blind spot information system that uses a pair of orange lights on either side of the cabin, which really come into their own in lower light conditions. Active braking assist and lane keeping assist are also available, but once again you will have to convince the holder of the purse strings to shell out extra for them, even if you go for the higher trim versions.
MPG and fuel costs
"The two things to steer clear of if you want to maximise fuel economy are the petrol engine and the automatic gearbox – both lower the official mpg figure by 10-15mpg."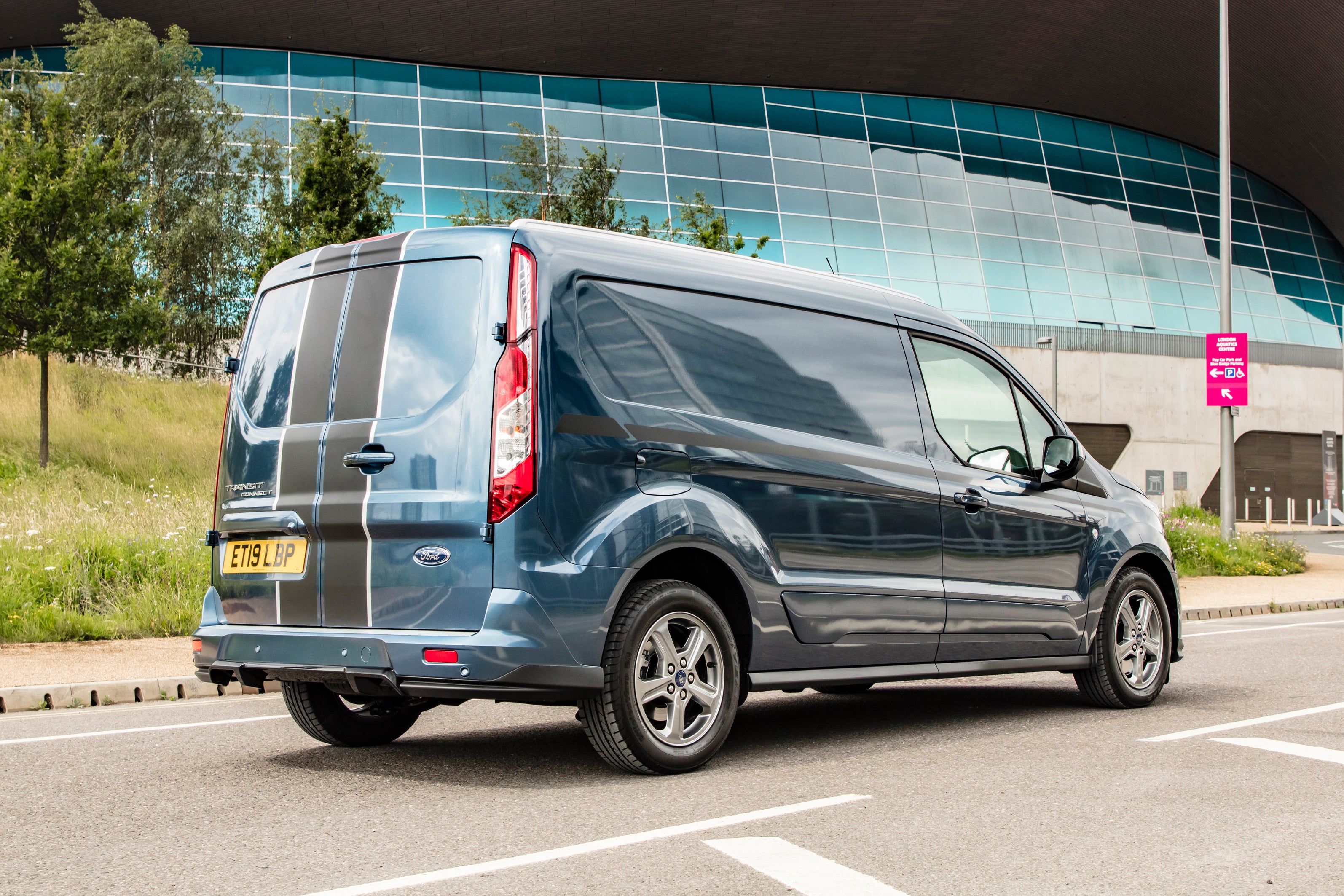 Still, the 1.5-litre diesels start from a decent stand point, offering a claimed economy in excess of 60mpg. This will take a hit as soon as you load up the back with tools and kit, but something north of 50mpg should still be possible.
Thankfully this is the case regardless of which power output you go for, so there is no penalty for going for the more powerful models.
Insurance groups and costs
The Ford Transit Connect is one of the cheapest vans to insure, going by its grouping at the very least. It starts in group 3E.
The panel van and crew van are in this group, and it's the same whether you go for a petrol or a diesel. Older versions also start in group 3E, but crew vans might cost you a little more to cover as they kick off around group 5E.
How much should you be paying for a used Ford Transit Connect?
"Brand new, the Transit Connect is slightly cheaper on paper than many of its rivals, although newer alternatives like the Citroen Berlingo etc are all laden with more equipment than the Ford. "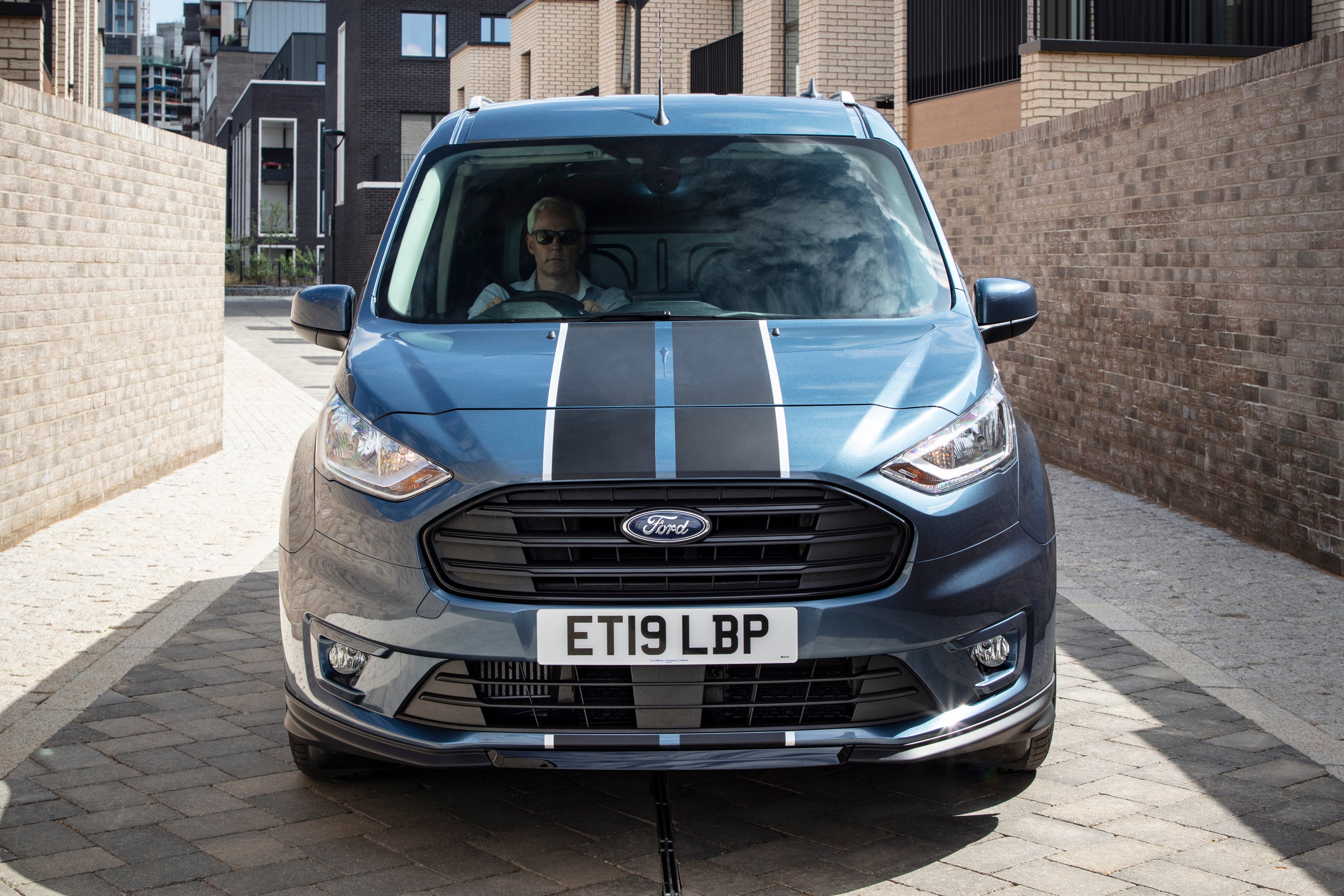 The Ford Transit Connect's popularity in the UK is a bonus if you are looking to buy a used one – there should be plenty to choose from. This popularity means there should be plenty of nearly new models should you want to get a few pounds off the list price by going for nearly new or pre-registered models
Trim levels and standard equipment
The two best value trims are the ones in the middle of the Transit Connect range, with Trend and Limited making the most sense. The Trend version brings a few desirable bits over the Leader's relatively sparse standard offering. The eight-way adjustable driver's seat, heated windscreen for rapid de-icing and the infotainment screen lift it a little.
If you are more likely to be carrying out deliveries rather than spending time at a building site, the trim that makes the most all-round sense in terms of adding a little comfort is the Limited. It adds cruise control, air conditioning, heated seats and rear parking sensors.
Sport's additions are largely cosmetic, which might appeal but also be harder to justify on a financial basis alone.
Ford Transit Connect cars for sale on heycar
10,370
Number of cars available
£7.8K - £33K
Price bracket of these cars
Colours available on heycar
Keep me updated by email with the latest advice, news and offers from heycar
By submitting, you agree to our
privacy policy
.