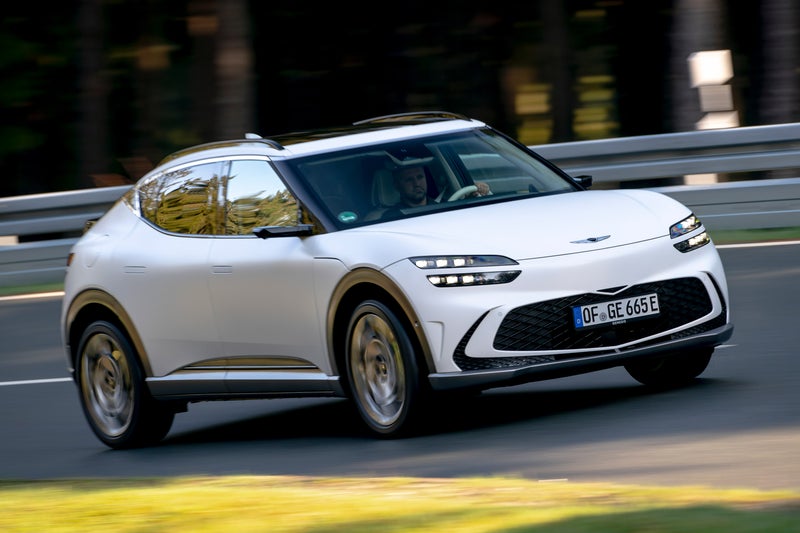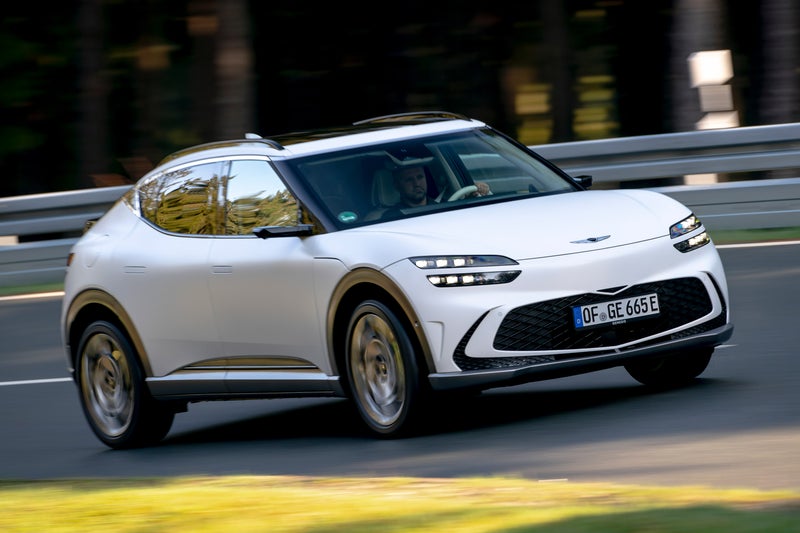 1/10
heycar rating
"Cool and sophisticated electric SUV"
Quick overview
Pros
It's based on the Hyundai Ioniq 5 and Kia EV6
Probably one of the best looking electric SUVs you can buy...
...and one of the best to drive, too
Cons
Some flimsy interior finishes
You'll soon get bored of telling people what it is
Don't expect a discount
Overall verdict
On the inside
Driving
Cost to run
Prices and Specs
Common questions
Overall verdict on the Genesis GV60
"The Genesis GV60 is a refreshingly different offering in the ever-expanding world of electric SUVs. While it might be sold by a brand you're not familiar with, the GV60 shares its underpinnings with two of the best electric cars on sale today: the Kia EV6 and Hyundai Ioniq 5. It's not simply a rehashed version of either, though, and we reckon the GV60 is impressive enough to take on established rivals like the Tesla Model Y and Audi Q4 e-tron."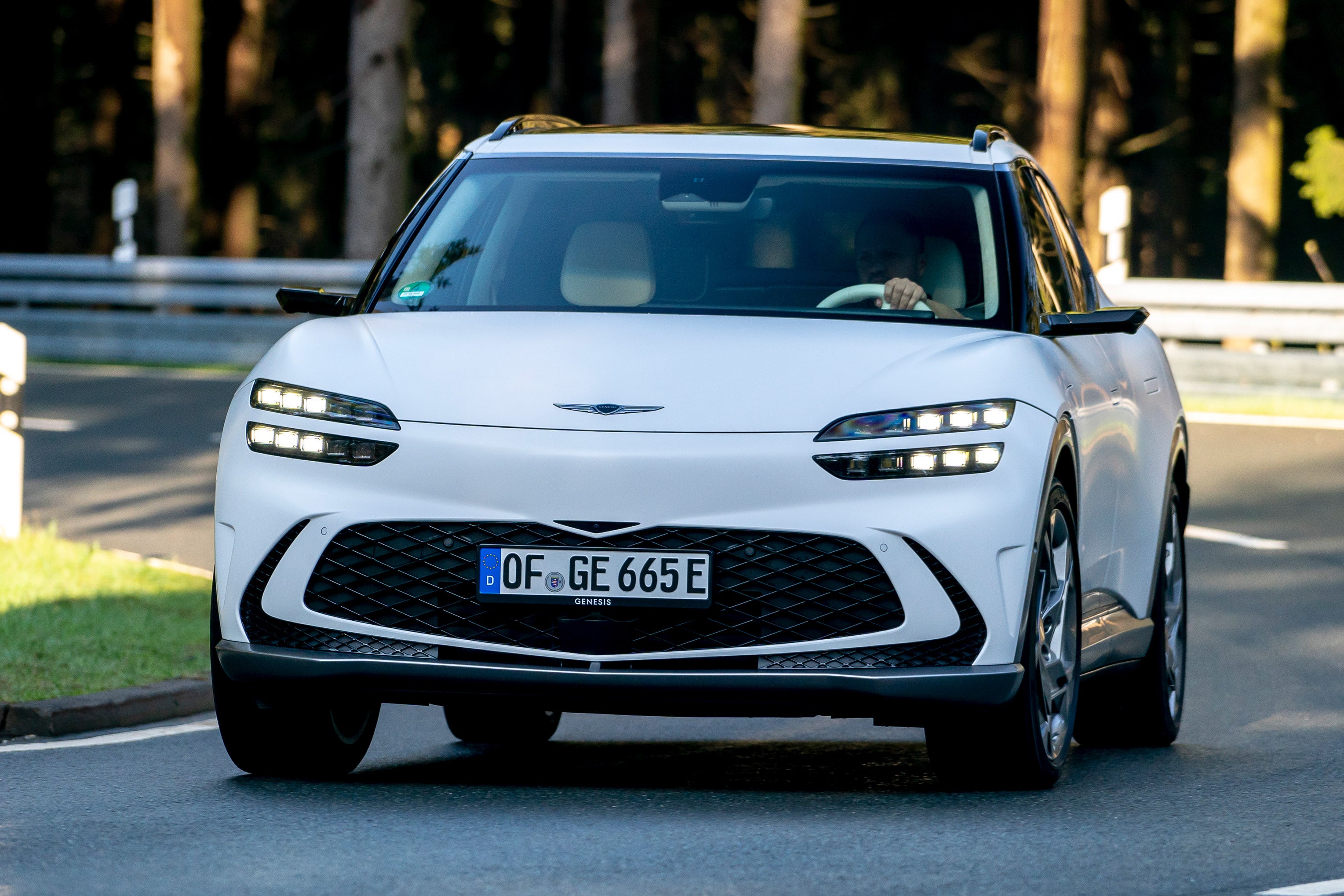 In many ways, the Genesis GV60 is the car the brand should have launched with when it first hit the UK with its old-fashioned petrol- and diesel-powered G80 and GV80 models in 2021. It – like every other car brand in 2022 – has ambitions to offer a fully-electric line-up within the next few years and the GV60 is a very strong initial step towards that.
But, sticking with the here and now, how does it fit in with the electric SUV market? Launch prices start from around £47,000 and go up to more than £65,000, which means the Genesis GV60 is more expensive than its Hyundai Ioniq 5 and Kia EV6 brethren by some margin. Genesis is intended to be the premium brand of the trio, though, which means the GV60 can be compared with the Audi Q4 e-tron, Mercedes EQA and Polestar 2.
There are three main models available, starting off with the Genesis GV60 Premium. As its name suggests, the GV60 Premium feels anything but entry-level – it's actually quite posh inside, with its plant-based interior, dual-screen infotainment system and fancy crystal ball drive selector. It is the least powerful of the line-up, with a single electric motor powering the rear axle. It feels pretty sprightly, though, with its 229PS motor providing a sub-8.0-second 0-62mph time.
The Genesis GV60 Sport brings an extra front-mounted electric motor into the mix, providing a combined 320PS and a fairly significant 605Nm of torque. If you want to catch Tesla drivers by surprise, you'll need the top-spec GV60 Sport Plus, which uses its combined 490PS (and 700Nm of torque) to accelerate to 62mph in four seconds flat. It's even got a boost mode which provides increased performance for 10 seconds – ideal for rapid overtakes.
Of course, most electric car drivers are more interested in how far they can travel between top-ups. All Genesis GV60 models use a 77kWh battery pack, which provides an official WLTP range of between 290 and 321 miles. That makes the Genesis GV60 very useable for day-to-day driving, as does its 350kW charging capability which can top the battery up from 10 to 80% in just 18 minutes.
While these figures are impressive, they're no different to what you'll see from the Hyundai Ioniq 5 and Kia EV6. And, while we're reluctant to keep mentioning this popular Korean duo, the GV60's fate really does rest on whether it's different enough from its cheaper platform-sharing relations.
We'd argue that it is. It certainly looks and feels very different, with each of the trio featuring their own distinct personality.And then there's the Genesis way of doing things which makes the GV60 worth a second look.
Dubbed the 'Genesis Difference', you'll be assigned a Genesis personal assistant the second you enquire about a car. They'll arrange for a GV60 to be delivered to you for a test drive, help you configure your car (you buy it online rather than through a dealership – prices are fixed) and keep you informed as it's built to order. It'll be delivered to your front door with a warranty and servicing included for five years.
Is the Genesis GV60 right for you?
If you like to do things differently, the Genesis GV60 could be the electric car for you. There's a clear appeal to having a car delivered to your door, while its exclusivity means you're sure to get the neighbours talking. While the GV60 has bags of personality, it's not different for the sake of being different, building on the Hyundai Ioniq 5 and Kia EV6's excellent foundations with a long range and impressive interior.
What's the best Genesis GV60 model/engine to choose?
While the top-spec Genesis GV60 Sport Plus has serious appeal thanks to its impressive performance, we reckon the GV60 Premium will tick a lot of boxes for a lot of buyers. It's quick enough, extremely comfortable and well-equipped – while its price tag is only marginally more expensive than the equivalent Kia EV6 or Hyundai Ioniq 5.
What other cars are similar to the Genesis GV60?
Comfort and design: Genesis GV60 interior
"The Genesis GV60 changes quite considerably depending on which specification you choose. The dynamic Sport Plus model, with its suede interior highlights and contrasting metal pedals, feels a bit like a wearing a training shoe. The more affordable Premium actually feels posher and more mature."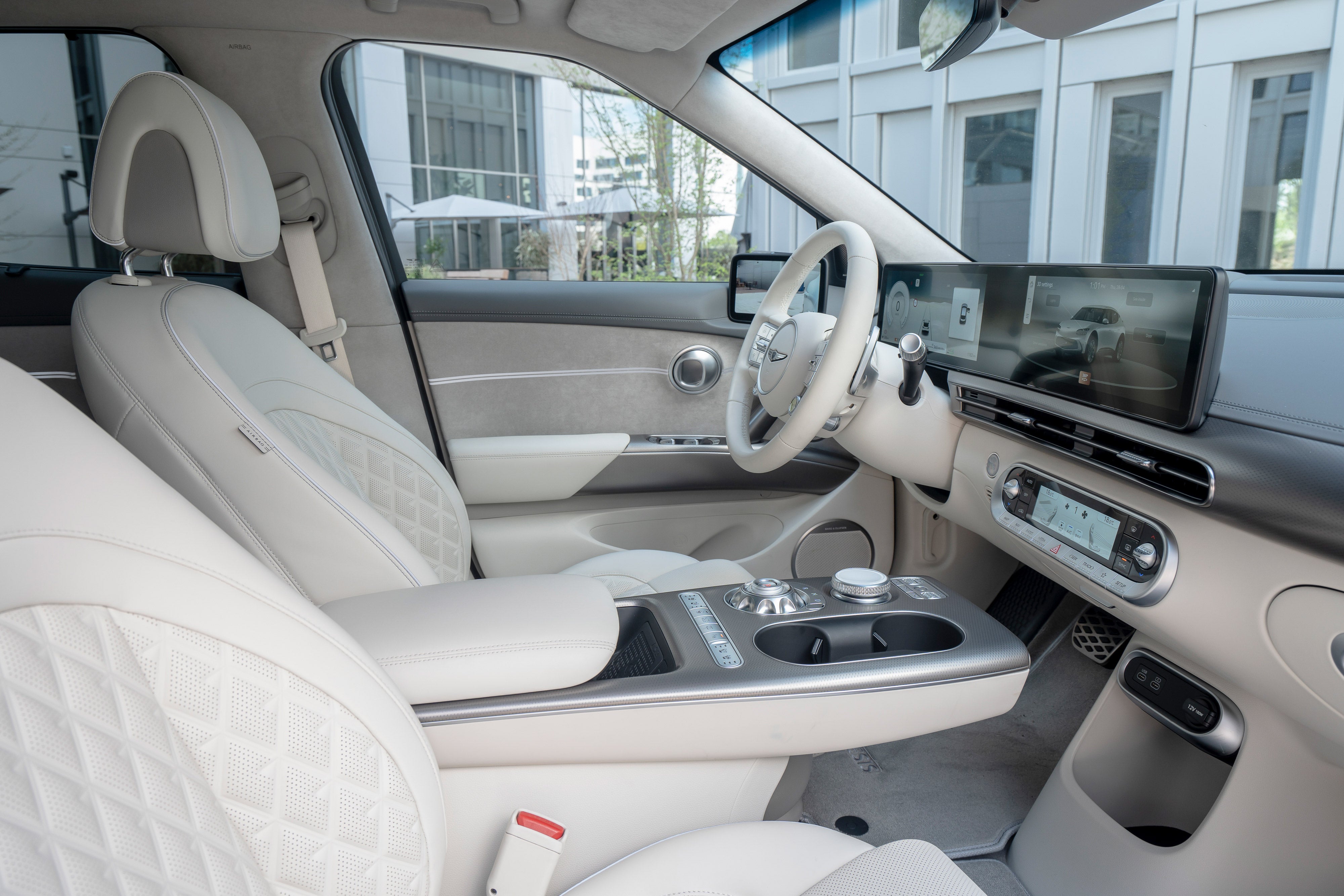 If you're a fan of minimalism, you might not be hugely enamoured with the Genesis GV60's interior. There are buttons everywhere – shortcut buttons for the nav; buttons for your heated seats; we even counted no fewer than 12 buttons on the steering wheel controlling everything from the lane guidance systems to answering a phone call.
It might seem at odds with rivals but it does mean the GV60's cabin is very useable – once you've worked at where everything you need is, anyway. There's a lot to be said for just pressing a button for turning on a heated seat (the Volkswagen ID.5 could learn a lot here...).
While the seating position doesn't feel particularly lofty, access is easy and the seats are comfortable and supportive. As the Genesis GV60 is quite a big car (even if it doesn't necessarily look it in the pictures), it feels spacious inside, helped by the flat floor and floating centre console.
It's far from a Kia or Hyundai parts bin, but you will notice a few features that have been lifted from its Korean siblings. It's generally well-finished, although we took an instant dislike to the slightly flimsy interior door handles.
Quality and finish
Generally, the Genesis GV60 feels exceptionally well finished. There are lots of soft-touch finishes, while the lounge-like interior of the GV60 Premium feels more John Lewis than Ikea.
Some of the switchgear, though, feels a bit flimsy. It's almost like it's been lifted straight from a Kia or Hyundai (probably because it has). The door handles feel a bit low-rent, too - these details do matter in a premium car.
Infotainment: Touchscreen, USB, nav and stereo in the Genesis GV60
All Genesis GV60 models come with a pair of 12.3-inch digital displays. These look every bit as modern as you'd expect for an expensive electric car, with intuitive menu layouts, speedy responses and sharp graphics. You get no fewer than five USB ports, while Apple CarPlay and Android Auto provide access to apps on your phone.
Space and practicality: Genesis GV60 boot space
The Genesis GV60 measures 4515mm in length, 1890mm in width and 1580mm in height. That means it's actually quite a big car – probably a good 10% larger than you might expect from the photographs. But, as it's been built on the same pure-electric platform as the Hyundai Ioniq 5 and Kia EV6, none of that space goes to waste in the cabin. The large, flat battery sits underneath the floor, meaning the GV60 gets a totally flat floor inside.
There are loads of useful little stowage areas, too – from the (relatively narrow) door bins to the cubby under the central armrest and some extra storage underneath that (aided by nets to prevent your possessions from flying around the cabin). Rather than a conventional glovebox, there's a neat drawer which slides out.
In the back, two adults can sit in comfort, with plenty of legroom (even behind a tall driver or front-seat passenger). Headroom's pretty good, too. You can squeeze a third person in the middle seats, although it's on the narrow side. At least the aforementioned flat floor means there'll be somewhere for them to put their feet.
At 432 litres, boot space in the Genesis GV60 is pretty good. It's a very wide boot with a large opening, although it is quite high – something to bear in mind if you're expecting to load heavy or bulky items. There's a false floor with some extra storage underneath for keeping your cables while there's also a compact 'frunk' providing some extra storage under the bonnet at the front.
Handling and ride quality: What is the Genesis GV60 like to drive?
"The Genesis GV60 strikes an almost perfect balance between comfort and sportiness. It feels more agile than a lot of electric cars – and you don't need a high-spec model with its fancy road-scanning suspension for the most compliant ride quality."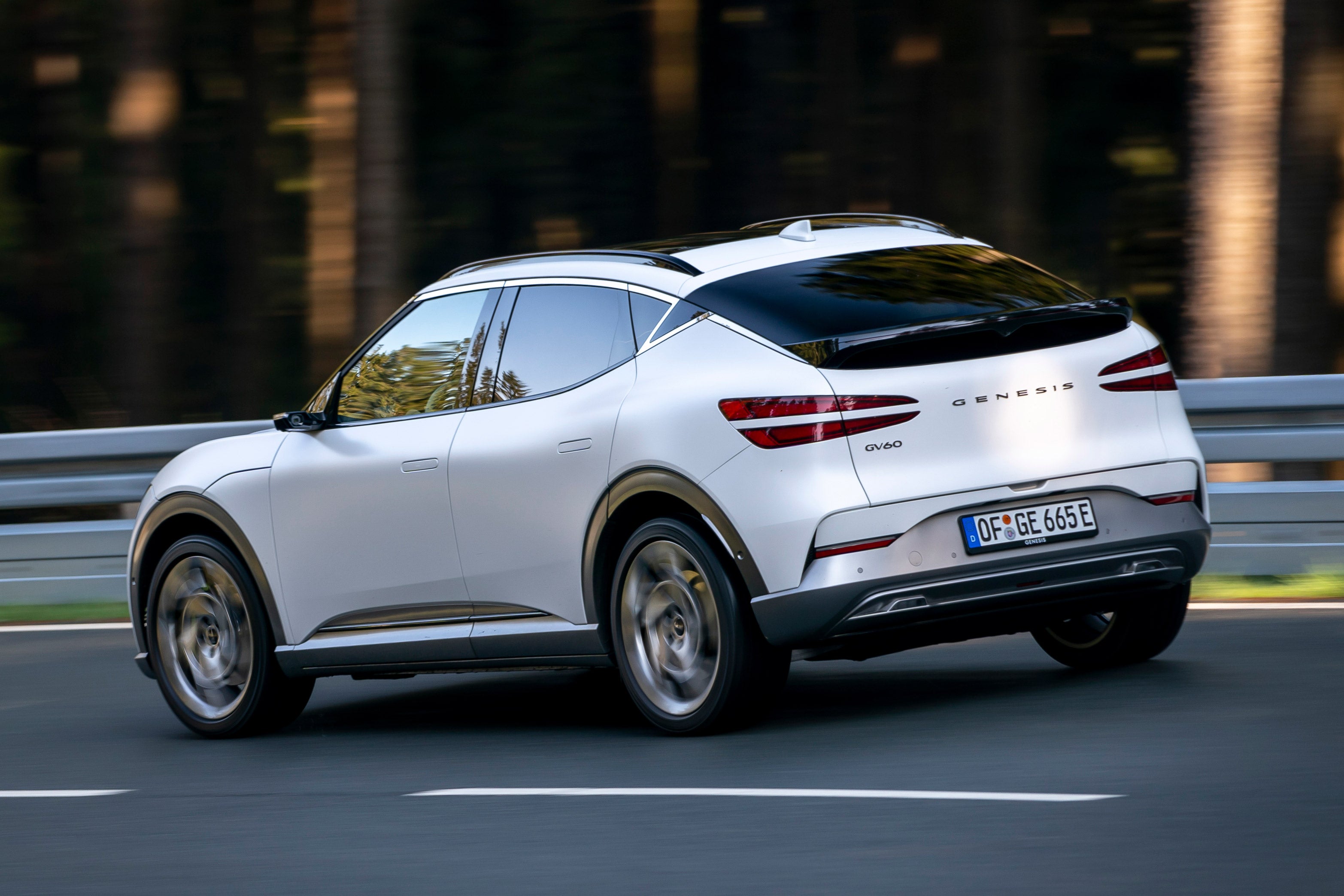 Sometimes it's best to keep things simple. The entry-level Genesis GV60 Premium comes with a single electric motor driving the rear axle, which means it's rear-wheel drive (like an old-fashioned sports car).
As such, the front wheels are left to handle the cornering, which means it feels mega responsive whether you're around town or out on a twisty open road. The smaller wheels of the Premium mean this doesn't come at the expense of ride comfort, either – you're not going to wince at the mere idea of a pothole, like you might in a Ford Mustang Mach-E.
Pricier Genesis GV60 models are four-wheel drive, taking away some of this nimbleness of the entry-level car. There's loads of grip on offer, though, and it leans less than higher-riding SUVs. While these are obviously heavier and fitted as standard with bigger alloy wheels (and therefore lower profile tyres), you do get a fancy camera system which scans the road ahead and primes the dampers if it detects imperfections. It works well, but it's still not as soft and cushiony as the GV60 Premium.
The gimmicks don't stop there. You can spec your Genesis GV60 Sport Plus with a drift mode, if you like. This "automatically optimises the distribution of driving power and the stability control system to assist the driver in sliding [the] all-new GV60 through corners," apparently. We haven't tried it.
What motors and batteries are available in the Genesis GV60?
Based on the same E-GMP platform as the Kia EV6 and Hyundai Ioniq 5, the Genesis GV60 is available in two- or four-wheel drive form with a choice of three different power outputs.
Kicking the range off is the Genesis GV60 Premium, which comes with a rear-mounted motor that delivers 229PS and maximum torque of 350Nm. It'll accelerate to 62mph in 7.8 seconds which might not sound that sprightly by electric vehicle standards – but it's far from slow. It'll take off quite urgently when you hit the accelerator, with impressive performance up to 30 or 40mph. The punch tails off as you approach motorway speeds, but it's still going to feel pretty quick if you're trading in your petrol Kia Sportage.
The Genesis GV60 Sport adds an extra electric motor to the front axle. This means it's four-wheel drive, with a combined 318PS and 605Nm providing 0-62mph acceleration of 5.5 seconds. That's quicker than a Volkswagen Golf GTI.
For the ultimate in performance, though, the Genesis GV60 Sport Plus pairs an electric motor on each axle to produce 435PS and a muscular 700Nm of torque. This can be boosted using a button on the steering wheel for around 10 seconds – deploying up to 490PS and making extremely light work out of any overtakes. Officially, this'll cover 0-62mph in just 4.0 seconds, which pitches the Genesis GV60 against even the quickest electric cars.
Maximum electric range in the Genesis GV60
All Genesis GV60 models come with a hefty 77kWh battery which provides an official range of between 290 and 321 miles, depending on which variant you go for. The single-motor rear-wheel-drive GV60 is the most efficient, with a long enough range to compete with the longest range electric vehicles.
The least efficient Genesis GV60 is the Sport Plus, which has the potential to be quite a lot less efficient if you make the most of its performance. Based on our experience with the mechanically similar Kia EV6 and Hyundai Ioniq 5, the Genesis GV60 ought to be fairly efficient in the real world, but you'll have to be pretty gentle with the throttle to get close to the official figures.
Refinement and noise levels
The Genesis GV60 is one of the most relaxing, refined cars on the market today. Unless you're travelling really quickly, you're unlikely to notice any roar from the tyres or noise from the suspension working away. For the ultimate in Rolls-Royce-like refinement, the Genesis GV60 is available with an active noise cancellation system which essentially turns its sound system into your favourite pair of noise-cancelling headphones.
Safety equipment: How safe is the Genesis GV60?
The Genesis GV60 comes with all the usual safety kit you'd expect from a modern electric vehicle. This includes a Forward Collision-Avoidance Assist (FCA) system which can apply the brakes to prevent a crash (or at least reduce its severity). The Evasive Steering Assist can actively help turn the car away from a potential collision, too.
Eight airbags are fitted as standard, including a front centre airbag which deploys within 0.03 seconds of a side collision – preventing the driver colliding with the front passenger.
The Genesis GV60 is yet to be crash-tested by Euro NCAP.
Charging times: How much does it cost to charge the Genesis GV60?
"A 350kW public rapid charger can charge the Genesis GV70's battery from 10% to 80% in less than 20 minutes."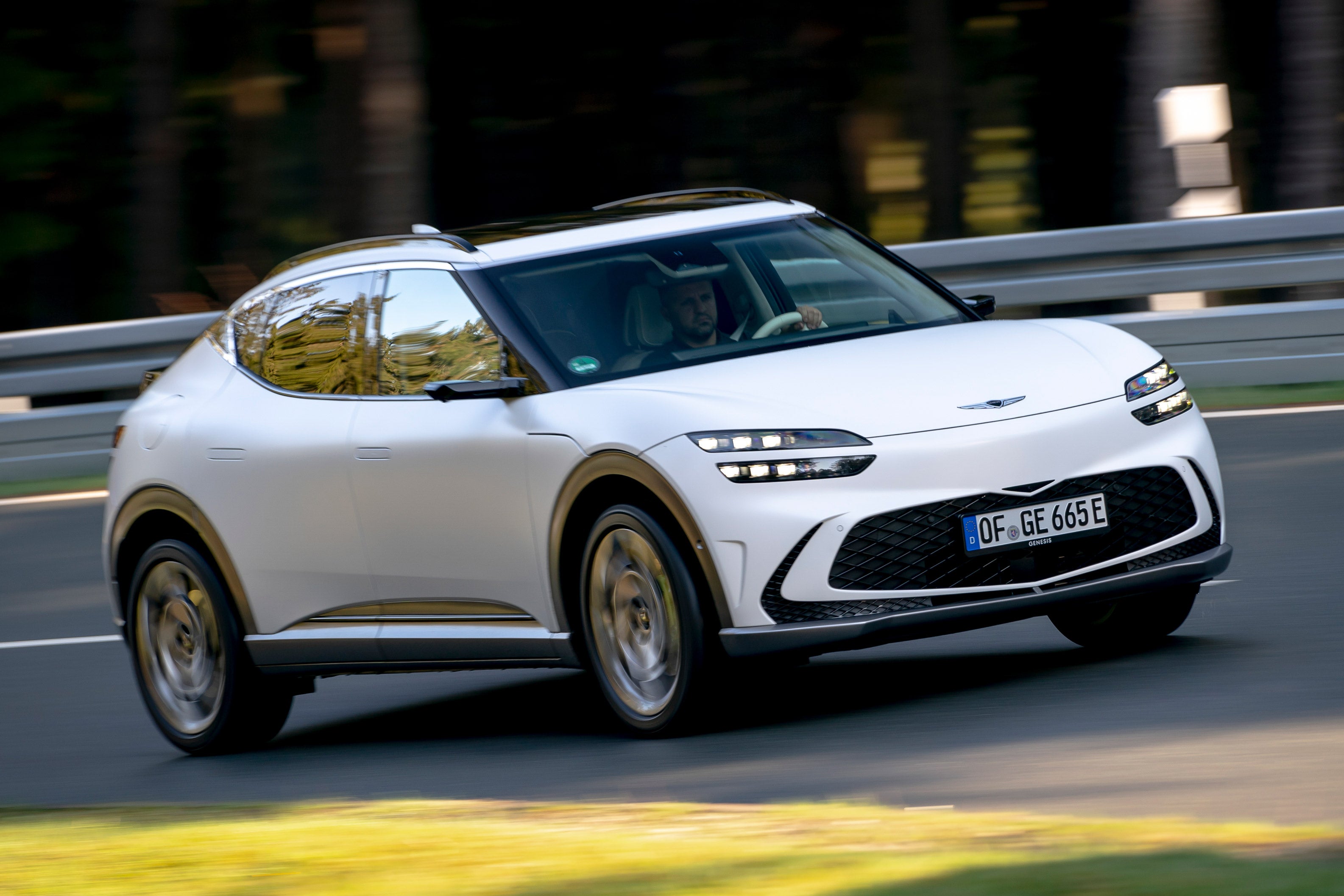 The fastest electric car chargers are also the most expensive. You'll pay around 69p per kWh for a rapid charge at a 350kW charging point – so the 20-minute charge mentioned above will cost you more than £30. That's cheaper than visiting a petrol station, though, and you're doing your bit for the environment.
We'd always recommend charging an electric vehicle at home, where possible. A 7kW home charger will fully charge the Genesis GV70 overnight in around 11 hours. We wouldn't bother attempting to charge it using a three-pin plug – that'll take actual days for a full charge.
How reliable is a Genesis GV60?
While Genesis is a relatively unknown brand in the UK, the GV60 shares much of its mechanical parts with the Hyundai Ioniq 5 and Kia EV6. That's good news for reliability – and with much fewer moving parts than a petrol or diesel model, electric vehicles are usually exceptionally reliable.
As part of the Genesis Care Plan, all servicing is included for the first five years or 50,000 miles. During this period, Genesis will collect your car in a truck for any servicing or warranty work, meaning you won't have to visit a dealer. Roadside assistance is also provided for five years.
Insurance groups and costs
Insurance groups range from 41 to 49, which isn't exactly low. Unsurprisingly, the most affordable GV60 to insure is the least powerful one – the Genesis GV60 Premium. It might be worth searching around for insurance quotes, particularly if you're a relatively new driver – the high price tag combined with the performance available means the Genesis GV60 might not be cheap to insure.
VED car tax: What is the annual road tax on a Genesis GV60?
As the Genesis GV60 is a zero-emission electric car, it's free to tax. That's a saving of £520 a year (for the first five years) compared to a premium petrol or diesel vehicle.
How much should you be paying for a used Genesis GV60?
"Genesis GV60 prices start from £47,005, meaning it's more expensive than the Hyundai Ioniq 5 and Kia EV6, pitching it against premium rivals like the Audi Q4 e-tron and Volvo XC40 Recharge."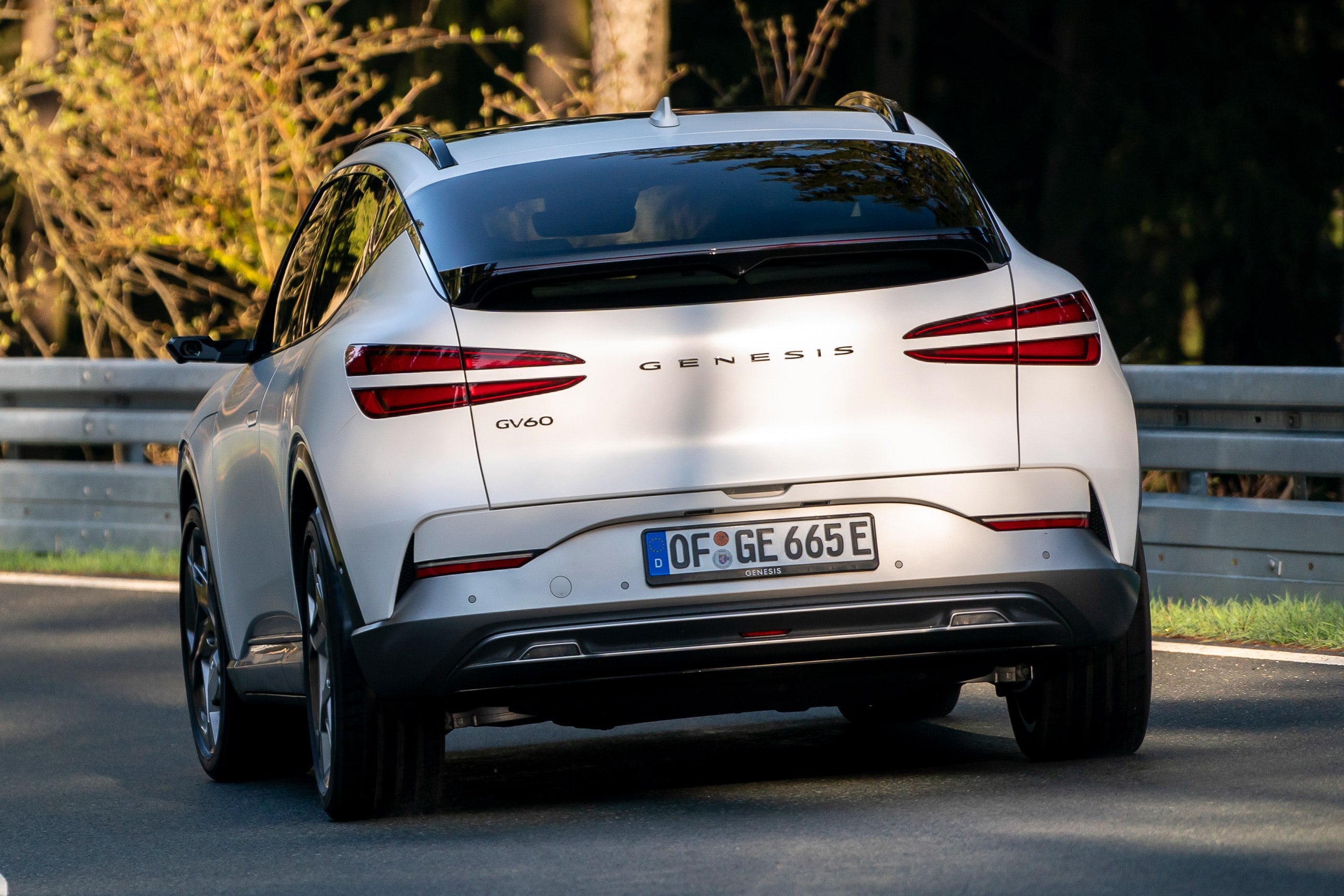 That £47,005 start price is for the single-motor Premium model, while the dual-motor Genesis GV60 Sport starts from £53,605. Topping the range, the powerful Genesis GV60 Sport Plus is priced from £65,405.
Genesis prides itself on a transparent pricing structure. The price you see is the price you pay – and there aren't even any Genesis dealers to haggle with. Instead, there are a select number of Genesis 'studios' in high footfall locations (like shopping centres). Here, you can take no-pressure advice from product specialists who are on hand to help you configure your Genesis GV60.
We're unlikely to see any used examples hitting the market with big reductions, either. The Genesis GV60 won't be sold in huge numbers to rental fleets and the like, while the lack of dealers means there won't be an influx of pre-registered models.
Ask the heycar experts:
common questions
Is the Genesis GV60 coming to the UK?
Pre-orders are now open for the Genesis GV60 ahead of UK deliveries starting from later in 2022. It's the brand's first pure-electric vehicle, with Genesis aiming for all its new models to be electric by 2025.

Is the Genesis GV60 an electric car?
The Genesis GV60 is the brand's first pure-electric vehicle. Based on the same Electric Global Modular Platform (E-GMP) as the Hyundai Ioniq 5 and Kia EV6, the Genesis GV60 is available with a 77.4kWh battery providing an electric range of up to 321 miles.

What is the price of a Genesis GV60?
Genesis GV60 prices start from £47,005. That's for the Premium model, while the Genesis GV60 Sport is priced from £53,605. The top-spec Genesis GV60 Sport plus costs £65,405.

Answered by
Lawrence Allan
Keep me updated by email with the latest advice, news and offers from heycar
By submitting, you agree to our
privacy policy
.
Popular models
Similar models