Best 7-seater cars 2022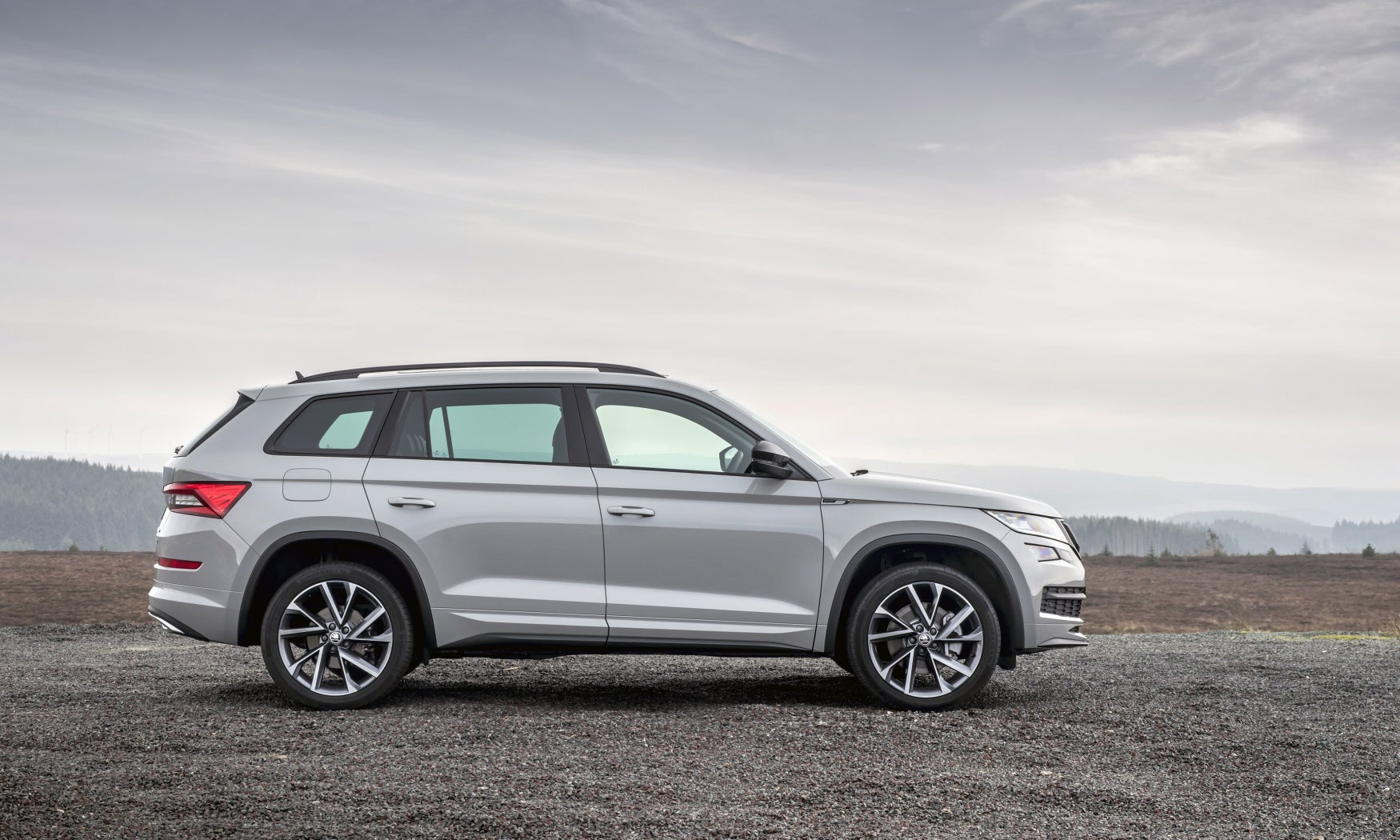 Have you got lots of kids, lots of friends or both? You should find this guide to the best 7-seaters on the market to be essential reading.
There are loads of great cars on the road if the maximum amount of people you need to carry is five. But what if you have more than three children? Or you children insist on bringing their friends along? Or you insist on being the designated driver for all your adult friends?
This guide to the best 7-seater cars on the market is important reading, because there are fewer good seven-seater cars than there are five-seaters. They're not just great for passenger space either, because when the extra seats aren't in use they can be folded away to give you loads of luggage room. The best models also have up to five ISOFIX points - perfect for multiple child seats.
On this list of the best 7-seater cars you'll find a mixture of big SUVs and not-quite-so-big SUVs. Don't want a chunky off-roader? Great, you'll even find a few old-school MPVs or people carriers on this list too. Keep reading for our guide to the best 7-seater cars currently on sale in the UK today.
Best 7-seater cars
Land Rover Defender
Year launched: 2020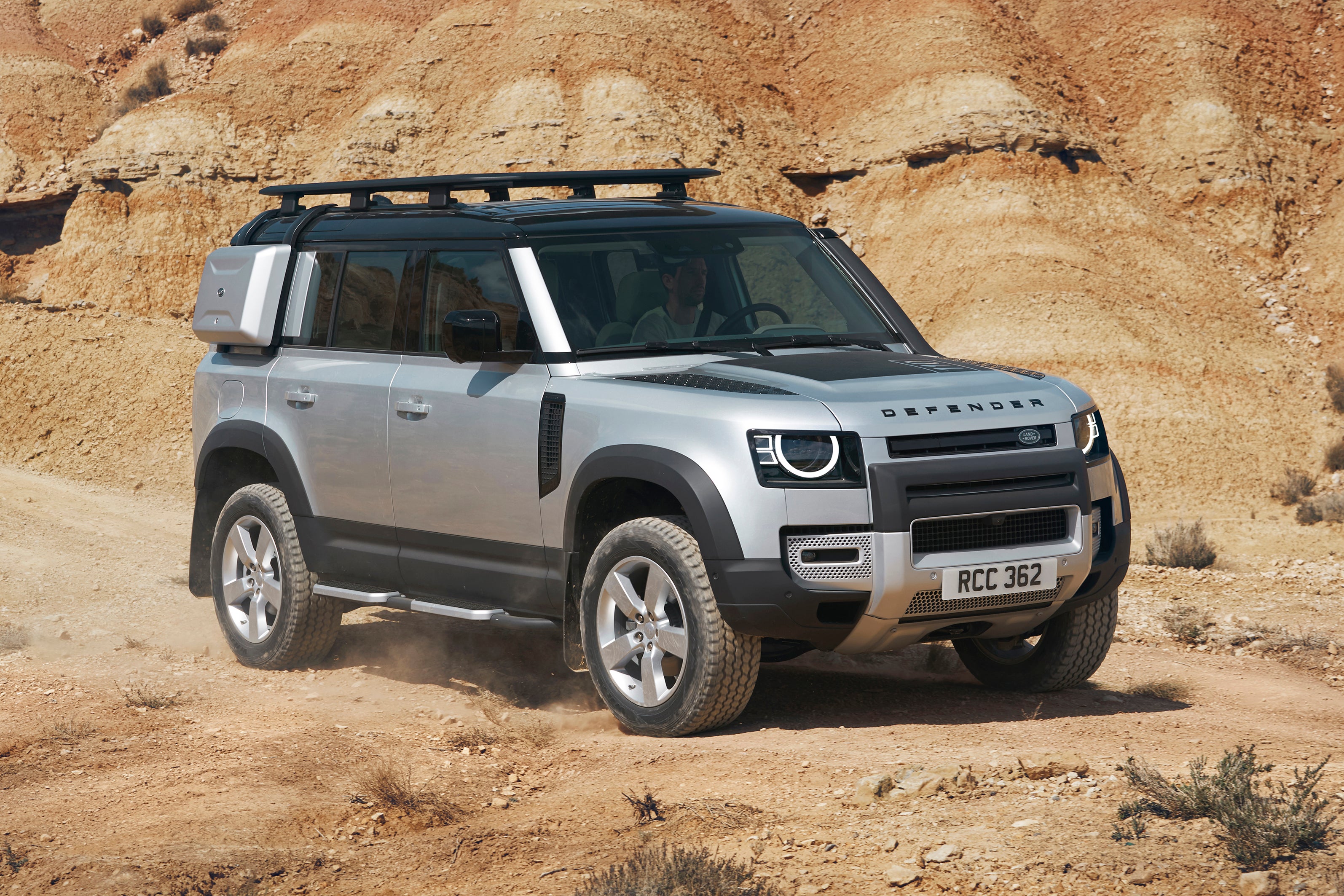 Remember when 7-seater cars were predominantly MPVs? Van-like machines that said 'I've had children and the world has now ended' clearer than anything else you could buy? So do we, which is why we have stuck a car that's the complete opposite to that at the top of this list – the new(ish) Land Rover Defender.
Yes, the Land Rover Defender says 'I've had children, but I still know how to have fun' or words to that effect, and it does that straight off the bat with its chunky, taking-no-prisoners looks. It's not all about appearances though; clever electronics, a deep wading depth and huge suspension travel means the Defender is, according to Land Rover, the toughest off-roader it has ever built.
Quite aside from that, it's also an excellent family car. You can choose from five, six (with three up front) and seven seater configurations though, oddly, no eight-seater and, whichever version you go for, you'll find a car with a hugely practical cabin that's loaded with handy storage spaces and has a big boot when you're not using the third row. It's also comfortable, refined and comes with a range of punchy engines, while the quality and technology inside is on a different planet to the bog-basic old Defender.
Kia Sorento
Year launched: 2020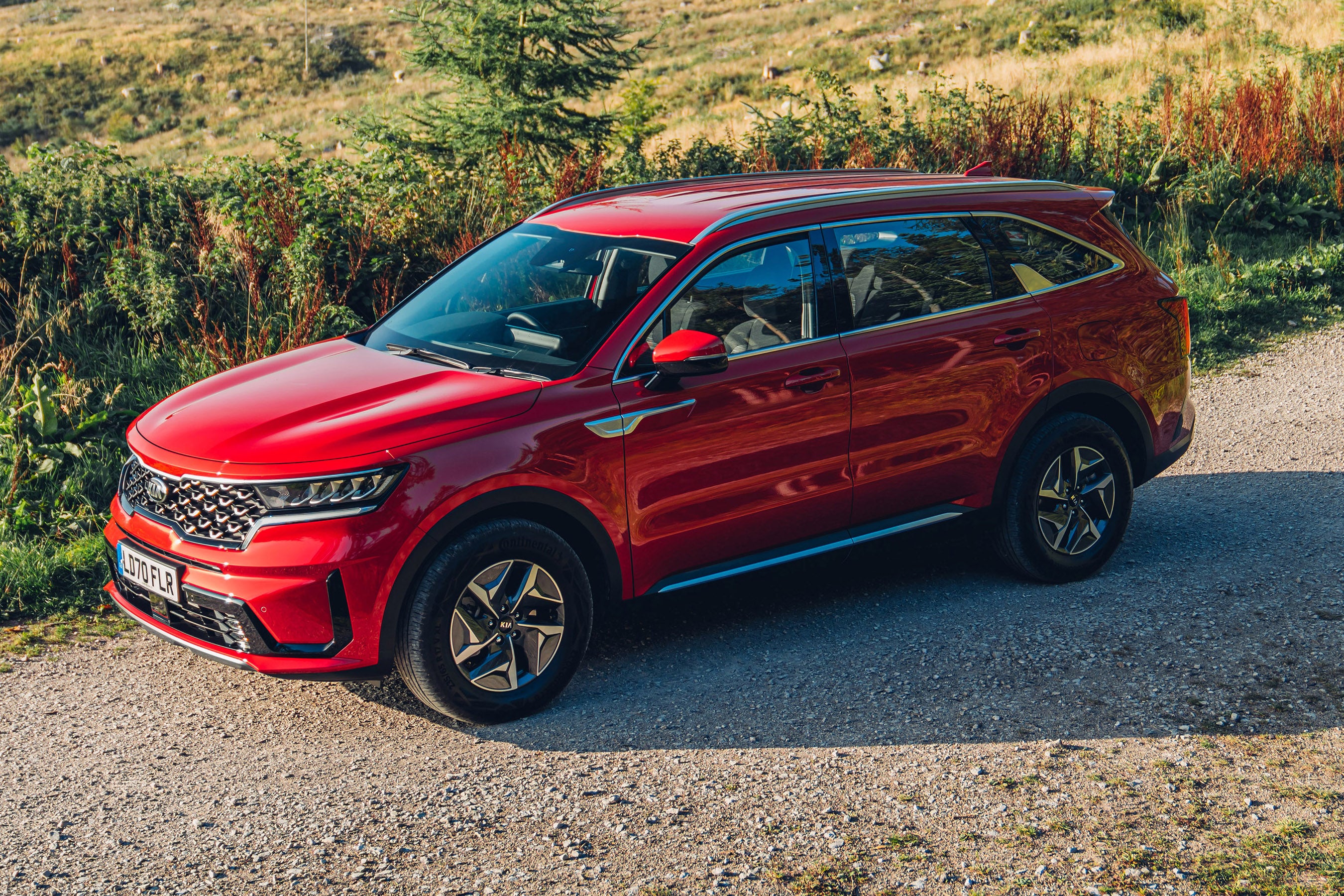 The Kia Sorento is one of the best, most affordable seven seater SUVs on the market. All are well-equipped, spacious, practical and get four-wheel drive as standard. It's seven-year, 100,000-mile transferable warranty, also means it'll be hassle-free to live with for a good while - even if you pick up a used model with some warranty left.
Aside from being one of the best cars in its class for space and convenience, all versions are comfortable and nicely designed. Even the most basic car in KX-1 trim gets 17-inch alloy wheels, touchscreen infotainment, DAB audio, rear parking sensors and all-wheel drive.
The Sorento is available with a smooth 'self-charging' hybrid system mated to a 1.6-litre turbo petrol engine, but there's also Kia's tried-and-tested 2.2 CRDi diesel. Due to its size, power, four-wheel drive and trailer stability system, the Sorento is popular with caravan owners, and it's the latter engine choice they'll prefer. Even if you don't tow, though, the Sorento is a great all-round large SUV.
BMW X7
Year launched: 2019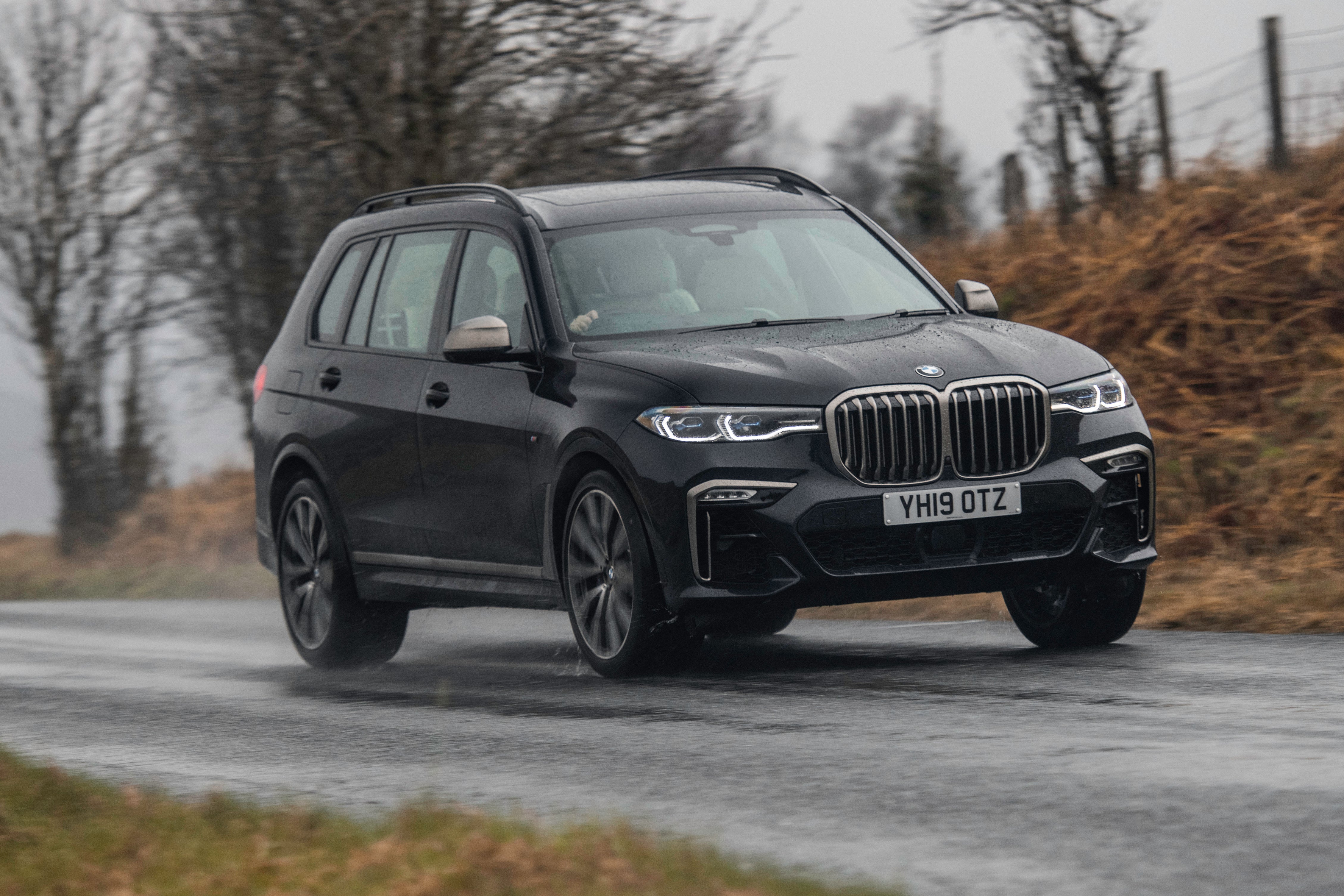 BMW has a knack for making SUVs that are impressive to drive, and despite the X7's sheer size and heft it's another success story.
Although it's hardly agile (no 2.5-tonne SUV is) the way the BMW X7 manages to stay composed in the bends and yet feel like a proper luxury car over bumps shows the brand's depth of engineering. It's also available with four-wheel steering, which is perfect for navigating such a big car through city streets.
The excellent 3.0-litre diesel (30d) will be more than quick enough for most buyers. It has impressive pulling power despite not being the most powerful (or expensive) engine on offer. The base level trim also has everything you need spec wise, so you can use the cash you save to stump up for a few extras.
All of the seats behind the front ones can be raised or lowered, while the middle ones can electrically slide and recline. With all seven seats in place, the boot is big enough for a few shopping bags or a couple of carry-on cases, but in five-seat mode, the load area is immense. Turn your X7 into a two-seater, and there's enough room - and totally flat floor - to carry a moderately sized sofa (along with the house it used to sit in).
Peugeot 5008
Year launched: 2017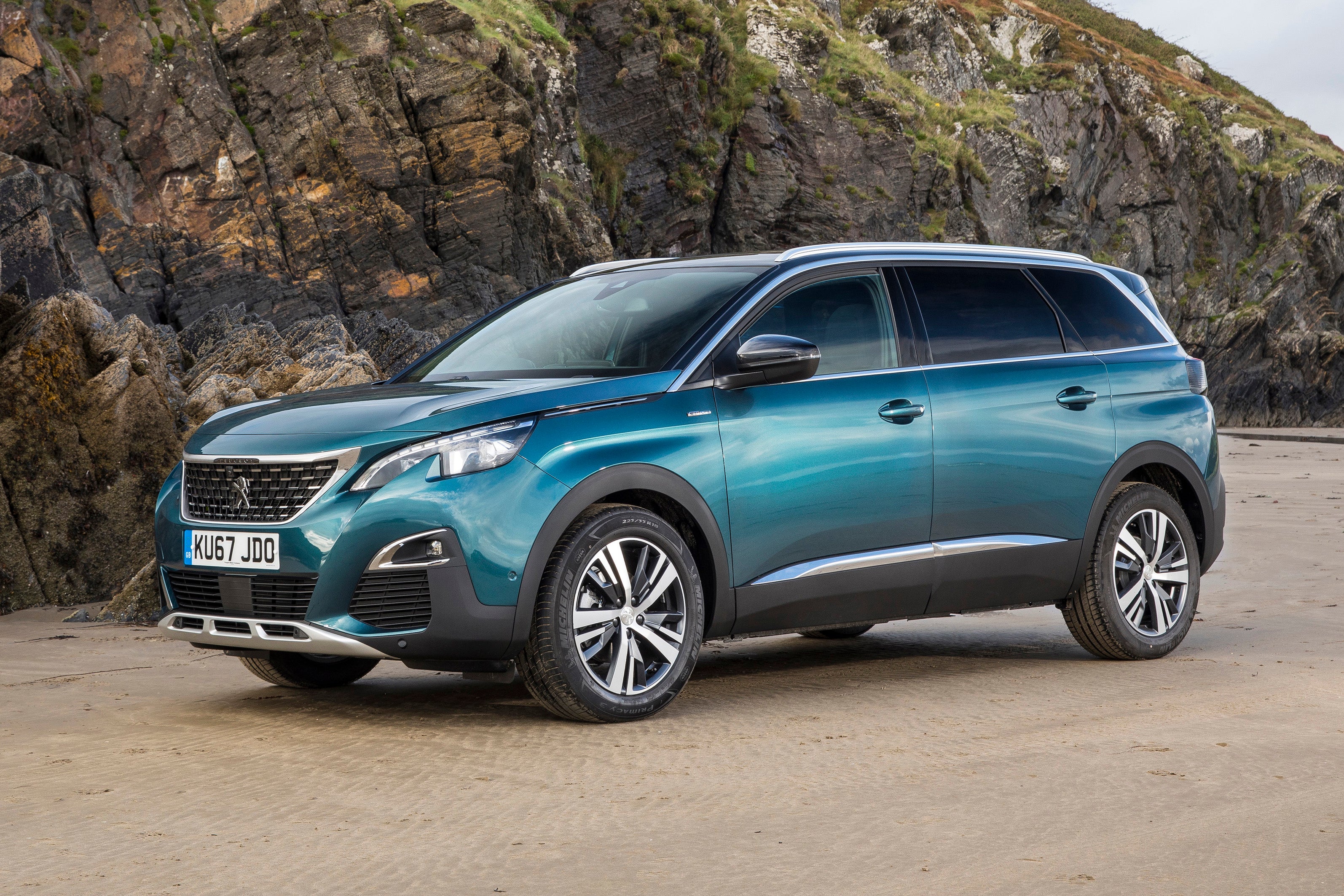 The Peugeot 5008 shows that mainstream, relatively affordable seven seaters don't need to be undesirable. With its bold and striking looks, it's certainly got showroom appeal when compared to an MPV. In fact, the sheer number of SUVs in this list shows how buyer attitudes have changed over the years.
Offering a huge interior space, bags of tech and 7-seat layout - the Peugeot 5008 is a great choice for those who want style without sacrificing practicality. All versions get three rows of seats as standard and the third row can be folded away into the floor (or removed entirely) to provide a van-like 1060 litres of load space. Although the third row of seats are best used by children, small adults could fit in there for emergency journeys.
You'll be surprised to hear that the entry-level 131PS 1.2-litre turbo petrol engine doesn't feel underpowered in the Peugeot. The higher powered units feel more urgent, though, while the diesels combine low-end punch with strong fuel economy. The attractively designed interior feels well put together, while it's very well equipped even at the lower end of the range.
The ride quality is good, with decent comfort levels even on bumpy road surfaces. Severe potholes do send a bit of a thump into the cabin, though. The Skoda Kodiaq is its closest rival and it's better-finished - but it doesn't come with seven seats as standard and doesn't have quite as much equipment if you go for a lower trim level.
Ford S-MAX
Year launched: 2015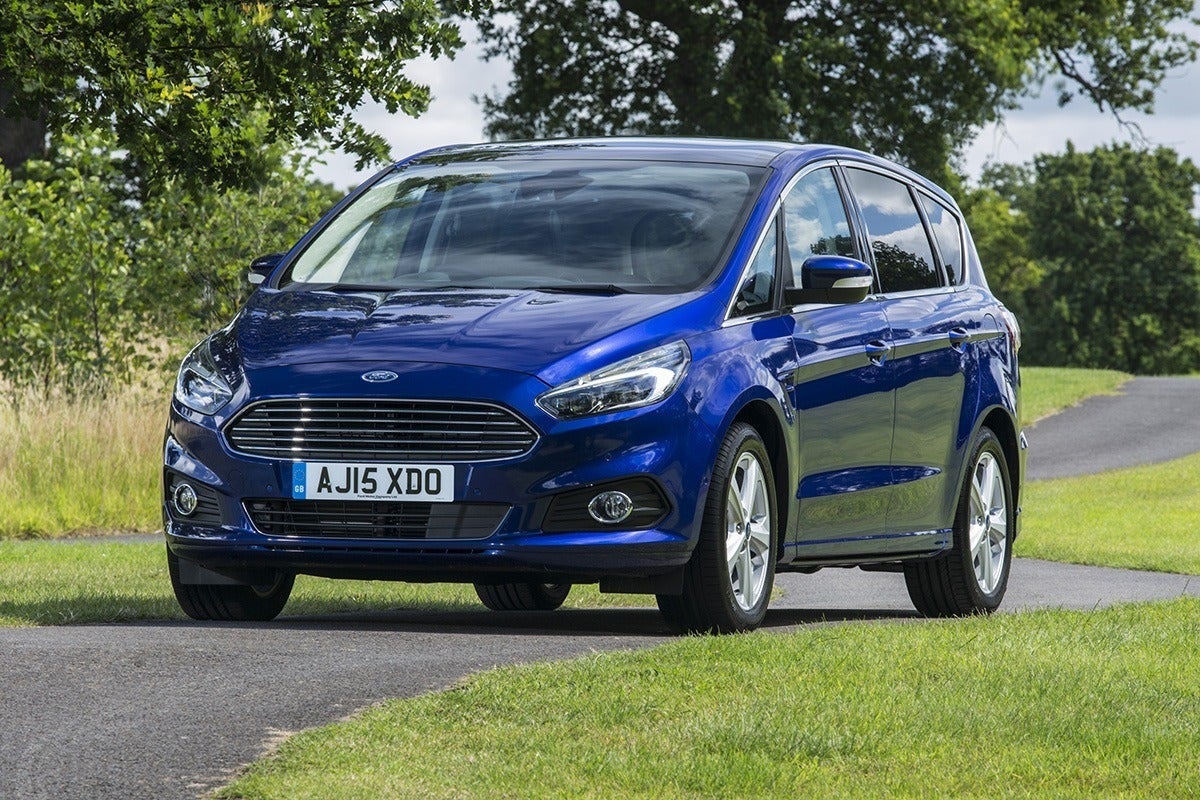 One of only a few MPVs in this list, the Ford S-MAX retains appeal with buyers because it offers practicality and an enjoyable driving experience. Although the larger still Ford Galaxy is the one to buy if outright space matters most, the S-MAX still offers seating for seven and a spacious and airy interior.
Yes, the third row is still best for children, but the seating is very flexible and the chairs can be folded by simple button pushes from the boot. Adults will find generous space in the middle row, while the tall windows make it feel less claustrophobic than some SUVs.
In terms of boot space, the S-MAX offers 965 litres in five-seat mode or 2020 litres with the five seats folded down. With all the seats up, this shrinks to 285 litres, which is just enough for a suitcase and a couple of bags.
The S-MAX is a good used buy, being generally cheaper than direct rivals such as the Volkswagen Sharan. But even entry-level Zetec trim comes with plenty of standard kit.The 150PS version of the 2.0-litre EcoBlue diesel engine is our pick, offering the best blend of performance, economy and price. It's punchy enough, even with all seven seats occupied. If you're buying new, the only choice is a 2.5-litre petrol hybrid model, but every S-Max has assured handling and a good ride.
Volkswagen Touran
Year launched: 2015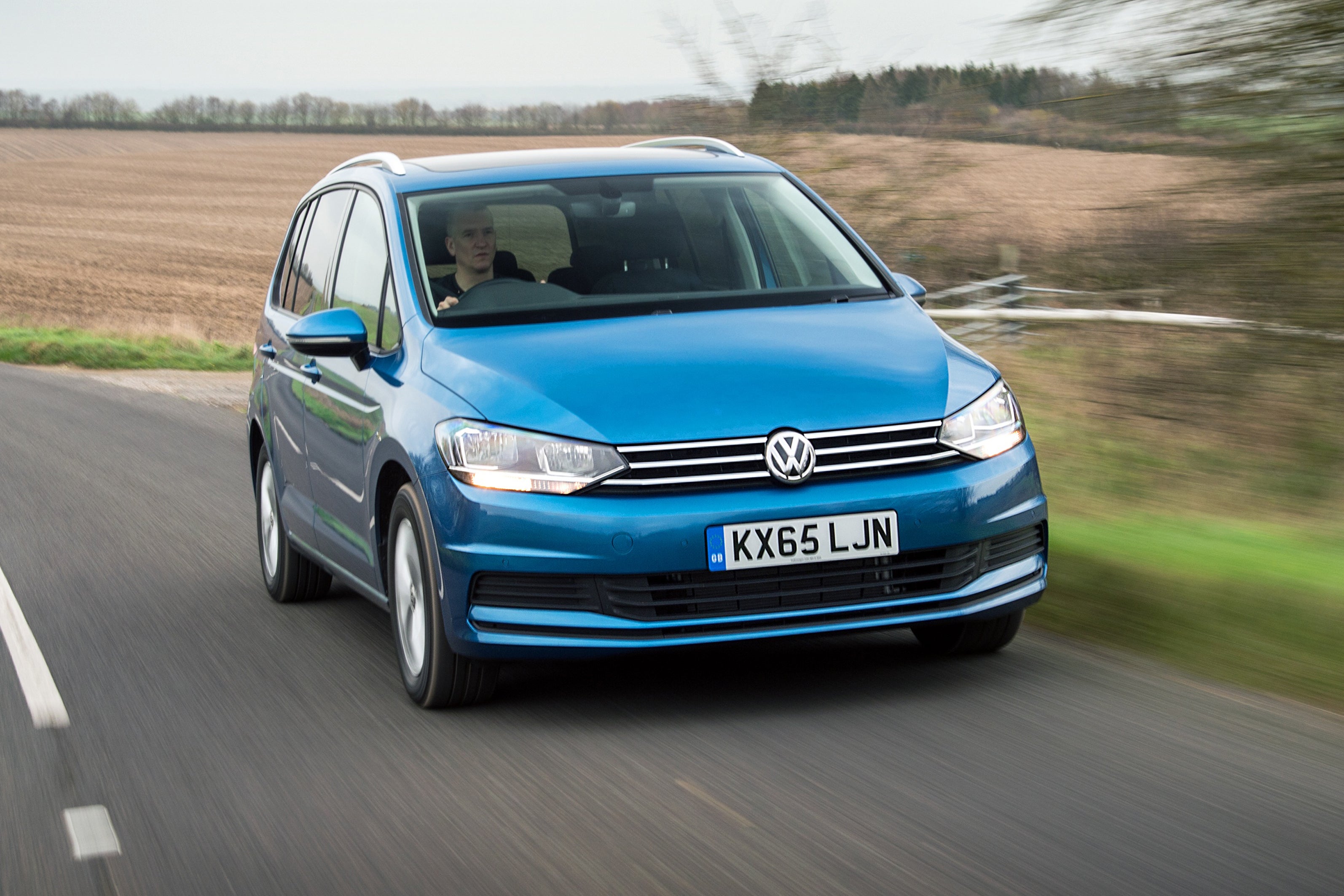 Let's get it out of the way: the Volkswagen Touran isn't exciting, desirable or stylish, whether your outside it or in it. But that's okay: sometimes, families don't want outlandish looks or dazzling gimmicks, they just want a car that does everything well and doesn't shout about it.
The Touran is that car. Yes, the Tiguan Allspace is VW's more on-trend seven-seat SUV, but the humble Touran MPV has more room and is better to drive, even if it's about as visually arresting as a van. Look past that, though, and it really is impressive.
For starters, there's plenty of room in every row of seats. Unlike most seven-seat SUVs, adults can sit fairly comfortably in the third row, while six footers will have no complaints in the middle row. Certainly your kids will have more space than they know what to do with, and five ISOFIX points are standard. Sure, the boot is pretty tight with all seats up, but the 957-litre boot with the third row folded is plenty, while it's van-like with both rows folded.
What's so remarkable is that all that space comes in an interior footprint smaller than every car here. Being relatively compact and based on a Golf, that means the Touran is really good to drive: comfortable, refined and composed in the bends. It's also easy to thread through town thanks to its size and excellent visibility.
There's a wide range of engines, too. We'd avoid the base 1.2-litre petrol which struggles when loaded, and go with either the 1.4 or 1.5-litre petrols or one of the diesels. All of those engines are efficient and punchy enough, while the Touran's excellent build quality and decent standard kit means even base models don't feel basic.
Volvo XC90
Year launched: 2015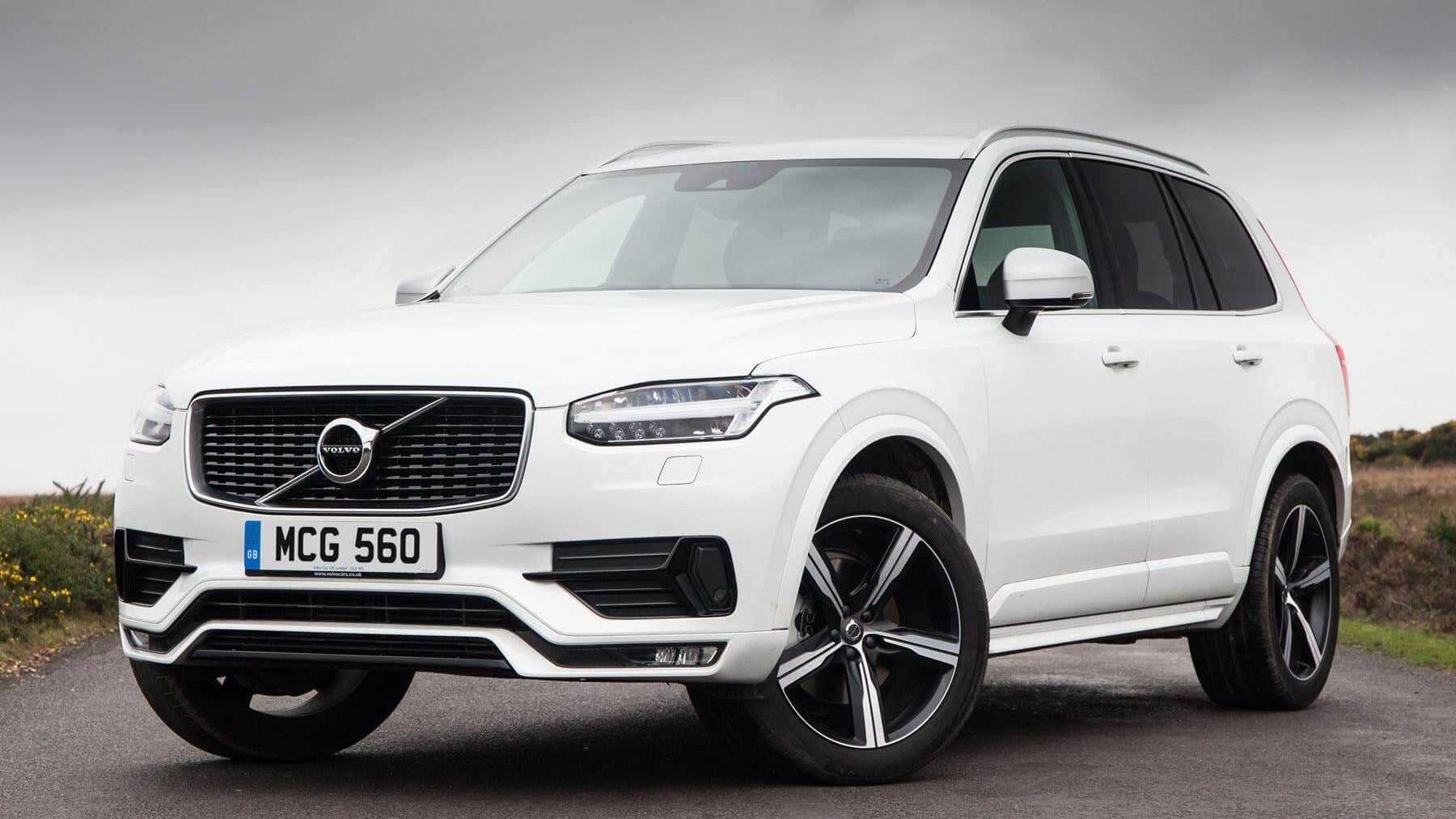 In a market dominate by German SUVs, the Volvo XC90 offers a welcome dose of Swedish style. Inside and out, it's modern and effortlessly cool, as well as providing the most advanced range of safety tech around. The XC90 also has the space, practicality and versatility to be an impressive family car. It offers top-class refinement, loads of standard equipment and a huge boot.
In seven seat configuration, the Volvo XC90 offers 356 litres of boot space. With the third row down, this rises to 1007 litres or 1856 litres with the second and third row of seats folded. Those three rows of seats are pretty spacious, although you'll want the huge Land Rover Discovery if you're regularly carrying adults in that third row.
The T8 plug-in hybrid is the fastest and (if you can charge it up regularly) most economical engine setup. It's also the only PHEV large SUV that retains three rows of seats. But it's expensive, so if your budget doesn't stretch that far, then either the D5 or B5 diesel (which are the same, confusingly) are the ones to go for. All cars come with a slick eight-speed automatic gearbox and four-wheel drive as standard.
Many of the extras you'll get on the higher trim XC90s are purely cosmetic, yet they cost a great deal more. So, we'd recommend the entry-level Momentum trim, which is still pretty lavishly equipped.
Skoda Kodiaq
Year launched: 2016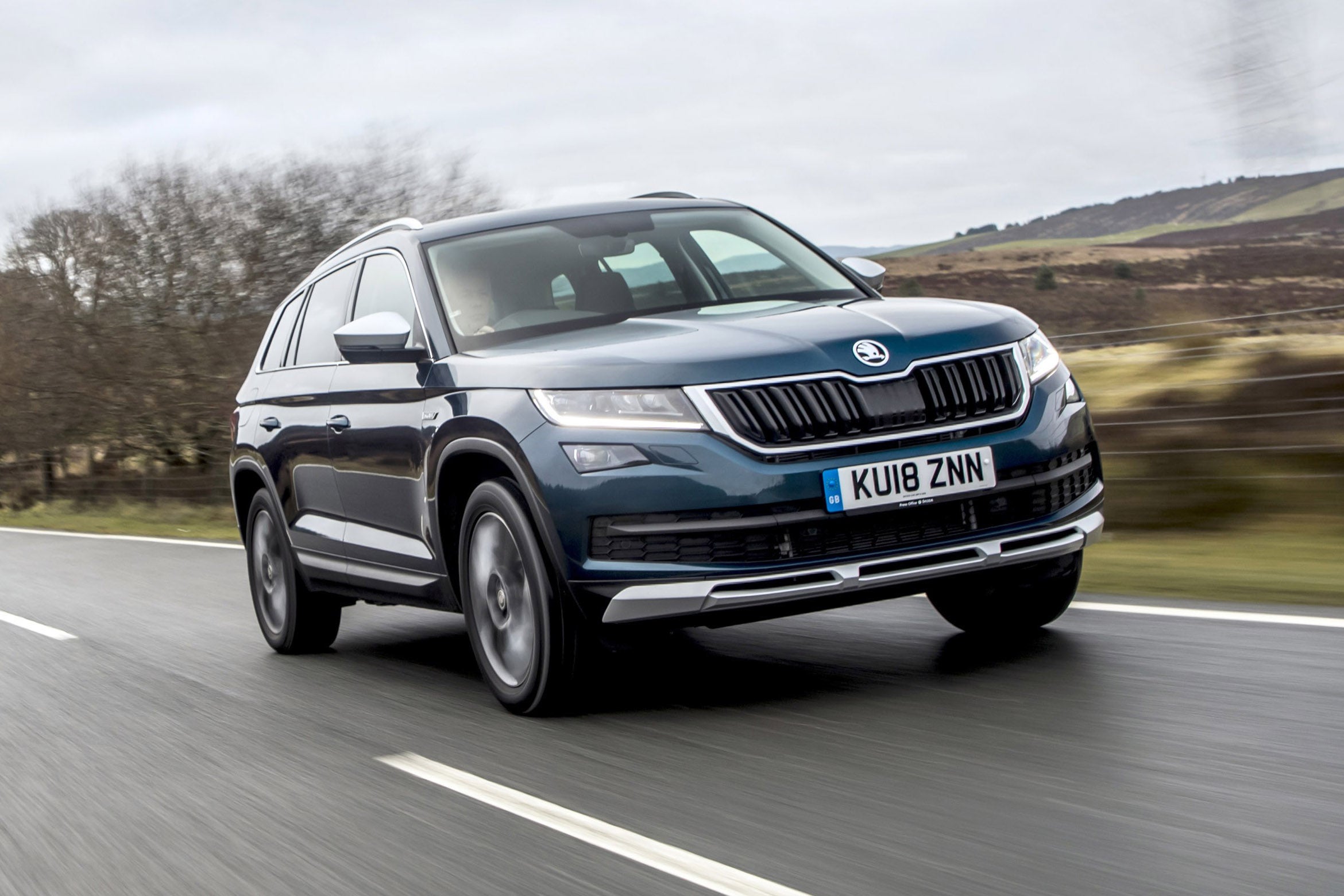 If you're looking for a practical family SUV, the Skoda Kodiaq is a really strong contender and one of the best 7-seater cars going. High-spec models might be expensive, but a mid-spec model offers a great blend of style, affordability, practicality and build quality.
Although adults will struggle to fit in the third row, the seats will be fine for children. With all seven seats in use, you'll find the boot's quite tight, too (270 litres). Fortunately, the third row of seats easily drops entirely flat, providing a much bigger 835 litres of space. The 2.0-litre diesel is the engine of choice if you cover high motorway miles or need to tow a caravan. Alternatively, the 1.5-litre petrol will feel slightly underpowered if loaded up with people and luggage, but is refined and economical.
We'd avoid the most basic S model, but SE Technology, SE Drive or SE L will tick all the boxes for most buyers without being too expensive. The SEAT Tarraco and Volkswagen Tiguan Allspace are similar, although the Kodiaq offers the best value for money - especially on the used market. The Peugeot 5008 is more interesting and more versatile, while the Kia Sorento is good value for money and offers a seven-year warranty as well.
Citroen SpaceTourer
Year launched: 2016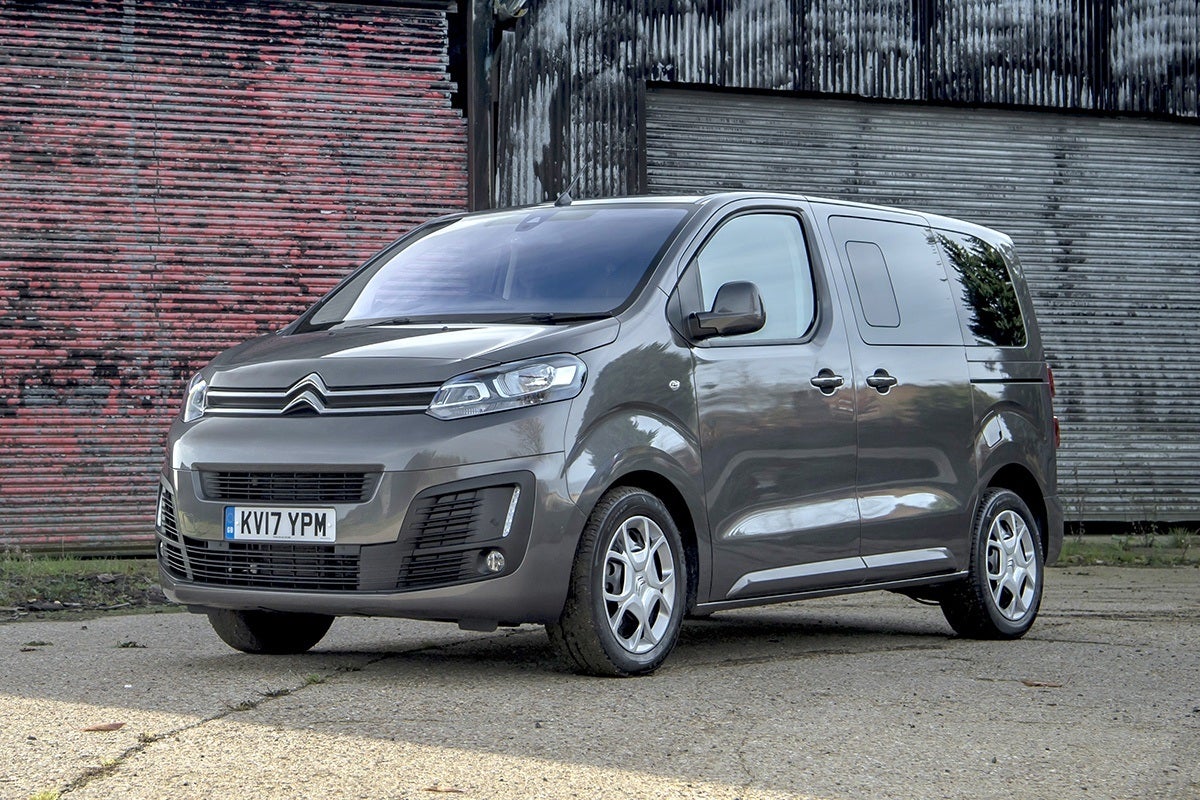 It's definitely not the most fashionable family car, but when it comes to affordable running costs, value for money and 8-seater practicality - even the biggest car-based MPVs can't match the Citroen SpaceTourer.
The van turned people carrier features seats and windows rather than panels and, well, building materials or the like. Five seats are standard, but buyers can specify seven, eight or nine seats. And those seats will take adults, too. Impressive stuff.
All versions are well-equipped as standard, with cruise control, parking sensors and a full-size spare wheel. The options include hands-free opening for the motorised sliding doors and a rear window that opens fully, to avoid having to open the huge tailgate unnecessarily. Three versions of the SpaceTourer are available, named XS, M and XL, with the biggest being 5.3-metres long while the 'compact' version measures 4.6 metres in length.
Don't be too put off by the fact that the Citroen SpaceTourer is based on a van: it's pretty comfortable and refined on the move. It's not exactly sharp or engaging to drive, but it's stable enough and the diesel engine options are economical. Smaller MPVs are better to drive, then, but if space is your priority the Spacetourer is simply unbeatable.
Mercedes-Benz GLB
Year launched: 2020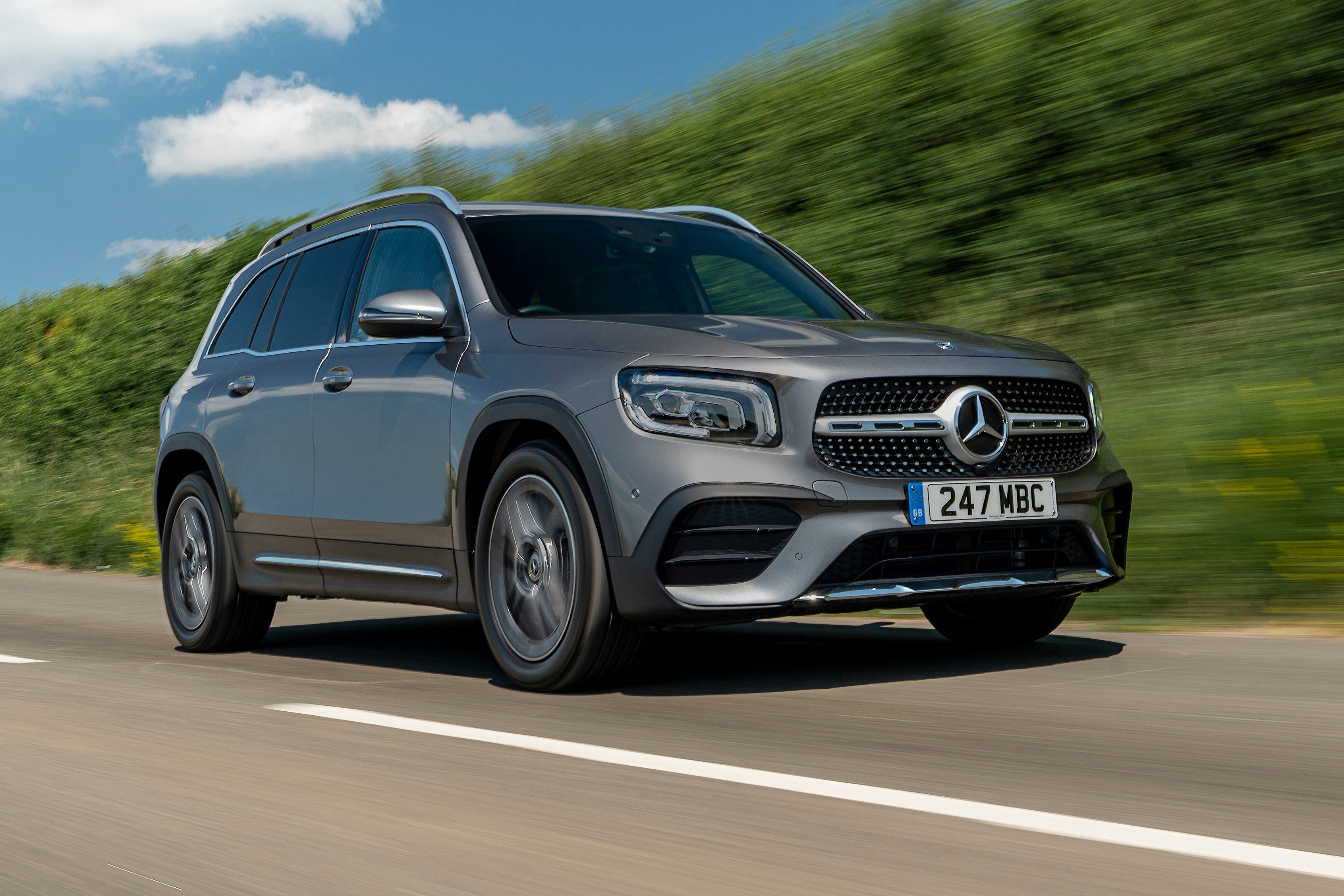 We think the Mercedes-Benz GLB is one of the most desirable 7-seater SUVs on the market - but it definitely isn't the most practical. What it has got going for it is a superb interior, space and decent running costs. Based on the latest Mercedes A-Class and Mercedes B-Class, it gets heaps of style and premium touches, as well as being genuinely usable.
Really, the rugged design and plush interior are the biggest selling points of the GLB. That third row of seats (standard on most but not all models) is unusable for adults, but children will fit for short journeys. The seats pop out of the boot floor, too, leaving basically no luggage space with them in use. But for occasional use, they are fine, and when folded the boot is a good size.
Diesels suit the GLB well, with the 200 d being our engine of choice. The more powerful 220 d is tempting but isn't available with seven seats, sadly.A focus on comfort means the GLB rides very well and feels composed in the corners, while being practical enough for a lot of buyers. The biggest issue is the price, even as a used model, because it's desirable and in demand.
What's the best 7-seater car to buy?
It depends what you want from your seven seater. The Audi Q7 is a fantastic high-end all-rounder, while the Kia Sorento is also a great buy at a more affordable price point. The Citroen SpaceTourer is definitely the roomiest seven seater on sale, while the Land Rover Defender is easily the best seven-seater for going off-road.
What's the cheapest seven seater car to run?
Seven seaters are generally larger and heavier vehicles, meaning none will be ultra affordable to run. The Peugeot 5008 and Mercedes GLB are likely to be the cheapest to run, with diesel engine options that can deliver over 50mpg.
What's the smallest seven seater car?
In this list, the Mercedes GLB is the smallest vehicle that'll carry seven people. But because of its size, the third row of seats is best reserved for children or very short journeys. Otherwise, you might fall out with whoever gets stuck back there on a long trip.
More reviews of the best 7-seater cars
Audi Q7
50 TDI Quattro S Line 5dr Tiptronic
Harwoods Audi Crawley

Sussex, RH107ZJ
PCP: £902.22/mo
Representative example: Contract Length: 36 months, 35 Monthly Payments: £902.22, Customer Deposit: £8,976.00, Total Deposit: £8,976.30, Optional Final Payment: £29,650.00, Total Charge For Credit: £10,362.00, Total Amount Payable: £70,204.00, Representative APR: 8.9%, Interest Rate (Fixed): 8.84%, Excess Mileage Charge: 11ppm, Mileage Per Annum: 10,000
Audi Q7
50 TDI Quattro Black Edition 5dr Tiptronic
Manufacturer Approved
Warrington Audi

Cheshire, WA57YD
PCP: £1,162.70/mo
Representative example: Contract Length: 36 months, 35 Monthly Payments: £1,162.70, Customer Deposit: £10,942.00, Total Deposit: £10,942.50, Optional Final Payment: £35,920.00, Total Charge For Credit: £14,607.00, Total Amount Payable: £87,557.00, Representative APR: 10.3%, Interest Rate (Fixed): 10.3%, Excess Mileage Charge: 11ppm, Mileage Per Annum: 10,000
Audi Q7
45 TDI Quattro S Line 5dr Tiptronic
Manufacturer Approved
JCT600 Audi Grimsby

Lincolnshire, DN364RJ
PCP: £570.10/mo
Deposit cont. £250
Representative example: Contract Length: 36 months, 35 Monthly Payments: £570.10, Customer Deposit: £6,000.00, Total Deposit: £6,250.00, Lender Deposit Contribution: £250.00, Optional Final Payment: £22,548.75, Total Charge For Credit: £8,752.25, Total Amount Payable: £48,752.25, Representative APR: 10.8%, Interest Rate (Fixed): 10.79%, Excess Mileage Charge: 11ppm, Mileage Per Annum: 10,000
Discover more expert guides from heycar