Best cars for carrying bikes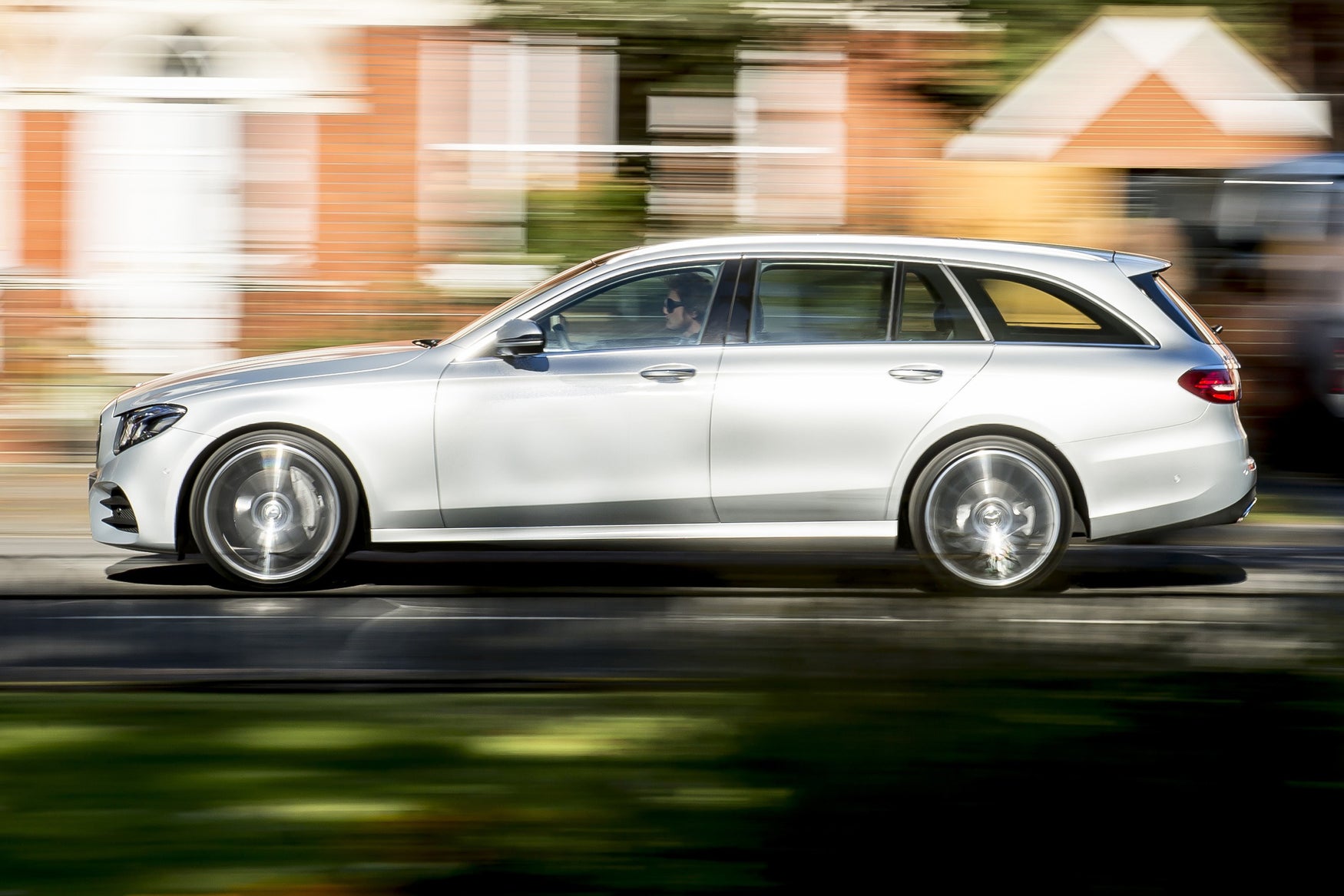 Loading a bike into a car can be awkward to say the least. No matter what type of bike you ride, we've compiled a list of the best hatchbacks, crossovers and SUVs that'll take a bike in the back.
Some of the larger options won't require the back seats to be folded down, so you won't need to choose between your hobby and your friends. Although, most will require the rear seats to be down and/or removal of the bike's front tyre.
Skoda Superb Estate
Year launched: 2015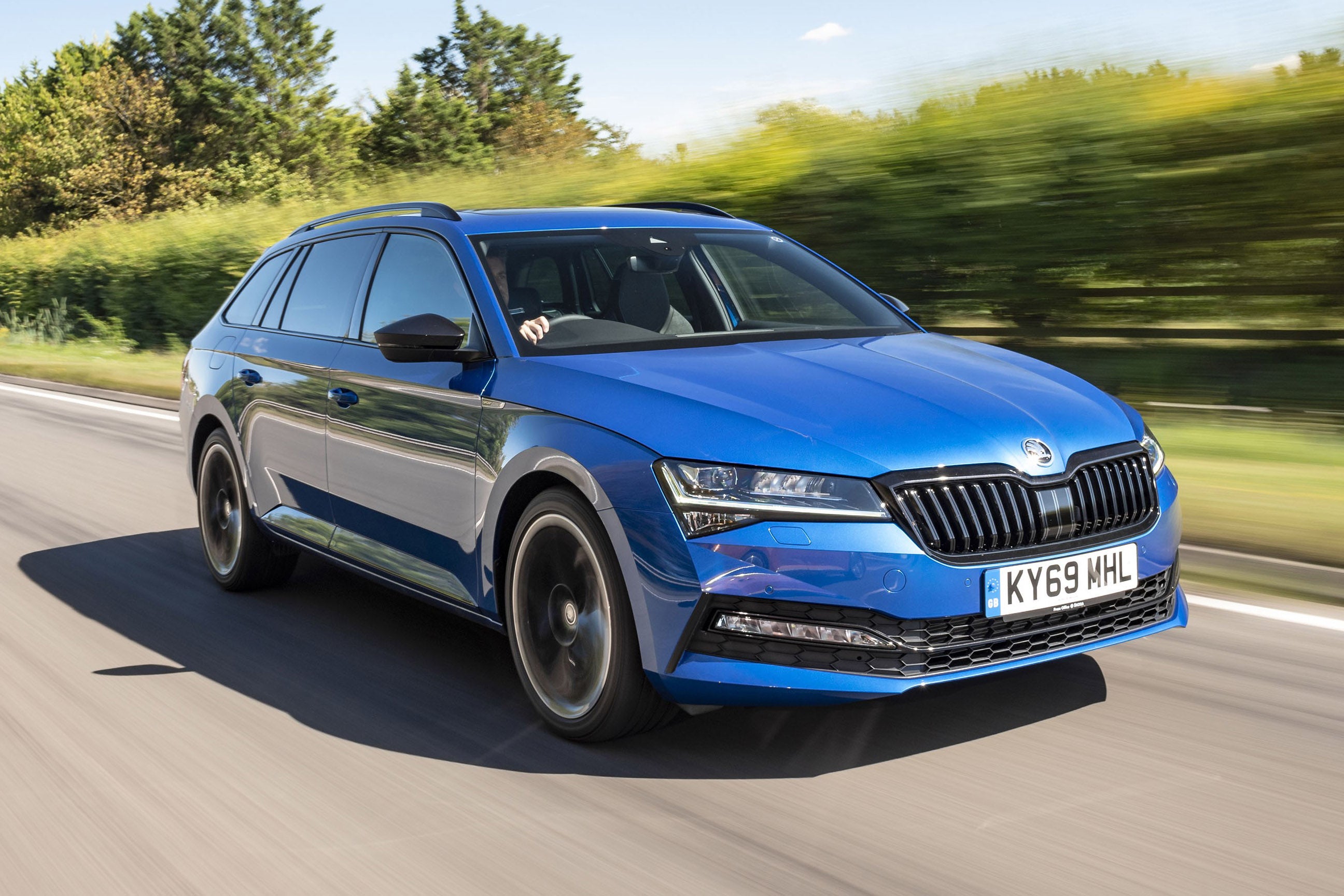 We can't do a top 10 about bikes without mentioning the Superb Estate. It's the Tour de France support fleet car, after all. As far as family estate cars go, the Superb Estate is close to faultless. It boasts a mammoth-sized boot and the feel of a premium car, but a very reasonable price tag. When it comes to offering value for money, nothing does it as well as the Superb Estate.
The Superb Estate has a 660-litre boot with vertical sides, wide tailgate opening and low floor - so it's very easy to load things like bikes in and out. In fact, it fits two adult bikes with rear seats folded. If you'd rather not risk getting the interior dirty, Skoda also sells a roof rack and towbar carrier.
For those that like mountain-biking, there's four-wheel-drive available as an option. The engine range is good, and the petrol (a 1.4 TSI engine, later replaced by a 1.5 TSI) will suit low mileage drivers. The 1.6 or 2.0-litre diesel will suit better if you do a lot of motorway driving, but the 2.0 TDI is the only option if you spec 4WD.
Land Rover Discovery
Year launched: 2017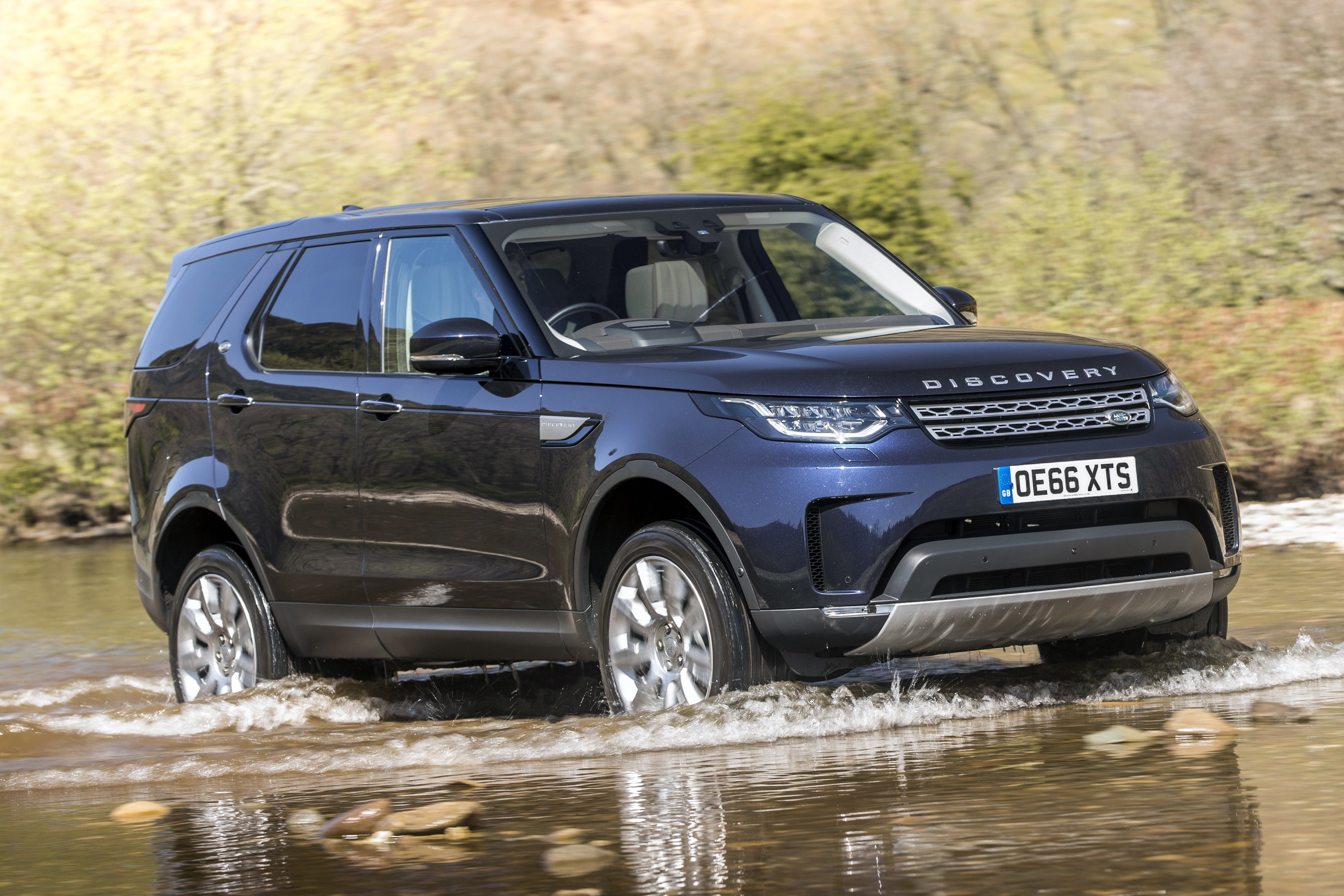 The Discovery is a premium large SUV that offers three rows of seats, so there's the potential to fold down the two rear rows to make room for two bikes (with front wheels removed) in the cavernous, flat 981-litre boot. On lower-spec Discovery models this needs to be done manually, but on the poshest ones, you can fold the seats into the floor electrically (either with buttons in the boot, via the touchscreen system, or even with an app on your phone).
If you'd rather leave all the seats in place, there are towbar mounted carriers available from Land Rover. These can carry two or three bikes with a total weight of 40kg or 51kg. It's a bit of a task due to the height, but there's also the choice of a couple of bike racks. These attach onto roof rails - which will need to be bought separately, too.
Unlike many SUVs, the Discovery Sport is well-suited to off-road driving, but the high price and reputation spotty reliability record will put some buyers off.
Dacia Duster
Year launched: 2018

The Dacia Duster is ideal for cyclists who want a rugged small SUV, without paying an arm and a leg. Two-wheel drive Dacias get a 445-litre boot that expands to 1623 litres with the back seats folded, while 4WD models carrying capacity drops to 411 litres.
The rear seats in most models split 60/40 so you can carry one passenger in the back, but the entry-level Access doesn't have that party trick. Accessories aren't great, with the only useful option for cyclists being a £118 boot liner to keep things tidy.
The Duster is function over form in every approach. You can choose from petrol or diesel engines - and there's even an LPG option. The 1.3-litre TCe 130 petrol is by far the best all-rounder. But be aware that the Duster achieved a lowly three-star result when crash tested by Euro NCAP in 2017 because it lacks many preventative safety systems. It won't suit everyone, but the Duster still holds plenty of appeal for the right kind of buyer.
Skoda Karoq
Year launched: 2018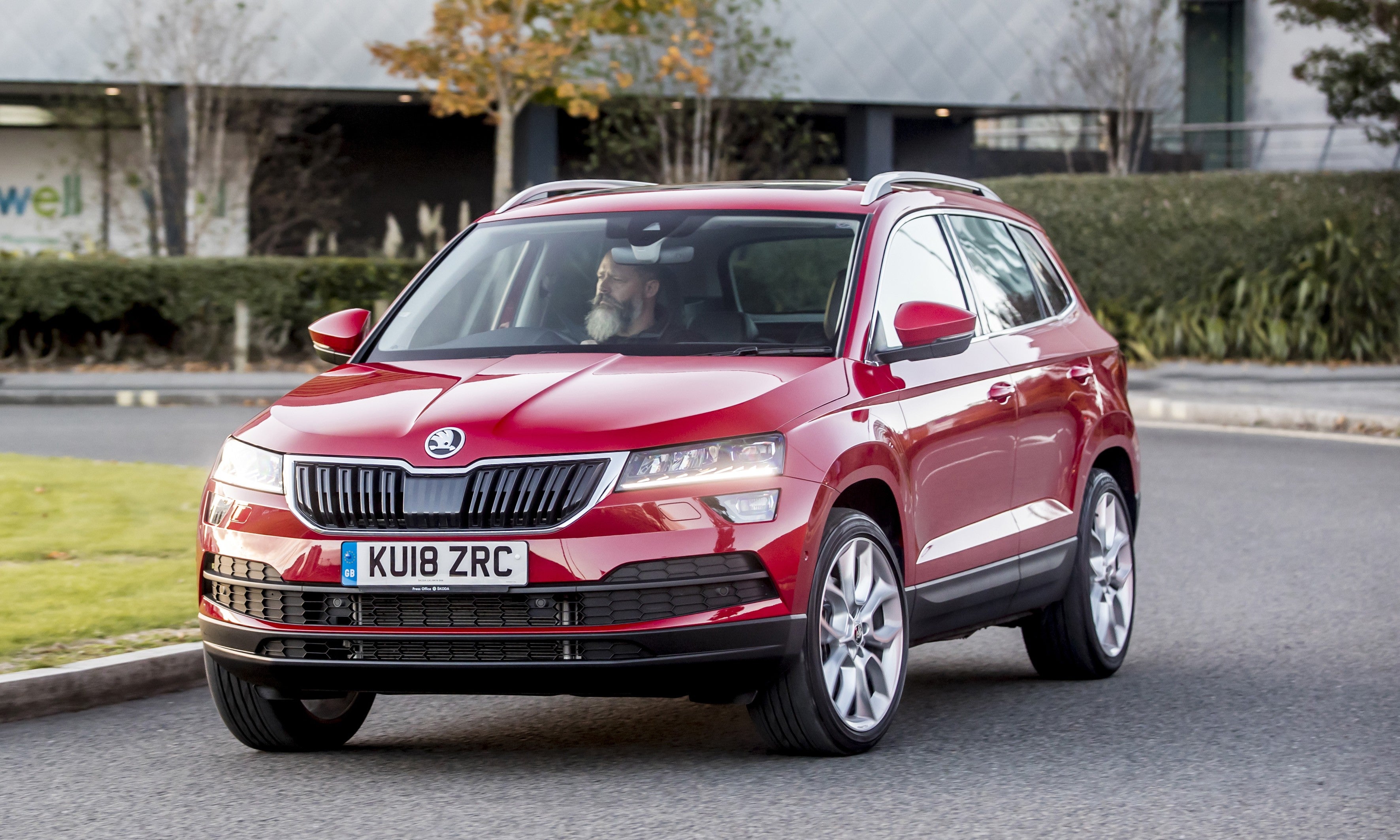 The Karoq is Skoda's mid-size crossover - sitting between the little Kamiq and larger Kodiaq. It's comfortable to drive with an excellent range of engines, nicely finished cabin and high level of standard equipment. It's not as sporty as a SEAT Ateca, but the Skoda deliveries practicality in spades.
The VarioFlex seating system allows the rear passenger seats to be rearranged, folding down individually or lifting out altogether to adjust the space to fit your bikes - which provides up to 1630 litres of load space. That's more than sufficient for a large bike behind the front two seats, while the hooks in the boot (designed for shopping bags) made it easy to tie the bike down and prevent it from sliding around.
Mounting a Skoda roof rack to the top allows four bikes to be carried side-by-side. It's easy to mount, made from lightweight aluminium, and features a secure lock so it won't get nicked while you're in the services. You can also spec 4WD to the Skoda Karoq.
Volkswagen Golf Estate
Year launched: 2013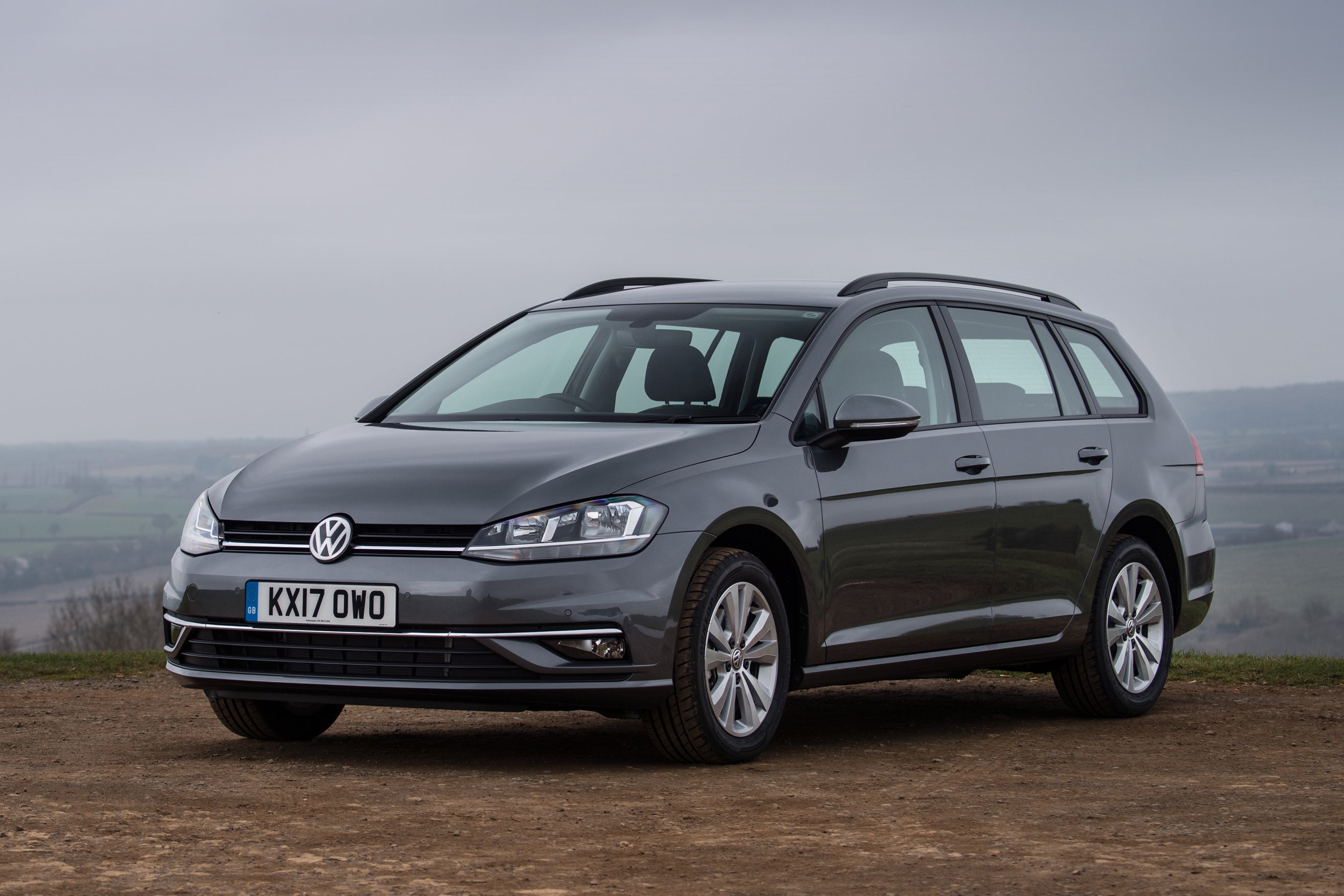 The Volkswagen Golf Estate is an aging model - having launched in 2013 - but it could be a great investment for cyclists if they can get a used model at the right price. The Golf Estate has a wide range of engines and a huge, flat boot.
The estate version of the Golf offers the same excellent build quality, relaxed driving and high levels of tech as the hatchback, but with the added benefit of increased practicality with a 605-litre boot. This can be expanded to 1620 litres by folding down the rear seats and the low, flat floor make loading and unloading bikes easier.
There's a roof mounted bike rack available from Volkswagen, as well as a towbar-mounted carrier for two or three bikes. But, unless you can haggle a good price, keep in mind that a Skoda or SEAT estate will generally be cheaper but will share many of the same components as the Golf.
Volvo V60
Year launched: 2018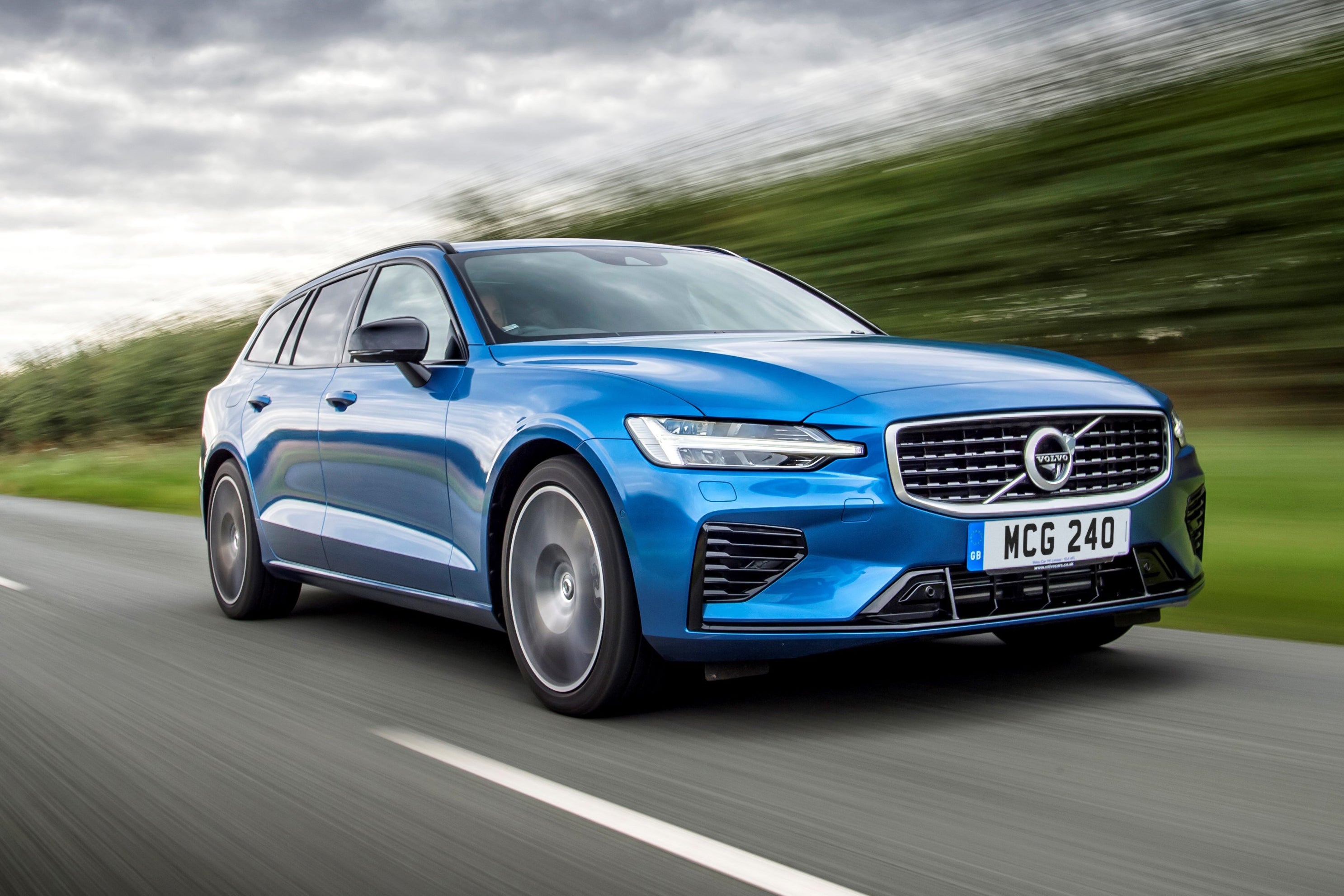 The Volvo V60 is available with a range of petrol, diesel and hybrid engines and a beautiful cabin - in addition to a huge boot for bikes. It's not the most fun to drive estate, but it's comfortable and most certainly classy.
You get an electrically-operated tailgate as standard on the Momentum Pro trim, which will open to reveal 529 litres with the rear seats in place, rising to 1441 litres with all the rear seats folded. The space itself is practical too, with a lower level area available for additional storage - although this disappears on hybrid models. You also can't spec 4WD unless you opt for the V60 Cross Country.
As for accessories, you can spec a roof-mounted bike carrier with a self-adjusting quick release clasp and holder for £95.
Honda Jazz
Year launched: 2015

A new Jazz hit the streets in 2020, but the previous generation is one of the most versatile hatchbacks going - and although it isn't cheap new, used models can be found for affordable prices. As they command a more, umm, mature audience - used models don't tend to be treated as badly as Fiestas or the like. Accessories include a Honda-certified Thule tow-bar-mounted two-cycle carrier and a Honda roof rack. Sadly, there's no official bike carrier for the roof.
If you're not carrying rear seat passengers then the so-called 'magic' seats have a party trick - they can be flipped up and locked in place for carrying oddly-shaped items like bikes. Overall load space is 354 litres with the rear seats in place, or 1314 litres with a very low, flat floor with the back seats folded. It's also possible to fold the front passenger seat, meaning items like planks or a surfboard will fit. That's bonkers for a car this size.
It has the feel of a much bigger car on the motorway too, with high comfort levels and a relaxed nature. This Jazz is also very refined with little road noise and a superbly forgiving ride, on top or a nice interior. The engines aren't turbocharged, so they feel a bit underpowered but since 2018, buyers have been able to opt for a 1.5-litre petrol engine in Sport trim.
Mercedes-Benz E-Class Estate
Year launched: 2018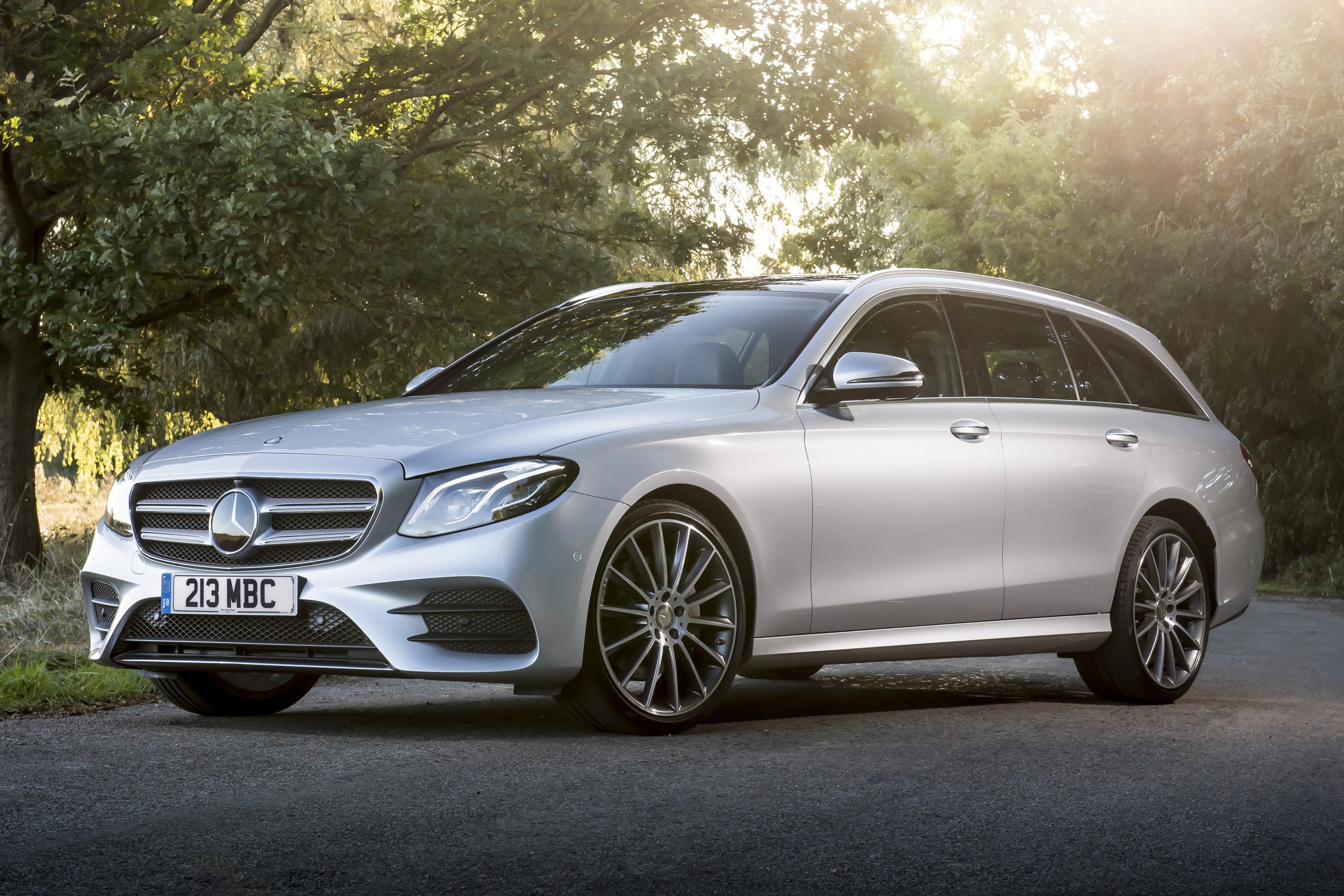 The Mercedes E-Class Estate is as luxurious as it is versatile, with an impressively massive 1820-litre (640 litres with the seats up) boot that'll accommodate a couple of bikes with their front wheels removed. There's a handy boot liner to keep things clean, too.
The boot is a bit smaller than the Skoda Superb Estate, even though the E-Class Estate will set you back more. But, in addition to the boot liner, optional useful accessories include a roof rack for carrying up to four bikes or a rear-mounted bike carrier that can take three.
We recommend finding an entry-level SE trim if you're browning the used market as it comes with a decent amount of gizmos like parking sensors and a rear-view camera, as well as leather trim and heated seats.
Nissan X-Trail
Year launched: 2013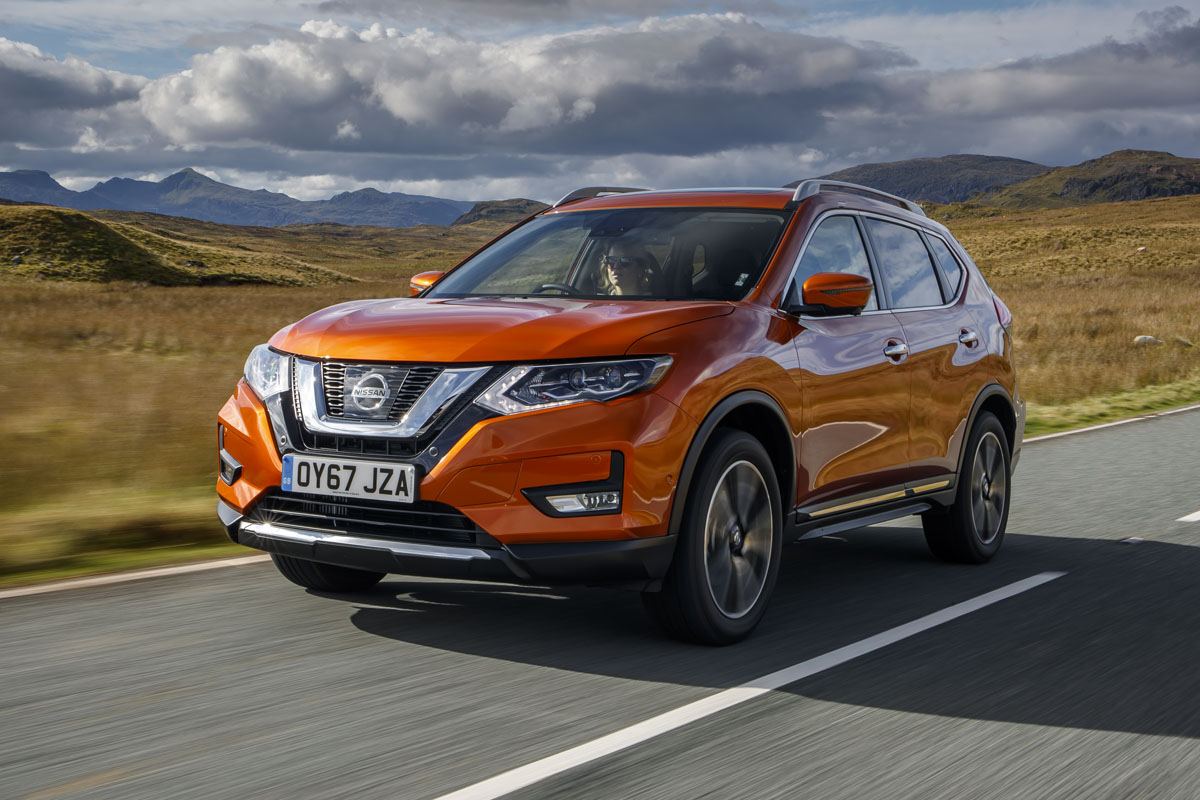 If size is what you're after then you'll find plenty of it. If you go for a five-seat Nissan X-Trail you get a spacious 550-litre boot, which has a two-part adjustable load floor for extra flexibility. This is further enhanced by the fact the middle row of seats are mounted on runners, so you can pick between more legroom or load space. Alternatively you can fold the seats entirely to maximise carrying space.
Head-to-head with similarly-sized rivals like the Audi Q5, the Nissan X-Trail is a very big car with a relatively affordable entry-level price. With the second row of seats down, you'll get nearly 2000 litres of room. There's no load lip to haul your bike over and all the seats fold almost completely flat.
Four-wheel drive is an option for those that want it, and Nissan offers a roof rack to carry bikes.
SEAT Ateca
Year launched: 2016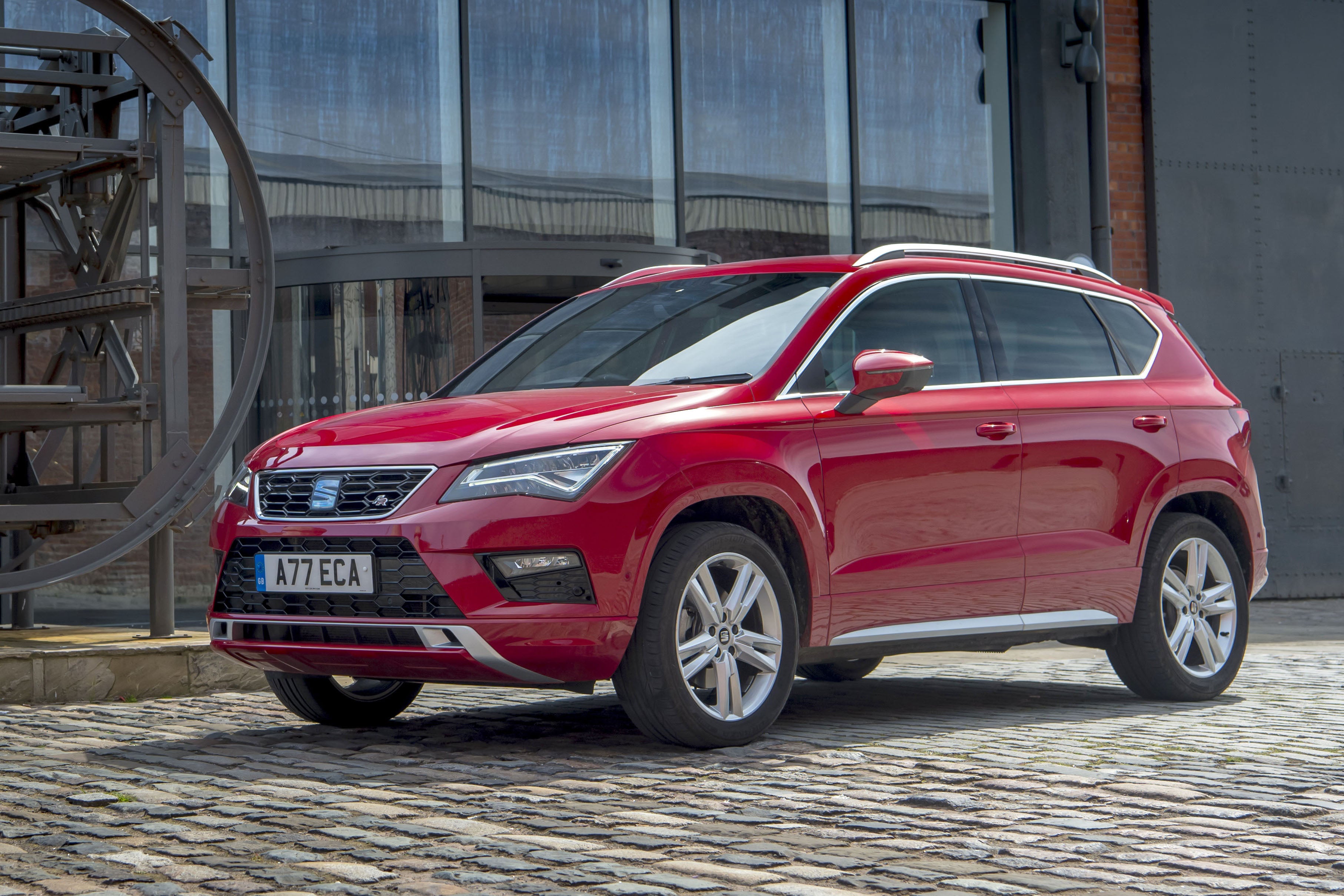 The SEAT Ateca is essentially the Spanish version of the Volkswagen Tiguan - based on the same platform and powered by the same engines. The 510-litre boot is one of the most accommodating in its class (note: four-wheel-drive models are slightly less practical). You can drop the rear seats easily if you need more room, although they don't leave an entirely flat boot floor.
There's also 60/40-split folding seats and low loading lip - which make it easy to slide bikes in and out of the boot. If you don't want to store your bike inside, there's an optional roof-mounted bike holder, roof rack and protective boot liner.
You're not going to regret buying a SEAT Ateca. It's one of the most competent all-rounders in its class, with efficient engines and a strong model line-up. Our main reservation is that its Skoda Karoq cousin is a slightly more comfortable choice.
Yes. But even those that can will be a very tight squeeze. The Honda Jazz has clever 'magic' rear seats - which leave a wide, flat storage area that'll carry a bike (with its front wheel removed). A bike without its front wheel will also fit in the boot with just one of the rear seats dropped, allowing you to carry more passengers.
Both SUVs and large estates are excellent for carrying bikes, though estates are more challenging to park and manoeuvre in many ways due to the sheer length of the car. Many SUVs also come with some off-roading capability as standard, but this needs spec'd on estates usually - which is worth considering if you mountain bike. If you want to use a bike rack too, though, estates are much lower and easier to fit a bike rack to.
Many of the cars in this list offer things like roof racks and towbar-mounted bike racks. The Skoda Superb Estate also offers an internal bike holder as an optional extra.
Reviews of more of the best cars for carrying bikes
Skoda Superb
1.4 TSI iV Sport Line Plus DSG 5dr
Manufacturer Approved
Marshall Skoda Milton Keynes

Buckinghamshire, MK100BN
PCP: £400.42/mo
Representative example: Contract Length: 36 months, 35 Monthly Payments: £400.42, Customer Deposit: £4,200.00, Total Deposit: £4,200.00, Optional Final Payment: £14,162.50, Total Charge For Credit: £4,377.20, Total Amount Payable: £32,377.20, Representative APR: 7.9%, Interest Rate (Fixed): 7.89%, Excess Mileage Charge: 11.98ppm, Mileage Per Annum: 10,000
Skoda Superb
2.0 TDI CR 190 SE L 5dr DSG
Manufacturer Approved
Simpsons Skoda (Great Yarmouth)

Norfolk, NR310LN
PCP: £347.66/mo
Representative example: Contract Length: 36 months, 35 Monthly Payments: £347.66, Customer Deposit: £3,599.00, Total Deposit: £3,599.85, Optional Final Payment: £11,440.00, Total Charge For Credit: £3,208.95, Total Amount Payable: £27,207.95, Representative APR: 6.9%, Interest Rate (Fixed): 6.86%, Excess Mileage Charge: 8.38ppm, Mileage Per Annum: 10,000
Skoda Superb
1.5 TSI Sport Line 5dr DSG
Manufacturer Approved
Marshall Skoda Croydon

Surrey, CR04NZ
PCP: £271.80/mo
Representative example: Contract Length: 36 months, 35 Monthly Payments: £271.80, Customer Deposit: £2,789.00, Total Deposit: £2,789.25, Optional Final Payment: £9,170.20, Total Charge For Credit: £2,877.45, Total Amount Payable: £21,472.45, Representative APR: 7.9%, Interest Rate (Fixed): 7.87%, Excess Mileage Charge: 7.2ppm, Mileage Per Annum: 10,000