Best first cars for new drivers 2021

Written by
Russell Campbell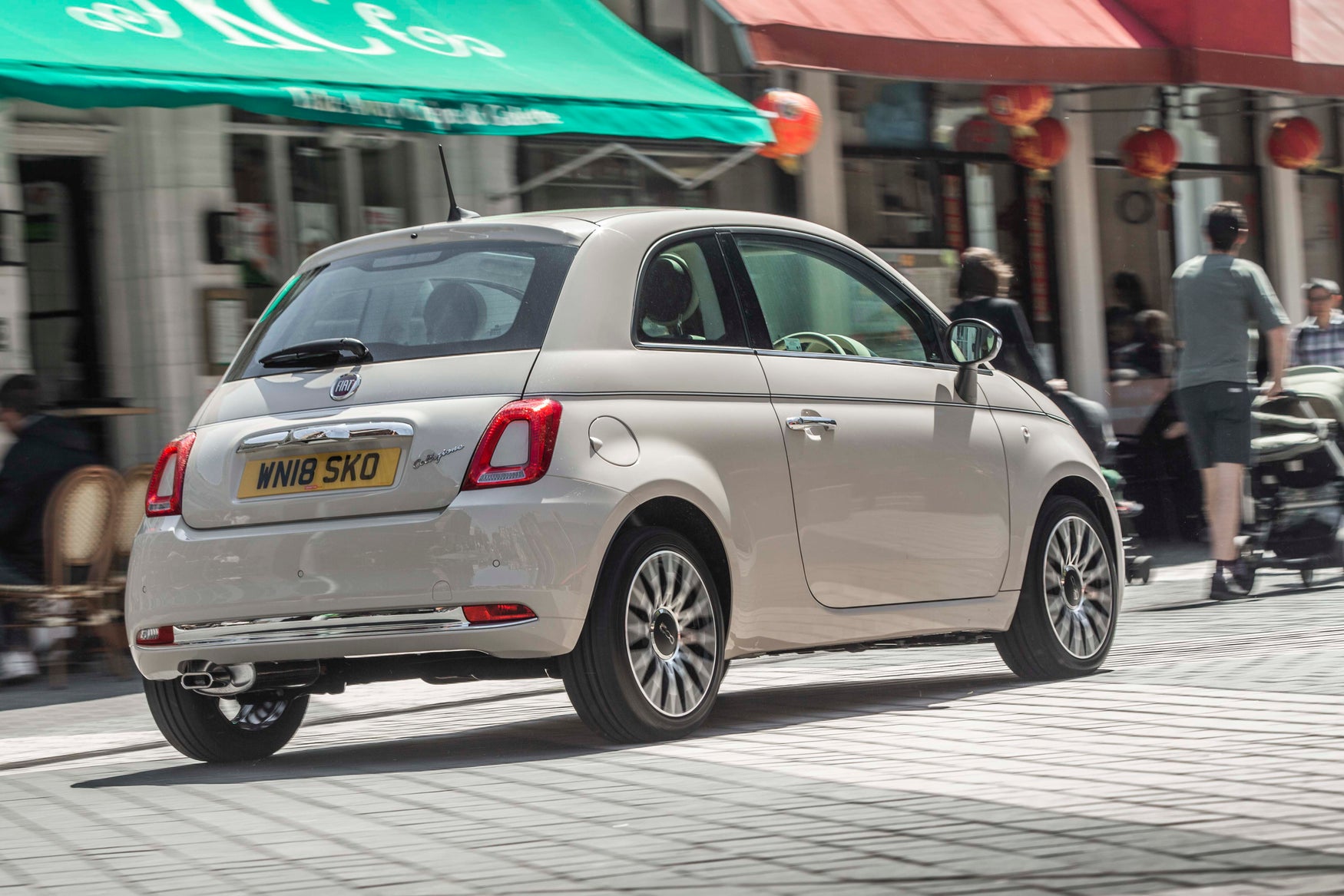 Just passed your test and looking for your first car? Affordable, cheap to run and most crucially, have low insurance, these are the best first cars for new drivers.
We've chosen 10 of the best first cars for new drivers, and we've not only based our selection on running costs, but also on comfort and image. After all, your first car should be something to get excited about.
All these cars for first-time drivers have engines that are cheap to run, but also quick enough to deal with faster roads. So, keep reading for heycar's guide to the best first cars for new drivers on sale today.
Ford Fiesta
Year launched: 2017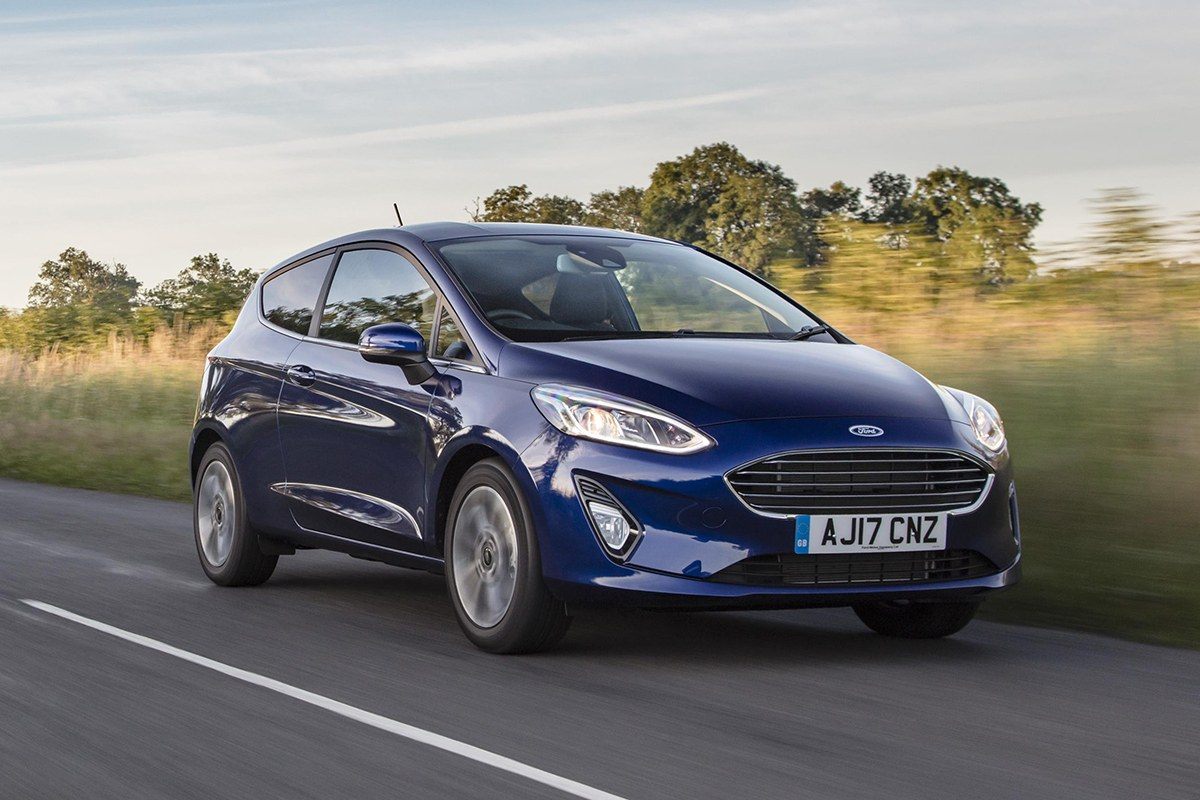 The Ford Fiesta is a small car with a cheeky personality and smart looks. It's roomy, great to drive and available with an excellent range of engines. This is why it's such a good first car.
Inside, you get a smart design that's dominated by a large touchscreen infotainment system that's right in your line of sight and easy to use. It comes with Apple CarPlay and Android Auto so you can use your phone's navigation and music apps on the car's big screen. For the ultimate practicality, we'd go for a five-door model which gives your passengers better access to the reasonably roomy back seat.
The best bit about the Fiesta is its ability to put a smile on your face on a twisty road. Its steering feels accurate and positive as the car hunkers down into corners and there's no shortage of grip. Choose one of the petrol EcoBoost models and you'll get perky performance and cheap running costs.
Volkswagen Polo
Year launched: 2017

The Volkswagen Polo makes a great first car for new drivers. It feels like a small car that's grown up so while it's restrained on the outside it feels premium on the inside with a dashboard that features squidgy plastics and a large infotainment screen that can mirror the display on your smartphone.
It's impressively roomy inside. You get plenty of space to stretch out upfront but the Polo is also impressively roomy in the back. The boot is also large and well designed with an adjustable boot floor that means you don't have to lift heavy luggage over a nasty lip.
The Polo's comfortable ride and quiet cabin mean it feels like a big car on the motorway, but its small size and light controls make it easy to get the hang of if you're a first-time driver. Choose the 95PS petrol engine for a perfect balance between fuel economy and running costs.
Volkswagen Up
Year launched: 2012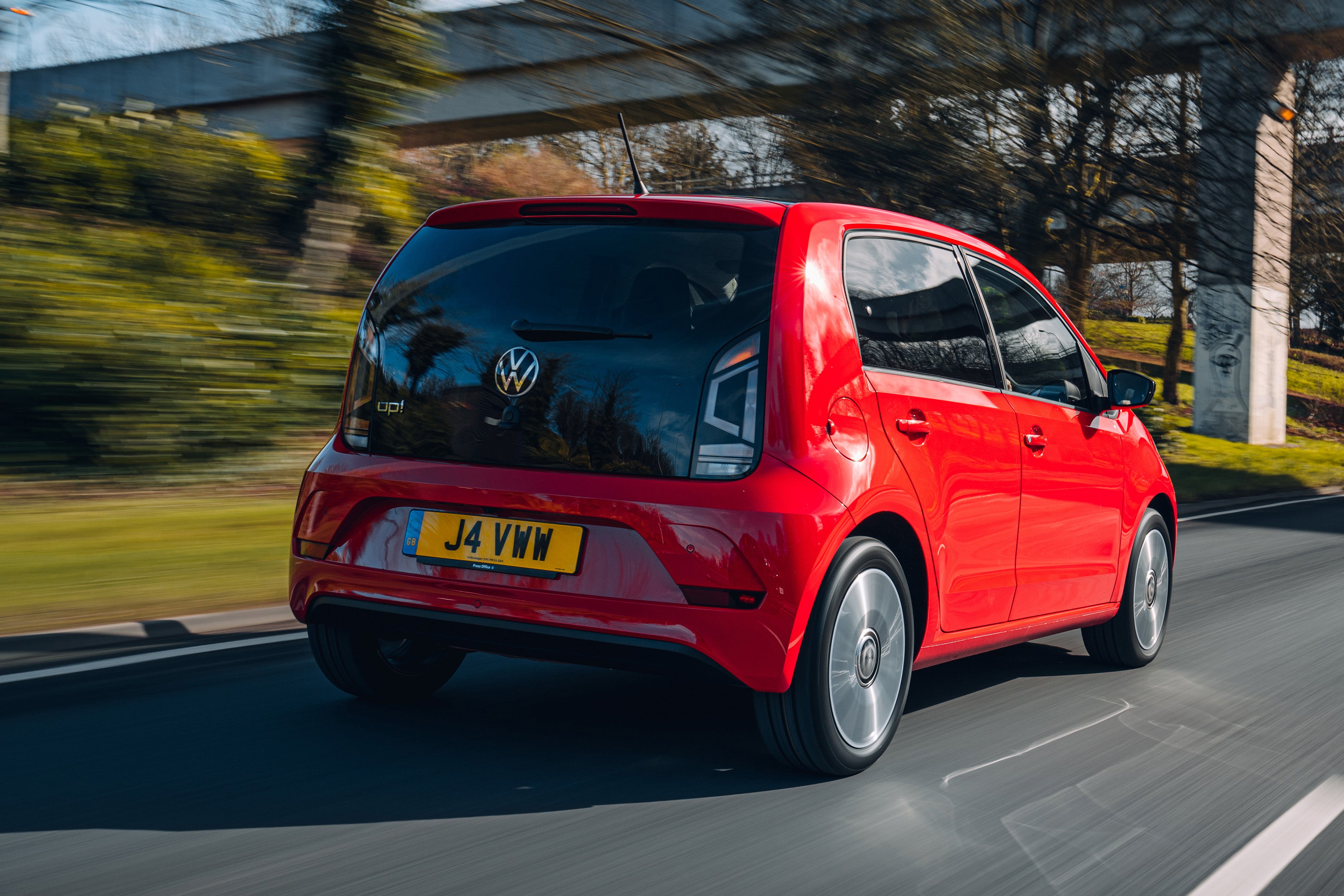 The Volkswagen Up is another small car that feels big. It's available with a range of personalisation options that mean you can have it with a striking paint job and an uprated Beats Electronics stereo.
Whatever model you choose, the Up feels more spacious inside than other first cars. There's noticeably more elbow room than in narrower small cars and the back seat is just big enough for tall adults. Even the boot is relatively large and most models have an adjustable floor that gives you somewhere to hide valuables.
The Up feels right at home in the city where its small size and accurate steering make it perfect for negotiating congestion and squeezing into tight parking spaces. The Up is only available with small petrol engines that are cheap to run, although the 90PS model is worth considering if you do lots of motorway driving.
MINI Hatch
Year launched: 2014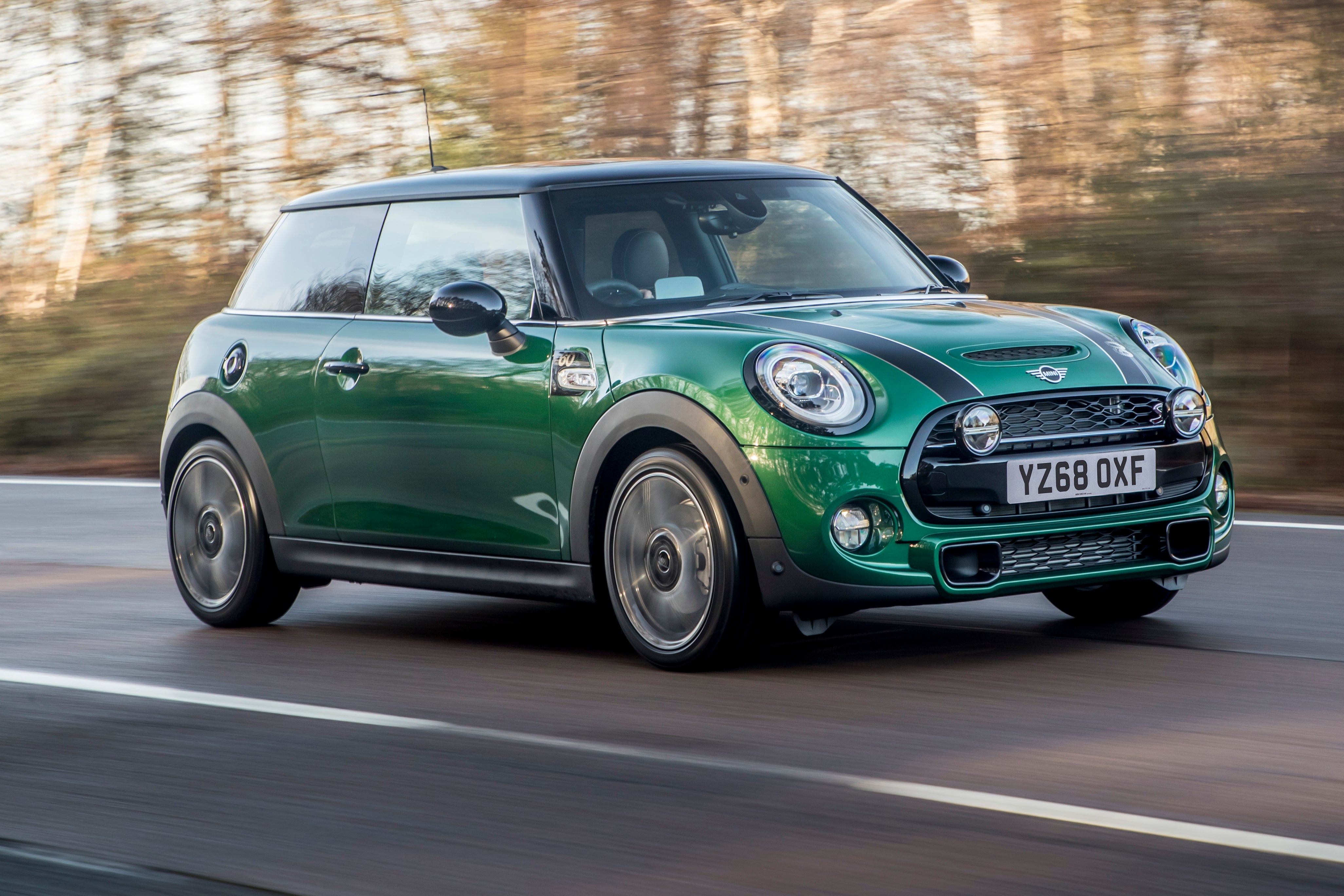 The latest MINI hatchback injects much of the charm of the original model but in a thoroughly modern package. It's available with a huge range of customisable options so you can give it its own unique personality.
Choose the uprated infotainment system and it even communicates with you using coloured LEDs in the screen bezel, giving the car genuine personality. It also feels nice inside and has a sculpted, sporty design. There's loads of room up front, but the back seat is tight and, if you opt for the three-door MINI hatch, it's a squeeze to get into. The boot is also small.
All that will be forgotten when you experience the MINI's energetic responses and limpet-like grip – it really is great fun on a twisting road and even the basic One model is nippy. Plus, its cheap running costs won't turn that smile into a frown every time you need to fill up.
SEAT Ibiza
Year launched: 2017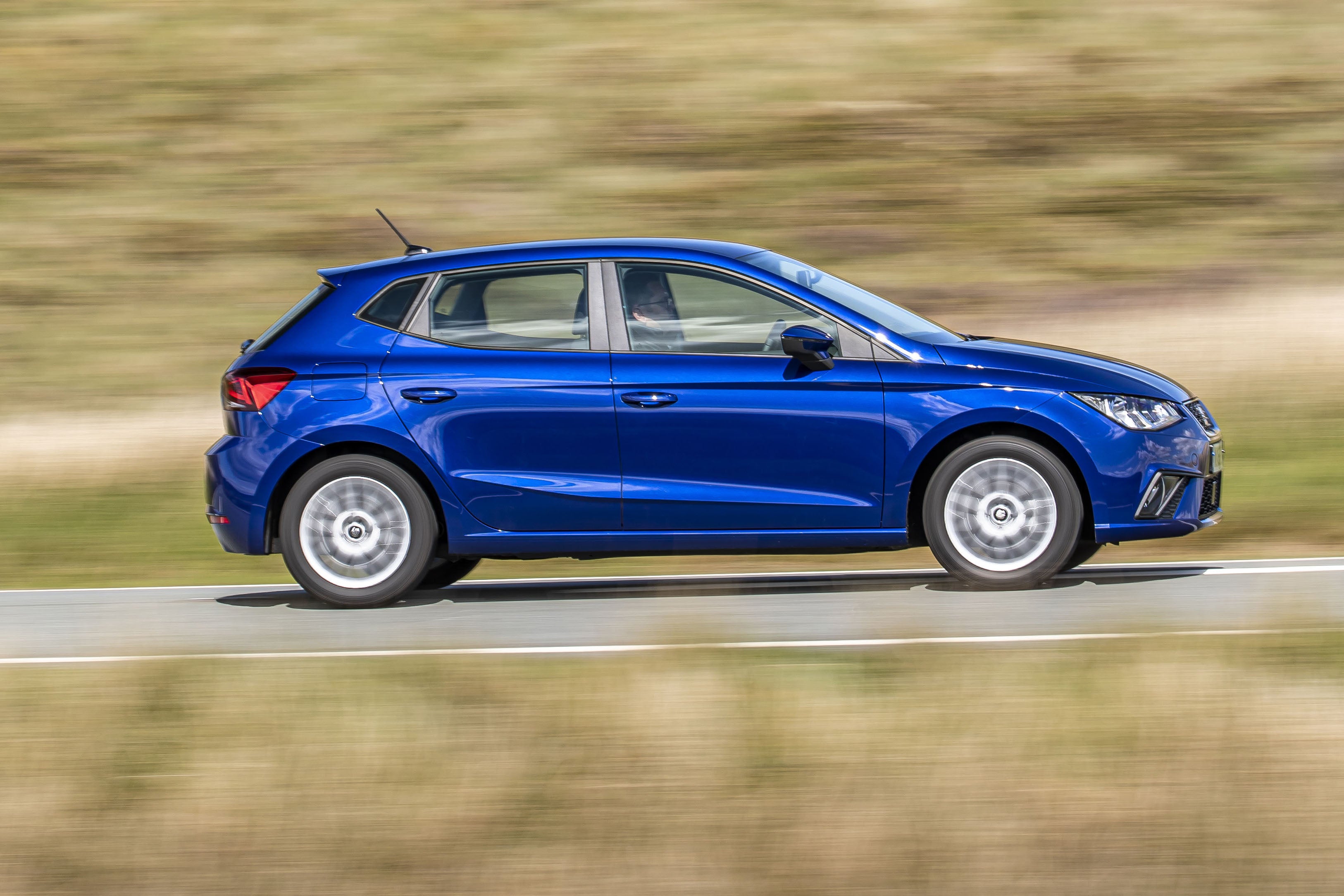 The SEAT Ibiza is mechanically identical to the Volkswagen Polo, but SEAT differentiates its car by giving it a slightly sportier character. Evidenced by its sharper styling and (ever so slightly) sportier drive.
Inside, it's not quite as posh as the Polo, but the interior feels durable, has a very intuitive layout and you get an infotainment system that can mirror the display of your phone. The SEAT only comes with five doors so your passengers get great access to the back seat and the boot will take a couple of larger suitcases.
The Ibiza's light controls make it an easy first car to drive and it comes as standard with automatic emergency brakes that should give you added peace of mind. All the engines are great in town, but the 95PS petrol also copes well on the motorway and is cheap to run.
Toyota Aygo
Year launched: 2014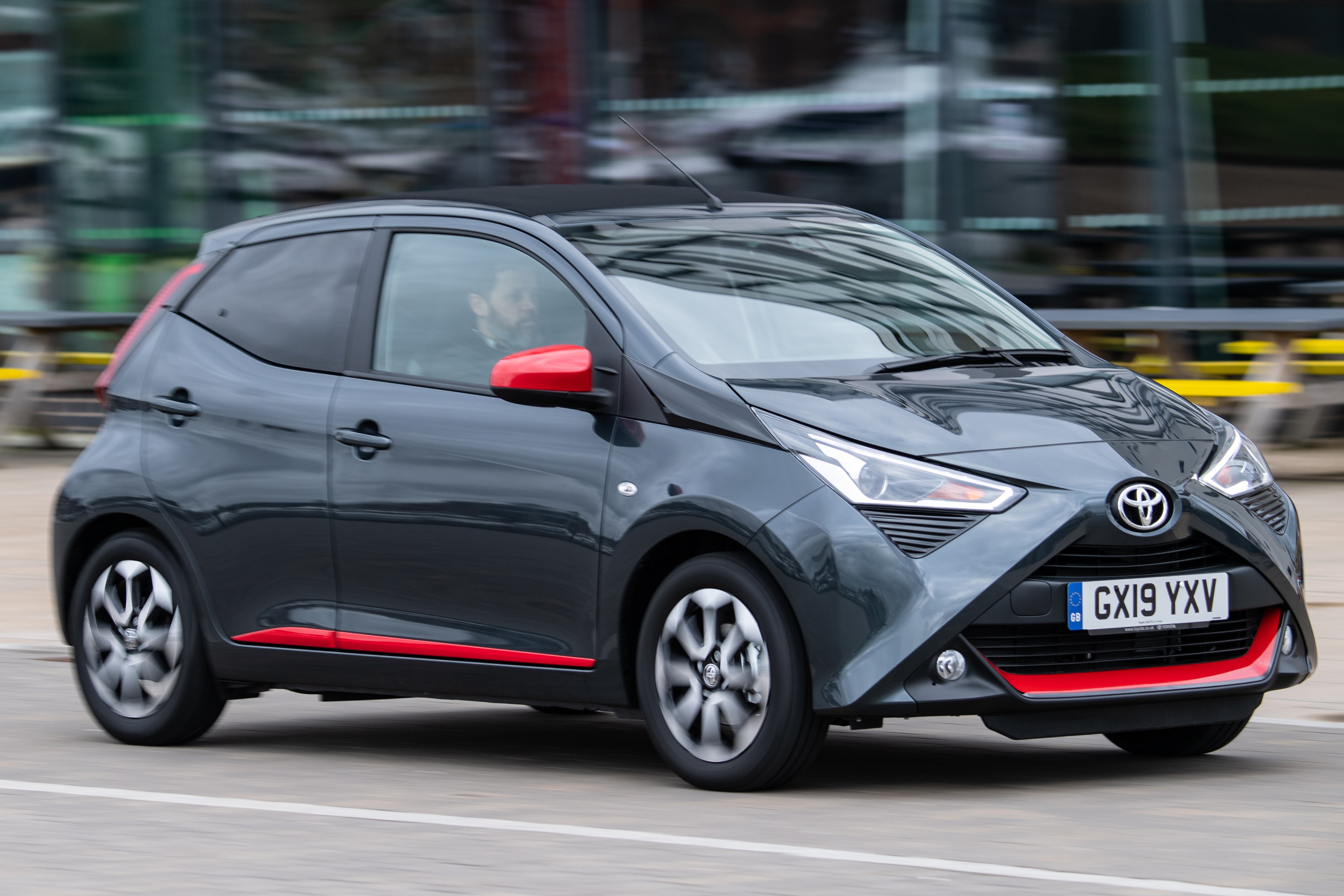 If you want a small first car from a company that has an excellent reputation for reliability then the Toyota Aygo is well worth considering. It has a striking design thanks to its X-style grille and angular tail lights.
Inside, you get smartphone integration as standard – so you can use your phone's apps on the car's big screen – and all cars also have a reversing camera. Exposed swathes of body-coloured metal keep the cabin feeling bright and tall adults will feel fine sat upfront. Kids will be happy on the back seat and you'll get the weekly shop in the boot.
The Aygo only comes with a 72PS petrol engine which is fine for nipping around town and keeps running costs extremely low. The Aygo's narrow body makes it ideal for negotiating a bustling city centre and the fact you get a reversing camera fitted as standard is a bonus if you're a first-time driver.
Peugeot 208
Year launched: 2019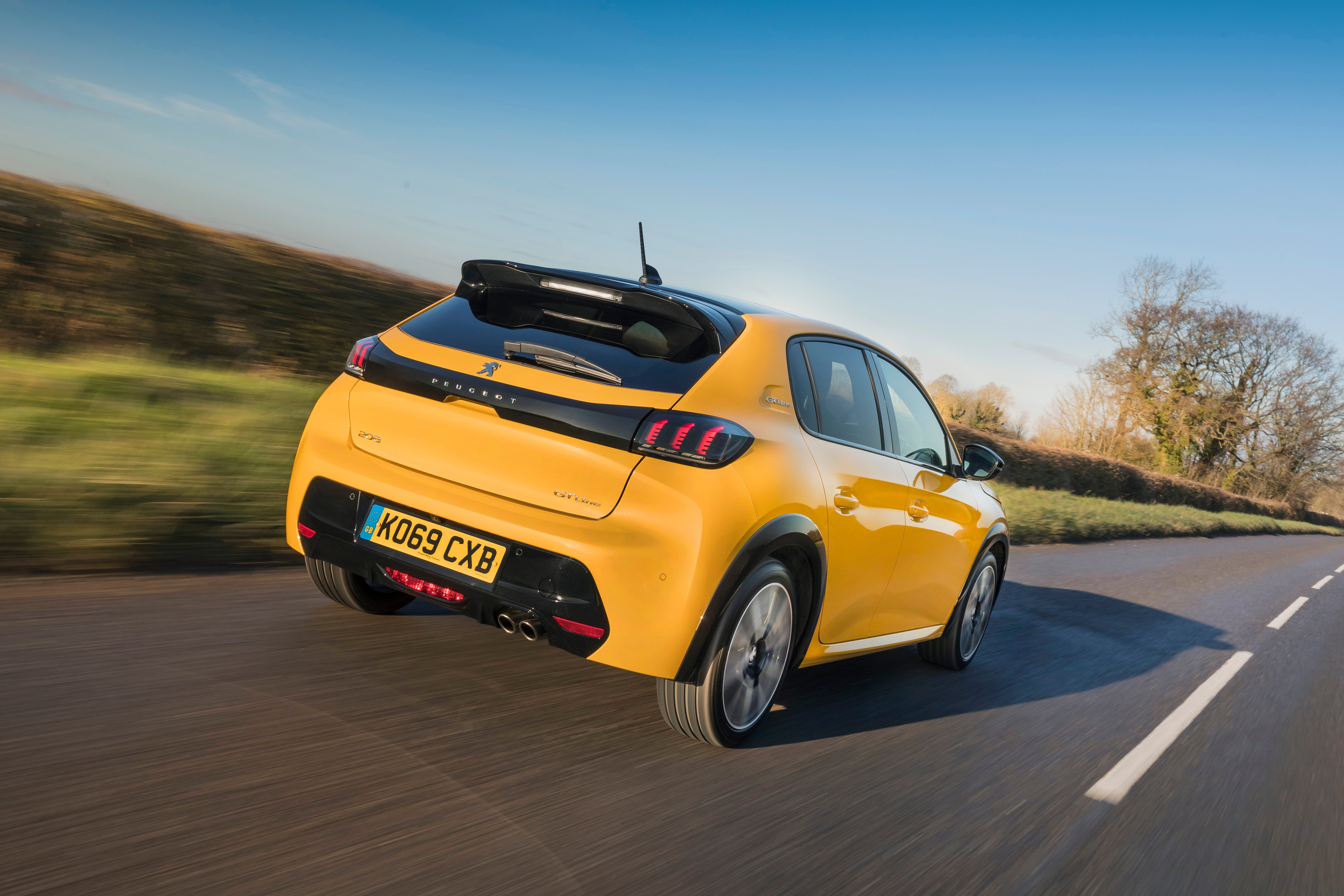 The Peugeot 208 is the freshest looking car on this list – it's styled like a yawning lion from the front while the slashed tail lights are like claw marks. Even basic models get alloy wheels.
Some serious effort has gone into making the interior look striking. You get a large digital instrument binnacle that takes the place of conventional analogue dials and a centre screen that can mirror the display of your smartphone. You also get air-conditioning as standard. There's space inside for four adults, although the rear doors are quite small, and you get a boot that is large for this size of car.
The 208 is very comfortable at low speeds and on the motorway and it's an easy car to drive in town. Basic cars come with a 75PS petrol engine, but it is worth upgrading to the 99PS model which costs about the same to run but is a lot quicker.
Renault Clio
Year launched: 2019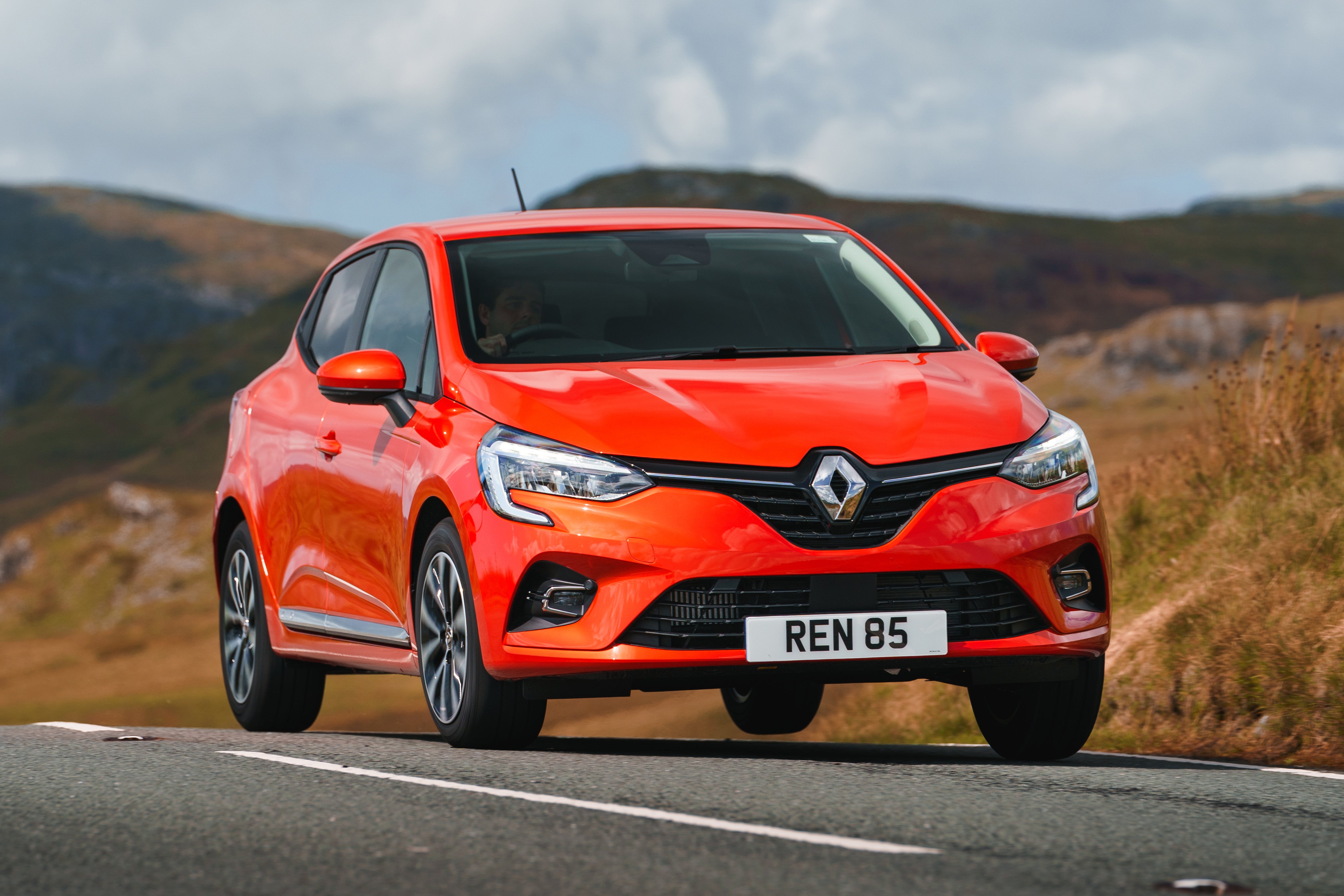 The Renault Clio is a smart-looking first car with a modern interior, a boot that's bigger than in most rivals and an excellent range of engines.
Inside you get a layered design and the option to specify a pair of large infotainment screens. You'll have plenty of room up front and tall adults will squeeze in the back but the Clio's real claim to fame is that it has more boot capacity than a larger Volkswagen Golf.
The Clio's light controls make it easier to drive if you're a first-time driver, you get decent visibility and all but the basic model get reversing sensors. The Clio is at its best when it's mated to Renault's 100PS petrol engine, which is nippy but affordable to run.
Skoda Fabia
Year launched: 2015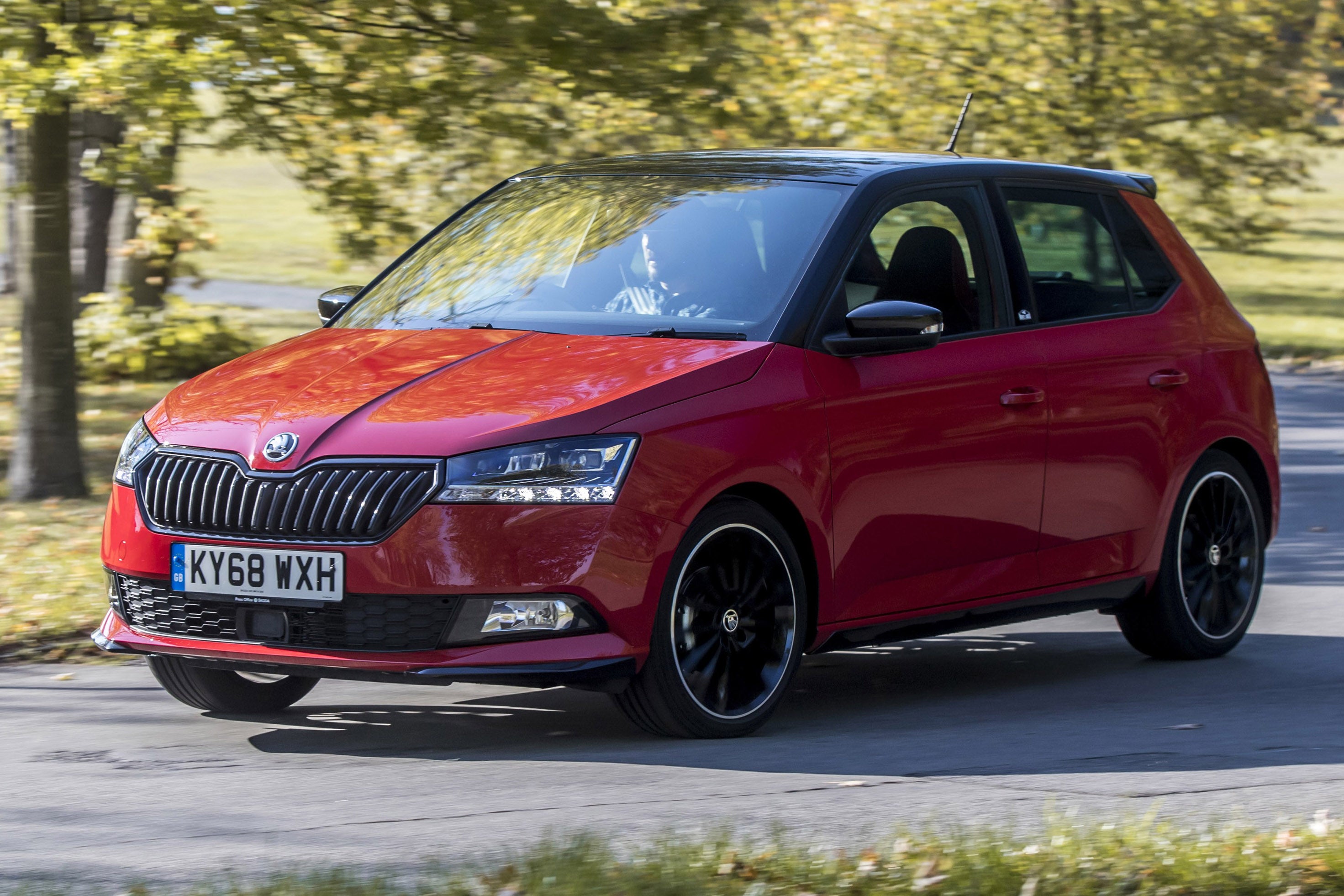 The Skoda Fabia is another small first car that's available with striking contrast paint jobs. Another popular option is the Monte Carlo trim that makes the Fabia look like a souped-up hot hatch – it's ideal if you're a first-time driver looking for a sporty car that doesn't carry a massive insurance premium.
Inside, the Skoda Fabia has a logical design that makes it easy to find where everything is, plus all but the basic model get an infotainment system that has clear menus and can mirror your phone's display. The Fabia is spacious for its size with plenty of space in the front and the back. You also get a large boot that'll swallow a set of suitcases.
The Fabia's light controls make it easy to drive, plus it feels safe and predictable in corners. You can choose from a range of petrol and diesel engines but the 95PS petrol is a strong performer and also cheap to run.
Fiat 500
Year launched: 2008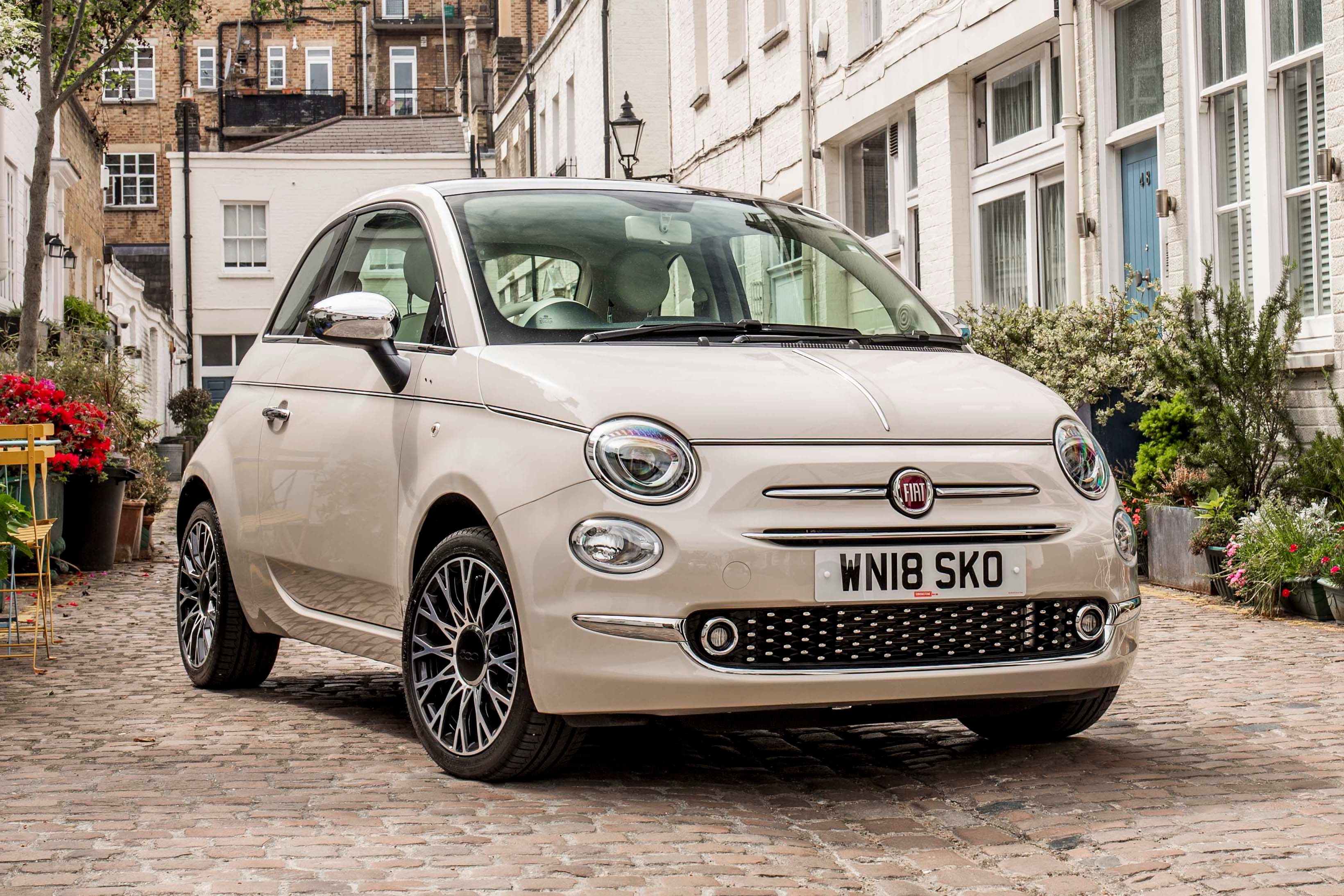 If you want the retro styling of a MINI but for a much cheaper price then the Fiat 500 should be your first port of call. The 500's styling is based on its namesake from the 1950s and it oozes retro charm as well as offering a variety of customisation options. We think it makes for one of the best first cars.
The retro theme continues on the inside where the dashboard is dominated by a large speedometer right behind the steering wheel, you get light plastic trims and a swathe of body-coloured plastic across the centre of the dash. The high seating position isn't sporty but does give you a good view out, but the back seat feels crushed for adults and the boot's small.
The Fiat feels right at home in town where it's a breeze to drive. You get a choice of petrol and diesel engines but the 0.9-litre Twinair is the pick – it has a characterful growl, is quick and okay on fuel.
Your first car questions answered
What is the safest car for a first-time driver?
To get the safest car possible, check the latest Euro NCAP crash test results to see which car was awarded five stars for safety. Even small cars come with plenty of safety features but it's worth keeping an eye out for automatic emergency braking. It can slow the car automatically if it senses an imminent collision and, as a result, makes cars cheaper to insure.
What's the cheapest first car for new drivers?
The obvious answer is a second-hand car. Chances are, it'll probably already have a few scuffs and scrapes so you won't feel so precious if you damage the paint. Once you're a confident driver, you can always trade it in for something nicer a few years down the line. Want a cheap brand new car? The cheapest is the spacious Dacia Sandero which costs just £7000.
What makes a good first car for new drivers?
When you're learning to drive it makes sense to get a small car that you'll find easier to place on the road and squeeze into parking space. That said, even a tiny car like the Volkswagen Up has enough space to squeeze in four adults, and the larger Polo feels genuinely roomy. Most small cars come with a choice of petrol and diesel engines that cost buttons to run. Small cars are much better equipped than they used to be. Most come as standard with air-con and some form of an infotainment system. Many even get autonomous driving aids like active cruise control and lane assist.
Reviews of more of the best first cars for new drivers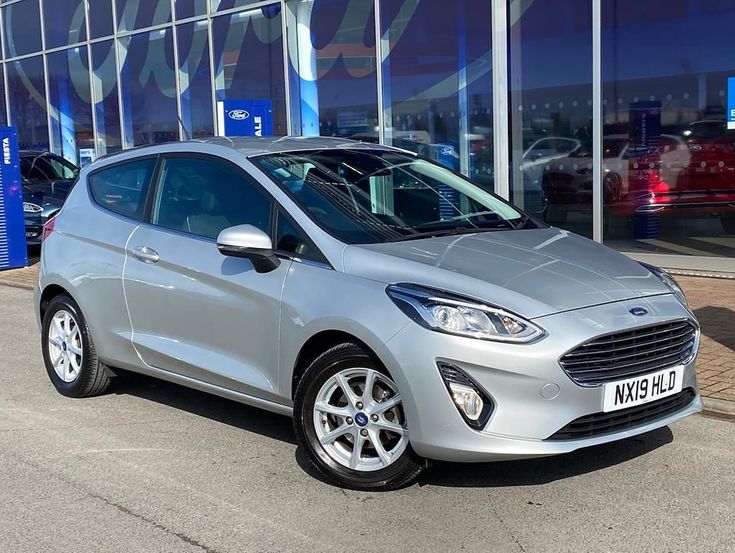 Ford Fiesta
1.0 EcoBoost Zetec 3dr
Lookers Ford Middlesbrough

Yorkshire, TS38AX
PCP: £211.76/mo
Representative example: Contract Length: 36 months, 35 Monthly Payments: £211.76, Customer Deposit: £1,724.00, Total Deposit: £1,724.85, Optional Final Payment: £4,408.00, Total Charge For Credit: £2,045.45, Total Amount Payable: £13,544.45, Representative APR: 9.9%, Interest Rate (Fixed): 9.44%, Excess Mileage Charge: 4.8ppm, Mileage Per Annum: 10,000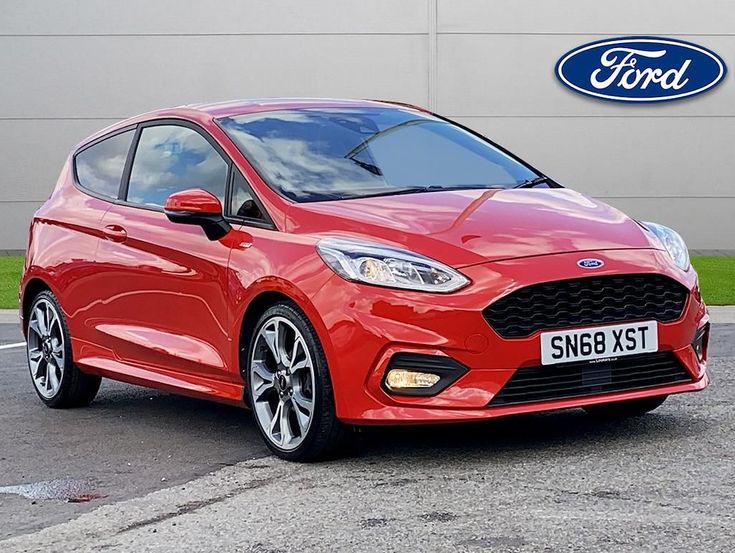 Ford Fiesta
1.0 EcoBoost ST-Line X 3dr
Lookers Ford Colchester

Essex, CO12JU
PCP: £288.98/mo
Representative example: Contract Length: 36 months, 35 Monthly Payments: £288.98, Customer Deposit: £2,099.00, Total Deposit: £2,099.85, Optional Final Payment: £4,105.00, Total Charge For Credit: £2,320.15, Total Amount Payable: £16,319.15, Representative APR: 9.9%, Interest Rate (Fixed): 9.44%, Excess Mileage Charge: 4.8ppm, Mileage Per Annum: 10,000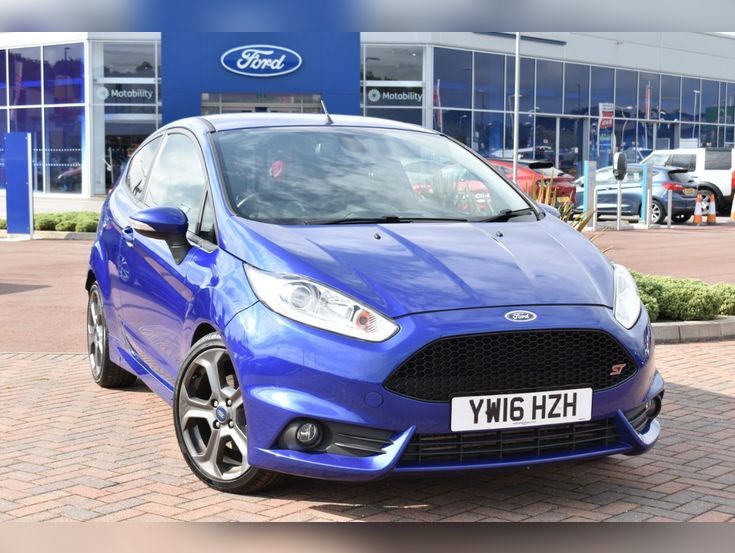 Ford Fiesta
1.6 EcoBoost ST-3 3dr
Perrys Ford Chesterfield

Derbyshire, S402WG
HP: £353.64/mo
Representative example: Contract Length: 36 months, 35 Monthly Payments: £353.64, Customer Deposit: £1,874.00, Total Deposit: £1,874.85, Total Charge For Credit: £2,116.89, Total Amount Payable: £14,615.89, Representative APR: 12.9%, Interest Rate (Fixed): 6.61%
Discover more expert guides from heycar