Best cars for the school run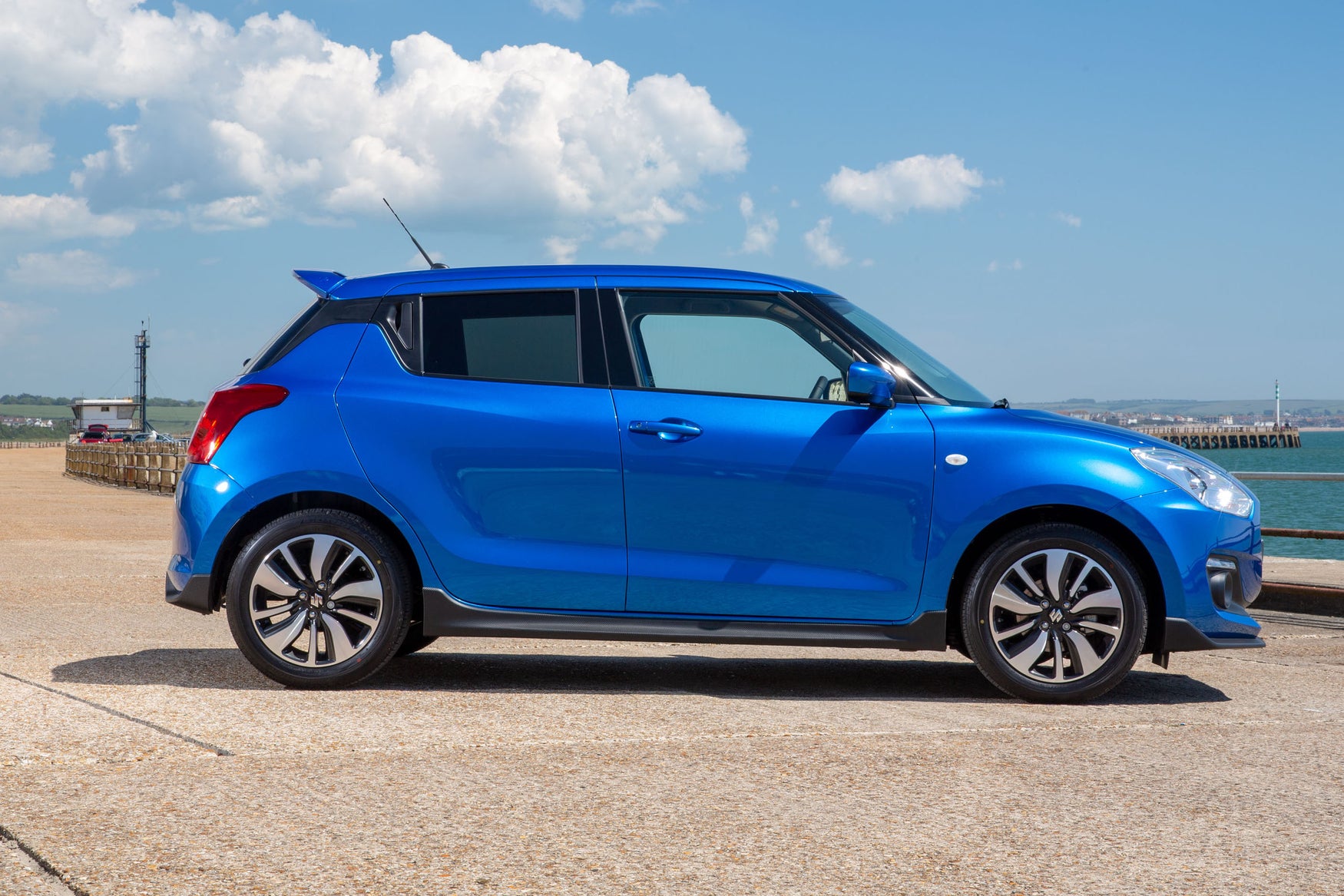 The school run has become the bane of many parents lives but a necessity in the modern world. So what cars suit the task best?
A car for the school run needs to have enough space to get everyone and all their bags inside, while doing good mpg and being easy enough to park on congested, narrow British roads.
Take a look at the following ten family cars with big boots, to help you out on the Monday - Friday school run. We can't help you find the lost PE kit though…
Ford Fiesta
Year launched: 2017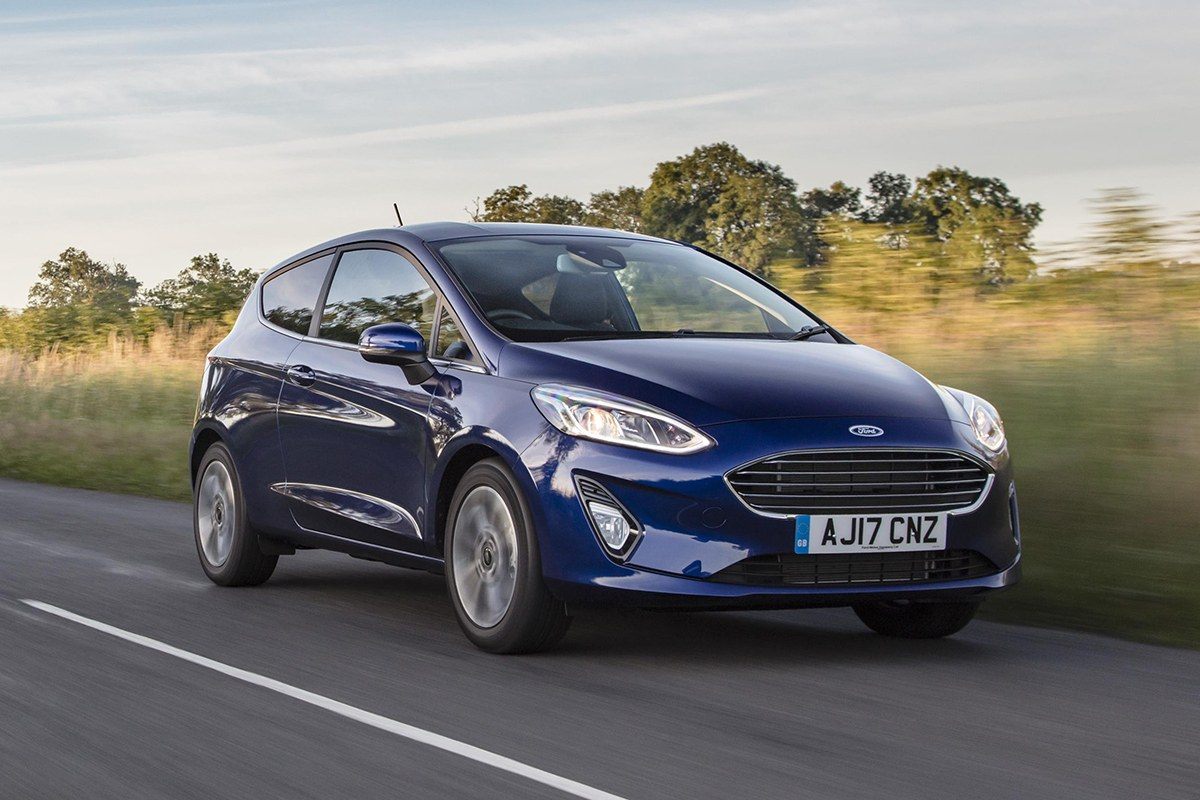 Chances are, there are at least a few other parents on your run that will have a Ford Fiesta. In fact, you probably know at least one person who owns Ford's little hatchback. Aside from being the best hatchback to drive, it's packed with kit and full of options to help tailor it to your specific needs. You're unlikely to want the Fiesta Active (off-roady) model or the Fiesta ST hot hatch, but the Vignale will suit those who want something posh - without upgrading to an Audi or the like.
There's a three-door and a five-door bodystyle to choose from and, while both offer exactly the same amount of cabin space, the five-door makes it much easier access to the rear seats to get kids in and out. Boot space is 292-litres, which isn't as good as - say - the Volkswagen Polo. For most parents, the petrol model will be a much smarter buy than a diesel - which is only suited for those covering lots of motorway miles.
So, we'd suggest the 1.0-litre Ecoboost turbo petrol engine with 125PS. It also comes in 100PS and 140PS but we like the middle option for its blend of punch, refinement and running costs. The Fiesta's ride is also set up well for bumpy British roads, ironing out rough surfaces and potholes while still being enjoyable to drive. Its closest rival is the SEAT Ibiza - which isn't as good to drive - but pips it on standard kit and practicality with a 355-litre boot.
Volkswagen Polo
Year launched: 2017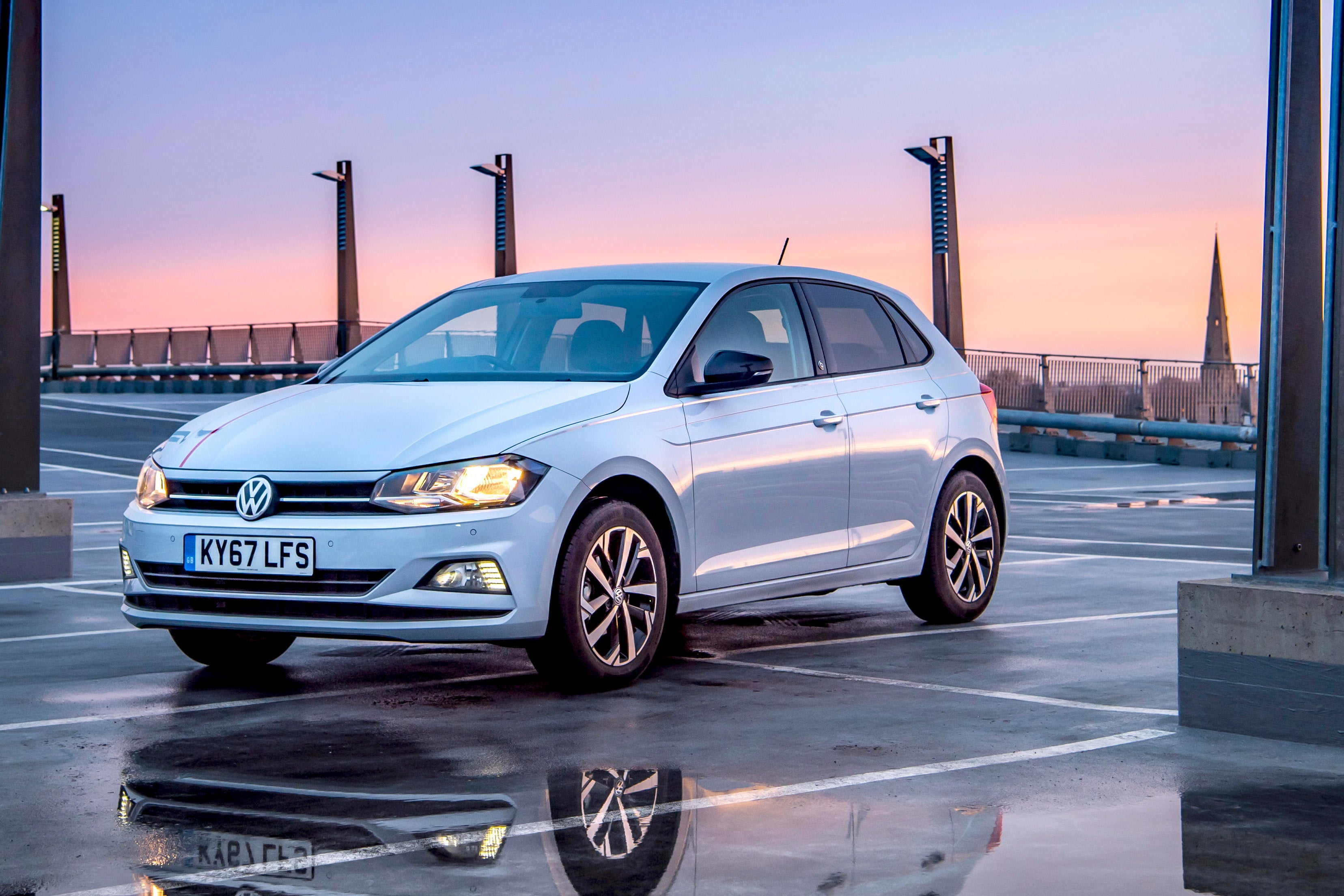 The Polo is easy to drive, spacious and refined. It's one of the best small cars for comfort, in terms of road and wind noise, and actual comfort on the move. It isn't quite as fun as the Ford Fiesta, but we'd argue it gets a better engine in the form of the 1.0-litre TSI petrol. It isn't the best value small hatchback, but it's certainly one of the most premium - and it boasts strong residual values for buyers looking for a new model.
On the plus side, the 1.0 TSI engine is one of the best turbocharged three-cylinder petrol engines you can buy, with peppy performance and high mpg figures. You get 95PS and it's surprisingly refined for a relatively small engine. The 1.0 can is available with 115PS, but obviously economy figures drop then. A non-turbocharged version of the 1.0-litre engine is available with 80PS, too, but it's quite slow and noisy.
It's a very impressive choice, being one of the few cars to get a full 10 out of 10 from us. It even offers a relatively large 355-litre boot, or 1125 litres with the back seats down.
Renault Clio
Year launched: 2019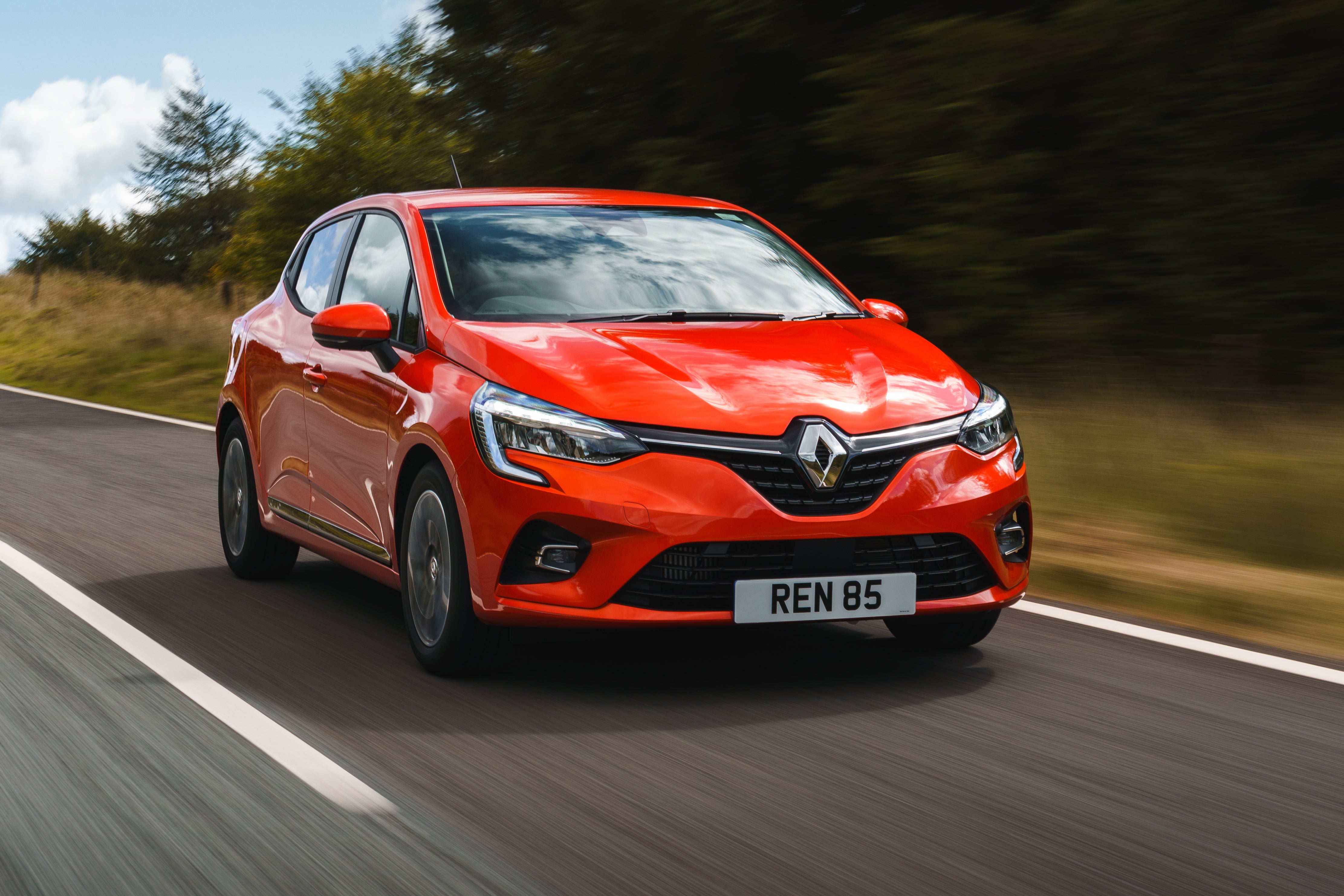 The latest Clio is roomy inside with plenty of space for taller drivers, while the boot is now a generous 391 litres. It isn't as impressive as class leaders like the Volkswagen Polo and Ford Fiesta, but it's arguably a more fashionable small car, and sees a hugely practical five-year, 100,000-mile warranty - which trumps both Ford and Volkswagen's three-year offering.
As for the engine range, the non-turbo 1.0-litre 75PS petrol is ideal for city dwellers, but those who hit faster roads should move up to the TCe 100PS 1.0-litre three-cylinder engine as it's more capable. We also recommend ticking the box for the seven-speed automatic gearbox. The 1.3-litre TCe 130 petrol turbo engine is only paired with the automatic gearbox, but it feels much swifter and more refined than the smaller engines.
The cabin is full of premium materials, no different than you'd see in the Polo honestly. The higher trim levels of Clio are also more colourful, brightening up the interior. The Clio also aces practicality with a 391-litre boot (which even beats the larger Volkswagen Golf) and the usual Isofix child seat mounts on the two outer rear seats.
SEAT Ibiza
Year launched: 2017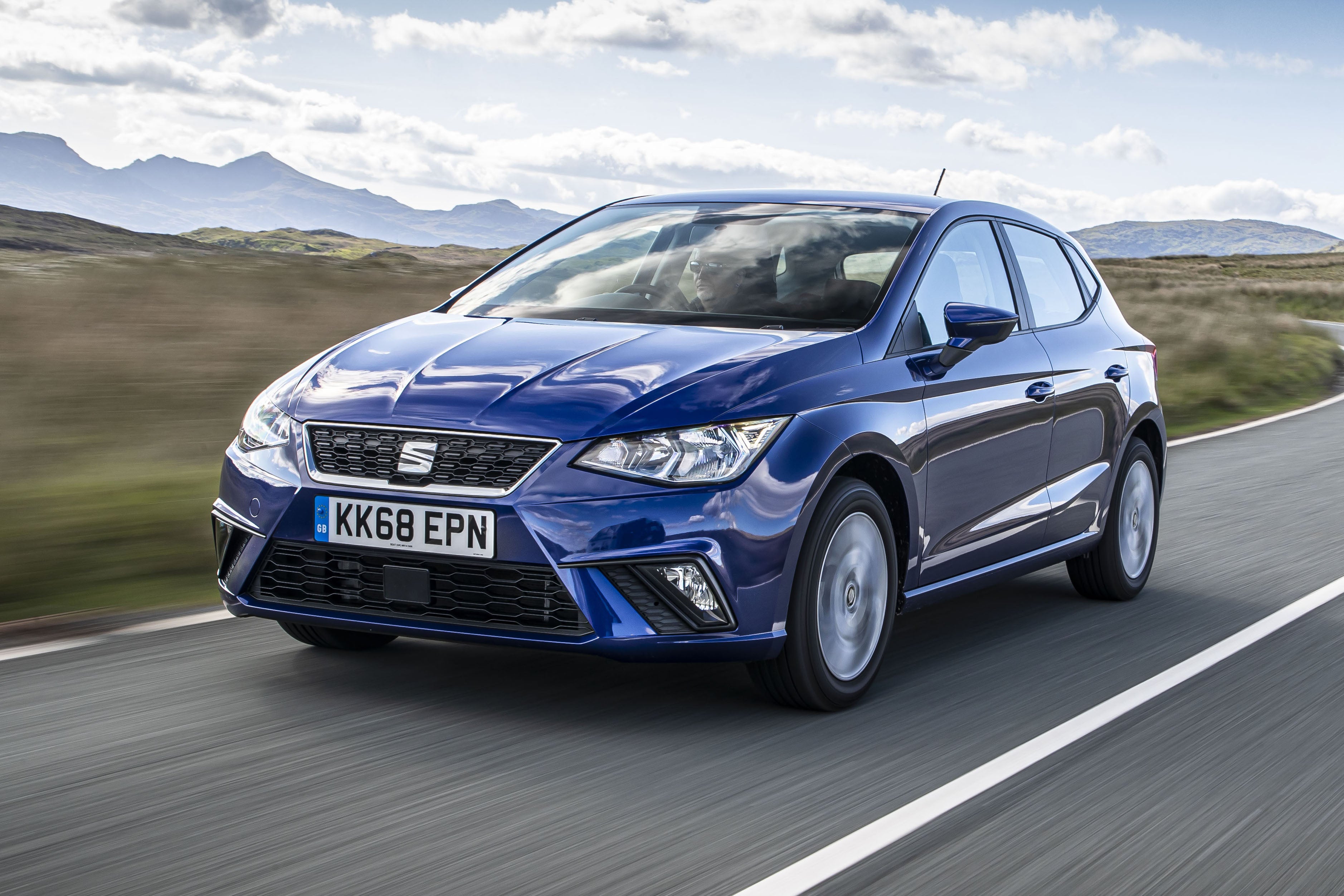 The SEAT Ibiza is a smart, stylish, practical alternative to the likes of the Ford Fiesta and Suzuki Swift. The only real let-down with the Ibiza (other than the name…) is the standard kit you get. You'll have to pay extra even to get DAB radio. But, it also beats class-leading rivals in some areas - so it'll really depend on what you want from your car.
Mechanically speaking, the Ibiza is almost identical to the Volkswagen Polo - which means refinement and practicality are excellent, but it won't handle like a Fiesta. The turbocharged 1.0 TSI petrol is a refined, economical engine. It's also much better than the 1.0 MPI - which offers 75PS and hasn't got a turbo so it feels painfully slow.
The Ibiza is large enough to fit four adults, while the boot is a useful 355-litres. Fitting child seats is no problem thanks to the wide-opening rear door, and a pair of Isofix mounts mean child seats are securely positioned. A trio of three-point seat belts keep all of the rear occupants safe and the Ibiza is able to hold a trio of children where most of its rivals will struggle to carry more than two without the risk of a mid-journey argument.
MINI Hatch 5dr
Year launched: 2014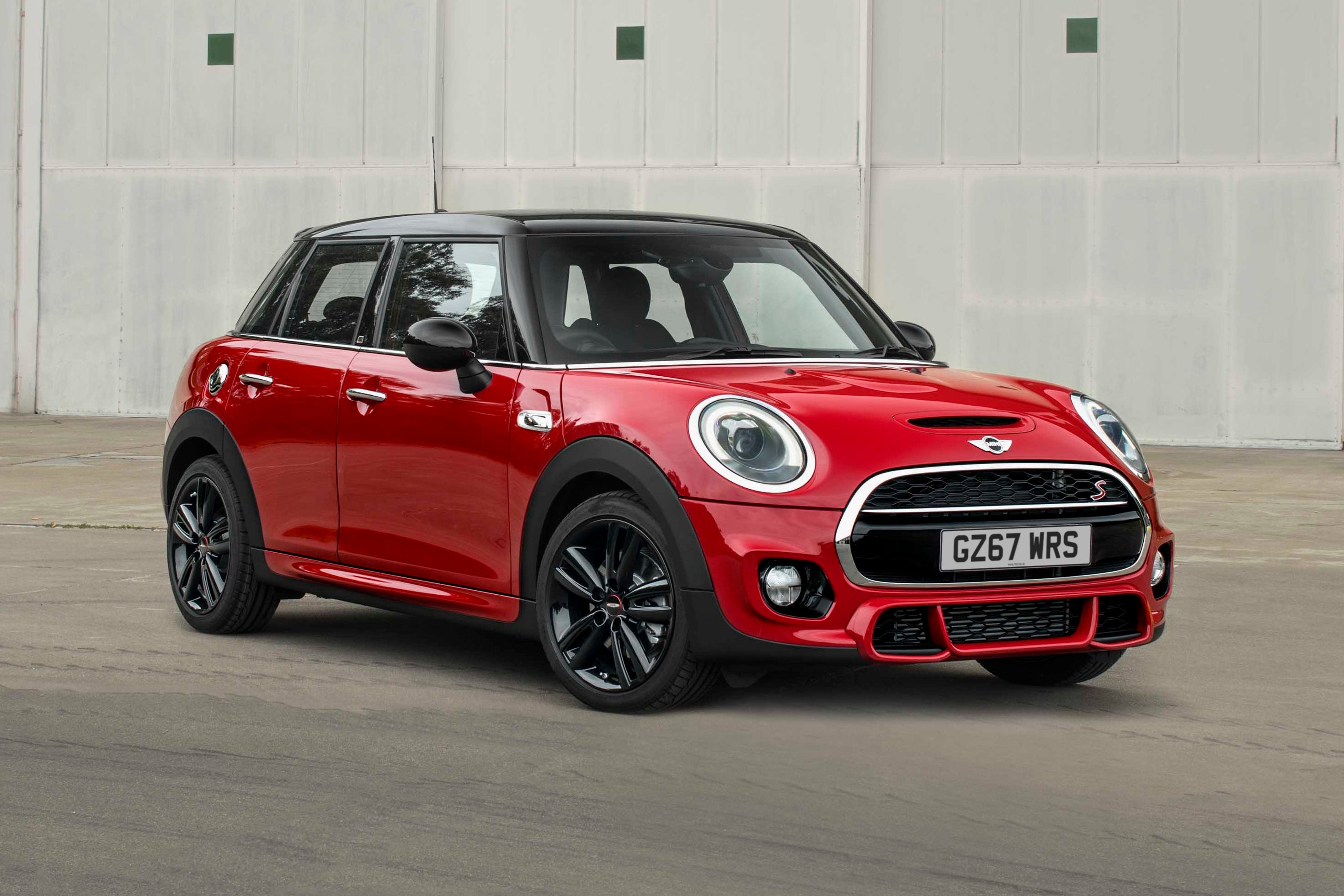 The MINI Hatch isn't the most affordable, nor practical option in this list. But it does offer something very special, and that's bucket loads of fun behind the wheel. The main reason for that is the MINI's handling - as well as the recognisable MINI styling. A premium interior and zesty (but economical) engines are a welcome bonus, but that all comes at a high price.
Strong residual values are good news if you're buying new, but used examples won't be as cheap as - say - a Vauxhall Corsa or a Skoda Fabia. The cheapest way into a MINI is the One model with the 102PS 1.5-litre petrol engine. It's fine around town, but we'd steer towards the MINI Cooper with its 136PS version of the same 1.5-litre motor for its better performance on motorways.
All the models ride well, with little in the way of wind or road noise - but it's more firm than comfortable due to the suspension set up. Space also isn't the MINI Hatch's strong suit. Calling the three-door model a family car would be quite a stretch, so we recommend the five-door Hatch with its larger 278-litre boot. It still isn't massive, but if you don't need heaps of space then it could be perfect for you.
Skoda Fabia
Year launched: 2015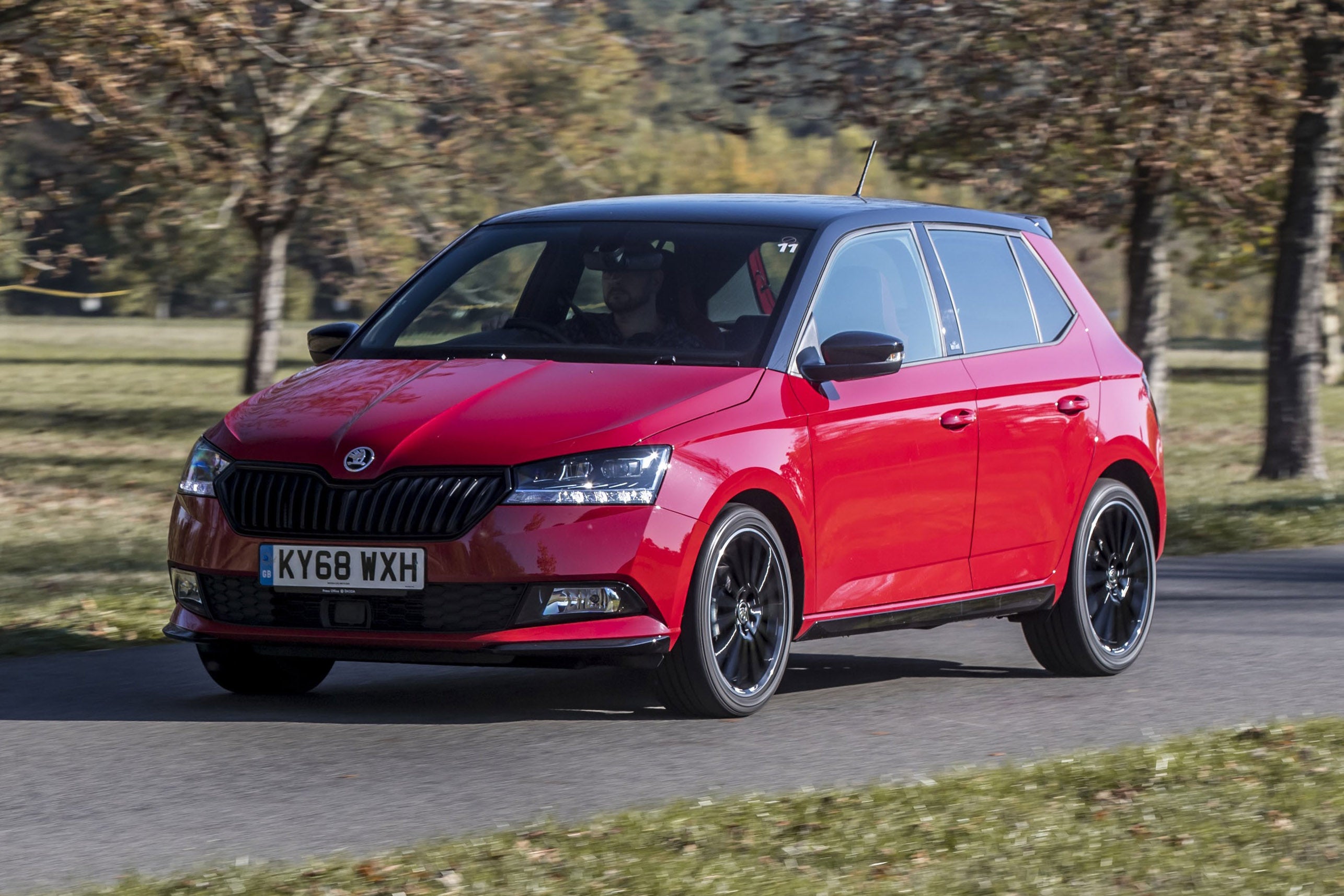 The Skoda Fabia isn't the most stylish or youthful car going, although the Monte Carlo trim is definitely worth a look. What it does offer is a smart cabin and excellent value for money thanks to reasonable prices, decent equipment levels and low running costs. Like the Volkswagen Polo, it's designed with comfort in mind rather than driving dynamics - so it's more sensible than exciting.
Yet, we rate the Fabia highly - mostly because of the great petrol turbo engines it shares with other Volkswagen Group cars (Volkswagen Polo and SEAT Ibiza). The 1.0-litre 95PS engine is fine for most uses, but the 110PS is the one we prefer. When you choose trims, skip the S as it's missing some kit that's now considered essential. Instead, SE trims get air con, rear parking sensors and roof rails.
The steering is light and the suspension is good at dealing with the bumpy roads - especially models on smaller wheels. This makes it very easy to manoeuvre around town, even along narrow roads - and it's small enough to fit easily into tight parking spots on congested roads.
Peugeot 208
Year launched: 2019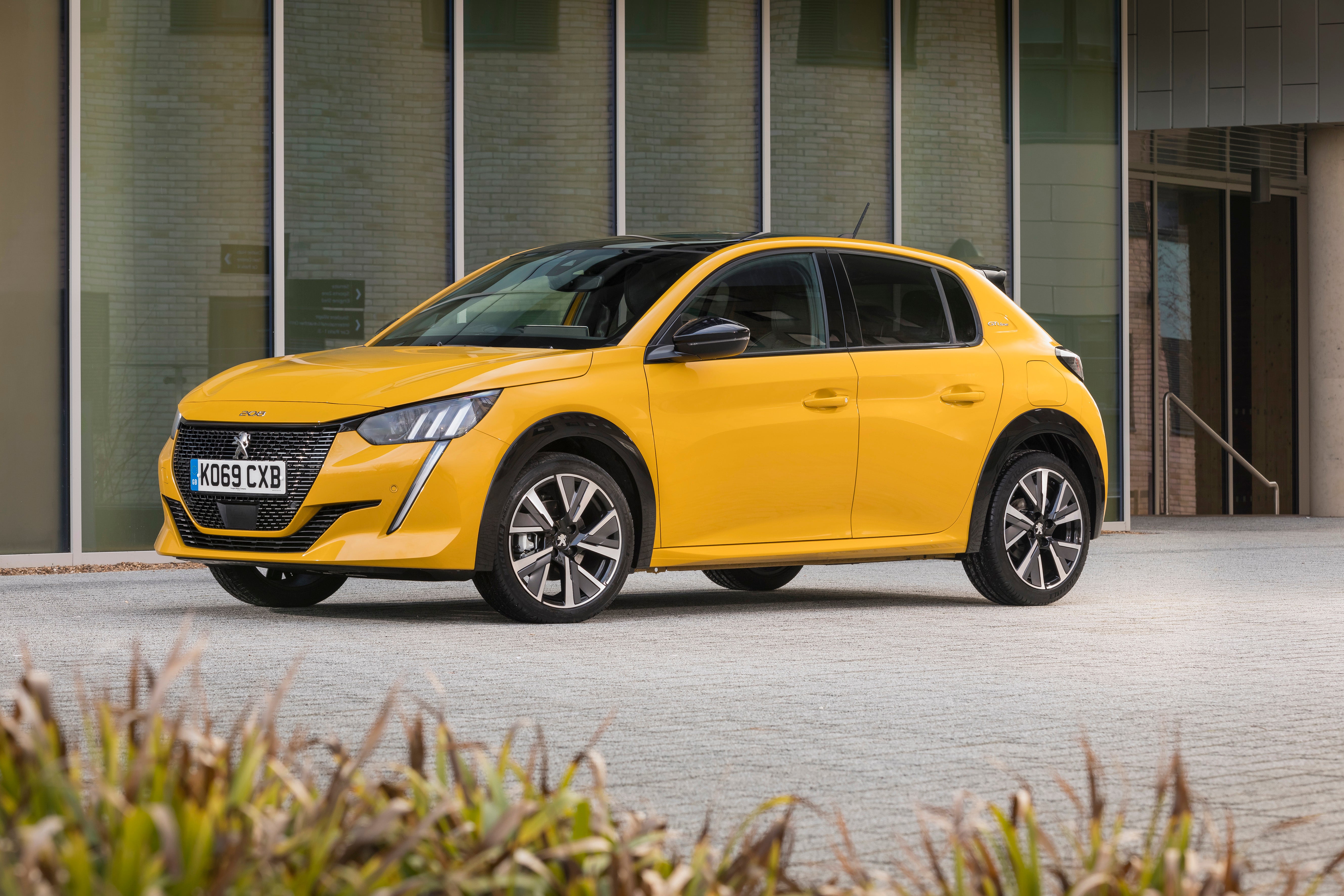 The Peugeot 208 doesn't really rival the likes of firm favourites like the Ford Fiesta in many ways - but it does come toe-to-toe with the best of the smaller hatchbacks when it comes to style. This is especially true against conservatively-styled rivals like the Audi A1 or Volkswagen Polo. In addition, the 208's interior is one of the best in class with an abundance of soft-touch materials and a minimalist dashboard design.
The 208 is also equipped with various safety systems and, despite its size, you get a reasonable amount of space inside with a 311-litre boot. The SEAT Ibiza offers more room, though, and compared to something like the Kia Rio - the 208's reputation for reliability (or lack thereof) comes under scrutiny.
As for engines, there's a 1.2-litre PureTech petrol in three variants. But we'd go for the two higher performance choices: either the 100Ps or 130PS. Or, perhaps even the all-electric model. Overall, the newest Peugeot 208 is worth considering if you want a unique take on a compact, five-door hatchback - but you're willing to look past some flaws.
Vauxhall Corsa
Year launched: 2019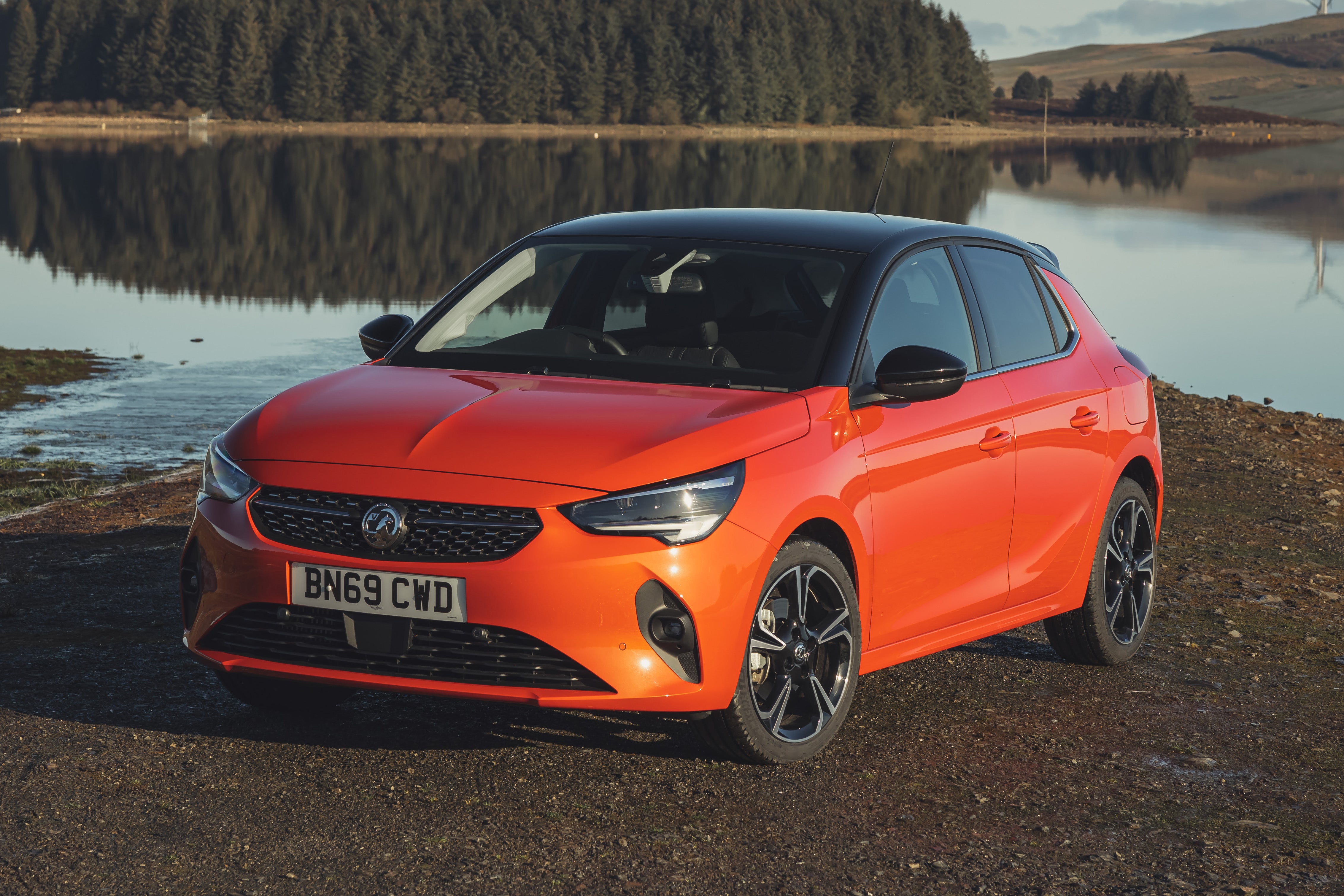 Cheap to run, well-equipped and British-built - the Vauxhall Corsa is a great all-rounder and a favourite among UK drivers, despite its faults. The 2019 model is also one of the better looking small hatchbacks. While it isn't the most fun or exciting, it's very affordable - and low running costs mean it'll be a fairly cheap car to keep on the road. That's why it's so popular with learner drivers, and their instructors...
The 1.2-litre 100PS petrol is one of the best petrol engines on sale today - offering quick acceleration, refinement and reasonable economy figures. There's also a fully electric Corsa - the Vauxhall Corsa-e. Although, the ride isn't the most comfortable, with potholes much more noticeable than in a more premium model.
All versions of the Vauxhall Corsa are generously equipped as standard, with entry-level models seeing LED headlights, 16-inch alloy wheels and touchscreen infotainment with Apple CarPlay and Android Auto compatibility as standard. Unfortunately, the infotainment let's the interior down because it's also a step - or two - behind the quality of the systems used by rivals.
Suzuki Swift
Year launched: 2017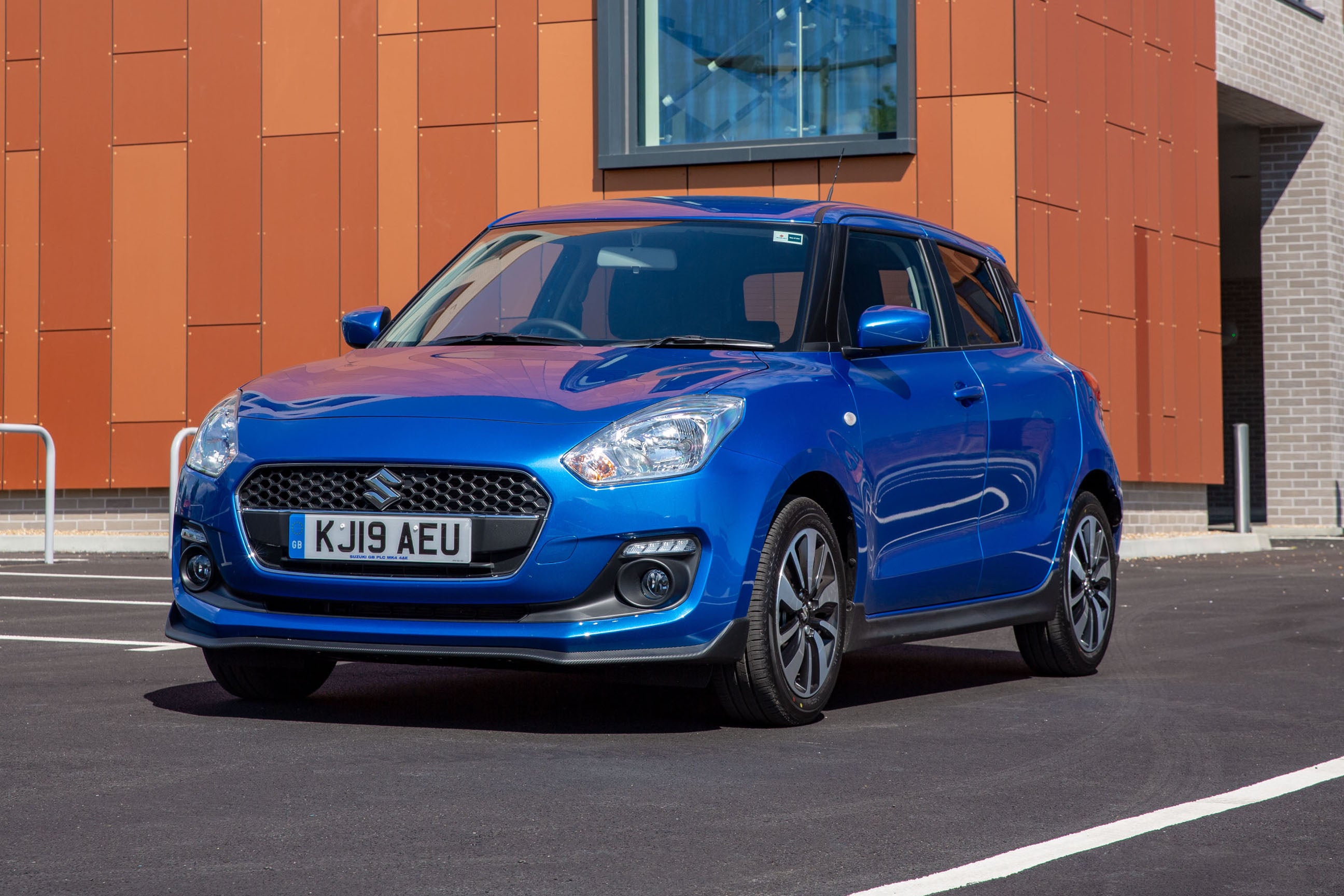 The Suzuki Swift is a good hatchback that, simply put, won't suit a lot of drivers. In short, it's a lot of fun and boasts heaps of charm - but it's also got a small boot (264 litres), an unsettled ride and high insurance costs.
First off, it looks great and is an absolute hoot on the road. The rev-hungry engines are excellent, as is the handling and overall balance of the car. If you love driving, this is one of the best small hatches going. There's a Swift Sport if you want more performance, too. Young drivers are unlikely to care too much about cheap interior materials and a small boot, but parents will probably want something a bit more practical for a daily driver. Similarly, parents won't much like the fact that the Swift has struggled in Euro NCAP crash tests.
All Swifts of this generation come with a petrol engine, the entry-level choice being a 1.2 with 90PS. That doesn't sound like a lot, but because the Swift is so light, it's enough. If you can afford to, though, we'd recommend making the upgrade to the more powerful option - the 1.0-litre turbocharged Boosterjet that produces 111PS.
Honda Jazz
Year launched: 2020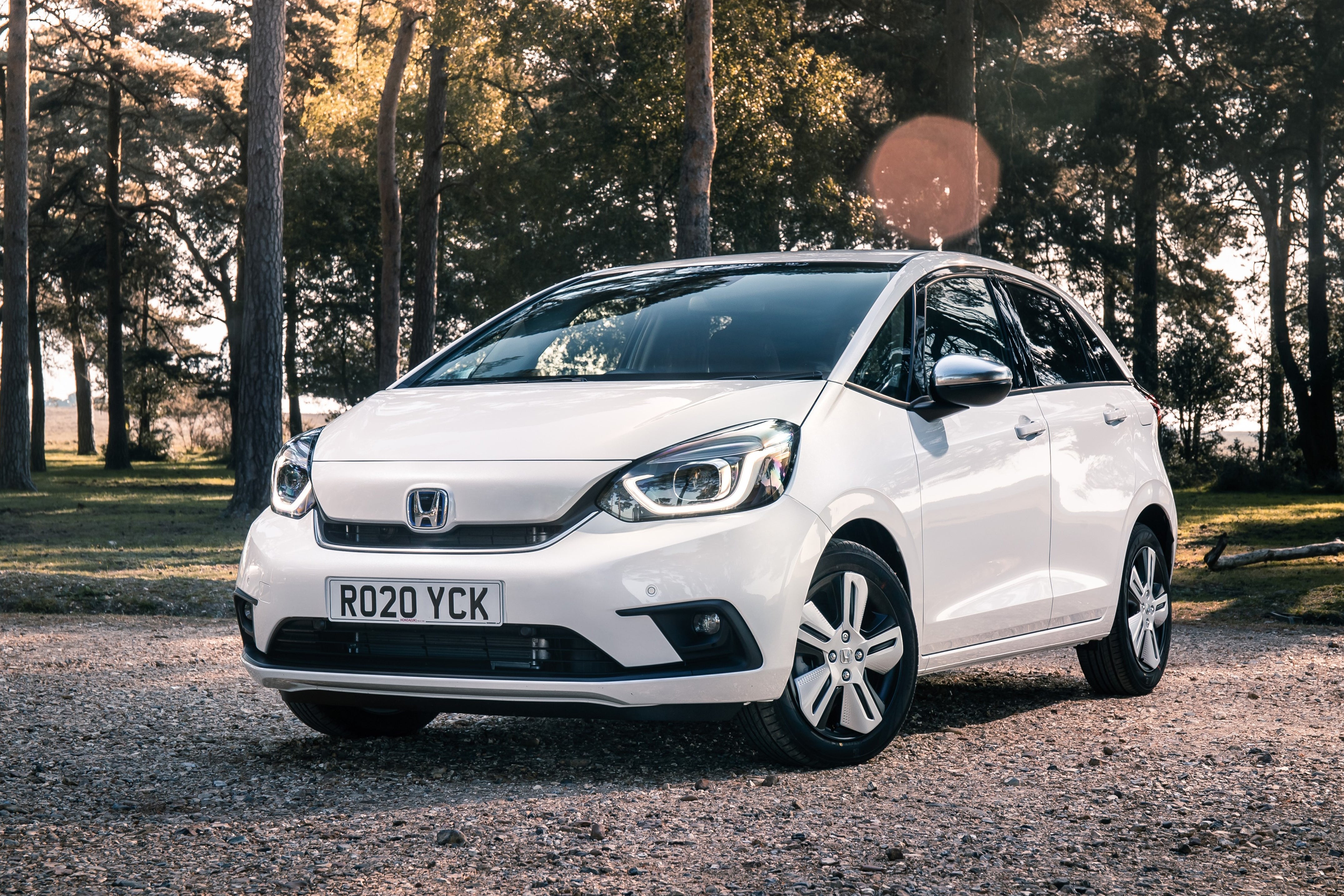 The latest Jazz takes all the strengths of its predecessor - an incredibly practical interior and huge amounts of space - and builds on them to create one of the best small hatches on sale. That said, it's hardly exciting, nor aesthetically-appealing to most people. So, if you want a small, reliable car to carry people and all their stuff, plus a hybrid engine that'll provide a very frugal economy - then the Jazz might be right for you.
The harsh ride and high price tag will be off-putting to some (especially as there won't yet be deals on the used market), but it's an easy choice to justify if you need a big boot and hassle-free motoring. There's only one engine, so that's a simple choice. For trim, we wouldn't bother with SE unless you're on a strict budget. The mid-range SR is probably the sweet spot in the range, with the smaller (and therefore more comfortable) alloy wheels, the nine-inch media system and some nice interior touches to make it feel a bit more special.
If you're planning to regularly carry passengers in the back, something like a Ford Fiesta simply doesn't compare. Tall adults can fit comfortably behind tall passengers in the front and there are Isofix points on the outer seats, helping you fit child seats. With the rear seats in use, the boot is 304 litres. Honda's Magic Seats mean the rear bench can flip and fold to provide up to 1205 litres of space, too.
The Ford Fiesta and Volkswagen Polo are both excellent small cars with large boots, making them ideal for young families who need practicality on a budget.
The best value models will be the Vauxhall Corsa and Skoda Fabia, though the SEAT Ibiza will hold its money well. The market is flooded with Fiesta models, though, so these can often be found for good money - and you can afford to be picky about what you want.
The MINI Hatch, easily. In fact, the MINI Hatch - which includes the MINI Cooper and One - is great fun to drive, while still being reasonably practical. They're incredibly desirable though, so they hold their value well - meaning there aren't usually cheap deals on used models.
Reviews of more cars for the school run
Volkswagen Polo
1.2 TSI Match 5dr DSG
Manufacturer Approved
Martins Group Volkswagen Camberley

Surrey, GU153LG
PCP: £200.10/mo
Representative example: Contract Length: 36 months, 35 Monthly Payments: £200.10, Customer Deposit: £1,724.00, Total Deposit: £1,724.25, Optional Final Payment: £4,645.00, Total Charge For Credit: £1,877.75, Total Amount Payable: £13,372.75, Representative APR: 8.9%, Interest Rate (Fixed): 8.88%, Excess Mileage Charge: 6ppm, Mileage Per Annum: 10,000
Volkswagen Polo
1.0 75 Match Edition 5dr
Manufacturer Approved
Martins Group Volkswagen Camberley

Surrey, GU153LG
PCP: £192.33/mo
Representative example: Contract Length: 36 months, 35 Monthly Payments: £192.33, Customer Deposit: £1,574.00, Total Deposit: £1,574.25, Optional Final Payment: £3,857.50, Total Charge For Credit: £1,668.30, Total Amount Payable: £12,163.30, Representative APR: 8.9%, Interest Rate (Fixed): 8.88%, Excess Mileage Charge: 4.78ppm, Mileage Per Annum: 10,000
Volkswagen Polo
1.0 TSI 95 SE 5dr
Bristol Street Motors SEAT Derby

Derbyshire, DE248PU
PCP: £186.34/mo
Representative example: Contract Length: 36 months, 35 Monthly Payments: £186.34, Customer Deposit: £1,686.00, Total Deposit: £1,686.00, Optional Final Payment: £5,144.00, Total Charge For Credit: £2,111.90, Total Amount Payable: £13,351.90, Representative APR: 9.9%, Interest Rate (Fixed): 9.48%, Excess Mileage Charge: 4ppm, Mileage Per Annum: 10,000