Best convertible cars 2022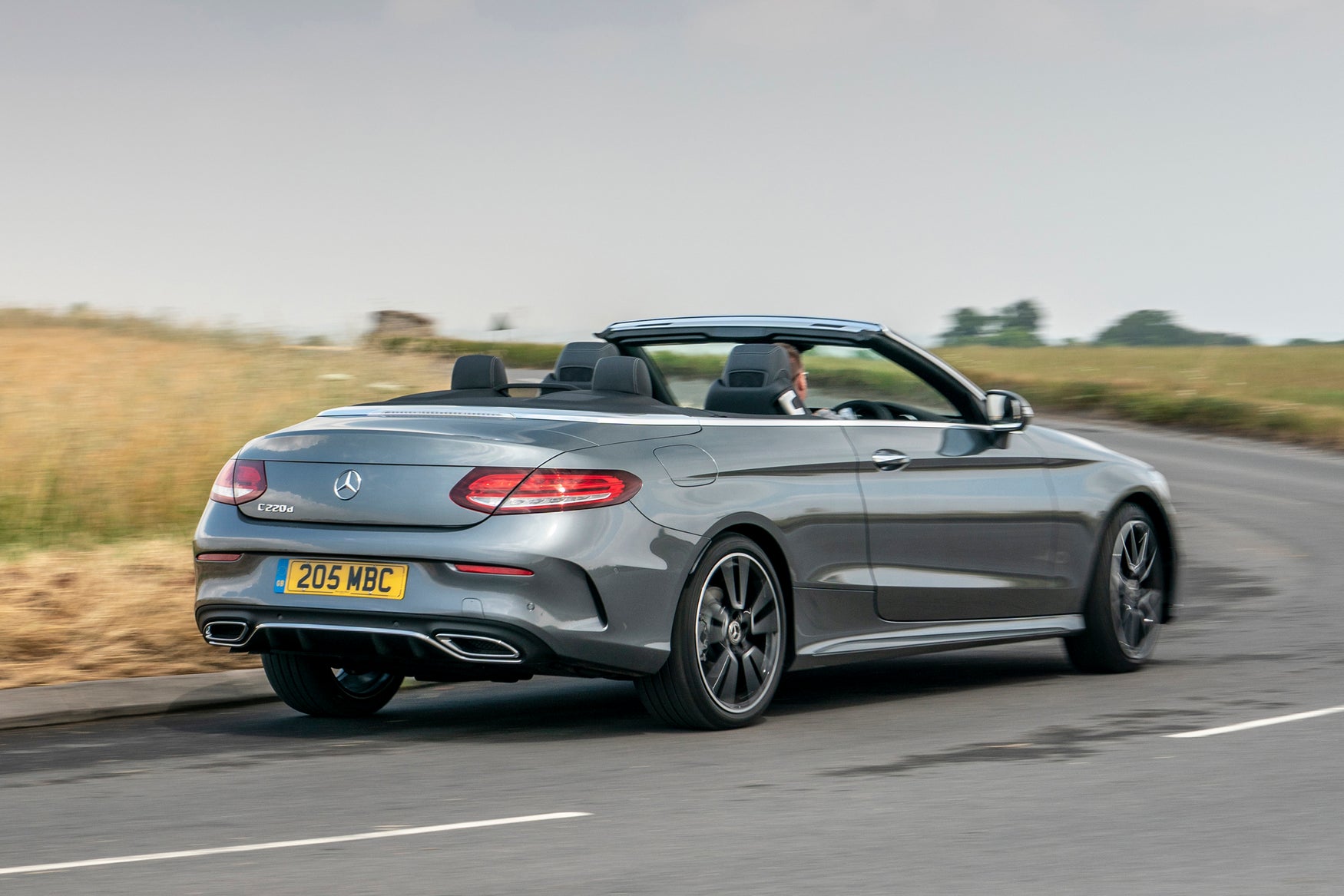 There's nothing better than hitting the road in one of the best convertible cars. You simply can't beat the thrill of wind-in-the-hair motoring that comes with owning a cabriolet.
The convertible car market is a varied one, ranging from two-seater sports cars like the Porsche Boxster to luxurious grand tourers like the Bentley Continental GT Convertible. You don't need to stretch the budget to find one of the best convertible cars, either, as there are some very affordable options like the compact MINI Convertible or even the Smart Fortwo Cabrio.
The best convertible cars on sale can be used all year round, with even the latest fabric roofs doing a brilliant job of isolating you from the outside world when you're not in the mood for dropping the roof. For the ultimate transformer car, though, look for a cabriolet car with a folding hardtop like the Mazda MX-5 RF or Mercedes-Benz SLC.
Our guide to the best convertible cars covers everything from cheap convertibles to the most luxurious of soft-tops. Whatever your budget, anyone of these cabriolets is sure to put a smile on your face.
Best convertible cars
Porsche 718 Boxster
Year launched: 2016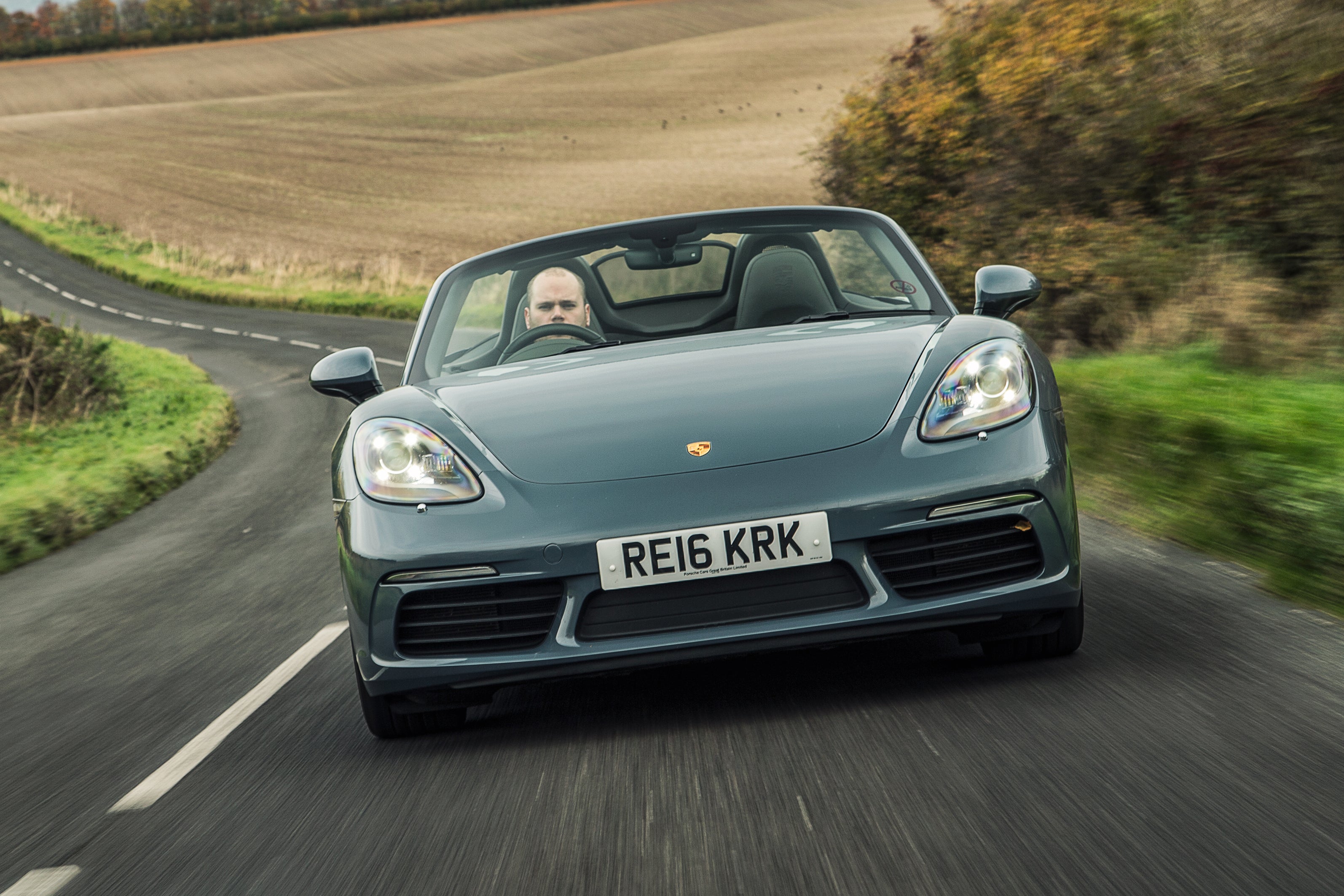 Some people dismiss the Boxster as 'not a proper Porsche'. Don't be one of these people as it's one of the best convertible cars going. For a start, the Porsche 718 Boxster is simply brilliant to drive. The engine is positioned behind you, adding to the sense of occasion and contributing to its incredibly agile handling. There are very few cars that'll keep up with a well-driven Porsche Boxster on a twisty road.
The 718 model was introduced in 2016 and was a bit controversial at the time. Porsche dropped its traditional six-cylinder petrol engines in the standard cars, in favour of new turbocharged four-cylinder units. And while they certainly don't sound quite as good, they are more economical in day-to-day driving. They're not slow, either – the 2.0-litre motor used in the entry-level car packs 300PS, while the 2.5-litre Boxster S produces 350PS.
Prices for a new Porsche Boxster start at around £47,000 and, even though they do hold their value pretty well, it's been on sale for a while so there are bargains to be had. A budget of £35,000 will get you an early model with the desirable PDK automatic gearbox.
Mazda MX-5
Year launched: 2015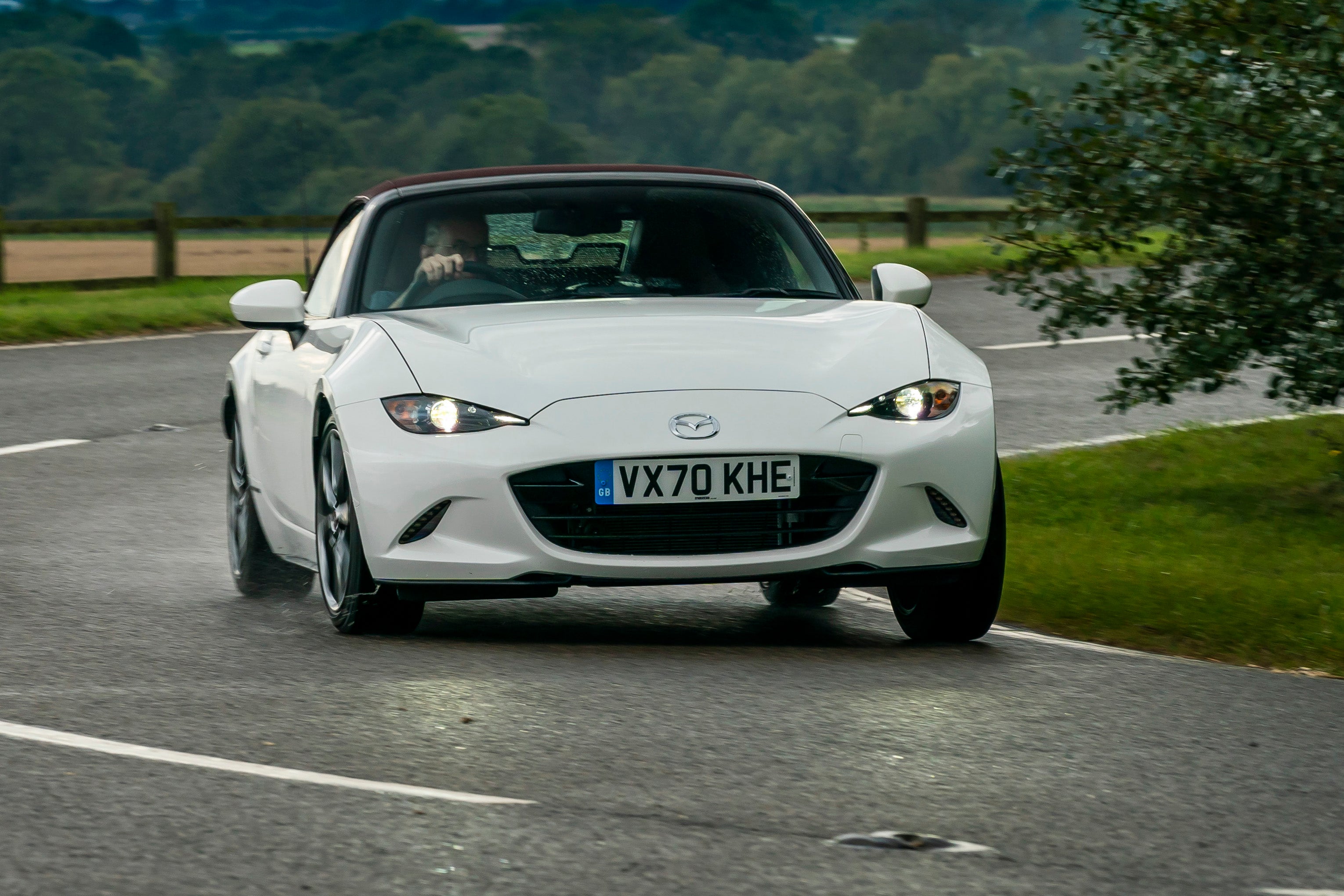 We love a Mazda MX-5 – and we're not alone. It's the world's best-selling sports cars with more than a million made since the original model first went on sale in 1989.
It's now in its fourth iteration and it's remained true to its original design brief. While most cars on sale have got bigger, heavier and more expensive, the MX-5 has remained a lightweight, nimble sports car that puts driving pleasure over pretty much everything else.
You can pick up the latest model for less than £15,000. Don't worry about hunting out one that's loaded with equipment or with the more powerful 2.0-litre engine – an MX-5 is best enjoyed in its most simple guise. The 1.5-litre petrol motor is punchy enough and loves to be revved hard, which is all part of the appeal. A brilliant little car that's one of the best convertible cars you can buy right now.
BMW 2 Series Convertible
Year launched: 2014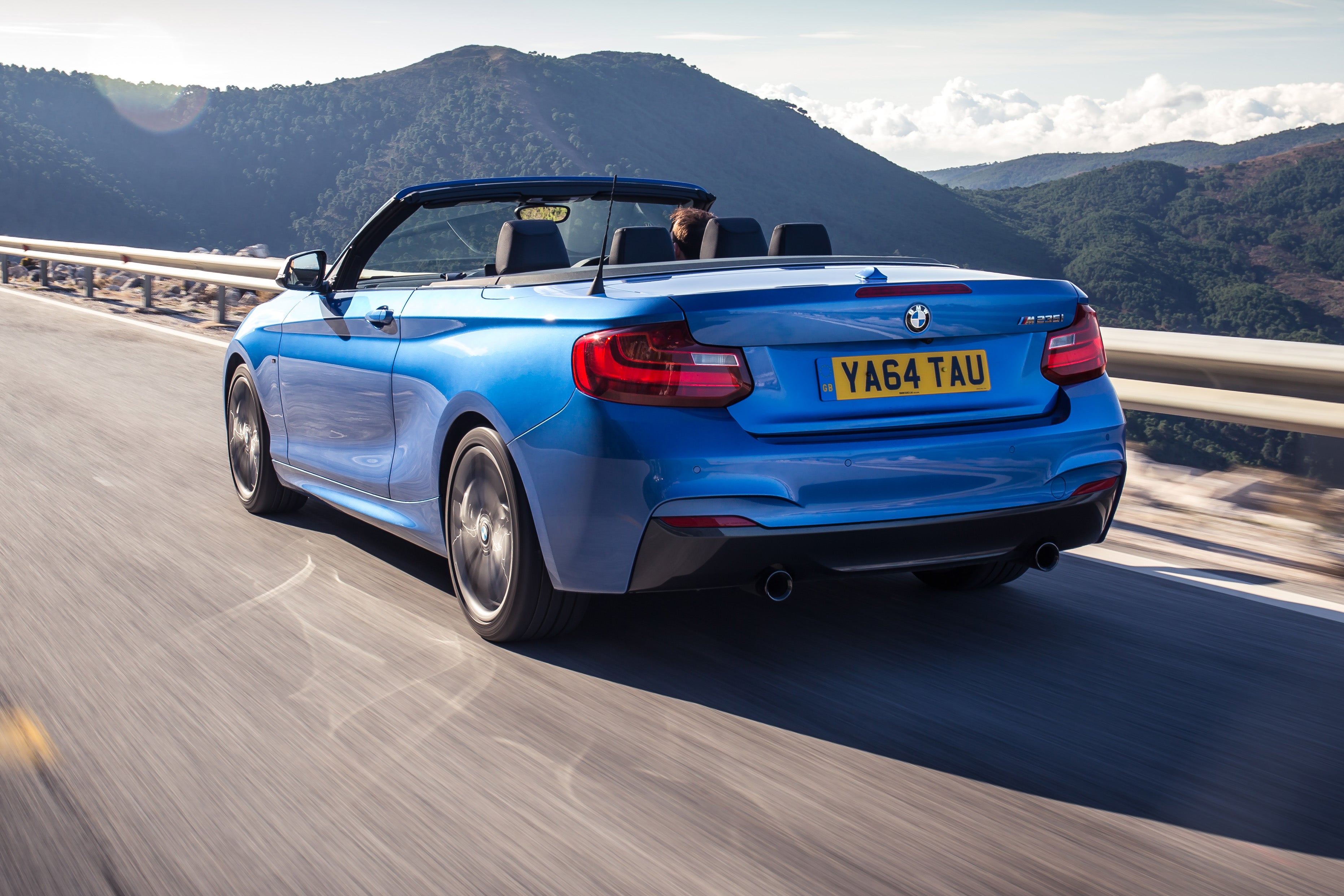 BMW offers soft-tops in a range of shapes and sizes – but you don't need to blow the budget to get a car that's going to turn heads on a sunny day. The BMW 2 Series Convertible is one of the brand's most affordable models but it ticks all the boxes with a superb interior and stylish looks.
Unlike some of its sportier rivals, the BMW 2 Series is a four-seater. We wouldn't recommend squeezing the in-laws into the back seats, but they're fine for carrying children. Dropping the fabric roof takes around 20 seconds and can be done while travelling at speeds of up to 30mph.
There's a wide range of petrol and diesel engines available, while all BMW 2 Series Convertibles are rear-wheel drive which means they're fun to drive. Unless you've got a real need for speed, we'd go for the sprightly mid-range 220i petrol motor. A cracking little cabriolet.
Mercedes-Benz S-Class Cabriolet
Year launched: 2016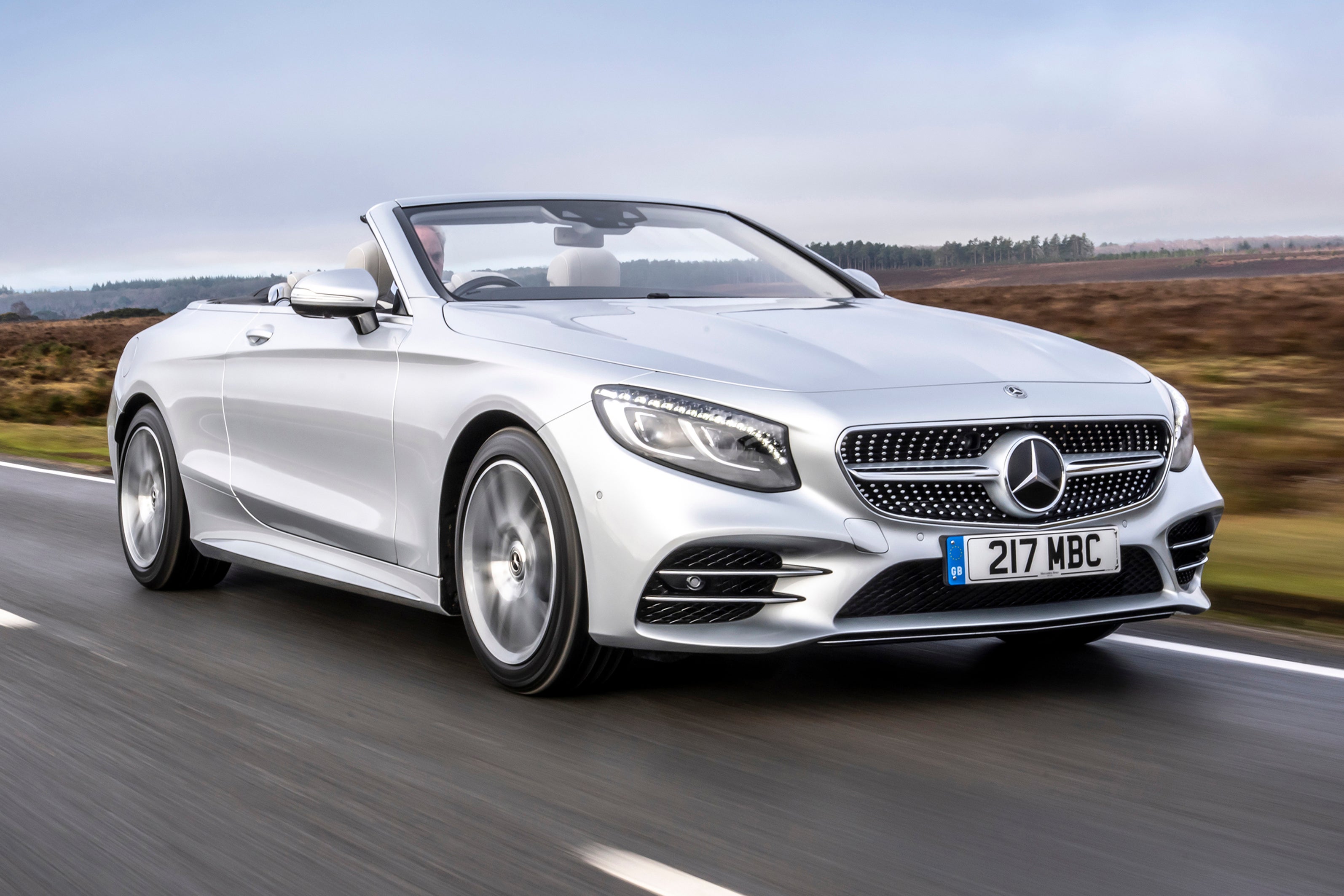 If you're looking to travel in luxury while enjoying the sunshine, the Mercedes-Benz S-Class Cabriolet is the car for you. The fact that the entry-level car is powered by a turbocharged 4.0-litre V8 tells you all you need to know – hunt out the slightly ridiculous 6.0-litre V12 if you really want to win convertible car Top Trumps.
Just don't expect it to fit in your garage. It's more than five metres long, while its two-tonne weight means it's not exactly an MX-5 when it comes to throwing it down a country lane. Of course, being a Mercedes, it drives surprisingly well for its size, but it's more of an indulgent grand tourer than a sports car.
There aren't many S-Class Cabriolets on the market and you'll need deep pockets to buy and run one - but they're still pretty good value compared to something like a Bentley Continental GT Convertible. Expect to spend around £70,000 on an S 500 AMG Line model, while an AMG will require a six-figure outlay.
Ford Mustang Convertible
Year launched: 2015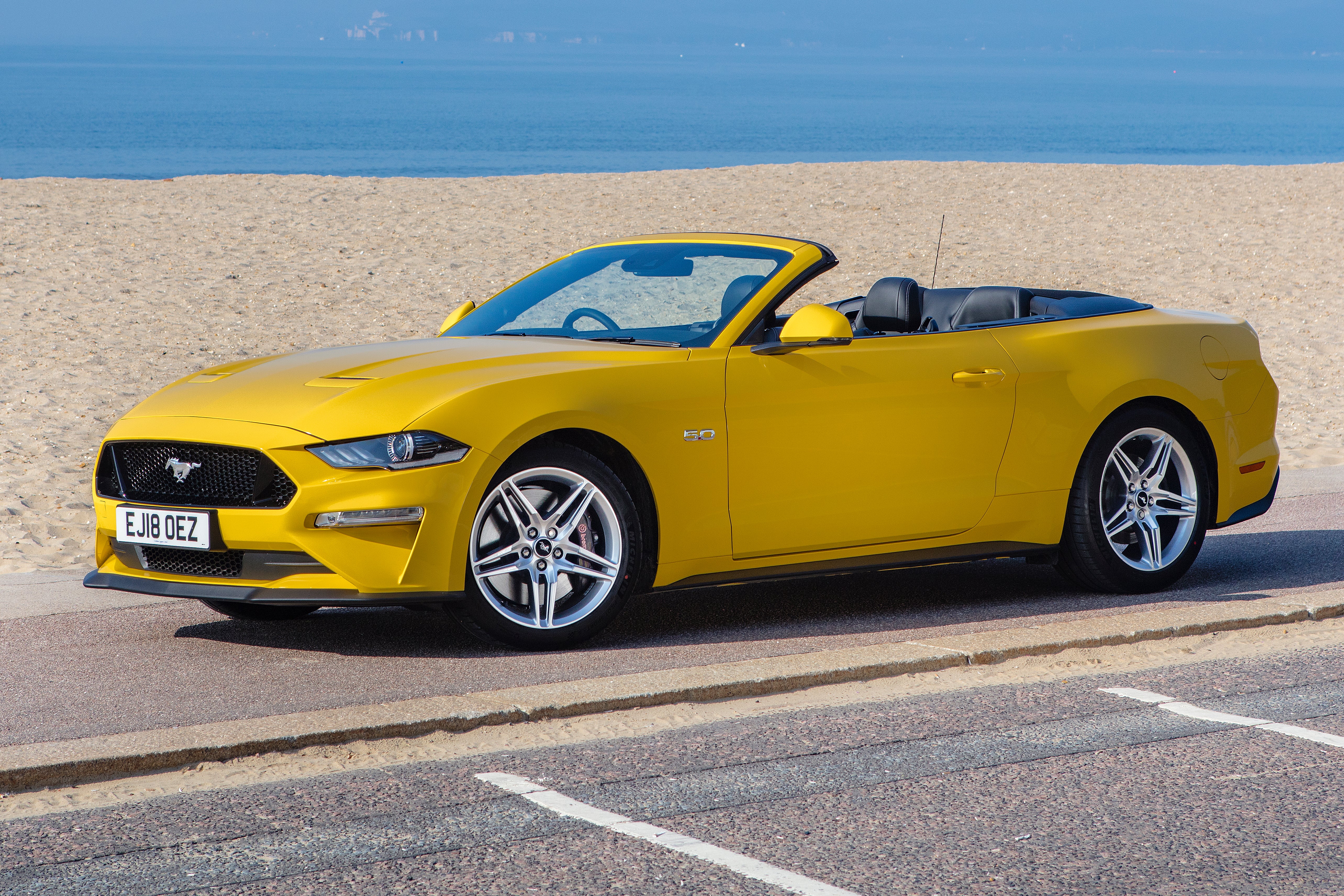 The iconic American pony car, the Ford Mustang, was on sale for decades before it finally made its way to Europe in 2015. It's everything you'd expect – bold, brash and a little bit brilliant.
There are two engines available: a 2.3-litre EcoBoost and the 5.0-litre V8. It's a no brainer, really – for the true Mustang experience, you need the V8. So much so, that Ford actually canned the smaller engine in 2021.
While it might lack the premium badge, the Mustang feels incredibly special to drive. Sure, it's not the last word in handling dynamics and there are rivals with plusher interiors. But it's guaranteed to put a smile on your face and is surprisingly affordable to buy, too. Just £25,000 should get you an EcoBoost model, while around £30,000 will get you into a V8.
MINI Convertible
Year launched: 2016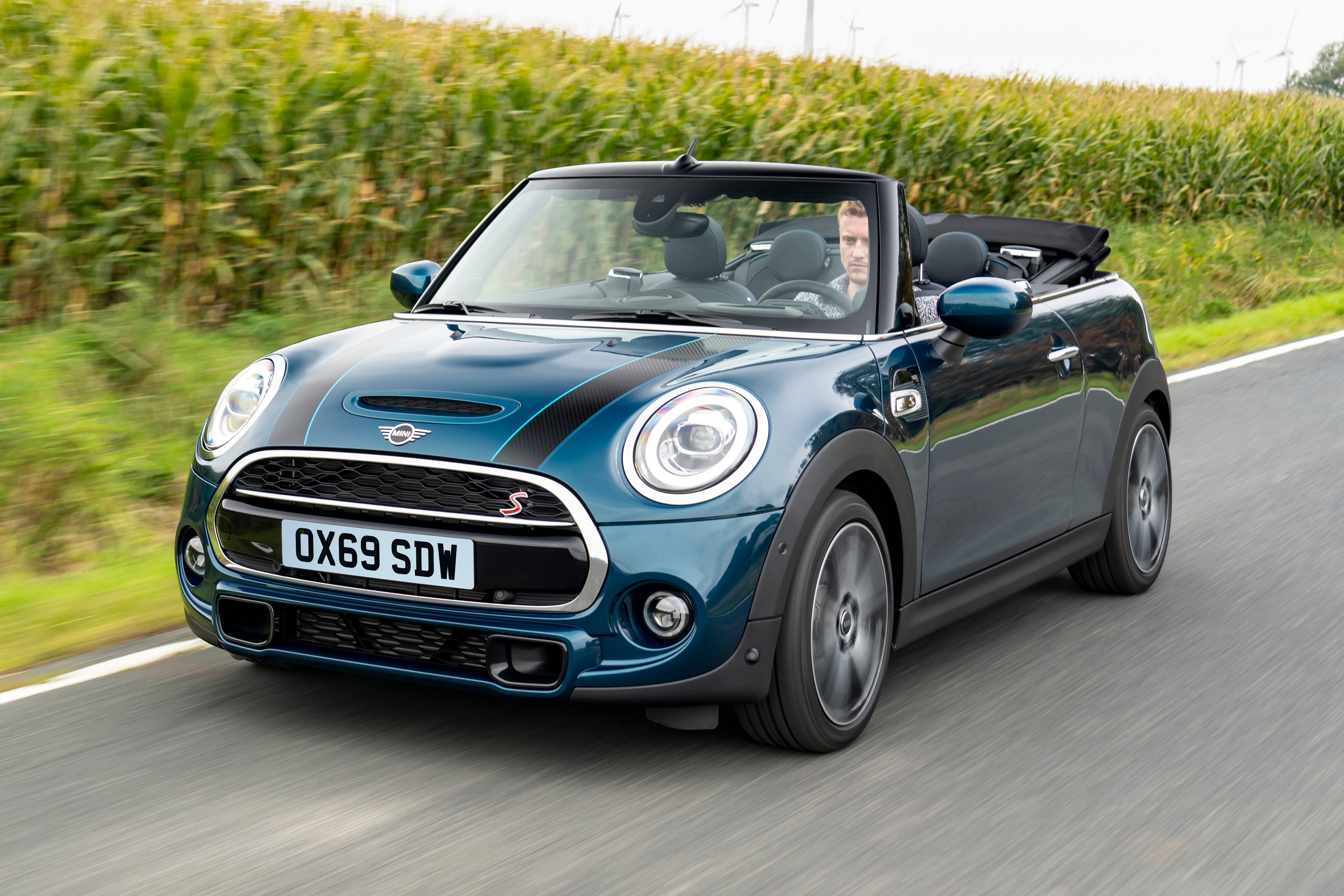 If city chic is your vibe, the MINI Convertible should be right up your urban alleyway. It's as fashionable as a designer handbag, with the same nouveau retro looks as the popular MINI Hatch – albeit with a droppable fabric roof.
Its interior is as wonderfully retro as the exterior, although the rear seats are best used as an extension of the boot. There's an almost confusing amount of different models and option packs available, but the good news is the entry-level Cooper Classic could be all the car you'd possibly need. The thrummy three-cylinder petrol engine is a characterful unit and suits the nature of the car.
For the ultimate soft-top pocket rocket, a hot MINI John Cooper Works is yours for around £16,000. With its 2.0-litre turbocharged petrol engine packing 231PS, it can accelerate to 62mph in just 6.5 seconds. It's a lot of fun for the cash.
Audi TT Roadster
Year launched: 2015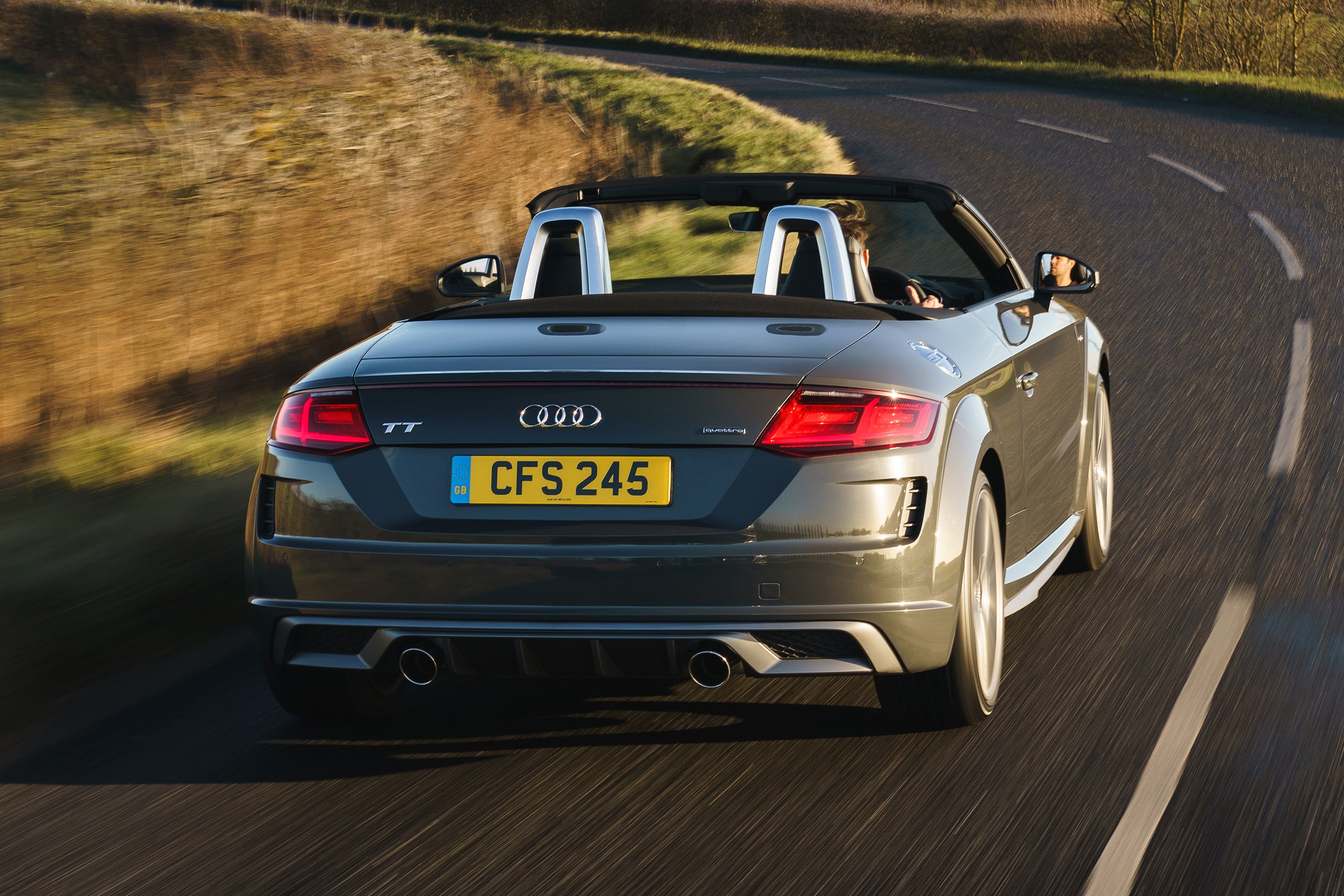 Nothing will impress the neighbours like a naughty little two-seater appearing on your driveway. If you don't need a great deal of practicality, the Audi TT Roadster ought to be vying for your attention alongside the BMW Z4 and Mercedes SLC (not to mention the Porsche 718 Boxster, featured above).
It's more premium than a Mazda MX-5, with a sharper image and more luxurious interior, although it's not quite so much fun to drive. That said, you can get an Audi TT RS Roadster – this uses a charismatic five-cylinder engine which produces a mighty 400PS. That's enough to catapult it to 62mph in less than four seconds – quite enough to upset your hairdo if you attempt it with the roof down.
The standard 2.0-litre petrol Audi TT Roadster will be sufficient for most, though. This came out in 2015 and an early example can be picked up for around £15,000. You'll see a lot of diesels around at this end of the market, too – don't bother with these unless you cover a lot of miles. The sound of a diesel engine kinda ruins top-down motoring.
Mercedes-Benz C-Class Cabriolet
Year launched: 2016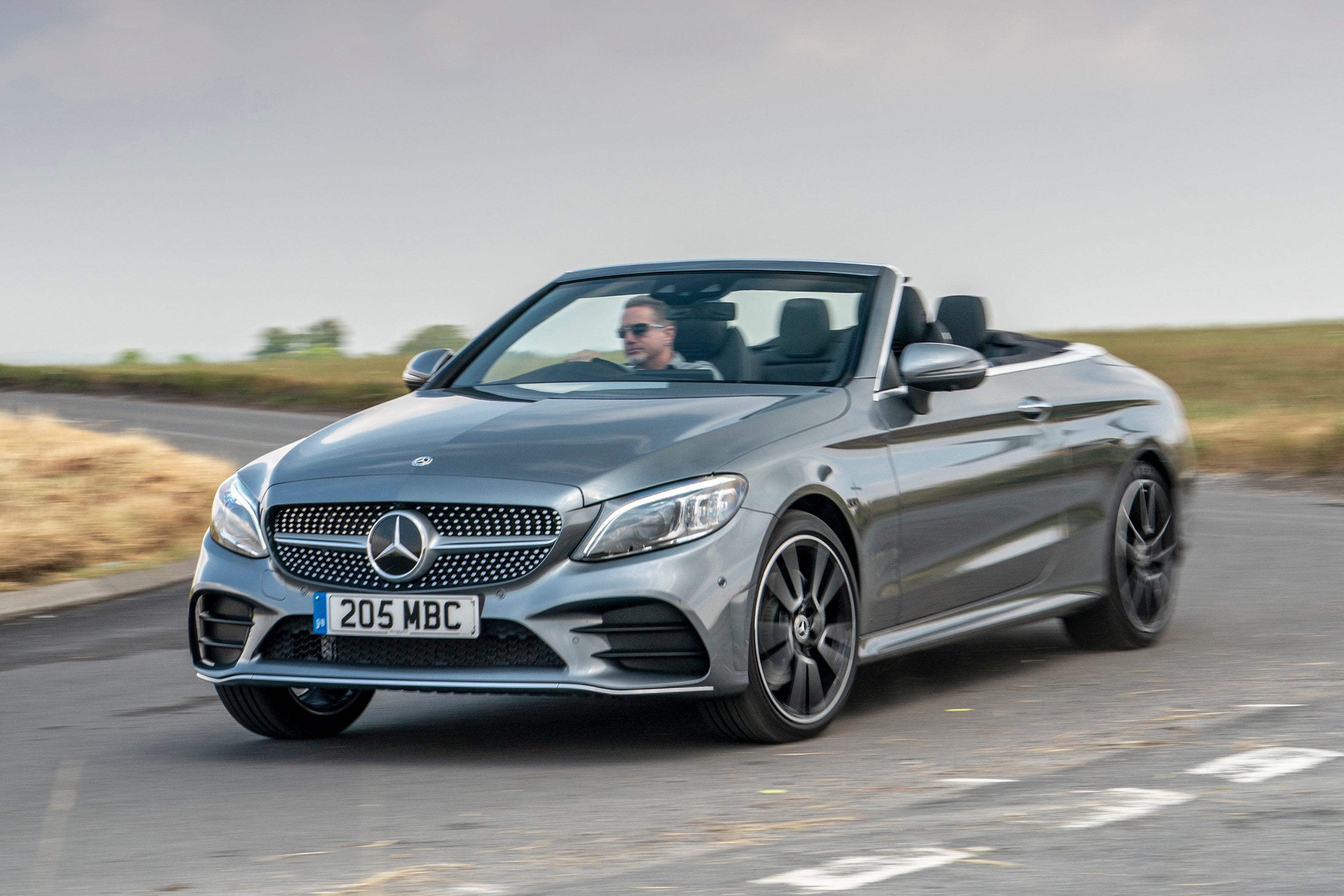 While the regular Mercedes C-Class is a company car driver's favourite (for good reason), the Coupe and Convertible models are extremely appealing models in their own right. You really can't beat the interior (this side of an S-Class Cabriolet, anyway), with its lavish materials and soft-touch fabrics.
Look for a post-facelift model (that's 2018 onwards) for its much improved infotainment offering, while there are a wide range of petrol and diesel engines on offer. The diesel offerings can be a little noisy, so we'd go for a petrol – the C200 is fine if you're looking for a comfortable cruiser, while the Mercedes-AMG C43 will appeal to sportier drivers.
A brand new Mercedes C-Class Cabriolet starts from around £44,000 but an as-new pre-registered example can be yours for less than £35,000. That's quite a saving for one of the best cabriolet cars going.
Range Rover Evoque Convertible
Year launched: 2016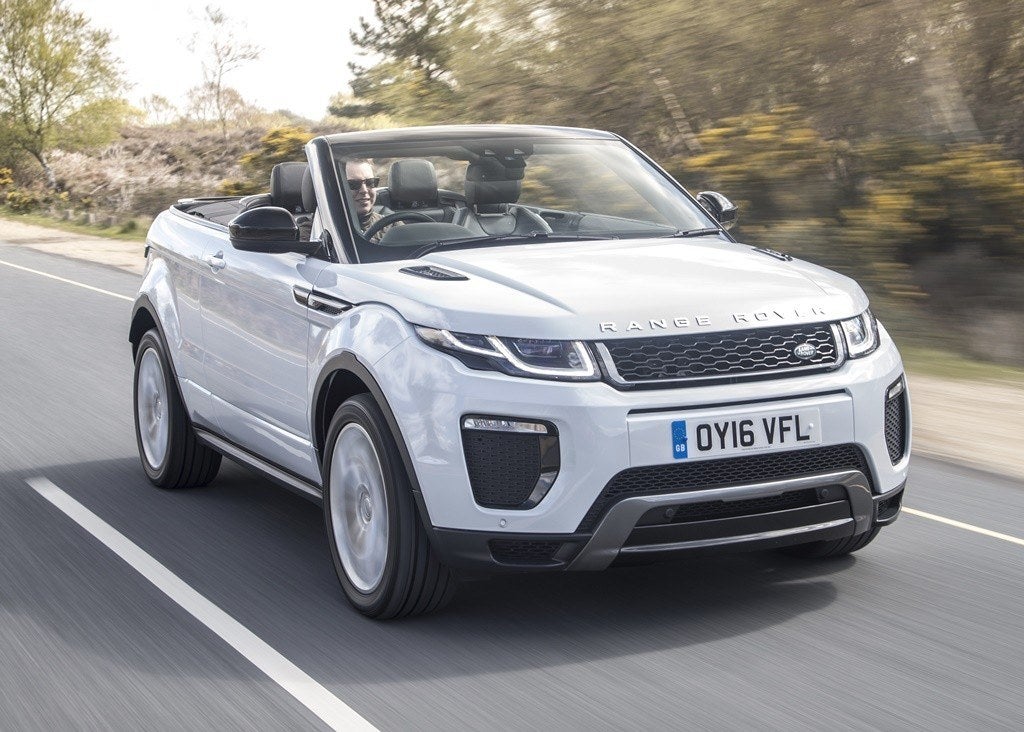 The convertible car market is a shrinking one. The majority of fashion-conscious buyers now flock towards SUVs instead. So Land Rover had a great idea (way ahead of the Volkswagen T-Roc Cabriolet) - why not chop the roof off the popular Range Rover Evoque?
We admire the logic. Unfortunately, it wasn't on sale for long before the Evoque was superseded by the second-generation model and the soft-top was quietly dropped from the line-up.
Still, you can pick up a used example from as little as £25,000. That's for a 2016 model with the 2.0-litre TD4 diesel engine (there are a handful of petrols around but they're rarer than a rare thing). The Phoenix Orange launch colour would be a must-have for us...
Jaguar F-Type Convertible
Year launched: 2013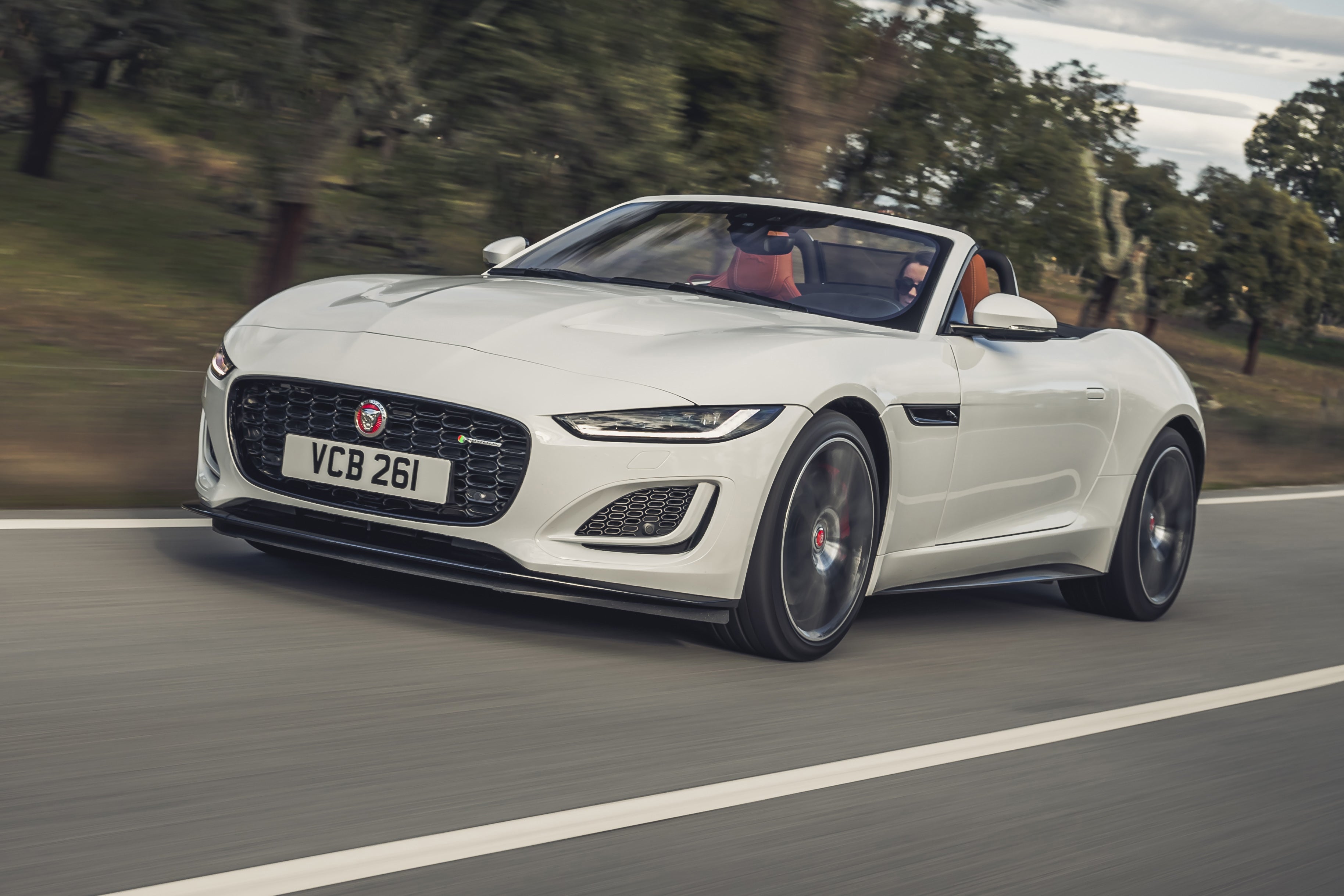 The Jaguar F-Type is a bit of a left-field choice in this list. It's been around for a while and, in many ways, it's just not as well-rounded as a Porsche 718 Boxster.
What the F-Type does do very well indeed, however, is feel incredibly special. It's got more character than German alternatives, and a heavy facelift towards the end of 2019 means it'll still turn heads today. It's certainly one of the best looking convertible cars you can buy today.
A new Jaguar F-Type starts from around £60,000 but, with depreciation working on your favour, you can pick up a five-year-old model with low mileage (many are garage queens) for less than £30,000. The 3.0-litre supercharged V6 model is our engine of choice. A gorgeous convertible car.
What is a convertible car?
A convertible car – also known as a cabriolet, roadster or soft-top – is one with a roof that can be dropped to allow open-top driving. They vary in their design. Most feature fabric roofs but some have hard-top roofs which can be retracted or even removed entirely. A lot of the best convertible cars have electric roofs, meaning they can be dropped at the push of a button (even when moving at low speeds), while some are manually operated.
What is the best convertible car in 2022?
The best convertible car on sale really depends on your requirements. Money no object, we'd be splashing out on a Ferrari 488 Spider or maybe a Rolls-Royce Dawn. But then, a Mercedes-Benz C-Class or E-Class Cabriolet also does a very good job of feeling special, with a slightly more palatable price tag. The Porsche 718 Boxster is a brilliant sports car, while the Mazda MX-5 represents incredible value for money if you're in the market for a two-seater sports car.
What's the best second hand convertible car?
One of our top best convertible car picks, the Mazda MX-5 also just happens to be the best second hand convertible you can buy. Our choice would be the current generation model, with 2016 examples with under 40,000 miles setting you back less than £14,000. These are brilliant little cars that can be happily used as a daily driver.
What's the cheapest convertible car?
The cheapest convertible car on sale is the Peugeot 108 Top. It's a compact city car with a retractable soft-top roof.
Porsche Boxster
2.0 2dr
Peter Vardy Porsche Perth

Perthshire, PH11TJ
PCP: £489.16/mo
Representative example: Contract Length: 36 months, 35 Monthly Payments: £489.16, Customer Deposit: £5,985.00, Total Deposit: £5,985.00, Optional Final Payment: £22,905.00, Total Charge For Credit: £6,110.60, Total Amount Payable: £46,010.60, Representative APR: 7.4%, Interest Rate (Fixed): 7.37%, Excess Mileage Charge: 15ppm, Mileage Per Annum: 10,000
Porsche Boxster
2.0 2dr PDK
Pure Cars Wakefield

West Yorkshire, WF29RY
HP: £1,006.37/mo
Representative example: Contract Length: 36 months, 36 Monthly Payments: £1,006.37, Customer Deposit: £5,472.00, Total Deposit: £5,472.75, Total Charge For Credit: £5,217.07, Total Amount Payable: £41,702.07, Representative APR: 10.9%, Interest Rate (Fixed): 10.9%
More convertible car guides