Best convertibles for £40,000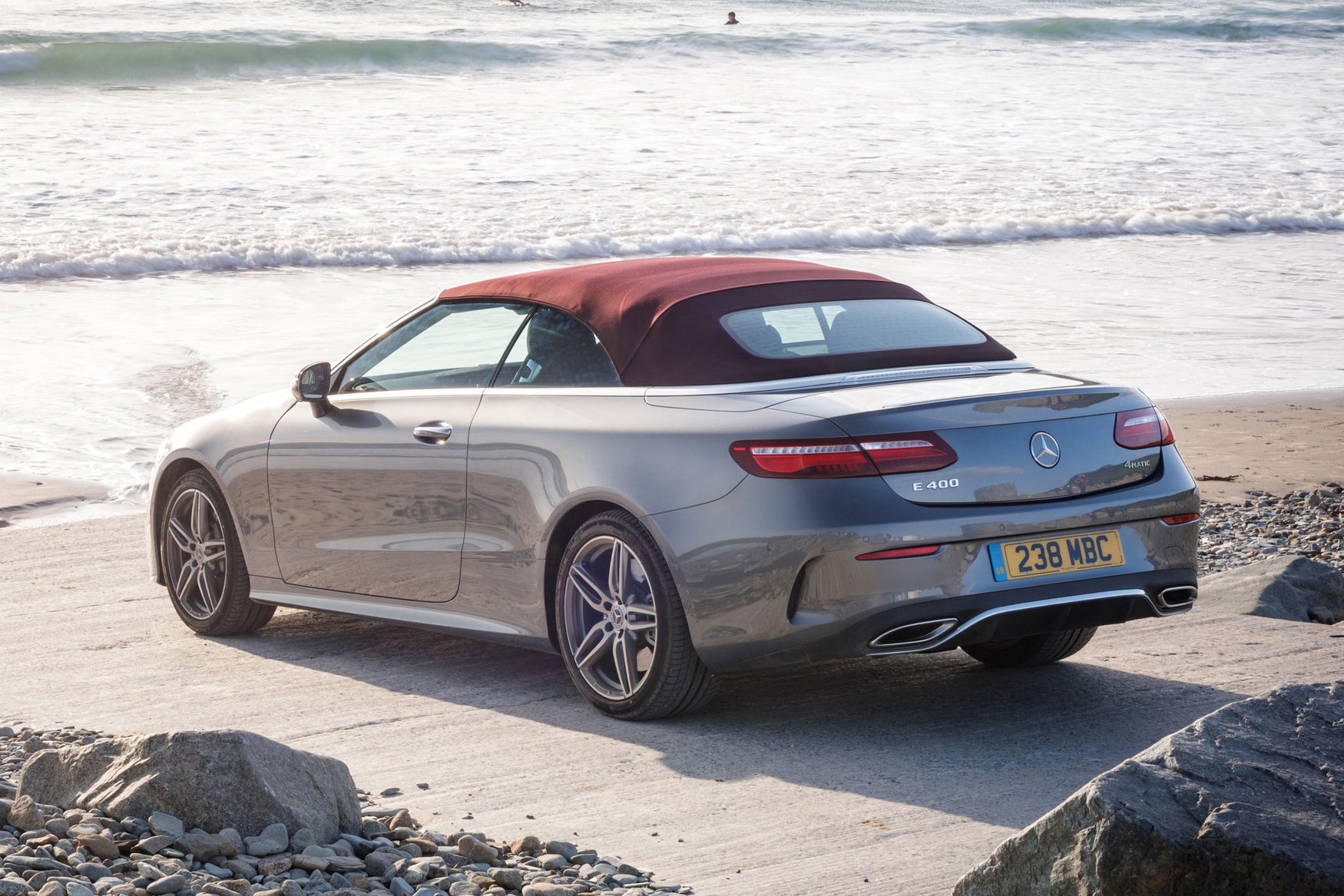 Open-top motoring and luxury cars have traditionally gone hand in hand. After all, no one is buying a soft-top car as a sensible and practical buy.
Convertibles and cabriolets are all about elegance and desirability, plus of course, being seen. If you're a shy wallflower, a convertible is not for you, but if you want wind in your hair motoring, there's plenty of choice.
You don't have to break the bank for a convertible either. So while it's easy to spend close to six figures on a high end convertible, you can get a lot of open-top on a £40,000 budget.
Porsche 718 Boxster
Year launched: 2016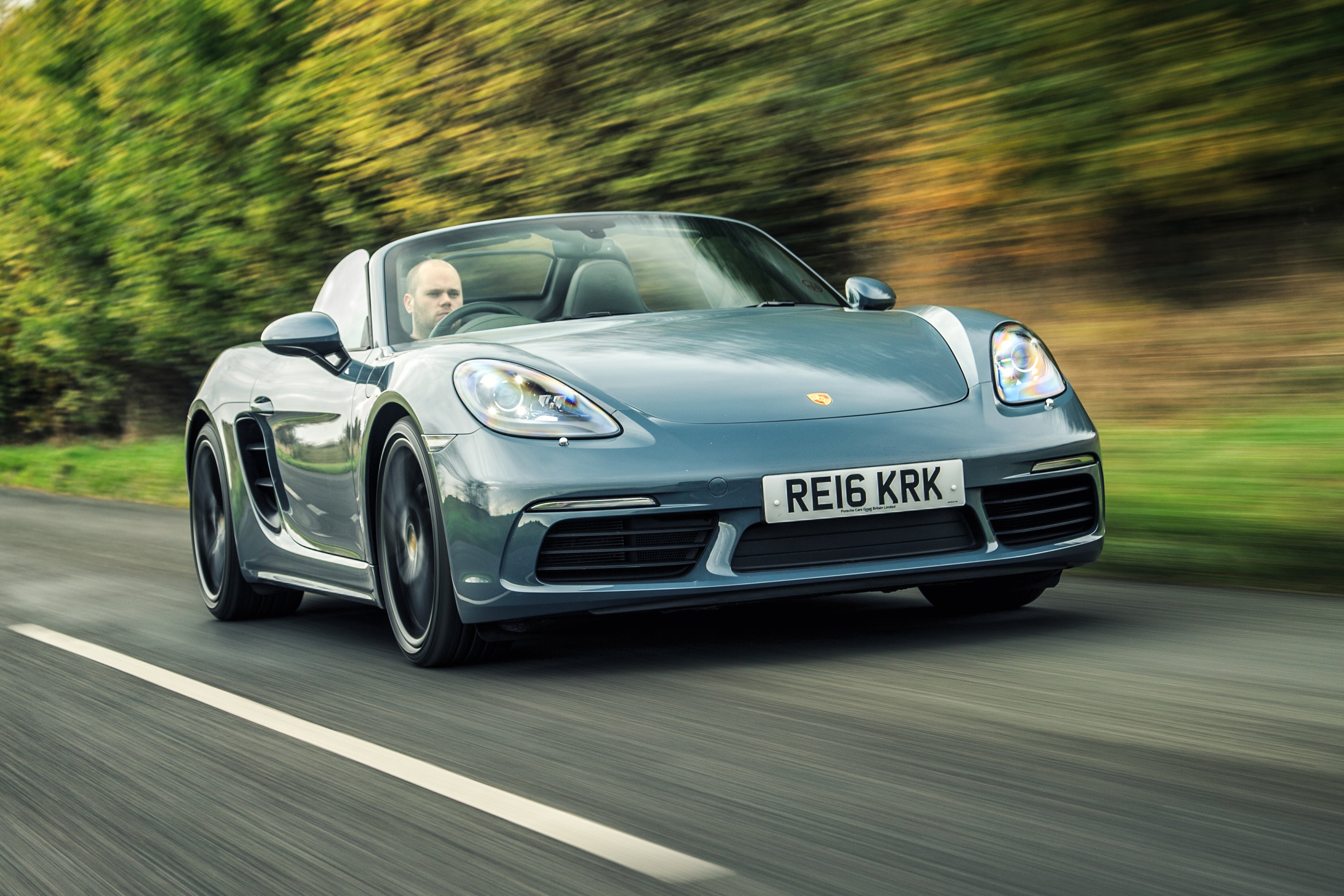 Porsche added the 718 name as part of a midlife facelift to the excellent Boxster. The big changes however came under the bonnet with Porsche (somewhat controversially) ditching its straight six-cylinder engines in favour of smaller four-cylinder units.
This may sound an odd move and true, they don't sound quite as good, but the new engines deliver more power, 35PS to be exact, along with more torque and fast acceleration times. They're also more economical. What hasn't changed is the beautifully balanced handling and poise. The 718 Boxster remains the best handling convertible on the market.
Like all Porsche models, the 718 Boxster holds its value well and even with a budget of £40k you're looking at three-year-old models although you can find 2.0-litre models with low mileages.
Audi A5 Cabriolet
Year launched: 2017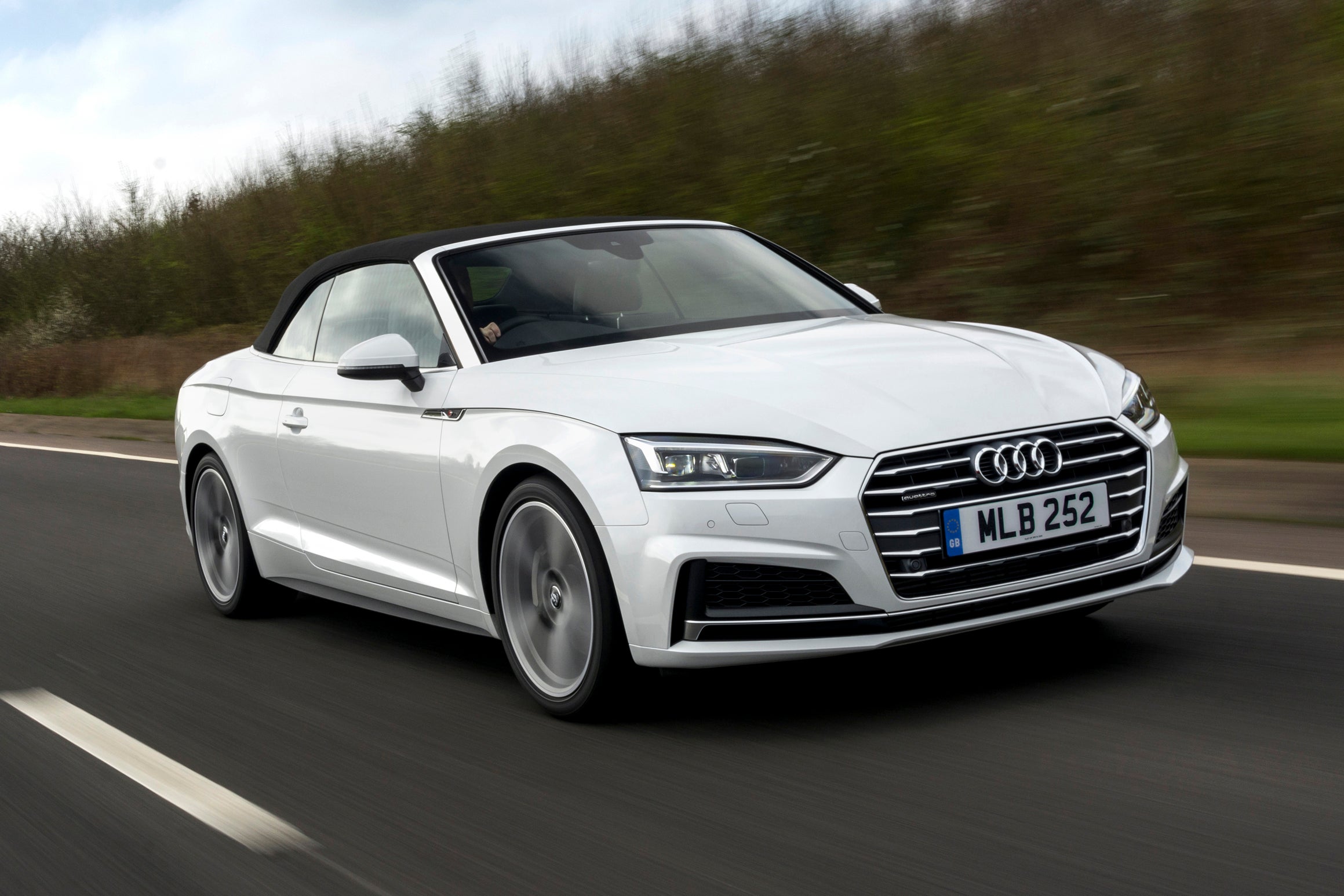 The quality of modern convertibles means you don't have to compromise in the name of open-top motoring, as the Audi A5 perfectly illustrates. As there's no fixed roof, Audi has made the body stiffer – by 40% compared to the Audi A5 Coupe if you're counting – to compensate. The result is pretty much zero body flexing in corners. It drives much like the coupe with very little in the way of body roll and plenty of grip.
The flipside of this rigid body coin is the ride. It's notably firmer than the coupe although far from uncomfortable. The interior is beautifully finished with modern touches and an intuitive layout. All A5 Cabriolet models get the Audi MMI system which is easy to use and, if you go for a Sport model or above, navigation too.
A budget of £40,000 gets you a lot of Audi A5 Cabriolet. You can get a high spec pre-reg model Sport model with the smooth and quiet 40 TFSI engine.
Jaguar F-Type
Year launched: 2013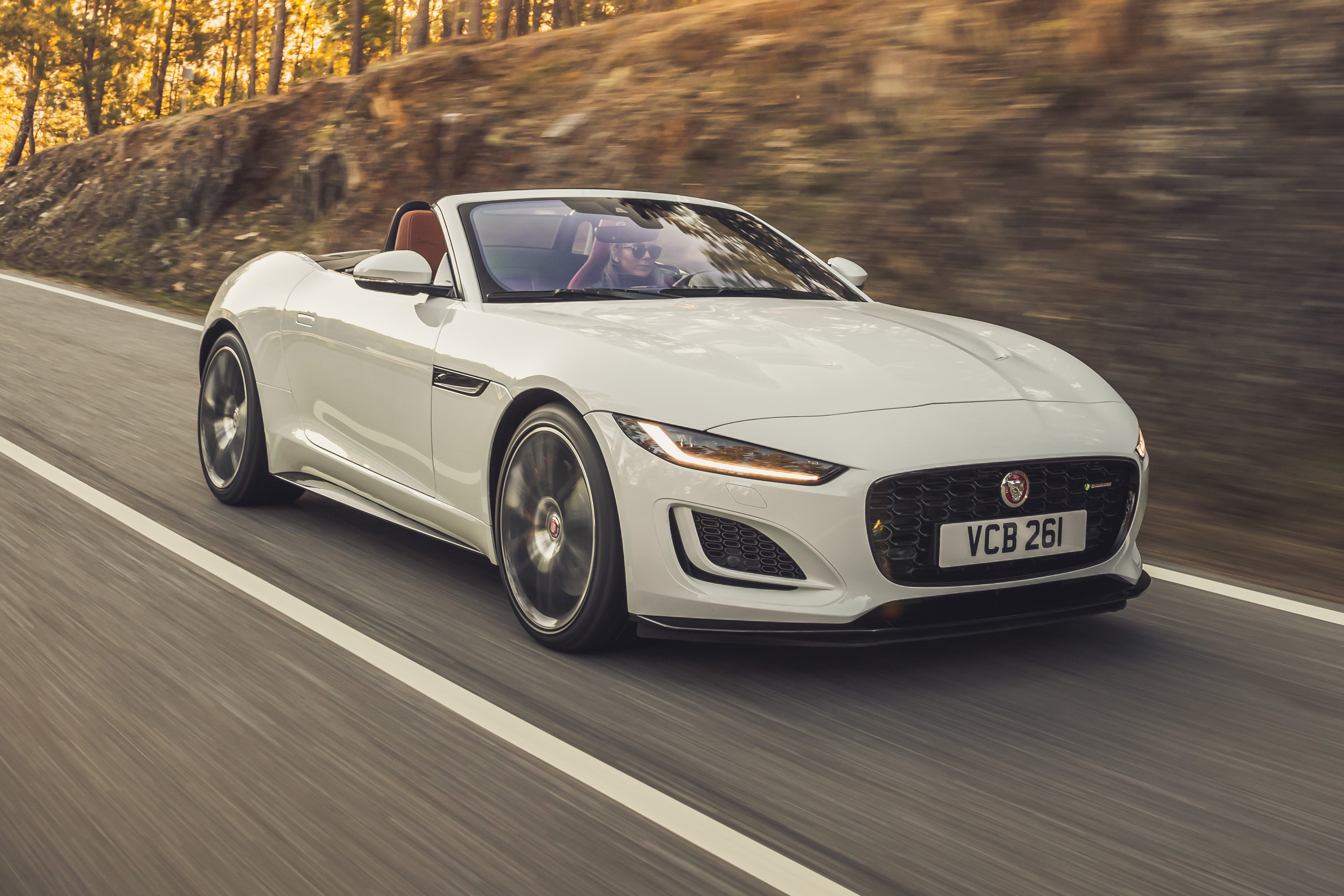 We can think of few cars with the same appeal and aura as the Jaguar F-Type. If you want to impress the neighbours, there's no better way than with an F-Type. This is a car that will always get noticed and while a Porsche 718 Boxster may be better to drive, the F-Type has a character of its own which is hard to resist.
However, even the F-Type isn't immune from downsizing. Just as Porsche has launched a four-cylinder version of its entry-level 718 Boxster, Jaguar has put a 2.0-litre engine in its F-Type. It may be the entry-level engine but with 300PS and a 0-62mph time of 5.7 seconds, it's only half a second slower than the 3.0-litre V6 supercharged model.
Less common than rivals, you can get a 12 months old model with less than 5000 miles at this budget. It feels like a lot of car for the money.
Audi TT RS Roadster
Year launched: 2016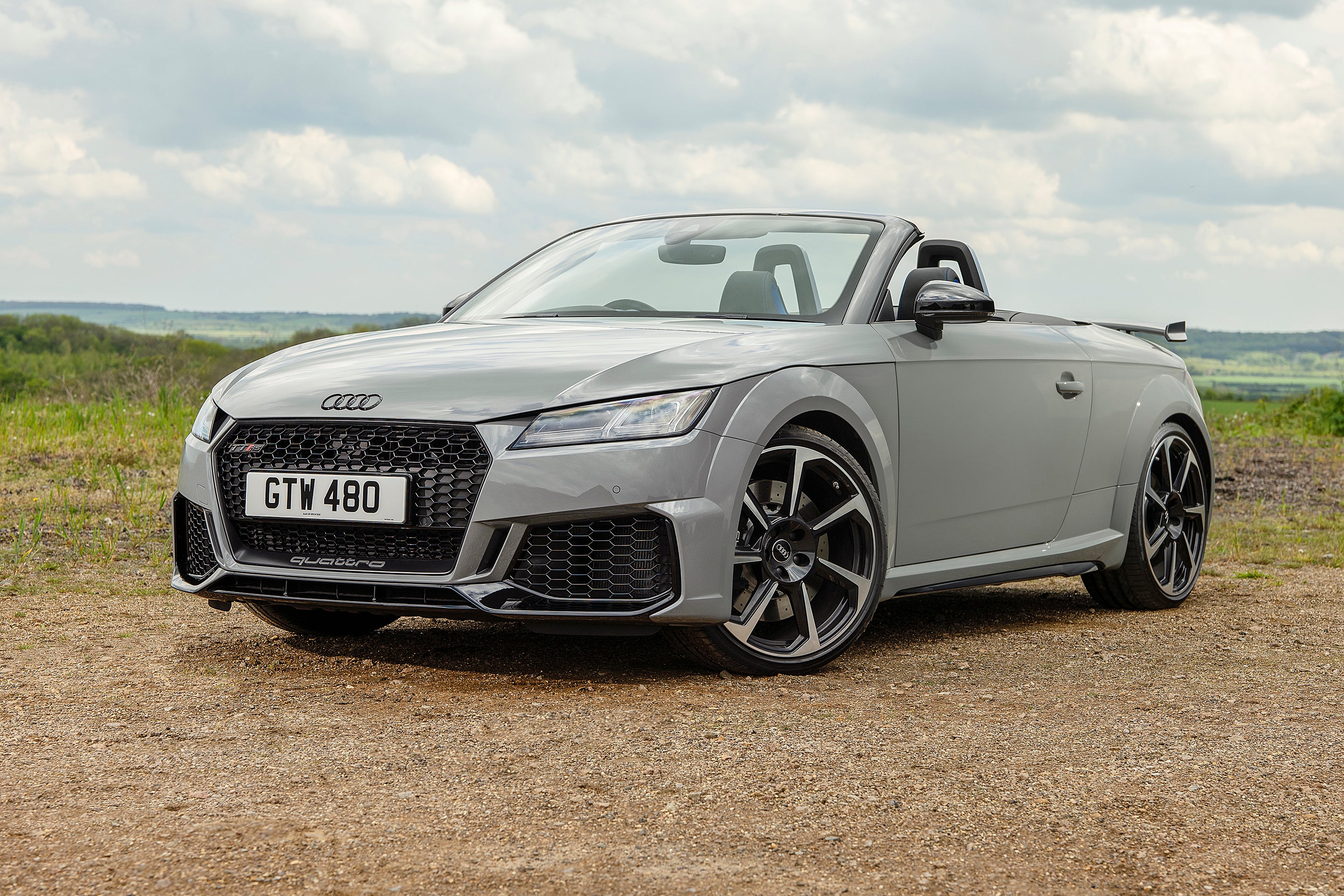 When it comes to big numbers, the Audi TT RS Roadster is a winner on Top Trumps. Thanks to its characterful 2.5-litre engine it produces 400PS while it will cover 0-62mph in just 3.7 seconds. That's quicker than any Porsche Boxster or Jaguar F-Type. But there's more to the TT RS than just power.
For starters there's the sound it creates. The five-cylinder engine is a delight to listen to and with the roof down, you can really enjoy that wonderful sound. With the optional £1000 sports exhaust it sounds even better. Thanks to quattro four-wheel drive, traction from low speeds is excellent and the TT RS is immense through corners with well weighted steering and a low centre of gravity.
At this budget you can get behind the wheel of a two-year-old TT RS Roadster with around 10,000 miles on the clock. Look out for models fitted with the optional sports exhaust.
Alfa Romeo 4C
Year launched: 2014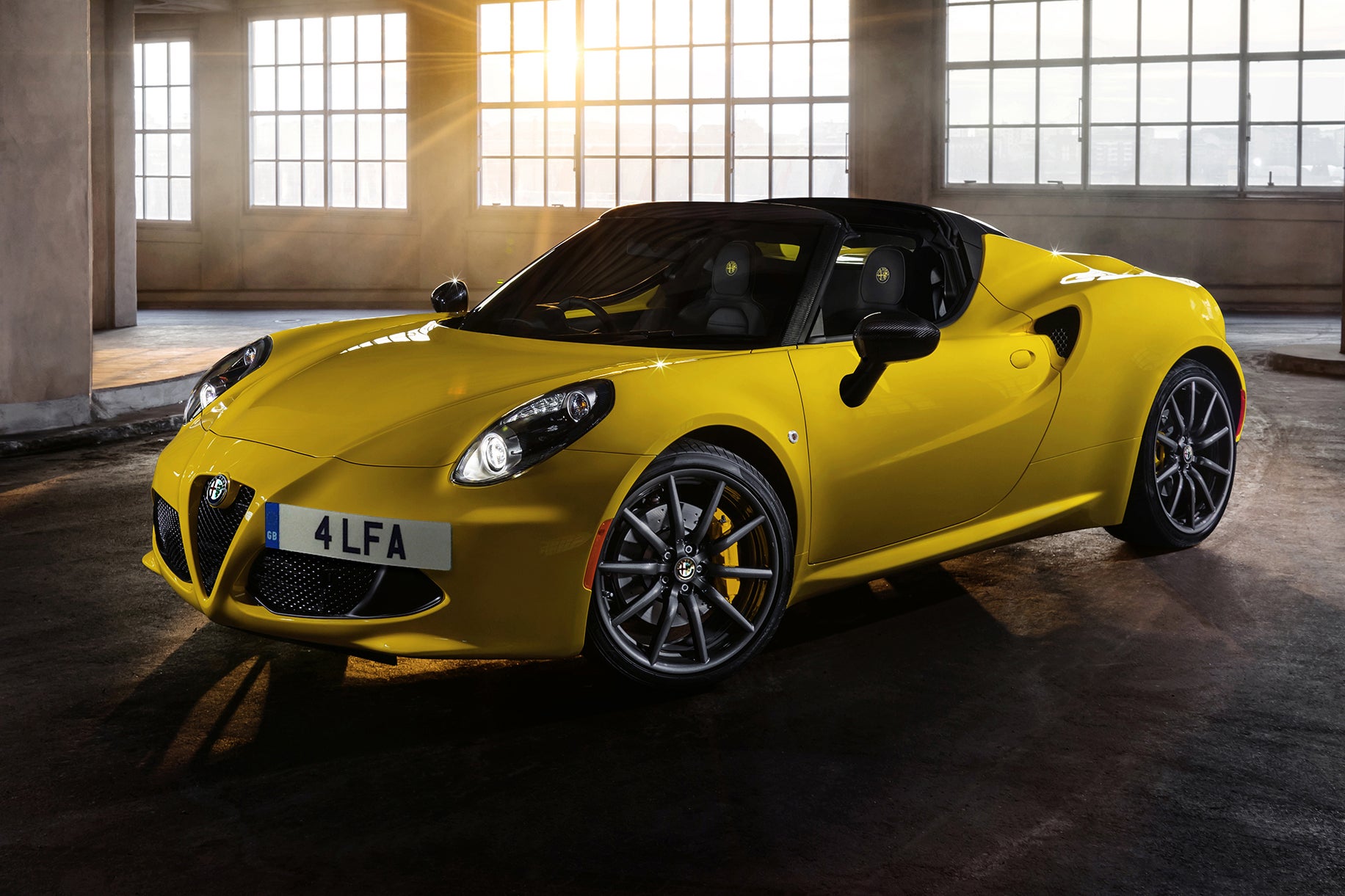 We know the Alfa Romeo 4C is far from perfect, in fact we could spend the next few paragraphs pointing out its flaws, but the 4C is a single minded vehicle that's all about handling and a lightweight design. Comfortable and practical this ain't, however, if it's an exotic and rare sports cars you're after, this 4C will tick the boxes.
This is more a rival to the likes of the Lotus Elise and Alpine A110 than the Porsche Boxster. This is an involving car to drive and not one you'll be relaxing in anytime soon - you feel like you need both hands on the wheel at all times. Power comes from Alfa's 1750 TBi engine boosted to 240PS.
The 4C sold in very small numbers so they are few and far between but you can find a well cared for low mileage example at this £40,000 budget.
BMW M4 Convertible
Year launched: 2014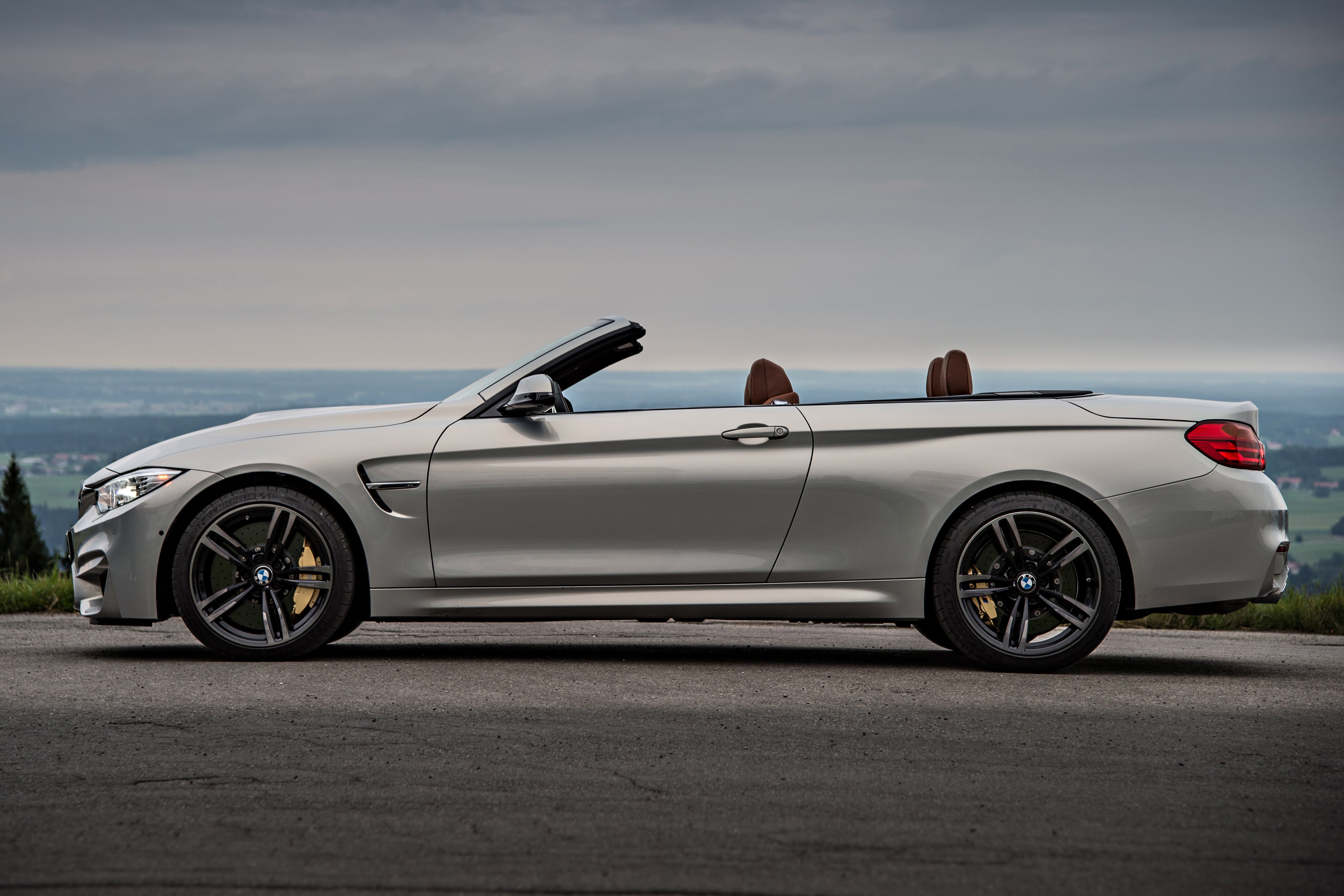 Sitting at the top of the BMW 4 Series range is the thunderous M4, complete with its 3.0-litre six-cylinder engine that replaced the V8 of its predecessor but actually has more power with 431PS. While the engine may have lost some cylinders, it still has the same thunderous nature and storming performance.
Yet the M4 is also comfortable and Adaptive M suspension comes as standard on all models so you can alter the stiffness of the suspension from comfortable to stiff. It's this blend of everyday useability, handling poise and a great soundtrack that makes the M4 such a sublime performance car.
You can pick up a two year old M4 at this budget with the optional Competition Pack, which is well worth it.
Mercedes-Benz SL
Year launched: 2012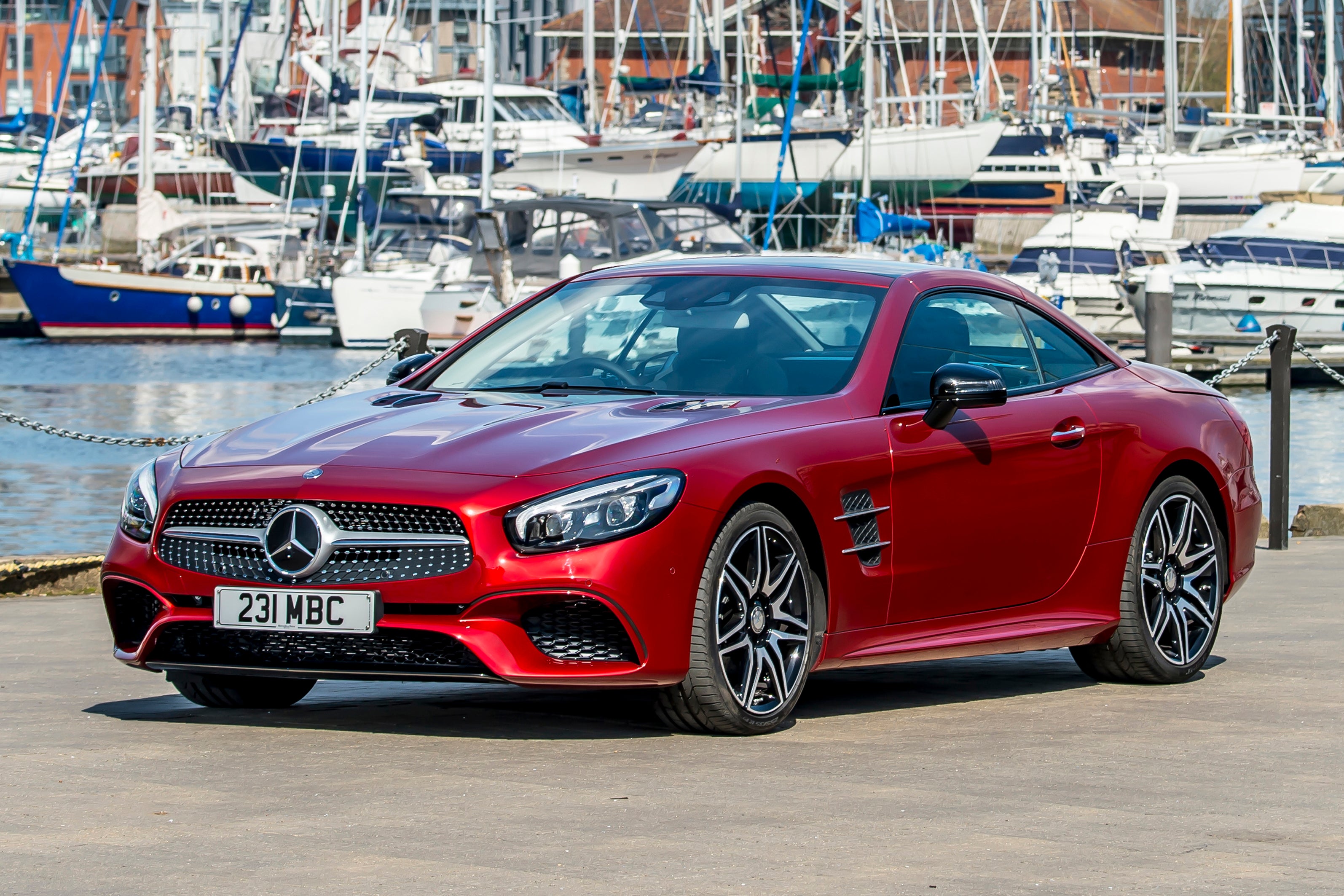 The Mercedes SL may no longer enjoy a reputation as the epitome of luxury convertibles as it did in the 1970s and 80 - indeed this later incarnation is not the best looker (although better after the 2016 facelift), but it remains a very comfortable and classy open-top grand tourer.
It may be a strict two seater but it at least makes a nod at being practical. With the roof up, you'll get away with a few weekend bags in the boot, although fold it down and there's barely enough room for a couple of briefcases. On the plus side, one neat feature is that the roof lifts up when it's folded away, making it easier to get things in and out.
Aside from the AMG version, the SL is about effortless performance rather than sportiness. The SL400 is the best version to go for with its V6 biturbo engine.
BMW Z4
Year launched: 2019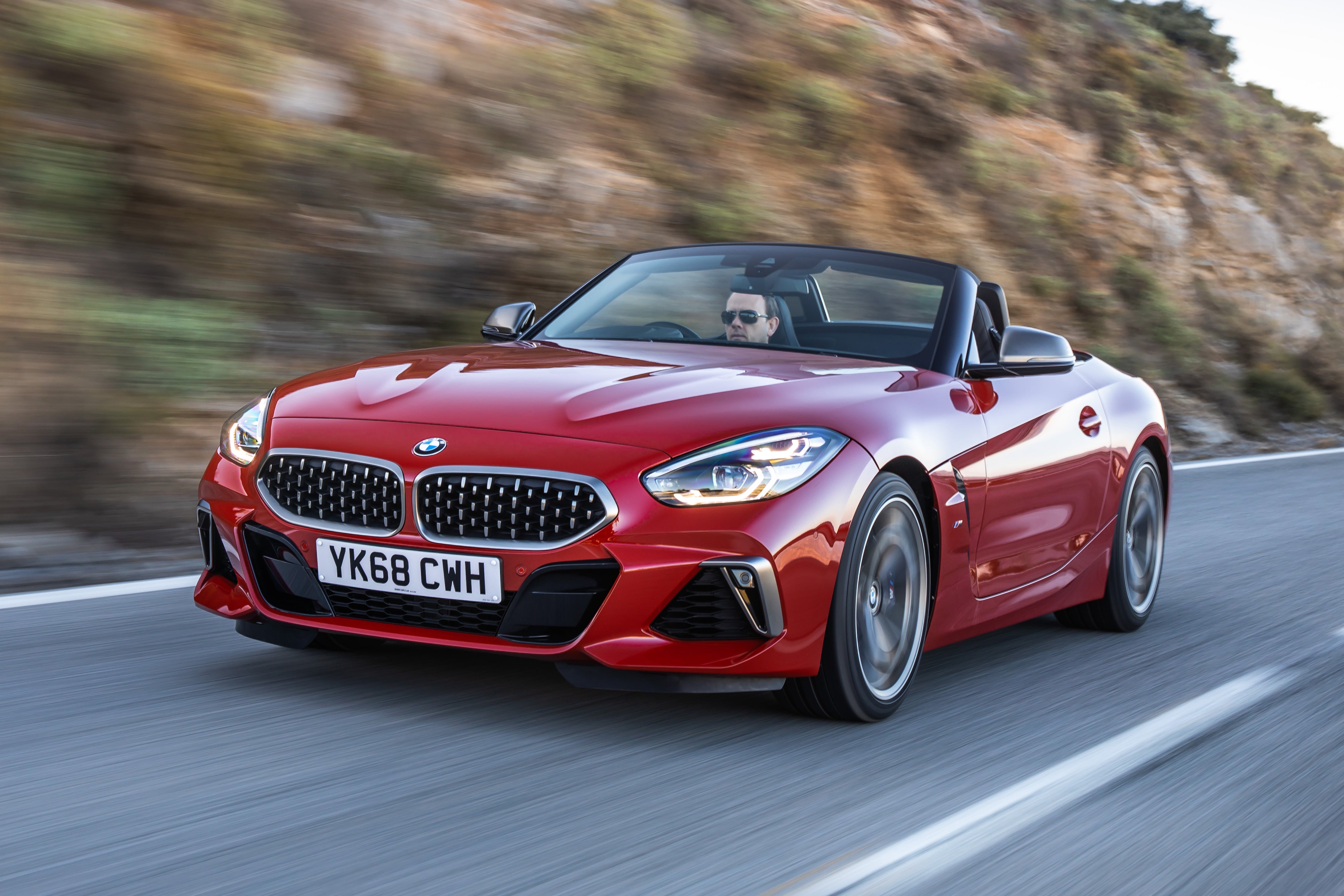 The latest BMW Z4 is larger, more luxurious and GT-like than ever before. Admittedly, it makes some compromises when it comes to handling - it's no match for the Porsche 718 Boxster - but the Z4's quality shines through with a refined and comfortable drive that makes it apt for long-distance travel.
The best engine in the range is the M40i with its 340PS six-cylinder petrol engine, plus there's the 2.0-litre sDrive30i producing 258PS and the entry-level sDrive20i with 197PS. All models come with an excellent eight-speed automatic gearbox, which always seems to find the right gear. Selecting sport mode results in almost instant up or down shifts, plus there's paddle shifters on the steering wheel.
A budget of £40,000 will get you a nearly new Z4 with just delivery miles on the clock and we'd be very tempted by an M40i model at this budget.
Mercedes-Benz E-Class Cabriolet
Year launched: 2017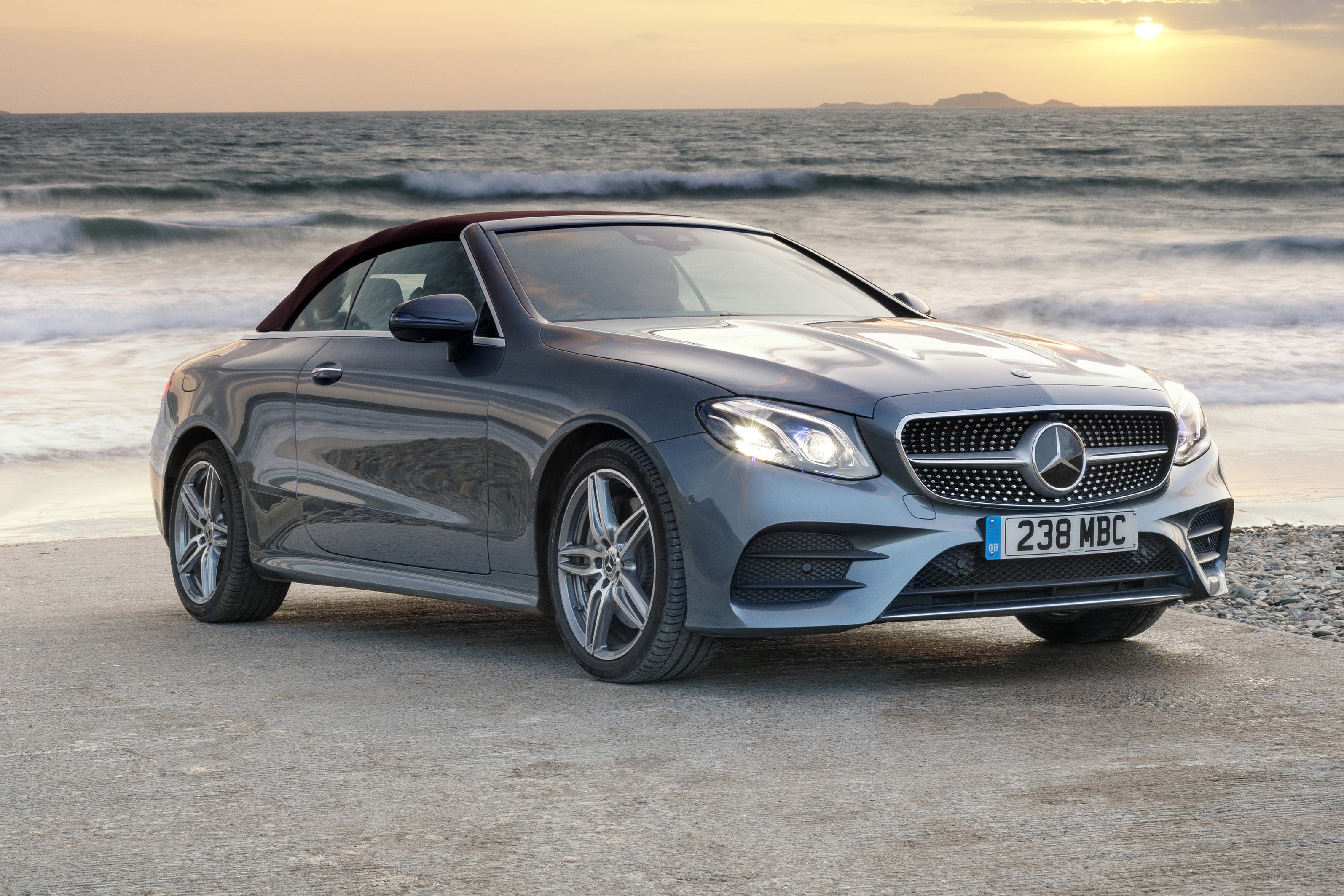 There's something a little special about the latest Mercedes E-Class Cabriolet that helps it stand apart from rivals like the Audi A5 Cabriolet and BMW 4 Series Convertible. It's bigger and more expensive than those two for starters but it also has more of a luxury feel inside with the same superb interior as the E-Class saloon and wonderfully comfortable seats.
And talking of seats, there are four genuinely useable seats in the E-Class Cabriolet, although that's very much dependent on how much legroom those in the front want. The engine range includes the economical E220d, although we'd much rather a petrol in an open top with the E350 delivering both refinement and performance.
While the E-Class was facelifted in mid 2020, at this budget you'll be looking at pre-facelift models although you can pick up an example that's just a few months old that's covered less than 3000 miles.
BMW 2 Series Convertible
Year launched: 2015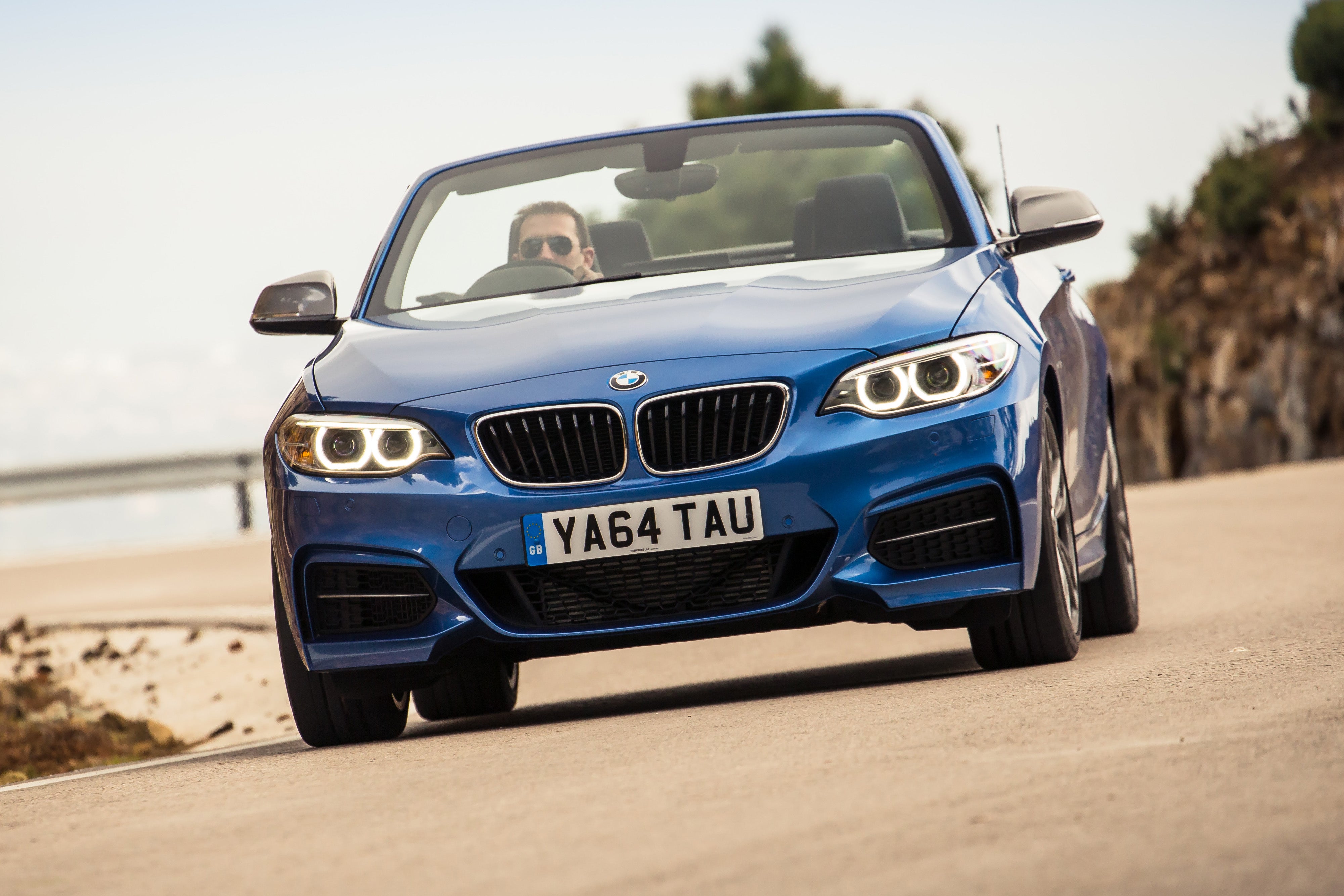 While the 2 Series Convertible is smaller than most of the cars here, there's good reason for recommending it alongside some of its rarified competitors. For starters, you can get a pretty much brand new high spec 2 Series Convertible at this budget. There are pre-reg models M240i models around which we'd be very tempted by if you want a high quality and high performance convertible.
It may not be as flash as a Porsche 718 Boxster but the M240i Convertible is still a great handling soft top with a great sounding 3.0-litre six-cylinder engine that delivers 340PS. Forget about the rear seats, they're strictly for your coats, instead see it as a two-seater with at least a modicum of practicality, compared to say a BMW Z4.
There's plenty of fun to be had through the corners, roof up or down, thanks to its precise and responsive steering, plus the classic BMW rear-wheel-drive set-up.
The best convertible to buy in 2020 is the affordable but fun Mazda MX-5. It's without doubt the best handling convertible and enjoyable to drive at any speed. If you have a bigger budget, the BMW Z4, co-developed with Toyota - is a high quality choice. If you need four seats, the Mercedes E-Class Cabriolet is an excellent convertible.
The C-Class Convertible just edges out the E-Class Convertible as the best convertible in the Mercedes-Benz range. It's cheaper to buy but just as sleek and stylish plus it comes with a wide range of engines with everything from economical diesels to high performance AMG models.
The best four-seat convertible is the Mercedes-Benz E-Class Cabriolet which is refined to drive with a sophisticated and quality cabin. It's just ahead of the Audi A5 Cabriolet and BMW 4 Series Convertible.
Reviews of more convertibles for £40,000
Porsche Boxster
2.0 2dr PDK
Manufacturer Approved
Dick Lovett Porsche Swindon

Wiltshire, SN58YG
PCP: £609.92/mo
Representative example: Contract Length: 36 months, 35 Monthly Payments: £609.92, Customer Deposit: £6,277.00, Total Deposit: £6,277.50, Optional Final Payment: £19,817.50, Total Charge For Credit: £5,592.20, Total Amount Payable: £47,442.20, Representative APR: 6.9%, Interest Rate (Fixed): 6.88%, Excess Mileage Charge: 18ppm, Mileage Per Annum: 10,000
Porsche Boxster
2.0 2dr PDK
Manufacturer Approved
Dick Lovett Porsche Bristol

Gloucestershire, BS107UH
PCP: £609.75/mo
Representative example: Contract Length: 36 months, 35 Monthly Payments: £609.75, Customer Deposit: £5,998.00, Total Deposit: £5,998.50, Optional Final Payment: £17,893.75, Total Charge For Credit: £5,243.50, Total Amount Payable: £45,233.50, Representative APR: 6.9%, Interest Rate (Fixed): 6.88%, Excess Mileage Charge: 18ppm, Mileage Per Annum: 10,000
Porsche Boxster
2.7 2dr PDK
Listers U Northampton

Northamptonshire, NN39HW
HP: £859.08/mo
Representative example: Contract Length: 36 months, 36 Monthly Payments: £859.08, Customer Deposit: £4,798.00, Total Deposit: £4,798.50, Total Charge For Credit: £3,735.38, Total Amount Payable: £35,725.38, Representative APR: 8.9%, Interest Rate (Fixed): 8.53%