Best diesel SUVs

Written by
Russell Campbell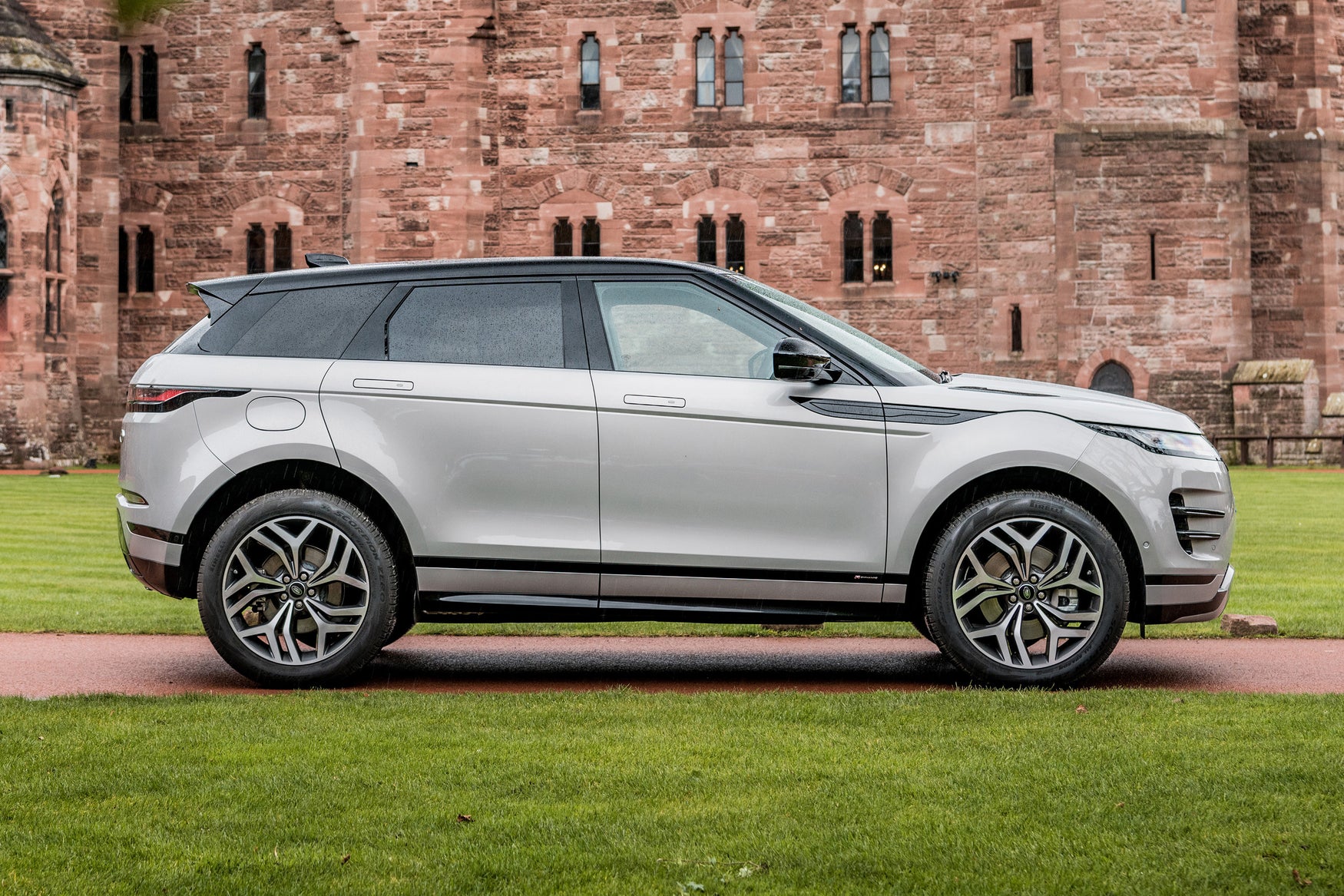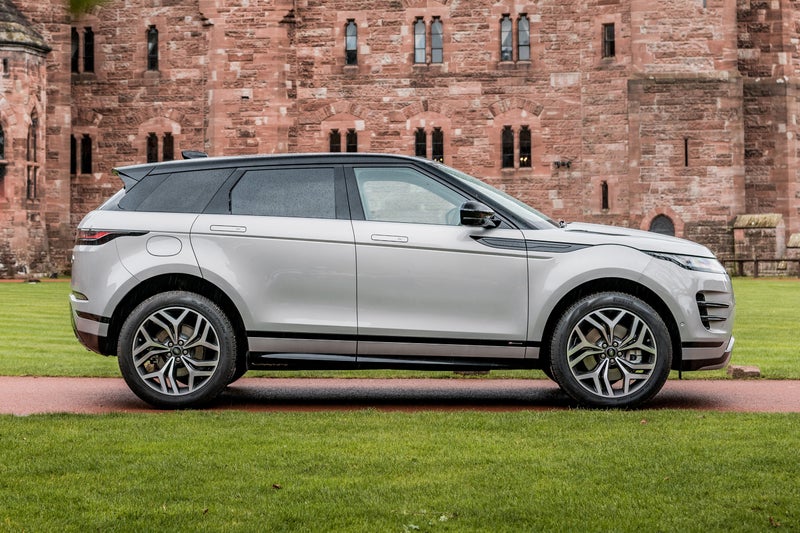 Looking to choose from a list of the best diesel SUVs? Well, you've come to the right place. This list of the best diesel SUVs covers a range of sizes and gives you a choice between mainstream brands and something, well – a little bit fancier.
All the cars here offer excellent practicality for their size and running costs that you'll find extremely affordable. We have also tried to choose cars that offer a broad range of driving characteristics from cars that are designed to be sporty, to models that focus more on being comfortable and cosseting. Keep reading for heycar's guide to the best diesel SUVs.
Volvo XC40
Year launched: 2018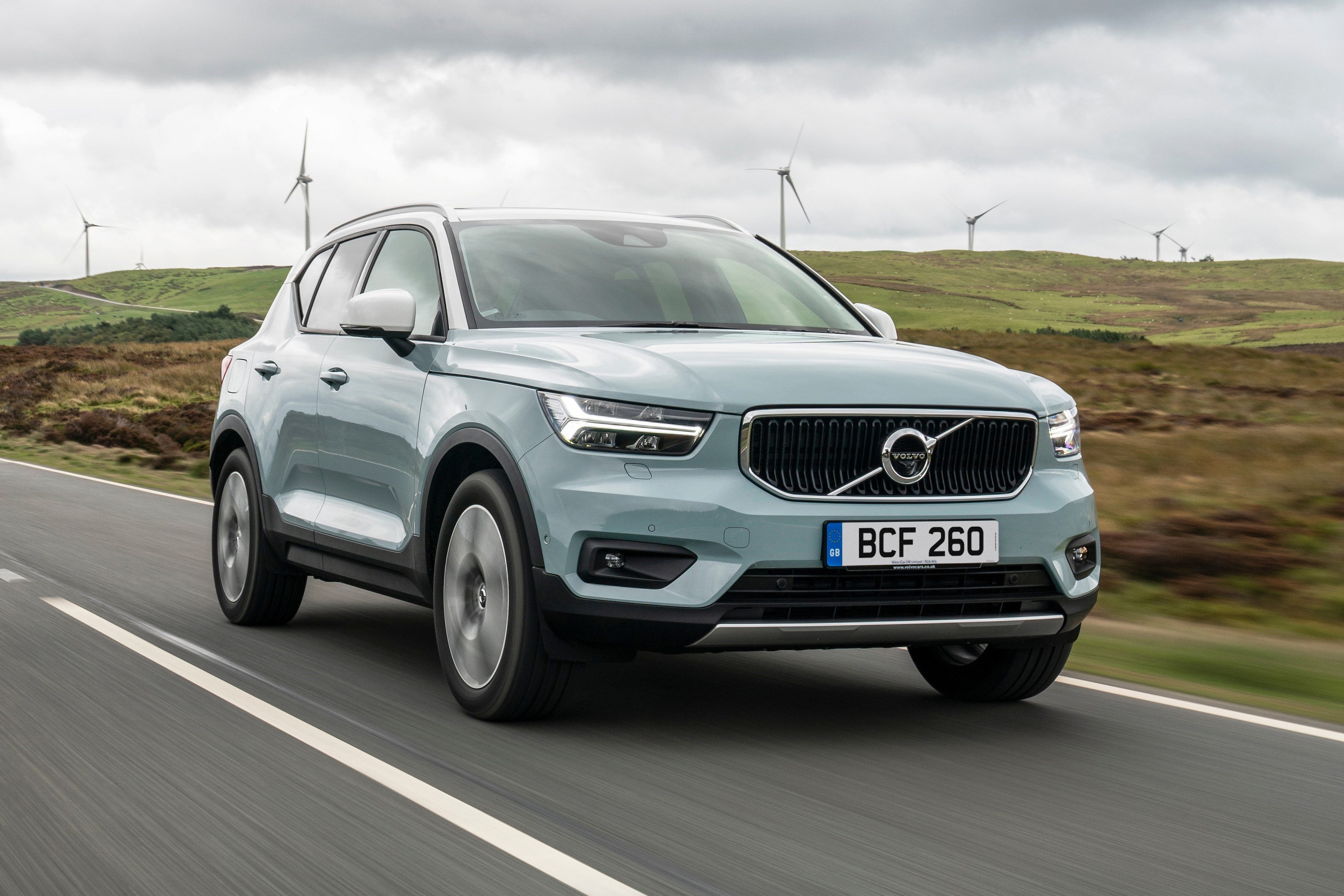 All Volvo's SUVs are excellent but the Volvo XC40 adds a dollop of fun that's missing from the larger models. Its looks are more striking and it's available with some bright interior finishes – choose the D4 model and you'll also have one of the best diesel SUVs available.
Volvo's 2.0-litre D4 diesel engine produces 190PS which is enough to get the XC40 from 0-62mph in a brisk 7.9 seconds, although it feels quicker than that in the real world. Impressive when you consider it can return around 50mpg if driven carefully.
You can have your XC40's interior finished with large swathes of orange trim, which looks much better than it sounds, either way, its interior is very spacious and, of course, you can expect the XC40 to be very safe.
Volkswagen T-Cross
Year launched: 2018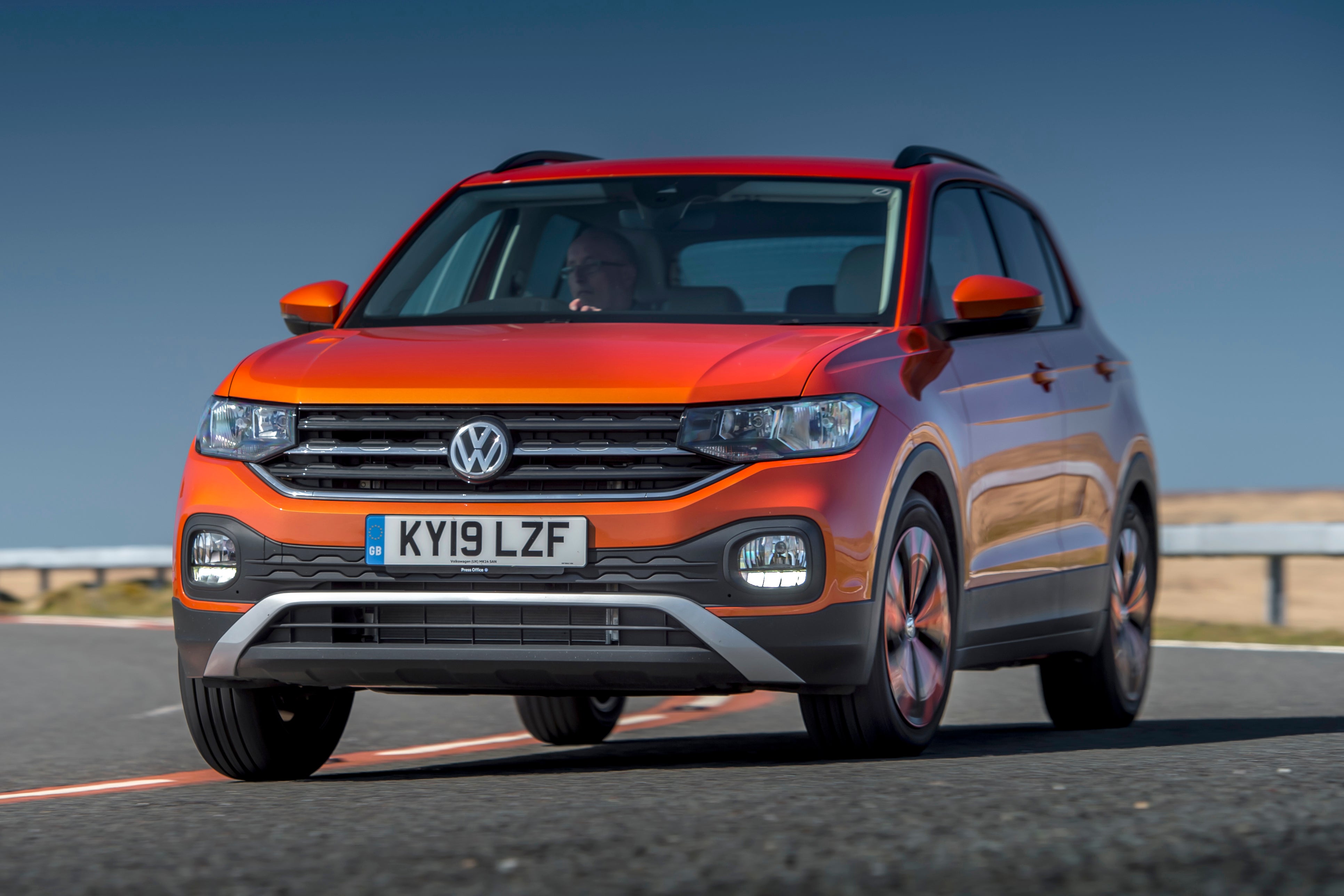 The Volkswagen T-Cross is another small SUV that has been injected with a little more fun than the larger models in the range. To that end, the T-Cross is available with contrast paints jobs among other customisation options that help make it stand out.
That said, it's just as logically designed as VW's other SUVs with a dashboard that's easy to fathom and an infotainment screen which has its menus laid out very logically. It's pretty small, but the T-Cross has room for four adults and a large boot for its size.
Choose the 1.6-litre diesel engine and you'll see fuel economy of close to 55mpg without having to drive like a saint and the engines' strong mid-range gives it plenty of poke for motorway overtakes.
Peugeot 3008
Year launched: 2017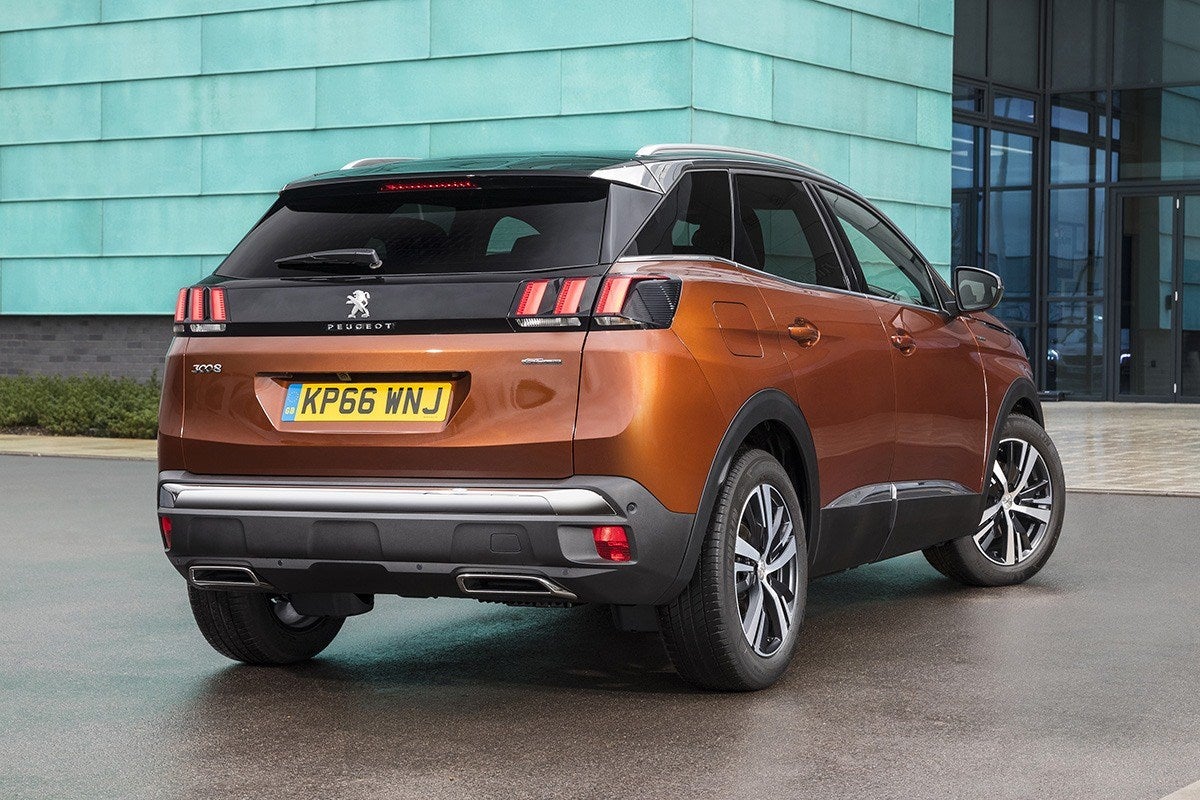 Peugeot's been guilty of pumping out some fairly anonymous-looking cars in the recent past, but striking models like the new Peugeot 3008 mark a return to form. It's a sensible car that can also excite you and it's good to see that enthusiasm carry through to the inside.
There you'll find a stylish dashboard design housing up to two large infotainment screens complete with snazzy graphics. That said, the practical stuff is taken care of as well, the 3008's got room for four adults and the boot is big too.
The 1.5-litre 130PS diesel model is very cheap to run – it can return more than 50mpg – and while 0-62mph in a touch under 12 seconds doesn't sound earth-shattering, the car's hearty mid-range more than makes up for it.
Audi Q7
Year launched: 2015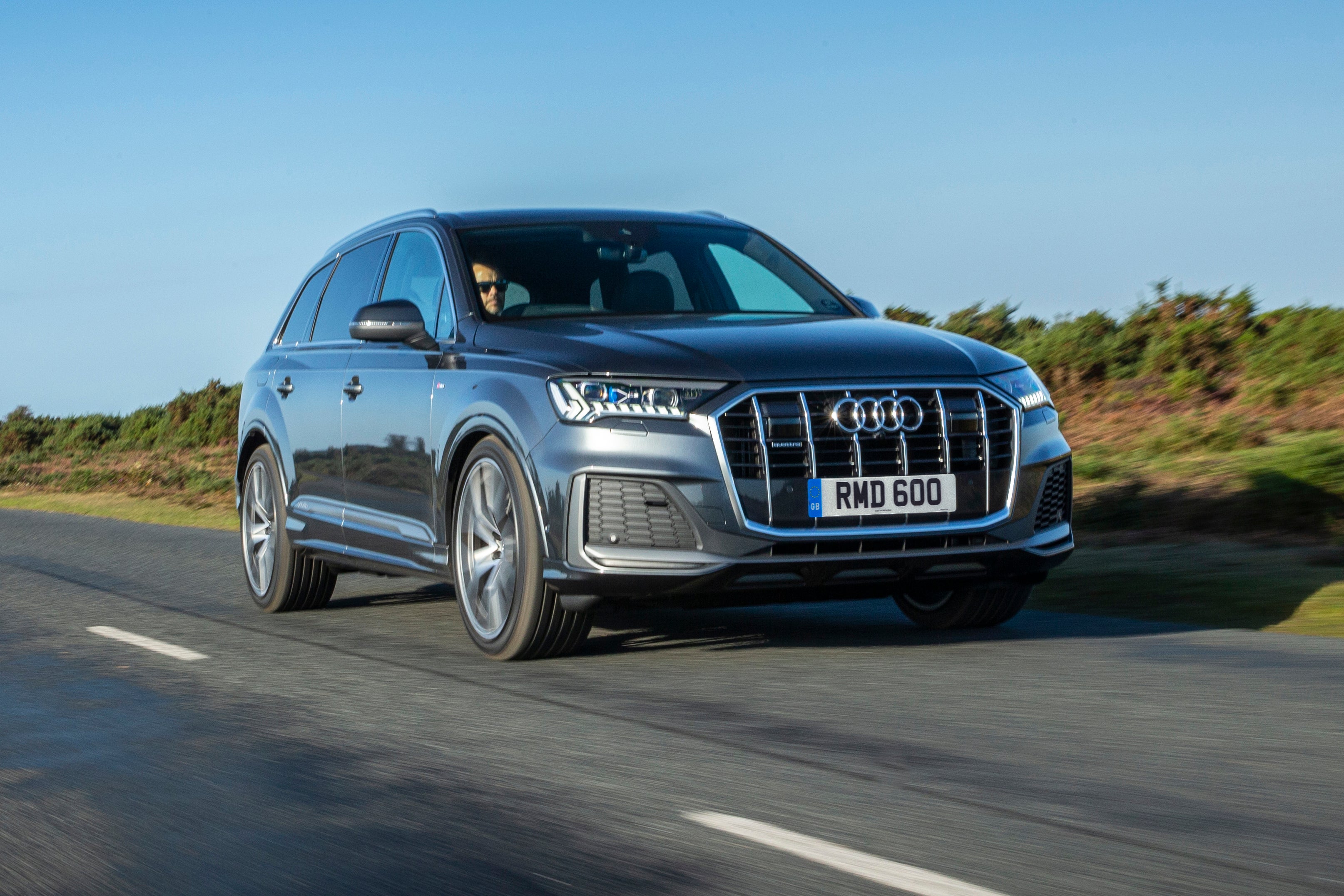 If you want to get yourself behind the wheel of a posh seven-seater SUV then you'll not do much better than choosing the Audi Q7 particularly when it's fitted with the company's superb 50TDI diesel engine.
It's a 3.0-litre six-cylinder producing 286PS, which translates into acceleration of 0-62mph in a little over six seconds – that's hot hatch quick – yet it can also return around 38mpg and is as smooth as silk.
The Q7 – with its excellent build quality and pretty infotainment screens – isn't just a very classy operator, it's also very practical. All its seven seats will accommodate adults and with the third row folded away its boot is huge.
Skoda Kodiaq
Year launched: 2016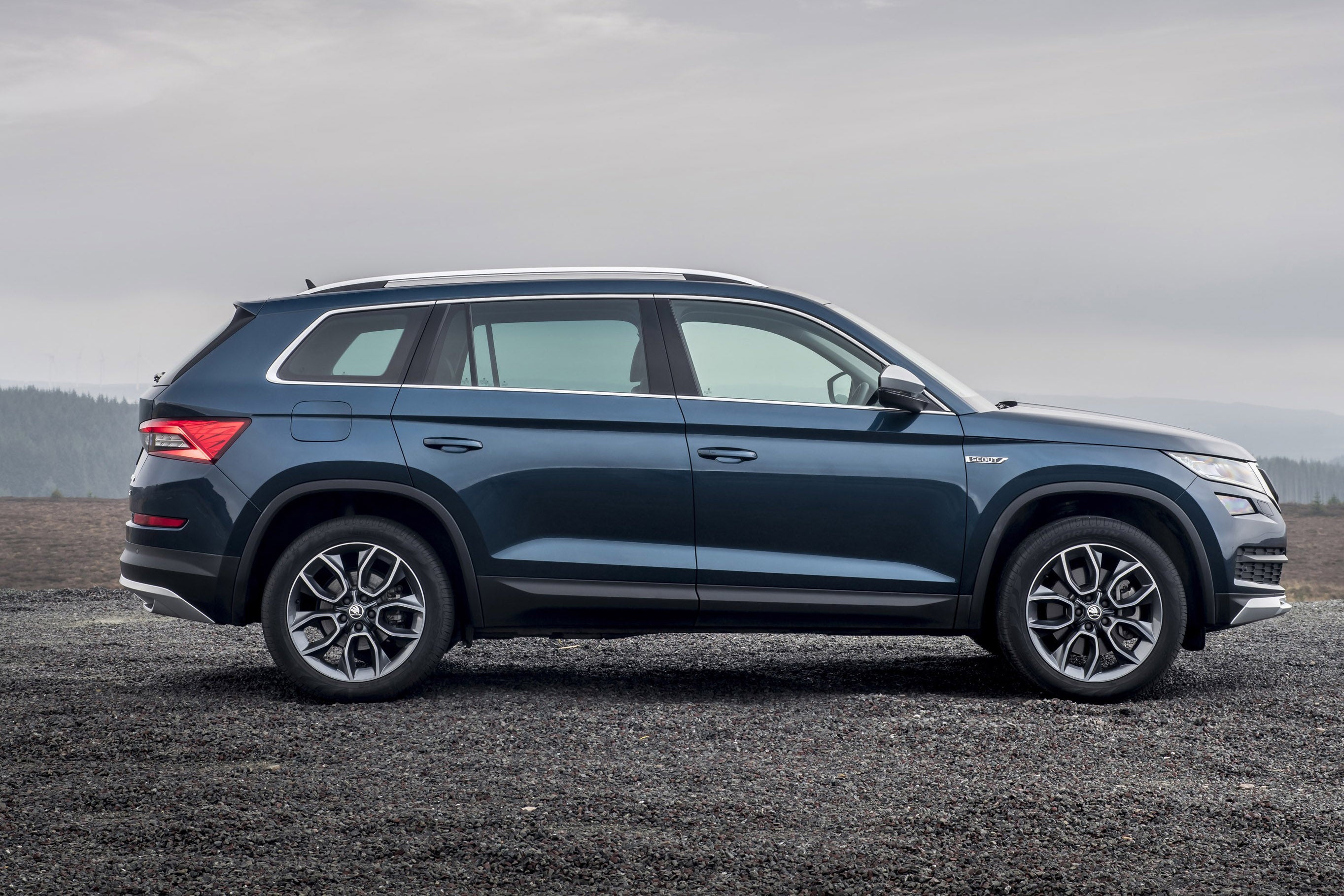 The Skoda Kodiaq is a handsome SUV that should be right at the top of your shopping list if you're looking for a car that won't break the bank, yet is very nicely built and also very practical.
Its cabin is well made and feels robust, is crammed full of useful cubbies and comes with an infotainment system that's a treat to use. It also has up to seven seats and with the third row folded away the boot is very big.
The reason it's on this list of the best diesel SUVs is down to its 150PS diesel engine which is smooth and punchy, but also very good on fuel – returning just less than 50mpg under tougher new WLTP fuel tests.
Citroen C5 Aircross
Year launched: 2018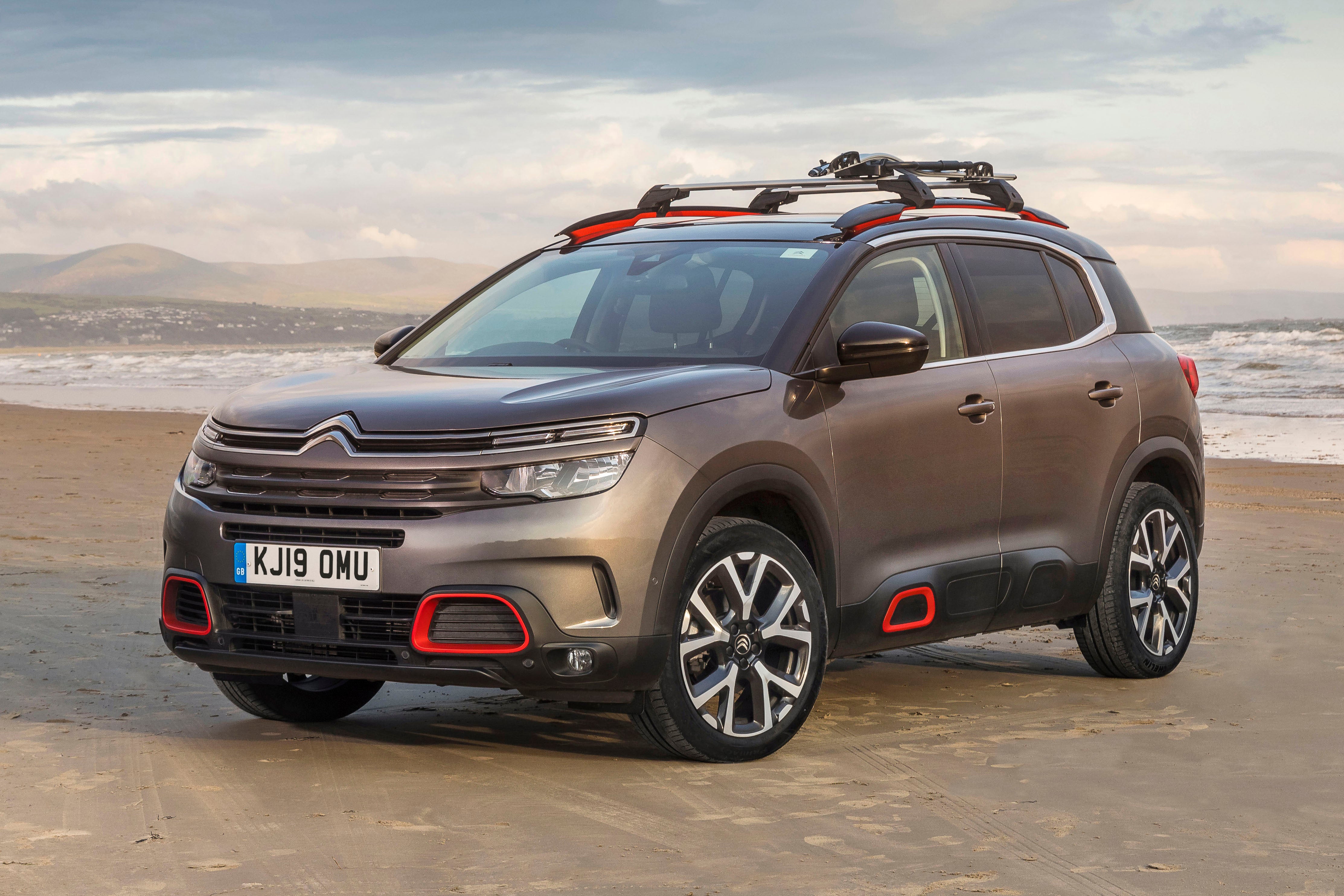 The Citroen C5 Aircross has got the same bold styling that you've already seen on the smaller C4 model complete with Airbump plastic cladding that helps guard against car park bumps and scrapes.
There's a similarity bold design on the inside where you'll find high-tech infotainment screens galore and some fetching contrast finishes. Citroen's packed the C5's seats with memory foam to make them extremely comfortable, it has lots of room for four and a big boot.
The driving experience is pretty unique too, with spongy suspension that makes it feel a bit like you're driving an American classic though, admittedly, with a lot more composure in corners. Its 130PS diesel engine is quiet and smooth and it'll get close to 50mpg fuel economy.
Range Rover Evoque
Year launched: 2019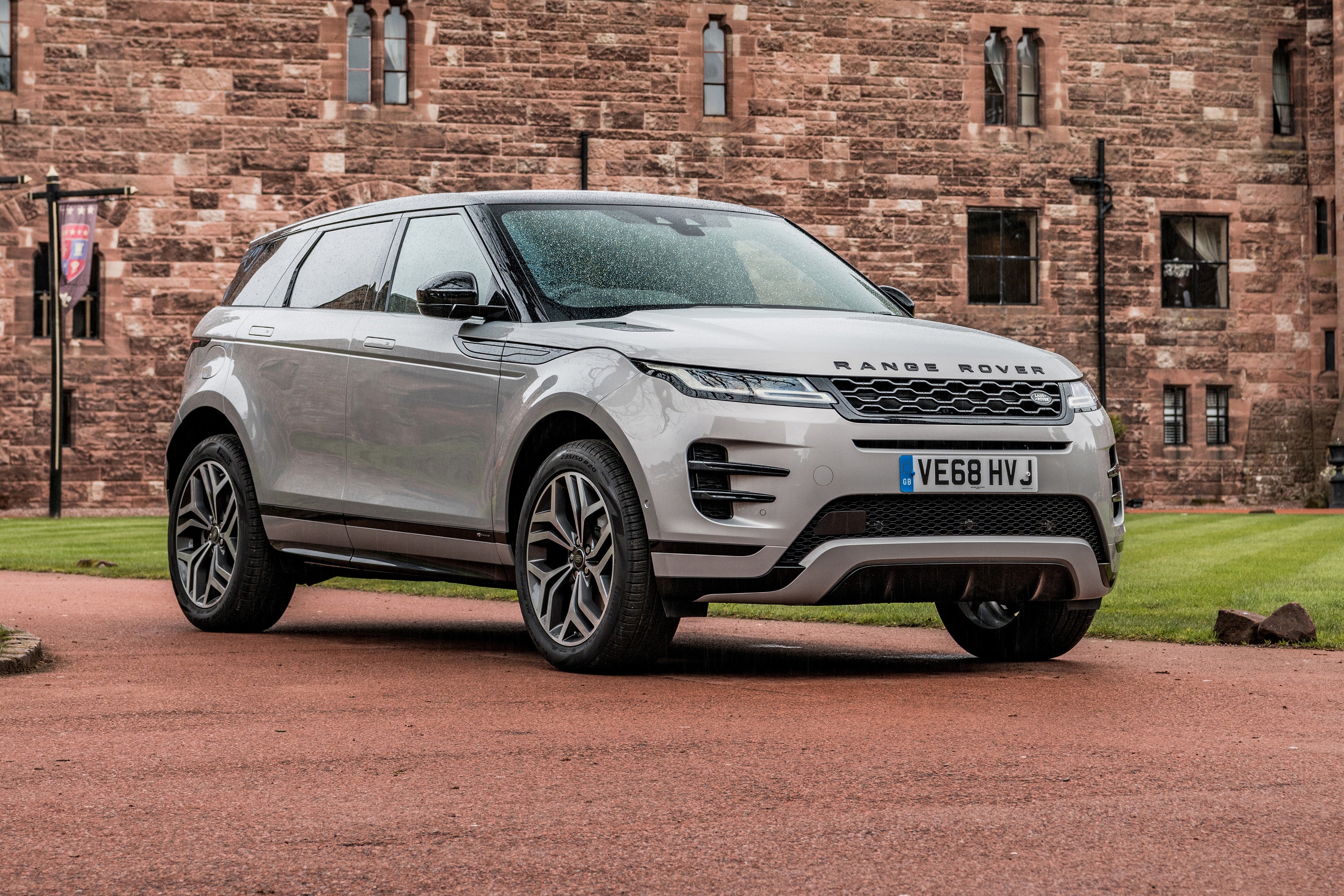 The original Range Rover Evoque looked so good Land Rover have barely changed the design of this new model, although if you squint long enough you'll spot it has a cleaner design with recessed door handles that pop out when you unlock the car. They'll be fun when they go wrong...
It's the same story on the inside where the Evoque feels every inch the baby Range Rover thanks to its leather-covered dashboard and soft leather seats. It's practical too with room for four adults and a practical hatchback-style boot.
The D150 (with 150PS) is fine, but we'd upgrade to the D180 which has useful extra shove. The Evoque's interior has plenty of sounds deadening to keep the cabin quiet and the car's nine-speed automatic gearbox helps it return fuel economy of around 35mpg.
SEAT Ateca
Year launched: 2016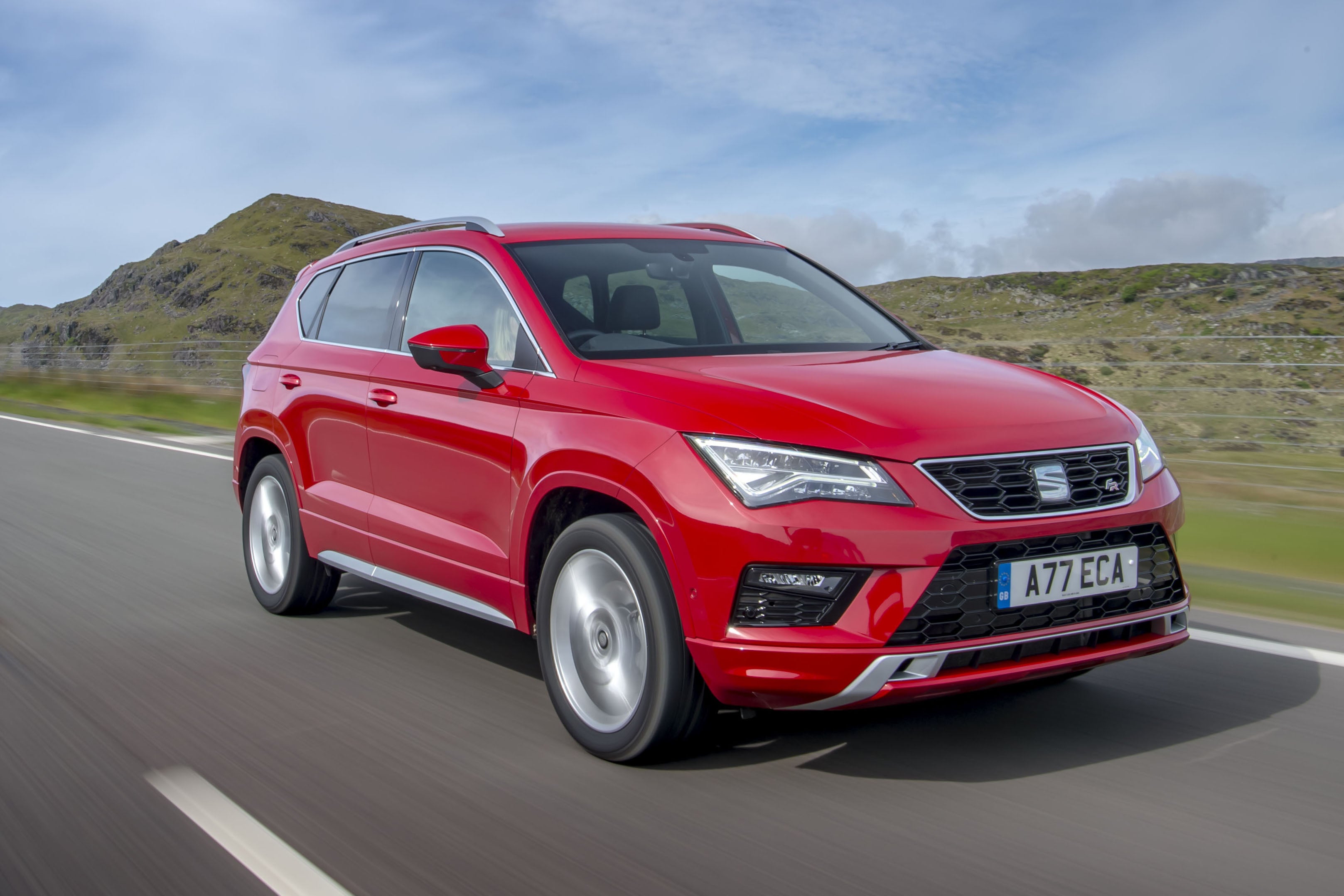 The SEAT Ateca is a car that does everything very well – much like the Volkswagen Tiguan and Skoda Karoq with which it shares many of its parts. Tested back-to-back, the SEAT feels every so slightly sportier to drive than the other two.
You can have it with a 150PS diesel engine, but you're as well going for the 115PS 1.6-litre version which can return more than 55mpg under tough new WLTP test conditions and has plenty of poke for overtaking and driving on the motorway.
The Ateca's interior is smart looking and its dashboard is logically arranged with an infotainment screen that's easy to get the hang of. The SEAT has room for four people and the boot is big and practical.
BMW X1
Year launched: 2015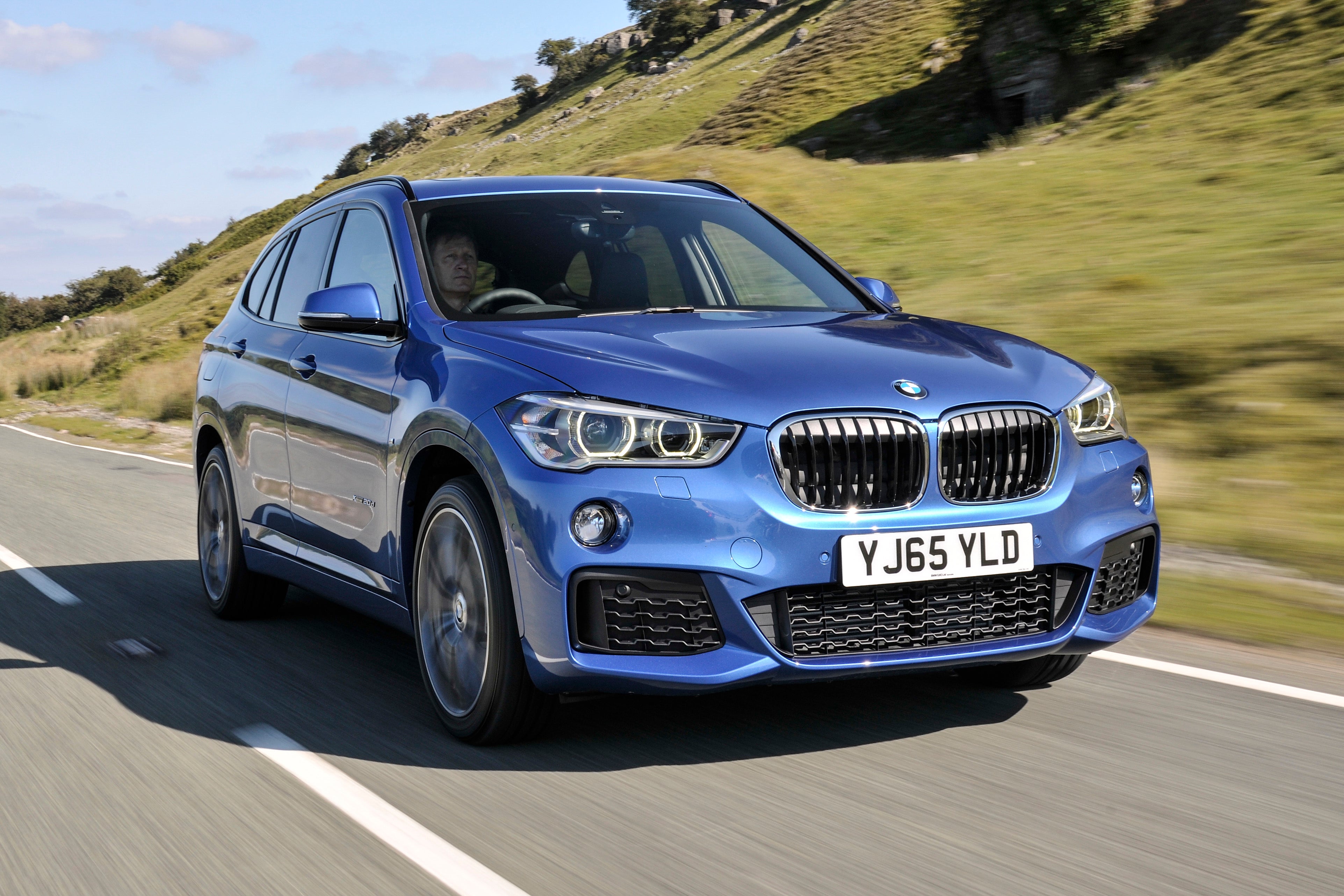 The BMW X1 is surprisingly fun to drive for an SUV with positive steering and little body lean to speak of in bends – if you enjoy driving but need a practical (relatively) small SUV, then it should be right up your street.
The 18d diesel has a 2.0-litre engine producing 150hp and is capable of returning close to 55mpg if you go for an sDrive (front-wheel-drive) model. It gets from 0-62mph in a shade over nine seconds but its hearty mid-range means it feels quicker in the real world.
BMW's done a great job of eking out lots of space inside and the X1 will carry four adults happily with a boot that's bigger than you get in a 3 Series saloon. Interior quality, meanwhile, falls in line with what you'd expect from one of the company's posh saloons.
DS 7 Crossback
Year launched: 2017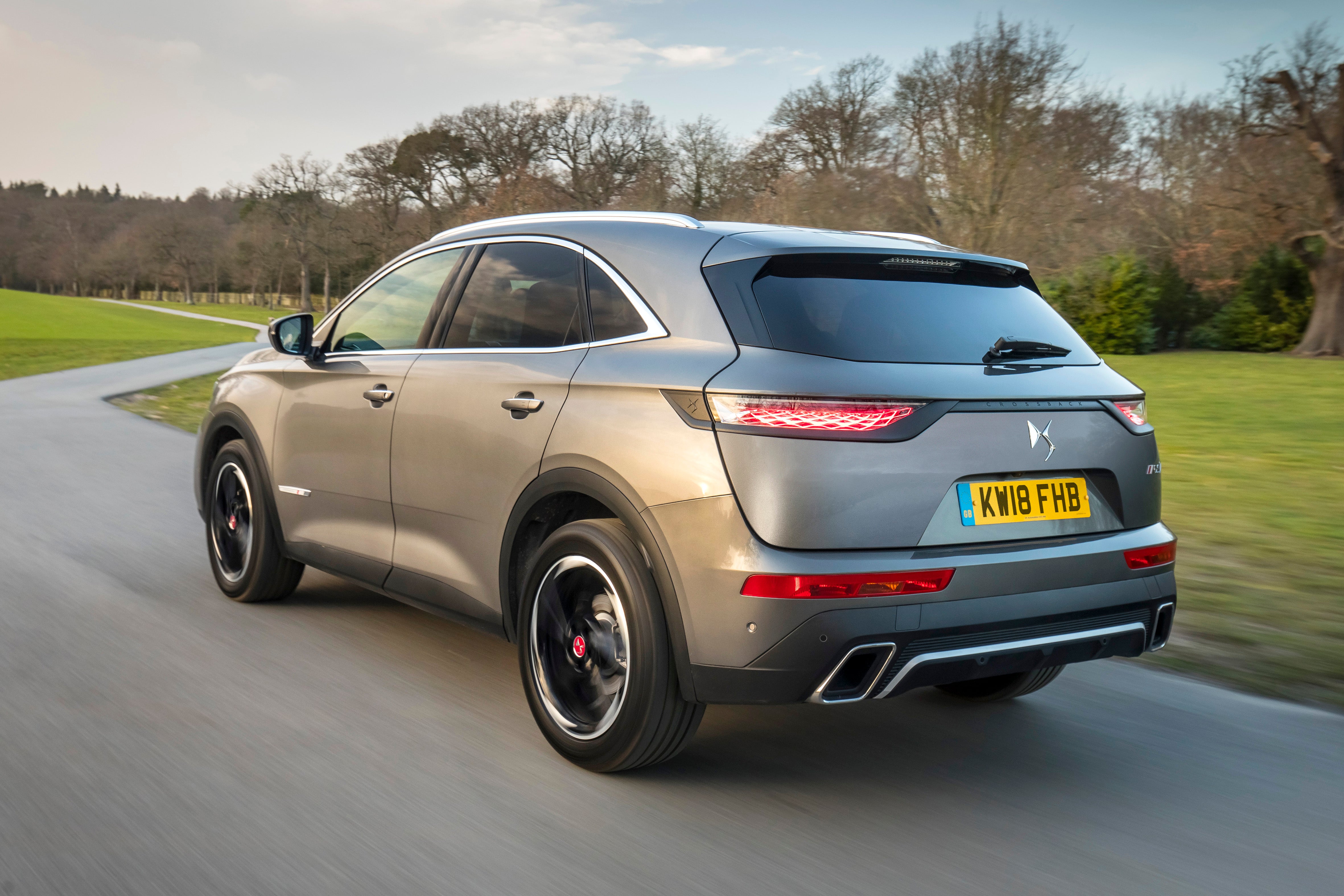 You could follow the flock and choose a posh German SUV but DS hopes you'll try its posh SUV – the DS 7 Crossback – on for size. It has a striking exterior design that makes it stand out amongst a sea of BMWs and Audis.
The same is true of the inside where the cabin follows a diamond theme and can be decked out in Alcantara pretty much everywhere you care to look, which makes up for the quality of its plastic. It's also spacious with a big boot and room for five tall adults.
The DS 7 is set up to be very comfortable and comes with clever suspension that can scan the road ahead for bumps and prime the suspension to deal with them. The 130PS BlueHDi diesel is quieter and smoother than the 180 models and can return up to 50mpg.
Small SUVs like the Volkswagen T-Cross diesel are the most efficient – its 1.6-litre 95PS diesel engine is capable of returning fuel economy of 55mpg under tough new WLTP real-world test conditions.
Diesel costs more than petrol and diesel cars tend to be more expensive to buy than petrol cars, so to recoup your investment you'll need to hang onto a diesel SUV for around three years and cover about 60,000 miles in that time.
The Mazda CX-5 was the highest-ranking diesel SUV in our sister site, Honest John's, customer Satisfaction Index so you can expect it to be very reliable.
Volvo XC40
2.0 D3 Momentum 5dr Geartronic
Manufacturer Approved
Endeavour Volvo North London

Middlesex, NW96NW
PCP: £334.91/mo
Representative example: Contract Length: 37 months, 36 Monthly Payments: £334.91, Customer Deposit: £3,883.00, Total Deposit: £3,883.50, Optional Final Payment: £13,648.16, Total Charge For Credit: £3,698.42, Total Amount Payable: £29,588.42, Representative APR: 6.9%, Interest Rate (Fixed): 6.9%, Excess Mileage Charge: 14.9ppm, Mileage Per Annum: 10,000
Volvo XC40
2.0 D3 Momentum 5dr
Manufacturer Approved
Volvo Stoke

Staffordshire, ST16AT
PCP: £331.64/mo
Representative example: Contract Length: 37 months, 36 Monthly Payments: £331.64, Customer Deposit: £3,600.00, Total Deposit: £3,600.00, Optional Final Payment: £12,336.79, Total Charge For Credit: £3,875.83, Total Amount Payable: £27,875.83, Representative APR: 7.9%, Interest Rate (Fixed): 4.07%, Excess Mileage Charge: 14.9ppm, Mileage Per Annum: 10,000
Volvo XC40
2.0 D4 [190] R DESIGN Pro 5dr AWD Geartronic
Manufacturer Approved
Stoneacre Volvo Sunderland

GB, SR53HR
PCP: £438.20/mo
Representative example: Contract Length: 37 months, 36 Monthly Payments: £438.20, Customer Deposit: £4,291.00, Total Deposit: £4,291.65, Optional Final Payment: £15,144.70, Total Charge For Credit: £6,600.55, Total Amount Payable: £35,211.55, Representative APR: 11.3%, Interest Rate (Fixed): 11.3%, Excess Mileage Charge: 14.9ppm, Mileage Per Annum: 10,000