Best electric cars 2021


Electric cars have seen a huge swell of interest in the last year. But what's the best electric car you can buy in the UK? Our expert guide will explain all...
2021 has seen a real boom in electric cars. Not only are they becoming much more common on UK roads, the recent fuel crisis has seen a massive surge in people wanting to find out more about EVs (short for electric vehicles) and what the best electric cars are.
It's easy to see why there's such a growing interest in electric cars at the moment, with the best EVs delivering an excellent range. Enough to compete with a petrol or diesel car? We're getting there, with some of the best electric cars able to happily cover over 300 miles between charges.
There are new electric car models being launched constantly (we already counted in excess of 20 electric cars that have it car dealer forecourts in 2021), which means there's a massive amount of choice when it comes to picking out an electric car. From small electric cars to spacious and luxurious electric SUVs capable of travelling hundreds of miles between charges, there's never been more choice. Finding the best electric car which suits your needs should be a piece of cake.
Of course, one of the biggest obstacles preventing a lot of car buyers from going electric is the price. New electric cars are traditionally more expensive than a petrol or diesel model – but you can save a fortune by looking for a nearly-new model or second hand electric cars. We have some of the best used electric cars available from as little as £5000 on heycar.
Electric car charging times are also getting faster, while the charging infrastructure is improving all the time, making it easier to plan those longer trips that go beyond the range of your EV.
New electric cars in 2021
We've already seen a number of new electric cars arrive in 2021, with some making our top 10 list of the best EVs below, but more are coming.
The Hyundai IONIQ 5 looks set to be a real game-changer, with a striking design to boot. Sister company Kia is also set to launch the EV6 with a range of up to 314 miles. There's also the Volkswagen ID.5 and ID.3 GTX, while BMW is set to launch the i4 saloon. That's not forgetting Volvo with the eagerly anticipated C40.
With new electric cars arriving all the time, now could be the perfect time to switch to an EV. Read on to find out what the best electric cars in the UK are.
Skoda Enyaq iV
Year launched: 2021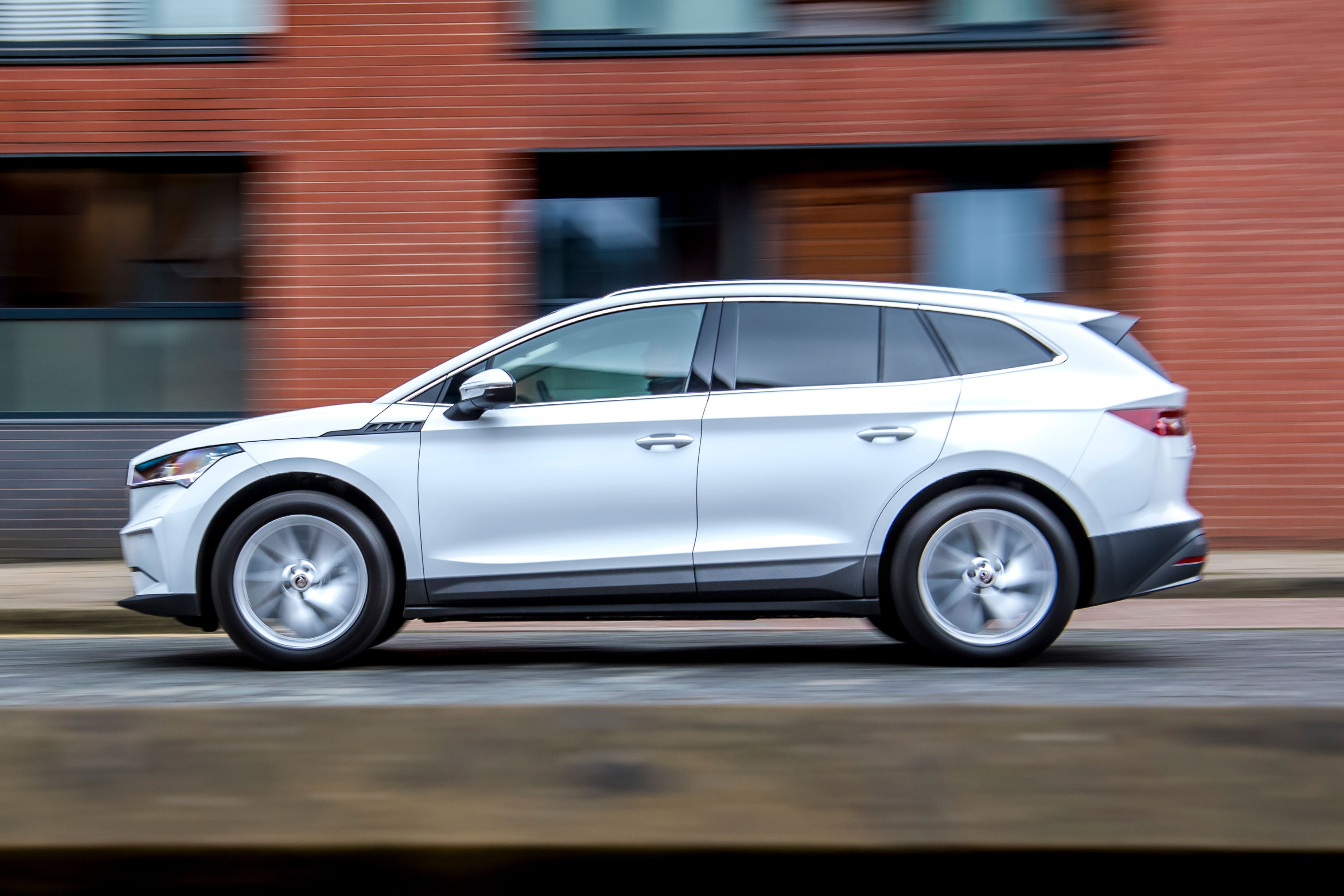 The Skoda Enyaq iV could be the electric car that many of us have been waiting for. It's certainly one of the best electric cars you can buy right now.
Based on the same plaftform as Volkswagen's ID.4 and the Audi Q4 e-tron, we think it's the Enyaq that's the best choice out of the three cars. Why's that you ask? Surely Volkswagen and Audi trumps Skoda? Don't get us wrong, the ID.4 and Q4 e-tron is a very good electric cars, it's just that the Enyaq offers greater practicality, more generous kit levels and a more affordable price tag.
Skoda's second all-electric car (after the small but very capable Citigo-e iV), the Enyaq is a family-focused electric SUV and that means it's big on space. There's a large and comfy cabin with a large 13-inch media displaying dominating the dash, while there's plenty of stowage space and a big boot to, eh, boot.
The Skoda Enyaq is available with either a 62kWh battery that delivers a range of up to 256 miles (badged the Enyaq iV 60), and one with a larger 82kWh battery that produces a range of up to 333 miles (this time badged the Enyaq iV 80). Expect charge times to take around an hour with a 50kW rapcharger, while the Enyaq can be spec'd with an optional 125kW rapid charging capability that adds 80% of range in 38 minutes.
Volkswagen ID.3
Year launched: 2020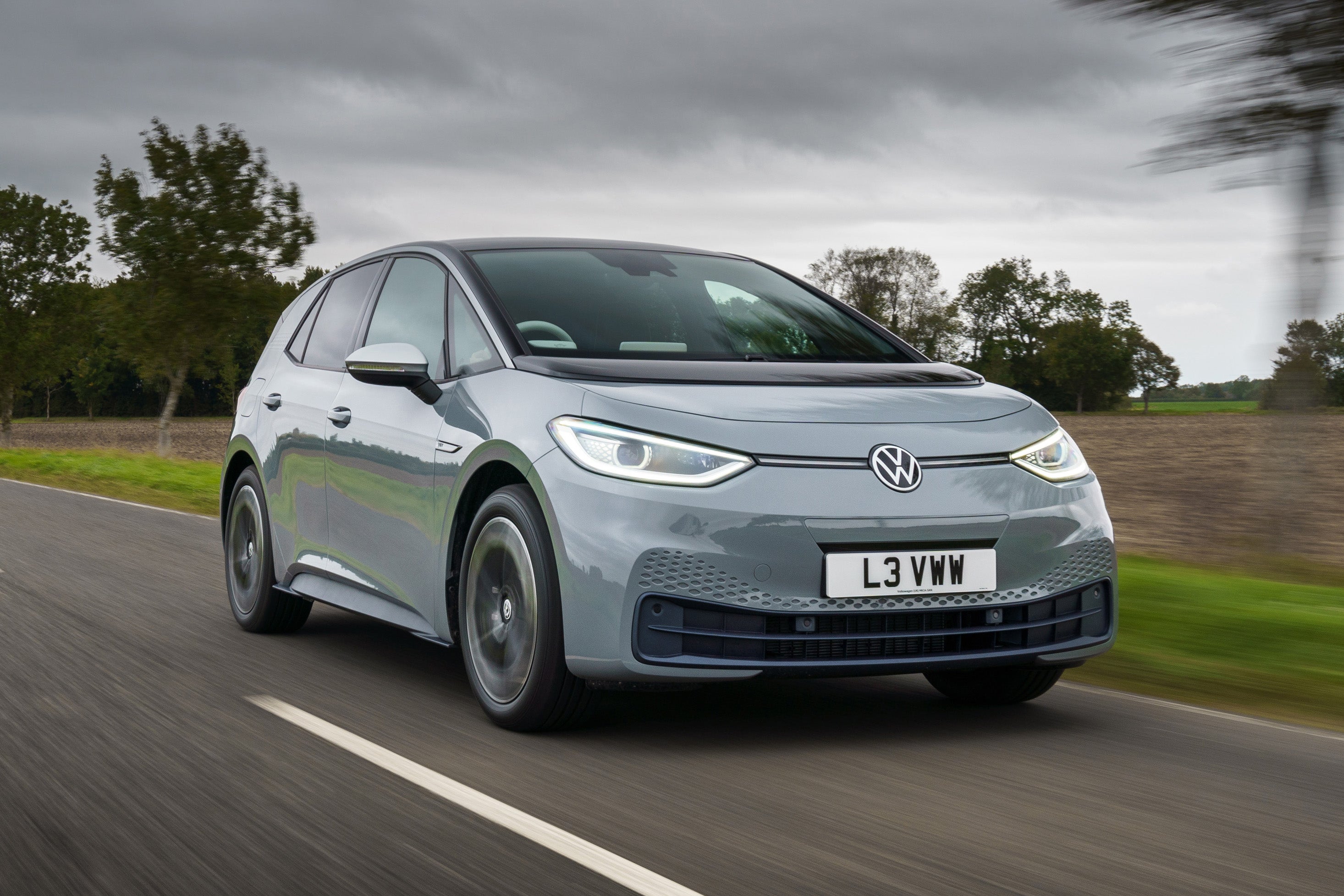 The Volkswagen ID.3 feels a bit like a Golf, only with electric power – and that makes it the perfect introduction to the world of EVs and one of the best electric cars available today. It might not be as quick as a Tesla Model 3 or as stylish as a Volvo XC40 Recharge, but the ID.3 has a practical cabin and is easy to drive.
There are a range of different battery sizes and power outputs to choose from, allowing you to pick the right combination that suits you. The most affordable models combine a 58kWh battery with a 145PS power output, resulting in a range of up to 263 miles. If you plan to travel even further without stopping, the top-spec ID.3 Tour, with its 77kWh battery, is capable of covering an impressive 336 miles.
One of the Volkswagen ID.3's quirks is that the motor's positioned in the rear, like an old VW Beetle. It drives the rear wheels, helping the ID.3's agility both in and out of town. It also contributes to a more spacious cabin - while the footprint of the ID.3 isn't much bigger than the old Volkswagen e-Golf, it feels much less cramped inside.
Porsche Taycan
Year launched: 2019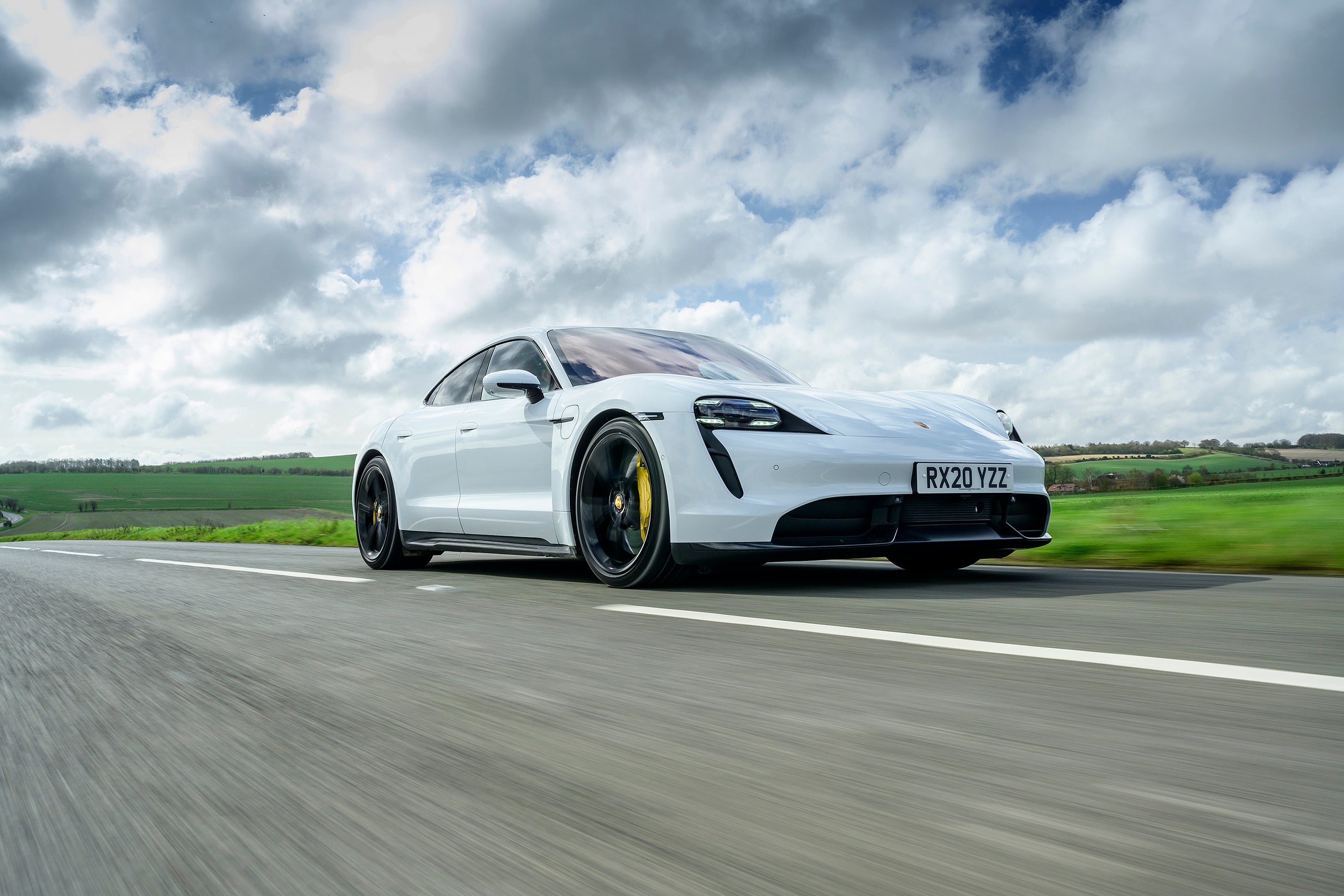 If there's anything that signifies how seriously the car world is about the shift to EVs, it's the arrival of an electric Porsche. Sure, some people will hate the mere idea of the Taycan, but it's truly one of the best electric cars you can buy today.
For a start, it's properly quick. The Turbo S packs a whopping 761PS (with overboost function), resulting in 0-62mph acceleration of just 2.8 seconds. Not only is it one of the fastest electric cars going, but it's faster than a lot of supercars, while top speed is 162mph. Lesser models aren't quite so impressive on paper, but all Taycans combine impeccable handling with impressive long-distance comfort.
Indeed, it's long-distance touring that the Taycan perhaps does best. It can cover up to 301 miles on a charge, while there's a surprising amount of room inside – with enough space for adults in the back and a big boot. There's even an estate-like Cross Turismo model available, providing a sportier alternative to electric SUVs like the Audi e-tron.
Kia e-Niro
Year launched: 2019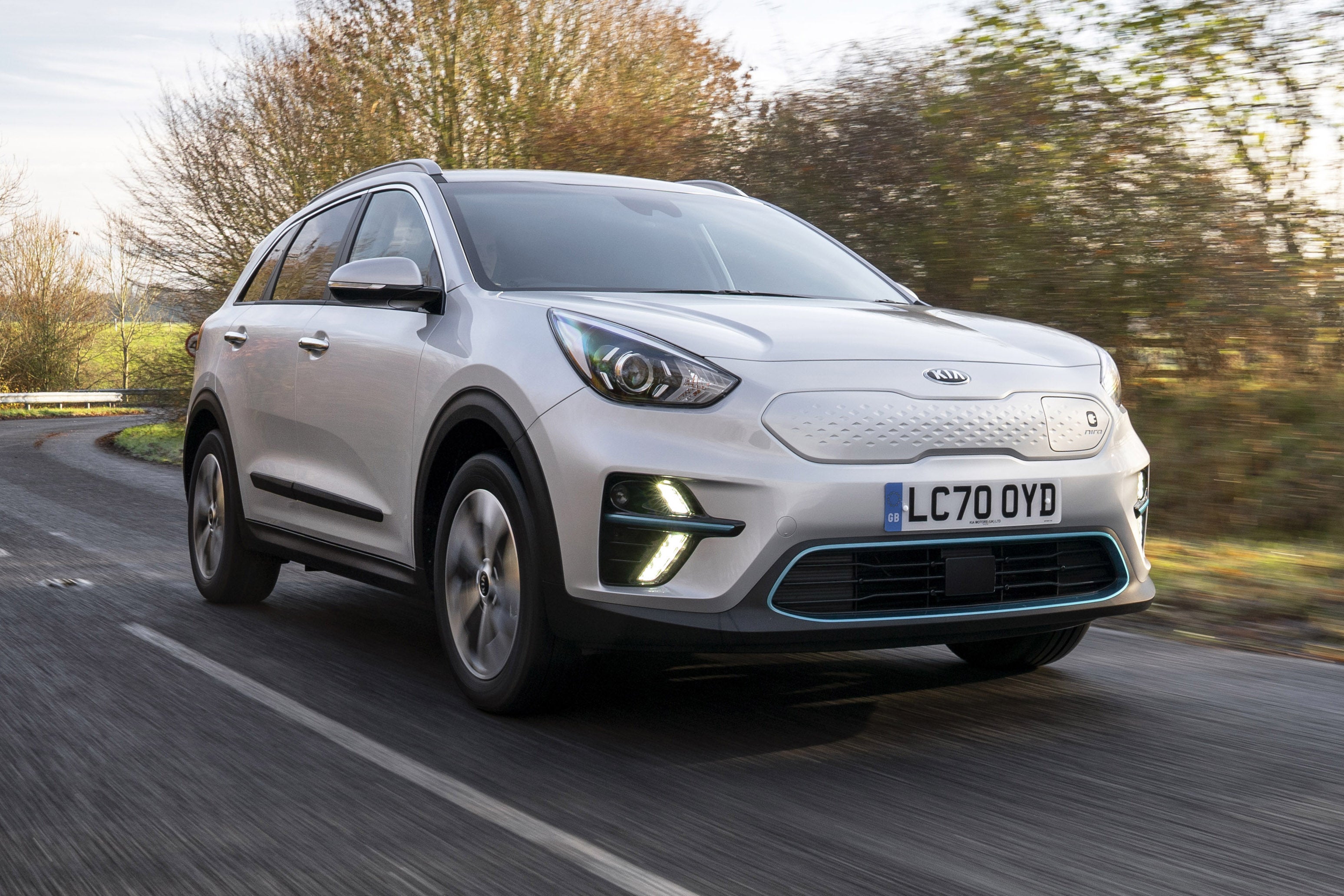 The Kia e-Niro is the Nigel of the electric car market. You can rely on Nigel – he's a practical chap who knows his place in the world. You won't catch Nigel rocking a pair of skinny jeans or Converse trainers, but what Nigel lacks in style he makes up for in, er, value for money...
Anyway, the Kia e-Niro is the electric car we should all probably buy. It's very practical - big enough for the entire family and their luggage. And with the ability to travel up to 282 miles on a charge, you'd have to be a seriously long-distance driver to get range anxiety in the e-Niro. If you are planning a trip further afield, the e-Niro's 64kWh battery pack can be topped up in less than an hour using a rapid charger.
You'll pay upwards of £32,000 for a new Kia e-Niro (after the government grant) and, because the e-Niro ticks the boxes in so many ways, there aren't many discounts to be had by looking towards the used market. That said, a pre-registered model can be picked up from around £30,000, and you can skip the waiting list by doing so. Still not convinced? Maybe a seven-year warranty will bring out your inner Nigel...
Renault Zoe
Year launched: 2013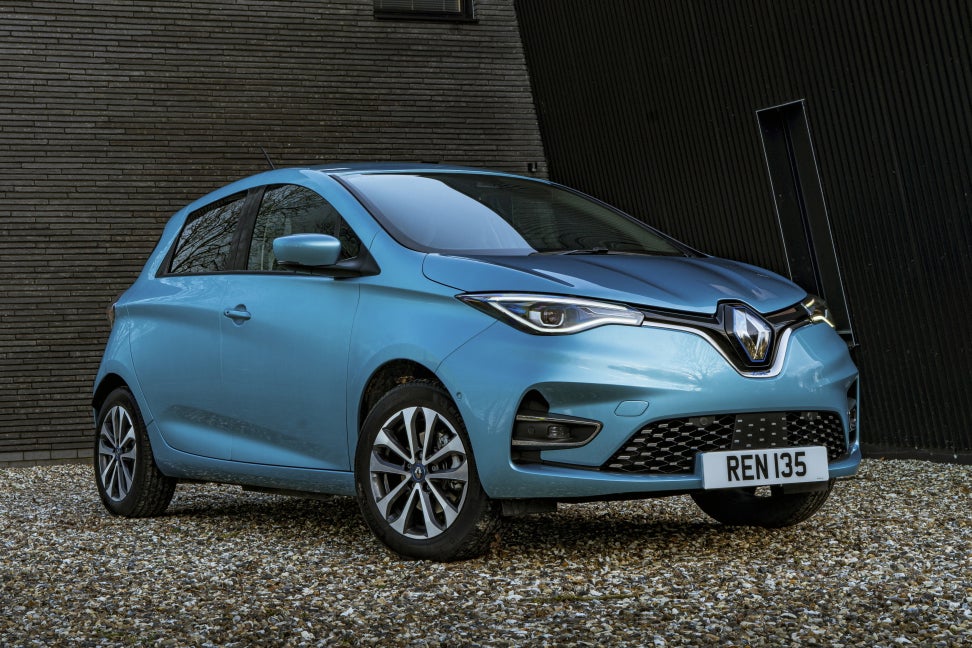 The Renault Zoe has been a bit of a slow burner. It arrived way back in 2013, when electric cars were still very much the preserve of early adopters and ecomaniacs. The original had a small 22kWh battery, giving it a useable range of around 80 miles or so in the real world.
If you only cover low miles and want an affordable electric car that won't break the bank, the Renault Zoe is one of the best used electric cars out there. But the Zoe was given a significant update in late 2019, with a new 52kWh battery and 136PS motor providing an official range of 245 miles and making it much more useable in the process.
Designed from the ground-up as an EV, the Zoe looks and feels different from 'ordinary' cars. You sit high up (that's because the battery's positioned underneath you), and it looks completely different to a petrol Renault Clio. A brand new Zoe starts from around £27,500 (after the plug-in car grant), but we've seen pre-registered models offered for around £5000 below this. Factor in fuel savings, and this little electric car starts to look very affordable indeed.
MG ZS EV
Year launched: 2019

Who'd have thought it'd be MG that cornered the market for cheap electric cars? It's a brand that's better associated with British sports cars, hot hatches and – in recent years – below-par Chinese-built hatchbacks. But the ZS EV is one of a number of models that ought to be on your radar if you're serious about buying an electric car and don't want to blow the budget.
For the price of a Renault Zoe, you get a very useable crossover SUV that comes stacked with standard equipment, not to mention a seven-year warranty (fully transferable to subsequent owners). It's got a big boot and an interior that's well up to the job of coping with family life, even if it's not the last word in plushness.
The 163-mile range could be a sticking point but that's close to what you'll get out of a Nissan Leaf and more than the stylish Mazda MX-30. That said, MG's just announced an update to the ZS EV with new 50kWh and 73kWh options that sees the range extended to 198 and 273 miles respectively. Along with a major facelift, the new MG ZS EV will be available to order later in 2021.
Jaguar I-Pace
Year launched: 2018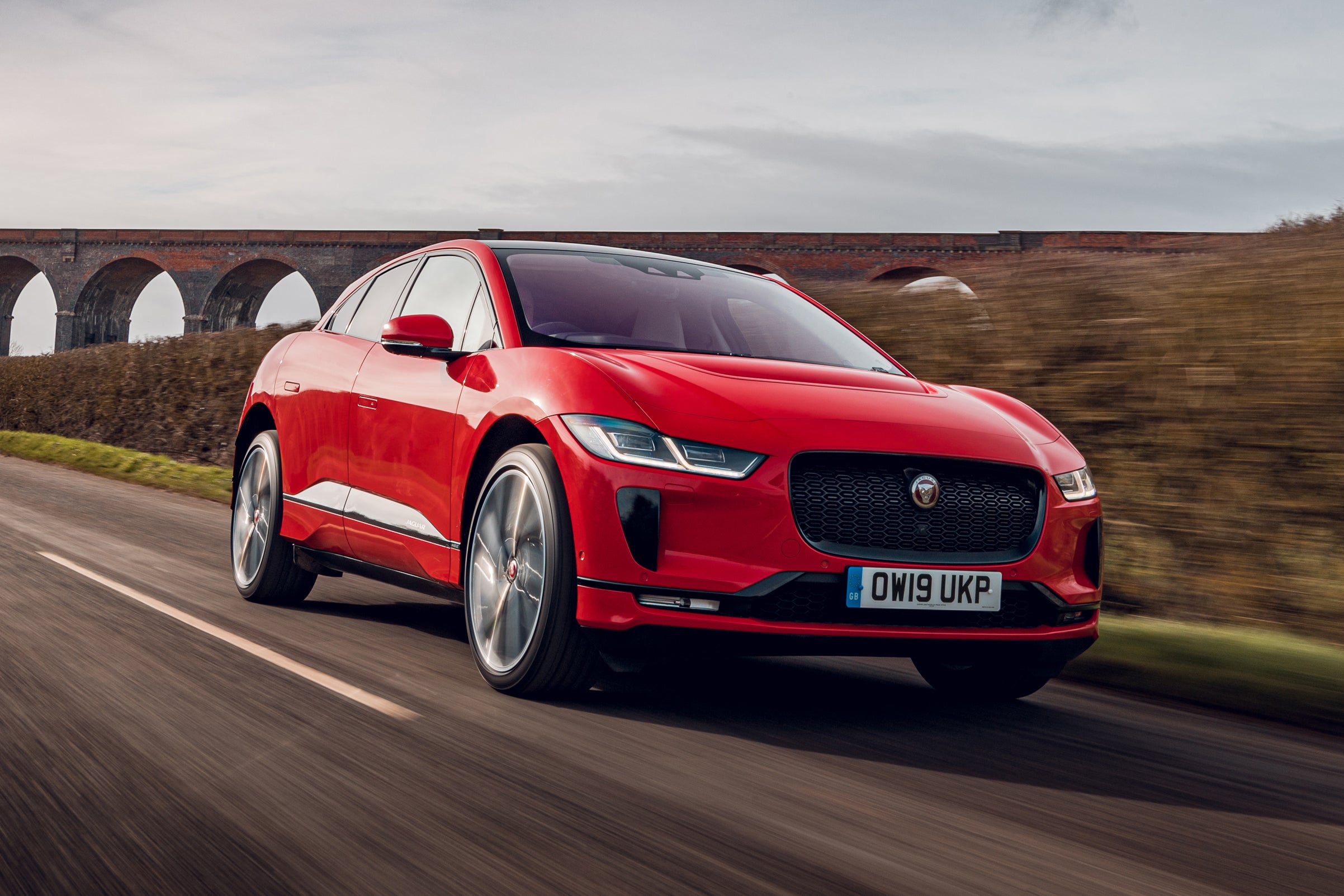 We don't think we quite appreciated just how good the Jaguar I-Pace was when it first went on sale back in 2018. The British brand beat the German manufacturers to market with its premium electric SUV, and there was some scepticism at the time that the upcoming Audi e-tron and Mercedes EQC would be, well, better.
They weren't. Not only does the Jaguar I-Pace tick all the boxes on paper (292 miles range and 100kW rapid charging capability providing 78 miles of range in 15 minutes), it'll also turn more heads than its staid rivals, has a superb interior and is brilliant to drive.
Prices for a new Jaguar I-Pace start from around £65,000 (not unreasonable for a premium electric SUV), but depreciation is the friend of the second-hand electric car buyer. We're seeing a considerable amount of ex-lease cars hitting the market for less than £50,000 which, quite frankly, is a bit of a bargain.
Mazda MX-30
Year launched: 2021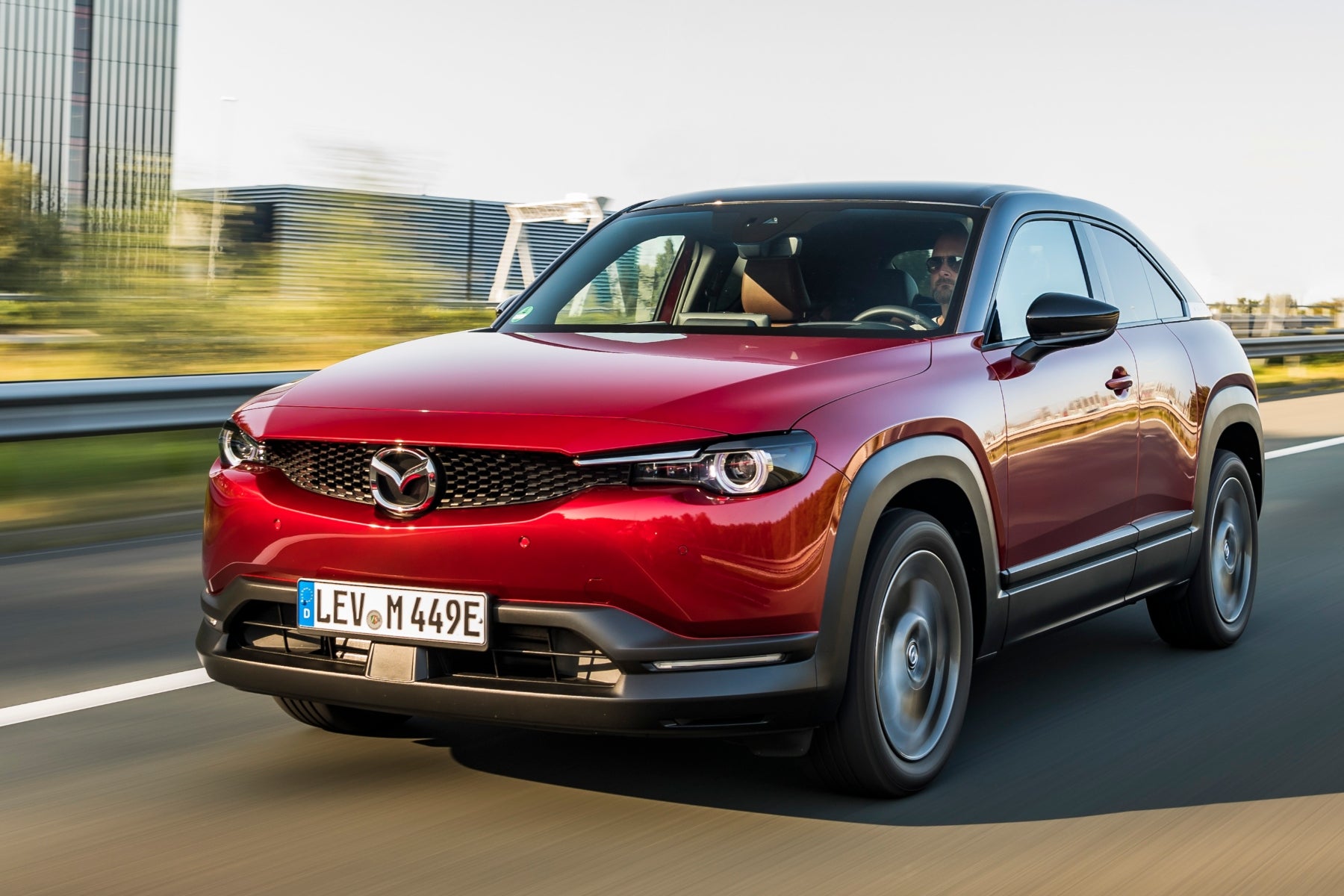 If we could pick one car brand that we reckon is massively underrated, it'd probably be Mazda. The Japanese manufacturer makes some of the most stylish cars on sale, with premium interiors and a strong reputation for reliability. They're also brilliant to drive, with each and every model making you feel like you're behind the wheel of the Mazda MX-5 sports car.
It's fair to say we were excited to see what the brand's first electric car would be like, then. And it didn't disappoint. The MX-30 is a really cool little crossover, with trick rear-hinged doors and the kind of high-quality interior we've come to expect from Mazda.
There's a catch. It only has a 35.5kWh battery, which'll provide around 100 miles of range in the real world. That's not a lot for a car that rivals the Hyundai Kona Electric, with its 300-mile official range. Mazda calls it 'rightsizing' – essentially, why fit a big, heavy battery when most buyers are happy with a short-range electric car for popping around town? We'll let you decide how you feel about only travelling 100 miles between charges.
Polestar 2
Year launched: 2020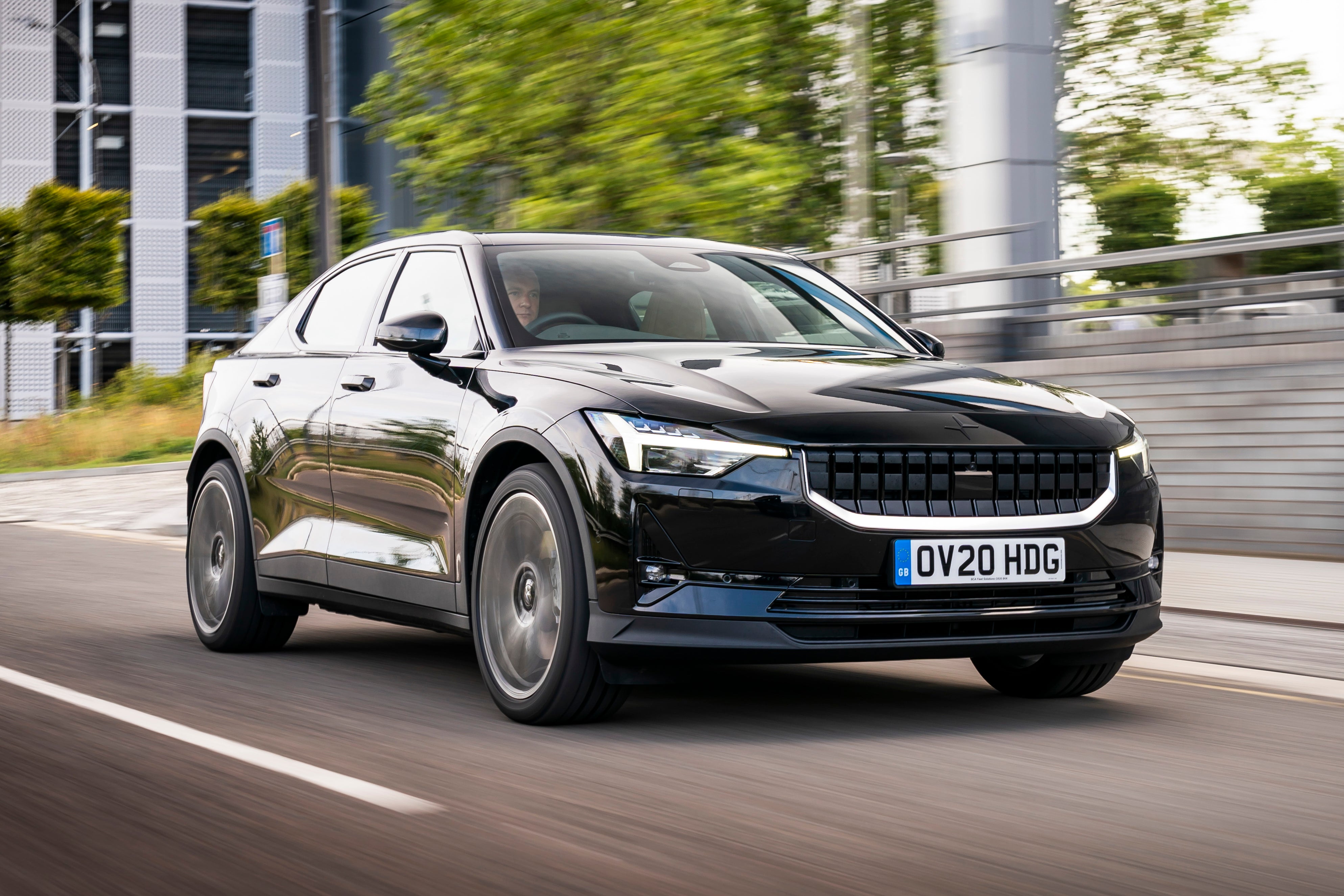 Polestar is a trendy new electric car brand – a bit like Tesla, albeit launched under the watch of Volvo. That means its second model (catchily named the Polestar 2) shares a platform with the XC40, and it's aimed directly at the Tesla Model 3 audience, with a new price tag in the region of £50,000.
Of course, to appeal to Tesla fans, the Polestar needs to pack a punch. And it does – with a 78kWh battery powering two electric motors which combine to produce a hefty 408PS and 660Nm of torque. That means the Polestar 2 will cover 0-62mph in 4.7 seconds and, more importantly, can travel 292 miles between charges.
The most impressive thing about the Polestar 2 is the technology it features. It uses an Android-based infotainment system (with things like Google Assistant built-in), while there's a very impressive speech recognition system as standard. The catch? The Polestar 2 is hot property right now so you're not going to save a huge amount by looking for a used example. And that's if you can find one...
Honda e
Year launched: 2020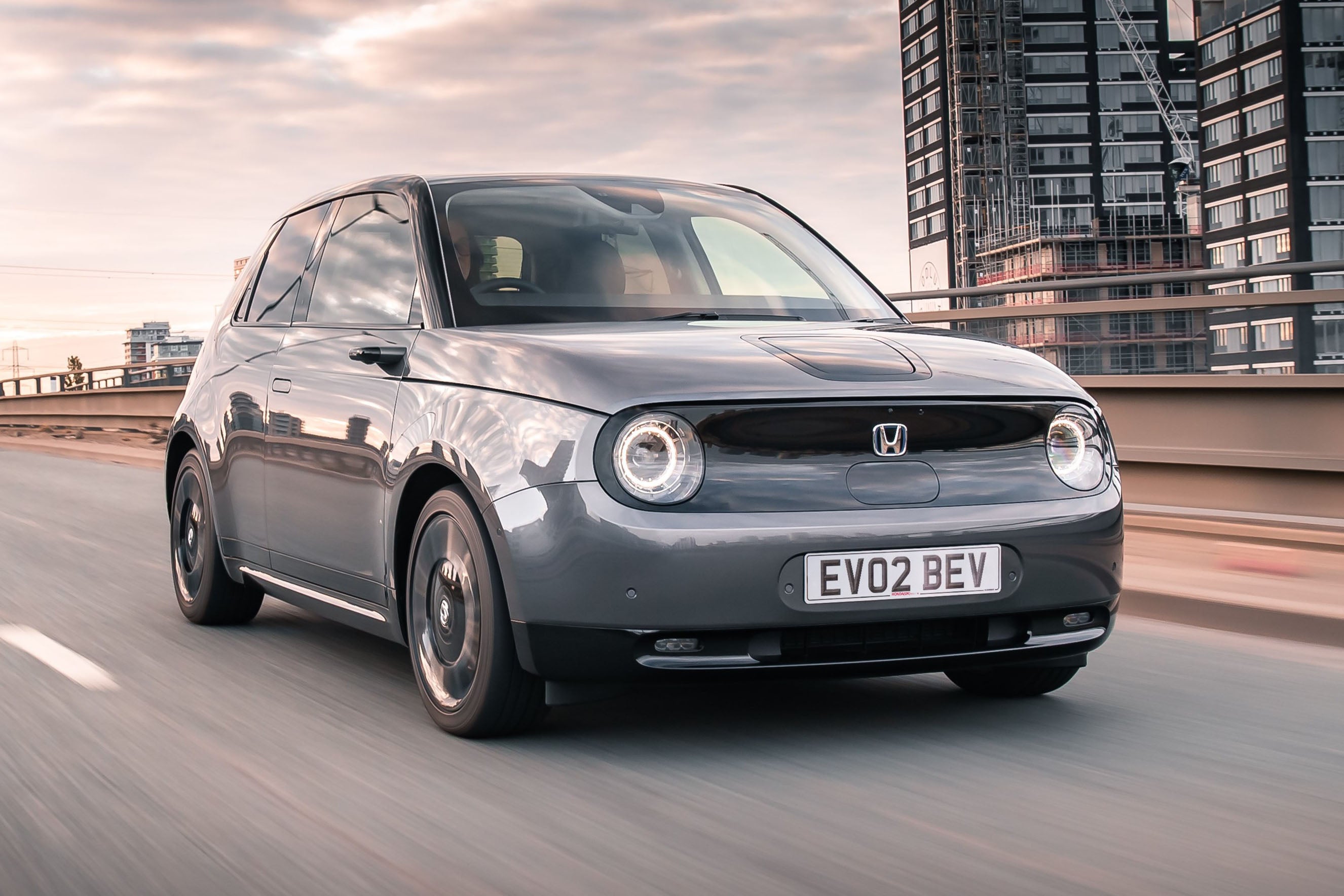 Honda likes to compare its first electric car to the Apple iPhone. You'll pay a little more compared to rivals, but in return you get a desirable, premium product with seamless functionality. That's a bold claim for a car manufacturer better known for producing reliable (but dull) cars popular with pensioners.
Like the iPhone, in some ways, the Honda e is a bit form over function. You'll struggle to see 100 miles from a charge, especially over winter, and it's not as practical as the much more affordable Vauxhall Corsa-e. There's also the stylish Fiat 500 Electric to consider as well, with a range up to 199 miles.
Look at it, though. How could you not want to give it a home? Is interior is ultra-cool, too, with digital screens running across the full width of the wood-finished dash. There's even an HDMI port, allowing you to plug in a games console to keep you occupied when charging. Something you'll do a lot...
The cost of charging an electric car can be pretty hard to pin down due for a couple of factors. However, compared to filling up a petrol or diesel car, charging an electric car will cost less.
If you're planning to charge your electric car from home regularly, it can be tricky to get a clear picture on how much it's costing you to charge your EV as it will get rolled into your monthly electricity bill. It is possible to work out the cost of charging your electric car from home though with some easy maths.
You first need to find out how much your energy provider is charging your electricity, which is calculated at pence per kilowatt hour (kWh) and should be on your tariff or bill. The average cost for standard electricity last year was 17.2p/kWh, though in some areas that can be more or less.
Now we have the pence per kilowatt hour price of 17.2p/kWh, we now need to find out the capacity of the electric car. Using the Skoda Enyaq iV 60 as an example, it has a battery capacity of 62kWh, so the cost of charging a Skoda Enyaq iV 60 from empty at home would be worked out at £0.172 x 62 = £10.66. However, you're unlikely to be charging from empty, while it's recommended you don't charge beyond 80% of the battery's capacity to prolong its life, which would mean charging from 10% to 80% capacity would cost around £7.40.
Using rapid chargers at motorway service stations and dedicated charging hubs will cost quite a bit more though, with prices varying depending on provider and speed. As an example though, with BP Pulse Instant Access (which doesn't require a subscription), the pence per kilowatt hour ranges from 20p/kWh to 42p/kWh for example. Charging times would be significantly quicker than at home, but you'll pay around £18.00 to charge a Skoda Enyaq iV 60 from 10 to 80% at the highest rate.
How long it takes to charge an electric car really depends on how you charge it. If you're planning to plug in a family-sized electric car at home and charge from a 3-pin plug, you can be looking at over 24 hours until the battery is fully charged. Unsurprisingly, this method is known as slow charging.
If you're planning to charge your electric car at home, you'll want to look at investing in a dedicated wall charger. This fast charging method runs 7kW, with charging times varying from 6 to 12 hours depending on the electric car, while a 22kW charger can reduce charging times by half compared to a 7kW charger. While a 22kW charger is currently the fastest charger you can get installed at home, most people won't be able to benefit from one as you'll need a three-phase electricity supply (expensive), while not that many electric cars are actually compatible with 22kW chargers.
Then there's rapid charging. These aren't available for home use, but are usually found at motorway service stations and dedicated charging hubs. Rapid chargers deliver the fastest EV charging rates for electric cars, ranging from 50kW to 350kW, meaning you can quickly top up the range of your EV in under 30 minutes in some instances. You'll need an electric car that can handle DC charging, but pretty much all cars on our guide to the best electric cars offer DC charging.
There are lots of excellent electric cars on the UK market and the best electric car depends on your requirements and budget. If you're looking for a little car to drive around town, we'd recommend the popular Renault Zoe or the stylish Peugeot e-208.
Alternatively, there are more fashionable choices like the Fiat 500 Electric, Honda e and MINI Electric if you're looking for a small electric car.
If you travel further afield or want a little more space kids, options include the Volkswagen ID.3 and Tesla Model 3. There are electric SUVs, too, like the Skoda Enyaq iV, Jaguar I-Pace and Audi e-tron, and even performance cars like the Porsche Taycan.
An electric car (also known as an EV) is just like any other car you'd find on the road except, instead of a petrol or diesel engine, it's powered by batteries and an electric motor. Electric cars are increasing in popularity due to their environmental benefits, with a significant amount of manufacturers switching their attention to producing solely electric cars in the next couple of years.
The UK Government has said that sales of new conventional petrol and diesel cars must end by 2030. Hybrid models capable of travelling a 'significant' distance under electric power can be sold until 2035. Once these dates have passed, you'll still be able to buy and sell used petrol and diesel models as well as drive them on the road.
One of the biggest obstacles most people cite when it comes to buying an electric car is the price. You can save money by searching for a used electric car on heycar. All cars advertised on heycar are less than eight years old, with less than 100,000 miles on the clock and come with a 12 month warranty – so you can feel relaxed about buying a used EV.
If you're looking for the cheapest electric car, you'll find a lot of used Renault Zoes and Nissan Leafs on the market. Both have been on sale for a while now and can be picked up for as little as £5000.
If you'd prefer a new or nearly-new electric car, the latest Renault Zoe should still be on your radar. Also look at electric city cars like the Skoda Citigo-e iV, while budget brand MG sells affordable family cars like the MG ZS EV and MG 5 EV.
More reviews of the best electric cars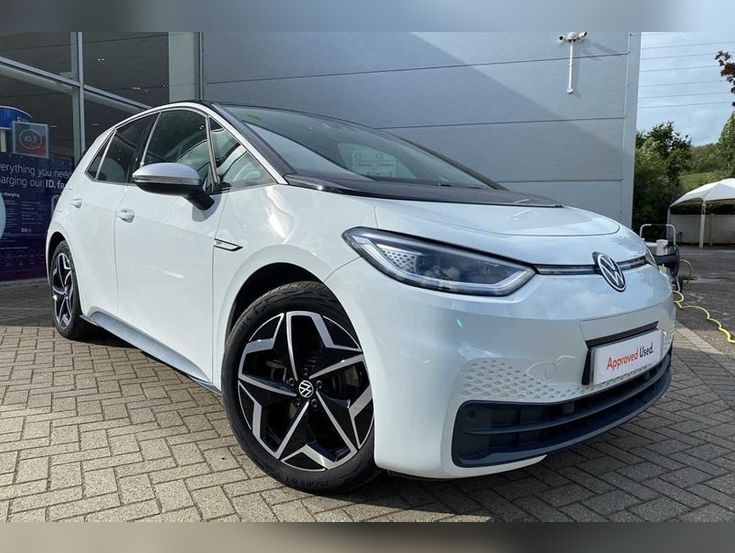 Volkswagen ID.3
150kW 1ST Edition Pro Power 58kWh 5dr Auto
Manufacturer Approved
Broad Oak Motor Group Volkswagen Canterbury

Kent, CT27QH
Finance is available. Speak to the dealer to find out more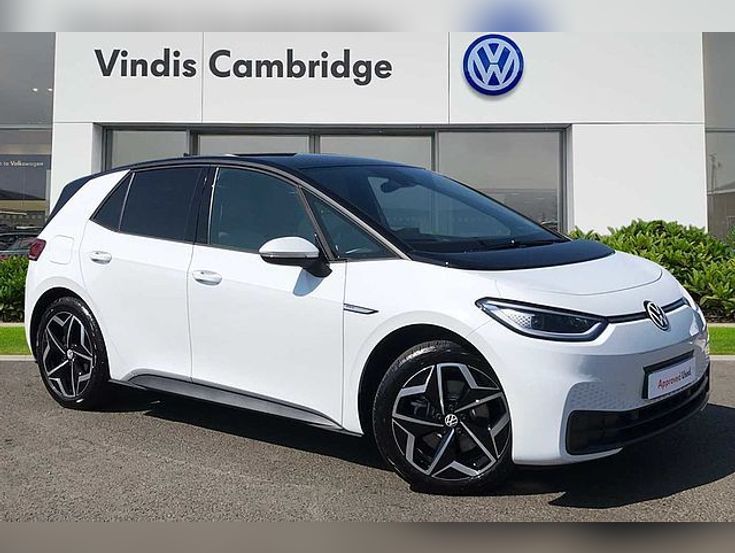 Volkswagen ID.3
150kW Tech Pro Performance 58kWh 5dr Auto
Cambridge Volkswagen

Cambridge, CB41SR
PCP: £600.78/mo
Representative example: Contract Length: 36 months, 35 Monthly Payments: £600.78, Customer Deposit: £5,737.00, Total Deposit: £5,737.50, Optional Final Payment: £16,450.30, Total Charge For Credit: £4,965.10, Total Amount Payable: £43,215.10, Representative APR: 6.9%, Interest Rate (Fixed): 6.9%, Excess Mileage Charge: 9.89ppm, Mileage Per Annum: 10,000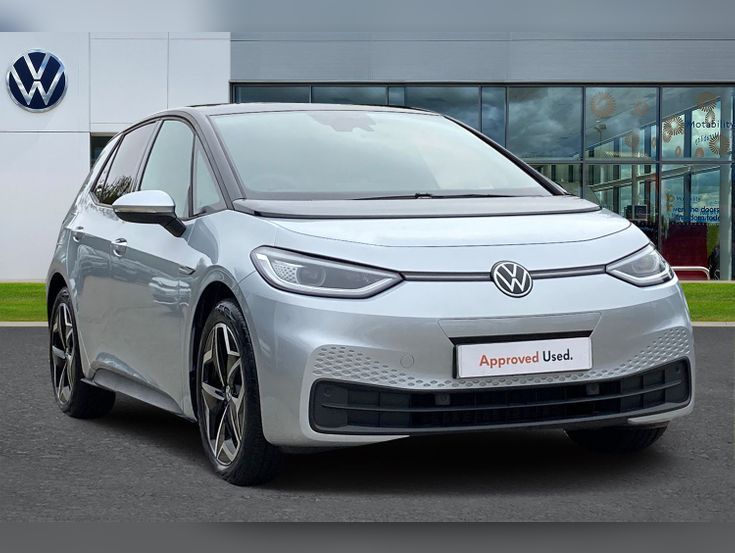 Volkswagen ID.3
150kW Business Pro Performance 58kWh 5dr Auto
Manufacturer Approved
Marshall Volkswagen Milton Keynes

Buckinghamshire, MK100BN
PCP: £632.35/mo
Representative example: Contract Length: 36 months, 35 Monthly Payments: £632.35, Customer Deposit: £5,578.00, Total Deposit: £5,578.50, Optional Final Payment: £15,310.00, Total Charge For Credit: £5,830.75, Total Amount Payable: £43,020.75, Representative APR: 8.5%, Interest Rate (Fixed): 8.49%, Excess Mileage Charge: 9.89ppm, Mileage Per Annum: 10,000
Discover more expert guides from heycar