Best electric crossovers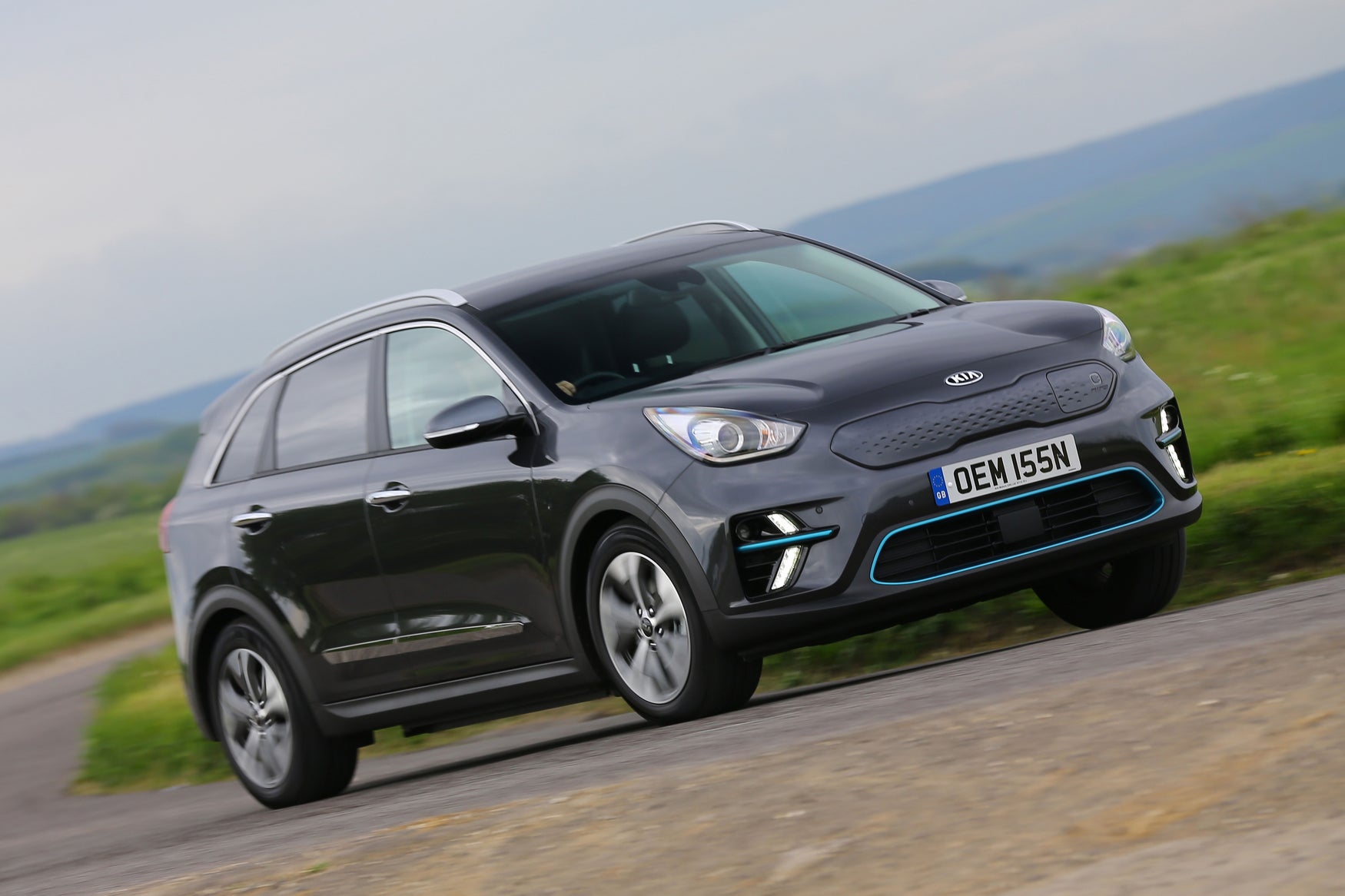 We've compiled the best fully-electric crossovers for those who want the practicality and space of a family car, with the low running costs of an EV.
While crossovers have solidified their place in Britain for their practicality and performance, electric cars are rising to prominence as emissions legislation tightens and electric ranges get longer and more useful.
If you want a crossover, but can't decide between petrol, diesel, electric and hybrid - take a look through our top five electric crossovers to see how well they could fit into your life.
Kia e-Niro
Year launched: 2019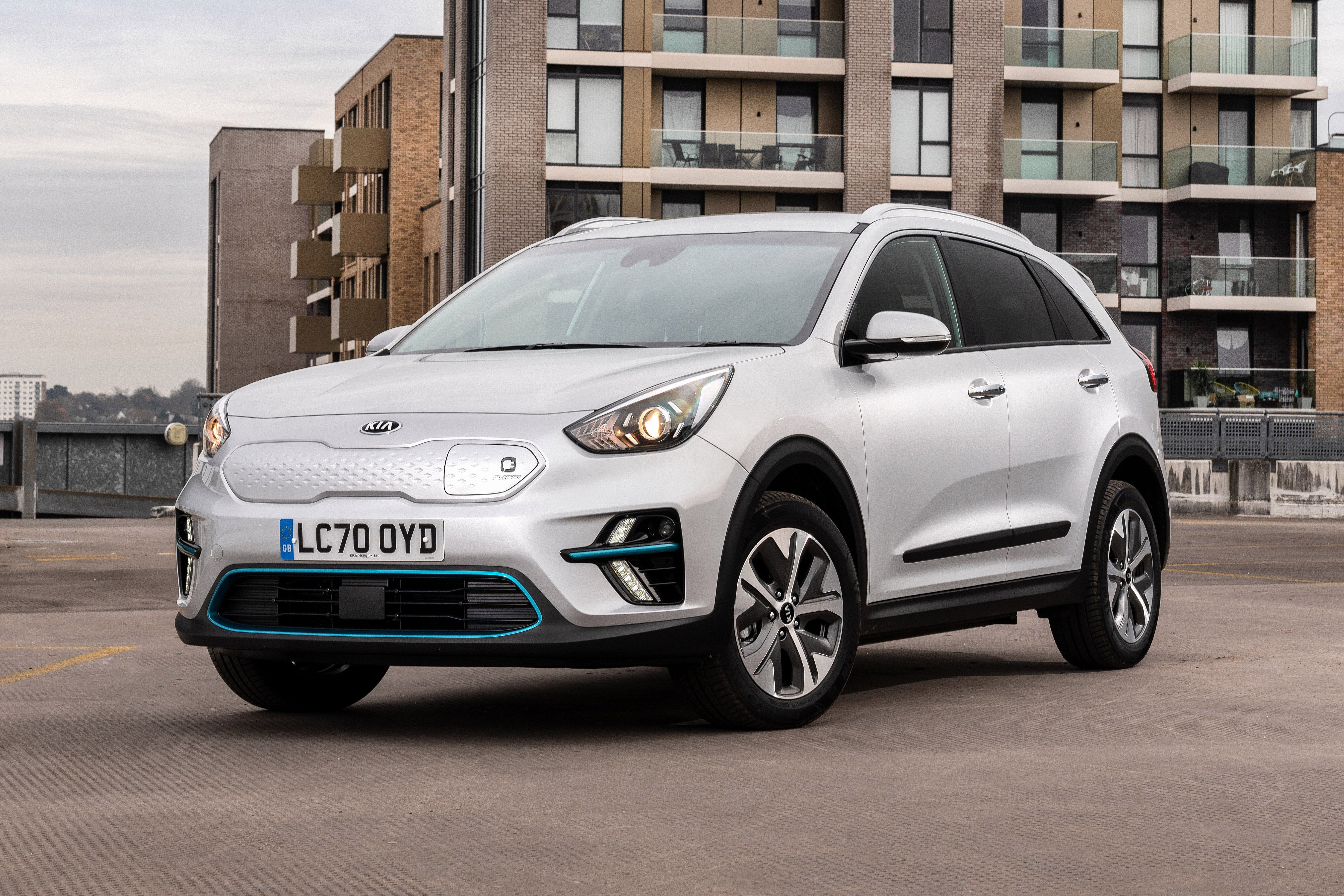 The Kia e-Niro is up there with the best of the electric cars, and we'd say it's the best electric crossover. with a long range and a spacious cabin, it's one of the most convincing all-round electric car packages - especially when you consider the generous equipment levels, low running costs and seven-year warranty that's transferable to subsequent owners.
Cheaper e-Niros have a smaller battery, but a 180-mile range will be plenty for many buyers. There's also plenty of standard equipment on the lower spec models. However, most buyers will be lured towards the 64kWh e-Niro with the 282-mile electric range. Yes, it has a high list price - but once you take fuel and maintenance savings into account, it starts to look like decent value for money. The battery is included, too, so you won't have to pay a monthly rental fee.
It's practical too, fitting four adults comfortably - while the boot is bigger than you'd find in the Nissan Qashqai – an obvious conventional alternative. And it's easy to drive, although - it's a tad boring in terms of both design and performance. If you're considering the Kia e-Niro, you should also look at the very similar Hyundai Kona Electric. It shares the electric gubbins with the e-Niro yet is slightly cheaper (but not as practical).
Kia Soul EV
Year launched: 2020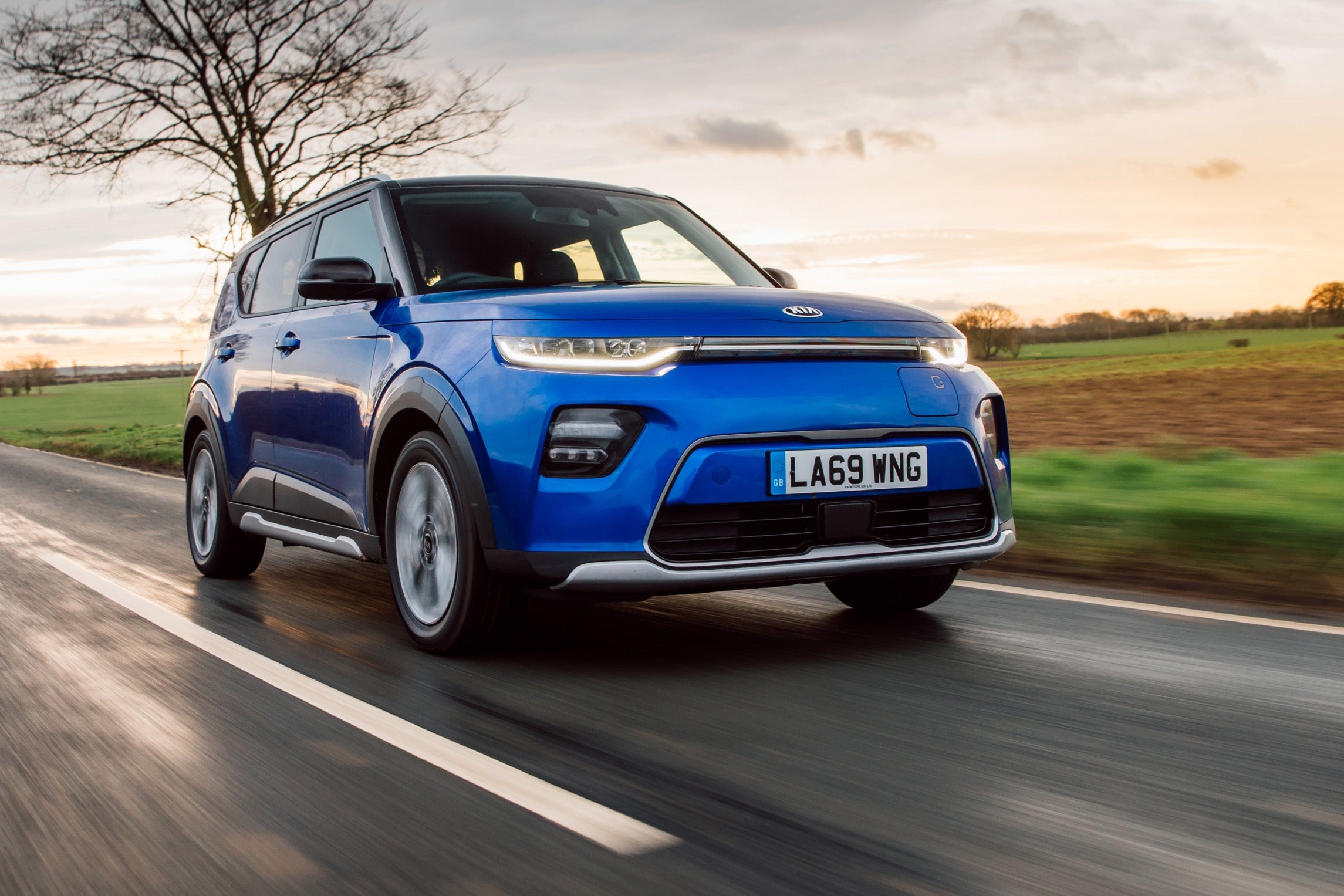 You might remember the old Kia Soul as a boxy family car, which it was. However, the newest incarnation of the Soul is now sold exclusively as an EV, which can travel 280 miles from a full charge. That's significantly better than e-rivals like the Honda e and MINI Electric - which struggle to cover more than 100 miles between charges.
Like the Kia e-Niro, the Soul EV can travel up to 282 miles between top-ups. It's also a practical choice, with boxy dimensions that mean a pair of adults in the back seats will actually be comfortable - although the 315-litre boot is a little small for a car of this size.
The Kia Soul can be expensive, but it's very good to drive and is exempt from urban pollution charging zones. If there's a downside worth mentioning, though, it's the interior. Ironically, it lacks soul. It's just not as bright and cheery as you'd expect from the car's exterior, with lots of dark materials and drab plastics. But there's a high level of standard equipment at least.
Hyundai Kona Electric
Year launched: 2018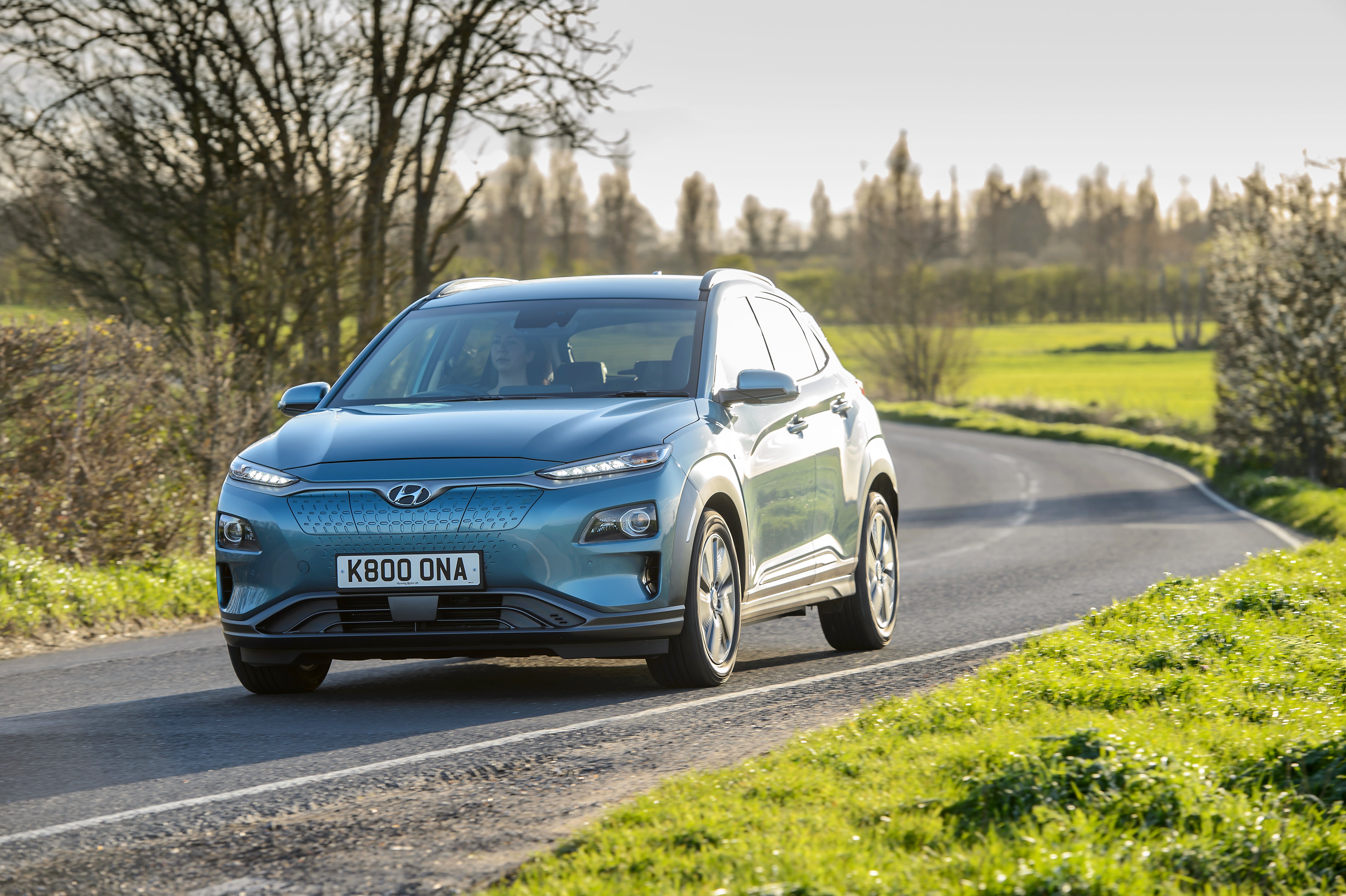 The Hyundai Kona Electric is a rare example of an electric car that's actually better to drive than its petrol or diesel equivalent - the Hyundai Kona. While the standard model was okay, in the same way a ham sandwich does the job it's supposed to do with no fuss or fun, the electric crossover combines an impressive official range of 279 miles with a desirable crossover bodystyle.
Batteries located under the floor of the compact SUV mean there's a reasonable amount of room inside, although the boot is also smaller than rivals like the Nissan Juke and SEAT Arona, but that doesn't stop the Kona Electric being hugely in demand with electric buyers.
Hyundai also offers a five-year, unlimited mileage warranty and an eight-year, 125,000-mile battery warranty. Rivals include the Kia e-Niro, with which the Kona EV shares its tech. But the e-Niro is bigger and more practical (and costlier).
MG ZS EV
Year launched: 2017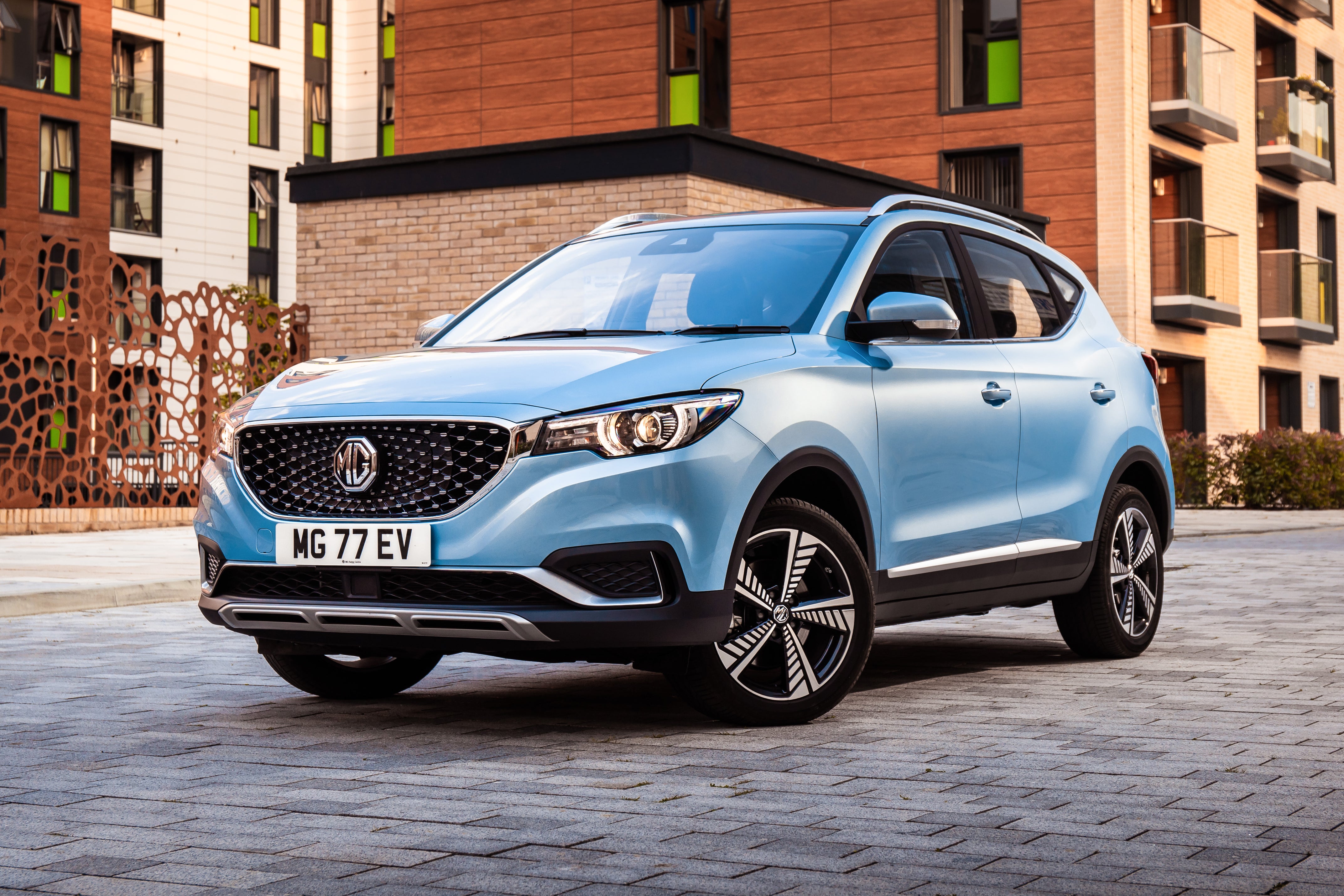 The fully-electric MG ZS EV might sound like a trio of meaningless acronyms, but it's a crossover with a big selling point as the UK's cheapest electric family car to buy new, providing bucket loads of value on the used market. It also gets the same 488 litres of boot space that the standard MG ZS sees. That's more than the rivalling Kia e-Niro offers, and the SZ EV comes at a lower price. However, the ZS EV can't match its key competitors for range, only covering an official 163-miles on a single charge.
The seven-year warranty has a limited mileage of 80,000 miles, but it is transferable between owners. The cabin has a mix of premium soft-touch materials and cheap plastics - but visibility is good and the seats are firm and comfortable.
All versions are well-equipped as standard, too, which means you get nice features like touchscreen infotainment and navigation. When it comes down to it, the MG ZS is a very basic, budget crossover that can't compete against standard rivals - but the electric ZS makes a good case for itself as a sensible buy if you're not looking to spend a lot.
Jaguar I-Pace
Year launched: 2018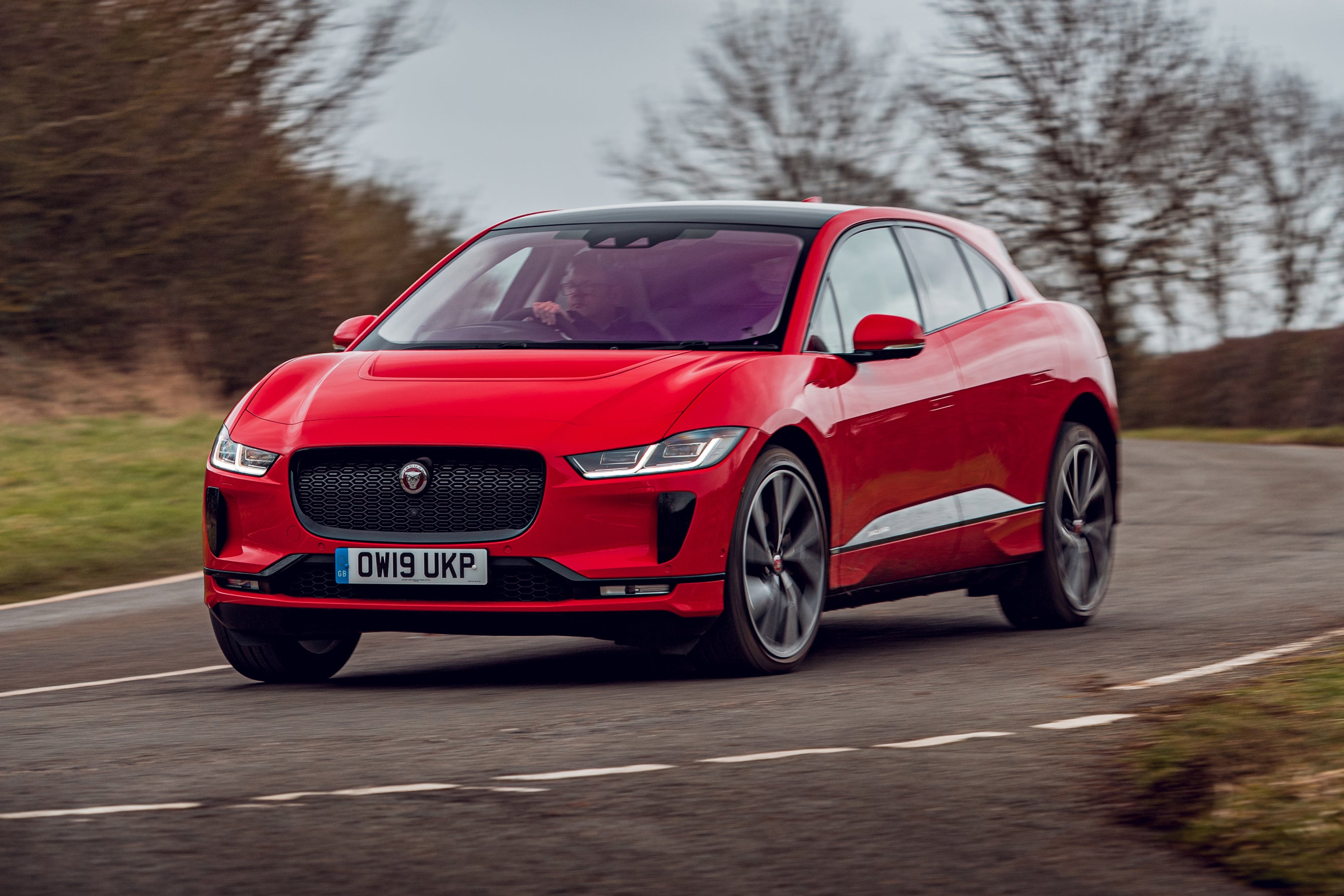 While the Jaguar I-Pace is in no way cheap, it certainly adds a cool factor to electric motoring that you wouldn't get with - say - a Nissan Leaf. And it's more SUV than a crossover, which accounts for the eye-watering price tag. But it's without a doubt one of the most enjoyable cars of its type to drive, as well as being supremely quick. The twin electric motors combine to give you 400PS, while lots of standard luxury kit makes it well rounded for those want something undoubtedly premium.
The ever-important range betters that from direct rivals from Audi and Mercedes with which it competes. Using a 50kW public rapid charger, you'll get 168 miles of charge in just an hour. A DC charge up to 100kW will be even quicker. For those charging at home, a 7kW wall box charger will fill your batteries in just under 13 hours, at a rate of around 22 miles of range per hour.
If you're willing to pay good money for the Jag badge and sporty looks, the I-Pace is definitely worthy of your consideration. When it comes to rivals, the Audi e-Tron offers a gorgeous interior, while the Mercedes EQC's would be any gadget head's choice. If you're already taken in by the Tesla Model X, you're unlikely to be seriously considering the I-Pace anyway - right?
Aside from the quiet, refined nature or electric vehicles - you don't have to pay road tax on an electric car, while London dwellers won't need to pay the Congestion Charge. The government will even give you a grant to buy one. They also offer the same practicality and versatility of a petrol or diesel crossover, with lower running costs if you can charge at home.
There aren't many of them about yet, but more are on their way. They also have a high list price, and the few models on the used market hold their value well - so you won't get the same bargains you will on a petrol or diesel crossover. If you can't charge at home, constantly needing to charge on-the-go will certainly lead to frustration.
The Kia e-Niro is excellent; well-priced, reliable and a genuinely usable family car. We also rate the Kia Soul EV and Hyundai Kona Electric highly.
Reviews of more electric crossovers
Kia Soul
150kW First Edition 64kWh 5dr Auto
Stockton Kia

Teesside, TS183BP
PCP: £609.68/mo
Representative example: Contract Length: 37 months, 36 Monthly Payments: £609.68, Customer Deposit: £4,244.00, Total Deposit: £4,244.25, Optional Final Payment: £7,240.58, Total Charge For Credit: £5,138.31, Total Amount Payable: £33,433.31, Representative APR: 10.9%, Interest Rate (Fixed): 5.61%, Excess Mileage Charge: 14.9ppm, Mileage Per Annum: 10,000
Kia Soul
150kW First Edition 64kWh 5dr Auto
Gravells Kia Bridgend

Bridgend, CF313SA
PCP: £518.23/mo
Representative example: Contract Length: 36 months, 35 Monthly Payments: £518.23, Customer Deposit: £4,349.00, Total Deposit: £4,349.25, Optional Final Payment: £11,751.00, Total Charge For Credit: £5,243.30, Total Amount Payable: £34,238.30, Representative APR: 9.9%, Interest Rate (Fixed): 9.46%, Excess Mileage Charge: 8ppm, Mileage Per Annum: 10,000
Kia Soul
150kW First Edition 64kWh 5dr Auto
Manufacturer Approved
Chorley Group Kia Blackpool

Lancashire, FY42RP
PCP: £461.53/mo
Representative example: Contract Length: 36 months, 35 Monthly Payments: £461.53, Customer Deposit: £4,348.00, Total Deposit: £4,348.50, Optional Final Payment: £14,038.75, Total Charge For Credit: £5,550.80, Total Amount Payable: £34,540.80, Representative APR: 9.9%, Interest Rate (Fixed): 9.46%, Excess Mileage Charge: 8.61ppm, Mileage Per Annum: 10,000