Best estates for £20,000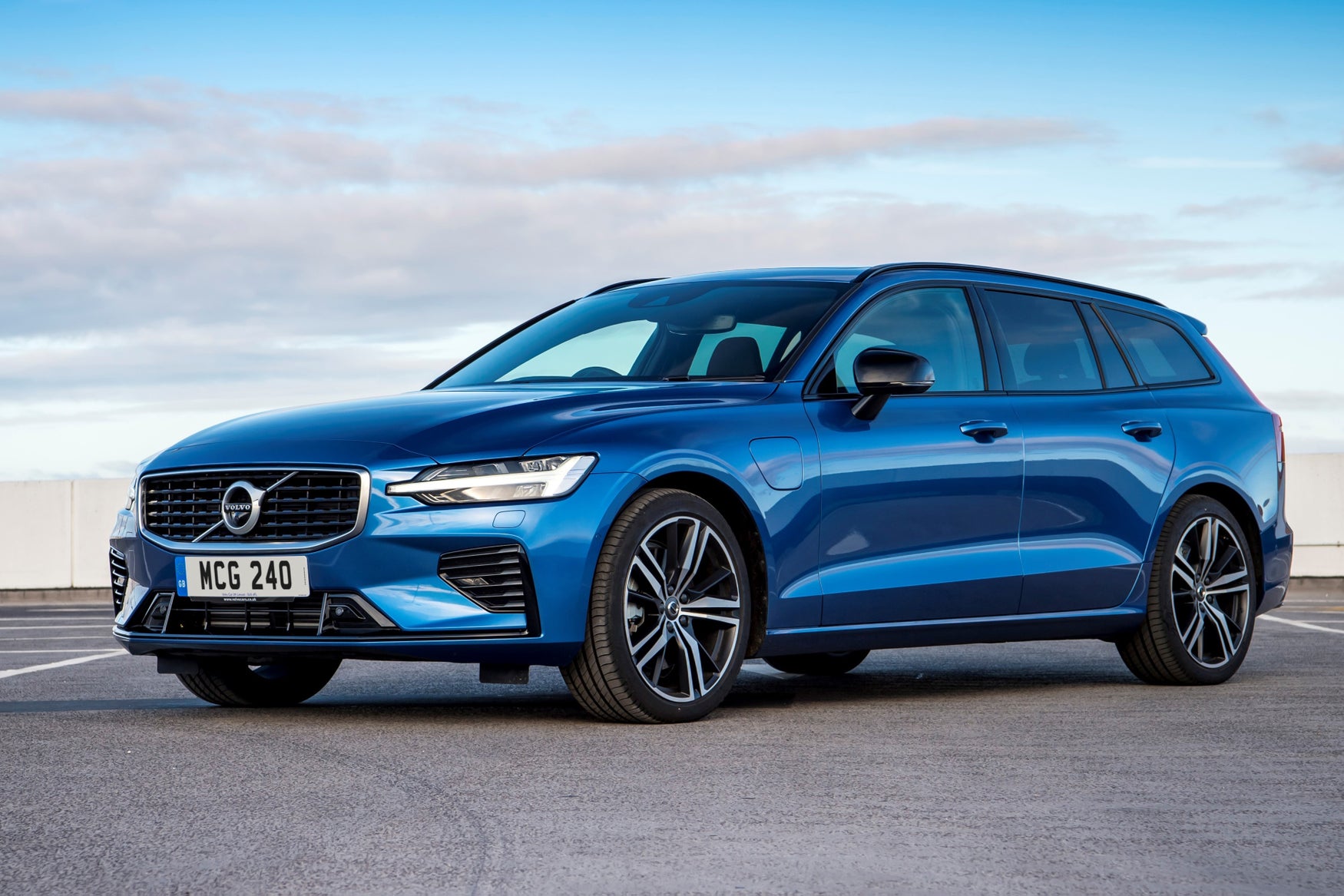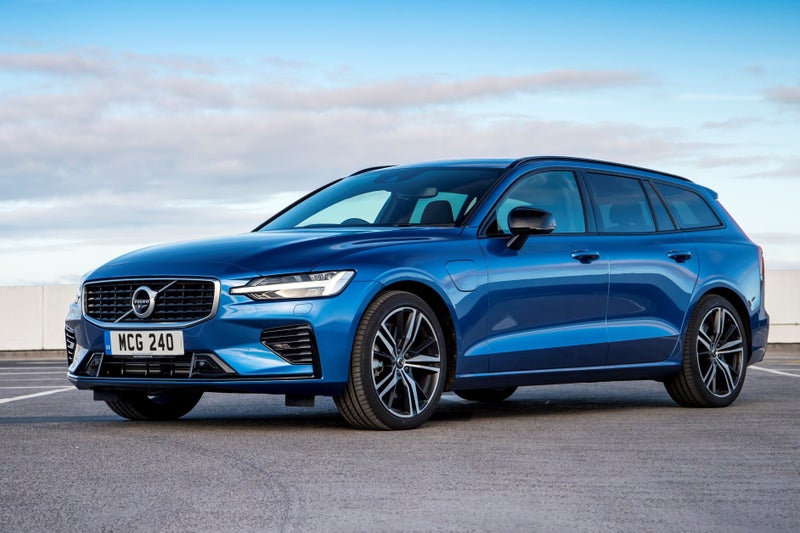 Estates needn't be big, boxy and ugly things that are the preserve of dog owners. Modern estates are now as good to drive as their saloon and hatch counterparts yet offer more practicality than an SUV.
There's a wide range of models on the market covering everything from cheap runabouts with high MPG to performance versions and even four-wheel drive.
So if you're after a versatile estate that's family-friendly and affordable to run, here are the best estates you can buy now for £20,000.
Mercedes C-Class
Year launched: 2014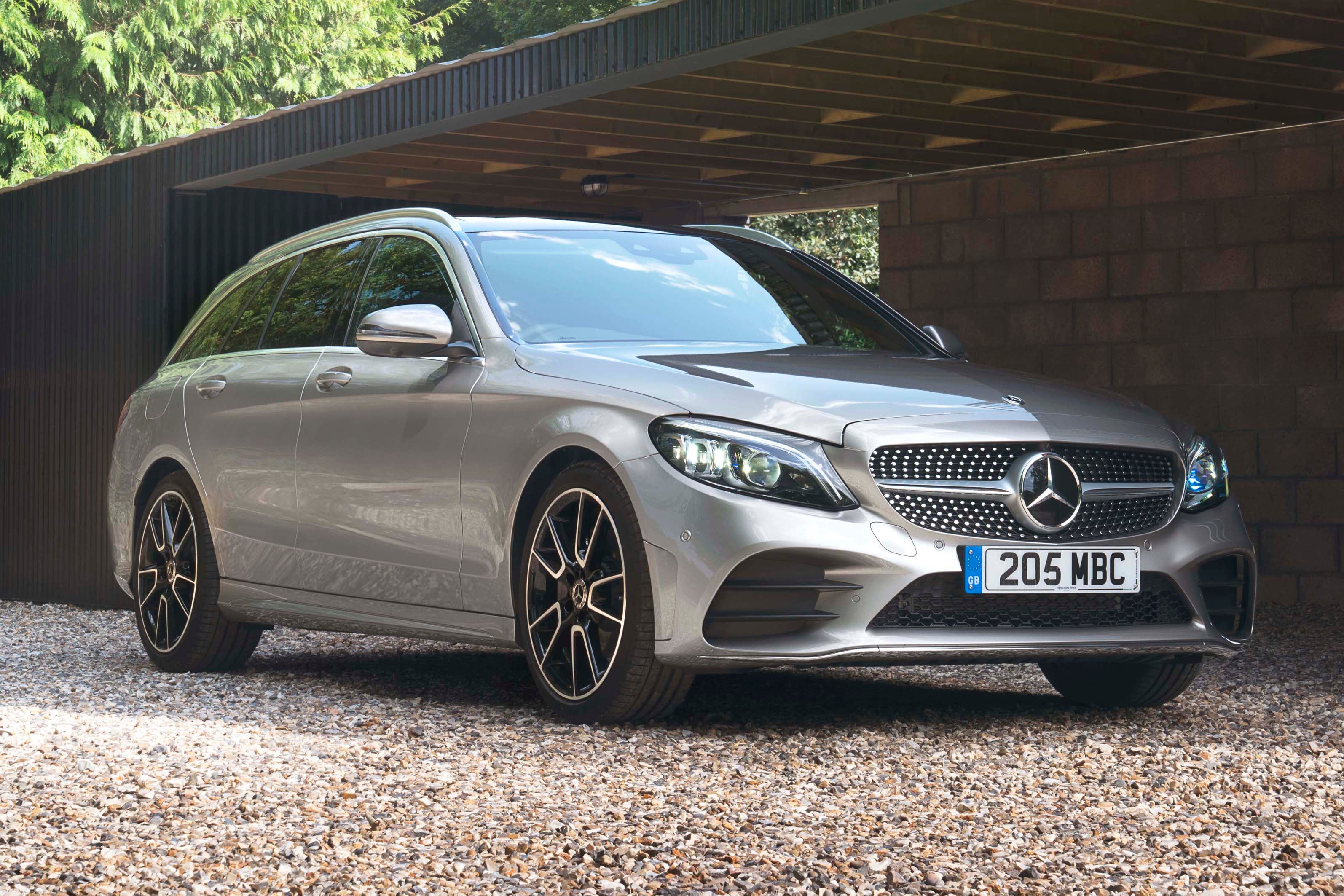 If you want comfort and classy sophistication from your estate, look no further than the Mercedes C-Class Estate. While it may not have the dynamic handling feel of a BMW 3 Series, the C-Class Estate majors on comfort and refinement with a wide range of engines in the line-up.
The best for a blend of long distance economy and performance is the C 220d but there's also the C 250d if you want a bit more power. Both are available at this budget and with sensible mileages too. If most of your driving is around town, look for a C350e which is the Plug-In Hybrid version.
The boot is good at 450 litres and the C-Class Estate has 40/20/20 split folding rear seats as standard while the boot floor not only sits flush with the loading lip, but conceals a large space underneath.
Audi A4 Avant
Year launched: 2015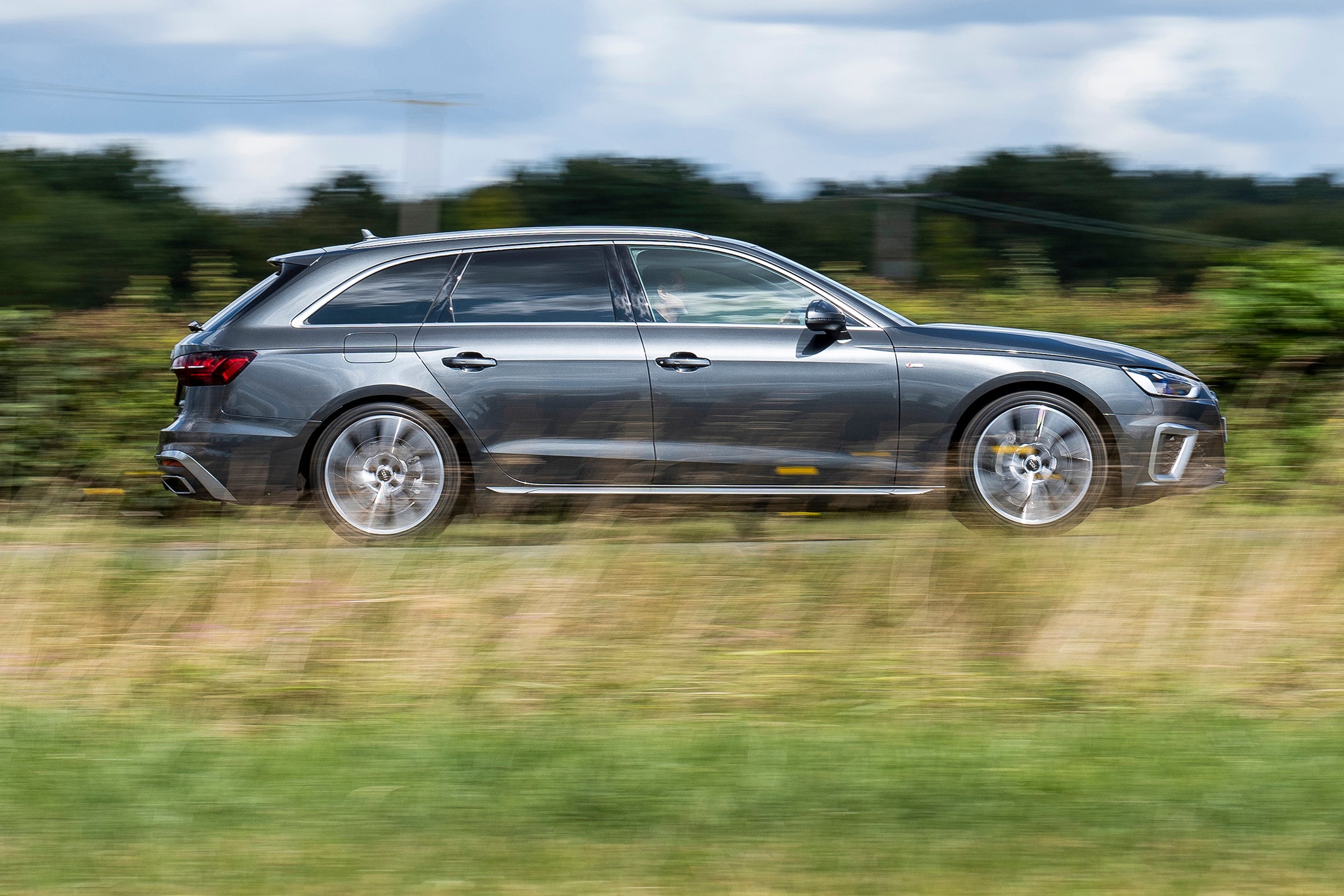 With its neat styling, well designed cabin and upmarket image, it's no surprise that the Audi A4 Avant has proved so popular among demanding buyers. While the BMW 3 Series Touring may be better to drive and the Mercedes C-Class Estate more comfortable, the A4 Avant is still a great all rounder that makes the perfect family estate. It also has a bigger boot than both the 3 Series Touring and the C-Class Estate.
Okay, so you're unlikely to stand out from the crowd, the A4 Avant has become a common sight on our roads, but there's a good reason people love it. Our highlight is the interior which is impeccably finished and echoes the luxury Audi A8.
With a budget of £20k there's lots of choice on the used market with the 2.0 TDI models the most popular. You can pick up a three or four-year-old example with around 20,000 miles on the clock.
Volkswagen Golf Estate
Year launched: 2013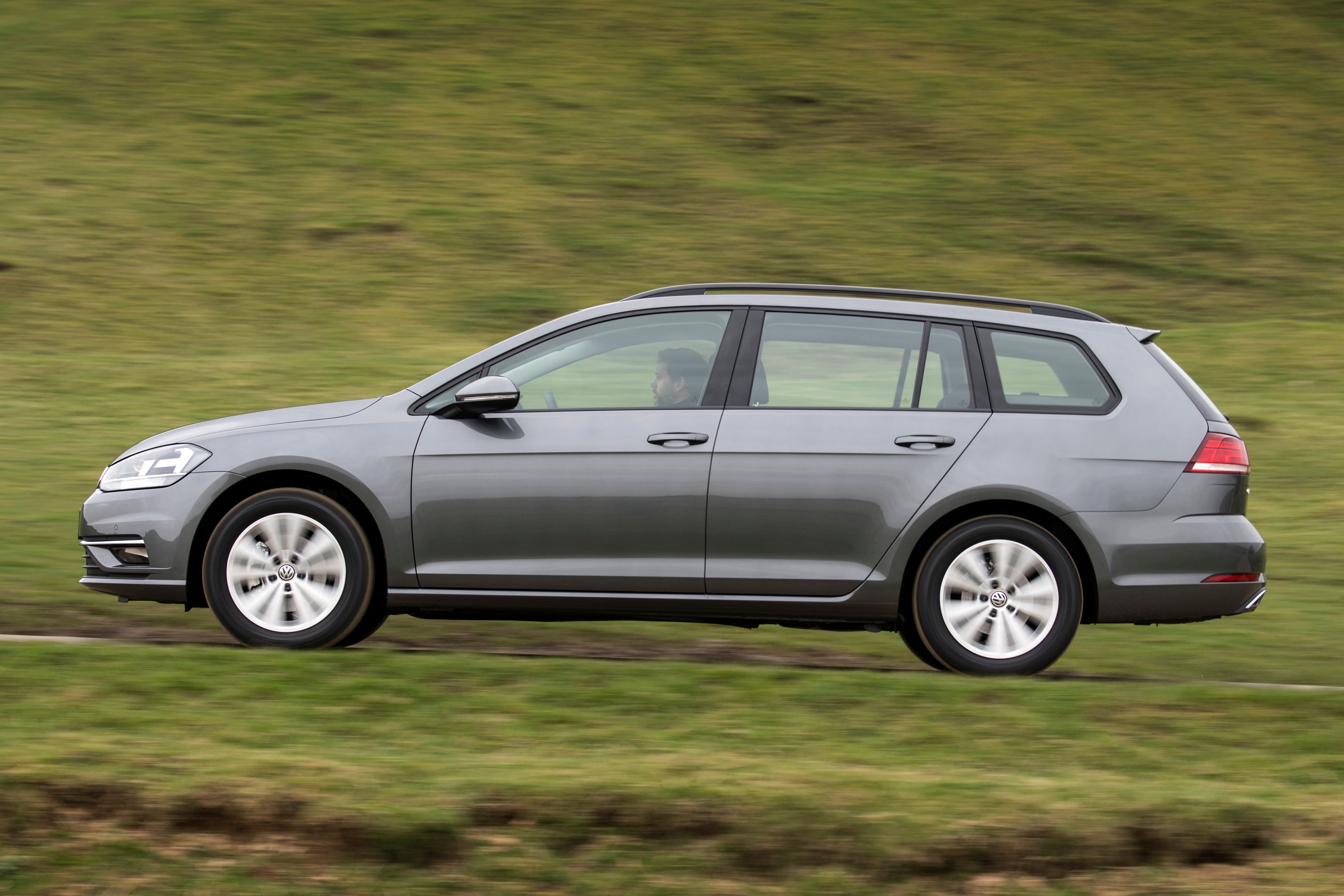 It's easy to think of the Golf Estate as a bit dull and it's true that this wagon is far from the most exciting family hauler around, but choose carefully and you can end up with a Golf that's a bit more fun to drive. You can of course go all out and get a Golf R Estate at this money but we'd be tempted by a low mileage (and newer) Golf GTD model.
Fitted with the more powerful 2.0 TDI engine that is also used in the Octavia vRS among others, the GTD Estate has GTI-esque styling and with 180PS, delivers suitably quick performance. Yet you should still see more than 45mpg.
And being a Volkswagen it's as solid as a rock with a well built interior and a surprisingly practical boot with 605 litres - that's more than an Audi A4 Avant. It's easy to see the appeal here.
Ford Focus Estate
Year launched: 2018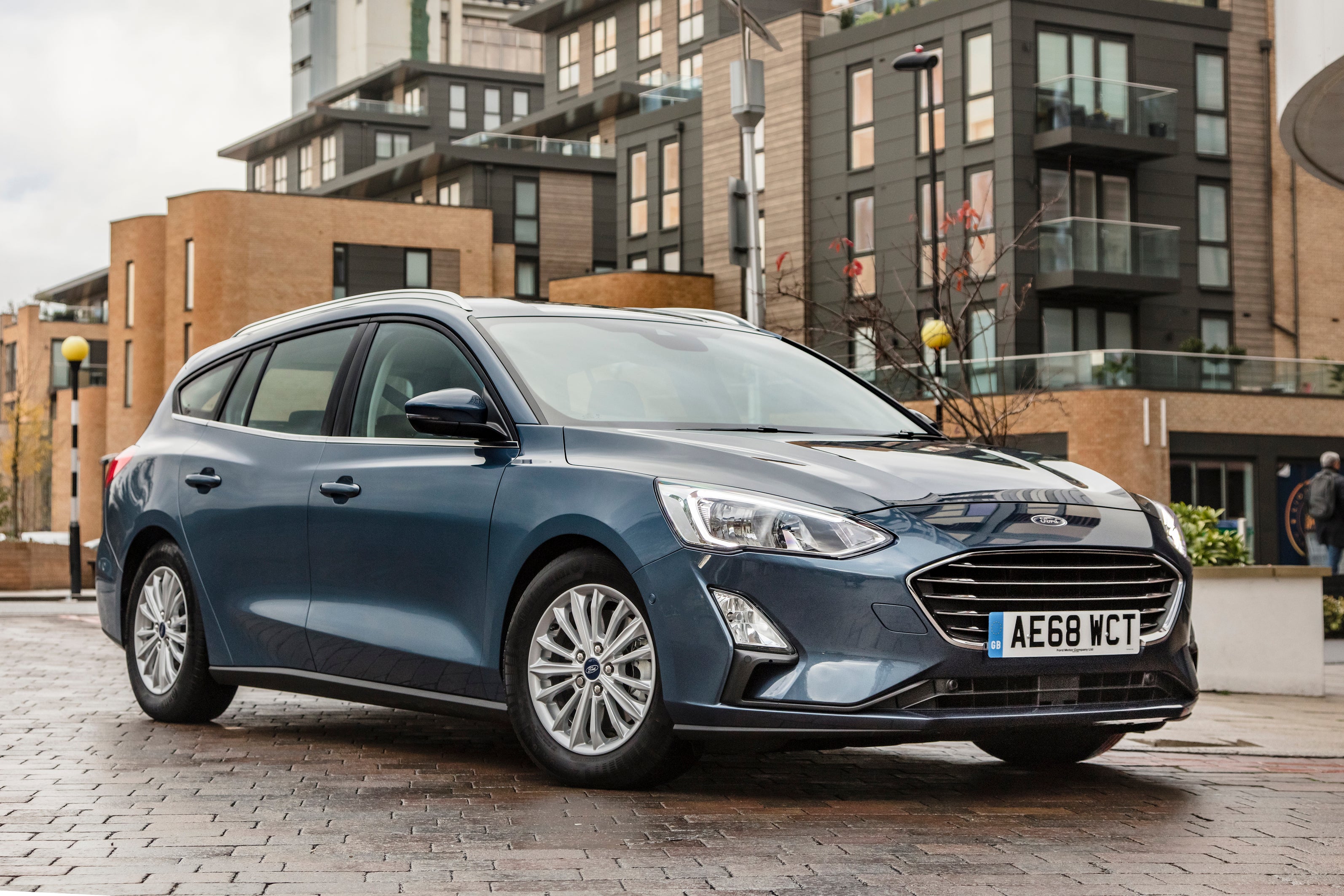 Like its Volkswagen Golf rival, the Ford Focus Estate is not a car that would traditionally get your pulse racing - it's the kind of car that would usually have 'carpet salesperson' written all over it. But in the right specification, the Focus Estate can offer style, quality and good performance too. All without a carpet sample in the boot.
The cabin feels much more upmarket than the previous Focus. Gone are the cheap plastics and button overload. In their place are an eight-inch colour touchscreen infotainment display. The ST-Line X models are the ones to look for with a sporty body kit, spoiler and 18-inch alloys and come with the choices of EcoBlue diesels or, our choice, the excellent EcoBoost petrol. If you want a more understated look there's also the Vignale version, Ford's premium brand that comes fully loaded.
A budget of £20,000 gives you plenty of choice and you can get a one-year-old example that's covered less than 5000 miles.
SEAT Leon ST
Year launched: 2013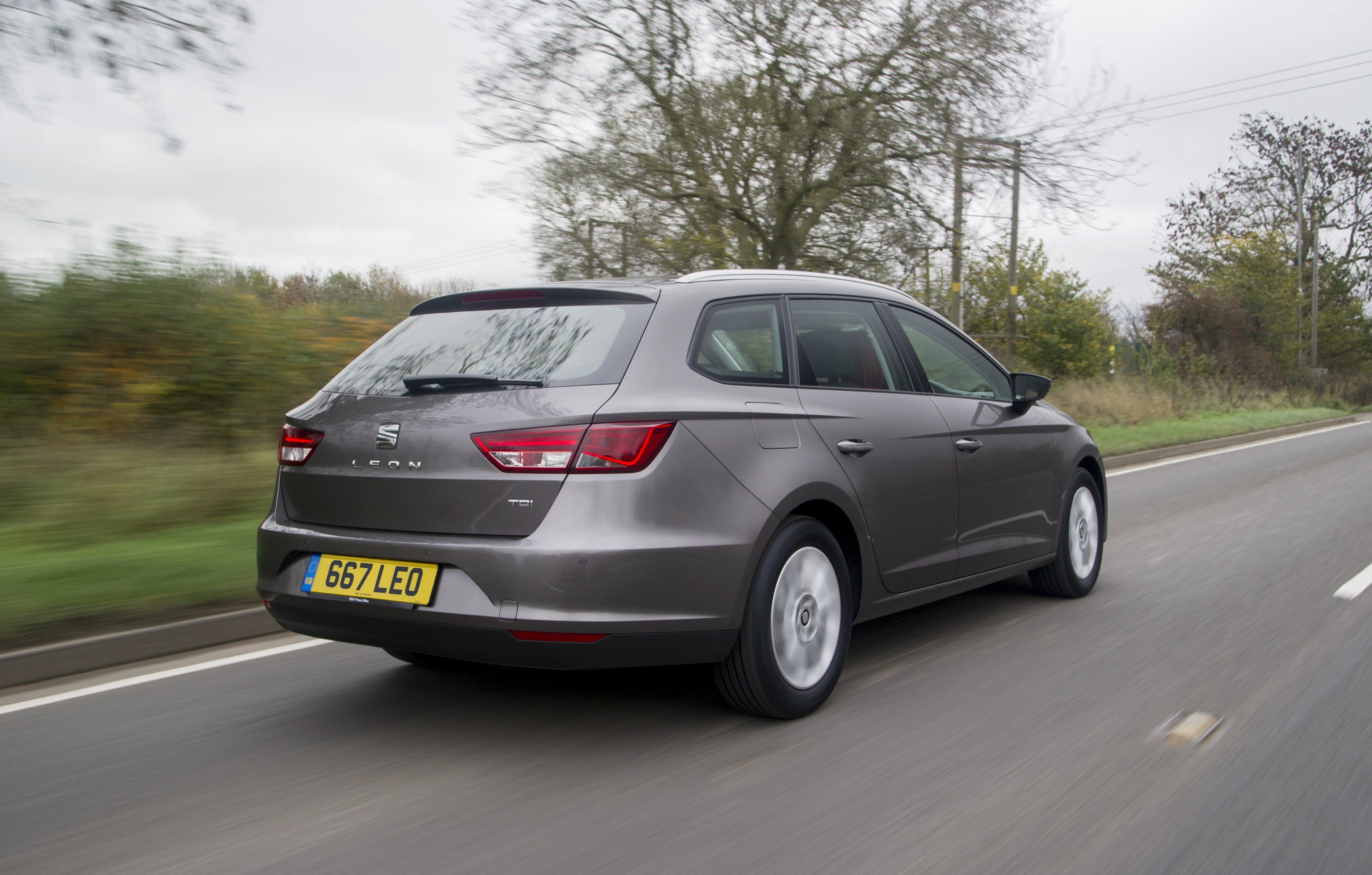 If you want Golf quality but in a more stylish package, the Leon ST is a good choice. It's not actually that much longer than a Leon hatchback, but offers an impressive 587 litres of storage, which outperforms some notable and much larger rivals, including the Audi A6 Avant, BMW 5 Series Touring and Ford Mondeo Estate. As practicality goes it looks very impressive on paper.
It feels well built too with a good quality cabin which although a little on the dull side, is at least comfortable and easy to live with - the touchscreen infotainment system is one of the best around.
With a budget of £20,000 you can have your pick of the Leon range including the performance Leon Cupra version with a 300PS 2.0 TSI engine. If you want something a bit more sensible look at a nearly new FR model with either the 1.5 TSI or 2.0 TDI engine.
Mazda 6 Tourer
Year launched: 2012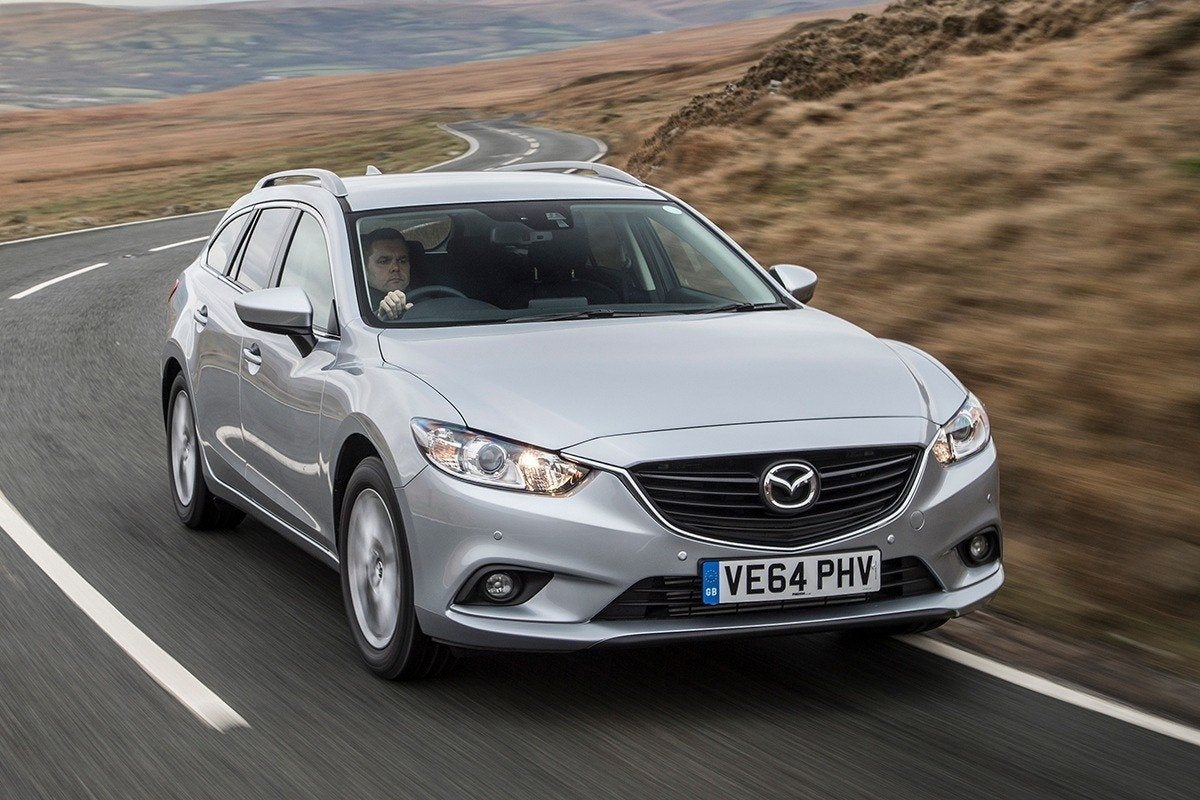 The Mazda 6 Tourer may not sell as well as rivals from the likes of Volkswagen and Ford, but the Mazda 6 is a bit of a hidden gem among estates. We think it's one of the best family estates on sale with great handling, strong engines and a well-finished cabin. It may not have the style or sophistication of some, but the Mazda 6 Tourer is a car that makes for a sensible buy.
The one thing that perhaps lets it down is boot space. On paper, the Mazda 6 Tourer has 506 litres of space which is certainly generous when taken in isolation, but lags behind the Passat Estate with 650 litres. But the Volkswagen can't match the Mazda when it comes to handling - the 6 Tourer is great to drive with a sense of agility that belies its size.
With £20,000 at your disposal you can get behind the wheel of a 12-month-old Mazda 6 Estate Sport Nav+ with the 2.2-litre diesel engine.
Toyota Corolla Touring Sports
Year launched: 2019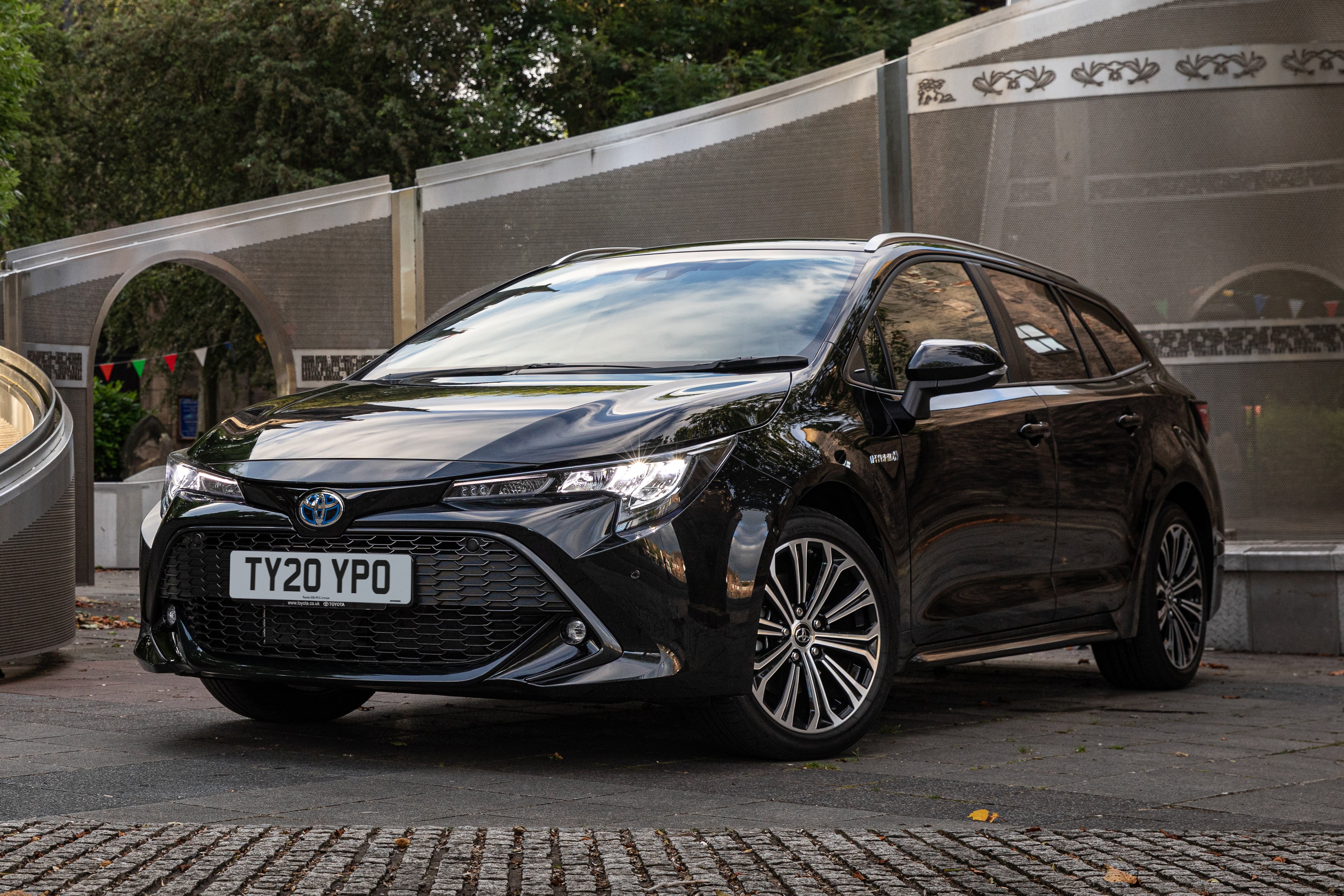 If you want the most reliable estate around, the simple answer is to buy a Toyota. The latest Corolla Touring Sports remains true to Toyota's values - it's well-engineered, incredibly refined and makes for fuss-free ownership. With Toyota moving away from diesels, there's a limited choice on the Corolla range with either a 1.2-litre petrol (which has now been discontinued) or two versions of the hybrid.
And it's the hybrid you really want. If you think hybrids are slow and dull, the Corolla will change all that. Even the entry-level 1.8 Hybrid is quick and responsive, plus there's hardly any of the usual CVT whine you get with hybrids. It's a great alternative to a diesel and just as cheap to run. Toyota has really succeeded in that respect.
A budget of £20,000 means you can get a one-year-old Icon Tech example on the used market with less than 5000 miles.
Skoda Superb Estate
Year launched: 2015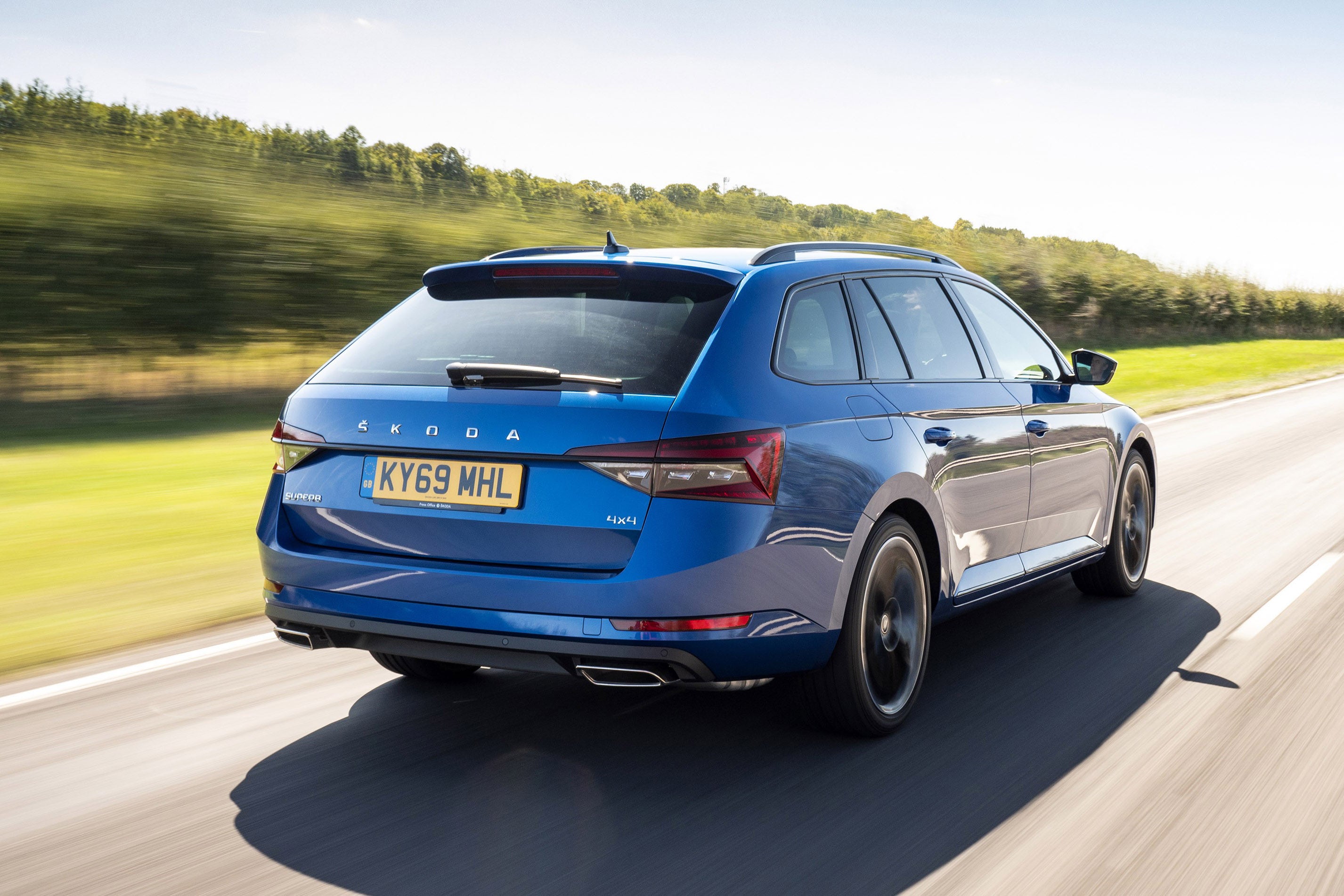 There's a good case for including both the Skoda Superb Estate and the Octavia Estate in this list, but for us the Superb just shades it. It's not just the huge boot space that makes this such a good family estate - there's 660 litres of cargo space - but the amount of room throughout. Sit in the back and even with the front seats adjusted as far back as they'll go, there's an enormous amount of legroom to stretch out.
It's bigger than any other estate and not far short of a Mercedes S-Class. If you have growing teenagers, you'll certainly appreciate not having their knees in the back of your seat. As you'd expect, the 2.0 TDI is very popular and suits the Superb in its role as a comfortable long-distance cruiser.
If you aren't covering long distances then look at a 1.5 TSI petrol, preferably in SE Technology trim which will prove affordable to run and is within budget.
Volvo V60
Year launched: 2018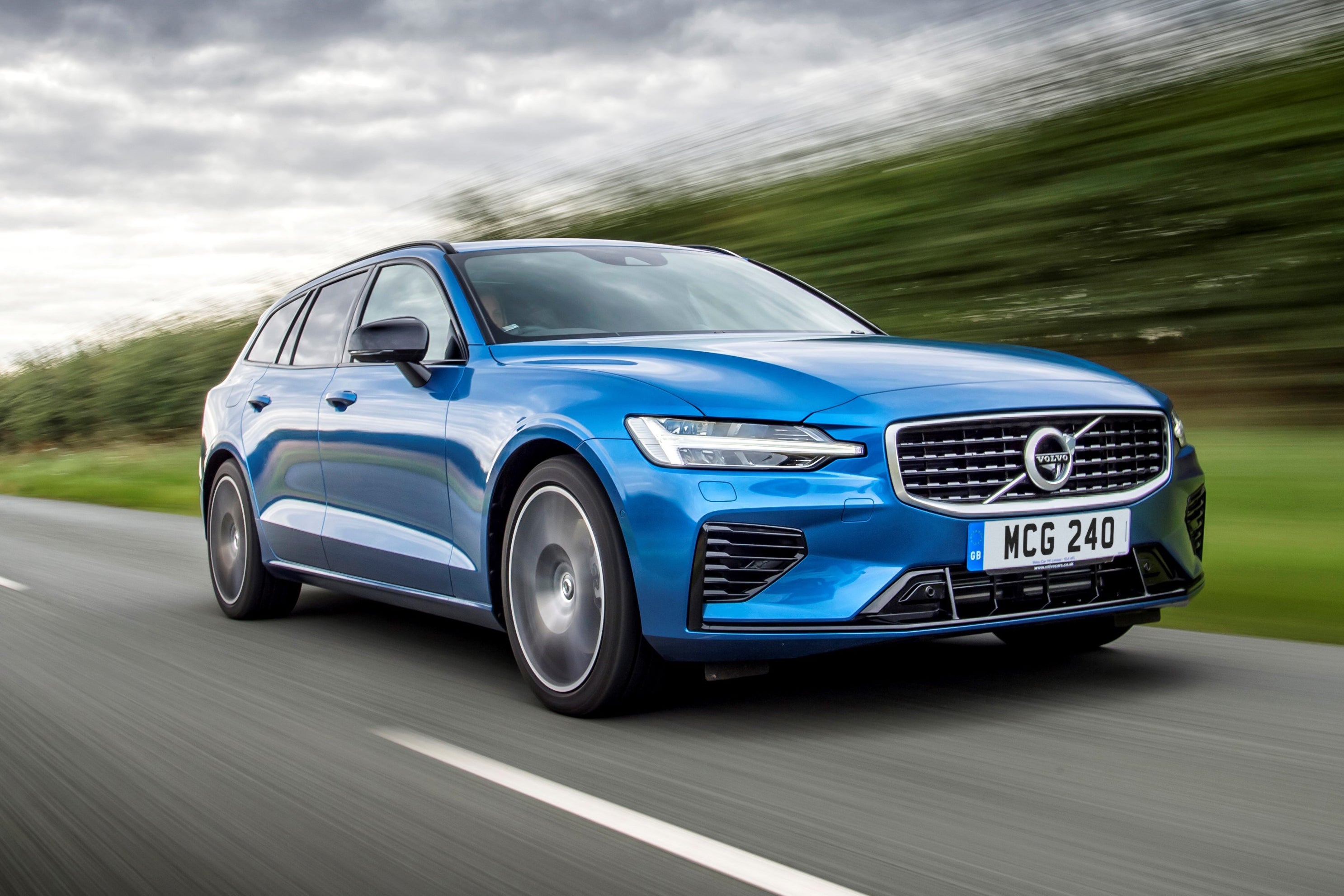 Volvo is a brand once inextricably linked with estates, but the brand has changed enormously in recent years and is now arguably better known for its high quality SUVs. That's not to say it still doesn't do estates well though - as the latest V60 undoubtedly illustrates. As is tradition with Volvo, the V60 is extremely comfortable.
The driver's seating position is excellent. Volvo's seats are known for their comfort, and you could easily spend a long period of time in the V60 without suffering any great aches or pains. With a cargo capacity of 529 litres, the V60 has one of the largest boots around - beating both the 3 Series Touring and A4 Avant. All models come with an electric tailgate and the wide-opening and broad space means it can carry bulky and awkward items.
With £20k at your disposal you'll be looking at one or two-year-old models with about 10,000 miles on the clock. The T4 is a good bet for lower mileage drivers.
Vauxhall Insignia Sports Tourer
Year launched: 2017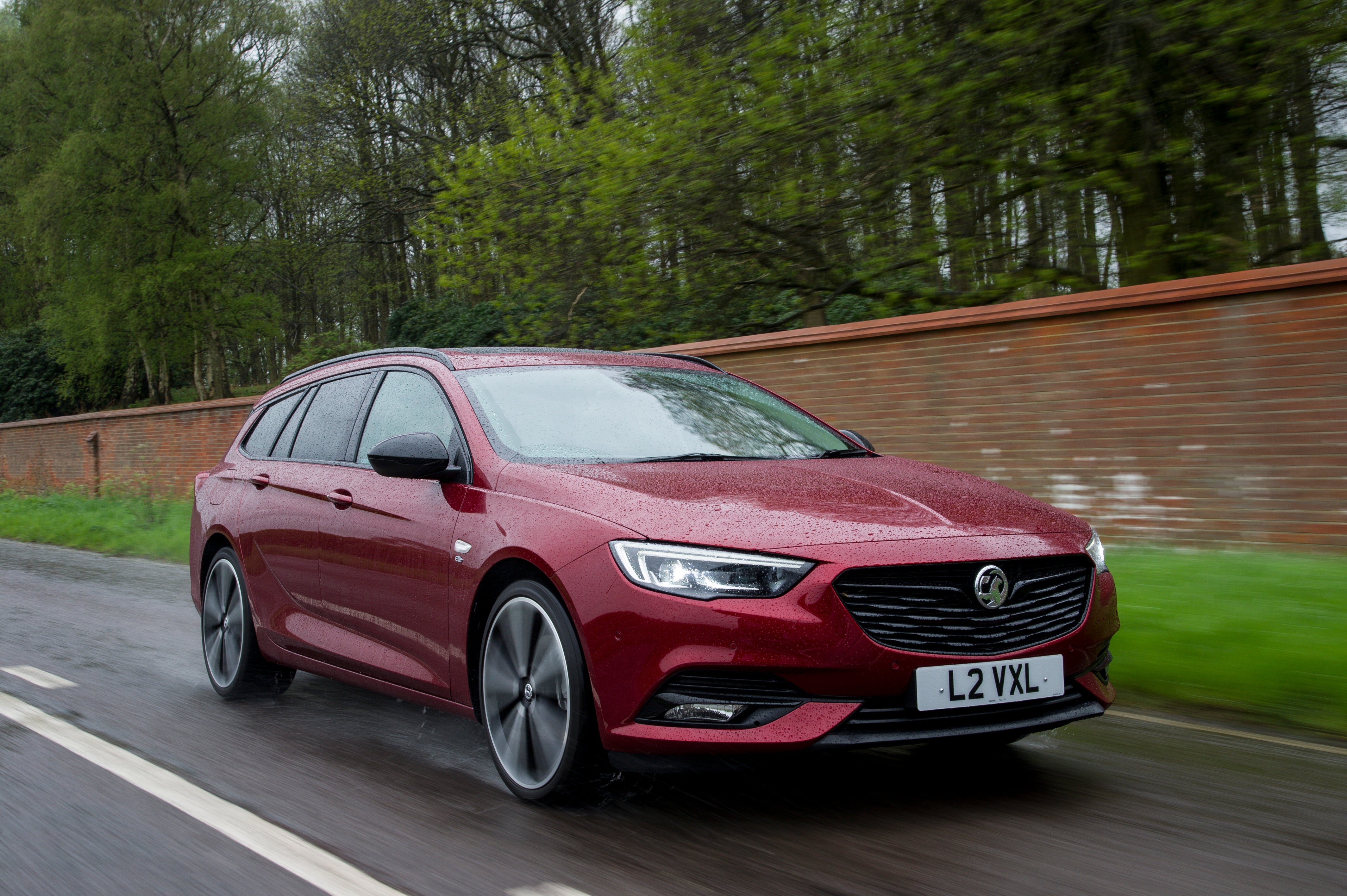 Often overlooked in favour of something with a bit more status, the Vauxhall Insignia Sports Tourer was only on sale in the UK for barely two years before being prematurely withdrawn. Vauxhall said buyers were moving towards the Grandland X - a reflection of the rise of SUVs. It's a shame as the Insignia Sports Tourer was one of the Vauxhall models that for us, had some appeal.
It's a good looking estate with neat handling, plus the ride quality is good and the steering nicely weighted. The Insignia flows from corner to corner and does a good job of soaking up potholes and road imperfections. It's let down sadly by a below par interior but there are no complaints about space with a large 560-litre boot.
As a new car, the Insignia Sports Tourer was great value for money and the remains the case used. You'll find one-year-old models that have covered barely 3000 miles within this budget.
The BMW 5 Series Touring remains the best estate for 2021 thanks to its superb build quality, high class interior and excellent driving dynamics. There's a wide choice of engines but the 520d is our choice for a blend of performance, economy and low running costs.
The best large estate on the market is the BMW 5 Series Touring followed closely by the Skoda Superb Estate. Both offer refinement, high quality interior and generous boot space.
The most reliable used estate car to buy is the Toyota Corolla Touring Sports which now comes exclusively with hybrid power. It's also very comfortable, easy to drive and cheap to run.
Skoda Superb
1.5 Tsi Se L Executive 5Dr Dsg
Manufacturer Approved
Euro SKODA Crawley

Surrey, RH103EQ
PCP: £293.71/mo
Representative example: Contract Length: 36 months, 35 Monthly Payments: £293.71, Customer Deposit: £2,923.00, Total Deposit: £2,923.50, Optional Final Payment: £8,852.50, Total Charge For Credit: £2,565.85, Total Amount Payable: £22,055.85, Representative APR: 6.9%, Interest Rate (Fixed): 6.86%, Excess Mileage Charge: 7.2ppm, Mileage Per Annum: 10,000
Skoda Superb
1.5 TSI Sport Line 5dr DSG
Manufacturer Approved
Marshall Skoda Croydon

Surrey, CR04NZ
PCP: £271.80/mo
Representative example: Contract Length: 36 months, 35 Monthly Payments: £271.80, Customer Deposit: £2,789.00, Total Deposit: £2,789.25, Optional Final Payment: £9,170.20, Total Charge For Credit: £2,877.45, Total Amount Payable: £21,472.45, Representative APR: 7.9%, Interest Rate (Fixed): 7.87%, Excess Mileage Charge: 7.2ppm, Mileage Per Annum: 10,000
Skoda Superb
2.0 TDI CR S 5dr
John Mulholland Skoda Randalstown

Antrim, BT412EB
PCP: £327.60/mo
Representative example: Contract Length: 36 months, 35 Monthly Payments: £327.60, Customer Deposit: £3,074.00, Total Deposit: £3,074.25, Optional Final Payment: £8,582.50, Total Charge For Credit: £2,627.75, Total Amount Payable: £23,122.75, Representative APR: 6.9%, Interest Rate (Fixed): 6.86%, Excess Mileage Charge: 8.38ppm, Mileage Per Annum: 10,000