Best estates for £40,000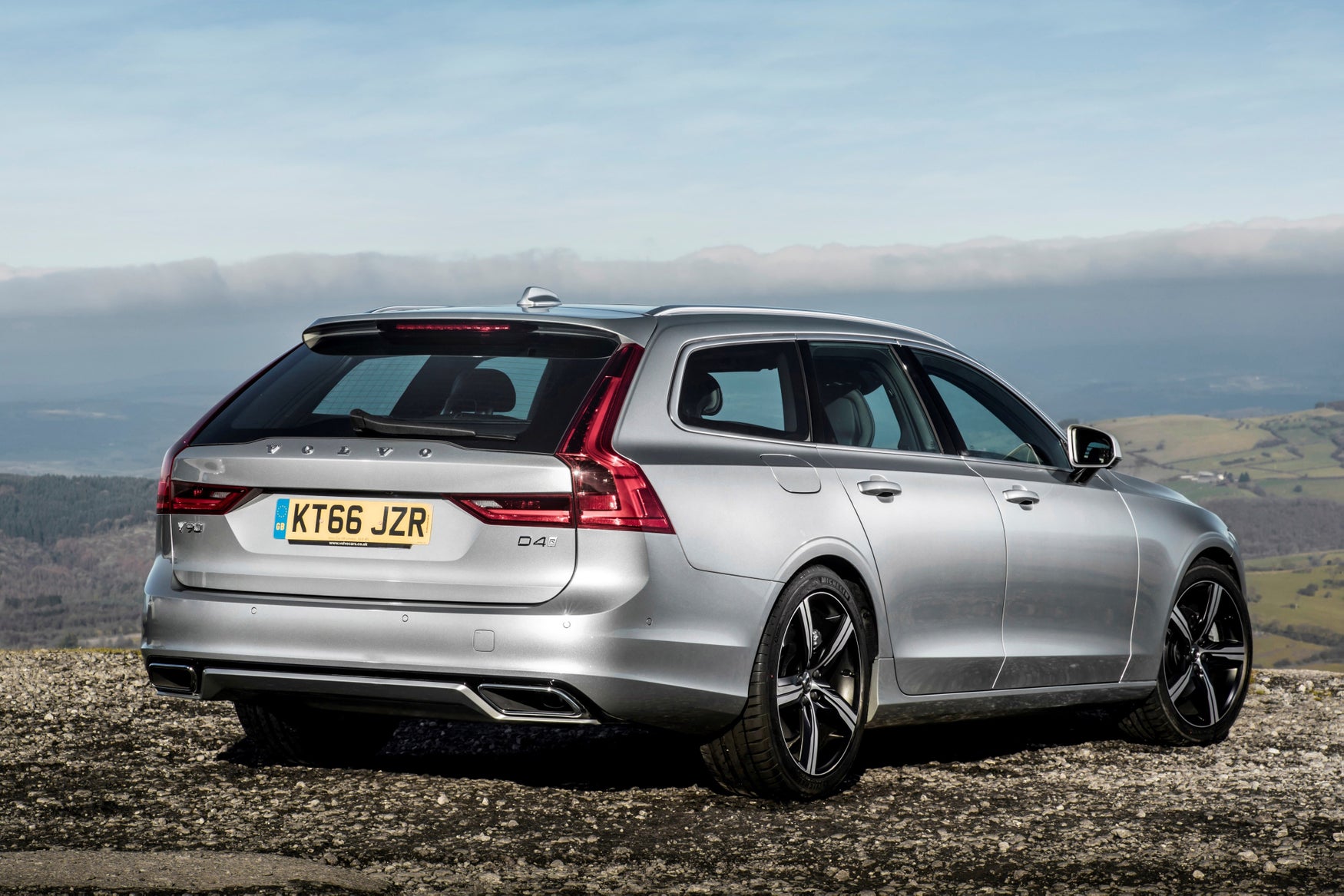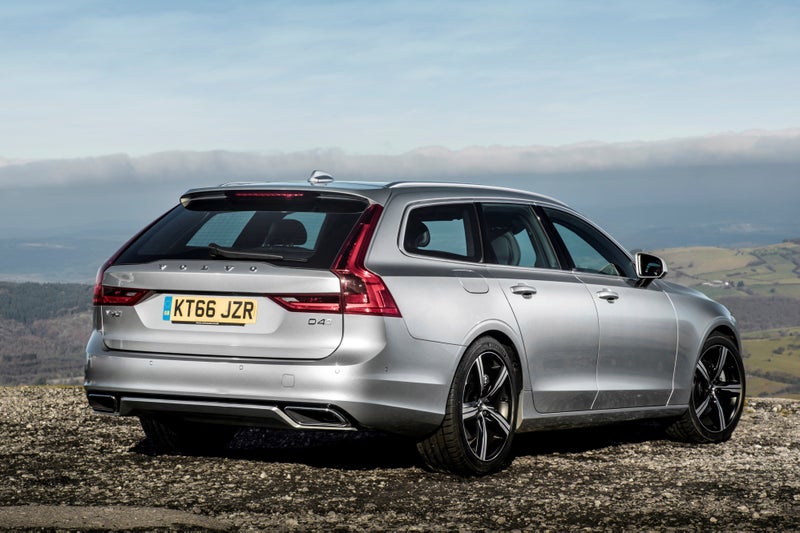 Top quality estates make a strong case for themselves as all the car you'll ever need. Blending high-class comfort with top quality interiors and plenty of space, a good estate can cover all the bases, being family runabout at the weekend, an enjoyable daily driver to the office and long-distance hauler in the summer.
There's no shortage of estates on the market, covering everything from hot hatch performance to limousine-like comfort. Here are the best used estates you can buy for £40,000 and (just) avoid incurring the extra showroom tax.
BMW 5 Series Touring
Year launched: 2017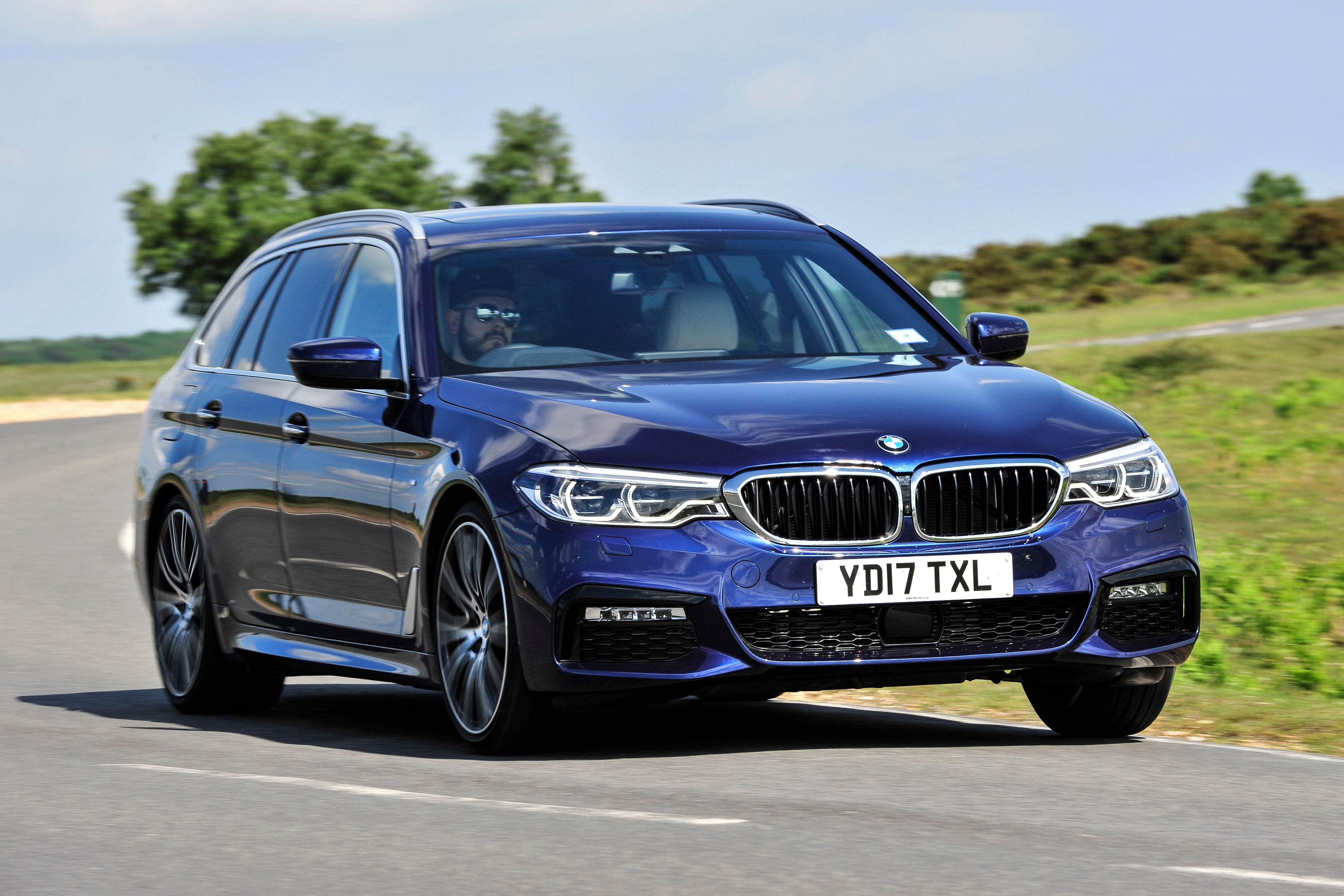 The BMW 5 Series Touring is one of the few cars to get the maximum 10 out of 10 rating on heycar, something we reserve for cars that are truly special. As premium estates go, the BMW is near faultless - spacious, comfortable, attractive inside and out, it's also great to drive - this is a BMW after all.
But it's perhaps the effortless way this all comes together that makes the 5 Series so impressive. It's clearly a well engineered car that's full of technology, yet the 5 Series Touring is also an easy car to live with everything simple and user-friendly. It's practical of course with a big 570-litre boot which although not as big as a Mercedes E-Class Estate is on par with rivals like the Volvo V90.
There's a wide range of models available with the 520d giving the best combination of performance and economy. But at this money we'd be tempted by a 530d xDrive. It's pretty much the ultimate estate car.
Audi A6 Avant
Year launched: 2018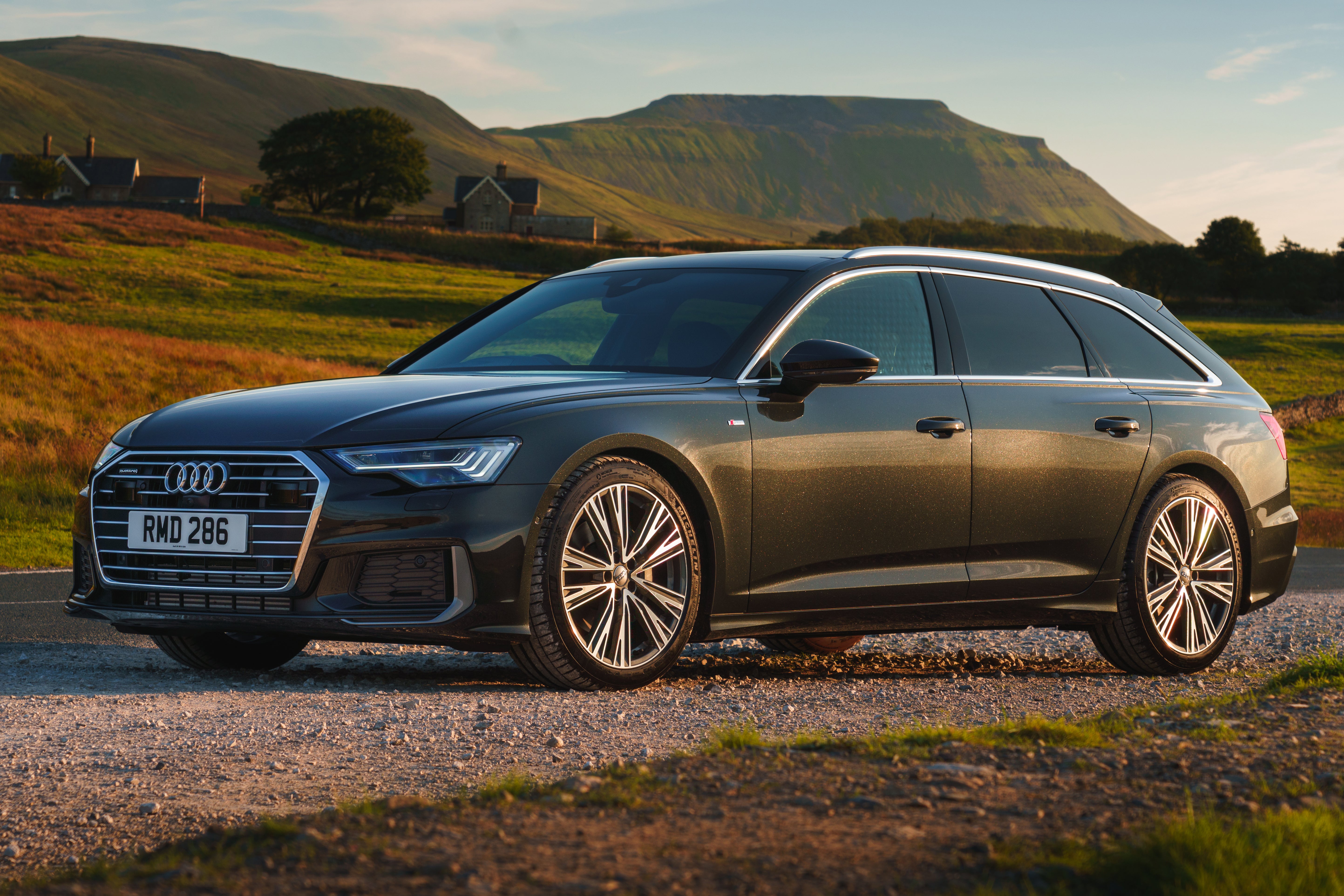 The latest Audi A6 has one of the best car interiors around. Compared to its predecessor, it has been brought thoroughly up to date compared to the outgoing model, which was starting to feel past its best. Everything is up to Audi's usual standards - by which we mean the best in the business - and a two-screen infotainment system feels very modern, providing access to everything from the radio to the heated seats.
Space-wise, bigger dimensions compared to its predecessor means there's plenty of it. Rear passengers benefit the most, with a tall adult and their quiff having plenty of head and legroom in the back. The boot's on par with rivals and Audi has increased the opening to ease loading and unloading.
A budget of £40,000 gives you access to plenty of one-year-old models with few miles on the clock. Audi's baffling badging system continues to confuse but the 40 TDI is powered by a 2.0 TDI which we think works really well in the A6 Avant.
Mercedes-Benz E-Class Estate
Year launched: 2016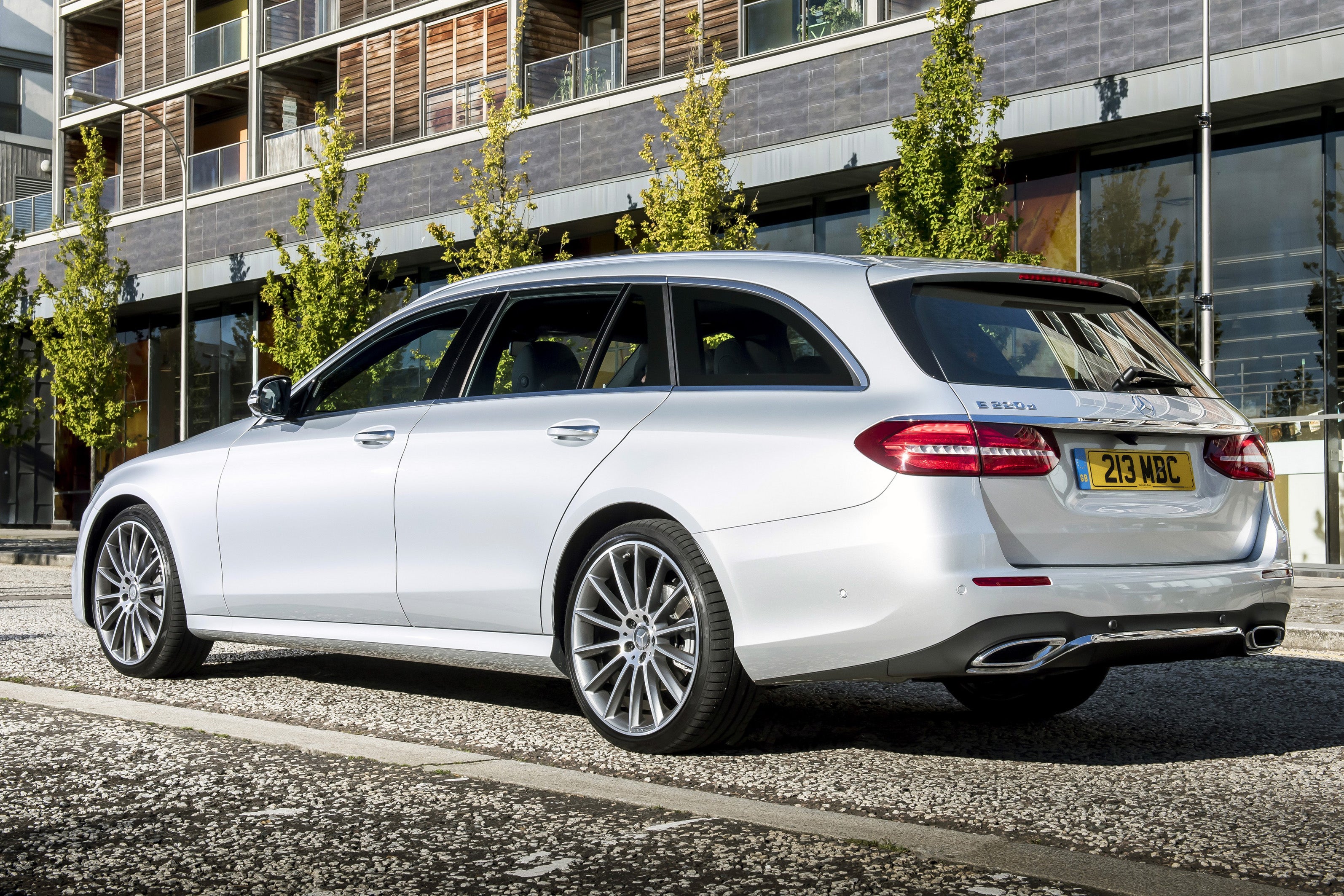 With its blend of unrivalled sophistication, impressive comfort and huge amounts of space, the Mercedes E-Class Estate is the car that runs the 5 Series Touring mighty close for the crown of best estate on the market. Let's face it, you're not going to be disappointed with either if you're after a top-notch estate.
While we love the cabin, the back of the E-Class is the real highlight. There's generous room for three children or even a trio of adults, while the boot offers 640 litres of cargo capacity. This can be extended by dropping the 40/20/40 split and tip rear bench to free up to 1820 litres of luggage space. That's bigger than anything else here.
Mercedes launched a more powerful E400d in 2019 and this is the best model to go for. If you want something a bit different, look at an E-Class All-Terrain with its raised ride height and more rugged styling.
Jaguar XF Sportbrake
Year launched: 2017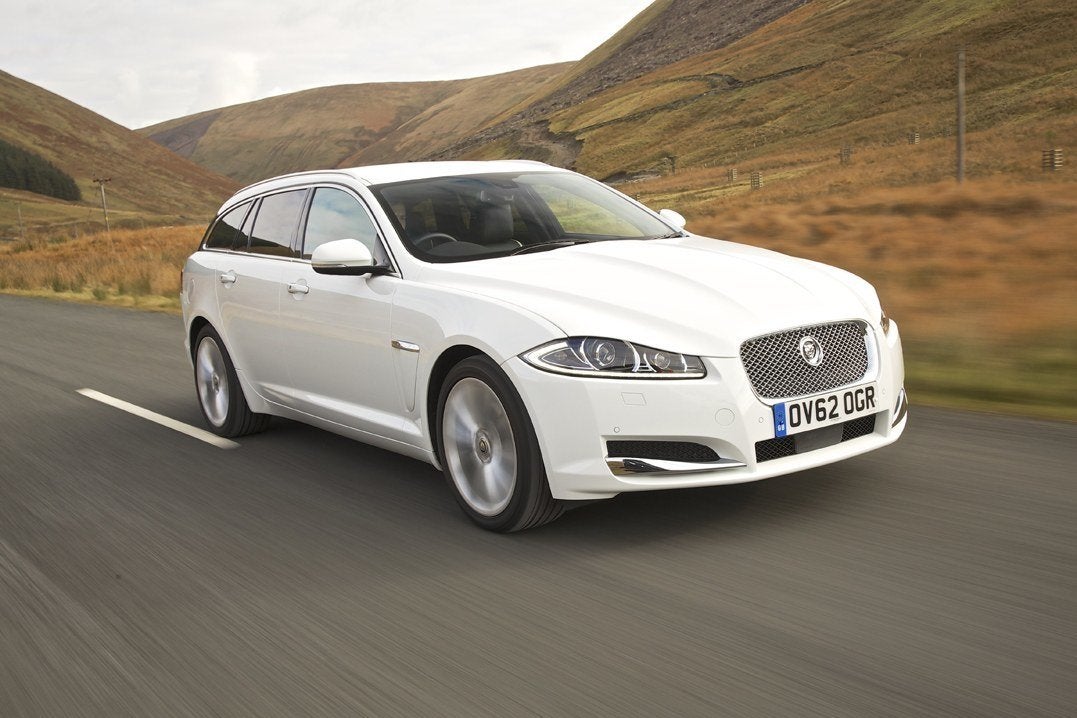 One of the most stylish estates around - indeed we think it's a better looker than its saloon counterpart, the Jaguar XF Sportbrake is designed to rival the big German three from Audi, BMW and Mercedes.
It makes a good fist of it too with a high quality and neatly designed cabin and overall there is a good amount of space in the boot. With 565 litres when the seats are in place and 1700 litres when they are folded, it matches the Audi A6 Avant and BMW 5 Series Touring almost exactly. All three fall short of the class-leading Mercedes E-Class Estate.
The XF is also good to drive. The steering is well-weighted and it is neat and reassuring through corners both fast and slow. This high-powered 25d diesel engine isn't quietest in the class, so if you're not covering long distances look at the 20i model.
MINI Clubman John Cooper Works
Year launched: 2015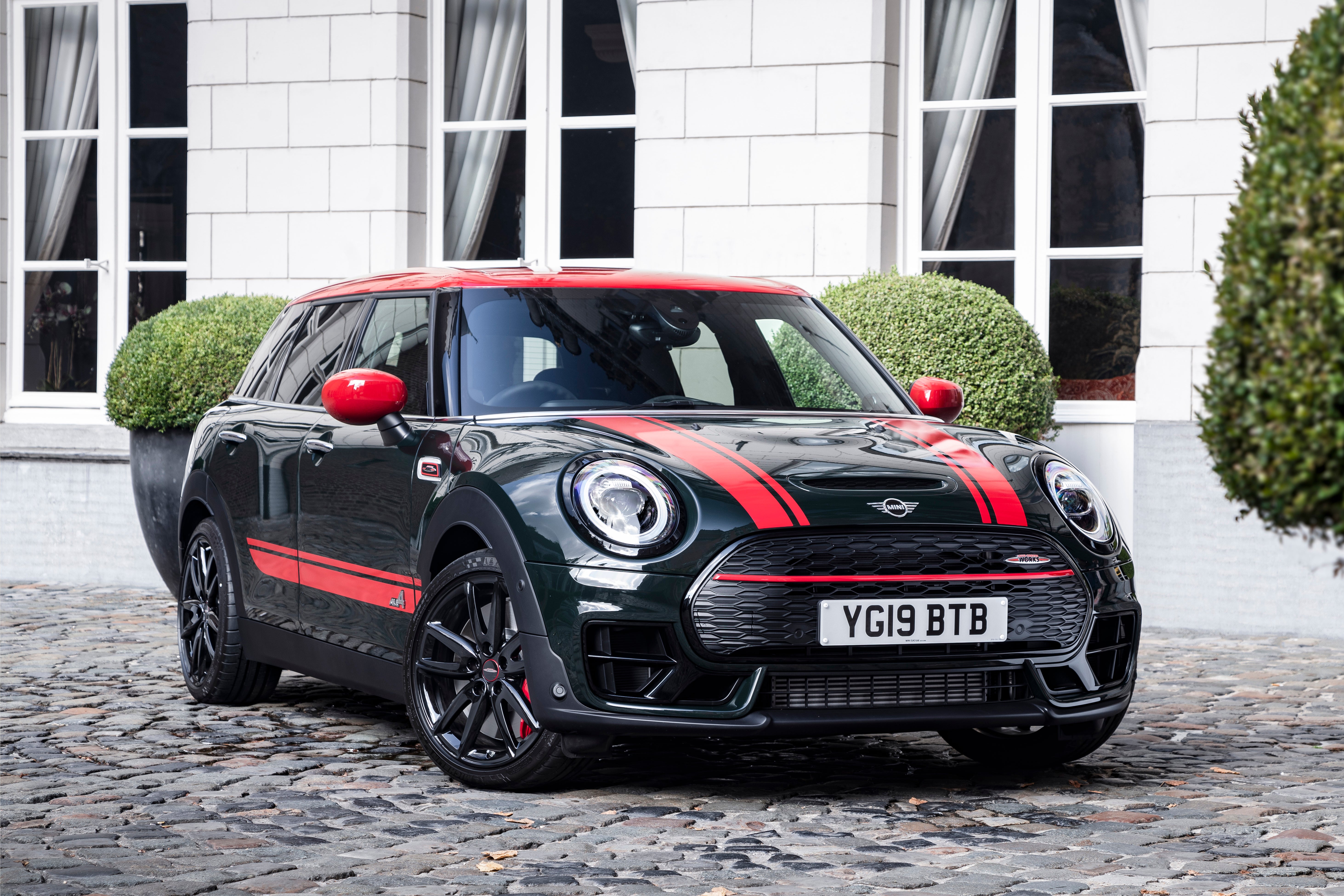 We know it's not a very big estate, in fact it's hardly an estate at all, but for driving fun, few things can match the MINI Clubman John Cooper Works. The latest model, introduced in 2015, is the most powerful MINI ever made with no less than 306PS in the Clubman version (the hatch has 231PS). But more than that, the JCW is one of the most characterful and enjoyable performance estates to drive.
As you'd expect, it's not slow. Acceleration from a standstill to 62mph takes just 4.9 seconds but it's not all about straight line pace. Where the MINI excels is in corners. The handling is perfect for a hot hatch with well weighted steering while the ride is on the firm side, the suspension does a good job of treading the line between comfort and a fun drive.
Of course you do pay for the privilege and the Clubman John Cooper Works is not cheap. But you can get a pre-reg model or low mileage dealer demonstrator on a £40,000 budget.
Skoda Superb Estate
Year launched: 2015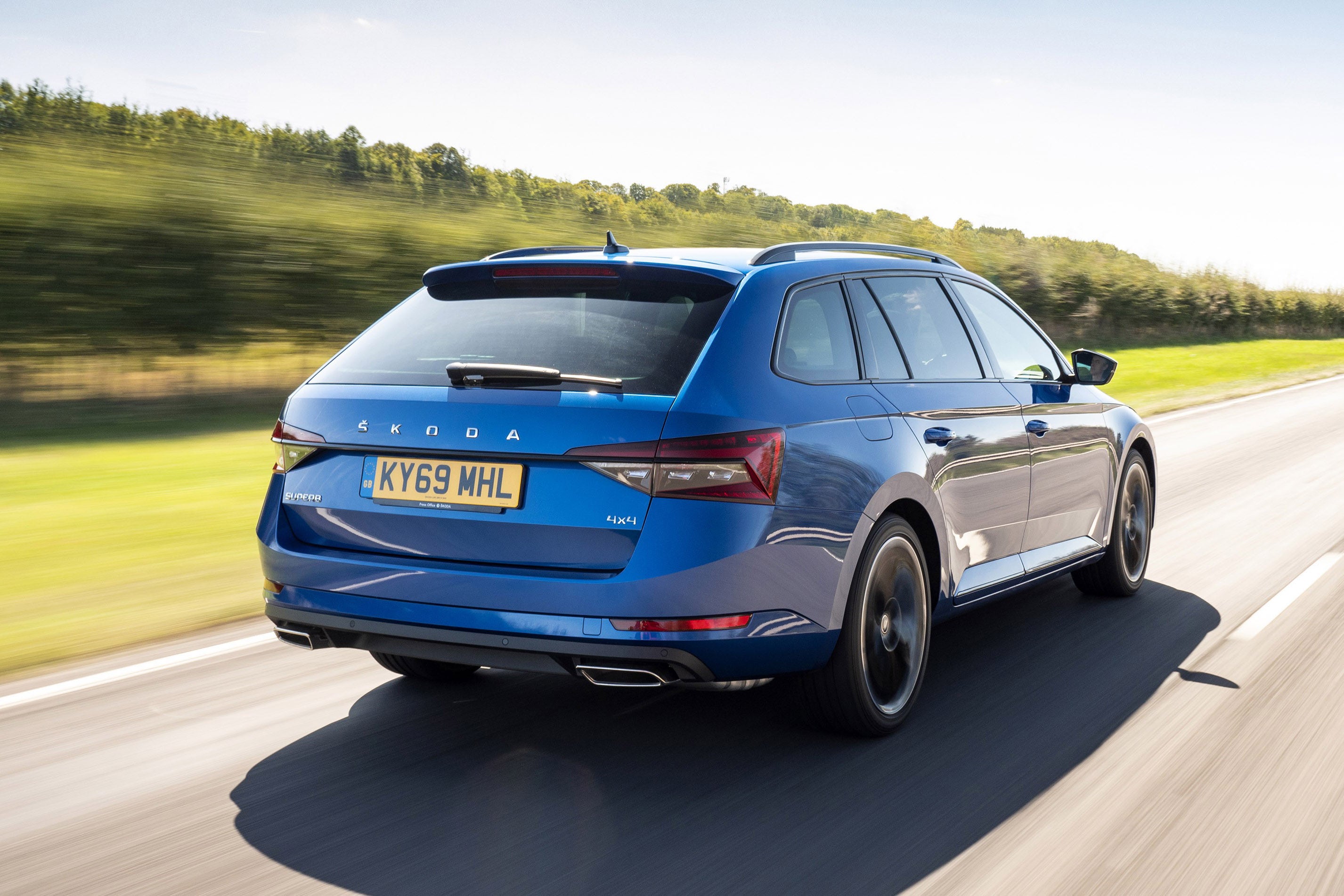 You may not expect to see a Skoda in this list alongside the likes of the BMW 5 Series but yes it is possible to spend £40,000 on a Skoda Superb Estate. For that you'll be getting a new (or at least pre-reg if you don't want to wait) high-spec fully loaded Superb Estate with every bell and whistle you could wish for.
It also means you can choose the latest Superb Estate PHEV which combines a 1.4 TSI petrol engine with an electric motor that gives the Superb an EV-only range of 37 miles. Given that the average daily commute in the UK is 25 miles, the theory is that during the week you could charge the Superb Estate every night and not have to worry about putting fuel in.
The Superb Estate is as practical and as spacious as estates come with a vast 660-litre boot and rear legroom that beats anything this side of a Mercedes S-Class.
Volvo V90
Year launched: 2016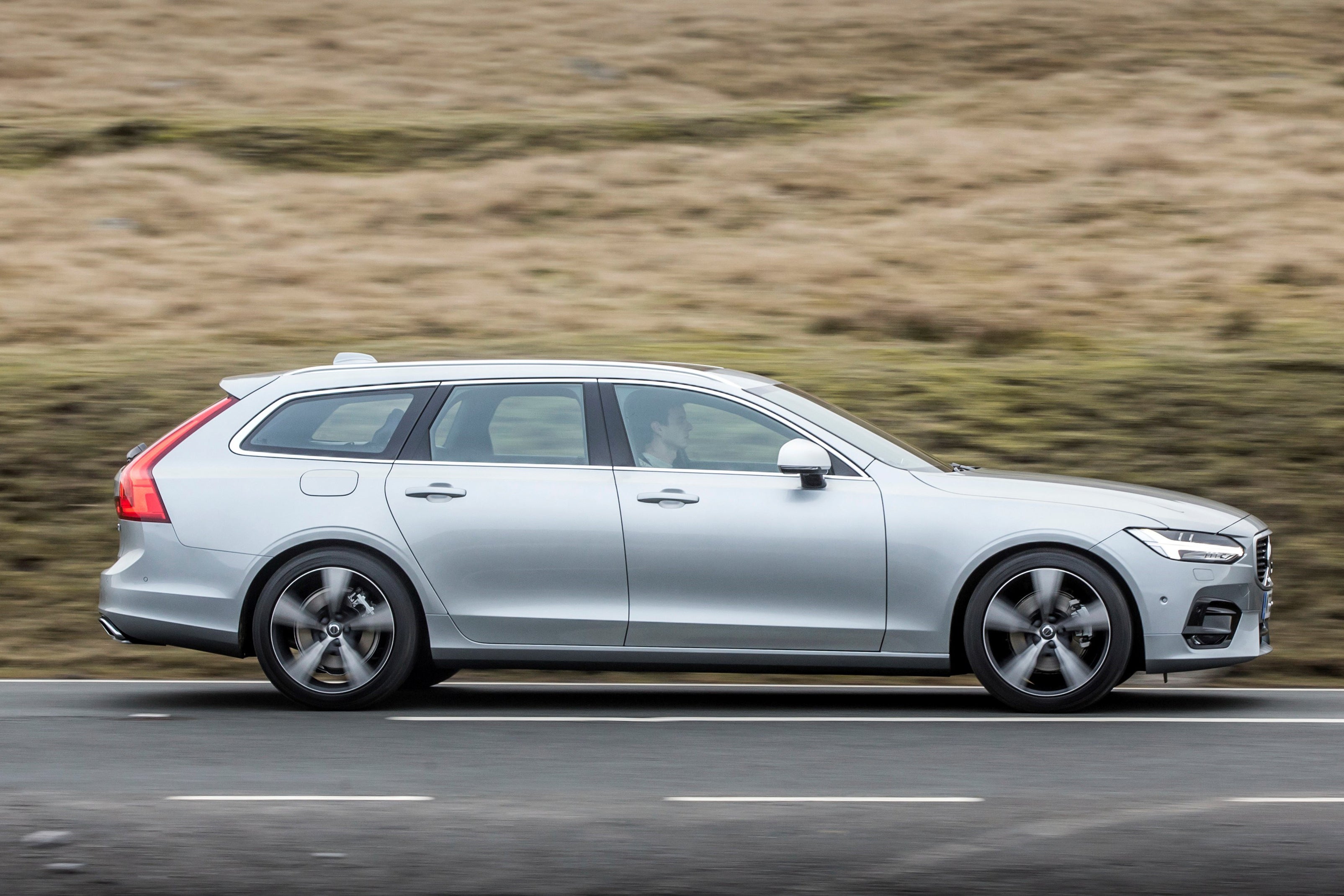 Volvo didn't invent the estate but over the last sixty years it's certainly championed them more than most. Volvo is now a genuine premium brand that can rival the likes of BMW and Mercedes-Benz - no mean feat - and the V90 is its big estate that competes with the 5 Series Touring among others.
There's 560 litres of boot space which is decent, although the shorter Skoda Superb Estate offers 25% more space for considerably less. The ride quality is excellent though and there's huge amounts of rear legroom plus Volvos are renowned for having the best seats around in terms of long term comfort and support.
Volvo hasn't attempted to beat the Germans at their own game, but tried a different tact. As spacious comfortable cars go, for all the family, you'll be grateful Volvo hasn't given up on the humble estate just yet.
Volkswagen Golf R Estate
Year launched: 2015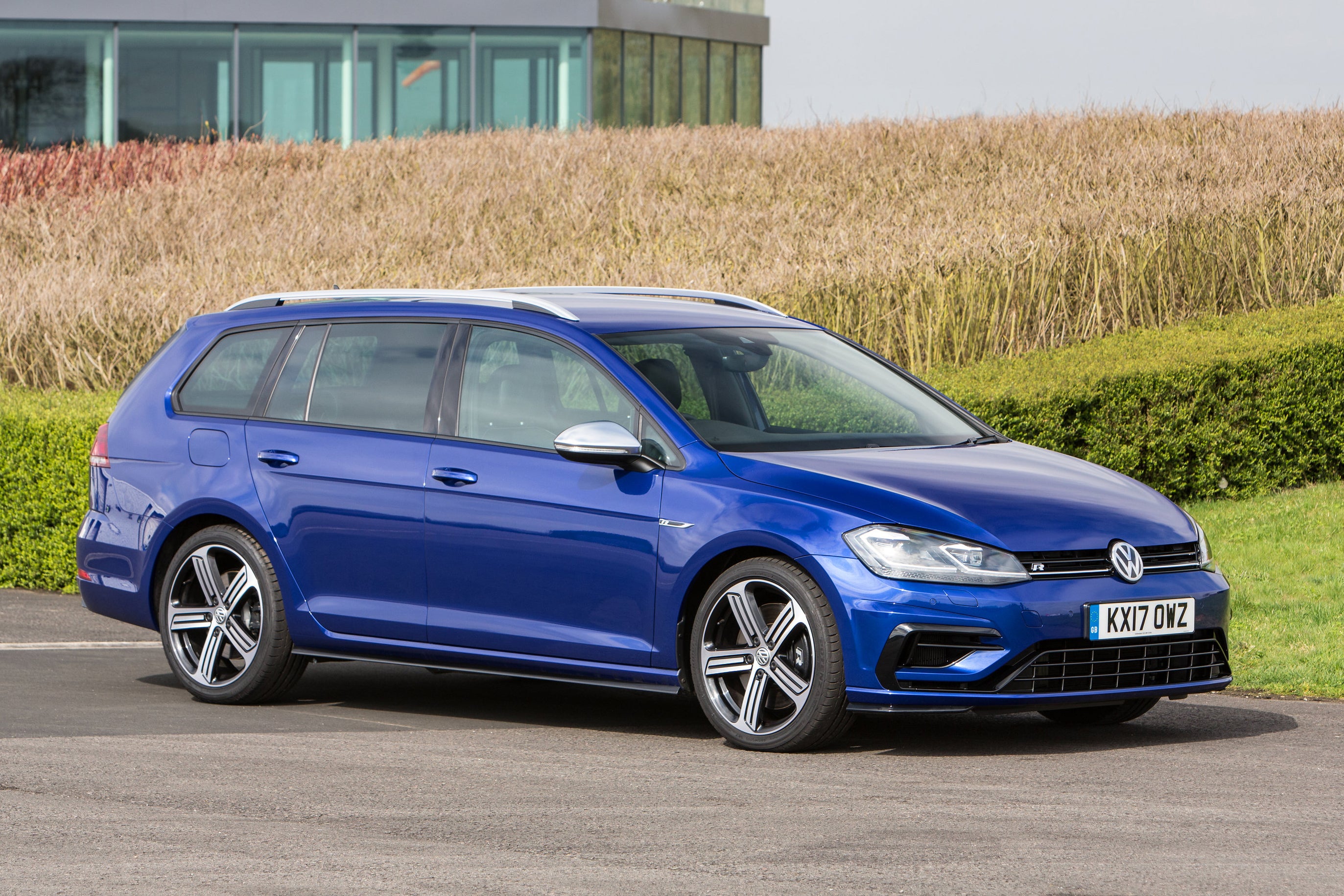 While there's no Golf GTI Estate, there is a wagon version of the high-performance Golf R. Powered by a turbocharged 2.0-litre petrol engine boosted to 300PS and boasting four-wheel drive, this is one fast estate. Not only is it extremely capable (and sounds superb) but it's also easy to live with day-to-day.
The Golf R Estate is as happy pottering around town as it is being thrown around corners. It may have the heart of a hot hatch but it's a grown up estate that feels refined rather than raw. As well as all that performance you get the usual traits of a Golf Estate with excellent build quality and a 605-litre boot.
A budget of £40,000 will get a brand new Golf R Estate or you can save a few thousand and buy a pre-reg model fitted with plenty of extras.
Volkswagen Passat GTE Estate
Year launched: 2015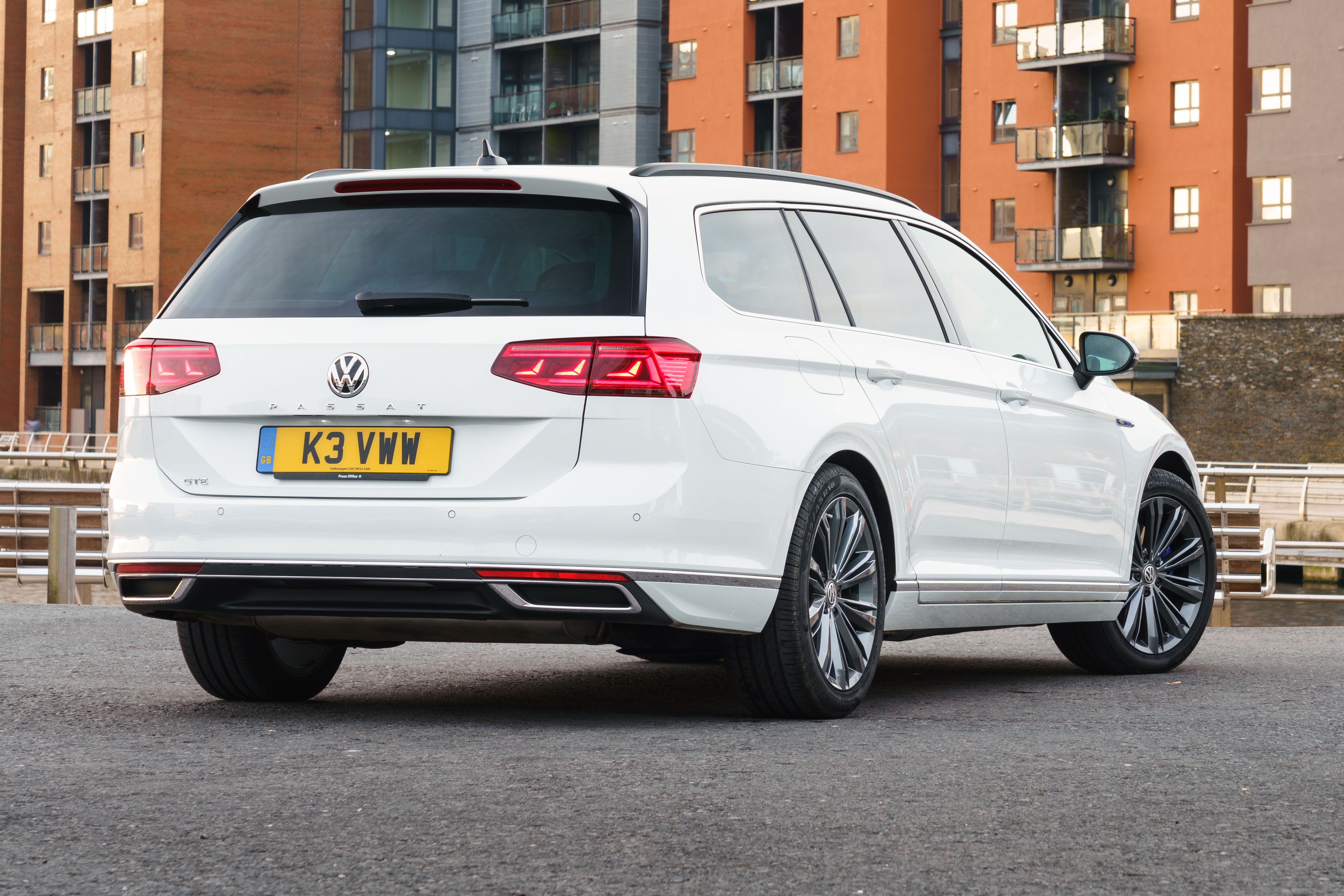 The Volkswagen Passat GTE is a high-spec PHEV that's designed to give sporty performance alongside its hybrid credentials. Updated in 2019, the big news is that the GTE now has a bigger 13kWh battery fitted as standard, meaning the electric range has been increased from 31 miles to 34 miles.
Alongside the electric motor is a 1.4 TSI petrol engine and while the electric motor supports the petrol engine under regular driving, selecting GTE mode primes the petrol engine and electric motor to provide extra performance, also firming up the suspension and piping in a throatier false engine sound via the speakers. The Passat GTE is no BMW 3 Series to drive, but it's surprisingly quick and can overtake with ease. There's little in the way of body lean in the bends and it's very refined with little in the way of wind and road noise.
You can get a new model Passat GTE for this money with plenty around at Volkswagen dealers, while you may find the off pre-reg example.
Peugeot 508 SW PHEV
Year launched: 2019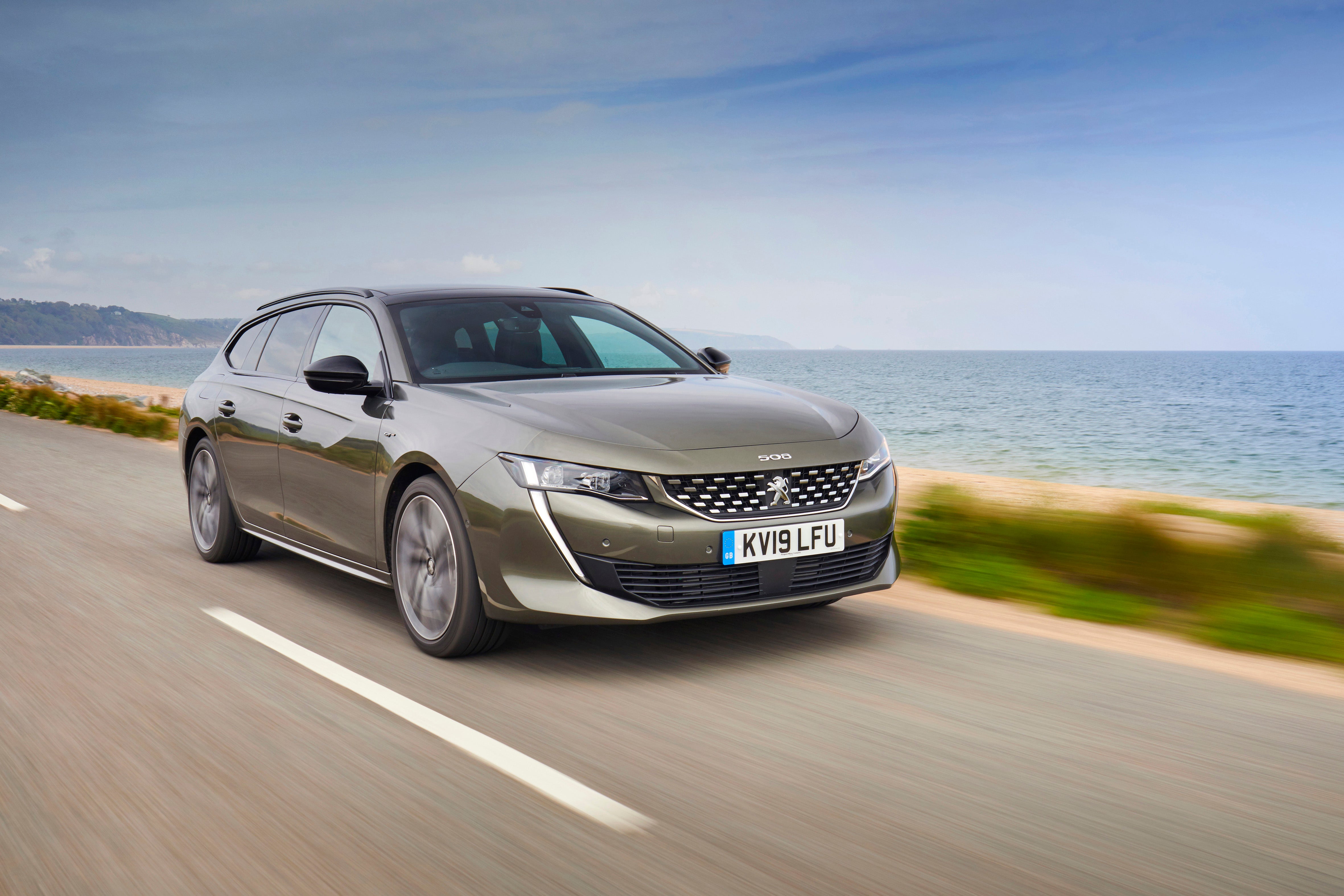 The 508 SW is part of Peugeot's attempts to give its image a premium shot in the arm. The latest 508 is a huge lion's leap forward from its predecessor with far higher quality throughout, a stylish design and a cutting edge interior inspired by the excellent 3008. It's now more a rival for upmarket estates like the Volkswagen Passat rather than the Ford Mondeo.
The PHEV version uses a 1.6-litre Puretech petrol engine combined with an electric motor, giving the 508 SW an electric power range of 39 miles. So if your daily commute is only 40 miles, chances are you will be using minimal fuel during the week but still have the range for long trips at the weekend.
£40,000 gets you the pick of the bunch when it comes to Peugeot 508 SWs.
The BMW 5 Series Touring is the best rated estate for 2021 combining BMW's trademark handling with a beautifully built cabin, lots of modern technology and a huge load space. The engine range includes the excellent 520d which provides strong performance with impressive economy.
If you want a true luxury estate, the Porsche Panamera Sport Turismo is the best luxury estate on sale. It's not cheap, with prices starting at more than £75,000 but it's a stunning estate with all the performance and handling capabilities you'd expect of a Porsche. Top of the range is the Turbo S E-Hybrid.
Volvo has traditionally been associated with estates and continues to offer some of the best estates around with the latest Volvo V90 and V60 both extremely refined yet still practical. You'd have to include BMW with the 5 Series Touring while Skoda makes a strong case for itself with the excellent Superb Estate and the practical Octavia Estate.
Volvo V90
2.0 B5P Cross Country 5dr AWD Auto
Manufacturer Approved
Volvo Cars Poole

Poole, BH124LY
PCP: £641.83/mo
Representative example: Contract Length: 37 months, 36 Monthly Payments: £641.83, Customer Deposit: £5,848.00, Total Deposit: £5,848.50, Optional Final Payment: £15,064.00, Total Charge For Credit: £5,028.38, Total Amount Payable: £44,018.38, Representative APR: 6.9%, Interest Rate (Fixed): 3.54%, Excess Mileage Charge: 22ppm, Mileage Per Annum: 10,000
Volvo V90
2.0 D5 Inscription Plus 5dr AWD Geartronic
Manufacturer Approved
Waylands Volvo Oxford

Berkshire, OX29PL
PCP: £739.69/mo
Representative example: Contract Length: 37 months, 36 Monthly Payments: £739.69, Customer Deposit: £5,848.00, Total Deposit: £5,848.50, Optional Final Payment: £11,891.95, Total Charge For Credit: £5,379.29, Total Amount Payable: £44,369.29, Representative APR: 7.9%, Interest Rate (Fixed): 4.07%, Excess Mileage Charge: 14.9ppm, Mileage Per Annum: 10,000