Best family cars with large boots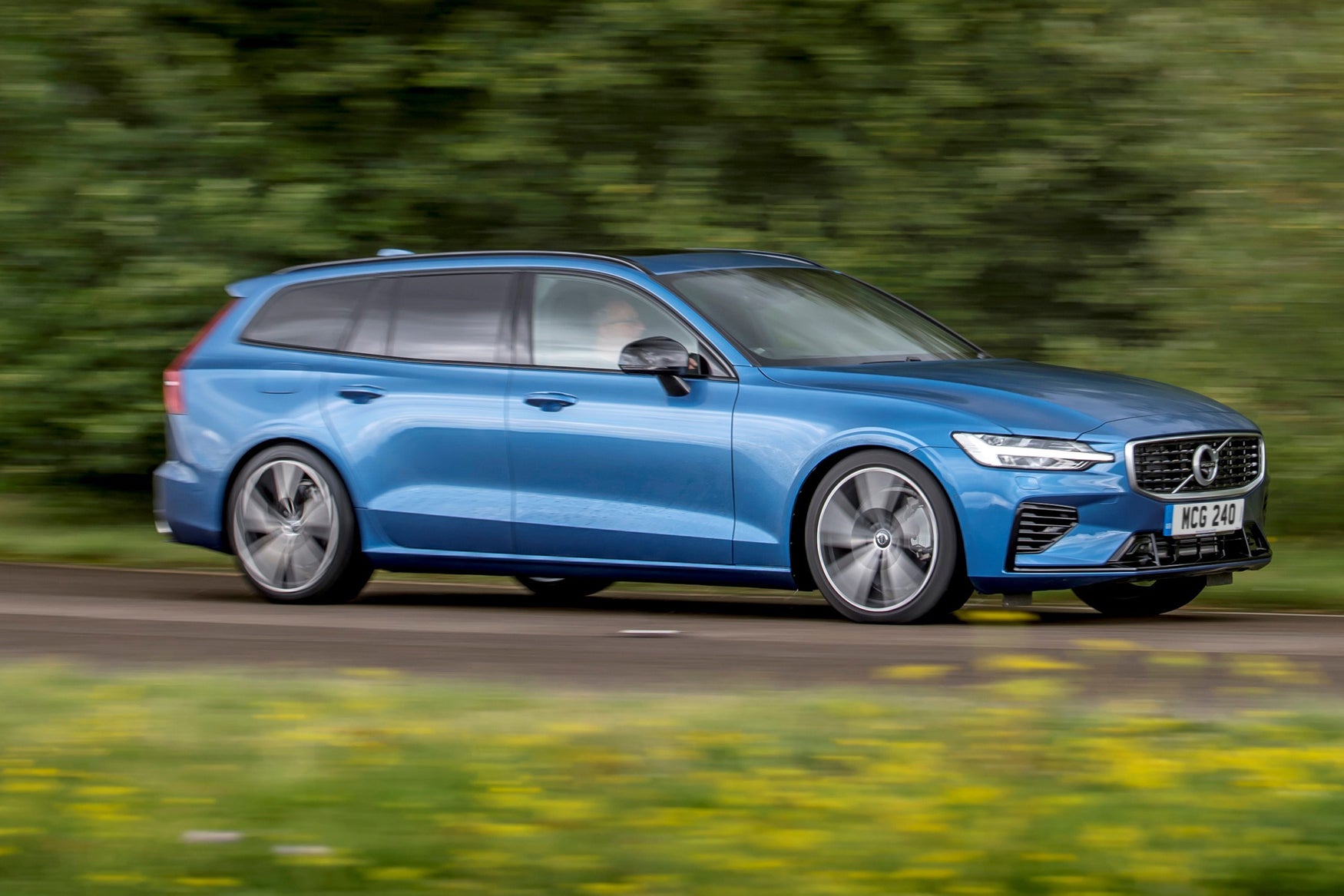 If you're in the market for a family car that can lug a lot of stuff around, you're in the right place. These are the best rated family cars that also offer a lot of practicality.
The cars in this Top 10 don't offer the biggest boots in their respective classes, but are the best family cars going - which also provide lots of space for a growing family and all their things.
Whether you want a crossover, SUV or estate - we've got you covered with this list.
Skoda Karoq
Year launched: 2018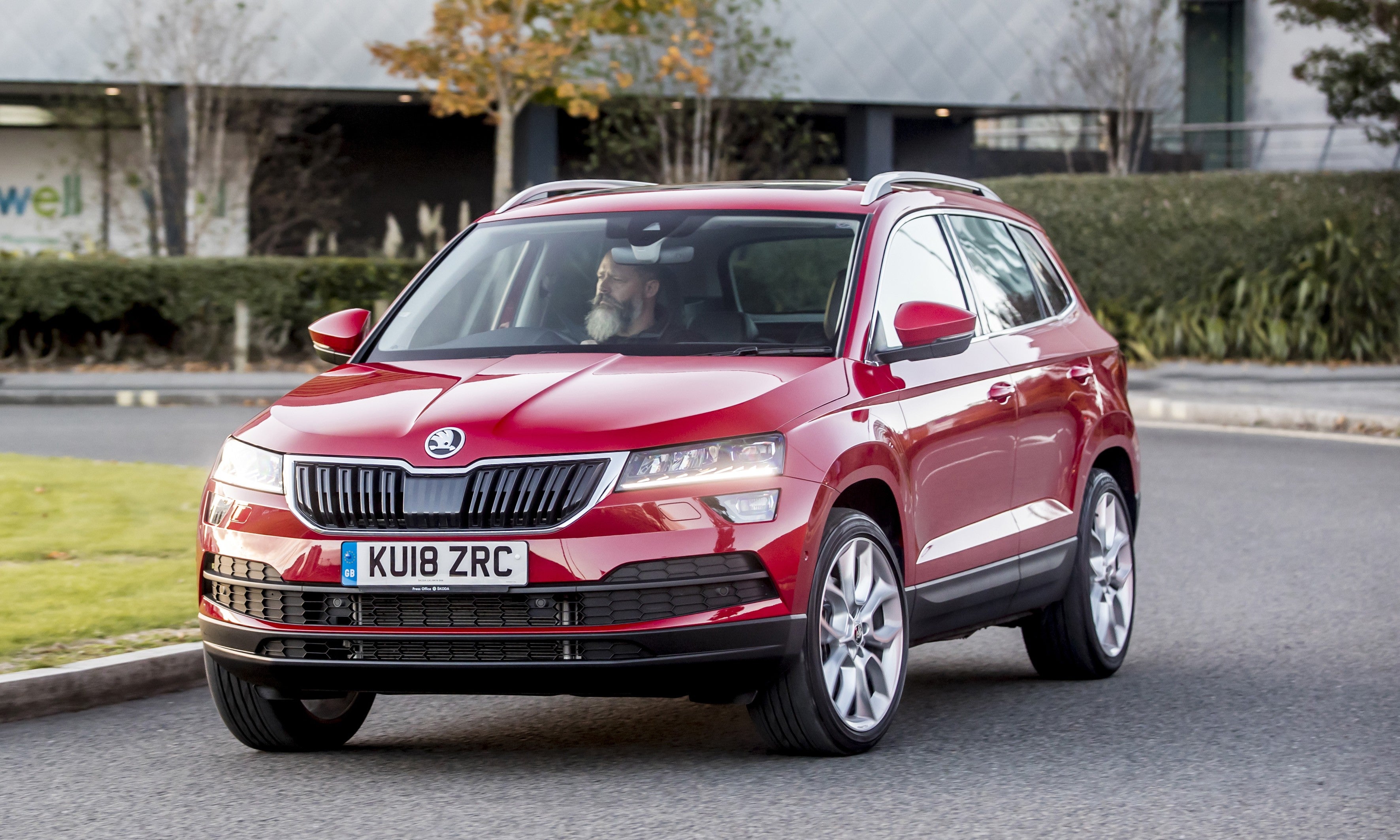 The Karoq is Skoda's mid-size crossover, sitting between the smaller Skoda Kamiq and seven-seat Skoda Kodiaq. It's comfortable to drive with an excellent range of engines, nicely finished cabin and high level of standard equipment. It's not quite as premium as a Volkswagen Tiguan, but it doesn't fall too short - and it delivers practicality in spades, like all Skodas.
The main trick in the Karoq's arsenal is its VarioFlex Seats. Standard from SE L trim onwards - and optional on the cheaper models - they replace the rear bench with three individual chairs that can slide, recline and be taken out entirely to expand boot space. So, if you've got small kids in the back (but a lot of luggage) you can pull the seats forward, leaving a massive 588-litre space - which gives the Karoq interior flexibility that's simply unrivalled in this class. You can also spec 4WD to the Karoq.
Buyers who want a diesel Skoda Karoq have the option of a 1.6-litre or 2.0-litre TDI. Both are good for towing, but we prefer the larger engine with 150PS, offering more than enough power without lowering the fuel economy too much.
Peugeot 3008
Year launched: 2017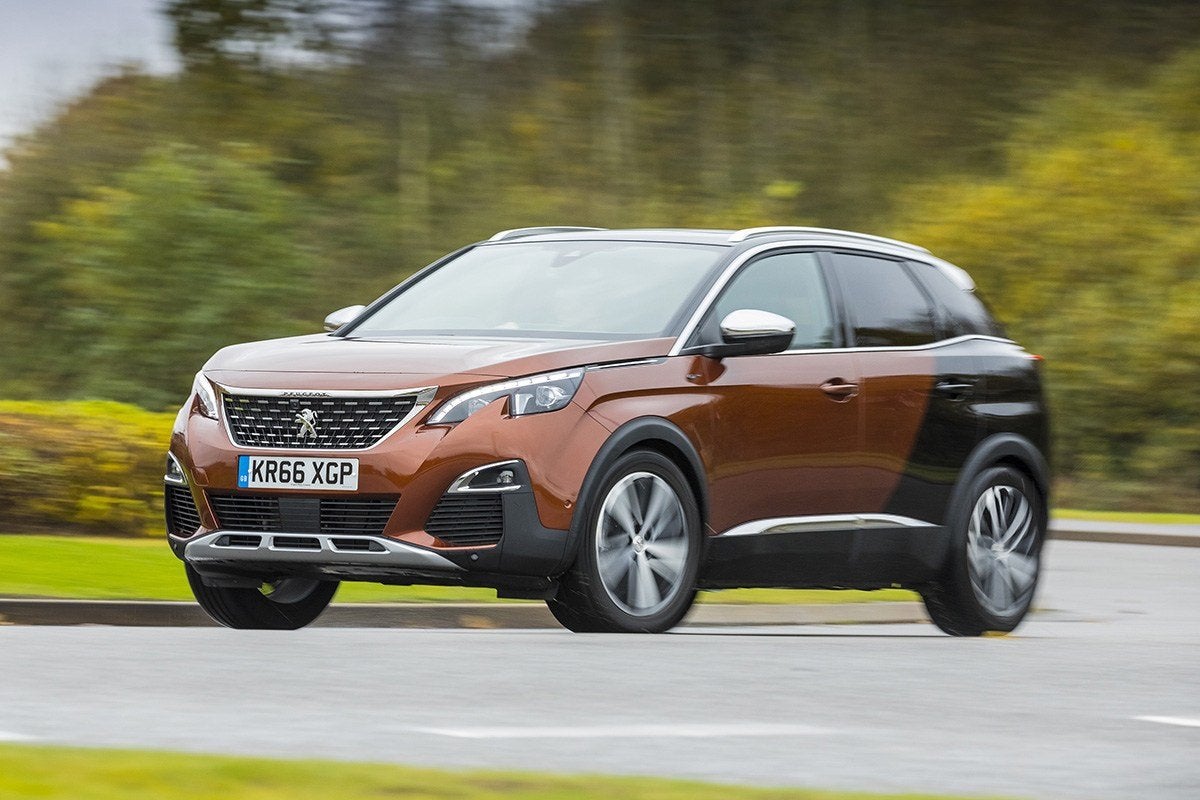 If you're in the market for a crossover, then you should definitely consider the Peugeot 3008. Namely because the interior is one of the best cabins in the entire class. That's right, Peugeot has come a long way with the introduction of this stylish SUV. But it also hasn't lost sight of the practical requirements, with 520 litres of boot space - which beats the Nissan Qashqai.
However, we will say that Peugeot still has a reputation for electrical faults, and there have been examples of computer glitches causing problems - so a test drive is essential. There's no entry-level 3008, which makes a new car quite expensive, but it means used models are really well equipped. For pootling around town, we'd choose the 1.2-litre petrol. Although, the 1.6-litre 130PS (or 120PS on older models) diesel is the best all-rounder.
With the seats down, you'll have access to 1670 litres of space. Ikea, here we come. Set the boot floor to its highest point and you'll have a flat load bay – although, the car is tall so lifting heavy items in can be tricky.
Mercedes-Benz E-Class Estate
Year launched: 2016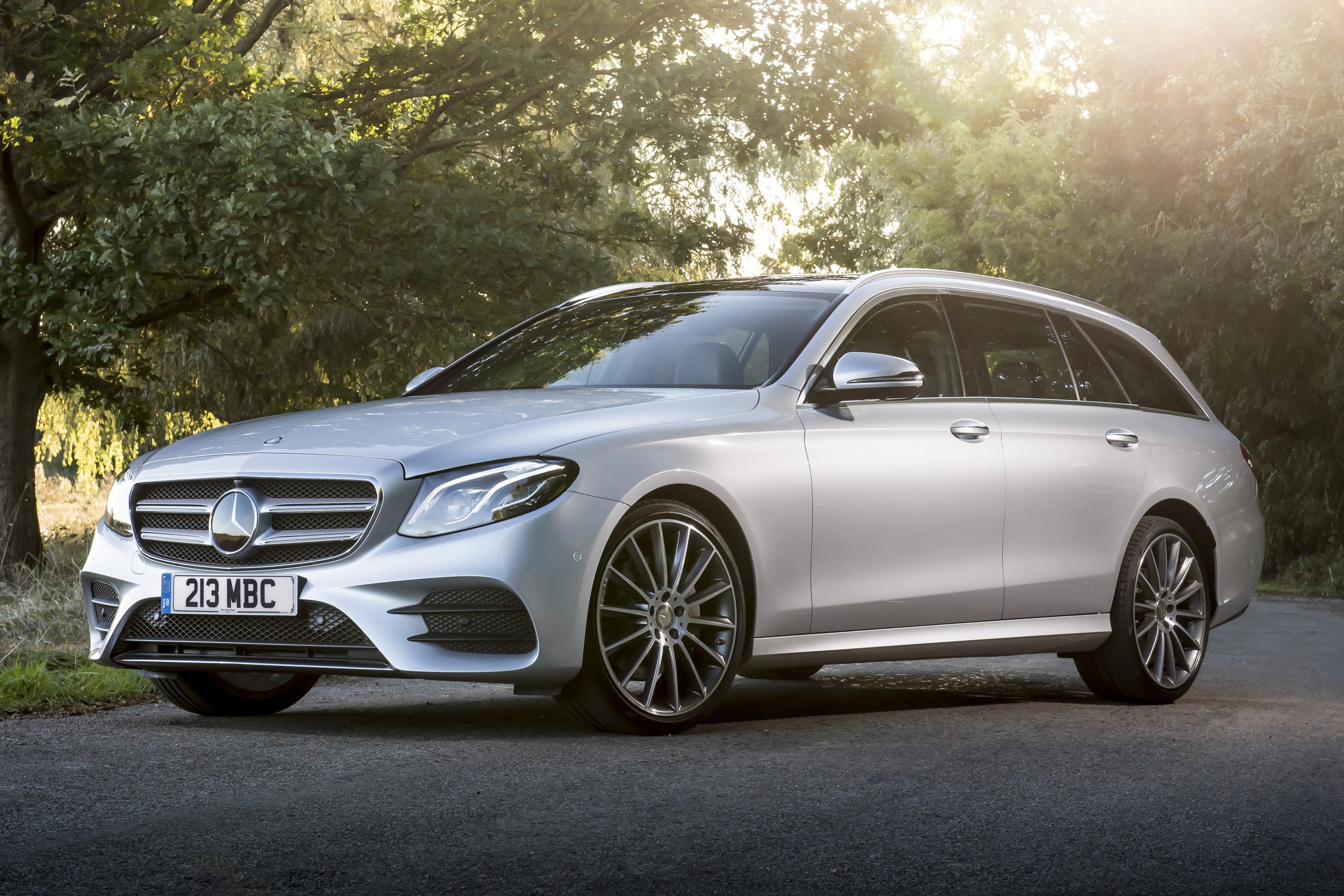 The Mercedes-Benz E-Class Estate sits among a group of excellent estates - with the slightly larger and less expensive Volvo V90 on one side and the practical, sporty BMW 5 Series Touring on the other. So, where does the E-Class Estate excel? Pure comfort and luxury, as well as a huge boot.
The E-Class Estate is as luxurious as it is versatile, with an impressively massive 1820-litre (640 litres with the seats up) boot that'll accommodate a couple of bikes with their front wheels removed. The boot's a bit smaller than the Skoda Superb Estate, but the E-Class gets a whole lot of tech as standard, which makes it a strong investment.
The sensible petrol option is the E200, a 2.0-litre turbocharged four-cylinder unit providing 184PS. It's fast but not frugal on fuel, so we'd suggest the 2.0-litre diesel option with 190PS. It's excellent at lugging a packed car without being too costly to run, but if you don't cover regular 15-mile plus trips, you shouldn't opt for a diesel.
Skoda Superb Estate
Year launched: 2015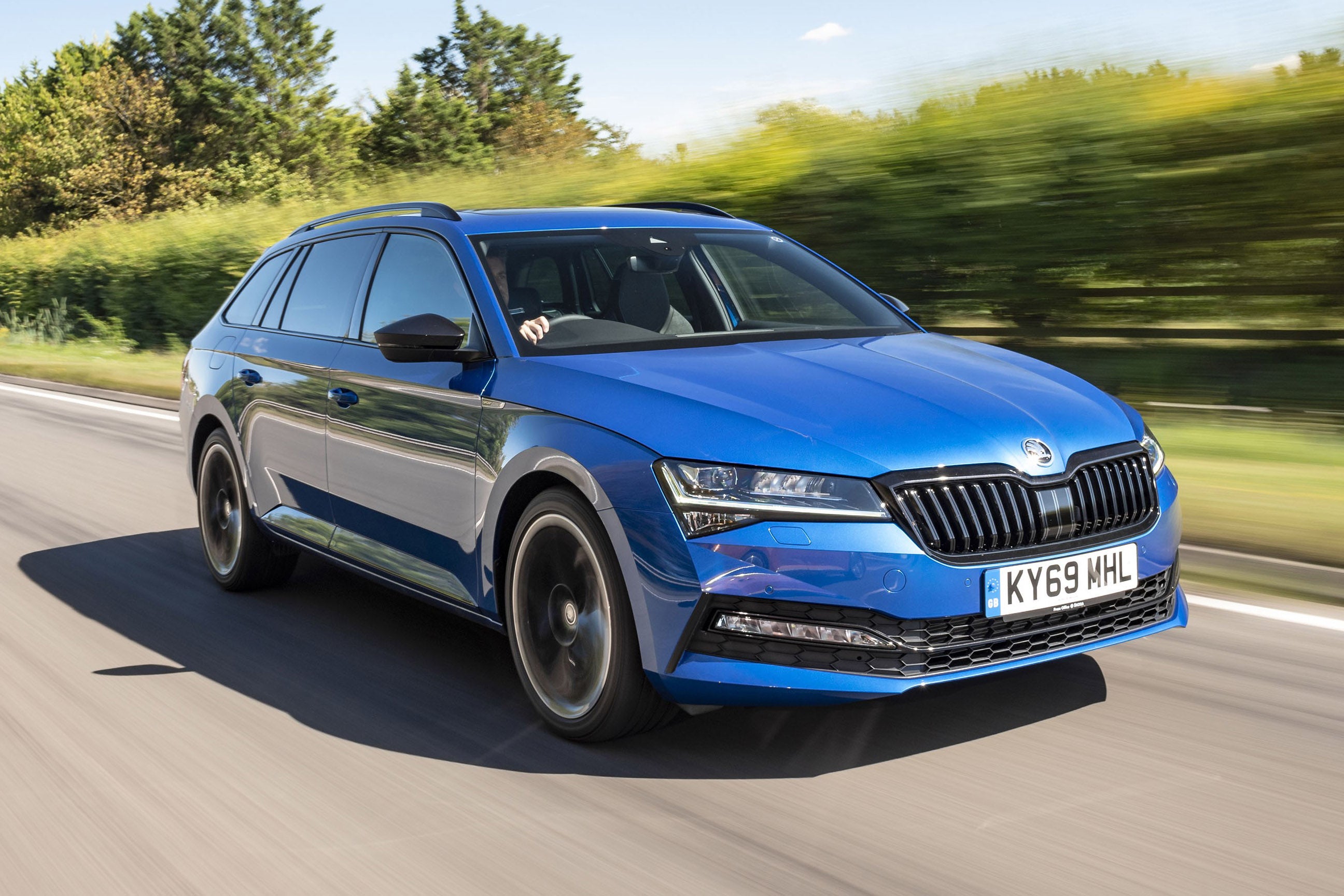 As far as big estates go, the Superb Estate is as close to perfect as you'll get. It boasts a 660-litre boot, which expands to 1950 litres with the seats down, and the feel of a premium car - but at a much lower price tag than you'll see on an Audi or BMW rival. When it comes to offering value for money, the Skoda is highly impressive.
The huge boot has vertical sides, a wide tailgate opening and low floor - so it's very easy to load things like bikes in and out. In fact, it fits two adult bikes with rear seats folded. If you'd rather not risk getting the interior dirty, though, Skoda also sells a roof rack and towbar carrier. The standard specification of the Superb is also good. The basic S model doesn't scrimp, but we suggest the SE as a good compromise between luxury and affordability, adding things like dual-zone climate control, lumbar support and adaptive cruise control as standard.
There are no poor choices to be made when it comes to the engine range. The 1.5-litre petrol engine makes a lot of sense if you don't frequently carry heavy loads or tow but do make lots of short journeys, while the 2.0-litre 150PS diesel is the most sensible choice if you do bigger mileages and carry heavier loads though.
Kia Sorento
Year launched: 2020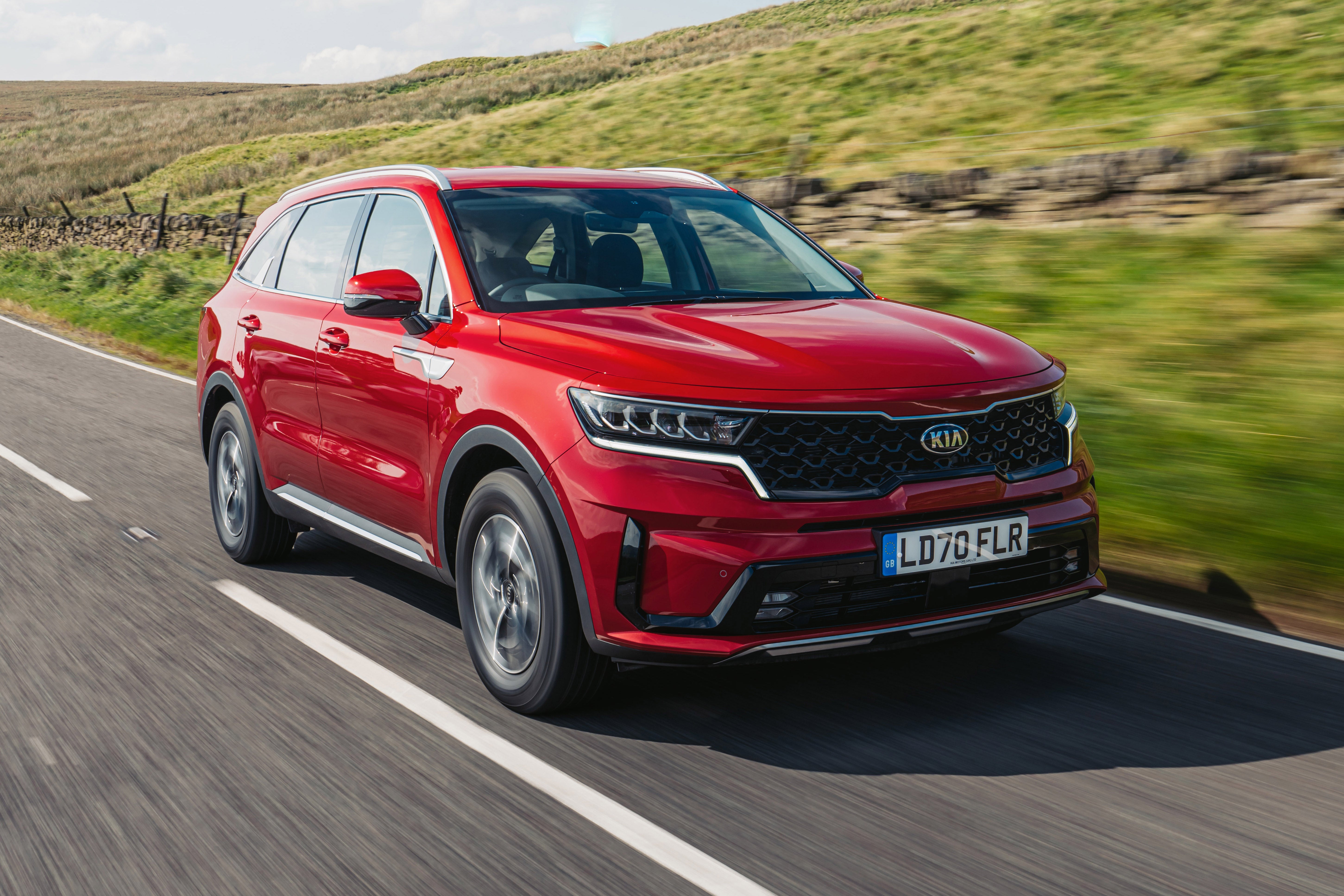 If you want a genuine seven-seater with enough space for seven adults to sit behind each other in three rows then the Kia Sorento will be for you. It's one of the best cars you can find for space and the latest version is available with hybrid power alongside the diesel engine.
The diesel is Kia's tried and tested 2.2 CRDi engine. This four-cylinder unit has been carried over from the older third-generation Sorento and develops roughly the same output as before, at 202PS and 440Nm. For caravan owners, it's ideal with a max braked lugging capacity of 2500kg.
The quality of the interior of the latest Kia Sorento is a big improvement over its predecessor. The fit and finish is high throughout, with lots of good quality, soft-touch materials. Plus of course, it comes with a seven-year warranty.
Audi Q5
Year launched: 2017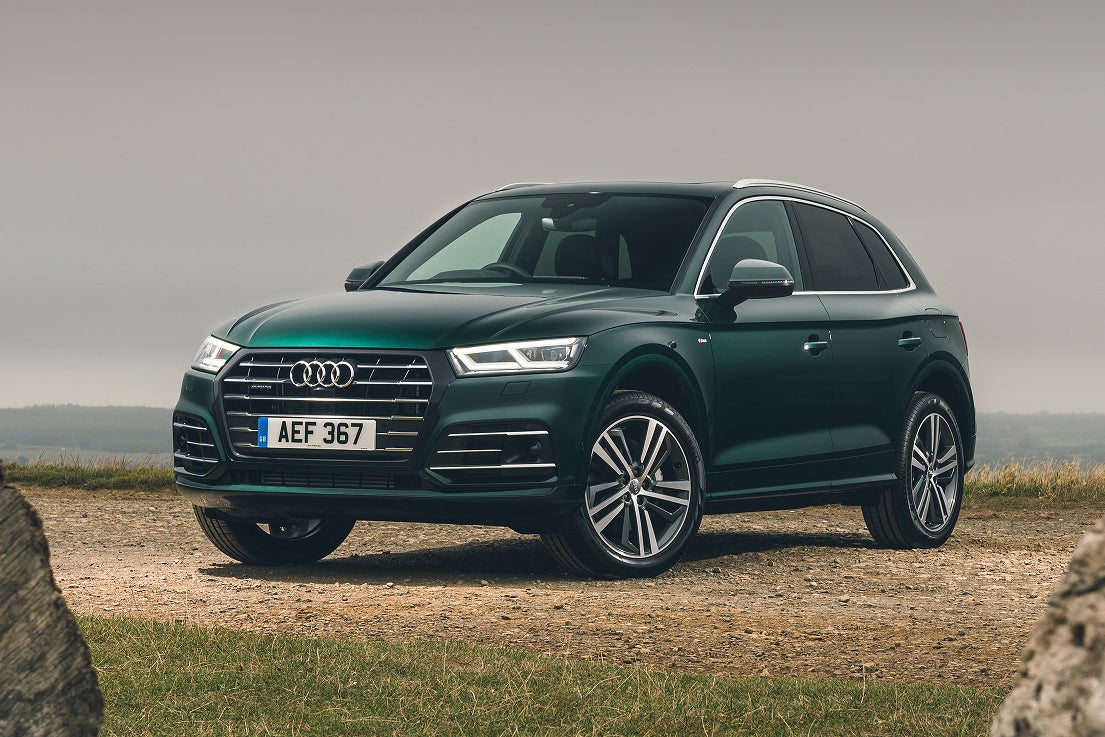 The Audi Q5 is a classy SUV that feels just as luxurious and refined as you'd expect. It's a fantastic all-rounder that'll feel effortless to drive and comfortable on long trips, as well as being easy to live with in daily life. The downsides are a stingy equipment list and relatively narrow engine range - but these won't put all buyers off wanting one. And rightly so.
Modern diesels are still the most effective way to deliver strong performance while avoiding awful fuel economy in a car this big. That's why we think the Q5 is at its best in 40 TDI quattro guise. The 2.0-litre engine is impressively smooth, and quick enough to never feel strained, even fully loaded. It's not especially economical, but an official figure close to 40mpg gives it lower running costs than the petrols.
The Q5 has 550-litre boot capacity. Fold the rear seats down and this expands to 1550 litres, although these figures fall in the plug-in hybrids because of battery space. As standard, the rear bench splits three ways, too. This allows you to carry awkward items like skis and two people at the same time.
Honda CR-V
Year launched: 2018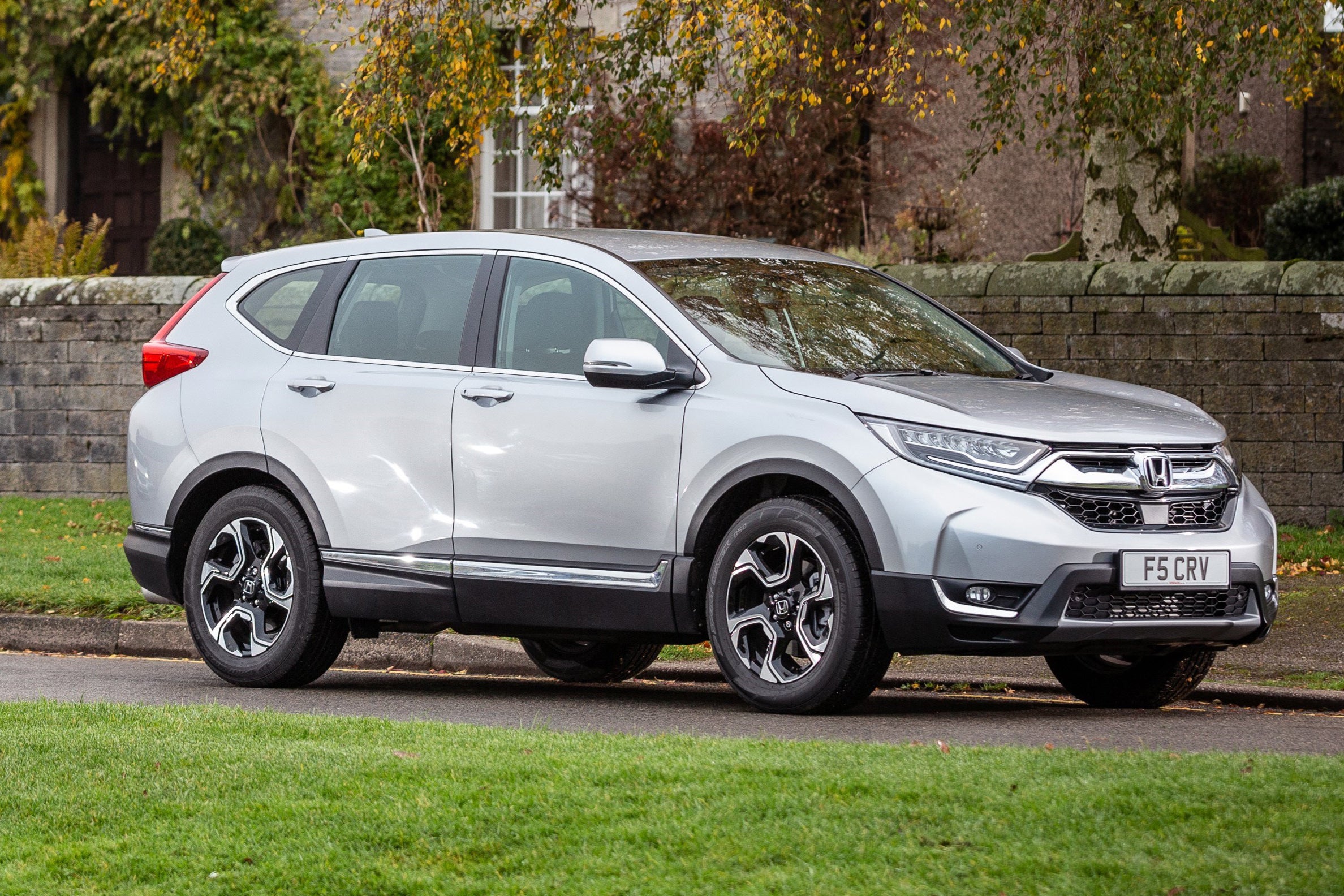 With a comfortable cabin, economical engines, up to seven seats - you'd be hard-pressed to find a better value large family car than the CR-V. Yet, the infotainment isn't as good as you'd find in a Volkswagen Tiguan, so that's worth noting if you want a high-tech cabin. The CR-V also doesn't come with a diesel engine option.
The seven-seater version hinders boot space, which is 497 litres with the seats up in the standard five-seat model. And we'd steer clear of the entry-level S model (it's very basic), but the rest of the range is fairly well equipped. Safety equipment includes lane assist, autonomous emergency braking and Isofix child seat mounting points - all standard across the range, contributing to a five-star Euro NCAP safety rating.
The engine range includes a 1.5-litre petrol and a 2.0-litre petrol hybrid, which is only available as an auto. The hybrid is our pick as it's refined and offers the better gearbox for this model. Being a Honda, you can also expect the CR-V to be more reliable than rivals.
Volvo V60
Year launched: 2018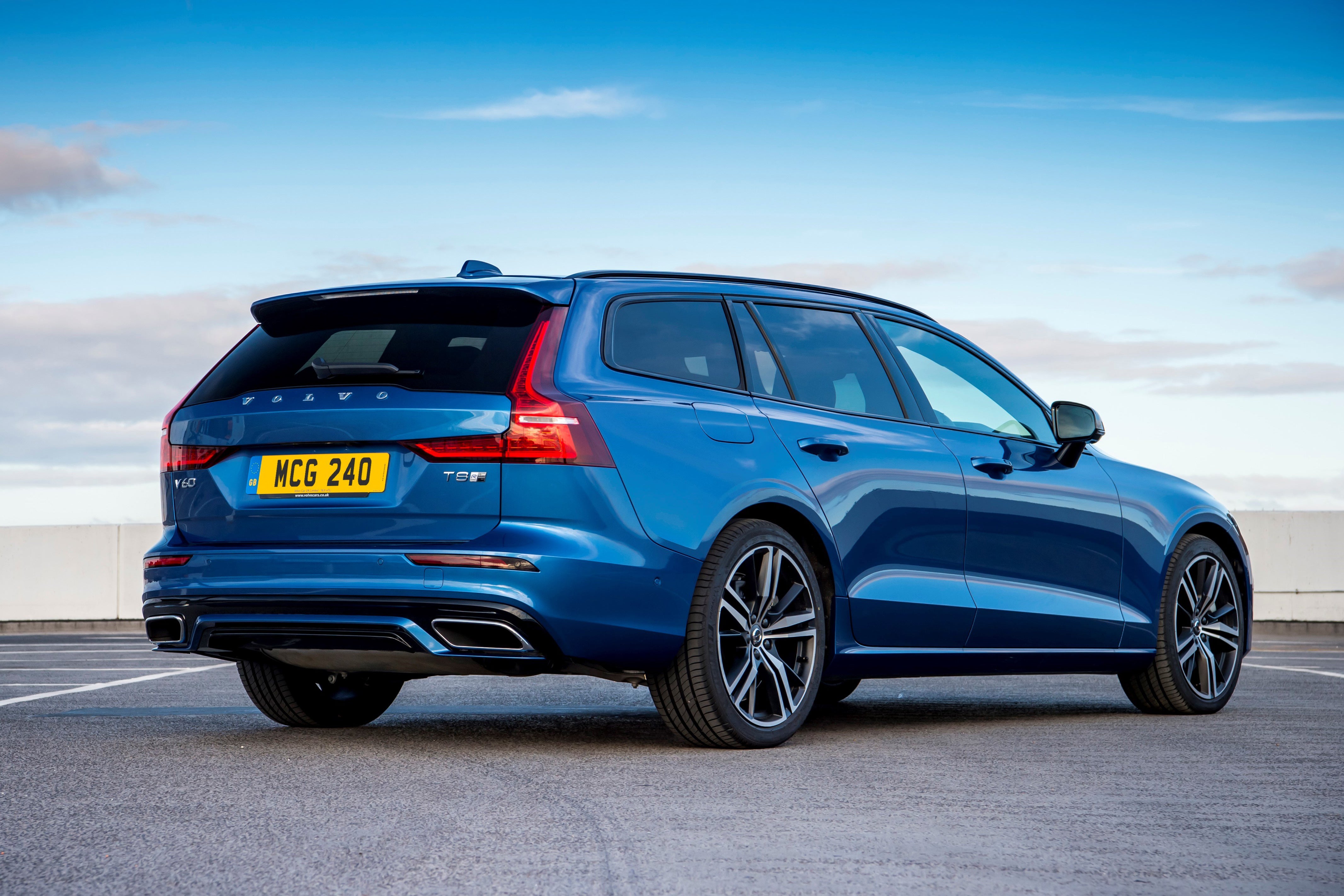 The Volvo V60 is available with a smart range of engines, plus it has a gorgeous cabin and a huge boot. It's not the most fun estate to drive, but it's comfortable, safe and classy - making it perfect for families who need more space than a saloon can provide. If you're looking for a car that'll keep up with the way automated cars are going, the V60 also gets Park Assist Pilot as an optional extra.
The interior is plush, but minimal - with the cabin dominated by a nine-inch touchscreen sitting centrally on the dashboard. The engine range - four petrols, one diesel and two hybrids - isn't a straightforward choice. The 2.0-litre petrol with 197PS has a good mix of economy, power and value for money - while the D4 diesel is a sound choice if you want increased range and better fuel consumption too. The hybrid models are deeply impressive, but very expensive.
The boot is a very useful 529 litres with the rear seats in place, rising to 1441 litres with all the rear seats folded. The space itself is practical too, with a lower level area available for additional storage. However, you can't spec 4WD unless you opt for the V60 Cross Country.
Citroen C5 Aircross
Year launched: 2019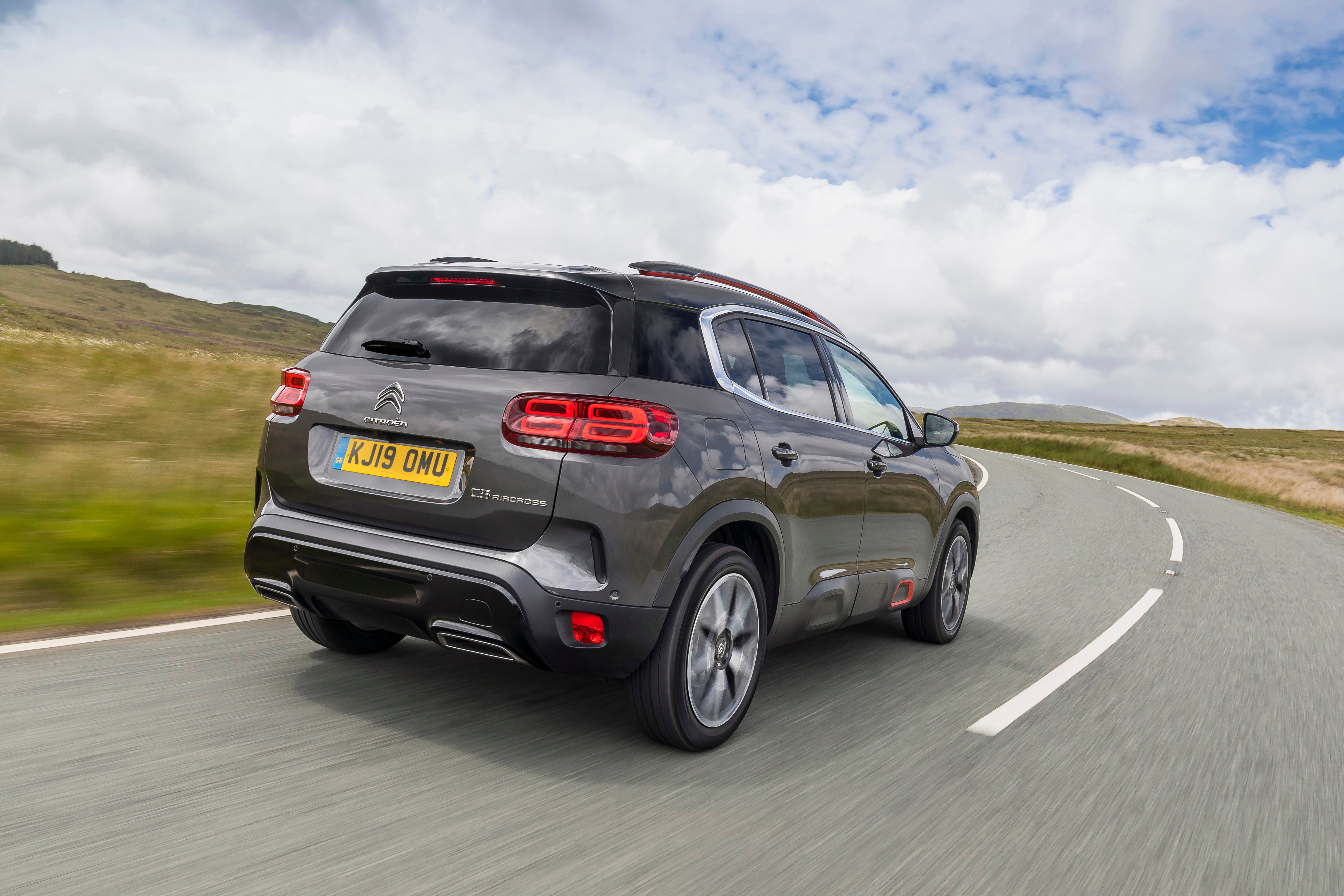 The Citroen C5 Aircross doesn't offer the best drive and it isn't the most premium model on offer, but it sacrifices those things for one of the most comfortable rides in the class. It also gets a line-up of quiet, refined engines and large boot. The looks are hit and miss, so that'll be subjective - but it definitely doesn't look like any other SUV on the market.
With the rear seat bench slid forward, there's room for 720 litres of luggage in the boot. This drops to 580 litres with the seat in its rearmost position, but it's still considerably more than a Nissan Qashqai or Kia Sportage. The boot's also a very handy shape, making it easy to load bulky items. The high-spec Flair Plus model has an electric tailgate, too, so it can be opened by shaking your foot under the rear bumper when your hands are full, for example.
We don't like the slow infotainment system and the C5 Aircross wallows more than other SUVs at higher speeds. But, in terms of practicality, it represents decent value for money on the used market.
Volkswagen Tiguan
Year launched: 2016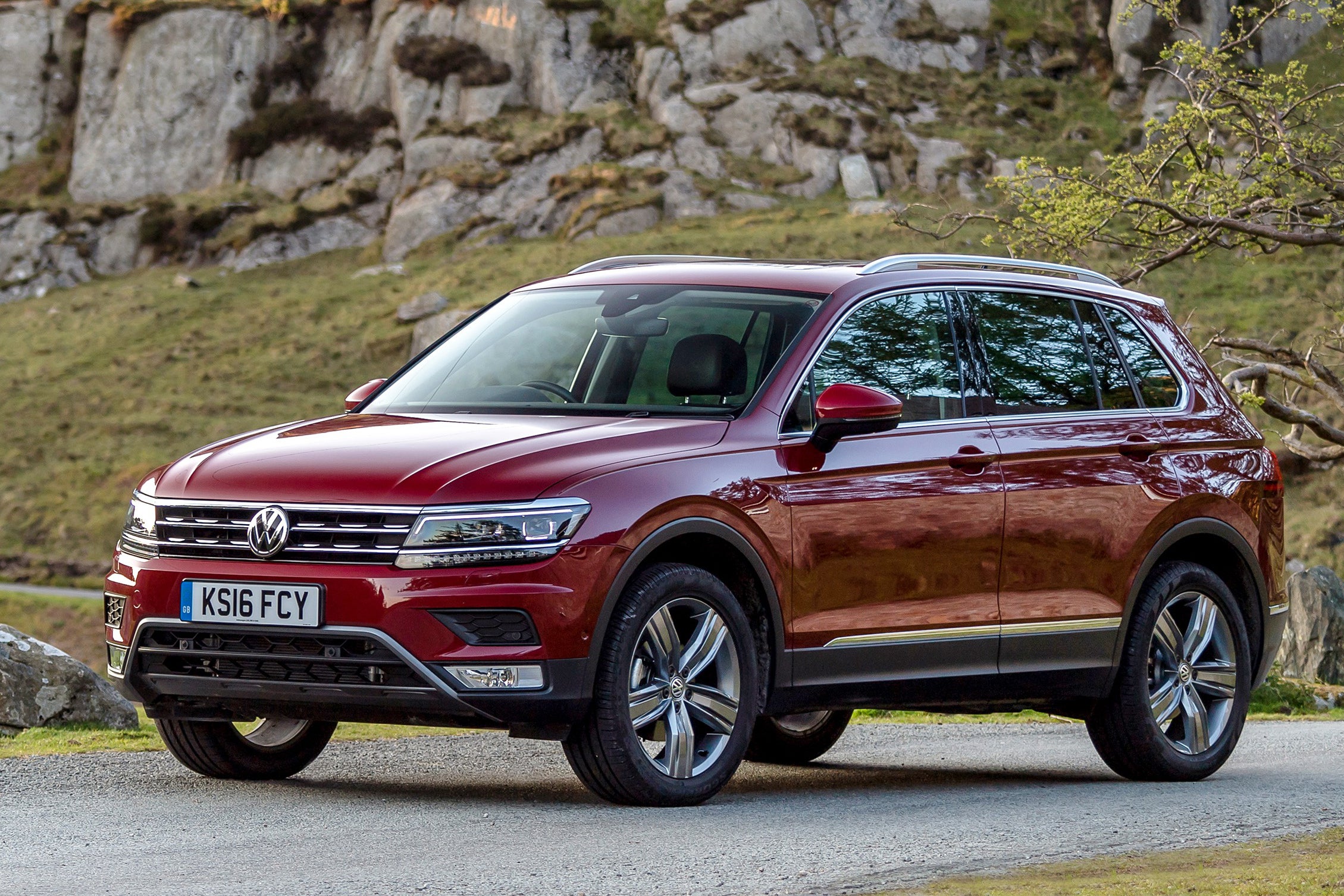 The Volkswagen Tiguan is a comfortable and practical choice with low running costs. It's a tad boring with Volkswagen's typical conservative styling, and you can get a similar Skoda Karoq for less money - but the Tiguan remains quite popular. Why's that? The engine range is excellent and all trim levels are well-equipped - with the higher-spec'd models vying with more premium models from Audi and the like.
The impressive 2.0 TDI offers 150PS and would be our pick - especially if you plan to tow a caravan. Of course, if you rarely drive your Tiguan further than the school run, you'd be better with a petrol model like the 1.4 or 1.5 TSI. It's refined on and off the motorway and while it isn't the most dynamic car, we like that it comes with four-wheel drive as an option.
The boot offers 615 litres with the rear seats slid forwards, making it more useful than rivals like the Honda CR-V. But, the price tag is where the Tiguan loses some of its appeal. Unless you can get a well-equipped used model, obviously.
The Peugeot 3008 is excellent, with a lovely interior, stylish looks and a genuinely practical boot for big families. While it isn't as good, Peugeot also offers a bigger 5008 model. The Kia Sorento is also a great choice with a seven-year warranty, and the Audi Q5 is worth a look for buyers in the market for something posh, practical and premium.
The Skoda Superb Estate and Mercedes-Benz E-Class are the best estates going - both with huge boots but with significantly different price tags and audiences.
For smaller families, the Skoda Karoq would be our pick. For larger families who want an estate, it'd be the Skoda Superb Estate if you're on a budget. If not, the E-Class. Those who want an SUV would have trouble beating the Peugeot 3008 - but the Audi Q5 drives better, the Kia Sorento will be a more reliable workhorse and the Honda CR-V is simply massive (and reliable). Citroen's C5 Aircross is also one of the most comfortable SUVs going.
Reviews of more family cars with large boots
Volvo V60
2.0 D3 [150] Inscription Plus 5dr Auto
Manufacturer Approved
Marshall Volvo Milton Keynes

Buckinghamshire, MK100BN
PCP: £394.42/mo
Representative example: Contract Length: 37 months, 36 Monthly Payments: £394.42, Customer Deposit: £3,973.00, Total Deposit: £3,973.50, Optional Final Payment: £12,179.08, Total Charge For Credit: £3,861.70, Total Amount Payable: £30,351.70, Representative APR: 7.4%, Interest Rate (Fixed): 3.81%, Excess Mileage Charge: 14.9ppm, Mileage Per Annum: 10,000
Volvo V60
2.0 D3 [150] Inscription Plus 5dr Auto
Manufacturer Approved
Marshall Volvo Bishop's Stortford

Hertfordshire, CM235GZ
PCP: £407.31/mo
Representative example: Contract Length: 37 months, 36 Monthly Payments: £407.31, Customer Deposit: £4,047.00, Total Deposit: £4,047.00, Optional Final Payment: £12,179.08, Total Charge For Credit: £3,909.24, Total Amount Payable: £30,889.24, Representative APR: 7.4%, Interest Rate (Fixed): 3.81%, Excess Mileage Charge: 14.9ppm, Mileage Per Annum: 10,000