Best hot hatches 2022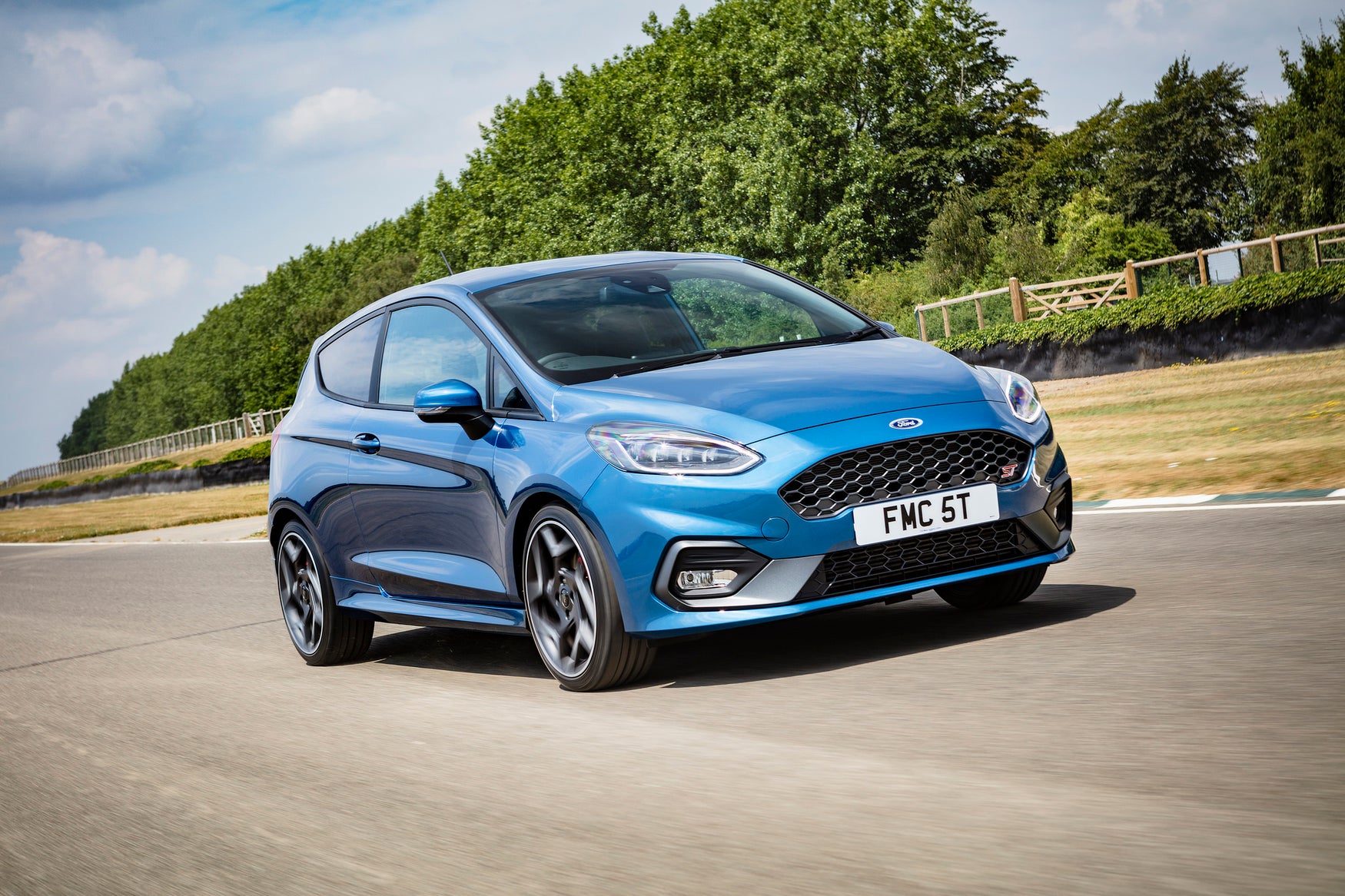 The best hot hatches continue to be as popular as ever, taking your humble hatch and adding performance, handling and style (or not as the case may be).
The idea of the hot hatch started in the 1970s and has continued to prove incredibly popular. The idea is simple - take your ordinary common or garden hatchback, give it a more powerful engine, a sporty bodykit and some bigger wheels, et voila, you've got yourself a hot hatch.
Pick one of the best hot hatches and it will certainly add a bit of enjoyment to the daily commute and when you do find a quiet bit of road, you can really get into your stride. Yet being a hatchback it's still practical and ideal for family transport. Indeed, many hot hatches are now available with diesel power. Win win then.
The Volkswagen Golf GTI can rightly claim to have popularised the idea and the formula has been copied ever since. Over the years the best hot hatches have become more powerful, more sophisticated and more refined - but the one thing they still aim to offer is fun.
You don't have to spend big either, with some of the best hot hatches costing under £15,000. We've picked out a range of brilliant used hot hatches at different price points, from those costing under £10,000 to almost new pocket rockets costing over £25,000. Whatever your budget though, any car on this list of the best hot hatches is bound to put a huge smile on your face.
Mercedes-AMG A45 S
Year launched: 2020

If you want to have your hot-hatch cake and eat it, then you'd best have a look at the Mercedes-AMG A45 S. It's one of the priciest hot hatches on sale, but combines outrageous performance with one of the classiest interiors you'll find here.
So what does more than £50,000 buy you? How about a 421PS, 2.0-litre four-cylinder engine, four-wheel drive and an eight-speed dual-clutch gearbox? It's a recipe that means the A45 S can get from 0-62mph in 3.9 seconds and onto a limited top speed of 168mph. Point to point, not much will beat it.
And it can serve up this scintillating speed while pampering you inside one of the poshest interiors you'll find this side of a Mercedes S-Class luxury saloon, thanks to huge infotainment screens and trick augmented reality sat-nav. Lovely materials are everywhere, but it's still a hot hatch with space for four and room for a dog.
Ford Fiesta ST
Year launched: 2018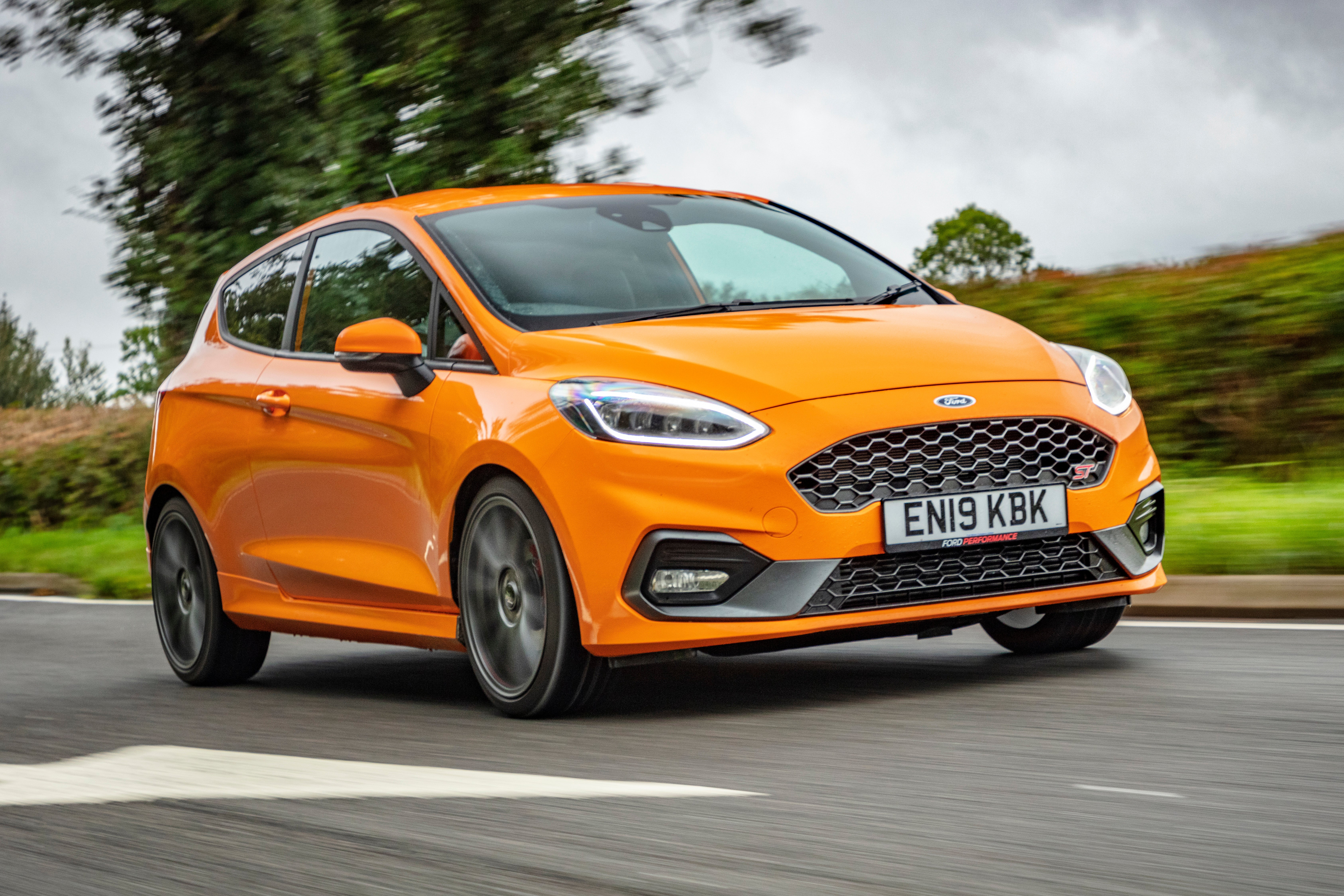 Ford has one of the best heritages when it comes to hot hatches with the Escort XR3i becoming an icon of the 1980s. And it continues to produce some of the best around with the Fiesta ST our favourite. Yes, you could go for the bigger Focus ST but we think the Fiesta ST is the best hot hatch from Ford.
It's powered by a turbocharged 1.5-litre, three-cylinder EcoBoost engine. You might be concerned that this represents somewhat of a step down the performance ladder but worry not – the advanced engine punches out a hefty 200PS and 290Nm, granting a 0-62mph time of just 6.5 seconds.
Being a Ford hot hatch it handles superbly too. There's endless fun to be had and the ST serves up masses of grip which – in conjunction with accurate, well-weighted steering and plenty of feedback – makes it reassuring and quick through corners.
Volkswagen Golf GTI
Year launched: 2013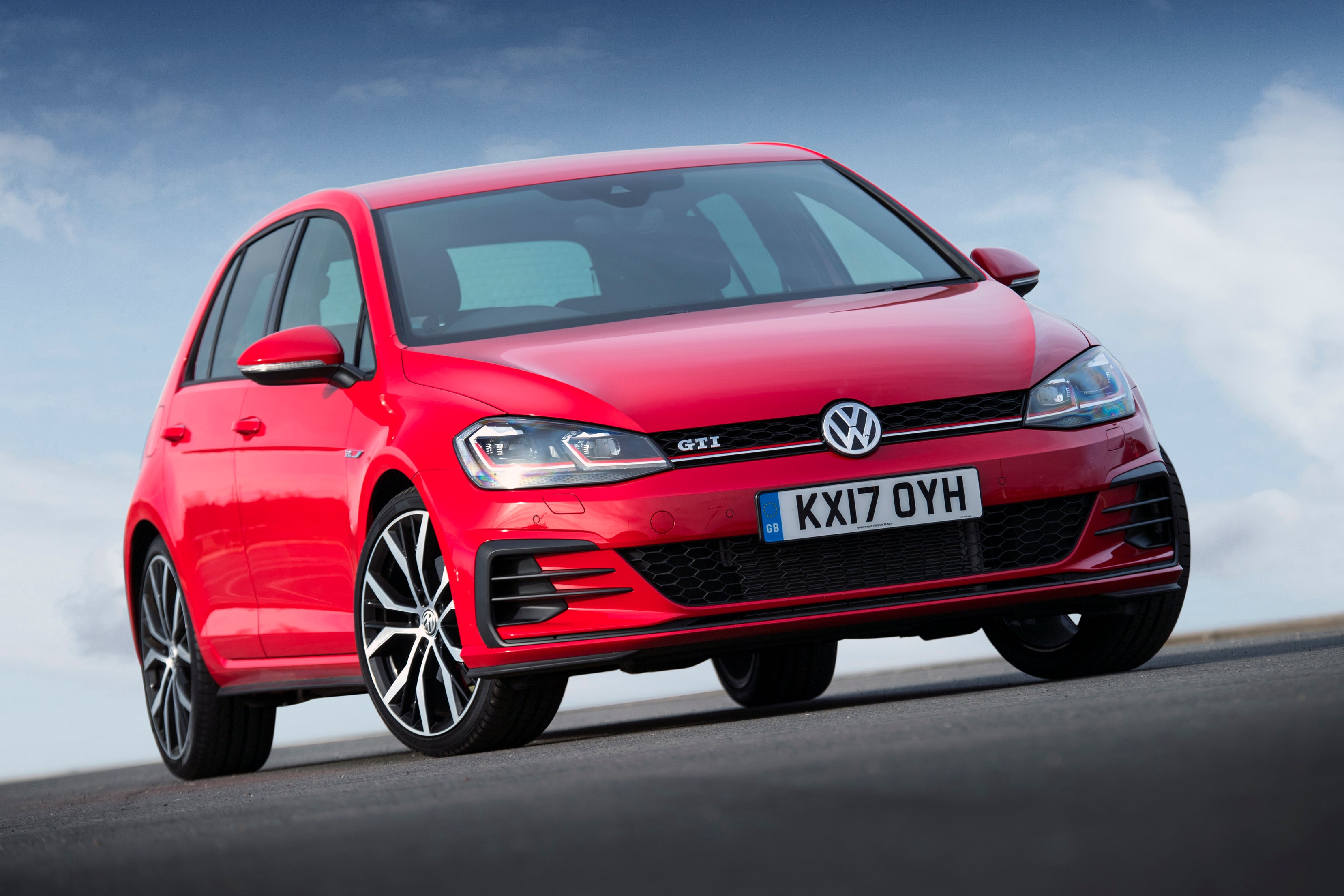 The car that popularised hot hatches, the Volkswagen Golf GTI may no longer have the market to itself, but it remains one of the most desirable hot hatches around and one of the most capable all-rounders. True, others are quicker, better to drive or look more aggressive, but the understated Golf GTI is a hot hatch which can also be a practical day to day family car.
The standard Mark 7 GTI has 220PS but the models to go for ate those fitted with the optional Performance Pack. A £1000 option when new, this ups power to 230PS but more importantly it adds uprated brakes and a limited-slip front differential.
The latter of which makes the most difference. It means traction from low speeds is markedly improved with the wheels able to transfer power cleanly down without the tyres scrabbling for grip. A budget just over £15,000 will get you a four-year-old Golf GTI, but you can spend upwards of £37,000 on an almost new Mark 8 Golf GTI.
Honda Civic Type-R
Year launched: 2017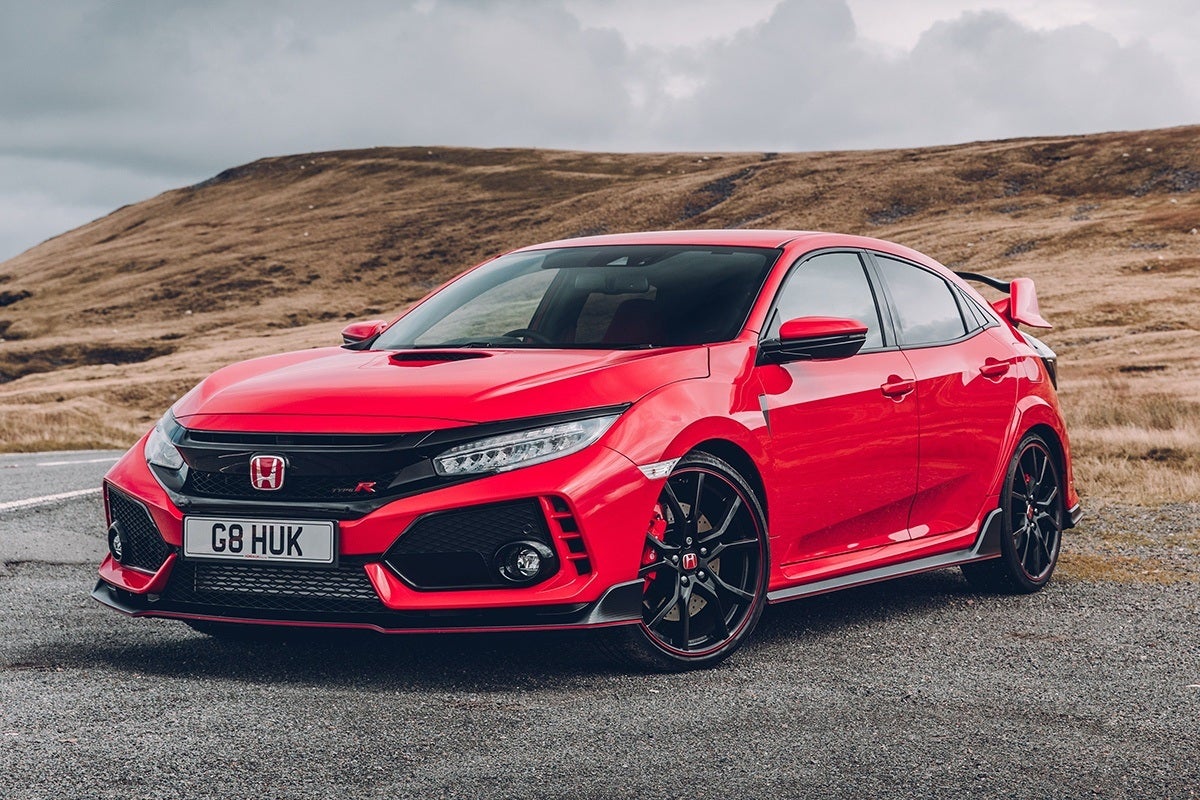 Let's just say the Honda Civic Type R's styling might be your biggest hurdle to purchase – you either like it or you hate it – but it deserves its place in any list of the best hot hatches. After all, if supercars can get away with having outlandish styling, why can't hot hatches?
Particularly because the Civic Type R will give most supercars a run for their money on A and B roads. That comes thanks to a combination of a 320PS 2.0-litre turbocharged engine, a limited-slip differential that gives it limpet-like grip, direct steering and adjustable dampers.
It can be rock solid one minute and soft and cosseting the next. That makes the Honda entirely usable as does its infotainment screen that's fitted with Apple CarPlay and Android Auto and its interior, which is nicely built, has space for four and a large boot.
You'll need a budget of over £27,000 for a latest-generation Honda Civic Type-R, otherwise you'll be looking at the older car, which is still impressive in its own right. Can't get on with that large rear wing? Check out the Honda Civic Type R Sport Line with its slightly toned down looks, though the performance is just as savage.
MINI Hatch John Cooper Works
Year launched: 2015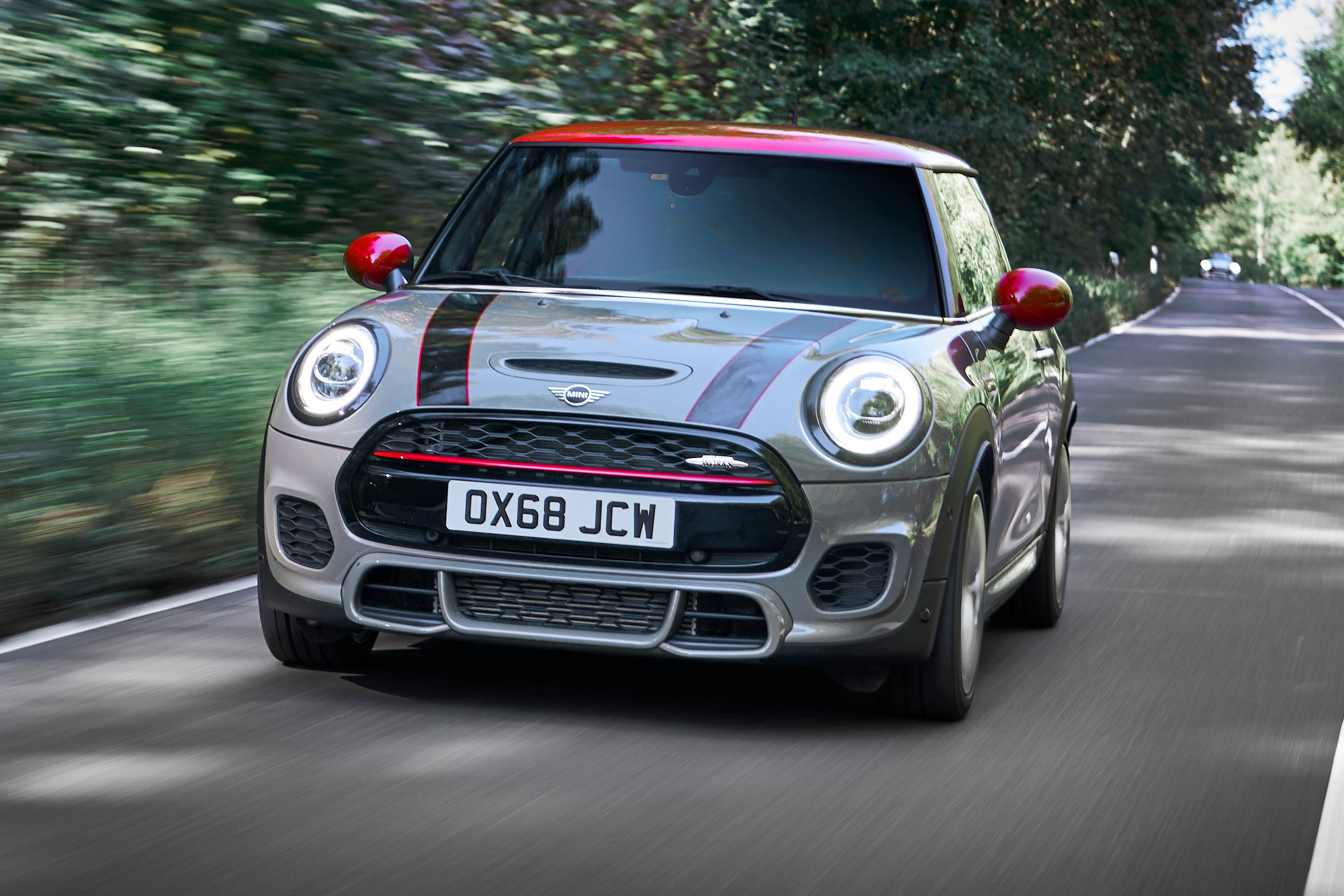 While the MINI Cooper S is hardly slow, if you want the pinnacle of the MINI range when it comes to performance, the John Cooper Works (or JCW as for short) is the model to go for. It is in fact available on all MINI bodystyles, from the Clubman to the Countryman. But for us, the standard three- or five-door MINI JCW hatchback is the best in the range.
True, the JCW hatch doesn't have as much power as the Clubman or Countryman versions but with 'just' 231PS it's hardly short on pace. And being a MINI, this is a car that's fun and engaging to drive, even if you're not using all that power. Responsively quick steering means it tackles corners with gusto and while the suspension is sportily firm, it's still comfortable enough for everyday driving.
A £15k budget will get you a four or five-year-old MINI JCW three-door with below average mileage. Look for models with the optional (but desirable) Chili Pack fitted.
Cupra Leon
Year launched: 2020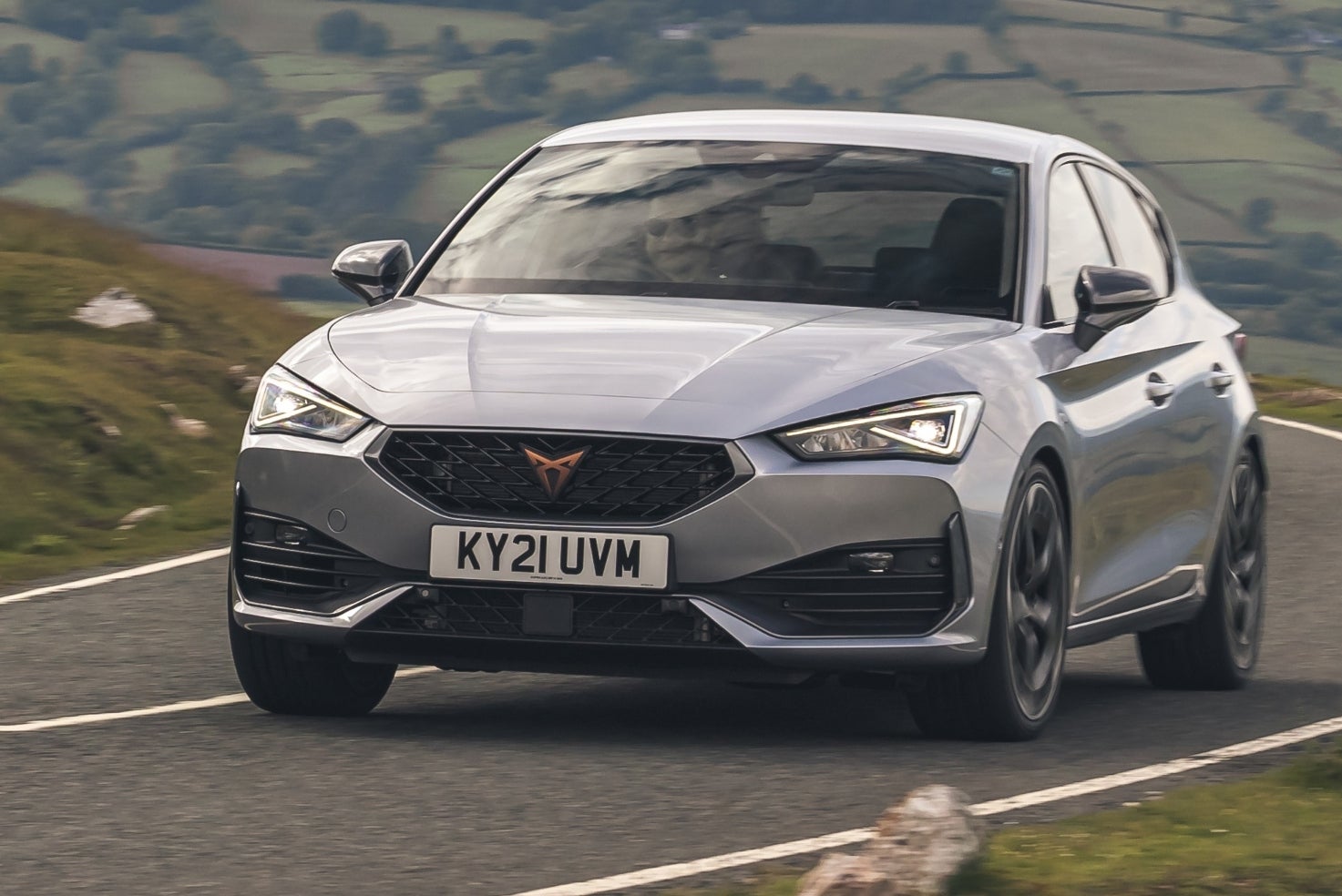 The Cupra Leon is a serious hot hatch, which doesn't like to shout about its performance. Sure, it has big wheels and four exhaust pipes, but its subtle body kit is almost invisible next to the aero-fest that the Honda Civic Type R has been subjected to.
It's still a serious hot hatch, though. Performance comes from a 300PS 2.0-litre engine that's extremely tractable – power is always there when you need it and the Cupra Leon can scramble from 0-62mph in less than six seconds on its way to a limited top speed of 155mph. Handling's accessible. The Cupra Leon slides predictably when you provoke it and grips hard when you don't.
Inside, you'll find lots of dark plastics, but the Cupra Leon makes up for this by having a well-designed interior that's easy to use and has space for four adults. The boot isn't the largest in the class, but its square shape and high roofline mean it'll swallow plenty.
Suzuki Swift Sport
Year launched: 2018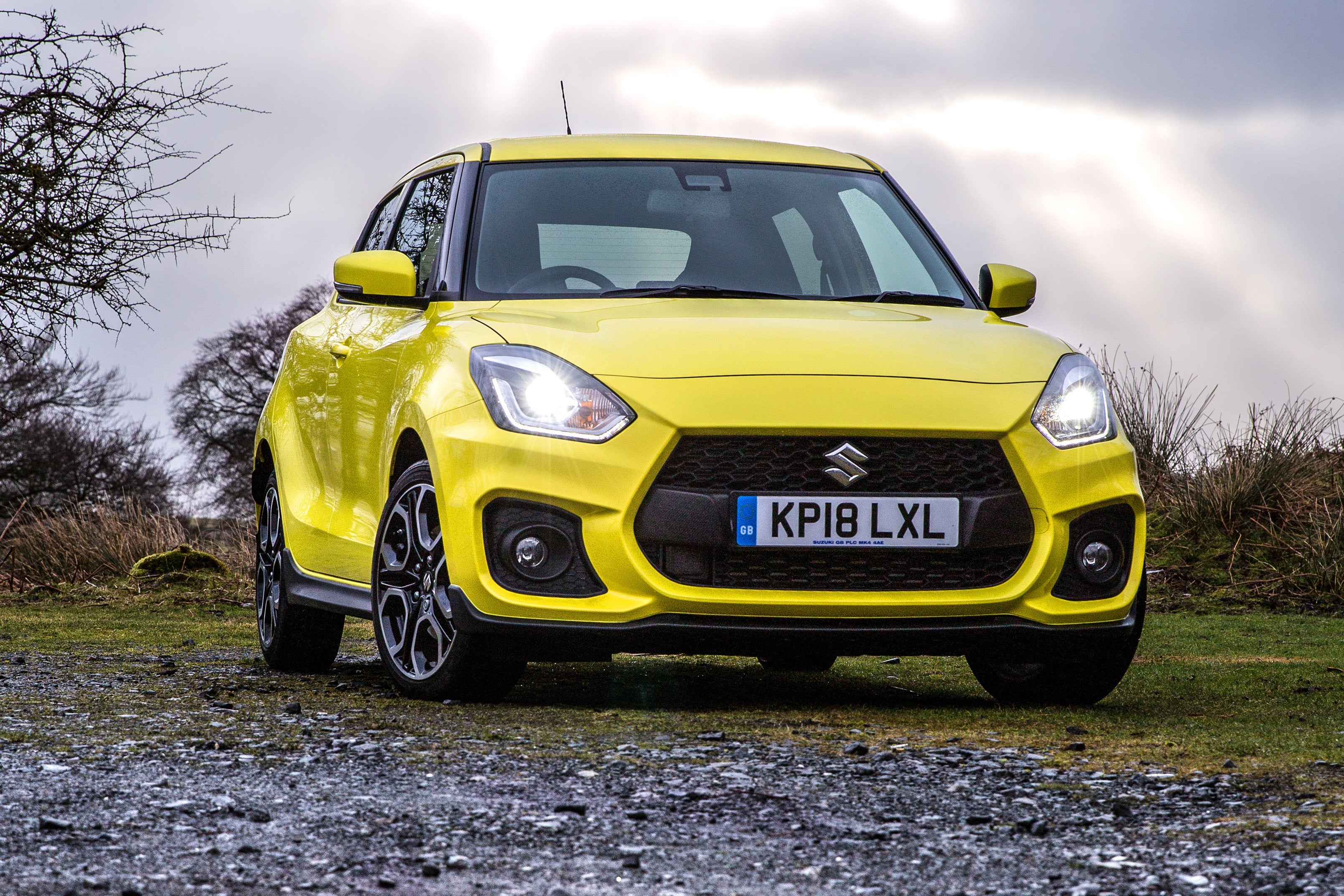 The latest Suzuki Swift Sport may not have the power or performance of other hot hatches in this list - nor the badge kudos - but as a used buy it represents good value for money. A budget of £15,000 will get you behind the wheel of a one-year-old model that has covered less than 4000 miles. Admittedly with 140PS it's not quite a hot hatch when you compare it to the likes of the Fiesta ST, but to soften the blow, Suzuki throws every extra and option it can at the Swift to make it more appealing.
Power comes from Suzuki's impressive 1.4-litre BoosterJet engine, replacing the 1.6-litre of the old model. The big change here is that it's turbocharged, so you don't have to rev the socks off it in order to get meaningful performance. It also means it's much more refined at speeds and better on fuel.
Like the little Abarth 595, the Swift Sport weighs less than 1000kg so, despite only modest power figures, it's still good fun to drive with sharp steering and good grip through corners.
Skoda Octavia vRS Estate
Year launched: 2020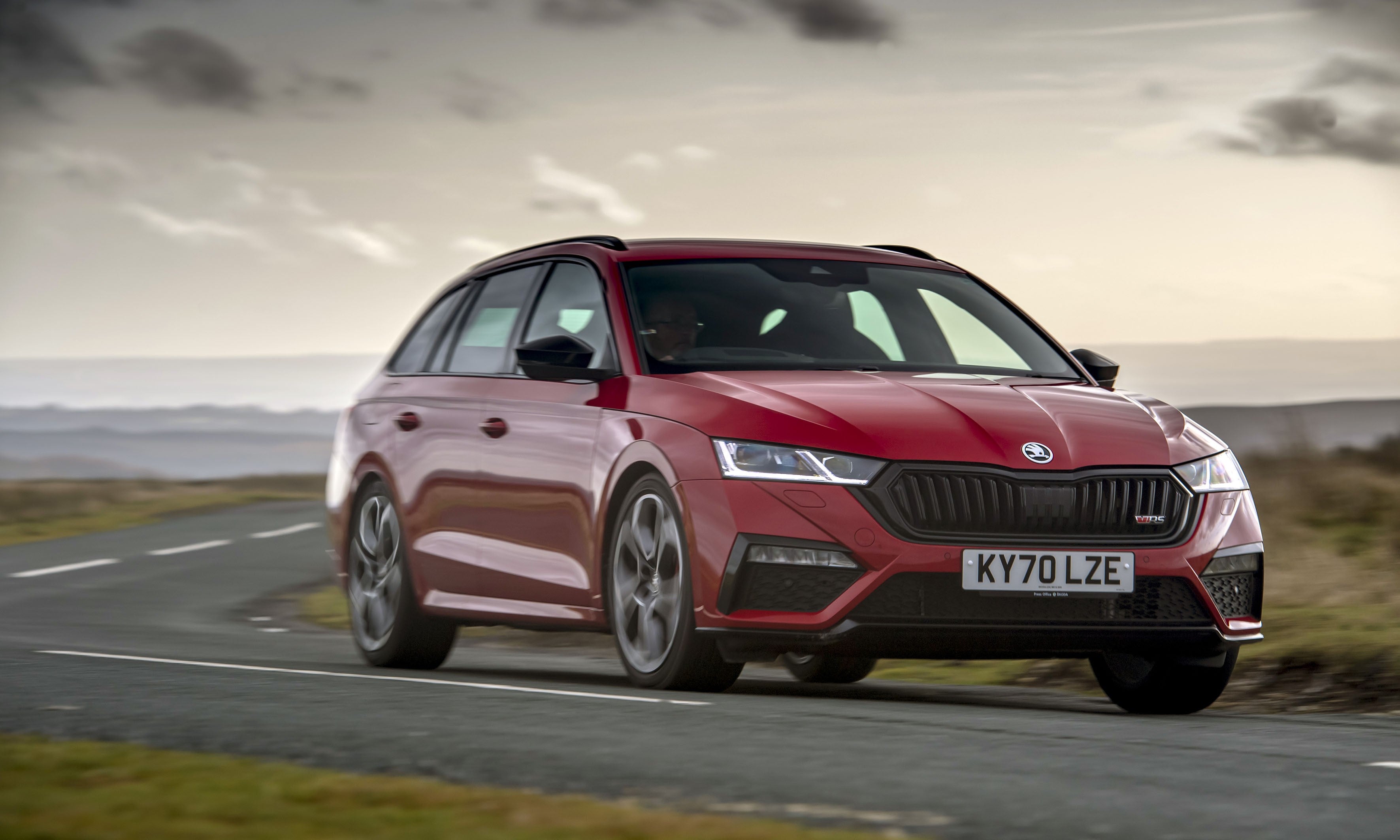 The Skoda Octavia vRS Estate is the thinker's hot hatch – it's not the quickest or the most agile, but it is the car that will fit into your everyday life the easiest.
This usability starts with the interior, which is designed with Skoda's characteristic intuitiveness. Everything is where you expect it to be and while the new infotainment system takes a little getting used to, you eventually get the hang of it. The Skoda's big selling point is space – you and your passengers get more room than almost any other car at this price point and your four-legged friend will love the boot.
Yet it still manages to be good to drive. You can choose from plug-in hybrid and diesel models but for us, the 245PS 2.0-litre petrol is still the one to choose – giving you decent performance alongside reasonable running costs. The DSG gearbox makes the Skoda easy to drive in town, while a suite of autonomous driving aids take the stress out of the motorway. It's the classic allrounder.
Renault Megane Renaultsport
Year launched: 2009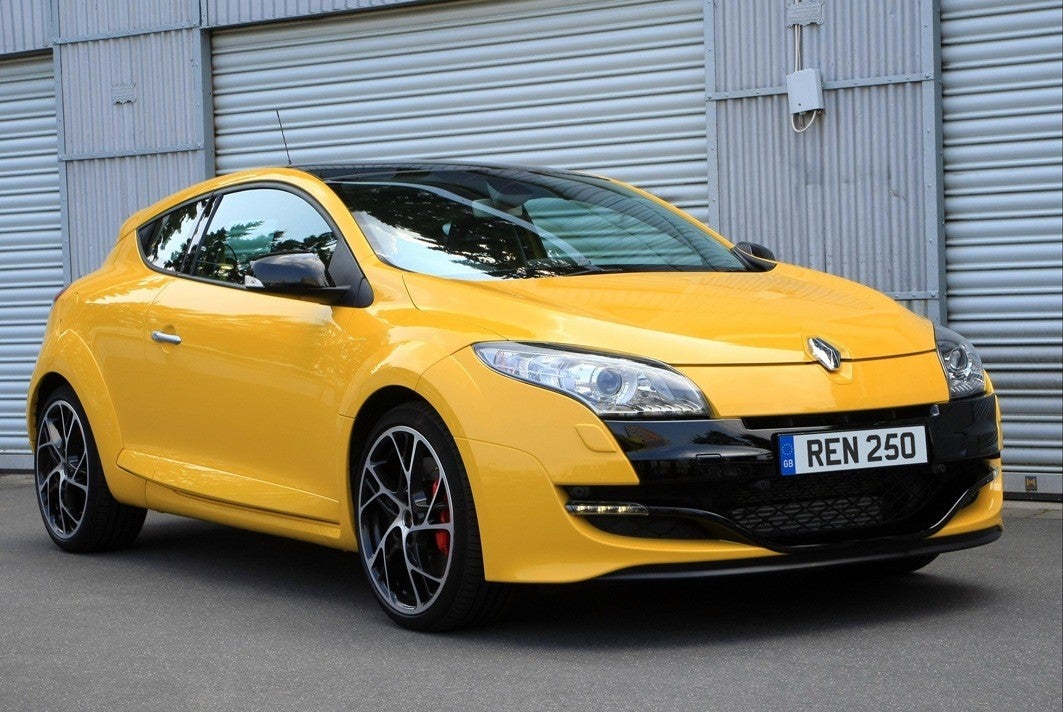 If you like your hot hatches distinctly old school - in a good way - then the previous version of Renault's Megane Renaultsport is an ideal choice. While many other hot hatches have gone for refinement and practicality, the Megane Renaultsport sticks to the tried and trusted method of plenty of power and raw thrills.
Like many hot hatches, Renault continually improved the Megane Renaultsport over its lifetime, improving power and adding more equipment and technology. What started off with 250PS ended up with 275PS along with better brakes, uprated suspension and even better performance.
The Renaultsport Cup models are the ones to go for if you want your hot hatch to be that bit more hardcore, but the standard model still delivers more than enough performance and fun for the money. A budget of £15,000 will get you a four year old car with below average miles.
Hyundai i30N
Year launched: 2018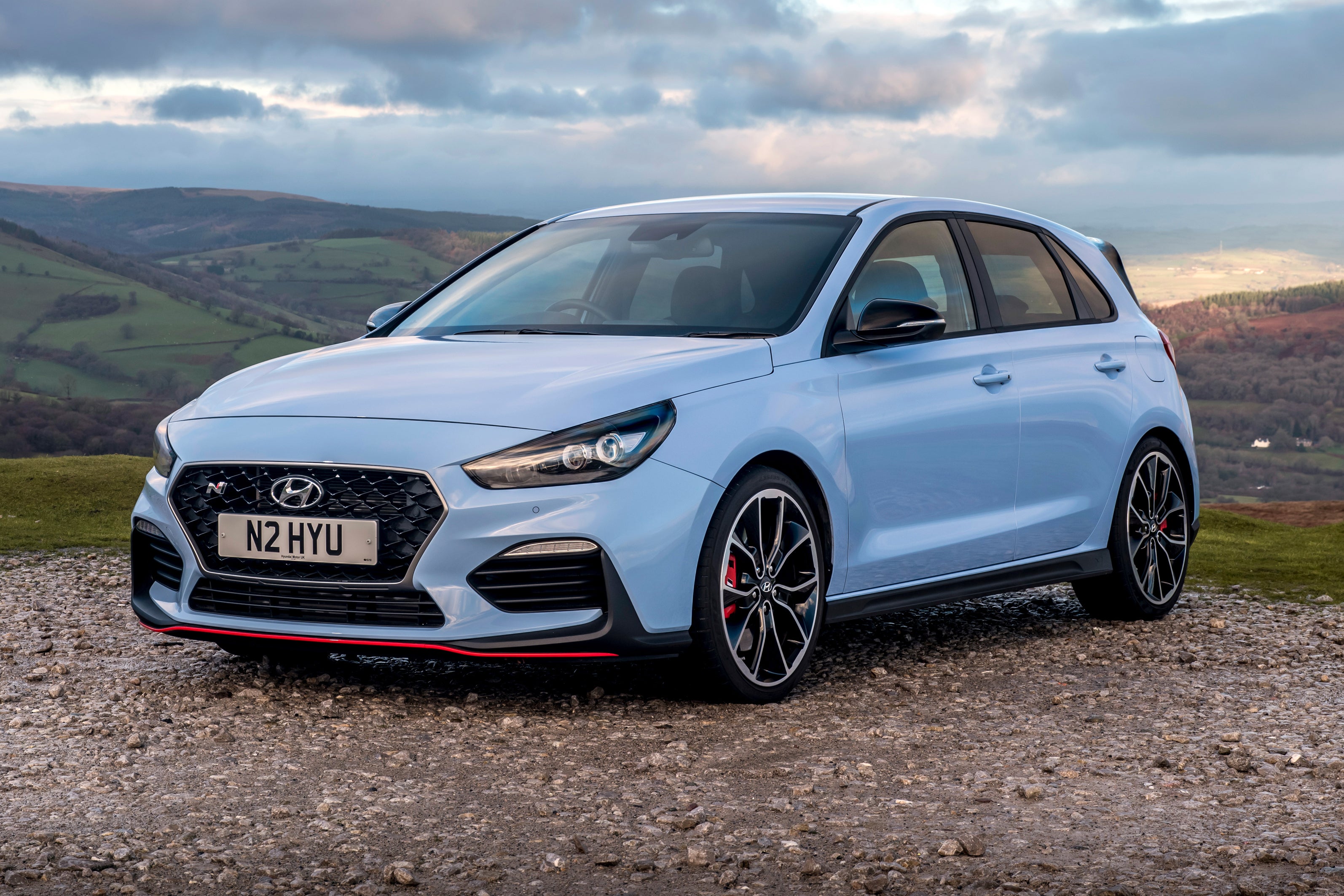 If you're thinking of buying a hot hatch, Hyundai may not be a name that leaps to mind. But the Hyundai i30N is making the brand leap a bit higher as this is one of the best hot hatches we've driven in a long time. Surprised? Yes we were too. This isn't just good for a Hyundai, it's a great performance hatch full stop.
It's powered by a 2.0-litre turbocharged engine - the standard version has 250PS but the Performance version with 275PS proved much more popular and you will find them slipping into the £20,000 price tag bracket.
But what makes the Hyundai i30N is the character it possesses. The standard Hyundai i30 may be forgettable to drive but this is anything but. The Hyundai i30N is an absolute revelation and massively enjoyable to drive. It even rides well. Try one and we guarantee you won't be disappointed.
The best hot hatches continue to be produced by Ford with the Fiesta ST and Focus ST two of the best hot hatchbacks on sale. Honda continues to prove strong competition with the excellent Honda Civic Type R and the MINI John Cooper Works is one of the best handling.
Honda has a strong reputation for reliability and its Civic Type R is the most reliable hot hatch on sale along with the Hyundai i30 N which comes with a five year warranty as standard.
The best cheap hot hatch is undoubtedly the Ford Fiesta ST. New prices start at £22,000 but go for a used model and you can get a lot of hot hatch for not much money.
Reviews of more of the best hot hatches
Cupra Leon
1.4 eHybrid VZ2 5dr DSG
Pentagon SEAT Oldham

Lancashire, OL81DB
PCP: £542.30/mo
Representative example: Contract Length: 36 months, 35 Monthly Payments: £542.30, Customer Deposit: £4,912.00, Total Deposit: £4,912.50, Optional Final Payment: £14,323.50, Total Charge For Credit: £5,466.50, Total Amount Payable: £38,216.50, Representative APR: 8.9%, Interest Rate (Fixed): 4.36%, Excess Mileage Charge: 20.2ppm, Mileage Per Annum: 10,000
Cupra Leon
1.4 eHybrid VZ3 5dr DSG
Milton Keynes SEAT

Milton Keynes, MK150DQ
PCP: £586.89/mo
Representative example: Contract Length: 36 months, 35 Monthly Payments: £586.89, Customer Deposit: £5,235.00, Total Deposit: £5,235.00, Optional Final Payment: £13,510.00, Total Charge For Credit: £4,386.15, Total Amount Payable: £39,286.15, Representative APR: 6.9%, Interest Rate (Fixed): 6.9%, Excess Mileage Charge: 11.98ppm, Mileage Per Annum: 10,000