Best hybrid SUVs 2022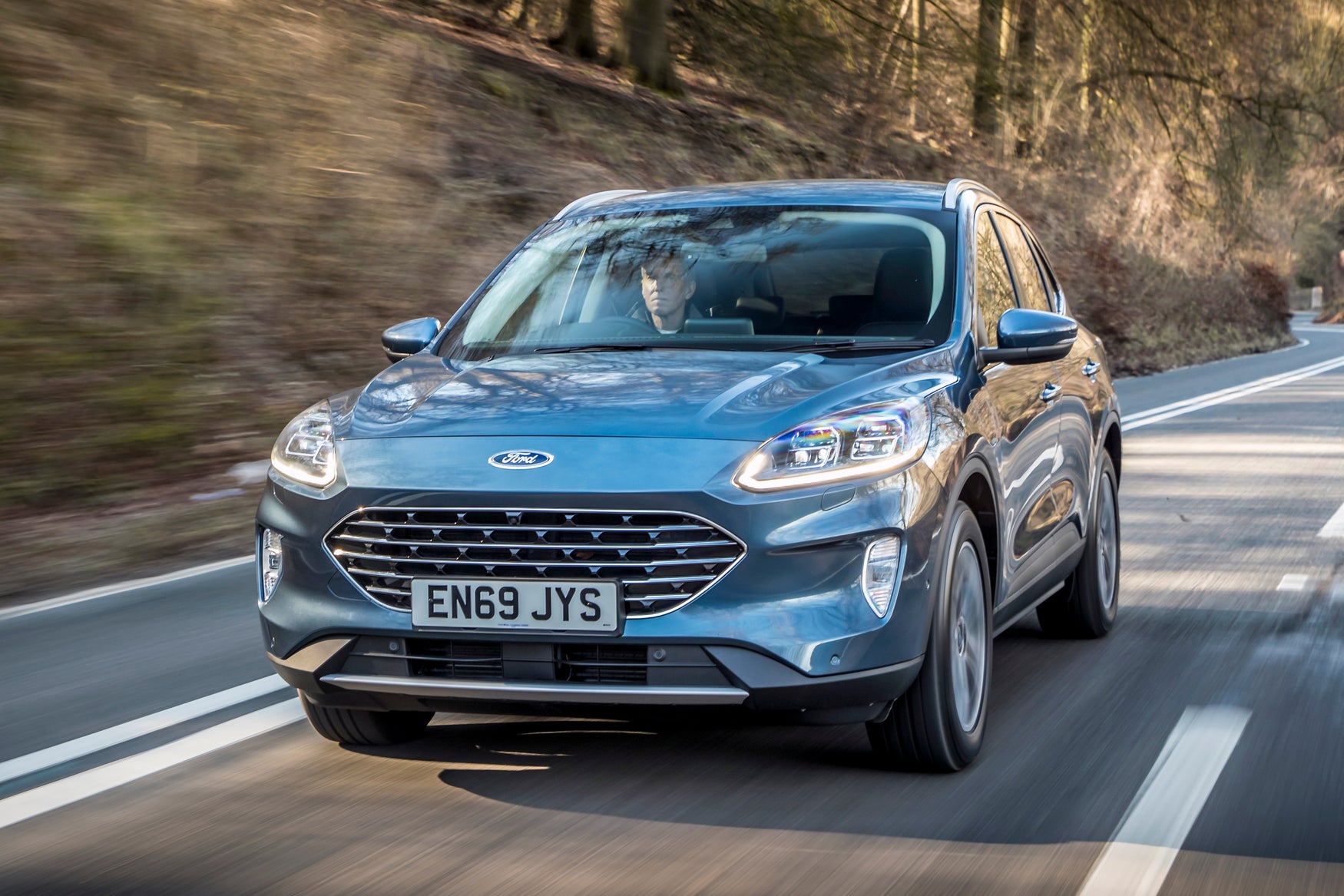 The best hybrid SUVs deliver a great blend of space, comfort, cheap fuel costs and low emissions.
This is because hybrid SUVs marry a petrol engine (or in some cases a diesel engine) with an electric motor. The best hybrid SUVs can use the electric motor to assist the petrol engine for better fuel economy, while the electric motor can be used to solely power a hybrid SUV.
As well as significantly reducing fuel consumption, this massively reduces local emissions - an important factor for those buying a hybrid SUV for town use. The days of SUVs being stereotyped as big gas guzzlers are numbered - although if you're ready to really take the plunge why not check out our best fully electric SUVs?
The hybrid components do tend to eat some boot space, but the best hybrid SUVs are still more than big enough for all the family, while they also make a lot of sense as a company car as well thanks to their low BiK (Benefit in Kind) tax rates.
Plug-in (PHEV) hybrid SUV vs mild/full hybrid SUV?
Hybrid SUVs can be split into two camps - ones that use hybrid tech that's self-charging and takes its power from the engine (or regenerative brakes) to charge, while the other approach is a plug-in method that sees the battery charged from the mains.
These are known as plug-in hybrid electric vehicles (or PHEV for short) and offer a greater electric-only range. In some cases, these hybrid SUVs will give you well over 100mpg (in theory) and an electric range of around 50 miles. If you want to explore more about the benefits of each, our guide to how a hybrid car works will cover everything you need to know.
However, there is a key difference between full and mild hybrids: full hybrids (both self-charging and plug-in hybrids) are capable of powering the wheels solely under electric power for a few miles before the engine kicks in again. Full hybrids constantly cycle between electric power, petrol power or a combination of both to maximise efficiency. Mild hybrids, on the other hand, cannot solely turn the wheels with electric power: the system is there to assist the petrol or diesel engine and boost efficiency.
You might also be interested in our in-depth guides to the best SUVs and best hybrid cars if you're looking for more inspiration. Otherwise read on to discover our top 10 pick of the best hybrid SUVs on sale in the UK right now.
Best hybrid SUVs
BMW X5 XDrive 45e
Year launched: 2017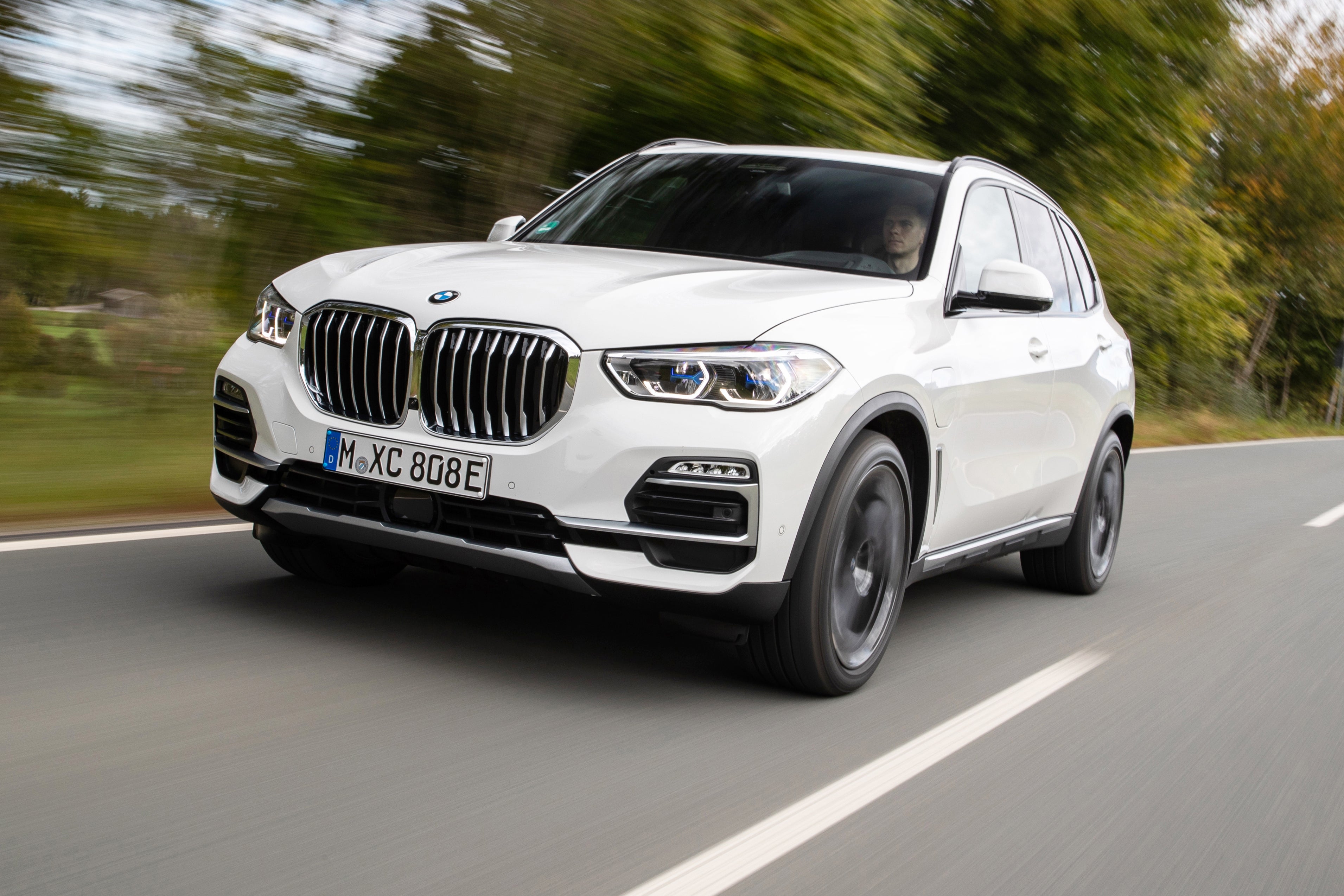 The BMW X5 XDrive 45e is a brilliant hybrid SUV. Officially, it returns an incredible 201-235mpg and 32-27g/km of CO2. What's more, being a plug-in hybrid, it can cover up to 54 miles with a full battery charge with zero emissions.
Those advertised fuel economy figures are based on the X5's plug-in battery being fully charged, which means the mpg will be significantly lower when the X5 is running from the 3.0-litre turbocharged petrol engine.
All versions of the hybrid X5 use all-wheel drive, while maximum power is a potent 394PS. BMW's power delivery system is seamless, which means it's very difficult to tell where the engine stops and the electric motor starts. The performance is great, too - really, it's better suited to the big X5 than the pure petrol options. The only downside is that because the hybrid tech takes up a bit of boot space, you can't spec seven seats.
Hybrid system aside, the X5 is a very good large SUV. The interior is luxurious with comfortable wide seats, lots of high-quality leather and soft-touch materials. The X5 also has one of the best infotainment systems in its class, operated through a pair of 12.3-inch screens that are sharp, bright and easy to read.
Audi Q7 TFSI e quattro
Year launched: 2020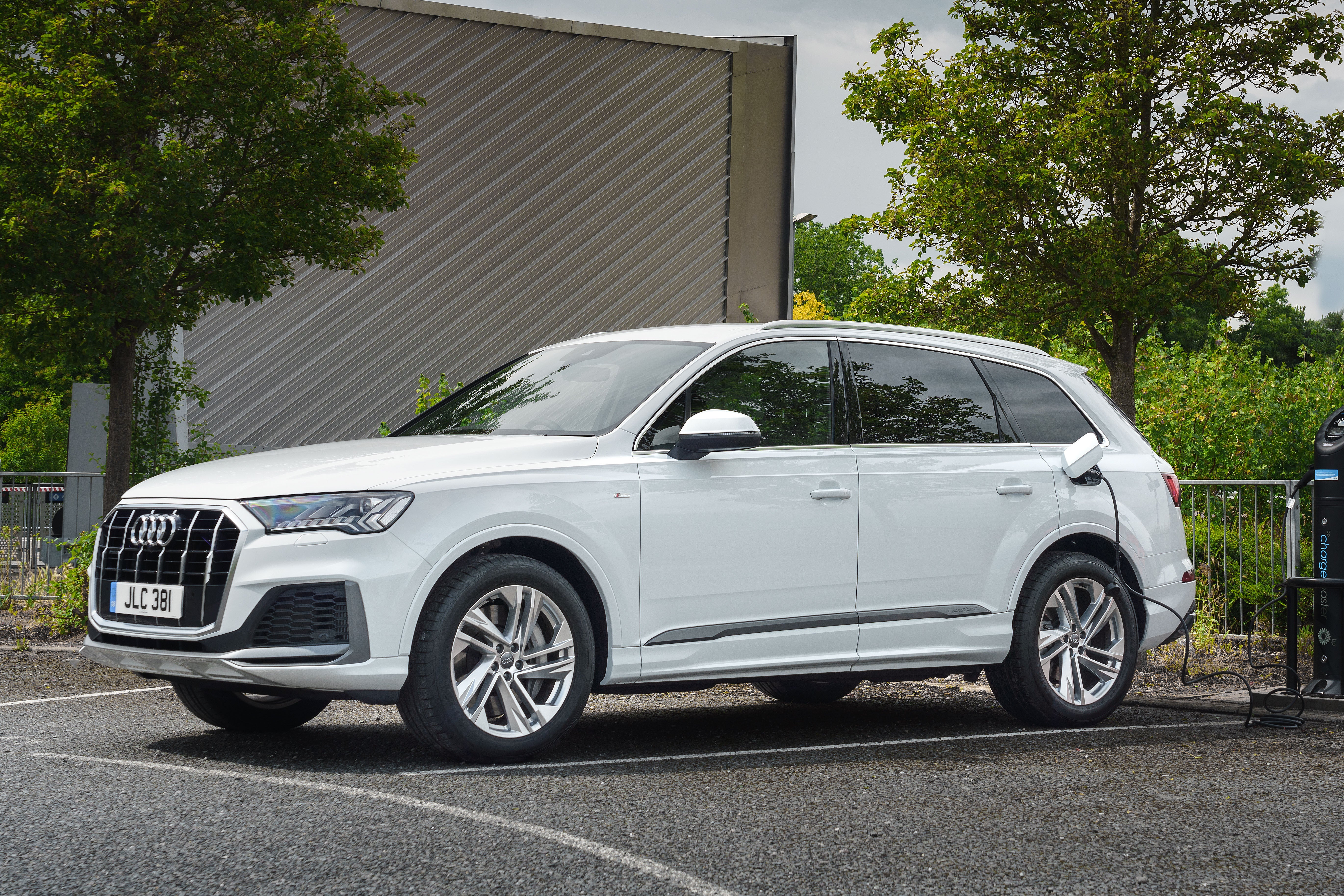 The Audi Q7 is already one of our favourite SUVs. However, with a plug-in hybrid it morphs into one of the best large cars on sale today, with sub-100g/km of CO2 and the promise of up to 88mpg if regular charging is employed.
The hybrid system combines a powerful 3.0-litre turbocharged petrol engine with an electric motor and a lithium-ion battery pack. The battery gives the Q7 an electric range of 27 miles and a full charge takes 2.5 hours to complete from a home wall box. However it does mean that the boot is a bit smaller than the standard Q7, while like the BMW X5 hybrid you can't spec seven seats like you can in pure petrol or diesel versions.
The Audi Q7 is smooth to drive at low speeds, with the electric motor doing all of the hard work. This means you can waft along in this large SUV in near silence, while the engine kicks in when the charge runs out or if the car needs a boost in power. As with the standard Q7, the interior is beautifully put together and supremely comfortable, with three-zone climate control and heated electric leather seats. It really is a very impressive all-round hybrid SUV.
Ford Kuga Plug-in Hybrid
Year launched: 2020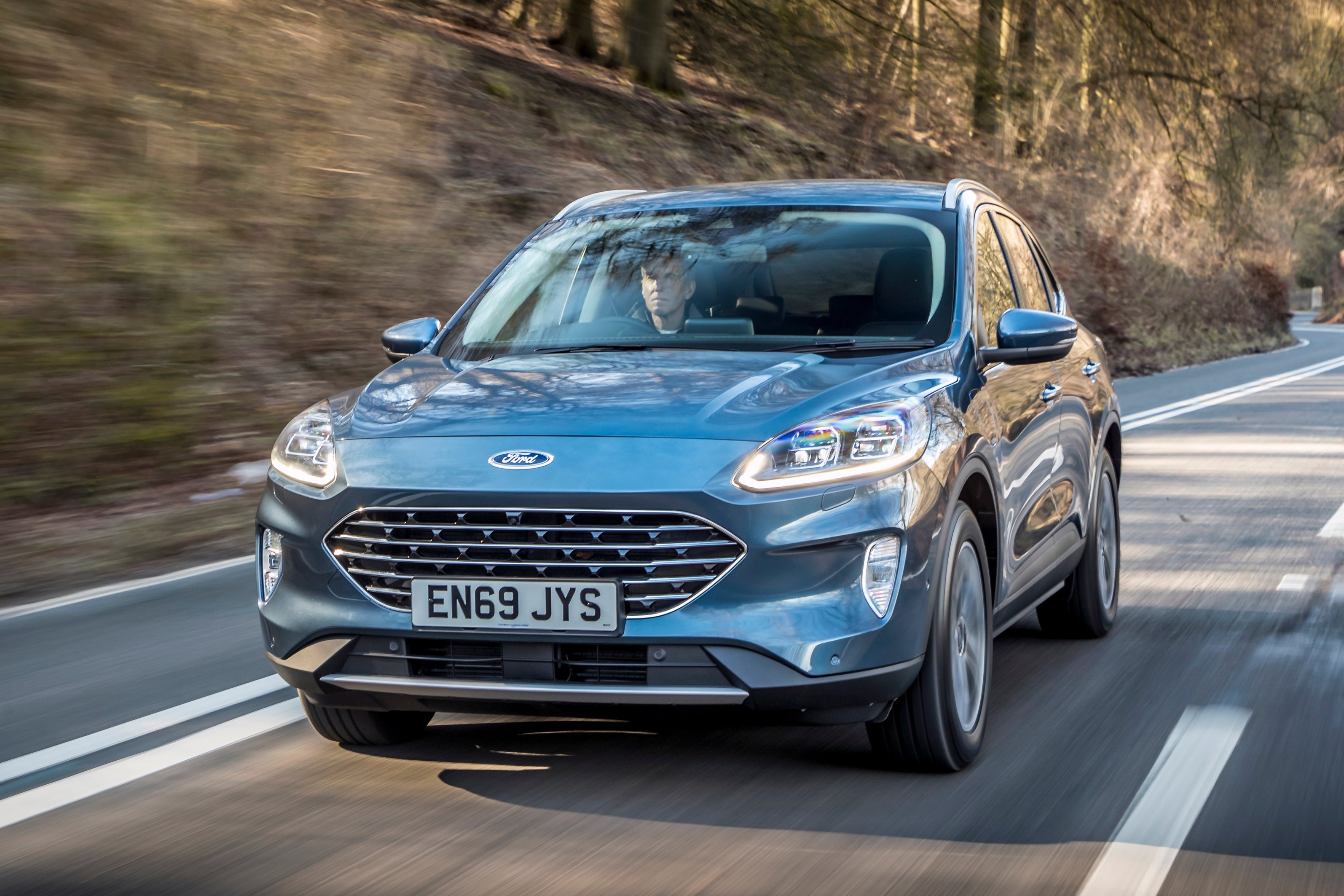 The Ford Kuga is a comfortable family SUV that's good to drive and extremely practical. The plug-in hybrid Kuga boosts its potential fuel economy to an incredible 200+ mpg, while also giving this family-friendly Ford an electric range of 35 miles.
Larger and more spacious than ever before, the latest Kuga feels like it's been designed for everyday family life. The rear seats, for example, can slide forwards or backwards to maximise passenger or storage space. You also get lots of useful equipment as standard, with all plug-in models getting LED headlights, touchscreen navigation and a rear armrest with a pair of cupholders.
The hybrid system combines a 2.5-litre turbocharged petrol engine with a sophisticated electric motor and lithium-ion battery pack. A full charge takes 3.5 hours from a home wall box and the Kuga (with a full tank of fuel) will be capable of covering a useful 465 miles.
Volvo XC90 T8 Twin Engine
Year launched: 2015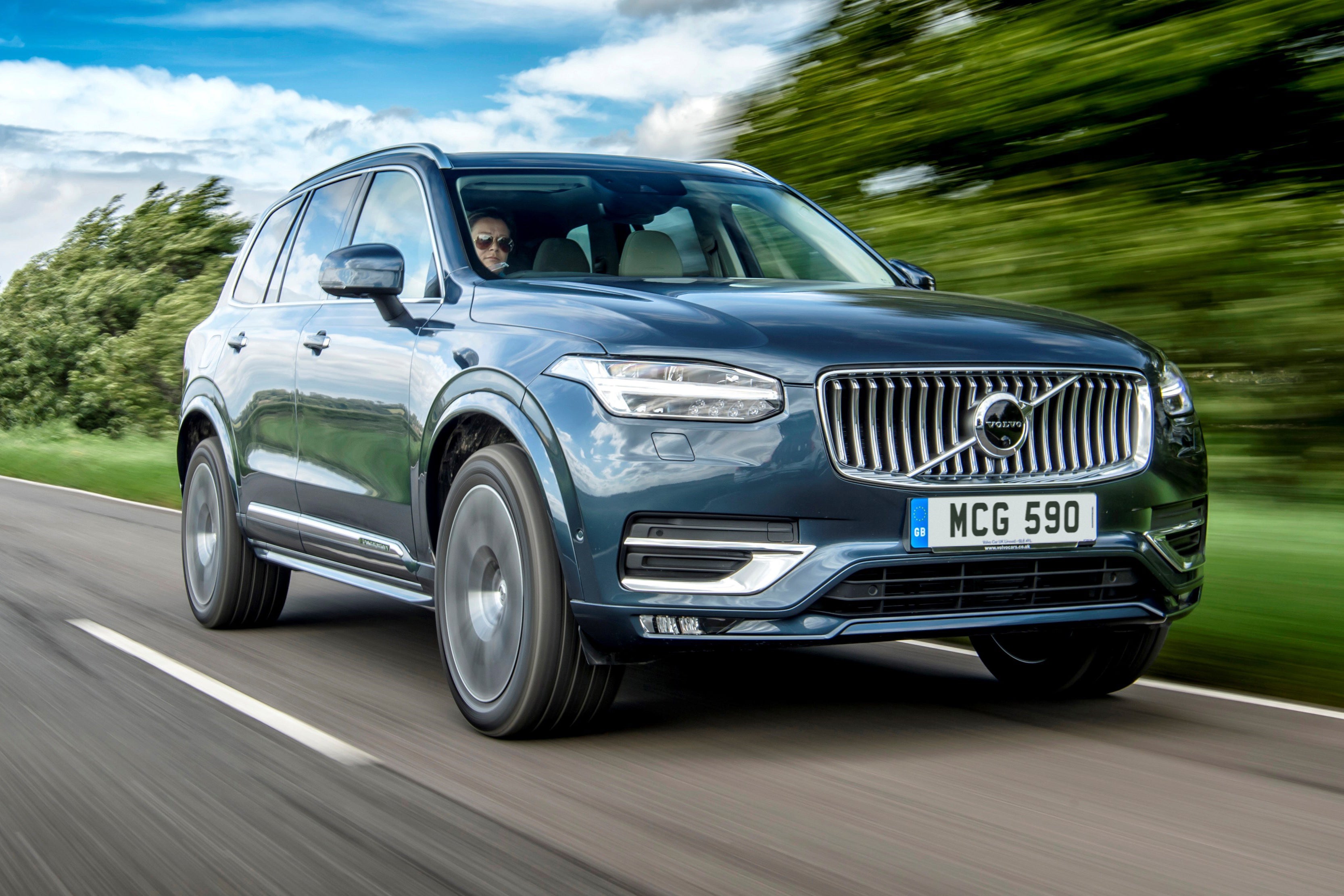 The XC90 was the SUV that put Volvo back on the premium car map. Luxurious, modern and packed with safety tech, the XC90 raised the bar for SUVs everywhere. And buy one with the T8 Twin Engine hybrid powertrain and you'll get a large SUV that's capable of returning 100mpg.
Like all plug-in hybrids in this list, that advertised fuel economy figure is dependent on plugging the XC90 into a power socket regularly. You'll be looking at three hours recharge time from a wall box, which will give you an electric range of 28 miles - perfect for scooting around town with zero tailpipe emissions.
The XC90 is a big car, but it's no slouch when it comes to performance. The hybrid system combines a powerful turbocharged 2.0-litre petrol engine with an electric motor to generate a significant 400PS. As a result, the XC90 T8 has a sub-six second 0-62mph time and CO2 emissions that range from 63-76g/km. Unlike some of its German hybrid rivals, the XC90 T8 is also available with seven seats, which is a real boon.
Hyundai Tucson hybrid
Year launched: 2021
The Hyundai Tucson was a worthy but unexciting midsize SUV, until this new version came along in 2021. Out went the inoffensive (but bland) looks and in came a striking new design language that really marks the new model out against a sea of rivals.
There's substance to the Tucson's style, too, with a high-tech and upmarket interior that shows Hyundai is hoping to pull buyers away from premium SUVs. It's pretty practical, too, and well-equipped even at the lower end of the range. There's also forward thinking in the powertrain department, with every version available as some form of hybrid - be it mild hybrid, full hybrid or plug-in hybrid.
The full hybrid Tucson is best for those who are unable to charge at home, as it deftly juggles its power sources to provide diesel-beating efficiency. With 230PS it's reasonably swift, too. There's also a 265PS plug-in hybrid (PHEV) Tucson, which is the version of choice for business users or those who can charge it regularly. Do that and you could manage to reach the impressive 201mpg claimed figure, with a strong 38 miles of all-electric running possible.
Porsche Cayenne E-Hybrid Coupe
Year launched: 2019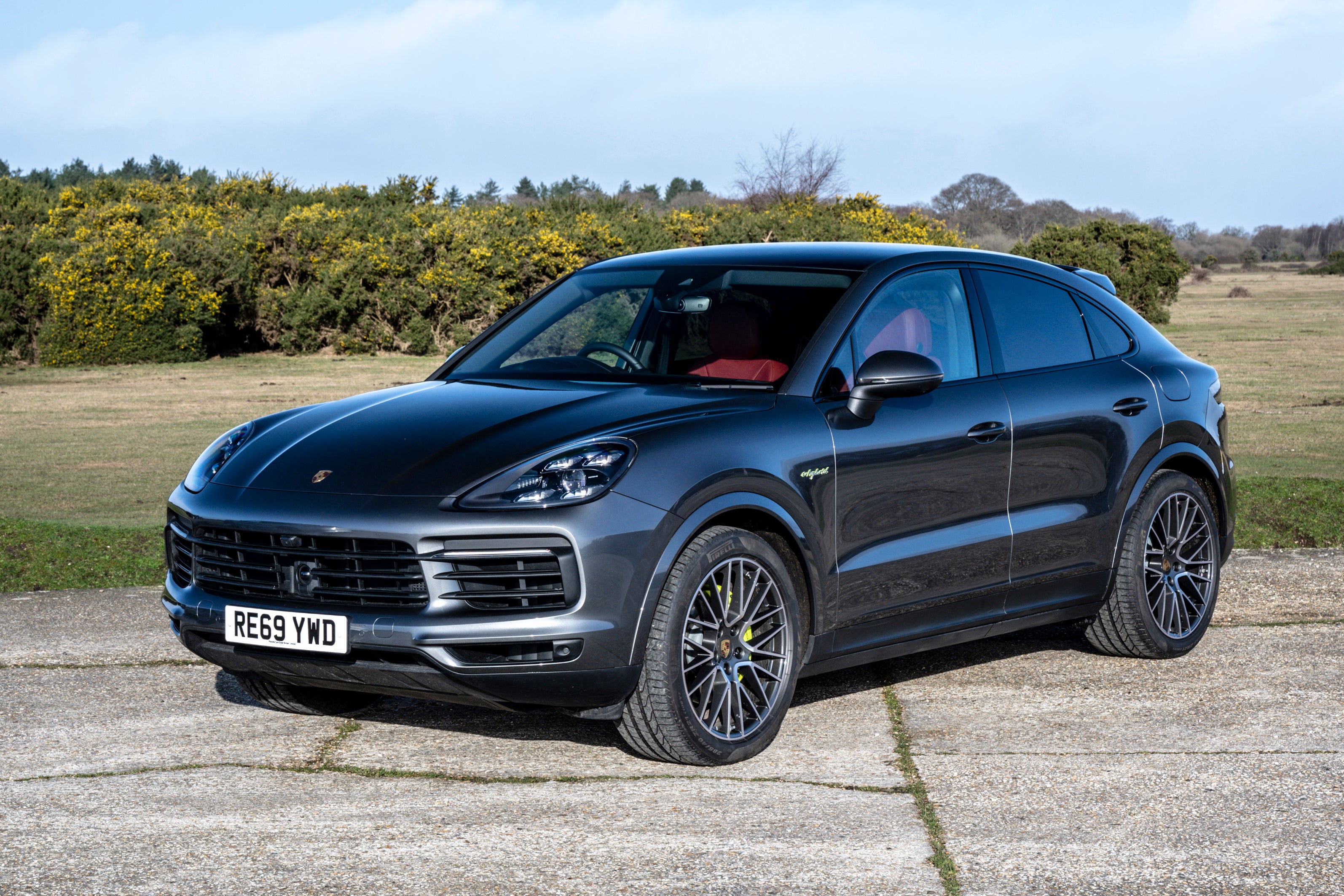 Want to buy a high-performance SUV without the eco-guilt? The Porsche Cayenne E-Hybrid Coupe could be the automotive oxymoron for you. It's brutally fast, yet emits the same level of CO2 as a small hatchback.
In true Porsche fashion, the plug-in hybrid version of the Cayenne Coupe is brilliant to drive. The 3.0-litre V6 petrol engine delivers that trademark Porsche engine howl, while the electric motor and battery pack nullify the running costs to a socially acceptable 60-70mpg and 91-108g/km of CO2. The electric range isn't the best, however, with a full charge giving you just 22-miles.
Like all Cayennes, the E-Hybrid Coupe's road handling defines its size. The steering is light and accurate, while the four-wheel drive system provides physic defying levels of grip. The interior is also cavernous, which means a family of four will have little trouble getting comfortable.
Lexus NX
Year launched: 2021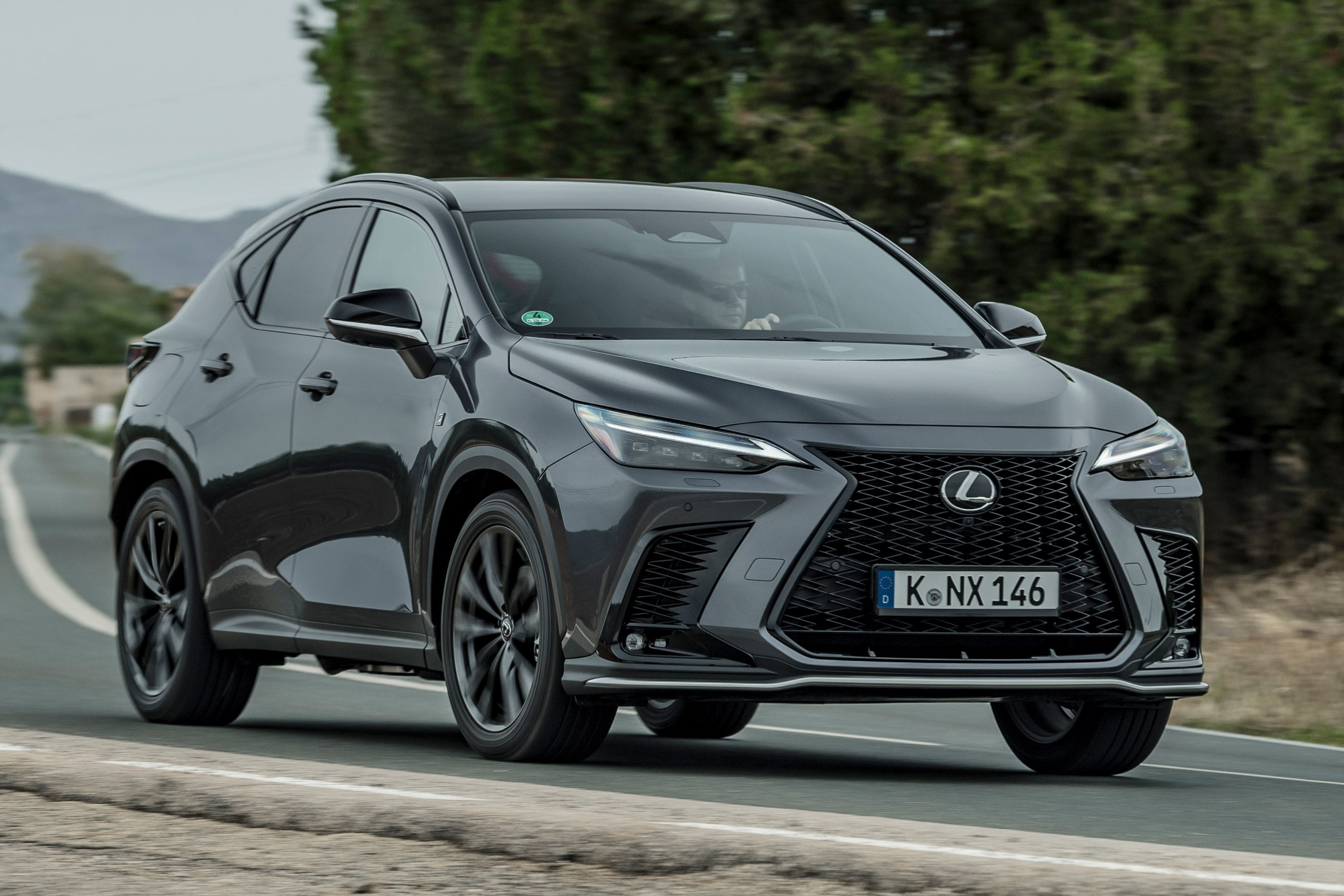 Lexus has always provided a left-field choice in the premium classes, and in recent years has leaned heavily on its self-charging hybrid tech while others carried on with petrol and diesel. But now other manufacturers are also offering self-charging hybrid SUVs, the new Lexus NX is the brand's first model to also be available as a plug-in hybrid.
There's two flavours of NX hybrid: the NX 350h uses the brand's proven self-charging hybrid system, using a 2.5-litre petrol engine mated to two electric motors for 244PS and a respectable 47.9mpg. It also suits the NX's smooth and relaxed driving style.
The more expensive NX450h+ gets that new four-wheel drive plug-in hybrid powertrain. Despite Lexus being new to this technology, its wider hybrid expertise means the stats are impressive: 309PS, 0-60mph in just over six seconds, up to 313mpg and a very healthy 47-mile all electric range.
What's more, the new NX is much better than its predecessor, with greatly improved infotainment, a seriously solid and plush cabin and a comfortable ride. All NXs can also tow 1,500kg, which is fairly useful.
Mercedes GLC 300de
Year launched: 2015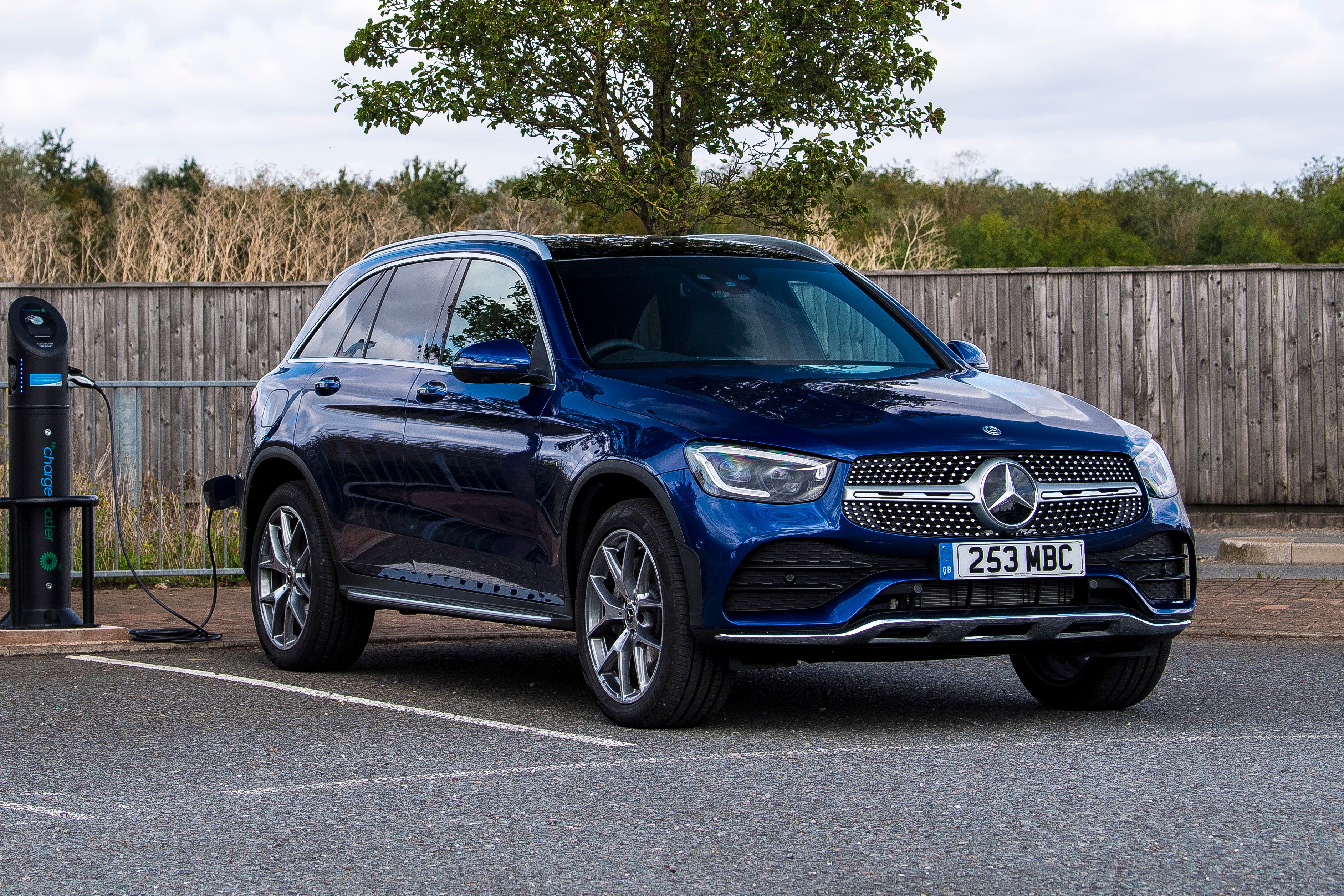 The Mercedes GLC hybrid SUV is one of the few cars in this list that's available with diesel power. The hybrid system combined a 2.0-litre diesel engine with an electric motor to return 141–148mpg, while the GLC300de also has an all-electric range of 27-miles.
Charging up the battery takes around two hours from a home wall box, which means you can baffle your neighbours by switching from diesel to electric power with the press of a button. The diesel engine also means that, when the battery is depleted, it's still efficient, meaning it's better than petrol PHEVs for long journeys. Mercedes-Benz also offers the GLC 300e plug-in hybrid, which combines a 2.0-litre petrol engine with an electric motor to return up to 117mpg.
The interior of the GLC is upmarket and stylish. You get lots of usable space, too. The optional panoramic sunroof does reduce headroom a little, but most people will be able to find a comfortable fit in the front or rear seats. The hybrids lose a big chunk of their boot space, however, due to the location of the batteries. This means both the petrol and diesel model provides a modest 395 litres.
Land Rover Defender PHEV
Year launched: 2020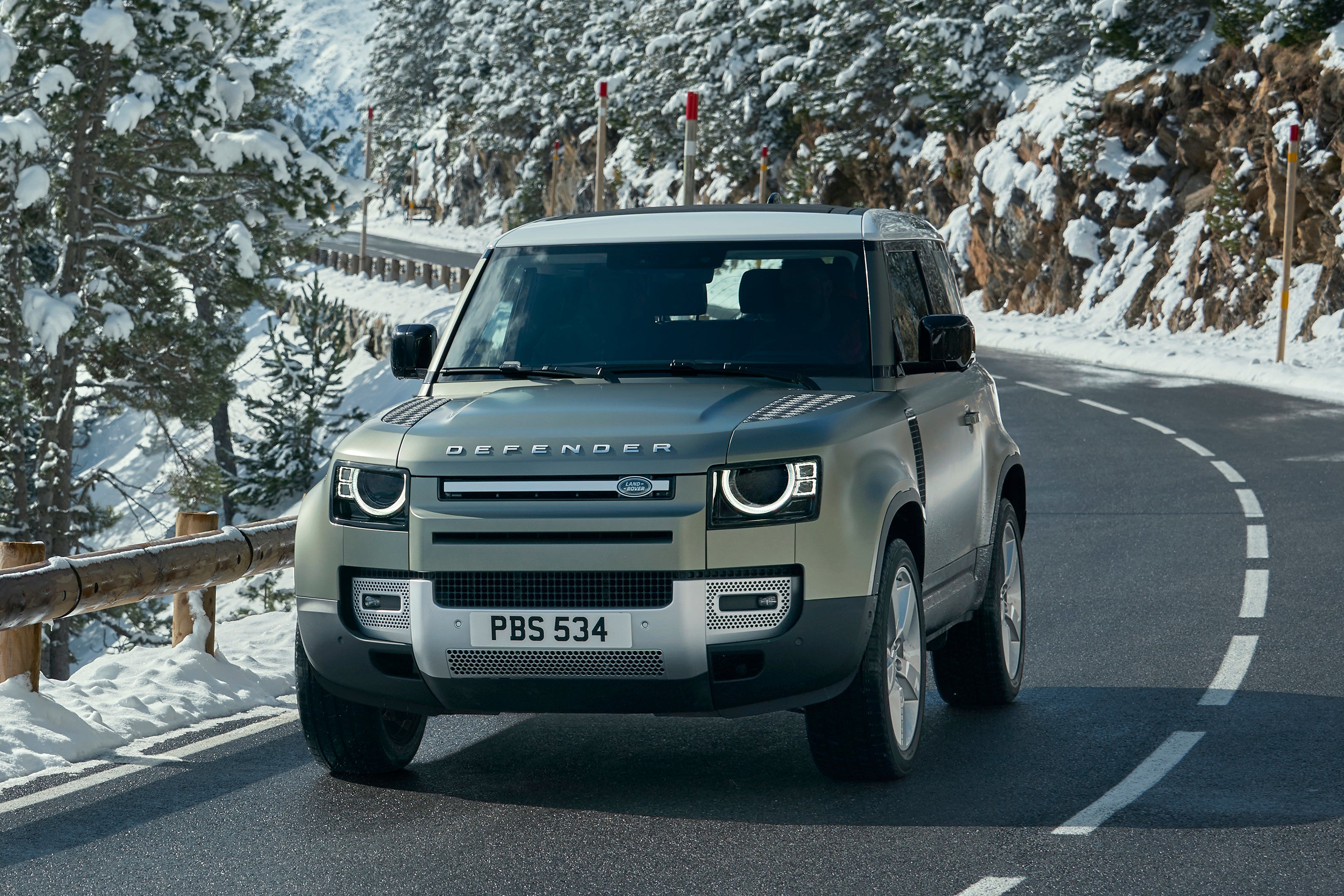 A decade ago the idea of a hybrid Land Rover Defender would've raised a few eyebrows, especially among the farming and rural types that bought them. The new Defender, though, is designed for a broader church, from hardcore off-road enthusiasts to tech-savvy urbanites.
Its brilliant exterior design takes the classic Defender shape into the new age, while the upmarket and high-tech interior is a world away from the old model. That doesn't mean it's not a Defender any more, though, as there's loads of practical touches and hard wearing trim, while off-roading is still a core focus.
It's much better than the old Defender on the road, however, with excellent comfort and decent handling. And the P400e plug-in hybrid might be the best of the lot, putting out an impressive 404PS which takes the huge Defender from 0-60mph in under six seconds. But it's not just about straight-line performance, as the P400e is uncannily smooth and refined - two words that no old Defender driver would be familiar with.
The Defender P400e manages 27 miles of range on a charge and promises up to 85mpg. For something so heavy and brick-shaped, the numbers are pretty good. It also means you can drive the Defender around town silently, pollution-free and with less of a guilty conscience.
Kia Sorento PHEV
Year launched: 2020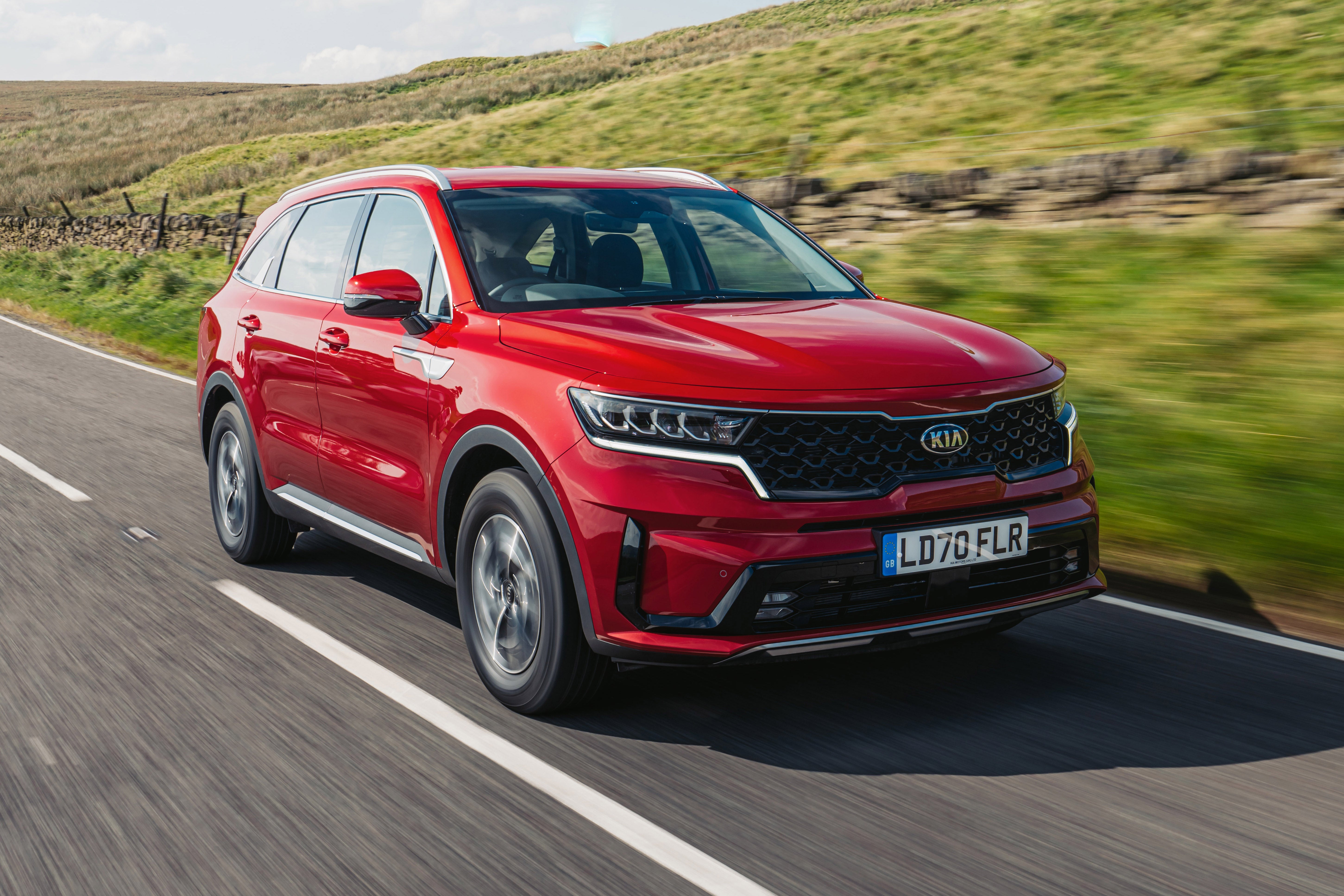 The Kia Sorento is a classy and capable large SUV that illustrates how far the Korean brand has come in a few years.
With smart styling and an upmarket interior with plenty of neat touches, the Sorento no longer feels like the poor man's (or woman's) big SUV. It's no longer the budget alternative, though, but it's still cheaper than premium rivals. You also get seven proper seats, with a surprising amount of space in all three rows.
Like the smaller Hyundai Tucson, the Kia Sorento is available with mild hybrid, full hybrid and plug-in hybrid versions. It's the full hybrid and plug-in models we're interested here, and the former makes a great case for itself, with an affordable price tag, great smoothness, respectable performance and 40mpg capability.
If that fuel economy figure just isn't good enough, though, you can spend a bit more and plump for the PHEV Sorento. That puts out a healthy 265PS from an all-wheel drive powertrain, promises up to 35-miles of all electric running and up to 176mpg if plugged in regularly. Our only complaint is the petrol engine is a bit coarse when it kicks into life.
What is a hybrid SUV?
A hybrid SUV uses a combustion engine and an electric motor, which can power the vehicle independently or in isolation. A self-charging hybrid SUV will recover kinetic energy and use it to power the electric motor or store it in a battery so it can be used later on. Plug-in hybrid vehicles work in a similar way to a self-charging hybrid, but can also be charged via a cable so the vehicle can travel further on electric power with zero tailpipe emissions.
Why are hybrid SUVs popular?
Hybrid SUVs are popular because they usually use a petrol engine and an electric motor to maximise fuel economy while reducing CO2 emissions. Hybrid SUVs also use fuel-saving technology, like brake regeneration, which recovers energy and stores it onboard a lithium-ion battery. The battery will then use this recovered energy to power the electric motor at low speeds.
What is the best hybrid SUV?
The BMW X5 xDrive45e is the best hybrid SUV. It blends impressive performance and luxury with a huge 54-mile all electric range and the promise of over 200mpg. Other highly rated hybrid SUVs include the Ford Kuga plug-in hybrid and Audi Q7 TFSI e.
Who makes the most reliable hybrid SUV?
Many hybrid SUVs on our list are too new to accurately gauge their reliability. However, two linked companies have been making hybrid SUVs for decades now: Toyota and Lexus. Both brands have an impressive reputation for reliability, and their hybrid systems are well proven and recognised as being extremely dependable.
Toyota RAV4
2.5 VVT-i Hybrid Icon TSS 5dr CVT [Cloth] 2WD
Manufacturer Approved
Steven Eagell Toyota Birmigham

Birmingham, B249HF
PCP: £290.58/mo
Representative example: Contract Length: 36 months, 35 Monthly Payments: £290.58, Customer Deposit: £3,599.00, Total Deposit: £3,599.85, Optional Final Payment: £12,611.25, Total Charge For Credit: £2,382.40, Total Amount Payable: £26,381.40, Representative APR: 4.9%, Interest Rate (Fixed): 3.89%, Excess Mileage Charge: 12ppm, Mileage Per Annum: 10,000
Toyota RAV4
2.5 VVT-i Hybrid Dynamic 5dr CVT 2WD
Manufacturer Approved
Steven Eagell Toyota St Ives

PE275RE
PCP: £510.44/mo
Representative example: Contract Length: 36 months, 35 Monthly Payments: £510.44, Customer Deposit: £5,444.00, Total Deposit: £5,444.25, Optional Final Payment: £17,147.50, Total Charge For Credit: £4,162.15, Total Amount Payable: £40,457.15, Representative APR: 5.9%, Interest Rate (Fixed): 4.5%, Excess Mileage Charge: 12ppm, Mileage Per Annum: 10,000
Toyota RAV4
2.5 VVT-i Hybrid Excel 5dr CVT 2WD
Manufacturer Approved
Steven Eagell Toyota Letchworth

SG61EF
PCP: £499.54/mo
Representative example: Contract Length: 36 months, 35 Monthly Payments: £499.54, Customer Deposit: £5,508.00, Total Deposit: £5,508.90, Optional Final Payment: £17,998.75, Total Charge For Credit: £4,265.55, Total Amount Payable: £40,991.55, Representative APR: 5.9%, Interest Rate (Fixed): 4.55%, Excess Mileage Charge: 12ppm, Mileage Per Annum: 10,000
Discover more expert guides from heycar