Best narrow cars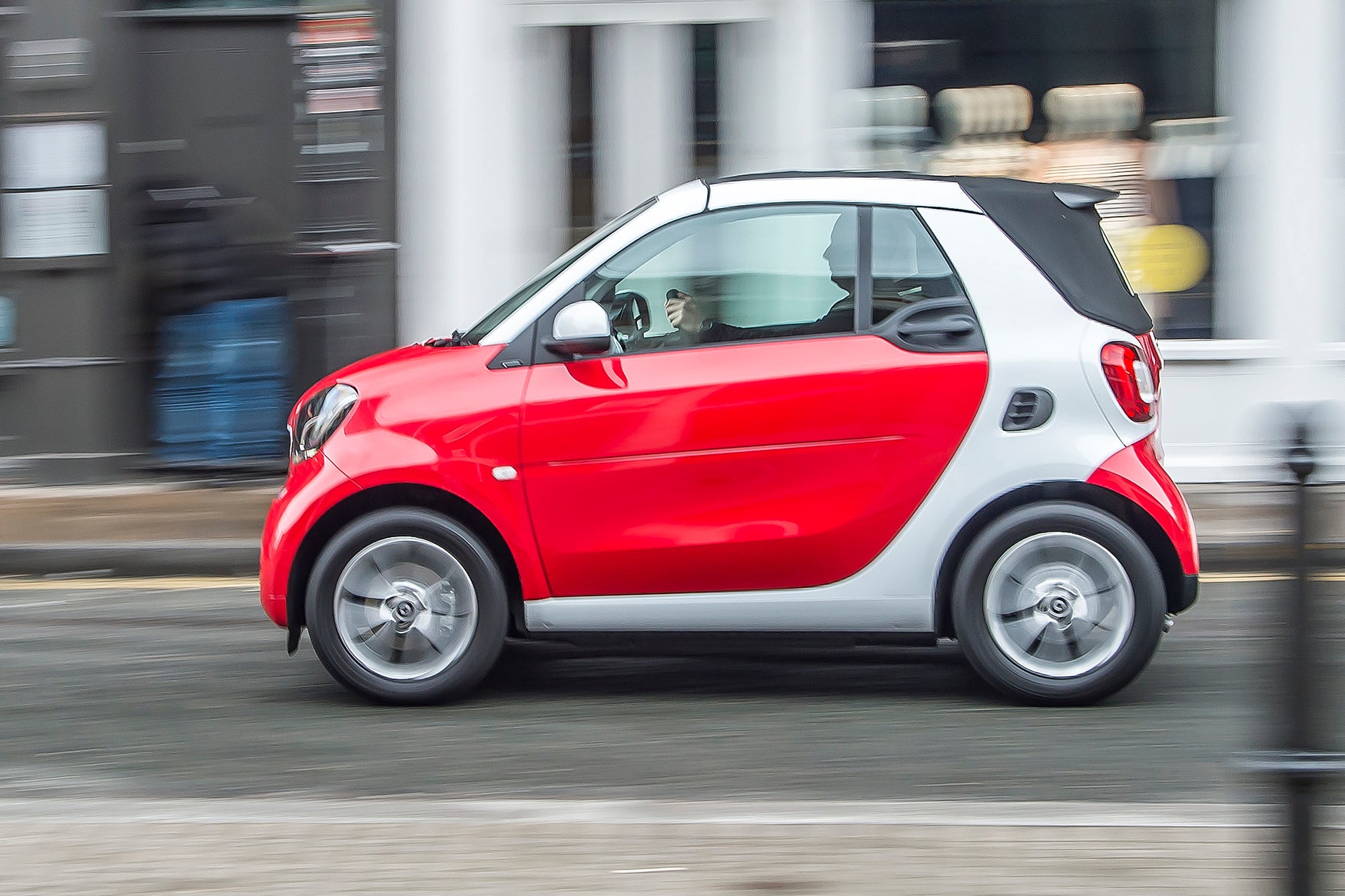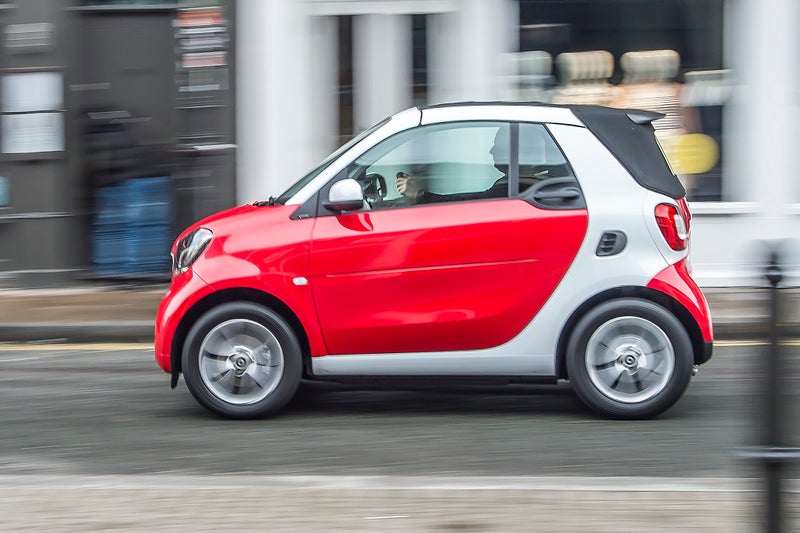 Whether you've got a narrow driveway or you just want something compact to get about town in, we've crunched the numbers to reveal the narrowest cars you can buy.
It goes without saying that the narrowest cars are also the smallest, so if you're looking for an SUV then you're not in the right place.
However, these city cars (for the most part) are still excellent daily runabouts - many with long warranties and enough head and legroom for even tall drivers and passengers. They're also economical, easy to park and manoeuvre, and often low on tax and insurance because of their small size.
Vauxhall Viva
Year launched: 2014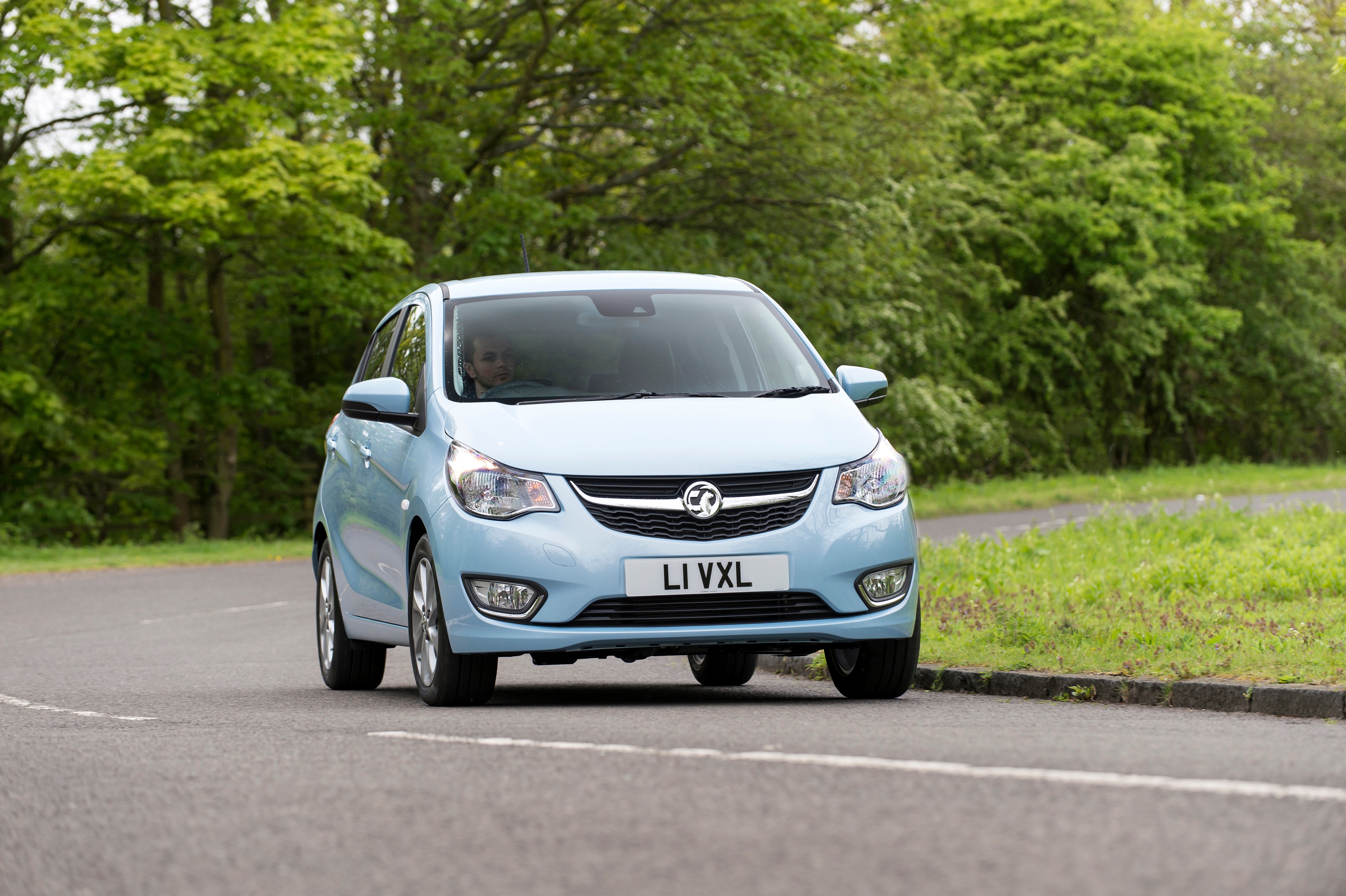 The Viva is designed to be cheap to buy and cheap to run while offering a decent package for the money. And it does a good job of that. It isn't the most fun, or the most practical, or the most reliable city car around - but it does offer excellent value for money. And, importantly, it's very narrow.
At around 1595mm in width, the Viva maximises the amount of interior space - meaning it gets a tall roof, very short overhangs and a truncated rear end with a near vertical tailgate. The cabin has plenty of head and leg room in the front and (just) enough space for two adults in the back. The boot is a decent size and large enough for the weekly shop, but doesn't match the luggage space of either the Skoda Citigo or the Hyundai i10.
Admittedly, the Viva is a practical and good value city car, but we wouldn't recommend one over a Hyundai i10 or Skoda Citigo due to the lacklustre driving and fairly drab interior. Though, it does ride well and the 'City' button adds extra power assistance to the steering, making it easier to manoeuvre.
Kia Picanto
Year launched: 2017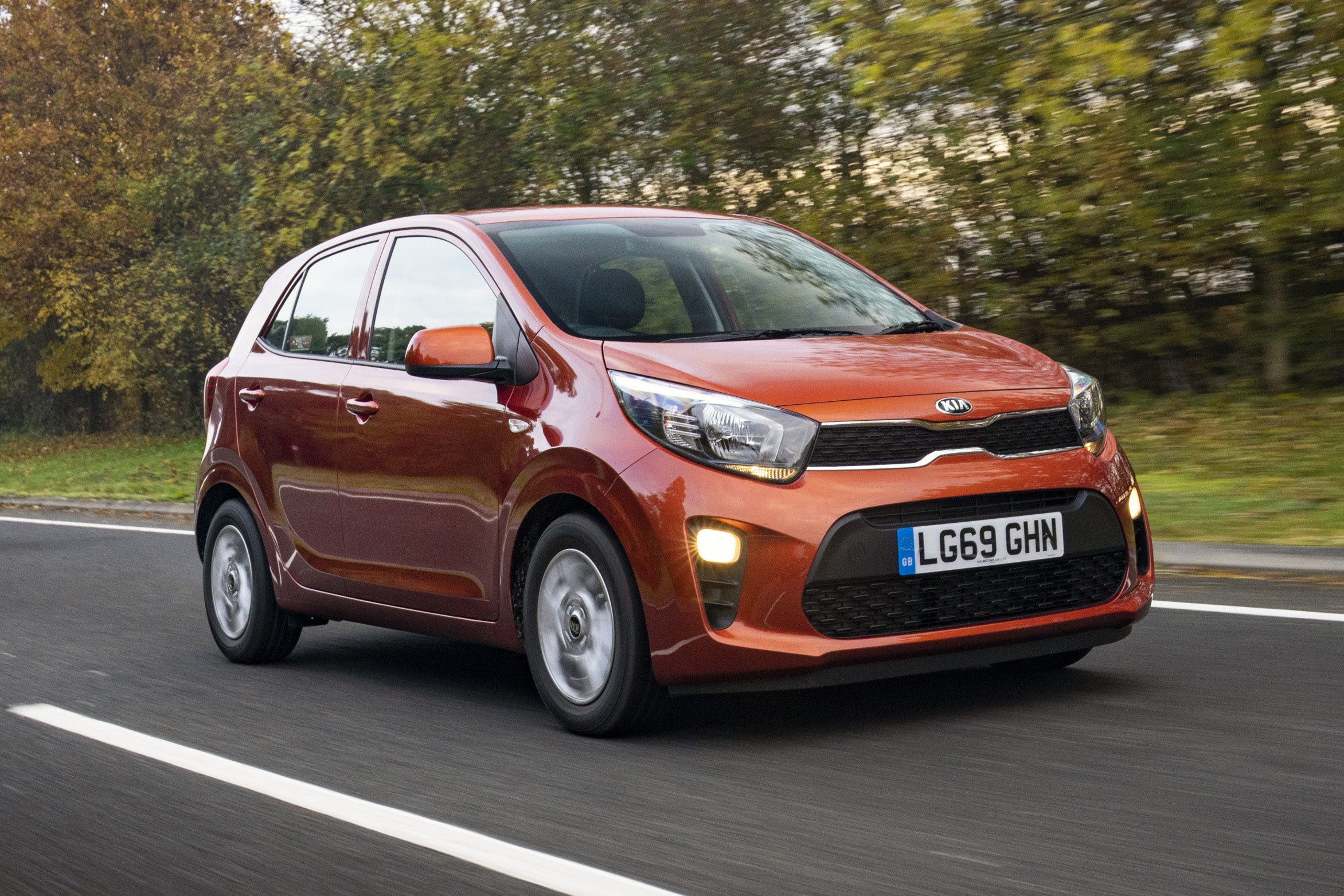 The Kia Picanto is a city car with sweet styling and a sensible approach to practicality and interior space. Overall, it's a brilliant all-rounder and one of the best in its class. It also measures about 1595mm wide (without mirrors included).
Despite being narrow, you don't get the unpleasant sensation of sitting huddled together with your passenger as can in a Citroen C1 or Toyota Aygo, for example. All Picantos come with five doors as standard, so getting into the back is also easy.
There's a 255-litre boot capacity that's bigger than all but a handful of rivals and, with the back seats folded down, you can cram over 1000 litres of luggage in. Bear in mind though that if you need even more space, the little Suzuki Ignis is quite a bit bigger, but costs roughly the same.
Toyota Aygo
Year launched: 2014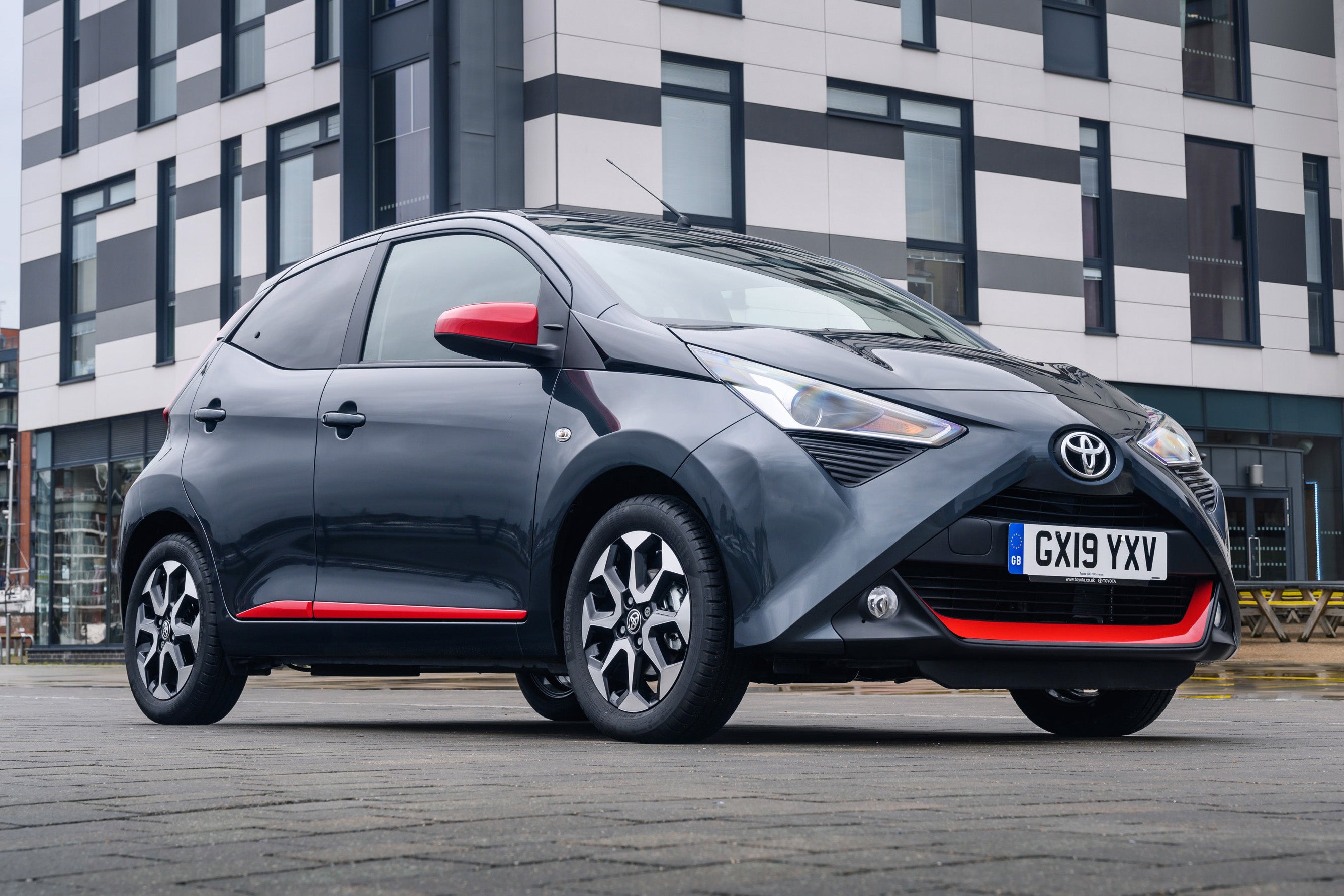 Traditionally, you don't buy a Toyota Aygo (or indeed any Toyota) with your heart. It's a rational purchase, led by a reputation for reliability and value for money. The Aygo is part of a collaboration between Peugeot, Citroen and Toyota - with each manufacturer producing their own version of the car, so the three are relatively similar and share a width of 1615mm.
The Aygo range is simple in terms of the big decisions, with a single petrol engine option, three or five-doors and a choice of manual or automated manual gearboxes. Front seat passengers are well served, with generous legroom and decent headroom, and although the boot is relatively small, it's far from the smallest in the class.
On the inside, the Aygo's interior is relatively simplistic in its design, but feels like decent quality for a car at this price. As you move up the Aygo range, Toyota offers a wide range of personalisation options. The engine isn't quite as refined as rivals either, but it's a smart choice for those that like the styling compared to Peugeot and Citroen's offerings.
Citroen C1
Year launched: 2014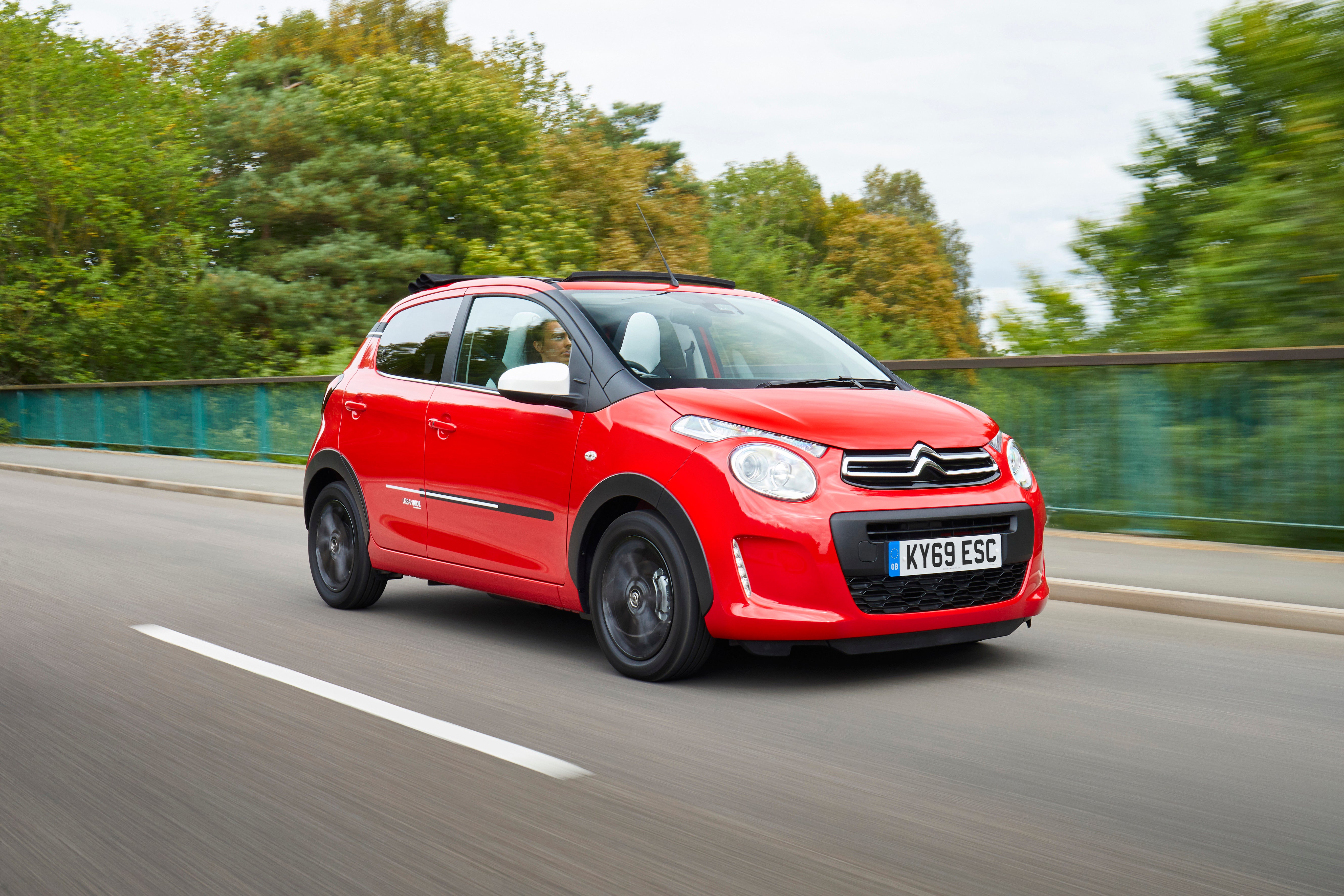 Citroen has played a big part in the 'grown-up' city car of today thanks to its C1. In fact, there was a while there in the early Noughties where it seemed to be the only car going for new drivers.
At 1615mm wide, the C1 is one of the narrowest cars available. Up front there's plenty of space to accommodate tall adults. Elbow room is a little less plentiful, but unless both you and your passenger are bouncers, it shouldn't be a problem. As for boot space, the C1 offers 196 litres. That's a lot smaller than the SEAT Mii and Hyundai i10, but it is more than the almost-identical Toyota Aygo.
Despite the low sticker price, the C1 doesn't feel like a discount special in terms of comfort or equipment (as long as you skip the base Touch model). Although it is happiest in town, there is enough power to make motorway journeys tolerable as long as it's not too loaded up with people. And it's frugal too, with over 50mpg well within reach.
Renault Twingo
Year launched: 2014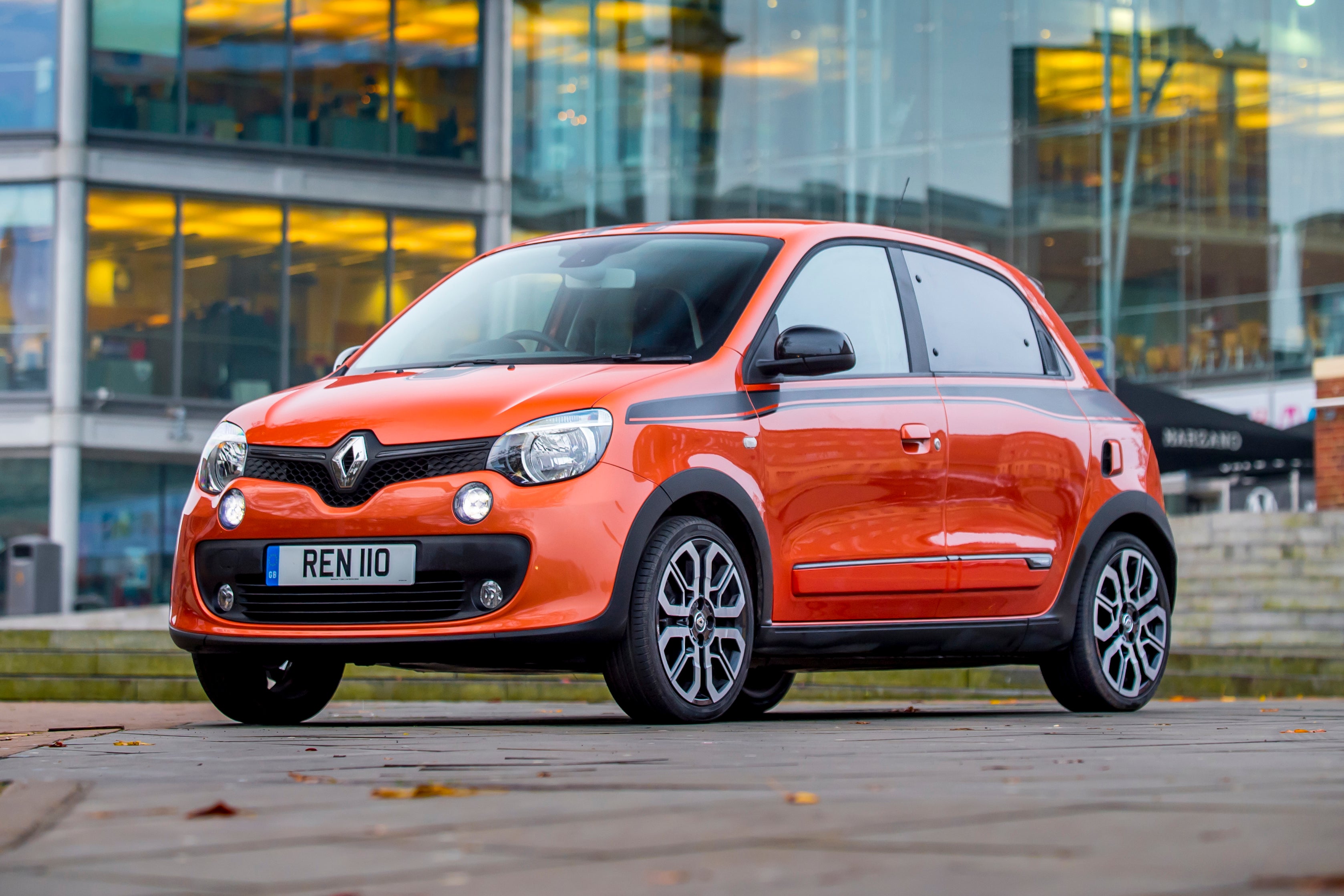 If you think the Renault Twingo looks quirky, that theme continues into the mechanics of the car too. Renault oddly designed the engine to sit at the rear - which it says leaves more space for people in the car. And, while it isn't ideal for taller drivers or passengers, it is capable of carrying four adults. Although, anyone hoping for a second 'boot' up front (like a rear-engine Porsche) will be disappointed; the space is taken up with a crash structure and can't be filled with your stuff.
As expected, it excels in the city and looks much better than some rivals in this list. Plus, it came with a five-year, 100,000-mile warranty. The Twingo offers 188 litres of luggage space with the rear seats in place, which is a little less than many of its rivals. However, you can fold the rear seats to give you 980 litres of space, and even fold the front passenger seat forward to swallow loads of up to 2.3m in length.
The Twingo is well-equipped too, so a used model is likely to come with a decent amount of kit, and the cabin is sweet - with flashes of coloured trim on the doors, steering wheel, dashboard and centre console, matched to the body colour on some versions.
Skoda Citigo
Year launched: 2012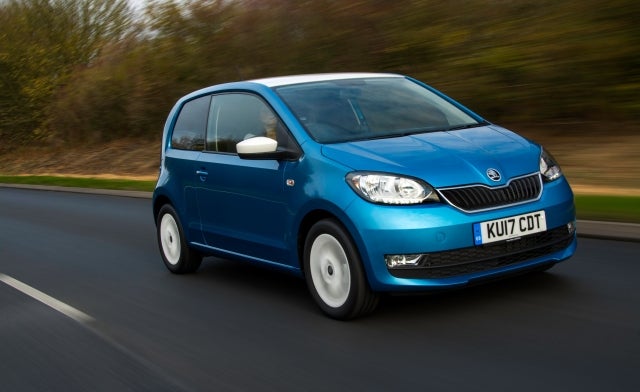 As the name suggests, the Skoda Citigo is at its best on city roads. With a Skoda badge, the Citigo also has a lower list price than the very similar Volkswagen Up and SEAT Mii. Inside, the cabin isn't packed with tech - but it looks well thought out. The Citigo is also 1641mm wide, making it a great choice for those with a narrow garage or driveway.
It's very sensible, although a touch boring (especially inside) compared to more premium or flashy rivals. But you can spec more personal, colourful touches if you so choose. The good news is that the Citigo is one of the best in the class in respect of interior space, despite being under 3.6 metres in length.
In the rear, there is not quite as much space available, but it is still good for a car of this size. And the Citigo's boot space is equally impressive, with a sizable 251 litres available, putting it just behind the Hyundai i10 and ahead of the Renault Twingo and Toyota Aygo. Fold the rear seats and this can be expanded to 959 litres, and there's an adjustable boot floor too so you can hide more valuable items.
Fiat 500
Year launched: 2008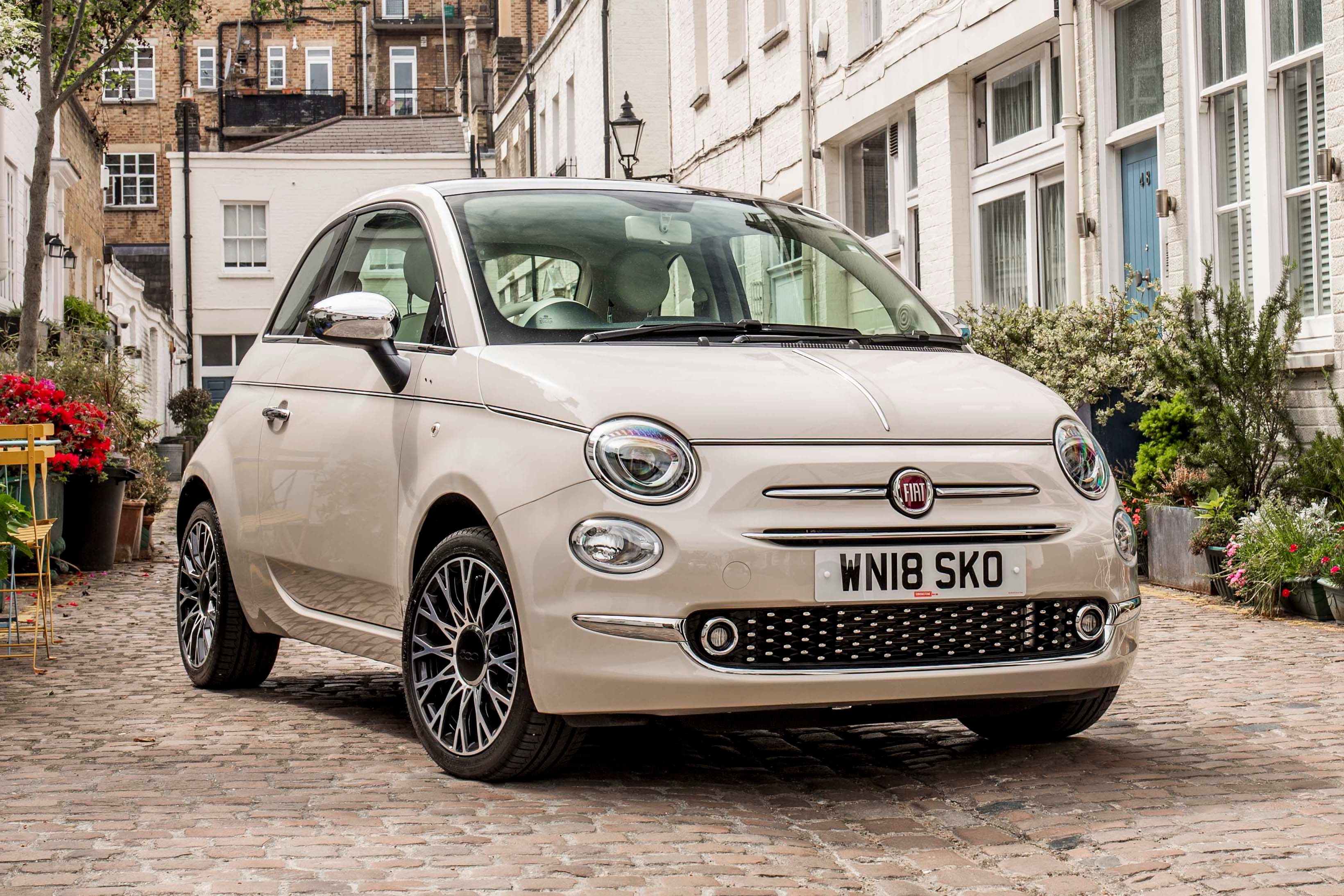 The Fiat 500 delivers modern city car motoring with an Italian twist. Sadly, though, the little city car wavers when you compare it to the best in class from Volkswagen, Kia and Suzuki. Let's be honest, you're probably considering the Fiat 500 because of it's looks. And we agree - its cute styling gives a heavy nod to the 1957 classic.
However, most of the Fiat 500's problems are caused by the fact it's very small. The cabin is cramped, the seats narrow and the boot is barely large enough to cope with a weekly food shop. Generally, both short and tall drivers will find the 500 equally frustrating in the long run. Yet, that doesn't deter swathes of buyers from putting their cash into one.
So, what does the 500 do well? The 500 is an easy thing to live with in a town or city where space is limited. What's more, at 1627mm metres wide, the 500 has little trouble cutting its way through heavy traffic or squeezing into a narrow parking space. But, you get just 185 litres of boot space, which is significantly less than the 250-260 litres you get in the Volkswagen Up, Hyundai i10 and Suzuki Ignis.
Suzuki Ignis
Year launched: 2017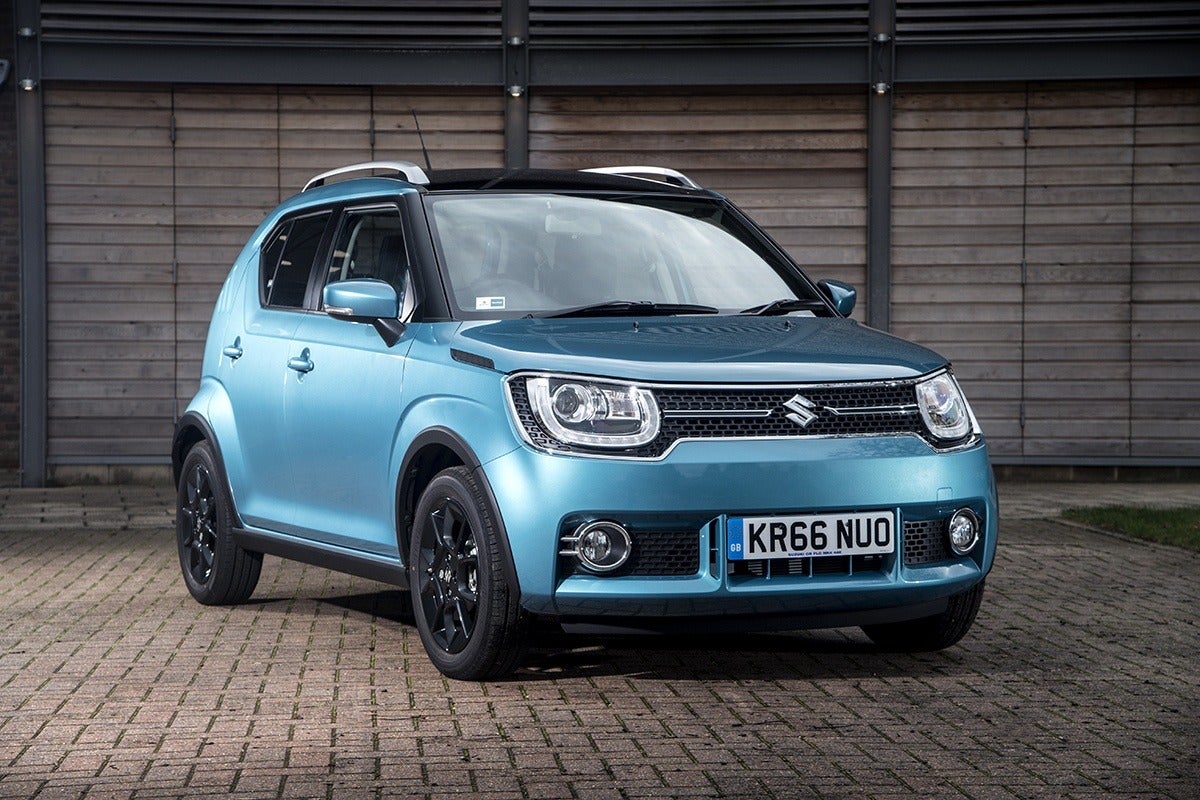 The Suzuki Ignis is a chic mini-crossover, with an eye-catching design that features retro styling inspired by the 1970s' Suzuki Whizzkid. Being exactly 3.7 metres long, it's just 10 centimetres longer than a Volkswagen Up, and at 1660mm wide - it's certainly narrow. Where the Suzuki Ignis differs from pretty much every other city car in the class is in it's height - meaning it can fit four adults with ease and comfort, and the boot space is right up with the best in class.
The Ignis is good fun to drive, too, though not flawless. Most importantly it's great in town, where its compact dimensions and lack of weight make it highly manoeuvrable and easy to park. The ride quality is good in most conditions too, with a suspension setup designed primarily with comfort in mind. SZ3 models get a bench rear seat that has three seat belts, while SZ-T and SZ4s get two rear seats that can slide forwards or backwards to increase the amount of legroom or boot space.
The boot has a handy 260 litres of space with the rear seats in place, a little more than most of its rivals. That increases to 514 litres when you fold the rear seats. But the boot on AllGrip four-wheel-drive versions is smaller by 60 litres because of the extra hardware required. While it's a bit of a black horse in this class - low running costs, a practical nature and extra character make it an attractive option, especially as it comes with optional four-wheel-drive.
Hyundai i10
Year launched: 2014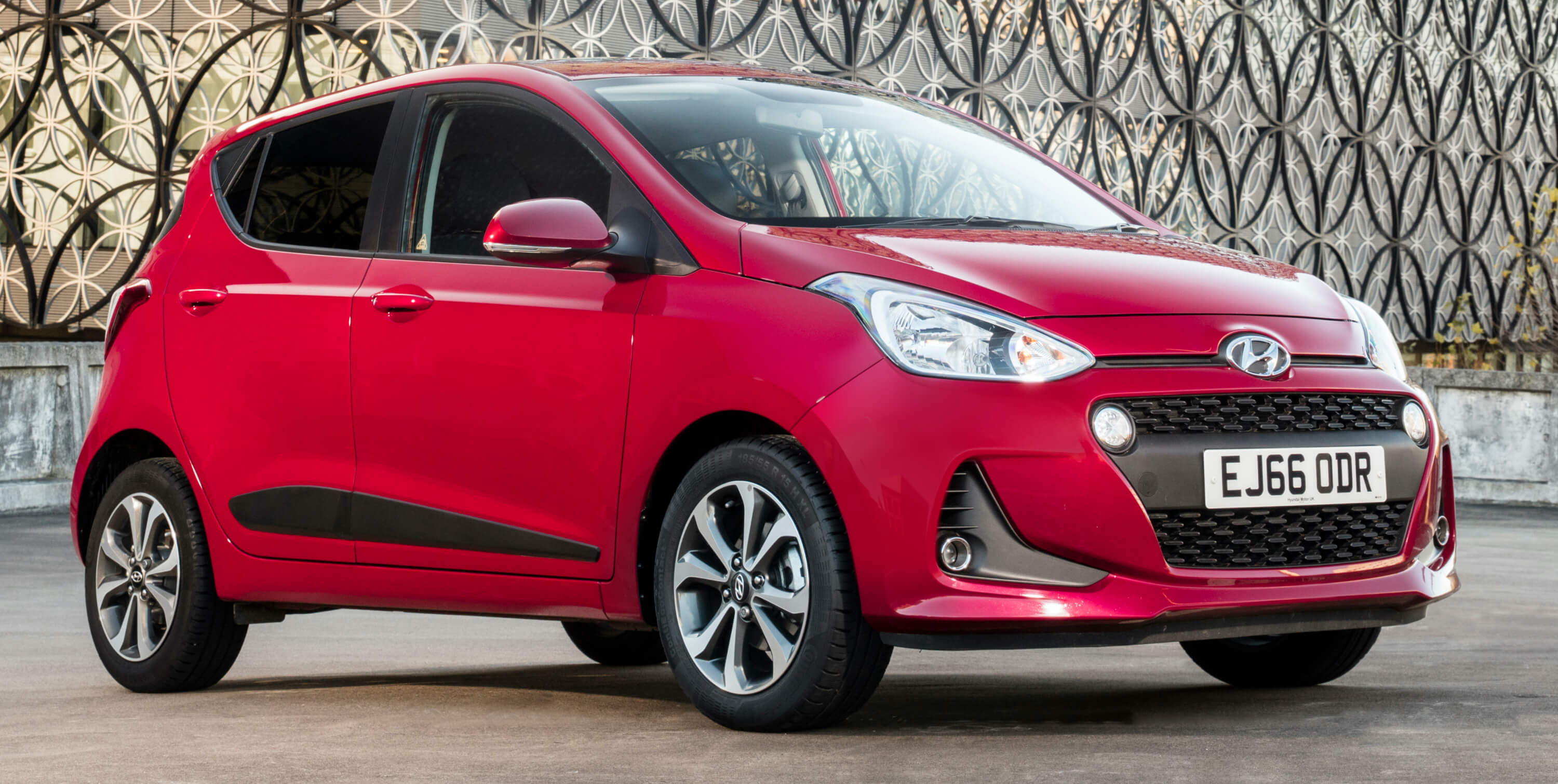 A brand spanking new Hyundai i10 arrived in 2020, but the one in this list is the 2014-2019 model - which there are plenty of on the used market. While the 2020 model is fantastic, it's ever so slightly wider. If that extra 20mm or so wouldn't deter you, the newer model is a smart buy.
The previous-gen Hyundai i10 is very good value for money while offering plenty of room inside, with especially impressive space in the back and a decent boot. On the move, the i10 also feels like a bigger car than it is and that's down to its impressive refinement. No other car this size is as quiet at motorway speeds.
What the i10 does so well is get the basics right: it's well built, good to drive and has a quality interior. Throw in two great engines along with impressive refinement and you've got a winner on your hands - especially when you take into account Hyundai's five-year warranty.
Smart Fortwo
Year launched: 2014

The Smart Fortwo is quite comfortably the smallest car on sale today. In fact, it's almost 1.5 metres shorter than a Ford Fiesta. Designed to be the ultimate city car, it has a rear-mounted engine that sits beneath the boot floor and sends power to the rear wheels. There's also an all-electric version (but that costs considerably more).
The size allows for a super-tight turning circle and excellent manoeuvrability while the turbocharged engine is also pretty good, especially the more powerful 90PS version. But the ultra-short wheelbase and relatively stiff suspension means the ride quality is poor on some surfaces.
Inside, there's plenty of head and legroom because there's no rear seats, so you can slide the seats back as much as you require. With no one sitting behind you, it's easy to stuff items in the space behind the seats too. As for the boot itself, it offers 260 litres, which is actually more than the Volkswagen Up/SEAT Mii/Skoda Citigo. Therefore, if you're happy enough only being able to ferry around one other person, the Fortwo is worth considering - even if it isn't the best in class.
Well, that really depends on the size of the garage. But for the most part - yes. Even smaller garages on older houses should be able to fit a relatively small city car with the mirrors tucked in.
No, the width stated for the cars in this list (and on most marketing material) is with the door mirrors excluded.
Overall, our pick would be the Kia Picanto - taking narrowness, price, long warranty and overall owning experience into account. The Hyundai i10 is also excellent, though the Vauxhall Viva is the narrowest car in this top 10, followed by the Toyota Aygo - which also has an impressive reputation.
Skoda Citigo
1.0 MPI GreenTech Colour Edition 5dr
Stoneacre Fiat Grantham

Lincolnshire, NG317UH
PCP: £114.89/mo
Representative example: Contract Length: 36 months, 35 Monthly Payments: £114.89, Customer Deposit: £1,049.00, Total Deposit: £1,049.25, Optional Final Payment: £3,455.89, Total Charge For Credit: £1,531.29, Total Amount Payable: £8,526.29, Representative APR: 11.3%, Interest Rate (Fixed): 5.81%, Excess Mileage Charge: 2.12ppm, Mileage Per Annum: 10,000
Skoda Citigo
1.0 MPI GreenTech Monte Carlo 5dr
Bristol Street Motors Skoda Aylesbury

Buckinghamshire, HP198BL
PCP: £137.08/mo
Representative example: Contract Length: 36 months, 35 Monthly Payments: £137.08, Customer Deposit: £1,236.00, Total Deposit: £1,236.30, Optional Final Payment: £3,754.00, Total Charge For Credit: £1,546.10, Total Amount Payable: £9,788.10, Representative APR: 9.9%, Interest Rate (Fixed): 9.48%, Excess Mileage Charge: 4ppm, Mileage Per Annum: 10,000
Skoda Citigo
1.0 MPI Monte Carlo 5dr
Manufacturer Approved
Simpsons Skoda Preston

Lancashire, PR22TY
PCP: £128.94/mo
Representative example: Contract Length: 36 months, 35 Monthly Payments: £128.94, Customer Deposit: £1,080.00, Total Deposit: £1,080.00, Optional Final Payment: £2,485.00, Total Charge For Credit: £877.90, Total Amount Payable: £8,077.90, Representative APR: 6.9%, Interest Rate (Fixed): 6.86%, Excess Mileage Charge: 3.6ppm, Mileage Per Annum: 10,000