Best seven-seaters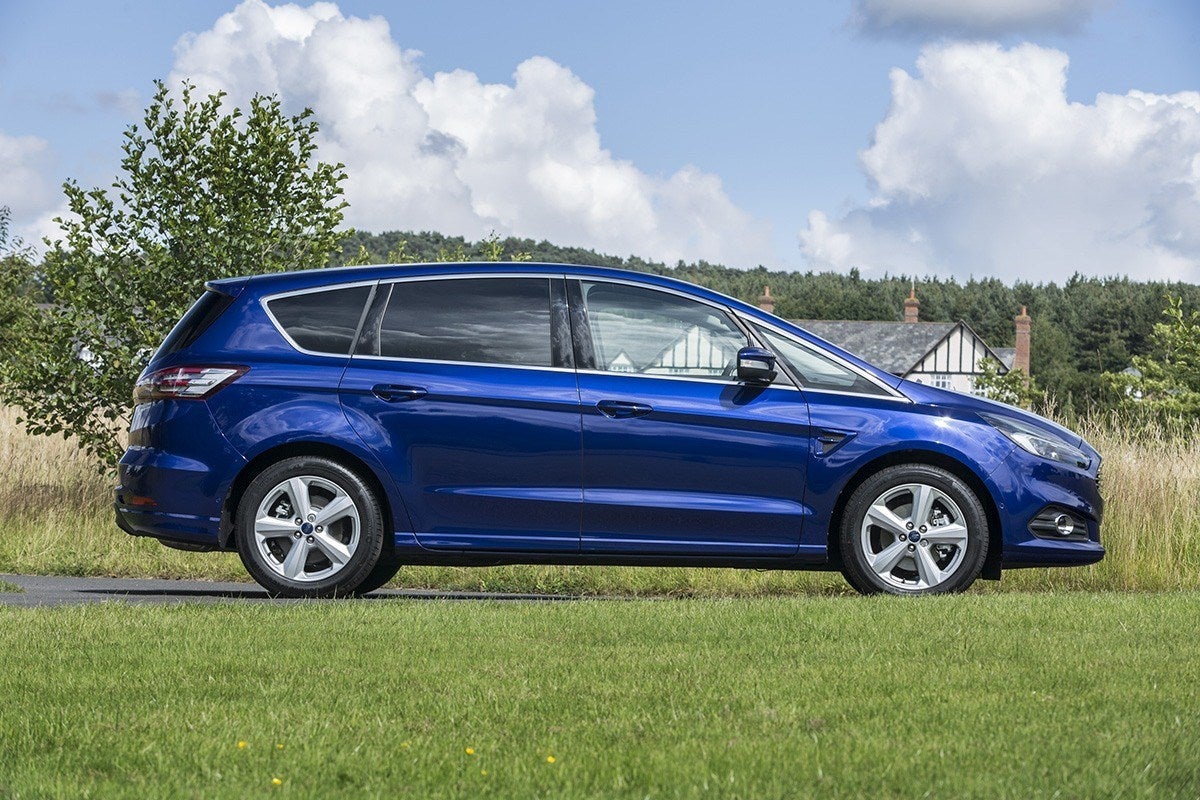 Regardless of whether you need seven seats on a regular basis or just need the third row on occasion, there's plenty of choice across a range of budgets. Let's take you through them.
Once upon a time, you'd need a boxy MPV (van-based car) to carry seven. Nowadays, there's a range of SUVs that offer the space, style and performance you need to carry a large family and all their stuff from A to B. We've rated our ten best picks (although none are bad choices) to make your decision a whole lot easier.
Audi Q7
Year launched: 2015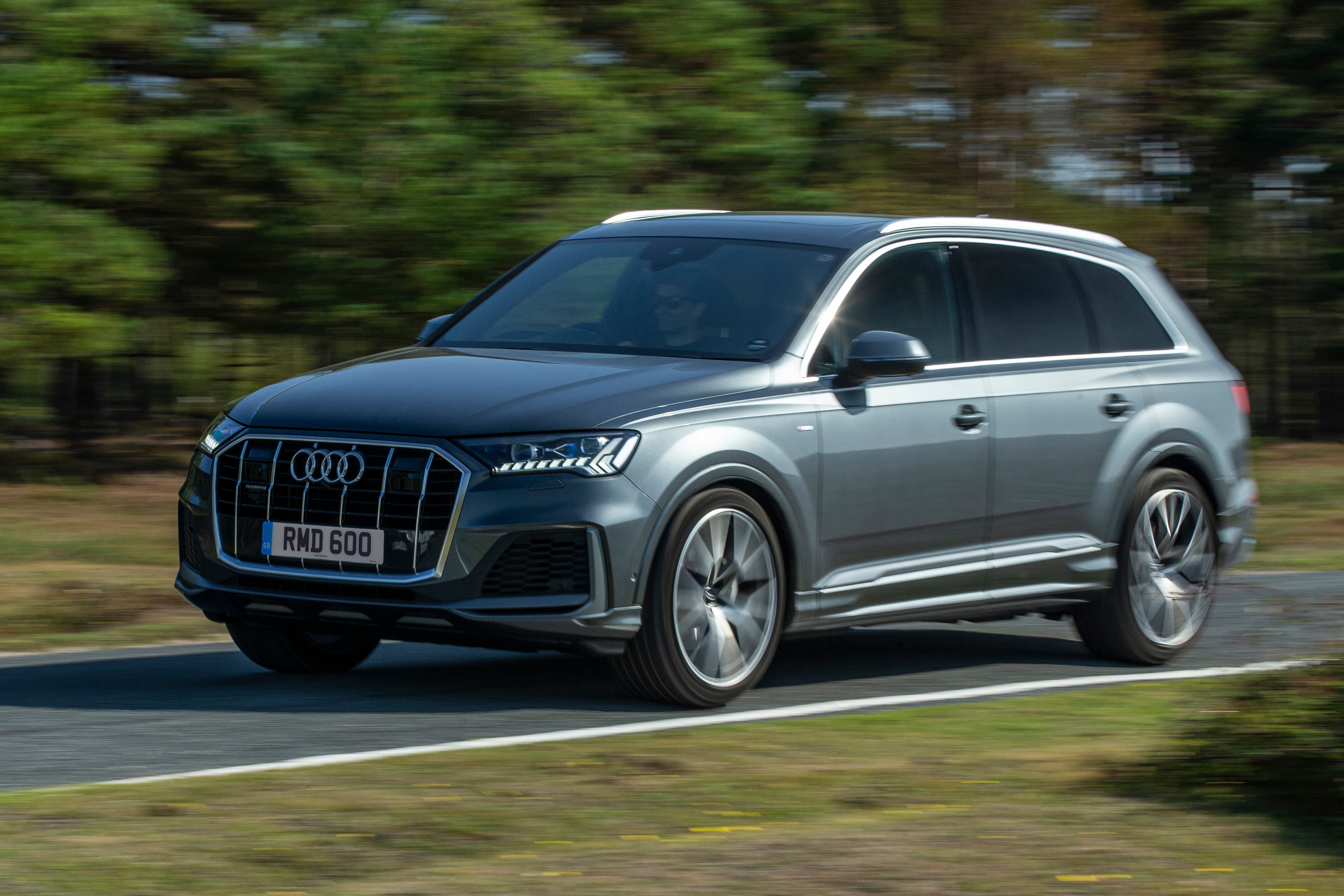 If you want the best seven-seater, look no further than the Audi Q7. It's not the most practical or the cheapest - but it comes close, and it's an unbelievable all-rounder that'll slot seamlessly into the daily life of any family. The cabin quality is impressive and there's a generous amount of luxury kit as well. Downside? Some say it lacks character. We disagree but who needs character when you're absolutely brilliant at everything else? Just look at David Beckham...
Despite its impressive comfort, it's still impressively agile in corners. The 3.0-litre V6 diesel engine would be our choice, and the more powerful of the pair is worth paying extra for if you can afford it thanks to its extra muscle and more relaxed performance. If you can, try to find a car with optional air suspension fitted, too, because it improves the ride considerably. Older versions of the car had it as standard, so it'll be on some base-spec Q7s.
The space surrounding these rearmost seats is among the most generous in the class, easily beating the BMW X5. With seven seats in place, there's more boot space than in many rivals, too. The middle and third row of chairs drop flush into the floor to give you a massive, flat boot - which is extremely useful and practical.
Kia Sorento
Year launched: 2020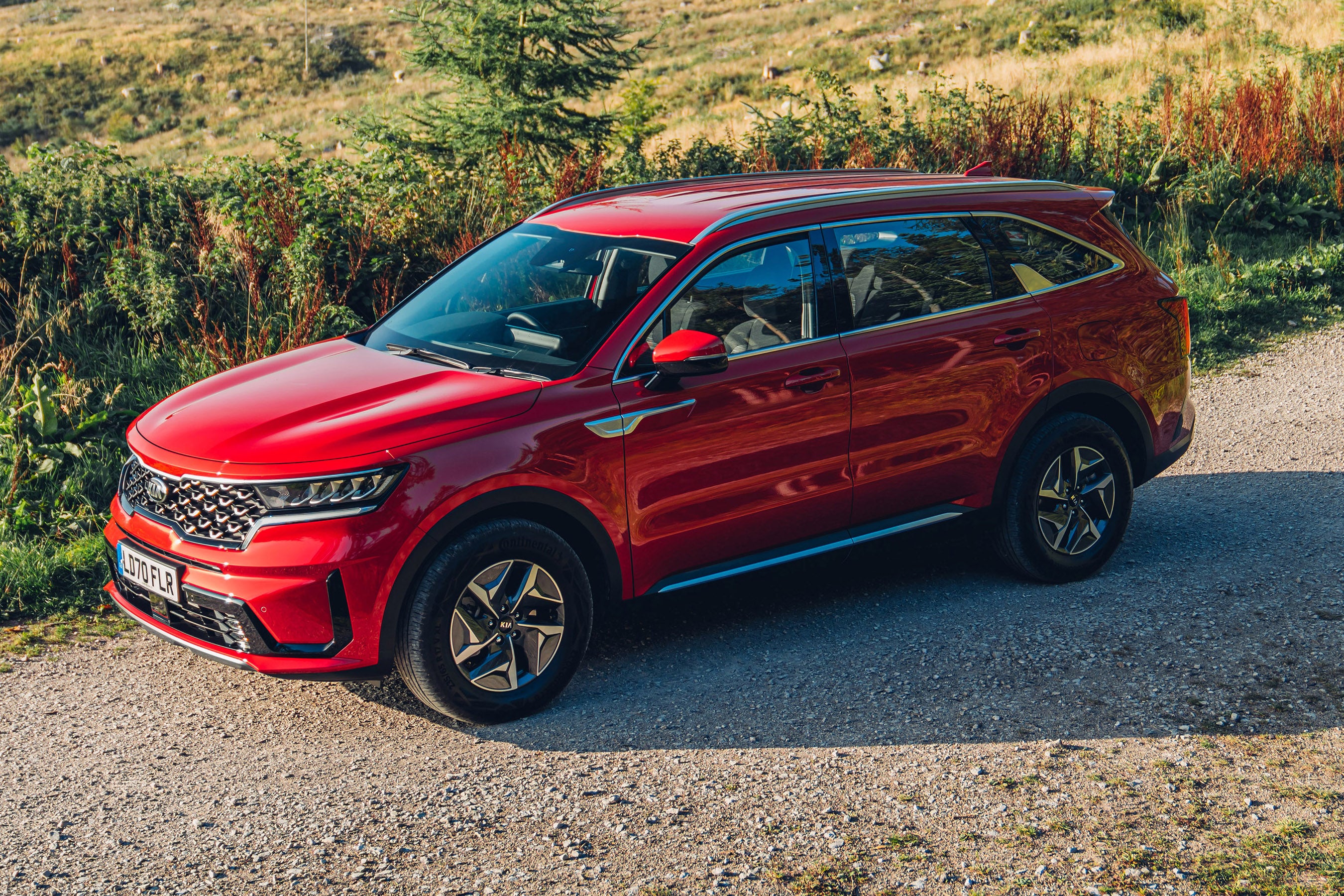 The Kia Sorento is one of the best, most affordable seven-seat SUVs on the market. All are well-equipped, spacious, practical and get four-wheel drive as standard. It's seven-year, 100,000-mile transferable warranty, also means it'll be hassle-free to live with for a good while - even if you pick up a used model with some warranty left.
Aside from being one of the best cars in its class for space and convenience, all versions are comfortable and powered by Kia's impressive 2.2-litre CRDi turbodiesel. Even the most basic car in KX-1 trim gets 17-inch alloy wheels, touchscreen infotainment, DAB audio, rear parking sensors and all-wheel drive.
The only real criticism is the lack of engines. In fact, there's only the turbocharged four-cylinder diesel - which is excellent but will leave petrol and electric buyers unhappy. Fortunately, due to its size, power, four-wheel drive and trailer stability system - the Sorento is popular with caravan owners. The Sorento has a braked trailer rating of 2500kg for the manual or 2000kg for the automatic.
BMW X7
Year launched: 2019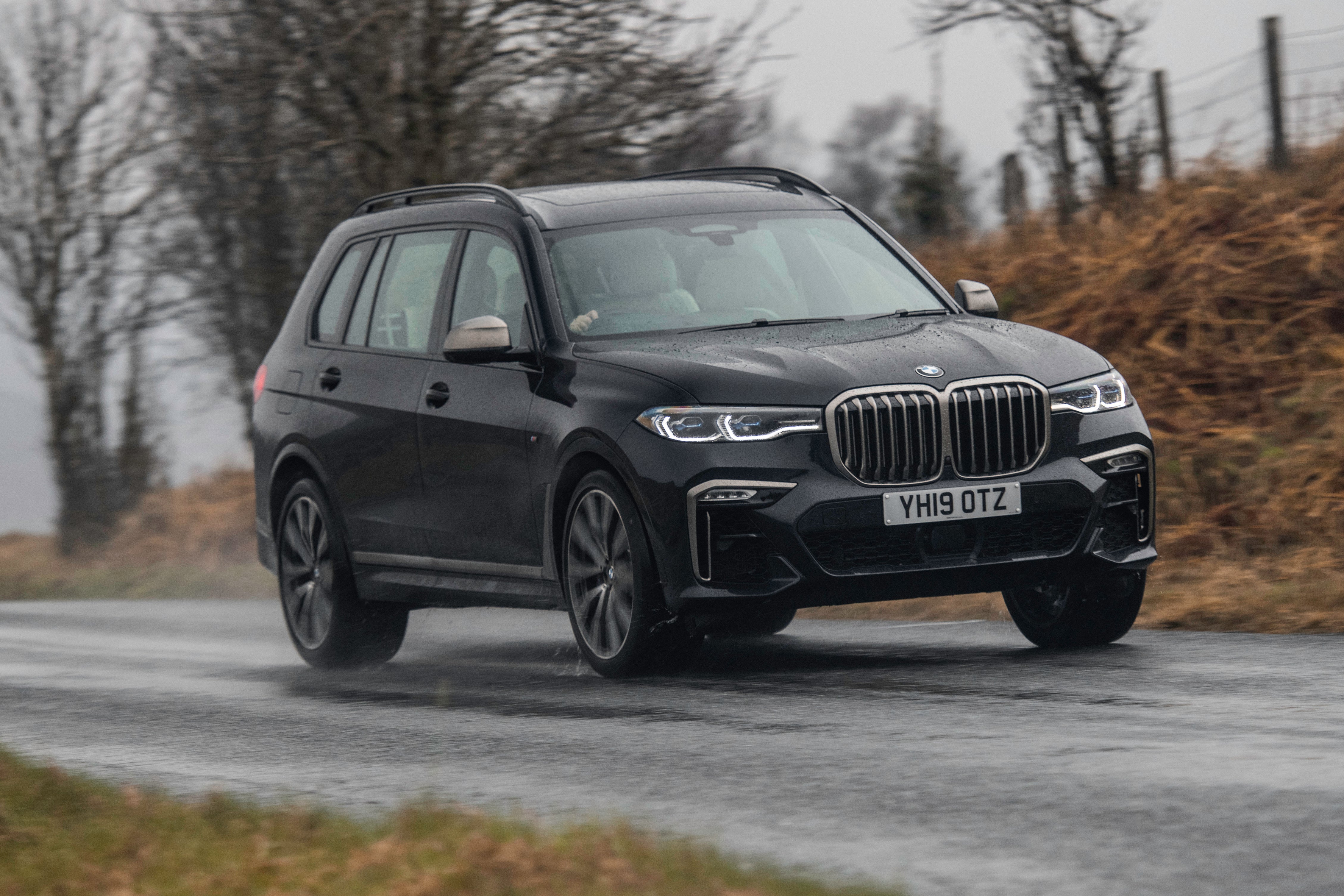 Unsurprisingly, the BMW X7 is one of the few large SUVs that's genuinely fun to drive and practical. If you want a seven-seater that feels sporty and comfortable, this is much cheaper than the Porsche Cayenne. Yes, it's still expensive and humongous - but it's also exceptionally premium.
The excellent 3.0-litre diesel (30d) will be more than quick enough for most buyers. It has impressive pulling power despite not being the most powerful (or expensive) engine on offer. The base level trim also has everything you need spec wise, so you can use the cash you save to plump up for a few extras.
All of the seats behind the front ones can be raised or lowered, while the middle ones can be electrically slid and reclined. With all seven seats in place, the boot is big enough for a few shopping bags or a couple of carry-on cases, but in five-seat mode, the load area is immense. Turn your X7 into a two-seater, and there's enough room - and totally flat floor - to carry a moderately sized sofa (and the house it used to sit in).
Peugeot 5008
Year launched: 2017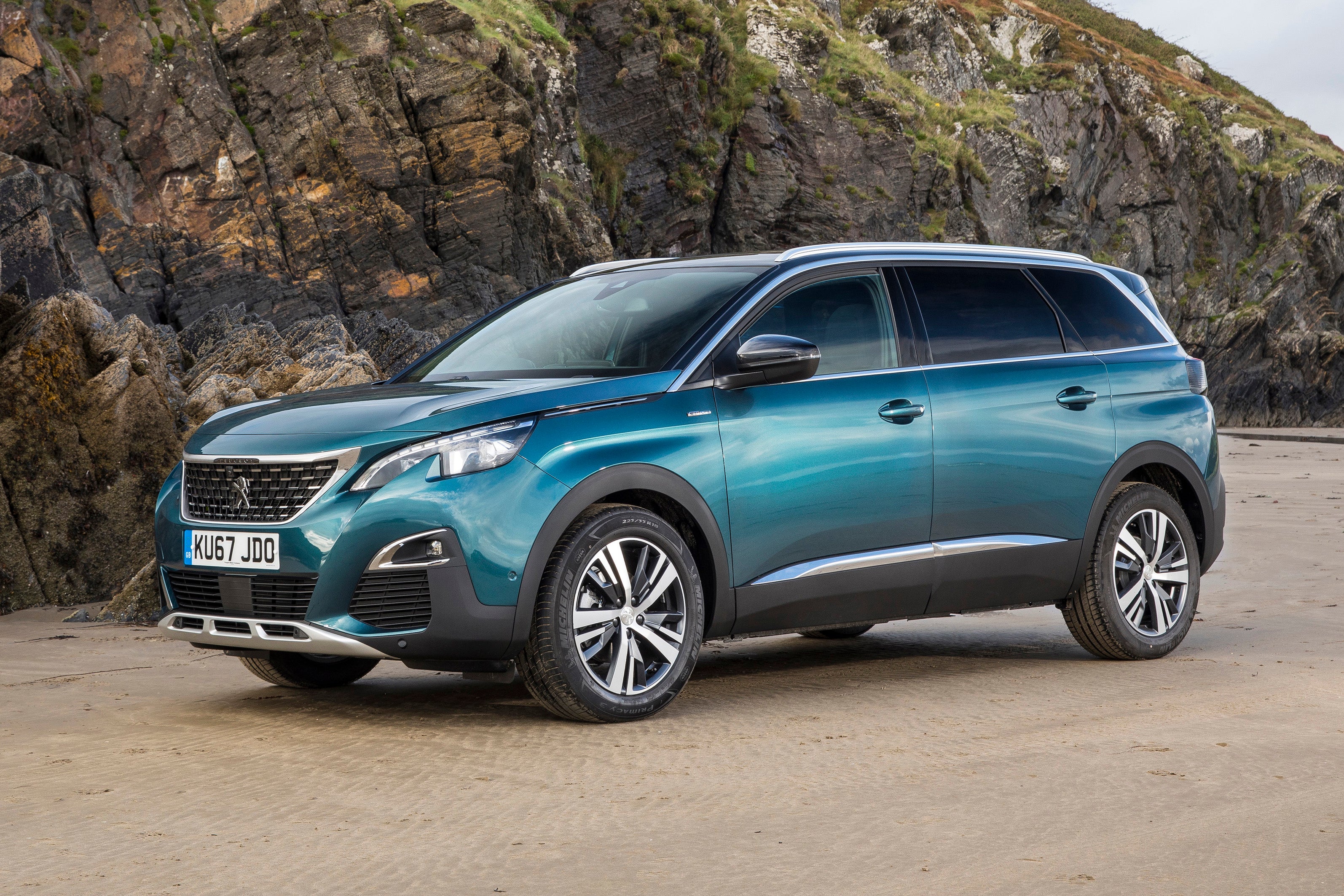 When it comes to styling the Peugeot 5008 has gone down the big, bold and rugged path. Offering a huge interior space, bags of tech and seven-seat layout - the Peugeot 5008 is a great choice for those who want style without sacrificing practicality. All versions get three rows of seats as standard and the third row can be folded away into the floor (or removed entirely) to provide a van-like 1060 litres of load space. That said, the interior is more of a 5+2 layout so it's best saved for children rather than adults.
All the engines are impressive, but if you carry a full car regularly, one of the 2.0-litre diesel options will be a better bet. Unfortunately, the diesel engine is a bit noisy and unrefined, drowning out the radio or conversation if you accelerate hard. However, the 5008 aces practicality - offering more boot space than many of its rivals and higher levels of standard kit, which makes it an attractive and upmarket family car.
The ride quality is good, with decent comfort levels even on bumpy road surfaces. Severe potholes do send a bit of a thump into the cabin, though. The Skoda Kodiaq is its closest rival and it's better-finished - but it doesn't come with seven seats as standard and doesn't have quite as much equipment if you go for a lower trim level.
Ford S-MAX
Year launched: 2015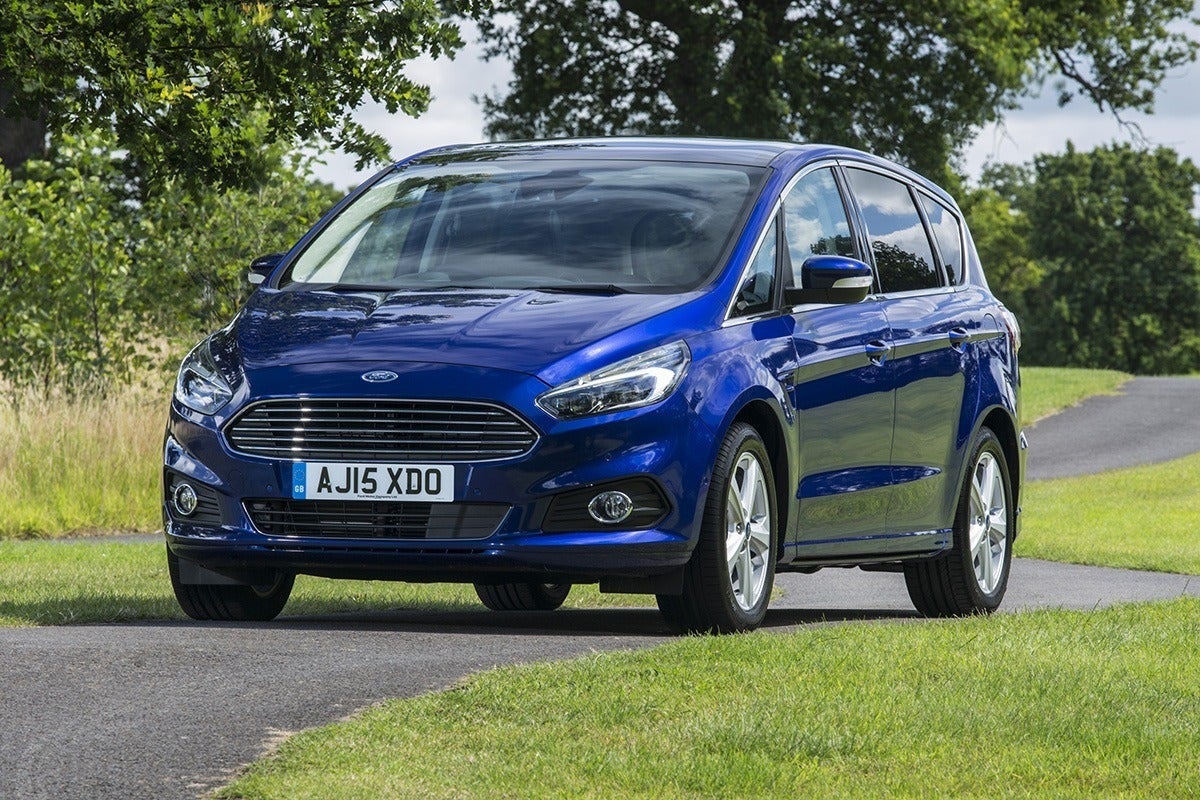 If you're after a practical car, but don't want to sacrifice driving pleasure, the Ford S-MAX is the car for you. In fact, it's less practical than the larger Ford Galaxy - but it drives much better, which we think gives it an edge for families who don't need heaps of space. It's also cheaper than direct rivals like the Volkswagen Sharan.
It seats seven, but because it's small compared to other seven-seaters in this list, the third row is best reserved for children. On the plus side, you can safely choose the entry-level Zetec trim level and still get lots of goodies as Ford offers plenty of standard kit.
The 150PS version of the 2.0-litre EcoBlue diesel engine is our pick, offering the best blend of performance, economy and price. It's punchy enough, even with all seven seats occupied. Despite it being smaller than seven-seat SUVs, the S-MAX offers 965 litres in five-seat mode or 2020 litres with the five seats folded down. With all the seats up, this shrinks to 285 litres, which is just enough for a suitcase and a couple of bags.
Volkswagen Tiguan Allspace
Year launched: 2018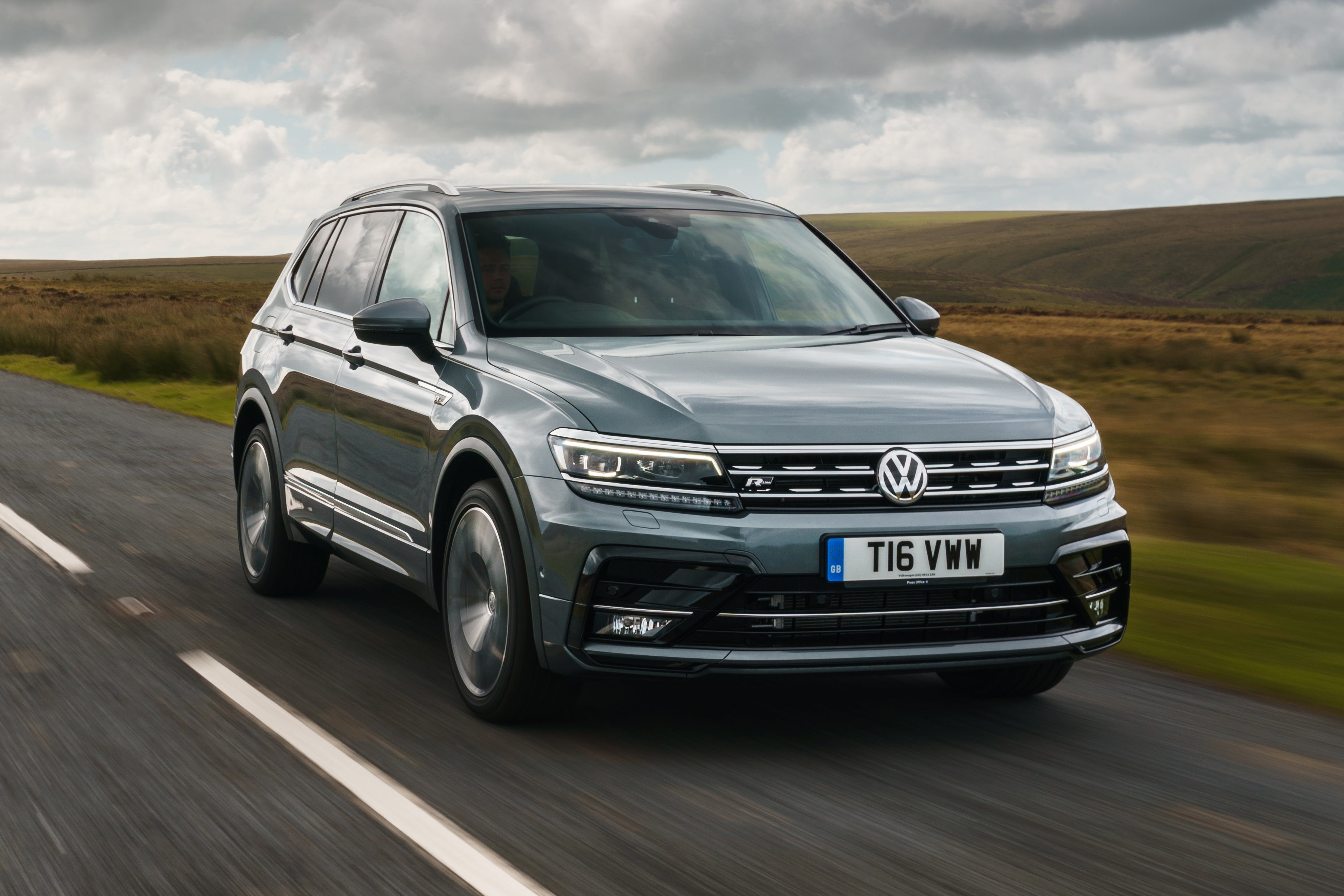 The Tiguan Allspace is a great SUV, and it's rightfully popular with large families. Yet, we can't help but compare it to the Skoda Kodiaq - which it shares lots with seeing as they're Volkswagen Group siblings. Both are high-quality, comfortable and come with a range of strong, refined and efficient engines - but the Kodiaq costs considerably less to buy. Aside from price, there's lots to like about the Tiguan Allspace, namely the sheer amount of choice you get.
Six engines, three trim levels, front- or four-wheel drive, manual or automatic gearboxes. In terms of trim level, the entry-level Match gives you all the kit you really need. As for engines, again, the entry-level 2.0-litre diesel will be fine for most. It's not fast but there's enough muscle to haul the Allspace's bulky body around. If you don't cover a lot of miles, the 1.5-litre petrol turbo with 150PS is your best bet. Although, it starts to struggle a bit more when you load the car up with people and luggage.
Rivals include the Skoda Kodiaq, as mentioned, plus the SEAT Tarraco, Land Rover Discovery Sport and Peugeot 5008. The Honda CR-V can be specified with seven seats and larger SUVs like the Kia Sorento and Hyundai Santa Fe are actually closer in price.
Volvo XC90
Year launched: 2015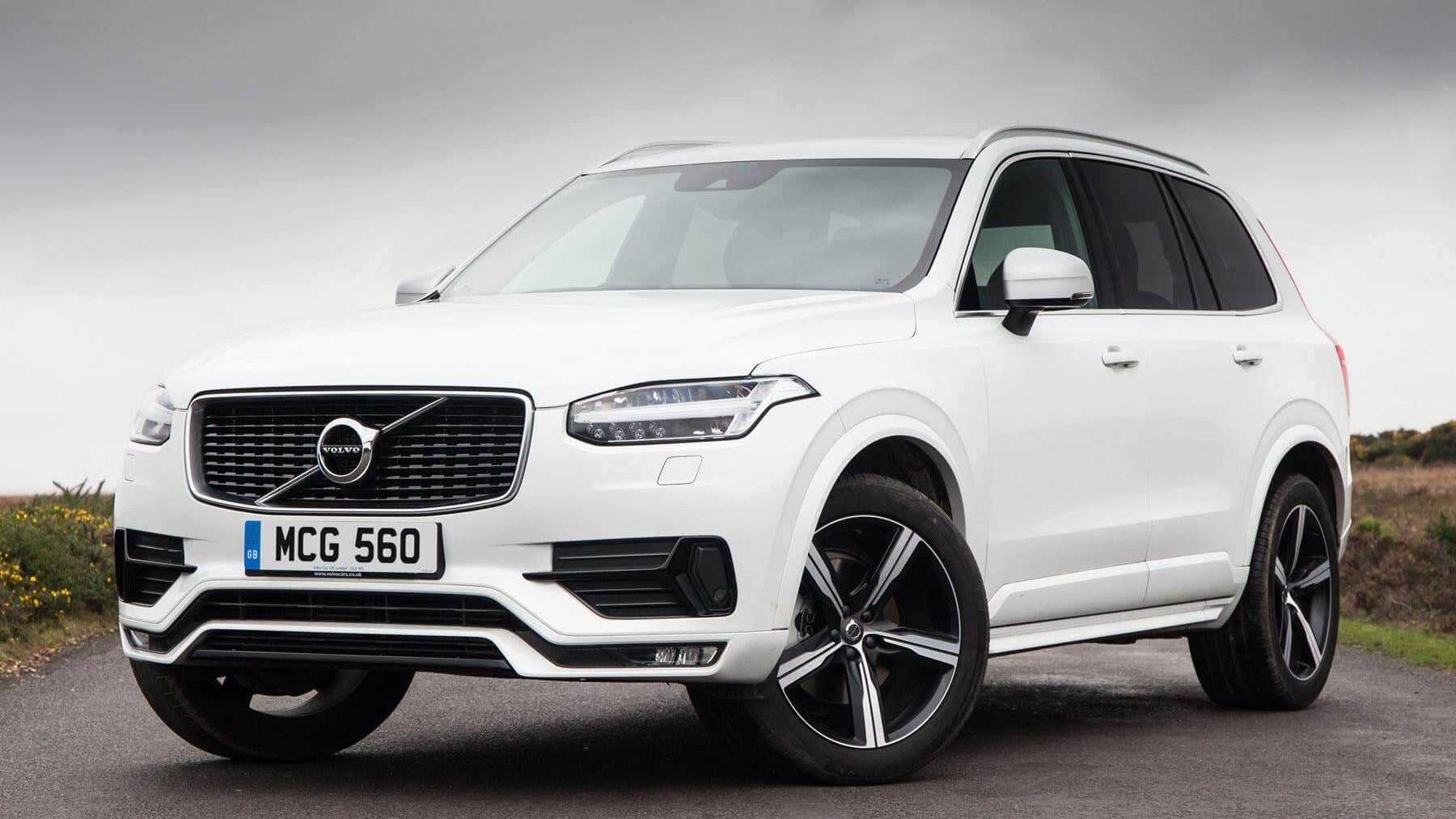 Among a class of, shall we say, conservative SUV offerings - the Volvo XC90 offers a real dose of individuality. Inside and out, it's modern and effortlessly cool, as well as providing the most advanced range of safety tech around. The XC90 also has the space, practicality and versatility to be an impressive family car. It offers top-class refinement, loads of standard equipment and a huge boot.
In seven-seat configuration, the Volvo XC90 offers 356 litres of boot space. With the third row down, this rises to 1007 litres or 1856 litres with the second and third row of seats folded. The T8 plug-in hybrid is the fastest and most economical engine setup, however, it's considerably more expensive to buy than other versions. If your budget doesn't stretch that far, then either the D5 or B5 diesel (which are the same, confusingly) are the ones to go for. All cars come with a slick eight-speed automatic gearbox and four-wheel drive as standard.
Many of the extras you'll get on the higher trim XC90s are purely cosmetic, yet they cost a great deal more. So, we'd recommend the entry-level Momentum trim.
Skoda Kodiaq
Year launched: 2016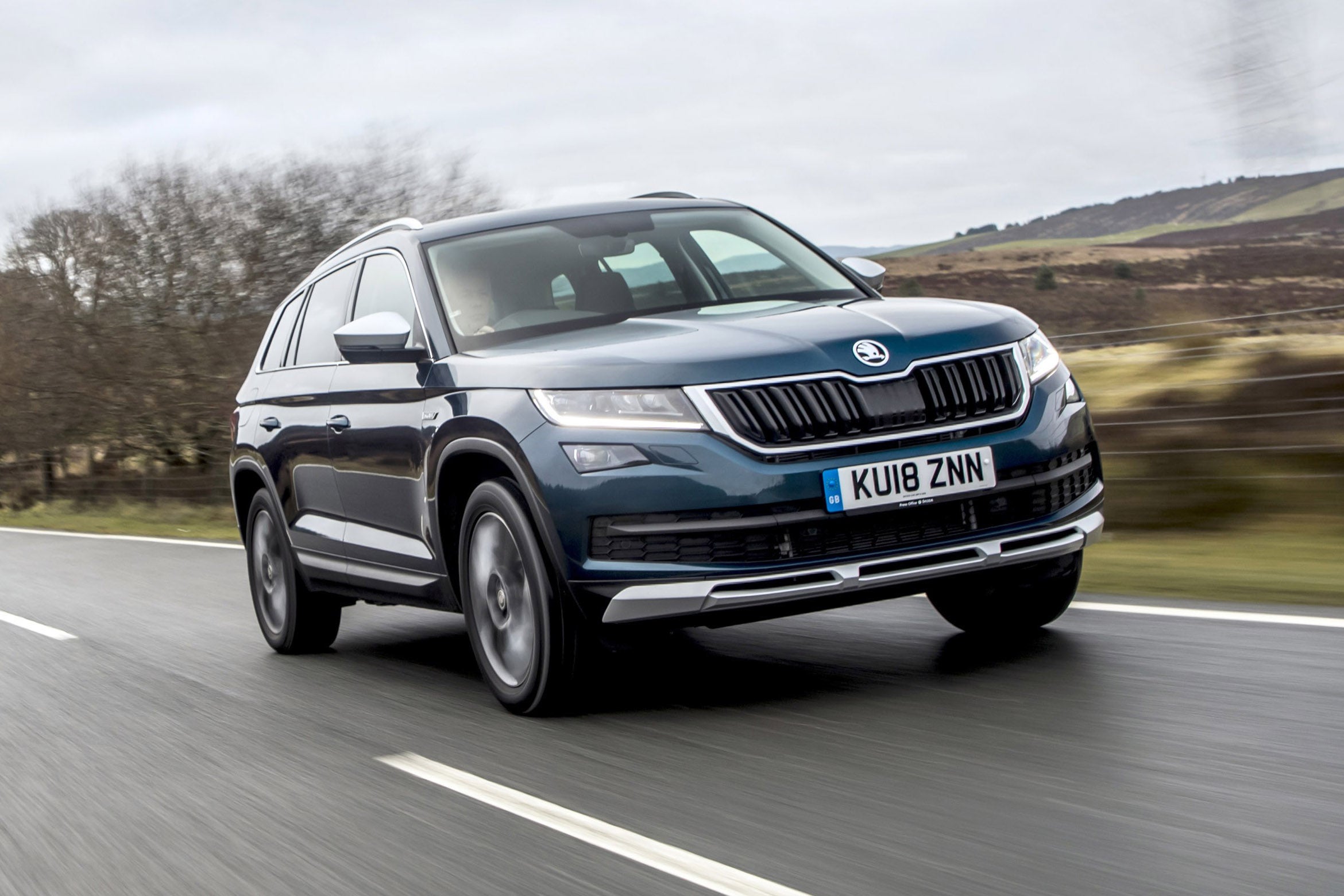 If you're looking for a practical family SUV, the Skoda Kodiaq is a really strong contender. High-spec models can be surprisingly expensive and the Kodiaq lacks the versatility of other large SUVs, but the engine line-up is strong and buyers can spec four-wheel-drive. In the right trim, it's great value for money and will suit those who don't need to regularly carry seven.
As mentioned, the rearmost seats are too cramped to use on a daily basis. With all seven seats in use, you'll find the boot's quite tight, too (270 litres). Fortunately, the third row of seats easily drops entirely flat, providing a much bigger 835 litres of space. The 2.0-litre diesel is the engine of choice if you cover high motorway miles or need to tow a caravan. Alternatively, the 1.5-litre petrol will feel slightly underpowered but is refined and economical.
We'd avoid the most basic S model, but SE Technology, SE Drive or SE L will tick all the boxes for most buyers without being too expensive. The SEAT Tarraco and Volkswagen Tiguan Allspace are similar, although the Kodiaq offers the best value for money - especially on the used market. The Peugeot 5008 is more interesting and more versatile, while the Kia Sorento is good value for money and offers a seven-year warranty as well.
Citroen SpaceTourer
Year launched: 2016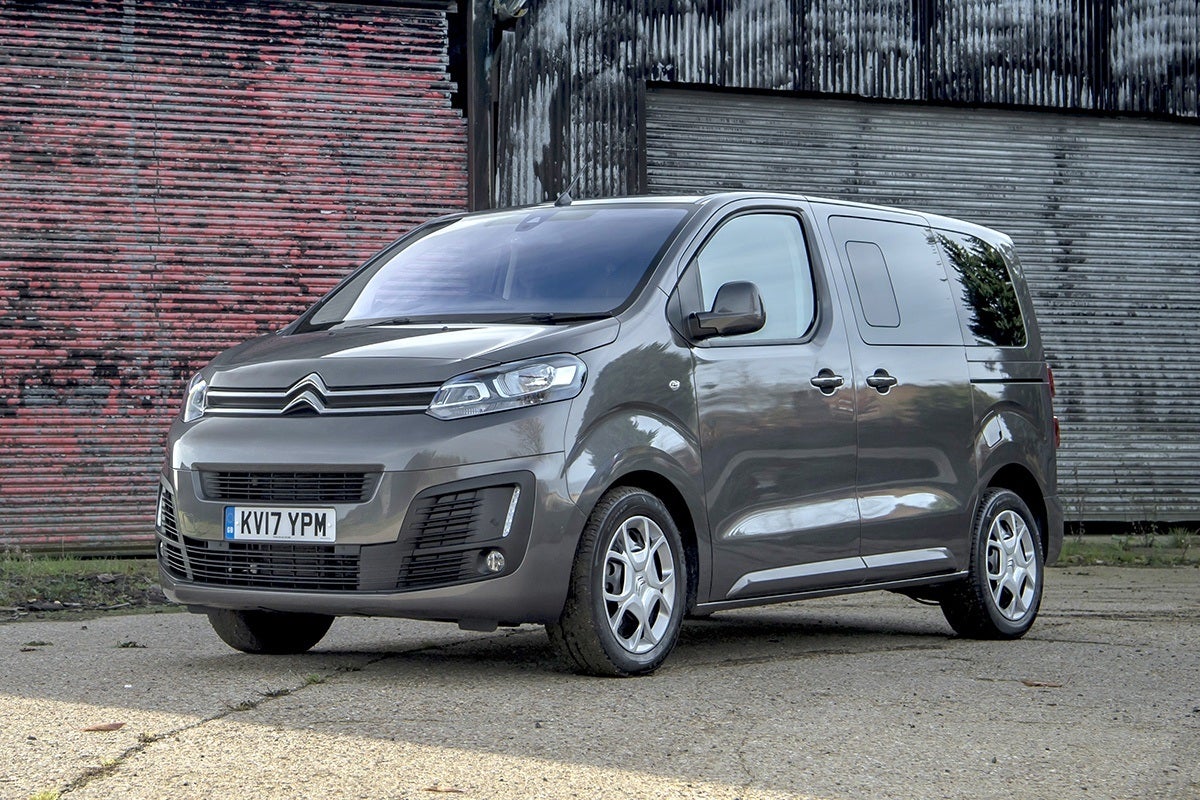 It's definitely not the most fashionable family car, but when it comes to affordable running costs, value for money and eight seater practicality - few MPVs can match the Citroen SpaceTourer. The van turned people carrier features seats and windows rather than panels and, well, building materials or the like. Five seats are standard, but buyers can specify seven, eight or nine seats. Impressive stuff.
All versions are well-equipped as standard, with cruise control, parking sensors and a full-size spare wheel. The options include hands-free opening for the motorised sliding doors and a rear window that opens fully, to avoid having to open the huge tailgate unnecessarily. Three versions of the SpaceTourer are available, named XS, M and XL, with the biggest being 5.3-metres long while the 'compact' version measures 4.6 metres in length.
The Citroen MPV doesn't feel very sharp on the road, though it's comfortable and refined on the move - especially at low speeds. With masses of space and car-like fuel costs, the SpaceTourer has lots to offer family buyers - although, it struggles to beat models like the Ford S-MAX in overall dynamics and style.
Mercedes-Benz GLB
Year launched: 2020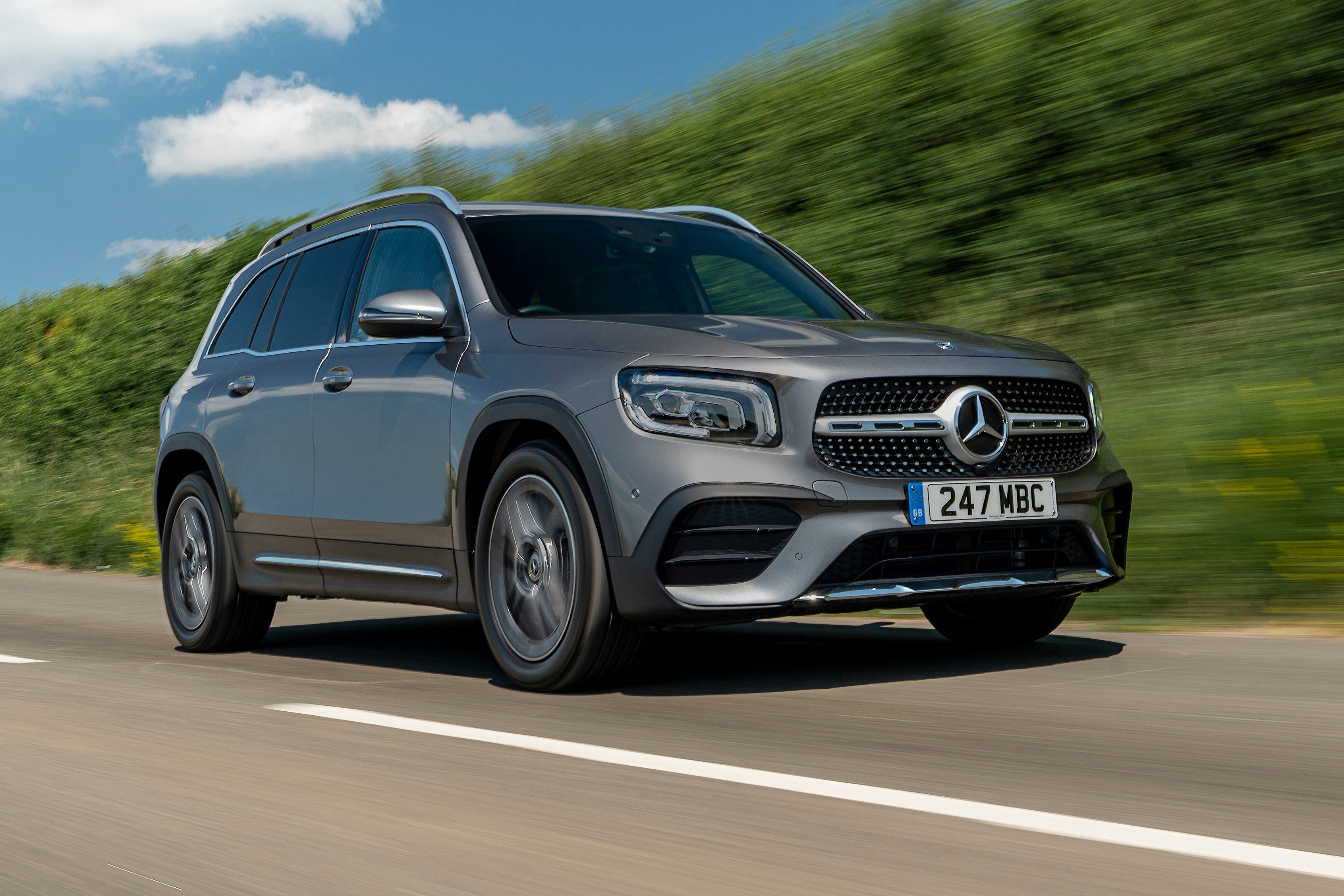 We think the Mercedes-Benz GLB is one of the most desirable seven-seat SUVs on the market - but it definitely isn't the most practical. What it has got going for it is a superb interior, space and decent running costs. Based on the latest Mercedes A-Class and Mercedes B-Class, it gets heaps of style and premium touches, as well as being genuinely usable.
The boxy design translates to a load of interior space and most Mercedes-Benz GLB models come with seven seats. However, if you need to carry seven people regularly, you'd be better looking for a larger car because the rearmost seats pop up from the boot floor, meaning there's basically no boot space with them in use. Diesels suit the GLB well, with the 200d being our engine of choice. The more powerful 220d is tempting but isn't available with seven seats, sadly.
A focus on comfort means the GLB rides very well and feels composed in the corners, while being practical enough for a lot of buyers. The biggest issue is the price, even as a used model.
The Audi Q7 is the best overall package for those in the market for a seven-seat vehicle. However, the Kia Sorento offers the longest warranty, and there are more spacious and cheaper alternatives.
None of these cars will be ultra-efficient simply because they're large, heavy vehicles - but the Peugeot 5008 and Ford S-MAX will do the best job. Ford's 2.0-litre diesel (TDCi) engine will see late 30s or early 40s MPG figures, while Peugeot's impressive 1.5 and 1.6-litre diesel (BlueHDi) engines will get you 40s or even early 50s mpg figures.
In this list, the Mercedes GLB is the smallest vehicle that'll carry seven people. But because of its size, the third row of seats is best reserved for children or very short journeys. Otherwise, you might fall out with whoever gets stuck back there on a long trip.
Ford S Max
2.0 Tdci 210 Titanium Sport 5Dr Powershift
Stoneacre Ford Cleckheaton

Yorkshire, BD196JT
PCP: £250.08/mo
Representative example: Contract Length: 36 months, 35 Monthly Payments: £250.08, Customer Deposit: £2,368.00, Total Deposit: £2,368.50, Optional Final Payment: £8,183.25, Total Charge For Credit: £3,514.55, Total Amount Payable: £19,304.55, Representative APR: 11.3%, Interest Rate (Fixed): 5.81%, Excess Mileage Charge: 4.84ppm, Mileage Per Annum: 10,000
Ford S Max
2.0 EcoBlue 190 ST-Line 5dr
Desmond Motors FordStore

Londonderry, BT487PU
PCP: £405.60/mo
Representative example: Contract Length: 36 months, 35 Monthly Payments: £405.60, Customer Deposit: £3,448.00, Total Deposit: £3,448.35, Optional Final Payment: £10,010.00, Total Charge For Credit: £4,665.35, Total Amount Payable: £27,654.35, Representative APR: 10.9%, Interest Rate (Fixed): 10.37%, Excess Mileage Charge: 8ppm, Mileage Per Annum: 10,000
Ford S Max
2.0 TDCi 180 Titanium 5dr
Manufacturer Approved
Thurlow Nunn Vauxhall Norwich

Norfolk, NR46AJ
PCP: £268.39/mo
Representative example: Contract Length: 36 months, 35 Monthly Payments: £268.39, Customer Deposit: £2,339.00, Total Deposit: £2,339.85, Optional Final Payment: £6,743.00, Total Charge For Credit: £2,877.50, Total Amount Payable: £18,476.50, Representative APR: 9.9%, Interest Rate (Fixed): 9.45%, Excess Mileage Charge: 8ppm, Mileage Per Annum: 10,000